Breadcrumbs offer a fantastic way to make your website easier to navigate. That's because visitors can use breadcrumbs to jump to parent posts and pages in an instant. As a result, this can help keep users on your site for longer. If you're looking to implement this feature, you'll need to look for the best breadcrumb plugin for WordPress.
In this article, we're going to talk about what to look for in a breadcrumb plugin and when to use one. Then, we'll introduce you to the best breadcrumb plugins for WordPress, including information about features and pricing. Let's get to it!
The goal of breadcrumbs is to leave a trail that's easy for others to follow. Breadcrumb plugins enable you to add these pathways to your posts and pages in order to help users find related content:

Breadcrumbs can point to post categories, tags, pages published in specific years or months, and more. A great breadcrumb plugin will enable you to configure where you want these links to appear and what pages they should point users towards.
According to Yoast, adding breadcrumbs can lower your website's bounce rate. They can also benefit Search Engine Optimization (SEO) as they help Google understand your website's structure.
From a usability standpoint, breadcrumbs barely take up any space or distract from other elements on a page. If you run a website with a complex structure or a large library of content, there are almost no downsides to implementing breadcrumbs.
Now that you know a bit more about breadcrumb plugins, let's look at some of the best. For this section, we're going to focus on tools that receive regular updates and have overall positive ratings from users. We're also testing each plugin personally to help you figure out which option will suit you the best.

Breadcrumb NavXT is by far the most popular WordPress breadcrumb plugin on the market. It gives you full control over where breadcrumbs appear on your site, what items they contain, and what templates they follow.
After activating the plugin, you can add breadcrumbs to any post or page using a new Breadcrumb Trail block. The plugin also adds new breadcrumb widgets that you can place on the header, sidebars, and footers.
Bear in mind that if you want to edit the default breadcrumb templates the plugin offers, you'll need to use HTML. The plugin enables you to modify these templates in its settings, as well as letting you choose for which types of content breadcrumbs are available.
Key Features for Breadcrumb NavXT:
Configure post types to use breadcrumbs for
Modify breadcrumb templates using HTML
Configure the breadcrumb hierarchy for each type of content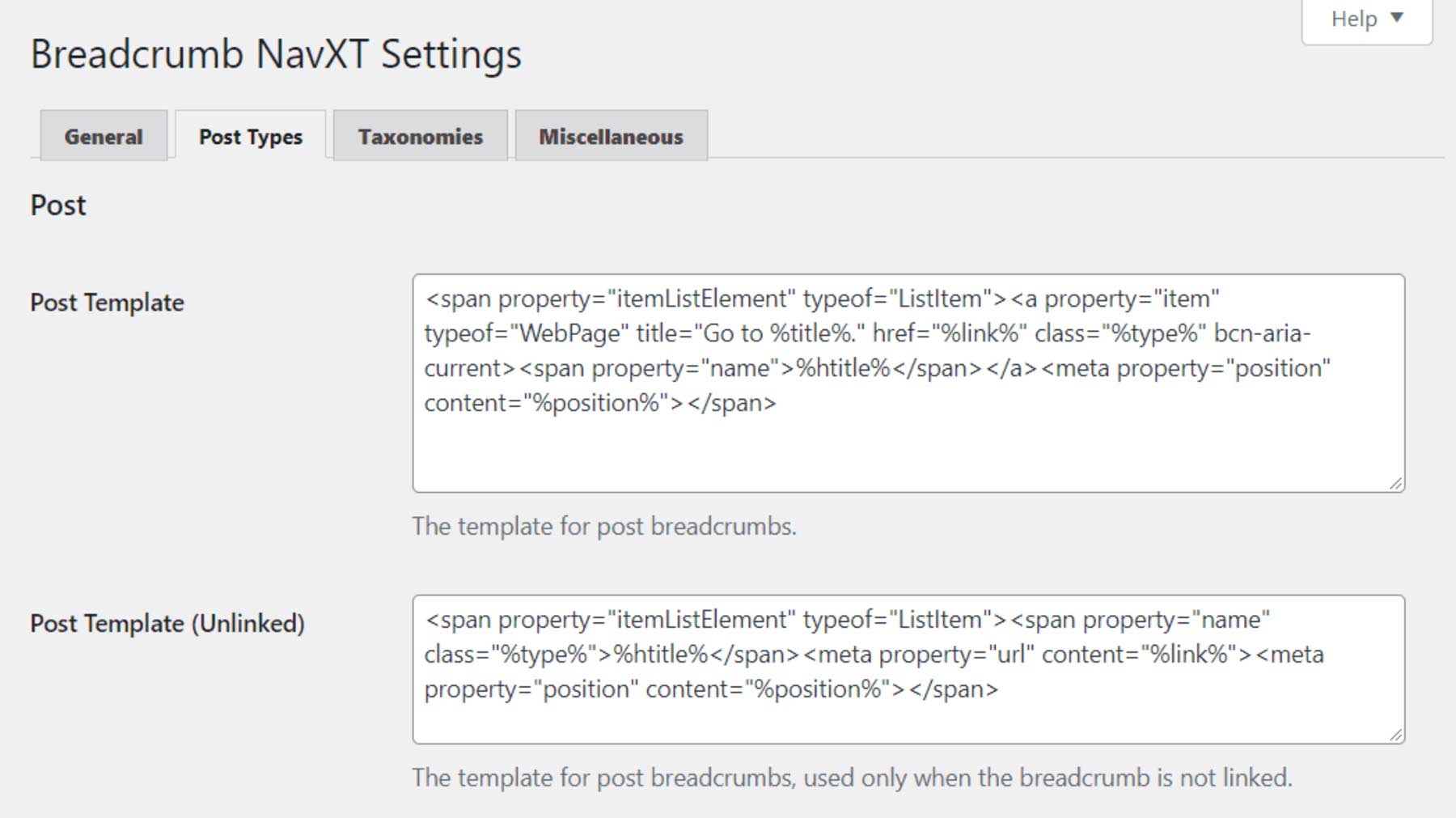 In the example above, you can see how Breadcrumb NavXT configures breadcrumb templates. Modifying these templates only requires a basic understanding of HTML, so you shouldn't be discouraged even if you don't have a background in coding.
Breadcrumb NavXT is for you if…
You want to have full control over how WordPress displays breadcrumbs for every post type
You don't mind using basic HTML to customize breadcrumb templates
The website you're working on uses custom post types
Pricing: Free | Learn More About Breadcrumb NavXT
2. AIOSEO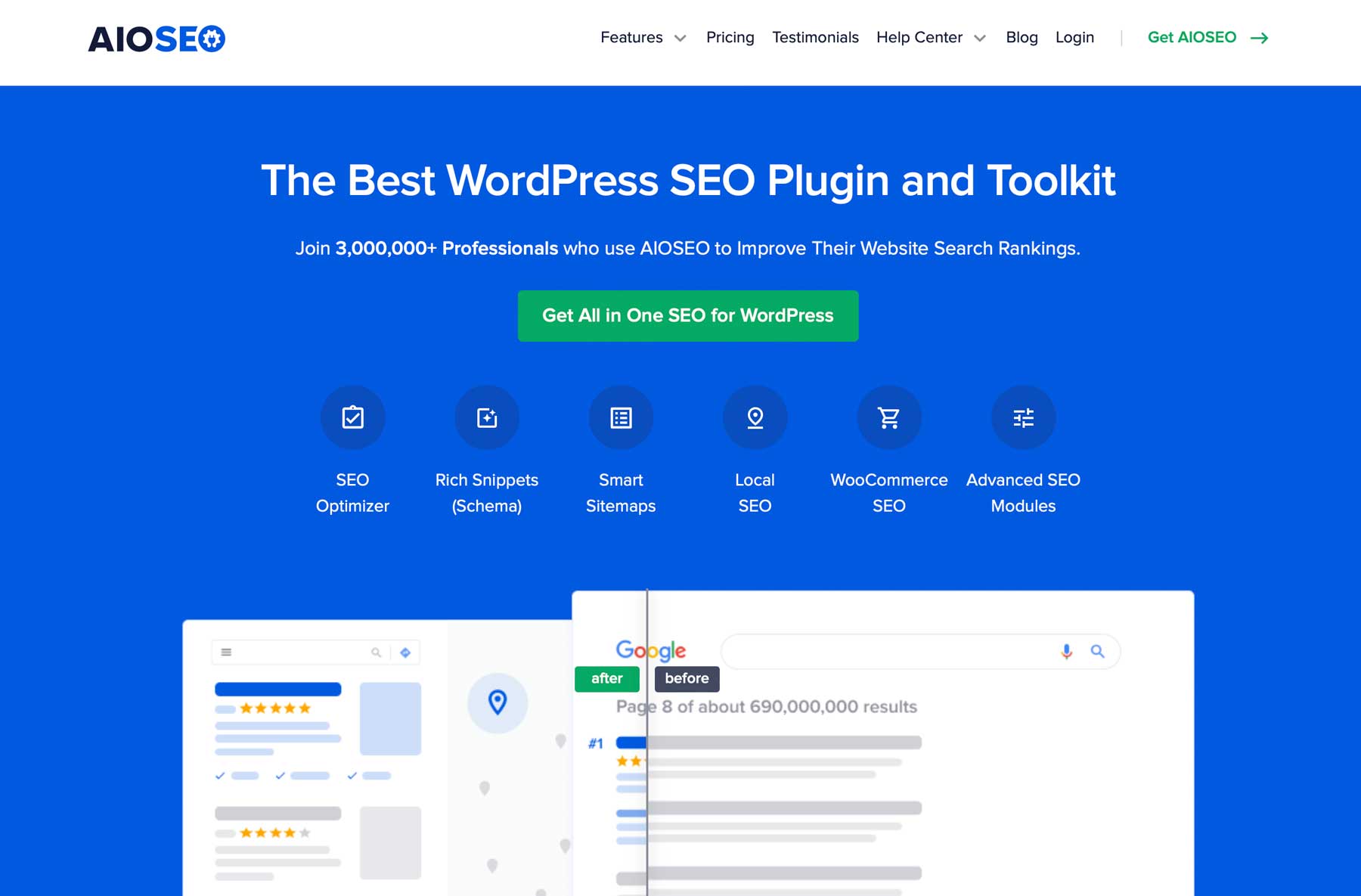 AIOSEO is a popular SEO plugin for WordPress with features such as TruSEO on-page analysis, rich snippets, local SEO, and smart XML sitemaps, to name a few. That said, it also offers breadcrumbs as part of its SEO suite. By enabling breadcrumbs, Google and other search engines will better understand your site's structure, making it easier for potential customers to find you.
AIOSEO also integrates seamlessly with Divi, allowing you to configure on-page SEO in the Visual Builder, so you can view your changes in real-time. There's also an SEO analyzer tool that generates website SEO audit reports, identifies issues with your SEO, and provides actionable insights to improve rankings in search engines.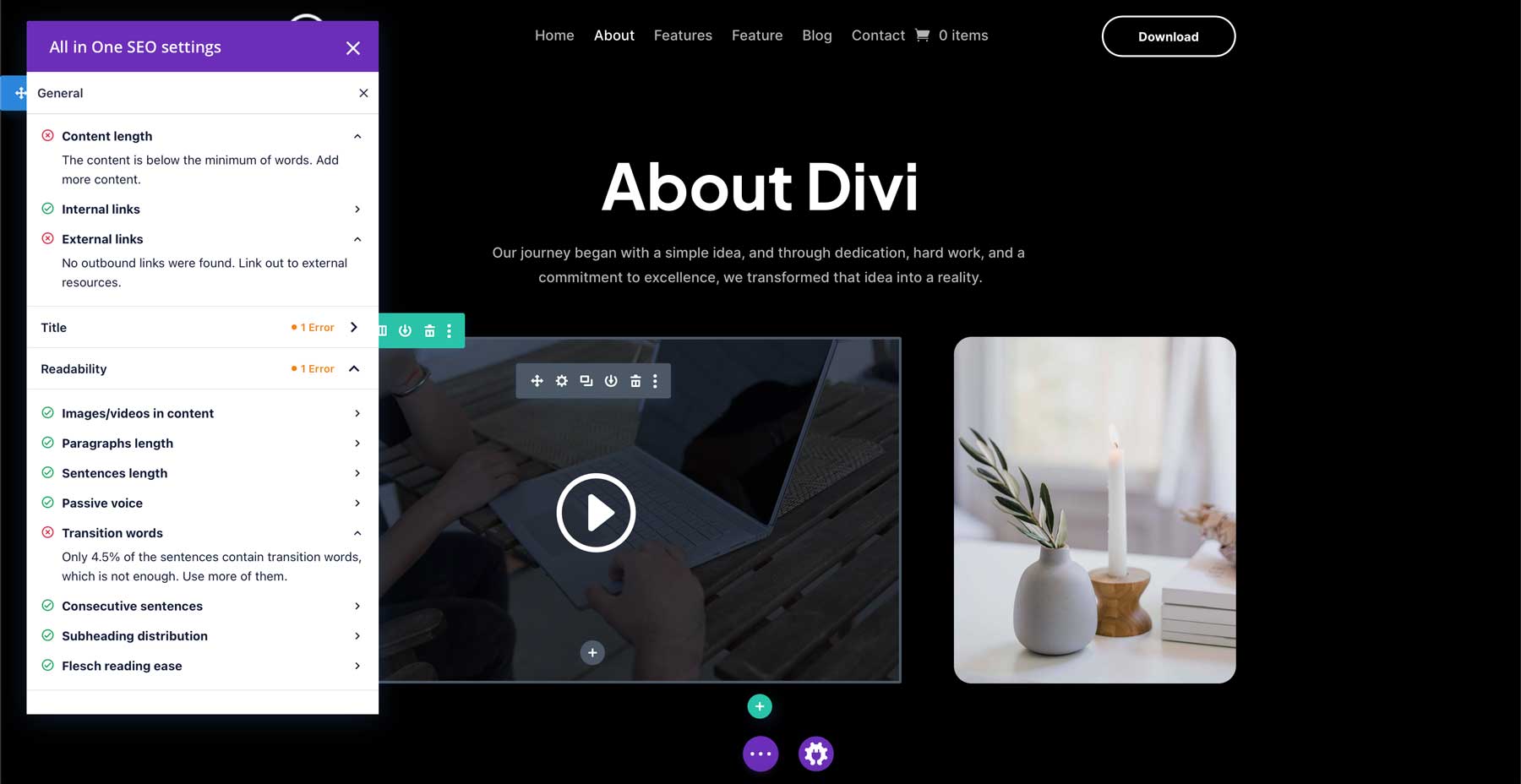 Key Features for AIOSEO:
4 options for inserting breadcrumbs
Works with any WordPress theme, including Divi
Front-end on-page SEO checker
Breadcrumbs are automatically styled to match your theme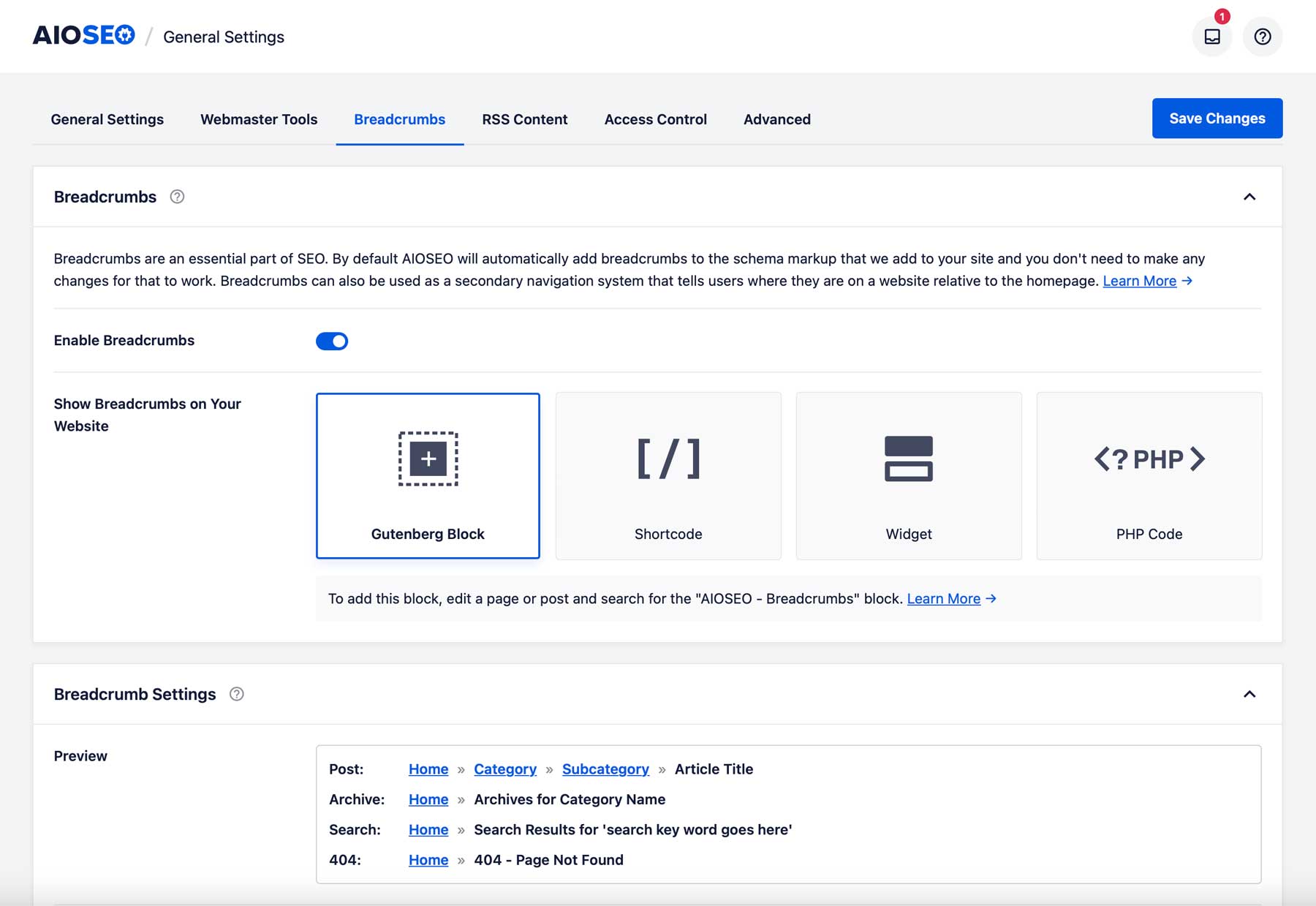 Configuring breadcrumbs in AIOSEO is simple. The feature is available in the free version of the plugin and is located within the plugin's general settings. You have four options for inserting breadcrumbs into your pages, including a Gutenberg Block, shortcode, widget, or PHP code, so styling breadcrumbs to match your site is effortless.
AIOSEO is for you if…
You're looking for a robust SEO plugin for your website
You want the flexibility of display options
You're already using AIOSEO and want to enable Breadcrumbs to boost search engine visibility
Pricing: Free, with premium plans starting at $49.60 per year | Learn More About AIOSEO
3. Rank Math SEO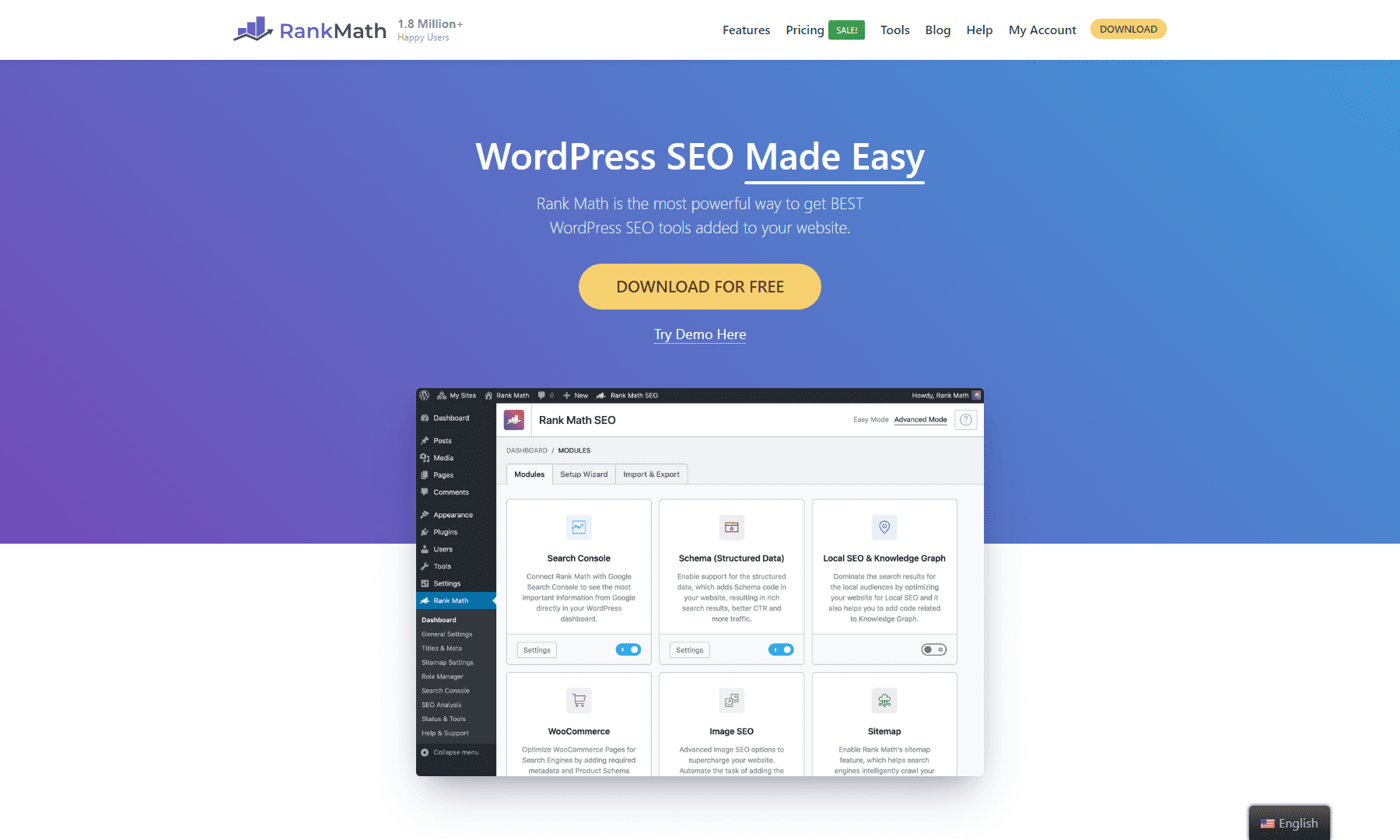 Rank Math SEO is right up there with Yoast SEO in terms of popularity and is one of the best SEO tools out there. However, this SEO plugin offers a more modular approach than Yoast. That means you can pick and choose which of its features to enable, depending on your needs. The plugin also offers special Rank Math + Divi integration that makes it easy to optimize your Divi site with Rank Math.
In terms of breadcrumbs, Rank Math offers similar functionality to Yoast SEO, but they don't come enabled by default. You can turn on breadcrumbs using a simple toggle button. However, Rank Math doesn't allow you to choose what types of content to display breadcrumbs for.
Where breadcrumbs appear (and for which content) will depend on your theme's implementation. When you're setting up breadcrumbs, Rank Math shows you a function that you can add to your theme's template to configure where they'll appear. Depending on which theme you're using, you may need to edit its template files manually.
Key Features for Rank Math SEO:
Optimize your website's content for search engines
Add breadcrumbs to your website
Configure how breadcrumbs look and which elements to display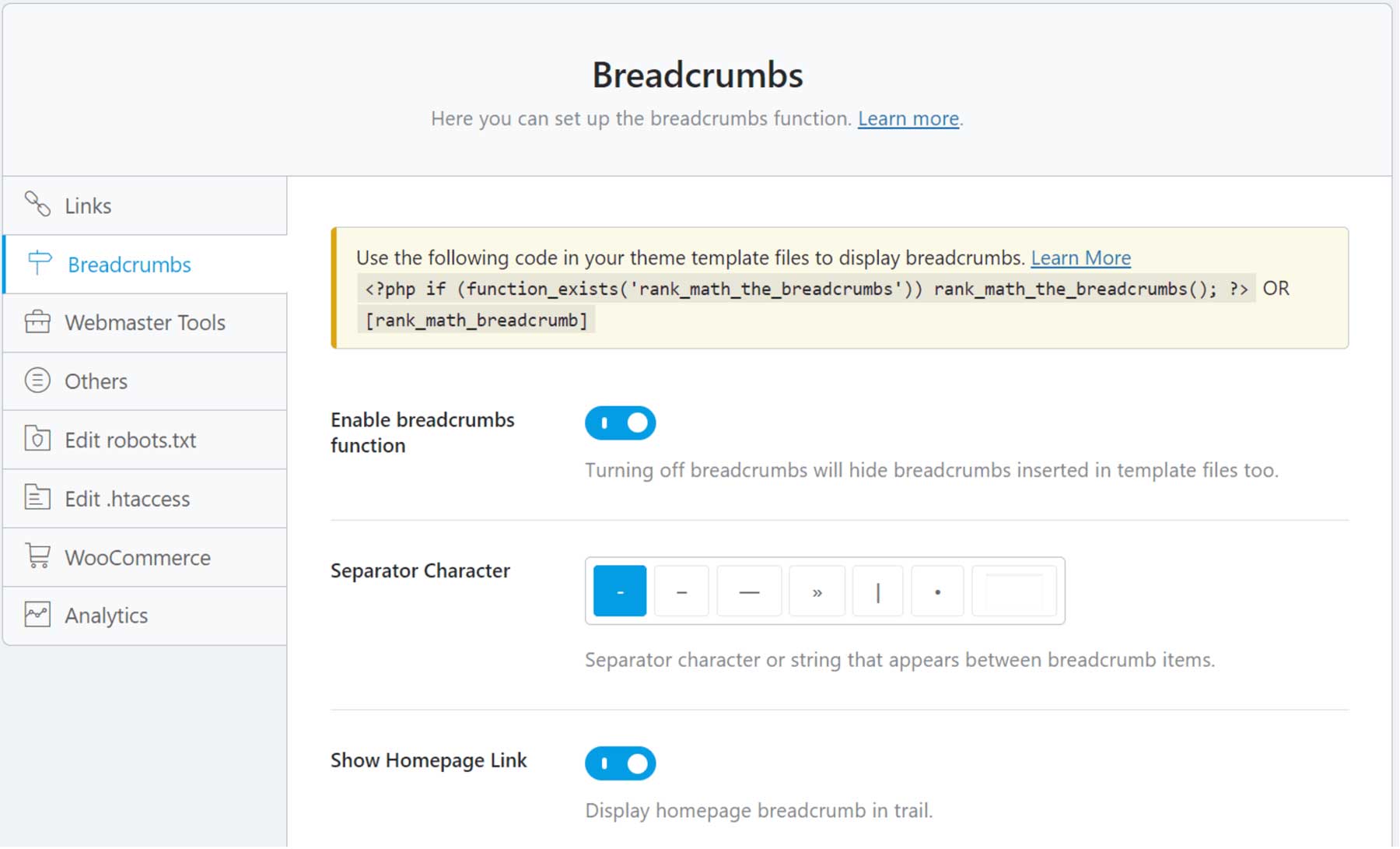 Configuring breadcrumbs in Rank Math SEO works almost identically as with Yoast. The plugin offers several options for tweaking the text that you see in breadcrumbs as well as the text that they include.
Rank Math SEO is for you if…
You're in the market for an SEO plugin that doubles with breadcrumb duty
You're looking for an alternative to Yoast SEO
You're comfortable modifying your theme's files
You are looking for an plugin optimized for Divi integration
Pricing: Free and premium | Learn More About Rank Math SEO

As you may know, WooCommerce adds support for breadcrumbs out of the box. Whether these breadcrumbs display on your product pages will depend on what theme you're using. One feature that's sadly missing from WooCommerce is the option to configure those breadcrumbs.
Fortunately, though, WooCommerce Breadcrumbs gives you some level of basic control over that functionality. You can use this plugin to change separators and modify the HTML that wraps breadcrumbs. The plugin also offers the option of disabling breadcrumbs for WooCommerce altogether.
Key Features for WooCommerce Breadcrumbs:
Enable breadcrumbs for WooCommerce pages
Modify the HTML that wraps breadcrumbs on your website
Disable breadcrumbs entirely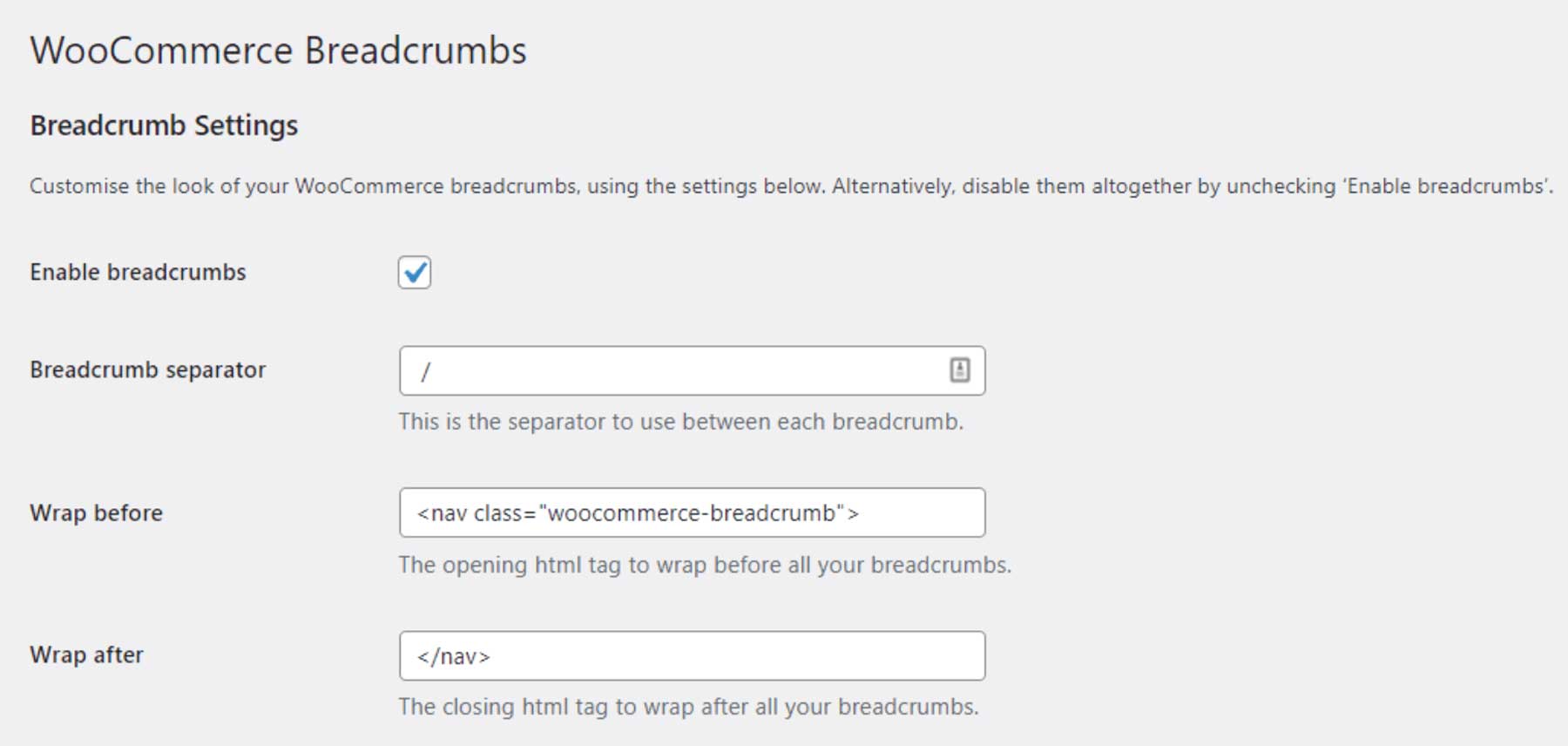 WooCommerce Breadcrumbs doesn't provide a lot of configuration options. It builds on the breadcrumb functionality that's already available in WooCommerce. If breadcrumbs are not showing for your store's products, you'll need to edit your theme templates.
WooCommerce Breadcrumbs is for you if…
You use WooCommerce
You want to enable or disable product breadcrumbs
You want to add separator icons to your breadcrumbs
Pricing: Free | Learn More About WooCommerce Breadcrumbs

Breadcrumb is perhaps the most unique breadcrumb plugin on this list. That's because the plugin enables you to use a drag-and-drop "builder" for putting together breadcrumb templates.
The builder enables you to configure different breadcrumb templates for each type of content. On top of pages and posts, the plugin also supports products, categories, media, search pages, and many more options.
The free version of Breadcrumb comes with four breadcrumb visual styles to choose from. If you want to use premium breadcrumb templates, you'll need to pay for a license.
Alternatively, you can use CSS to customize the style of your breadcrumbs. The plugin makes this process easy by including a script editor that you can use to add custom CSS and JavaScript for your breadcrumbs.
Key Features for Breadcrumb:
Add breadcrumbs to posts, pages, and most other types of content that WordPress supports
Customize breadcrumb templates using a drag-and-drop builder
Choose from a modest selection of visual styles for your breadcrumbs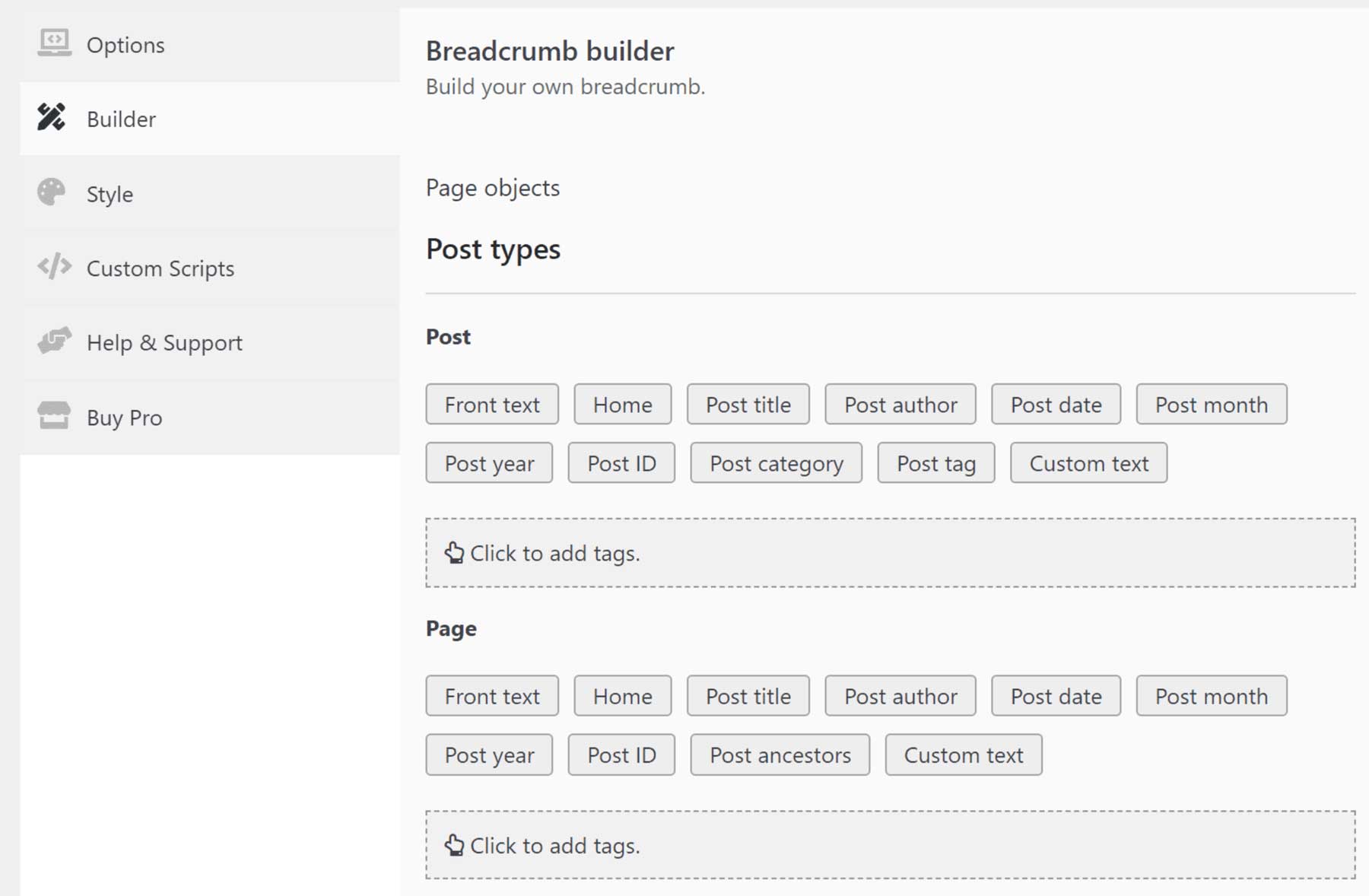 The Breadcrumb builder makes it downright easy to configure breadcrumb templates. You choose what elements to include for each template and in which order they appear.
Breadcrumb is for you if…
You want to use a visual builder to configure breadcrumb templates
You know a bit of CSS and JavaScript so you can further customize breadcrumbs
You need to add breadcrumbs to various content types
Pricing: Free and premium | Learn More About Breadcrumb
If you use Divi, you have plenty of options for adding breadcrumbs to your website. Divi integrates with WooCommerce to give you a easy-to-use WooCommerce Breadcrumbs Divi module. Plus, there are other Divi extensions that you can use that add breadcrumb modules and/or breadcrumb functionality to the page builder.
For more, we recommend that you check out the Divi Marketplace. Inside you'll find hundreds of options for Divi child themes and extensions, including plenty of breadcrumbs choices: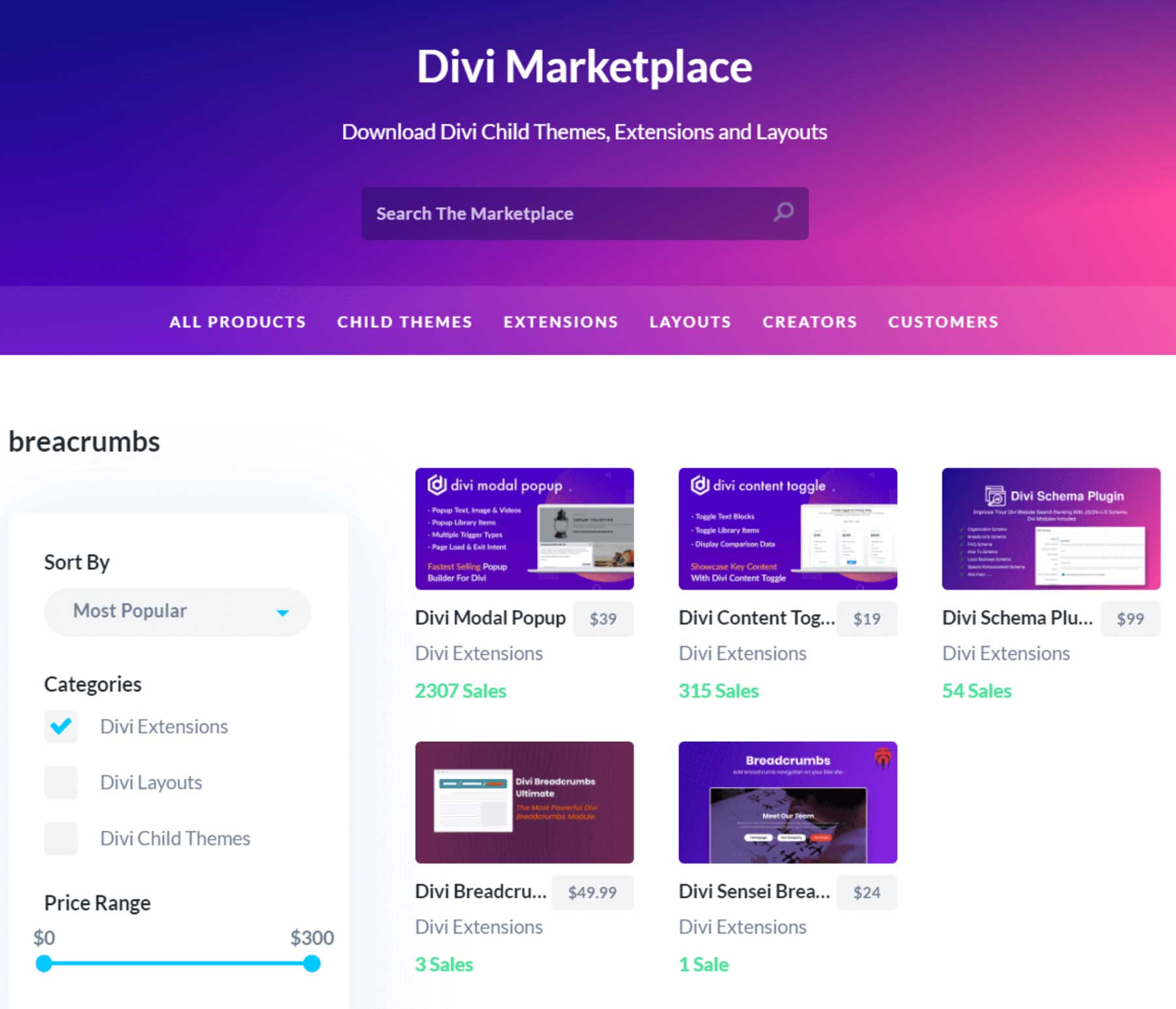 Before you buy any extensions, we recommend that you check out their product demos and read their documentation. You can always return extensions that you buy through the marketplace if you're not satisfied. Still, it's worth it to do some research before getting a license.
Breadcrumb plugins tend to be relatively straightforward. They allow you to add breadcrumb functionality to WordPress and offer options for changing how these elements look, where they appear, and what other pages they link towards.
If you're not sure which WordPress breadcrumb plugin to use, here's a quick cheat sheet. Keep in mind that breadcrumb functionality is available with the free versions of all of these plugins:
Do you have any questions about breadcrumb plugins for WordPress? Let's talk about them in the comments section below!