Twenty Seventeen is the new default WordPress theme, recently released with WordPress 4.7. If you haven't yet looked at the Twenty Seventeen theme then it is about time you did because believe me, you'll be impressed.
From the point of view of someone who doesn't generally use free themes, Twenty Seventeen has been a real eye opener. Aimed at businesses, Twenty Seventeen offers a sleek and sophisticated design that has been created to make an impact on customers and clients, and the WordPress community itself.
In this article, we will look at what the Twenty Seventeen theme has to offer in regards to businesses and blogs. We will discuss the key features offered and what can be altered using the new and improved customizer. By the end of this article, you may well be ready to give Twenty Seventeen a try. Or at the very least be better informed about this free WordPress theme.
A Static Home Page
Twenty Seventeen really stands apart from its predecessors with its business focus. This is reflected in the option of a static front page that offers multiple sections. Perfect for displaying important aspects of a business site.
The static homepage provides four content sections. You can select pages to be featured in each area. This enables you to customize your front page to promote the different pieces of content on your site and display information relevant to your audience's' needs.
When using Twenty Seventeen in this way, it's important to add strong featured images to each page of your website, as the featured images are displayed along with each section of the static home page layout. These large images, combined with the parallax effect Twenty Seventeen features, results in a creative and eye-catching home page design.
The static front page provides a great opportunity for businesses to make a good impression. Professional, stylish and modern, with space for all the key information you may need displayed, the design looks anything but free and basic.
A Blog Home Page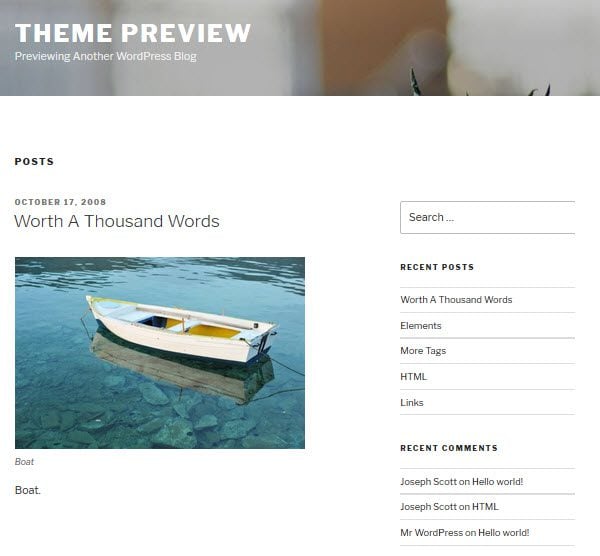 To use a static front page on your WordPress website you will need to create the page and then select it from the customizer. Otherwise, by default, the Twenty Seventeen theme will simply show your latest posts in a typical blog home page format.
Many will use Twenty Seventeen as a theme for a blog. And it isn't a bad choice. The large header image and spacious layouts, with the option choosing a two column layout, give a clean and refreshing appearance, as well as a great user experience. However, to simply display your latest blog posts on your home page doesn't really allow Twenty Seventeen to its show off its full potential.
Header Media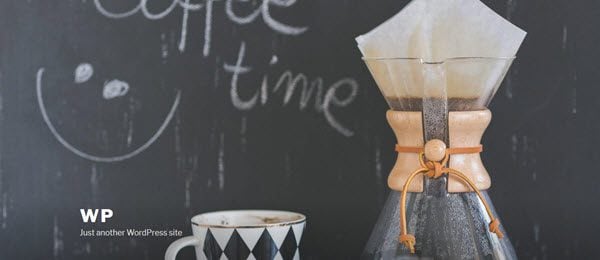 A real standout feature of the Twenty Seventeen theme is the header area. Twenty Seventeen displays a full-size header image at the top of your site, grabbing the attention of arriving visitors. This feature will be especially useful for those in visual industries, who want a large header image to display a photo or image of their work.
Upload a number of header images, then select 'Randomize Uploaded Headers'. This will display a different image at random each time the page is loaded. This could work well to hold the attention of recurring visitors, as well as demonstrate various examples of your work.
The header also supports video content. Thanks to this, you can easily upload a video and have it playing on your home page. Alternatively, you could enter a URL of any YouTube video you would like to play. The video can be paused if your audience doesn't appreciate moving images. Regular images can be uploaded and used as a fall back if your video is slow or fails to load.
This impressive header media functionality can have a strong visual impact on visitors. This really helps Twenty Seventeen stand out from default WordPress themes of the past.

Twenty Seventeen supports two menus. Your primary navigation menu defaults to be displayed at the top of the page under your header media. However, as a user scrolls down the page, the menu will stick to the top of the page, keeping it on show at all times.
A social menu can also be displayed at the top or bottom of the page. This menu can easily be integrated with all major social media platforms. These menus can also be placed in widget areas, helping you tailor your site to the needs of your viewers.
The Customizer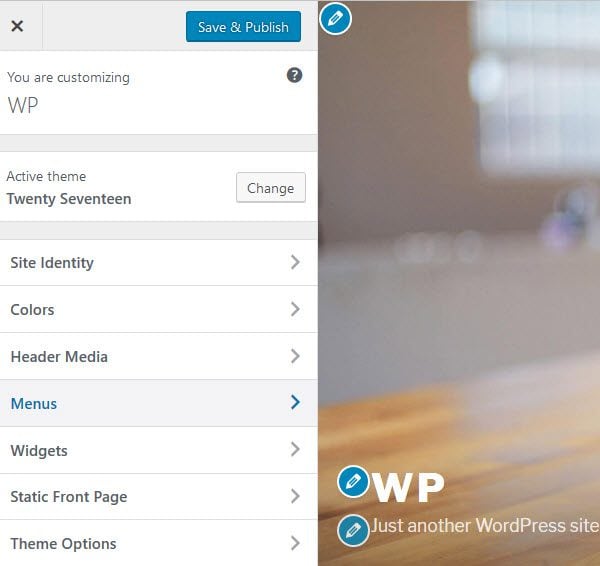 Support for the customizer is another aspect of Twenty Seventeen that has seen the default WordPress theme really up its game. The appearance of your site can be edited through the customizer. Customization work takes place on the front end, in real time. This makes configuring and customizing the theme relatively straightforward. It can also be a fun, relaxed, and frankly extremely fast and effective way of working for beginners to those with extensive WordPress experience.
The customizer now includes a new feature called Visible Edit Shortcuts, a great enhancement for WordPress 4.7. A blue pencil icon for each element is present on every page. If you want to edit a specific element, simply click on the relevant icon. The customizer will then open up on the particular element, ready for customization.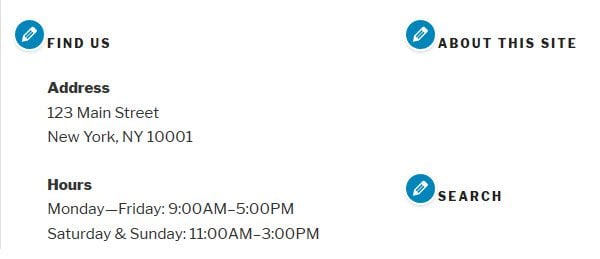 It is within the customizer that you can select a static front page, choose the content for each section of the front page, and configure your header media, menus and widgets. So far so good, so let's have a look at what other customization options are available.
Site Identity
Under the Site Identity section of the customizer, you can set the site title and tagline. Alternatively, you could remove them altogether. Besides this, you can upload and select a logo and site icon for your WordPress site. Twenty Seventeen will be used by thousands, so it is important to take advantage of these customization options to help give your site more of a unique edge.
Color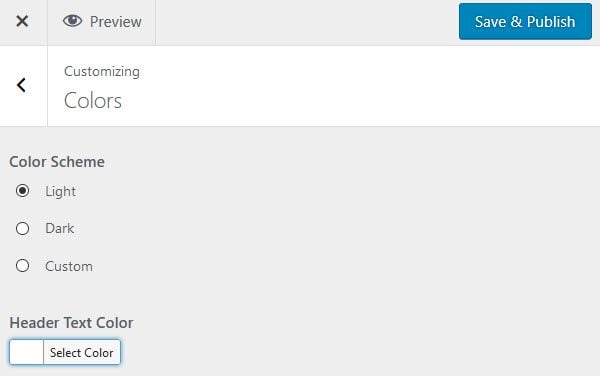 The customizer allows you to change the color scheme, as well as the header text color. Choose from two preset color schemes, light or dark, or select a custom option. For the header text, you can pick from an unlimited selection of colors. This helps you match your site's style with your existing branding. Again, the customizations of your site's color schemes help your site stand out from the crowd and enables it to display some originality.
Widgets
A sidebar and two footers make up the widget areas. You can add, organize or delete widgets all from within the customizer. By default Twenty Seventeen uses text widgets in both footers, displaying info about your business and contact information. There's also a search box so visitors can search your WordPress site. The contemporary layout of the footers and sidebar make the content easy to access for your audience, not to mention easy on the eye.
Additional CSS
Many of us like to customize the appearance and layout of our sites by editing the underlying code. The option of adding additional custom CSS is provided in the customizer, for those who wish to use this feature.
Responsive Controls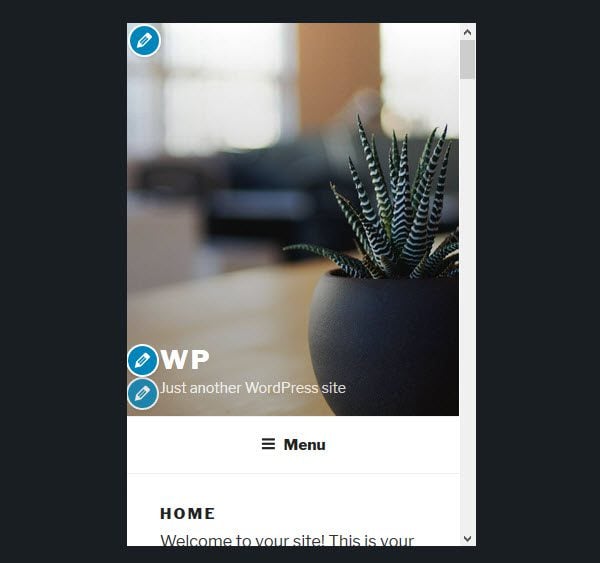 Displayed at the bottom of the customizer are the responsive controls. These allow you to test how your pages will look on tablets and smartphones. It is extremely important to check that your site is usable on different screen sizes.
If a website is not fully responsive, it can lose visitors and potential customers. Google also favors mobile friendly sites when ranking pages, something that should always be taken into consideration.
Dummy Content
The Twenty Seventeen theme includes dummy content, giving users a better sense of what can be done with the theme, how it can look, and how it can be used. This can be particularly helpful for beginners or those who lack creative flair and is another signpost to how WordPress 4.7 is trying to really cater for the masses.
TheTwenty Seventeen preview also gives a good demonstration of the different typography options of this theme, as well as displaying the list types, forms, and table formatting.
Ready to Start Using the Twenty Seventeen Theme?
In my humble opinion, this theme shows a shift in the right direction for WordPress. The creation of a theme for businesses, with enhanced visuals, and an improved ease of use opens WordPress up to a new user base, while still catering to bloggers.
If you are still skeptical about using Twenty Seventeen then all I can say is give it a try. I think you'll be pleasantly surprised.
What's your take on the new Twenty Seventeen theme? Please share your thoughts in the comments below.