As the expected WordPress 4.7 release draws nearer, we thought it would be helpful to give you a quick rundown of everything you can expect in the upcoming WordPress 4.7 release. From a new default theme, to video headers and starter content, WordPress 4.7 will bring some great new features to this platform we all enjoy so much.
So, with the latest WordPress 4.7 Beta 4 release installed on my localhost, I'll take you through a quick tour of everything you can expect in WordPress 4.7.
New Default Theme – Twenty Seventeen
Don't expect a creative departure from the normal default theme naming system, but 4.7 will bring us a new default theme just in time for the new year. First reaction after previewing the new theme? "Wow, big header image!"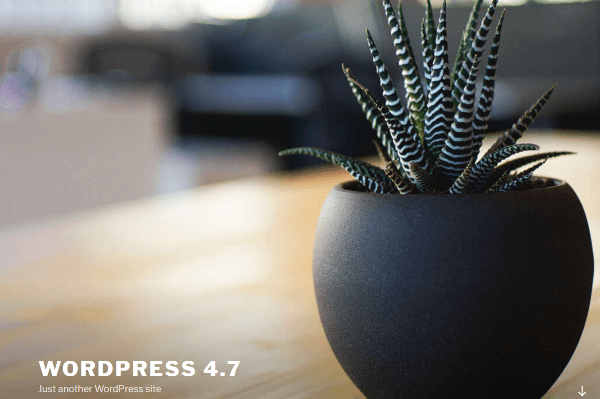 With multiple front-page sections, Twenty Seventeen definitely fulfills its promise of focusing more on creating fully functional business websites over simple blogs. While the general aesthetic remains the same from previous years, this focus shift is the most radical change in default theme style that I can remember.
Integrated Theme Starter Content
Jumping into the Customizer brings even more new features. First off, you'll see something many have been pining for:
Starter content.
In the Customizer, the default Twenty Seventeen theme includes lots of helpful starter content. Instead of needing to guess what goes best where, all you need to do is replace the existing placeholders with your own information:
Starter content is currently only available for fresh installs. But I hope this feature continues to grow because it makes it a lot easier to get up and running quickly.
Visible Edit Shortcuts
You may have noticed another new feature in the screenshot above. WordPress 4.7 also includes visible edit shortcuts which make the Customizer a whole lot easier to use. Instead of having to manually find the section you want to edit, you can now click on one of the visible edit shortcuts to instantly open that tab in the Customizer: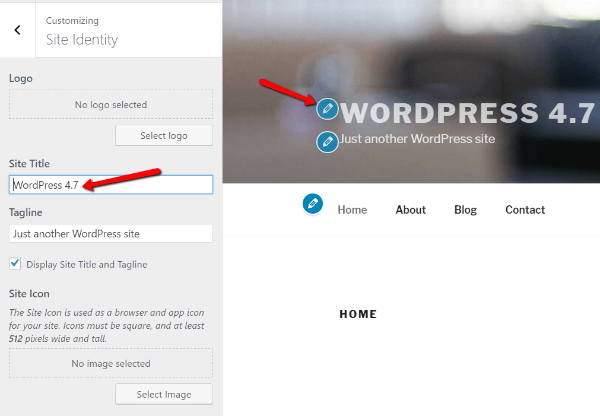 For example, clicking the shortcut by the site title instantly opens up the Site Identity tab of the Customizer.
While this feature is especially great for new users, I think it will save everyone a ton of time.
Note – theme developers have to update their theme in order to take advantage of the visible edit shortcuts. So, you'll only be able to use this feature on themes which support it. Hopefully theme developers are diligent about updating their themes because it really is a helpful feature.
Easy Video Header Integration
Video headers have become a popular design trend. And while some premium themes make it easy to implement video headers, they were never integrated into the core WordPress Customizer. WordPress 4.7 changes that by letting you easily add video headers through the Customizer.
But here's the even cooler part:
You can embed video headers directly from YouTube. All you need to do is paste a YouTube URL in the Customizer and you can instantly have your own auto playing video header: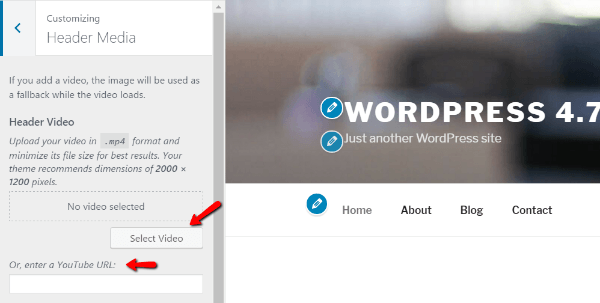 To test it out, I pasted in a URL for a Divi YouTube video. In literally two seconds I had a fully functioning video background for my header. Very easy and super-duper cool!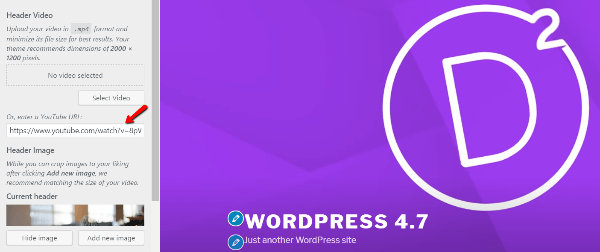 Custom CSS in the WordPress Customizer
If you use Divi, you've been enjoying this functionality for quite some time. But users of other themes will love the addition of custom CSS to the Customizer. This addition does two things:
It eliminates the need to use a child theme to add custom CSS. Now, you can just paste your CSS directly into the Customizer.
It makes it possible to preview CSS changes in real time.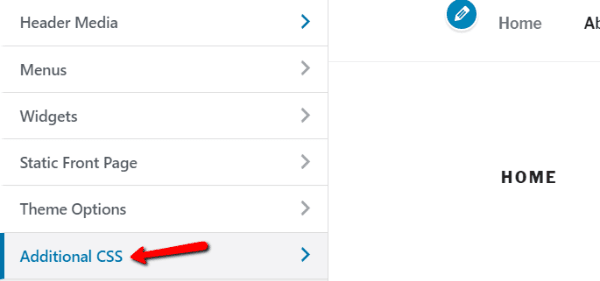 If this feature expands in future releases, it may be possible to completely eliminate the need for child themes. But for now, it's limited to CSS – you'll still need to make liberal use of a child theme for the functions.php file.
Minor Changes to the WordPress Editor
WordPress 4.7 brings some minor changes to the WordPress Editor. If you're a fan of the underline button, I've got bad news – it's been completely removed. They've also moved the paragraph format drop down up a line and made some other minor tweaks with strikethroughs and horizontal lines.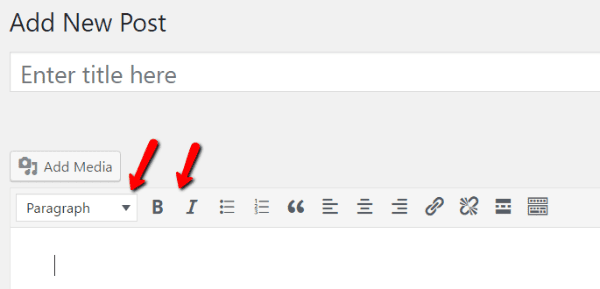 Other Front-End Goodies
The above features are the major front-end updates you can expect in WordPress 4.7, but there are some smaller features that are also worth noting.
Visual PDF Previews – if you upload a PDF, you'll be able to actually see a preview of it in the thumbnail instead of staring at the same generic icon for every single PDF file.
Language Settings for Individual Users – individual users will now be able to change the language settings for their admin dashboard on a per-account basis. Users will only be able to choose from installed languages, though.
Nothing too major, but if either of these affect you or your users, I'm sure they'll be welcome additions.
Behind-the-Scenes Goodies
As usual, WordPress 4.7 also brings some new developer features and performance tweaks. Here are some of the behind-the-scenes features you can expect:
Post Type Templates – developers will now be able to add different templates to all post types instead of just pages.
Custom Bulk Actions – developers can now add custom bulk actions to their themes. So, when you select multiple items inside your dashboard, you'll now be able to potentially interact with them in new ways.
REST API content endpoints – any developers will want to check this out, as WordPress says "If you only test one thing as a developer, please test these."
Locale Switching – the admin toolbar will now use the language of a site's content, rather than the language of its admin area.
And of course, lots of smaller tweaks that could fill pages but would likely bore you to death!
Wrapping Things Up
All things taken into consideration, I'll say that WordPress 4.7 is a much more exciting release than 4.6. First off, the new Twenty Seventeen default theme is a bit of a departure with its focus on business.
The WordPress Customizer has also gotten a lot more useful with additions like easy video headers, visible edit shortcuts, and custom CSS.
I also think the Post Type Templates will allow developers to add some cool new functionality to the custom post types used by their themes.
If you want to check out all of these new features for yourself, you can install WordPress 4.7 Beta 4 and take it for a spin. Just don't install it on a live website yet!
Which feature are you most excited for? Share your thoughts in the comments!
Article thumbnail image by pixome / Shutterstock.com