I'm a big advocate of building community on your website. It falls in line with that whole social networking, thought leadership stuff that's so important and so effective right now. Of course, when you're first setting up a WordPress site for yourself or a client, it can be daunting to know which route is the best to pursue in terms of choosing a platform for engagement.
You can have your social media profile links and your share buttons. You can encourage blog comments. But if you want to foster real discussion that stays on your site your best bet is to add a forum.
Before you wonder off cowering in fear, allow me to ease your mind. You don't need to know a lick of code to add a forum to your WordPress site. No, all you need to be able to do is install a plugin (or theme) configure the settings to your specifications, and get someone in charge of moderating the thing. Otherwise, it's easy peasy.
I'm not kidding. It's really easy. In fact, here are 11 easy ways to add a forum to your site with minimal fuss.
bbPress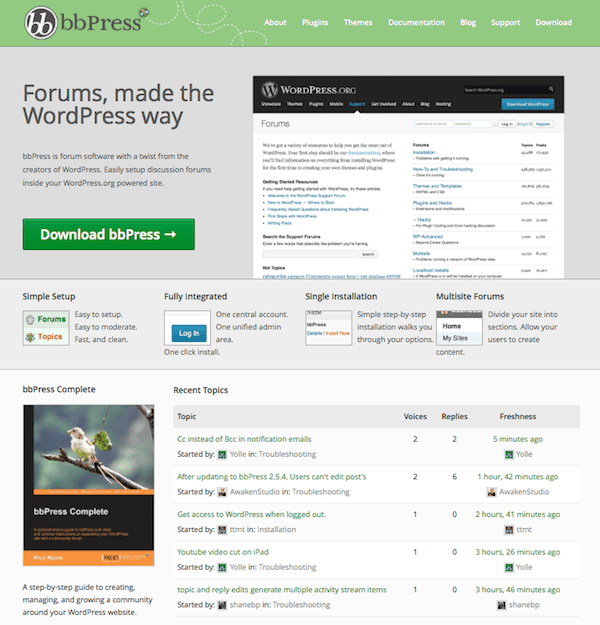 Beloved by nearly everyone who gives it a shot, bbPress is one of the top WordPress forum plugins out there right now. Once installed, it adds several options to your dashboard for creating and managing a forum. It fully integrates itself into your site so it doesn't feel out of place and you can easily manage forum topics and replies just as you would Core settings.
It includes several widgets as well that make implementing the forum easier. Plus, your site visitors can have several options for interacting with the forum like subscribing to the forum itself, to specific topics, and replies. Users with the right permissions can also delete posts, make stickies, flag spam, make edits, and more from the front-end of the forum.
You can also import forum posts from many other forum tools, which means you're not tied down to one forum solution for the rest of your life.
BuddyPress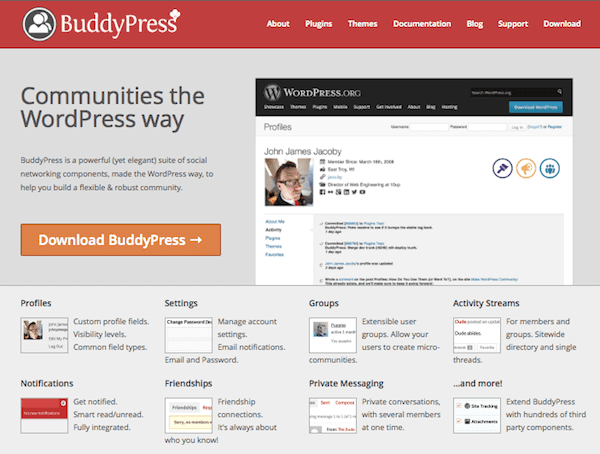 Another forum plugin you've likely heard of before is called BuddyPress. It's feature-rich and makes it easy to add a variety of social network features to your WordPress site without having to use ten thousand different plugins. It's made by the WordPress crew, too so the code is clean and secure.
With it you can let your visitors set up user profiles and user groups, monitor each other's activity streams, and take part in private messaging. It's the perfect way to set up a dedicated social network for your company, a niche topic, or a product. It's also a good way to provide extended support to your customers.
Create custom profile fields, optimize your notification options, and manage account settings quickly. You can establish Friendships to maintain ongoing conversations and even use Private Messaging with multiple forum members at a time. You can give users the ability to create micro-communities thanks to the Groups feature, view activity streams for each member, and you can even extend BuddyPress thanks to third-party add-ons.
DW Question & Answer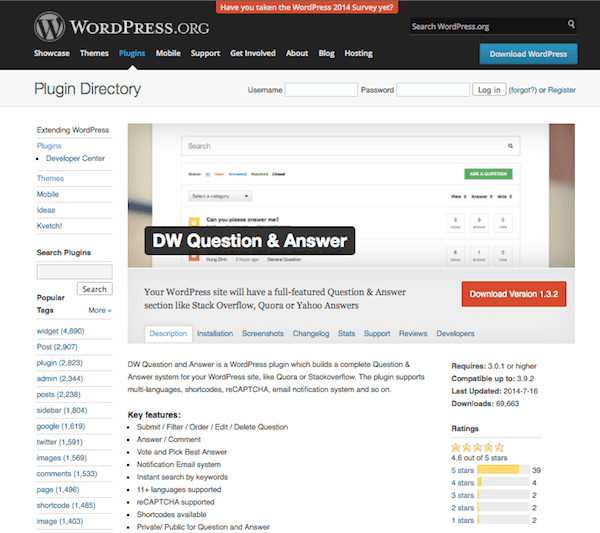 DW Question & Answer is a simple plugin that lets you create a question and answer site in WordPress. This can serve as a useful support forum for your customers, a robust FAQ section, or a way for members of your site's community to pose questions to one another and respond with answers directly.
Some features include the ability to categories and tag questions, up vote answers and comments, and CAPTCHA support for minimizing spam comments. It also includes support for 11 different languages, private answering, the ability to "follow" questions and answers, place certain questions as stickies, and more.
CM Answers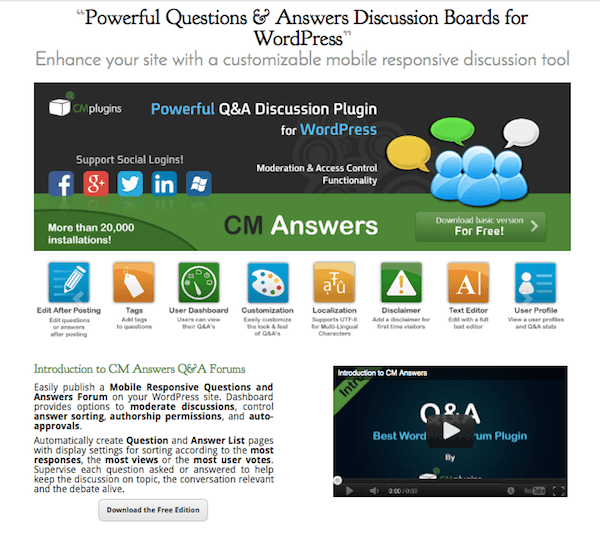 If you want a more robust question and answer forum on your site, CM Answers is the obvious choice for accomplishing this. It's built on a Stack Overflow discussion board so users can ask questions and other users can respond with their answers. Members of the community can then rate the answers to help improve the overall accuracy and effectiveness of your forum. There's a free and premium version available.
The free version is easy to use and looks nice but it doesn't include all the bells and whistles that make this plugin truly great. The premium version includes a variety of widgets and shortcodes for easy customization. It also includes social media sharing options, the ability to add attachments to questions and answers, a full text editor, customizable permalinks, and more. You also have more moderation tools at your disposal and multisite support when you shell out the $29 for the premium version.
WP Symposium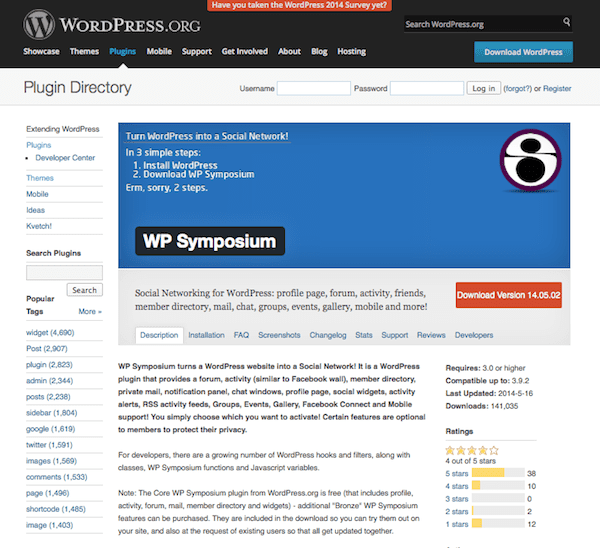 Though typically billed as a social media plugin, WP Symposium is yet another way to add a forum to your WordPress site. And man is it loaded with features! The free version is quite robust and lets you add a forum to your site using a shortcode. You can setup multiple forums if you want by using categories. This way, you can restrict user access if you want based on user role.
Opt-in or opt-out of email notifications, set sticky topics, favorite topics, and vote replies up or down depending on their usefulness. The forum also has a popup menu that lets you conduct searches, view the latest activity, and view your favorites. It also comes with widgets so you can easily display recent forum posts and topics that haven't received any replies yet to encourage more discussion.
The premium version includes even more features but caters more to the social media set and might be a little too much for those just looking to add a discussion forum to their site.
AnsPress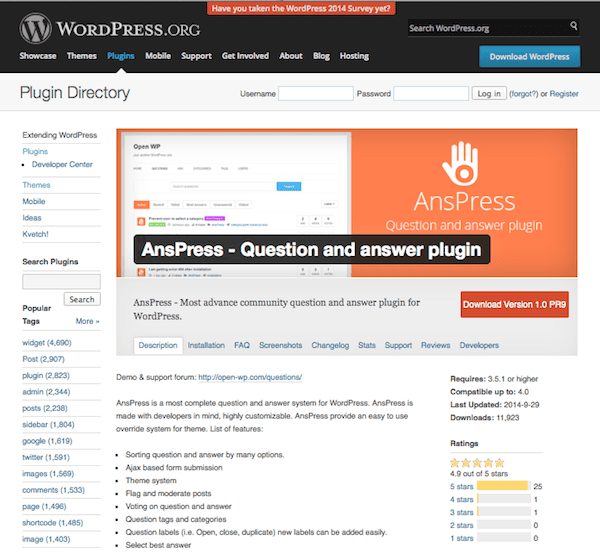 If the Q&A format is your thing, then AnsPress might be a good free option for you to try out. It's really simple and not as complex as some of the other question and answer style plugins I've covered here (like CM Answers, for instance) but it still gets the job done and has a lower barrier of entry for those unfamiliar with customizing WordPress.
Once installed, this plugin adds a Question and an Answer option to your main admin menu and a dedicated Settings page. If you want to customize the look to match your theme you can but it looks pretty nice right out of the box, if you ask me. It has a lot of the same features we've already discussed here like the ability to edit questions and answers, flag for spam, and vote for your favorite answers.
Other features include built-in moderation, question labels, question tags and categories, tag suggestions, reCAPTCHA. private message, email notifications, and a variety of user levels. There's also some fun features for users like ranking, badges, profiles, points, cover photos, and more.
Bublaa Forum and Comments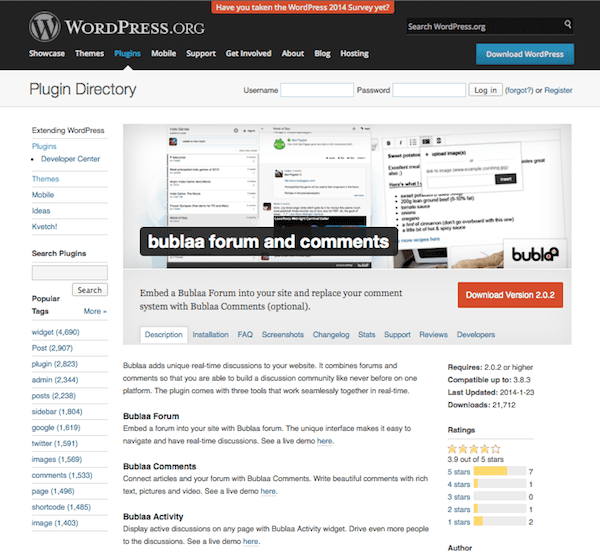 Another free option is Bublaa Forum and Comments. It's a little bit different than the plugins I've talked about so far because it uses the best of what forums and comments have to offer to create a true-blue discussion community. With the Bublaa Forum, you can add a forum to your site that allows for real-time discussions and easy navigation. Bublaa Comments lets you connect pages and posts on your site with this comment system that allows for rich text, video, photos, and more. Finally, there's the Bublaa Activity feature that lets you insert a widget that will display any active discussion you want on any page.
Other features you might want to know about include email notifications, moderation, social logins, responsive design, and SEO support.
SabaiDiscuss for WordPress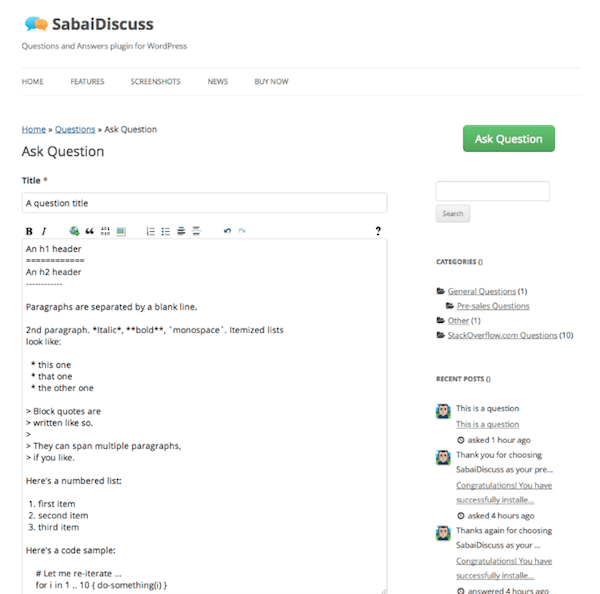 If you're up for a premium option, SabaiDiscuss is a good one. It follows the question and answer format, too, and uses the familiar Stack Overflow style. It can be used to create a standard forum or a helpdesk, even.
Some features here include the ability to post questions and answers from the front end, tag suggestions, categories, file attachments, voting on questions, answers, and comments, and the ability to set some questions as featured. Users can set some questions as favorites, build profiles, and create a reputation thanks to a points system.
A custom field editor allows for greater customization and you can set permissions for a variety of user roles. Access restriction, guest submissions, a PHP Markdown editor, search, widgets, templates, email notification templates, and translation-readiness round out the feature set here for $22.
Groups Forums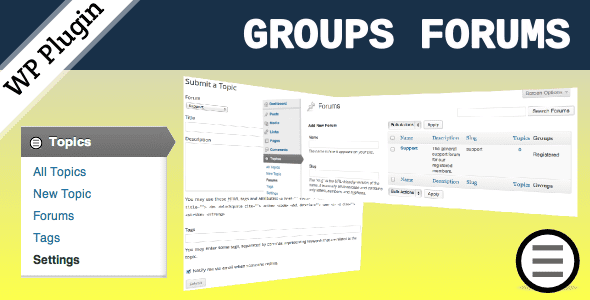 Another for-pay option you might want to consider is Groups Forums. It's light weight so won't bog down your site but still offers plenty of features to keep you happy. It's actually an expansion of the free plugin, Groups.
Topics can be submitted from the front-end and the back-end. You can establish moderators and sticky topics, and users can subscribe to topics if they want to keep tabs on the conversation. Notifications are also included, specifically for new comments, pending topics, published topics, and more. Several widgets and shortcodes are also included for simpler integration. This one will cost you $21.
Simple:Press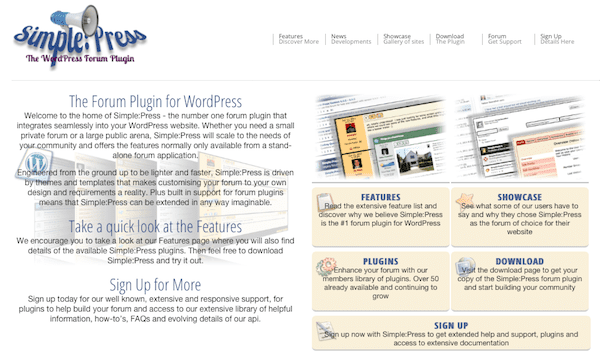 The last plugin I'm going to talk about today is Simple:Press, which has the features of several other plugins all rolled into one. It works for small and large communities alike and is easy to customize to your site's specific needs and design. You can add sub-forums to your heart's content and enable moderation if you want, too.
Other features include ranking and badges for users, image thumbnails, signatures, avatars, search, forum stats, and standard admin tools. You can also set custom icons, custom smileys, "spoilers," shortcodes, and email notifications. It also works with multisite and allows for the creation of permissions, user groups, private forums, private RSS feeds, pretty permalinks, support for popular WordPress SEO plugins, and multiple language support.
Finally, Simple:Press offers plenty of additional plugins that can add-on functionality like private messaging, additional admin tools, and more. The basic plugin is free but if you want to add more complex features, you'll have to shell out some cash for a membership. A Silver membership is good for two months and costs $39, while a Gold membership is good for 12 months and costs $99.
ForumEngine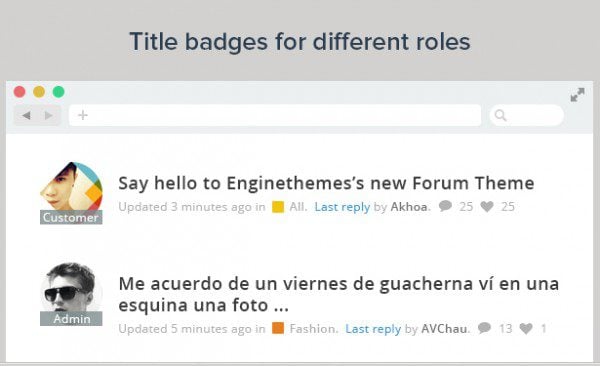 Maybe you want to a build a site that is pretty much nothing but a forum? If that's the case, you might want to check out ForumEngine. This WordPress theme foregoes the plugin solution and gives you an entire site built around the forum concept. Because of that, it includes features some of the aforementioned plugins don't.
Some of those features include social logins, infinite scroll, permissions, the ability to favorite and follow posts, the ability to follow topics, and more. It also comes with a variety of widgets that you can insert wherever you'd like to add more easy functionality. This theme is also responsive, so it'll look good on any device. And it truly is designed just for forums so every aspect will serve that purpose well. It currently costs $53.
Wrapping Up
Adding a forum to your WordPress site or building a forum site from scratch shouldn't be complicated. In fact, it should be a snap, especially if you leverage the right tools. And there are plenty of tools out there to get you started. Hopefully, this list gets you set out on the right track.
Before you embark on your forum-creating journey, I want to hear from you. Do you use any of these plugins or themes? What's your experience with it been like? Or, do you use a different plugin solution that I missed here? As always, I'd love to hear your thoughts in the comments!
Article thumbnail image by Dooder / shutterstock.com