I think the primary, underlying appeal to WordPress as a platform is its ability to empower its users. Everything else about it serves to prop up this one, all important function. It's free, easy to use, has an enormous amount of free plugins and themes and of course an equally significant number of premium plugins and themes that, as a whole, create a highly motivated community dedicated to making just about anything possible with one simple platform.
Which means of course, that enterprising members of this community are able to quickly and easily start WordPress related businesses that benefit the rest of the community while also being sustained by it. A perfect example of this is how just about any WordPress user with a moderate understanding of the platform can create a WordPress Management/Maintenance business in less than a day–at a very reasonable cost.
 What is a WordPress Management (or Maintenance) Business?
At it's most basic level a WordPress Management or Maintenance Business is a service in which the provider provides basic WordPress upkeep such as updating the WordPress core, themes, and plugins for their clients–generally at a recurring monthly rate. Most of these business that I have come across include all or a selection of the following services in addition to this very basic foundation:
WordPress Cloning & Migration
Compatibility Support (for plugins and themes)
Preventative Maintenance
Scheduled Backups
Site Security
Miscellaneous WordPress Support (via phone, email or ticketing system)
Custom WordPress Development
Media File Management
Uptime Monitoring
Performance Scans
Traffic Alerts
SEO Analysis
Analytics Reports
Content Management
How Does a WordPress Management Business Work?
As I mentioned above, a WordPress Management Business consists of providing a series of maintenance, support, and customization services at a recurring rate. Of course you can choose to offer one time services but by its nature, ongoing maintenance works best as a business model if the primary focus is on ongoing subscriptions to your services.
Worried about not being a verified "WordPress Expert" just yet? Well, if something falls outside of your proficiency level you can still get started by providing the services you are capable of while you train up on the knowledge and skills you'll need to expand. This is a particularly good idea as the trend with WordPress continues to be that, while relatively simple, it is still evolving into a higher functioning content management system–even an app engine/online operating system–which by its very nature will need more and more specialized knowledge as future iterations are released. Of course that's not to say that WordPress is becoming more difficult to use, per se, but only that as more becomes possible with WordPress specialists well versed in the wider variety of what is possible will continue to grow in value.
As far as the basic flow or function of your business, it will work something like this:
New clients in need of WordPress help will sign up for a management plan offered on your website. (Obviously you will want to make sure that they provide you with all of the appropriate login credentials that will allow you to access and maintain their WordPress website(s).)
Once they are signed up and a payment plan is in place you should give them access to your support system (see the "what you will need" section below) so that they can notify you of anything specific.
You should develop a standard set of on-boarding action steps taken from the time someone signs up to the point when they are fully part of your regular–hopefully automated–routine of multi-WordPress install updates/maintenance.
Process payments at the designated times.
Keep customers happy
Market your services any way you can in order to acquire new sign-ups
Watch your base of subscriptions grow 🙂
Here are a few examples of WordPress Management/Maintenance Businesses in action: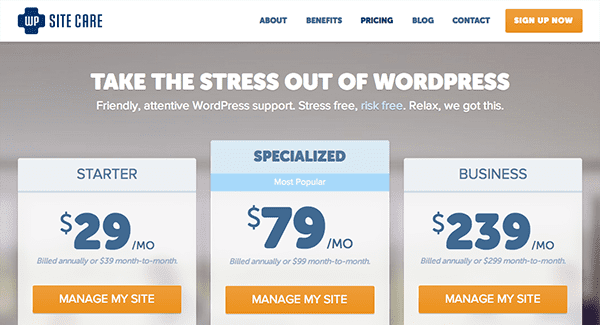 Services Offered:
24/7 Security Monitoring
Daily Site Cloud Backups
WordPress Updates
Interactive Training
Realtime Activity Tracking
Stellar WordPress Support
And more by specific plan…
Pricing Plans:
$29/month
$79/month
$239/month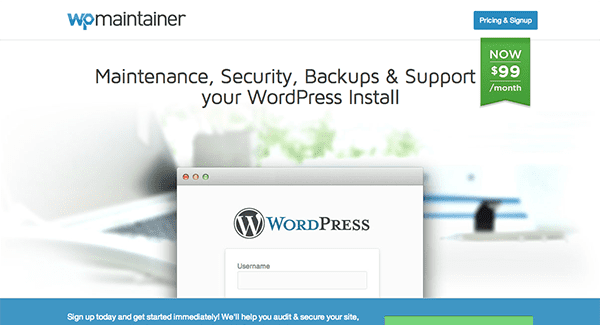 Services Offered:
Update WordPress, Plugins & Themes
Backups
Malware Monitoring and Clean Up
WordPress Migration
Compatibility Support
Monthly WordPress Support
Discounted Development Costs
Pricing Plans: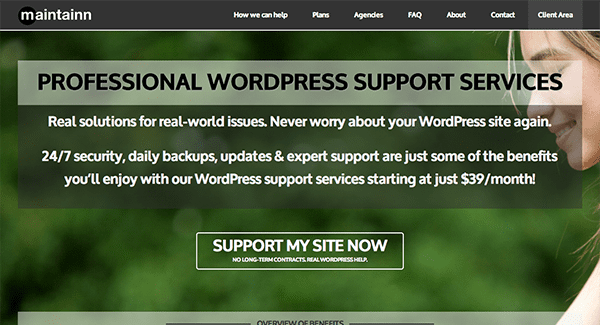 Services Offered:
24/7 Security Monitoring
Secure Off-Site Backups
WordPress Core Updates
Theme/Plugin Updates
WordPress Video Tutorials
Discounted add-on hours available
30 Minutes Support/Month
And more with higher plans…
Pricing Plans:
$39/month
$99/month
$289/month
Custom
What You Need to Start Your Own WordPress Management Business Today
Ok so now that we have been over what a WordPress Management Business is, how it works and seen some existing examples in action let's talk about what you need to get started and realistically how quickly you could launch your own. Using the tools I've listed below, I think it is more than reasonable that someone with a Working knowledge of WordPress, proficient in creating simple brand design, and possessing the proper motivation could get a functioning WordPress Management Business launched in a single day (or less). Obviously, it will most likely take you more time than that to acquire a full load of clients but the service itself (if modeled off of the services shown in this post) is straight forward and simply needs to be presented in a new "brand wrapper" to be re-sellable. Exciting, right?!
Let's get into the tools you'll need…
WordPress Website:
The first and possibly the most important thing you will need to launch your business is your own WordPress website where you can offer your services, accept payments and provide a point of contact for you clients. I think it's a no brainer that you would want to use elegant themes' very own Divi to set this site up. Obviously you can use whatever WordPress theme and accompanying plugins you would like in creating your site, but in my opinion Divi is perfect for this type of project. It even come stocked with landing/product page mockups that you can deploy with a single click!
Payment System:
You will of course need a way of accepting payments. Preferably one in which you can create subscriptions that bill your clients automatically. My recommendation for this is the free and easy to use Easy Digital Downloads by Pippin's Plugins.
Support/Ticketing System:
If you want to stay on top of your customers needs it's a good idea to have a real support/ticketing system in place. One of my favorites but by no means the only options (just google "ticketing or support systems" for more options) is Freshdesk.
Automation:
And finally, it's a good idea to automate as much of the management/maintenance as possible. While everything you would be offering to do is possible to do manually (with no small amount of spreadsheet organization, no doubt) you are able to take on more clients and cut down on time per client significantly if you optimize/automate using a tool/service like ManageWP, WP Remote or any of the tools mentioned in our post How to Manage Multiple WordPress Websites Effectively.
In Conclusion
WordPress Management Businesses have been a solid business model for years now. With the tools and proper know-how almost anyone can start one. However, the key to success is without a doubt custom service. Those who are winning in this category are those who have combined good design (on their own website) with heavy automation and outstanding customer support.
The ideal customer for this type of business is someone who is new or uncomfortable with the upkeep and maintenance of WordPress websites. Or, someone who is simply too busy running their own business to want to keep tabs on these sort of ongoing tasks and would rather hire them out. With the continued growth of WordPress as a platform the need for new businesses in this category does not seem to be diminishing anytime soon. And of course the more helpful and original of a twist you put on your version of this idea the more likely you are to appeal to new users. Good luck!
What do you think about this simple WordPress business idea? Tell us in the comments!