A big part of ranking higher in your local area is telling search engines such as Google more about you and what you do. Google needs not only to know the name of your business, but also the type of business you provide, your physical location, and hours. This makes finding a business much easier, and improves the value of the search engine.
Try this: go to Google without signing in (or use an incognito browser) and type in "tires." The results are probably all over the place. Google does attempt to give you results based on your location, which improves the value of the 236 million results, but if it has nothing to go on then the results of your search might not help you.
If you're signed in to Google and perform a general search, such as "tires," Google will automatically deliver results based on your location. You will see local suppliers with phone numbers and maps. You will see store hours. This can happen because Google knows the businesses in your location. The problem is if Google doesn't know about your business (location, type of business, etc.) then you won't be on the list of results.
Getting on that list is more than just having good search engine optimization. You need that, but that just involves general information. Your SEO needs to be localized. This article will take a look at SEO plugins that are made specifically to improve your local SEO, as well as a few strategies that will help rank you above the competition.
Plugins and Widgets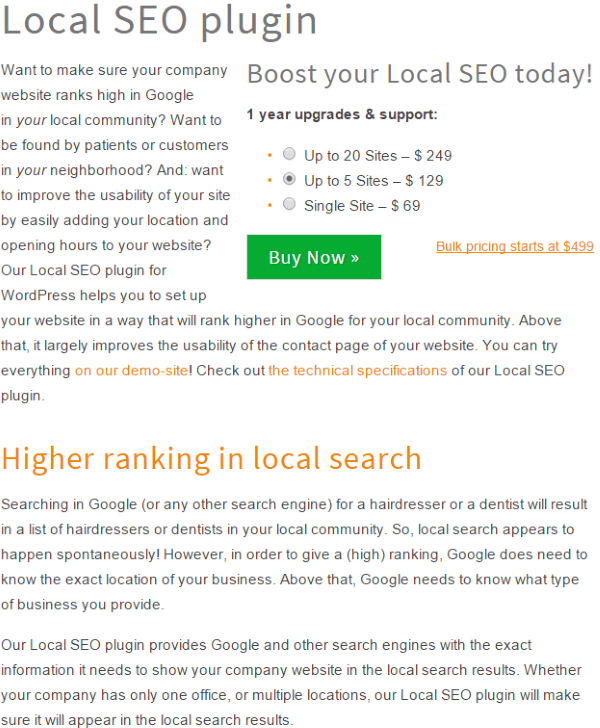 With almost 15 million downloads and an average rating of 4.7 out of 5, WordPress SEO by Yoast is one of the most popular SEO plugins for WordPress. The main Yoast plugin is free, but there are lots of extensions available – one of which was designed specifically for local searches.
The plugin tells Google the information it needs to rank you higher in your area. It tells Google the name of your business, where it is located, what kind of business it is and the services you provide, and how many locations you have.
It allows you to localize your contact page by inserting Google Maps, your company address, operating hours, and a store locator with support for multiple locations. If you are looking for an even better interactive map embed, we suggest these plugins.
This is a premium plugin with several price ranges. It's $69 for a single site, $129 for up to 5 sites, and $249 for up to 20 sites. It is also available in the complete bundle that includes Premium SEO, Local, News, Video, and Yoast WooCommerce SEO.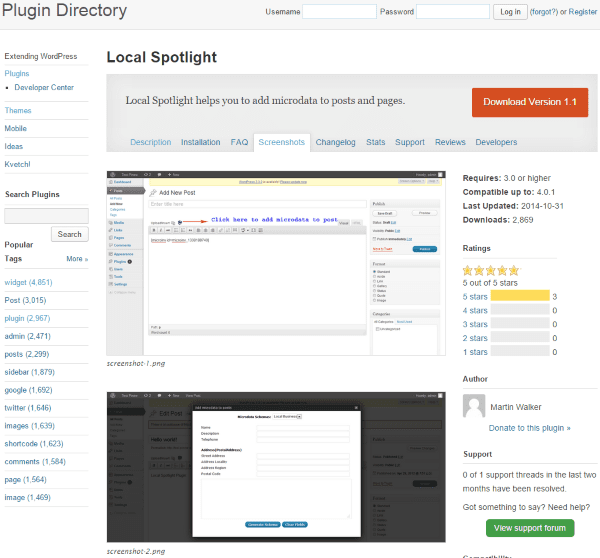 This free plugin will add microdata to your posts and pages based on Schema.org standards that will give your address, including city/town and zip code, to search engines. It will work with any page or post and it's simple to use.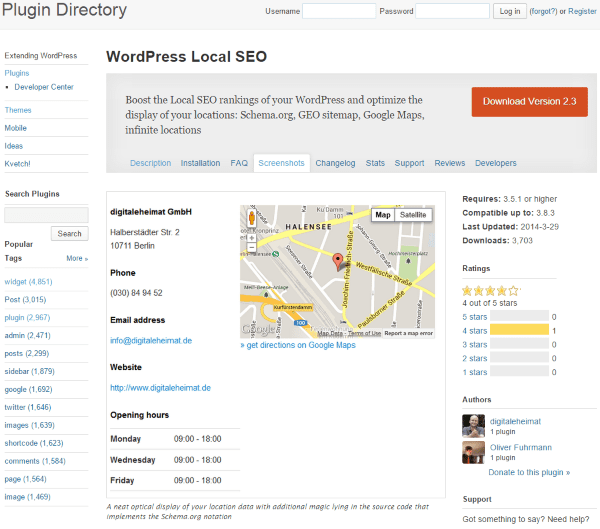 This one optimizes the display of your locations and provides lots of information on screen. It uses schema.org standards with valid rich text snippets, GEO sitemap, displays Google Maps, and provides infinite locations as a custom post type that's linkable to any other content. It provides branding with your title and logo, address and contact information with dynamic feeds, opening hours, and more. It even has several layout options with support for custom themes.
The easy-to-use interface will show locations directly in any post. It will show location information as a custom post type. This is a great way to list multiple locations. You create a location instance and then add as many of them as you want to any post. It will also enable categories for locations. You can call Google Maps as either a shortcode or as a function call.
It has several SEO relevant fields that include:
Type of location
Phone (multiple #'s)
Fax (multiple #'s)
Email address (multiple)
Website (multiple)
Description
Opening hours
You can append your locations directly in your theme automatically by using a WordPress filter, manually by using a function call, or directly into your post by using a shortcode. This plugin is free.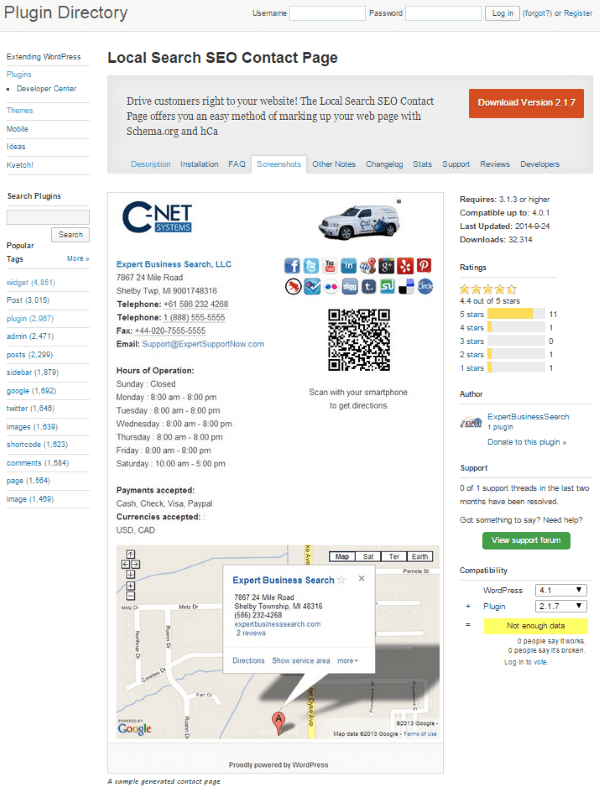 This one uses microdata business information from schema.org and hCards at the same time. It will generate a QR code, Google map with Google Place and directions, geo-tag for coordinates, and social media sharing buttons including Facebook, Twitter, LinkedIn, YouTube, Google+, Pinterest, and more. It will display your phone number, fax number, email address, and so forth. It is highly customizable and easy to use. It's also free.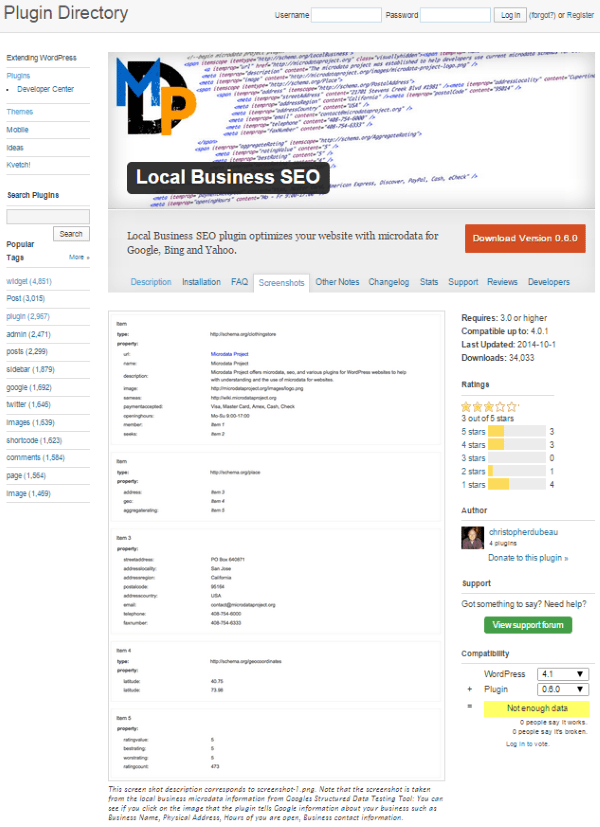 This free plugin informs search engines of the type of business you have. It enables local keyword searches like restaurant, painter, plumber, car dealer, etc. There is a long list of business types to choose from. It uses microdata and informs search engines of your business name, physical address, hours, and contact information. You can even add employees and founders to the microdata. Meta data is placed into the footer of your website.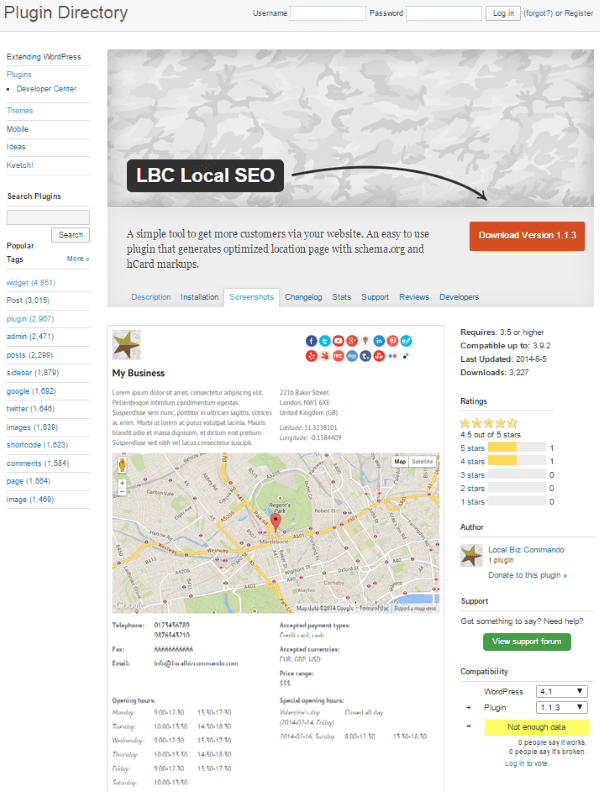 This free plugin provides rich snippets from schema.org and hCard markups and displays essential information about your business. It will send information to search engines about your business including your business name, address, hours, phone number with click-to-call links, fax number, special holiday hours, email with a clickable link, and more. It uses Google Maps and even includes social media links and payment details. Unfortunately, the author has stopped updating it, but it was last updated recently if you're interested in checking it out.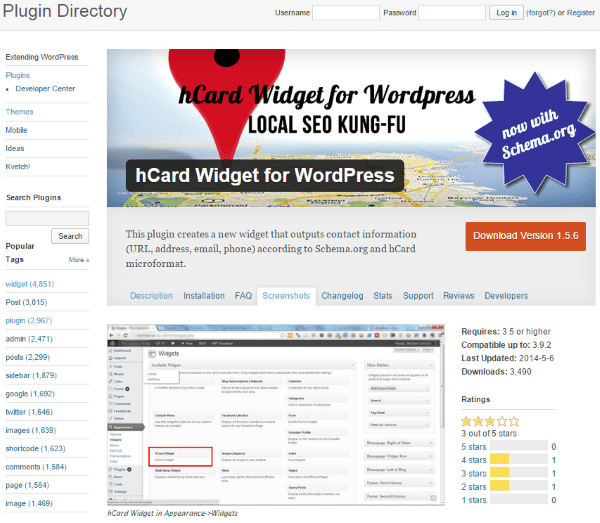 This plugin creates two widgets that output contact information based on the hCard and schema.org standards. The widgets include fields that you fill out with information about your business including name, organization, address, website, email, map, phone number, fax number, and social media links including Facebook, Twitter, Google +, and LinkedIn. Each field can be assigned unique CSS classes so you can style them individually.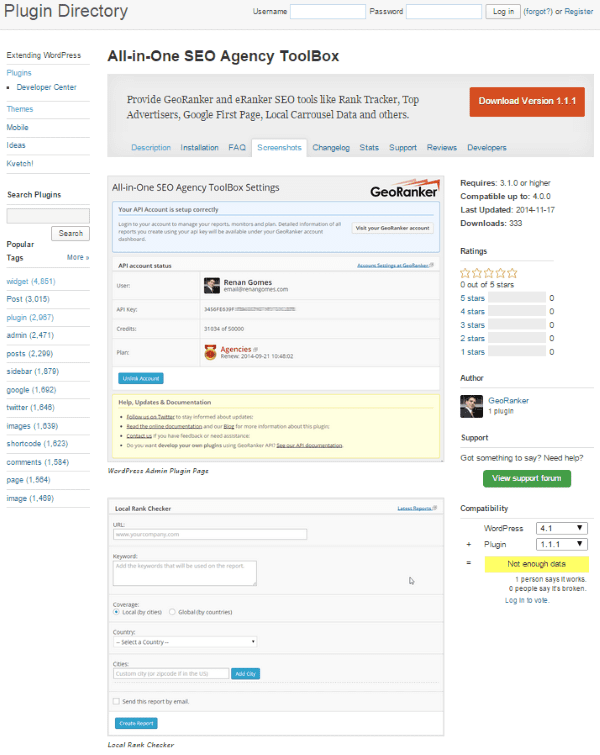 This free plugin provides several GeoRanker and eRanker SEO tools including Rank Tracker, Top Advertisers, Google First Page, and Local Carousel Data. It has a local rank checker so you can know how your business ranks in your local area. The tools allow the user to generate SEO reports that can be added to posts using shortcodes.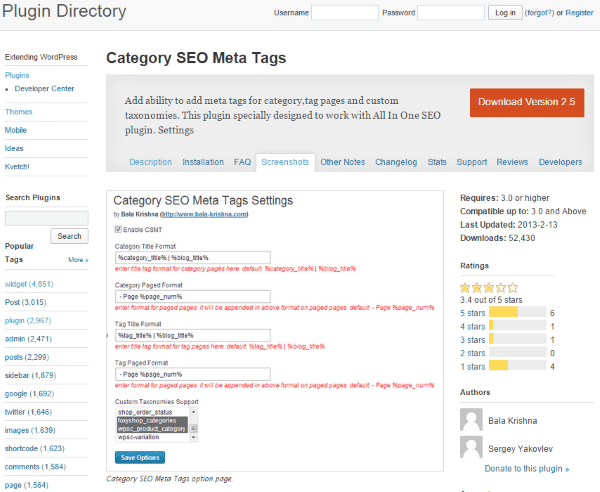 The focus of this free plugin is meta tags for categories, tag pages, and taxonomies. It works with the All In One SEO plugin and adds support for localization. It also supports custom taxonomy and works with WooCommerce, FoxyShop and WP-Ecommerce.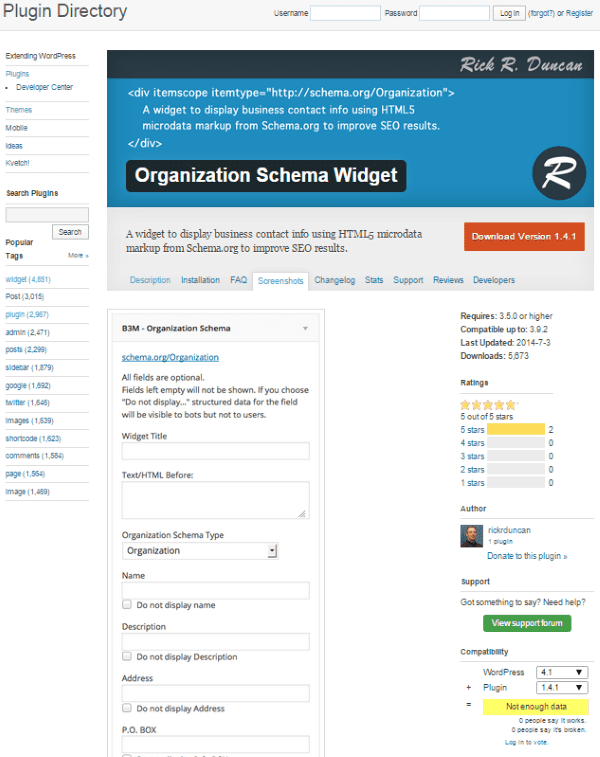 This is a widget that provides an easy way to implement HTML5 microdata markup from schema.org, helping your web pages and content stand out in local search results. The widget has a ton of fields that include your business name, description of your business, organization schema type, address, contact information, hours through the week, hours for Saturday, hours for Sunday, and more. You can add text or HTML before and after the information. You can also choose which fields to display. It comes with a style sheet with several predefined styles, or you can use your own styles.
We highly recommend you look over all the best schema plugins for WordPress if this plugin interests you. There are many great options out there.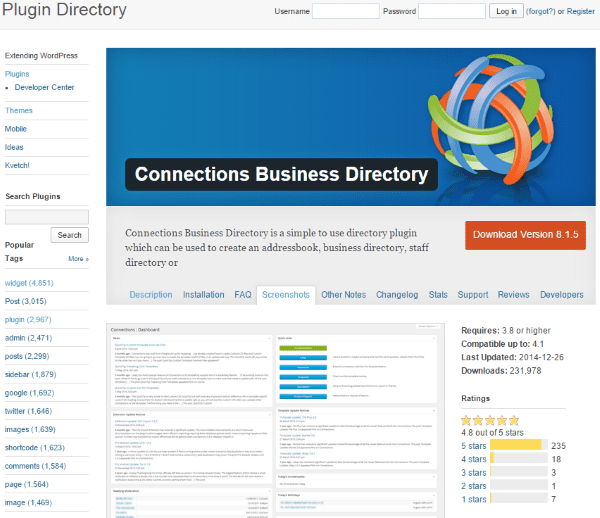 This plugin creates a business directory, staff directory, link directory, or address book. You can add a logo and images, which are all responsive with Retina HiDPI support. It has multiple types of entries and allows you to group people together. It has many, many fields including addresses, phone numbers, email addresses, IM, social networks, an image, a logo, bio, and notes, and for entries like addresses and phone numbers, you're not limited to how many you can display, so you can assign as many as you want.
There are even custom fields for income level, education level, and languages. Usually, directory listings do not come up first in SEO, but with this one, every entry outputs according to the hCard spec, so your directory is optimized for local search.
You can even set up connections as categories with a hierarchy. You can build your connections with one of the many built-in templates. There are also premium templates if you want more than what comes with them. It can also be expanded with premium extensions. You can display your entries anywhere you want by using shortcodes.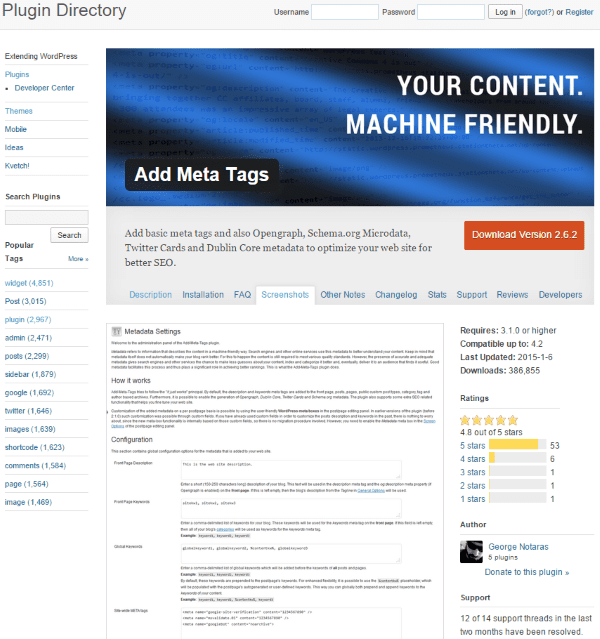 This free plugin adds keyword and description meta tags as schema.org metadata to your content. It adds tags to your frontpage, posts, pages, custom post types (from the first paragraph), archives (category-based, tag-based, author-based, and custom taxonomy), and much more.
The schema.org microdata can be added to the front page, posts, pages, image attachment pages, and author archives. It will automatically markup posts, pages, and custom post types as article objects, images as Image, videos as Video, and audio as Audio MediaObjects. It marks the web site as an Organization object and the author as a Personobject.
Social media can also affect your SEO. Although Google doesn't include information such as Likes and Retweets, social media contributes to the organic success of your site. Social media affects your local SEO in several ways including:
Local links
Personalization
Brand awareness
Authorship
Site engagement
Profile ranking
Building authority
Go where the people are. They're on Facebook, Twitter, Google+, Pinterest, LinkedIn, and a slew of other social media networks. They're your local community and they know others in your local community. They will help spread your message by word of mouth. Engage with them and include links on your website. Here are a couple of ways you can do this.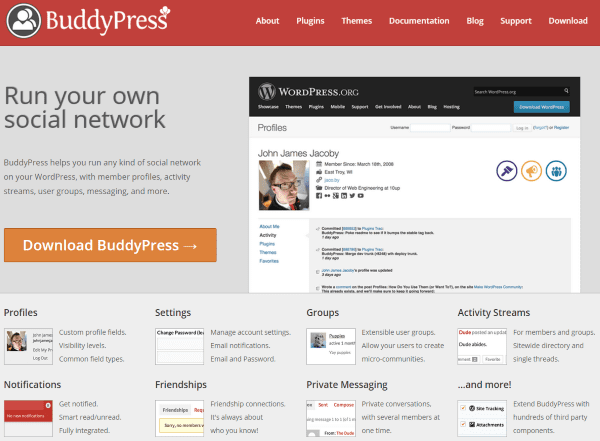 Building a social network on your site for your local area will get readers from your local area talking about your local area, helping to create content about your local area. BuddyPress lets your visitors build groups and friendships, and gets them to share their content and conversations on their other networks through sharing buttons, which can help raise local brand awareness and authority, bringing in the right kind of traffic.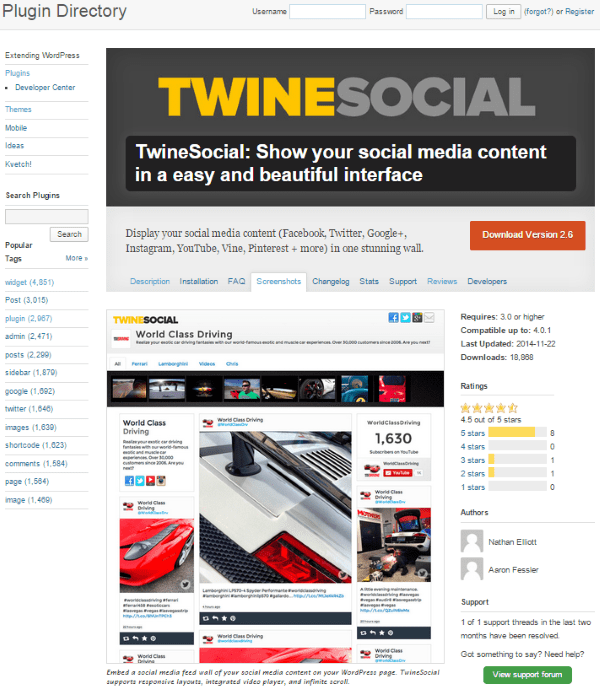 This plugin places all of your social media content from Facebook, Twitter, Google+, Instagram, YouTube, Vine, Pinterest, and more, on a single wall. This will let your visitors see all of your social media efforts in a single place. You can moderate and interact with your visitors from one location. The page will have an infinite scroll, so your content will keep loading. You can group your content by category and it has custom CSS and dynamic layouts. The links are SEO optimized. There are also analytics so you can know who uses your social hub and how they interact with it.
There is both a free and paid version. The free version gives you 3 data feeds, Twine branding, daily scan interval, and 1000 free pageviews. The Starter version is $19 per month and gives you 3 data feeds, reduced Twine branding, hourly scan interval, and 1000 free pageviews. The Growth version is $129 per month and gives you 5 data feeds, no Twine branding, Custom CSS and branding, and 10,000 free pageviews.
Best Practices and Some Tips
Okay, you've set your website up with the best local SEO plugins, and entered all of your data with your business name, address, phone number, operating hours, and a Google map with directions. Done? No. Not by a long shot.
It's not enough just to have the site with the information sitting there waiting for someone to come by and see it. That might get you listed in the search engine, but what if you live somewhere with tons of competition? You might not even show up on the first page of the search results! The next item on your list is to use your site in a way that it attracts the right kind of attention.
It's not about trying to cram in as many keywords as you can. Google is smarter than that. Google is looking for quality content. Your goal shouldn't be on ranking higher in Google and other search engines. Your goal should be providing the best content you can for your target audience. They will then use your site, give you quality links, and share your links on their social networks, which will then increase your ranking in the search engines.
Most of the time when people search for something near them they use the name of their neighborhood, city, region, etc. If you use the names within your posts, you're not only more likely to move up in the ranks, you're more likely to get noticed by those that are searching. If they have several choices and one of those choices has several articles that refer to the specific location the reader is looking for, that's the site they're more likely to visit.
You want to use relevant keywords in your content (not crammy spammy) that matter to the people in your area. Target your specific region by using terminology for your neighborhood or specific region in your posts and pages. Use the name of your neighborhood in the text of your posts. Use your neighborhood as part of your description on your Google My Business page. Use it in your tags. Use it in your profiles. Use specific messages targeted to your neighborhood. Use a subheading that targets your neighborhood.
Use your city name in your URL, in your title tags, in your h1 headings, in the alternate text in your images, and of course in your content itself.
The more you can use your city name, neighborhood name, area, and so forth., the more your site will be tailored to your community. Don't use keywords and names in order to rank. Instead, use them naturally so your visitors will know that they're in the right place – that your site is tailored to them. Because of this you will get more visitors and your site will rank better.
Wrapping Up
Optimizing your website for local search can play a major role in the success of your business. This is especially true if most of your business is local. You not only want to be listed when users perform a search, you want to rank high on the list. Using these plugins and practices can help you do just that.
Your turn! Have you optimized your website for local search? Did you use any of the plugins and methods described here? Did I leave out your favorite or do you have anything to add? I'd like to hear about it in the comments below!
Article thumbnail image by best pixels / shutterstock.com