Anything anyone says about you online has an effect on you and your company. It can be positive (we all hope for this) or it can be negative. Either way, it has an effect.
Managing and monitoring what people are saying about your brand is part of maintaining your brand. This is known as Online Reputation Management.
It takes a lot of hard work to build a solid reputation, and that reputation can be torn down with a single tweet. People will sometimes be negative. They will not like everything you do, and they will share their opinions with others. The best way to fix it is to change your practices if need be, and respond positively where possible. How do you know what they're saying? Well, you need to monitor your reputation.
Knowing what people are saying about you and your brand is a great indication of the health of your company. And of course, you want people to say good things about you. If there's something bad out there, you want to know about it so you can fix it. People will usually tell their friends before they will tell you.
You can monitor and manage your online reputation by using a few tools.
Tools to Monitor Your Reputation Online
The first thing you need to do is monitor what others are saying about you and your brand. To do this you will need some tracking tools. There are many good choices out there.
Be sure to monitor variations on your name as well as your actual name. Customers will tend to shorten your name, use acronyms, or even spell it wrong. Now, let's look at a few tools.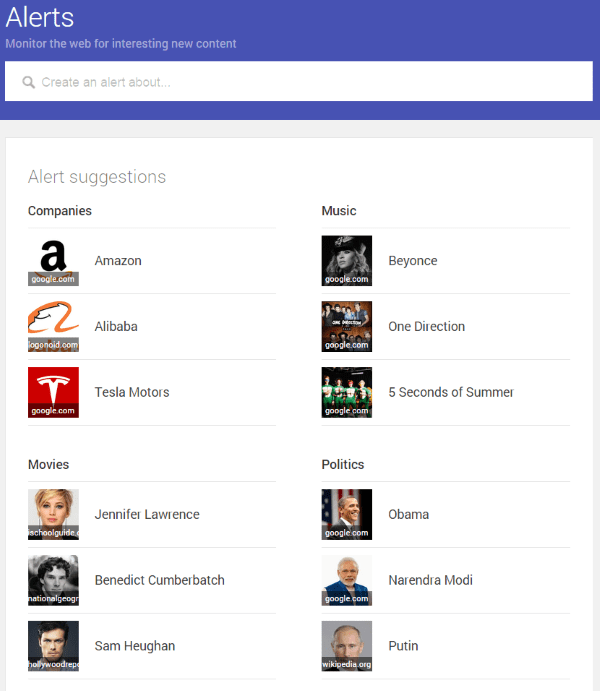 Google Alerts lets you monitor the web for interesting content by creating an alert about a specific topic and having links about your alert sent to you in your email. You can have the alert sent to you once per week, once per day, or as it happens.
You can choose the sources that you wish to get information from. Sources include news, blogs, web, video, books, discussions, or you can choose automatic. It gives you alert suggestions in each of the categories. You can also set your language and region. You can have it set to send you all of the results or only the best results. As you type in your search, the page will give you a preview from each of the sources. You can create as many alerts as you wish. You can also edit or delete your alerts.
You can create alerts for your own website, business, and for yourself and get an email with links where you are mentioned. You can also use it to stay on top of trends and news in your industry. Google Alerts is free to use, you just need a Google account.

Social Mention does real-time searches of social media and analyzes the results. It will search blogs, microblogs, bookmarks, images, videos, and questions. You just type in your keyword, choose a specific category or all categories, and run your search. It will also give you a list of the latest trends.
After running your search, it takes you to an analysis page where it gives you lots of useful data. For instance, it provides a list of links with the default sorting by date and time. You can also sort by source and choose last month, last week, last day, last 12 hours, and last hour. You can filter out URLs that you don't want to see, too.
It also gives you some scoring info with charts. These sections are explained well with popups that appear with mouse-overs. They include:
Strength – the likelihood your brand is being discussed on social media.
Sentiment – the ratio of positive and negative mentions.
Passion – the likelihood that those talking about your brand will continue to talk about it.
Reach – your range of influence.
It gives you the seconds per mention, how long ago the last mention was, the number of unique authors, and the number of retweets.
It also gives you graphs with quantified results. Graphs include:
Sentiment
Top Keywords
Top Users
Top Hashtags
Sources
You can get any of the data as a CSV file and you can email the alert. Like any search engine, Social Mention will return results you don't want, so you might have to filter your results with quotations and removals. Social Mention is free to use.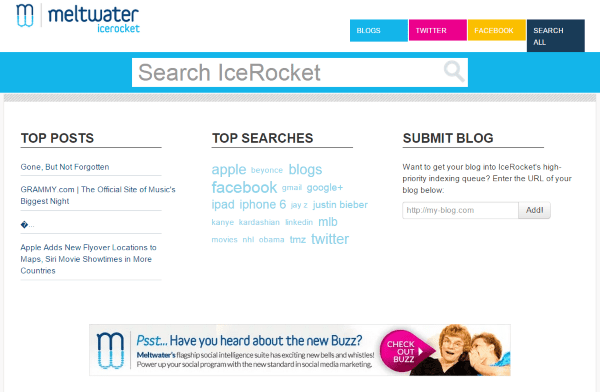 IceRocket will let you search blogs, Twitter, and Facebook. It will give you links where your site (or whatever you searched for) was mentioned. Each link will show you how many days ago it was posted. You can filter by time. Your choices are today, past week, past month, anytime, or you can choose specific dates. You can also choose the language.
There are some analysis tools, but it mostly covers search trends and so forth.
Where IceRocket really shines is its advanced filtering. Show Posts With includes all, exact phrase, any, none, in the post title, or in the post tag. Domain Specific Search includes from the site and link to the page. Authored by lets you specify who the blogs and posts were written by. You can also include the same date filters as the regular searches. There are examples given of the Advanced Search Operators to step you through it.
You can also submit your blog to get it into their high-priority indexing queue.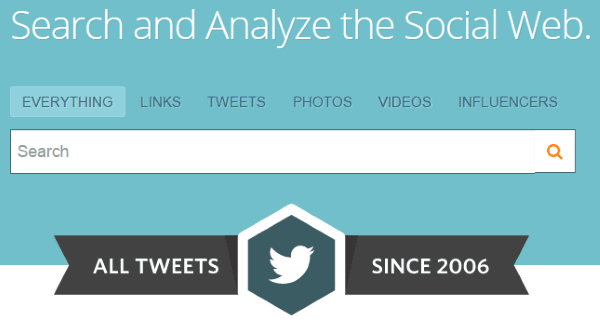 Topsy has indexed every tweet that has ever been tweeted throughout all time and space (a Twitter TARDIS?). At an average of 6000 tweets per second, that's an impressive feat. This means you can search through every tweet, in all of ever, for statistical data about you and your brand.
If you don't want to look through that much data (all of ever is a lot of data as it turns out), you can filter the results and see only the timeframe you want to see. You can see tweets from the past hour, past 5 hours, past 1 day, past 7 days, past 30 days, all time, or you can select the date range. Each of these shows the number of tweets on the search results screen.
The search results screen shows you links to all of the tweets that use your search phrase. You can view them by relevance, newest, or oldest. You can also get email alerts when your keyword is used. This is a great way to know when someone has tweeted about you or your brand. An advanced search will let you search for all words, any words, none, within a domain, or within a Twitter user.
You can retweet, reply, and favorite each tweet from Topsy, making it a great tool for saving time, finding information, and tracking trends. What this one does better than the others though is that it allows you to specifically search influencers. Why does this matter? What the influencers say about you carries a lot of weight, and you definitely want to know what they're saying. You can also see what they're saying about your industry in general. This helps you to know the direction your industry is heading so you will be in tune with everyone else, or stay ahead of everyone else.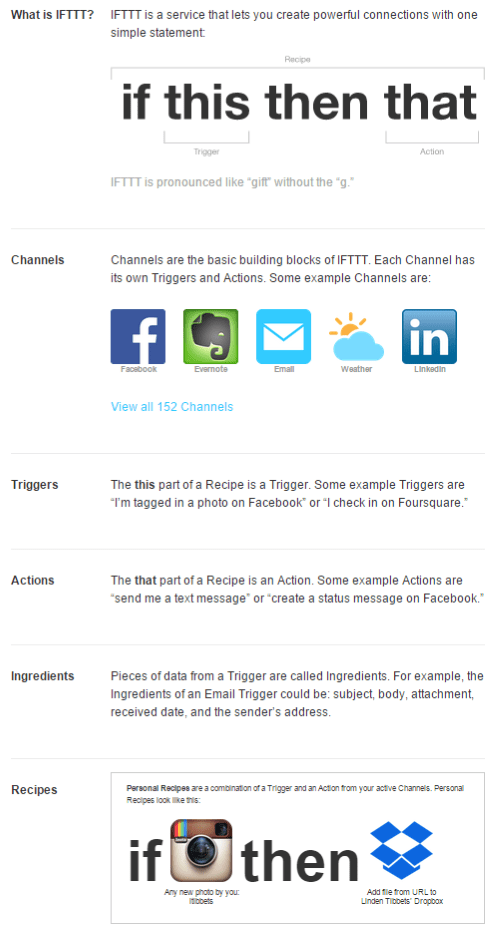 IFTTT is a service that lets you create connections on over 152 channels (social media networks) using the "if this then that" statement. This is called a recipe. A recipe consists of a trigger, an action, and ingredients. The trigger is the "this" and the action is the "that." The ingredients are the pieces of data.
How it works:
You set a trigger for a channel and an action that happens when the trigger is fired. For example, "If I'm mentioned in a tweet (this), then send me an email (that)."
Using this trigger and action, you then add ingredients to build a recipe. The ingredients of the email trigger could be the subject, body, attachment, received date, and the sender's address.
You can turn them off and on as you wish. They check for data every 15 minutes. Recipes can be modified and reused.
IFTTT is free to use and is a great way to get an alert if you are mentioned somewhere in a social media network.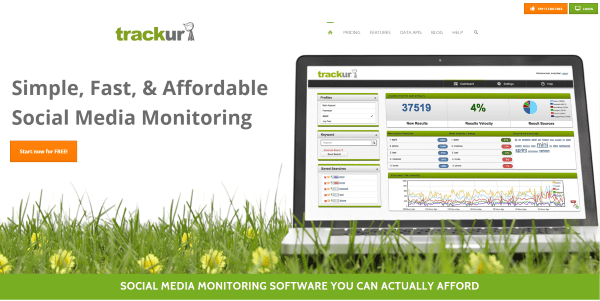 Trakur is a service made specifically for monitoring your social media reputation. It searches hundreds of millions of sources and gives you detailed analytics, sentiment analysis, and influencer scoring. You can log in with any of your web-ready devices to monitor your reputation from anywhere.
The analytics provides insights that shows you the number of new results, velocity change, share of voice, and more. This not only helps you know that people are talking about your brand, it helps you to know what it is about your brand that they like.
You can get the data in Excel, with RSS, and in email. Plus, all conversations are archived, so you can refer back to them later. You can share them, and you can follow up on each one.
The influence and sentiment analysis will automatically give you a score of either positive, negative, or neutral. It also shows you the influence of each person that is talking about your brand.
If you're interested in white labeling, you can get a fully customizable dashboard with your own URL, logo, and colors. This is a great way to offer social media monitoring to your own clients under your brand.
This is a premium service with three different plans. All plans include full media monitoring, unlimited mentions, fresh results (less than 30 minutes old), and influence and sentiment metrics.
The Plus plan is $97 per month and gives you 50 saved searches, dashboard, email, and RSS alerts, and influence and sentiment analysis. The Premium plan is $197 per month and gives you 250 saved searches, and adds custom feeds and group by profiles. The Ultimate plan is $447 per month and gives you unlimited searches, and adds unlimited client logins, and allows for white labeling.
Having someone post a complaint about your brand on one of the many complaint websites can be devastating to your reputation. This custom Google search from Go Fish Digital will search 40 complaint websites at once, so you can monitor and respond quickly. It is free to use.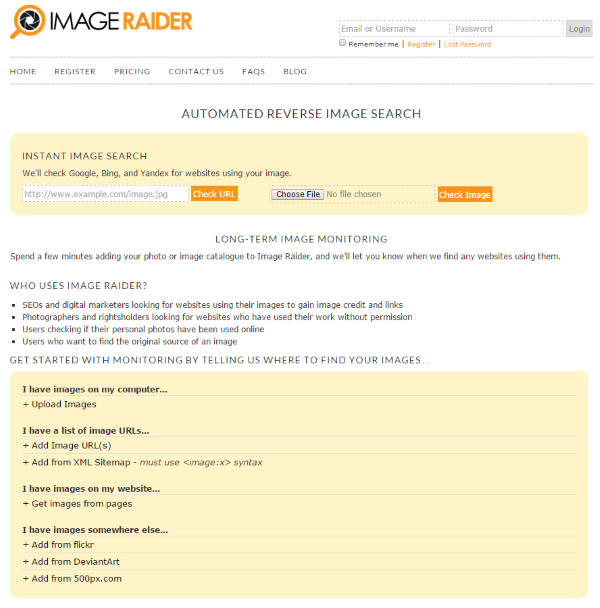 Another way that your reputation can be damaged online is by someone using your images in a way you did not intend. Image Raider will search the web for any sites that are using your photos. You can upload images to be searched, or you can link to them from your website and photo websites including Flickr, DeviantArt, and 500px.com. You can schedule your checks to run automatically and send you an alert if your images are found.
Image Raider is a premium service from the UK, so the prices are in British Pounds. They use a credit system. One image search costs one credit. You can subscribe and get 300 credits for one pound, or you can get 200 credits without a subscription for one pound.
Social media apps that you're probably already using (and if you're not you should be) also have tools that can help you monitor your brand. You can use them to create searches and see what others are saying about you.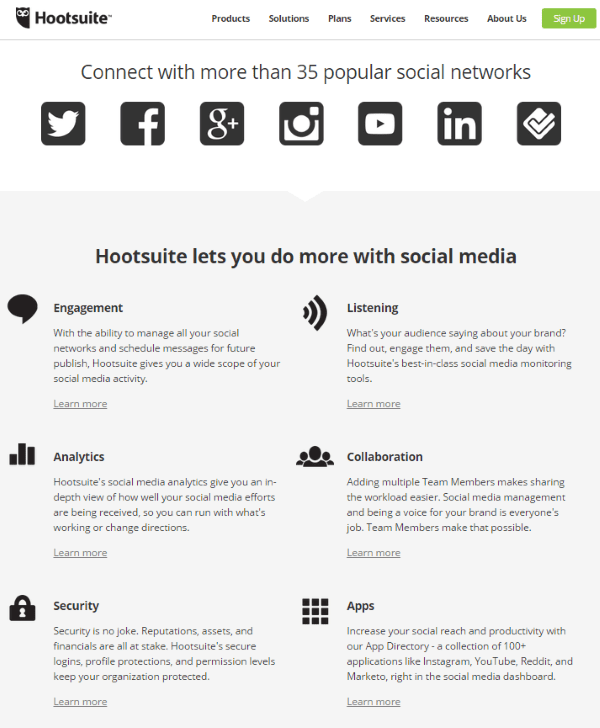 Hootsuite will connect to 35 social media networks and allow you to create searches so you can listen to what your audience is saying about you and your brand. You can use it to increase your social reach and use analytics to track your brand growth and measure your sentiment. You can get custom reports, too.
There are three plans: free, Pro ($9.99 per month), and Enterprise (contact them for prices). Each plan adds profiles and reports. However, even the free plan will let you search for activity on Facebook and Twitter about your brand. You can save the search as a stream and reply, retweet, send a direct message, favorite, and share the stream with others.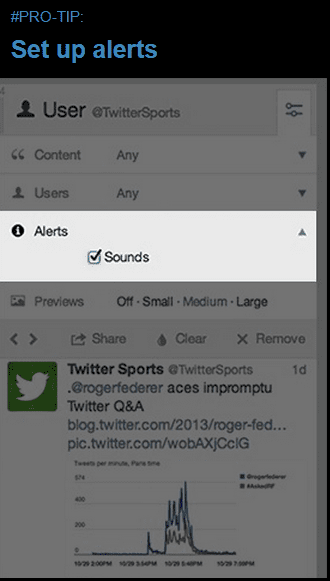 TweetDeck is a Twitter app that lets you do real-time tracking of lists, activity, searches, and more. You can create searches to track what others are saying about you and your brand.
You can set up a column that monitors activity, and then customize the content to show only keywords about your brand. This activity column would then be specialized just for your own reputation monitoring and it would not get in the way of your other activities on the screen. You can set a column for mentions, notifications, messages, and more.
You can also do a search for your brand to see if others have mentioned you in tweets. You can set the search itself as a column. You can reply, retweet, favorite, embed, link, etc.
TweetDeck is free to use and is available as an app to run from your desktop or you can run it in your browser.
Tips to Help Protect Your Online Reputation
Be careful what you post online. Once it's on the web it has the potential to be there forever. This includes photos, comments, and status updates.
Make managing and monitoring your online reputation a priority.
Do not ignore negative comments that you find about you, your employees, and your company. React as quickly as you can in a positive manner. This way, readers that see the negative comment might also see your reply.
Keep your website secure. You don't want to be known for giving out malware.
Monitoring and reacting quickly will help you stay ahead of problems and put out small fires before they become out-of-control wildfires. Be professional about what you post and how you react to others. Give your followers a good impression about you. That impression links with your brand. Remember: what they think about you, they think about your company.
Wrapping Up
Your reputation is crucial to your online success, so don't ignore bad press because it won't go away. Considering how crucial your reputation is to your success, monitoring your online reputation is a task that is best done daily. Using professional tools like these can help make that daily task a snap instead of a chore.
How about you? Do you manage and monitor your online reputation? Have you used any of these tools? Do you use tools that I didn't mention? I'd like to hear about it in the comments below!
Article thumbnail image by Ozerina Anna / shutterstock.com