Smoking, eating fried foods, habitual base jumping, using outdated ecommerce strategies – all of these habits can get you into trouble. But, habits are hard to break – especially when that habit caused an uptick in site traffic. It's all too easy to grow complacent and go through the motions with a set of outdated ecommerce strategies when you are making a profit. That is why it's important to constantly re-evalutate your approach.
Today, we're outlining three outdated ecommerce methods that you need to drop like a bad habit. Then, we'll show you what to do instead.
Stop Publishing Pages With Thin Content
The structure, volume, and quality of the content on your website has a subtle, yet substantial effect on your bottom line. There are some compelling reasons to invest in longform content on your ecommerce website. "Thin content" is a term used to describe text with little perceived value or lack of relevant information. For the purpose of this article, thin content means less than 500 words of relevant text.
While very few people know exactly how Googlebot's algorithms work, it's common knowledge that that longform content does well among search engine results pages. Despite whatever fears newspaper publishers had about longform content a few years ago, the Future of Longform is alive and well in digital publishing.
How Ebay Lost Big
Search engine results often omit pages from sites with a ton of individual content-light pages. This happened to Ebay when Google rolled out the Panda 4.0 update in 2014 – it was estimated that Ebay lost 33% of their traffic due to thin content. That is a disastrous loss of market share. Since then Ebay has hired a slew of contractors to help clean up the mess, and prevent it from happening in the future. But they paid a high price.
Problems With This Outdated Ecommerce Strategy
Pages with thin content won't show up in the search engine results.
You stand to miss out on an enormous amount of revenue from organic search traffic.
How to Fix It
A "small" ecommerce site can have over 3,000 pages – many of these pages are products. It can be hard to come up with unique content for each product. You can find a great example of effective SEO for a product writeup from Midwest Supplies, a brewing supply company.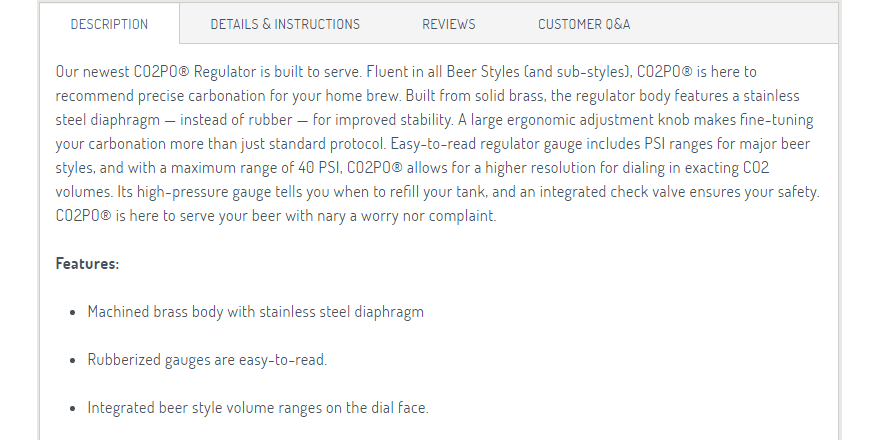 Each of their products pages has text sections for:
Description – business copy to introduce the product.
Details & Instructions – a downloadable pdf file with instructions.
Reviews – customer reviews.
Customer Q&A – customer questions.
With a little creativity, getting to at least 500 words should be a snap – the minimum requirement to be considered longform content. Now this just isn't possible for some products, but many times you can add relevant information that helps your customers, as well as your SEO efforts.
Tools to Help
Don't Ignore User Experience
Part of your SEO strategy may have a negative affect on user experience, which can have a negative effect on your profit margin. The modern web is a minefield for user experience and user interface problems. As information design guru Edward Tufte put it:
The most common user action on a website is to flee.
Over-reliance on hidden hamburger menus, obtrusive pop-ups, poor taxonomy, unresponsive pages, and long page loading times are just a few of the most obvious suspects for a poor user experience. Ideally, user experience and SEO coexist, but this isn't always the case.
An Example of User Experience Gone Wrong
One instance of user experience gone awry is illustrated by Information Architect guru Peter Moreville in his book, Intertwingled. Moreville was hired as a consultant to help a Fortune 500 company to revamp their ecommerce website. He suggested a subtle change – make the t-shirts category easier to find by adding it on multiple levels of the navigational menu. In the book he recalls:
I'm sure I earned my keep with that one small change.
This kind of insight can help a company retain customers and revenue. While this recommendation was a fraction of the work Moreville did for his client, it demonstrates how much impact a small change in taxonomy can have.
Problems With This Outdated Ecommerce Strategy
Diminishing returns: Often what's good for SEO can hurt your business in the long run, which was exactly what happened in the J.C. Penney link scandal: A case where short term gains led to long term disaster. It's important to make sure people can browse your site with ease, not just search engines.
Lower site traffic: Competition is stiff and the average user expects a seamless experience.
Lower SERP rankings: Google penalizes you for a number of issues related to user experience, including obtrusive pop-ups, lack of responsiveness, and page loading time.
 How to Fix It
While it's nice to separate everything into tidy categories, like front-end and back-end, things are not actually that simple. It can be painfully obvious when a company considers user interface as an afterthought. Users have more expectations than ever. To avoid a decline in user interest, it's important to make sure your team is on the same page.
Learn about usability: A good place to start is the Information Architecture Institute's section on Human Computer Interaction courses.
Management: Plan for success from the get-go. The healthcare.gov project was full of problems from the start. Most of it had to do with unrealistic expectations and lack of expertise with current technology so make sure you know what you intend to do before you dive in.
Target your audience: Figure out what they want and deliver it with usabilty testing.
Tools to Help
Stop Publishing Duplicate Content
Stop cannabilization on your site! Cannablization is a catchy term dreamt up by SEO specialists to describe internal content duplication. This outdated ecommerce strategy isn't intentional, but many sites are guilty of implementing it. Displaying similar–or duplicate–content will drastically undermine your performance in the SERPs. There are four types of cannibalization and they are all problematic:
International cannibalization
This problem is evident in many large retail websites. Each section of internal content (text, rich media, etc.) on a website is competing for a search query. By duplicating content, your website is effectively competing against itself.
Problems With This Outdated Ecommerce Strategy
Prevents pages from being indexed.
Undermines your ranking in the search engine results pages, this can mean a few thousand dollars–or a few million dollars–of lost revenue.
How to Fix it
Things are more connected than ever. That's why it's important to consider every aspect of your business as part of an interconnected ecosystem.
Audit your site for duplicate content: WordPress has plenty of SEO plugins you can use to aid in the process.
Consolidate your web pages: If you can afford to lose a page, drop it. This will bring life back into your crawl budget.
Create a unified website structure: Many large ecommerce websites have multiple departments and are spread out over multiple TLDs. If you are managing multiple sites scale for future flexibility.
Brush up on your management skills: Inventory and supply chain management, communications, resource management, promotions, marketing, and overall company structure have can have a large impact on the success of your website, which will affect your bottom line. It's well worth it to hire a consultant to help you organize your business. If you can't afford that, consider attending events where you can learn new skills and make new contacts like WordCamp,or ConveyUX.
Tools to Help
Wrapping Up
Whether we like it or not, issues arise from a failure to address SEO and user experience on a technical level, especially when it comes to ecommerce sites. The biggest thing I've learned in my 10+ years in this industry is that you should always understand why you are implementing any given strategy. With a little experimentation and attention to detail, you can update those outdated ecommerce strategies and improve your website. So get to it. Develop a plan and get started.
Do you have any additional outdated strategies to share? Feel free to share them below.
Article thumbnail image by Jane Kelly / shutterstock.com