ThemePunch makes some of the most popular plugins out there for WordPress. Essential Grid is one of the top earners in their library, right alongside Slider Revolution. Over time, Essential Grid has become one of the most sought-after and most successful plugins on CodeCanyon. So we wanted to give the plugin a highlight and let you folks decide if it's something that could improve your sites.
Essential Grid
Grid plugins aren't uncommon. In fact, our own Divi builder has a Portfolio module that serves this purpose. But Essential Grid goes far beyond what most other grid plugins have done, which is why even after many themes are including their own custom grid templates, folks are still buying EG licenses every single day.

Simply using the original sales blurb will tell you what you can do with EG:
Essential Grid Gallery is a premium plugin for WordPress that allows you to display various content formats in a highly customizable gallery grid. Possible applications range from portfolios, blogs, galleries, WooCommerce shops, price tables, services, product sliders, Instagram, YouTube, testimonials and anything else you can imagine.
But what their blurb doesn't tell you is just what all that customization consists of. That's our job, and we intend to do it. So let's dig in and see what all the fuss is about.
Getting Started
First of all, remember that this is a premium plugin. You will need to head over to CodeCanyon and snag the download for $27 USD. Then go through the manual installation process (Plugins – Add New – Upload).  At this point, you will have 3 new items in your WordPress admin dashboard: Ess. Grid, Punch Fonts, and Ess. Grid Example Posts. To begin with, let's look at the simple Ess. Grid.
The first menu item is where you put in your activation code, check for updates, changelogs, that sort of thing. They do give some simple instructions on how to use the plugin which boil down to: use a shortcode or drag the widget to a sidebar.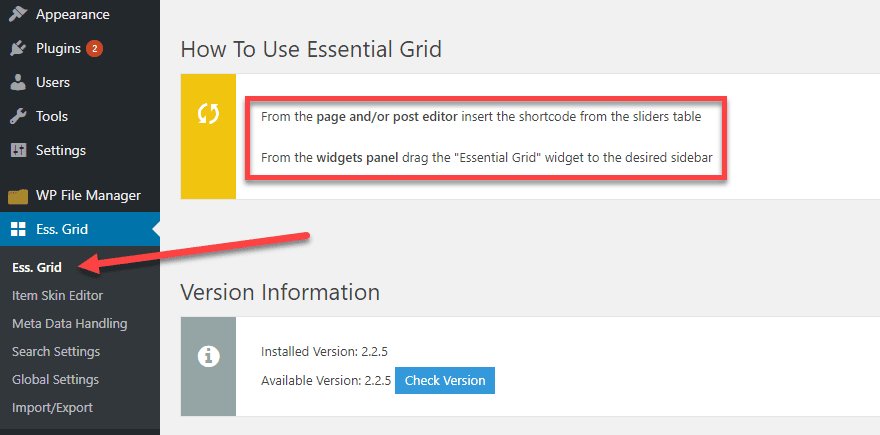 This page will also be where you come to create any new grids you want to use, so get used to clicking that button.

Item Skin Editor
Under Item Skin Editor, you have all the basic templates that Essential Grid comes with. You can edit these on a skin-by-skin basis, changing whatever you want to about it. Or using it as is. You can even create your own from scratch.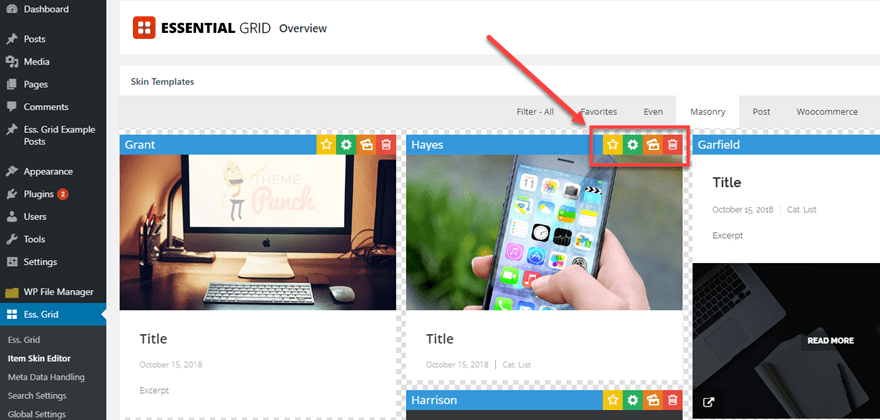 In here, EG gives you the option to sort via tab for different types of grid items. (Even spacing, Masonry design, Posts, or WooCommerce product grids.) As you hover over each one, it will animate and display titles, excerpts, color overlays, etc. that you can customize by clicking on the green gear icon.
Inside this options panel, every single element can be edited. From the spacing between elements, the icons that show up, animation style and duration, links, shadows, media types and fit, everything.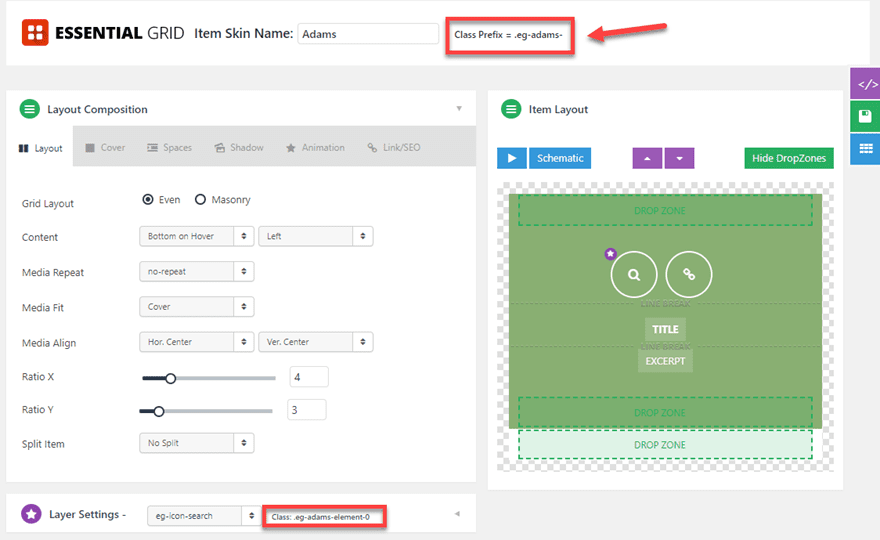 I would like to call your attention to the fact that Essential Grid has the CSS Classes in plain view for you to manipulate however you want. If for some reason you can't find the perfect design option within the options here, you can add it yourself via custom CSS.
At the bottom of the page, you get a bird's eye view of every layer you have access to and how it is currently styled.
Meta Data and Search Settings
The skin editor is probably the most robust individual part of Essential Grid, but EG doesn't shirk those options elsewhere. You can create custom meta boxes under Meta Data Handling that gives you the option to place boxes for custom functionality that you may need out of the plugin.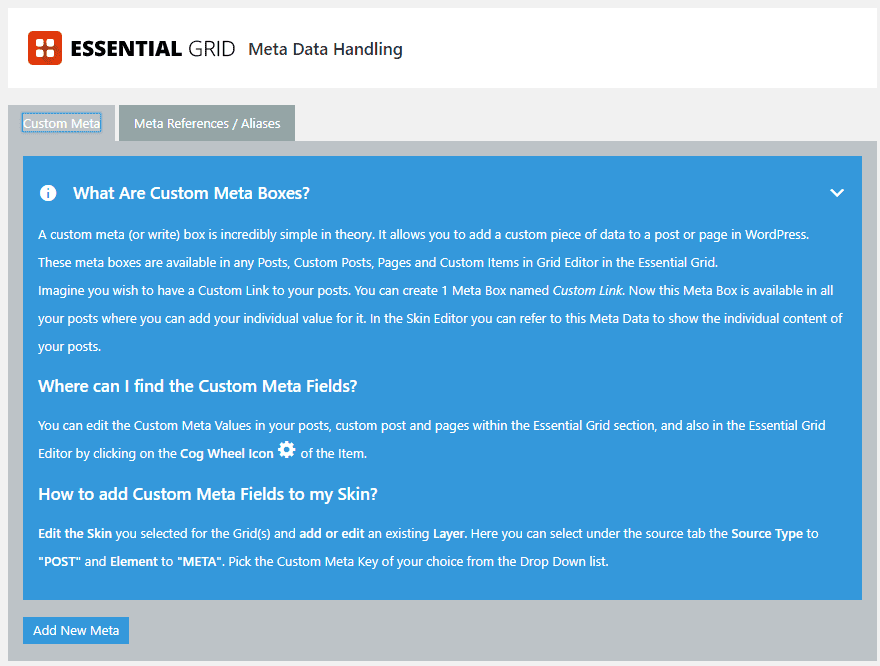 You can do pretty much the same thing under Search Settings, but for (you guessed it) searches. EG works as a search results page, too, so if you're not happy with the way your normal archives and such look, this is a great way to fix them up quick.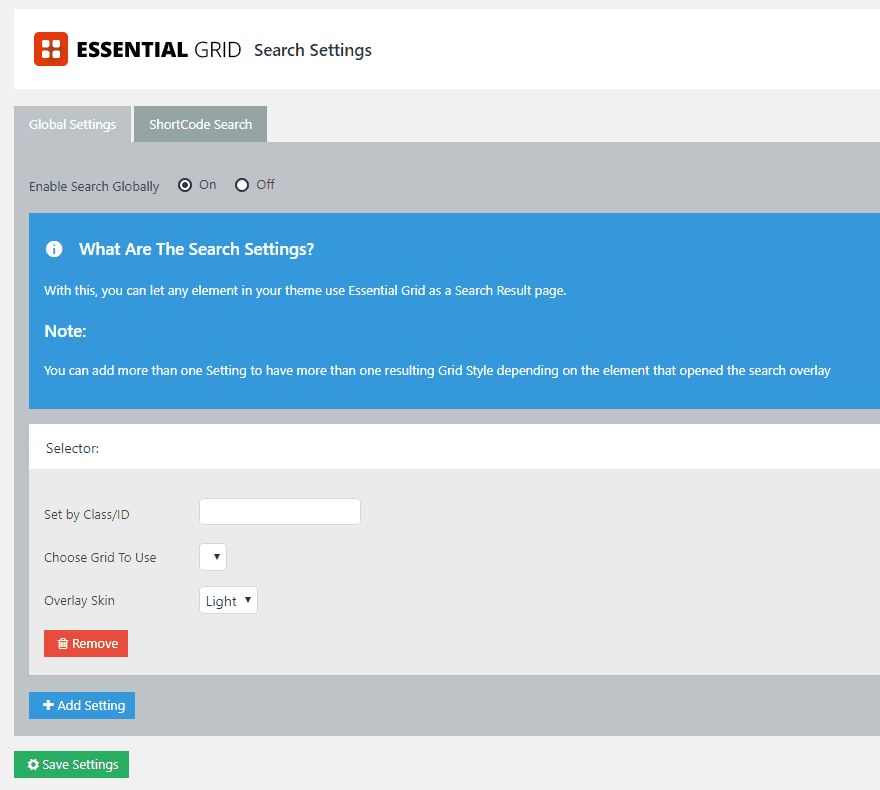 Global Settings
Just like they sound like, the Global Settings cover all your bases. You can set permissions for who can change and edit grids, how the fonts and JavaScript load, what you do for caching, where you get icons from, setting a default image for grid elements, and so on. If it applies to the whole plugin instead of a single element like skins-only, you're going to be able to find it here. The impressive part is the control you get — many plugins don't give you an option for choosing what kind of query you use, but EG lets you choose if get_posts() or WP_Query() works best for your site (and if you don't know what that means, just leave it default. It's good how it is.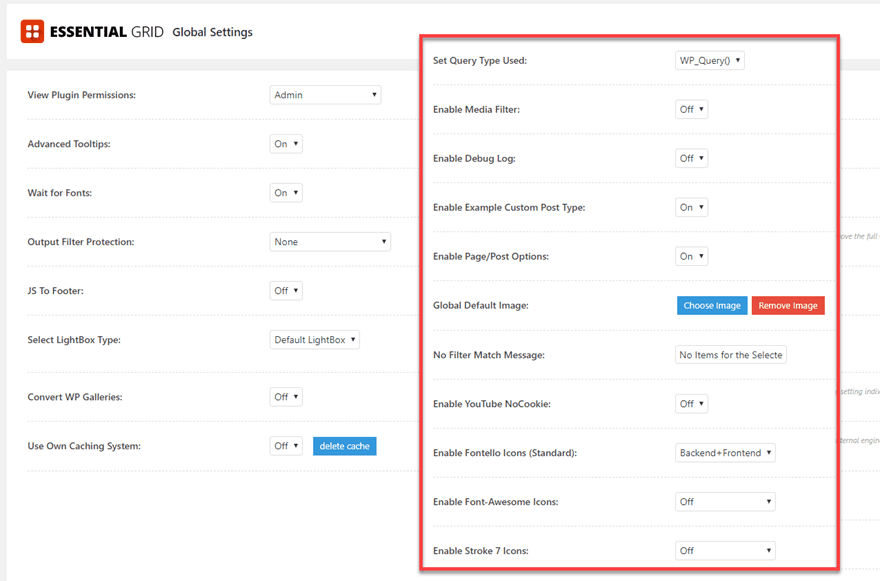 Import/Export
When you're first setting up the plugin, you should definitely check out the Import/Export page. If you click the Import Full Demo Data and Import Social Media Demo Grids, you will have a huge array of initial templates that you can start with. They're good, too, so just click the button and the import/download is almost instant.

The imported grids will appear at the bottom of the list when you navigate back to Ess. Grid. Your new library of grids will meet you there.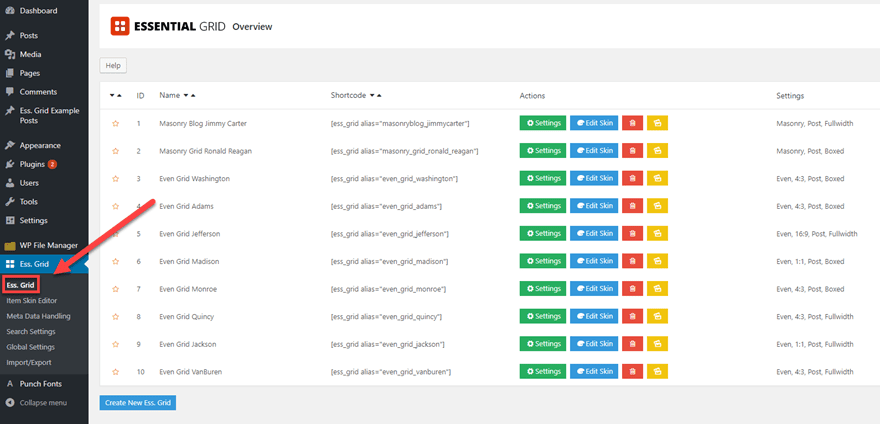 Ess. Grid Example Posts
The second of the new admin menu options is the Ess. Grid Example Posts. It's an odd choice to make for a menu title, as this is where your templated grid items will probably live. You see, all of those posts that are listed on this page are actually the contents of the boxes contained within the grids under the Ess. Grid overview.

When you use the shortcodes that you get from the overview page in whatever post or page you want to display the grid, these are the individual items that pop up.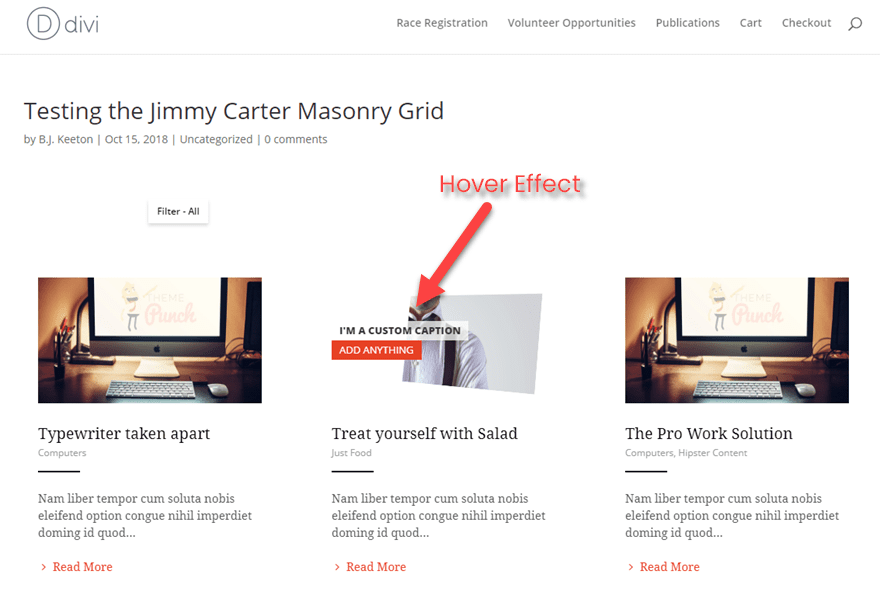 Creating a post for a new grid is easy, too. It works just like adding a new post of any other type. Just hit the Add New button under this heading and set your parameters.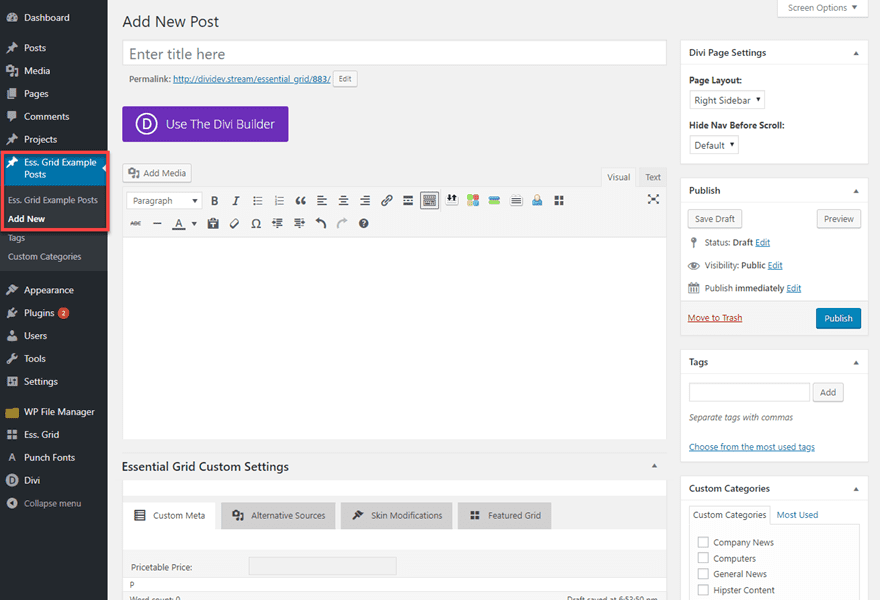 Using a Saved Essential Grid
Whether you're using the templates or make your own, you need to know how to use them. Everything revolves around shortcodes with Essential Grid. If you have a specific grid that you want to use over and over, you will need to click on Create New Ess Grid under Ess. Grid's overview page in your admin panel. Inside, you choose everything from how you can sort the items in the grid, what loading animation it has, where its elements actually come from, and you get to name it.
When you name it, you also get to choose its shortcode alias. That alias is only used to call this particular grid using the Essential Grid shortcode. I also chose to use the same ID for the CSS ID just in case in the future, I wanted to make external tweaks.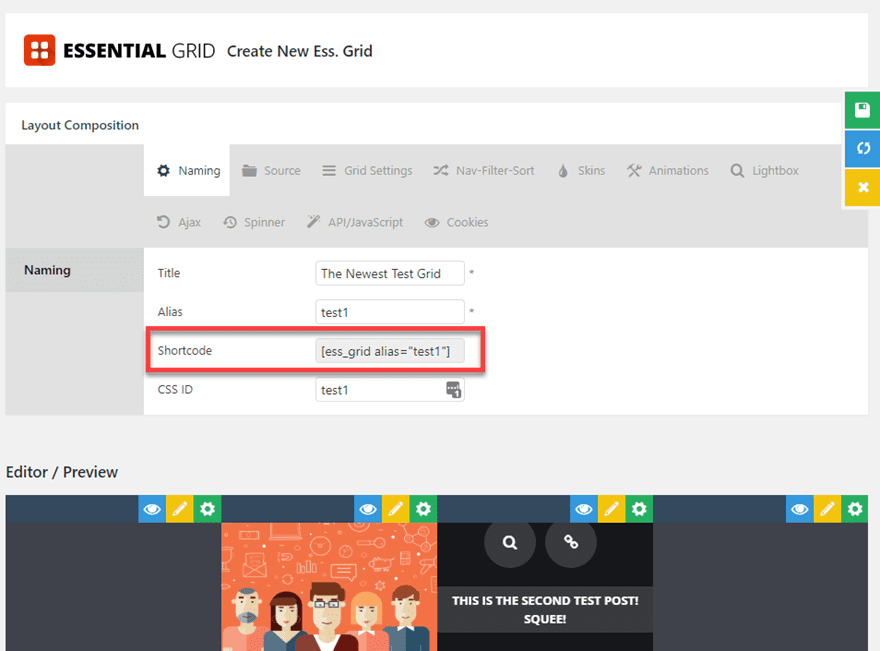 Just put the shortcode in a post or page's text editor, next.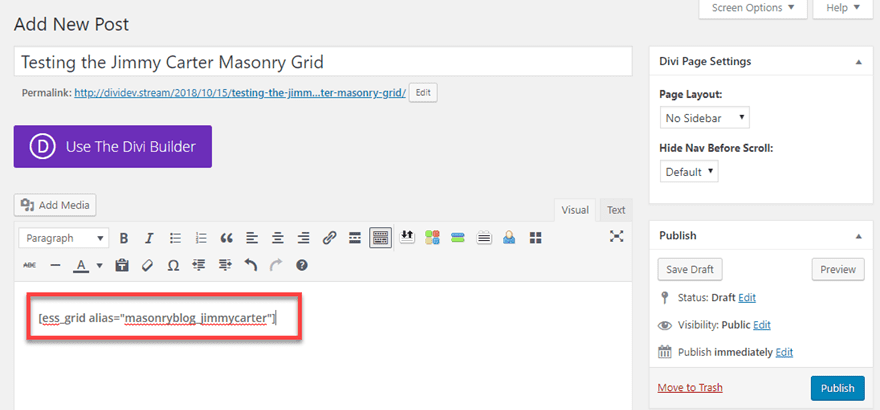 And voila!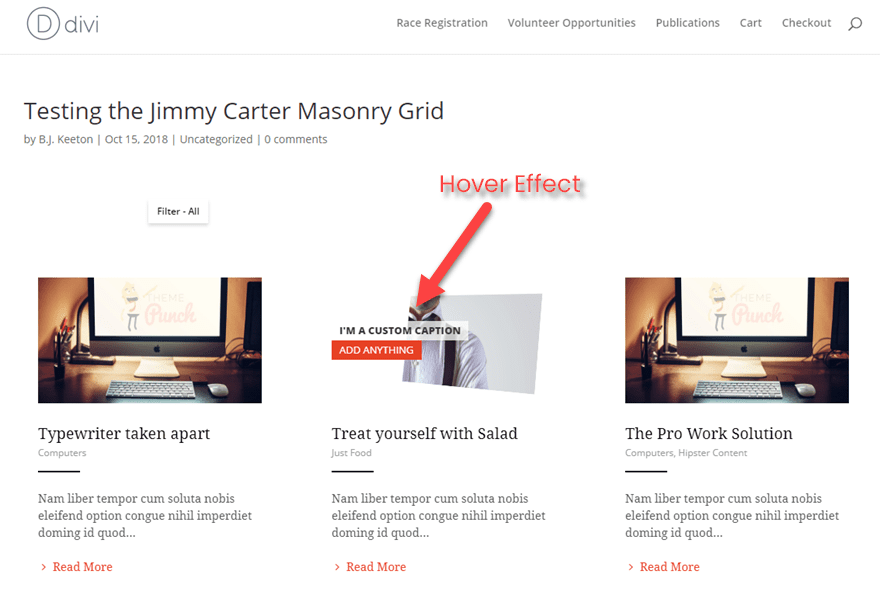 Using a One-of-a-Kind Essential Grid
If you know you just need to display something on one page or in one post, there may not be any reason to go through the trouble of setting up a whole new grid, making new posts for its content as templates, and making aliases and all that. You can instead simply generate a dynamic shortcode from within the post editor itself. Just press the Essential Grid Shortcode Creator button in the toolbar.

Then you will need to go through the steps to tell this shortcode what content you want it to render. You can choose one of the predefined ones from the overview menu (without having to go copy/paste its shortcode manually), or you can make your own based on the options presented.
You will go through pages to choose all the same options that you have elsewhere (animations, layout, etc.), and when you're ready to go, press the Generate Shortcode button.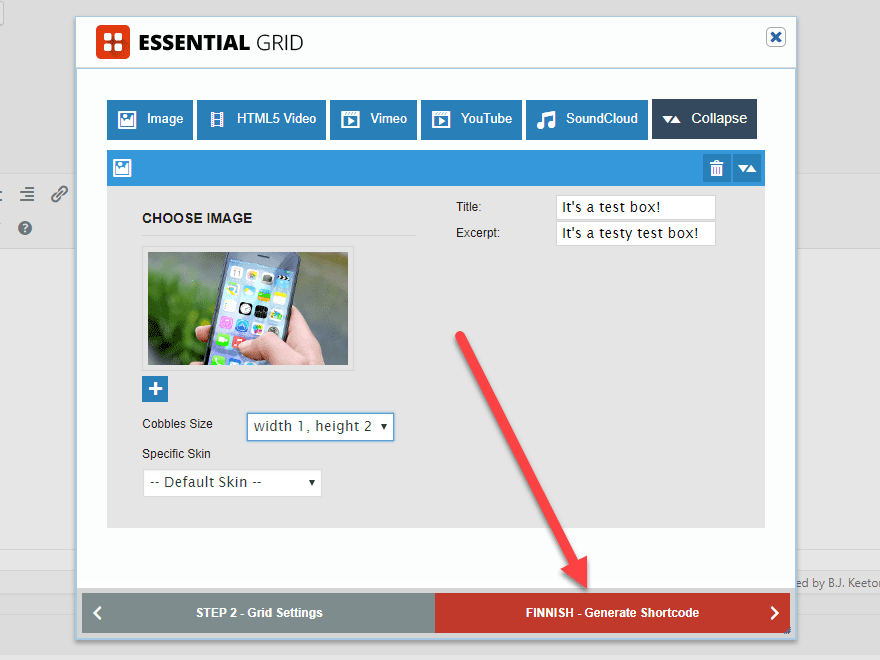 As you can see, the shortcode that is dynamically generated is far more complex because it holds all of the information about the grid itself.

But when it's rendered, there's no difference. Especially if you chose to apply a skin during creation.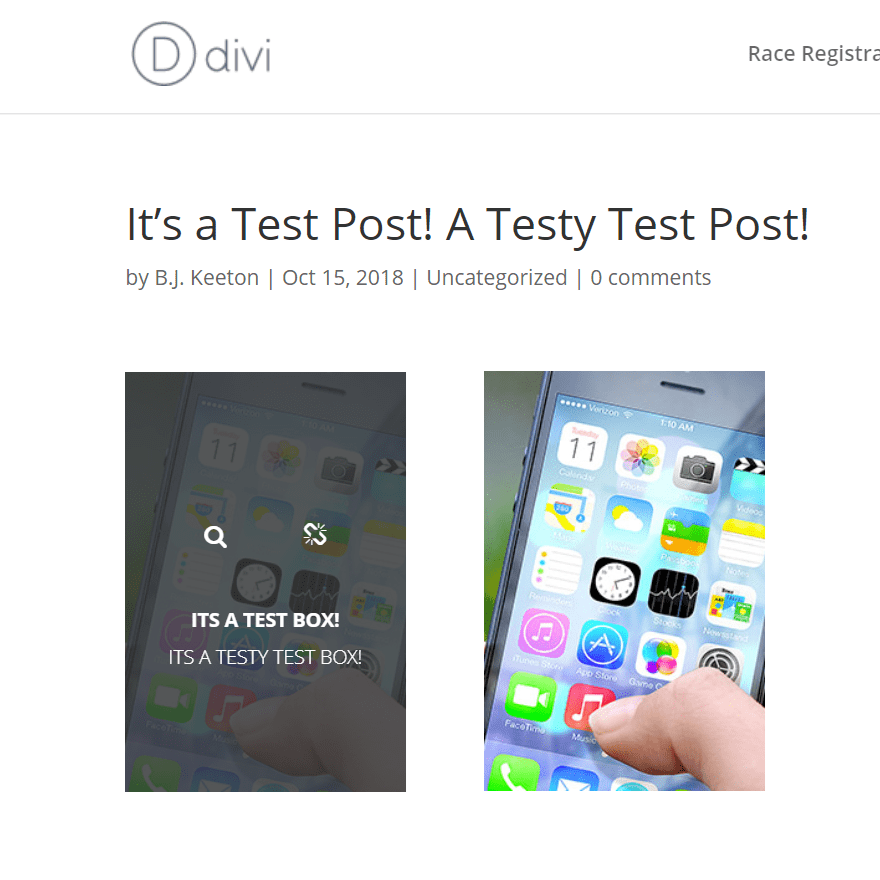 Essential Grid Widget
Finally, you have the option of putting any Essential Grid that you've created in a widget. This one is easier than any of the others to set up because it's literally drag-and-drop. Go into Appearance – Widgets, select the Essential Grid widget and drag it to where you want it to render. If you want it on the homepage alone, you can set that, or you can pick any of your premade grids. However, you cannot create a dynamic grid this way as you could above. These must be pre-generated.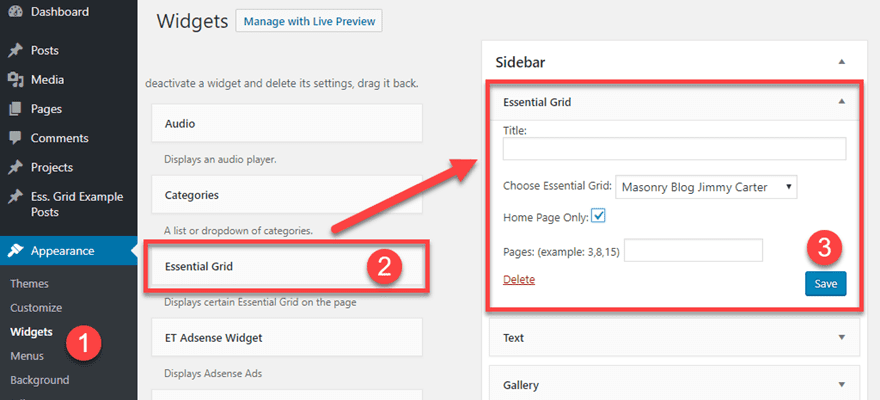 One thing to keep in mind, however, is that not all of the layouts look good in a sidebar. You might get some of your content rendered very strangely, but don't freak out. If that happens, just go change the settings so that it will display differently — boxed instead of fullscreen maybe or Even instead of Masonry, maybe. Experiment until it looks the way you want it to. It's probably a good idea to make a sidebar-specific grid for this. (You can just duplicate the one you want there and tweak it instead of the original.)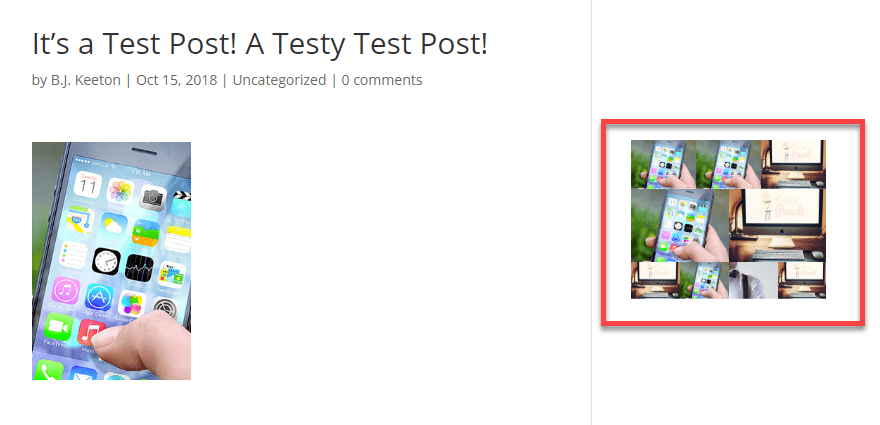 Punch Fonts
And finally, there's the last bit of customization you get with Essential Grid. Punch Fonts is a simple interface for using Google Fonts in EG. That's it.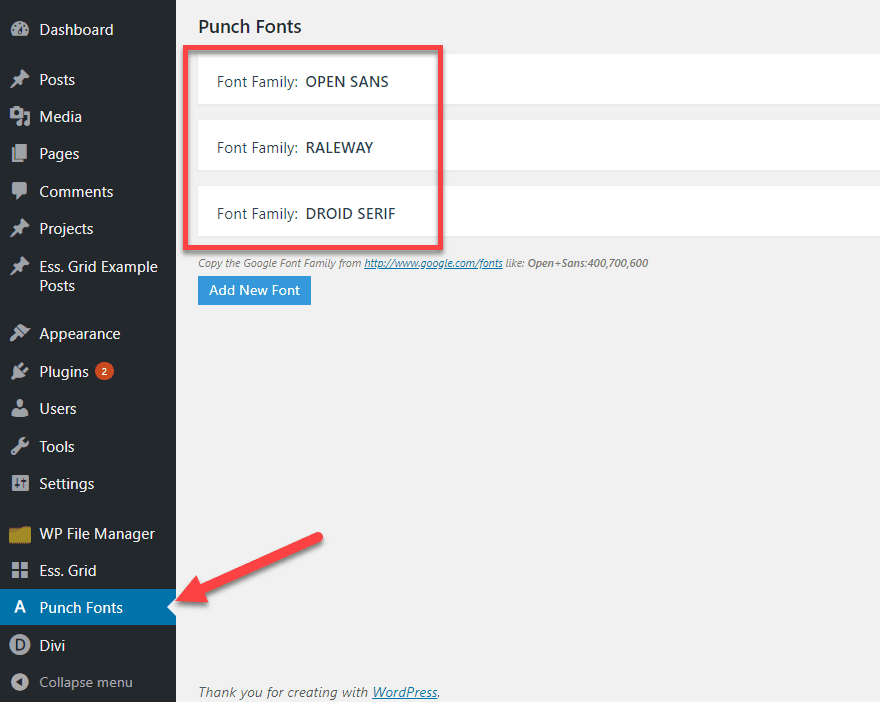 You can choose which fonts you want to be installed by pressing the well-titled Add New Font button. If you follow the link in the modal to Google Fonts, you will find the parameters you need, and the plugin will pull the font into your site.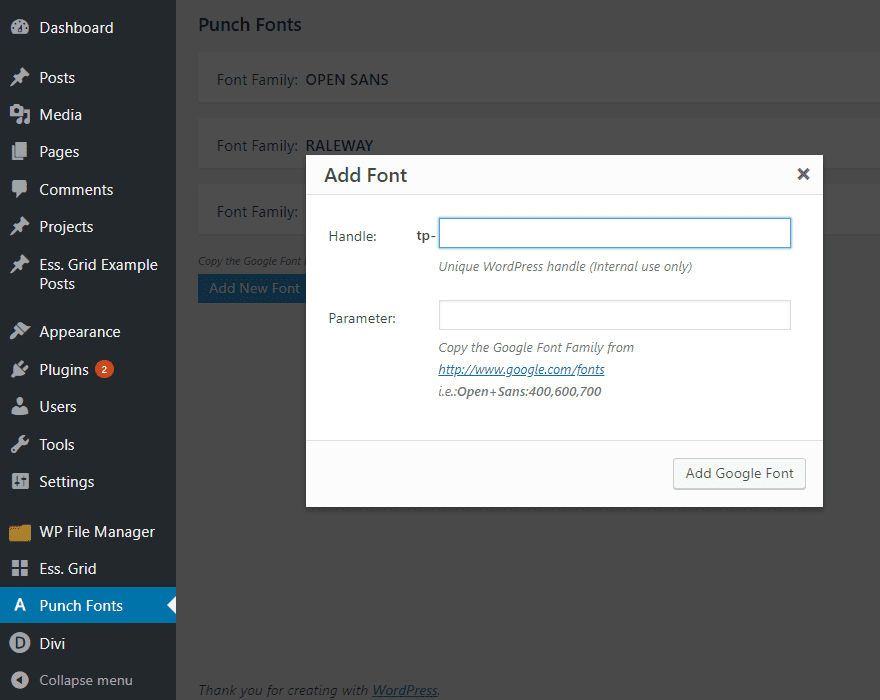 And when it says the tp- moniker is for internal use only, that just means it's basically the same as the alias earlier. You will see that when you're applying the fonts to things. So name them appropriately.

Final Thoughts
Overall, Essential Grid is one of the most robust and powerful grid plugins out there. If you've ever used Slider Revolution, then the layouts and layers work very similarly to that, and you should feel right at home. If not, there may be a bit of a learning curve as you figure out which pieces fit together. But once you do, you will be able to create some truly beautiful pages.
If you don't need this level of customization, you may not want to pay the premium price. There are plenty of other grid plugins out there that may suit your needs. Additionally, depending on how heavy you make the grids, site speed could become an issue. I mean, you can customize your loading animation for a reason.
However, if both necessary and done correctly, the plugin really shines. There is a reason Essential Grid is the number 1 seller in its category. And if you check ratings and the support threads, ThemePunch is quick to reply and help.
So for $27, it is probably worth the price of admission. Plus, if you're a theme designer, you can purchase their extended license and include it as a pack-in for your own themes. Which is pretty cool.
Do you use Essential Grid? Let us see some of your creations in the comments!
Article featured image by Bloomicon / shutterstock.com