Have you ever needed to record your screen to show a demo of your software, give someone a walkthrough as a tutorial, or create a video of your screen for an online course? Screen capture software is perfect for this. Screen capture software includes tools to capture all or portions of your screen in high definition, and allows you to easily edit, add information such as text or audio, add interactive buttons, and lots more. Some even include features such as live-streaming.
9 Best Screen Capture Software for WordPress Video Tutorials and Client Walkthroughs
Most of the apps on this list were made specifically for creating training videos. Some are for Mac only, some are for Windows only, and others work on both systems as well as Linux. Prices range from free to several hundred dollars. I'm showing the prices for commercial use. The software might be cheaper than I've shown, but the cheaper prices will either show watermarks, limit the features such as time of recording or number of recordings, reduce the editing features, or specify they are for home use only. The apps are in no particular order.
1. QuickTime

QuickTime 7 Pro for Mac from Apple unlocks editing functionality within the QuickTime 7 Player. Editing features include creating slideshows with music, cropping, resizing, compression, and adding special effects. You can also convert images to different formats. The Pro features are purchased through the free app. QuickTime X (10) Ships with Mac OS X. It includes video editing, screen recording, capture of video and audio streams, visual chapters, file conversion, sharing to YouTube, live streaming, and GPU acceleration. Its screen capture features keep users from copying DVD's. It removes support for a few of the popular formats, so some have preferred version 7.
Price: $29.99 | More Information
2. ScreenFlow

ScreenFlow from Telestream provides video editing, screen recording, and screen-casting for Mac. Anything or any part of the screen can be recorded with high quality. It evens records iOS, meaning you can record your iPhone, iPad, or Apple TV. It includes tools meant for software tutorials such as mouse click effects, pointer size, and displaying any keys that are pressed. Editing tools include callouts, highlights, annotations, transitions, text, audio and video filters, and even multi-channel audio. Animations include graphics, titles, and logos. It also includes closed-caption support. The intuitive interface is easy to learn for anyone without video editing experience. It has lots of publishing options.
Price: $99 | More Information
3. Screenium

Screenium from Synium Software provides screen recording for both Mac and iOS. It provides recording at 60 frames per second to create a smooth video recording. It will record full screen, windows, or a selected area. Editing features include cutting, text, audio, effects, transitions, and animation. You can embed picture-in-picture clips from a webcam so you can appear within the video or show additional slides or images. It has smart zooming to highlight areas on the screen. Videos export to multiple platforms including YouTube, Vimeo, Facebook, Flickr, and messages and mail apps.
Price: $49.99 | More Information
4. Screen Recorder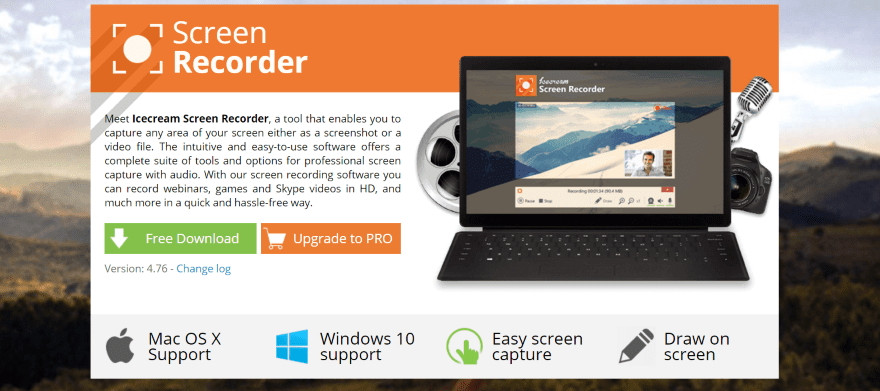 Screen Recorder from Icecream Apps works on Mac OS X and Windows 10 to capture any area of the screen as either a screenshot or a video in HD. You can draw, add text, and add arrows while you're performing the screen capture. It even includes project history so you can see previous versions of the images and videos. Zoom while recording and select a mouse size and area so you can record a specific region around the mouse. Trim, convert, display hot-keys within the video, set screen captures on a timer, and perform audio adjustments.
Price: $29.95 | More Information
5. Camtasia

Camtasia from TechSmith uses an intuitive drag-and-drop WYSIWYG editor for both Mac and PC. You can record any portion of the screen all the way down to an individual pixel. Add callouts, shapes, and arrows. Insert video using your webcam. Build videos with multiple tracks for video, audio, images, and text. Import media with 4k resolution. Add transitions such as intro or outro to the beginning or end of a clip. Add voice narration, audio effects, video effects, and even green-screen. You can even add quizzes so you can know how much of the video was viewed and by whom. It includes animated backgrounds, graphics, icons, and royalty-free music tracks that are safe to play on YouTube and Vimeo.
Price: $199 | More Information
6. Snagit

Snagit, also from TechSmith, is a simple screen capture and recording app for Windows and Mac. Capture screenshots, record video, edit images, and share your files. It includes markup tools that make it easy to edit and customize every screenshot. Click and drag to capture any portion of the screen. Record, narrate, and trim video. A magnify tool lets you focus on one portion of the screen. It can be expanded to capture Android and iOS and send photos and videos to the Snagit editor from your mobile device. It will even capture multiple types of scrolls. Panoramic capture is used for wide horizontal scrolls and infinitely scrolling webpages. Scrolling capture helps to capture something that's not showing on the screen vertically, horizontally, or a scrolling area. It will also create animated GIF's.
Price: $49.95 | More Information
7. Snap 10

Ashampoo's Snap 10 for Windows allows you to capture and edit anything on your screen including the entire screen, multiple windows at once, a web page, or individual sections, and turn them into images or videos. You can add arrows, graphics, automatic numbering, etc., to create self-explanatory steps. Live editing lets you add text, drawings, and voice narration rather than having to add them in post-production. Visually show mouse and button clicks within the video. Add watermarks, include information on the source page, and include other graphical metadata and links. Videos can also be converted to animated GIF's.
Price: $49 | More Information
8. Open Broadcaster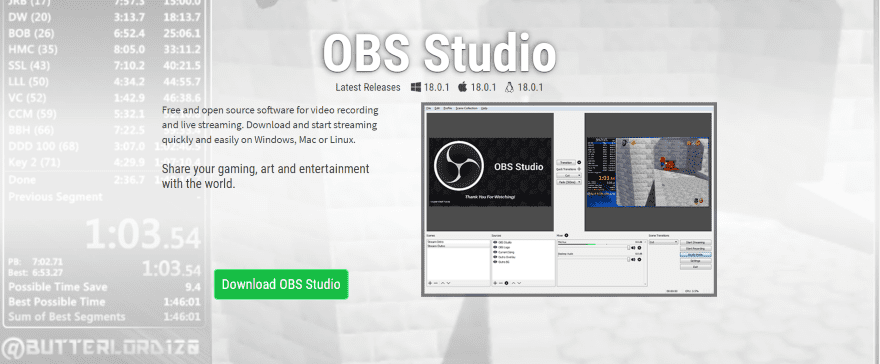 Open Broadcast Software is a free open source software studio for Mac, Windows, and Linux that's made specifically for video recording and live streaming. Designed with gamers in mind, it records directly from your graphics card in HD in full-screen at 60 frames per second. It includes real-time video and audio capturing and mixing to record unlimited scenes. You can switch between scenes using custom transitions. Video editing includes filters such as chroma, color correction, color keying, masking, etc. Audio filters include gain, noise gate, suppression, and VST plugin support adds even more features. It's easy to configure and you can set up different configurations based on profiles. The studio mode lets you preview the video before publishing.
Price: $Free | More Information
9. Flashback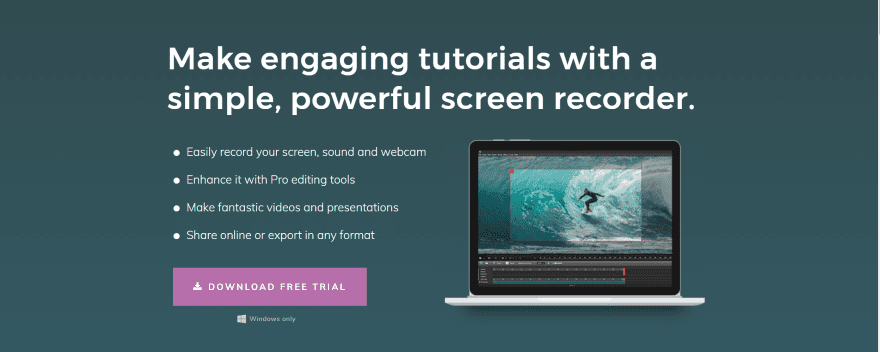 Flashback, from BlueBerry Software, is a screen recording app for Windows. It will record any part of your screen from multiple monitors to create a video file. It will also record from your webcam and will record audio. It includes pro editing tools so you can draw on the screen, add notes, callouts, text, images, cut, crop, add blur effects, synchronize audio with video, etc. The files will export to any major video format. Schedule your recordings and add watermarks, interactive buttons, create start and end titles, etc. Zoom in to any part of the recording and use auto-tracking for the mouse so the action stays in view.
Price: $99 | More Information
Final Thought
Screen capture software provides you with the tools to create videos of your screen, allowing you to easily create your own software tutorials and walkthroughs. There are a lot of screen recorders out there to choose from, but this quick look at 9 screen capture programs will help you narrow it down so you can select the best software for your needs and budget.
We'd like to hear from you. What is your favorite screen capture software?
Featured Image via robuart / shutterstock.com