Whether you're a musician, producer, or passionate podcaster, the quality of your audio has a substantial influence on your end product. With new breakthroughs in artificial intelligence (AI), the process of enhancing your audio is becoming quick and easy, producing magical results. In this blog post, we explore the premier AI audio enhancers to take your audio quality to a whole new level. We'll compare their features, pricing, and more to determine the best fit for you.
What is an AI Audio Enhancer?
An AI audio enhancer is a sophisticated tool that uses machine learning algorithms to improve audio quality. It analyzes audio signals and uses predictive algorithms to reduce background noise, enhance speech clarity, and fine-tune overall audio according to individual listener preferences. Whether used for music streaming, conference calls, or content creation, AI audio enhancers are revolutionizing how we experience sound.
10 Best AI Audio Enhancers in 2023

Subscribe To Our Youtube Channel
Let's dive into the exciting world of audio software tools, which are invaluable for both audio enthusiasts and experienced professionals. These versatile tools can elevate your audio projects, whether you're composing music, refining sound for multimedia projects, or simply seeking a more polished listening experience.
The Best AI Audio Enhancers Listed In Order
Expand List
1. Adobe Audition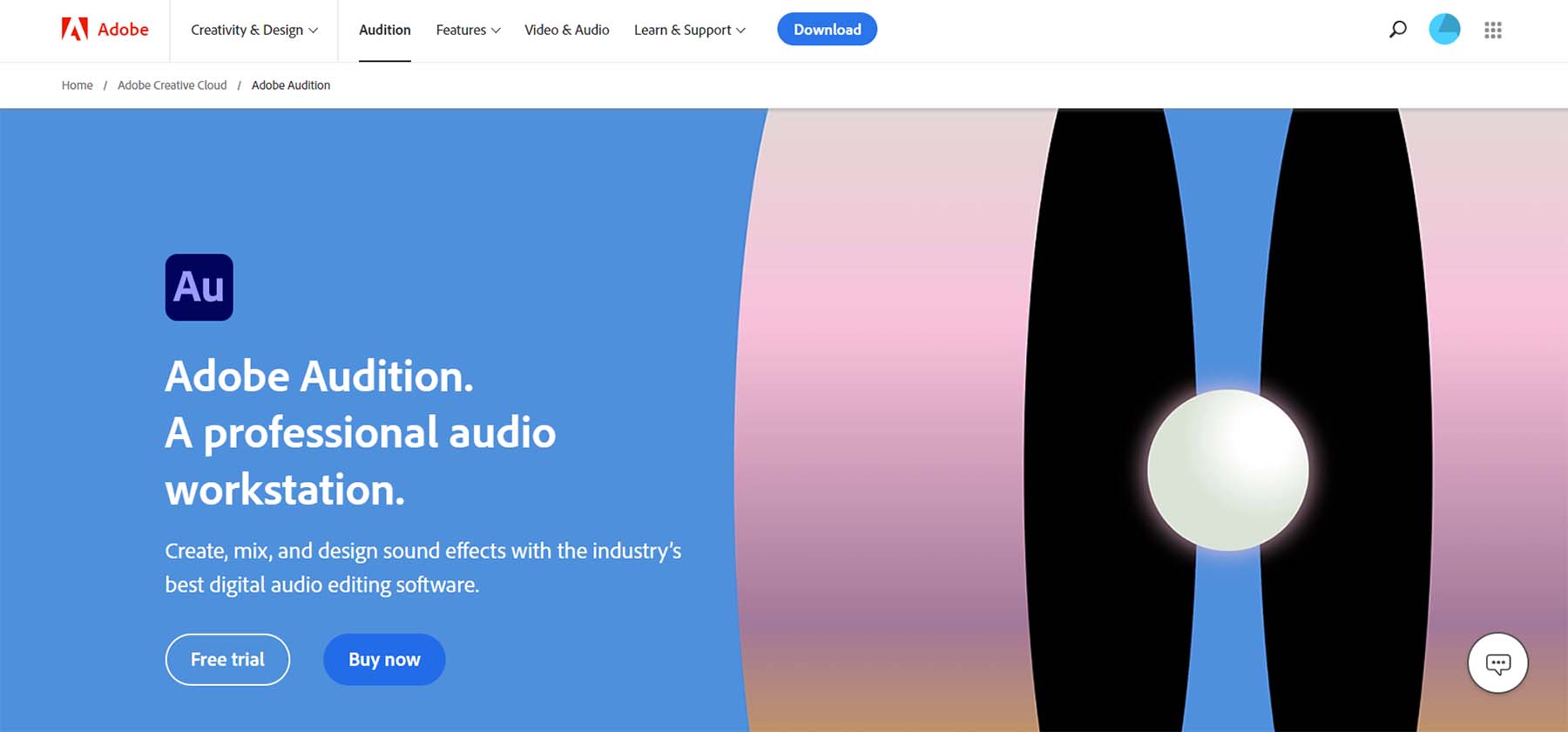 Adobe Audition, one of the elite tools of Adobe Creative Suite, is a cutting-edge audio editing and creation software. This program sets industry standards for audio enhancement tools, offering everything from sound mixing and design to audio engineering and music production. It is an ideal product for audio professionals, musicians, podcasters, and video editors who require robust audio editing and post-production features.
As an AI audio enhancer, Adobe Audition boasts attributes like the Essential Sound panel, enabling you to achieve professional-grade sound even if you're an audio engineering novice. Furthermore, it includes multitrack editing, audio restoration, effects and processing, voiceover recording, and many more features, all seamlessly integrated with other Adobe applications.
Key Features of Adobe Audition:
Create, edit, mix, and restore audio to the highest level
AI-powered speech enhancer to better the spoken word in your audio
Mic Check feature fixes microphone hardware issues before recordings
Automatically repairs and restores damaged files
Integrates a sound effects library with a wide array of categories and music clips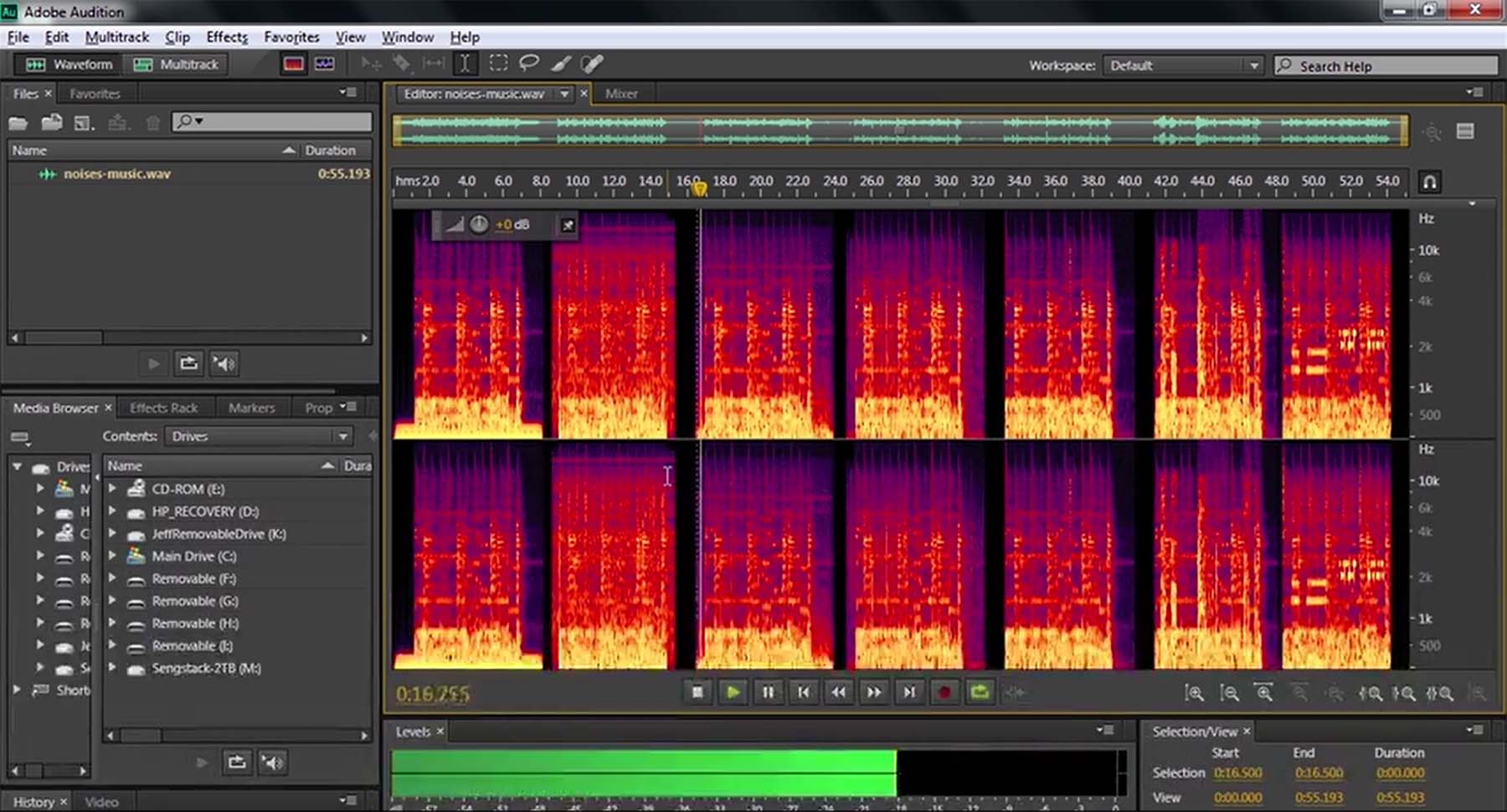 Adobe Audition's professional-grade noise reduction mechanisms can quickly mitigate hum, hiss, fan noise, clicks, pops, and more. With this level of control, you can ensure your audio is crisp and clean.
Best For:
For professionals seeking a robust tool to improve their audio tracks, Adobe Audition stands at the forefront of the class. Its expansive interface, numerous third-party tools, and seamless integration with other Adobe products position it as the AI audio enhancer tool for those who desire the highest quality at every turn.
Pricing: Free, Paid plans start at $27.99 per month
2. LANDR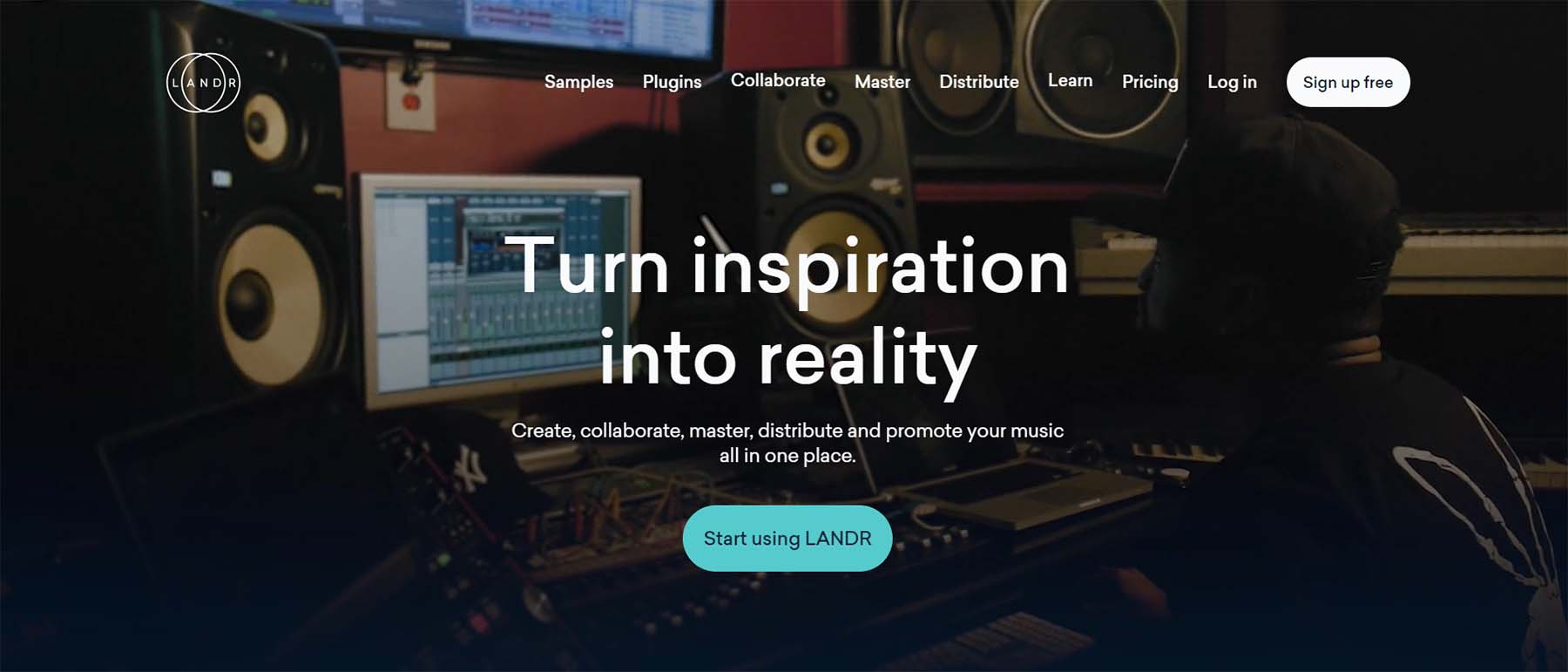 LANDR is an online music software platform designed for creators, musicians, and music producers. It offers various tools and services that enhance music quality, streamline the music production process, and facilitate distribution. LANDR is best known for its automated, AI-powered mastering service, eliminating the guesswork in optimizing your audio and music.
The software uses machine learning algorithms to enhance audio quality in music tracks automatically. This process involves analyzing uploaded tracks and tailoring a customized mastering chain that aligns with your uploaded track's specific style and genre. Moreover, you can personalize your masters using various settings and features like volume matching, streaming optimization, and more.
If you're after a comprehensive studio tool to enhance your audio, LANDR is undoubtedly the investment you should consider.
Key Features of LANDR:
AI-powered and automated audio mastering
Album and reference mastering to assign similar sound profiles with AI
Unlimited track revisions
Master, edit, and upload your edited files through the web, desktop, or the LANDR mobile app.
Directly distribute your enhanced tracks through the LANDR interface.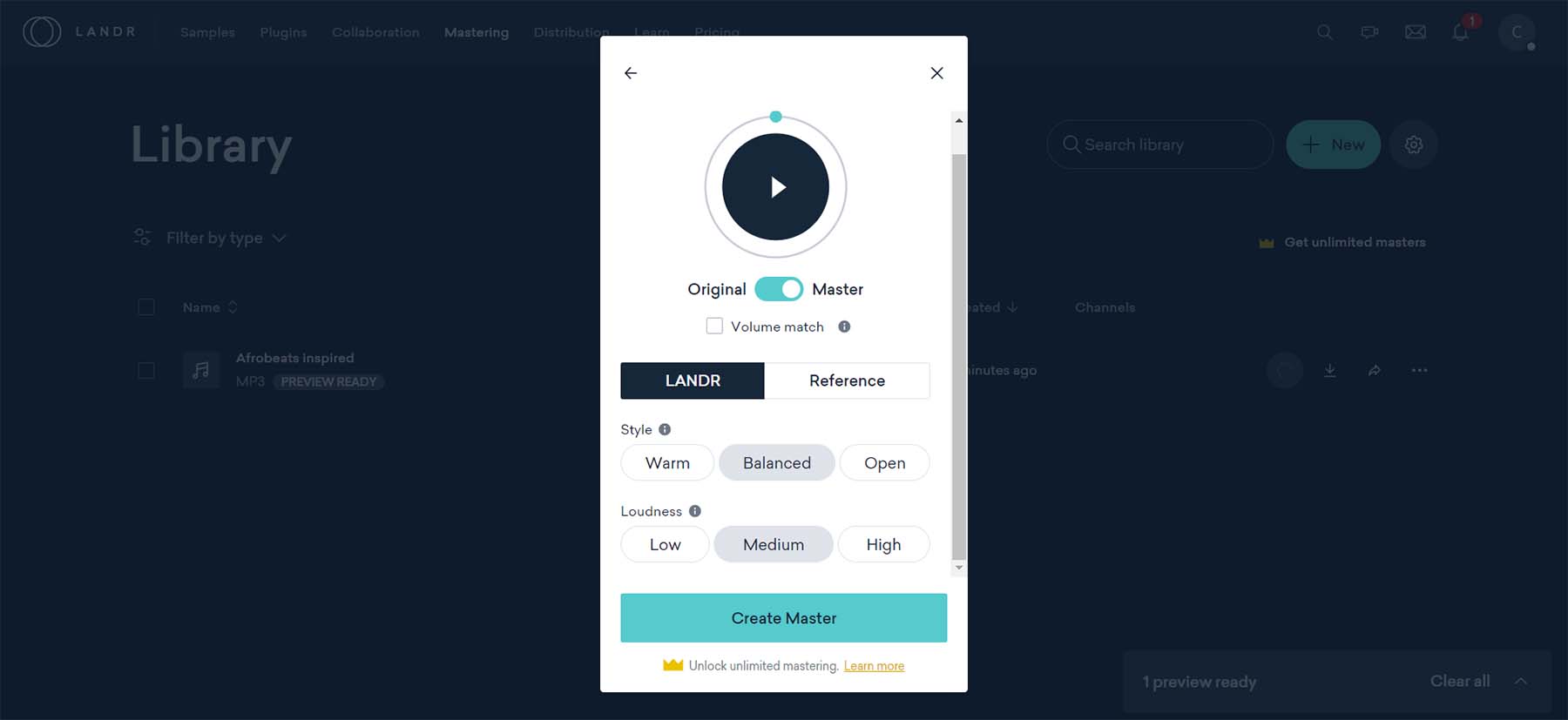 LANDR's online interface makes the complex and nuanced art of mastering a simple process. When you upload your track into LANDR, you can easily access reference mastering, compare your original track to the AI-mastered track produced by LANDR, and have control over the style and loudness of your track without having a deep knowledge of audio production or sound engineering.
Best For:
If you're a music professional aiming to elevate your editing process using AI, then LANDR is a must-have tool. It provides all the essential features needed to start employing AI for the accurate and swift mastering and enhancement of your audio tracks with ease.
Pricing: Paid plans start at $19.99 per year
3. LALAL.AI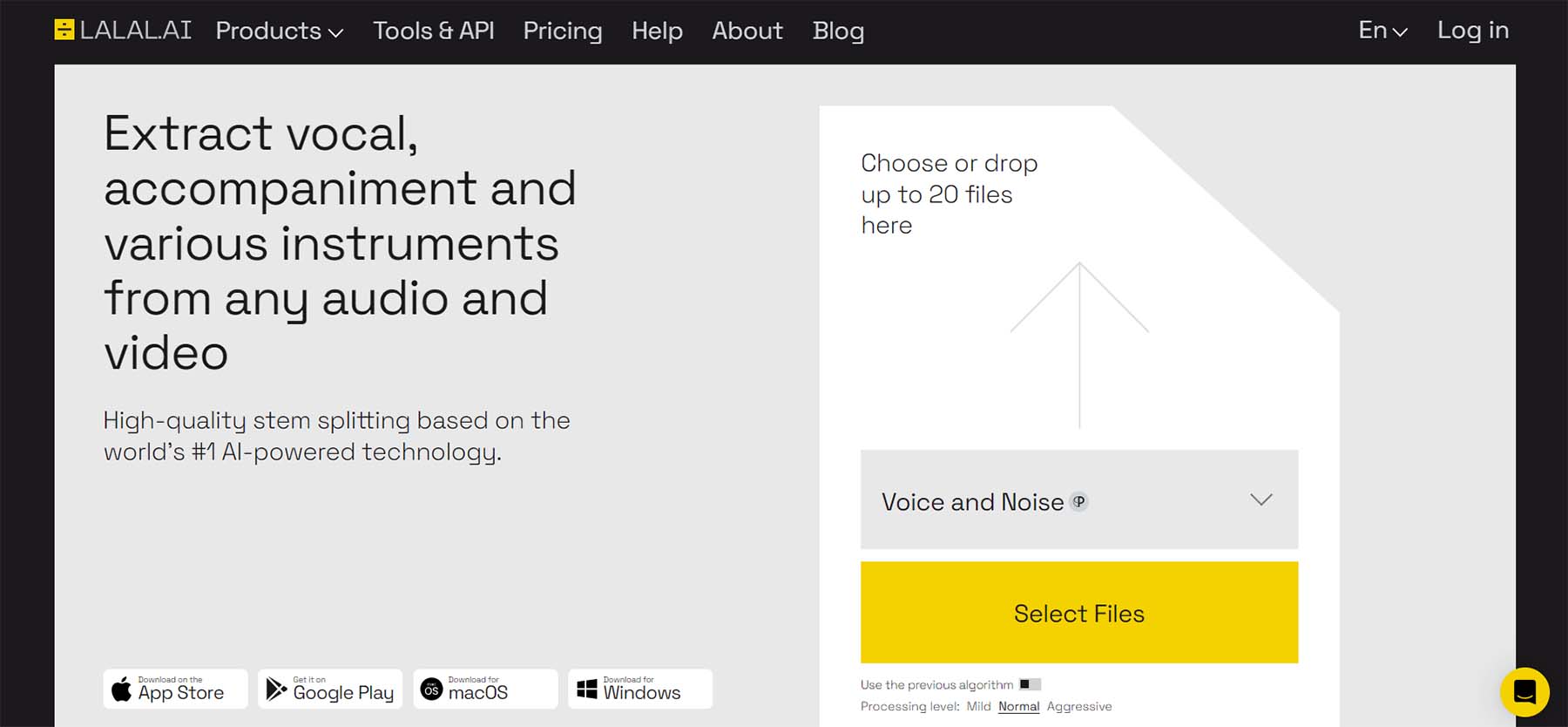 LALAL.AI is an AI-powered tool tailored explicitly for audio stem splitting, the process of dividing an audio track into its individual components. This service enables the quick and accurate separation of elements such as vocals, drums, bass, piano, electric and acoustic guitars, and synthesizers while maintaining top-notch audio quality.
With an interface that effortlessly navigates what is traditionally a complex process, LALAL.AI simplifies the task at hand. Once you upload your track onto its platform, you can conveniently isolate sections of your audio and proceed to make necessary edits. This tool transforms a demanding process into a smooth experience, allowing you to enhance your stem-splitting process easily.
Key Features of LALAL.AI:
Extracts, vocals, instrumentals, and more from your audio tracks
Removes background noise and music
Corrects mic rumble, vocal plosives, and other unwanted noises
Process audio in MP3, OGG, WAV, FLAC, AIFF, and AAC
Works with Microsft, Mac, and Linux operating systems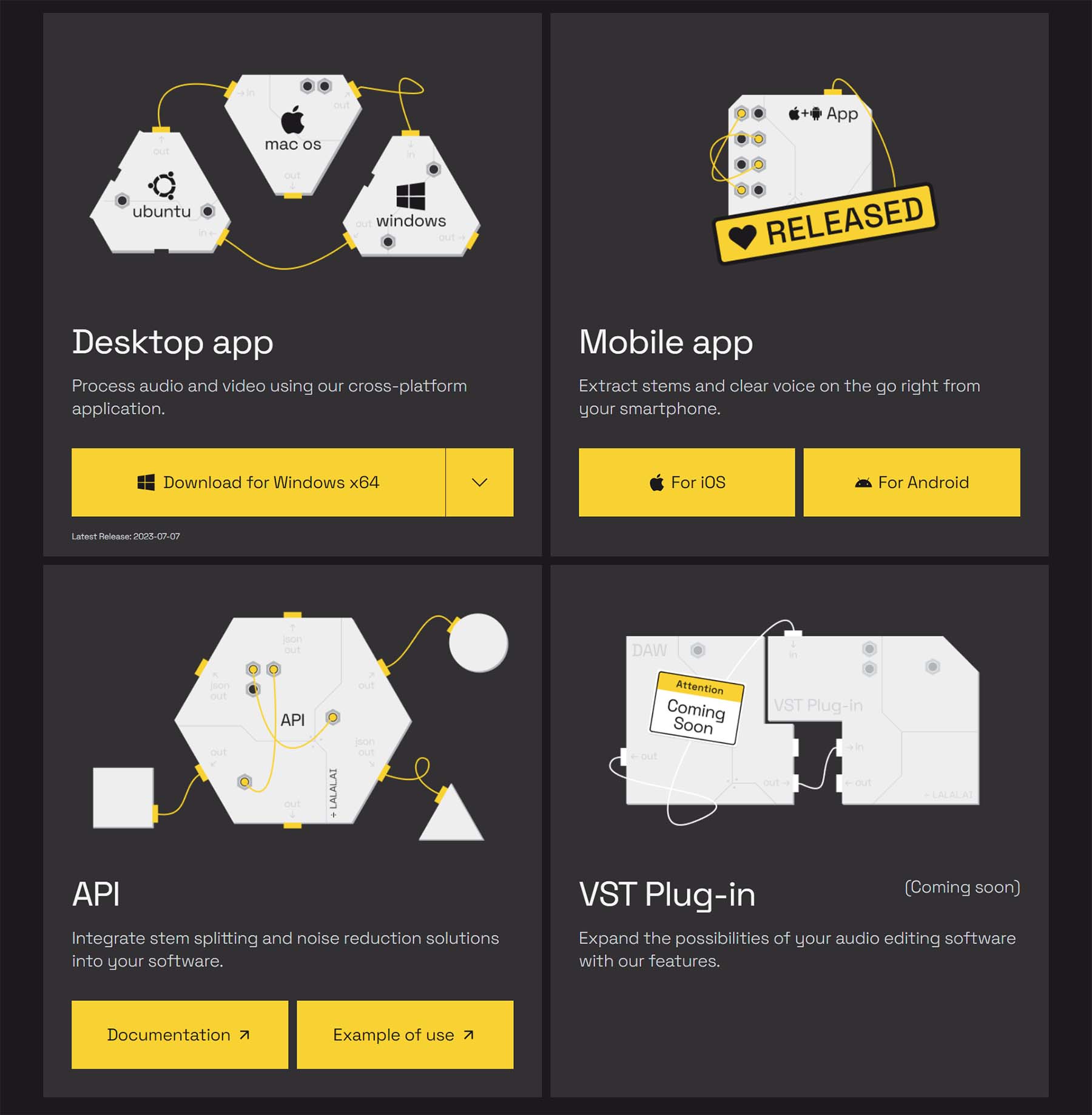 LALAL.AI is available as an API, a desktop app, a mobile application, and soon a VST (virtual studio technology) plugin, bringing the AI power of LALAL.AI wherever you need it to go.
Best For:
For complex and simple stem splitting, you need to use LALAL.AI. It uses AI effectively to simplify a complicated musical task, and it has rates that make it affordable and accessible for all types of musicians, producers, and hobbyists.
Pricing: Free, Paid plans start at a $15 one-time fee
4. Descript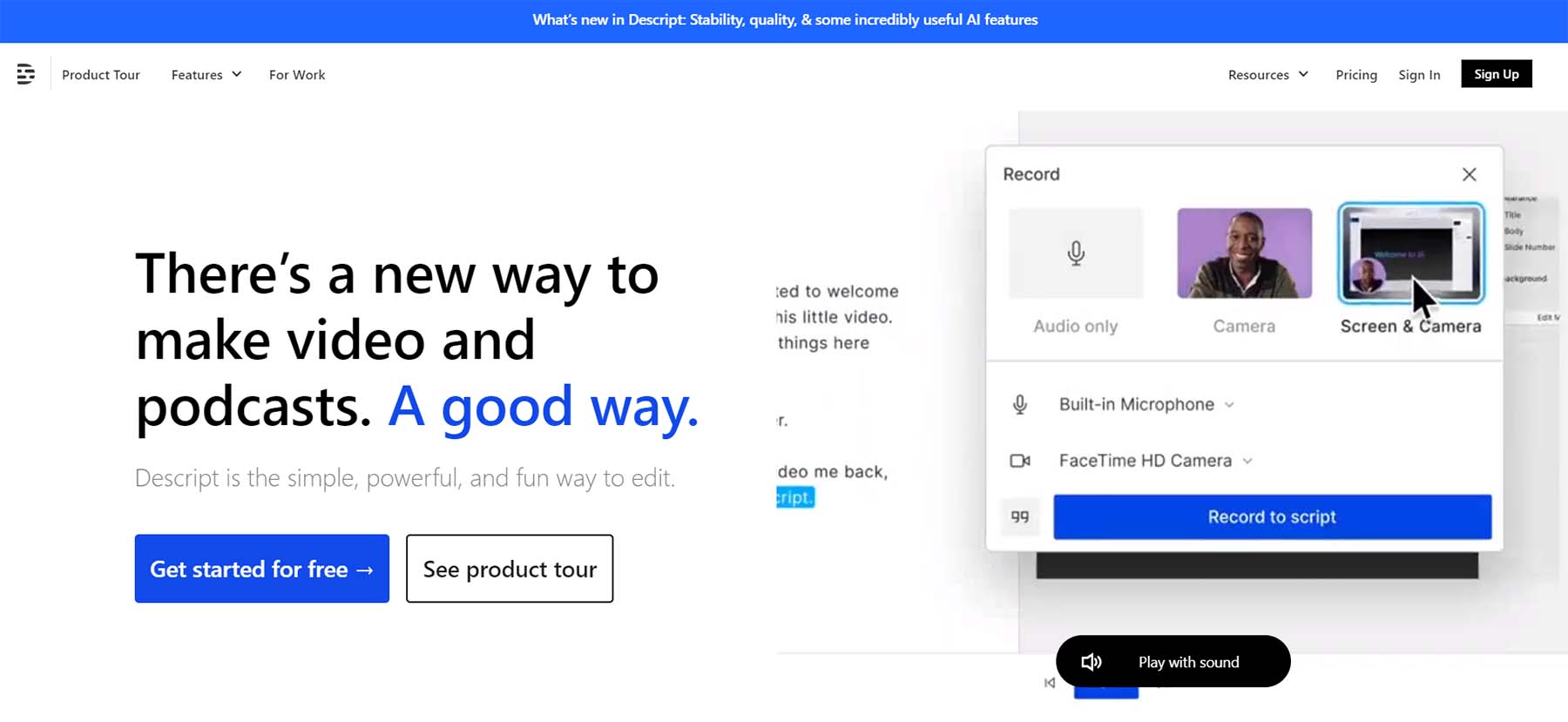 Descript is a robust software solution tailored for podcasting and video editing tasks. In direct competition with Adobe Premiere, it presents an interface that is user-friendly and rich with accessible, efficient features. This unified audio and video editing platform provides ample capabilities—transcription, screen recording, multitrack and video editing, and even publishing.
Descript is a tool with a wide range of video editing features, but it's particularly impressive in the audio department. Its advanced AI audio enhancement technology can remove background noise and cancel out echo, and it also offers one-click audio enhancements for optimal sound quality. This makes it a powerful and versatile tool for creators working in various media domains.
Key Features of Descript:
Remove filler words from audio
Multitrack editing and editing audio by creating an AI audio clone of your voice
Overdubsing and regenerating audio using AI to cover and clear up mistakes
Transcribes audio that can assign labels for individual speakers and uses
Acts as a remote recording studio: add in content from anywhere using phone, computer, studio, and more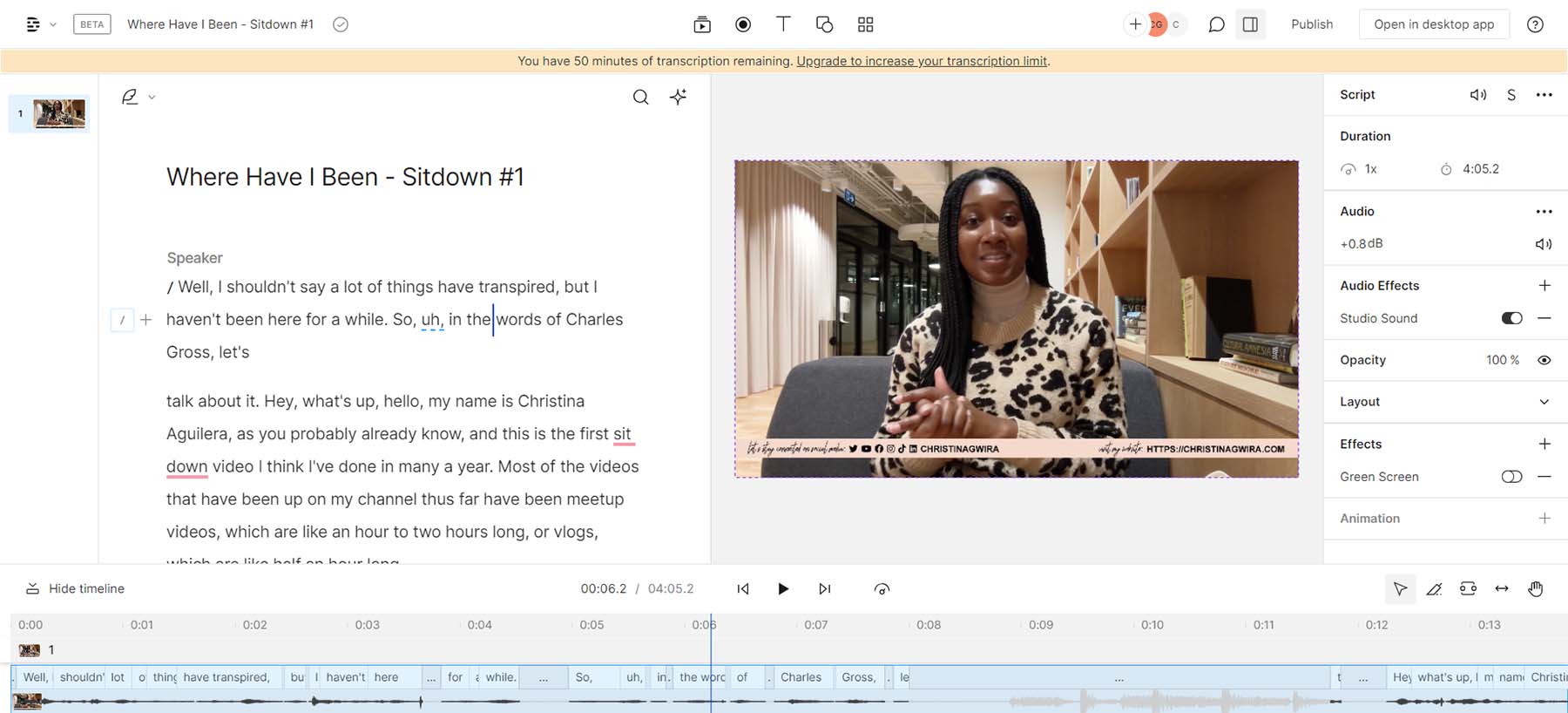 Editing video and audio from one interface is a huge benefit to using Descript as your AI audio enhancer and content creation tool. Your transcripts, audio timeline, Studio Sound feature, and audio effects are all in one clean and aesthetically pleasing interface.
Best For:
Descript is highly beneficial for podcasters and video creators. It utilizes AI to enhance your audio and video content, effectively bridging the gap in content creation. Moreover, it can improve the quality of your video audio, giving your viewers the superior audio experience they've come to expect from online content.
Pricing: Free, Paid plans start at $15 per month
5. Adobe Podcast AI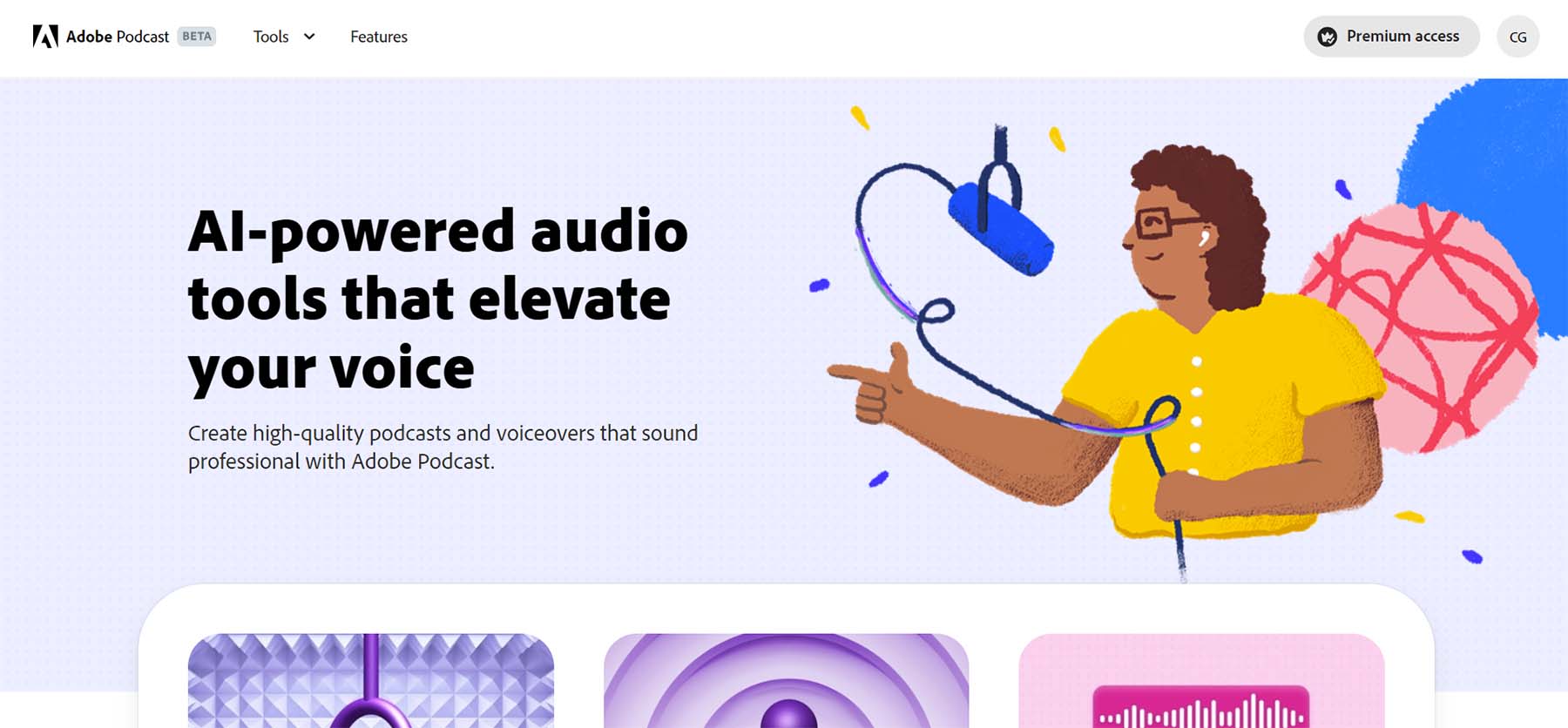 Adobe Podcast offers valuable tools to aid podcasters and creatives in producing professional-grade sound. However, it's important to note that Adobe Podcast is still beta testing. Therefore, it doesn't offer the full-featured solutions found in Adobe Audition.
Within Adobe Podcast, you can conduct and refine your audio recordings directly. It enables the creation of multiple tracks in 16-bit 48k WAV quality, independent of your internet speed or quality. Moreover, Adobe Podcast also permits the importation and enhancement of personal music. You can easily manipulate song features, such as fading in and out, setting your music as background, or importing sounds from the Adobe Podcast library.
For those new to audio editing, Adobe Podcast is quite helpful. It provides simple yet effective tools that yield quality results with a slim margin for error.
Key Features of Adobe Podcast:
AI speech filter clears unwanted noise in your voiceovers
Analyze your physical hardware and recording setup with AI
Enhances speech automatically with a one-click AI audio enhancer
Create transcriptions that can be edited within the Adobe Podcast studio
Integrate your music through uploads, or use the Adobe Podcast library for intros, transition sounds, and more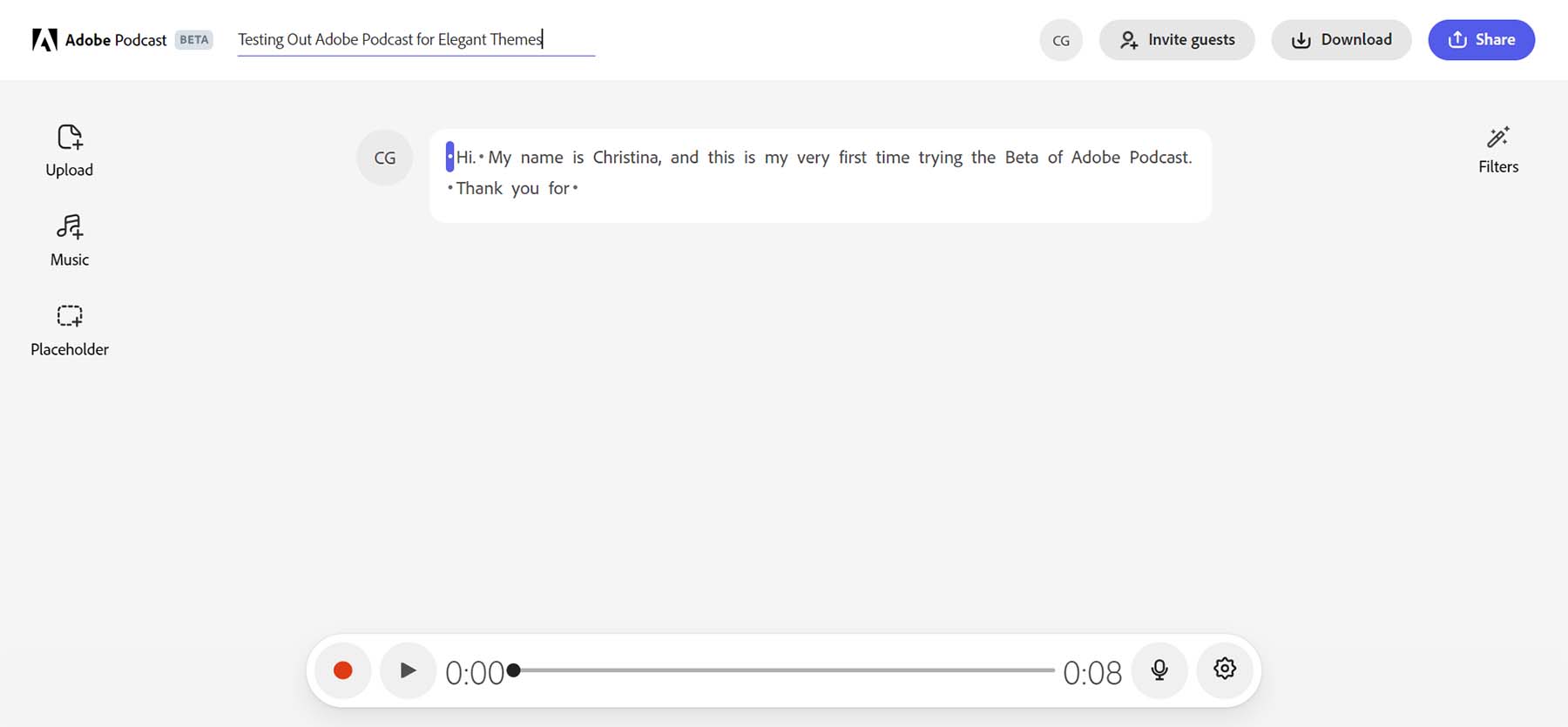 The Adobe Podcast Studio makes audio editing and enhancement simple. An easy-to-use interface that is clean and unsophisticated yet gives you the necessary tools to make editing and bettering the audio for the next project a breeze.
Best For:
For hobbyist creators, beginner podcasters, and those on a budget, using Adobe Podcast to help with your audio enhancement is a wise choice.
Pricing: Free; Upgrade for more features with Express Premium for $9.99 per month
6. VEED.IO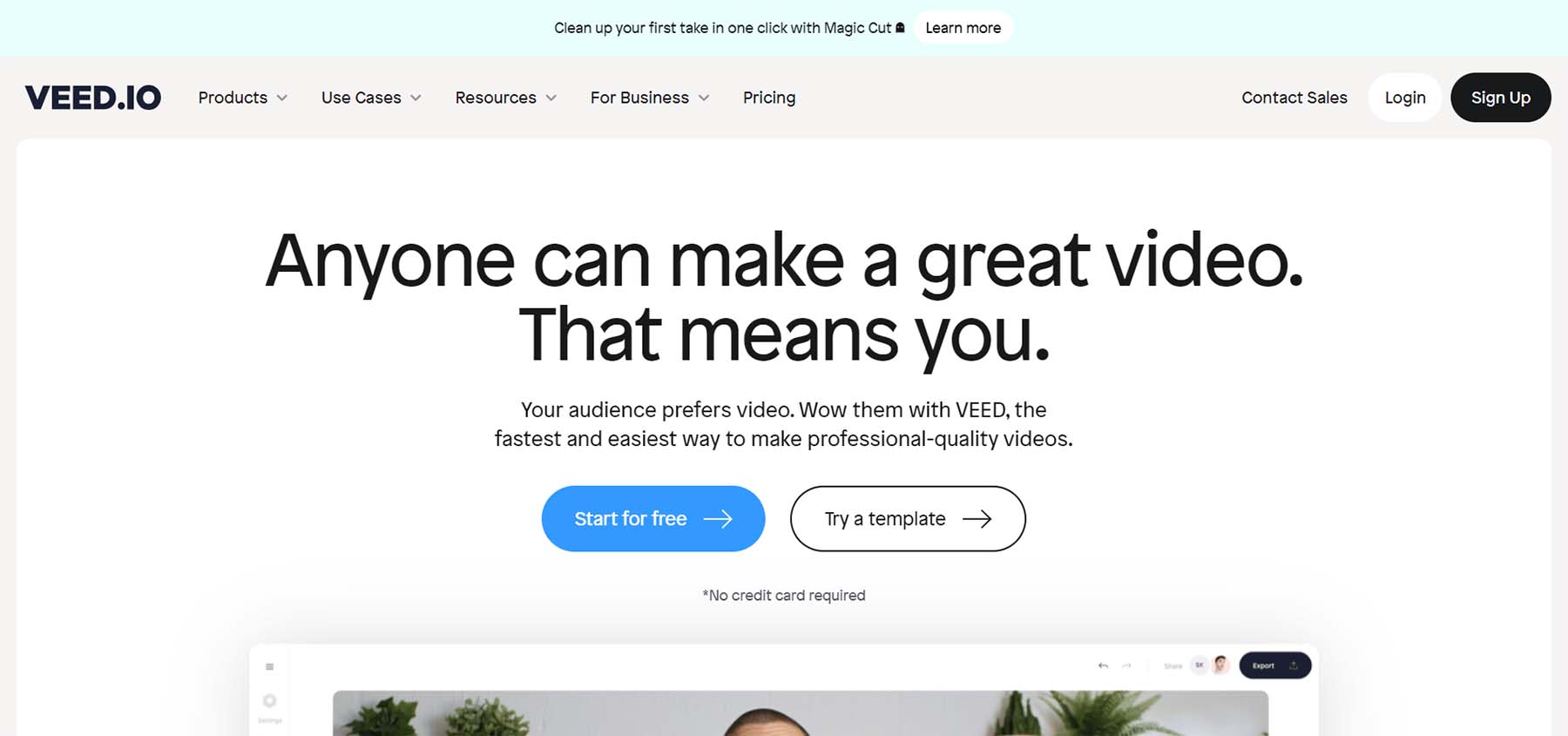 VEED.IO is an excellent video editor that comes with powerful audio tools. Its automatic subtitling, advanced video compression, and screen recording features make it a standout option. However, the most impressive aspect of this video editor is its rich audio enhancement capabilities. You can enhance your video's audio quality, providing viewers with an exceptional auditory experience. Plus, the voiceover integration, audio mixing, and AI audio enhancement tools allow you to maximize your video editing skills.
Furthermore, VEED.IO goes beyond audio features and includes an  AI avatar creator that allows you to create talking avatars for your videos using text-to-speech AI. In addition, the platform's eye contact correction and article-to-video feature solidify its position as a leading AI video generator, effectively pushing the boundaries of AI-assisted content creation.
Key Features of VEED.IO:
Cut, trim, and split your audio clips
Automatically and manually transcribe your voiceovers
Fade in/out added audio and voiceovers
Remove silences, cut out dead air, and pauses
Clean audio and remove background noises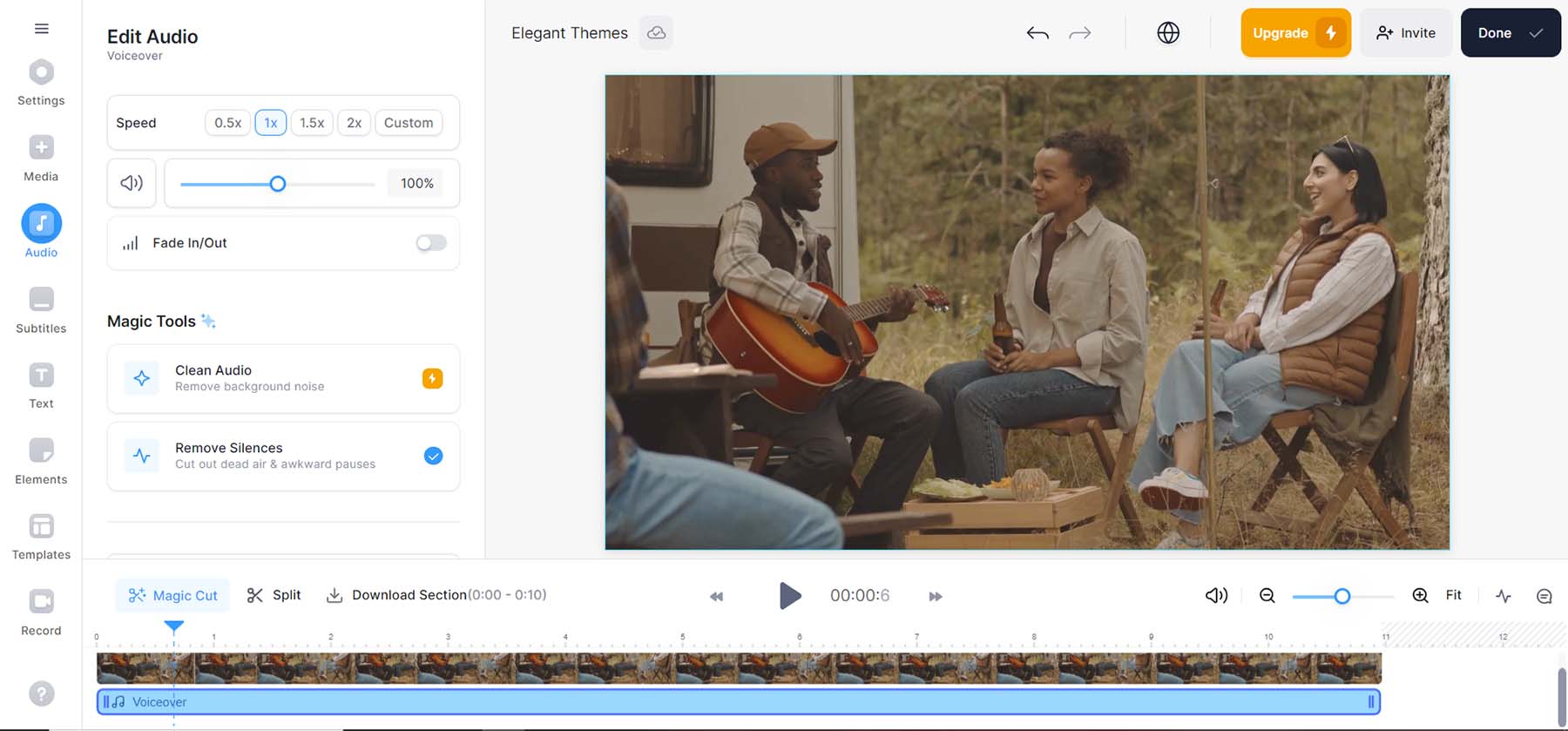 Magic Tools is the main area for using AI-powered audio enhancement tools in VEED.IO's user interface. Replacing audio, removing silences, cleaning up your background noise, and more are simply a click away.
Best For:
For those who find themselves constantly editing videos and need an AI-enhanced tool for text, images, or video, look no further than VEED.IO. Thanks to its AI capabilities, this neatly designed and easy-to-use suite of tools will make your content creation process smoother and more effective.
Pricing: Free, Paid plans start from $24 per month
7. Auphonic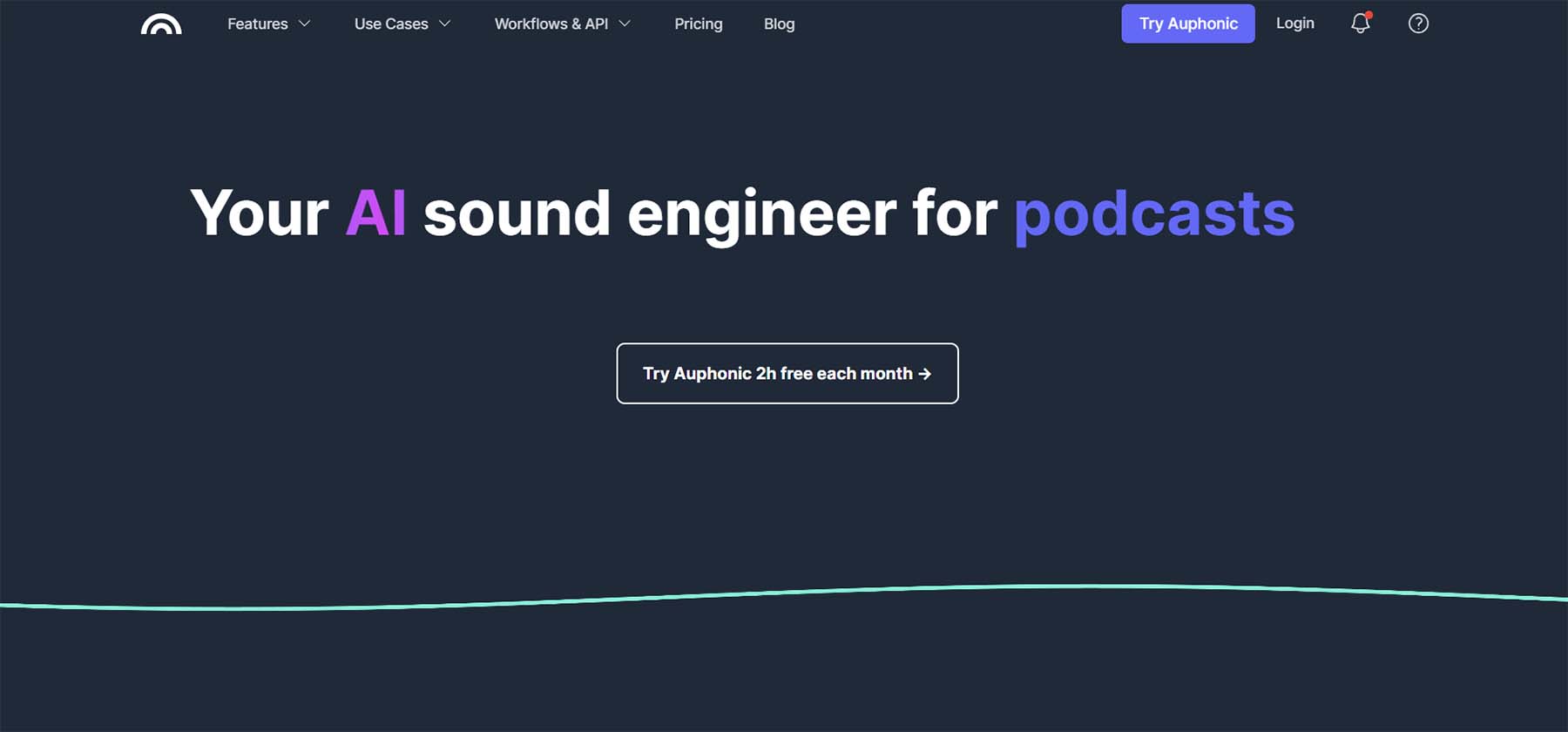 Auphonic positions itself as your personal AI sound engineer. This bold claim aligns perfectly with its impressive range of features. Notably, the Intelligent Leveler component tweaks the balance of your sound's diverse elements. It incorporates multitrack algorithms, allowing for efficient crosstalk removal, automated ducking, and beyond. The Auphonic package also includes essential audio enhancements such as silent section removal, loudness adjustment, and metadata addition.
In addition to enhancing your audio files, Auphonic streamlines video publication by integrating with other platforms like YouTube, Soundcloud, and Spotify. Plus, you can simplify your workflows and turbocharge your applications using automation tools like Zapier alongside Auphonic's inbuilt APIs. An undeniable front-runner in the realm of AI audio enhancers, Auphonic truly brings the expertise of an AI sound engineer to your fingertips.
Key Features of Auphonic:
Balances levels between speakers, music, and speech
Provides noise and reverb Reduction for static, fast-changing noises, or the option to keep or eliminate music
Removes unwanted frequencies and sibilance
Can process multiple tracks to create an optimized mixdown
Automatically trim silent segments, such as speech breaks or moments of breathing pauses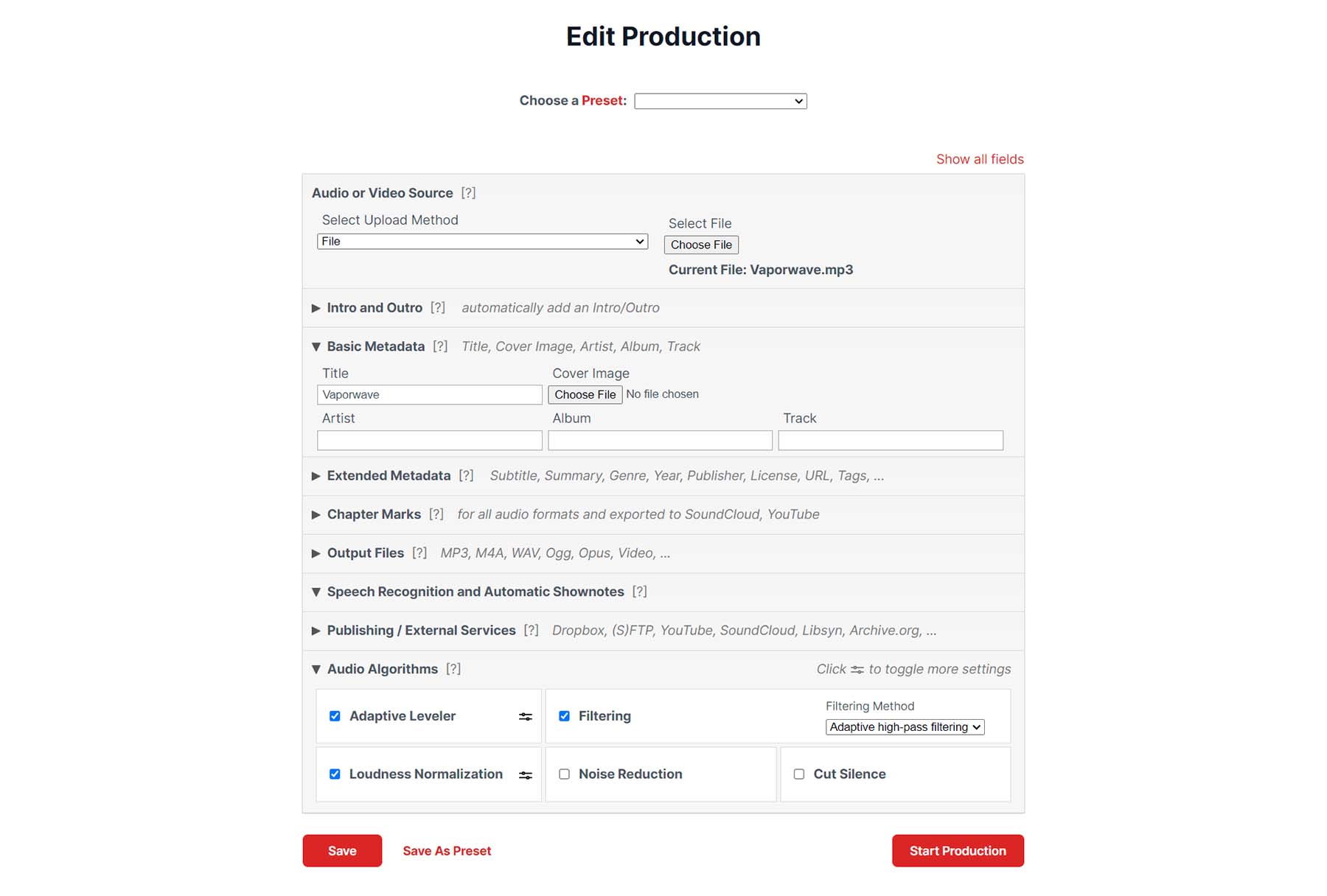 Once Auphonic has auto-mastered your imported audio, you're left with numerous post-production directions. You can enhance your project by introducing an opening segment, tweaking the show notes, or inserting chapter markers. If you want to delve deeper, apply further audio filters and edits to refine your file. Auphonic allows you to save these modifications into a preset for future convenience, enabling you to apply them to upcoming audio files effortlessly.
Best For:
If you're keen on accessing AI audio enhancement tools without the hassle of a steep learning curve, you'll find Auphonic's interface and toolkit quite handy. This platform offers a range of audio engineering tools without the overwhelming complexity often found in pricier or more mainstream editing solutions.
Pricing: Free, Paid plans start at $13 per month
8. AI Mastering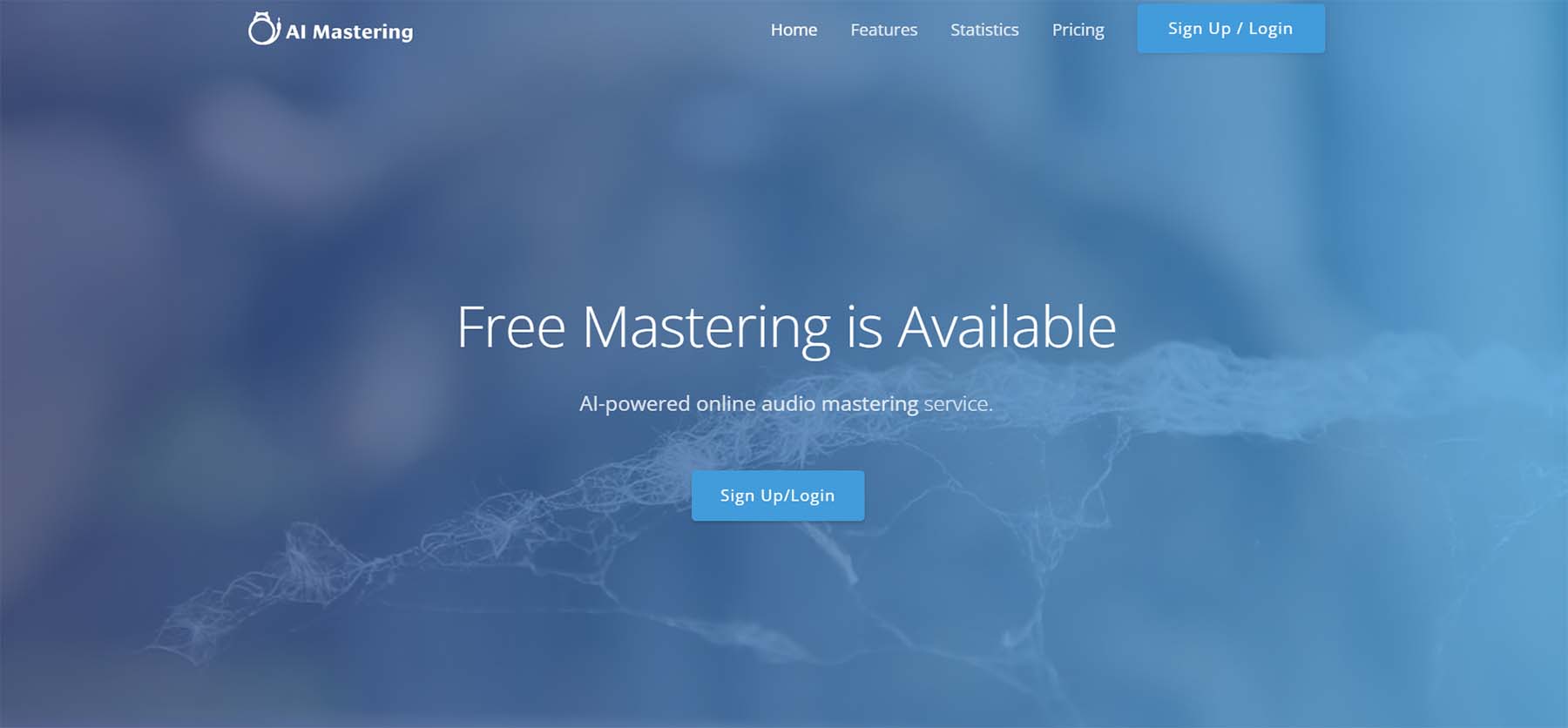 AI Mastering is a low-cost AI audio tool that stands out mainly because of its outstanding audio mastering services. While it may not boast as many features as some platforms, it excels in what it does offer. AI Mastering specializes in mastering tracks using artificial intelligence, ranking among the best AI audio enhancers available for free. Furthermore, it allows you to download your mastered track without any constraints.
Going beyond traditional audio, this tool also manages video mastering. Given its adaptability to YouTube's loudness normalization specifications, AI Mastering is a vital asset for YouTubers. In terms of cost and utility, this tool is hard to beat, making it one of the best in the business.
Key Features of AI Mastering:
Provides a free AI mastering API
Provides audio statistics for uploaded track
AI-powered noise reduction and loudness normalization
Works with audio as well as video tracks with audio
Provides graphs to track optimizations made between original and remastered tracks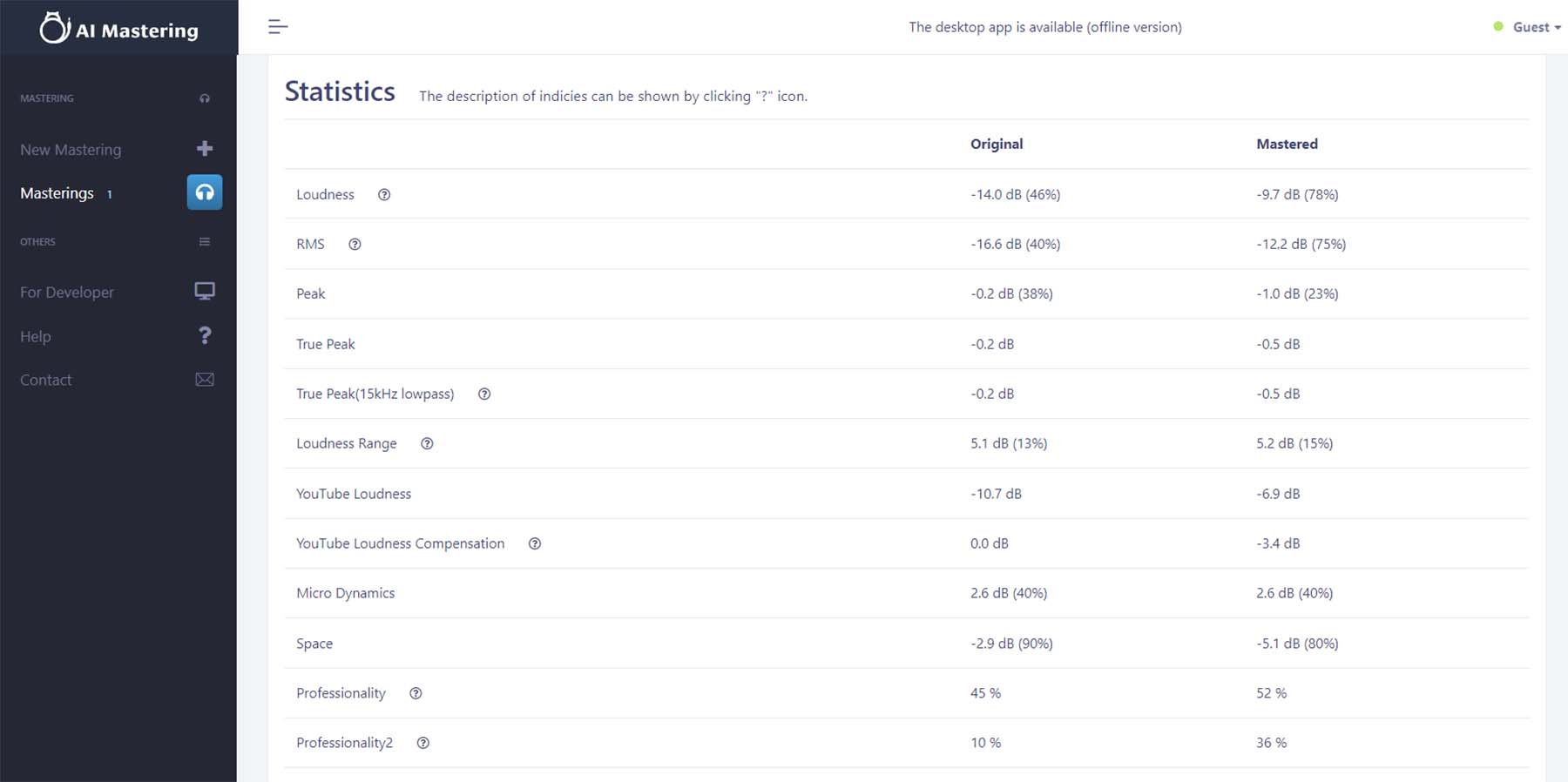 By comparing various data points in your audio file before and after mastering, AI Mastering allows you to observe the significant improvements made to your audio quality.
Best For:
AI Mastering covers you if you're searching for a cost-effective solution to high-end mastering services. This platform excels at providing top-notch mastering. So, if that's all you need for your upcoming track, leveraging this AI tool to boost your audio quality with minimal expenditure is worthwhile.
Pricing: Free
9. Jamahook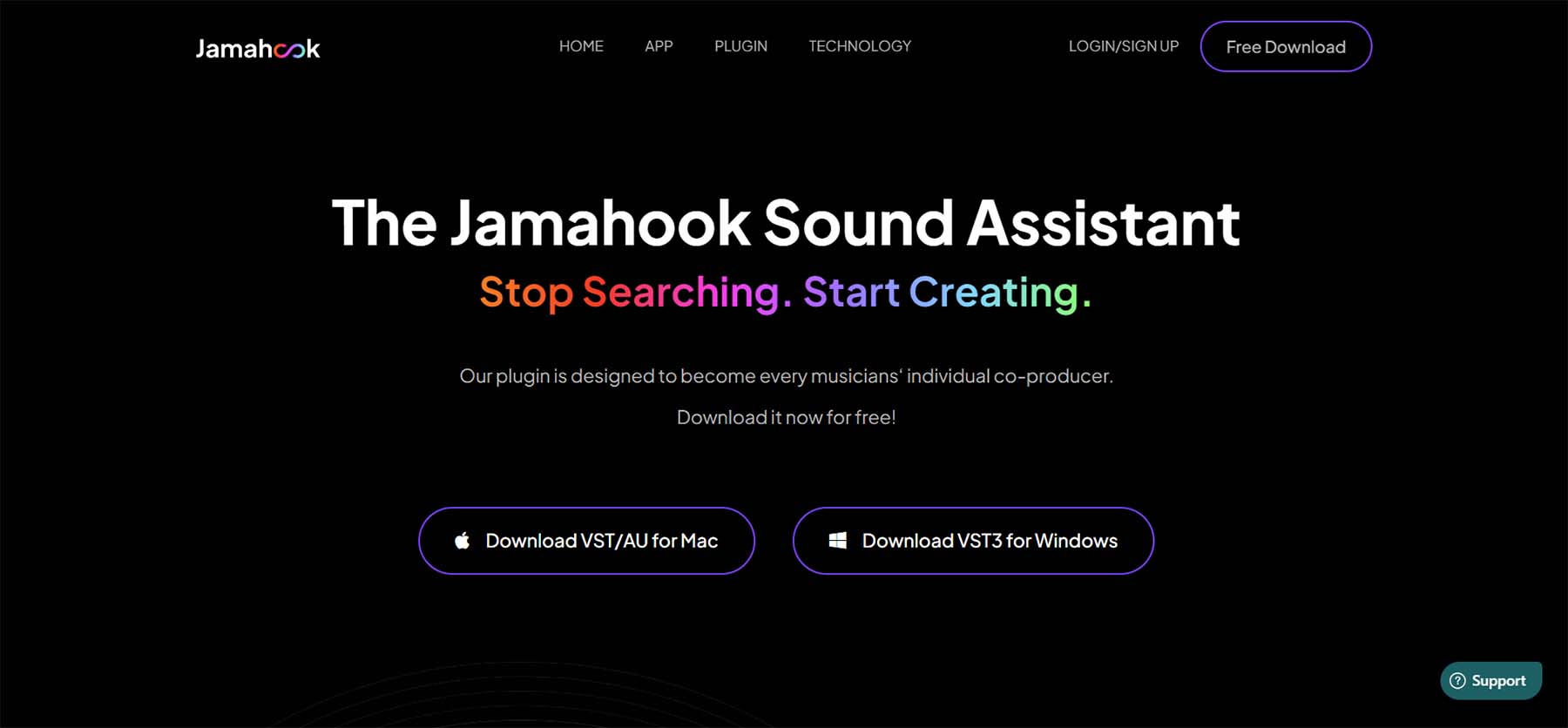 Jamahook is a handy, free AI tool designed to streamline the music creation process. Whether used via its mobile application or as a plugin and VST, Jamahook exhibits a unique ability brought about by its innovative algorithm. This algorithm scrutinizes your audio mix, breaking it into tempo, harmony, rhythm, mood, and more.
From the thousands of loops that Jamahook houses, it can suggest optimal loops to augment your track. This functionality fosters creativity, offering an array of sounds to experiment with as you generate your music piece. Each sound is assigned a distinct musical signature, enabling efficient matches within the library. Once a match has been found, Jamahook will then edit the loop to match your original key and BPM.
No longer will you need to scour libraries for loops and clips. With Jamahook's AI, you can easily enhance your audio tracks without leaving your digital workspace.
Key Features of Jamahook:
Matches pitch, harmonies, melodies, rhythm, and more, automatically transposing them to fit your project
Create a shortlist of loops that harmonically align with your project
Search and filter through the loop library by instrument and genre
Adjusts loops key and BPM to match your audio file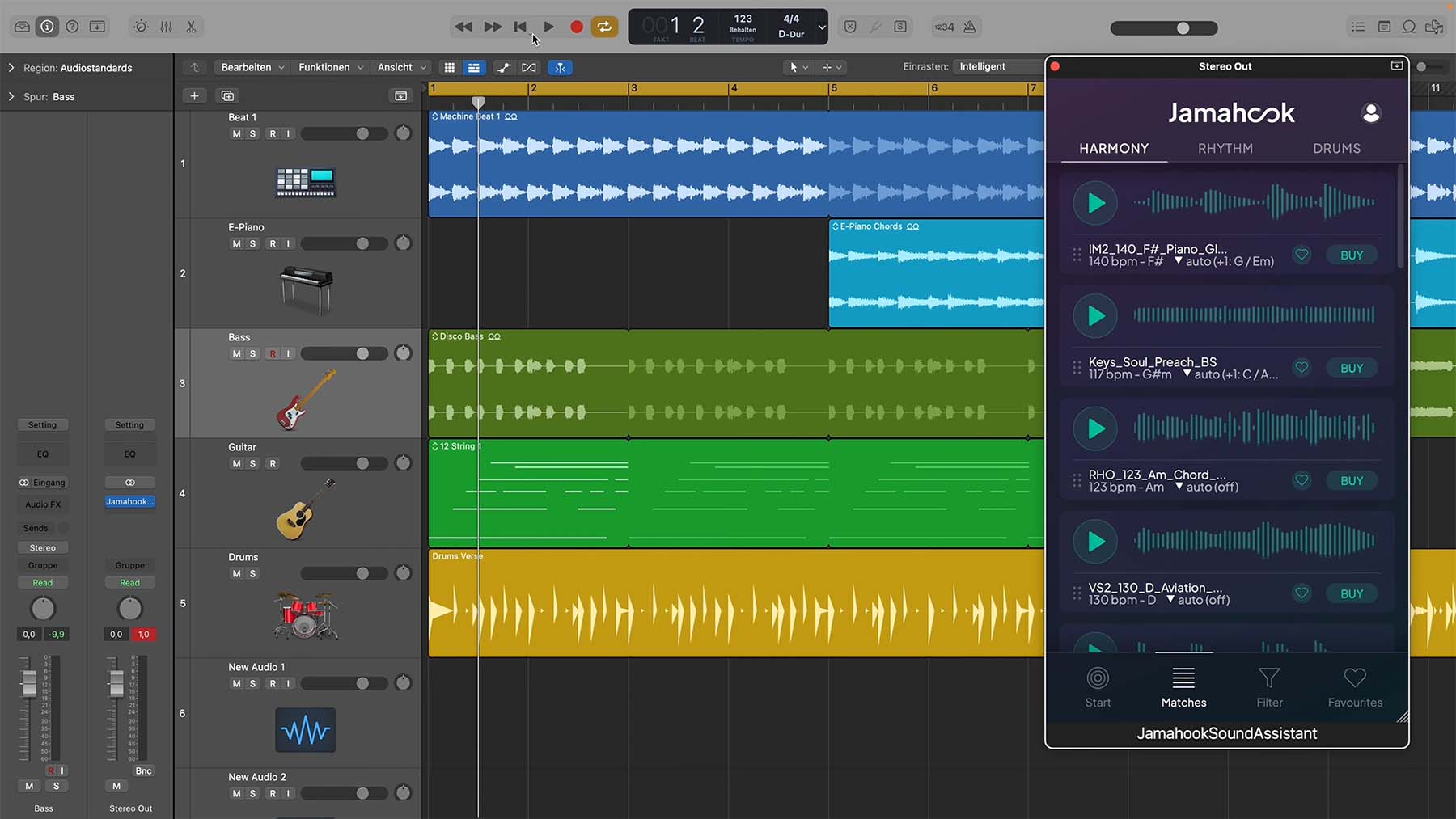 The Jamahook plugin easily integrates with any audio software that supports VST or AU interfaces. Its sleek interface settles neatly into your console, effortlessly introducing top-notch AI audio enhancers into your workspace.
Best For:
Are you a producer or musician searching for fresh inspiration? Jamahook could be just the tool you need. It ignites your creativity, streamlining your work process by providing captivating styles and creation techniques. Additionally, Jamahook removes the tiresome task of finding loops and sounds for your productions. Simple and fuss-free, you would have more focus and time for creating excellent music.
Pricing: Free, Paid plans start at €3,99
10. Krisp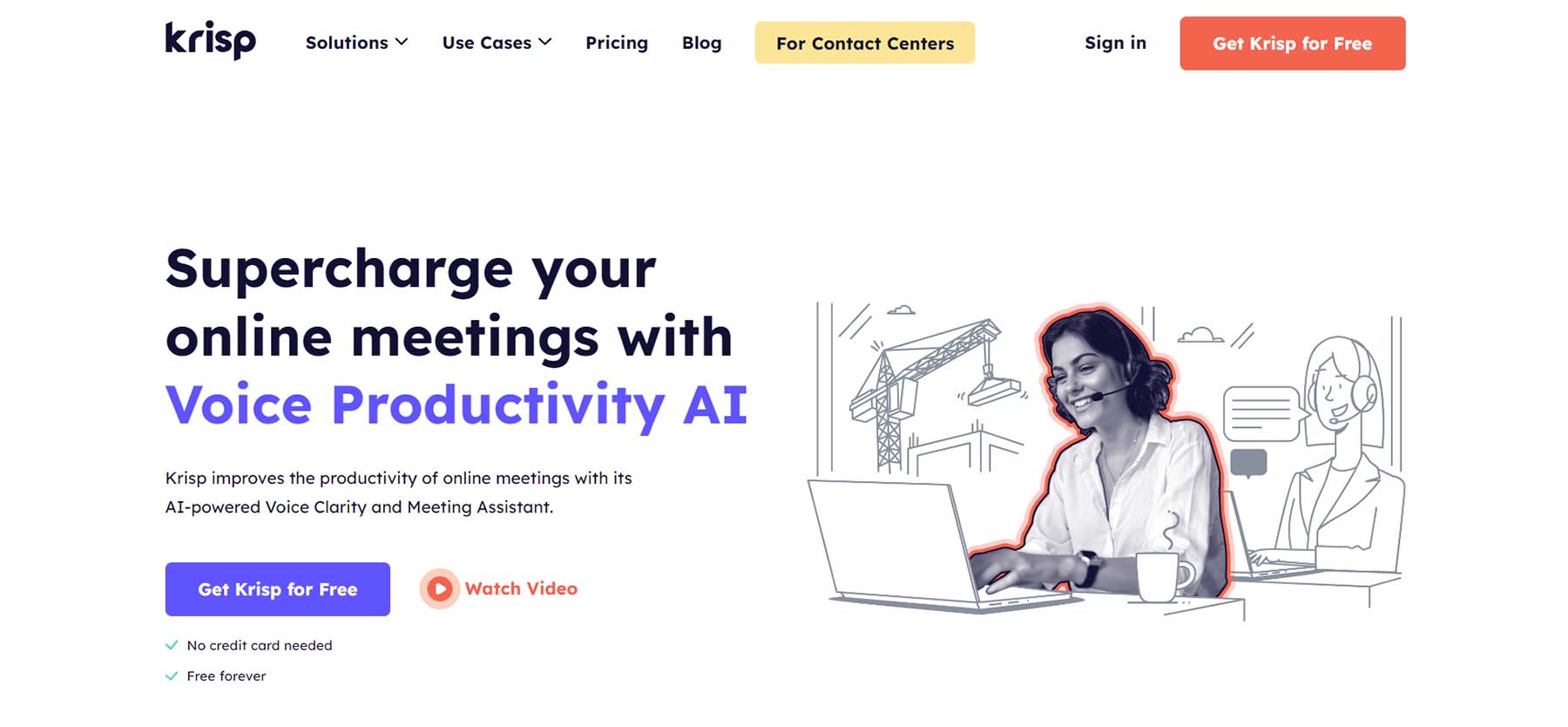 Krisp, unlike your typical audio editing tool, offers exceptional audio-enhancing capabilities, specifically during meetings. Its strength lies in utilizing AI to filter out noise from your surroundings, ensuring excellent meeting quality. Moreover, it is compatible with your preferred meeting applications, such as Teams, Zoom, or Meet, to provide noise-canceling benefits. It also comes with a transcription feature, using AI to transcribe your meeting audio into editable text that you can easily access and download from the user interface.
For the working professional, Krisp stands out as a top-tier AI audio enhancer, elevating the quality of your online meetings without being obtrusive. Furthermore, its user-friendly interface and uncomplicated installation process make it an ideal companion for those who frequently participate in online meetings.
Key Features of Krisp:
Integrates with Google Meet, Microsoft Teams, Zoom, and anywhere where you can use your microphone
Meeting transcripts are stored in the cloud and can be edited and downloaded
Provides AI echo and background cancellation features to your meetings
Provides meeting and voice productivity insights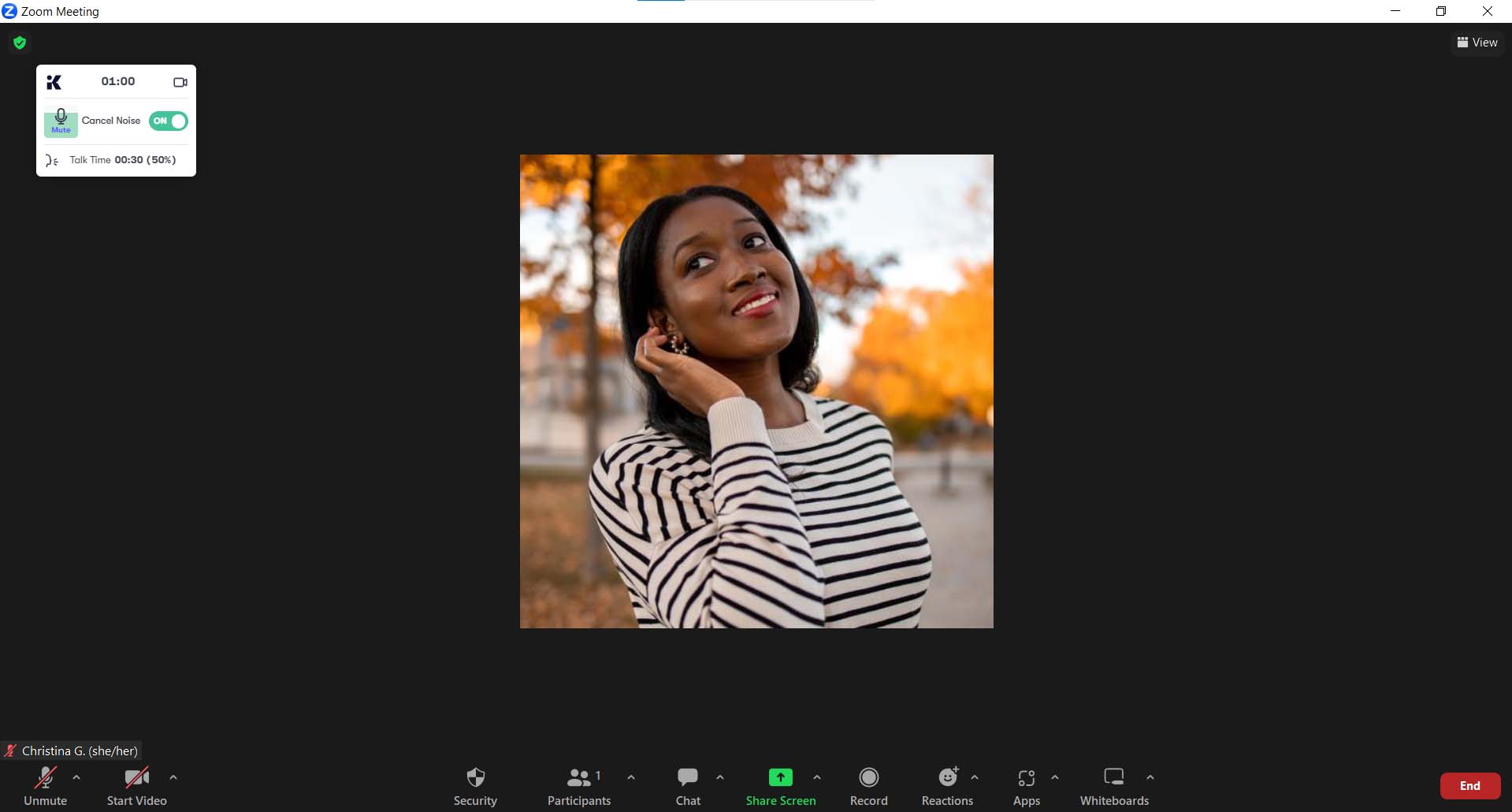 Krisp offers a sleek interface that seamlessly integrates into your choice of platform. With just a few clicks, you can activate noise cancellation and transcription. The transcriptions are safely stored in the cloud, allowing you to edit and handle them conveniently.
Best For:
Krisp's AI noise-canceling feature offers immense value to business professionals and those frequently involved in online meetings. Be it a bustling coffee shop or noisy environment, with Krisp, you can confidently participate in meetings without any worries.
Pricing: Free, Paid plans start at $8 per month
Comparing the Best AI Audio Enhancers
Let's quickly look at some AI-powered audio tools and compare their features.
Best AI Audio Enhanceres Price Comparison
To understand the cost structure of these audio tools, whether they offer a free trial or operate on a freemium model, we'll delve into the comparison below:
Best AI Audio Enhancers Feature Comparision
Now, let's dive deep into the top three AI audio enhancers on our list and see how they match up against each other when it comes to their respective feature sets:
| Features | 🥇 Adobe Audition | 🥈 LANDR |
| --- | --- | --- |
| Easy-to-Use Interface | ❌ | ❌ |
| Advanced Audio Editing Tools | ✔️ | ✔️ |
| Multitrack Editing | ✔️ | ✔️ |
| Expansive Audio Effects Library | ✔️ | ✔️ |
| Noise Reduction | ✔️ | ✔️ |
| Audio Restoration | ✔️ | ✔️ |
| Audio Mixing | ✔️ | ✔️ |
| Podcast Hosting | ❌ | ❌ |
| Collaboration Features | ✔️ | ✔️ |
| Integration with the Cloud | ✔️ | ✔️ |
| Extensive Audio Export Formats | ✔️ | ✔️ |
| Audio Analysis Tools | ✔️ | ✔️ |
| Batch Processing | ✔️ | ✔️ |
| Free version | ✔️ | ❌ |
| Starting Price | $35.99/month | $19.99/month |
| | Get Adobe Audition | Get LANDR |
What is the Best AI Audio Enhancer?
Adobe Audition is the industry standard for enhancing and working with audio, and its AI integrations and toolset bring this knowledge into your hands. Furthermore, LANDR is another top contender, as it is an AI audio enhancer and studio used by award-winning artists, bringing AI mastering and more into your studio.
Regardless, the best AI audio enhancers can elevate your sound professionally while saving time and effort. So, why not try them out and witness how they can transform the sound of your recordings?
Want to explore more AI tools? Check out all our articles with the best AI and business tools to create your next project.
Featured Image via Kit8.net / shutterstock.com