YouTube is a video-driven social networking platform with a wide reach and powerful ad targeting capabilities. These features make YouTube especially strong for digital marketers. YouTube video advertising can offer serious ROI if executed properly, so if you're curious about how to set up a YouTube ad for the first time, you've come to the right place.
Wondering how to get started creating your first YouTube video advertising campaign? Read on.
Subscribe To Our Youtube Channel
Creating Your First YouTube Ad Campaign
Creating your first YouTube ad campaign is simple. YouTube video advertising takes a video you've already created and uploaded to your channel, then links it to a Google Ads campaign. Let's get started.
Upload Your Video to YouTube
1. If you haven't already, you'll need to upload your video to YouTube. To do that, you'll need to first visit your profile. From the YouTube homepage, click your user icon in the upper right corner.

A drop-down menu will appear. From there, click Your Channel.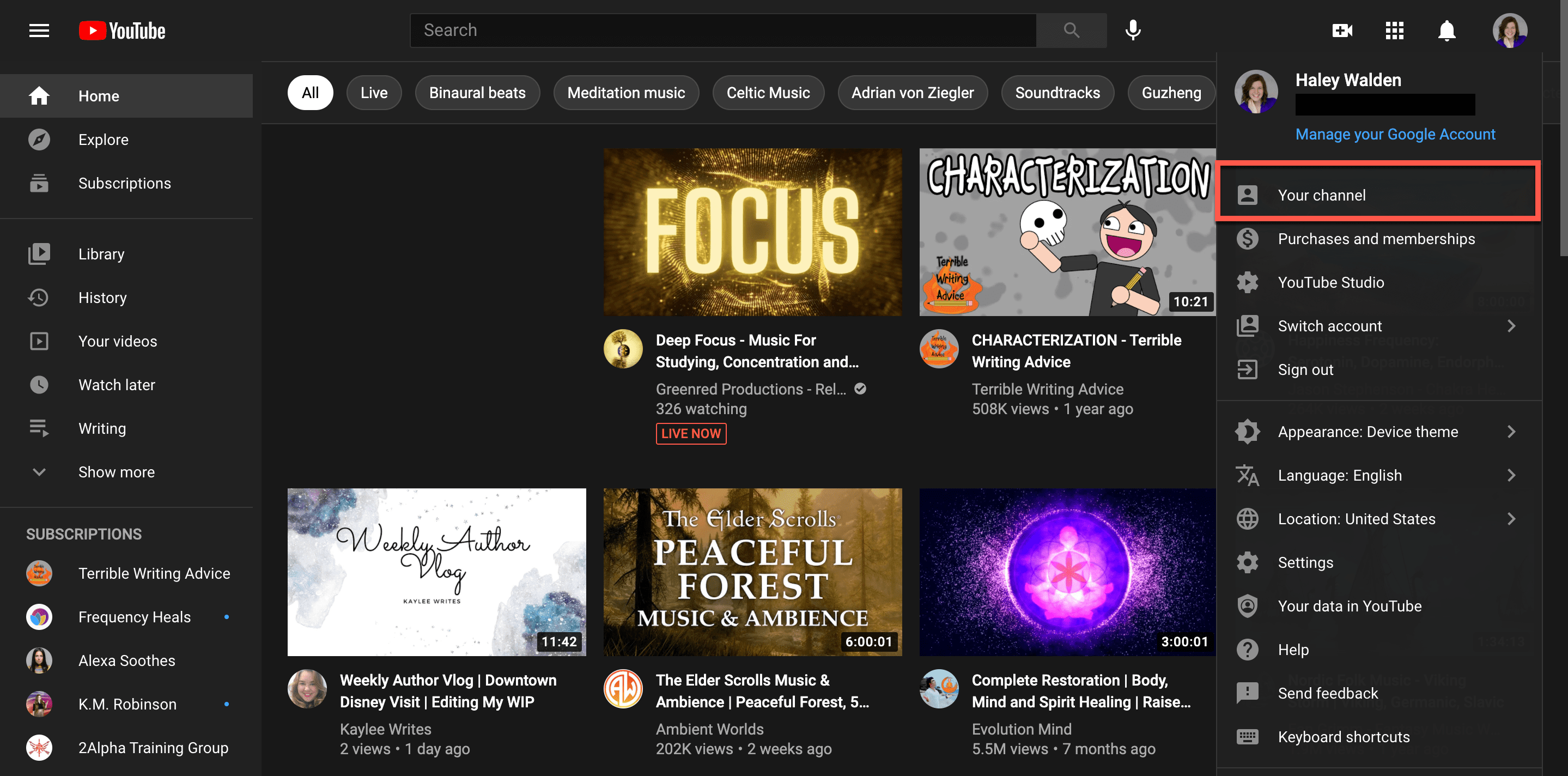 From your channel's home screen, click Manage Videos.
You'll see a main page that contains Channel Content. If you don't yet have content, click Dashboard in the left-hand navigation menu.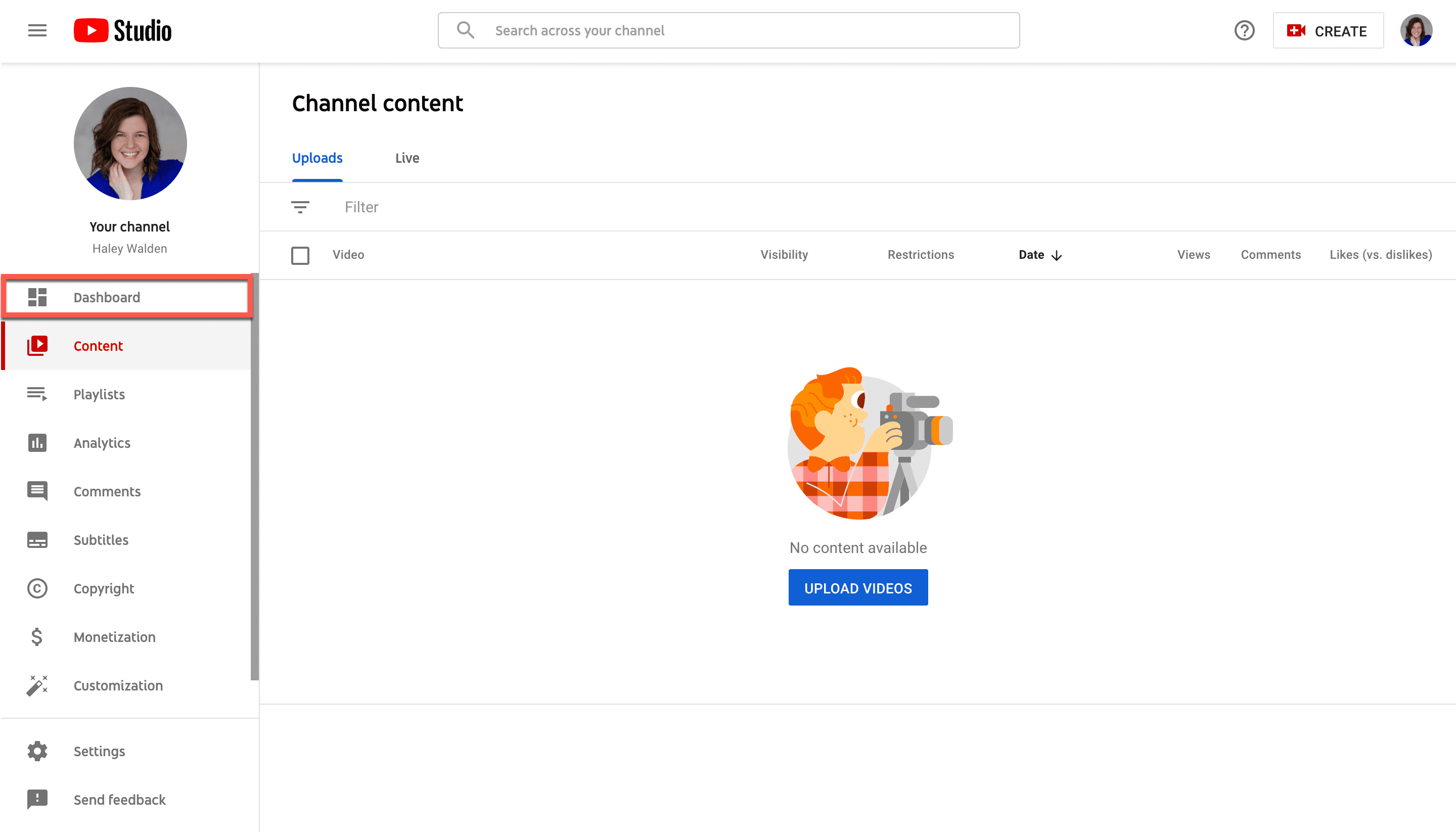 From your Dashboard, you'll see an Upload Videos button. Click to get started.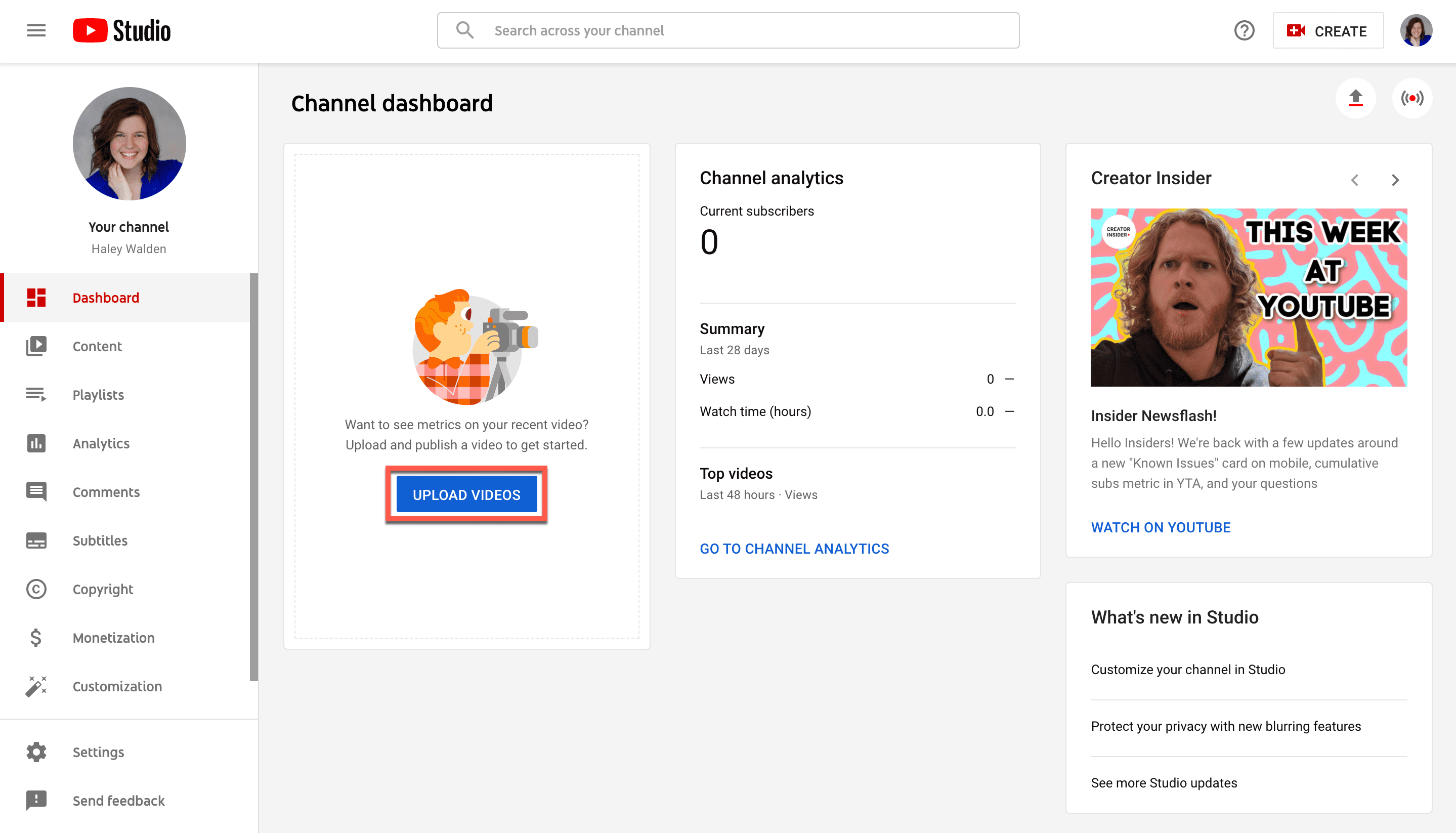 2. The next screen will prompt you to either drag and drop a video file into the window, or click and browse videos from a folder on your computer. Once you've selected your video of choice, go ahead and upload it.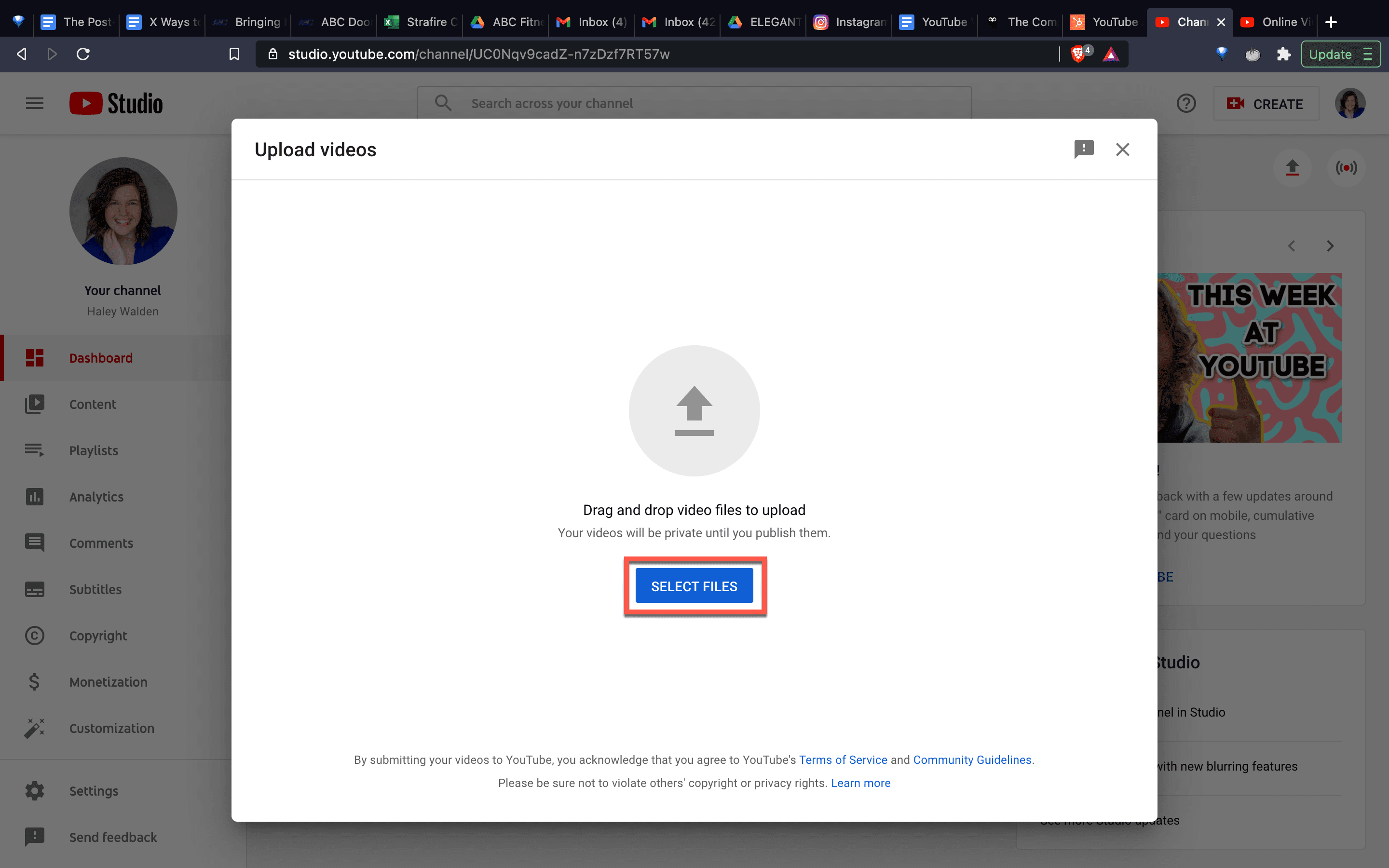 3. The next screen will prompt you to fill in all your video's details. You'll be able to choose your Title, Description, Thumbnail, and add other pertinent details about your video and its intended audience (i.e., whether it's for kids or not). Once you've filled everything in, click Next.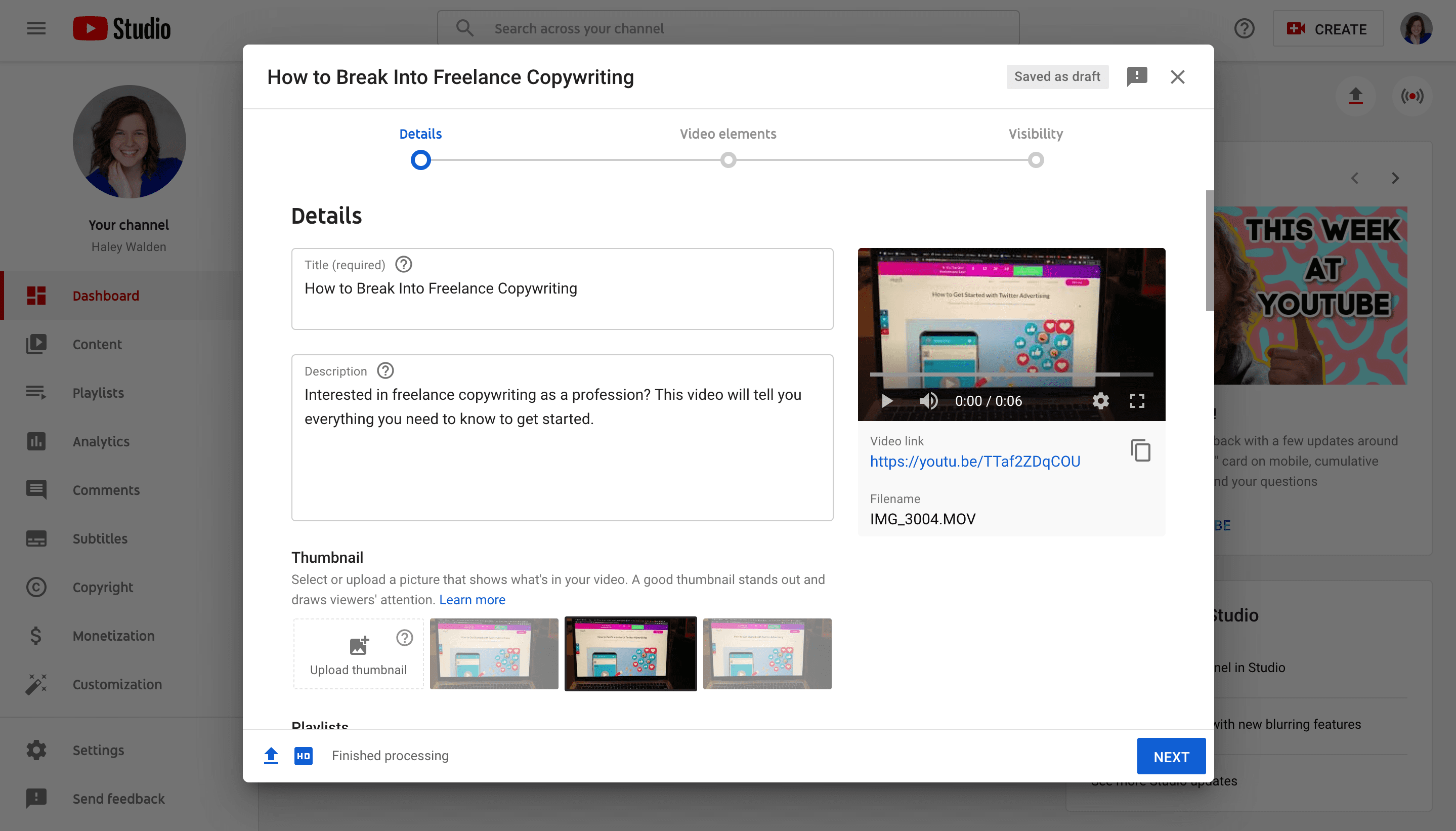 Connecting Your YouTube Video to Google Ads
4. Next, you'll start the Google Ads process for promoting your video. You can do that directly from your Google Ads account, or you can get started from this page (pictured below). If you don't already have a Google Ads account, then Google will take you through the process to set that up. Click Start Advertising to begin.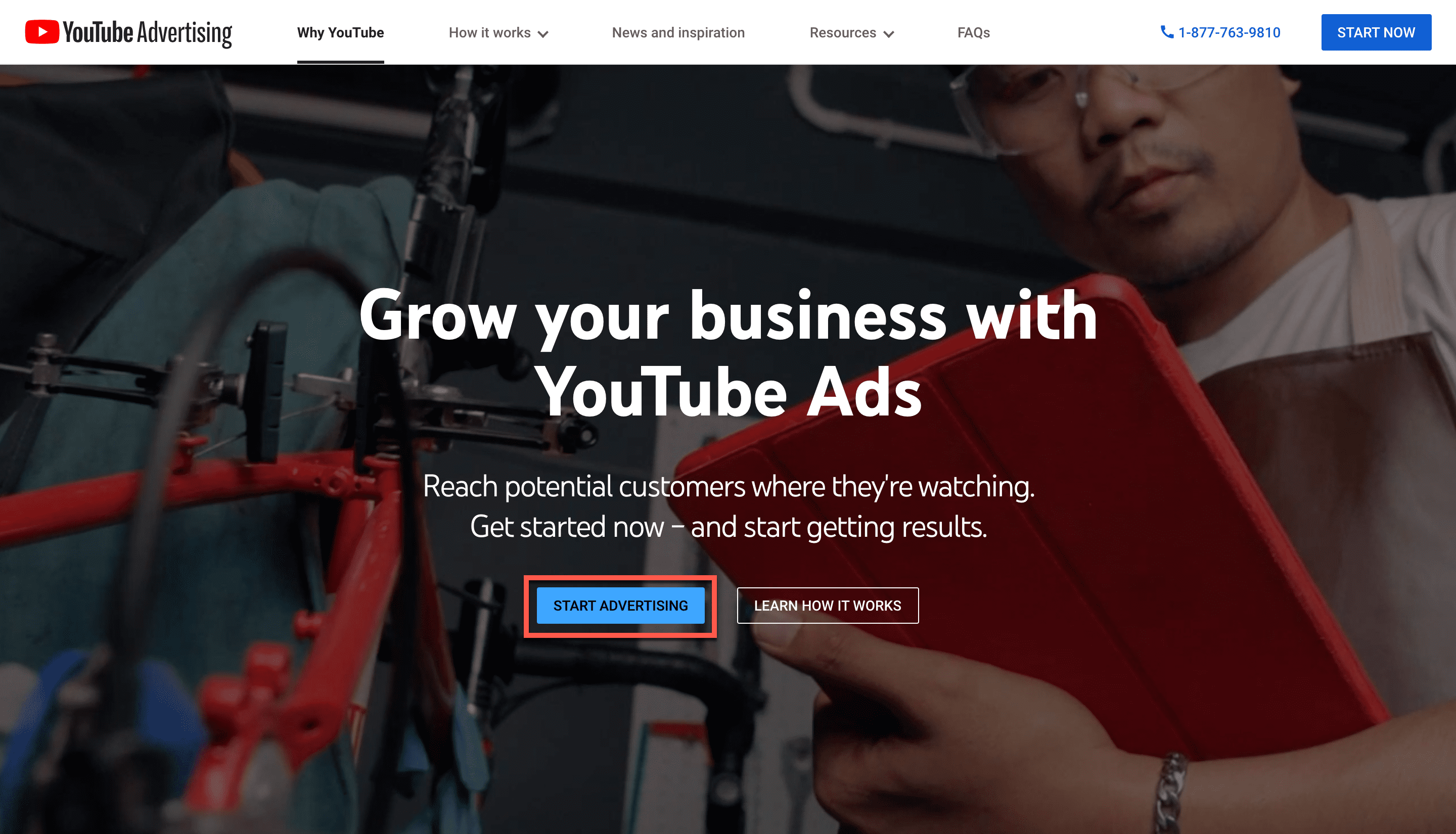 The YouTube Advertising homepage connects you directly to the setup form for a YouTube ad. However, you can also set up a YouTube ad from your Google Ads dashboard.
5. YouTube and Google make it super simple to get your ad going. You'll go through step-by-step instructions to get your video positioned for the best reach. The prompts will help you select the right video for your ad, choose your primary audience, and settle on a budget for the ad spend. Click Get Started to either set up your Google Ads account, or login to your existing Ads account and start creating your ad.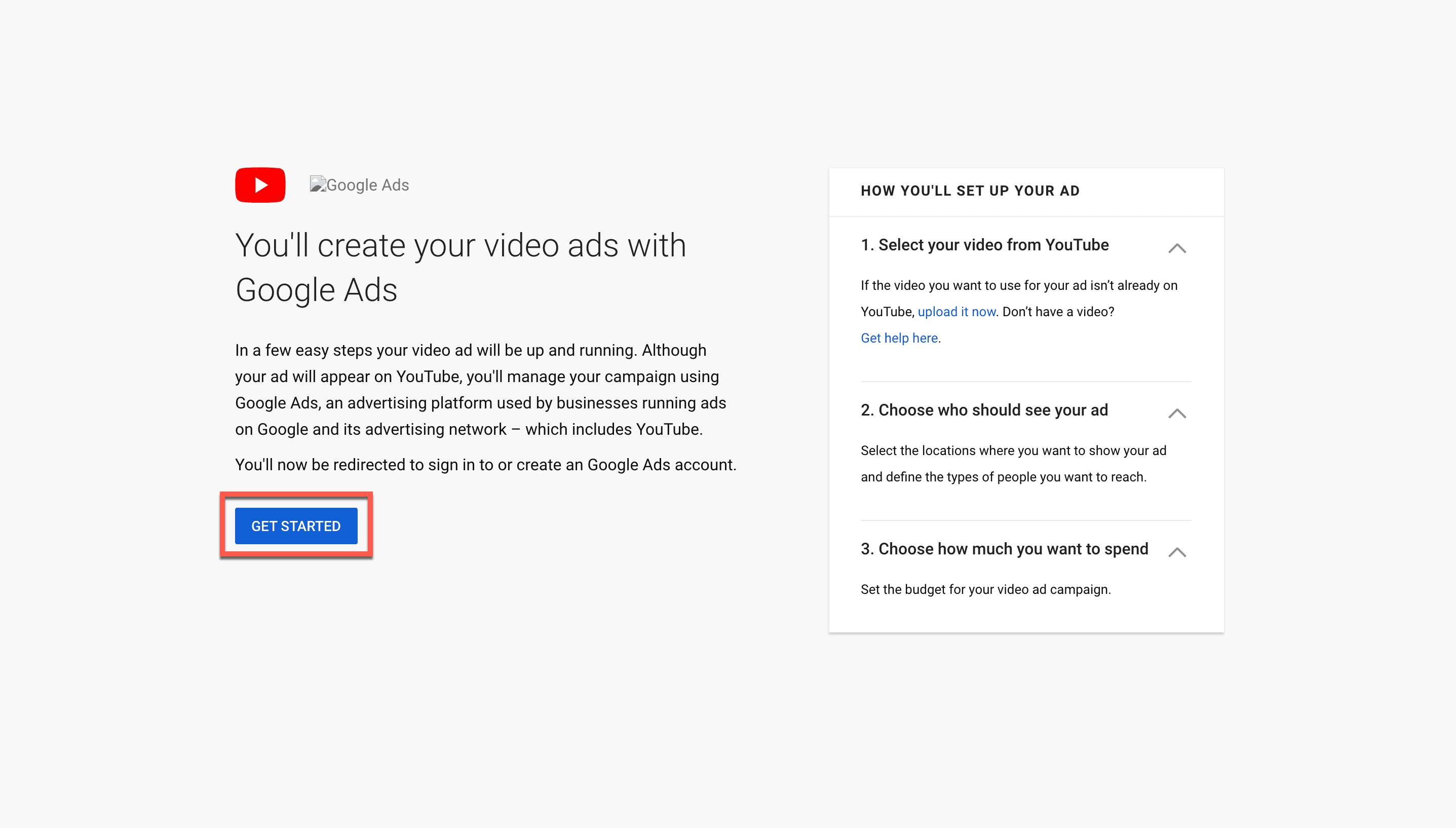 6. The next screen will prompt you to enter your video's URL. Navigate to your YouTube account to get this information, if you haven't already. Alternatively, you can use the search tool embedded in the page to find your video.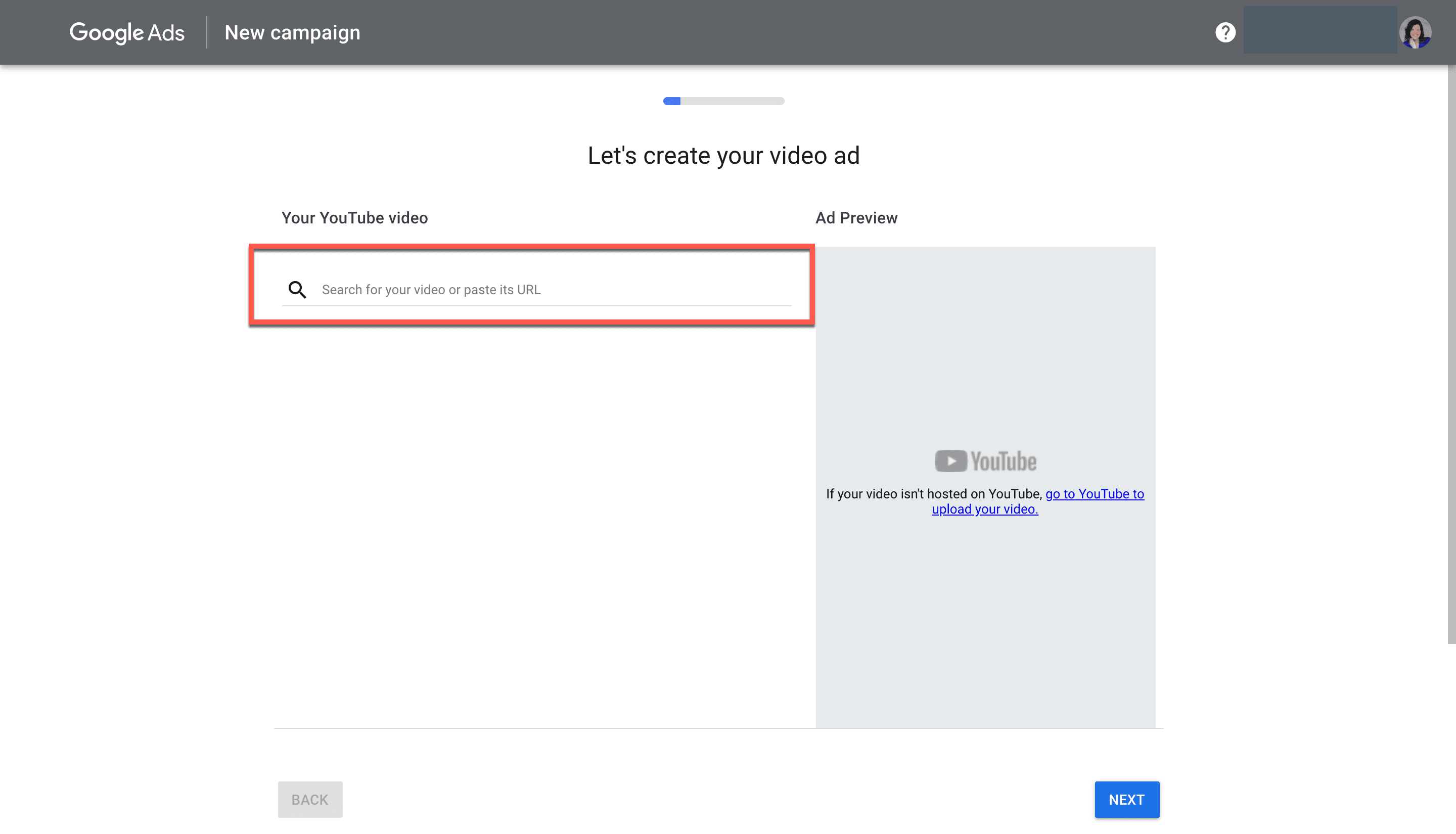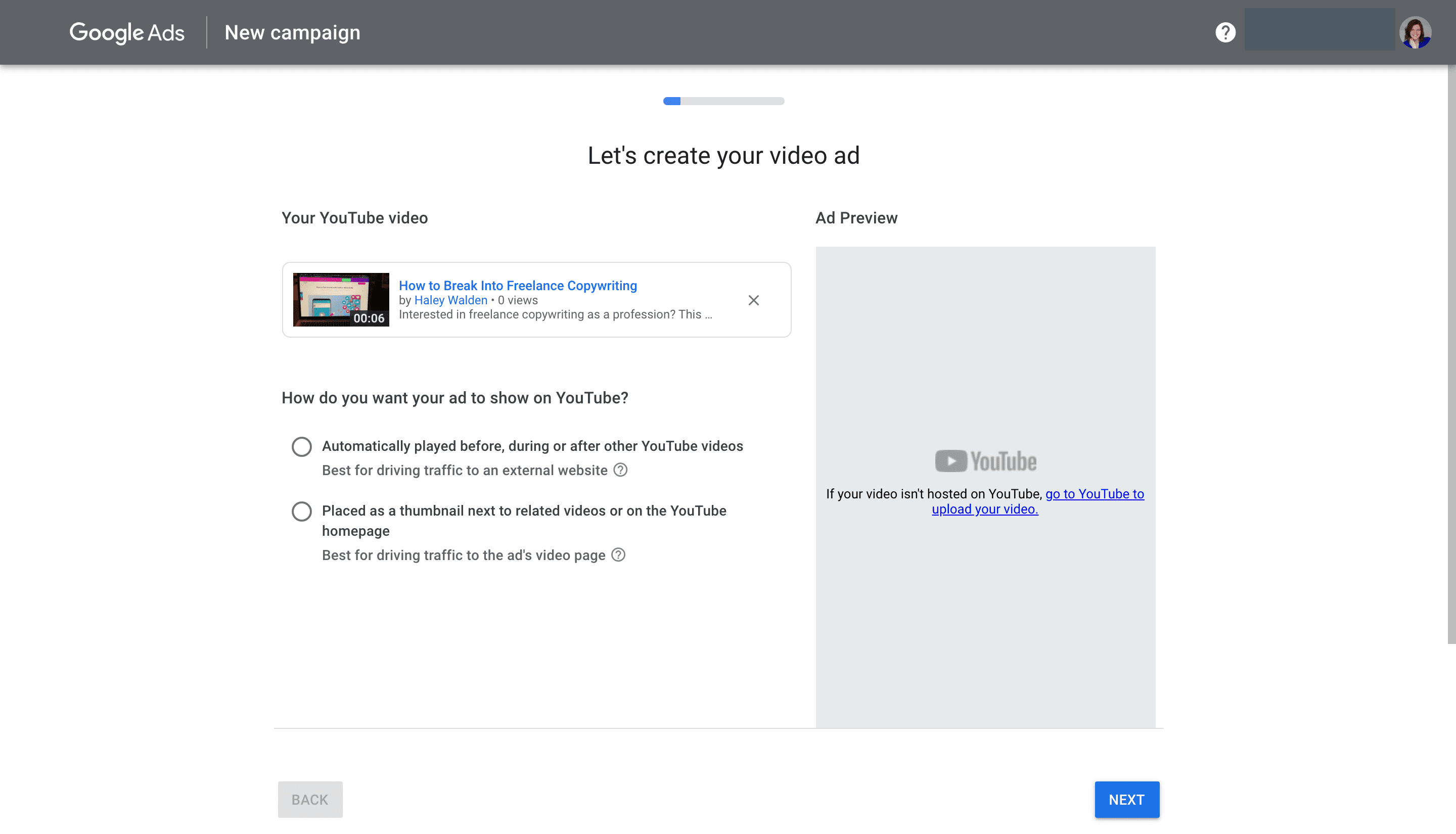 Your video should appear once you've entered it into the page. From there, you'll be able to select how you want it to appear in viewers' feeds.
YouTube Video Advertising Ad Placement
7. You can choose to have your video play automatically, either during, after, or before other videos. According to YouTube, this option is best if you want to drive traffic off-platform. On the right-hand side of the screen, you'll be able to see a preview of your ad on both desktop and mobile, on- and off-platform.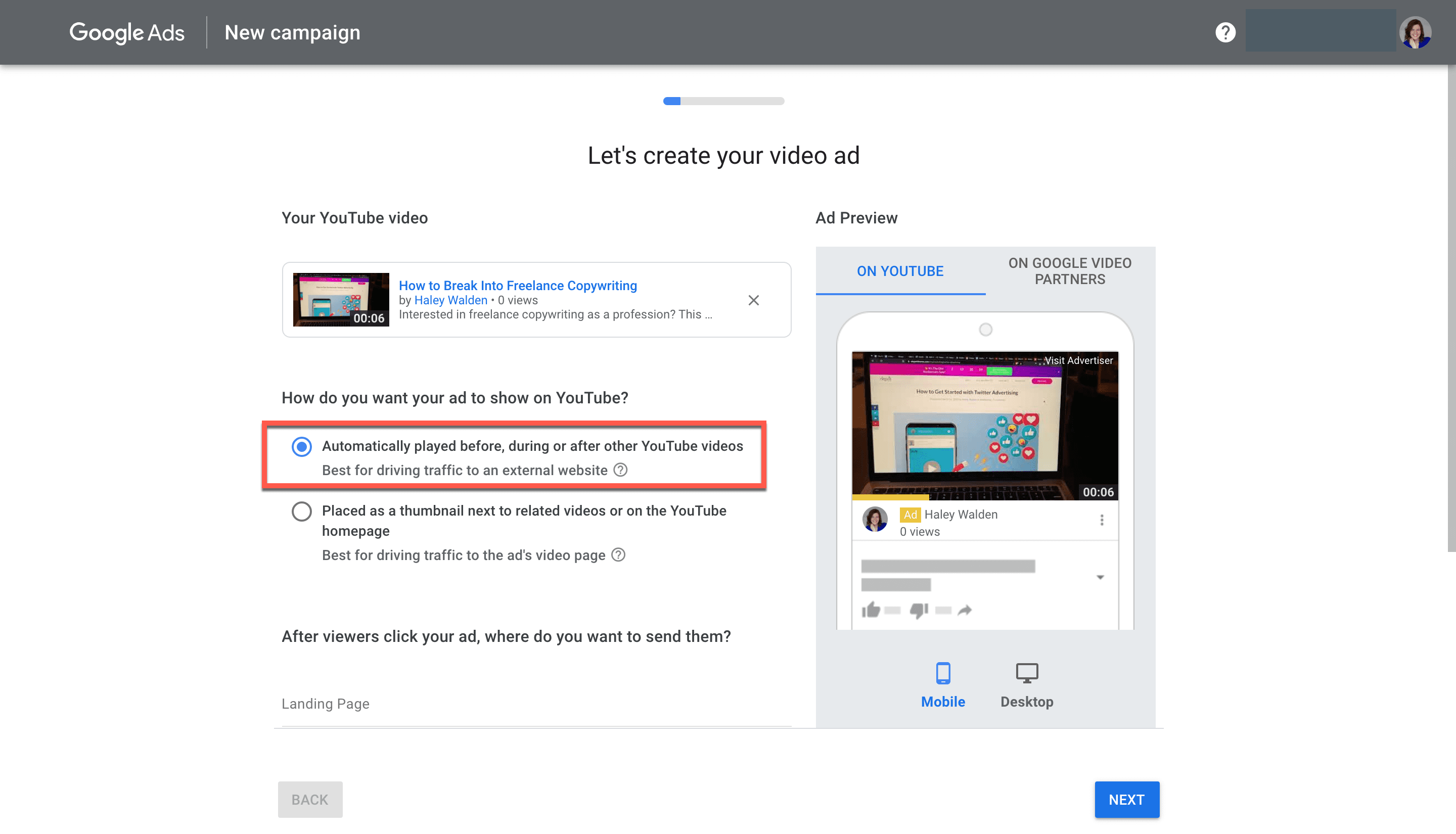 Alternatively, you may decide to display your ad as a thumbnail. Thumbnails appear on YouTube's homepage, or beside similar videos. This option is ideal if you want users to go to your video and view it.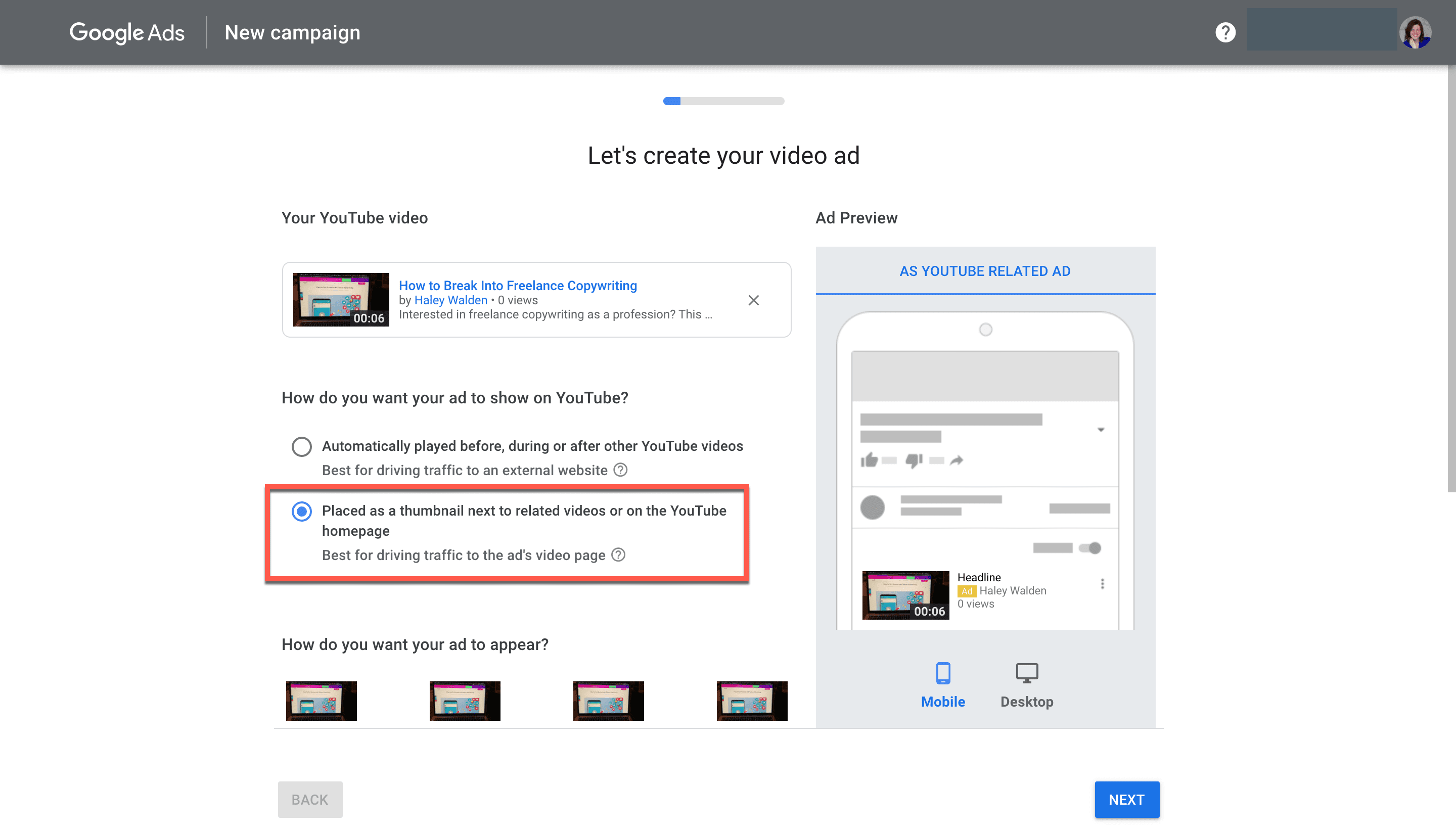 After you choose your ad placement, you'll need to enter your headline and two descriptive sentences. Your headline is limited to 100 characters, while your descriptions are limited to 35 characters each. Click Next when you're done, and you'll move to the next step in the YouTube video advertising process.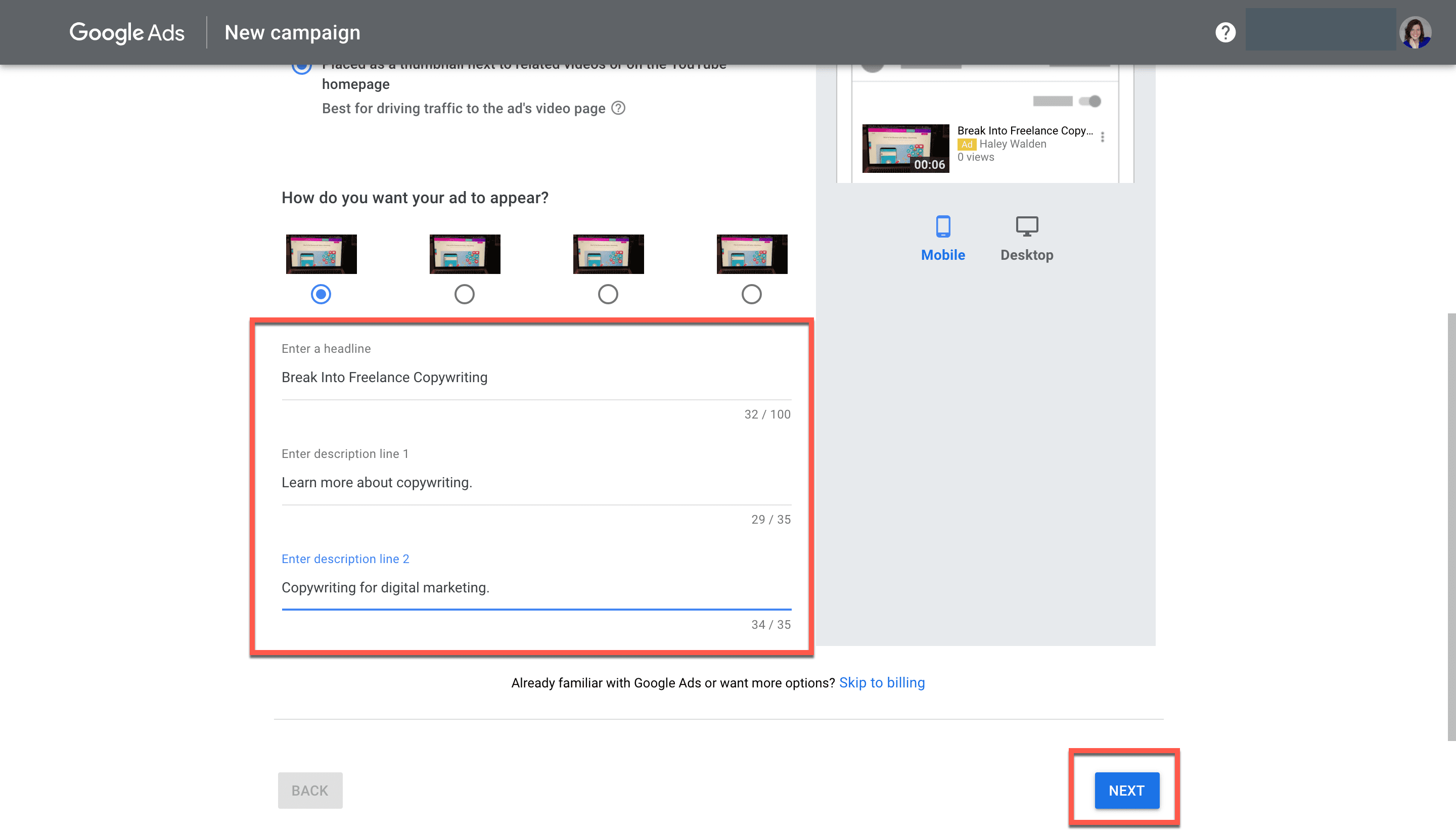 Choosing Your YouTube Ad Location and Demographic Information
8. Next, it's time to select where in the world you want your ad displayed, and who you want to see it. Here's the information you'll need:
Where your customers are located (a)
What language they speak (b)
On the right-hand side of the screen, you'll get an estimate of:
How many impressions your YouTube video advertising will get, based on your selected location and language (c)
How many estimated views your ad could get (d)
Your average cost per view (CPV – e)
Click Next to continue.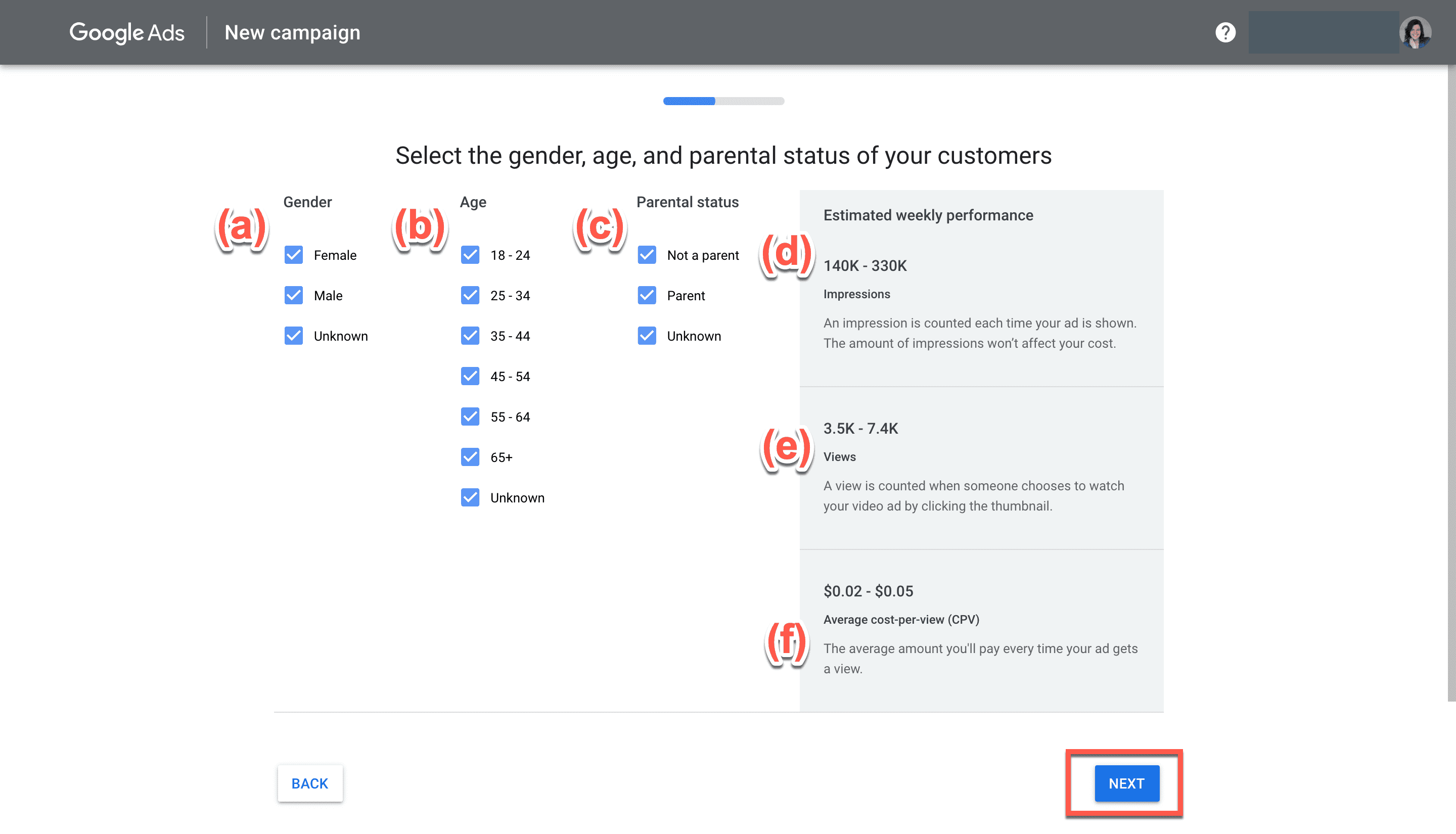 9. Then, you'll be prompted to select your viewers' intended (a) gender, (b) age, and (c) parental status. Your (d) impressions, (e) estimated views, and (f) average CPV will adjust according to the selections you make. Click Next when you're done.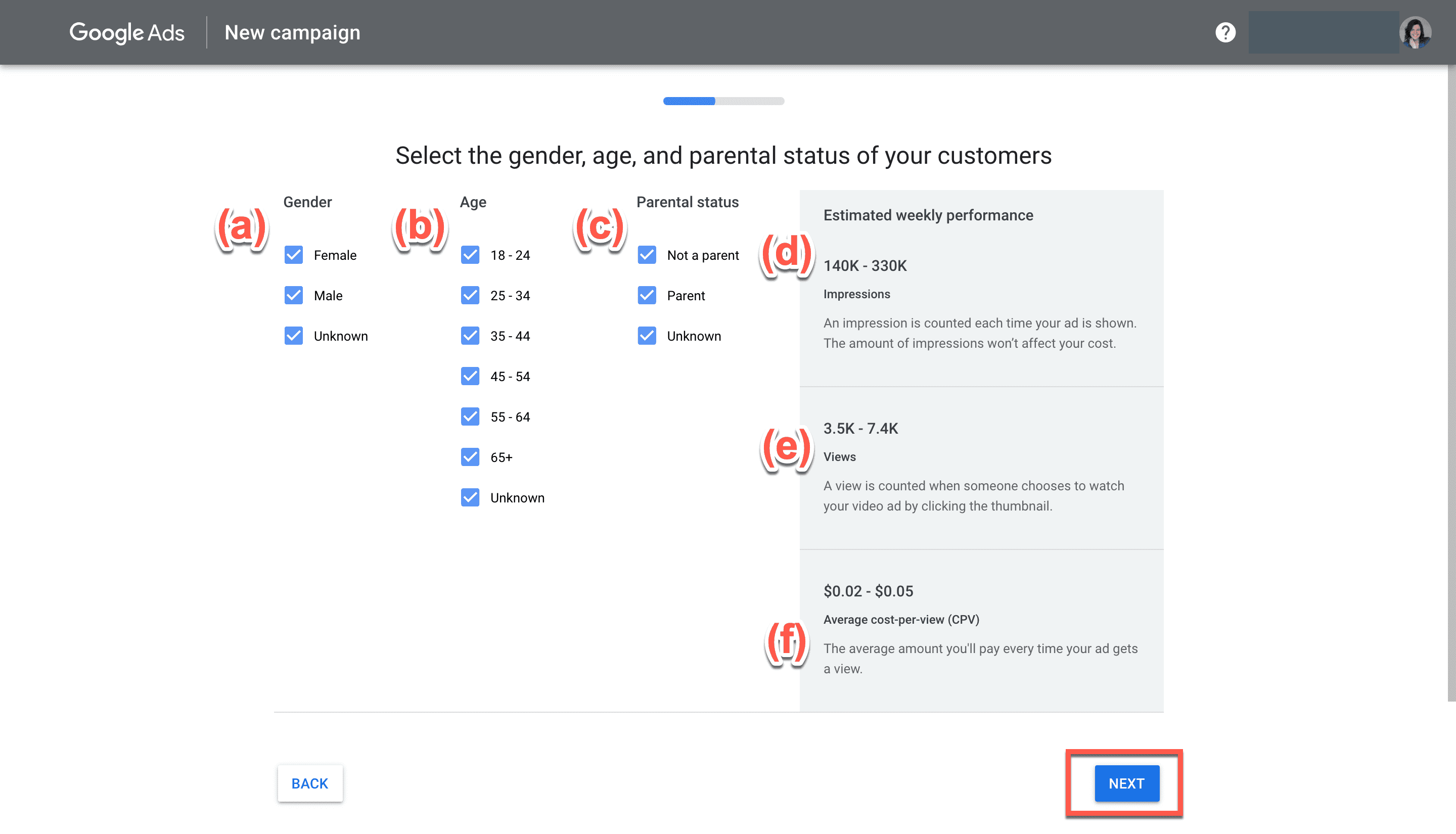 10. Now, you can narrow your audience by interest, if you wish. You'll see two options at the top of the screen: to keep your audience's interests as broad as possible, or to narrow them based on specific topics. Your right-hand side of the screen will continue to show your adjusted estimates. If you choose to select topics, choose those and then click Next.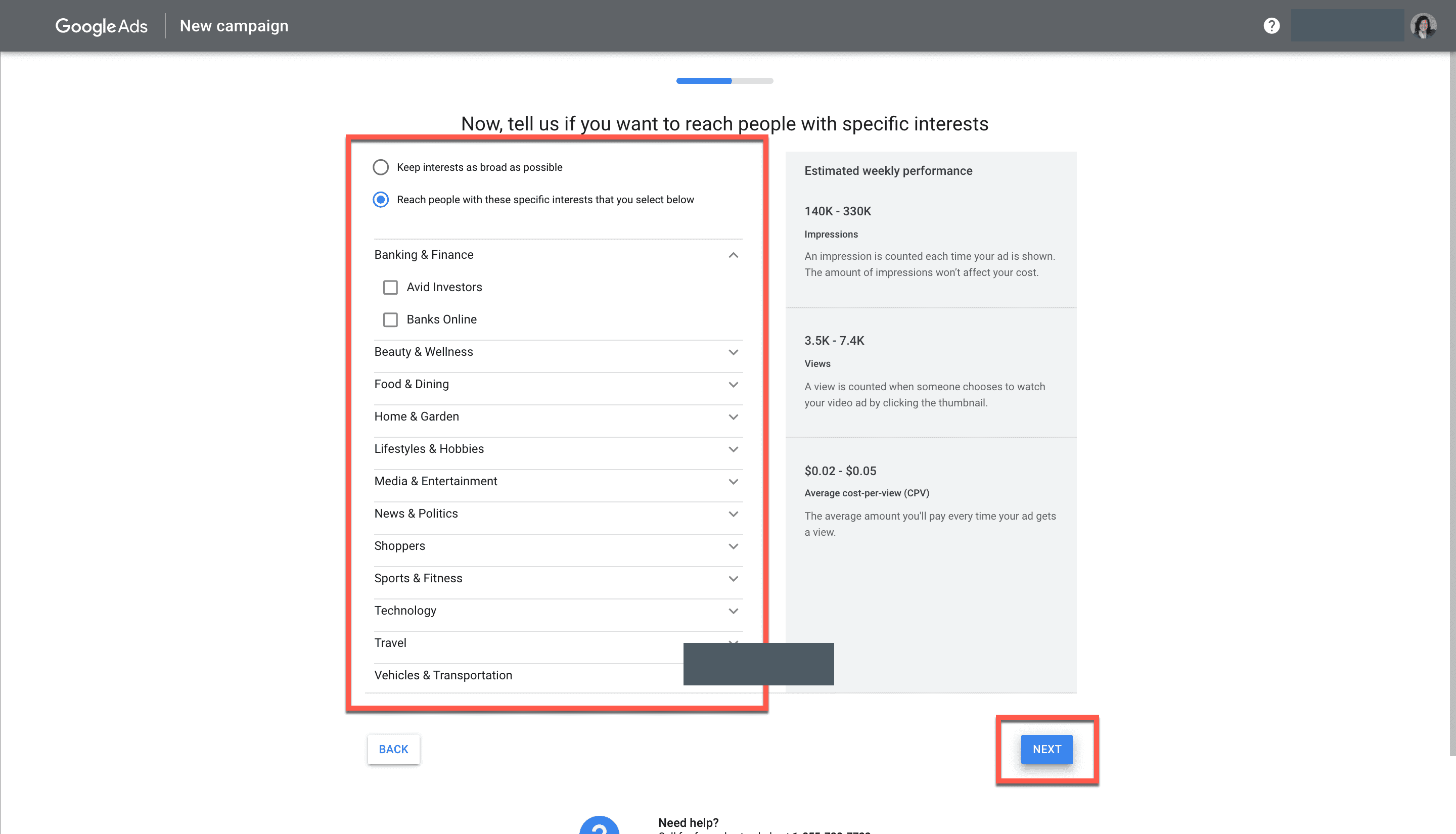 11. Next, it's time to set your budget. Choose how much you want to spend per day, and click Next.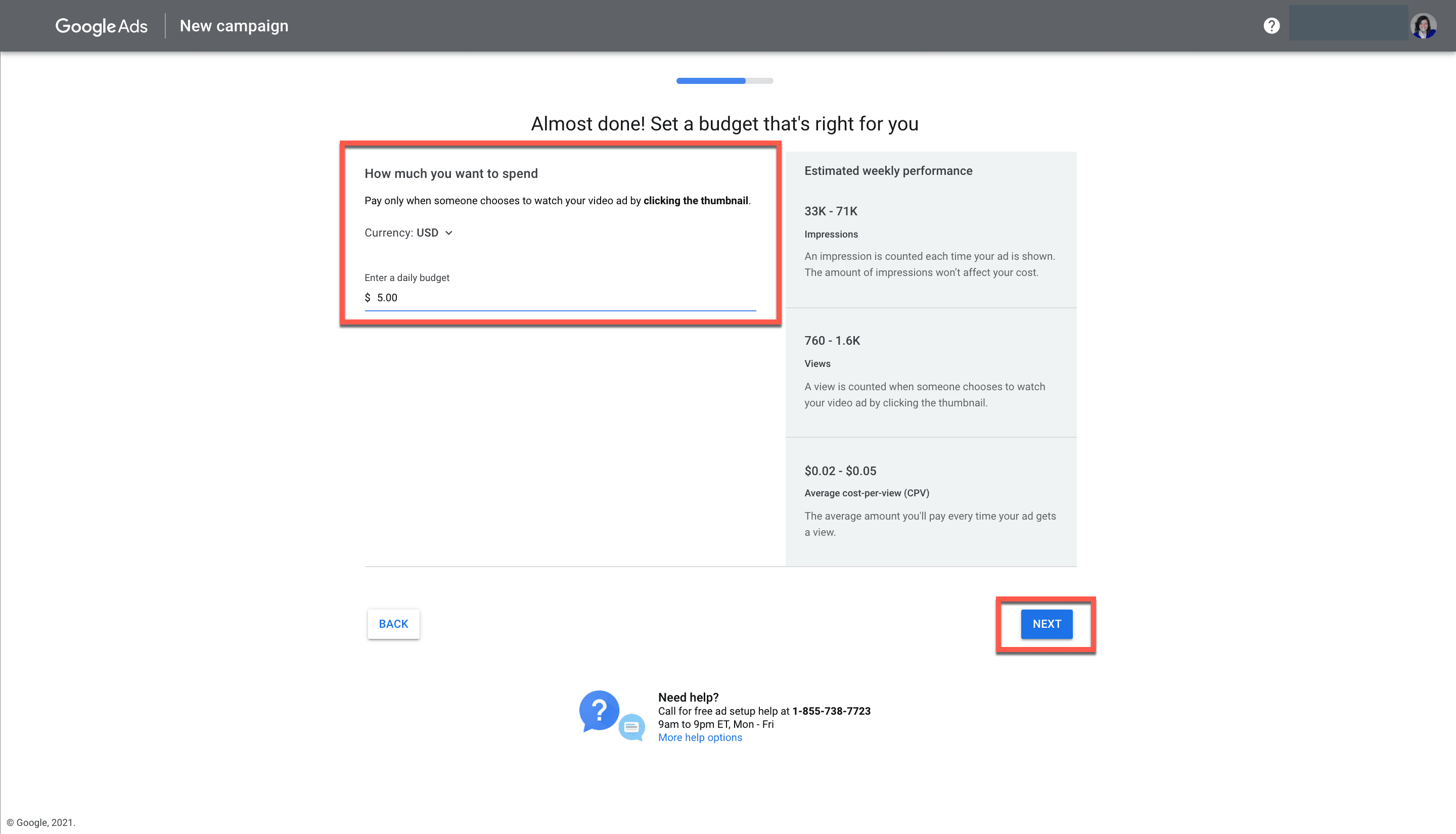 Review and Publish Your YouTube Video Advertising Campaign
12. Before you publish your ad, it's time to review your chosen video and information. Take a few minutes to carefully scroll through your copy, demographic information, and all the details related to your ad. When you're ready, click Next to continue.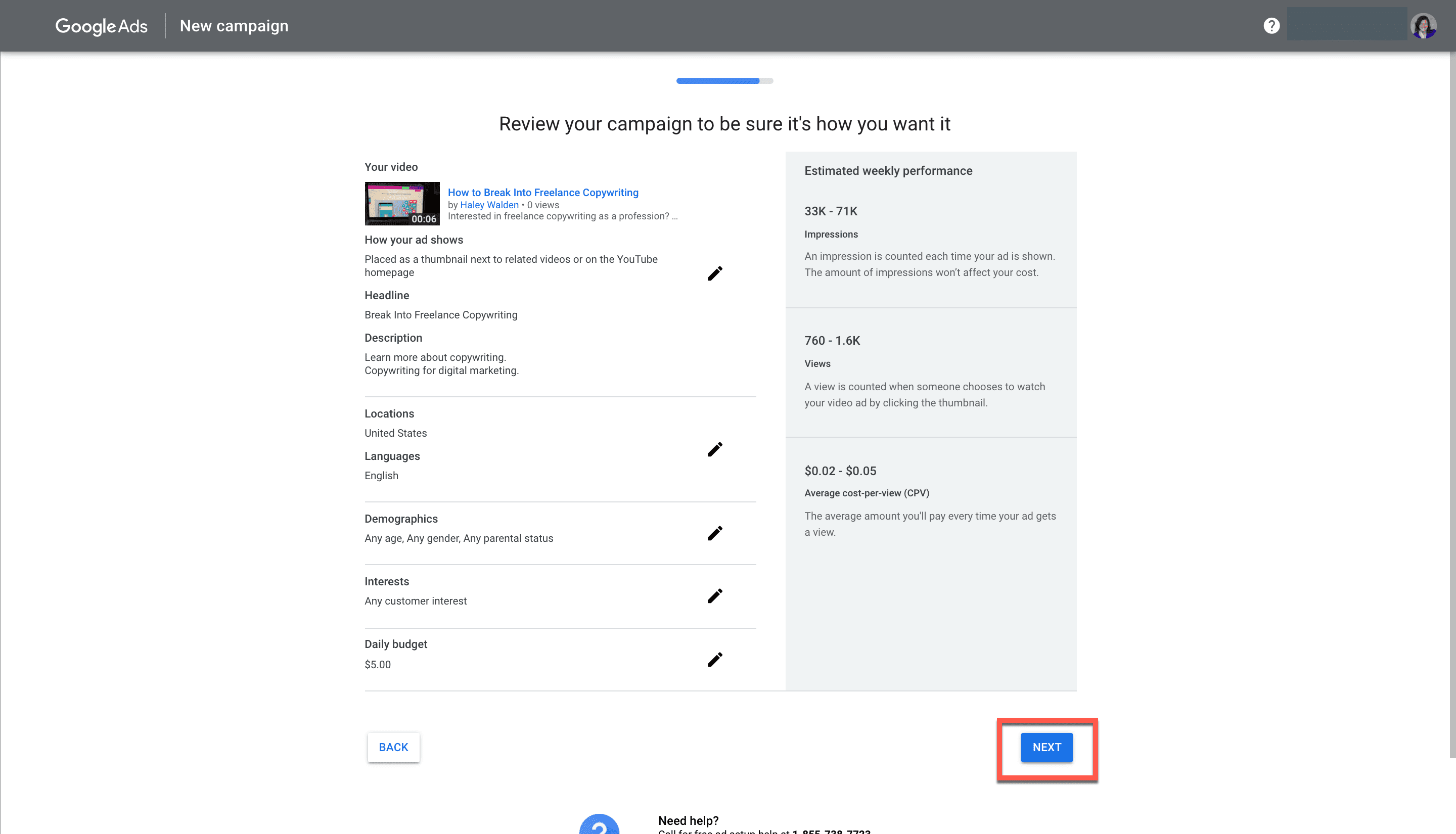 13. Before you can publish, you'll need to enter your payment information for the ad spend. You will be charged once a month or until you've spent your budget on the ad. When you've filled out all your payment information, hit Submit.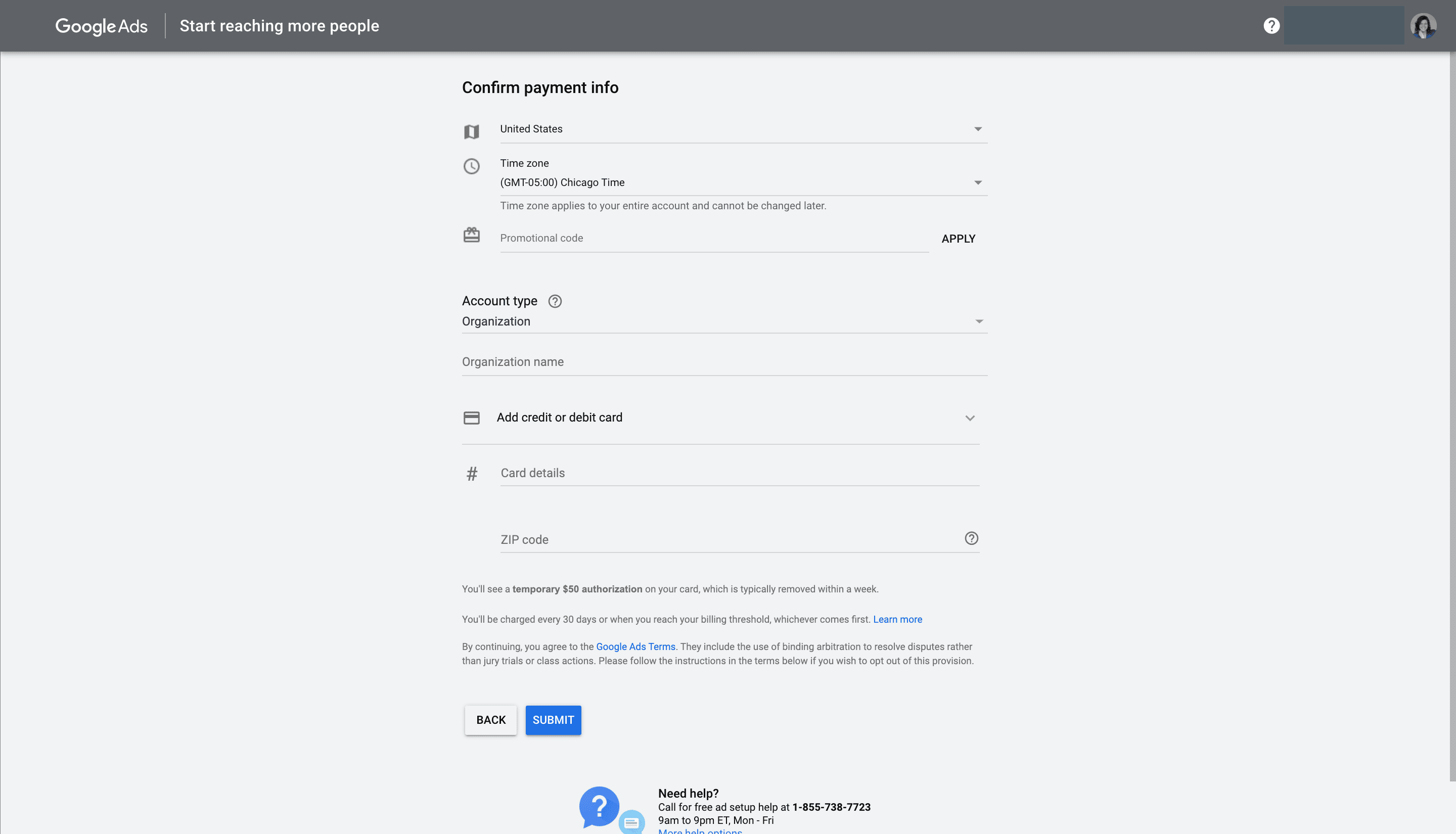 Congratulations! You've published your first YouTube ad. Now you're good to go.
Monitoring Your YouTube Video Advertising Performance
YouTube has a robust analytics dashboard that allows users to monitor their videos' performance. Within the user dashboard, you may monitor your videos' reach, engagement, audience analytics, and revenue.
An overview graph displays basic information, such as your subscribers, watch times, views, and estimated revenue over the past month. The graph also displays your top videos, activity over the past 48 hours, your latest videos' performance, and your average video performance across all videos. You must have adequate data in order for the platform to display these details.
You'll want to keep an eye on your ad's views, which will show you the percentage of people who watched your ad all the way through, and how it drove traffic to your website or other videos. Track your audience's likes and shares, and use that information about engagement to determine whether your videos are on-brand and resonating with your viewers.
Additionally, keep an eye on your YouTube video advertising campaigns that don't work so well. Review them to determine what's working, what's not, and then make adjustments. When in doubt, test multiple ad types to see what works best.
YouTube Video Advertising Formats
There are several types of ads to choose from when you're developing your YouTube video advertising campaign. Let's take a look at the options.
Skippable In-Stream Ads
Skippable in-stream ads are designed to build brand awareness and interest, in addition to inspiring your viewers to take action. These are pre-roll or mid-roll ads, meaning they play either before or during a video. They're under three minutes long, with a minimum length of 12 seconds. Viewers may skip the ad after five seconds.
The video-in-progress appears as a thumbnail on the lower right-hand side of the video while the ad plays.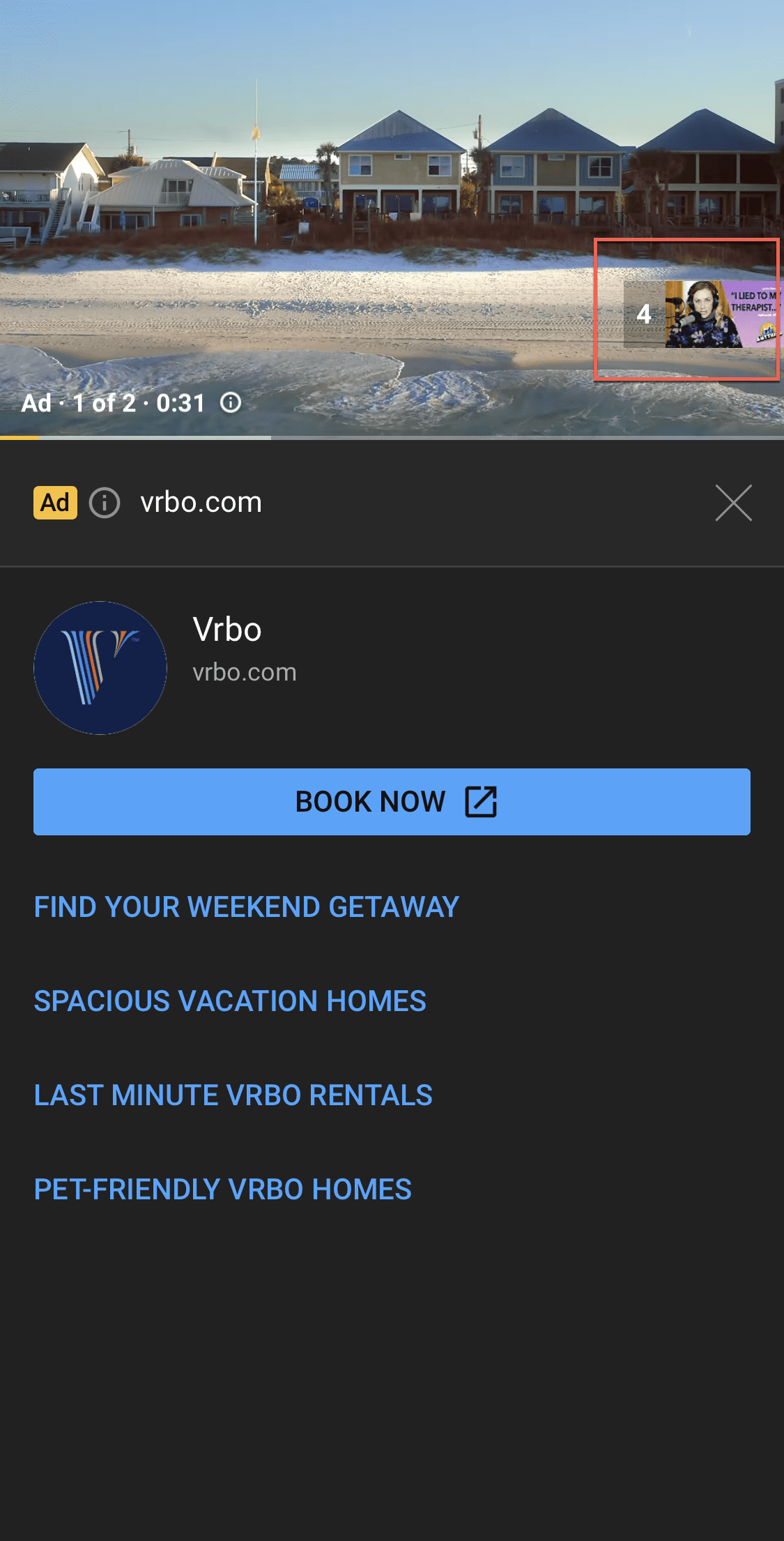 Note that skippable in-stream ads are notated by small yellow markings on the play bar. These markings show exactly when an ad will play over the course of a video.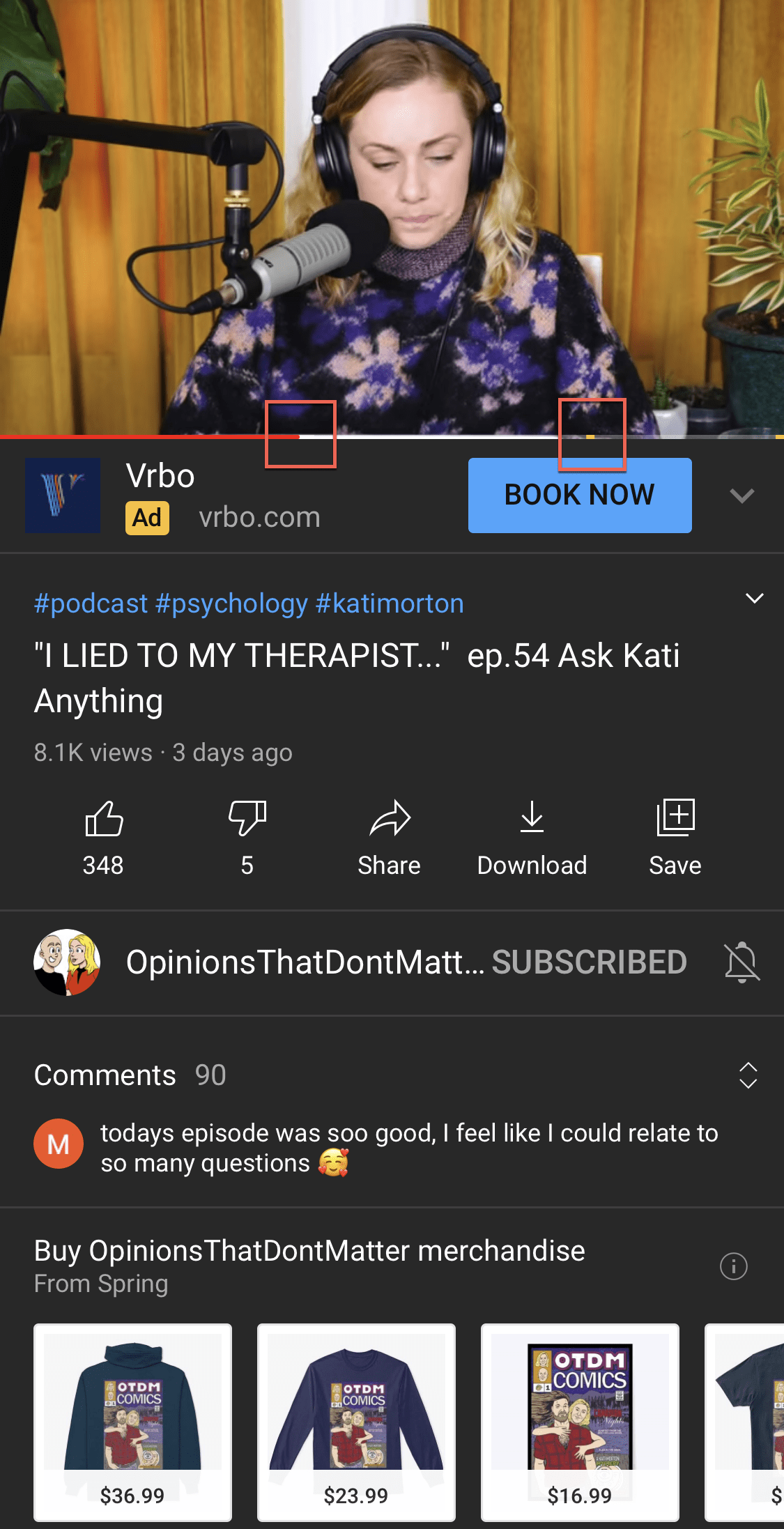 This type of ad is great for advertisers on a budget. In terms of ad spend, you only pay if the viewer watches the first 30 seconds, or watches the entire ad, or interacts with your ad by clicking on it–whichever comes first. Skippable in-stream ads can combine banners and overlays on top of or next to the ads themselves.
Non-Skippable In-Stream Ads
Non-skippable in-stream ads are YouTube video ads that can't be skipped. These are great for promoting a lift in brand awareness. These ads are up to 15 seconds in length. Payment is determined by impression (cost per impression, or CPM).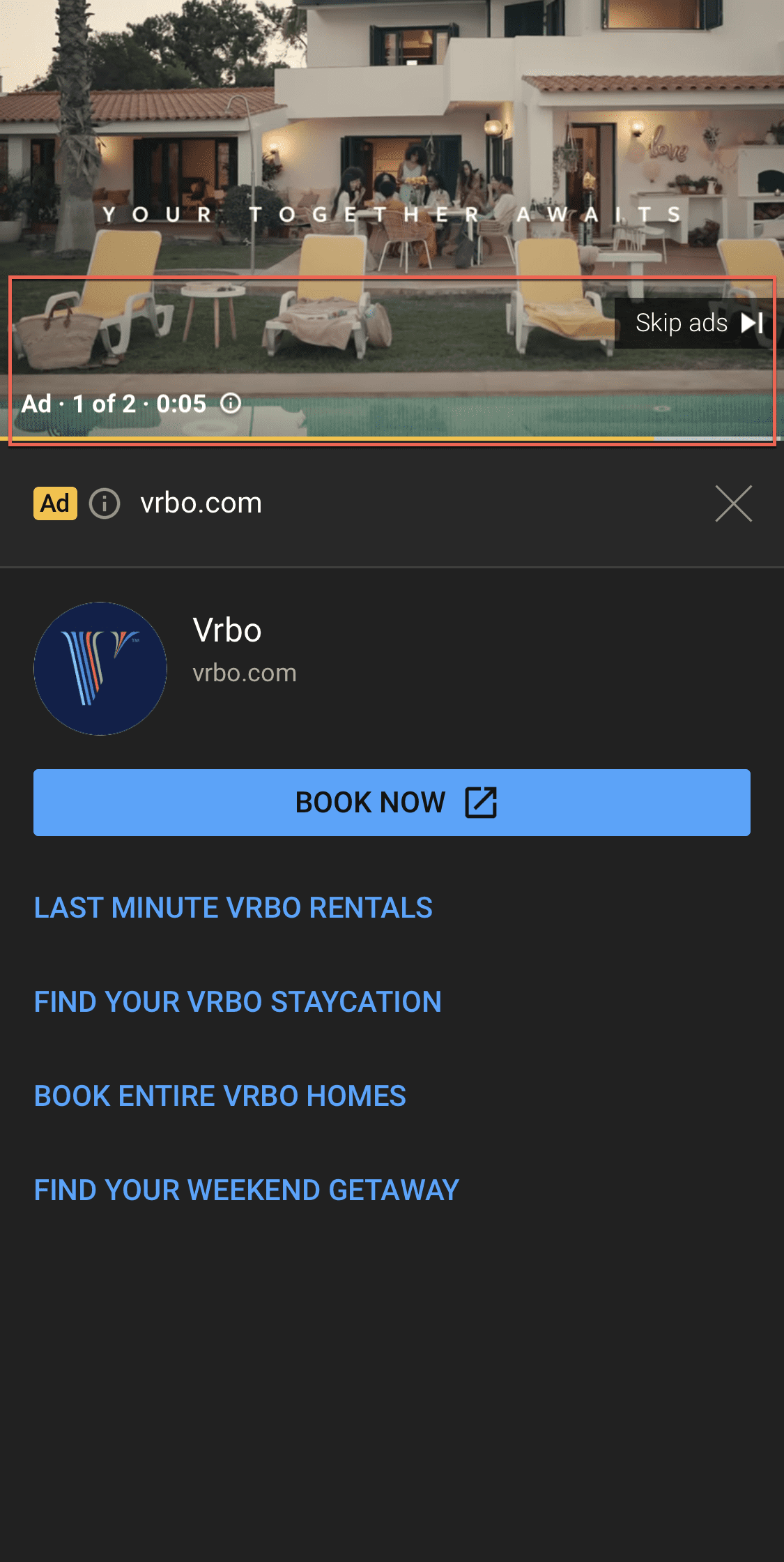 Bumper Ads
Bumper ads are up to six seconds in length, and are non-skippable ads that appear at the beginning, middle, or end of a video. They're designed to raise brand awareness around your product or service. Like non-skippable in-stream ads, costs are determined by CPM.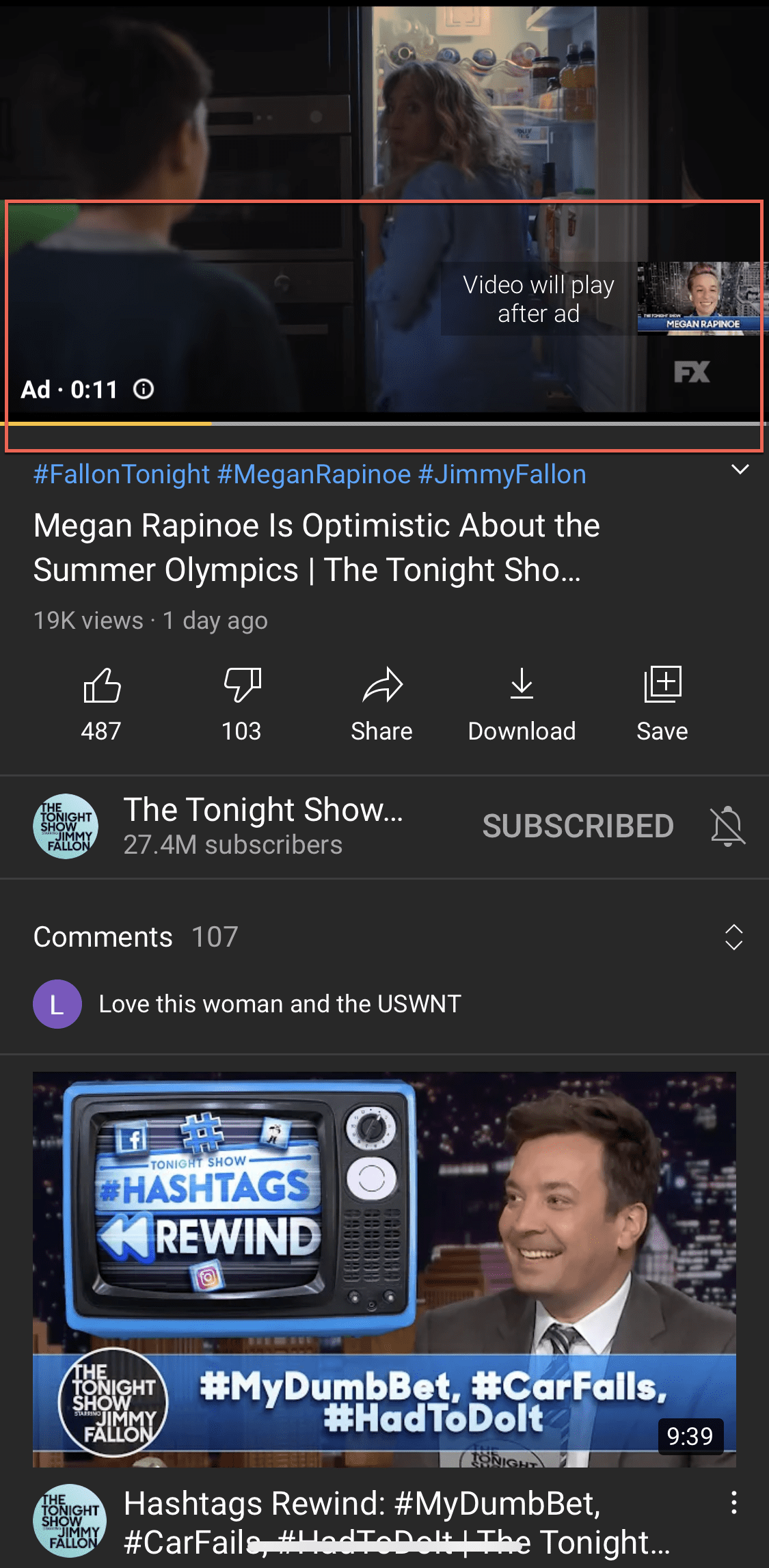 Video Discovery Ads
Video discovery ads show up alongside search results in YouTube, allowing viewers to choose your video within the organic search results if it seems relevant to their interests. These ads include three lines of text plus a thumbnail image. Clicks send viewers off-platform to your website or landing page. Make sure that you are making the most of your ad spend by creating engaging landing pages with a plugin like SeedProd or Thrive Themes.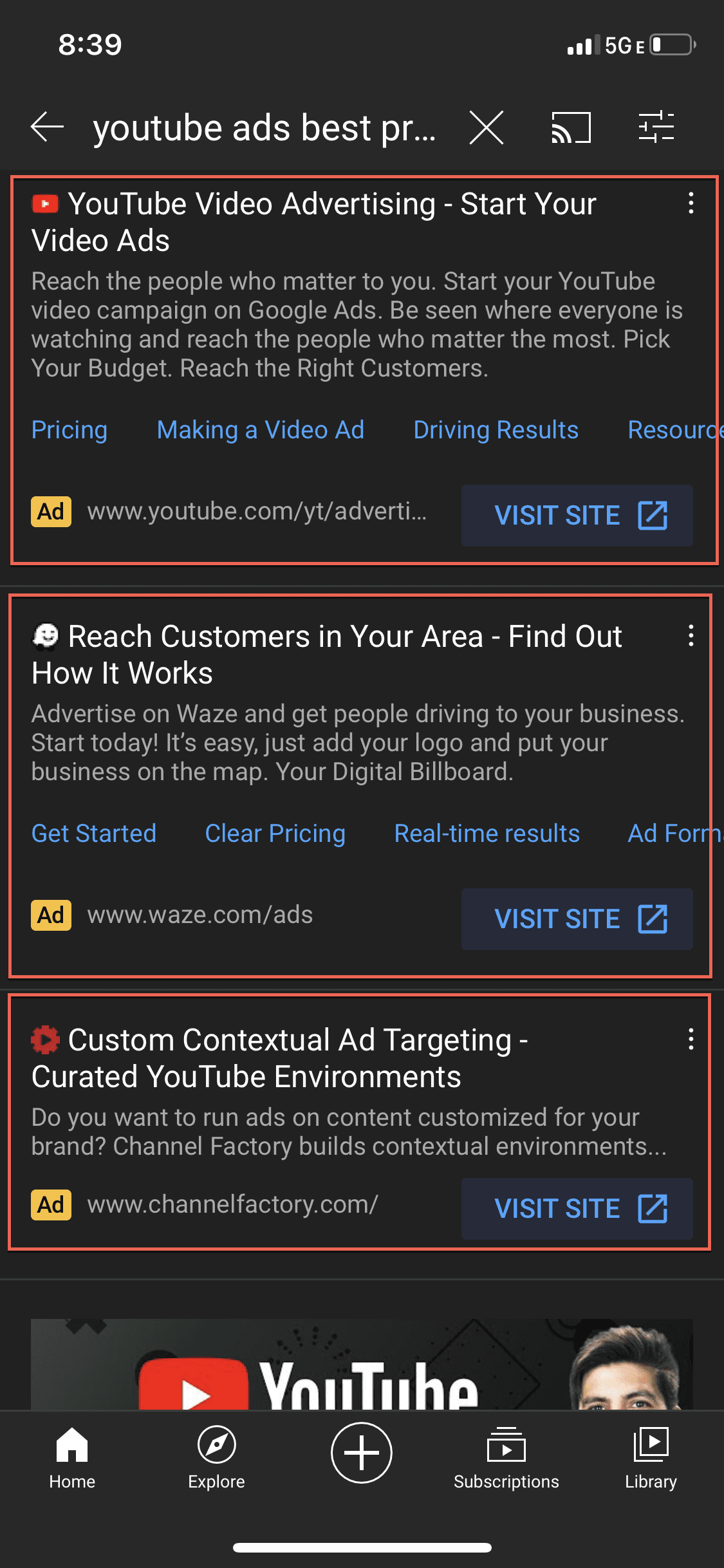 Other YouTube Ad Types
In addition to these four ad types, advertisers may opt for mobile-only Outstream ads, which are not available through the YouTube ad platform itself. Outstream ads are available only on apps and websites that run on Google video partners.
Masthead ads, the other type of YouTube video advertising available, are only purchased through Google sales personnel. These ads appear prominently, at the top of the feed on YouTube's main page.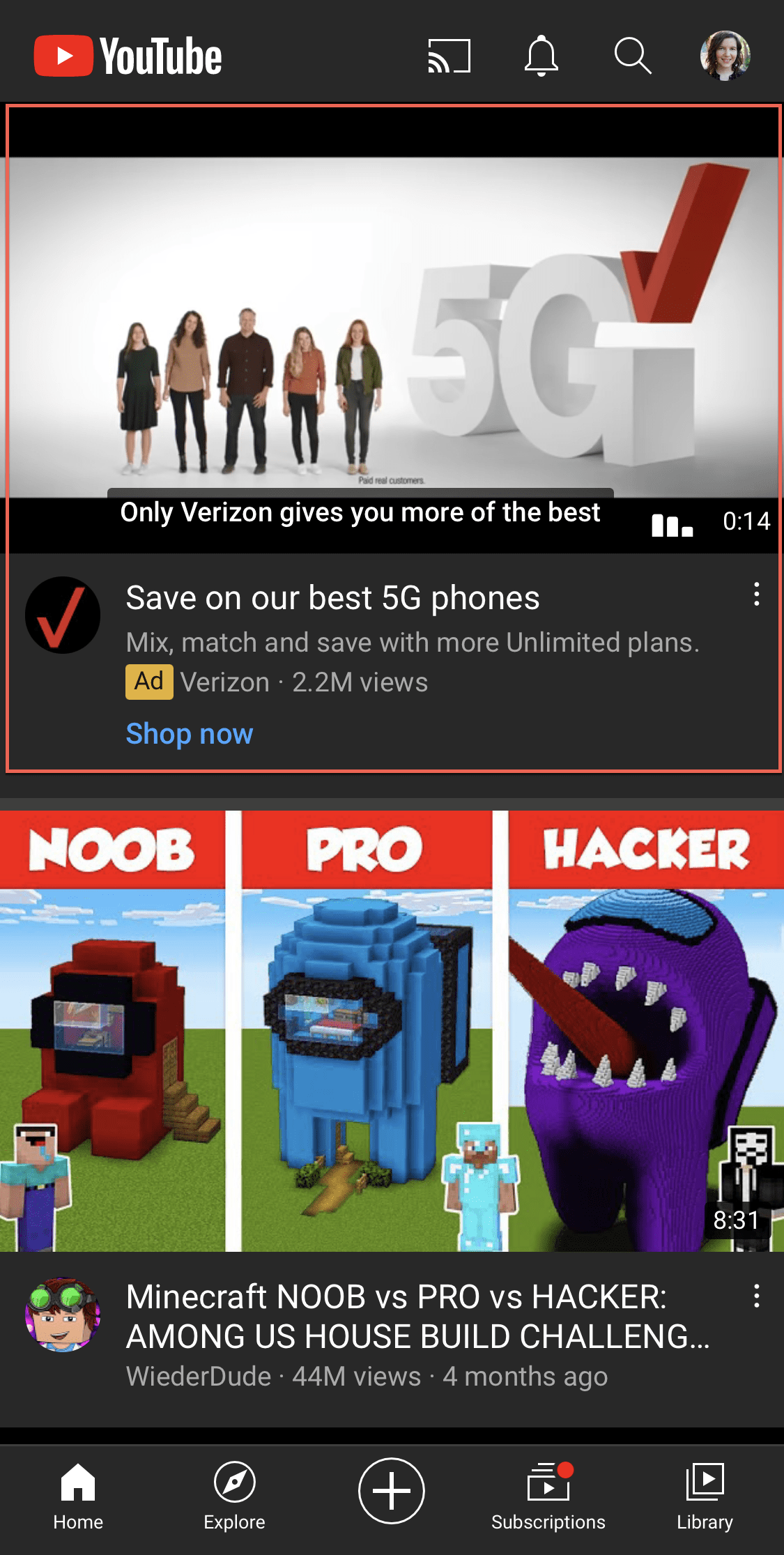 YouTube Video Advertising Trends for 2021
We're full-speed ahead in 2021. This year, try applying a different trend or technique to your YouTube video advertising strategy. Here are a few ideas to spark your creativity:
Leverage more user generated content (UGC) on your YouTube channel. UGC videos made by members of your audience boost viewer trust. In fact, 70% of consumers trust customer opinions, in contrast to the 25% that trust paid ads. Combining your paid YouTube video advertising campaigns with UGC from real, happy customers is a great way to stand out and get viewers' attention.
Create silent videos that contain attention-grabbing visuals and catchy captions. Leaving the sound off helps prevent your content from disturbing those around the viewer, while the motion gets them hooked.
Embrace stronger storytelling in your ad campaigns by structuring the stories you want to tell your audience. Utilize constructs such as the Hero's Journey to better execute on this strategy.
Wrapping Up
There are so many options for your YouTube video advertising strategy. They can be overwhelming or liberating, depending on where you are in your ad-creation journey. Either way, you have the opportunity to tailor your YouTube ads to your brand's needs and your audience's interests.
With the right YouTube ad strategy, it's possible to achieve a great ROI from your campaigns. Considering trends such as UGC, silent video, or stronger storytelling will force you to think more analytically about the content you're putting in your video ad, and how it will best engage your audience.
Have you used YouTube ads? How did they affect your marketing strategy? Drop us a comment and let us know all about your experience.
Article featured image by Iconic Bestiary / shutterstock.com