Copywriting is an essential service to create a compelling website. Whether you're building an eCommerce brand or starting a bakery in your hometown, the copy on your website can either draw people in or shun people away from your products and services. Hence, writing copy for your website is a necessary step that needs great care and dedication. Luckily, with the advent of numerous AI tools, it's possible to generate fantastic copy for your website effectively and affordably. This guide will highlight the main steps to remember as you learn how to write website copy with AI.
Why Use AI to Write Copy for Your Website?
There are many reasons to consider using AI to write the copy for your website. Overall, using AI to write your website copy brings a new level of efficacy to your website creation process. The benefits below can also be experienced when you choose to you AI to write your website copy:
Save Money: Copywriters can be quite an investment. But having good quality website copy is essential for a solid website. Many AI writing tools come at reasonable monthly prices. Some even have free plans and trials granting you great copywriting at low prices.
Conserves Time and Energy: An AI tool can generate paragraphs of copy in seconds. This could take you hours or days to complete. Whether you face tight deadlines or want to be proactive with your website, using AI for your copy can help.
Establish a Consistent Brand Voice: Some AI tools have templates or allow you to create your own templates. Using these templates with your copy can help you create a consistent brand message across all the website copy you create and use.
Optimize Your Copy Efficiently: Whether you need to add text or correct misspelled words, AI can easily see the errors and areas of improvement in your copy and enhance it for your next project.
Gain New Perspectives: Getting stuck in a rut when creating new content for your website is expected. AI can bring you new insights and ideas, helping you overcome writer's block and find new and creative ways to word your content.
Now that we know the benefits of using AI when creating our website copy, let's look at the steps you can take to make this a reality for your next website project.
How to Write Copy for Your Website

Subscribe To Our Youtube Channel
We'll use the popular AI tool ChatGPT and Divi AI to highlight our top tips for learning how to write copy for your website. While you can choose to use only one AI tool, selecting the right combination of tools can reap great results for your website in the long run.
1. Choose the Right Tool(s) For Your Task
Though AI in the copywriting space is pretty established, there are myriad platforms that you can use to start creating copy for your website. As such, an excellent place to look for your next copywriting tool would be our list of the best AI writing tools. Here are a few contenders that you might have heard of already:
Rytr: An AI-powered writing platform that assists the marketer of many talents. With its extensive library of templates, this AI tool is a good choice for those who need a helping hand in creating their website copy with AI.
Jasper: Touted as the best overall AI writer, Jasper is one of the most popular AI writing platforms. If you want to create highly optimized copy for your website, consider using this tool.
Sudowrite: If you want to add strong storytelling to your website copy, Sudowrite is the AI writing tool for you.
Writesonic: A robust platform that's free version gives you more than enough words to start on your AI content creation journey.
Copy.ai: Over 6 million users name this AI copywriting tool their top choice. Your sales team and marketers will love using this tool to power your website's landing pages.
Divi AI: The new kid on the block, if you choose to use WordPress for your website, consider joining the Divi ecosystem. Seamlessly create AI-generated copy alongside your website layouts with Divi AI, the best AI content generator for those building in WordPress.
ChatGPT: This popular and free chatbot brought AI to the forefront for the masses. It is one of the best free AI tools that you can use to generate content for your website.
Before you start creating your content, research the AI tools available to you and see which ones align with your overall content creation goal.
2. Plan Your Content by Creating an Outline
Having a plan with your copy is essential. As we mentioned earlier, copy is an important aspect of your website. Luckily, ChatGPT does an excellent job of creating content outlines that you can use to build out the copy for each of your website's pages. When asked to create an outline for a skincare brand's landing page, this is what ChatGPT provided: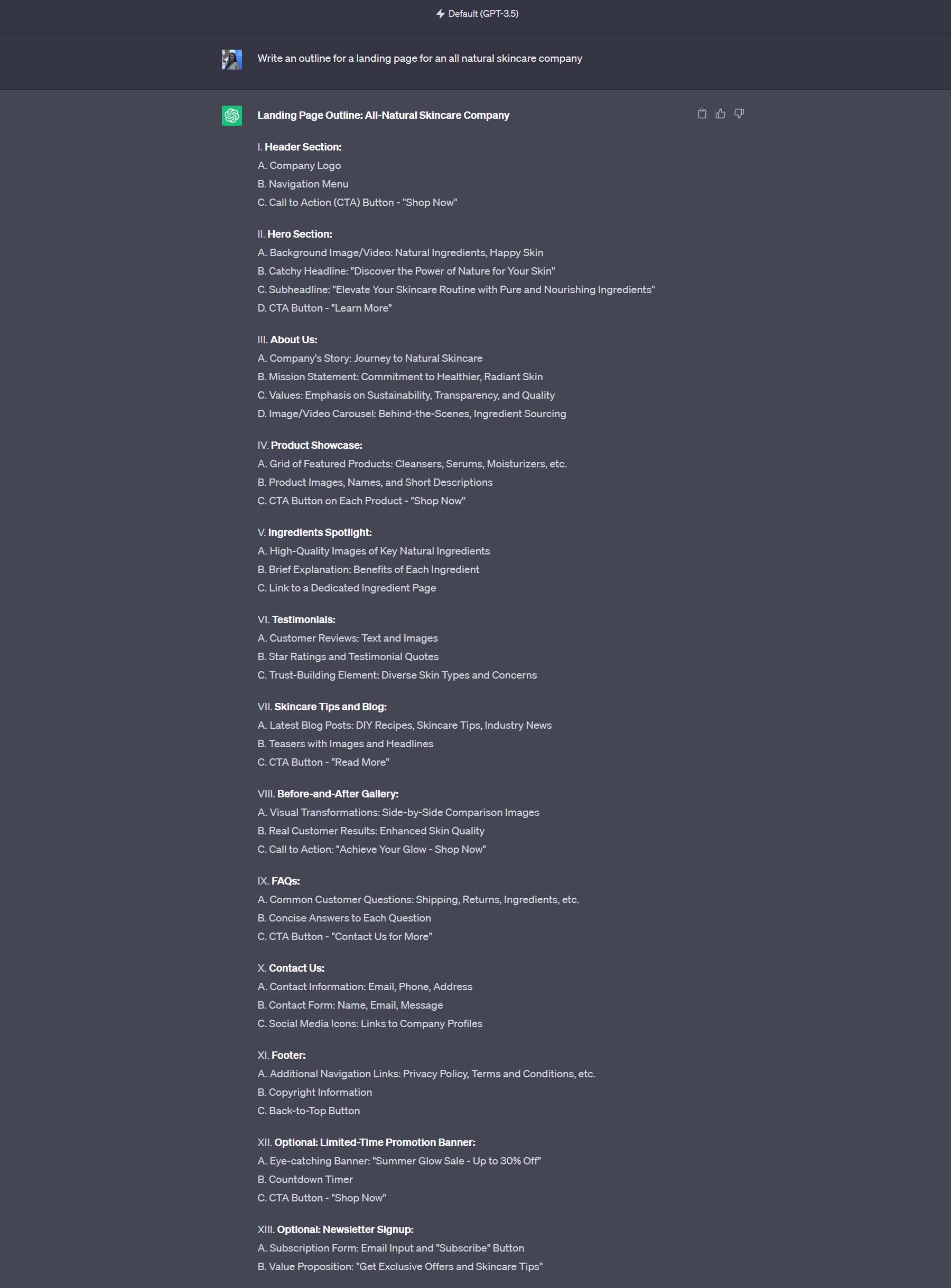 The prompt provided to ChatGPT was, "write an outline for a landing page for an all-natural skincare company." ChatGPT told us the various elements (buttons, countdown timers, etc.) we could use on our page and ideas for link text, call-to-actions, and titles. This is a thorough and helpful guide to the copy we could create next for our landing page. Additionally, it points us to the modules and flow of our page that we can consider later in the website design process. Don't forget SEO planning and keyword research when building out your copy. SEO tools like SEMRush, Alli AI, or even Google Trends can be helpful at this stage. You can even take it a step further and use SEMRush's intuitive outline builder (which also uses AI, by the way!) that can help create optimized content for your website before a single line of copy is crafted.
3. Create Titles from Your Content Outline
Now that we have our AI-generated outline, we can dissect it and create titles for each landing page section. From our landing page outline, let's focus on creating title copy for the about us section.

ChatGPT has already given us some areas and titles we can cover in this section. However, we can make these more interesting still. Let's make the first title about the company story more exciting and enjoyable.
We inputted the original title into ChatGPT and asked it to use a sophisticated and funny tone while generating several title options for us to choose from. Now, we can copy and paste these title ideas into a document or directly into our website. Alternatively, a tool like Divi AI goes further in helping us create website copy with AI. Below is the layout of our about us page from the Divi Esthetician Layout Pack. While it already includes some copy and dummy text, we can use AI to make it better match our brand.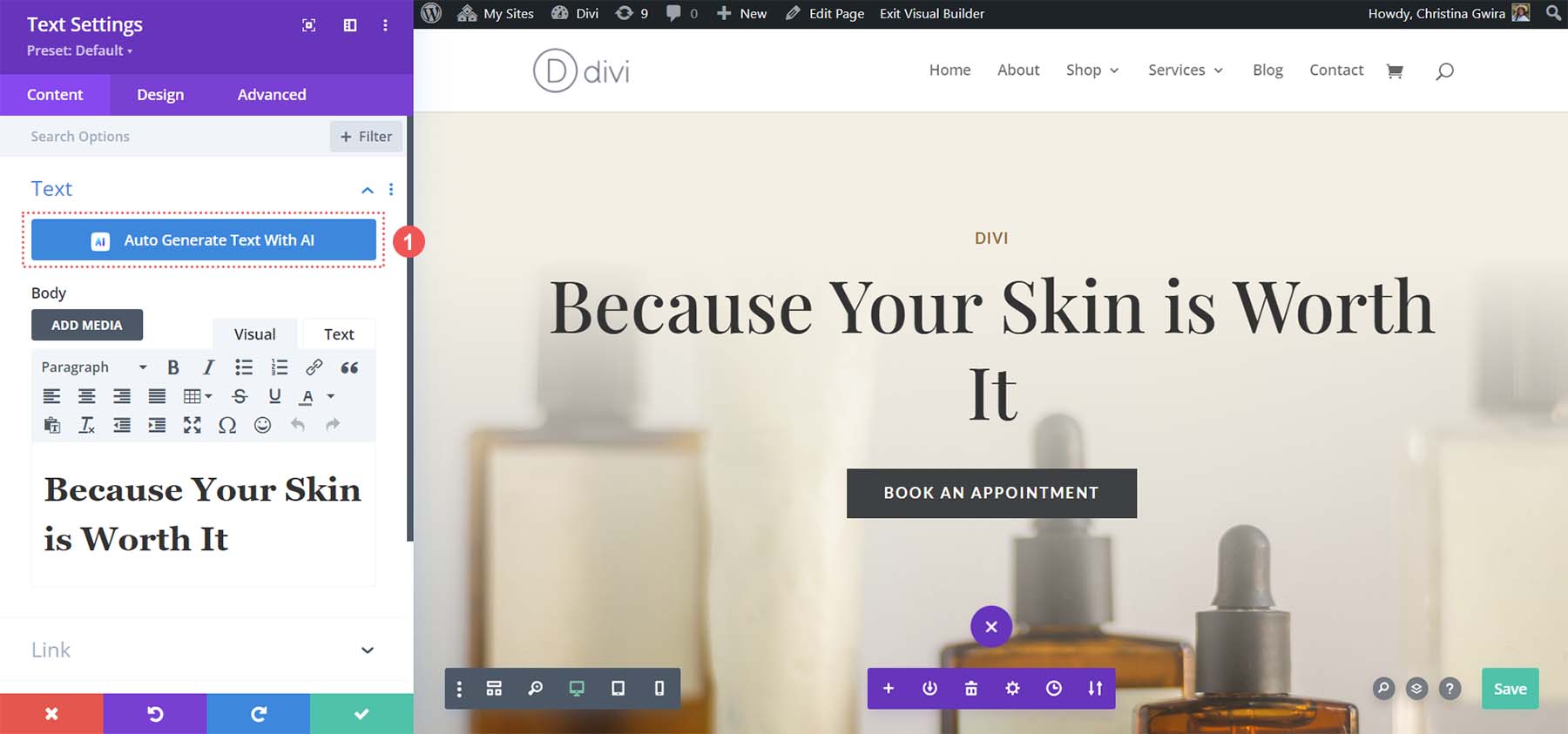 While building your pages, you can use AI to create text as you design. This can help you save time and energy and create copy and page layouts simultaneously.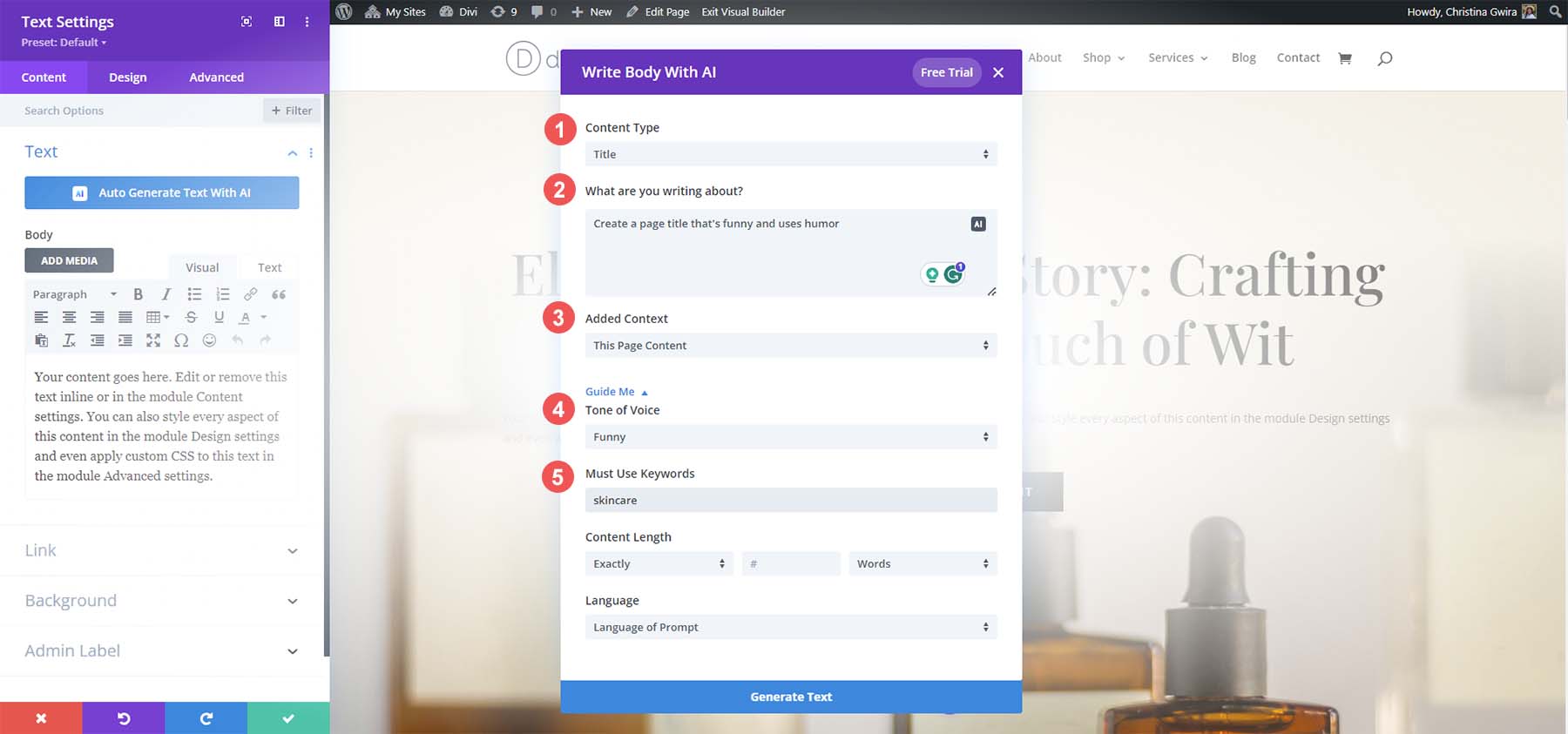 Choose the title content type to create our titles with Divi AI. Similar to other chatbots and ChatGPT, we can provide a text prompt. What makes Divi AI different from using external copywriting tools is that it can pull from your page, section, or even module's current context and use that to generate your new title. It even goes further in adding a tone of voice. Also, we can include must-use keywords within our titles, ensuring that our AI-generated copy is SEO-friendly.
4. Crafting AI Content for Your Page's Sections
With our titles created, we have a foundation to create the main bodies of copy for our website. Still, within our about us section, let's ask ChatGPT to create a mission statement for our brand.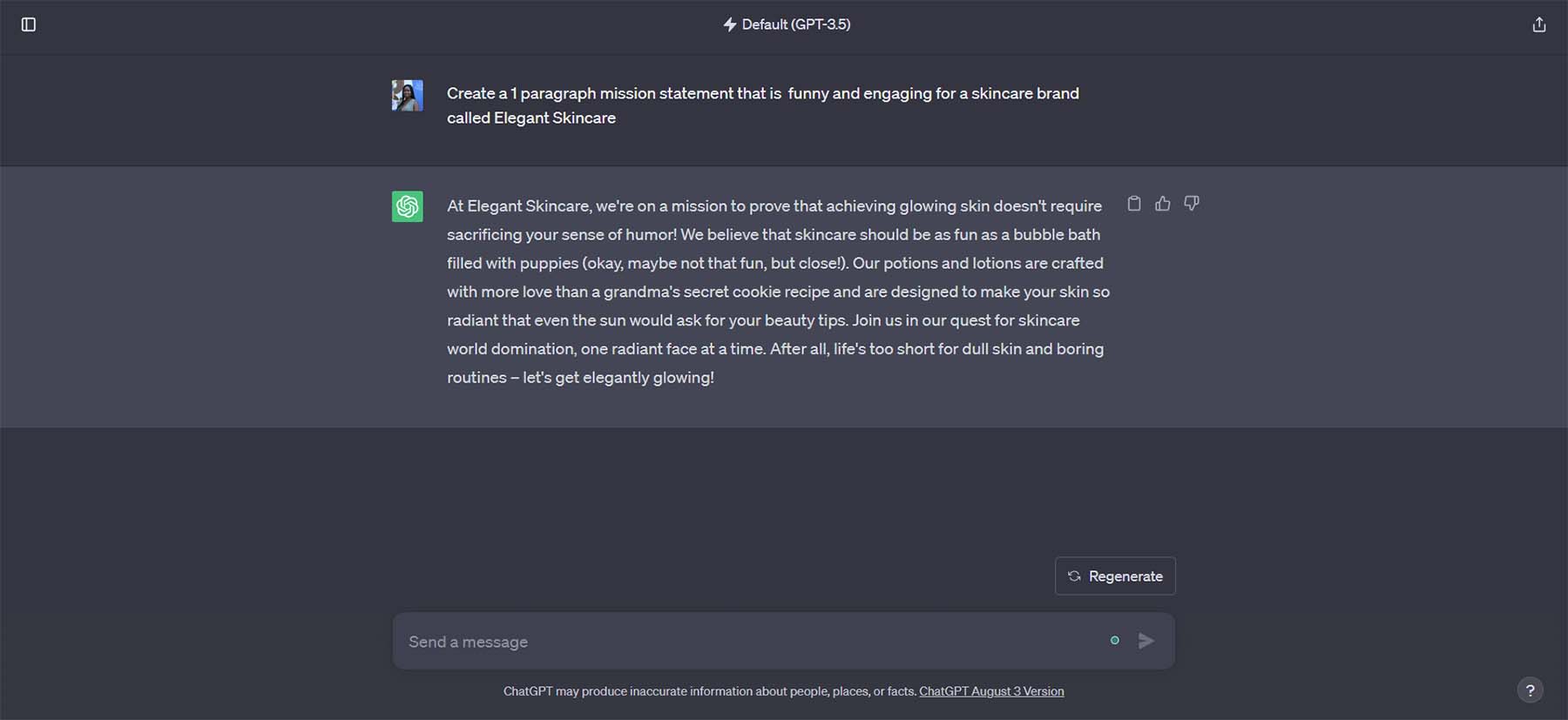 Here, we've used AI to create a 1 paragraph, funny mission statement that we can use within our about us section. Notice how humor was added, keeping up with our entertaining page titles. This paragraph was created in a few seconds and can be easily edited to match the specifics of your brand. You can do this for all the content on your website and have your entire website's copy created in mere minutes without spending lots of money on hiring and vetting copywriters. Frequently asked questions, blog posts, product descriptions, and more can all be easily created with AI.
Divi AI takes this a step further. By understanding the nuance of your page design and website, Divi AI can create copy that flows well with all aspects of your website.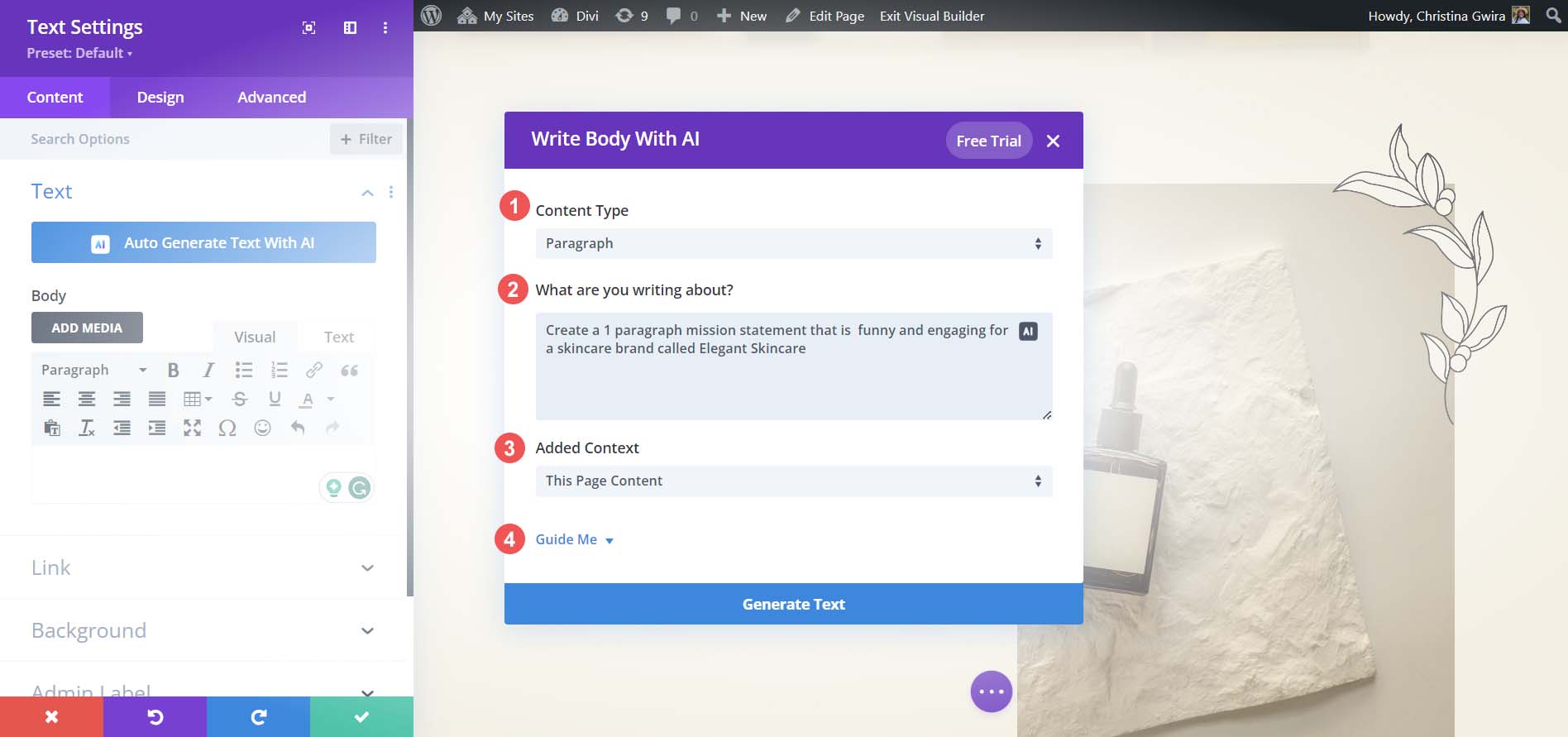 Notice that we provided Divi AI with an empty Text Module. Now, we can decide the type of content we'd like to create (a paragraph), provide a prompt, and add context to said prompt. The added context is a crucial component of copywriting that is missing when using software that isn't integrated into your web design tool.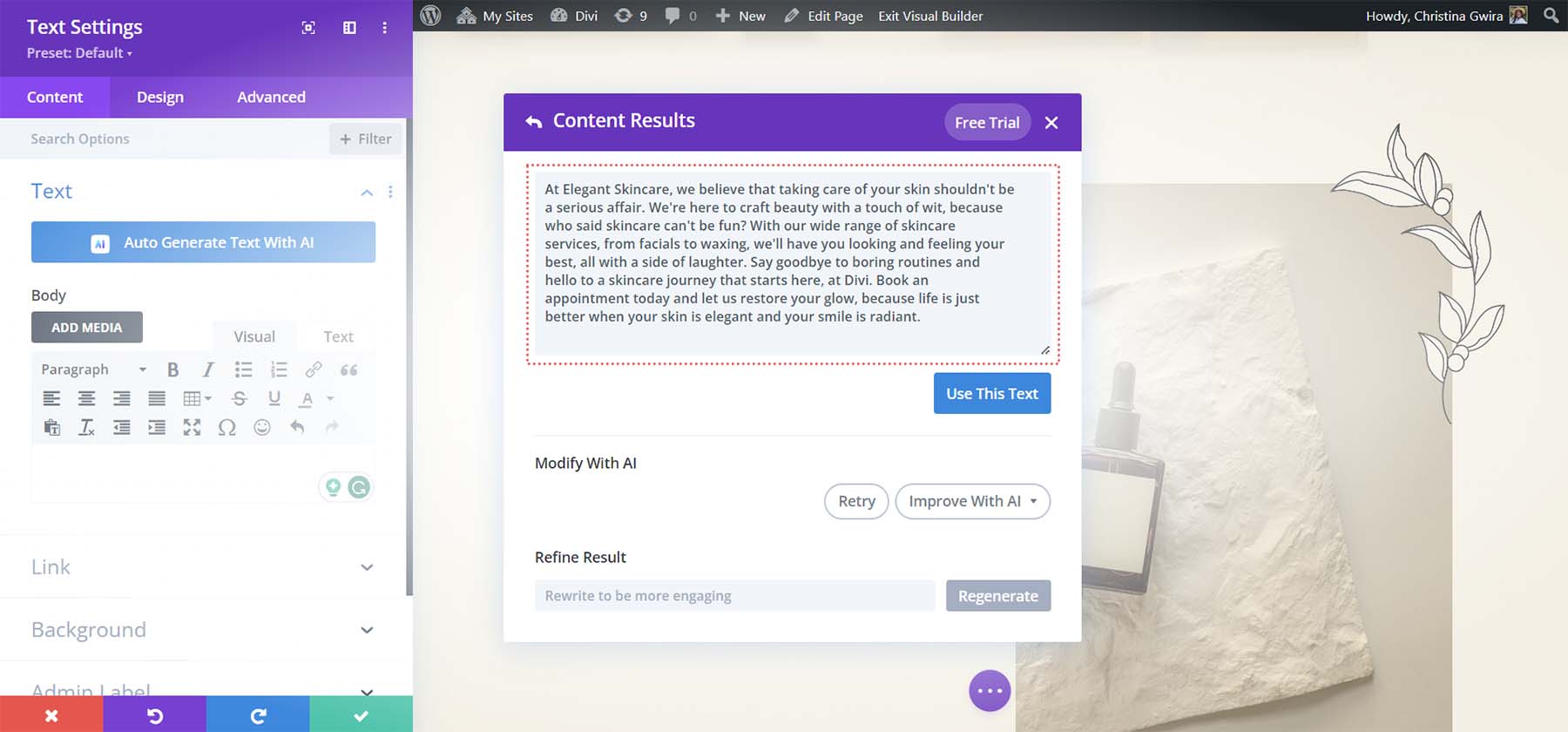 The finished paragraph created by Divi AI elegantly calls back to our lead page title, "Elegant Skincare's Story: Crafting Beauty with a Touch of Wit." This added context ties together our title and copy seamlessly. This would be missed when using other AI tools. Again, this copy was generated in seconds and still sounded whimsical while providing our readers with the necessary information about our brand.
5. Elevating Your CTAs' Appeal with AI
Calls to action are a necessary part of your website copy. Without them, users may not know to join your email list, which buttons to press to purchase your product or how to book an appointment. Sometimes, the standard call-to-actions leave much to be desired, hence, using AI can help to create compelling CTAs that bring your website visitors to the places where they need to be.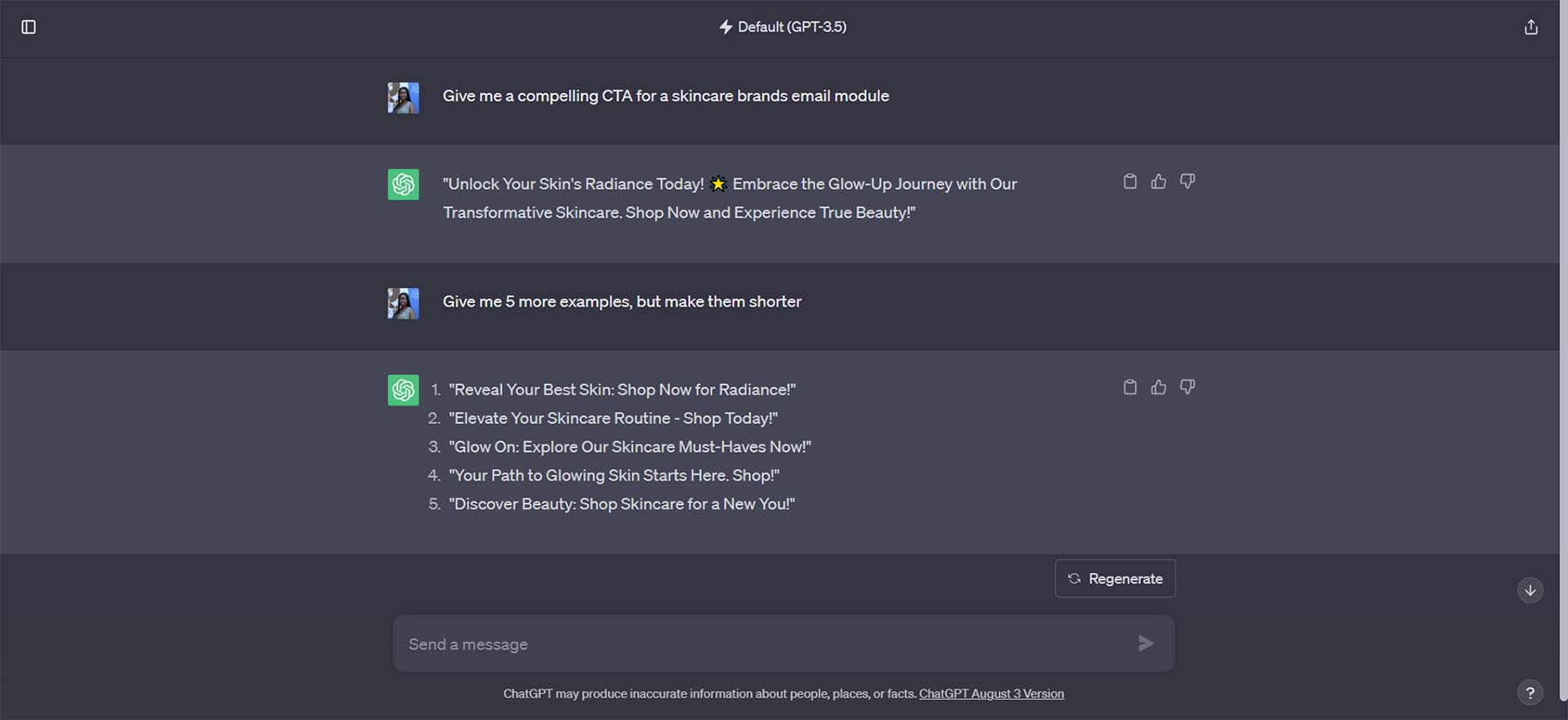 We've asked ChatGPT to create several call-to-actions for our skincare brand. They're enticing, they're different, and they're geared toward our brand. Divi AI takes this to another level by having all of these within some of its popular modules, like the Email Optin Module and the Call to Action Module.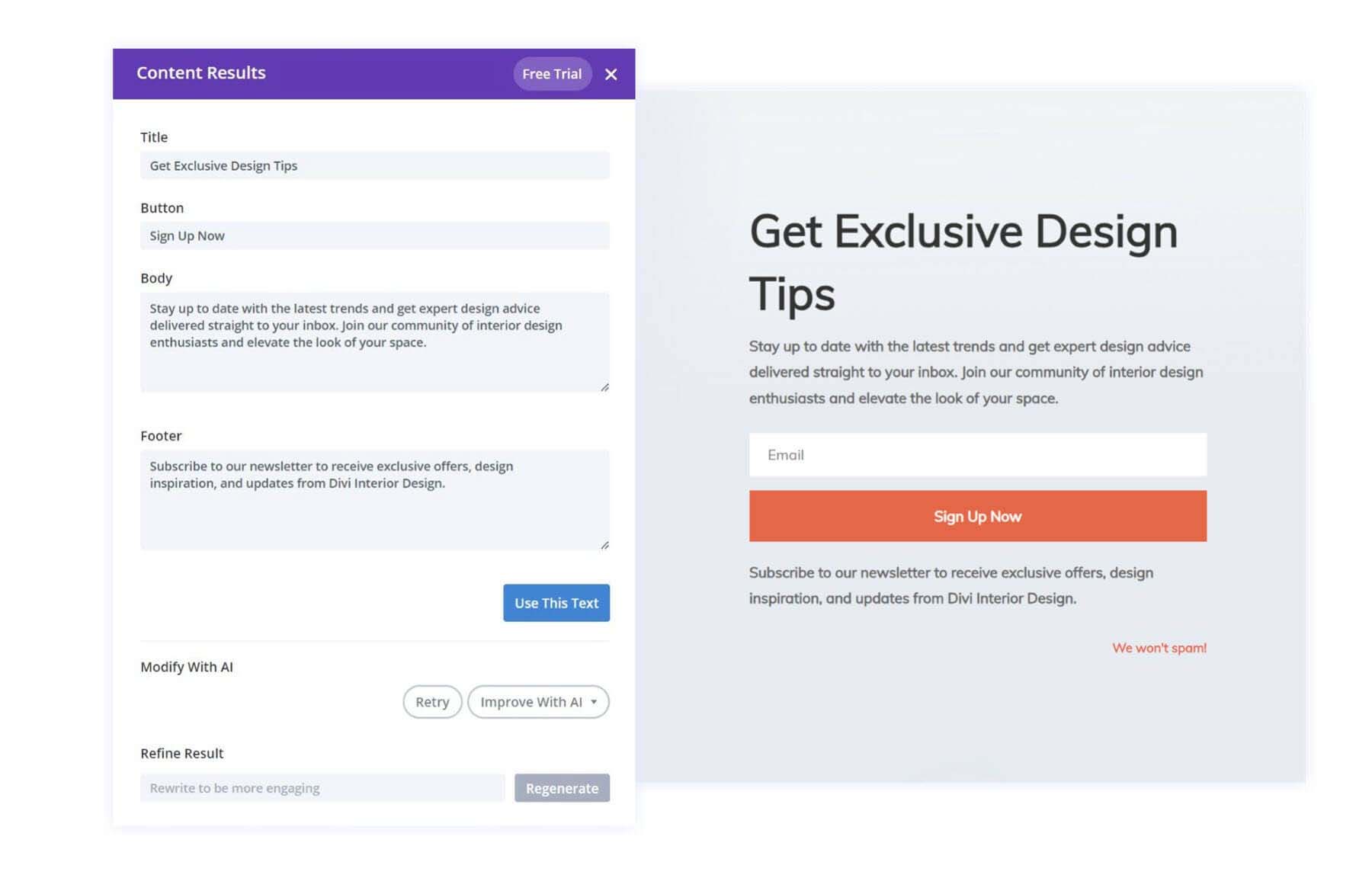 Notice how with the Email Optin Module, Divi AI is able to automatically generate an exciting headline, button, body, and footer for this module. You still have access to the same AI improvement tools and quick actions that are available in the Text Module used earlier.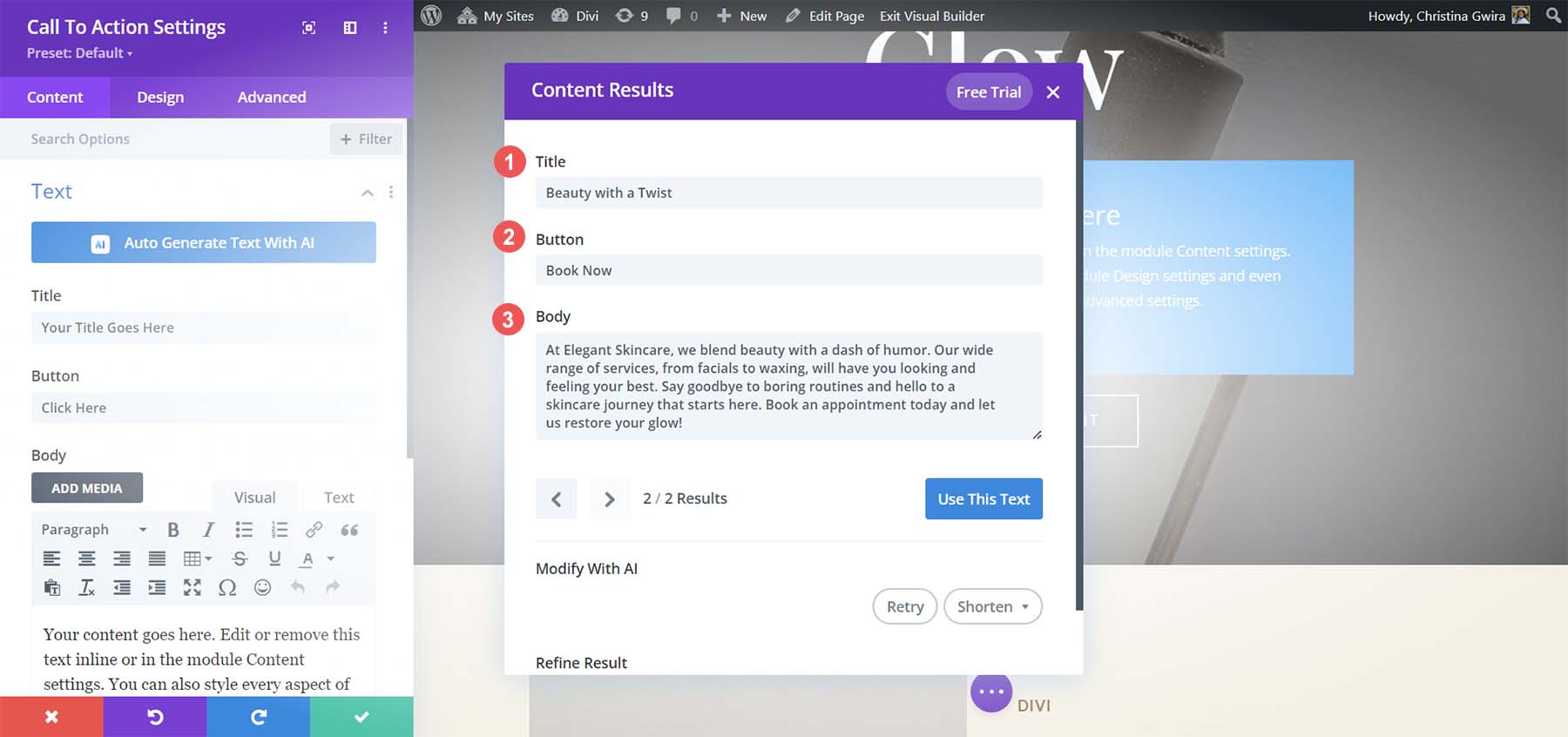 Furthermore, the Call to Action Module allows for the same seamless integration of AI with the various components of this module. Easily design and create exciting text for the most important areas of your copy when you choose to use Divi AI.
6. Optimize and Proofread Your Copy
While creating website copy with AI makes the entire copywriting process more straightforward, there may be times when you'll need to make edits. It is advisable to properly read through copy created by AI to ensure that your copy flows well and makes sense to human readers.

Even ChatGPT has a disclaimer within its interface that speaks to possible inaccuracies when using its platform. Cross-reference your copy to ensure that it is factual and inoffensive. While there are many AI proofreaders, having at least one read-through with a person to review your copy is advisable, just in case.
Tips & Tricks for Writing Copy with AI
Now that you have an idea of how to create your website's copy with AI, here's some additional advice to bear in mind:
Original content is not dead: While AI does help with creating content, making your own content without AI is still the best practice. Finding the right balance of AI-generated content with your human-created content is paramount.
Add your own flair to your content: Don't forget to add your own brand voice and uniqueness to your copy when using AI. You may need to create templates or set up your prompts in a certain way to help your AI tool of choice learn how to "speak" and "write" like you.
Use proofreading tools to help check spelling and grammar: AI doesn't know everything. So using external tools to check for spelling and grammar is important. Some tools — like Divi AI — have this built in. But you can also use other proofreader tools like Grammarly to ensure your content reads well and is linguistically sound.
Don't forget to fact-check and proofread your work manually: Even after using a proofreader tool and checking for spelling and grammar, also take some time to read your work. There may be some nuances that you can add to bring more to your content.
Optimize your content for your chosen keywords: Keep SEO at the forefront as you write your website copy. There are plenty of SEO tools that you can use to help you implement search engine optimization in your work. SEMRush has its outline builder.
Artificial intelligence does not remove the need for original content nor replace the writing process entirely. Instead, it should be used as a powerful tool to enhance the content creation process.
Conclusion
Websites are an amalgamation of copy, imagery, and media. Each piece is necessary to draw in your ideal customers. With the average consumer becoming wiser, eloquent copy has become necessary in marketing practices. Creating website copy with AI allows you to be at the cutting edge of web design. Now, it's possible to build complete websites with AI. If that's too high-tech for you, creating your website's copy with AI is a significant first step to adopting this popular technology. Saving money, conserving brain power, and quick turnarounds are benefits of using AI for your website copy. As you build your next website, consider adding AI to your process by using artificial intelligence to generate your website's copy.