Logos are arguably the most powerful element of your branding. Some business logos are known globally, partly because of the strength of their designs and of the brands behind them. Using a logo making website can help you come up with amazing designs in a matter of minutes, and help you arrive at the perfect representation of your business.
Creating a new logo is never a simple process, particularly if you're working with a small budget. Using a logo making website is a great way to save some money and get to see hundreds of potential ideas before you decide on the perfect one.
Let's check out five of the best logo making websites you can use!
1. Hatchful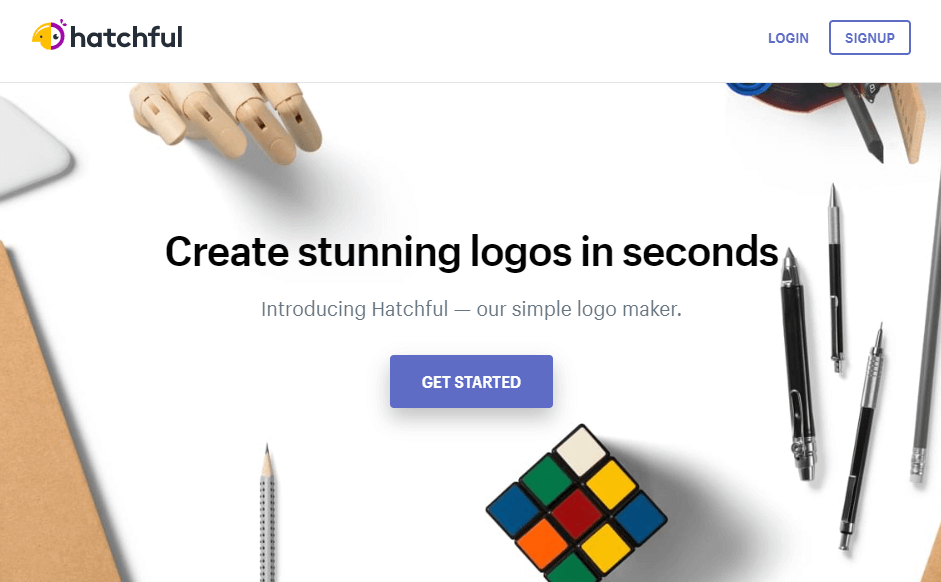 Hatchful is the very definition of an easy-to-use logo making website, courtesy of Shopify. The service gives you access to hundreds of logo templates you can use and it also generates branding 'packages' for social media.
You tell Hatchful what type of logo you want, it generates ideas, then you can tweak them using a simple editor. To get started, Hatchful asks you what type of business your logo is for: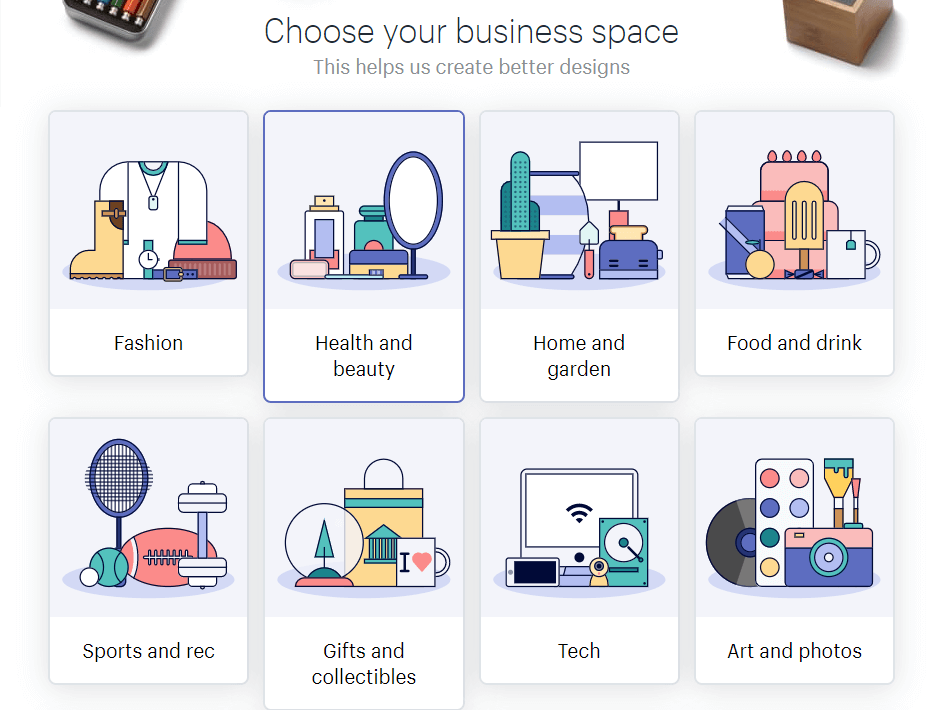 Once you select a business type, you can choose up to three different visual styles. These will determine the design aesthetic of your logo: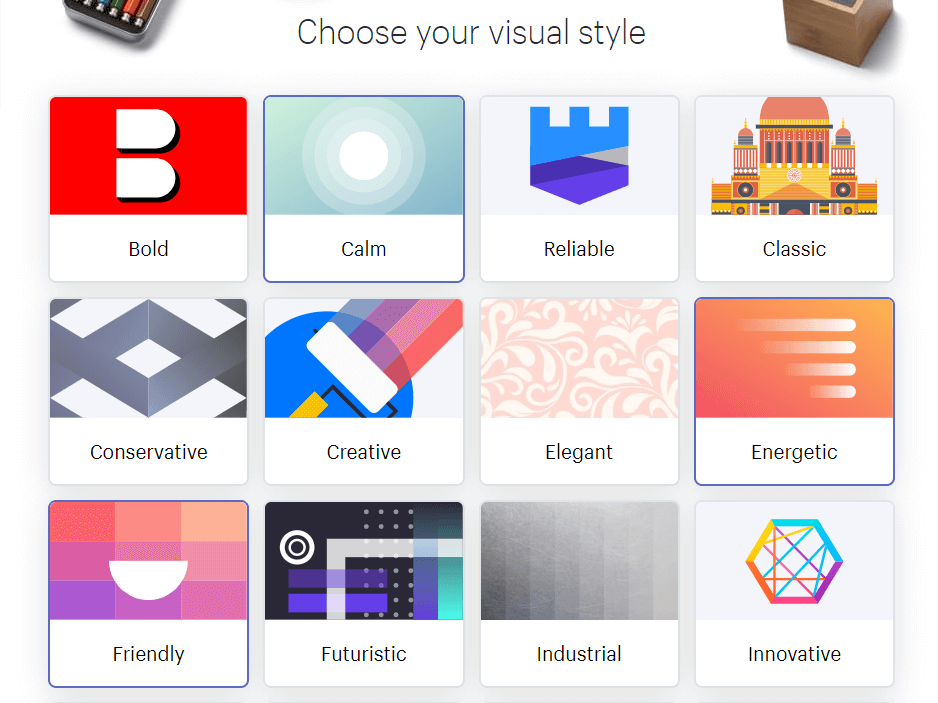 Now the website will ask you to enter your website name and a slogan if you already have one up your sleeve:

Finally, you can tell the service where you plan to use the logo, which will alter the designs it generates. For our tests, we chose the Online store or website and Social media options. However, Hatchful can also generate designs for business cards, print, and even large surfaces:

You'll then get access to a collection of logos you can choose from. For our test, we selected the Home and garden category at the beginning of the creation process, with the results skewing more towards the home category: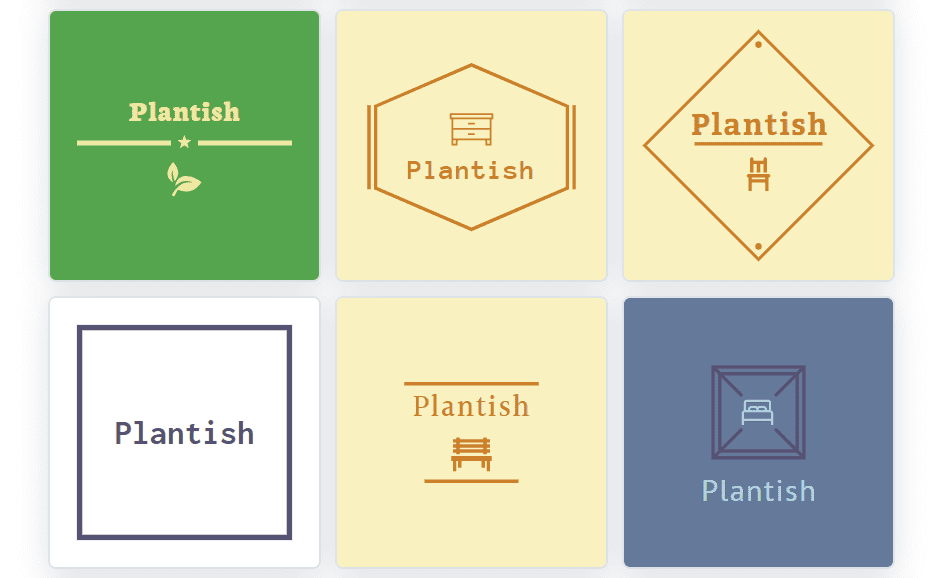 Hatchful's designs appear clean and minimalistic, although your results can vary depending on the blend of chosen styles. Once you select a logo, you get to tweak it using a simple editor that includes options to change text, colors, icons, and overall layout:
The editor itself is very intuitive but its functionality is limited. It's hard to make major changes to the logos you get, which makes Hatchful a great option for brainstorming ideas, but not so much for finished products. One big upside, though, is that the entire process can take minutes and when you're done, you can download all your logo assets with a single click.
When to use Hatchful: This particular tool works best to come up with dozens of potential logo ideas quickly. However, you'll ideally have a designer on board to make changes, as Hatchful's built-in editor is limited.
Price: Free | More Information
2. Tailor Brands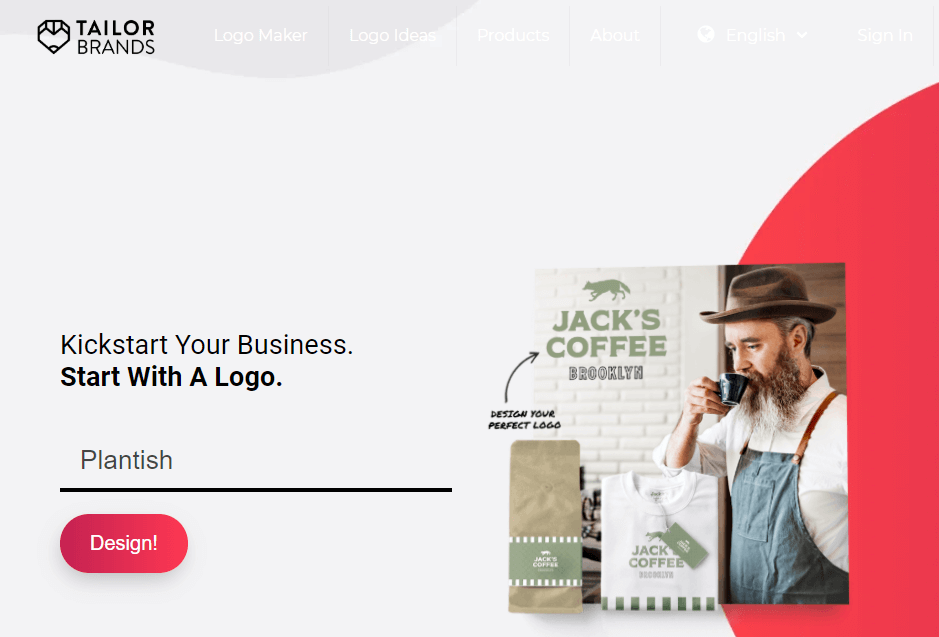 Tailor Brands is a freemium tool that enables you to come up with logo ideas and social media post templates for multiple platforms. To get started, enter your business's name and click on the Design! button. Tailor Brands will then ask you what type of business you run (you can only select one option):

Next up, you need to tell the logo making website how you provide your services. Once more, you're limited to a single option:

At this stage, Tailor Brands will ask you what industry your business is part of, and what it is you do. Keep in mind that since we're talking about an automated logo making website, it probably only looks at keywords instead of having someone analyze your description.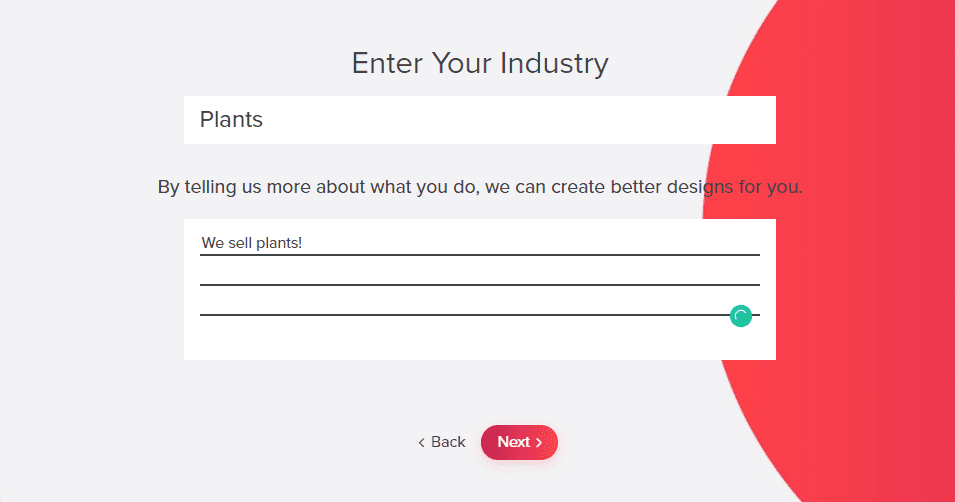 You can also decide what type of logo you want the tool to focus on. There are icon, name, and initial-based logo options to choose from: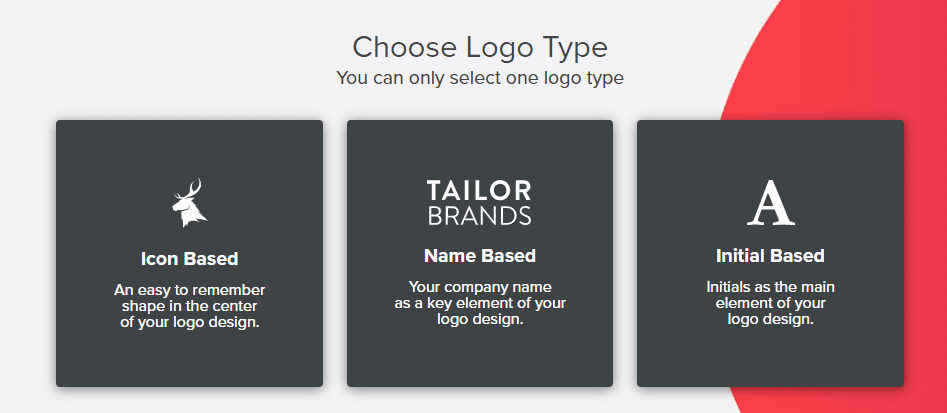 Moving on, the generator lets you pick a specific icon to use for your design or use abstract shapes. The icon selection here is great, with plenty of options to pick from: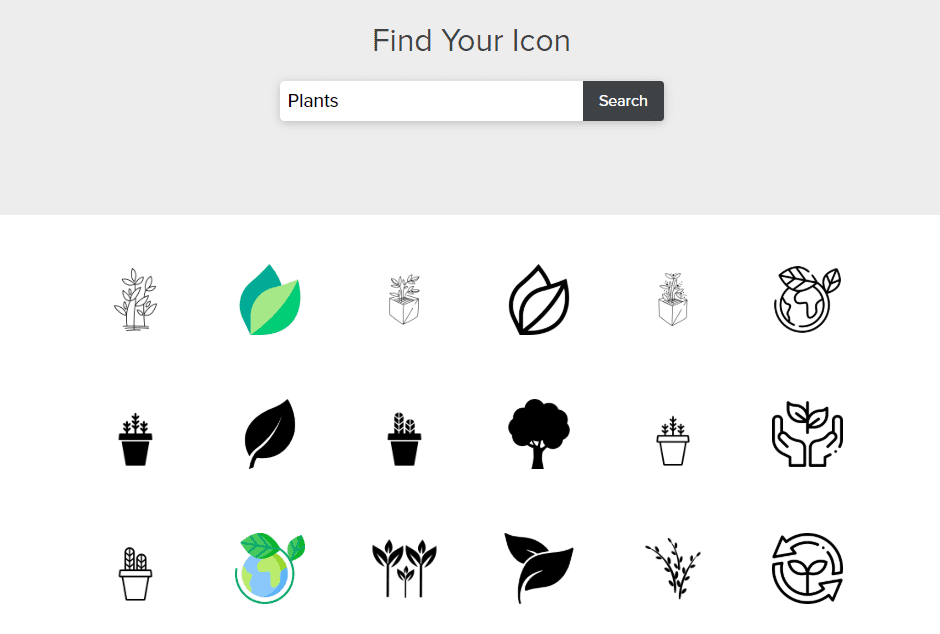 Before the tool works its magic, it asks you to choose between multiple logo styles to narrow down your design. This is a fantastic feature that helps you refine the logo even further: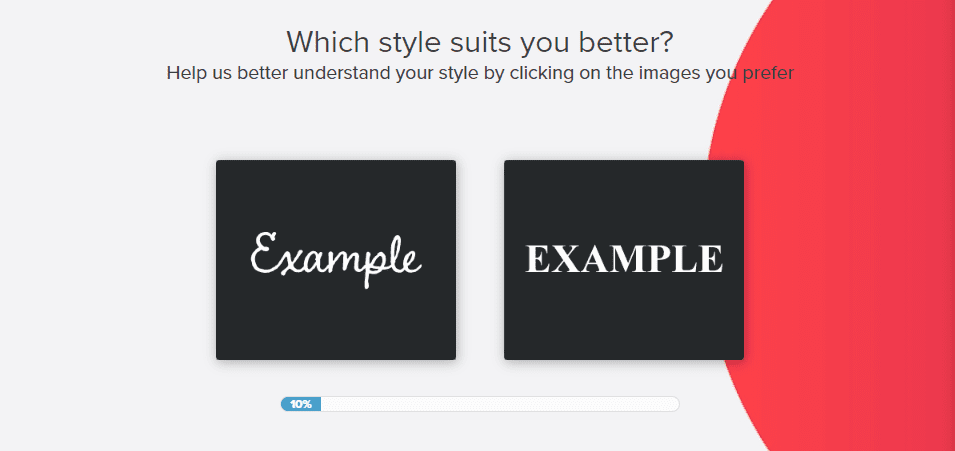 The more designs you choose from, the better the chances of a suitable final design. At this point, Tailor Brands asks you to register before you can see your logos. While you don't get as many logo options as with Hatchful, you do get to see each logo in multiple real-world settings: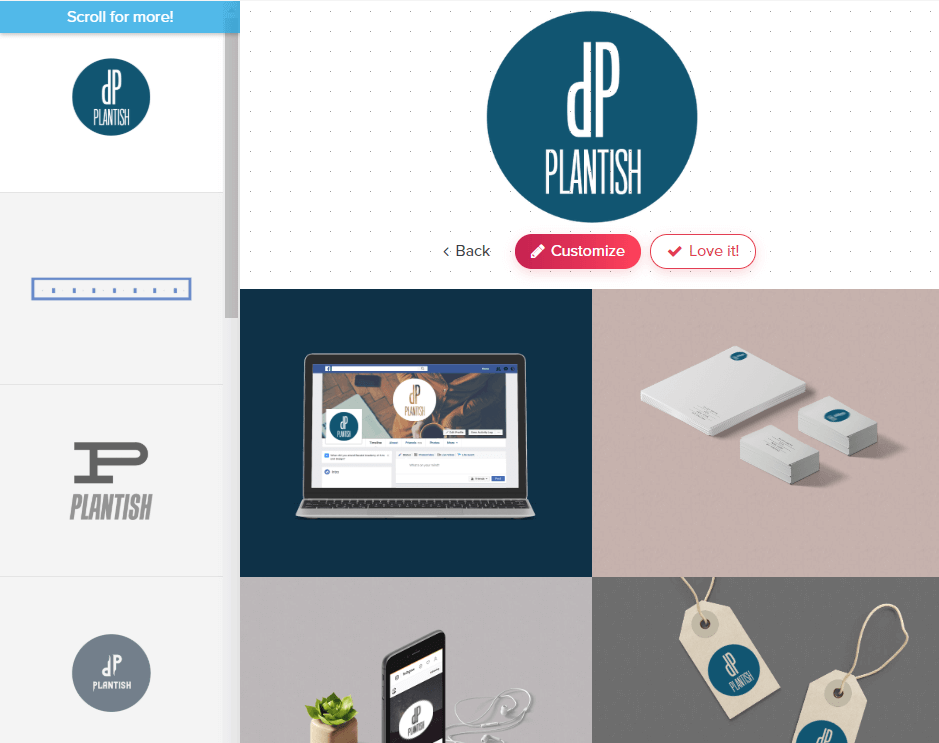 There's a logo customization option here, but it's only available after you purchase that design. If you like a design, you can download it for free in small resolutions, perfect for social media and mobile apps: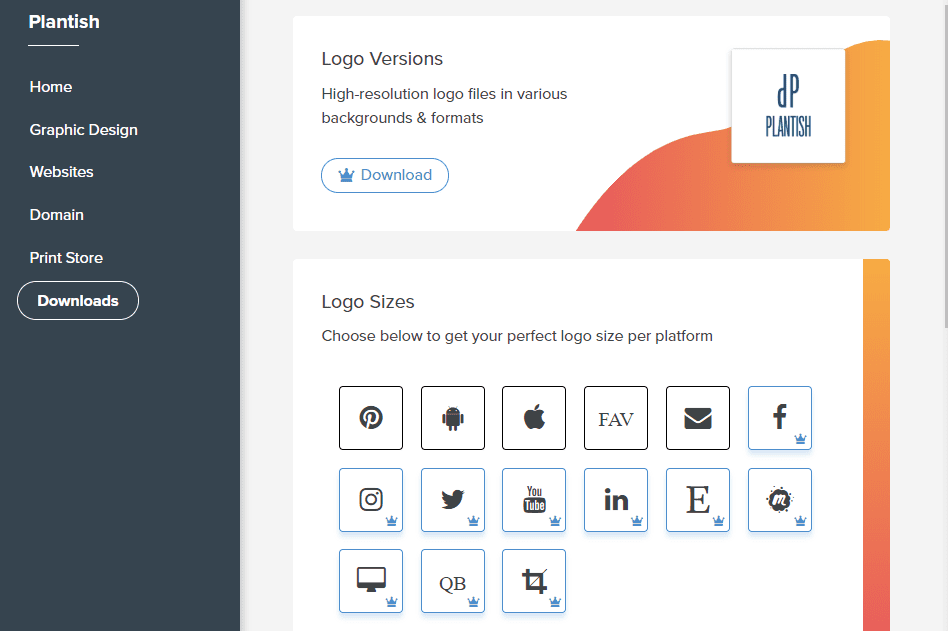 For the high-res files, you need to sign up for a premium account.
When to use Tailor Brands: This logo making website offers a more involved design process and the results you get are gorgeous. It's a great option if you have a modest budget for logo design, but not enough to hire a professional.
Price: Premium plans start at $9.99 per month | More Information
3. Canva's Logo Maker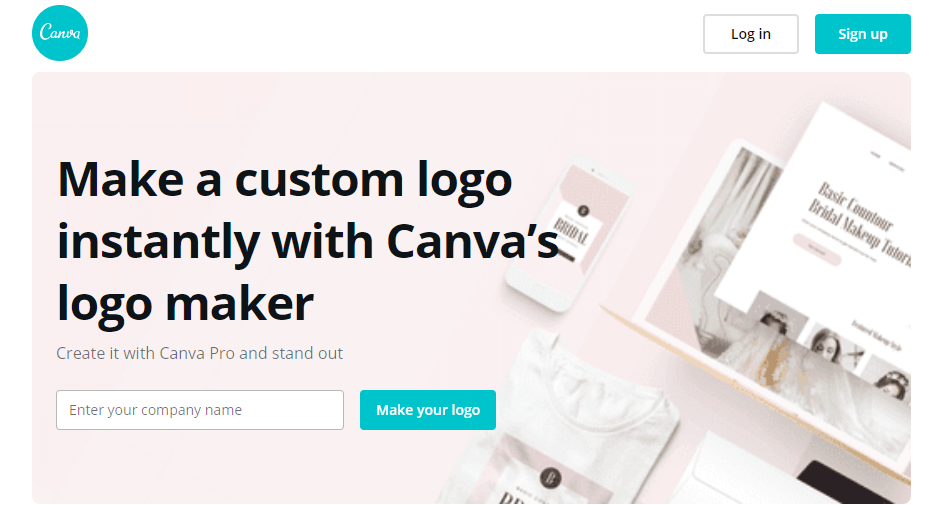 We've talked about Canva in the past. It's a web-based graphics creator that you can use for multiple design projects, such as designing logos, creating infographics, and more.
Canva is a freemium service with some of its most advanced features reserved for paying users. The service includes a Logo Maker, which you can use for free. To get started, simply input your business name.
Next up, you can select what industry your business is a part of, which helps Canva decide what graphics to recommend to you: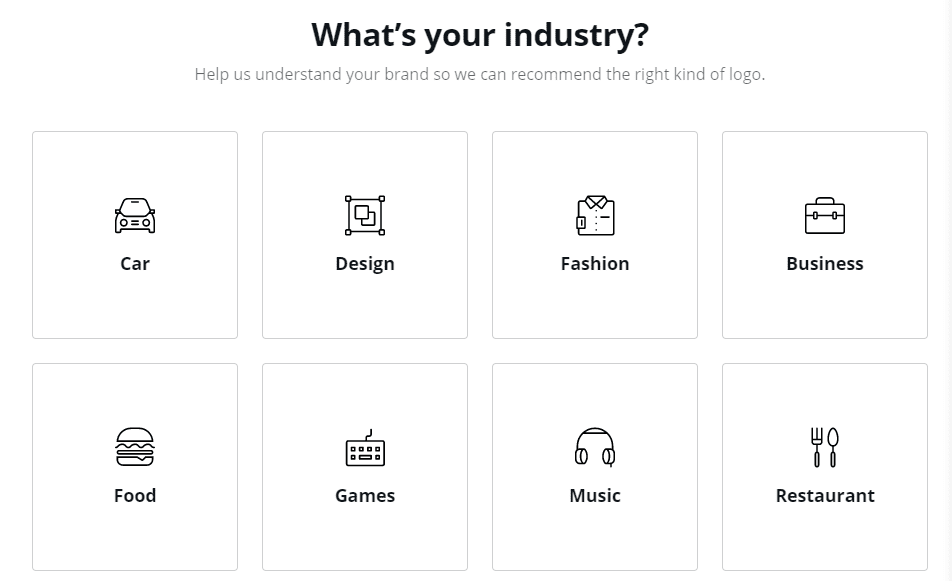 To narrow down your options, Canva asks you to pick up to five logos from among a selection of pre-rendered designs, so the service gets an idea of your preferred style: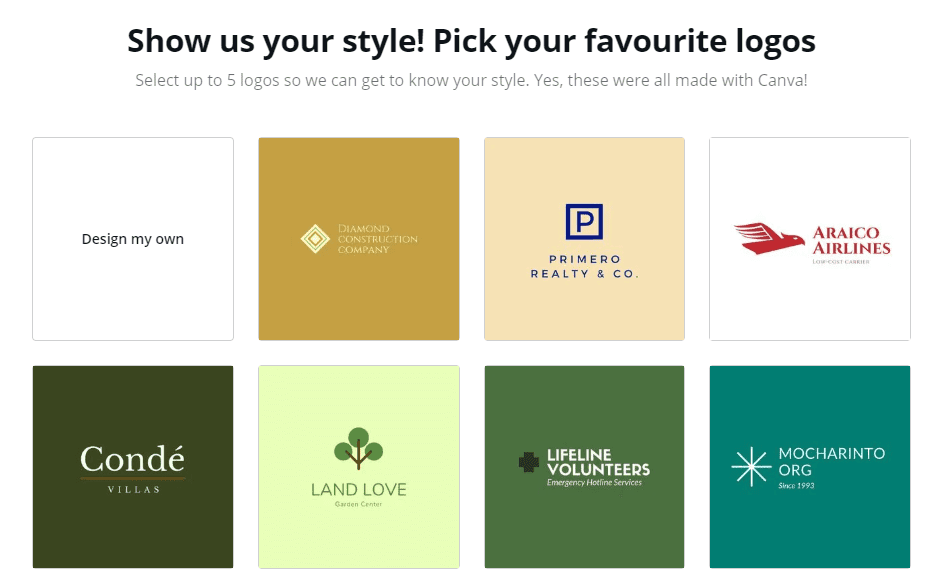 You'll get access to several logo recommendations all within the Canva editor. Clicking on each logo will switch your business name to that style: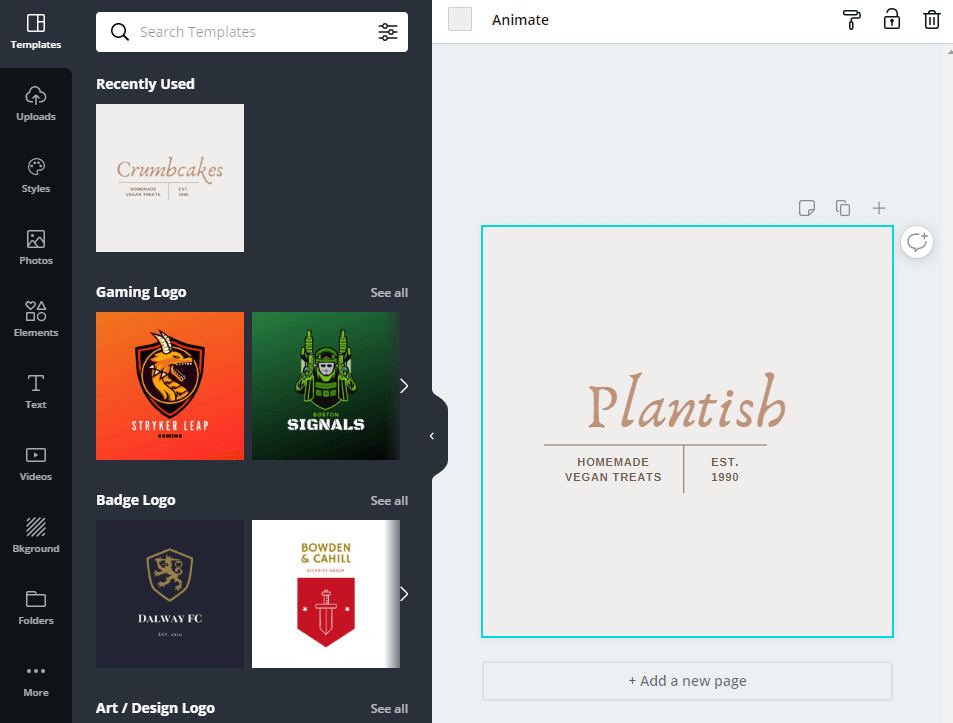 Although you don't get as many logo designs as the other services featured so far, Canva's editor is on a class of its own. You get access to a broad library of icons and graphic elements to use in your logo, as well as backgrounds, font choices, and design styles. With only a couple of minutes of work, you can transform your initial logo into something unique: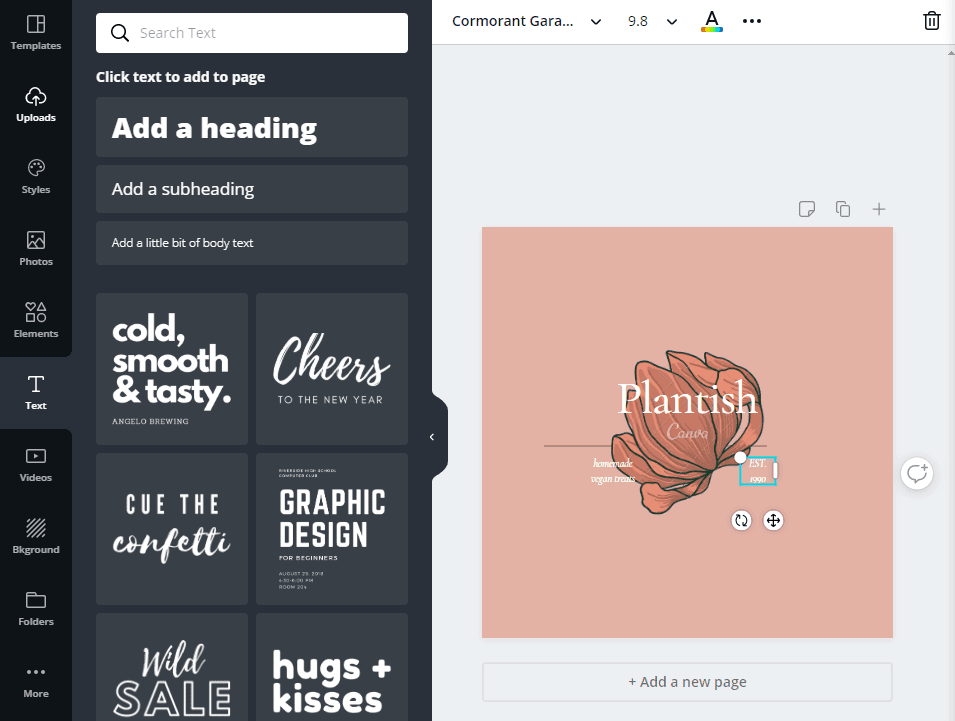 However, many of Canva's elements are for premium users only, although they're clearly marked. In any case, if you use a premium element, Canva will ask you to pay for it before you can download your logo: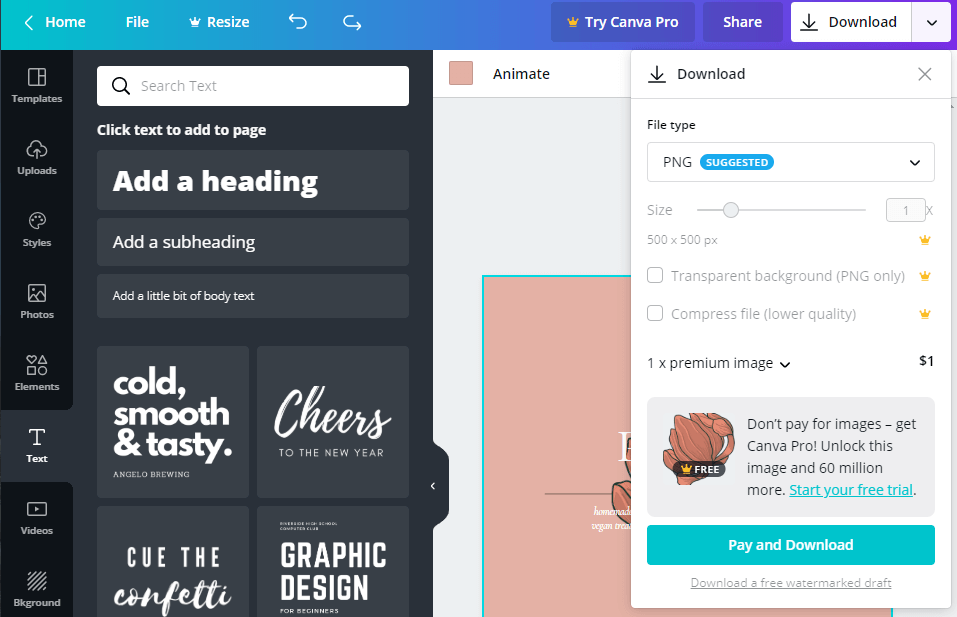 If you stick to free elements, you'll be able to download your logo designs straight away. Overall, you'll get the most out of Canva if you have a background in web design or have the time to experiment.
When to use Canva: Canva's initial logo suggestions can be a bit barebones. The entire point of using Canva is to take advantage of its powerful graphics editor. If you have web design experience, using the editor will be a walk in the park.
Price: Premium plans start at $9.95 per month | More Information
4. Free Logo Design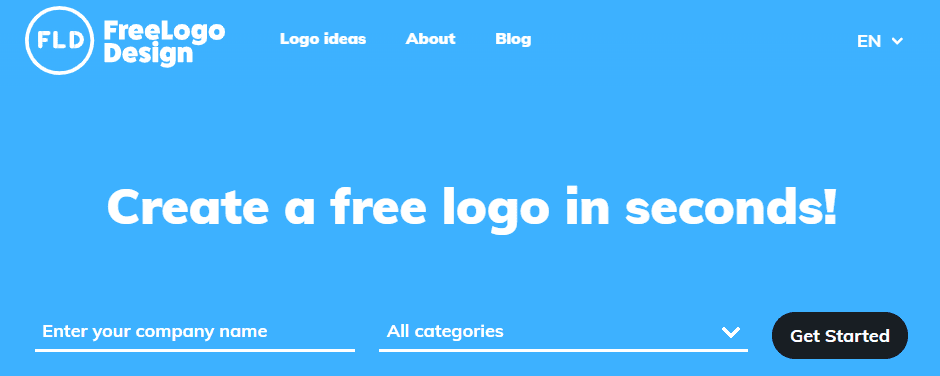 Free Logo Design is a killer tool if you want to get hundreds of design recommendations without having to answer questions about your business. To get started, enter your company name and choose a design category from the right-hand menu. The logo making website will return a broad catalog of options: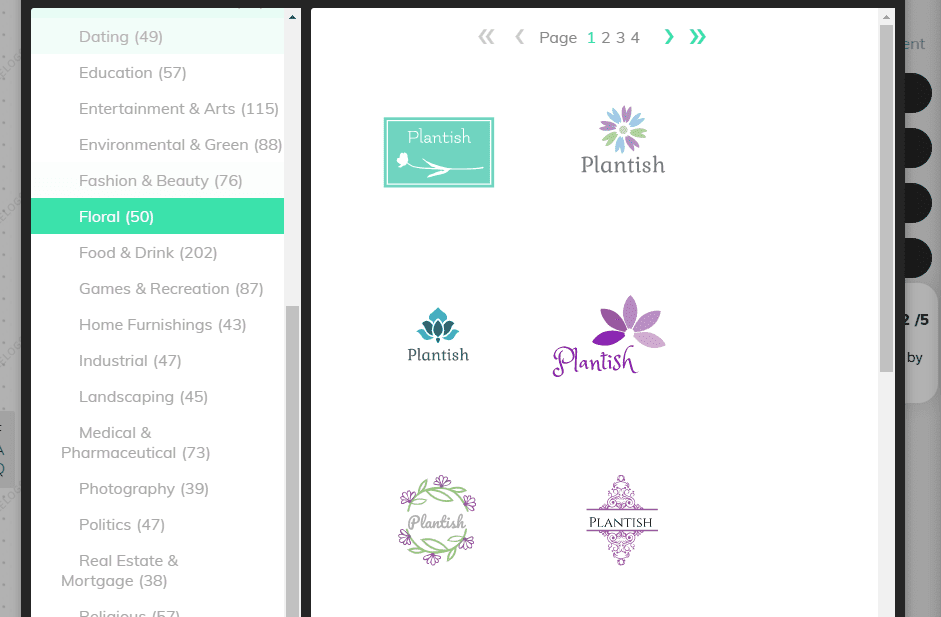 Although the designs here aren't as detailed compared to the other tools we've featured, you get a lot more options. Using the left-hand menu, you can switch between logo categories and get access to even more designs.
Once you find a logo you like, you can access the Free Logo Designs editor to make changes to it. The editor itself is very intuitive and it enables you to add text, shapes, and icons to your logo, as well as change its colors: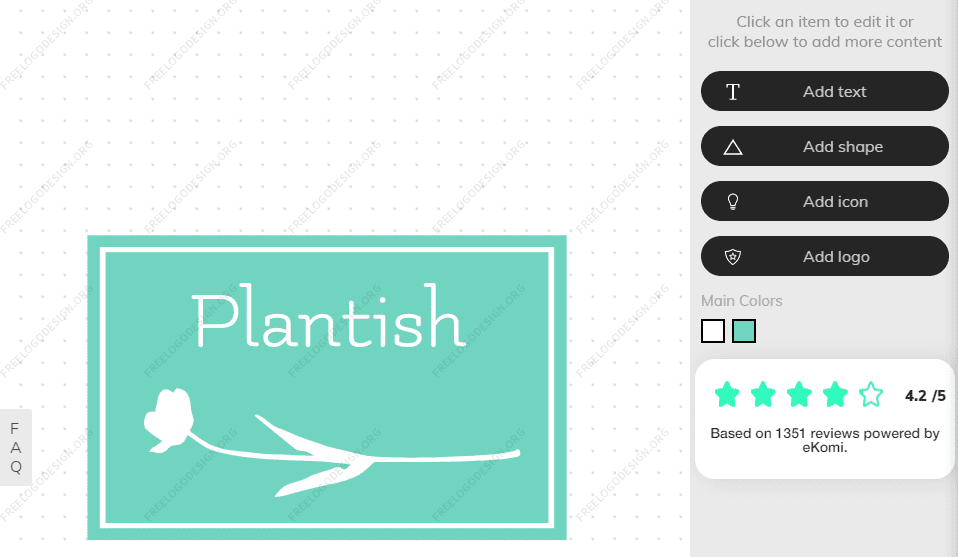 Although the editor is a bit limited, Free Logo Design is simple to operate. It's a great ideas generator, which you'll then work with a designer to refine further.
When to Use Free Logo Design: If you have a web designer on your team, they should be able to take Free Logo Design ideas and use them to come up with improved logos.
Price: Free | More Information
5. Logo Makr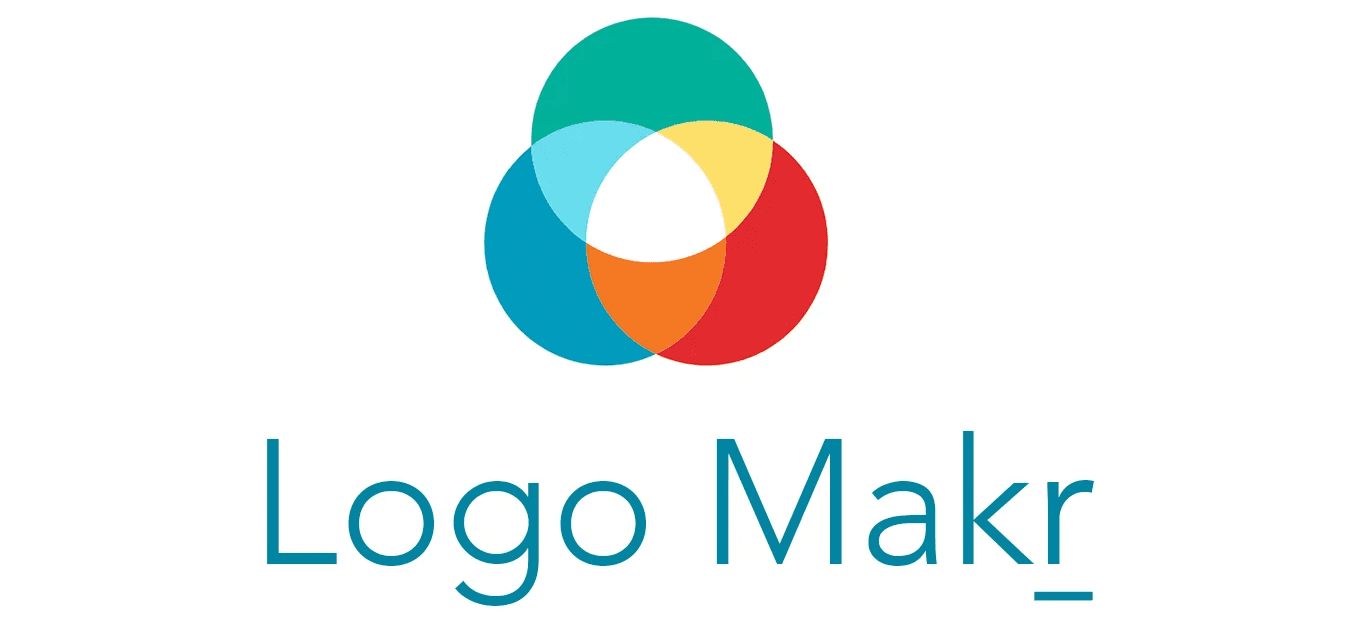 The options included so far give you a hand when it comes to logo design. In most cases, logo making websites ask you several questions before they throw ideas your way. Although they often include editors, you end up working with mostly pre-built designs.
Logo Makr takes a different approach. It's a full-on graphics editor that includes all the essentials you need for logo design. At its core is a collection of over one million icons and graphics you can use for free: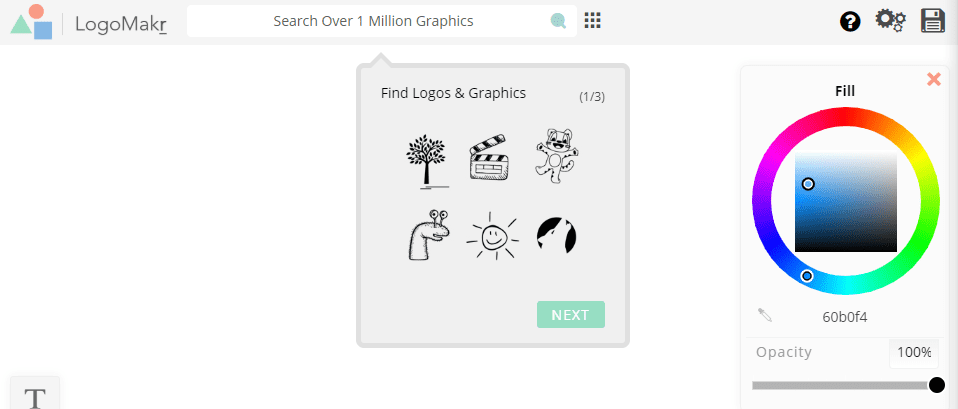 Although the editor looks simplistic, it includes one feature that most logo making websites don't – a 'layer' system, just like professional raster editing tools such as Photoshop and Affinity Designer. Creating a logo using layers, pre-built graphics, and shapes becomes simple: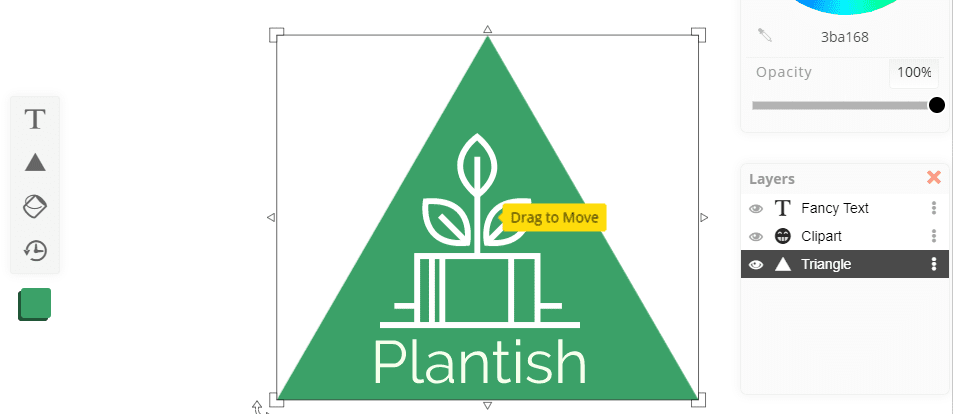 The downside here is that Logo Makr isn't free for some designs. You can download 'low-res' copies of your logo for free, which work perfectly in most cases. However, if you want high-resolution files, you'll have to pay a one-time licensing fee.
When to use Logo Makr: This logo making website is perfect if you want to experiment with creating designs from scratch. If you end up with a design you like, you can download it for free or pay for a high-resolution version of it.
Price: Free editor with $19 licensing fee for each logo | More Information
Conclusion
Using a logo making website isn't just about saving money. Even if you're a designer or you're working with one, you can use these websites as a source of ideas. With only a few clicks, you can see hundreds of potential logos. Some of those logos may be pretty close to what your brand needs.
If you want to design the perfect logo for your business, we recommend you try out these five websites:
Tailor Brands: With Tailor Brands, you get an in-depth logo generation process and plenty of options to choose from.
Canva's Logo Maker: This tool enables you to generate logos and use a feature-filled editor to modify them.
Free Logo Design: A simple service to help you come up with hundreds of logo ideas in minutes.
Logo Makr: Design logos from scratch using an intuitive editor.
Do you have any questions about how to use logo making websites? Let's talk about them in the comments section below!
Article thumbnail image by bsd / shutterstock.com