Do you want to maximize your e-commerce store's online presence? Shoppable posts will get your products in front of more potential customers.
Shoppable posts allow brands to list products on social media posts. Users scrolling through the feed can find, tap, and purchase products directly inside an app such as Instagram.
Using shoppable posts removes a barrier to entry for your customers. That's because they don't have to navigate out of their social feed to buy.
Today, we're breaking down what shoppable posts are and how to use them for your e-commerce business. Let's break it all down.
What Are Shoppable Posts?
Shoppable posts are growing in popularity. Each month, 130 million users shop via Instagram shoppable posts.
They're fairly self-explanatory: posts you can buy directly from. Right now, shoppable posts are available on Instagram and Pinterest. These posts allow viewers to tap from your post directly to your product, where they can place their orders.
Shoppable posts eliminate the need to drive shoppers to your website before they ever buy from you. For many customers, this will shorten the buyer's journey.
When you use shoppable posts for your business, you can feature popular products your users can buy directly from your post. Then, you can leverage your email newsletter, social media, and other marketing channels to drive users to your full site.
How Shoppable Posts Work
Instagram is a popular hub for shoppable posts, so we'll focus on that platform for our purposes. Pinterest also offers shoppable posts.
When users shop directly from Instagram, there are two ways to find and use shoppable posts. First, by tapping on the View Shop button on the brand's profile. And second, by tapping tags inside shoppable feed posts.
Recently, Instagram integrated a feature that allows users to shop in the app. Instead of leaving Instagram to go to an e-commerce site, they can purchase right there in the feed.
Here's how to purchase a shoppable product directly from Instagram:
Tap on the product or tag you're interested in
Tap Proceed to Checkout
Fill out your contact information, delivery info, and your payment method
Purchase
The View Shop button takes users to a catalog-style page with products they can choose from. In contrast, shopping directly from a post feels a bit more informal. That way, you don't have to deliberately navigate to the profile, then the shop. You can simply tap a post you like in the feed.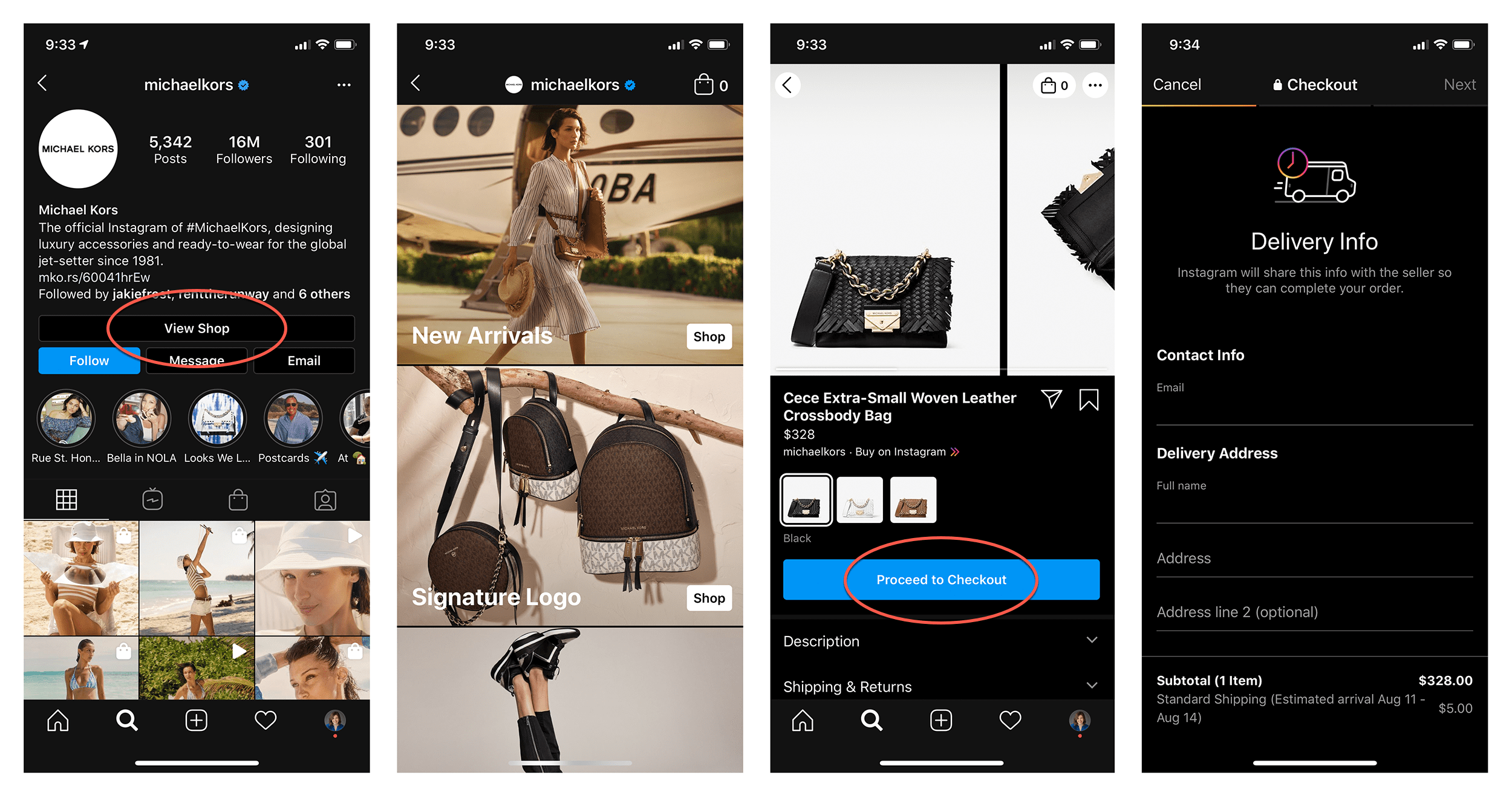 When you tap on a shoppable post, you'll see a series of tags for each product. Tap the one you're interested in. Then, it will take you to the same product purchase page. There, you can complete the above steps to buy.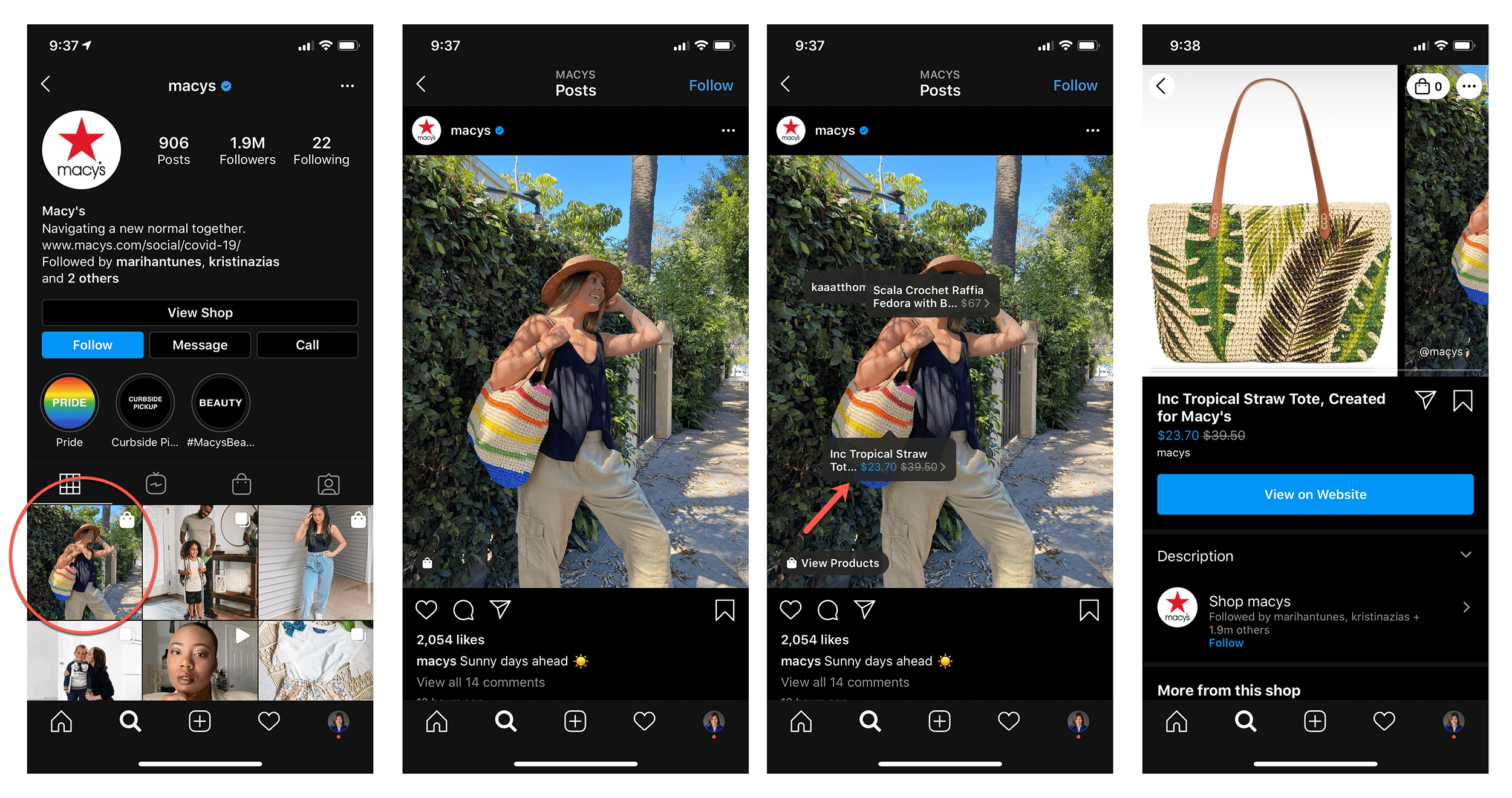 How to Get Started Using Shoppable Posts
To set up shoppable posts on Instagram, the first thing you need is a business account. You can convert your profile to a business profile in your account settings. You'll want to make sure you have the latest app update installed.
Next, you have to request Instagram shopping capability for your profile. You have to be part of a select number of markets to get approved. In addition, you must:
Sell a physical product
Be in compliance with Instagram's policies on commerce
Be connected to a Facebook page
Sometimes, it can take a few days for an account to be approved for Instagram Shopping. According to Instagram, the platform may want to look more closely at your account before approving you.
Once approved, you can get started setting everything up. To turn on Shopping:
Head over to your profile and go to your Settings
Tap on Business
Then, tap Shopping (if your profile hasn't been approved, you won't see this option)
Hit Continue
Use the Catalog Manager to create a catalog or catalog an existing one (choose an e-commerce catalog to use tags and stickers)
Alternatively, you can use a Facebook Partner like BigCommerce in lieu of setting the catalog up yourself
Hit Done, and you're all set
How Shoppable Posts Can Boost Your E-Commerce Brand
If you're wondering how shoppable posts can boost your e-commerce brand, here are a few insights.
1. They get your products in front of customers who may not know your brand otherwise.
Instagram users could discover your brand for the first time while scrolling through their feed. You could reach audiences that, traditionally, have not bought from your store. Additionally, if you sponsor shoppable posts, you'll increase your reach that much more.
2. They make buying from you a no-brainer.
If a user sees a product they love in your Instagram shop, they don't have to think twice about buying if they don't want to. All they'll need to do is click through the purchase in the app. Ta-da!
3. They can get strong reach on Instagram.
It's possible to get strong reach on Instagram with your shoppable posts. For organic reach, use strategic hashtags to help your products reach a wide variety of potential customers.
Additionally, you can partner with influencers to get your products seen by wider audiences. Influencer marketing campaigns (particularly with KOLs or nano influencers) can really signal-boost your brand in a big way.
4. They are visually appealing.
E-commerce stores aren't always visually beautiful, and it can take time to get your aesthetics just right. If your Instagram feed is already beautifully curated and designed, then just fit your shoppable posts into your feed design.
These posts won't always blatantly look like products for sale. When executed well, they will likely blend in with your regular feed. This will make them more appealing and inviting to your visitors.
Wrapping Up
Shoppable posts are a great way to sell more physical products. As a visually appealing addition to your feed, they'll also help you get your brand in front of new customers.
Using these posts will remove barriers to entry for customers who might not click through to your website otherwise. All in all, as shoppable posts become more popular, they're likely to help boost e-commerce businesses of all kinds.
Are you using shoppable posts yet? Do you plan to? Drop a comment below and let us know.
Featured image via ART PAL / shutterstock.com