Are you looking for help kick-starting your brand's marketing strategy? If so, partnering with a KOL (Key Opinion Leader) could be your best bet for reaching your target audience and getting your brand marketing off to a great start.
If you've been following the evolution of marketing over the past several years, you're most likely familiar with the idea of influencer marketing. Working with a KOL is similar to influencer marketing, but a KOL is more like a thought-leader of their industry rather than a celebrity that endorses specific products.
KOLs are the known names whose opinions on certain industries matter–not so much because they're well-known, but because they have the credentials, experience, and expertise that make them leading authorities in their respective fields.
What's the Difference Between KOLs vs Influencers?
A KOL is someone who is widely regarded as a leading expert in their specific niche. They generally have a large audience, and they're well-known for championing certain causes or teaching particular skills.
Many KOLs have influencers who emerge from their following. A KOL who teaches specialized skills, sells courses, or trains coaches will eventually have a subset of influencers who teach the same methods or advocate for similar causes.
Partnering with a KOL for your marketing strategy can lend a tremendous amount of oomph to your brand. That's because the KOL is already an established, respected expert. They'll be lending their authority and trust factor to your marketing campaign–in addition to their audience. As a result, your reach will be exponentially wider.
On the flipside, influencers produce a wide array of engaging content and tend to have large, enthusiastic followings. They might regularly endorse products and work with brands on marketing campaigns. However, they're not necessarily the leading expert in that niche.
While influencers can help you expand your brand awareness, they won't lend the same level of expertise. When you work with a recognized industry expert, your brand already has a strong seal of approval.
How to Find and Work With a KOL
You can find KOLs in your industry by following its leading voices online. You'll want to look for KOLs who are active on social media and have an engaged audience. You can differentiate these leaders from other influencers because they're experts in their niche.
In order to work with a KOL for your brand marketing strategy, you'll need to reach out to them. Each person will have different preferences as to how they want to be contacted. Some KOLs share contact information on their social media profiles. Others have contact information and terms for working with brands on their websites.
You may not be able to communicate directly with your chosen KOL. Instead, you might need to work with someone on their team in order to set up your campaign and its terms. Another option is to hire an influencer marketing consultant who can help you vet and choose a KOL.
Additionally, services such as Influencer.com can help you locate and partner with a KOL. You'll need to do your due diligence in order to select candidates who fit KOL criteria, but this could be an excellent way to connect.
How Can You Integrate a KOL Into Your Marketing Strategy?
There are many ways to integrate a KOL into your marketing strategy. A KOL can help promote you build brand awareness by:
Acting as a spokesperson for your brand
Reviewing your brand and promoting it to their audience
Running contests and giveaways of your product
Holding a social media takeover on one of your accounts
Featuring your products on their blog or social media
Interviewing you for their podcast or vlog
Here are a few examples of how KOLs work with brands to amplify their marketing.
The Points Guy
Brian Kelly, also known as The Points Guy, is an expert on traveling around the world using credit card points. As a KOL, his niche is in travel, but more specifically, in teaching his audience techniques for earning the maximum number of points on specific credit cards so they can take memorable trips all over the world.
The Points Guy recently partnered with Citi via Instagram Stories to help them promote their line of point-earning credit cards. Members of his team–who have become travel influencers themselves–showcased their favorite Citi cards in a series of Stories on The Points Guy's Instagram profile.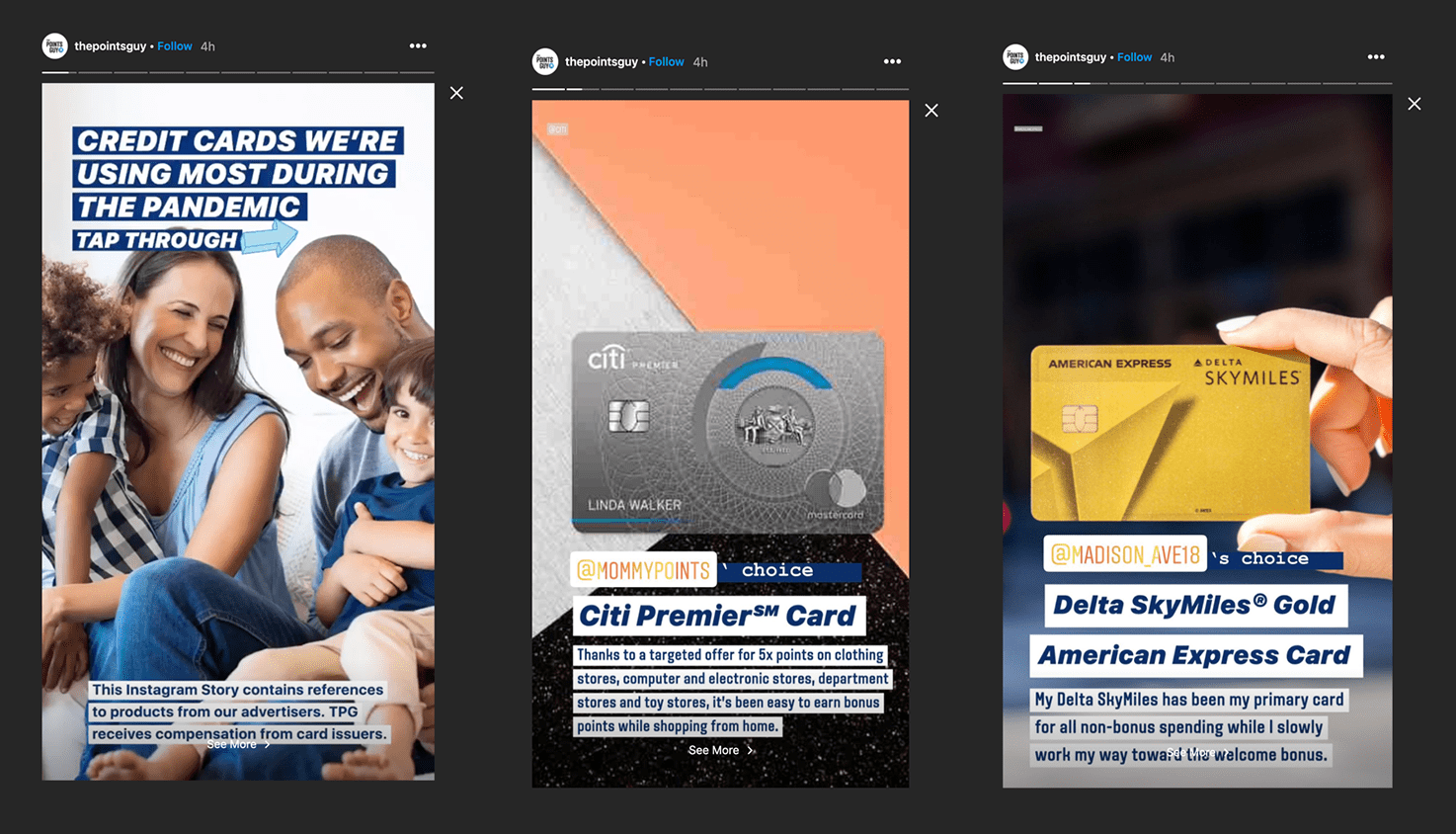 Viewers who follow this series of Stories get a glimpse of some of the credit cards endorsed by The Points Guy himself. As a result, they're more likely to consider signing up because they trust the information source.
Danielle Walker
Danielle Walker is a chef, influencer, and the author of the Against All Grain series of cookbooks. Danielle's niche is paleo recipes, and a wide subset of her audience are not just interested in eating a paleo diet. They also view food as medicine, have an interest in boosting their immune systems, and hope to manage chronic health conditions through diet and lifestyle changes.
Danielle occasionally partners with health-centric brands that align with her paleo lifestyle. In this Instagram post, she held a giveaway for Vital Proteins, a company that makes collagen supplements.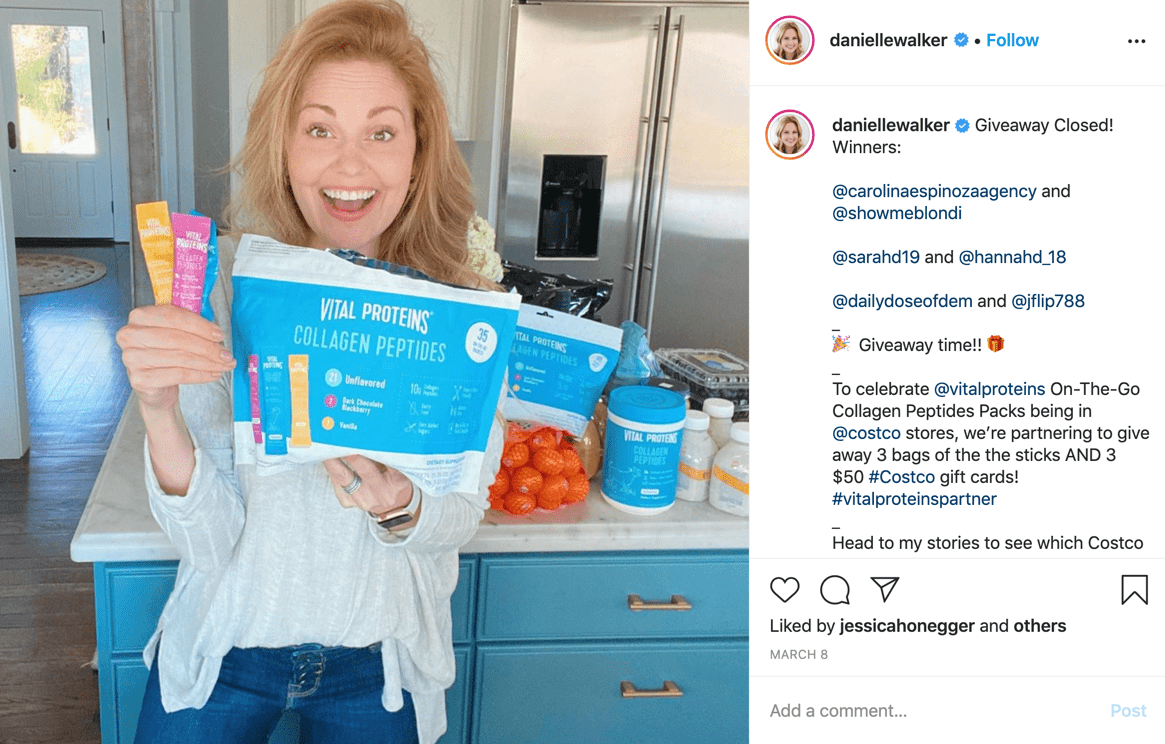 For this promotion, Danielle used her platform of wellness-aware followers to call attention to a brand she loves. Because her followers trust her as an authority on managing chronic illness through diet–as Danielle suffers from an autoimmune condition herself–they're more likely to also trust the brands she promotes.
Amy Porterfield
Marketing guru Amy Porterfield is a course creator, podcast host, writer, public speaker, and thought leader. She not only features guests on her podcast; she also leverages her social media presence to help promote works by other influencers.
For example, Amy recently promoted the Tribe course by Stu McLaren on her Instagram feed.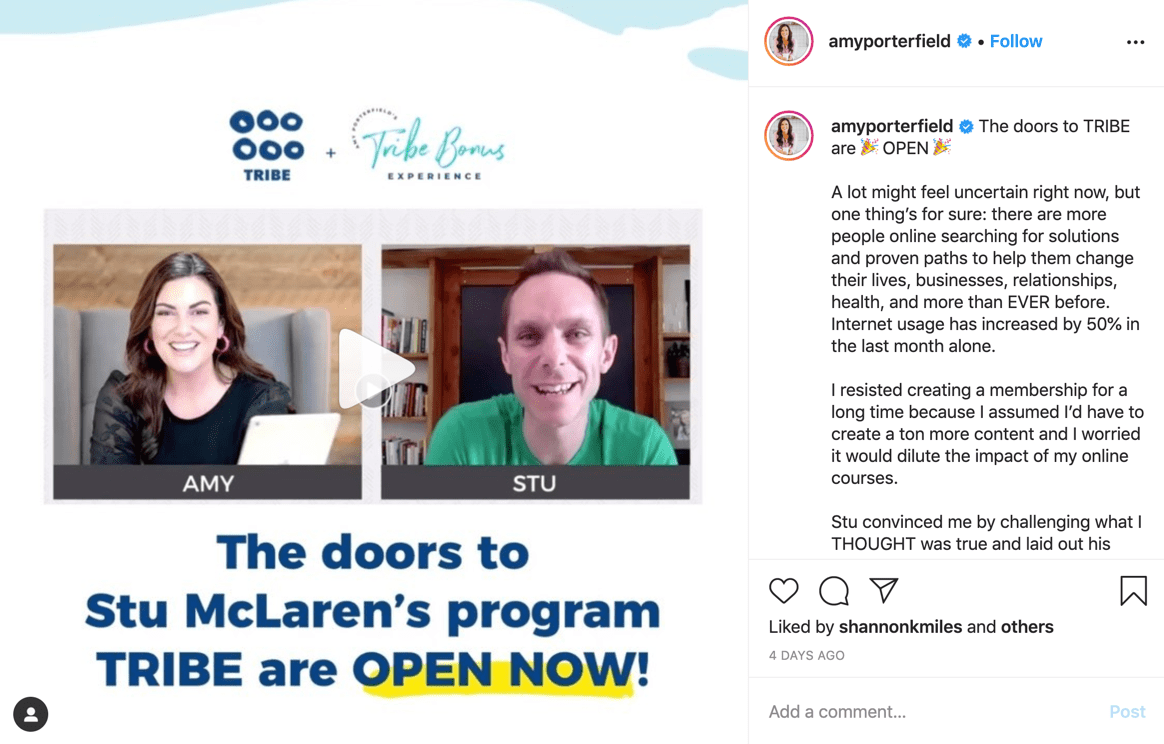 Not only did Amy drive her audience members to Stu's course. She also created a bonus module herself as an incentive for joining. Like Amy, some KOLs lend their name to courses, product endorsements, books, and more.
Wrapping Up
Working with a KOL to build your brand is like working with a superpowered influencer. It's possible to boost your brand's visibility exponentially through a well-thought-out campaign with a KOL.
One final tip: as you explore your options for marketing partnerships, don't forget to build authentic relationships with the leaders you're interested in working with. Making real, solid connections with your KOL is an invaluable step toward a lasting professional relationship that will go beyond a temporary marketing campaign.
Have you worked with a KOL to boost your brand awareness? What was your experience like? Let us know in the comments!
Featured image via phoelixDE / shutterstock.com