A significant part of Search Engine Optimization (SEO) comes down to keywords. Targeting the right ones and using them appropriately can make all the difference when it comes to page rankings. That's why you need a keyword research tool in your arsenal.
Keyword research, however, can be a complex process. There are a lot of tools, both free and premium, that you can use to help you identify the right queries to target. In this article, we'll introduce you to our favorites and show you what each of them has to offer.
Let's get to it!
There are a lot of options when it comes to keyword research tools. For this list, we wanted to focus on those that don't require a massive budget. Although several of these platforms are premium options, you can use most of them in a limited capacity for free.
1. Ahrefs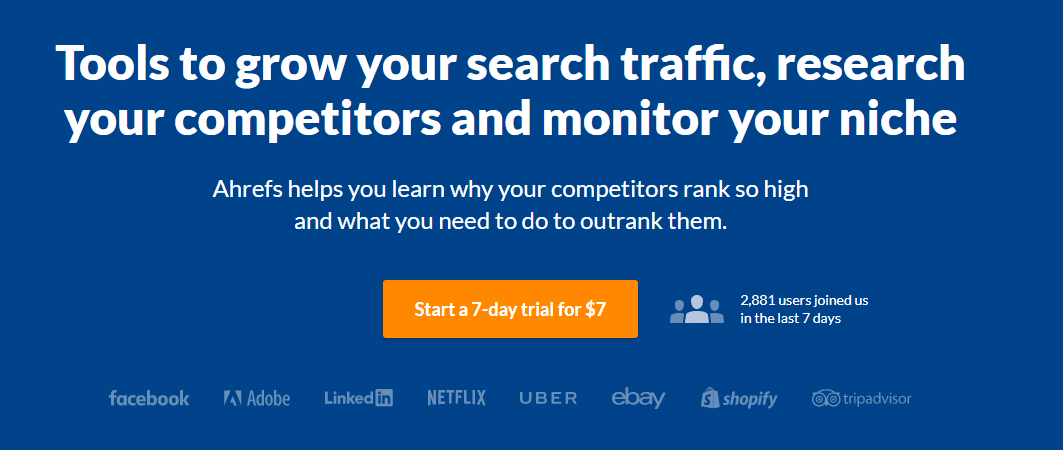 With Ahrefs, you can find out which keywords you and your competitors are currently ranking for and their precise positions on Search Engine Results Pages (SERPs). You can also use it for suggestions on new search terms to target.
When you look up keywords using Ahrefs, you'll also see a difficulty score for each of them (ranging from 0 to 100). Additionally, it lists estimated search volume, clicks, Cost-Per-Click (CPC), Cost-Per-Sale (CPS), Return Rate (RR), and 'parent topics'.
Most free keyword research tools give you access to some of those metrics. However, Ahrefs is one of the only platforms that offers CPS and RR projections. This extra data, plus all the other features Ahrefs provides beyond keyword research – such as backlink and content analysis – probably account for why these reports are only available to premium users.
However, Ahrefs does offers a seven-day trial for $7, which isn't that bad. Although its SEO Toolbar includes free on-page analysis and broken link checking, it doesn't provide any keyword research features unless you connect it to a subscription.
Key features for keyword research:
Find the top keywords for any domain.
Obtain precise keyword rankings for your website.
Look up new keywords and their projected difficulty, search volume, clicks, CPC, CPS, and RR.
Price: Plans start at $82 per month | More Information
2. Moz

Moz is one of the top resources for SEO and a leader in the industry. It offers both free and premium tools for keyword research.
When it comes to free features, Moz's Domain Analysis tool enables you to take a look at your site's top keywords based on number of clicks and rank: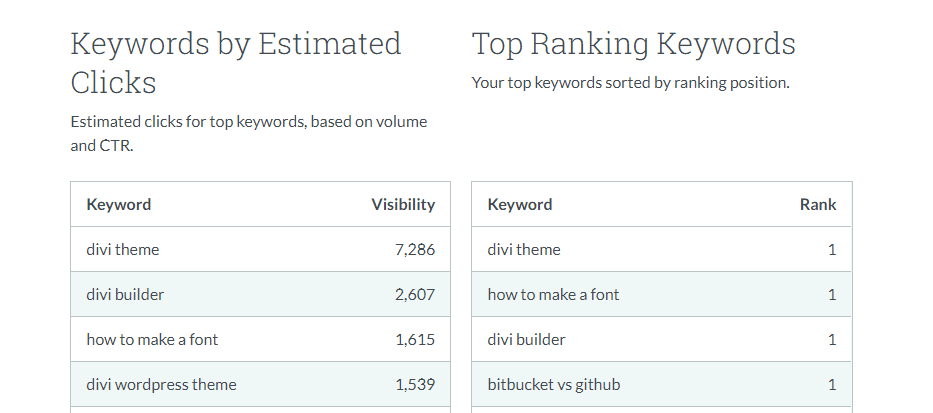 Beyond that, it also shows you an overview of your domain's branded keywords, your SERP ranking distribution, a list of who your top search competitors are, and even the most common questions that lead users to your website.
Moz's Keyword Explorer is a more comprehensive research tool that provides suggestions for terms to target based on search volume and relevancy. You can also use it to view metrics for your site that the Domain Analysis tool doesn't cover, such as Domain Authority (DA):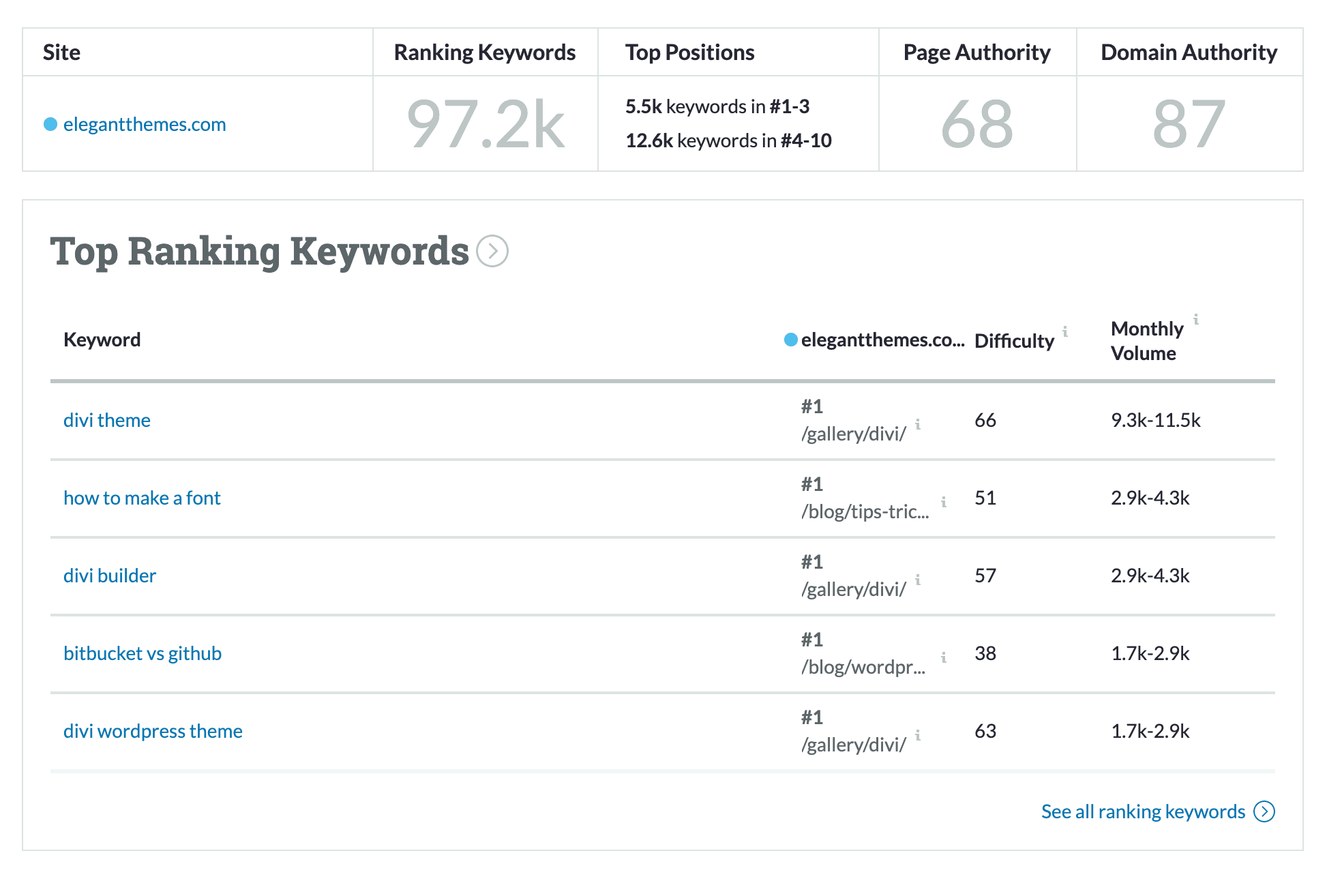 However, you only receive ten free Keyword Explorer queries per month. That's not enough to conduct a thorough analysis for most sites, especially if you have an active blog.
With Moz Pro, you can generate thousands of suggestions as well as their monthly search volumes, ranking difficulty, and organic click-through percentages. You can also take advantage of its new Keyword Lists feature to keep track of terms you want to use in the future. You can test it out with a 30-day free trial.
Key features for keyword research:
Find data for existing keywords and SERP ranking distribution.
Identify your top competitors.
View keyword suggestions, search volume, difficulty, and organic click-through percentage.
Price: Moz Pro plans start at $79 per month | More Information
3. SEMrush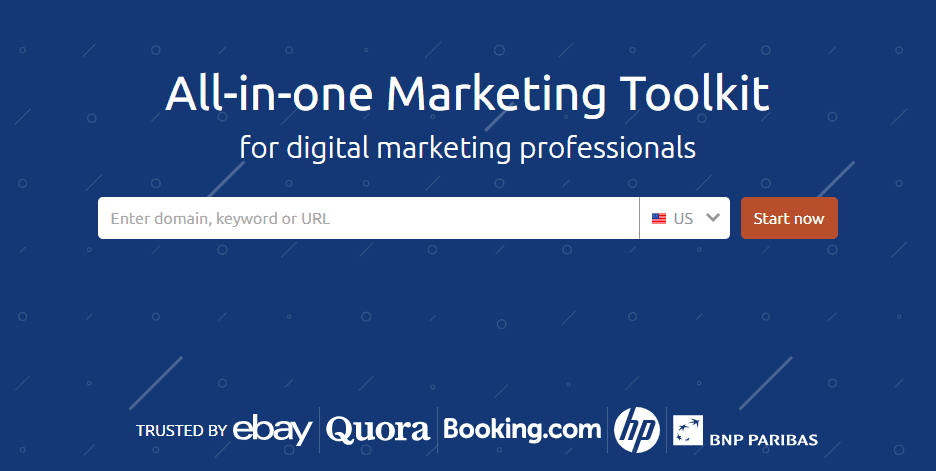 SEMrush also offers several free tools that give you access to most of its features. Its reports include search volume, keyword difficulty, CPC, and trend information:
It limits the number of domain and keyword reports you can generate to ten per day, but that's an improvement over Moz's ten per month. However, SEMrush also limits your keyword suggestions to ten results per search: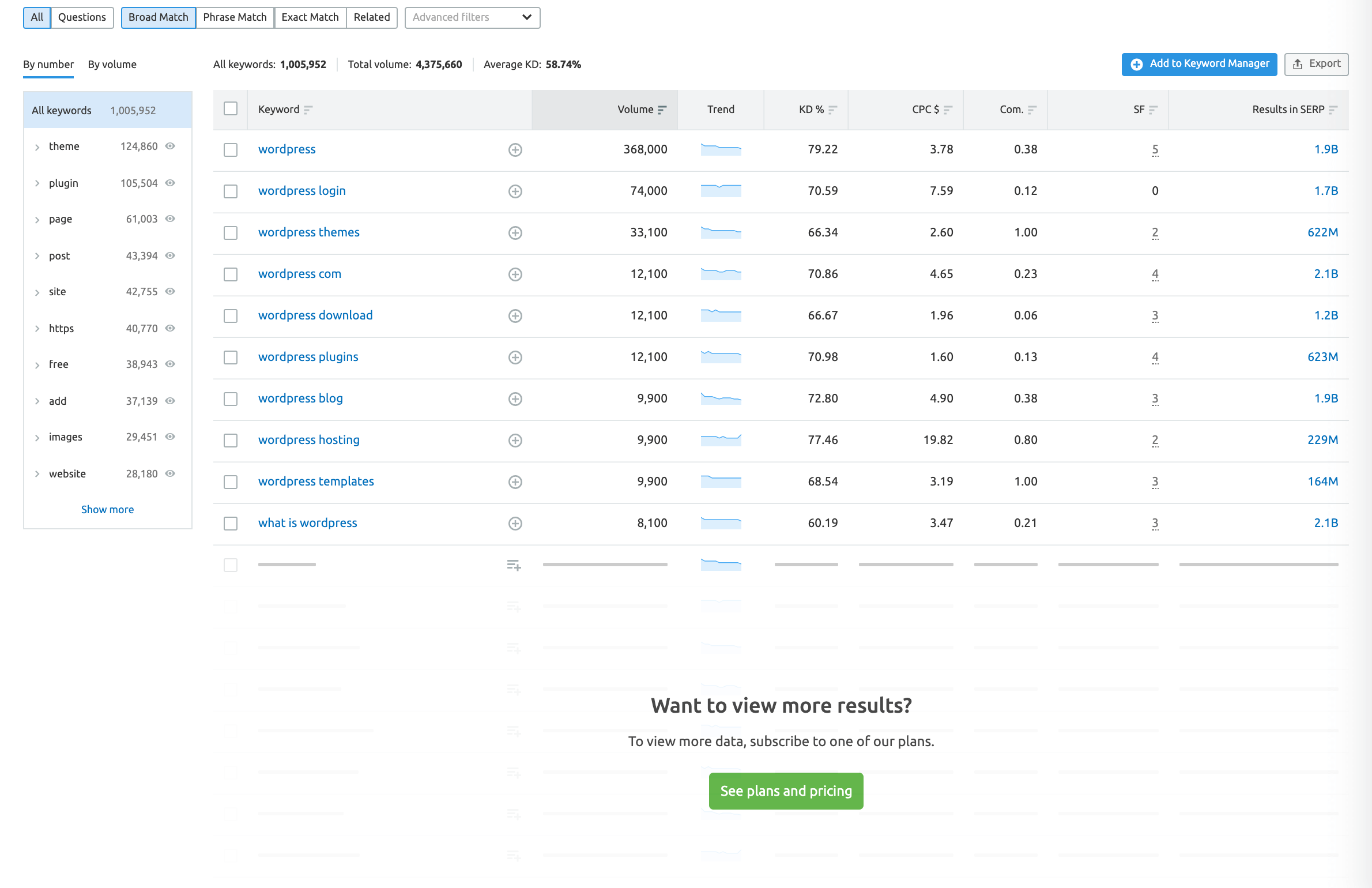 Beyond keyword research, SEMrush covers other key SEO information. When you generate a domain report, it returns a traffic overview, backlink information, your top keywords, competitor data, and more. It also includes a premium only Keyword Manager that's equivalent to Moz's Keyword Lists.
Although SEMrush's free features are somewhat limited, it's a great addition to any keyword research toolkit. Its domain reports, in particular, are fantastic. If you want to test drive the premium version to see if the additional suggestions are worth it, there's a seven-day free trial.
Key features for keyword research:
Obtain detailed domain reports including traffic, backlink, keyword, and competitor data.
Get keyword suggestions that include search volume, trends, difficulty, and CPC.
Generate up to ten reports per day for free.
Price: SEMrush plans start at $83.28 per month | More Information
4. Keyword Tool

Keyword Tool offers another mix between premium and free research features. You don't have to sign up for an account to start looking up keyword suggestions, which is nice. All it takes is entering an initial search term and narrowing down a region, as you can see in the screenshot above.
Once you run a search, Keyword Tool returns a list of suggestions and their search volume, trend data, CPC, and competition score. It sources its information from Google Autocomplete, which supplies it with unique terms not listed on most other platforms.
Here's the major downside, however – the free version of Keyword Tool only gives you that data for the first five results: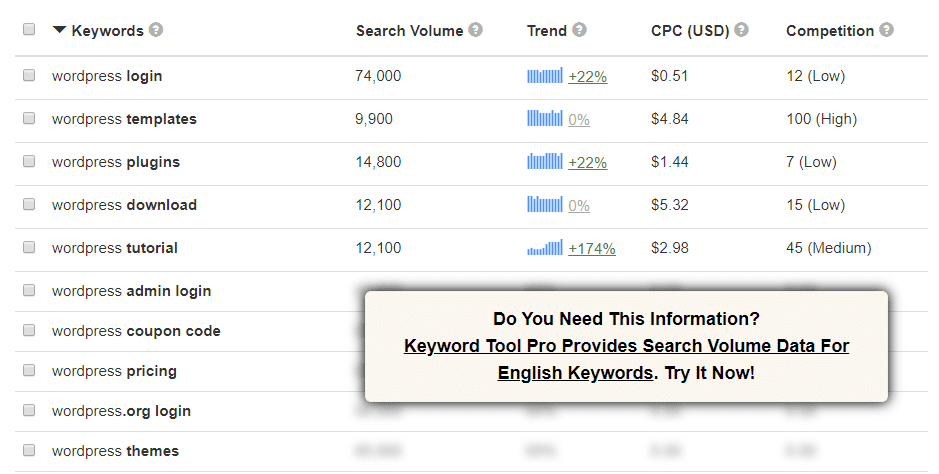 You can still see hundreds of keyword suggestions, but without specific data on them, it can be hard to analyze which ones are worth targeting. In a nutshell, Keyword Tool's free version is fantastic for brainstorming content ideas, but if you want precise metrics, you'll have to pay up.
There's not a free trial available for Keyword Tool Pro, but it does offer a 30-day money back guarantee. Subscription prices are quite a bit lower than the other platforms on this list if you go with an annual payment schedule.
However, keep in mind that you'll need to upgrade to a Plus plan for CPC data, and that Keyword Tool is much more specialized than Ahrefs, SEMrush, or Moz. You won't be able to conduct domain analyses or monitor backlinks.
Key features for keyword research:
Look up keyword suggestions with search volume, trend data, CPC, and competition score.
View unique search terms sourced from Google autocomplete.
Export keyword lists as CSV files.
Price: Keyword Tool Pro starts at $69 per month | More Information
5. Google Ads: Keyword Planner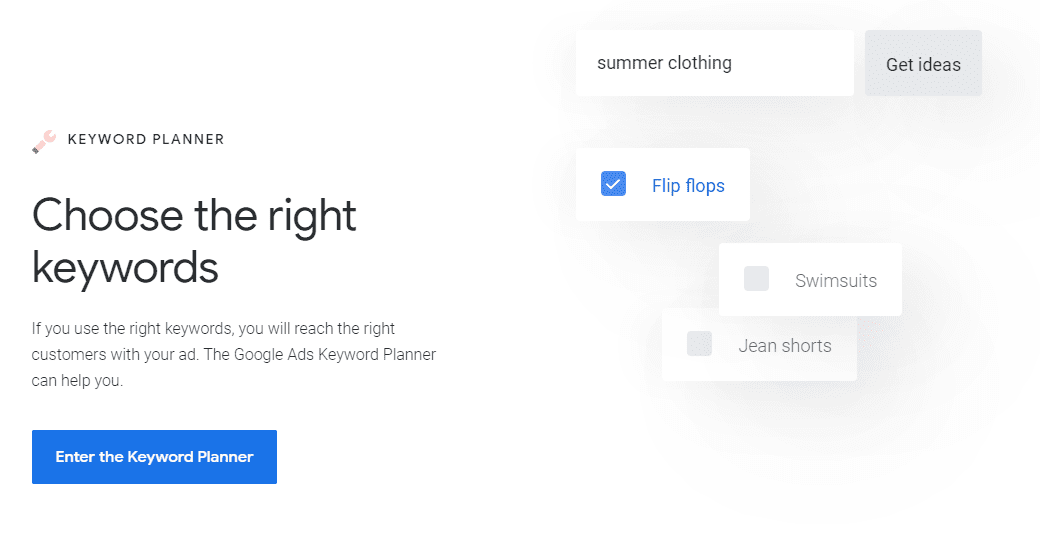 Keyword Planner is the king of free keyword research tools, so naturally, we saved it for last. You'll need a Google Ads account to use it, but you don't have to run an active campaign and can therefore work around the costs.
Once you're in, you can view keyword suggestions by entering an initial query and choosing which language and regions you want to target. With Keyword Planner, it's normal to receive hundreds of recommendations along with their average monthly searches, competition level, and CPC costs: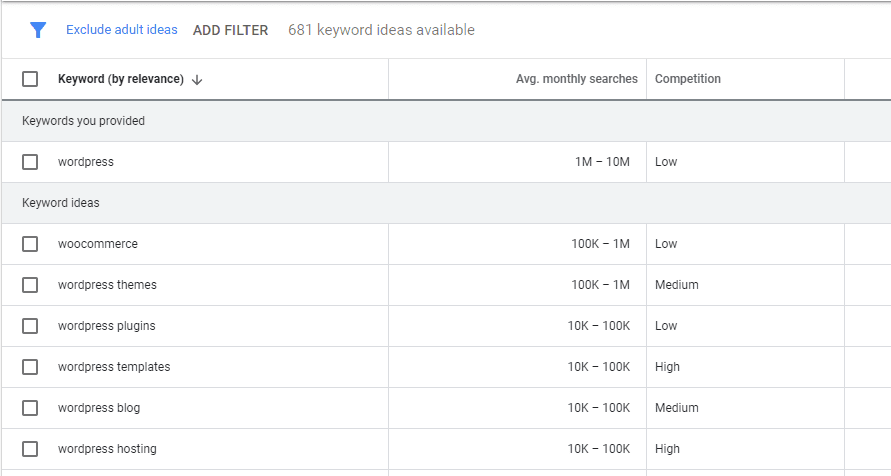 When it comes to keyword suggestions, it's hard to beat Keyword Planner for the sheer number of options it gives you. Other tools may include additional metrics – such as Ahrefs' RR data, or Moz's click-through rate percentages – but none beat Google's solution when it comes to volume.
However, it's important to note that Google Keyword Planner does not handle domain analysis, backlink monitoring, or any other advanced tasks. Consider your priorities when selecting a keyword research tool and remember that sometimes, you get what you pay for.
Key features for keyword research:
Look up keyword suggestions filtered by language and region.
View average monthly search and competition data, as well as CPC estimates.
Price: Free | More Information
Conclusion
When it comes to keyword research tools, you don't have to break the bank to find the data you need. Premium services often give you access to more information, but unless you're in an incredibly competitive niche, they may be unnecessary.
For the best results, we recommend using a combination of tools. Keyword Planner returns the highest volume of suggestions for search terms to target at no cost. Combine that with domain analysis from a premium platform such as SEMRush or Moz – which you can use in a limited fashion for free – and you should have all the data you need to climb up the SERPs.
Do you have any questions about how to use keyword research tools? Let's go over them in the comments section below!
Article thumbnail image by Jiw Ingka / shutterstock.com