Artificial intelligence (AI) is evolving quickly, and new AI tools and platforms are constantly appearing. In an era where clear, concise writing is highly coveted, AI writing tools are becoming increasingly crucial. One such impressive technology is Quillbot AI. Starting as a simple paraphrasing tool, Quillbot has become a robust AI writing assistant that symbolizes a significant stride in AI content optimization. This review thoroughly explores Quillbot AI, focusing on its key features, pricing structure, and strengths and weaknesses.
What is Quillbot AI?

Quillbot AI is a leading AI writing companion and paraphrasing software designed to help anyone elevate the quality of their writing. At its core, it functions as one of the best AI rewriter tools to edit, rephrase, and enhance content like a professional.
It presents various features, including grammar checking, plagiarism detection, and content summarization. As such, Quillbot AI delivers substantial benefits for academics, essayists, and writers. Creating high-quality professional content can be time-consuming, and Quillbot streamlines the process using AI to improve your writing quickly, offering real-time suggestions and one-click solutions. Plus, it is an all-in-one solution that replaces the need to invest in multiple tools, making it cost-effective.
The versatility of the software caters to a diverse audience. While students can utilize its various writing tools, professional writers can efficiently collaborate and summarize lengthy text. If you want to improve your writing process, whether writing an email, an essay, or a long-form blog article, you will find Quillbot AI to be a valuable addition to your writing toolkit. It can revolutionize your writing process to produce surprising results.
How Quillbot AI Works
You can access QuillBot by visiting their online platform on their website. You don't need to create an account; it is free to use with limitations. Once you are there, you will see the available tools in the left sidebar. Click any of the tools to launch the user interface for each.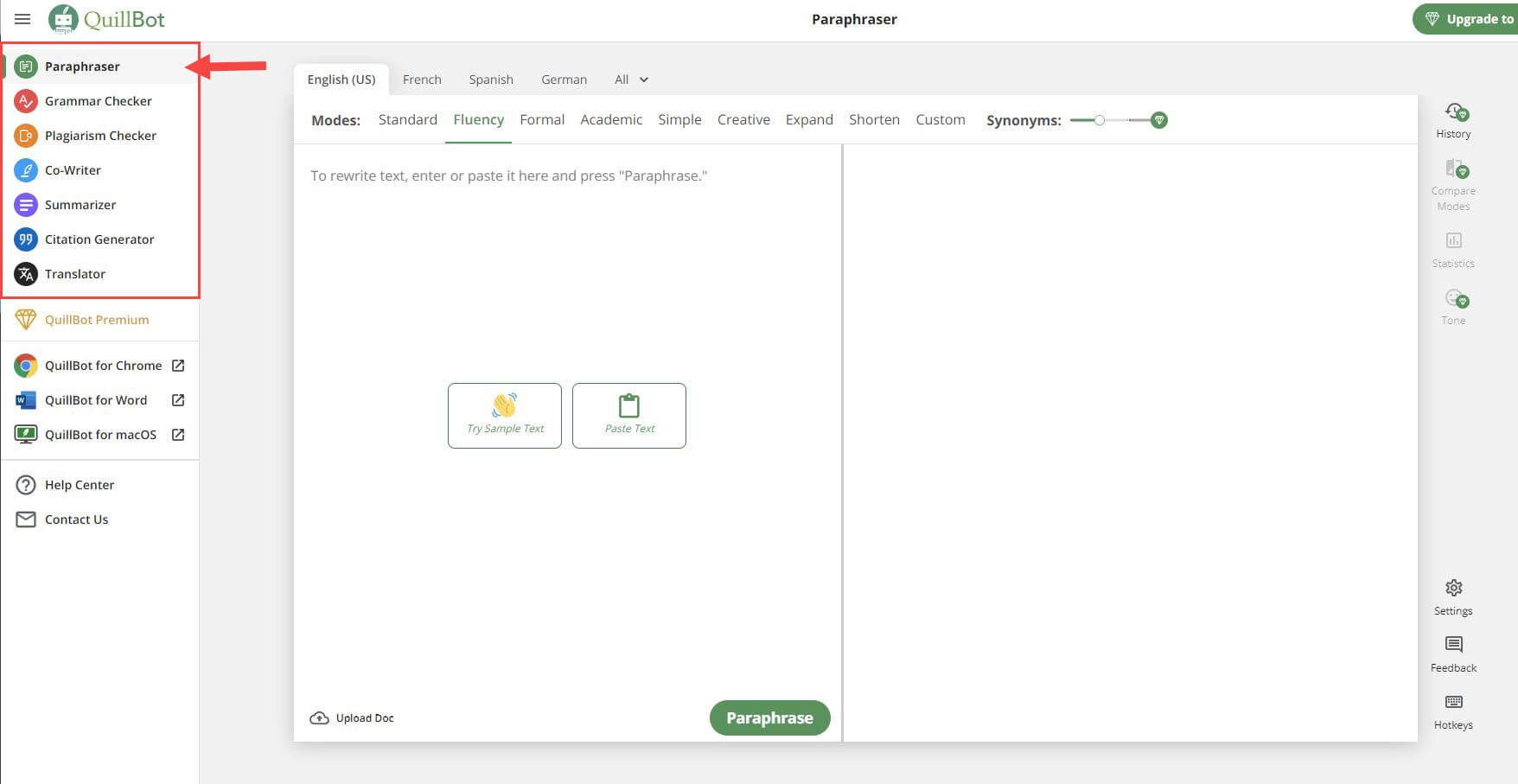 Each tool will have a consistent layout with different features that you can use to start refining your content. For example, when using the Grammar Checker, you can copy and paste your content into the user interface. QuillBot will readily analyze your text, pinpointing broken sentences and grammatical errors you can fix with a single click.
And the other other tools share the same easy-to-use interface and functionality. For instance, the Summarizer makes condensing long-form content or essays easy. Paste your text to generate a summary of key points. Additionally, it features a plagiarism checker, which helps identify and fix plagiarized content to ensure the originality of your content.
Quillbot's AI functions by learning from datasets. Comprehending grammar, spelling, punctuation, tone, sentence structure, and readability, these datasets serve as knowledge accumulations. So, when users regularly disregard a specific suggestion, the AI adjusts to present more contextually relevant alternatives.
Breaking Down Quillbot AI Features
Quillbot AI offers several features for easy and effective content organization. We'll delve into these features now.
1. The Paraphraser
Quillbot AI includes a paraphrasing tool. It empowers writers to rephrase text while preserving its central message. It's an ideal tool for students and aspiring authors, requiring no account signup. Options for 'Fewer Changes' or 'More Changes' are available, with premium users getting maximum adjustments.
Paraphrase Modes
QuillBot AI assists users in paraphrasing and refining text. It employs seven unique modes, each tailored to specific objectives, to enhance the quality and readability of written content. Whether striving for clarity, professionalism, creativity, or conciseness, QuillBot AI offers a mode to suit your needs.
Here is an example sentence I added to the paraphraser text input area:
"It was a tough match. After three hours of immense struggle, I was able to get the job done."
1. Standard Mode
Standard Mode serves as the default setting. It balances modifying the text for clarity and fluency while preserving the original meaning. The result is a refined text that maintains its natural flow and readability.
After clicking the Rephrase button, Quillbot swiftly provided a paraphrased output in Standard Mode. It merits noting that the level of paraphrasing hinges on the level of synonyms you set in the Synonyms bar at the right of the Modes bar above the content. The higher the level, the more liberty you give Quillbot to change the words of the original content.
The ensuing result was generated with a low Synonyms bar:
"It was a challenging game. I had to struggle for three hours before I was able to finish the task."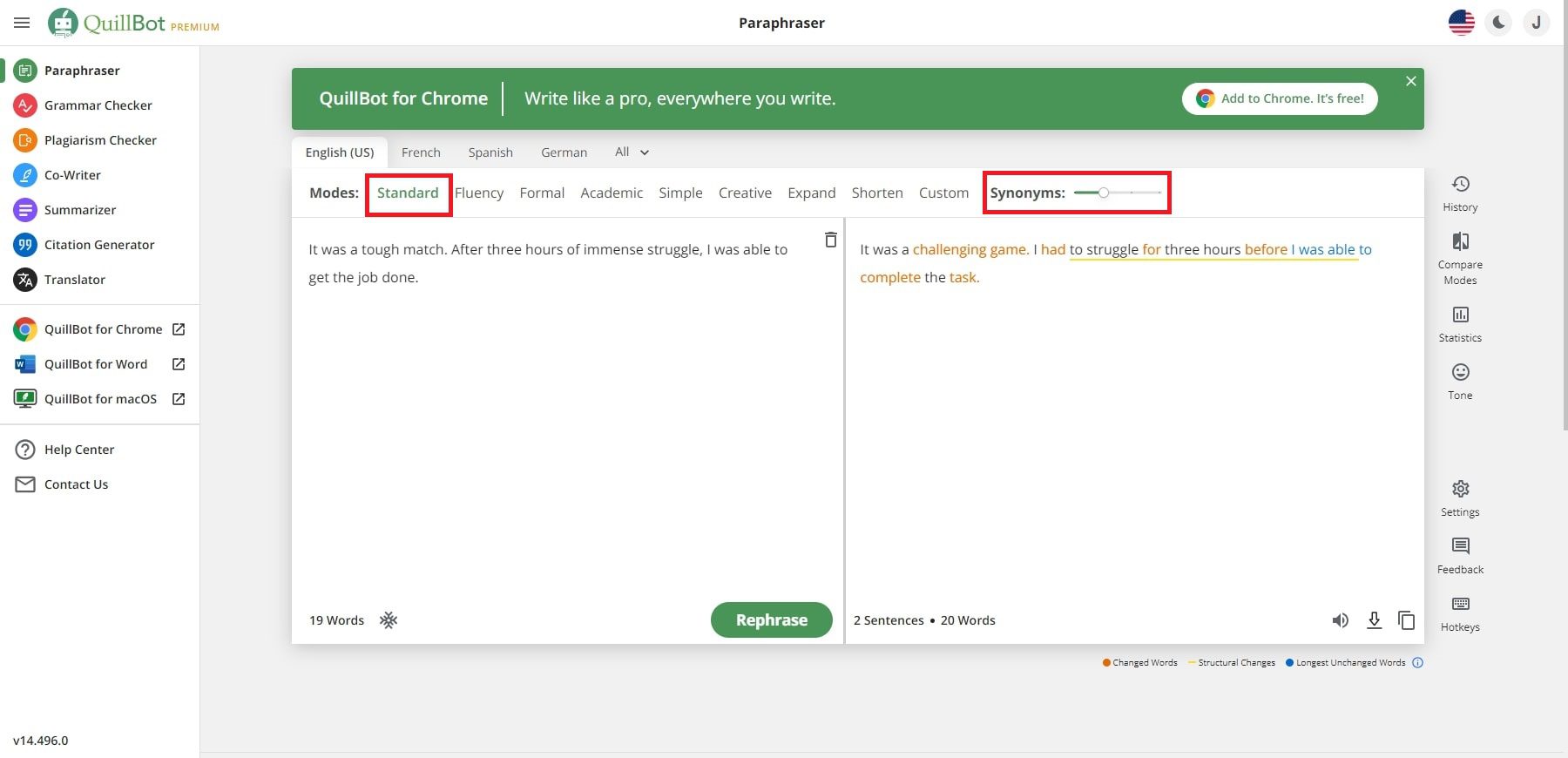 The following result was generated with a maximum level of Synonyms:
"It was a challenging game. I had to battle for three hours before I was able to finish the task."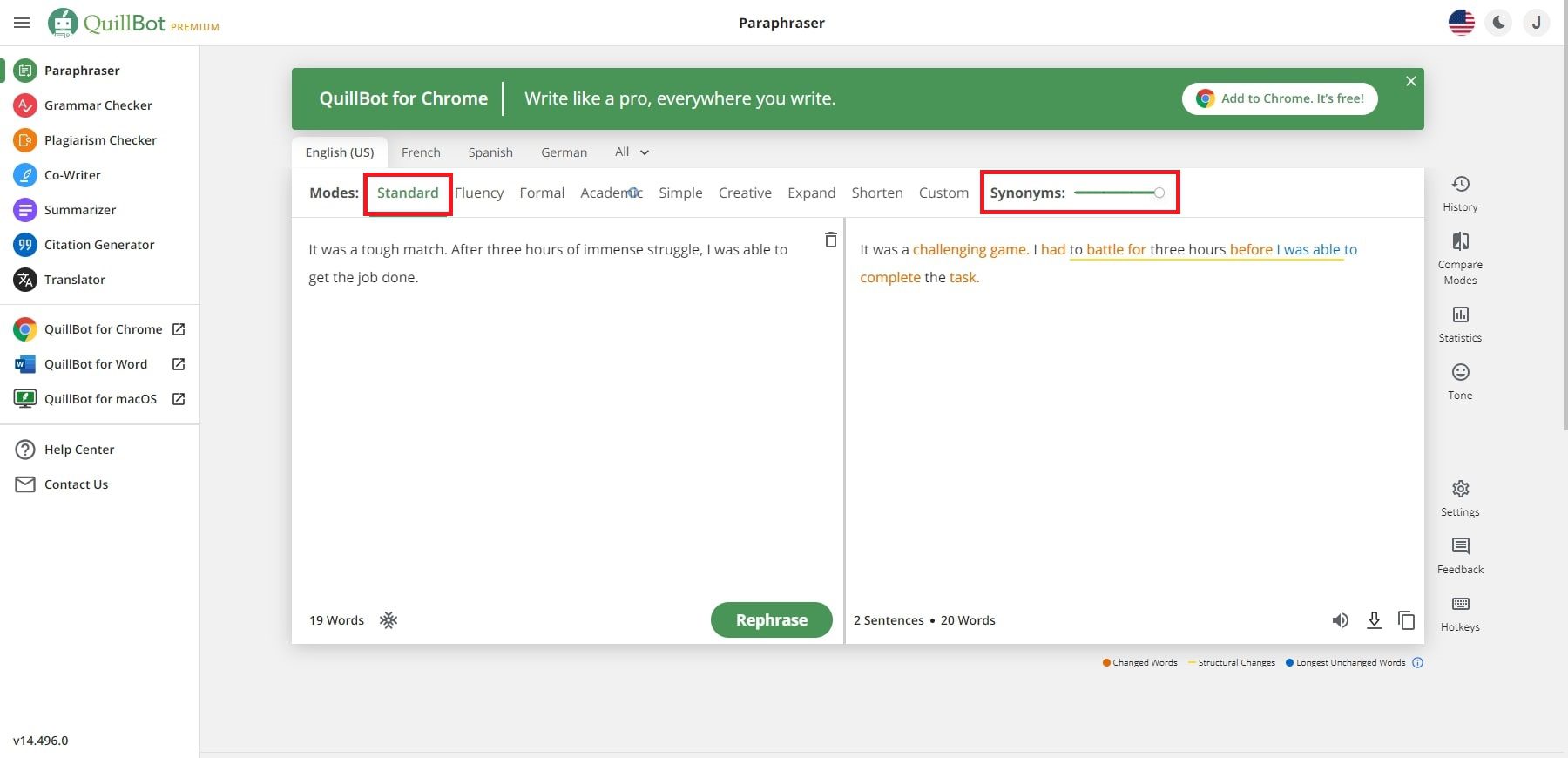 With just one sentence, you can see that only one word changed, but with larger blocks of content, you will see that Quillbot will make more word changes with a higher level of synonyms.
2. Fluency Mode
In Fluency Mode, QuillBot AI ensures that the text is grammatically sound and genuinely readable. It makes minimal changes, primarily correcting grammar and providing the text sounds natural. Synonym substitutions are kept to a minimum, preserving the original meaning.
We paraphrased the same content in Fluency mode. It generated the following output:
"It was a difficult match. I completed the task after three hours of intense effort."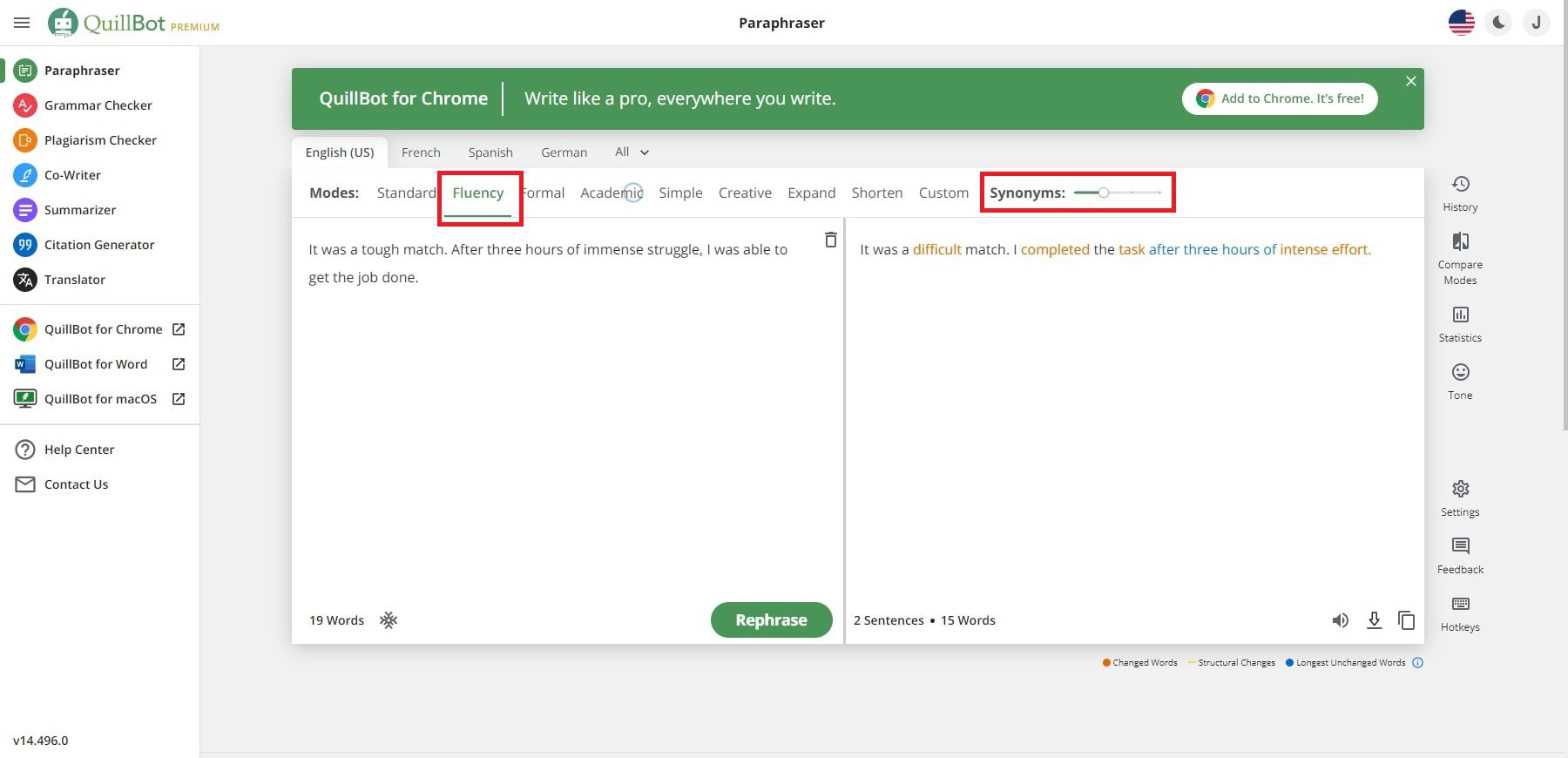 3. Formal Mode
Formal Mode is the ideal choice for those working in academic or professional contexts. It transforms the text to sound more polished and professional, making it suitable for business reports, academic papers, and formal documents.
We paraphrased the same content in Formal Mode. It generated the following output:
"It was a difficult match. After three hours of arduous effort, I was able to complete the task."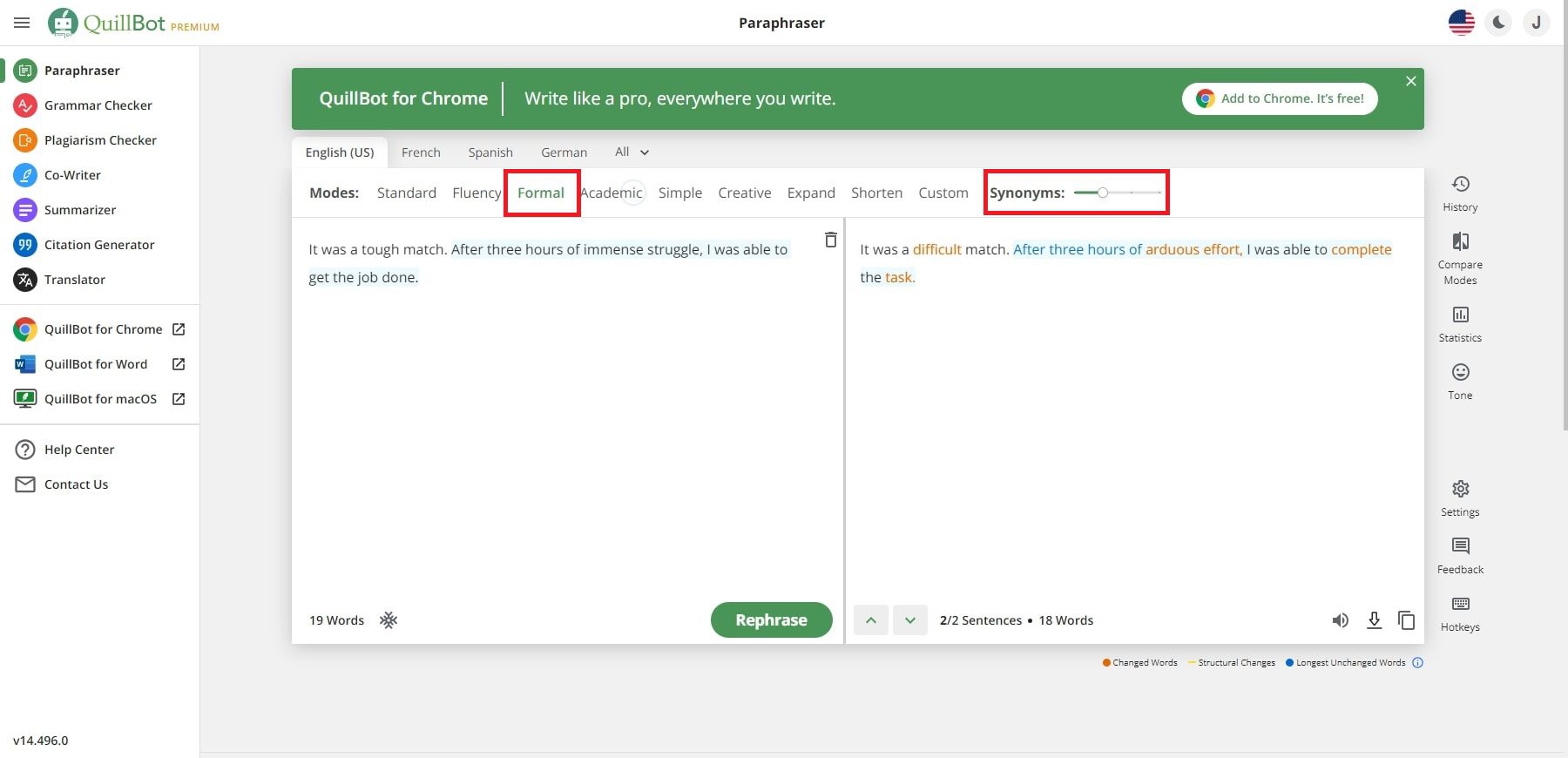 4. Academic Mode
Then, we paraphrased the same content in Academic Mode. Unlike the other modes, it doesn't have any Synonyms bar. Instead, it seemed to give the content more details and wording suitable for academia. It generated the following output:
"The contest was challenging. Following a prolonged period of three hours, characterized by significant exertion and effort, I successfully completed the task at hand."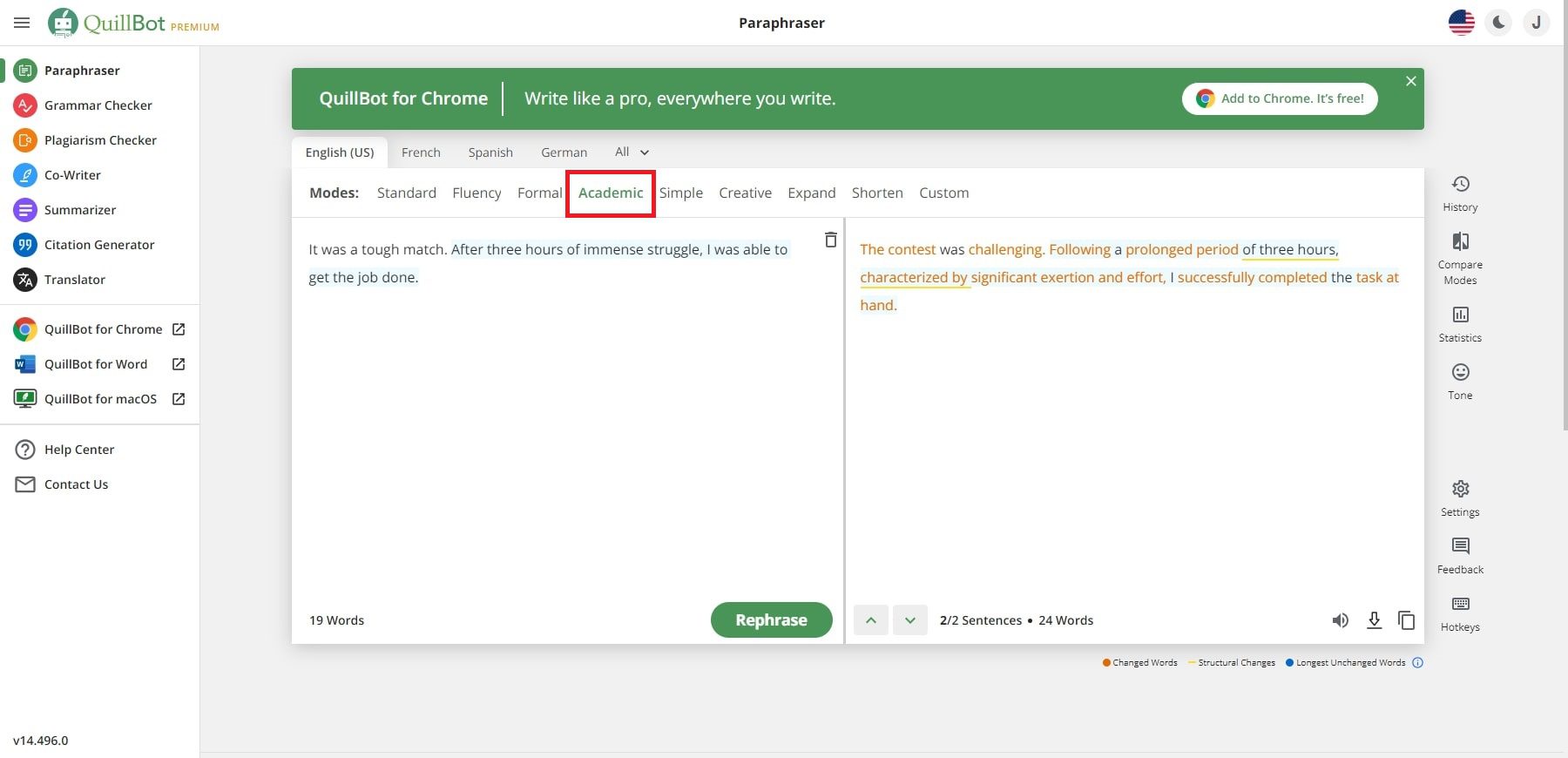 5. Simple Mode
Simple Mode simplifies the text, making it easier to understand and more accessible to a broader audience. It is an excellent choice when clarity and straightforward communication are essential.
We paraphrased the same content in Simple Mode. It generated the following output:
"It was a hard game. I was able to finish the job after three hours of hard work."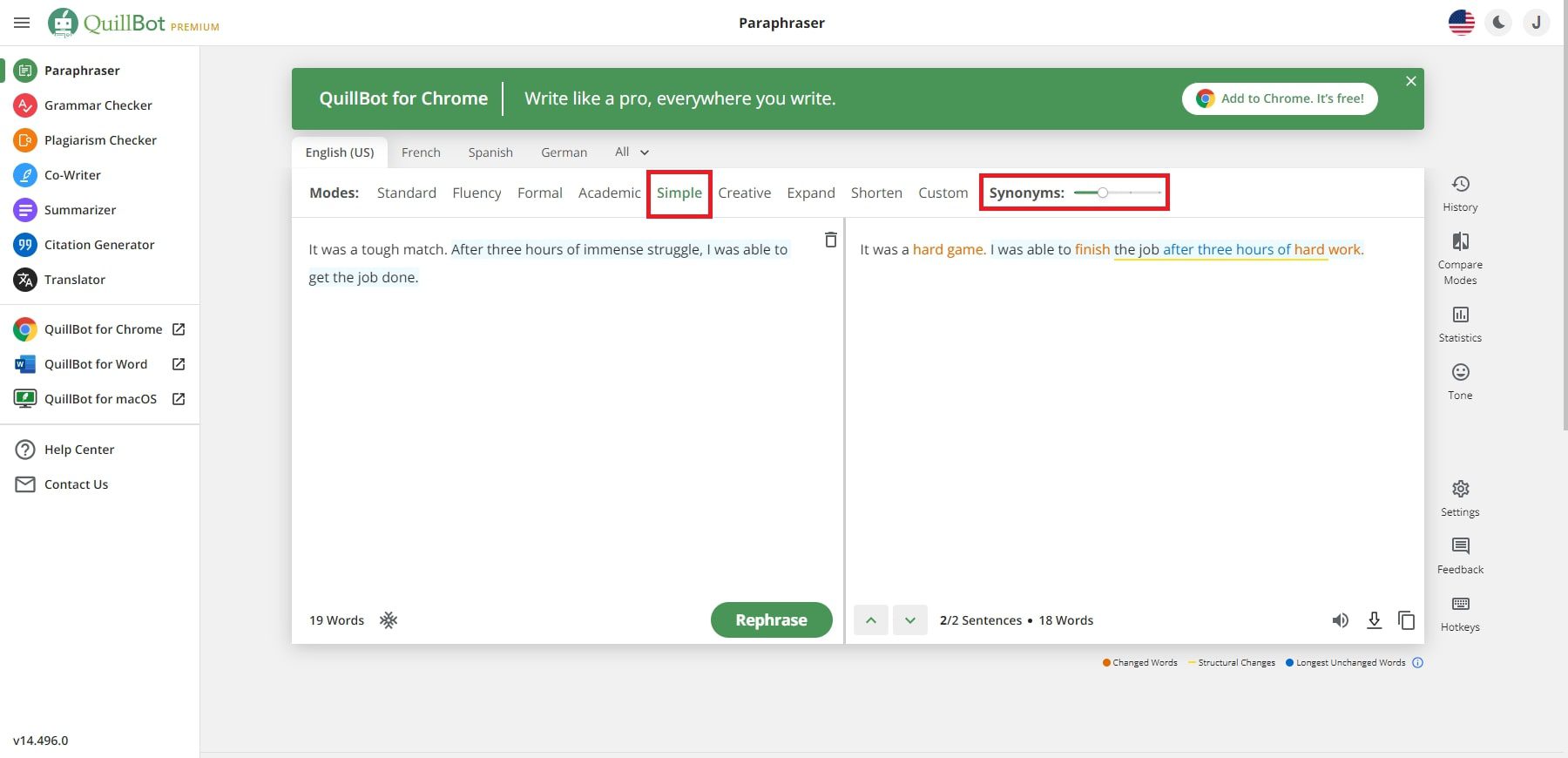 6. Creative Mode
Creative Mode is the way to go if you're looking to unleash your creativity and generate entirely unique content. This Mode substantially changes the text, potentially altering the original meaning. It's a valuable tool for content creators seeking a fresh spin on their writing.
We paraphrased the same content in Creative Mode. It generated the following output:
"That was one intense contest. It took me three hours of relentless effort, but I finally completed the task at hand."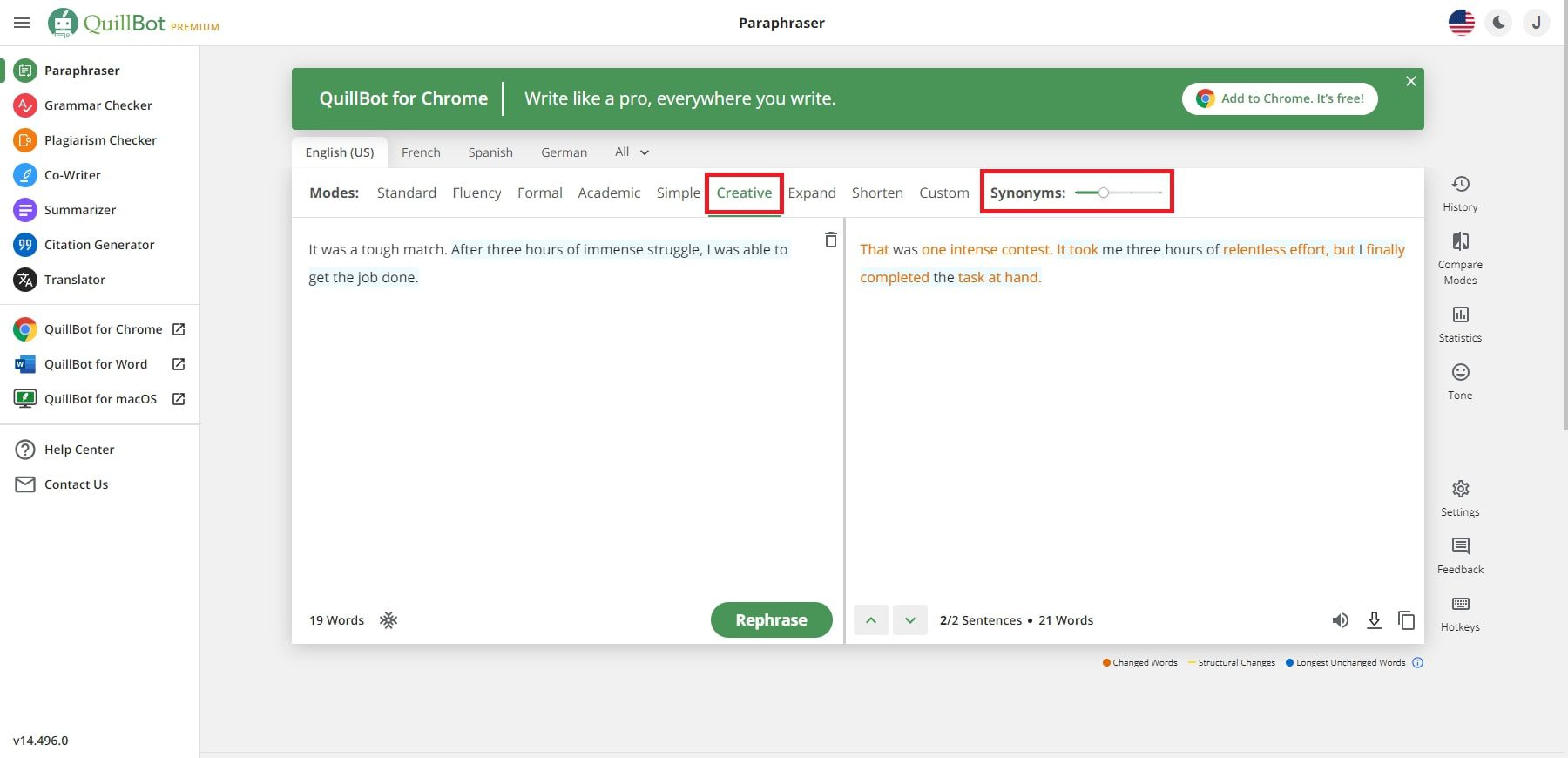 7. Expand Mode
Expand Mode is perfect for those aiming to increase the length of their text. It adds words and details while retaining the original meaning, making it valuable for projects requiring a higher word count.
We paraphrased the same content in Expand Mode. It generated the following output:
"It was a difficult match to watch. I had to put in a lot of effort for three hours before I was finally successful in completing the task."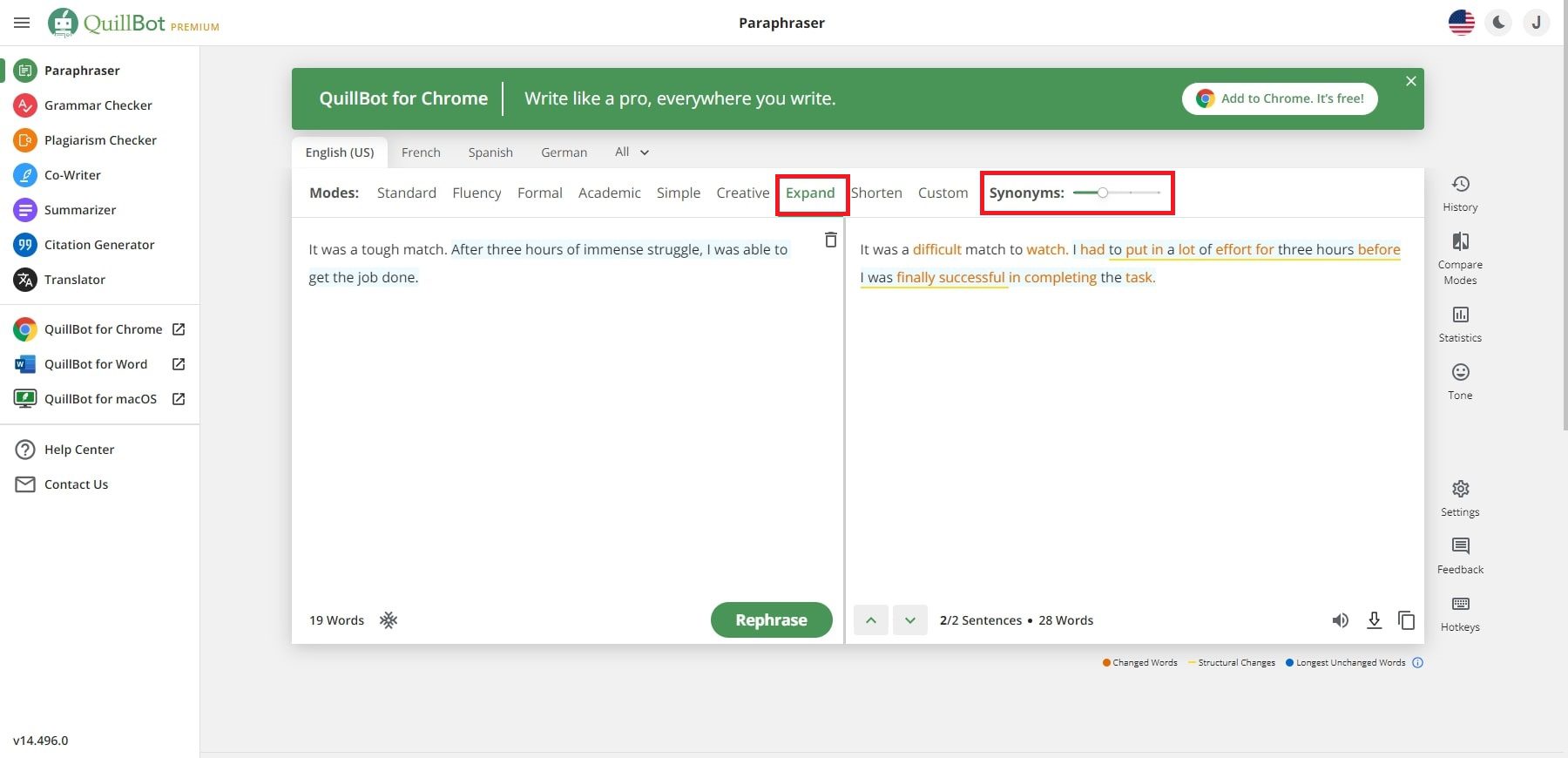 Then, we produced an output with a high level of Synonyms as follows:
"The contest was a challenging one. I was able to finish the work, despite the fact that it took me three hours of intense effort."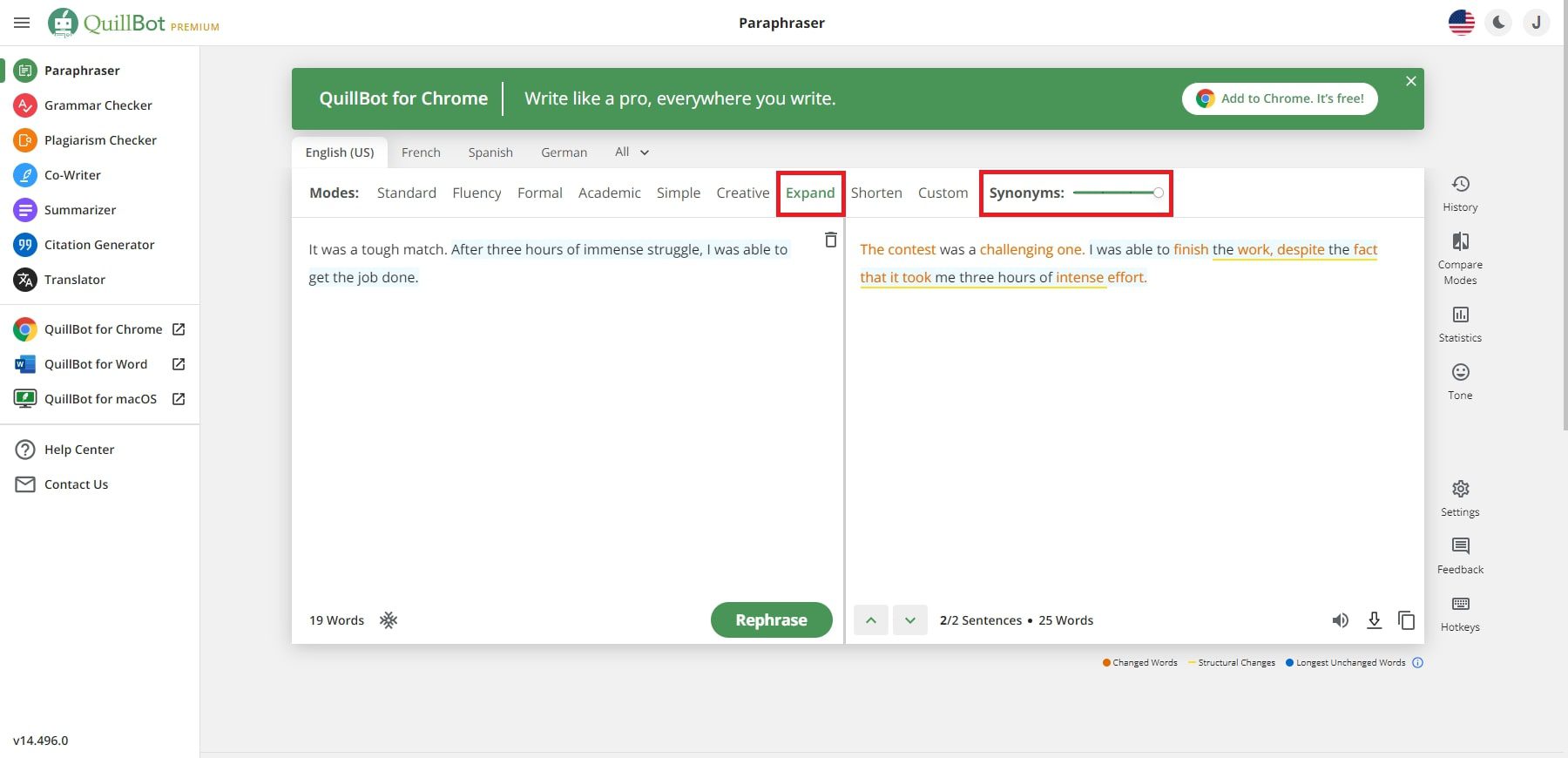 8. Shorten Mode
Shorten Mode comes to the rescue when you need to reduce the overall word count while maintaining the essence of your text. It trims unnecessary words and phrases, delivering a concise version of your content.
Lastly, we paraphrased the same content in Shorten Mode. It generated the following output:
"The match was hard. I finished after three hours of intense struggle."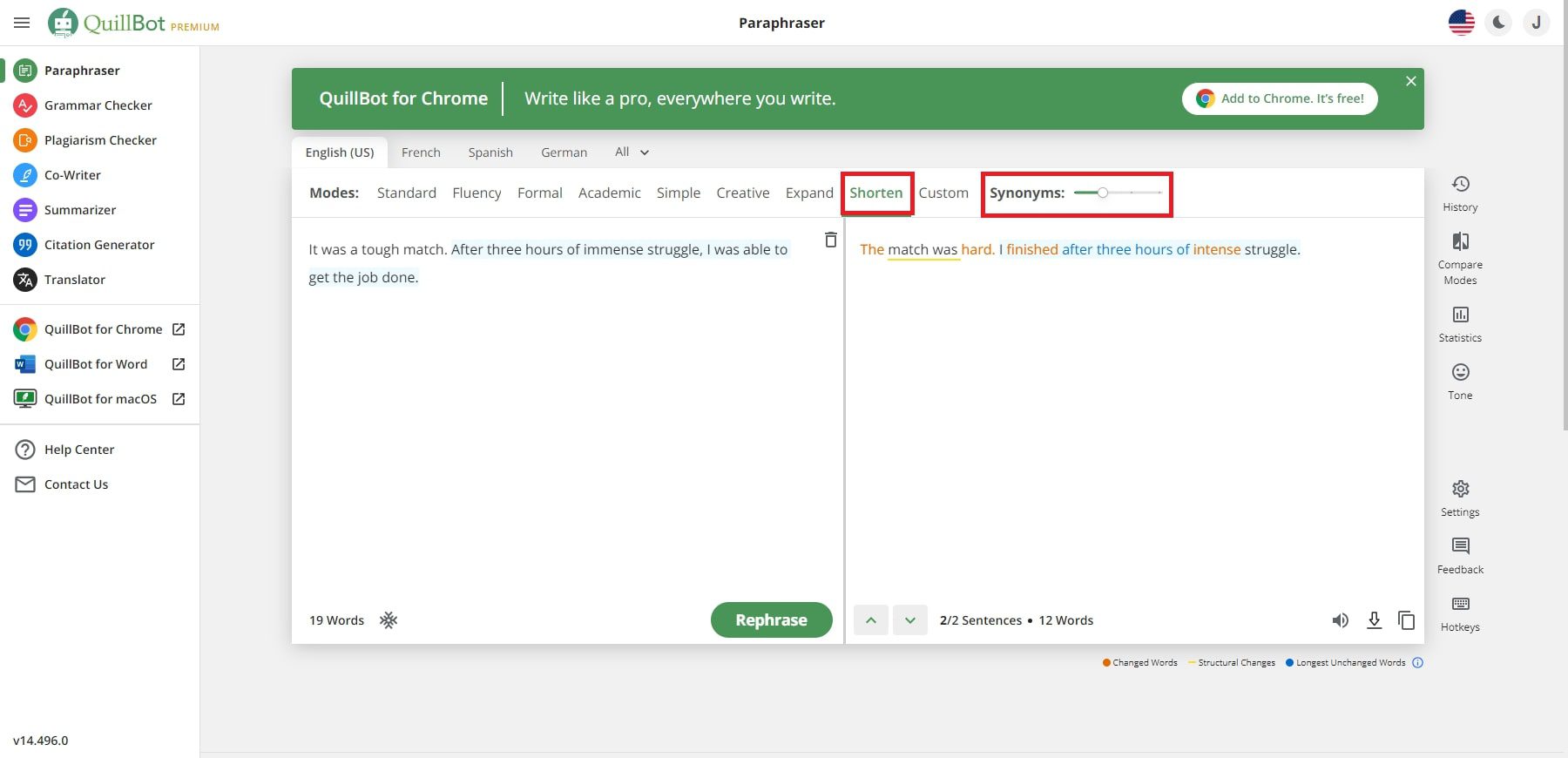 Paraphraser Statistics
The 'Statistics' feature offers insights into text complexity and readability. It aids writers in adjusting their style to the desired tone and audience. Premium subscribers unlock tonality analysis, which assesses reader perceptions to enhance persuasive writing.
I have used the same content as the previous one in the "Fluency" mode. It has generated the following statistics.
The Statistics of the generated content are based on the following aspects:
Average words in a sentence
Average Syllables in a word
Readability
Sentence Count
Word Count
Character Count
Percent Change
Longest Unchanged Words
Paraphraser Settings
The "Settings" feature in the Paraphraser tool provides options to control how you want your content to be paraphrased and how you want the results to be displayed on the interface. In terms of paraphrasing the content, you choose the following:
Paraphrase quotations
Use contractions
Prefer active voice
Under the Interface options, you can select the following:
Use yellow highlight
Show tooltips
Show legend
Show changed words
Show structural changes
Show the longest unchanged words
Overall, these settings do seem to give users more control and help them identify changes to their content much easier.
Paraphraser Compare Modes
Compare Modes is a valuable feature exclusively available to premium users, offering a comprehensive view of how a sentence is transformed across different modes within the platform. This feature enables users to evaluate and choose the most suitable rendition for their content by comparing various paraphrased versions. To access Compare Modes, locate and click on the dedicated icon in the settings bar on the right side of the page.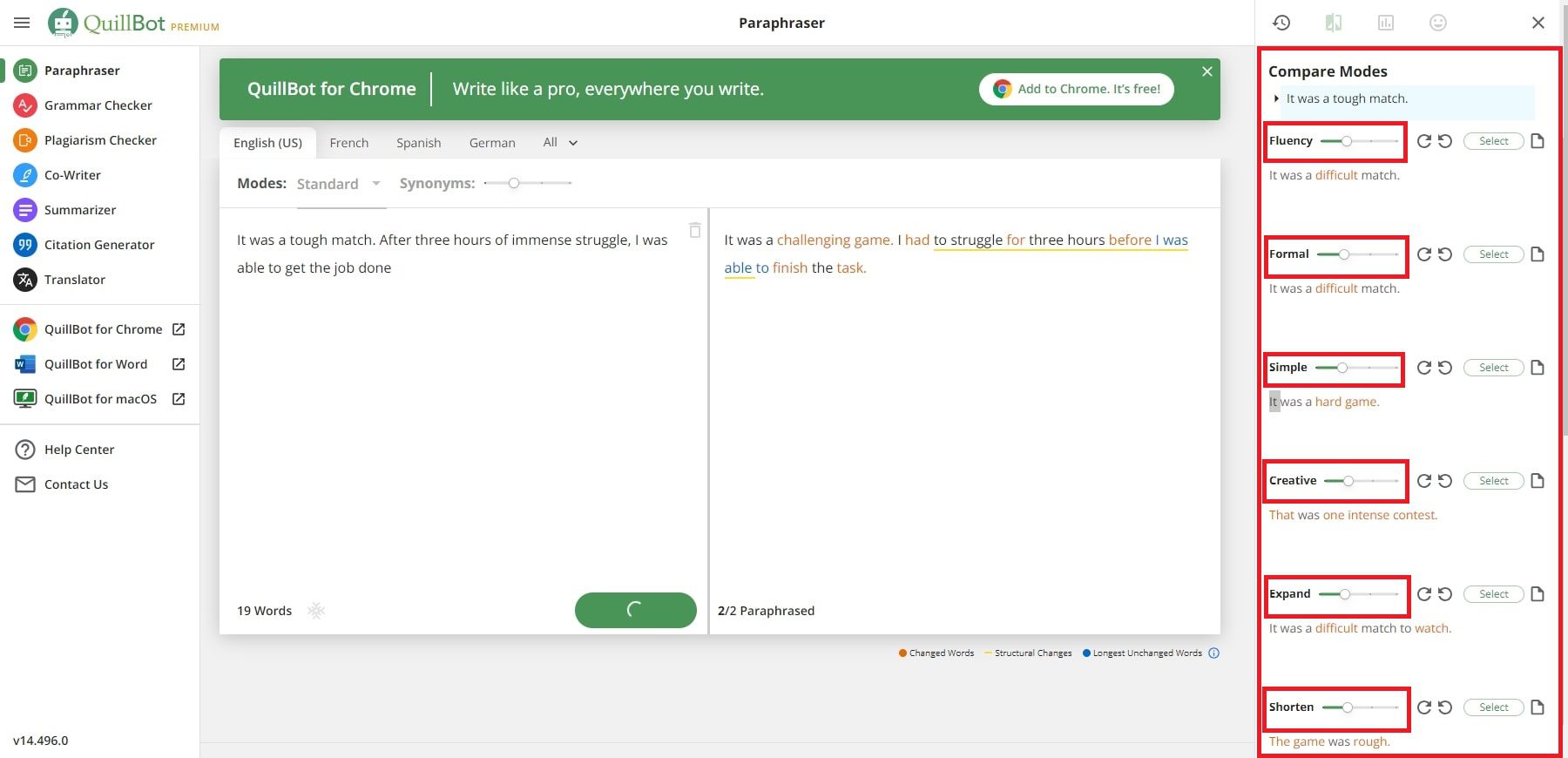 Once activated, Compare Modes opens a sidebar on the right-hand side of the screen, displaying the original sentence before paraphrasing and the results generated by all available modes simultaneously. The system defaults to the effect produced by the Mode in which the sentence was paraphrased. You can easily click the "Select" button next to the desired text to select your preferred sentence, seamlessly replacing the paraphrased sentence in your results. Additionally, you can further modify individual sentence results by clicking on circular arrow icons or making copies of them with a simple click on the copy icon. This powerful feature empowers users to fine-tune their content according to their specific needs and preferences, streamlining the content creation process.
Paraphraser History
By accessing the history feature, you can go through all the previous content you have modified. In my case, I checked my history, and it showed the last text paraphrased. It also shares the date and time when the content was modified.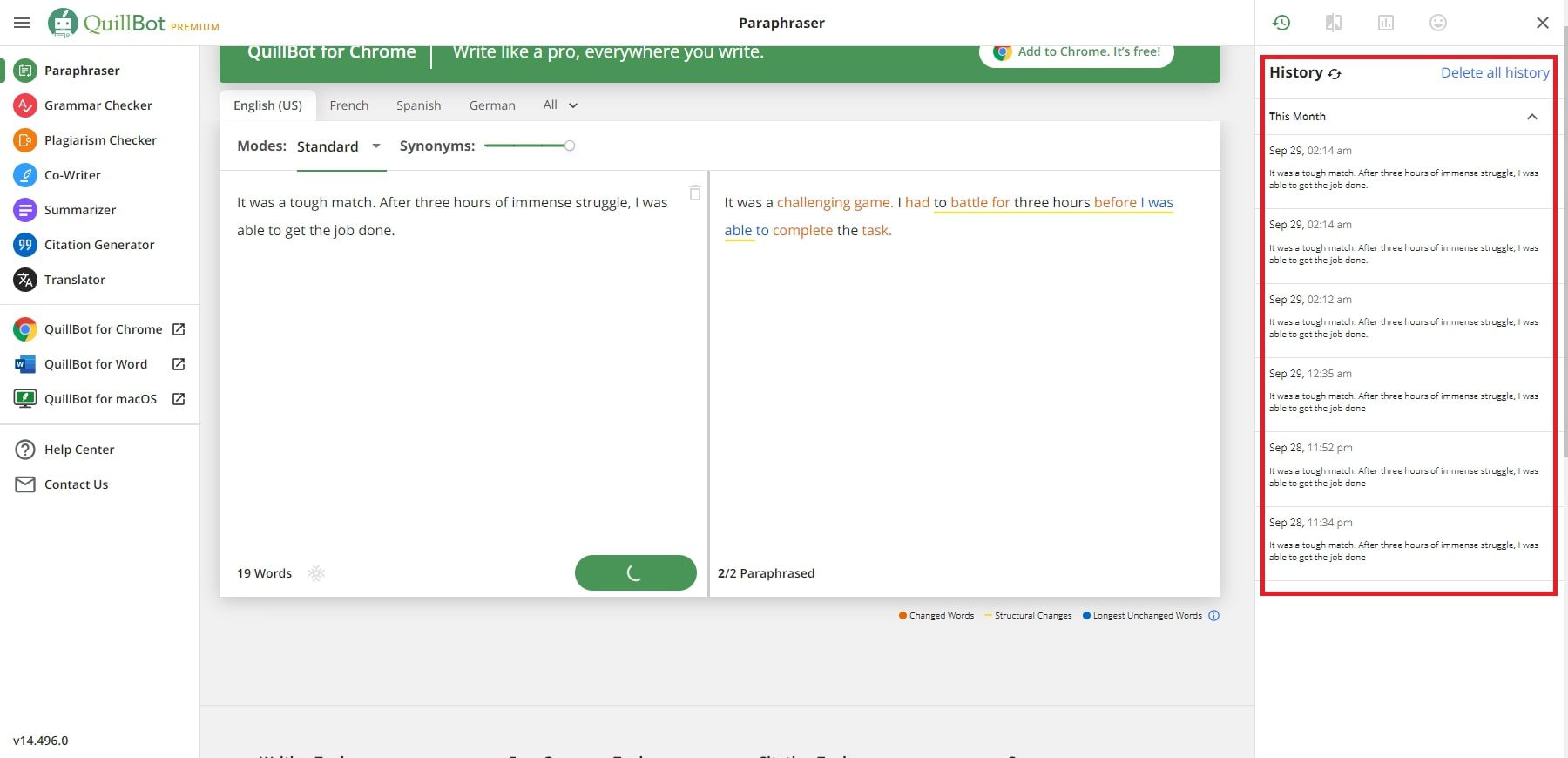 Tone
The "Tone" feature in Quillbot AI paraphraser allows users to control and tailor their paraphrased content's emotional and stylistic tone. With this feature, users can choose from various preset tones, such as casual, unfriendly, wordy, complex, and unclear. It ensures that the paraphrased text aligns perfectly with the desired style and intent. Whether you need your content to sound professional and academic or friendly and conversational, the Tone feature empowers you to achieve the right mood for your writing.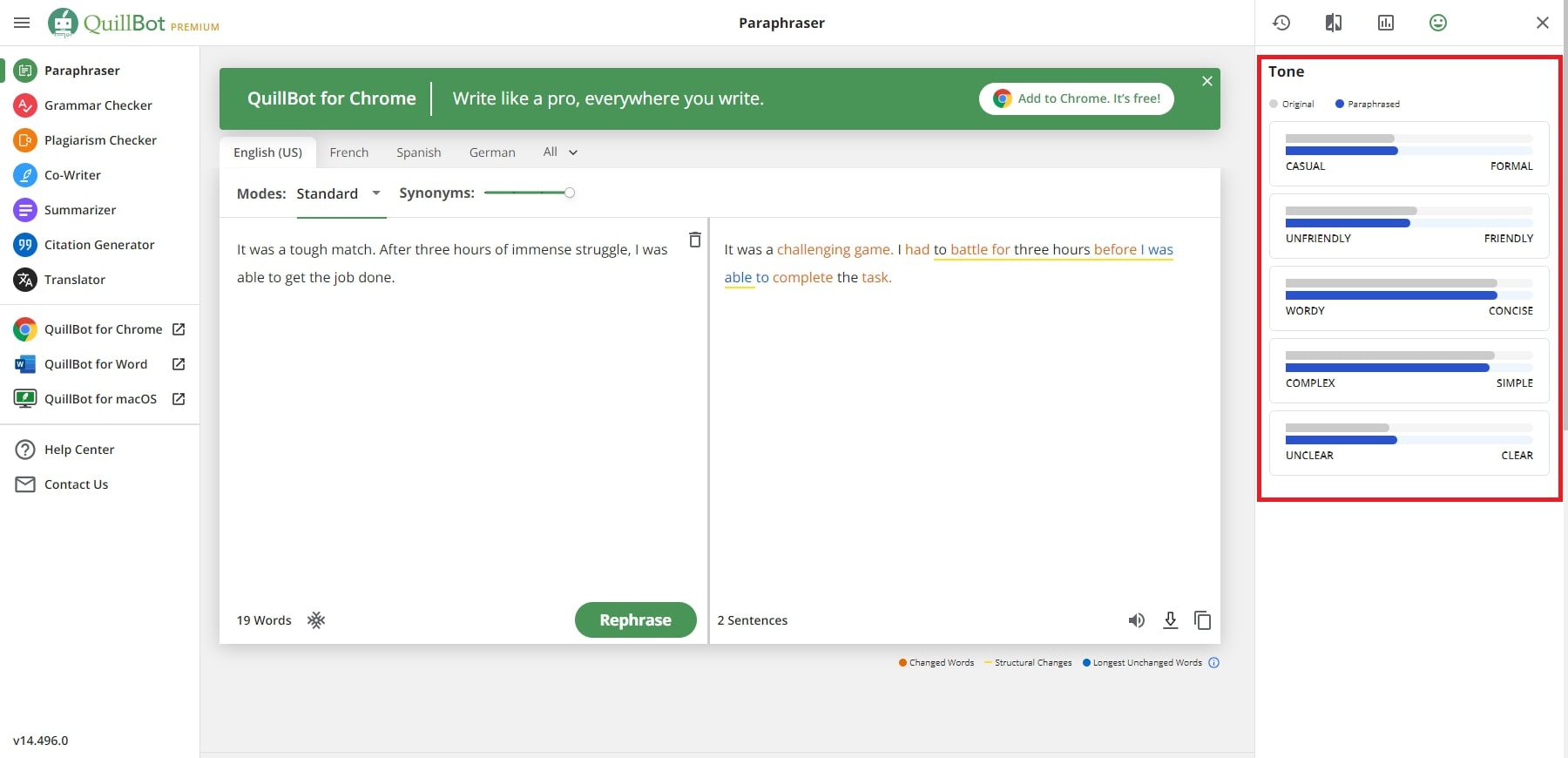 Paraphrasing for Different Languages
Quillbot AI supports 23 different languages for paraphrasing purposes. Not only does this make the tool more accessible, but it also comes in handy for making tweaks to the content generator by Quillbot's translator tool.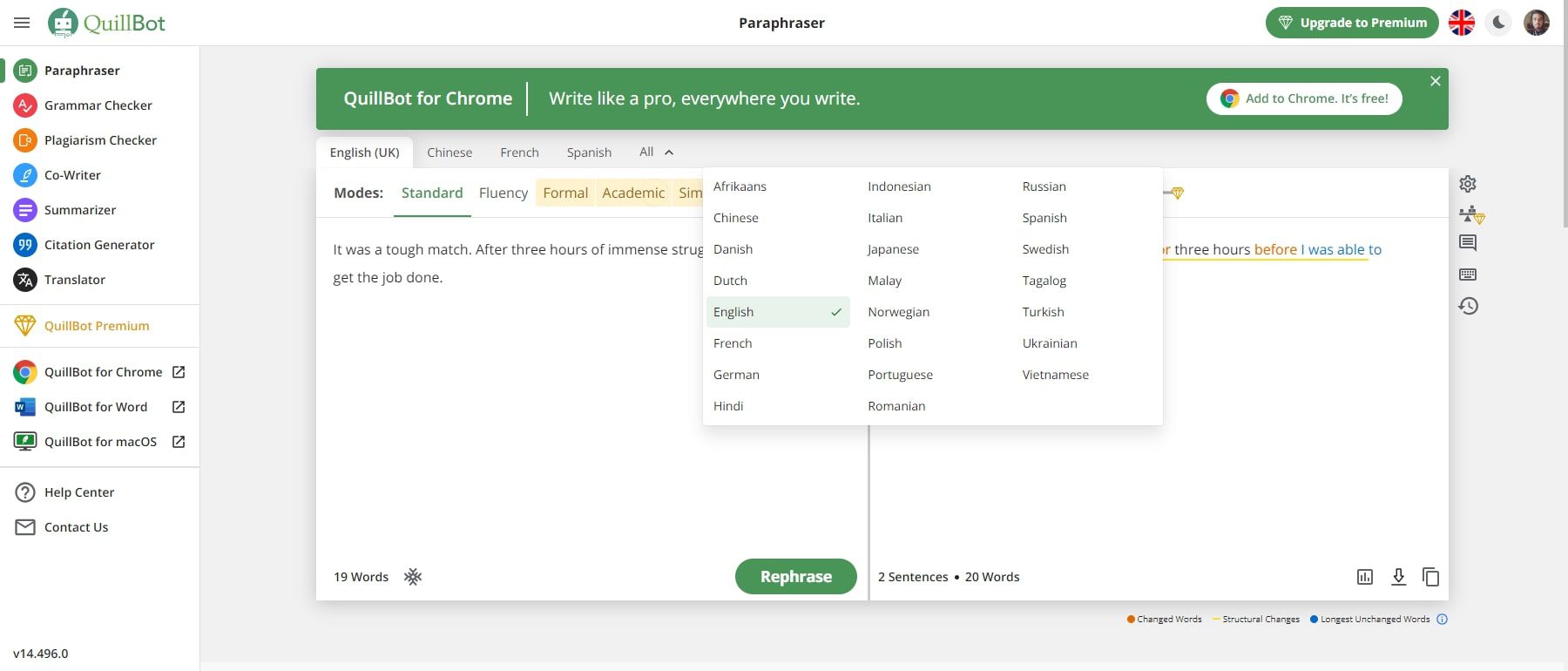 2. The Grammar Checker
Quillbot AI offers a user-friendly and free Grammar-checking feature that doesn't require signing up. When you paste your text into Quillbot's editor, it identifies and highlights grammatical errors, including punctuation and spelling. With a convenient Fix All Errors option, you can swiftly correct multiple issues simultaneously. This Grammar Checker enhances writing precision and consistency. It quickly pinpoints potential errors in red, simplifying the editing process. This real-time underlining and instant correction feature saves writers time and improves productivity.
For instance, here is an example sentence I added to the grammar checker text input area:
"Manchester United signed Sofyan Amrabat on a season-long loan move from Fiorentina. The Morocco midfielder has been desperate to join Erik ten Hag's team since getting linked to the Red Devils in June. However, Manchester United's plans differed on Deadline Day as they wanted to sign Fulham's Joao Palhinha instead."
After copy-pasting the text into the Grammar Check, it will detect all the potential errors within the content. By putting your cursor on the underlined words, it will show you the errors individually.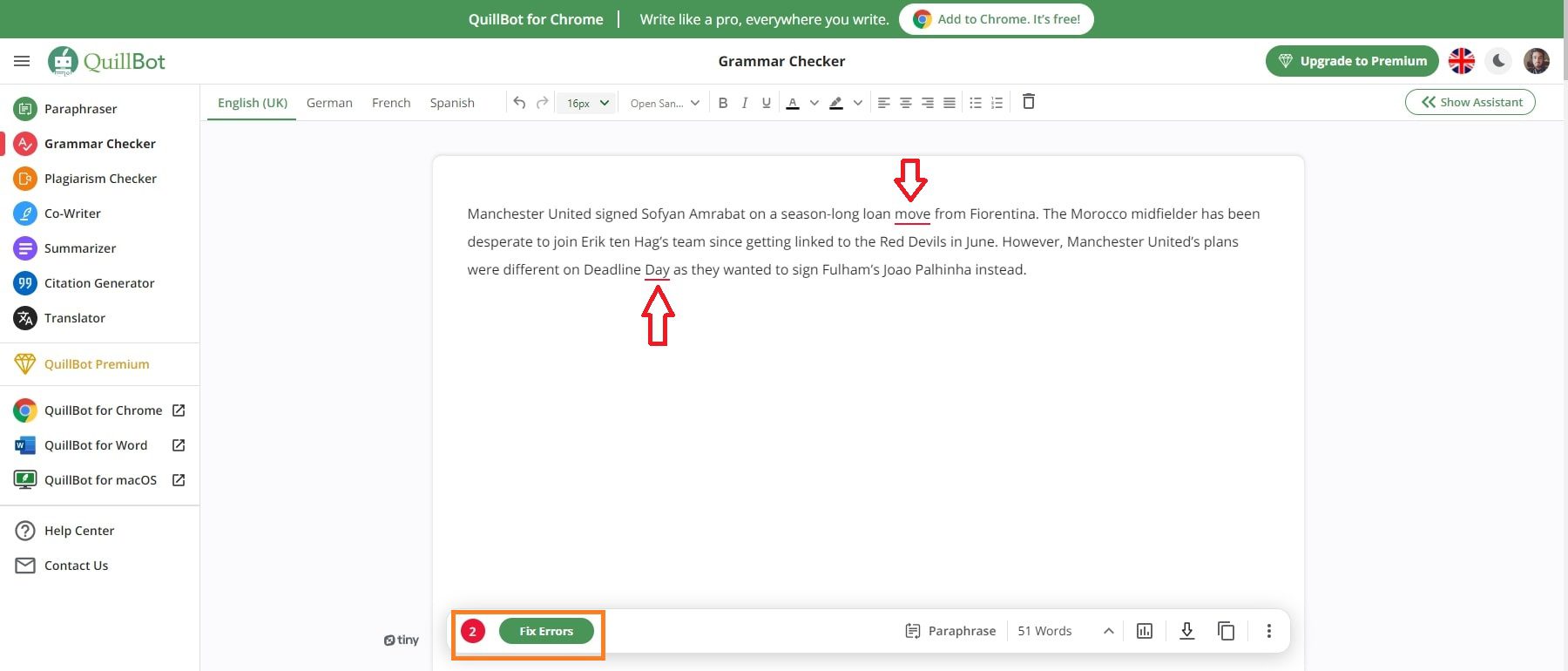 Once you remove all the errors, it will provide you with the correct grammatical content. It will generate the following content.
"Manchester United signed Sofyan Amrabat on a season-long loan deal from Fiorentina. The Morocco midfielder has been desperate to join Erik ten Hag's team since getting linked to the Red Devils in June. However, Manchester United's plans were different on Deadline Day, as they wanted to sign Fulham's Joao Palhinha instead."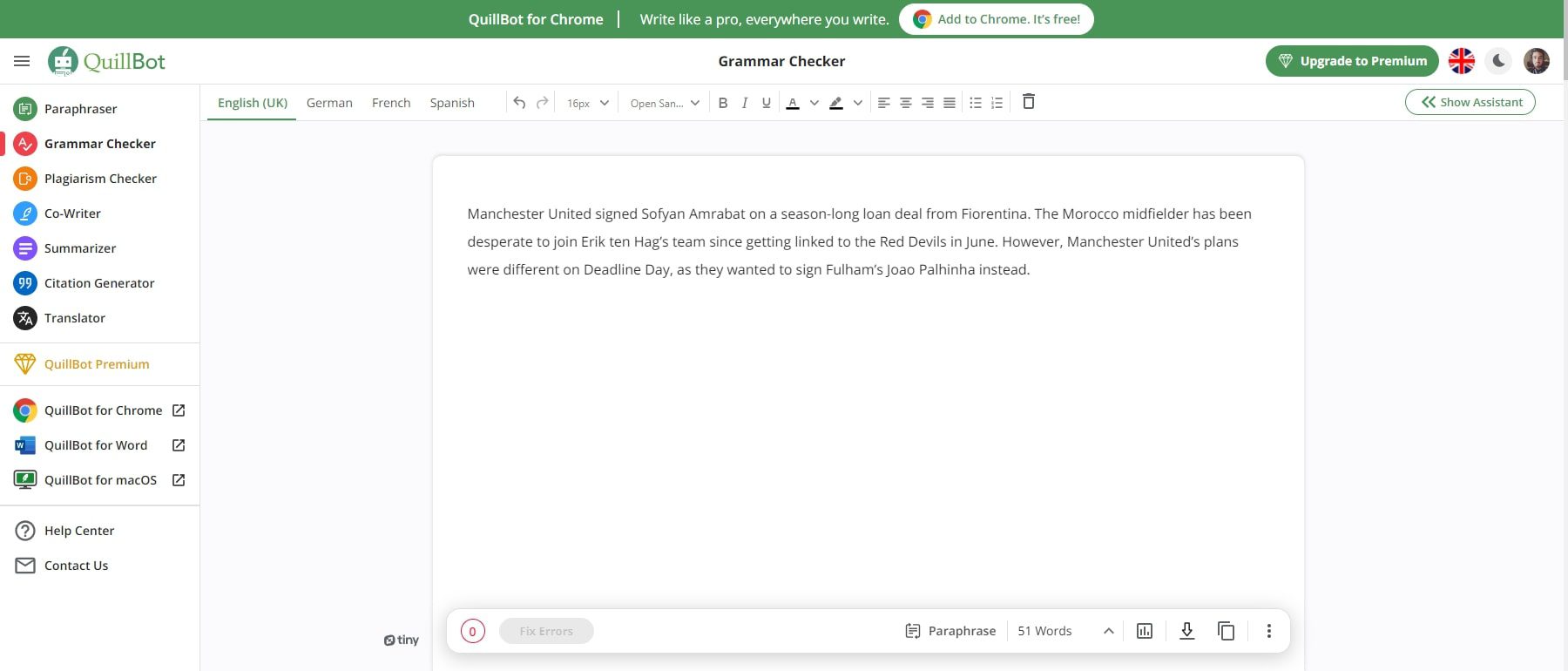 Furthermore, it seamlessly integrates with Quillbot's Paraphrase tool, offering a comprehensive writing experience without needing an account. Its grammar-checking feature is valuable for writers seeking error-free, professional content.
3. Summarizer
Quillbot AI provides a Summarizer tool that condenses lengthy texts or articles into concise summaries, making it invaluable for students, researchers, and professionals.
Users can choose between Short and Long summarization options to control the level of detail. The Short summarization offers a brief overview, ideal for quickly grasping the central ideas or skimming through multiple articles. In contrast, the Long outline provides a more comprehensive summary, suitable for in-depth analysis or a deeper understanding of the text.
Quillbot AI's Summarizer utilizes natural language processing to extract critical information while preserving the original context. It offers two summarization types: Key Sentences and Paragraph modes.
For instance, I added a block of content to the summarizer text input area. Using the Key Sentences feature, the tool has created five articulate points that summarize the content.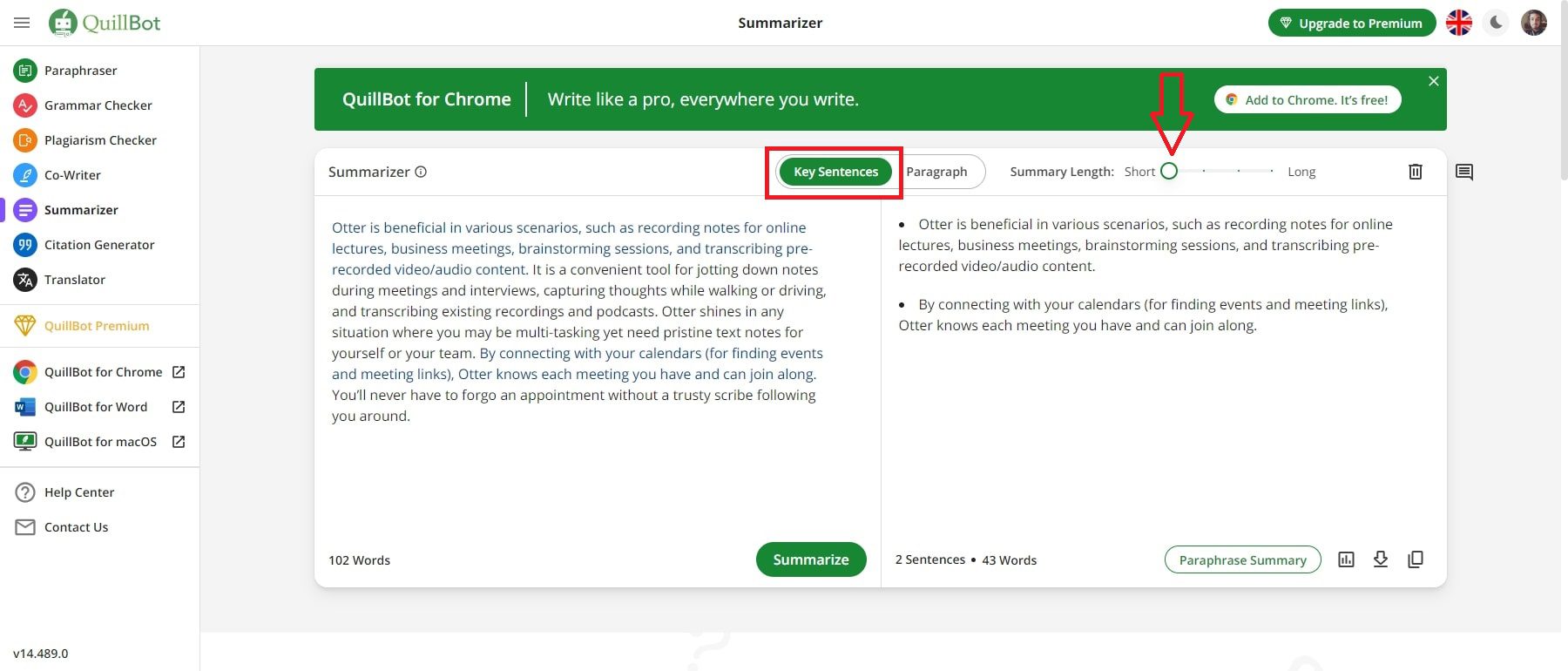 Changing the Summary Length can increase or decrease the depth of those points.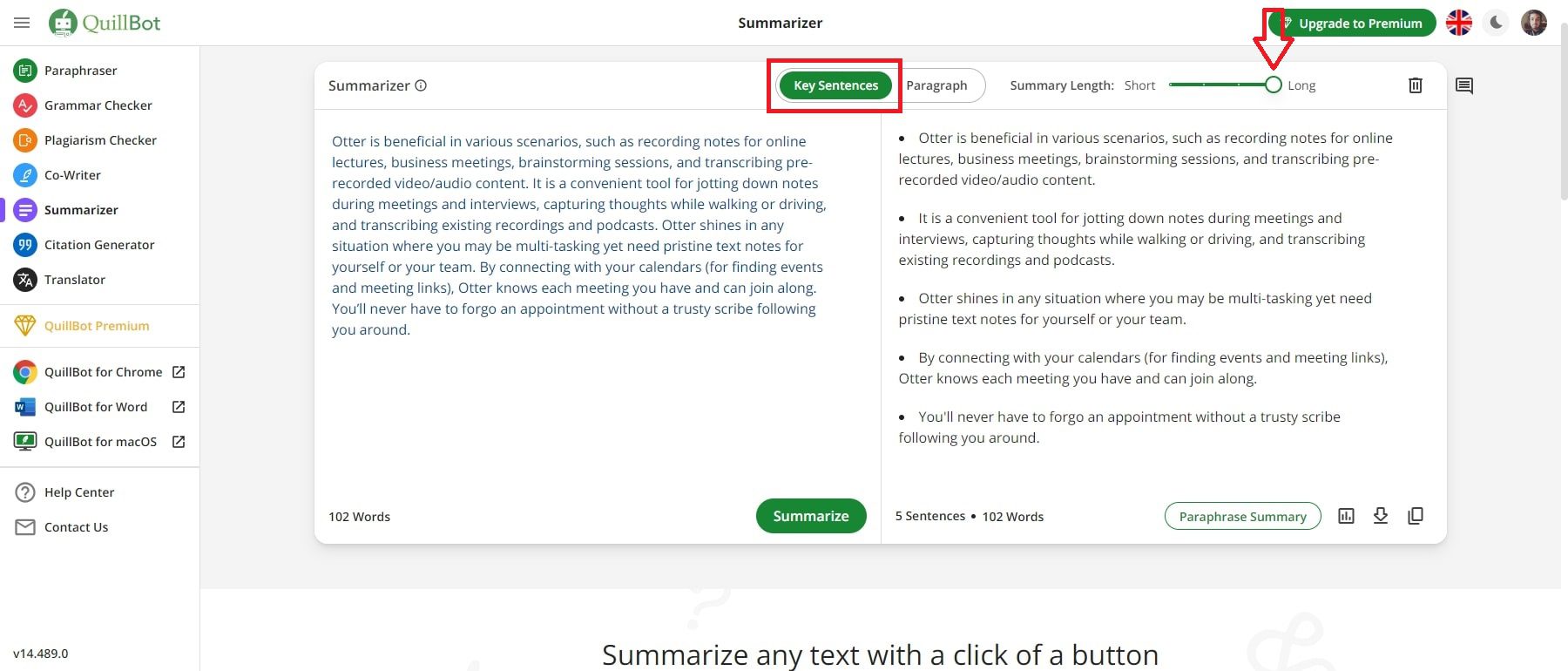 Selecting the Paragraph mode will provide a summary of the content in paragraph form.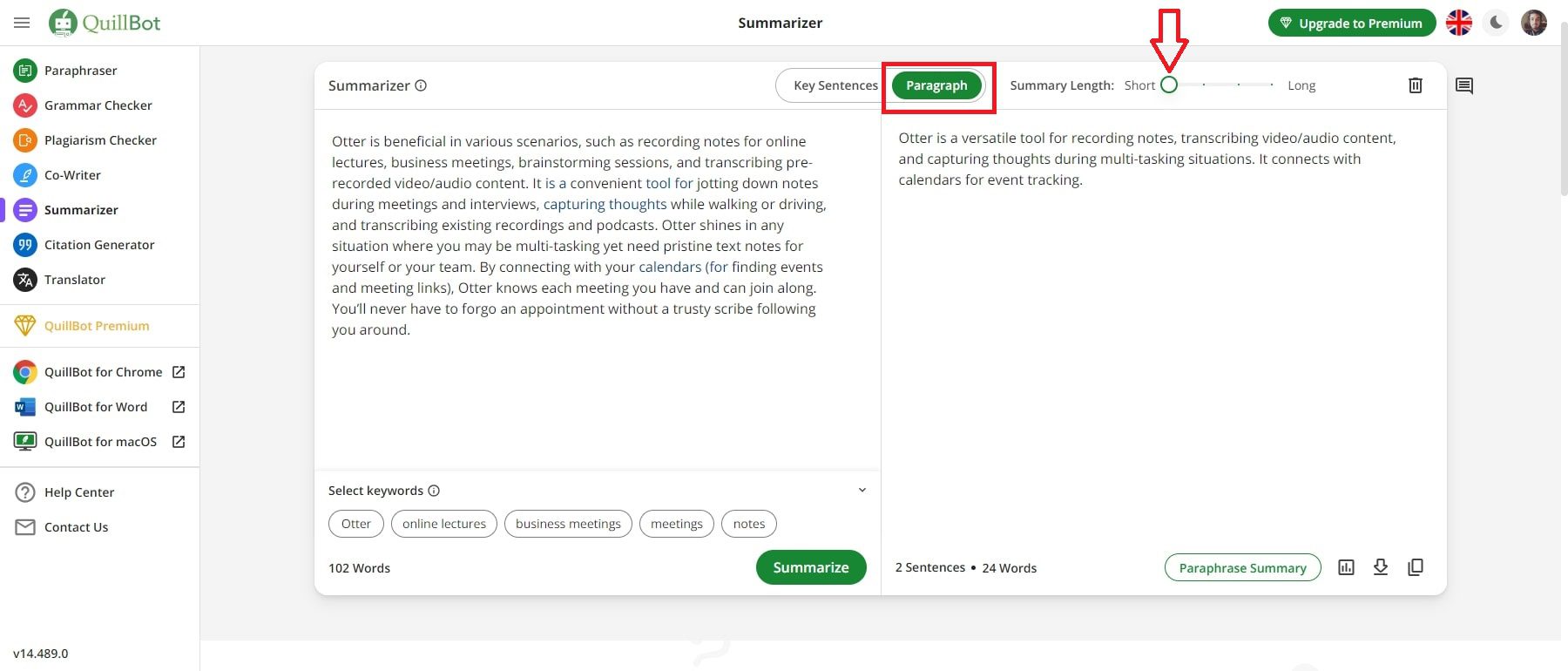 Like the Key Sentences mode, the length of the summary can be changed by adjusting the Summary Length.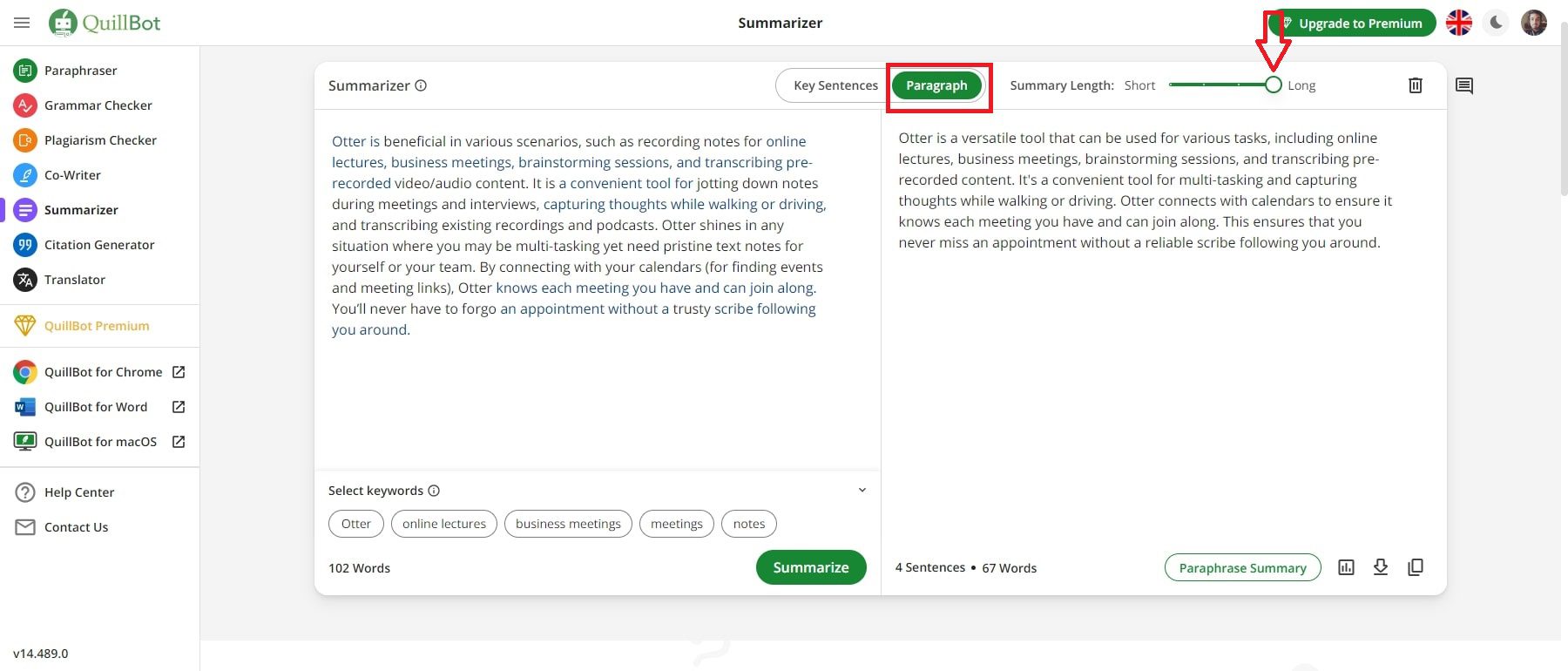 This feature streamlines research, study, and content review processes, enhancing productivity and comprehension for users across various fields.
4. Citation Generator

Quillbot's Citation Generator is a valuable tool that simplifies the often complex process of citing sources in academic and professional writing. It allows users to choose from various citation styles and formats, ensuring compliance with specific guidelines and educational requirements. This feature dramatically reduces the potential headache associated with accurate source attribution.

It supports common APA, MLA, and Chicago styles, covering reference types like books and websites. With an intuitive interface, it swiftly generates in-text and complete citations, labeled and exportable to Microsoft Word. By automating this process, QuillBot's Citation Generator saves users time and ensures proper crediting of sources, benefiting those involved in research and academic writing projects.
5. The Plagiarism Checker
Quillbot AI provides a plagiarism checker, which is a premium feature. It eliminates the need for external tools to verify content originality. Premium users can paste their content into the checker, receiving results within minutes, indicating if the content is unique or plagiarized. Premium members can scan up to 20 pages per month with this tool, making it suitable for various types of content, including research papers.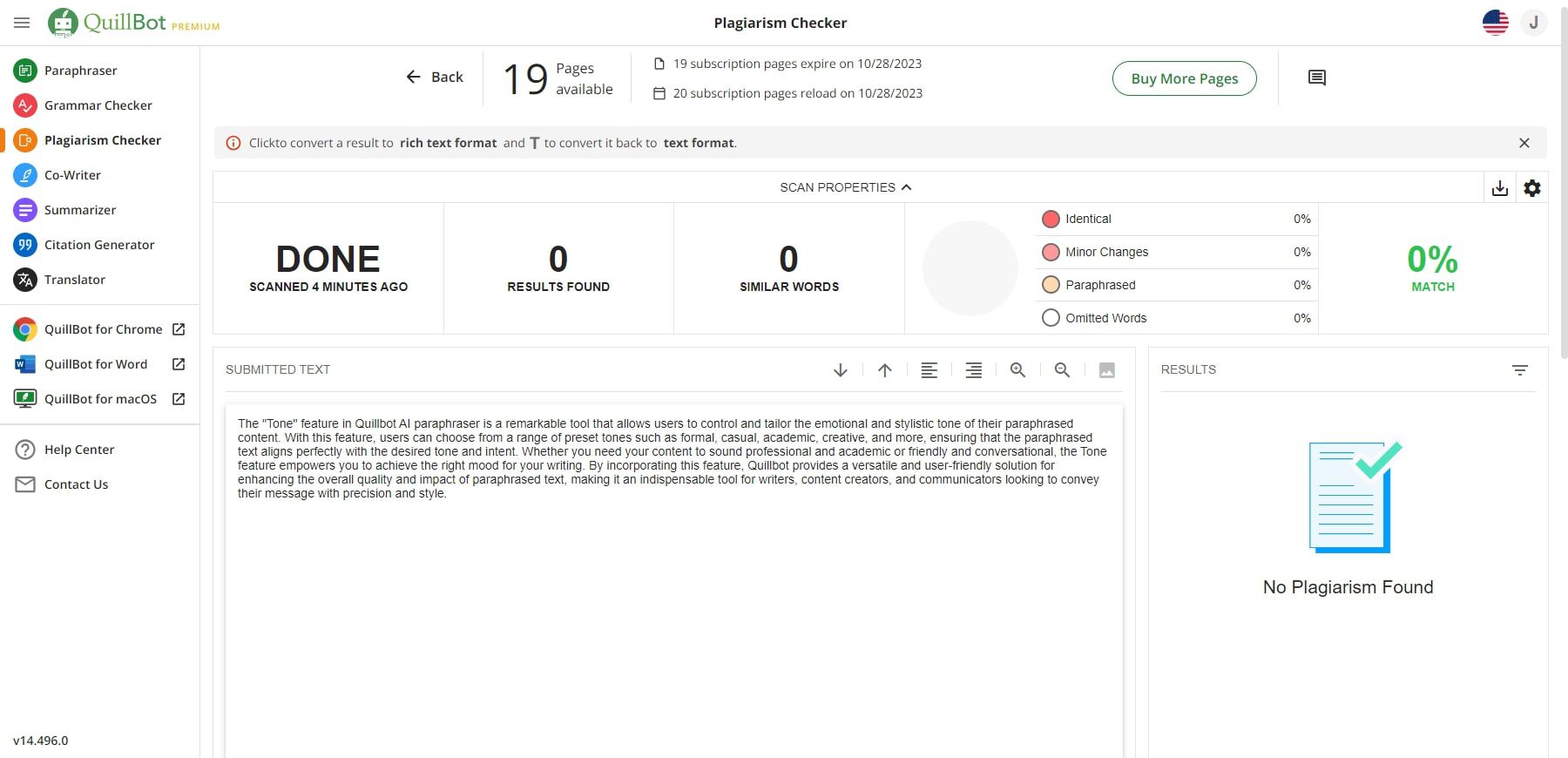 Its plagiarism checker stands out by accommodating research paper plagiarism checks, scanning up to 20 pages (approximately 5000 words) monthly. Consequently, it proves to be a valuable resource for essayists and academic writers, ensuring the integrity of their work.
Plagiarism detection is based on identical words, minor changes, paraphrased words, and omitted words.
6. The Translator
Quillbot AI provides its users with a Translation feature, allowing them to translate text into over 30 languages, making research and writing accessible across language barriers. It offers ad-free translation of up to 5,000 characters at once, includes integrated writing tools, and provides quick and accurate translations. The best part is that it's free, enhancing convenience and accessibility for writers and researchers.
As a test, I added a block of content in the German language. The translator automatically detected it as German.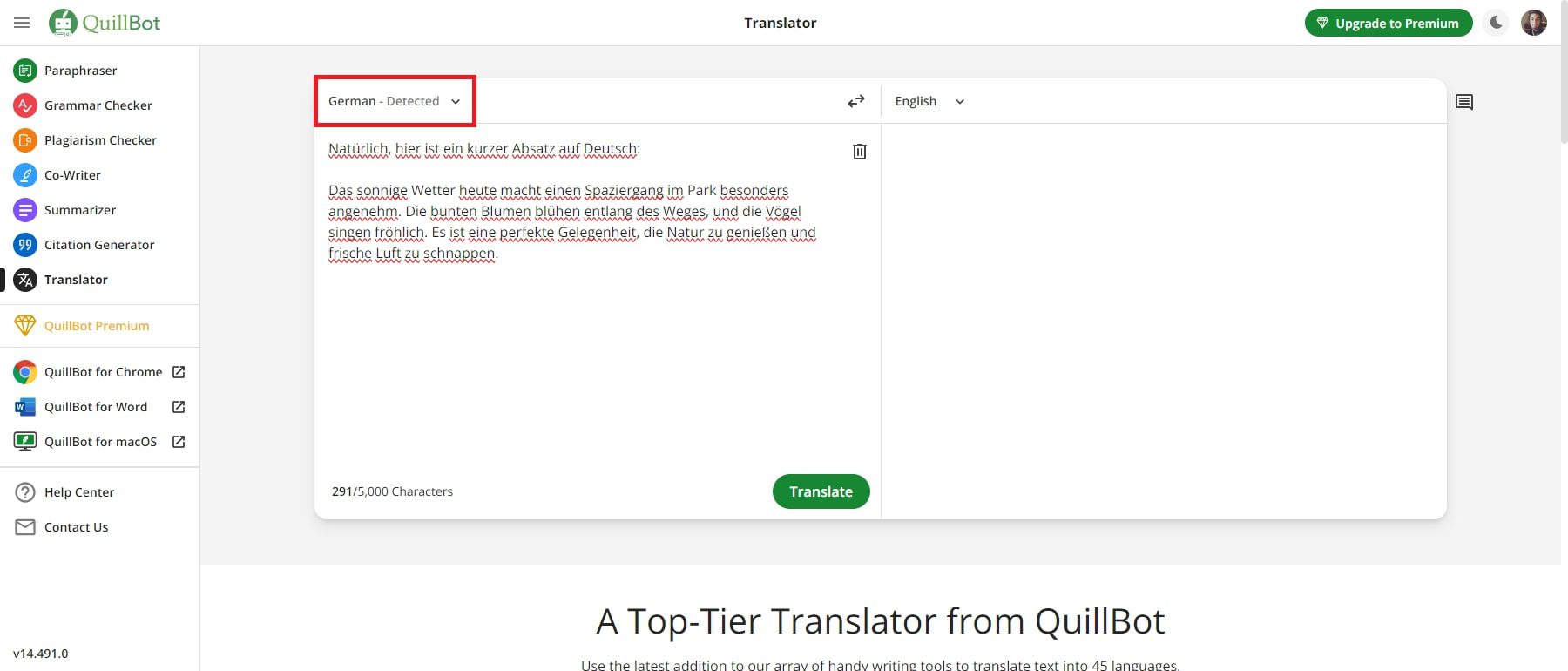 Then all you need to do is select the language you want it translated to on the right and click the Translate button.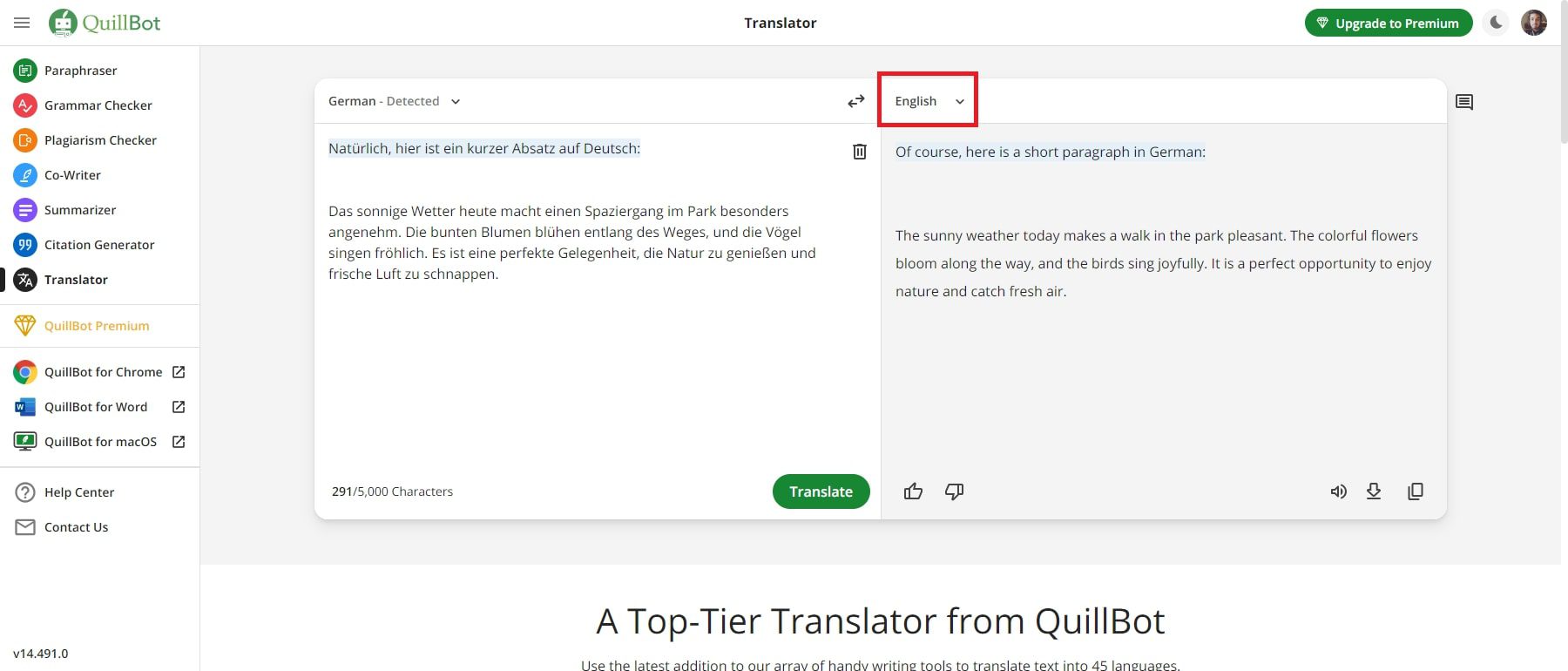 7. Quillbot Extensions
The tool offers three convenient extensions and applications to enhance your writing experience across different platforms.
QuillBot Chrome Extension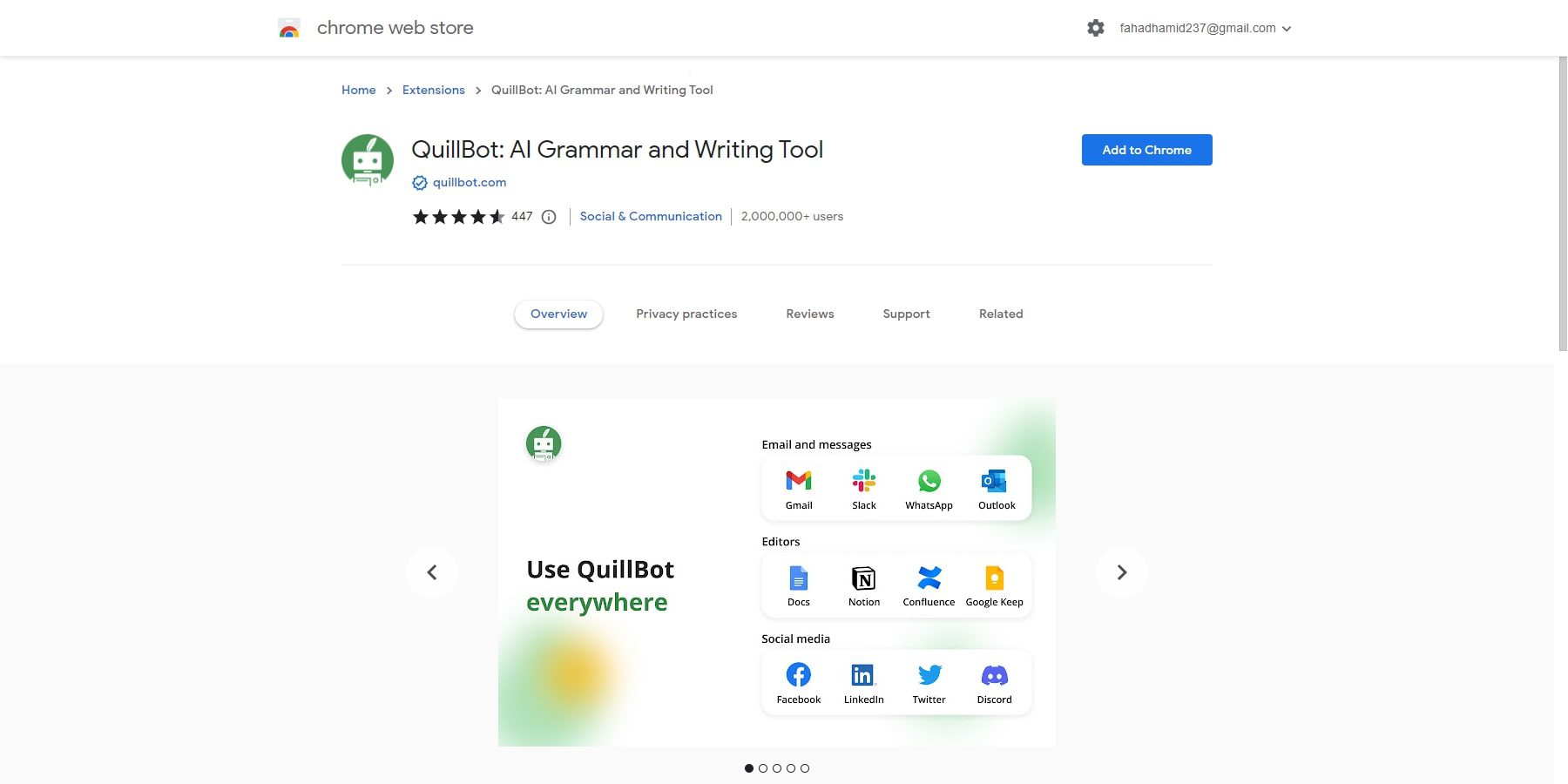 The Quillbot Google Chrome extension is a valuable tool for online writing. It seamlessly integrates with your web browsing, allowing you to check grammar, paraphrase, and summarize online documents, emails, and social media posts. Moreover, it ensures your writing is polished and error-free across the internet.
QuillBot for Word

If you're working offline in Microsoft Word, this extension empowers you to access the full capabilities of QuillBot. It assists you in crafting high-quality documents, reports, and essays, ensuring your writing is clear and concise, even when you're not connected to the internet.
QuillBot for macOS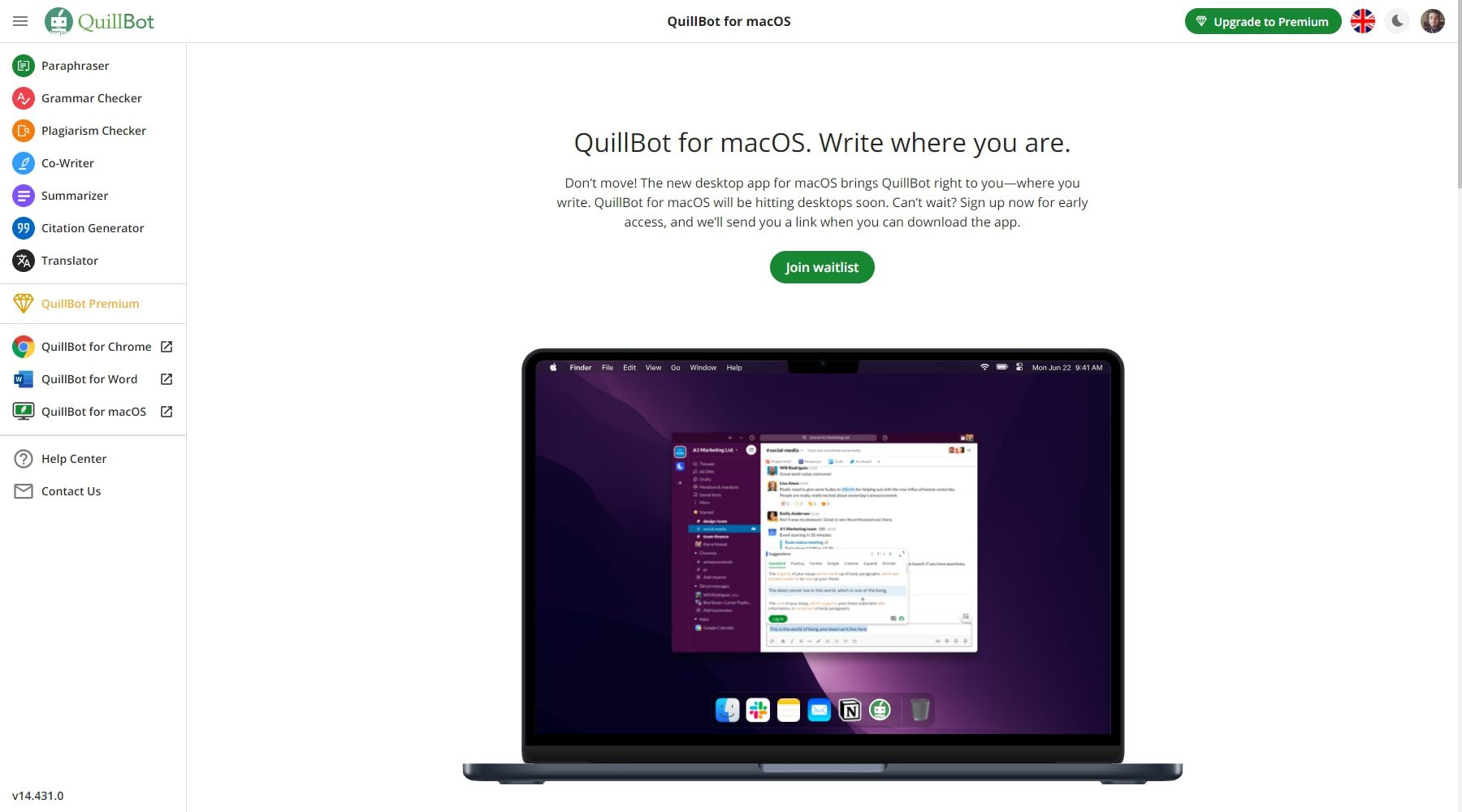 For Mac users, Quillbot offers a browser-free desktop application. This standalone tool simplifies the writing process, providing a smooth and efficient writing experience on your macOS device. Moreover, it's perfect for those who prefer a dedicated desktop application for their writing needs.
Quillbot AI Pricing and Plans Review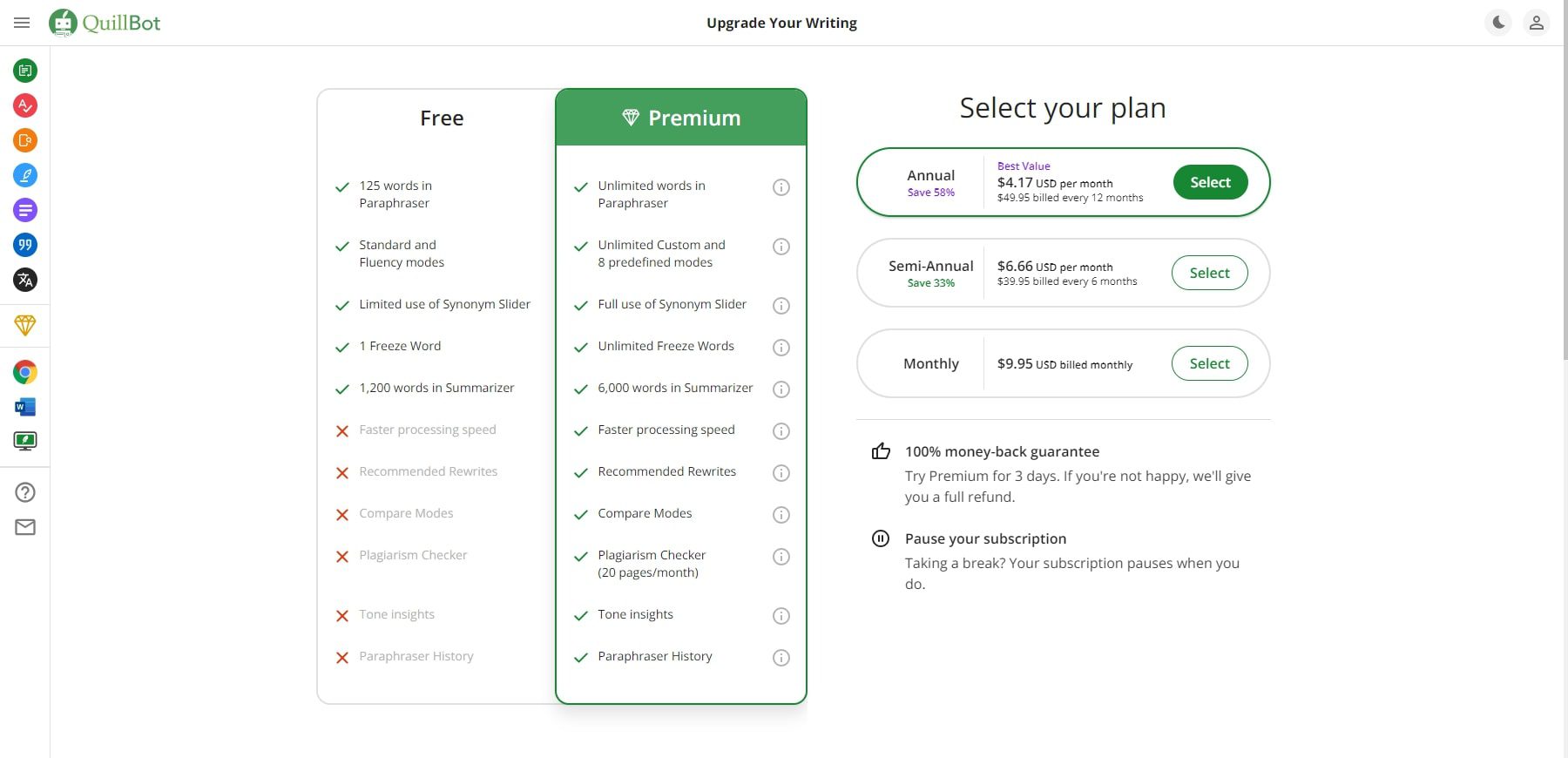 Quillbot AI provides three different pricing options to suit different needs and budgets.
The Basic (Free) Plan allows you to experiment with the tool before attaining its subscription. With it, you can paraphrase 125 words. It provides Standard and Fluency modes with limited use of the Synonym Slider. Moreover, you can summarize up to 1,200 words through the Summarizer mode.
The premium version of Quillbot AI allows unlimited words for the Parphraser, more writing style modes, and up to 6,000 words in the Summarizer. It also provides access to Plagiarism Checker, Paraphraser History, and Compare Modes.
You have the choice of three different payment plans for premium. The Annual Plan costs $4.17 monthly, with $49.95 billed every 12 months. The Semi-Annual Plan costs $6.66 monthly, with $39.95 billed every six months. The Monthly Plan costs $9.95 per month. By subscribing to either of these premium subscriptions, you can paraphrase unlimited words in Paraphraser. The Summarizer will allow you to summarize up to 6,000 words, and you can fully use the Synonym Slider.
Pros and Cons of Quillbot AI
As we delve deeper into our comprehensive review of Quillbot AI in 2023, it becomes imperative to assess the advantages and disadvantages of this sophisticated language processing tool. While this tool boasts various features and capabilities, no technology is without its strengths and weaknesses.
Pros of Using Quillbot AI
A free plan is available, and there's no need to sign up.
There is a refund policy in place.
Extensions for Microsoft Word, Google Chrome, and macOS are readily available.
You can access a free Language Translator.
The option to upgrade makes it very affordable to access additional features.
An app for content summarization is available for free.
Additionally, there is a free Grammar Checker app provided.
Cons of Using Quillbot AI
Only two writing modes are available for free.
OpenAI GPT AI writing is unavailable.
There is no AI content detection feature.
Manual intervention is usually required.
Both free and paid plans have character limitations in place
How QuillBot Compares to Other Similar Tools
Quillbot AI offers valuable features for text enhancement, including effective paraphrasing and translation. Its free plan is a budget-friendly option, making it accessible to a broad audience. When compared to Grammarly, Quillbot outshines Grammarly's ability to rephrase content. However, Quillbot's grammar-checking capabilities fall short of Grammarly's robust editing features.
Tools like Copy.ai and Rytr AI may offer more comprehensive solutions for advanced AI content generation than Quillbot. These alternatives excel in generating content from scratch, making them suitable for various writing needs.
Regarding accessibility, Quillbot stands out with extensions for Microsoft Word, Google Chrome, and macOS. This enhances its usability and integration into daily writing tasks. It also eliminates the language barrier, whereas Grammarly, Copy.ai, and Rytr AI primarily focus on English.
Ultimately, choosing these tools depends on your specific requirements and budget. Quillbot is a reliable option for text enhancement, while other tools may be better suited for advanced AI content generation and comprehensive grammar checking.
Conclusion
Quillbot AI offers undeniable value. It's a valuable tool for various teams and individuals. Need an alternative version of your original article? Quillbot can generate a new and improved version swiftly. Additionally, this tool's ability to transform source content significantly reduces plagiarism risks for academic assignments and research papers. Furthermore, it optimizes blog posts and other content, outperforming many free and paid AI rewriter tools. Thanks to its versatility and proficiency, Quillbot is a worthwhile asset for writers, students, and content creators.
Looking for more? Check out our list of top AI writing tools. And for all aspiring writers, check out these AI story generators. You can also explore more of the best overall AI tools you can use to boost your productivity in various ways.