Unlike general-purpose AI writers, which are designed to handle a broad range of tasks from email drafting to SEO optimization, AI story generators are fine-tuned for the art of storytelling. These advanced platforms have features that allow for intricate plot development, character arc creation, and emotional narrative weaving. They serve as a digital canvas for writers, providing the tools needed to craft compelling stories that resonate on a profoundly human level. In this post, we'll compare and review the best AI story generators to take your storytelling to a whole new level.
AI Story Generator Features
When writing stories, there are important distinctions between a standard AI writer and AI story generators. Whether you're working on a short story, a graphic novel, or a traditional fiction book, short-form AI services may not provide the necessary assistance. So, as you compare AI story-writing tools, remember these factors.
Story organization is essential for longer works. Being able to, at the least, sort and separate chapters of your story is vital. Some even let you section off scenes within a chapter. This enables you to stay focused on what you are writing without getting overwhelmed by the vastness of your work.
An AI explicitly trained for story creation will behave much differently than an AI designed for marketing. You will need the flexibility to change the tone for different characters while retaining narrative and perspective throughout the piece. It is easy enough to switch from first person to third when you don't mean to, and AI story generators can keep you consistent.
You will need AI templates and quick actions that match story writing. Maybe you need to add more description of the surrounding science, or you want to interject more dialogue between characters. These are particular situations that are vital to story writing.
While AI writers, in general, are malleable and can adapt to your needs, let's focus on the ones that can help you with creative story writing the best.
Best AI Story Generators

Subscribe To Our Youtube Channel
If you're in the market for an AI tool that can elevate your storytelling, opting for a dedicated story generator is a decision that will pay off. Here's a look at the best options on the market, starting with Sudowrite.
The Best AI Story Generators Listed In Order
Expand List
1. Sudowrite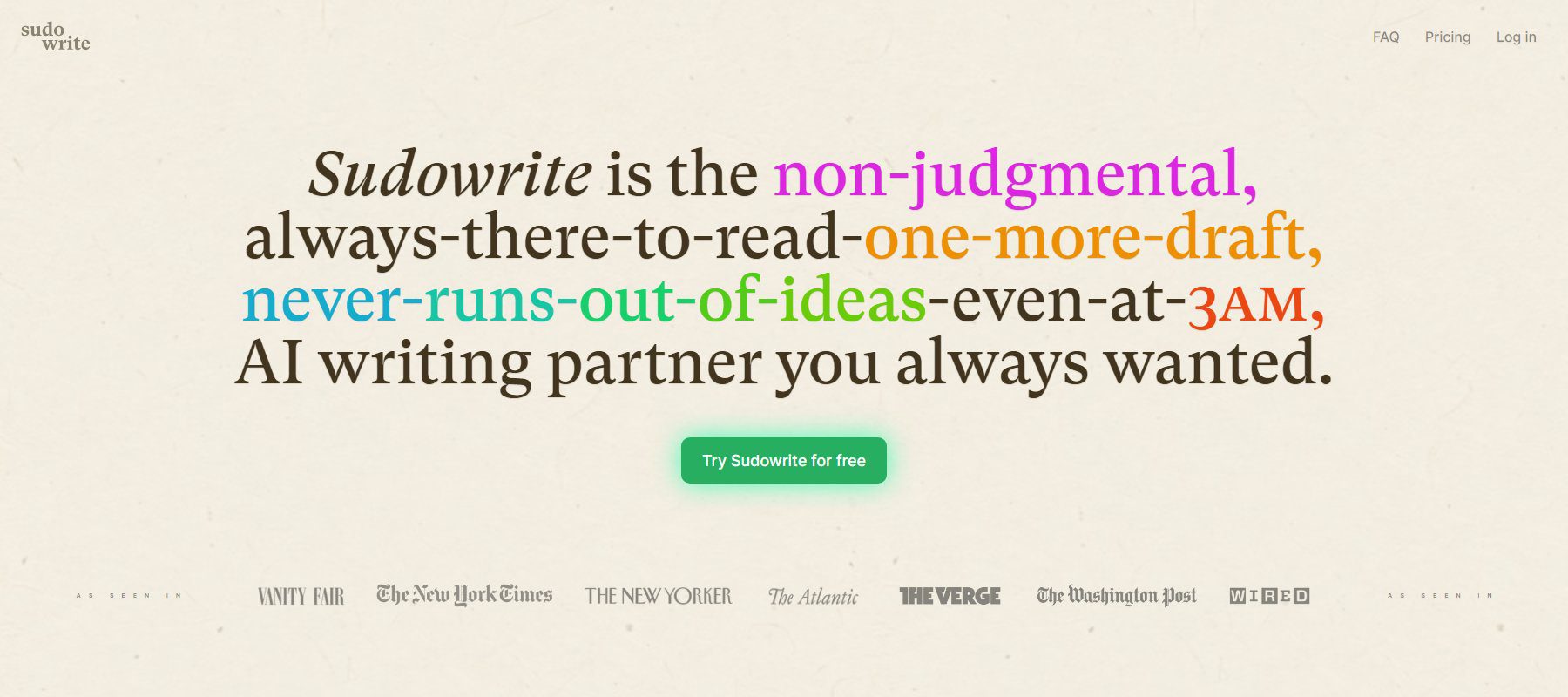 Sudowrite is the most trusted AI story writer out there. If you haven't worked with Sudowrite, you are missing out on its unique approach to augmented story writing. It helps writers transform their ideas into working manuscripts using defined AI tools for story writers.
Key Features:
Character name generator
Built for writing multi-character dialogue
AI tools for changing pace, writing the next part of a story, outlining a chapter, and more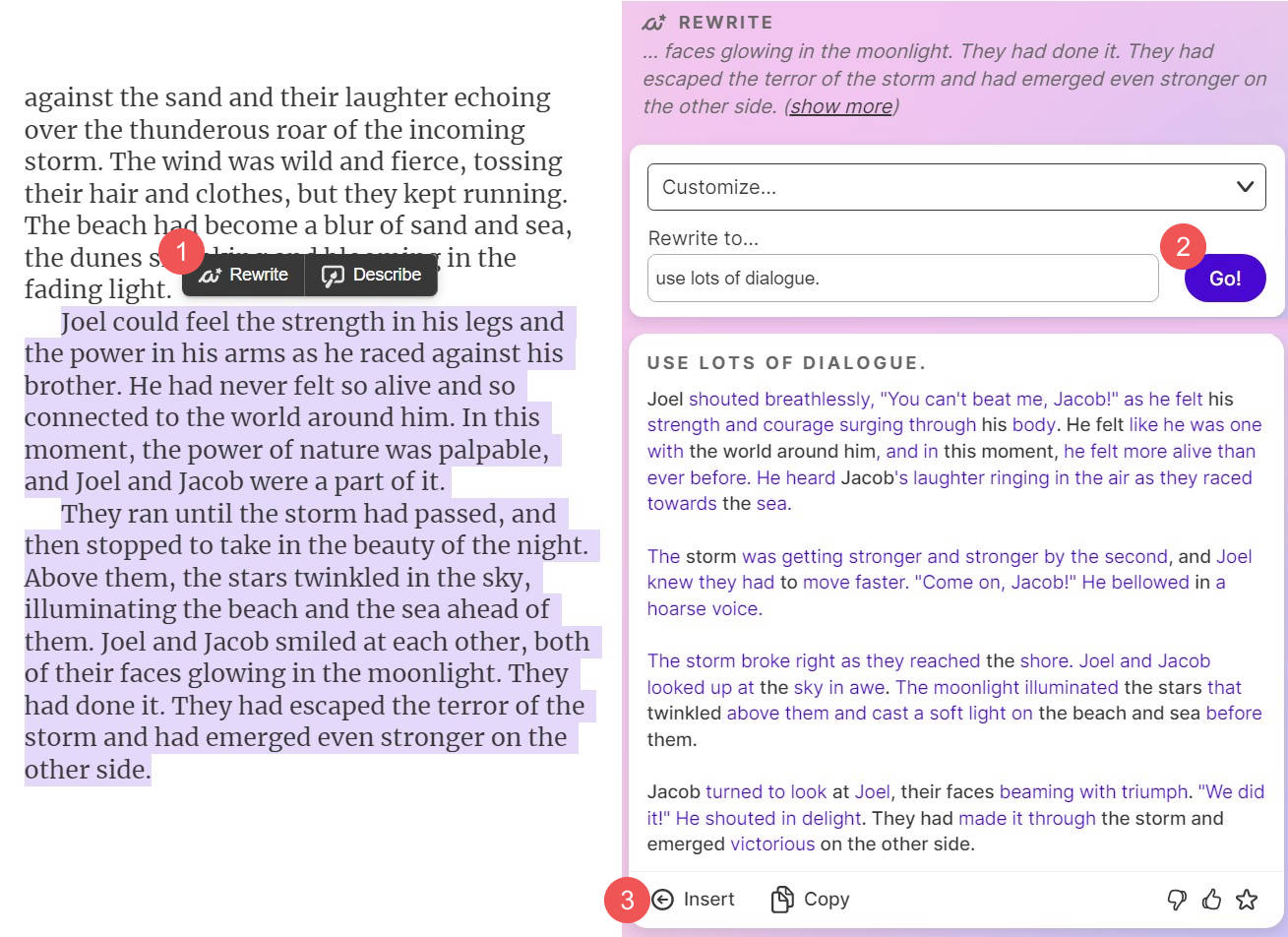 Story Engine is Sudowrite's AI tool that is the most enticing. It works across the whole writing process and workflow but brings AI to every part. It takes your story ideas, creates an outline (with your guidance), starts fleshing out chapters, and can write whole sections of your book. From there, the inline AI editor helps you spruce up any selected text as you iterate through the drafts of your story.
Best For:
Sudowrite is ideal for novelists and storytellers (of any kind) who want excellent efficiency in crafting their stories. Most esteemed writers say that the first draft is the hardest part. Sudowrite gives you complete control of the first (and second, and third) draft while speeding up its production time.
Pricing: Free Trial; Pricing starts at $19/mo
2. Jasper AI


Jasper AI is a massive player in the AI writing space. It launched well before ChatGPT took the world by storm and has constantly been rolling out features to make it the de facto AI writing platform. Many know Jasper as a robust AI writer for marketing and business, but many don't realize it has built-in use cases for story writing. Its long-form editor and custom commands are more than flexible enough to accommodate story writing.
Key Features:
AI writing templates for business, marketing, and story writing
Brand and Voice Knowledge pieces can be customized to fit the details of your story
Long-form editor (like a Google Doc) that helps you create stories, chapter by chapter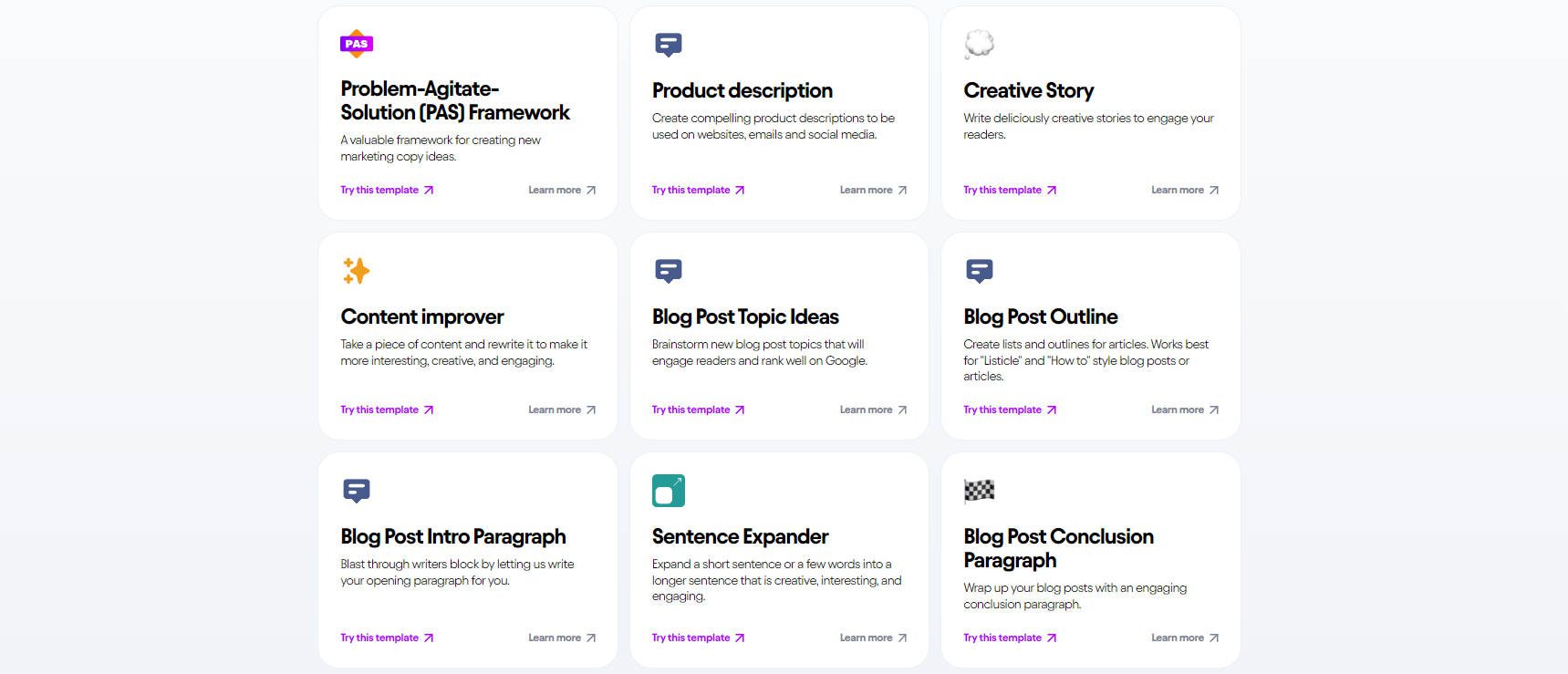 Jasper's template library of pre-trained writing tasks is some of the best. While most don't have anything to do with story writing, a few do, and many others are great for writing in general (content improver and sentence expander, for instance).
Best For:
Indie writers who want an all-in-one tool will want to consider Jasper. While its long-form editor isn't necessarily built for novels or short stories, it could be a superb AI story generator to choose from if you also want AI assistance for writing marketing and business material for book promotions and deals.
Pricing: Prices start at $39/mo
3. Plot Factory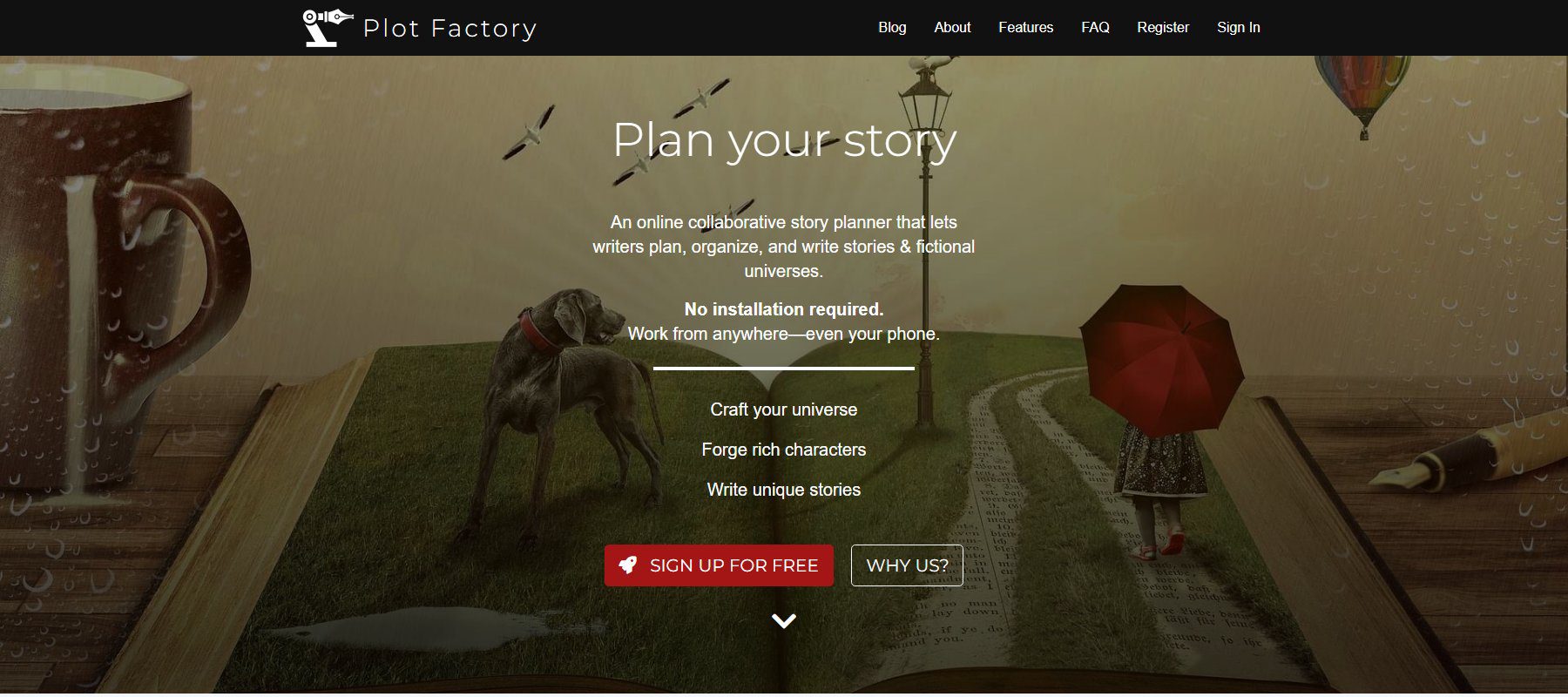 Plot Factory is a dream for writers looking to utilize AI and other tools to flesh out an entire book idea. However, Plot Factory works differently than other AI story generators—it is built to help you create story plots and outlines. Whether you are writing a creative story or a novella, Plot Factory helps you create the bones of your story so you can move on with the utmost confidence.
Key Features:
Digital locker for saving details about your story universe, characters, places, and
Writing views so you can focus on individual scenes and quickly move them around within a chapter
AI name and outline generators to banish writer's block
AI story narration so you can listen to your story aloud and catch what you couldn't by reading your own writing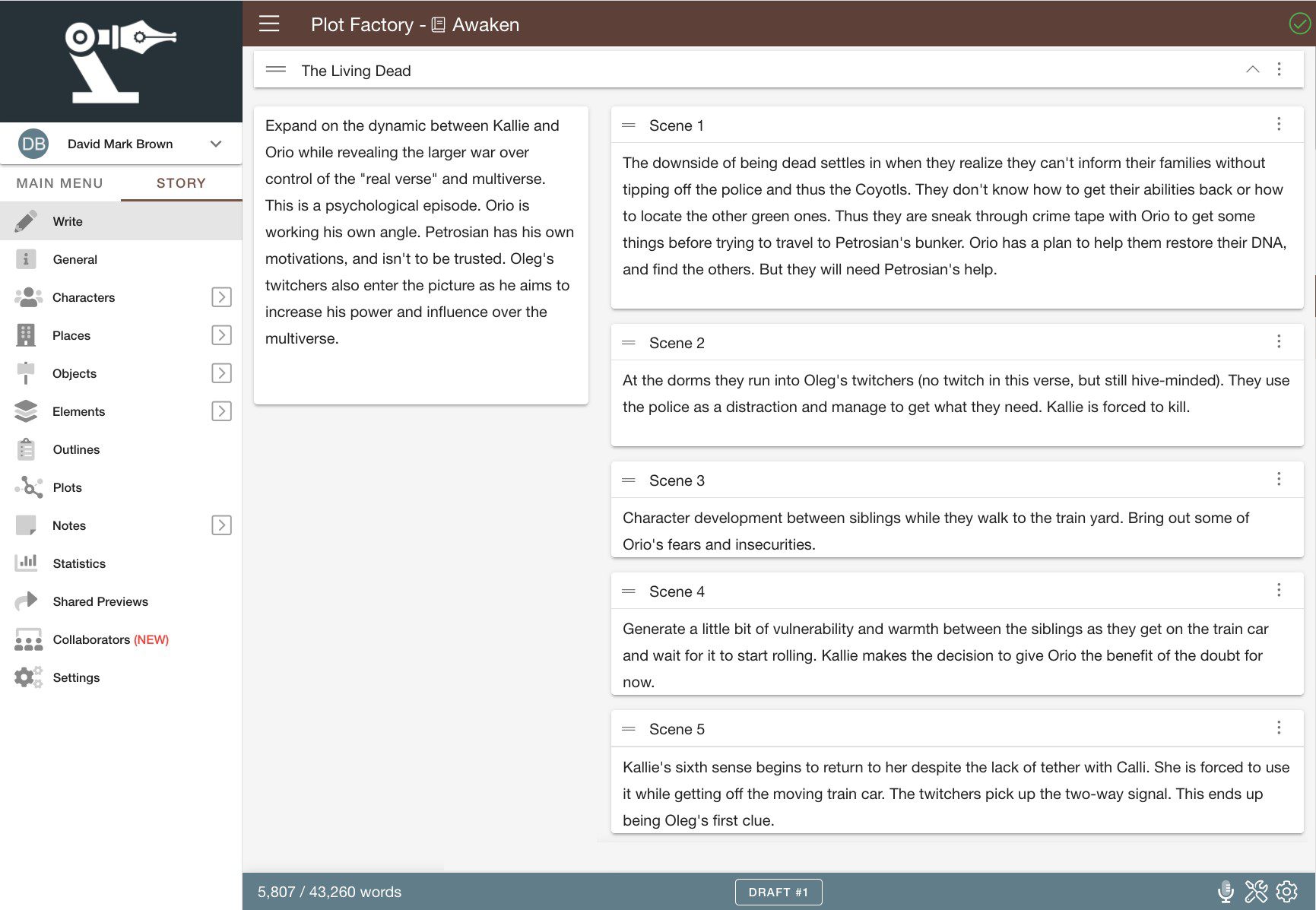 Plot Factor's main selling point is its ability to maintain context and coherence across an entire work. It stores all the nitty-gritty details that make a story make sense using one of its many features (Universe Notebook, Place Keeper, Character Lists, and Object Library). Storing these helps writers stay consistent while they develop a story.
Best For:
Screenwriters and novelists who need a structured approach to storytelling will find Plot Factory indispensable. Though it is light on the AI features (though its text-to-speech is a nice touch), it is well organized for writers who want to get down to writing. The UI is dated, but if this doesn't bother you, you will benefit significantly from this story organization tool.
Pricing: Free plan available with paid plans starting at $9/mo
4. Shortly AI


Shortly AI is another AI writer that got its start as an AI story writer. It has now grown into something that can handle all sorts of writing tasks. Shortly AI was acquired by Jasper a couple of years ago but still runs as a standalone service.
Key Features:
Easy to use slash commands in document editor to get AI to write for you quickly
Simplified UI for distraction-free writing and editing
Unlimited word generation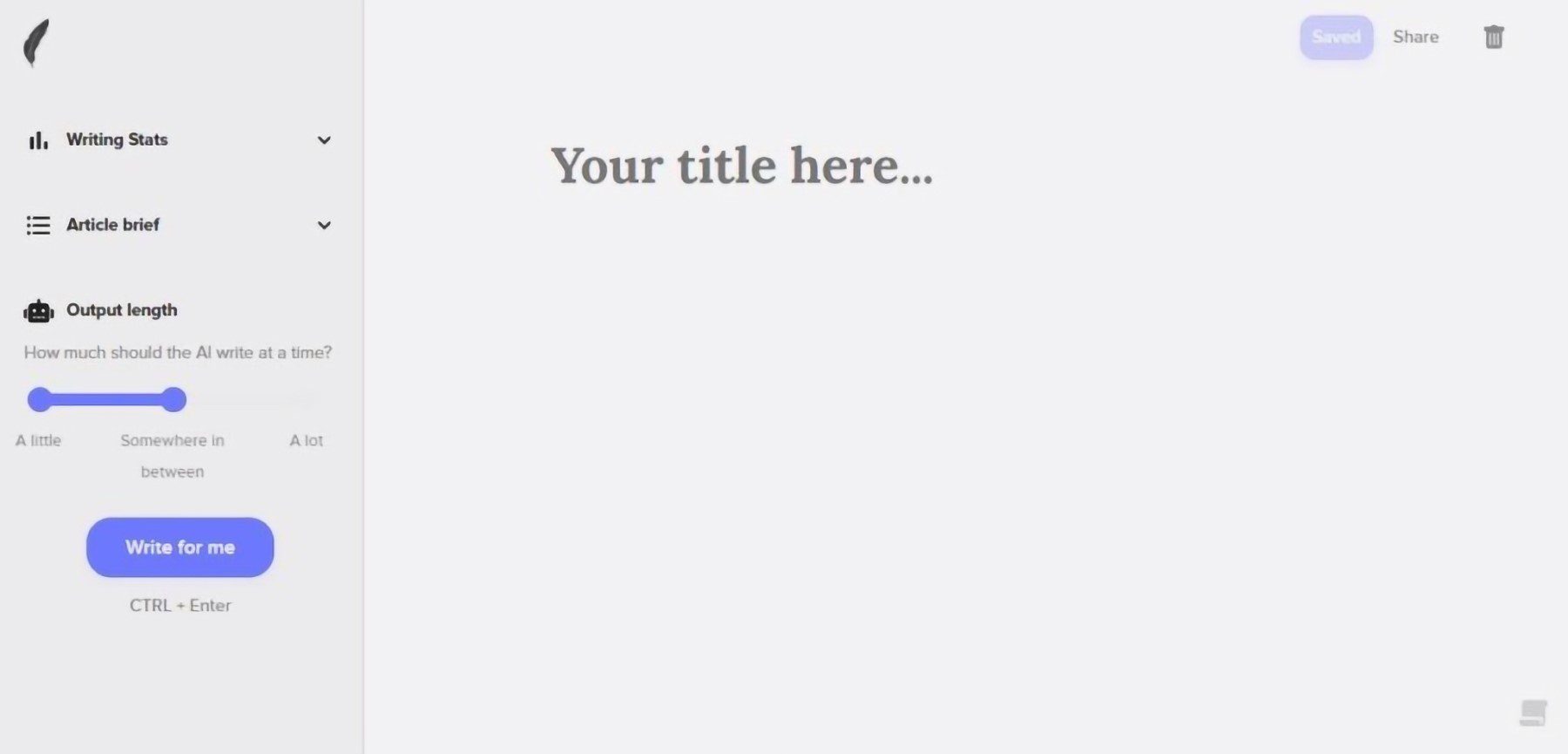 Shortly AI stands out for its simplicity. There aren't hundreds of use cases or templates (only a few slash commands). This means you get to focus on what you are writing, and when you need AI, you can ask it to pick up right where you left off. It's an excellent way for writers to own the process while calling on AI only when needed.
Best For:
While not for everyone, Shortly AI is the perfect companion for writers who need a distraction-free workspace along with capable AI writing.
Pricing: Pricing is not cheap and starts at $79/mo for unlimited AI words
5. NovelAI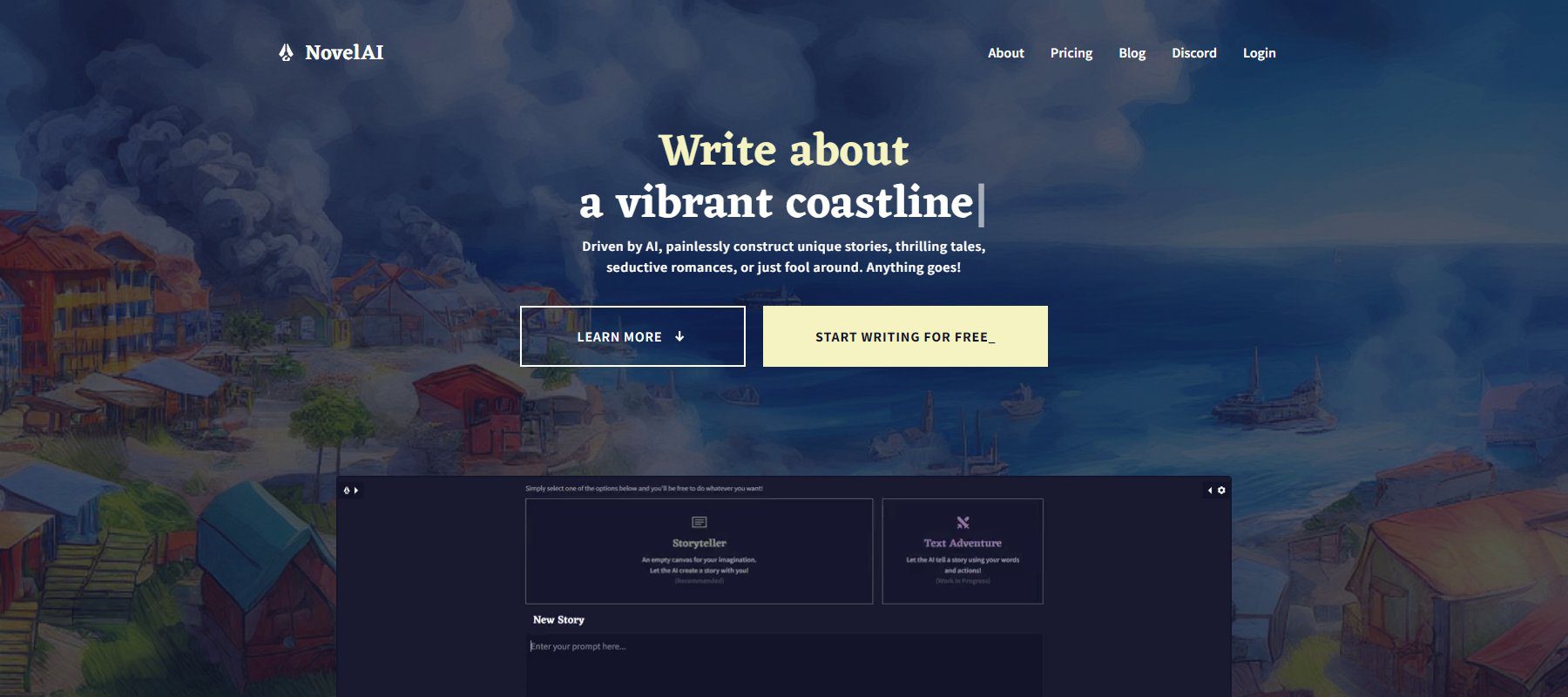 NovelAI is an immersive AI writing companion and story generator that allows anyone to create high-quality literature. Some unique features of Novel AI include the ability to generate images to depict characters in your story and to train the AI to mimic the style of famous authors. It has all the AI tools you'd expect and packages them together into an easy-to-use UI that is a joy to be in. As such, it is probably the most fun platform to write on.
Key Features:
Image AI generation to pair story with pictures to tell something more
Unlimited text generation with Kayra, its AI Storyteller
Lorebook that lets you store world and character information for consistent storytelling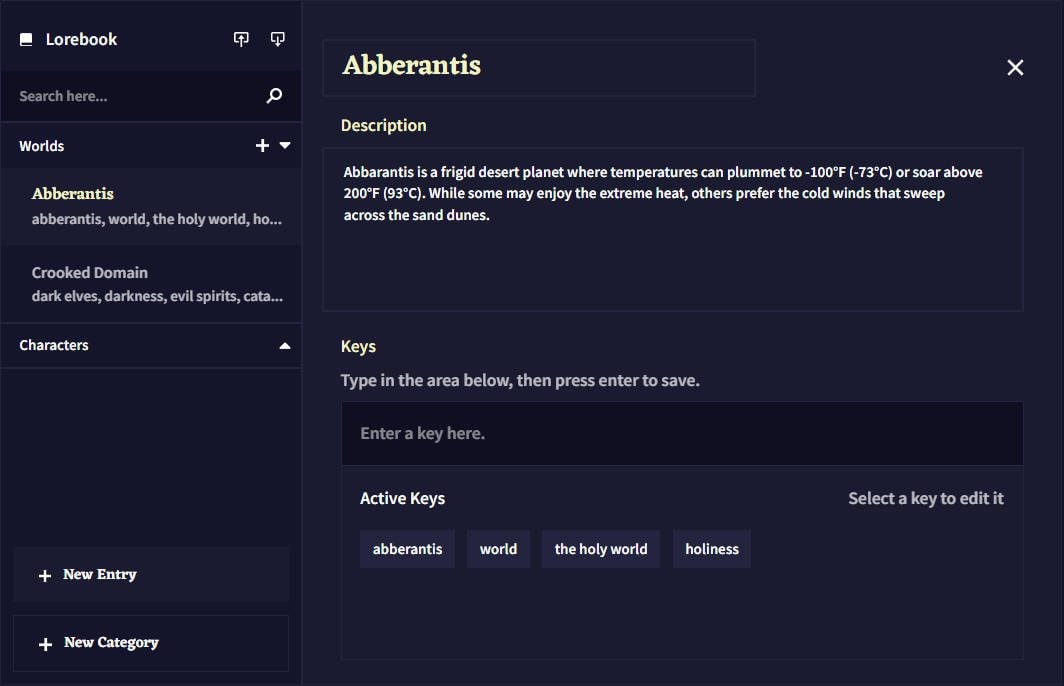 The Lorebook is like a locker for the concrete aspects of your stories. Characters with defined traits, styles, and static elements that should remain consistent can be stored. Likewise, Worlds and everything in them, like particular locations, altered natural rules, and other phenomena, can also be stored. These let the AI remember pieces of your story's lore so that your character doesn't change from having brown hair to blond or the Palisades being a Northern to a Southern feature of your world.
Best For:
Aspiring fiction writers who crave depth and complexity in their storytelling will find NovelAI a pleasure to work with. It is reasonably priced and allows for a lot of customization and fine-tuning of how the AI works. This gives writers who want complete control over every aspect of story creation just that.
Pricing: Plans start at $10/mo
Best AI Story Generators: Price Comparison
Now that we've compared the top AI tools for writing stories, here is a recap of the list with the pricing of each to help make your decision.
Which is the Best AI Story Generator?
The best AI story generator and writer is Sudowrite. It has all the AI features to write, refine, and expand your stories. Story organization is intuitive and doesn't get in the way. Plus, there are many ways to get AI to do particular tasks that you can always fine-tune exactly what you need.
Jasper AI is the next best option if you need AI writing software that can create more than just stories. Plot Factory is interesting and retains human involvement for most story writing. But where it does use AI or NPL, it serves to help the writer increase efficiency.
For other creatives and creative pursuits, you might also like these top AI music generators for creating easy tunes. And, for the audio storytellers among us, check out the best podcasting platforms to get your stories heard.
Looking for more AI tools? Check out our complete list of best AI tools.
Featured Image by Moor Studio / shutterstock.com