When starting a new business venture or re-branding an existing one, an eye-catching logo is one of the first pieces of the puzzle. As the face of your brand, a logo sets your business apart and helps your customers easily identify you. But here's the catch: hiring a professional designer can put a big dent in your overall budget. In this post, we'll explore the best logo makers you can use to jumpstart your new venture without breaking the bank.
Let's dive in.
What is a Logo Maker?
A logo maker is a valuable tool that allows you to create a unique logo effortlessly, regardless of design skill. It's like having a virtual graphic designer at your disposal offering tips for creating a logo. Most logo makers provide a range of templates, fonts, colors, and symbols that you can mix and match to bring your vision to life. Whether you're on a tight budget or willing to invest, logo makers cater to nearly everyone's needs, offering free and paid versions.
8 Best Logo Makers in 2023

Subscribe To Our Youtube Channel
We researched over a dozen free and paid options to provide you with a comprehensive list of the best logo makers money can buy. To build our list, we considered a few factors. First and most importantly, a logo maker should be easy to use. Another consideration is the price. Most of the entries on our list are free, but there are a few higher-priced ones to try. Lastly, it should be highly customizable. After all, creating a logo and then having to hire someone to clean it up or make variations defeats the purpose of using this type of software in the first place.
With these points in mind, here are our top picks for logo makers in 2023.
The Best Logo Makers Listed In Order
Expand List
1. Looka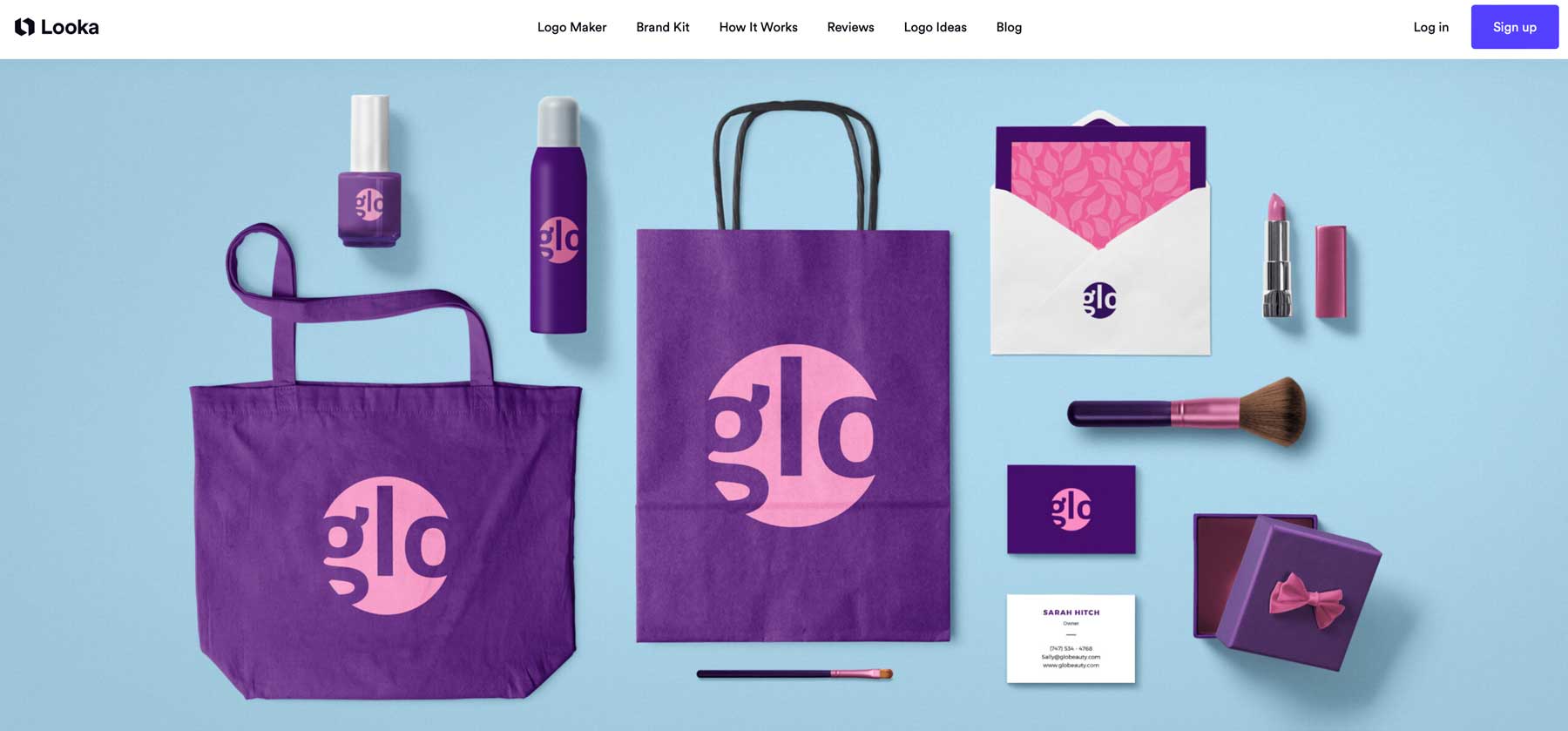 At the top of our list of best logo makers is Looka. Powered with artificial intelligence, it walks you through a series of steps to determine your preferences and provides you with over 75 logo designs to choose your favorite. In addition to generating logos, Looka allows you to upload an existing logo and then provides design suggestions to improve it.
Key Features of Looka:
Top-rated AI logo generator
Produces 75 logo designs
Additional products to build your brand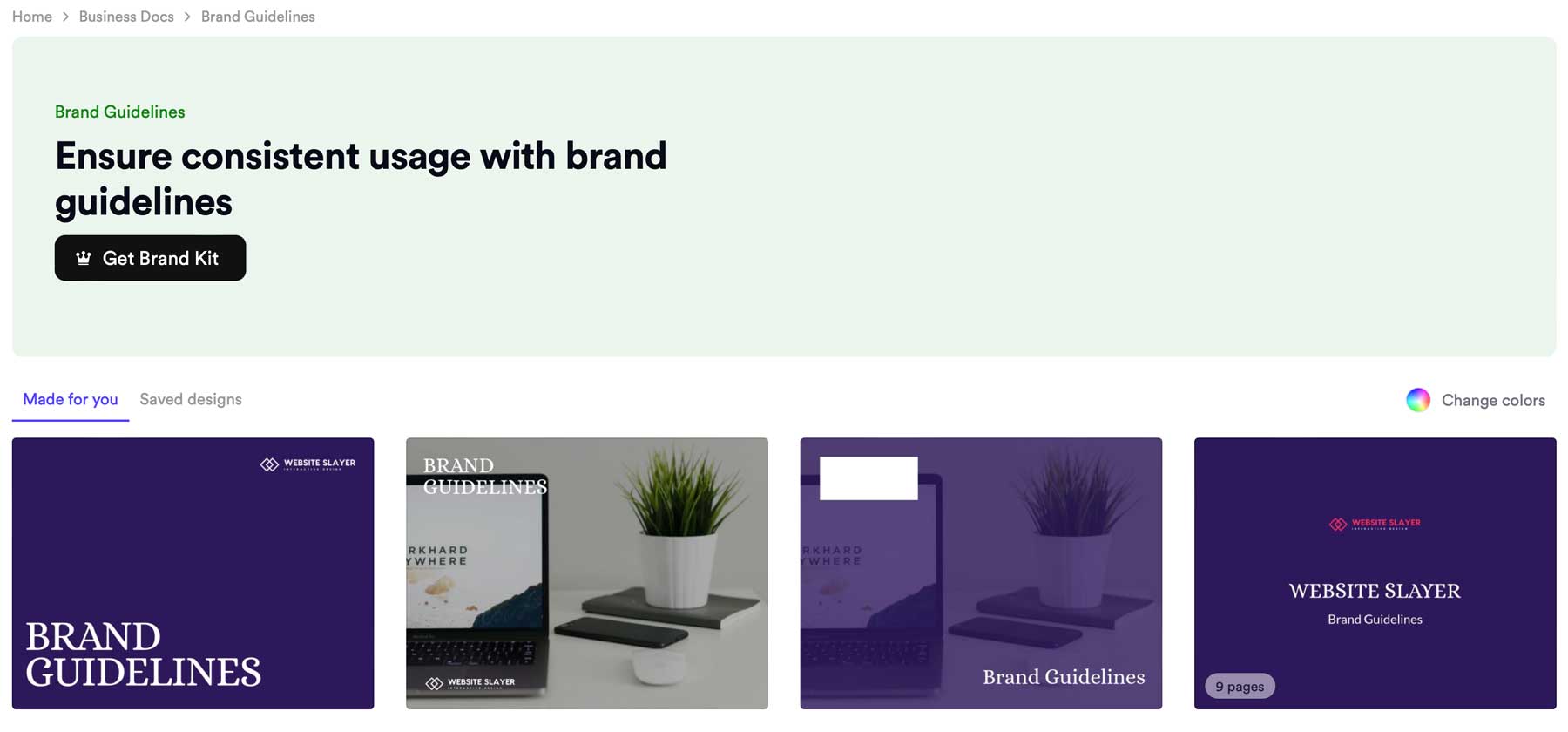 You'll have access to all kinds of features upon generating your logos. You can browse different layout options and color schemes, change the logo container, and make text edits. In addition to those features, you can purchase additional products to build your brand. With a Brand Kit subscription, you'll get everything you'll need to market your new business, including business cards, social profile images, website templates, and a brand guidelines document to always keep your content on brand. If you opt for the brand kit, you must sign up for the Brand Kit subscription, which runs $96 per year. Are you just looking for a logo package? No problem. Looka offers two tiers, Basic and Premium, which start at $20 for a one-time purchase.
Best For:
If you want a great way to create custom logos without design experience, try Looka. Their logo and brand kit packages give you everything you need to start or re-brand a business. Although they are among the priciest on our list, you can't beat the value for the money.
Pricing: Logo packages start at $20 for a basic logo. Brand Kit subscriptions are $96 per year.
2. DesignEvo Logo Maker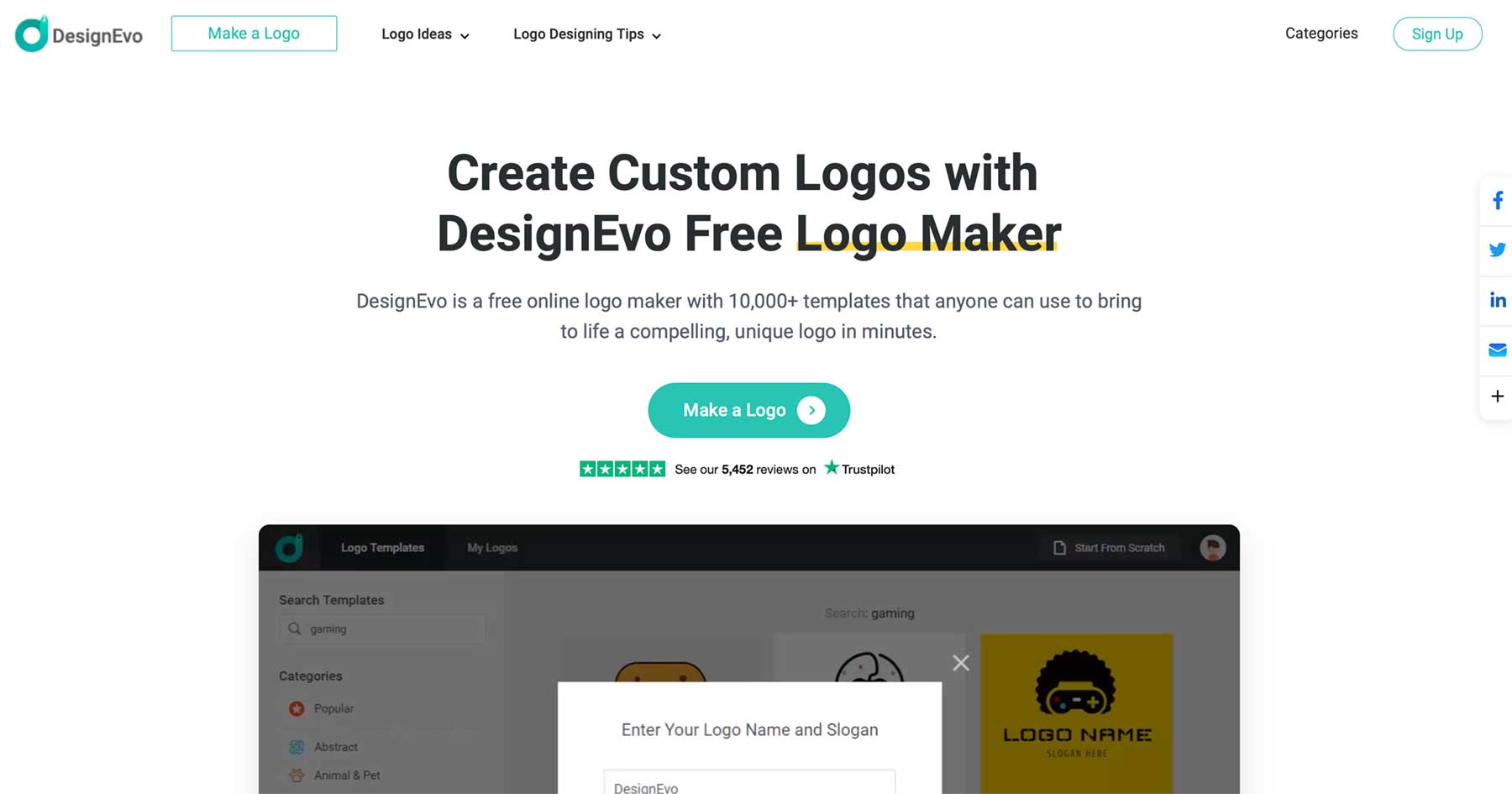 DesignEvo stands out as one of the best logo makers due to its vast selection of excellent logo choices. It feels similar to Canva with its simple interface, the number of design elements, and editing tools. That said, DesignEvo doesn't offer hi-res downloads for free.
Key Features of DesignEvo:
10,000+ templates
Up to 5000px resolution (paid plans only)
Extensive customization options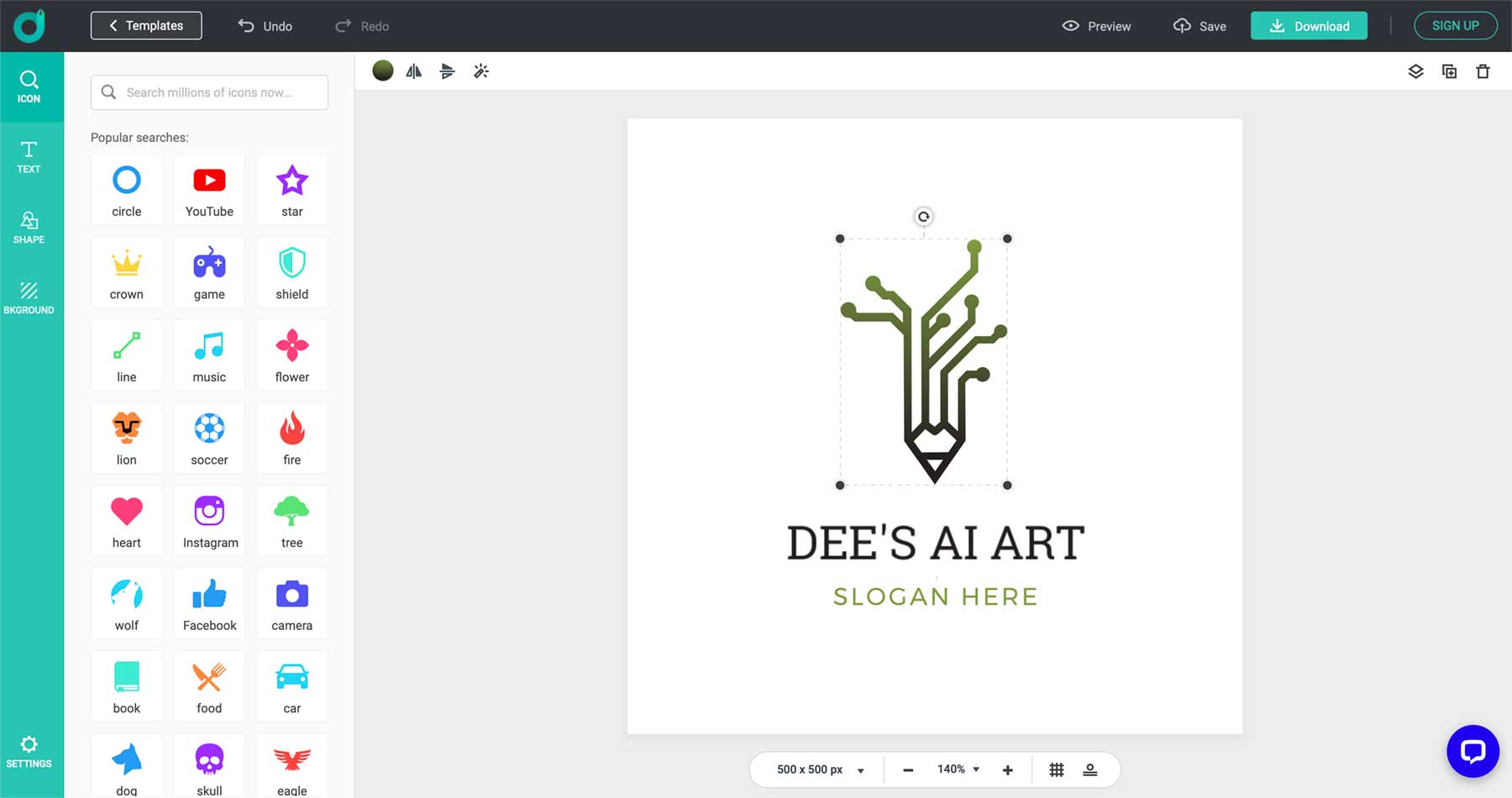 To get the most out of DesignEvo, you'll need to purchase a logo package. For a one-time fee of $49.99, DesignEvo provides all font files, SVG, PDF, and copyright ownership for your logo. You'll also be able to log back into the platform to change your logo as often as you like, allowing you to tweak colors, fonts, and other design elements as your brand evolves.
Best For:
Those who need a simple interface and scalable vector graphic (SVG) files should check out DesignEvo. They have excellent design elements, tons of fonts to choose from, and the ability to make unlimited changes to your logo for a one-time fee.
Pricing: $49.99 one-time fee.
3. Adobe Express Logo Maker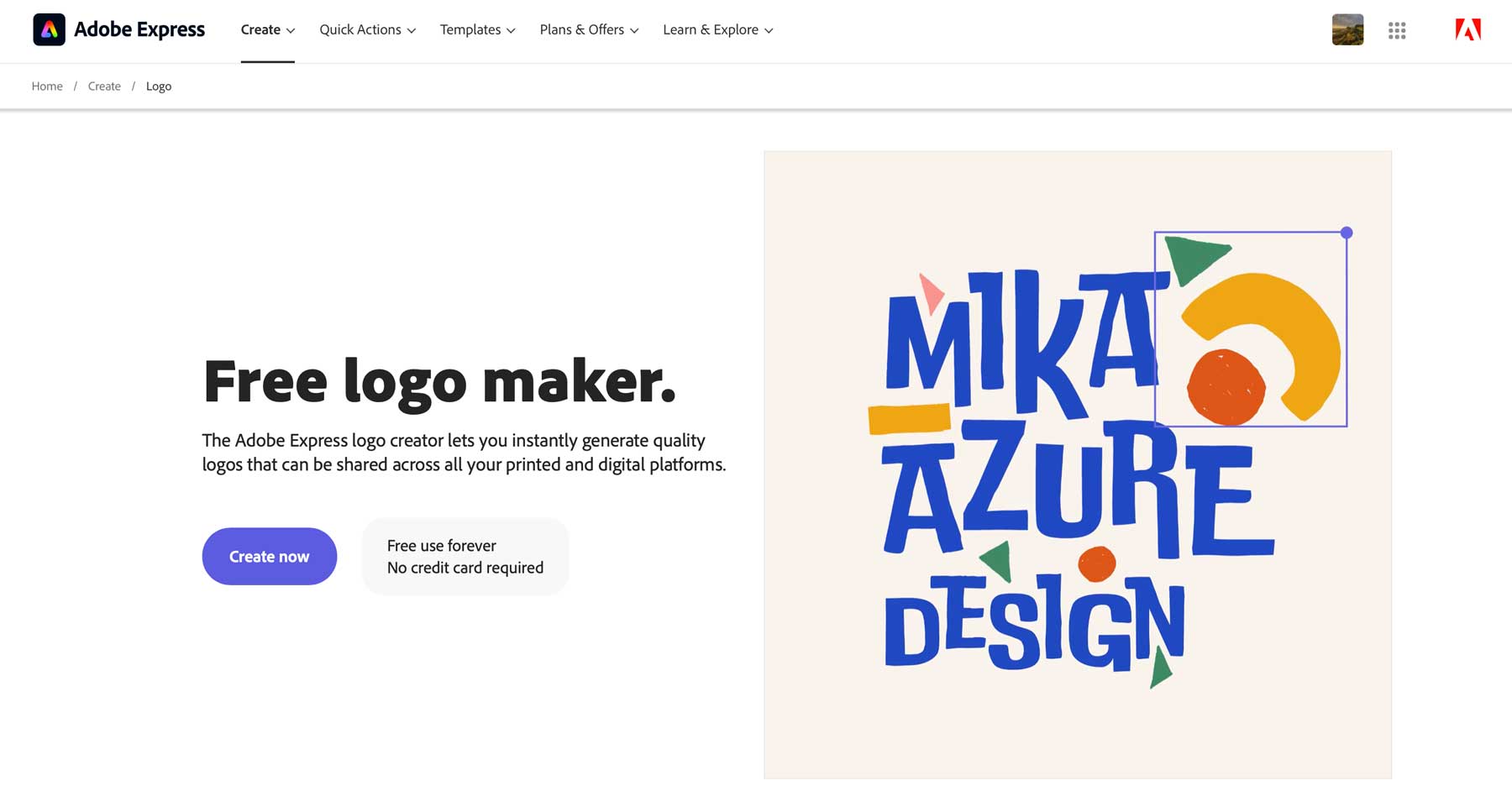 Next up on our list is Adobe Express logo maker. Like other logo makers on our list, Adobe starts the process by asking questions related to your business. You'll choose your business type and style preferences and watch as Adobe creates a logo based on your preferences.
Key Features of Adobe Express Logo Maker:
Simple to use
Tons of logo choices
Minimal effort required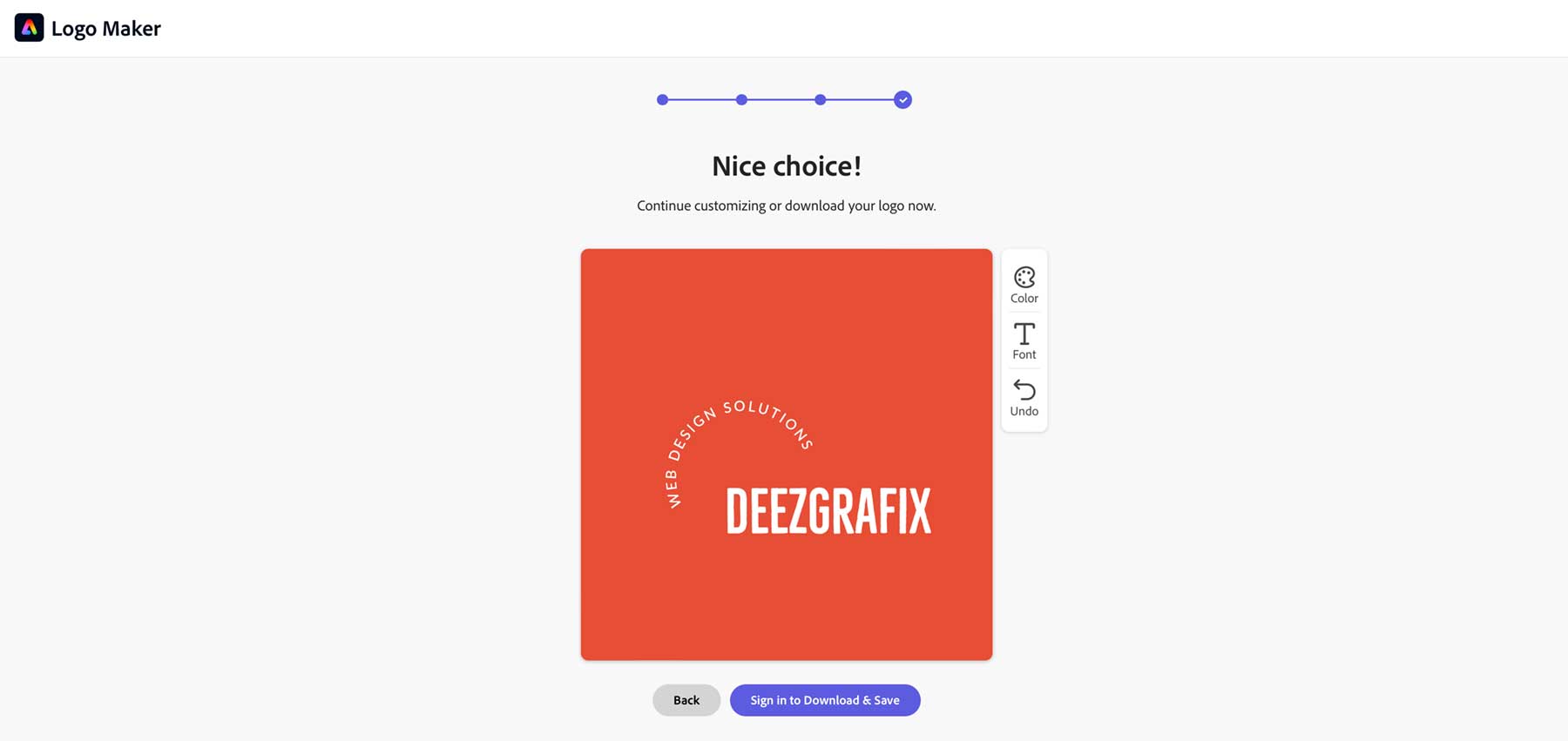 The beauty of Adobe Express is in its simplicity. They take a no-frills approach to logo design, giving you only a few options for customization. Depending on your skill level, this is a good thing. Too many choices tend to overwhelm novice creators, so keeping it simple can avoid lots of stress. Another benefit of Adobe's logo maker is that the logos it generates are actually good. Sure, you'll need to weed through several to find the perfect fit, but overall, it provides some high-quality options.
Best For:
Adobe Express Logo Maker is 100% free to use. You must sign up for an Adobe account to download your logos. You'll receive three high-quality 1200px PNG files and a hi-res JPG file to incorporate your logos wherever possible. However, there is no option to download a vector file, so if you need a logo to use on products, you'll need to look elsewhere.
Pricing: Free
4. Wix Logo Maker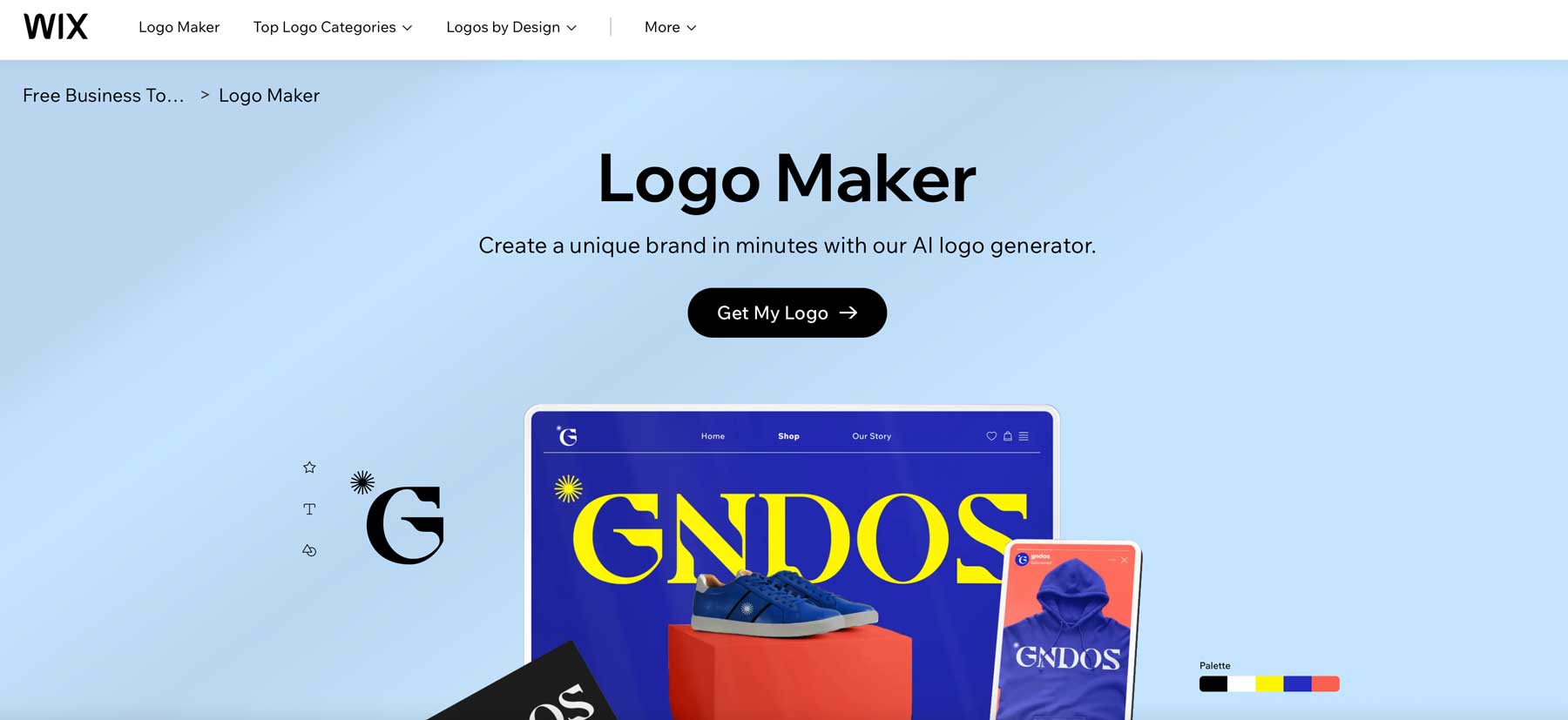 Up next is Wix Logo Maker, a completely free offering from one of the biggest names outside of WordPress. You must have a free or paid account through Wix to use their logo maker. It works by asking a series of questions to get a feel for the look you're going for, then provides dozens of options on the fly.
Key Features of Wix Logo Maker:
Dozens of logo options based on answered questions
Logo customization options
Free to use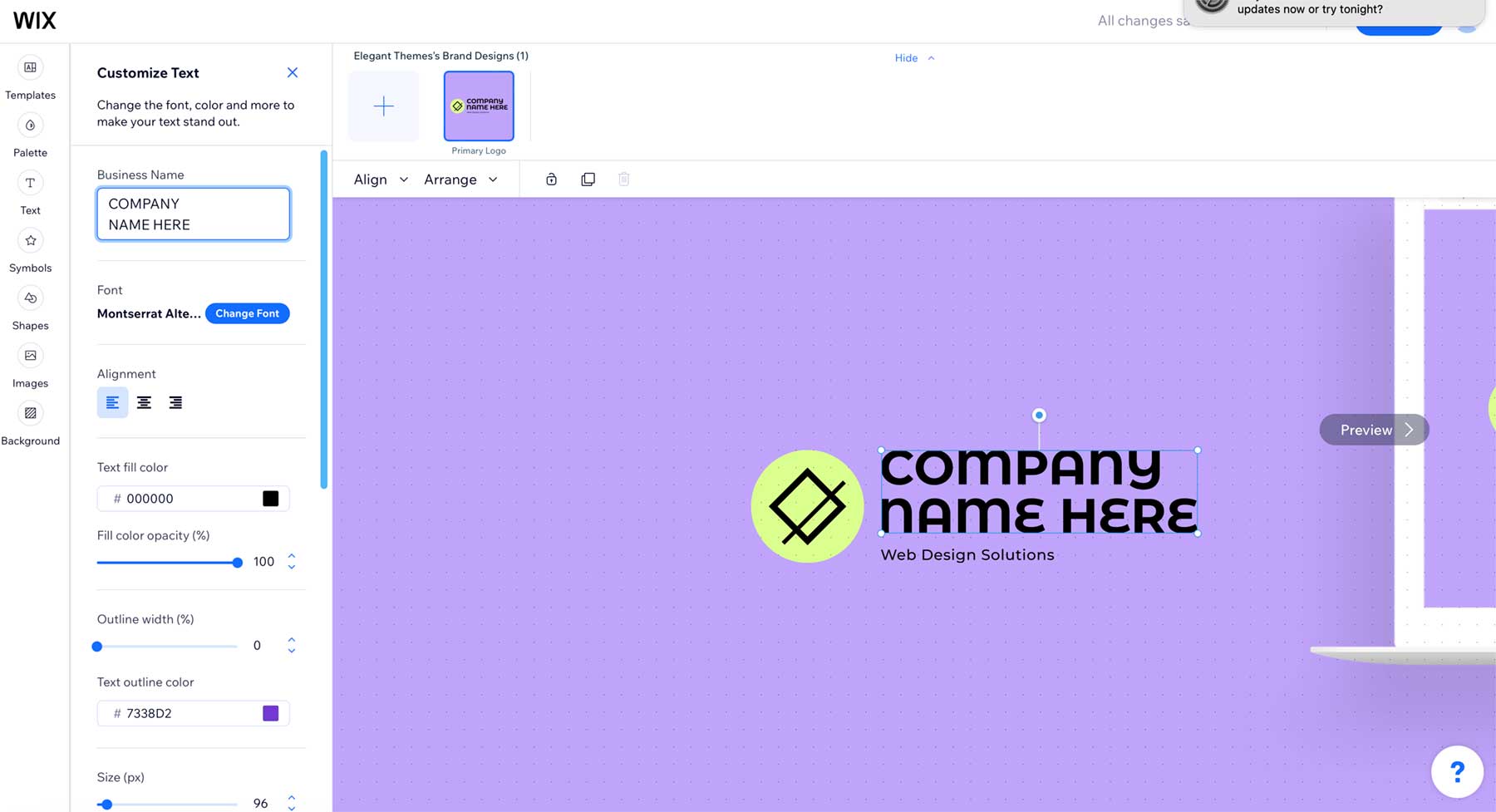 Once your logo concepts are generated, you can edit the colors, add text and fonts, change the symbol, and swap the background colors. However, you can only make the background transparent or download it on other platforms if you pay a usage fee of $49. That said, you will get eight logo variations in PNG format that can be used throughout your marketing campaigns, social media, and other applications.
Best For:
The Wix logo maker does generate some really nice-looking logos. If you're already a Wix user, it's a no-brainer. However, some flaws do exist. The standard logo package lacks editable vector files, requiring you to return to the logo maker should you need to make edits. Another downside is that almost too many options may overwhelm some.
Pricing: Free.
5. Squarespace Logo Maker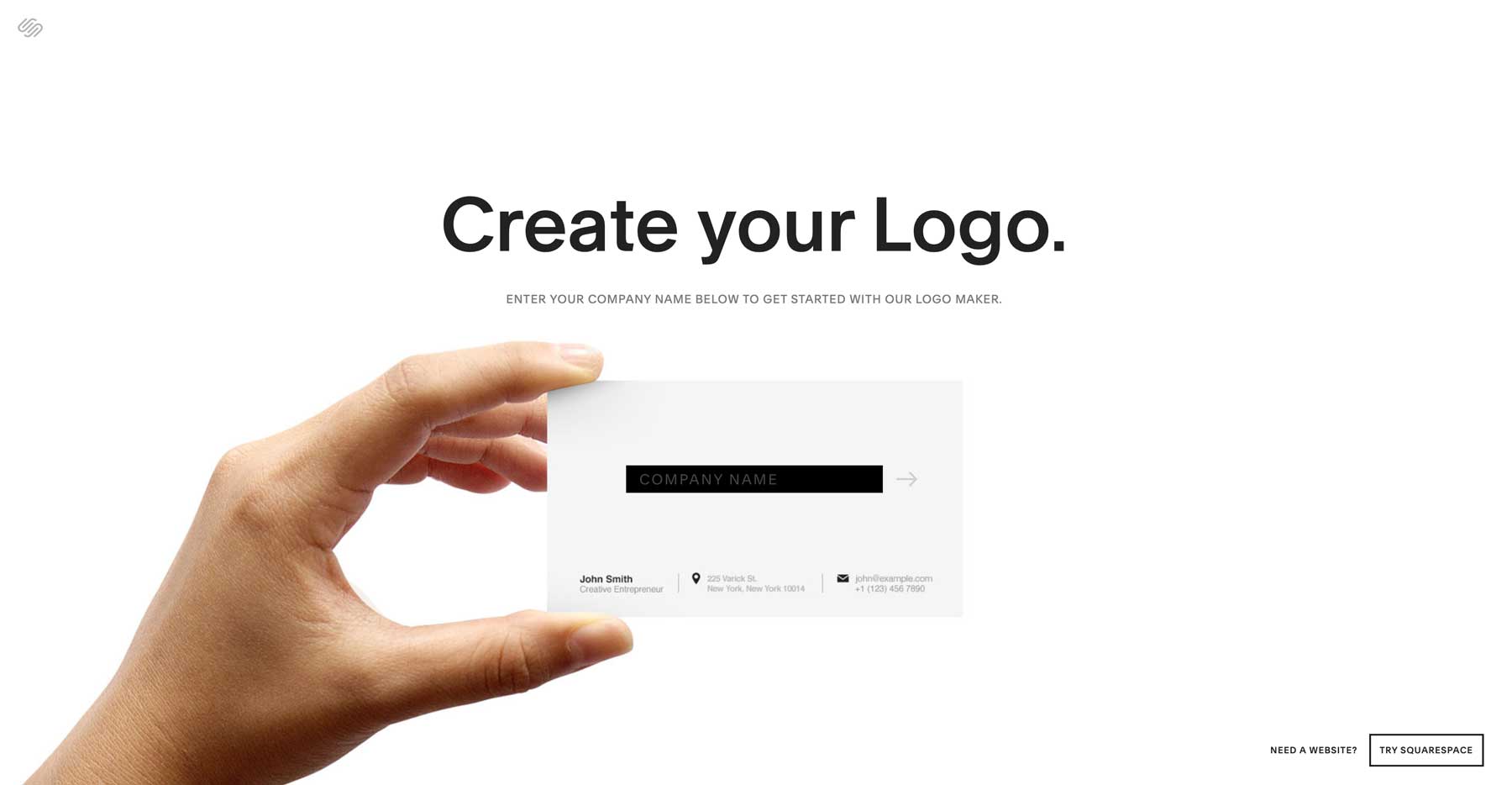 Squarespace is a big name in website builders. They also offer a free logo maker with some pretty cool features. It's similar to others on our list, where you input your business name and niche to generate a logo. There are a few customization options where you can edit text, pick a symbol, and make other minor adjustments.
Key Features of Squarespace Logo:
View your logo on various mockups
Customize logo features in a simple editor
Download high-res PNG's for free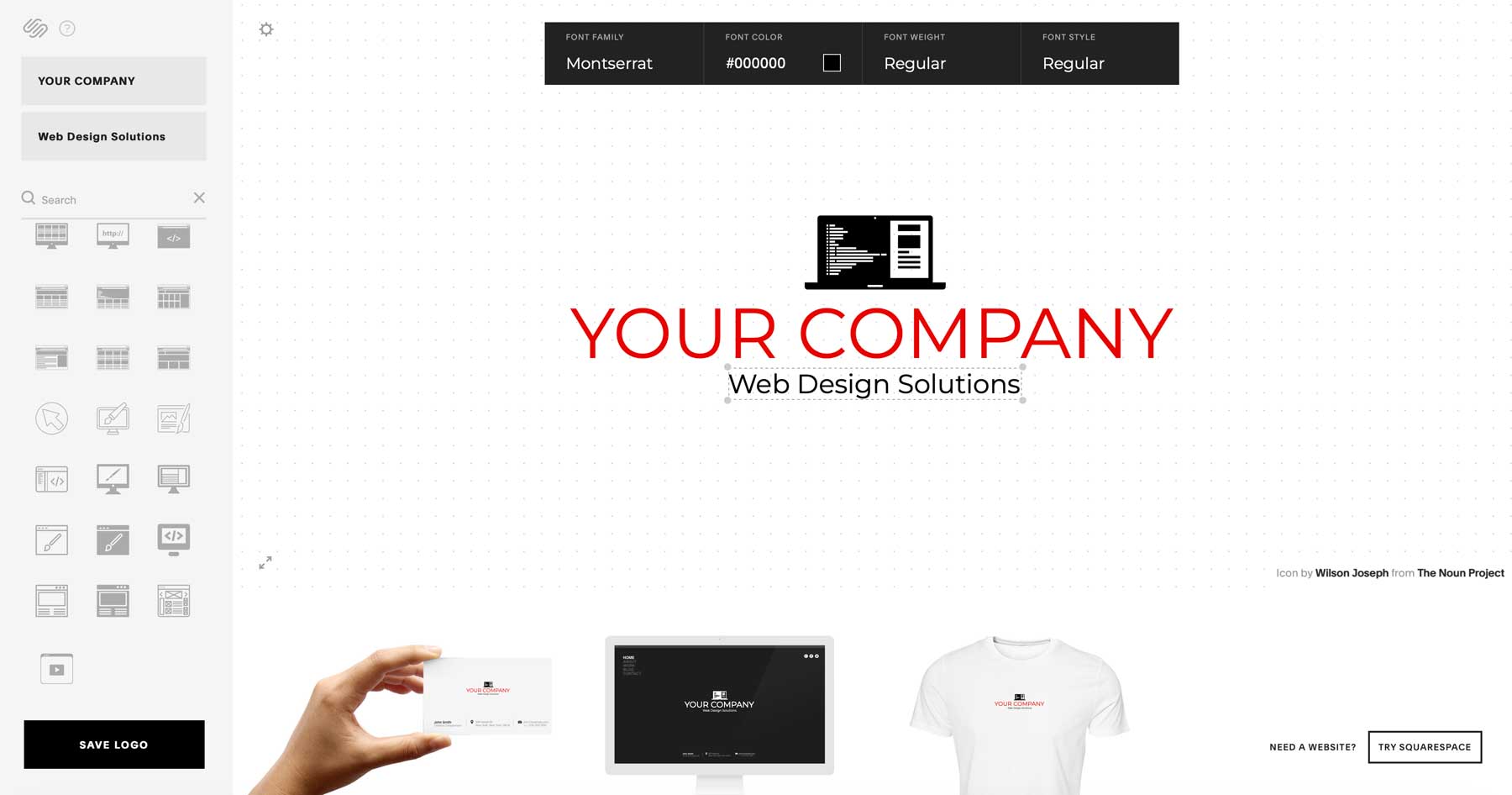 Squarespace's standout feature is the built-in mockup tool, which allows you to view your logo design on various applications, such as business cards, the web, or t-shirts. This is a nice touch for those looking to preview their creation in multiple ways. You'll need at least a free Squarespace account to download your logo. That said, you aren't required to do anything else to get three high-quality PNG files (full color, black on white, and white on black) to use as you wish.
Best For:
Squarespace is similar to Wix and Adobe Express with the exception of file quality. With Squarespace logo maker, you'll get a set of 2000px wide PNG files. The downside is that there aren't any editable SVG or EPS downloads.
Pricing: Free
6. Hatchful Logo Maker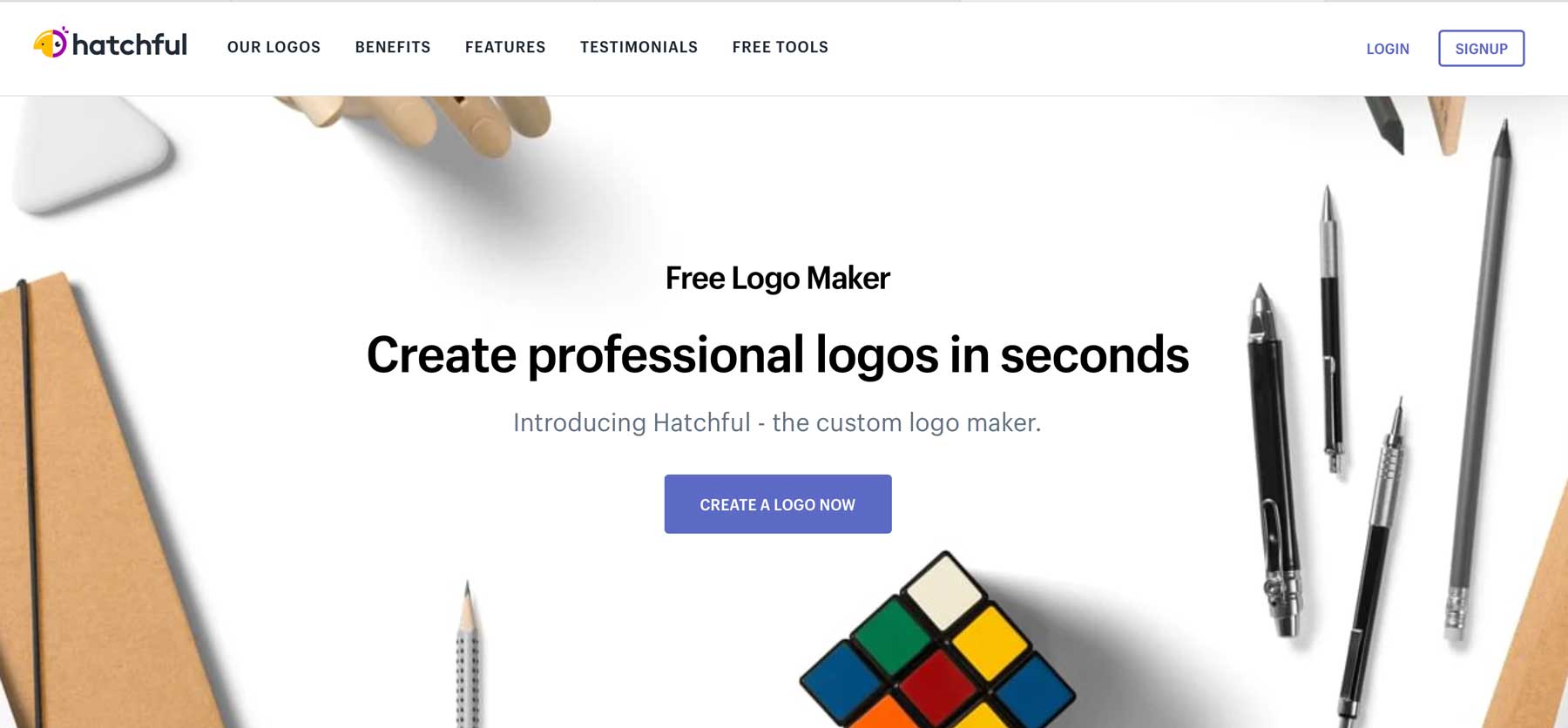 Our next entry, Hatchful, is a free logo maker available through Shopify. Just answer a few questions about your business to start creating your logo. Hatchful allows you to view variations of your chosen logo by selecting different fonts and colors.
Key Features of Hatchful:
Thousands of logo choices
Simple interface
Get variation previews with different fonts and color schemes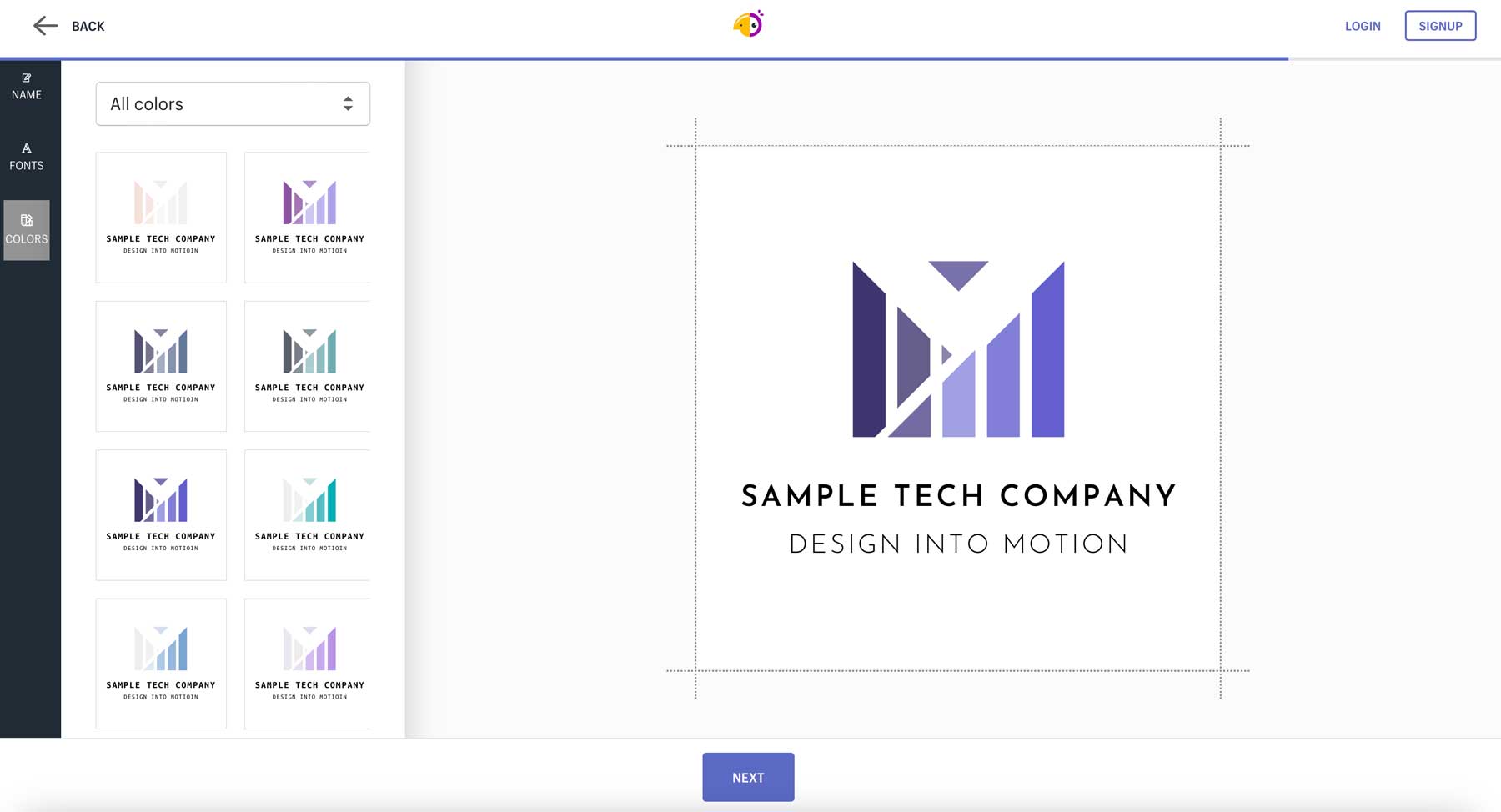 The strongest aspect of Hatchful is the ability to preview logos in different font and color combinations. This is an excellent feature for those who require a visual interpretation of their logo without having to edit it by hand.
Best For:
Hatchful is an excellent logo maker for more visual people. It allows you to see different logo versions simultaneously, making it easy to choose your favorite. The downside to Hatchful is the need for dedicated customization tools. For example, there's no color picker if you want to select a specific color.
Pricing: Free
7. Zarla Logo Maker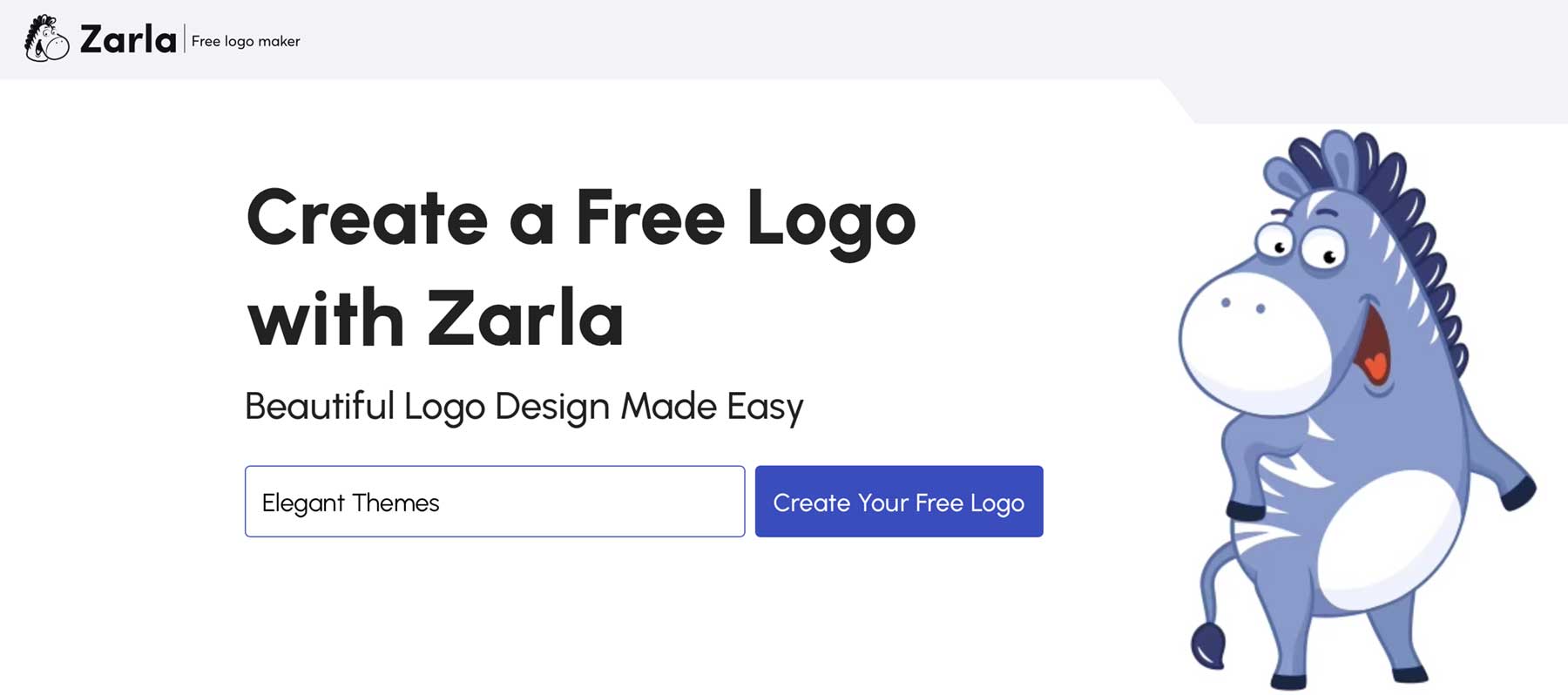 Zarla is one of the most feature-packed free logo makers on our list. Aside from standard editing tools like fonts and colors, you'll gain quite a bit more. Users can easily change the symbol, adjust its size, and add margin. In addition to that, you'll get three separate layouts for your logo, giving you more choices than other platforms.
Key Features of Zarla:
Extensive customization options
Mockups for web, business cards, t-shirts, and various merch
Ability to change the design with one click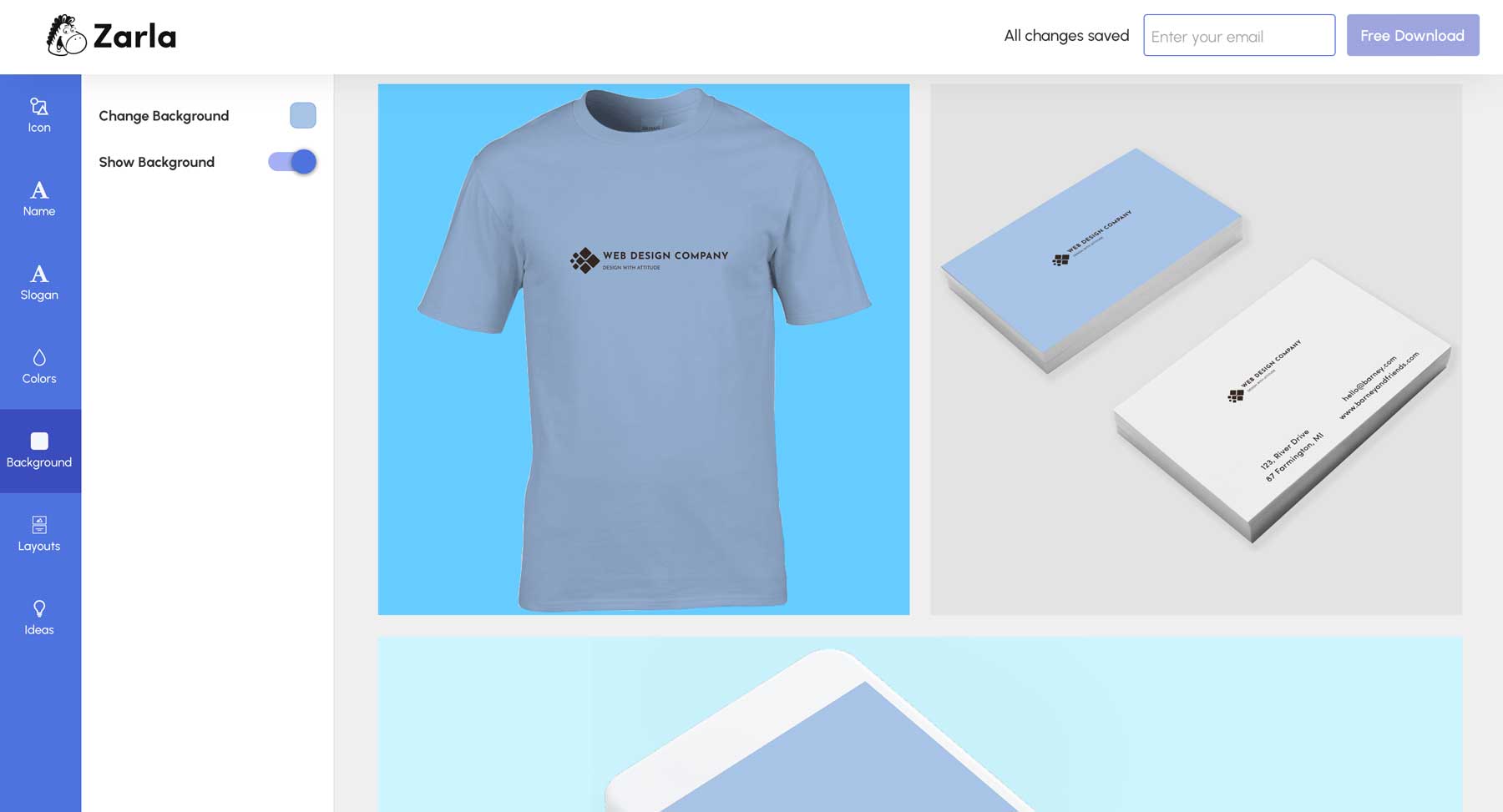 One of the best features of Zarla's logo maker is how many mockup previews you'll have. Not only can you view your logo responsively (desktop, tablet, and mobile), but you can also view how your logo will look on coffee mugs, business cards, tote bags, t-shirts, and more. But the most amazing feature of all is the free downloads. With Zarla, you'll get hi-res PNG and JPG files, SVG files, and access to over 100 templates that can be imported into Canva for personalization.
Best For:
Zarla stands out as one of the best logo makers and concept tools for people who require the tools to build their brand on a budget. With over a dozen mockups for various merch and platforms, you'll know exactly how your logo will look anywhere you plan to display it. You'll also get hi-res PNG, JPG, and SVG files along with dozens of importable Canva templates to build your brand, all for free.
Pricing: Free
8. Canva Logo Maker

Last on our list of best logo makers is Canva, one of the most feature-packed graphic suites on the market. Aside from the ability to create designs for social media, videos, and presentations, it has a pretty good logo maker. There are thousands of templates, styles, and individual design elements to help you craft the logo of your dreams. Canva will even walk you through the process, providing tips and suggestions.
Key Features of Canva:
Simple interface and tools
Thousands of templates and design elements
Good results with the free version
One of the best arguments for choosing Canva's logo maker is how easy it is to use. The interface is clearly laid out, with templates on the left and the editor on the right. Users can easily browse layouts, edit text, change colors, and search for elements. Another benefit of Canva is the ability to view your logo on various mockups, giving you a better idea of how it will look in different settings.
Best For:
Canva is an excellent platform offering incredible options in their free tier. You can easily create logos and graphics with little effort. The downside is that you'll need a paid subscription to Canva to get the most out of their logo maker. Only some templates are free, so that can be a deal breaker. However, you'll get a ton of tools for the price.
Pricing: Free, with pro plans starting at $14.99 monthly per person.
Comparing the Best Logo Makers
Features and price play a significant role when determining the king of logo makers. The top tier should have a few features, including the ability to download editable files, such as SVG or PDF. Logo makers should also give users plenty of customization options and allow them to view logos for different applications, like web and merchandise.
Best Logo Maker Price Comparison
Another big consideration is pricing. Finding a free option may be required when just starting out. That's why we elected to include free and paid platforms, so our list has something for everyone.
What Are the Best Logo Makers?
Choosing the best logo maker for your business is important, so having options is key. Of all of the entries on our list, there are two that stand out over the rest. Looka offers a range of design choices and brand-building products, making it a valuable choice for those willing to pay for a premium solution. DesignEvo is an excellent choice due to its extensive customization options and volume of templates.
The choice ultimately depends on your needs, budget, and design experience. Regardless of your choice, these logo makers provide tools for creating attention-getting logos, helping you start your new business venture.
Are you looking for more tools for your business? Check out all our articles featuring the best tools to use for your business.
Featured Image via Chaosamran_Studio / Shutterstock.com