You no longer need to be a graphic designer to create a professional logo. AI logo generators make the task quick and easy. The best AI logo generators use advanced AI technology to create logos in various styles, formats, and more. In this post, we will compare today's top AI logo generators to help you find the one that works best for you. Most have a free version of the trial that you can take advantage of, which is created to test out the interface to see if it works for you and your needs.
What is an AI Logo Generator?
An AI logo generator is an online application that allows you to create a logo for your business or brand using artificial intelligence. Generators use machine learning to analyze patterns, colors, shapes, and typography commonly found in logos, melding them together and then creating a logo matching your criteria list. Firstly, most generators will ask for your business name. Next, you'll be required to choose fonts, colors, and your logo's general feel and style. Based on this, an AI logo generator will create a series of logos you can use on the web, print, and media.
10 Best AI Logo Generators in 2023

Subscribe To Our Youtube Channel
All the best AI logo generators can take your vision, add machine learning, and produce a suitable logo for your branding. We hope that our list of the best AI logo generators will help you find the right platform for you to be able to design the perfect logo for your next brand launch or products.
The Best AI Logo Generators Listed In Order
Expand List
1. Looka Logo Maker

Looka is an online logo generator that starts building your logo by collecting market research. Its logo design process begins by asking you questions about the industry that you're in. Next, the logo designer provides several common styles within the industry you are designing for. You can add a slogan to your logo, ensuring your brand messaging is clear to your audience. Once your logo is created, you can further edit it unlimited times. Looka also uses machine learning and artificial intelligence to give you what they classify as modern-day suggestions to help spruce up your logo.
Key Features of Looka:
Generates more than 75 logos in one fell swoop
Seven color scheme categories with hundreds of choices and selections
More than 300 font options in a variety of styles, including handwritten, vintage, sans serif, and much more
Saves previous logo generations and allows you to favorite generations that speak to you
Upload your own logo to edit and generate a brand kit from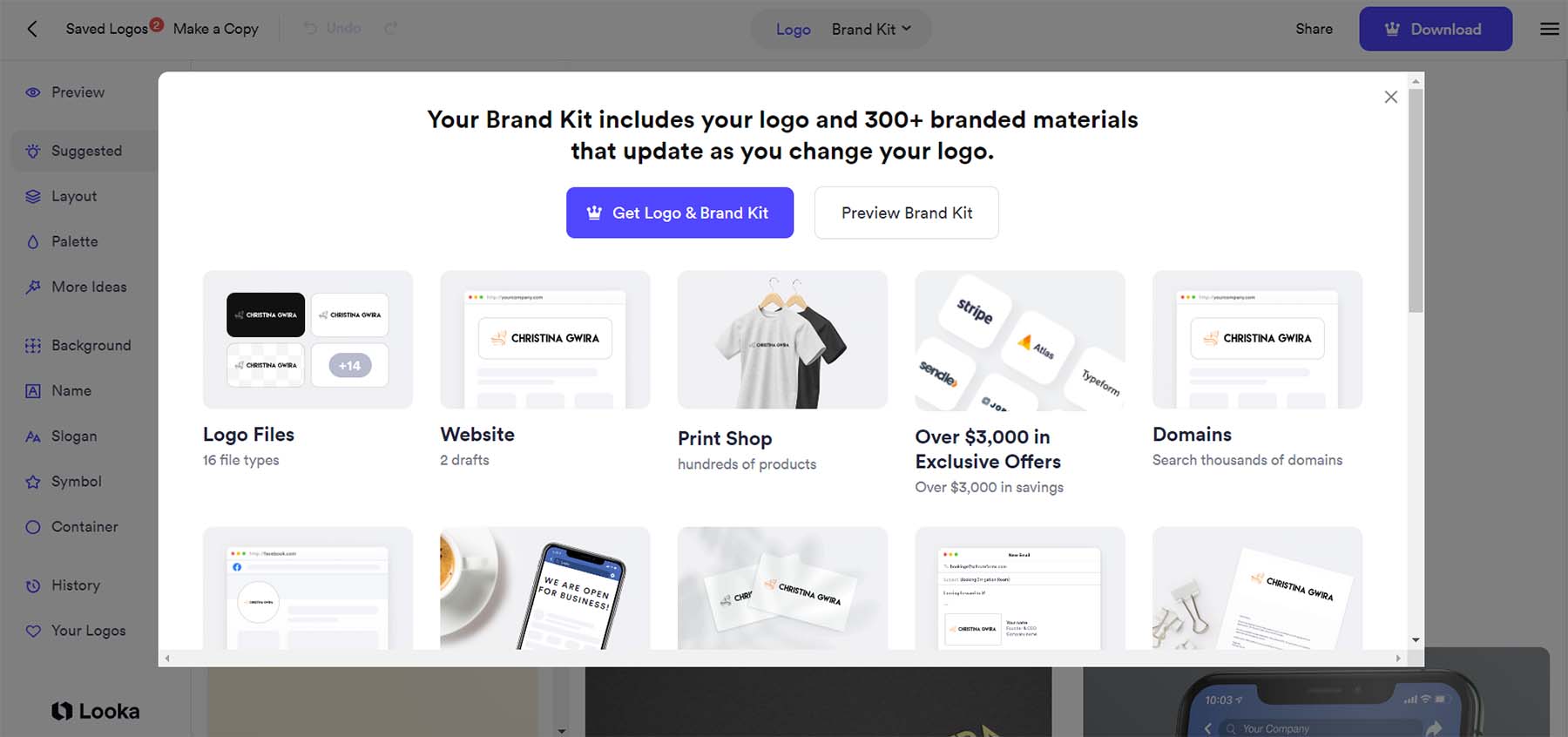 After generating your logo, Looka also helps you to create the branding kit to support it. From business cards to letterheads, invoices to apparel, Looka provides myriad ways to use your logo to promote your brand, all from within its logo generator.
Best For:
Looka is an AI logo generator that provides many supporting materials for your logo. Social media banners, email signatures, brochures, and more can all be created once you use this platform for your logo. If you need help crafting your branding collateral for your website, Looka is the AI logo generator you need to use for your business.
Pricing: Free, Paid plans start at $20 (one time fee)
2. DesignEVO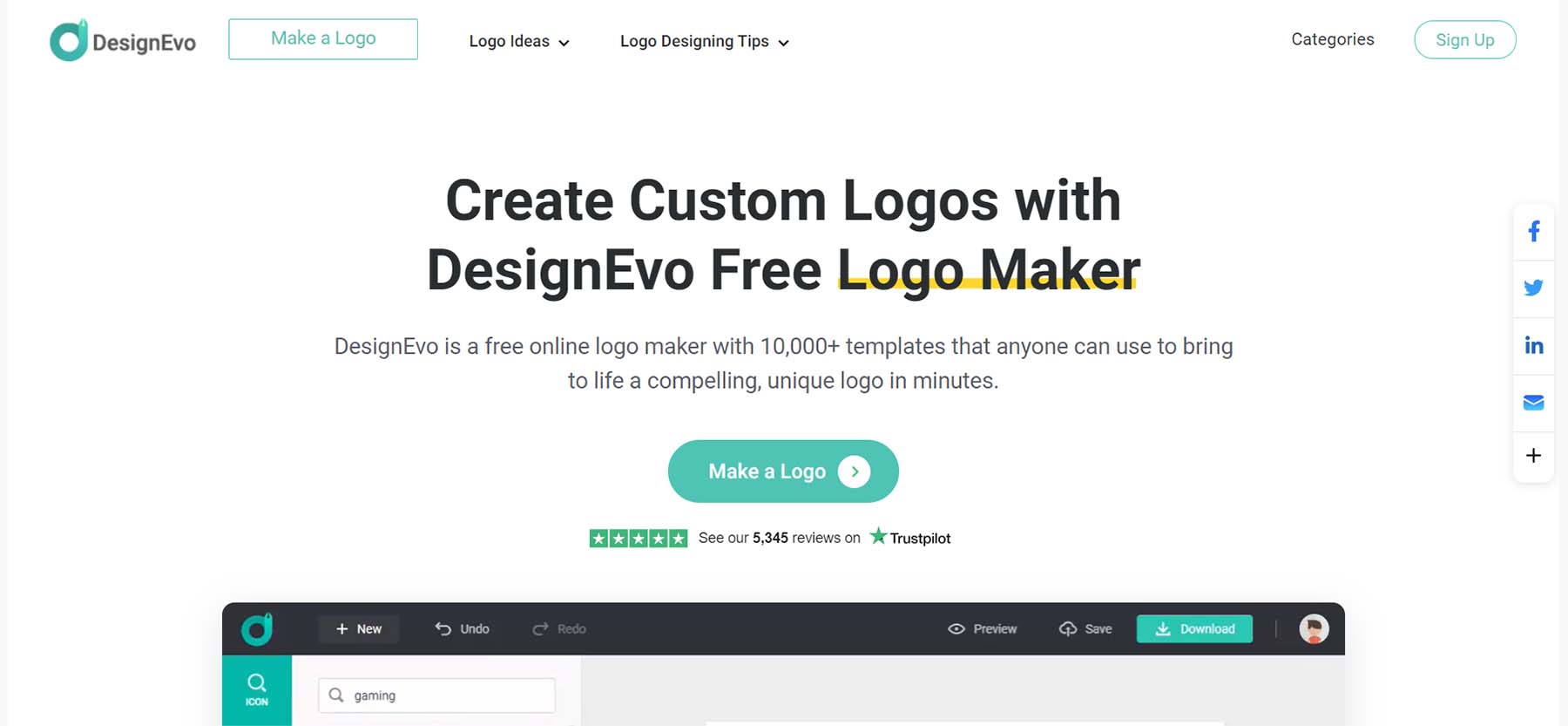 DesignEVO is a free logo maker and AI logo generator. Of all the AI logo generators on our list, DesignEVO has the most extensive library of assets that you can use to inform your AI-created logo. It starts first with a pre-designed logo. Then, you can edit it and add your colors, fonts, and icons. Using AI, DesignEVO helps you decide which templates match your business's branding and style. The builder is highly functional and intuitive, allowing you to edit every aspect of your logo to meet your needs. You can click-and-drag elements of your logo around freely, add shapes, change icons, and much more. Additionally, once you are happy with your logo, you can download a free version or purchase a premium version that gives you lifetime updates, high-quality file downloads, and font files, among other things.
Key Features of DesignEVO:
10,000+ logo templates to start from
Millions of free vector icons to add to your logos
100+ font styles to use and choose from
Editable solid and gradient color schemes
Download high-quality print-ready file types like SVG and PDF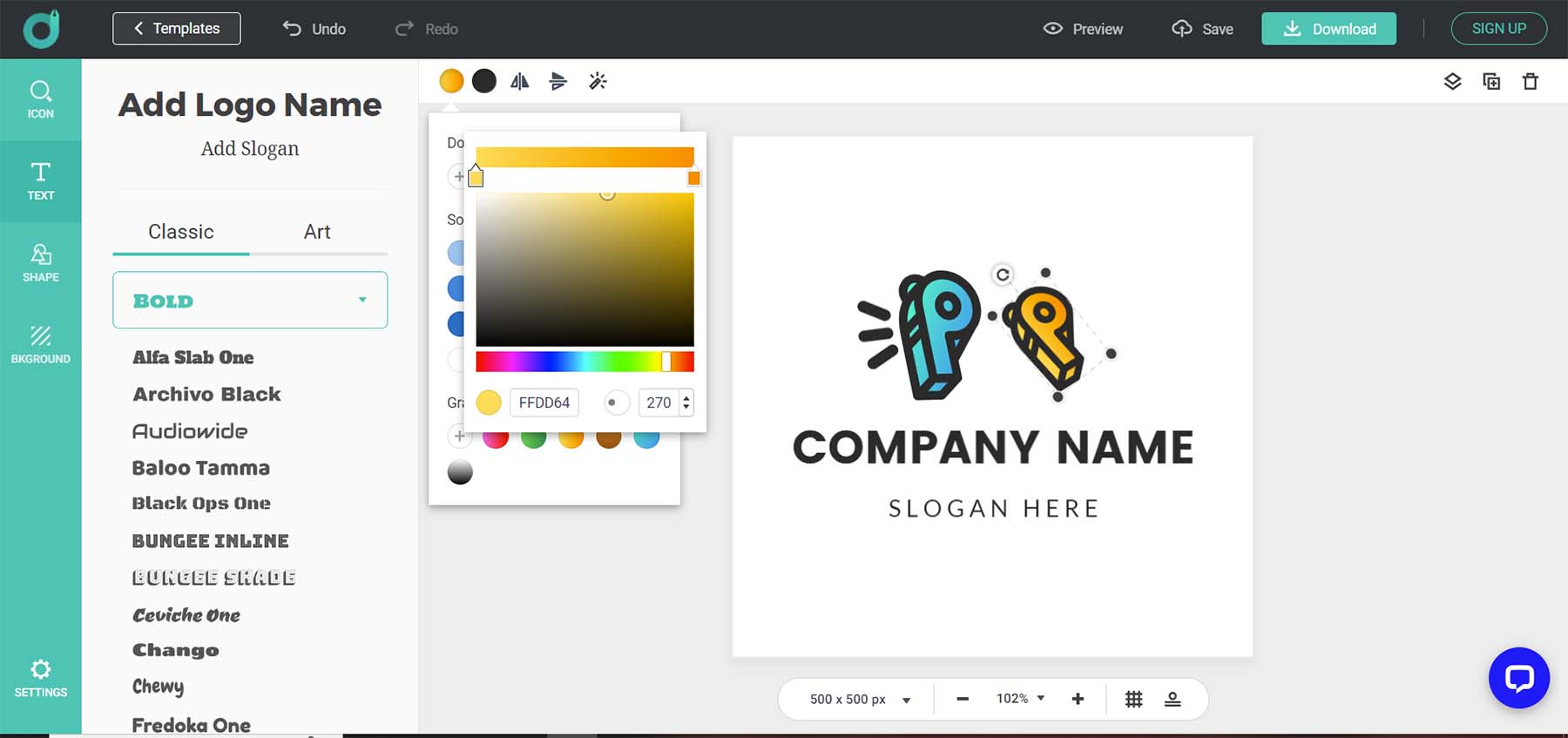 The gradient builder is a unique feature of the DesignEVO interface. While most logo generators on our list stick to plain, flat colors, DesignEVO provides a selection of pre-generated gradients and the ability to build your two-stop gradients for your logo. Add depth to your logos by adding gradients that will take your designs to the next level with DesignEVO.
Best For:
If you get stuck in analysis paralysis when deciding what you'd like your logo to look like, choose DesignEVO to help you with your logo-building needs. This generator provides tons of inspiration to help you build the perfect logo for your brand. With its colossal library of pre-built logos for you to edit, finding the spark of imagination to build and create your logo is easy with DesignEVO.
Pricing: Free, Paid plans start at $49.99 (one time fee)
Try DesignEVO Logo Maker for Free
3. Wix Logo Maker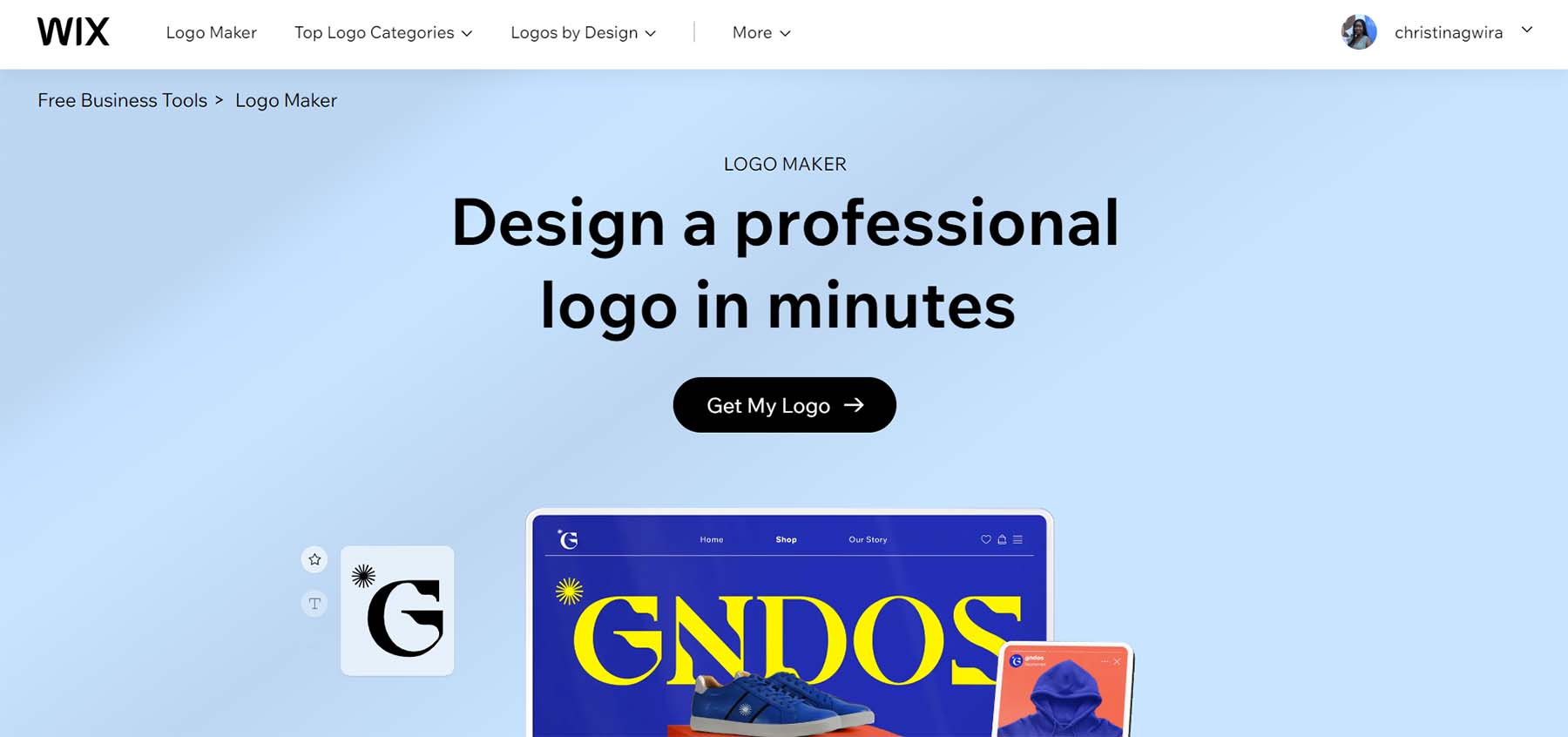 The Wix Logo Generator is a part of the Wix suite of products. In addition to being one of the best AI website builders, Wix has a broad collection of applications that can help you build your online presence. One such product is the Wix Logo Generator. Their logo maker tool is the most flexible on our list, allowing you to make deep edits to your logo once it has been generated with AI. Once you have created your logo, you can create several more, download themes, or integrate them into the Wix Brand Studio. Your logo is provided in eight file formats, including full-color, grayscale, and monochrome versions. You also have the option to get the SVG versions of your logo, allowing you to edit your design further in programs like Gimp and Adobe Illustrator.
Key Features of Wix Logo Generator:
Over 40 color palette combinations
Hundreds of font selections, including Google Fonts
Over 100 full-color and monochrome icon choices
Add and customize geometrics shapes within your logo
Upload your own design assets and logos to the generator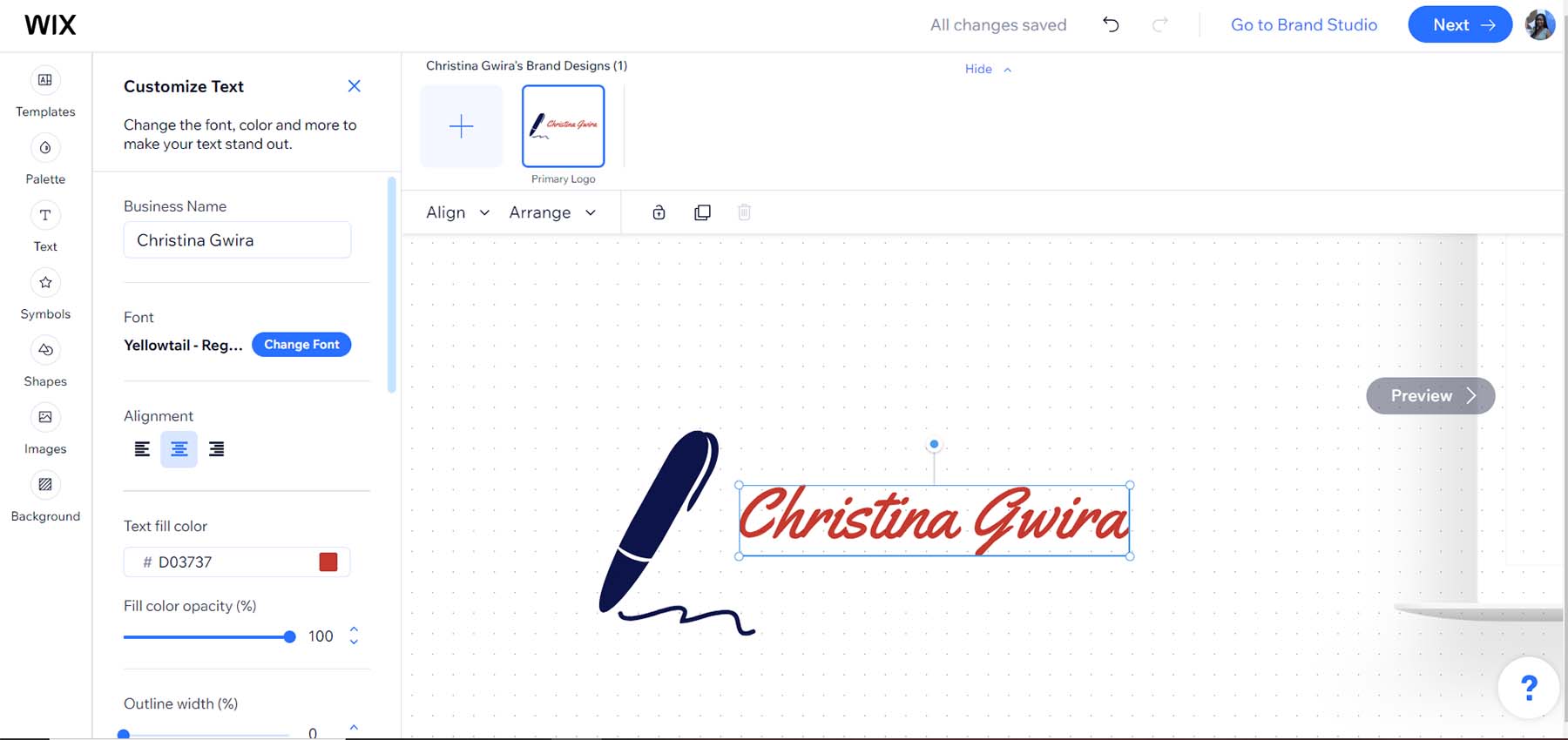 Unlike many of the logo generators on our list, Wix's Logo Generator allows you to click and drag the various elements of your logo to create your pixel-perfect visual identity. Change the alignment, opacity, outline width, and much more. Whereas other generators give you cookie-cutter logos, Wix's generator gives you powerful graphic design tools to build an AI-informed, custom logo for your business or brand.
Best For:
If you're looking for a combo deal when designing your logo and getting a good website builder, start your design journey with Wix's Logo Generator. Additionally, for a fully customizable logo-building experience, Wix's Logo Generator allows you to edit your logo deeply.
Pricing: Free
4. Tailor Brands Logo Maker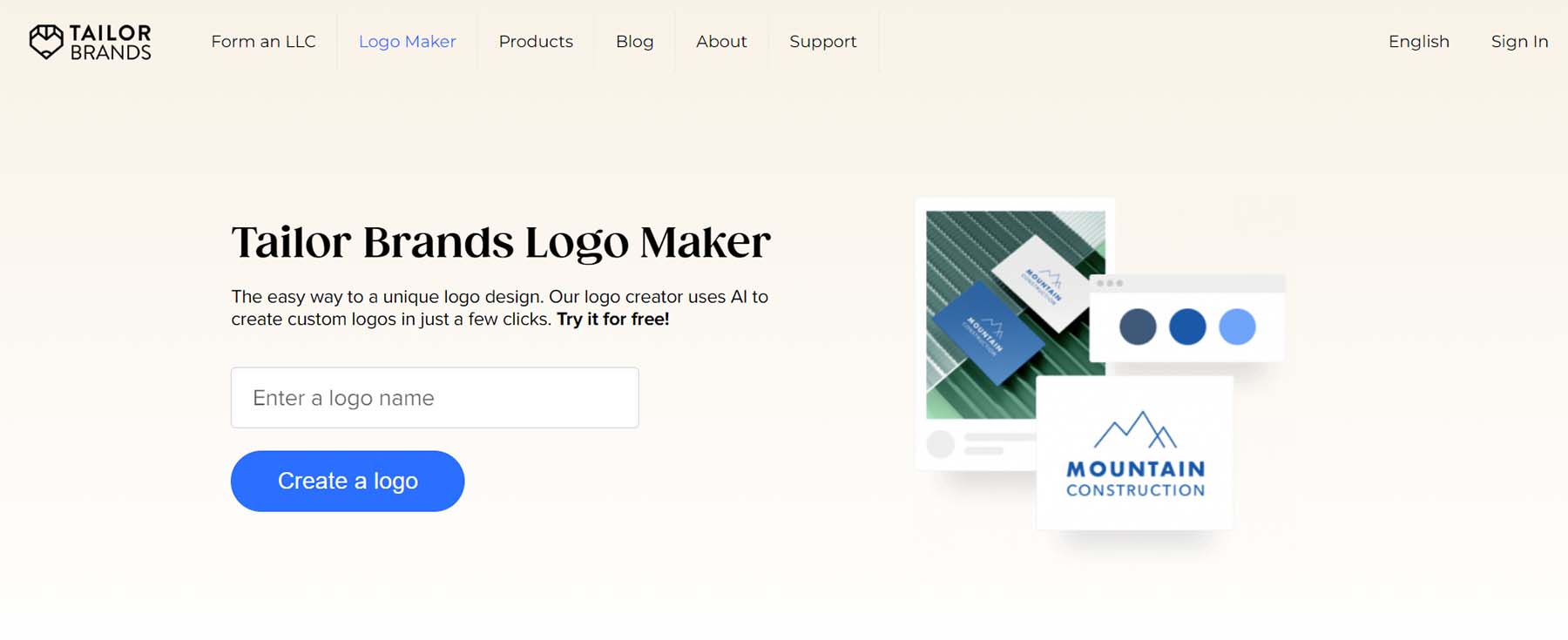 Tailor Brands is a full-scale platform for businesses and brands. Whether you need to get your business registration papers in order or need help with a website, Tailor Brands has the tools to help you get your business off the ground. This includes its AI logo maker. The logo maker has a clean and easy-to-understand layout, making creating a logo simple. From its vast library of fonts, icons, colors, and styles, Tailor Brands AI logo maker gives you plenty of options to create your perfect logo. Once you've made the logo of your dreams, the platform can also assist you with other business necessities with your new logo in tow. Overall, Tailor Brands' logo generator is the best place to start building your brand for a one-stop shop that starts with your logo.
Key Features of Tailor Brands:
The straightforward visual logo design process with hundreds of icons, color schemes, and layouts
Generates over ten different logo options based on your color, font, and style selections
Ability to download high-quality PNG and JPG versions of your logo on a white or transparent background
Save your favorite logo combinations and download a free sample
Generates business card designs, branding books, and more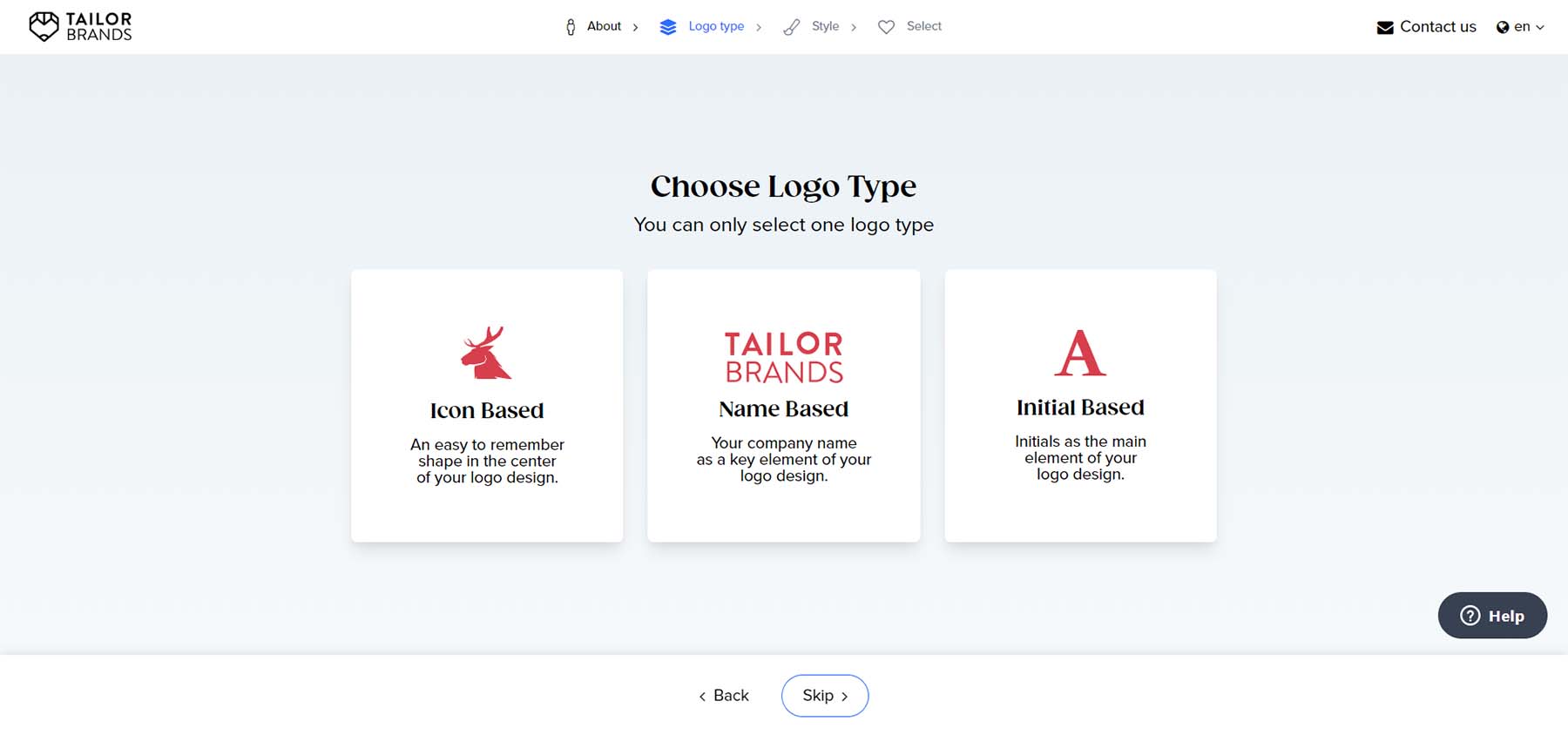 Tailor Brands questionnaire is one of the most thorough on our list. From asking about your logo style to colors and fonts to specific icon shapes, this AI logo generator does an excellent job deducing how you want your logo to look in just a series of clicks. Whereas other generators provide generic questions and options unrelated to branding, Tailor Brands questionnaire asks you the correct design queries to build a perfect, AI-powered logo.
Best For:
If you're looking for a one-stop shop for your business needs, build your logo with Tailor Brands. Its full suite of tools takes your logo and adds it to design collateral like flyers, business cards, and a website. So if you need more than just a logo generator, Tailor Brands' is a great place to start building your business online.
Pricing: Free, Paid plans start at $12.99 per month
Try Tailor Brands Logo Maker for Free
5. LogoAI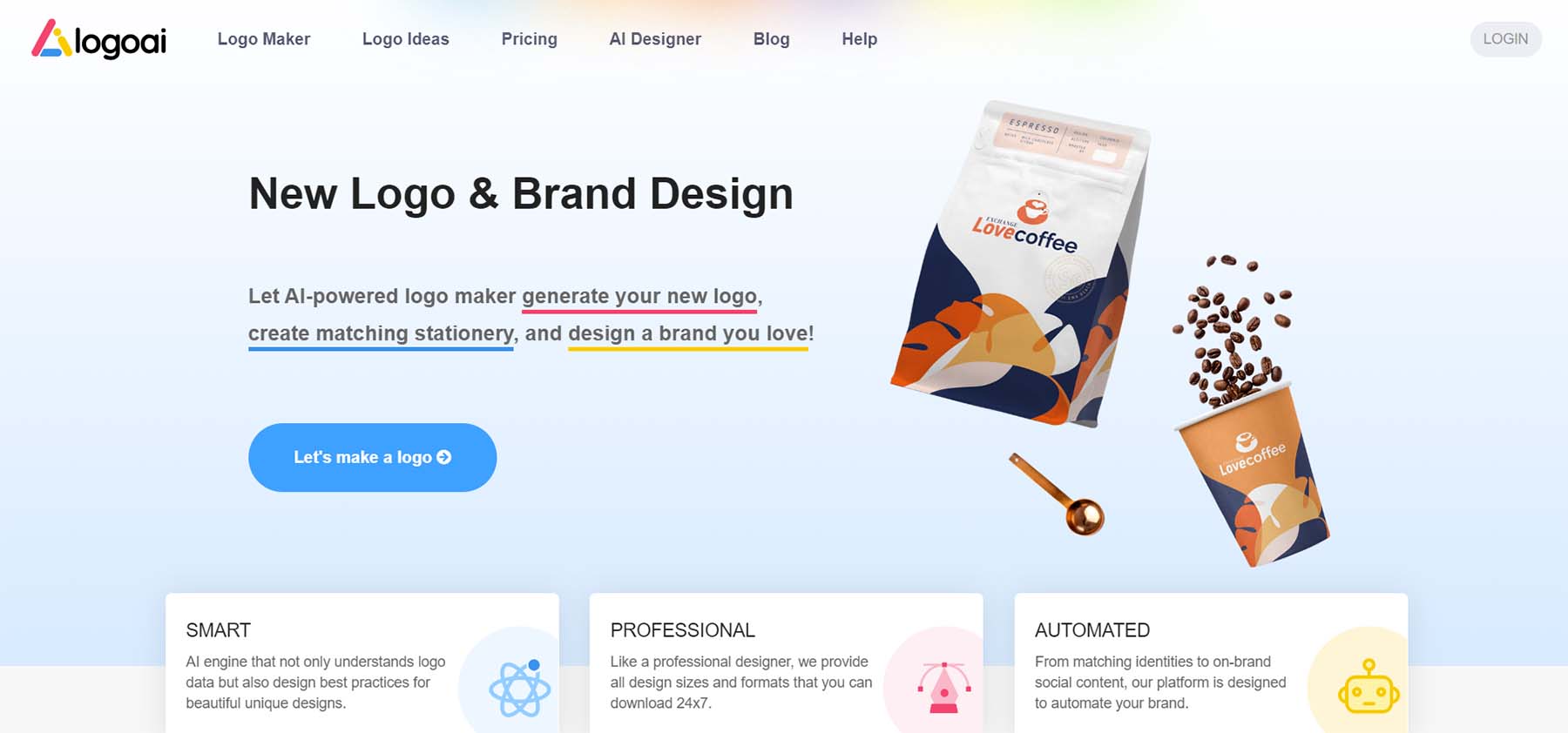 LogoAI is an AI logo generator that has a simple interface. While LogoAI's interface allows for click-and-drop design, it can be limited in some options when generating your logo, depending on the logo generation you choose to customize. Certain styles have a restrictive color scheme, making it difficult to use your custom colors when building your logo. However, there are many areas where LogoAI shines. For starters, it's one of the few generators on our list that provides you with an animated version of your logo. Secondly, LogoAI has plenty of options for editing each aspect of your logo. From your icon to your text, LogoAI provides editing options such as skewing, rotation, and deep color customization of icons with solid colors and gradients that other logo generators skip out on entirely.
Key Features of LogoAI:
Over 50 fonts to choose from, including Google Fonts
Upload your custom font for use within the AI generator
Seven primary color schemes with a custom color picker option as well
Logos can be made available in PNG, SVG, and PDF file formats
Download video and GIF animated versions of your logo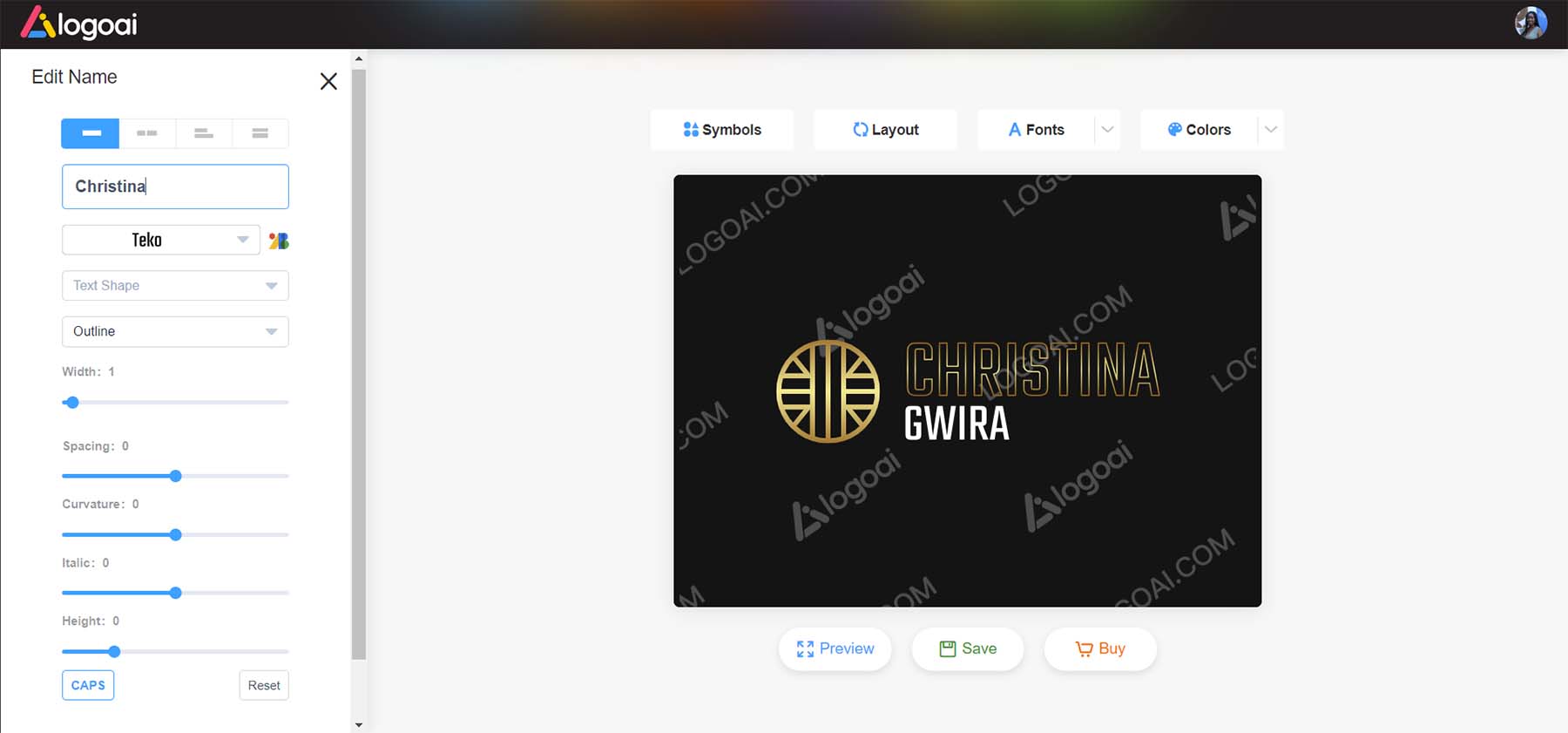 LogoAI has a bountiful list of options for editing the text within your logo. Change the shape, solidify your text and outline, or choose your favorite Google Font. All these options and more are available to you when you use LogoAI. Additionally, you can edit the layout of your text, add accents like backgrounds and lines, and so much more.
Best For:
For those looking for an in-depth logo generator that will provide you with the tools to edit your logo deeply, LogoAI is for you. With its extensive customization options and a vast library of icons, creating an AI-powered logo that's easy to customize is possible with this platform.
Pricing: Free, Paid plans start at $29 (one time fee)
6. Designs.AI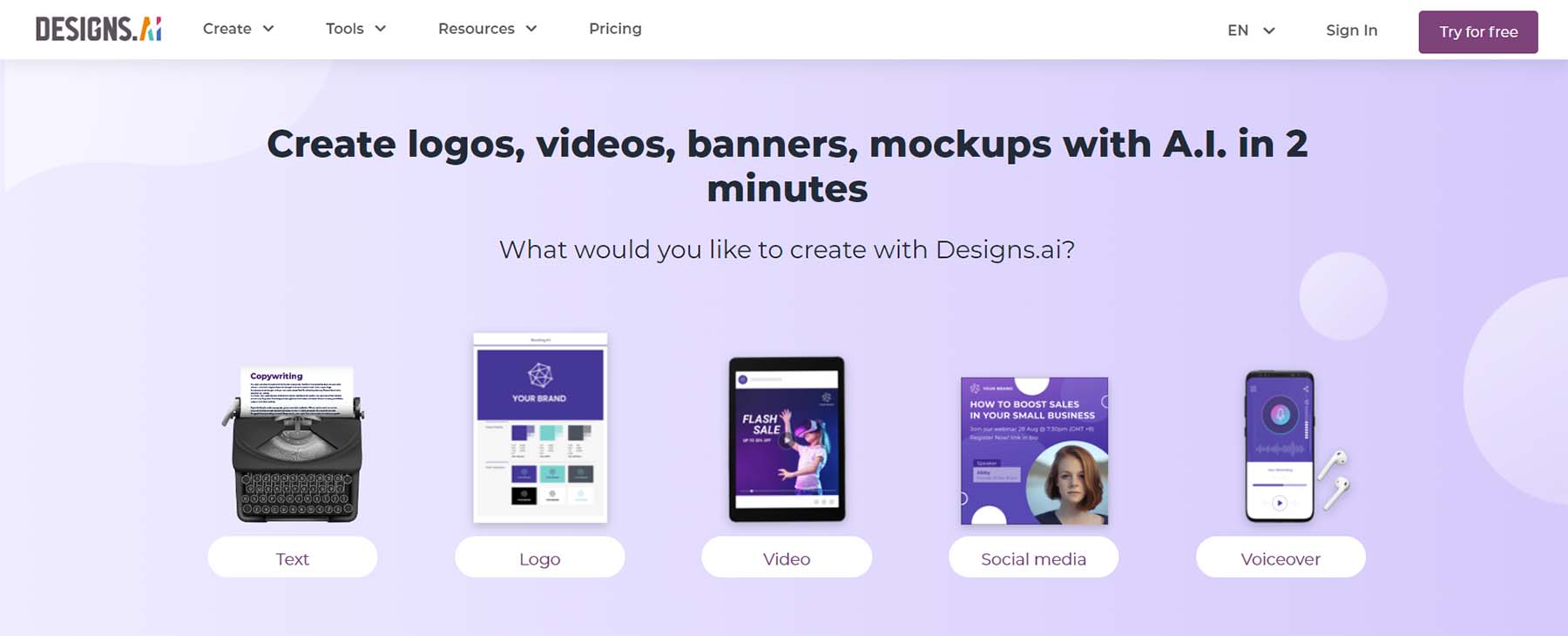 Designs.AI is a full-scale design studio with multiple AI generators for copy, videos, and logos. The AI logo generator allows you to build numerous logos based on your industry and branding. Once your logo is generated, you have a variety of controls that you can use to customize your logo. From changing its background to switching out icons from its extensive icon library, Designs.AI is an easy-to-use logo generator with enough tools to make a simple logo. Google Fonts power the generator, so you can choose from a selection of popular and web-based fonts that you can use in your branding and eventually on your website. Once you've designed your logo, you can download it in SVG, PNG, JPG, and PDF formats. With a monthly subscription, you can create and manage a complete branding and social media kit, brand story, and mockups using your logo.
Key Features of Designs.AI:
10,000+ icons available for use
Smart suggestions for font, color, and style combinations
Eight font style categories, 20+ color palettes, and 60+ icon border styles
Alignment, vertical and horizontal transformation, and undo/redo tools and options
Change font letter spacing, font size, and positioning of business name and slogan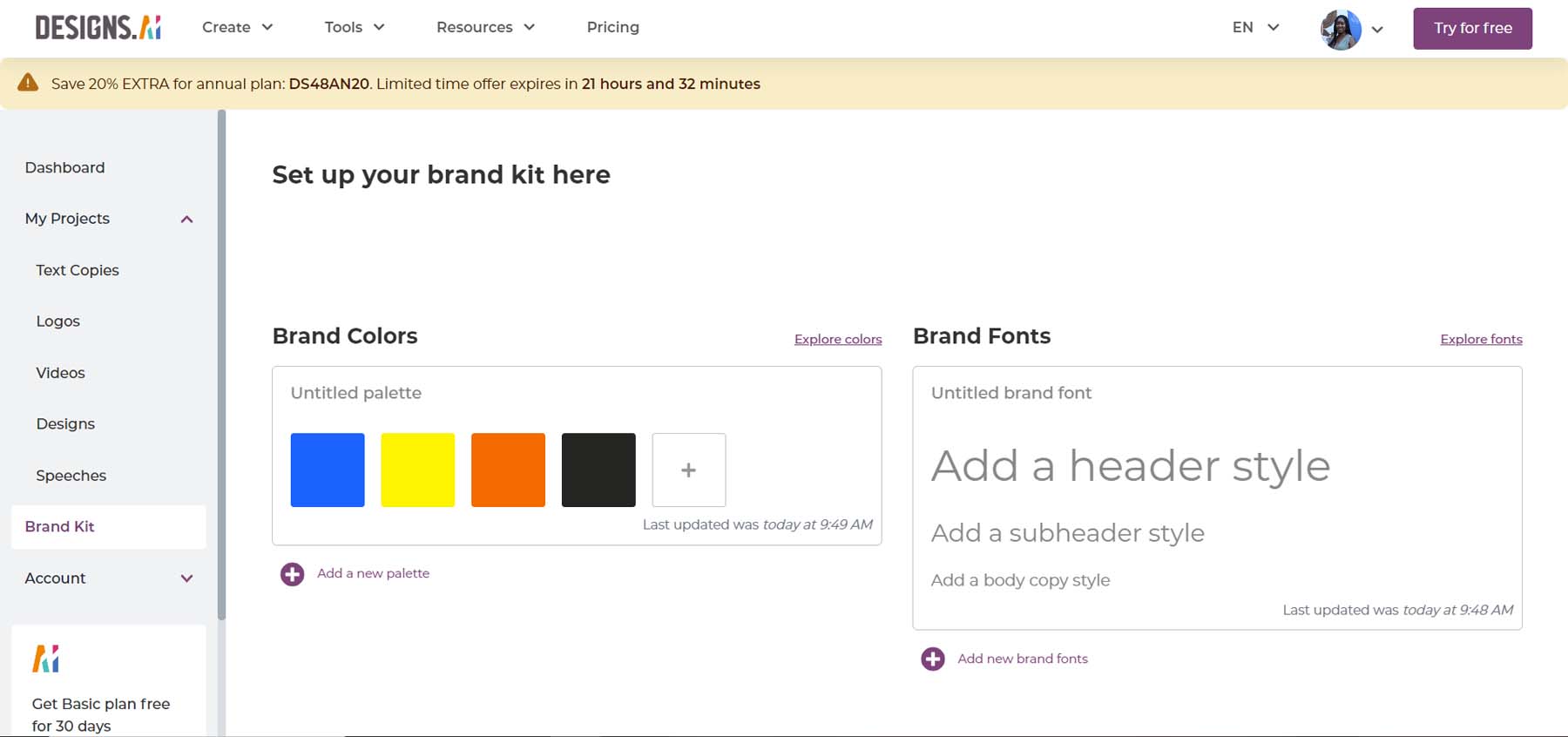 Designs.AI's brand kit maker is a great and free way to track the colors used in your logo for use throughout the rest of the software. Add as many colors as you'd like and be able to copy their hex code for use on the Designs.AI platform or outside its ecosystem. Furthermore, when you upgrade your package, you can create an unlimited number of color palettes and brand fonts, which you can use to create more assets within Designs.AI.
Best For:
To have all your graphic brand assets hosted in one place, you need to use Designs.AI as your logo generator. With its easy-to-use logo maker and great online platform, building a brand is an uncomplicated process with this tool by your side.
Pricing: Free, Paid plans start at $29 per month
7. Hatchful Logo Maker (by Shopify)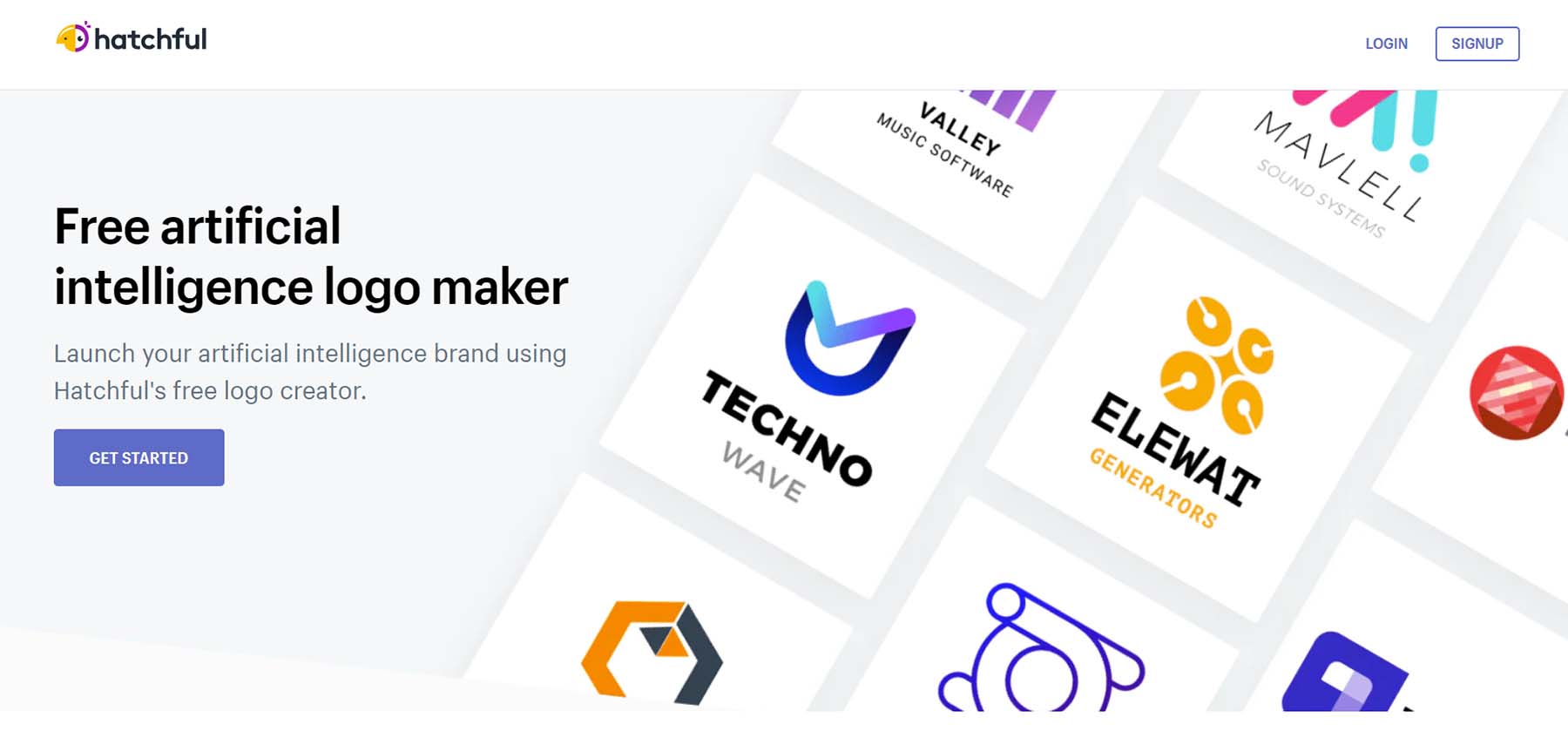 Hatchful by Shopify is a completely free logo generator. Because of this, it is one of the more basic generators on our list. You can't change the spacing of your business name, can't choose your colors, or upload your logos and fonts like other AI generators. Nevertheless, Hatchful uses AI to create color and logo combinations that you can use to get the basics of your visual identity established. The Hatchful interface is clean and easy to use, with only three main options. You can edit your business name and slogan, change your font, and select a color from the generated color palettes. Overall, for the most basic of logos, consider using Hatchful. And if you haven't settled on a business name yet, you can use Shopify's Business Name Generator.
Key Features of Hatchful by Shopify:
Integrated with Google Fonts
Ten different color styles
Hundreds of color and font options
Free social media assets based on your newly created logo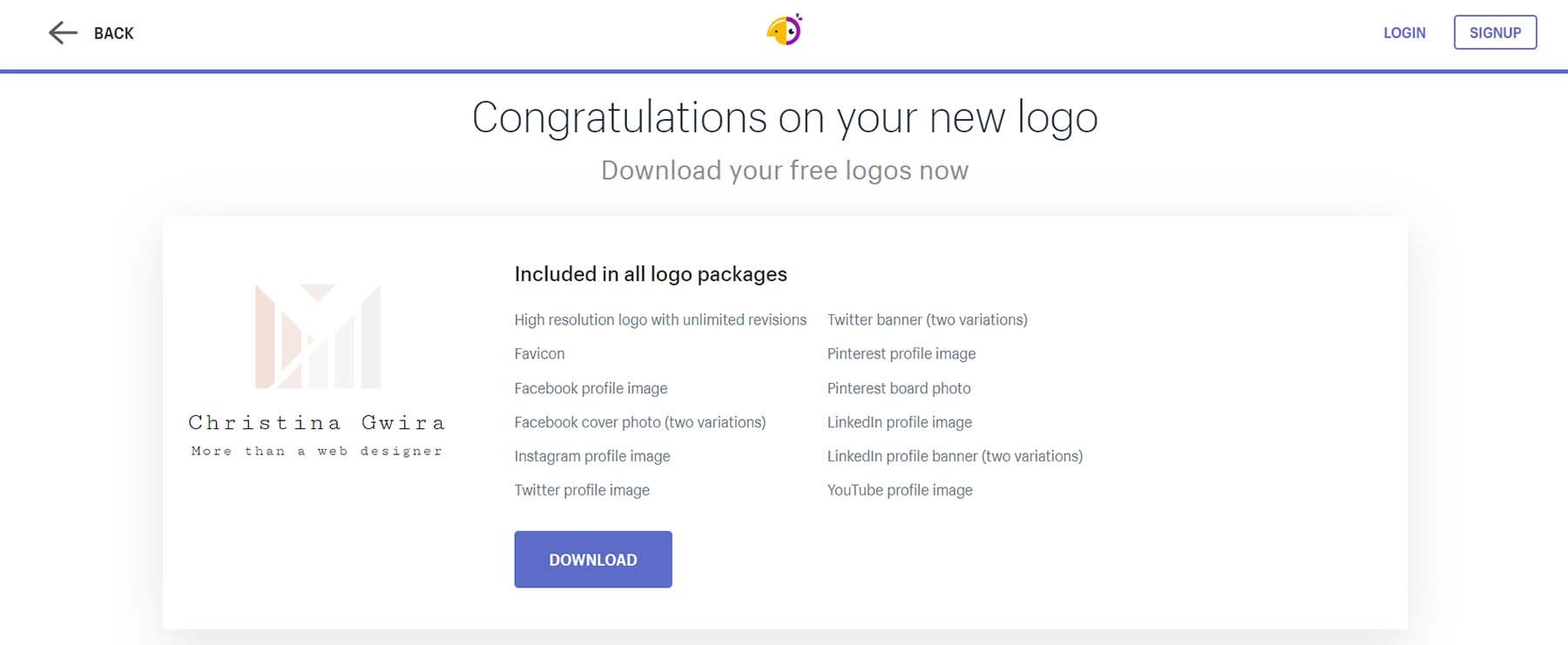 Hatchful provides you with the most logo files from all the logo generators on our list. Once you've completed designing your logo, you'll receive a ZIP folder in your email with your logo resized to the correct resolution and dimensions for many social media networks. You will also receive banners and have access to edit your logo if you need to make any changes and re-download your design assets.
Best For:
If you do not want to create all the design assets for your social media pages, like profile photos, banners, and more, use Hatchful. The logo generator creates all these files for you when you create your logo saving you time editing and resizing your logo and creating your social media branding assets.
Pricing: Free
Make a Logo with Hatchful for Free
8. Logomaster.ai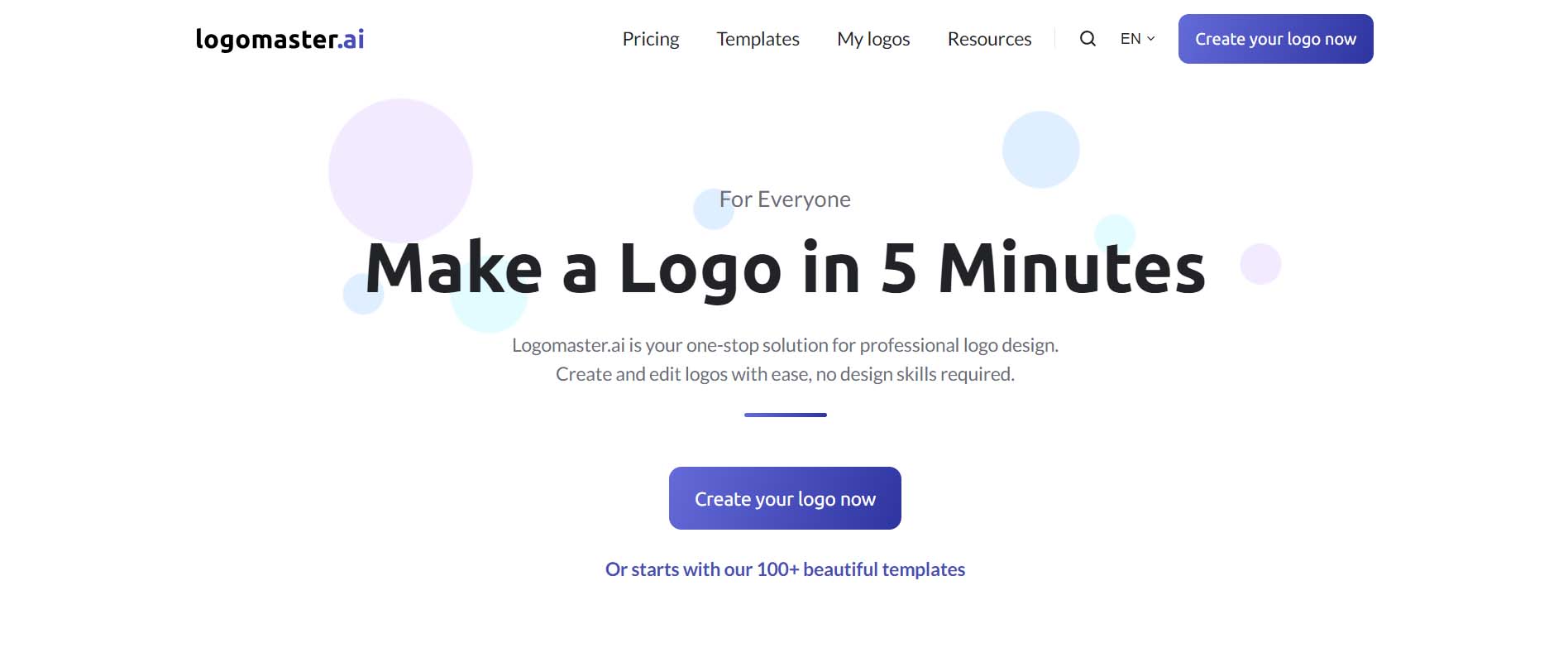 Logomaster.ai is genuinely one of the masters of AI logo generation, allowing you to create a professional logo in 5 minutes. The process starts with a simple questionnaire that allows you to share your industry, slogan, business name as well as the style of your logo. Next, you can select your fonts, colors, and icons. With all these options, the combinations you can generate with AI are extensive. Additionally, Logomaster.ai has a powerful editing interface, allowing you to make quick edits to your logo without using any design software. The platform is integrated with Google Fonts, so you can find your favorite fonts and choose from a deep library of backgrounds, shapes, and lines to add to your logo. You can download your logo in high-resolution and web-ready file formats when you're happy, and depending on the package you choose, you can receive other variations of your logos.
Key Features of Logomaster.ai:
100+ logo design templates
100+ icon options
15+ premade color palettes
Six font categories, boasting over 100 fonts in total, powered by Google Fonts
Add decorations like frames, borders, patterns, separators, and decorative lines.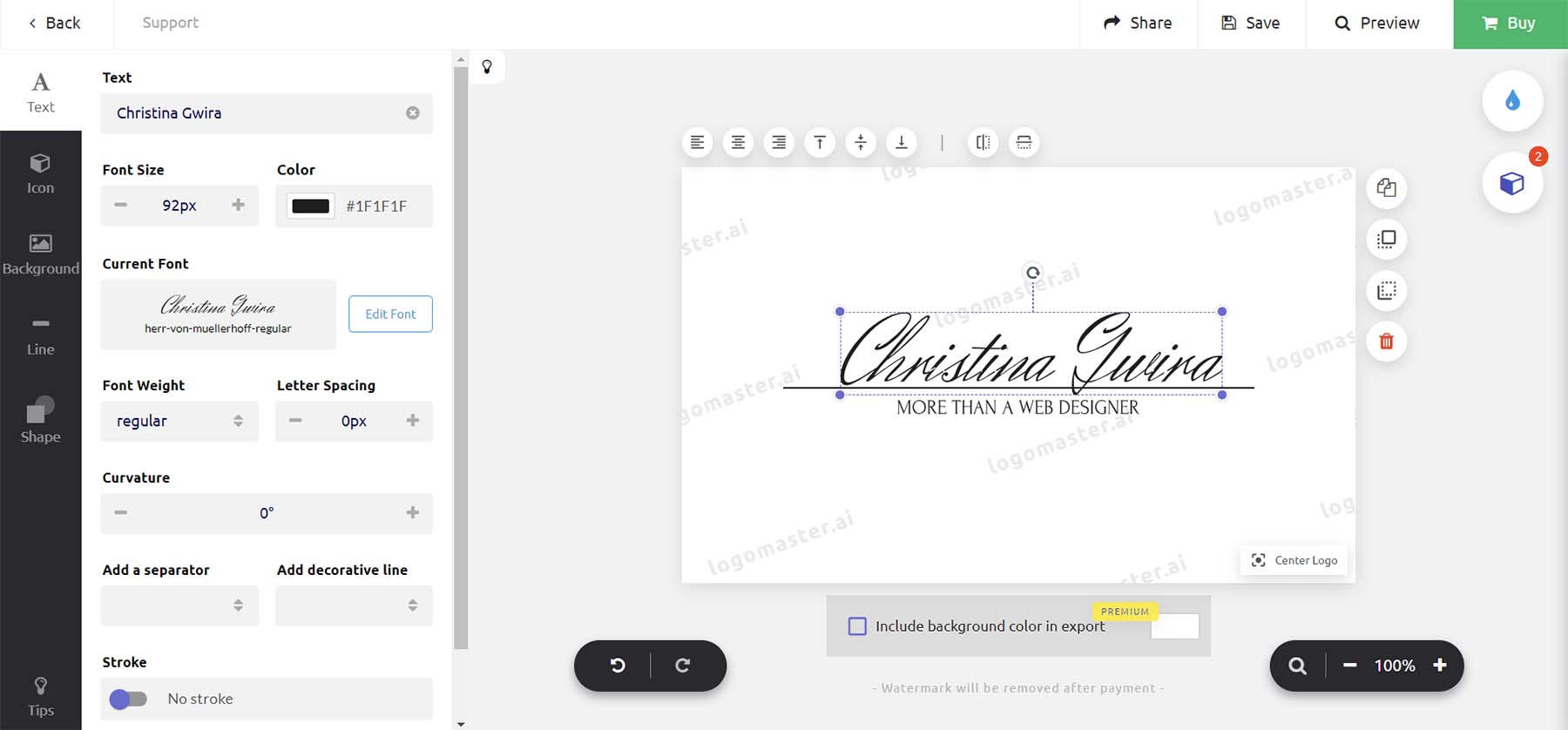 With click-and-drag functions, a wide array of editing tools, and layers, Logomaster.ai's editing interface is one of the better ones on our list. While the interface is full of tools, bells, and whistles, it is easy to navigate, especially if you are familiar with concepts used in programs like Canva and Adobe Photoshop. Changing colors, moving layers, and more is easy with this platform, making your logo-building experience suitable.
Best For:
Logomaster.ai is an AI logo generator for those who want to do more with their logo. If you want more than the primary icon and text logo, you can add and customize additional flourishes and accents to your logo and edit them to match your needs.
Pricing: Free, Paid plans start at $54 (one time fee)
Make a Logo with Logomaster.ai
9. Logobean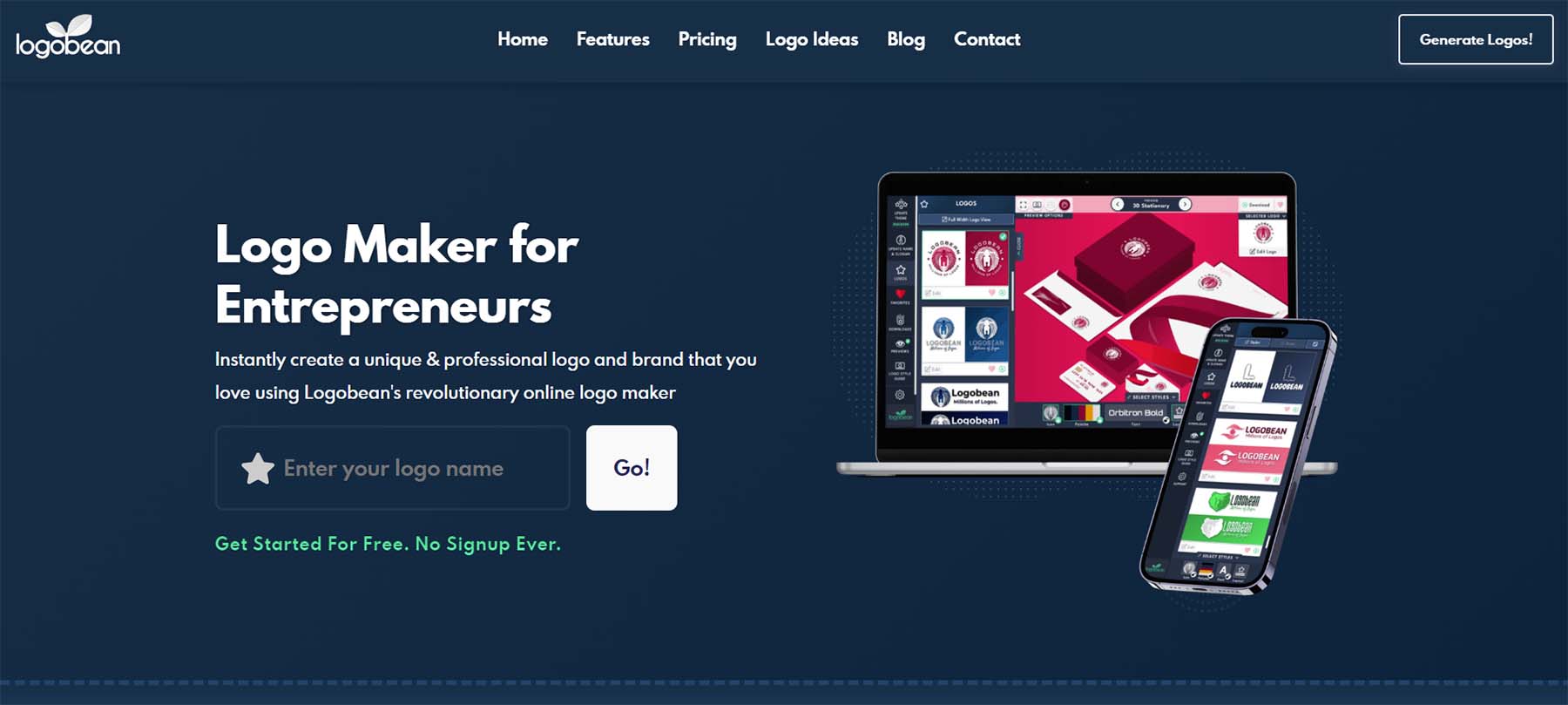 Logobean is an online AI logo generator with a complex yet powerful interface. Logobean's interface has a slew of options that you can use to edit and style most aspects of your logo. You can select an icon, font, and color palette like the other logo generators. However, Logobean gives you additional controls. Rotating and flipping icons, line and letter spacing, font size, and text alignment can all be applied to the business name, slogan, and icon of the logo you create. Furthermore, you can pick various hues and tints from the color picker, opening up the possibilities for colonizing your logo.
Key Features of Logobean:
Integrated with Google Fonts
Five central color palette schemes, with over 20 color palettes within each scheme
Generates interactive, digital logo style guide complete with brand guidelines for logo and typography usage
Download logo files in PNG and SVG.
Online logo management portfolio where your users or team can download your logo and associated brand guidelines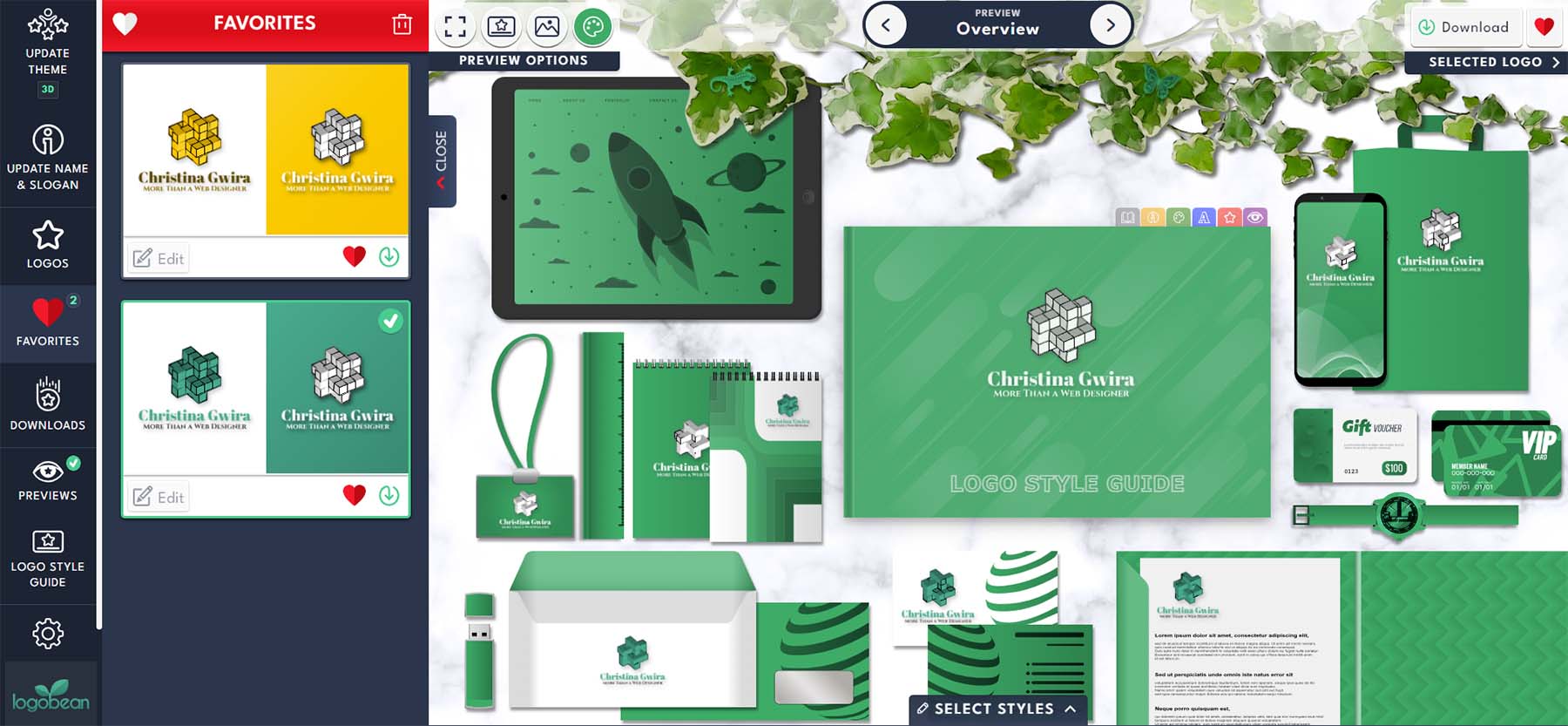 Logobean's preview interface lets you see how your logo will interact in various use cases. See what your logo will look like on a darker background or if it is a lighter shade. See the placement on an envelope and decide how it will look on a notebook. Logobean provides multiple mockup previews of your logo once you're done designing it so that you can see what your future logo will look like in the wild.
Best For:
If you'd like to see your logo in various real-life use cases as you design it, Logobean is a great tool. Its many editing options make it a great AI logo generator for those who want to customize their logos to match their needs while seeing what their options will look like out in the wild.
Pricing: Free, Paid plans start at $29 (one time fee)
Make a Logo with Logobean for Free
10. Logo.com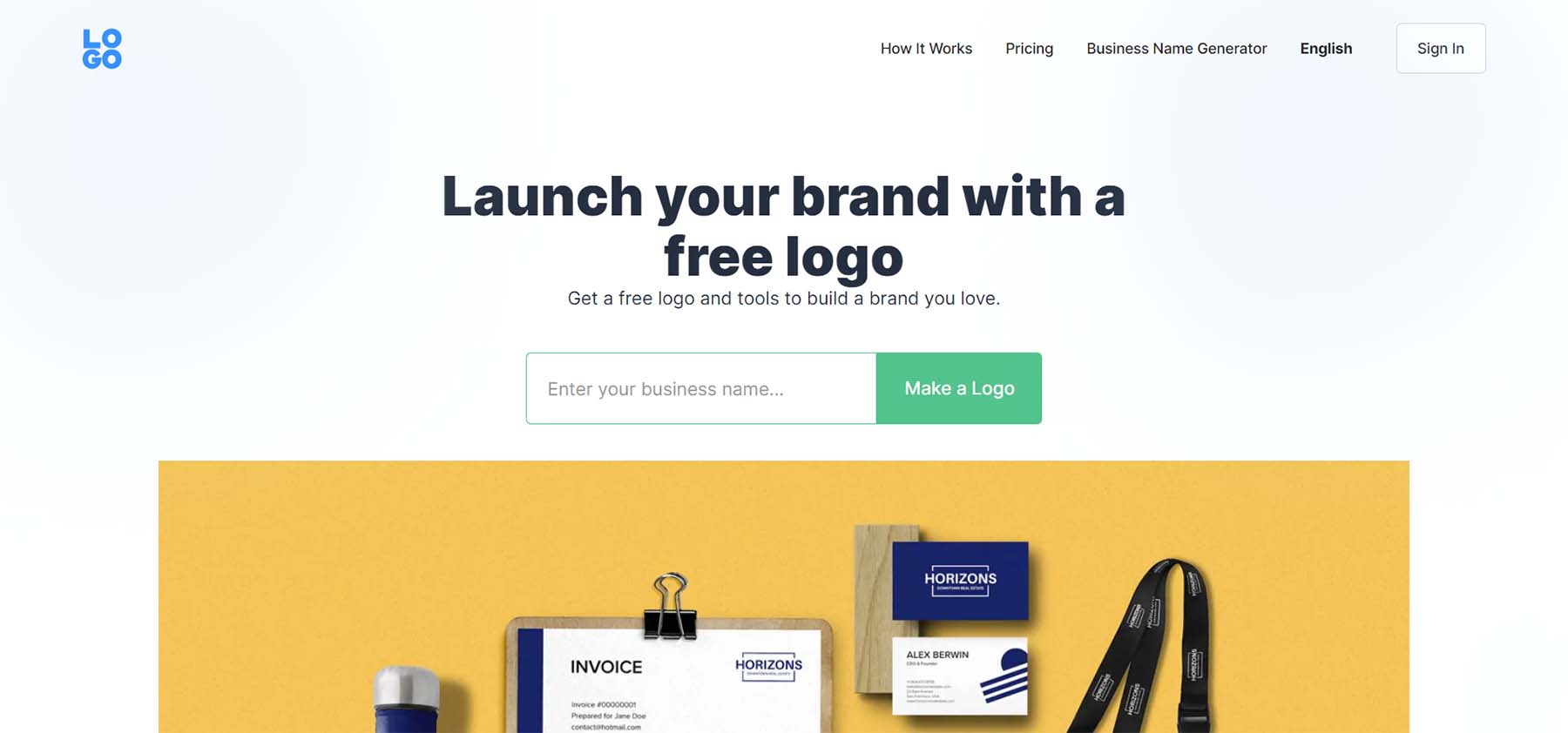 The Logo.com platform offers a vast library of logo templates, icons, fonts, and colors, allowing users to customize their logos based on their unique requirements and preferences. Logo.com also provides tools and features to help users fine-tune their logo designs. Users can adjust the layout, change the colors, modify the font styles, and add or remove elements to create a logo that represents their brand effectively. In addition to logo design, Logo.com offers additional branding services. Users can explore various options for business card designs, social media assets, stationery, and other brand identity materials, allowing for a consistent and cohesive brand image across different platforms.
Key Features of Logo.com:
Generates an unlimited of logos from your questionnaire
100s of custom color palettes and themes
Easy-to-use interface with simple tools and controls for logo design
Save and share logo variations for use and download later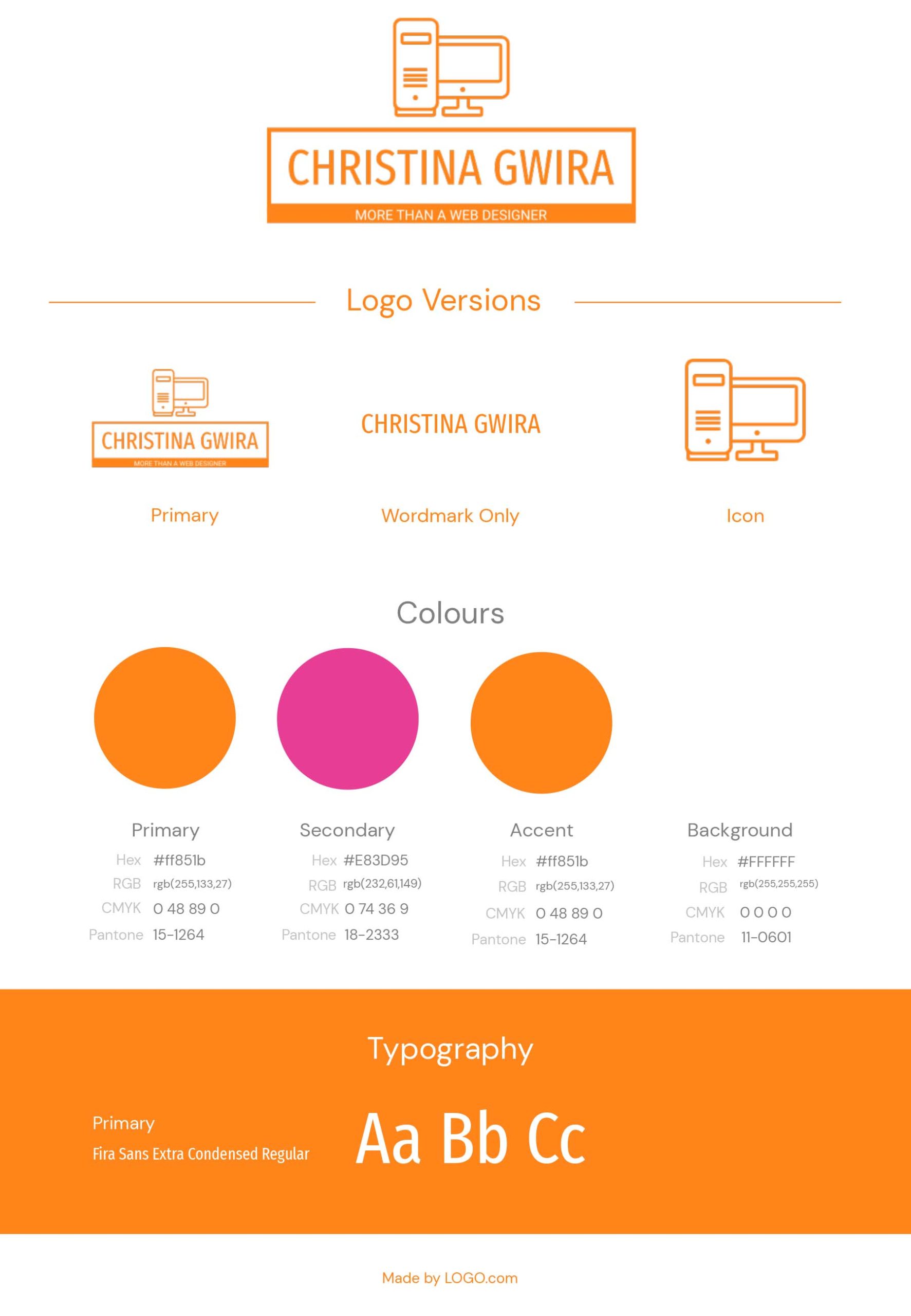 Logo.com's free version provides you with a brand board that is easy to view and share. It includes all the visual elements of your brand. You can see variations of your logo and brand colors with their CMYK and RGB codes and your font faces in one document you can share with your team.
Best For:
The Logo.com generator will be an excellent choice for a simple logo. Its branding suite is also a great addition to the entire branding process.
Pricing: Free, Paid plans start at $10 per month
Comparing the Best AI Logo Generators
Now that we've presented our list, we encourage you to take each platform for a spin as you journey to creating your logo and visual identity. Consider that each platform has pros and cons, and test each out with an open mind before choosing the tool that will assist you in building a critical piece of your business or brand's visual identity.
Best AI Logo Generator Price Comparison
With most of the AI logo generators on our list coming with feature-rich free versions, let's take a look and see how our AI logo generators compare to each other based on price:
What is the Best AI Logo Generator?
The Looka Logo Maker is the best choice for businesses looking for an AI logo generator to kickstart their branding with a perfect logo, along with additional branding and marketing features. With their Brand Kit, you can apply your logo to t-shirts, letterheads, and more through the Looka interface. DesignEVO is another top logo generator with the most options regarding icons, fonts, and colors. Use this tool to experiment thoroughly with color before settling on your logo. If you are looking for a free option, then Wix Logo Maker is a great choice. It's flexible, easy to use, and provides a decent logo designing experience considering it's free.
Frequently Asked Questions (FAQs)
Before we wrap up, let's answer some of your most common questions regarding the best AI logo generators. Did we miss one? Leave a question below, and we will respond!
What is the best AI logo generator?
Looka Logo Maker
is the best overall AI logo generator for your business. It uses AI technology to create unique and on-brand designs in a matter of seconds, with only a few prompts. Additionally, it provides easy-to-use tools for tweaking colors, fonts, and styles. You'll receive your logo in high-resolution image or vector format. Looka Logo Maker also offers additional branding features such as business cards, social media templates, and custom brand kits.
What is the best free AI logo generator?
Wix Logo Generator
is the best free AI logo generator. This tool allows users to easily create a professional logo by customizing typography and brand colors. This ensures a unique and cohesive brand identity across all branding assets.
How can I make logos with AI?
To create logos with AI,
Looka
is the perfect solution. Enter your company name and industry, then choose logo styles, colors, and symbols for inspiration. Go through custom logos generated by their AI-powered platform. Make further adjustments to colors, fonts, layouts, and symbols using Looka's logo editor. Once satisfied, save your final design. Looka's online logo maker offers vector logo files, color variations, and a comprehensive Brand Kit, ensuring a professional outcome for your logo design.
What is an AI logo generator?
An AI logo generator is an online tool that utilizes artificial intelligence to design logos for businesses and brands. These generators employ machine learning algorithms to analyze patterns, colors, shapes, and typography commonly found in logos. Users supply a written prompt, and the AI generates a logo for them.
Can I make a logo with a transparent background with AI?
Yes, with
Tailor Brands Logo Maker
, you can create a logo with a transparent background. The platform allows you to download high-quality PNG and JPG versions of your logo, allowing you to choose a transparent background. Moreover, you can take advantage of Fotor's free AI logo background remover to make a transparent background of your logo within seconds.
Which AI tool can create logos from text?
Tailor Brands Logo Maker
is an excellent AI tool for creating logos from text. Its comprehensive questionnaire stands out as one of the most thorough in the industry. Tailor Brands accurately deduces the user's logo preferences through a series of clicks by asking specific design-related questions about logo style, colors, fonts, and icon shapes. Unlike other generators, Tailor Brands focuses on branding and asks the right design queries, creating a perfect, AI-powered logo.
Who owns the copyright of an AI logo?
AI logos aren't copyright attributed to any one person. However, the content used to generate those AI logos might be. According to the US Copyright Office, copyright protection applies to works created by humans, indicating that AI-generated works are not eligible for copyright.
Can AI replace our graphic designer?
AI is likely to replace graphic designers partially. While AI can automate specific design tasks, designers bring creativity, critical thinking, and human-centered perspectives that AI cannot replicate. In AI's current state, this is necessary for prompt engineering. AI can be a valuable design tool, enhancing efficiency and idea generation. AI will likely make the graphic design field much more efficient and competitive. Those that use AI to augment their design process will likely thrive.
How do I make a logo with Midjourney?
To create a logo with Midjourney, choose the logotype, such as a letter mark, mascot, or emblem logo. Next, refer to artistic genres or movements in your prompts to achieve a desired vibe or aesthetic. Additionally, describe specific artistic techniques like outlines, gradients, or screen-print imitations to enhance the logo design. It's crucial to provide clear guidelines specifying what you don't want in your logo, such as texture, shadows, or realistic details.
Need more AI tools? Check out our list of the best AI tools you can use to make your life easier.
Featured Image via Siberian Art / shutterstock.com