There are near-infinite resources for learning about WordPress development, from YouTube channels to blogs such as this one. While in-depth articles and courses have plenty of value, following WordPress developers on Twitter can also be surprisingly informative.
In fact, Twitter can be a key way to keep up with WordPress development and the people behind the Content Management System (CMS) itself. In this article, we'll introduce you to 15 WordPress developers you should be following.
Let's get to it!
1. Helen Hou-Sandí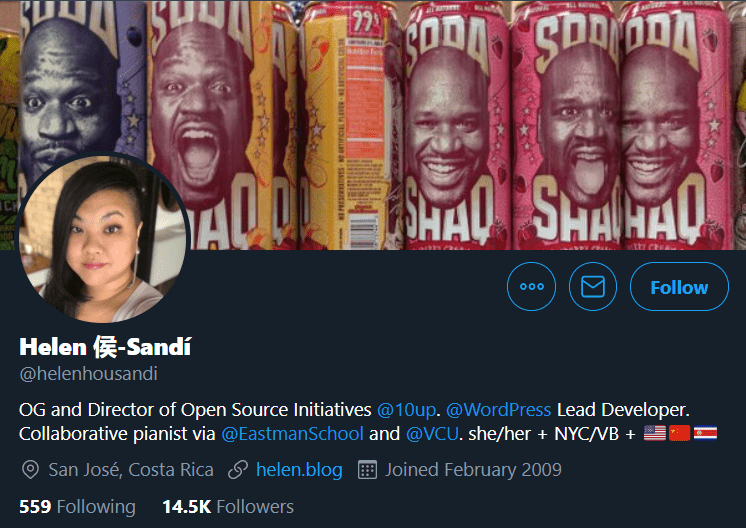 Helen Hou-Sandí is a WordPress Lead Developer and Director of Open Source Initiatives for 10up. When she's not blogging about food, music, and other personal projects, she's tweeting about WordPress.
2. Sergey Biryukov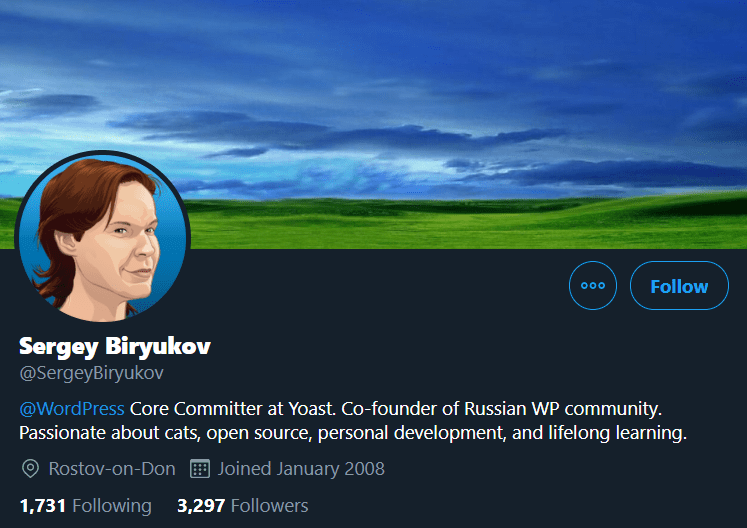 Sergey Biryukov is a WordPress core committer sponsored by Yoast. As you might know, most WordPress developers with commit access aren't employed directly by Auttomatic, which makes the CMS all the more open. Biryukov is also the co-founder of the Russian WP community, and his Twitter feed contains plenty of valuable nuggets about the platform.
3. Mike Schroder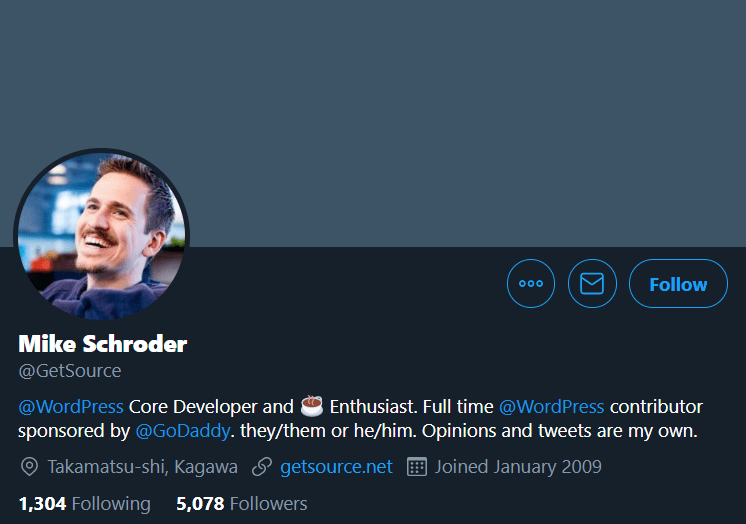 Mike Schroder is a full-time WordPress contributor and lead developer sponsored by GoDaddy (you can find our own GoDaddy Pro review here). Unlike some of our other favorite WordPress developer accounts, Mike also shares a lot of personal views on his feed, which makes for a refreshing change of pace.
4. Lisa Sabin Wilson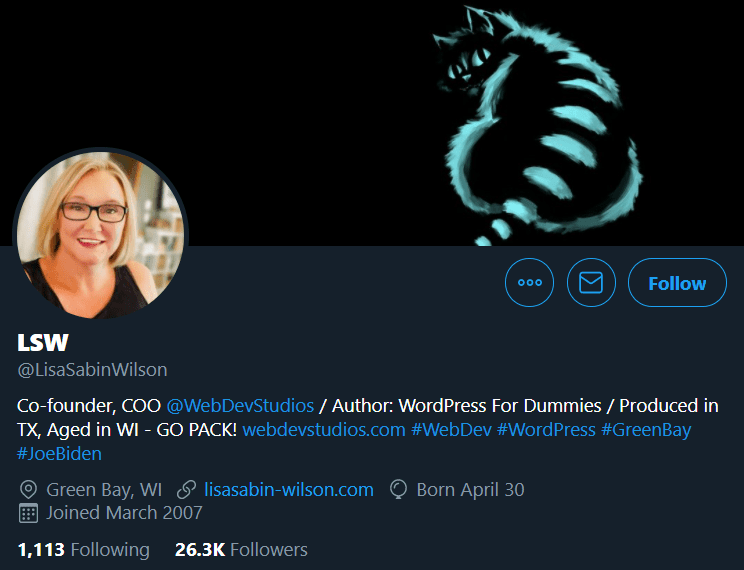 Lisa Sabin Wilson spends her time working as COO of a web development agency that focuses on WordPress, called WebDevStudios. She's also the author of the popular WordPress for Dummies books. Despite their titles, these books happen to be spectacular resources for WordPress newbies and enthusiasts alike.
5. Brad Williams
Brad Williams is part of the WebDevStudios family, alongside Lisa Sabin Wilson. In fact, he's the CEO and has helped grow the agency into a WordPress powerhouse that's worked with clients such as Microsoft and Starbucks. When he's not running the agency, Brad helps co-author the Professional WordPress books, which are an advanced resource for developers.
6. David Bisset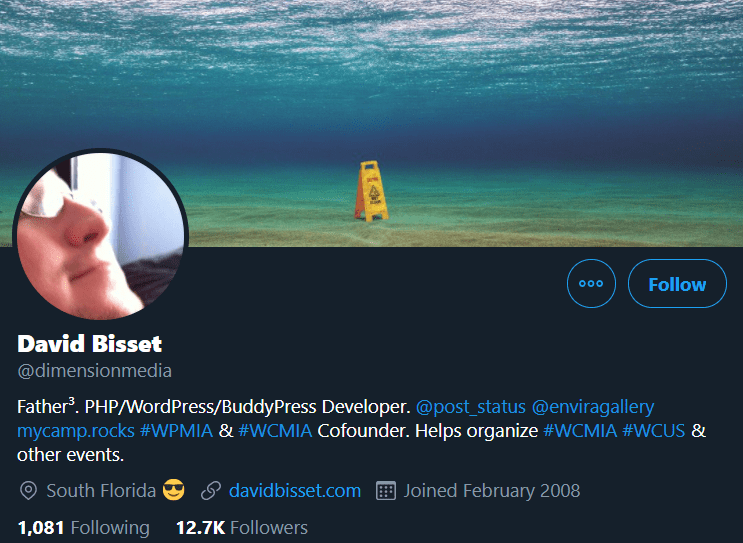 David Bisset is a WordPress Developer with a sizable following, thanks to his extensive work with the CMS and plugins such as BuddyPress. Bisset is also a regular speaker on the WordPress circuit, including at events such as WordCamp and BarCamp.
7. Michelle Schulp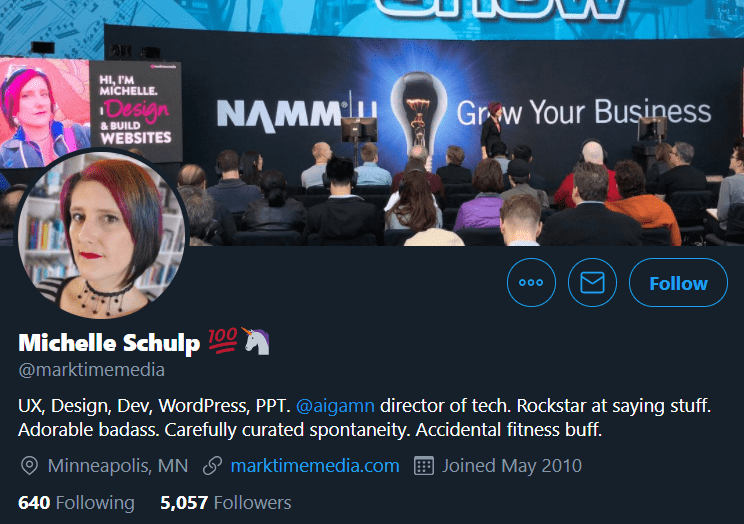 Michelle Schulp is another regular within the WordPress conference circuit, both as a speaker and an attendant. She runs her own web development and design agency. On top of her experience with WordPress, she also happens to have one of the most interesting feeds on this list thanks to her regular commentary and blog posts.
8. Rocío Valdivia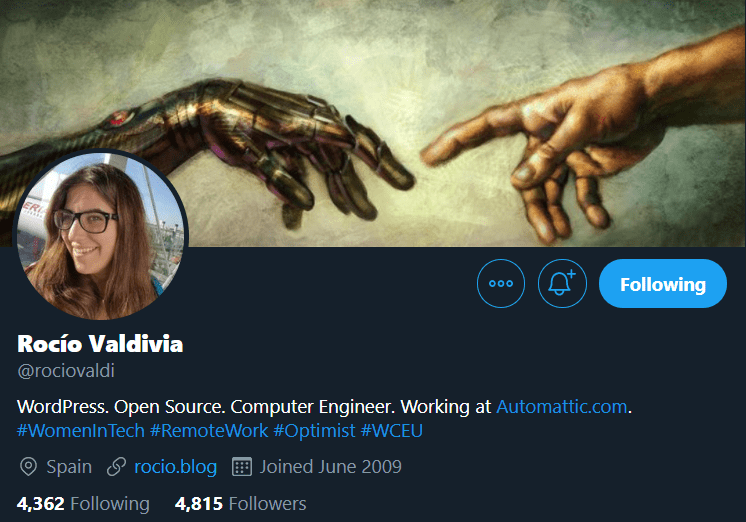 Rocío Valdivia is a WordPress wrangler working at Automattic. She also happens to be a huge proponent of open-source software, which makes for a perfect match. Like many other developers on this list, Rocío regularly speaks at WordPress conferences across the world. Although she does post in English regularly, Rocío also talks about WordPress in Spanish.
9. John James Jacoby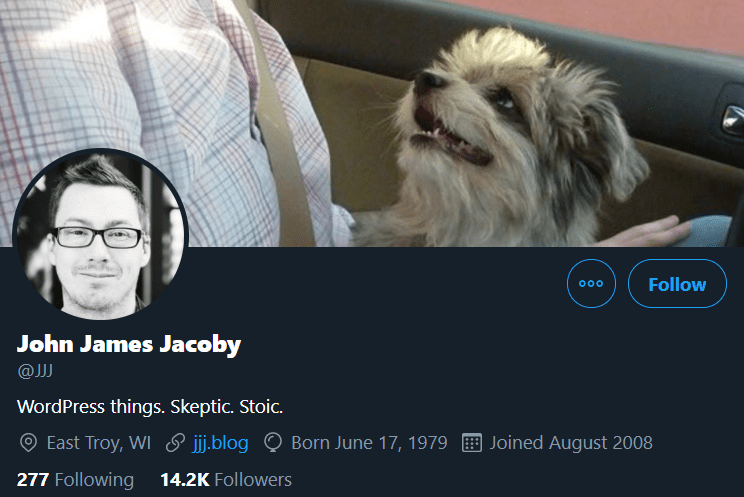 John James Jacoby is a WordPress veteran with plenty of projects under his belt. He used to be a part of Automattic, and now he's working on WordPress plugins such as Sugar Calendar and Easy Digital Downloads.
10. Pippin Williamson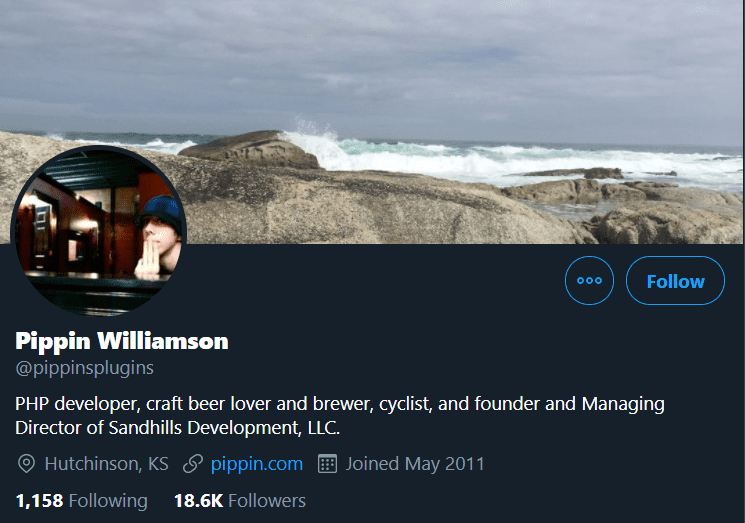 Pippin Williamson is an experienced PHP developer, who works alongside John James Jacoby in developing WordPress plugins and tools. He can also lay claim to working on Easy Digital Downloads (a crowd favorite when it comes to selling digital products), Sugar Calendar, AffiliateWP, (a popular affiliate plugin), and many more.
11. Matt Cromwell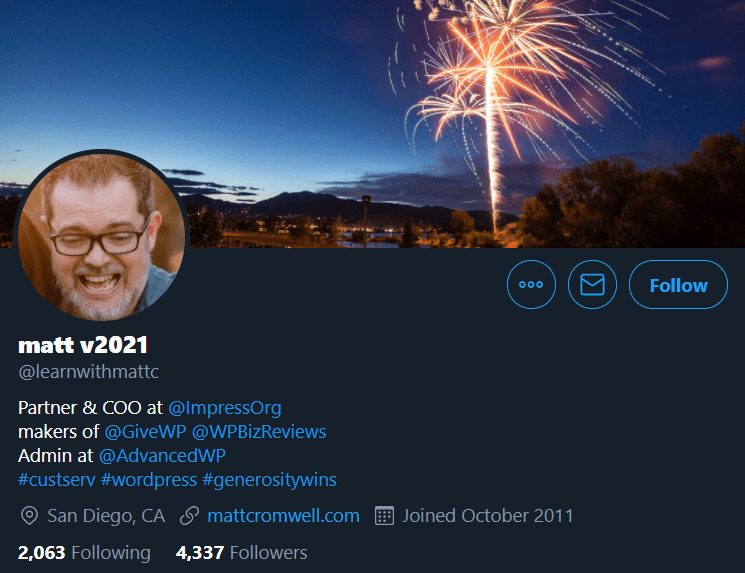 Matt Cromwell is part of the team behind the fantastic GiveWP (which works seamlessly with Divi) and WP Business Reviews plugins. On top of his work in the plugin ecosystem, Matt regularly shares his thoughts on what's going on in the WordPress community. He also moonlights as the administrator for the Advanced WordPress Facebook group, which you should definitely check out if you're interested in development.
12. Devin Walker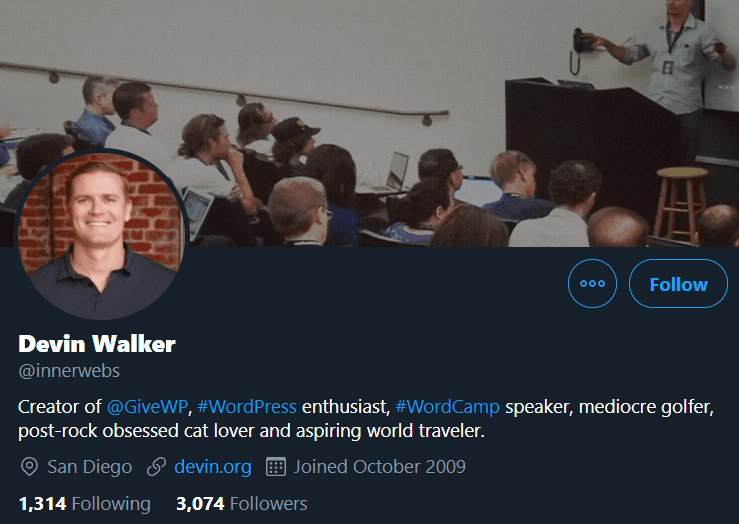 Devin Walker is another of the talented WordPress developers behind the GiveWP plugin. In fact, he's its creator, so calling himself a WordPress enthusiast possibly falls a little short of the mark. On top of his plugin development work, Devin happens to be a regular WordCamp speaker. It's also worth noting the GiveWP account is very active on Twitter, which makes it a must-follow if you use the plugin.
13. Shawn Hesketh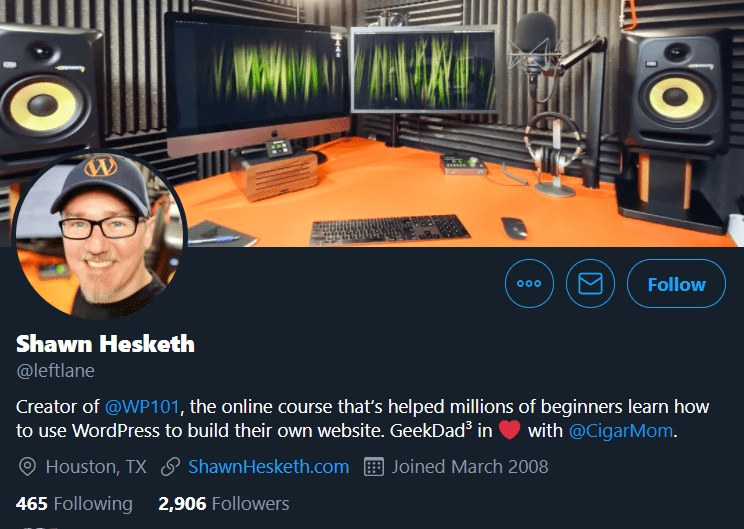 Shawn Hesketh has an extensive background in graphic design, web development, print materials, marketing strategies, and much more. He's also the guy behind WP101, which is probably the most popular set of WordPress video tutorials on the web. If you like to learn using videos and you're new to WordPress, WP101 is one of the best places to study the ins and outs of the CMS.
14. Carl Hancock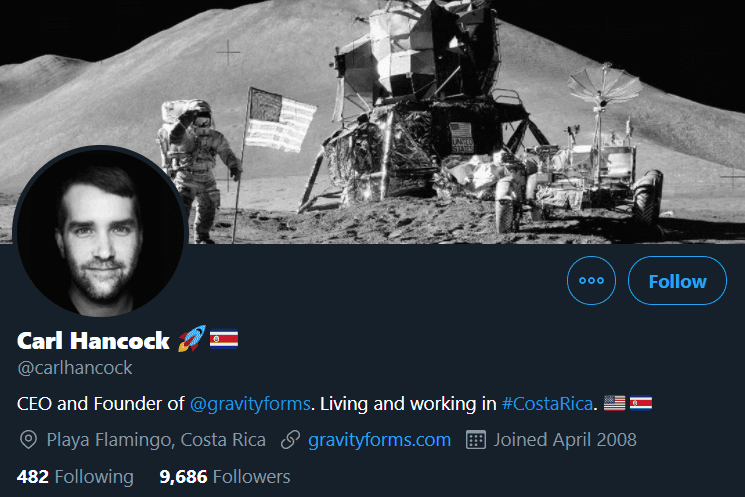 Gravity Forms is one of the most popular WordPress form plugins on the market, which is saying a lot (and it works great with Divi!). Carl Hancock is the CEO and founder of that plugin. As far as his tweets go, Carl likes to talk about tech and WordPress news, and he also shares a lot of his personal views.
15. Chris Coyier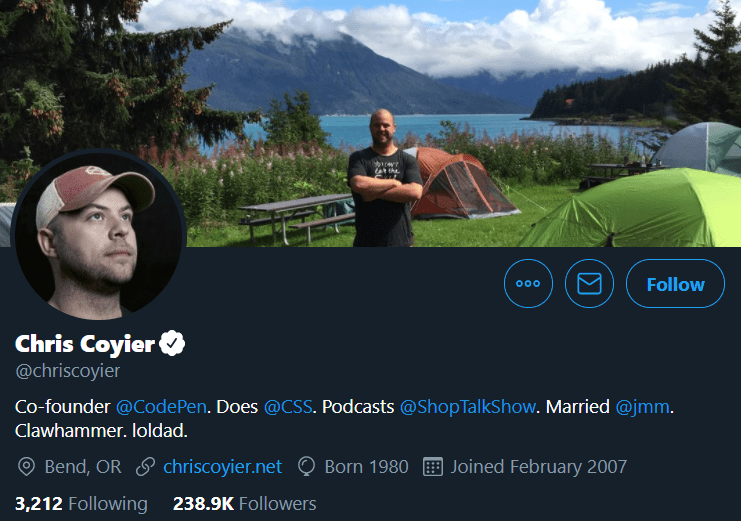 Chris Coyier has more followers than anyone else on this list of developers. That's because he runs the massively popular CSS-Tricks website, and is the co-founder of CodePen. Although neither of those are WordPress-specific resources, they're some of the best places to go if you want to learn more about CSS.
Conclusion
One of the best parts of using WordPress is that you become part of a massive worldwide community. There's no other CMS with such a variety of contributors. If you follow the right people on social media, you can keep your finger on the pulse of the WordPress community.
More importantly, if you're a WordPress developer or you're learning the ins and outs of the platform, following these accounts should help you massively. You'll get insights into what it's like to run successful plugins, find out what's going on with the latest WordPress developments, and much more.
Who is your favorite WordPress developer to follow? Tell us about them in the comments section below!
Article thumbnail image by Julia Tim / shutterstock.com