WordPress community volunteers often put on WordCamps with presentations, social events and workshops, and large and small WordCamps take place around the globe. However, if you've already attended or presented at a WordCamp, you may be ready for a different experience. Branching out to a non-WordCamp conference may introduce you to new guests or speakers. Additionally, you may learn more about a specific topic. On top of the latest techniques and technologies, business and human interest topics are often covered. You can take a break from tech-heavy sessions to hear about leadership, marketing and project management. Consider these 15 WordPress conferences for designers, developers and other professionals.
If the next conference date and location are TBD, information and pricing are based on the most recent event.
Subscribe To Our Youtube Channel
An Event Apart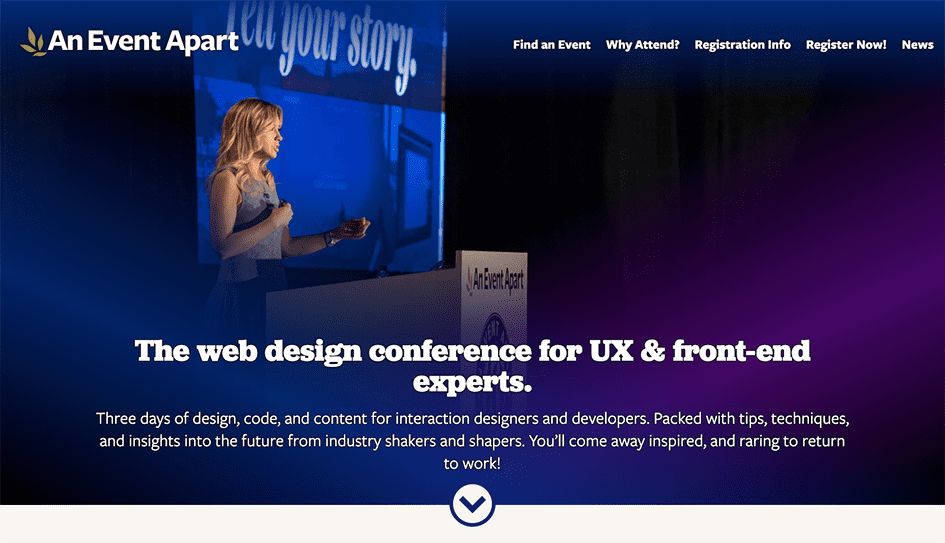 Multiple dates and locations
An Event Apart hosts three-day conferences in different cities around the country. Intended for front-end developers and web designers, sessions go into digital design, content, code and UX. Expect presentations like:
Designing for Personalities
Dynamic Typographic Systems and Variable Fonts
Redefining the Technical Possibilities of CSS
The next two events are on December 9-11, 2019, in San Francisco, CA, and April 13-15, 2020, in Seattle, WA. In addition, there are dates in Boston, Minneapolis, Orlando and San Francisco for 2020.
Cost: Starts at $600 | More Information
dotJS and dotCSS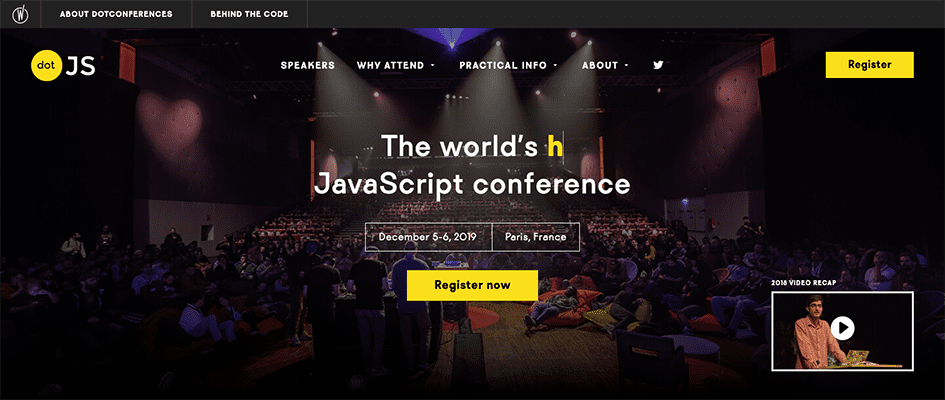 December 4-6, 2019 | Paris, France
dotJS is a two-day JavaScript conference that welcomes approximately 1,400 attendees. On the first day, speakers cover front-end development topics, like browsers and UI frameworks. On the second day, there are sessions about back-end development and JavaScript as a language. Their smaller sister conference, dotCSS, takes place first. Front-end developers, designers, engineers and UX experts will discuss CSS topics.
Cost: Starting at 349 EUR for dotJS and 99 EUR for dotCSS | More Information
International PHP Conference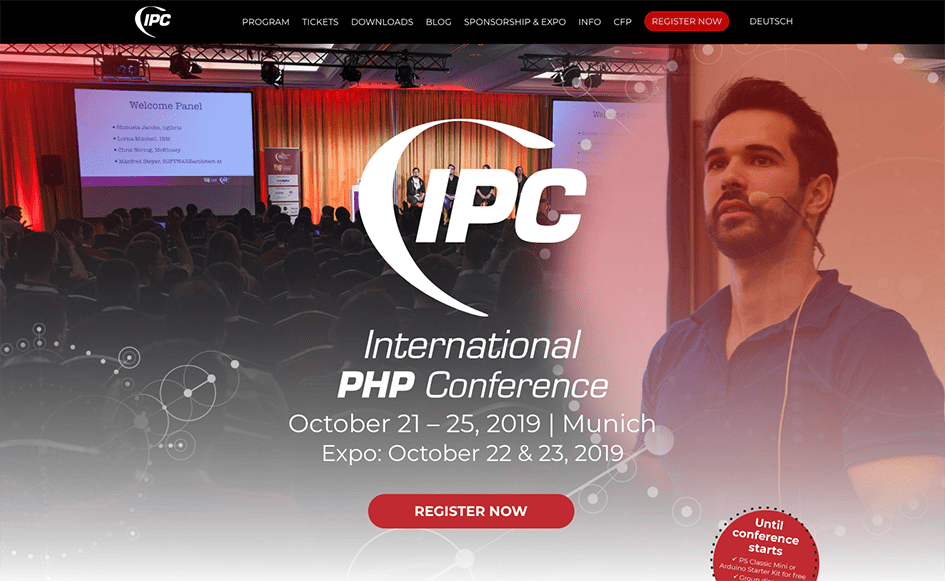 Next date and location TBD
The International PHP Conference is five days total, and what's most noteworthy is that two entire days are devoted to workshops. Moreover, there are 70 keynotes and sessions, and nearly 400 PHP developers and experts are in attendance. More than 60 speakers cover the latest PHP features, test automation, new tools, web architecture and web security. Tracks and topics include PHP development, DevOps, agile and culture, and JavaScript development.
Cost: Starting at 446 EUR | More Information
The JavaScript for WordPress Conference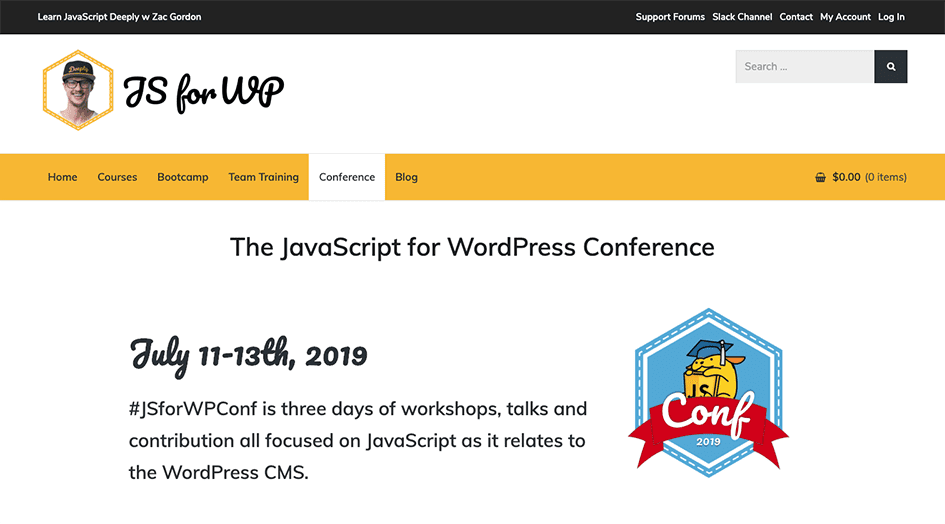 Next date and location TBD
This conference has three days of talks and workshops focused on JavaScript and how it relates to WordPress. Most importantly, there are four tracks for varying levels: beginner, intermediate, advanced and non-technical. Beginners can take JavaScript and React workshops, which are four hours each. On the other hand, advanced sessions cover topics like:
Design for Interactions
JavaScript Hooks in WordPress
A React Theme in 30 Min.
There are less technical sessions, too, like "Being a JavaScript Student" and "The State of Blockchain and WordPress." On the last day, Contributor Day, attendees can share their input and questions.
Cost: Free | More Information
php[world]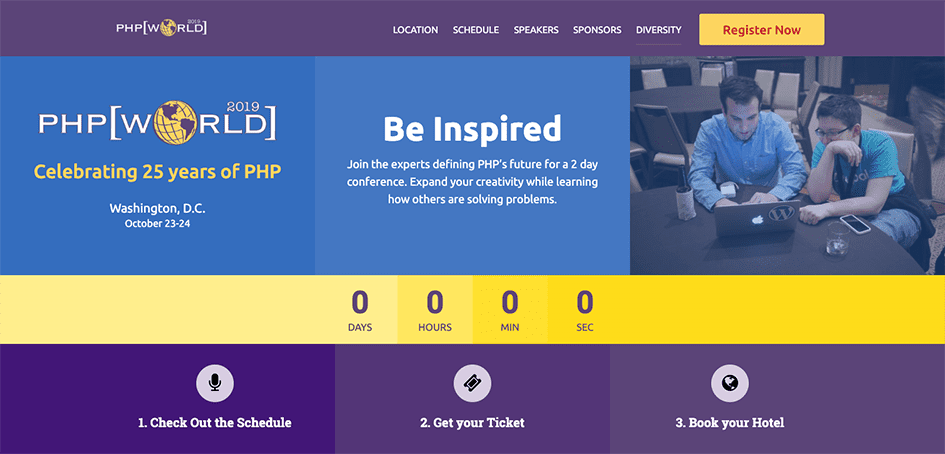 Next date and location TBD
This two-day conference is for developers who work in WordPress as well as Drupal, Laravel, Magneto, Symfony and Zend. For example, past conferences have covered:
Automating Your WebOps Workflows to Reduce Pain and Suffering
WordPress Under Pressure: Tales of Sites at Scale
Zombie Hunt: Find and Remove Dead Code and Dependencies
There are human interest sessions, too, like "Supporting Engineers with Mental Health Issues." If you can't attend the conference in person, the entire main conference will be available online for $195.
Cost: Starting at $495 | More Information
Post Status Publish: Online Edition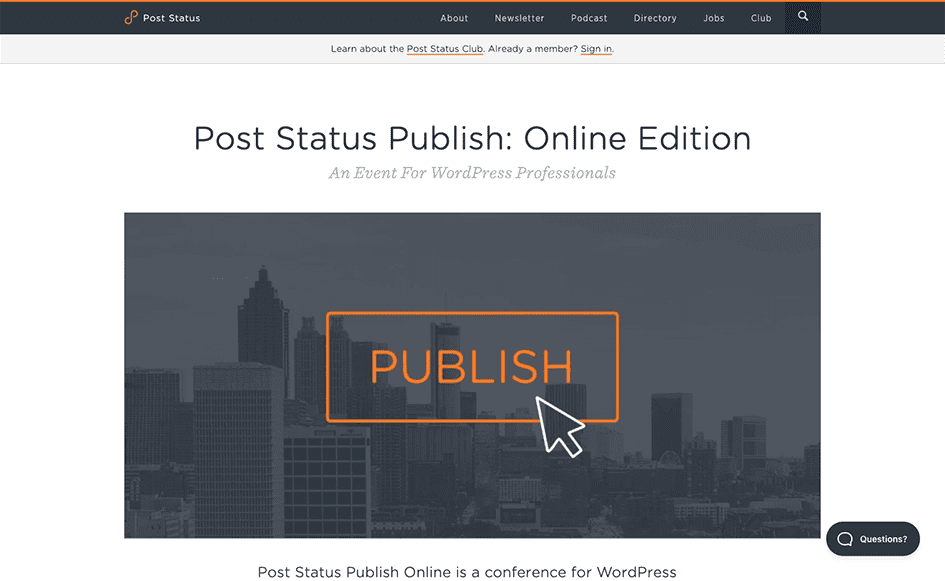 Next date and location TBD
This online conference streams live over two days in the summer and members can view it at any point afterward. (Note that it's unclear if you're allowed to watch past presentations if you sign up after it streams live.) Post Status Publish is for anyone involved with WordPress. Topics may be broader than others on this list (managing a business, product development), but they're always geared toward WordPress professionals.
Cost: Starting at $79 for annual membership | More Information
PressNomics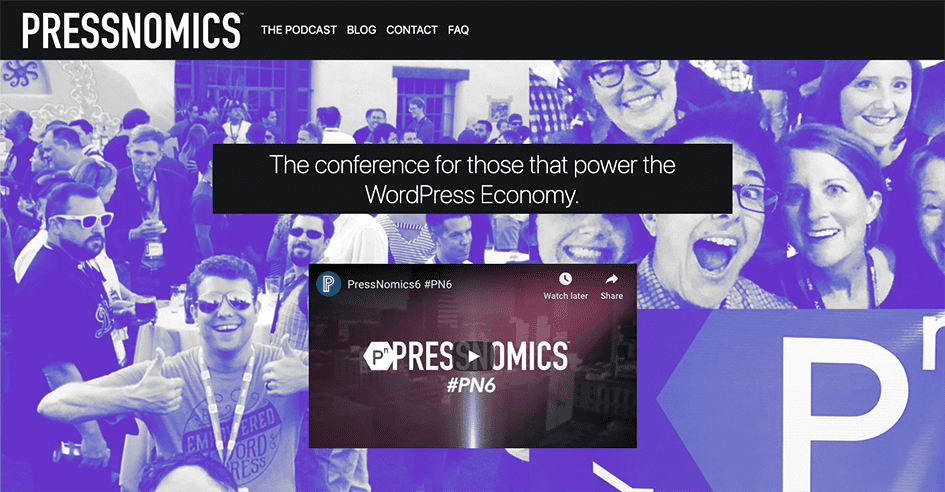 Next date and location TBD
Hosted by Pagely, PressNomics is "the conference for those that power the WordPress Economy." During this three-day event, entrepreneurs come together to collaborate, learn and relax. There are two days of sessions, and the third day includes golf and a cultural outing for connecting with peers. Any and all business topics are on the table, always geared toward the WordPress community. Also, money raised at the event goes to community, educational and health charities.
Cost: Starting at $425 | More Information
React Amsterdam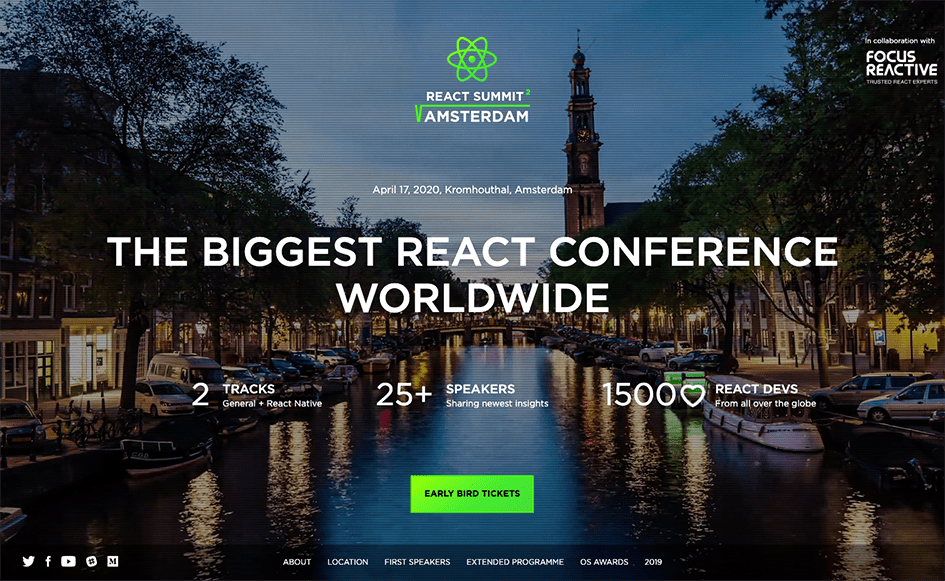 April 17, 2020 | Kromhouthal, Amsterdam
React Amsterdam has two tracks, a training day with advanced workshops and more than 25 speakers. The main conference takes place over one day, and there are workshops, meetups and mini-conferences throughout the week. Around 1,500 people attend this conference, most of them front-end and full stack engineers from around the world. If you've never been to Amsterdam before, you'll want to stick around for Exploration Day, where you'll go to brunch and head out on boat and walking tours.
Cost: Starting at 380 EUR | More Information
React Conf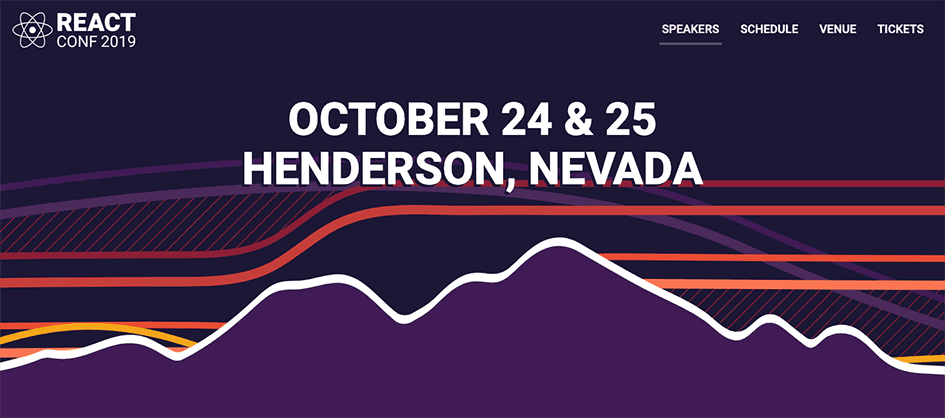 Next date and location TBD
Aside from the first day, which is just registration and a welcome reception, the React Conf is two days long, filled with talks and panels. Kick off each day with early morning yoga, then listen to keynotes and attend sessions like:
Building a Custom React Renderer
Data Fetching with Suspense in Relay
React Developer Tooling
There are off-hour activities, too, like a hackathon, karaoke, lawn and board games, and a poolside dinner party.
Cost: Starting at $400 | More Information
ReactEurope
May 12-15, 2020 | Paris, France
According to their website, "ReactEurope is historically the place where many new industry standards in the React community are revealed to the world," making it a must-attend for anyone who needs to know the latest innovations and news. Overall, that's what ReactEurope focuses on: looking ahead to advances in the React ecosystem. There are all sorts of workshops on topics like React.js, React Native, SSR and TypeScript.
Cost: Starting at $399 EUR plus tax | More Information
Web Unleashed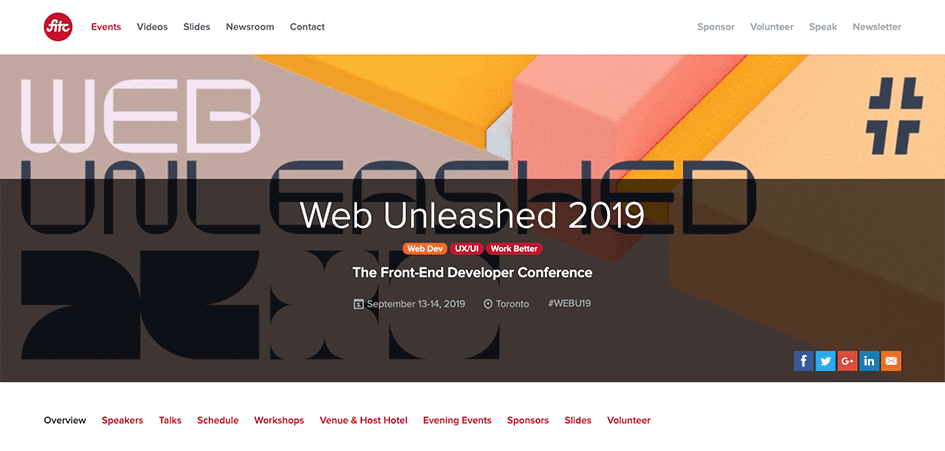 Next date and location TBD
Web Unleashed is intended for front-end developers, but coders, designers, managers, strategists and enthusiasts also join. There are several tracks to choose from, and professionals at any stage in their career will get something out of this conference. Over the course of two days, there are coding sessions, panels, presentations and round tables on topics like:
Building Native Apps with React
Dynamic Typographic Systems, Modern CSS and Variable Fonts
HTTP Headers for the Responsible Developer
Afterward, wind down with a fun evening event like karaoke.
Cost: Starting at $399 | More Information
WordSesh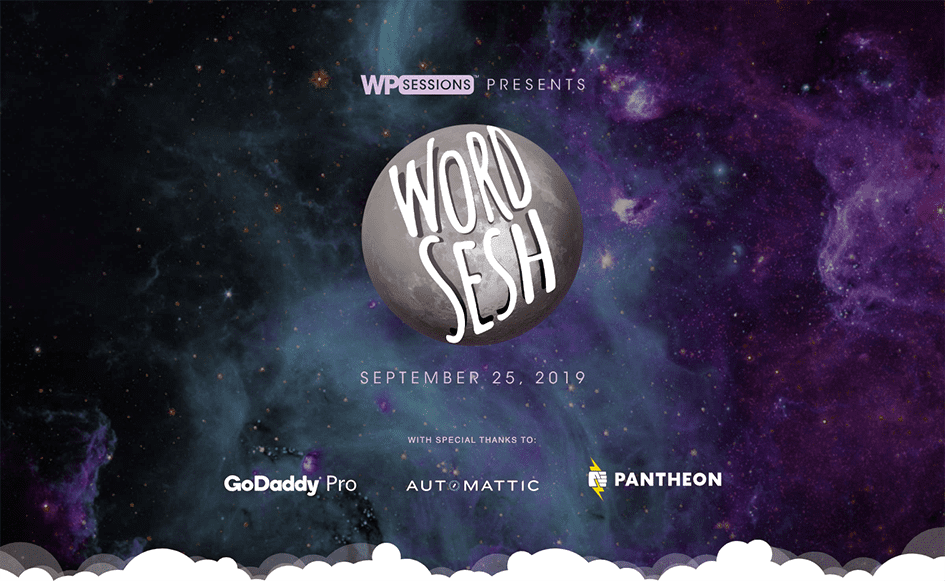 Next date and location TBD
WordSesh by WP Sessions is a live virtual conference for WordPress developers, and it's an excellent option if you can't attend a WordPress conference in person. By choosing the "Hallway" track, you can take advantage of the built-in chat for networking. You can still watch September 2019's sessions online, too, which include:
Blogging for Business in 2019
Building a SaaS App with WordPress and Laravel
High Performance Images in WordPress
Watch next year's conference in real-time and consider joining a viewing party – locations are listed on the website. You can also submit your city to be considered if you want to host your own viewing party.
Cost: $15 per month for membership | More Information
WPCampus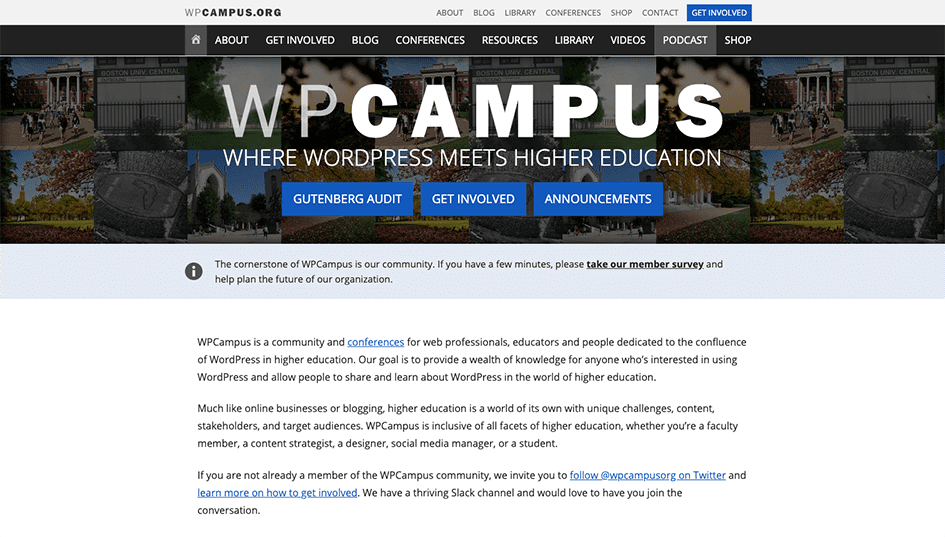 Next date and location TBD
WPCampus hosts conferences for web professionals, educators and anybody who uses WordPress for a higher education goal, including faculty members, content strategists, social media managers and students. According to their website, "Our goal is to provide a wealth of knowledge for anyone who's interested in using WordPress and allow people to share and learn about WordPress in the world of higher education." The three-day conference includes sessions like:
The 5 Dysfunctions of Higher Ed Web Teams
Mobile Site Accessibility Testing
Understanding Multisite: How to Efficiently Manage the University Web
There are also social events included in the schedule, which present opportunities for networking.
Cost: Starting at $150 | More Information
WPCampus Virtual Conference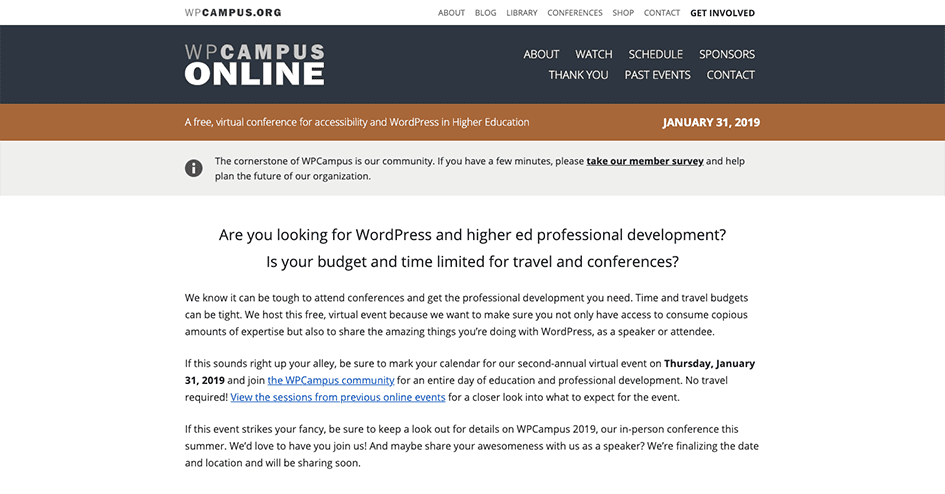 Next date and location TBD
If you need information about higher education and WordPress development, but you don't have the time or budget to attend the live conference, WPCampus has a virtual version. Examples of virtual sessions are:
Incorporating the aXe Accessibility Testing Engine Plugin in WordPress
Securing Your WordPress Website
WordPress and Real-World Data with Students
These sessions and others are still available to view online. The virtual conference is separate from the main event, so you can effectively attend both. Test the waters with the free event to see if you want to attend the in-person conference, which occurs later in the year.
Cost: Free | More Information
Wrapping Up
We'd never knock WordCamps, but you may have attended the ones in your area and feel like you want something different this year. Choose the best WordPress conference for you based on your focus and specialties, as well as your skill level. If you can't travel or pay for a conference, take advantage of the freebies on this list. No-cost virtual conferences will also give you a feel for the different topics covered, arming you with more info for when you're ready to book a flight and buy a ticket.
Want to read more about this topic? John covered WordSesh: A Virtual Alternative to WordCamps last year.