When you're building and running a website, it's important to keep your audience in mind. To increase the likelihood that your site makes a positive impression, it's smart to incorporate unique and helpful features. One simple yet effective way to do this is by providing weather information to your users. This can be an excellent way to offer additional value, especially if your audience is local.
WordPress weather widgets make displaying this kind of data quick and easy. Even better, there are plenty of plugins to choose from. To make your decision easier, we've carefully curated a list of the top options. Let's chat about the weather!
The Benefits of Using WordPress Weather Widgets
In our digital age, many people turn to the internet to check the weather, often several times a day. The weather is a constant topic of discussion worldwide, and can influence everything from the clothes we wear to the activities we participate in.
In many cases, it makes sense to display weather data directly on your website. A lot of major brands do this, such as Yahoo!: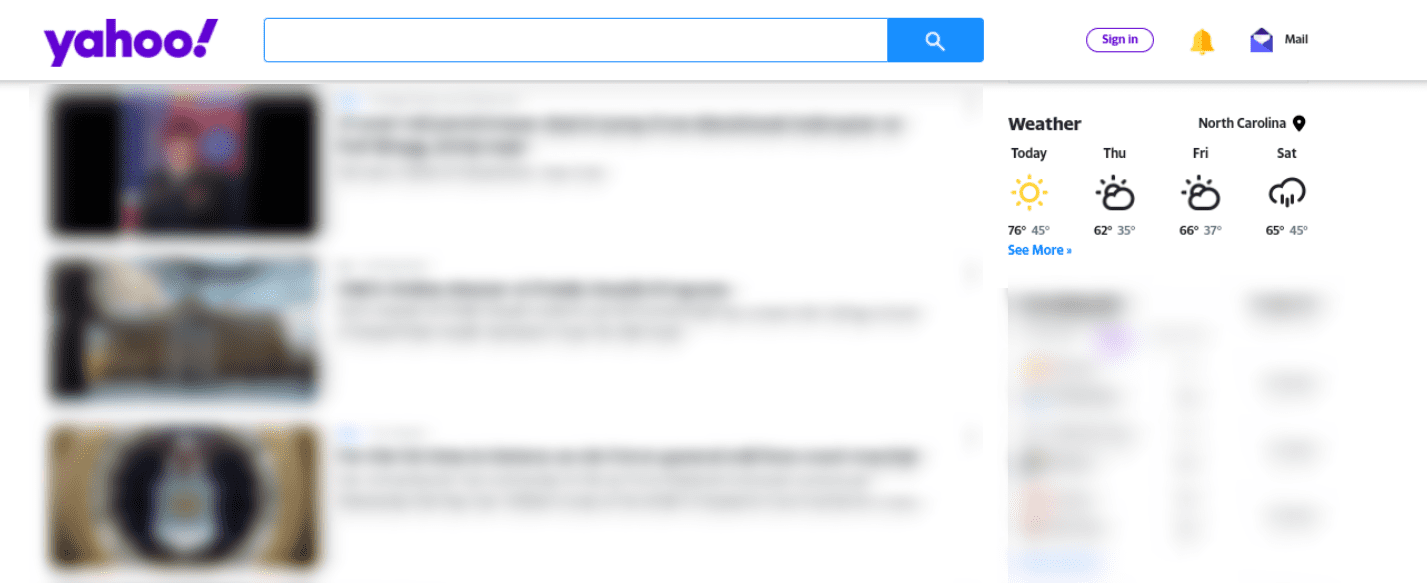 Prominently displaying this information on your site could help to increase your retention rates. For example, visitors won't have to leave to find the forecast on another site. It's a subtle way to add value, and it's one many visitors should appreciate.
If you're using WordPress, there are plenty of weather widget plugins that can help you add this functionality. Above all, these tools can save you time and money by seamlessly integrating with popular weather applications and channels. They also enable you to display data that's relevant to your visitors' locations, and often let you configure the feature's appearance to better suit your branding.
9 Best WordPress Weather Widget Plugins
The official WordPress Plugin Directory offers a handful of weather widget solutions if you're a beginner in search of a free tool. Alternatively, if you're looking for a more powerful and robust widget, a premium solution can provide you with more features and functionality.
The following eight WordPress weather widget plugins have been chosen based on their features and customization options, ratings and reviews, as well as support and updates. There's truly something for everyone, no matter what your budget might be.
1. Awesome Weather Widget

Awesome Weather Widget comes equipped with an impressive collection of settings and customization options. It's a free plugin that lets you display the forecast in the sidebar or footer of your site. With over 30,000 active installations, it's among the most popular free WordPress weather widgets available.
This tool is also beginner-friendly. It comes with extensive documentation, making it easy for you to use and customize the plugin to your liking. Thanks to IP-location tracking, Awesome Weather Widget showcases real-time weather forecasts to users based on their local areas. You can also configure the number of days you'd like to show: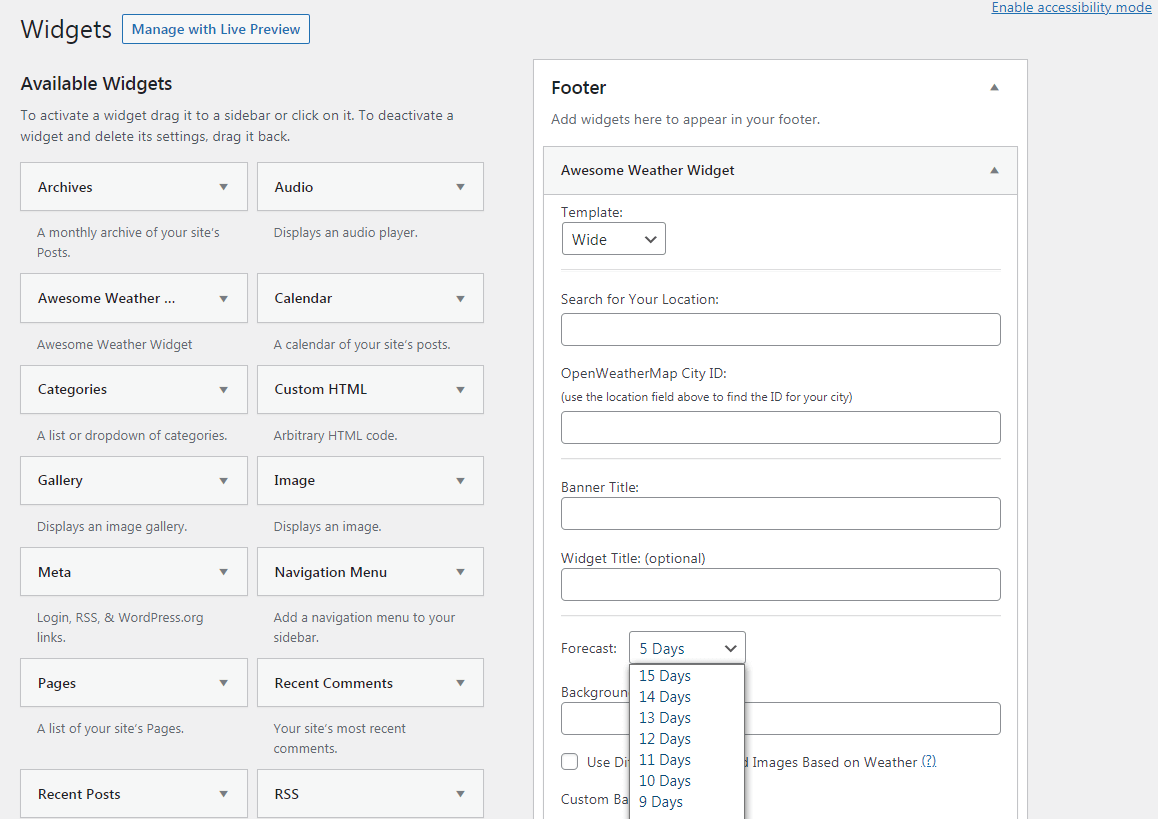 Key Features:

Awesome Weather Widget is for you if…
…You want a tool that's easy to pick up and use, even for WordPress newbies.
Pricing: Free | More Information
2. wp-forecast

Next up, wp-forecast pulls data from AccuWeather and WeatherBug to provide user-based forecasts for up to nine days. Additionally, it offers up-to-date information on a variety of weather conditions, including wind speed, humidity, and air pressure.
Along with being free to use, one of the advantages of wp-forecast is its simplicity. As far as WordPress weather widgets go, this tool provides a no-frills, hassle-free solution with straightforward configuration.
You can use it to display weather data on your WordPress pages, posts, and sidebars. You can also customize the language use, and configure it to use metric or American measures: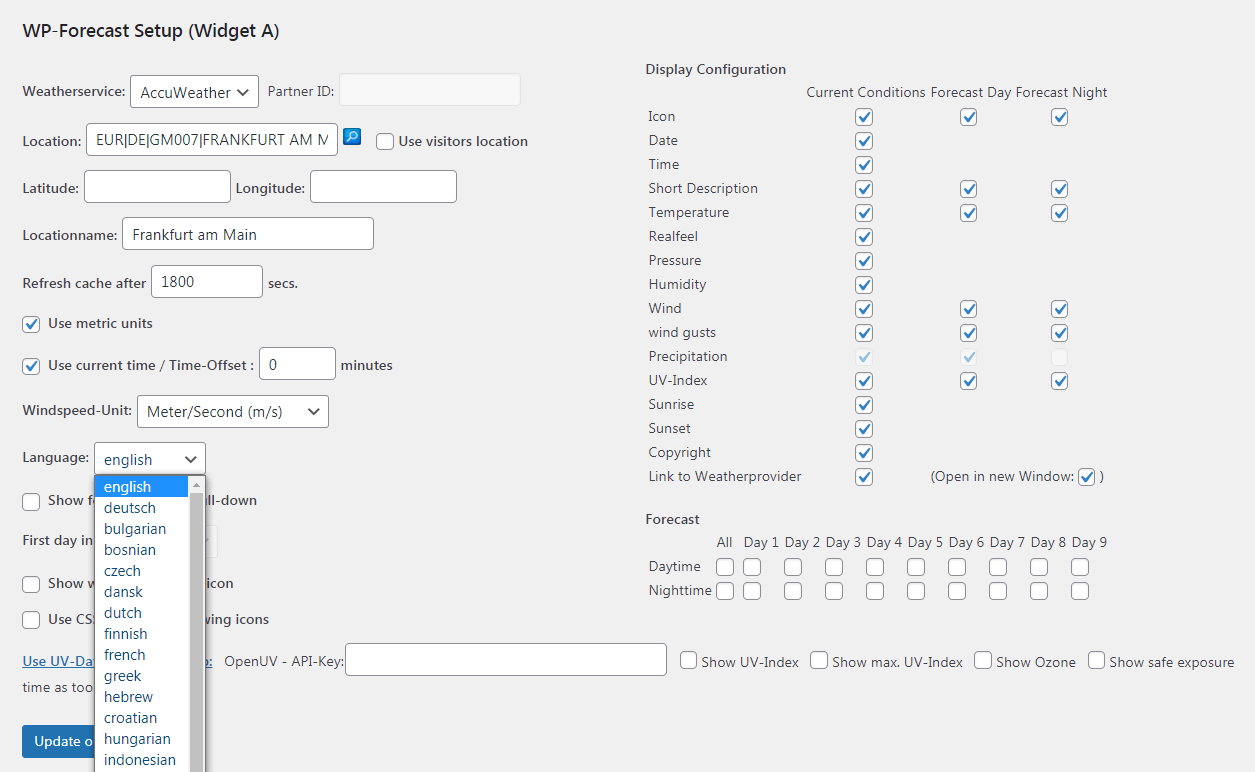 Ultimately, if you're a busy site owner looking for a free plugin with an easy interface, you can't go wrong with wp-forecast. Plus, it doesn't require much configuration.
Key Features:
Display temperature, wind speed units, wind pollution, pressure, and more
Select the location and metric or imperial measures
Configure the update period
Control the daytime and nighttime forecast for up to nine days and nights
Show weather in 12 languages
Easily customize the information that displays
Integrate with the site via CSS
wp-forecast is for you if…
…You're looking for a streamlined, quick-to-implement solution.
Pricing: Free | More Information
3. Location Weather

Another affordable WordPress weather widget to consider is Location Weather. This freemium plugin is user-friendly, highly customizable, and lightweight.
With this tool, you can add unlimited weather data to your WordPress pages or sidebar. This includes real-time forecasts and the option to change the location based on city or country: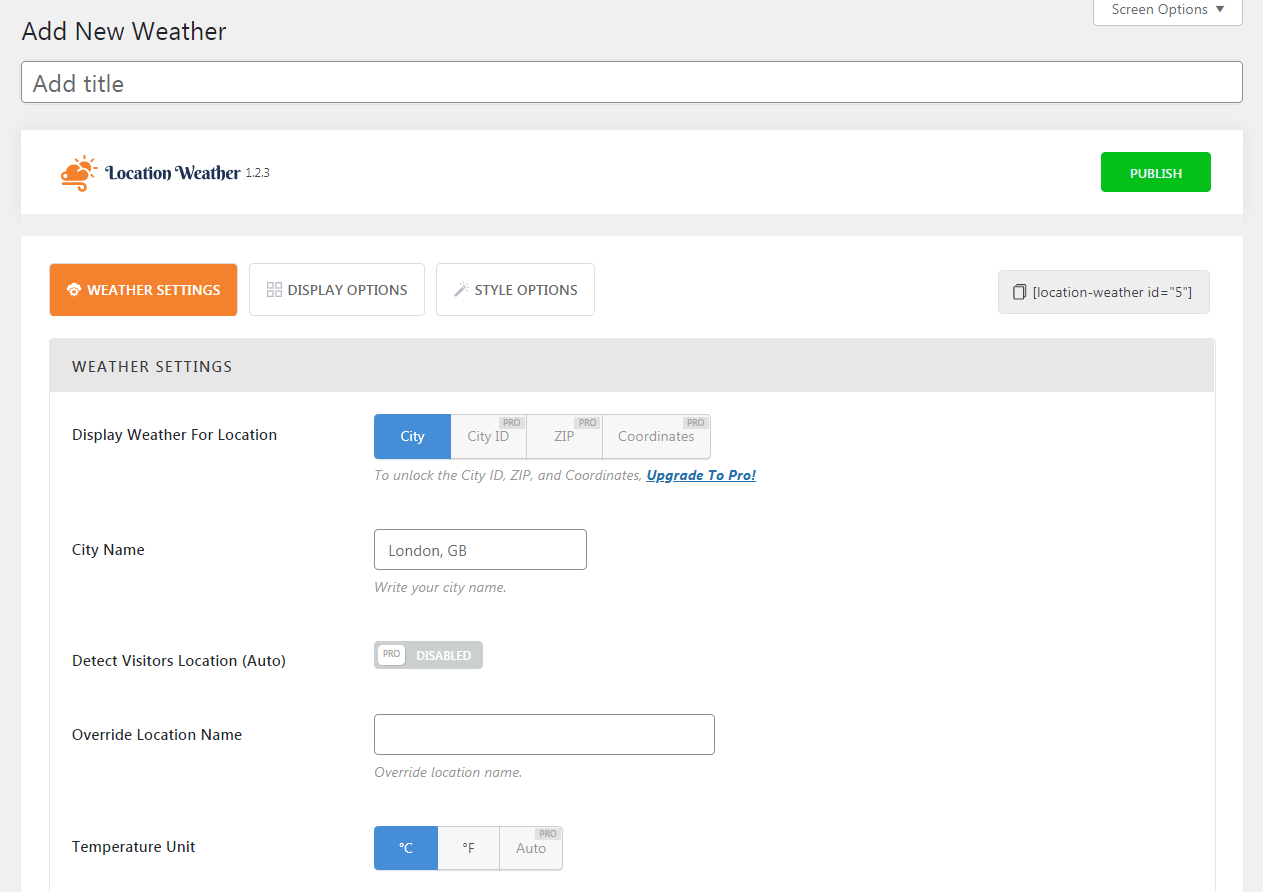 One of our favorite aspects of this weather widget is its flexibility. It's compatible with nearly any WordPress theme and is supported by all major browsers. You won't have to worry about your widget appearing flawless on any screen or device.
Additionally, you have the option of choosing between the free or premium version. Location Weather Pro grants you access to a wide variety of extra features and functionality. This includes the option to display the temperature in Fahrenheit or Celsius, hide or show the data, customize the widget background colors, and more.
Key Features:
Customizable design and easy-to-use interface
Responsive and mobile-friendly
Showcase multiple weathers on the same page
Display wind speed unit and pressure unit
Option to choose the temperature unit (metric or imperial)
Ability to add custom CSS
Supports 45 languages, Gutenberg, and WordPress multisite
Compatible with page builders such as Divi
Location Weather is for you if…
…You need a flexible solution that won't conflict with your current theme and plugins.
Pricing: Free, with a premium version starting at $29 | More Information
4. Weather Station

Next up on our list is the Weather Station plugin. This simple widget is both free and effective. It's an awesome solution if you're looking for an inexpensive yet powerful tool for displaying weather on your WordPress site.
Weather Station lets you choose from multiple weather apps to collect information:

Also, it doesn't require any coding knowledge to configure. You can easily set it up via a shortcode.
Although this is a free option, it also offers a surprising amount of features. For example, you can access and showcase data such as indoor comfort, fire risks, astronomy details, and more. Plus, on the official plugin website you can find many resources to help you get the most from this widget.
Key Features:
Ability to collect and display weather data from public or personal stations
Open source and ad-free
Ultra-local and geolocalized weather sources with an unlimited number of stations
Friendly User Interface (UI) that supports HTML5 and is retina-ready
Robust community and support
Weather Station is for you if…
…You want a free tool that's still powerful and customizable.
Pricing: Free | More Information
5. Astero WordPress Weather Plugin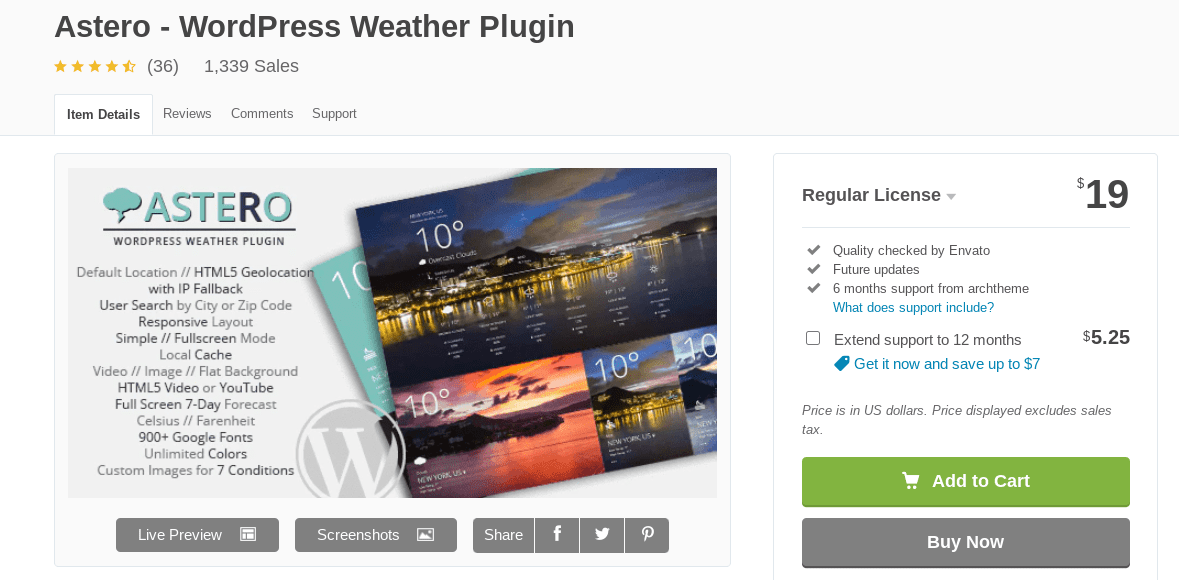 If you're looking to get the most features and functionality possible from your plugin, you might want to consider one of the premium WordPress weather widgets. If so, we recommend checking out the Astero WordPress Weather Plugin.
This plugin is a popular solution. It provides a wide variety of sizes, styles, and features for showcasing weather data on websites. Back by Ajax technology, Astero is highly responsive, customizable, and fast performing.
What sets this tool apart from other weather widgets is the amount of style and design options you have. For example, you can add animated backgrounds to the weather widget box, or upload your own custom images.
Key Features:
Animated and custom images, as well as video backgrounds
A shortcode builder for creating widgets
City or zip code search feature
Simple or full-screen modes available
Unlimited color palette
HTML5 geolocation
Local cache
Responsive layout

Astero WordPress Weather Plugin is for you if…
…You'd like the utmost in customizability, enabling you to display weather details however you'd like.
Pricing: $19| More Information
6. Weather Forecast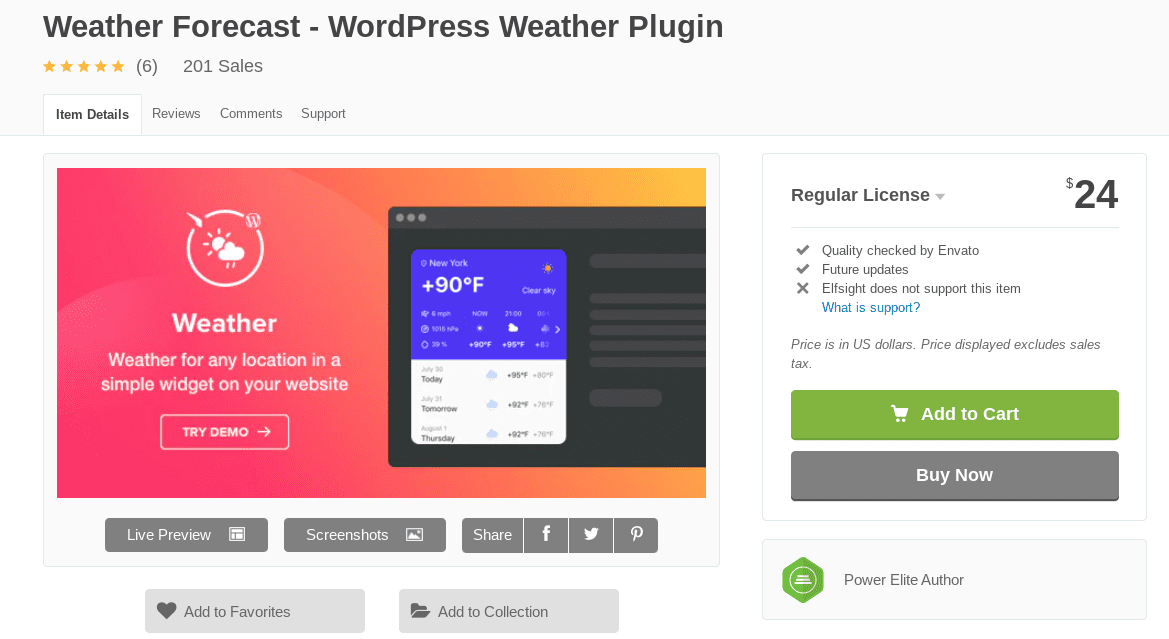 Weather Forecast is a somewhat new premium option. Therefore, it doesn't have quite as many ratings or reviews as the other widgets on this list. Still, it's a plugin worth considering thanks to its feature-rich offering and fair price tag.
This solution makes setting up a weather display box on your site easy. All you have to do is enter the zip code or location, and the data will automatically populate.
Additionally, you can select from five designs and customize the forecast background colors. Then you can embed the widget anywhere on your site that you want: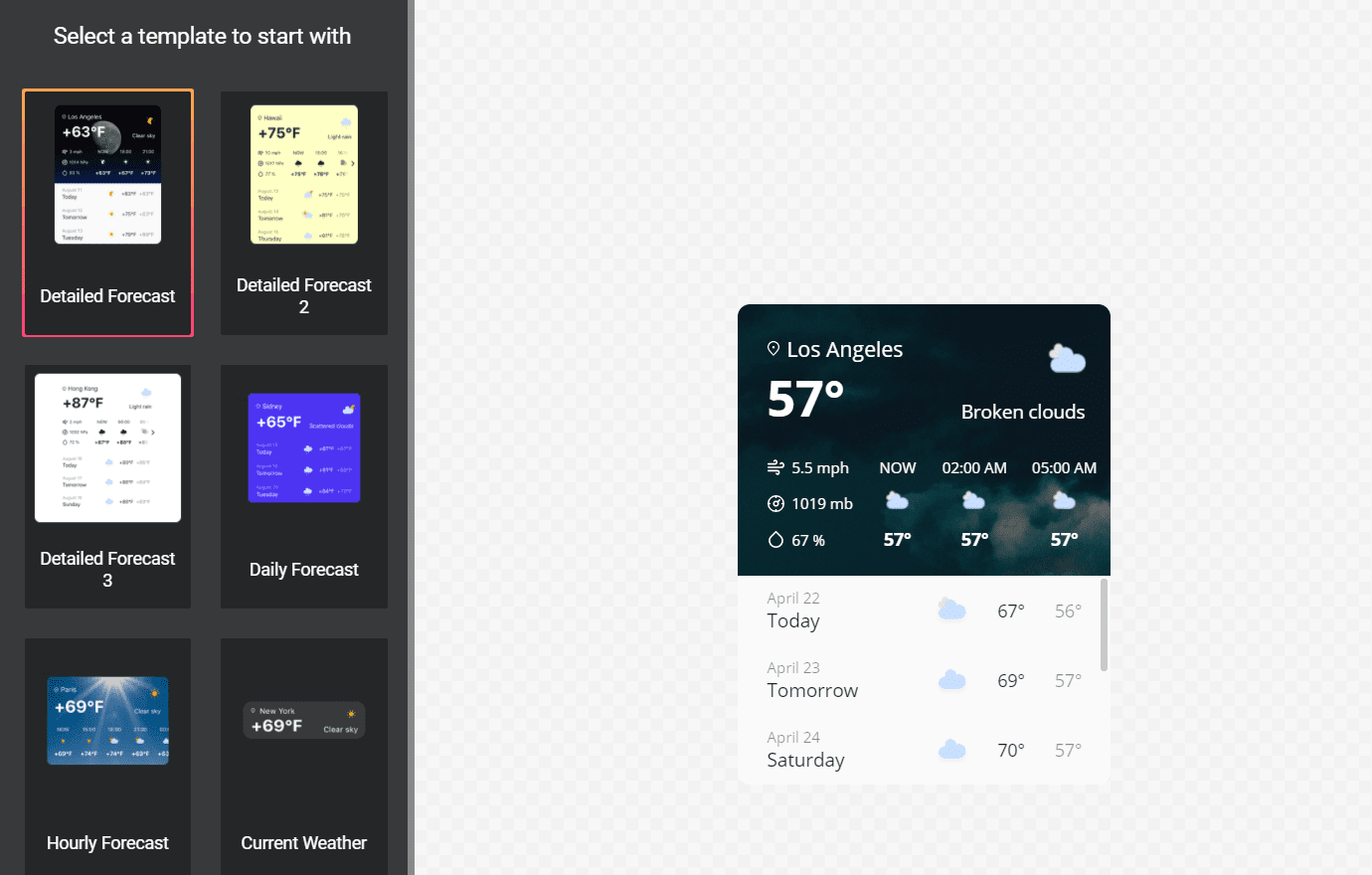 This is a great option if you want a reliable, premium plugin, but aren't looking for fancy configurations or overwhelming customization options. It strikes a perfect balance between simple and sophisticated.
Key Features:
Weather via a shortcode, block, or custom widget
Temperature data, air pressure, weather, and humidity data
Highly adaptable and easy to use
User-friendly editor with no coding required
Multiple design options
Option to show the forecast for the week or the next 12 hours
Weather Forecast is for you if…
…You like the idea of a solution that strikes a strong balance between simplicity and breadth of features.
Pricing: $24 | More Information
7. Simple Weather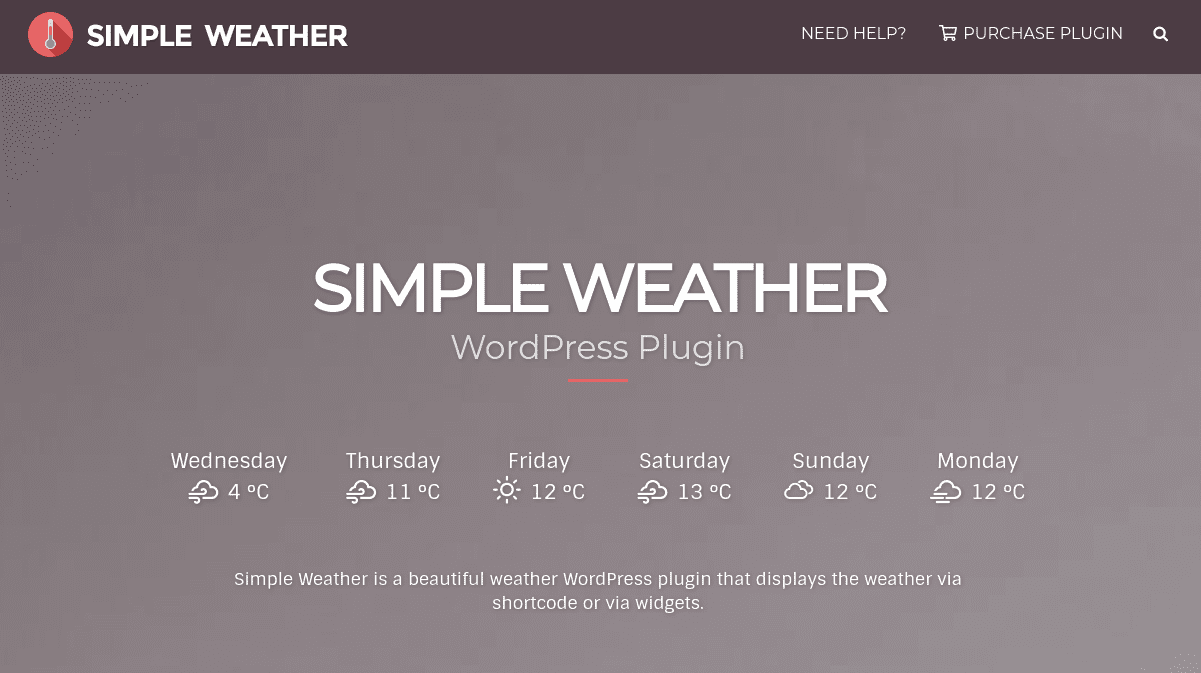 Simple Weather is a premium WordPress weather widget that delivers an impressive experience. You can use it to display weather on your website via widgets or shortcodes, and it boasts a modern, sleek design and a UI that is easy to navigate.
One of the things that makes Simple Weather so unique is its expansive customization options. It lets you use your own Application Programming Interface (API) from OpenWeatherMap.org, and even enables you to configure the weather update intervals.
Key Features:
Weather display via a widget or shortcode
Seven-day forecasts
Option to show or hide day and night temperatures
Ability to choose between metric and imperial units
Place weather widget in pages, posts, header, or sidebar
Set location according to city, country, or coordinates
Support for more than 15 languages
Smart weather addon available (Weather for Visual Composer)
Simple Weather is for you if…
…You want fine-grained control over your weather widget.
Pricing: $18 | More Information
8. Always Sunny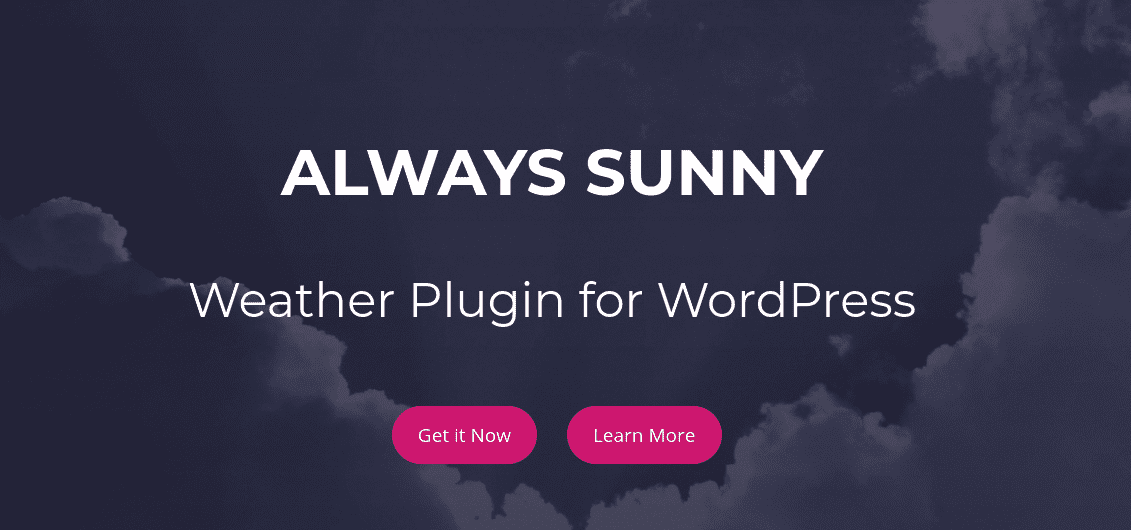 Always Sunny is a comprehensive WordPress weather plugin. It's not as well-known as other options on this list. However, this premium tool offers an impressive list of features that are suitable for a variety of websites and experience levels.
Always Sunny pulls data from the OpenWeatherMap API, so you can feel confident knowing that the information is updated and reliable. Also, the tool is fully customizable and comes with an intuitive, modern UI. You can display weather on your site in a few different ways, such as via an embeddable shortcode or as a widget sidebar.
This plugin is a solid option if you want a premium yet affordable tool. Similarly, if you're looking for plenty of guidance and support, you'll appreciate the detailed documentation included with the widget.
Key Features:
A variety of data and implementation settings
Temperature, weather patterns, cloud coverage, wind patterns, humidity levels, and more

Automatic and manual location search and detection
Translation-ready
Simple interface and modern design
Three- to four-day forecasts
Customizable color schemes (light and dark)
Always Sunny is for you if…
…You'd like a premium tool with plenty of features that's still easy to use.
Pricing: $13 | More Information
Conclusion
When you're running a website, it's easy to spend a lot of time optimizing the larger elements, such as the layout and design. However, dedicating some time to consider the smaller features you could incorporate to enhance it can go a long way.
As we discussed in this post, using WordPress weather widgets to display the local forecast to site visitors can be an effective way to keep them around longer. It's a quick and simple way to add value to your site, while simultaneously extending a courtesy to your users. Best of all, there are a lot of free and premium options to choose from, whether you want something beginner-friendly (Awesome Weather Widget) or endlessly customizable (Simple Weather).
What features do you think are most important to look for in a WordPress weather widget plugin? Let us know in the comments section below!
Featured Image via lyeyee/shutterstock.com