If you're a musician looking to build your brand online, building a website on WordPress is an excellent place to start. With vital blogging functions, a knack for SEO, and an ever-growing library of powerful themes and plugins, WordPress is the best platform that you can choose to build your website. When building a website for musicians and bands, finding the right WordPress theme is critical. In addition to stunning design, you should look for a theme with essential features like audio players, event planning, track management, and more. Luckily, we've compiled a list of some of the best WordPress themes for musicians, helping you find the best website theme for you.
The Best WordPress Themes for Musicians (and Bands) in 2023
The themes presented in this article all come with stellar reputations – whether through their sales figures, customer reviews and ratings, or download figures – and also offer a range of features that support creating a fantastic music website. We're sure the right one for you is among them. Let's get started!
1. Apex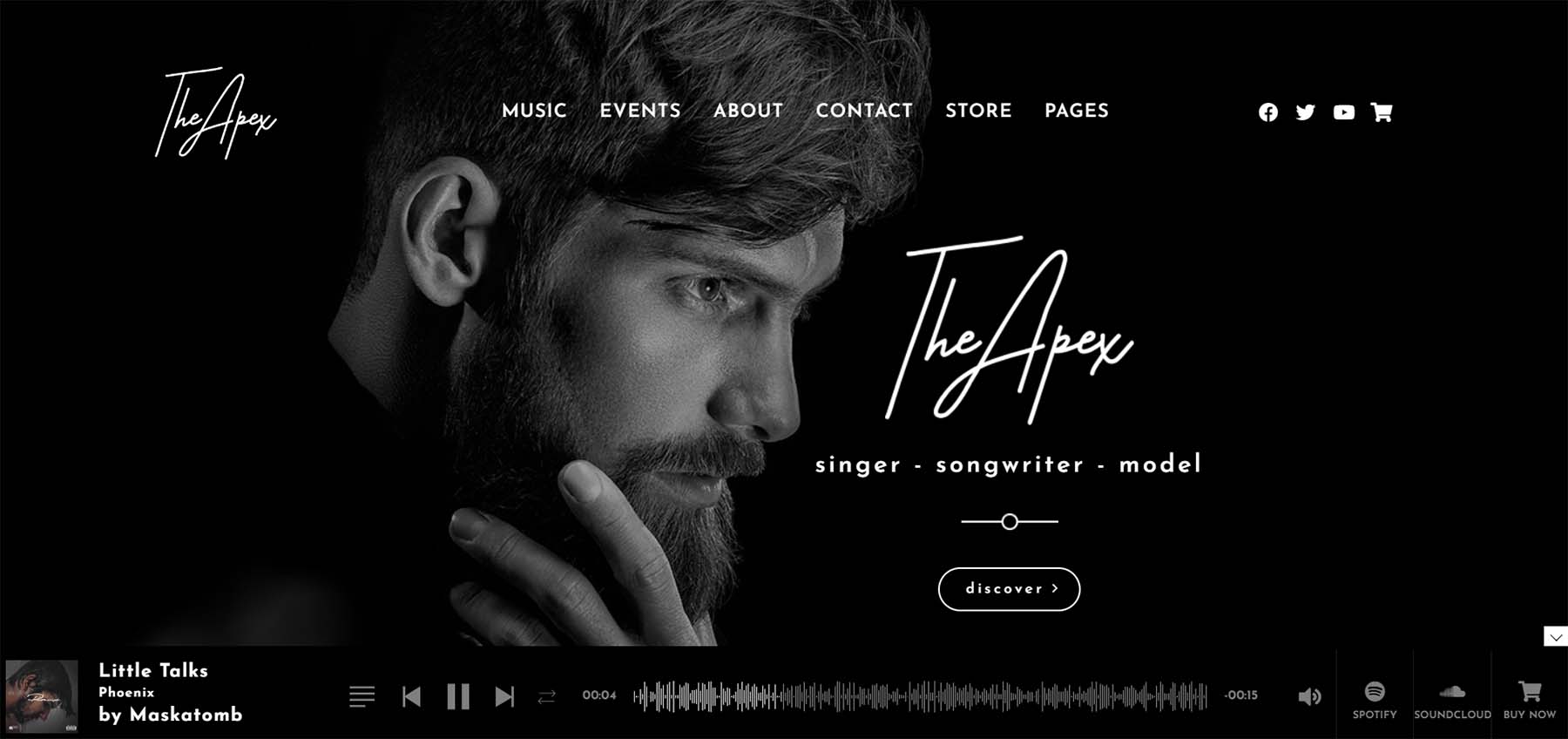 Apex is an overall professional, feature-rich, and visually outstanding WordPress theme to represent yourself as a musician. Touted as a minimal WordPress theme for musicians, Apex brings style and grace to your website. First, it features a built-in audio player, so your website visitors can easily listen to your latest releases while they peruse your site. Secondly, Apex is powered by Elementor. So, you can use this famous page builder to create and edit any page you want. Apex comes with several premade page templates.
An example would be its flexible press kit template showcasing your music, social media, biography, and more. Lastly, Apex fully supports platforms like Spotify, Soundcloud, Libsyn, Podbean, and more. Bring your music from all over the internet to one beautiful place for your listeners to enjoy.
Key Features:
13+ custom widgets
Audio and playlist manager
Sell music and merchandise with WooCommerce
Native events and gigs manager
Continuous music player, powered by Ajax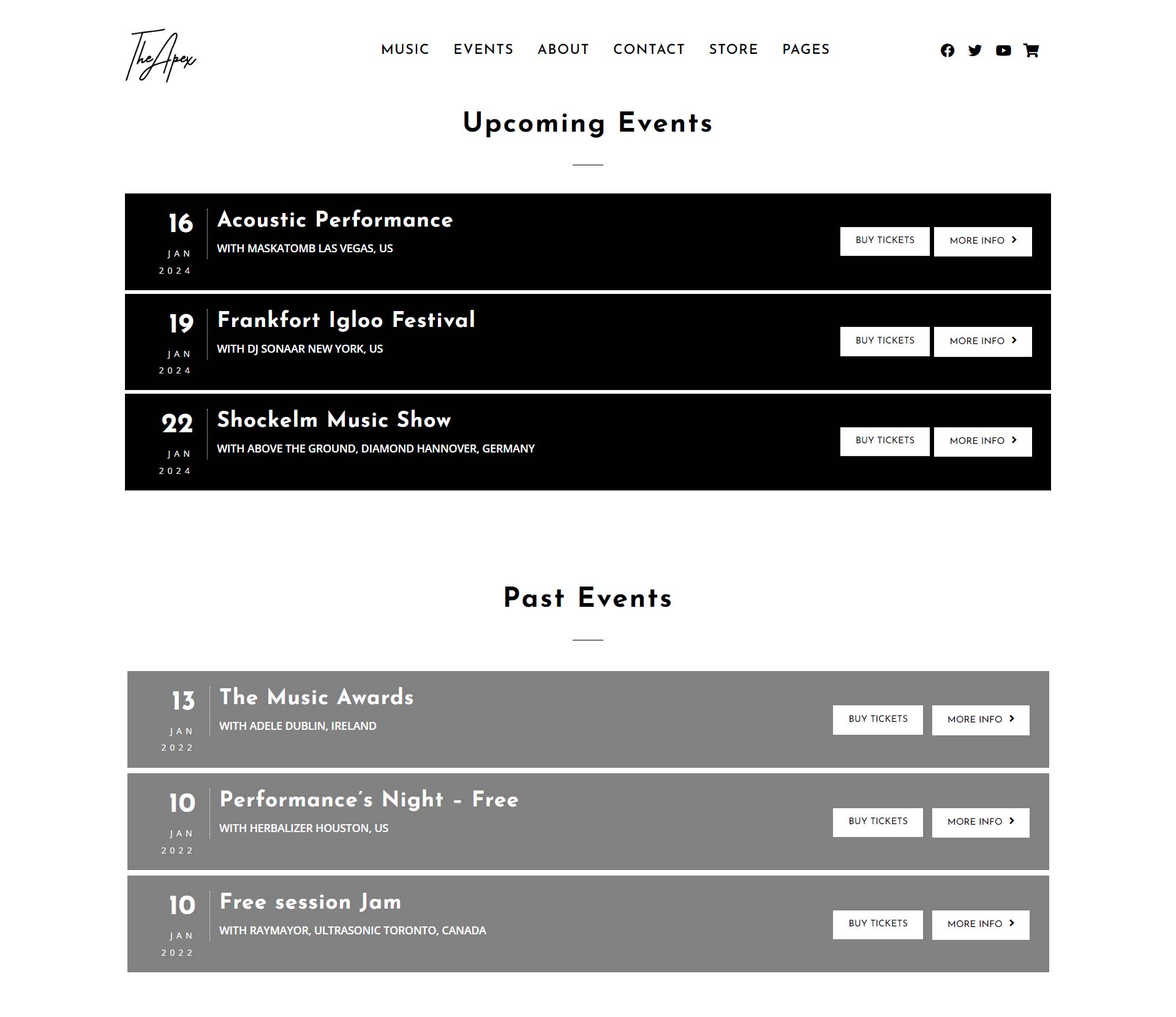 Are you looking to promote your next gigs? Apex has a native events manager that'll help you do just that. Showcase your past and future events, sell tickets, and showcase your event details without downloading an external events plugin to your WordPress site.
Best for:
Apex is one of the best WordPress themes for musicians who want to own their place on the internet. Apex has everything from managing events natively, building an email list, selling directly to listeners, and more. If you want to take control of your music career, Apex is a mighty tool to help you achieve that goal through your website.
Pricing: Paid plans start at $69 per year
2. Beats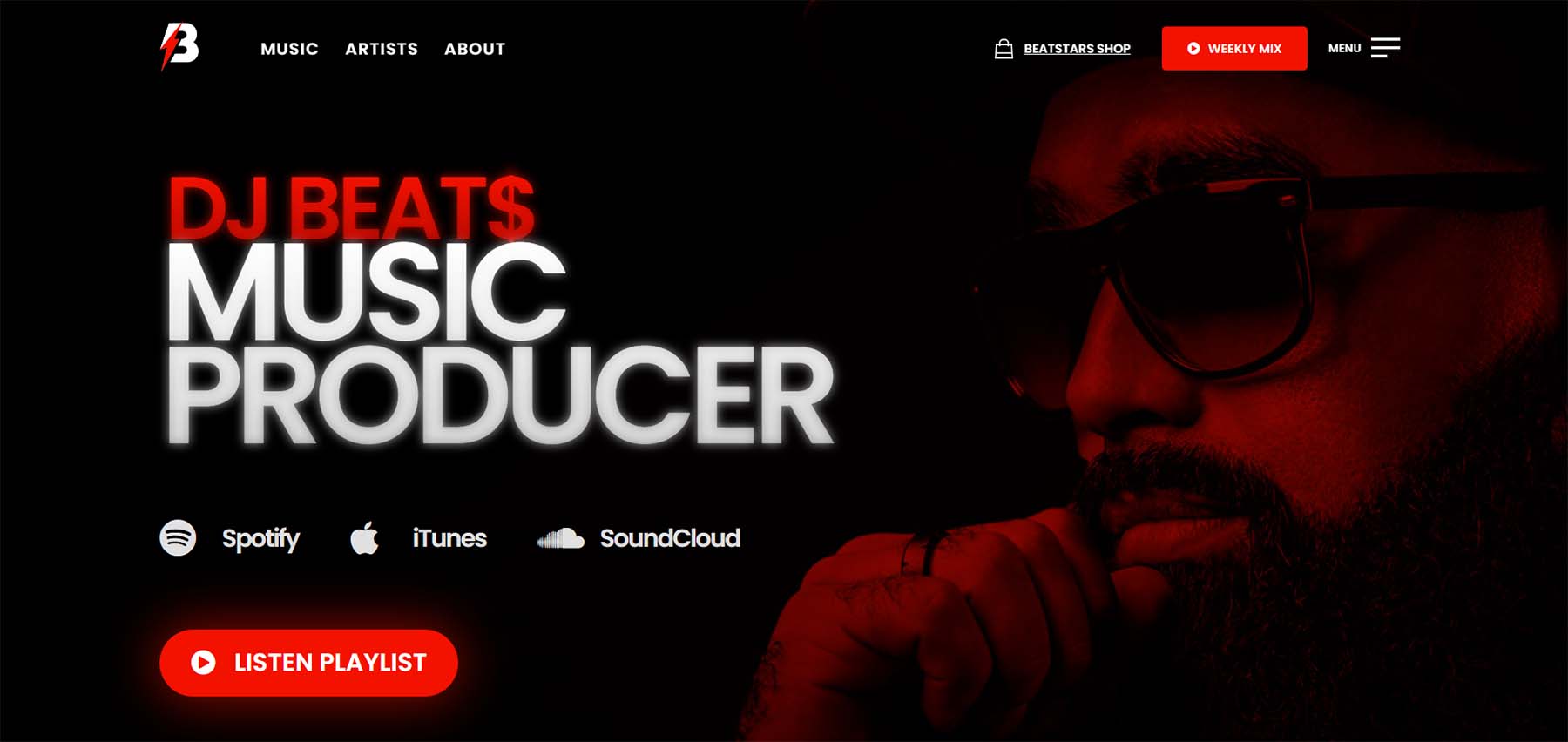 Beats is one of the best WordPress themes for those running a record label or similar business model. From its daring visual identity to bold typography, Beats is the WordPress theme for cutting-edge artists. Branding aside, Beats adds many features to your toolbox. To begin, the theme comes with an easy one-click demo. Getting your site to look perfect is possible with Elementor, the page builder that powers Beats. Next, easily organize your albums with the audio and playlist manager. Create and manage your music mixes as you wish. For the record label, Beats gives you the power to create microsites for each of your artists. You can use Elementor to create artist pages, saving time and energy. Beats are one of the best WordPress themes for musicians, DJs, and record labels who want to show their listeners more about their brand through their website.
Key Features:
Integrated with Elementor, Slider Revolution, Essential Grid, and more
Showcase multiple artists and talent through microsite functionality
Newsletter support with Mailchimp
Soundcloud and Spotify support and integration
Set lyrics, reviews, videos, and more for your albums and tracks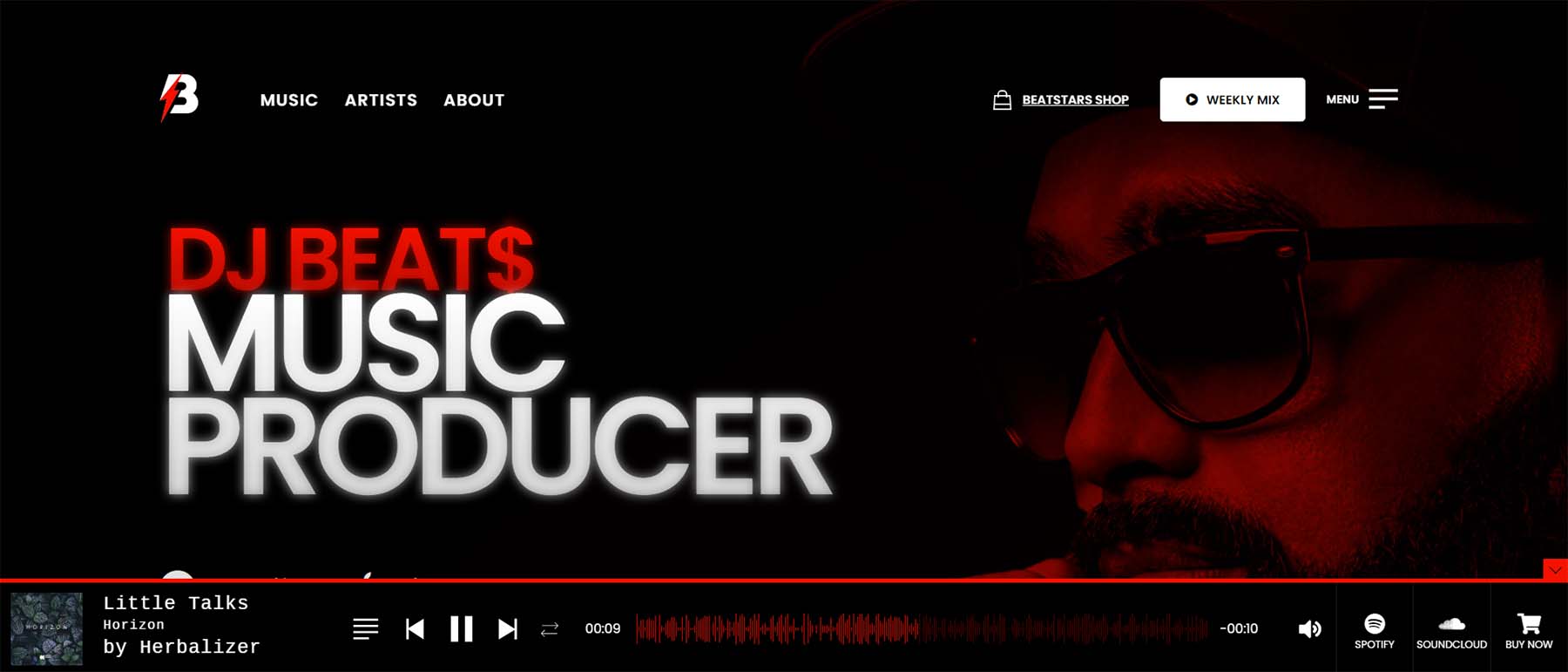 The Beats audio player is minimal, powerful, and effective. Not only can listeners listen to your music as they browse your website, but they can also visit your Spotify or Soundcloud pages. Additionally, the player allows your listeners to buy your music, generating revenue for your music business. The player also has a visual soundwave design that moves along to your music, creating an extraordinary experience for listeners.
Best for:
Producers and record labels will love the Beats WordPress theme. You'll like the bold and unique design of the WordPress theme. For record labels or collectives, creating places on the internet for your talent will be a great way to promote the artists under your brand from within one website.
Pricing: Paid plans start at $69 per year
3. Divi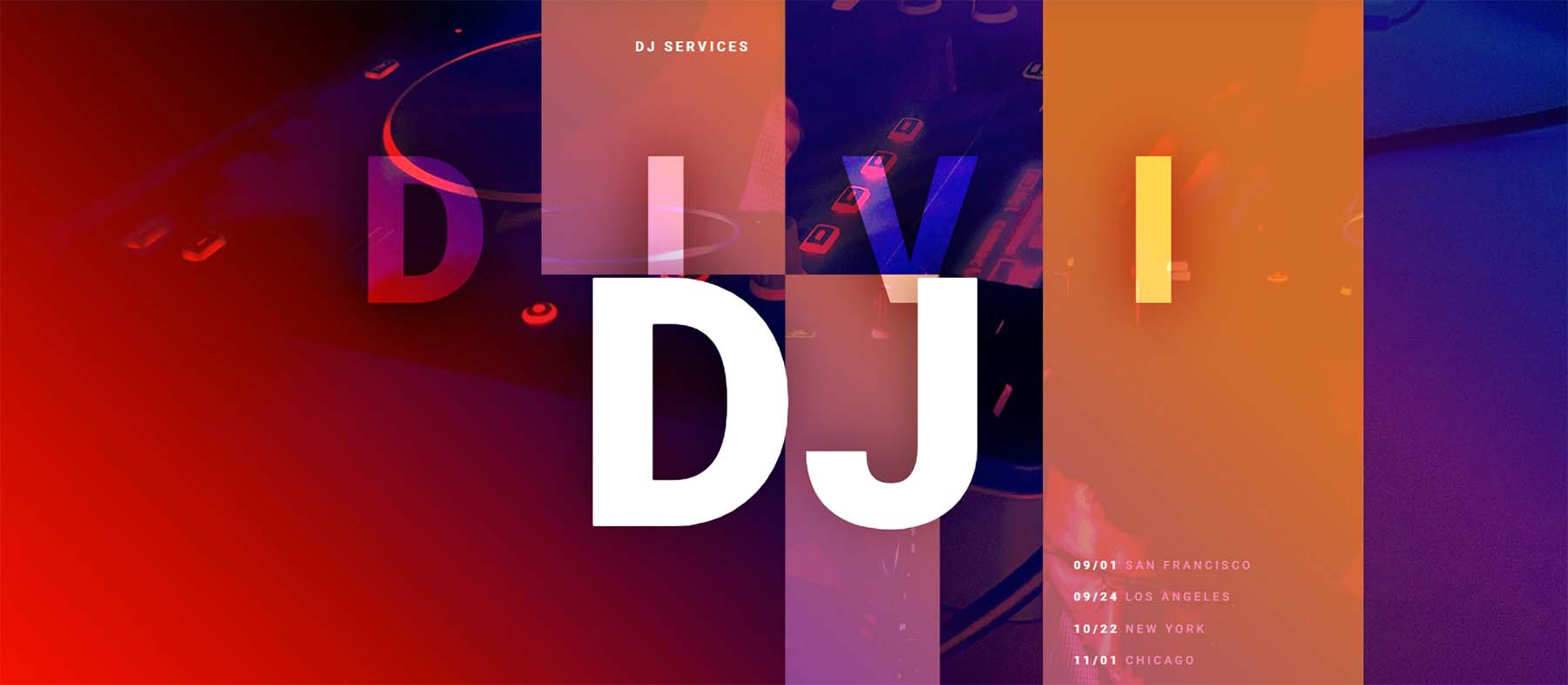 Our own Divi Theme is a beautiful multipurpose theme that gives you complete control over the design of your website. With over 40 modules to choose from, you can easily tailor your design and functionality to your music theme needs. You can combine as many modules as you like using our intuitive drag-and-drop Divi Builder or our front-end Visual Builder. The Divi Audio Module will enable you to place your music almost anywhere on your site, and you can also utilize the Shop Module (plus the 24+ WooCommerce modules that we have!) to sell your merchandise. In addition, there are also modules on hand to help you display music videos, launch new events with countdown timers, show portfolios for your body of work, and much more. The possibilities are virtually endless!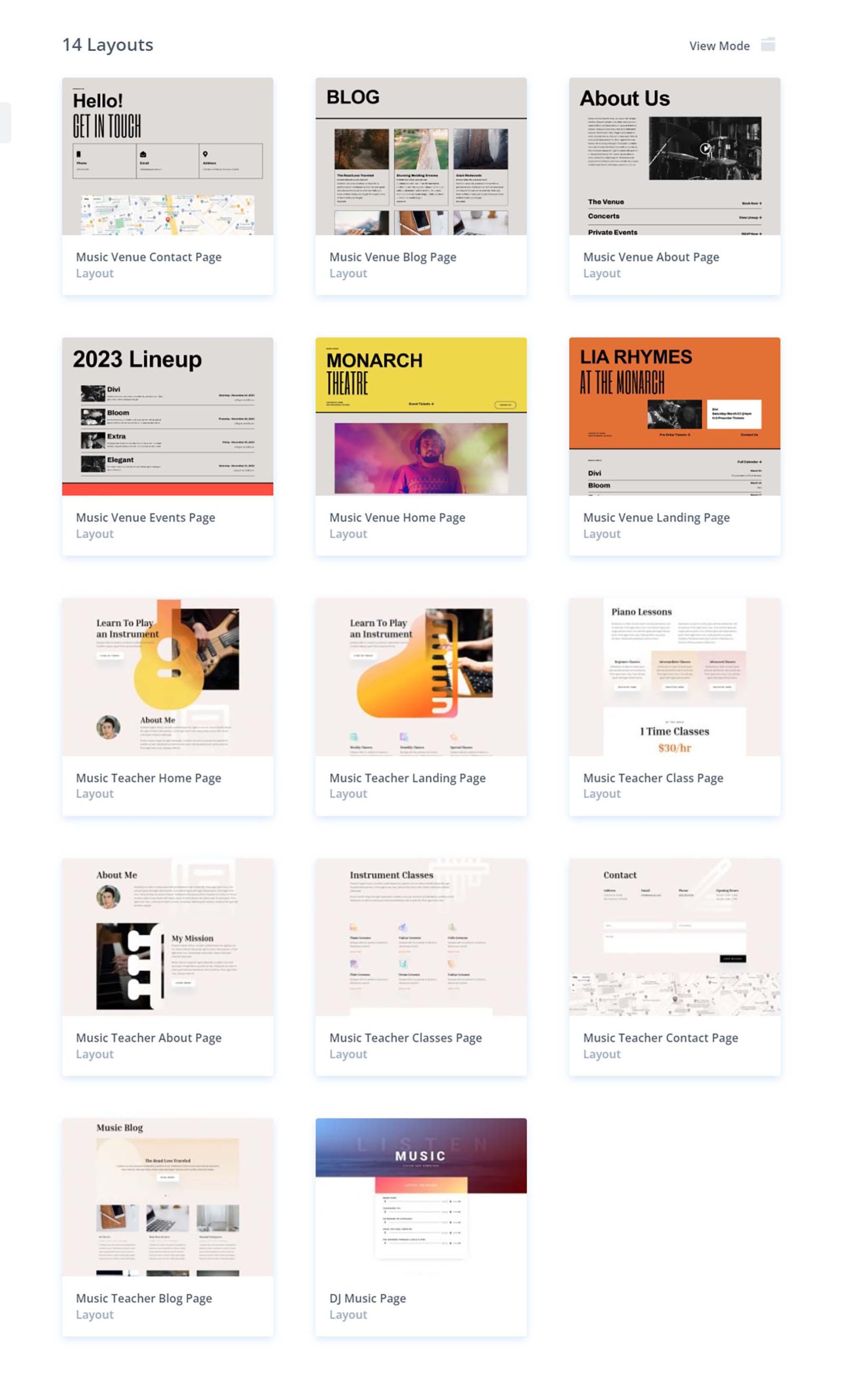 No matter the type of website you're looking to build for yourself as a musician, Divi has several entire site packs that you can use to get your site off the ground. All are fully customizable with our Divi Builder, and you can get as granular and creative as you'd like by adding the Theme Builder to your site-building process.
In addition to having a robust builder and a library of creative tools at your disposal, Divi's integrations make connecting to third-party plugins and services painless.
Key Features:
Intuitive visual page and theme builder
Fully customizable Audio Module
Integrates easily with YouTube and Vimeo
Connects with popular events management, booking, membership, and social media platforms
Fully compatible with WooCommerce for digital and physical product sales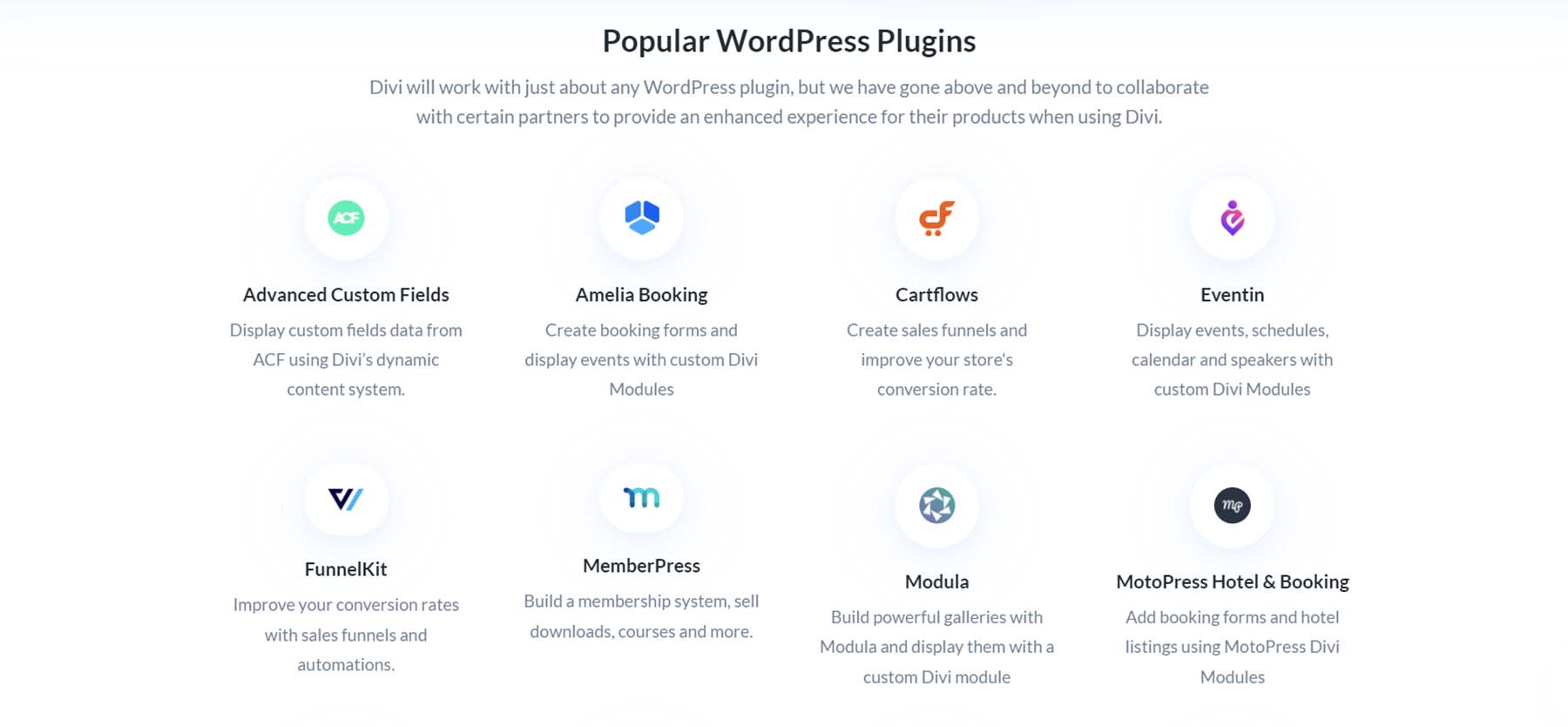 We can't talk about Divi without mentioning its vast array of integrations. Whether you're looking to connect to your email marketing platform or seeking complete control over your events, Divi has you covered. Consider using Modula to create expansive galleries for your gigs and shows. For gig management, Divi has integration with EventIn. Divi's integration with MemberPress will make building a monetizable community on your website possible. Share your music through social media with our social sharing plugin, Monarch.
Best for:
Divi is one of the best WordPress themes for musicians who want complete control and creativity over their website. You can customize anything with a website built with Divi. Furthermore, with our Divi Marketplace and deep integrations, you can connect to services that can help you build your name and easily showcase your music.
Pricing: Paid pricing starts at $89 per year
4. Tusant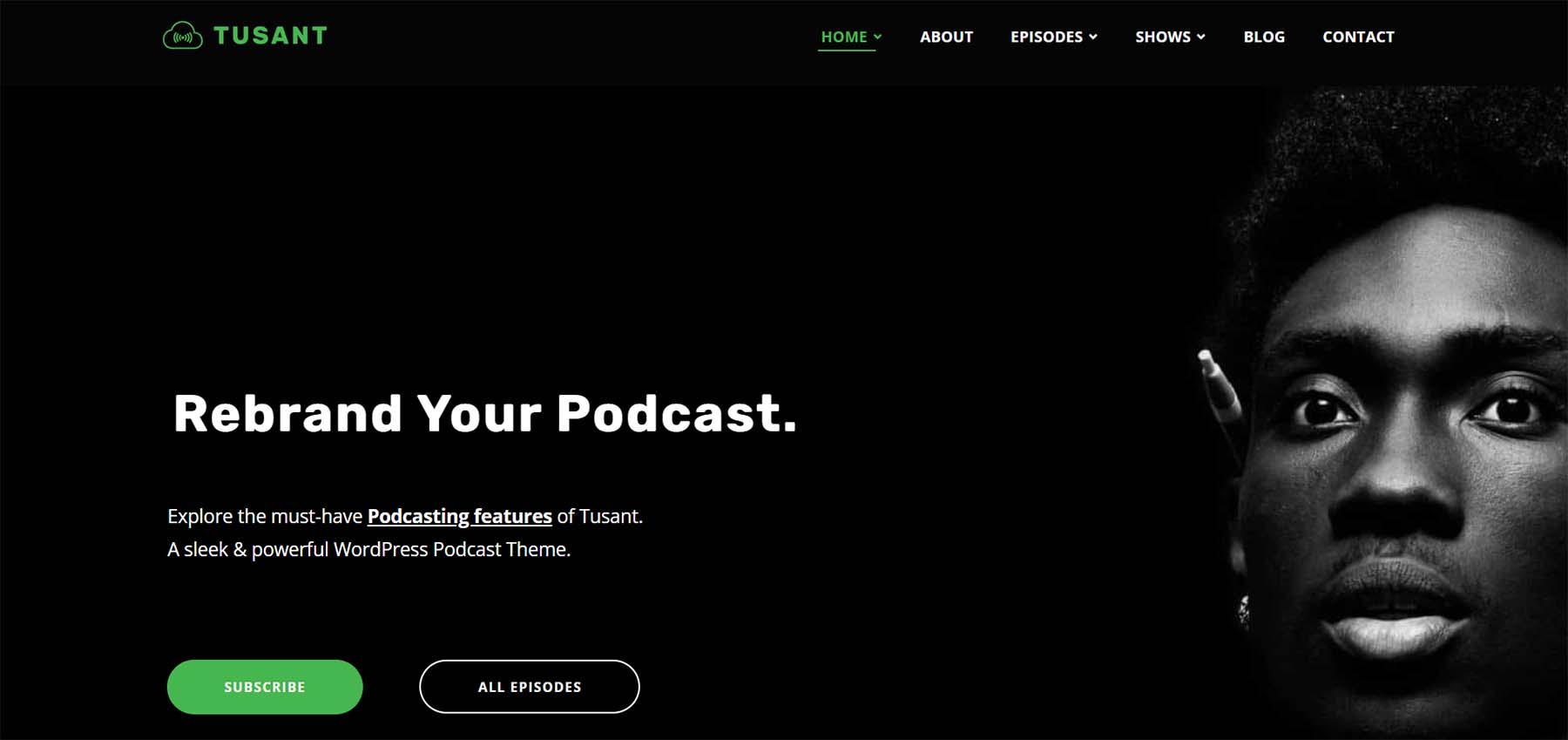 Tusant is a WordPress theme built for musicians. It includes powerful features and allows you to connect to multiple audio platforms. With integrations to platforms like Blubrry PowerPress, Buzzsprout, Seriously Simple Podcasting, and more, no matter where your music resides, it can find a home on your website with Tusant.
Easily showcase your music on the homepage with an album grid or slider. Display your bandmates and link to their social media accounts. You can also show your Instagram grid in the footer or anywhere else on your website using Elementor or Gutenberg. You have multiple ways to showcase your albums, including in a grid, lists, and sliders. Additionally, your listeners can easily filter and use pagination to scroll through your music.
Key Features:
A flexible player that can add podcasts, music, or video playlists
Optimized for SEO and performance
Multiple customizable playlist layouts for both audio and video
Compatible with Elementor and the Block Editor
Full support for WooCommerce to sell merch or digital downloads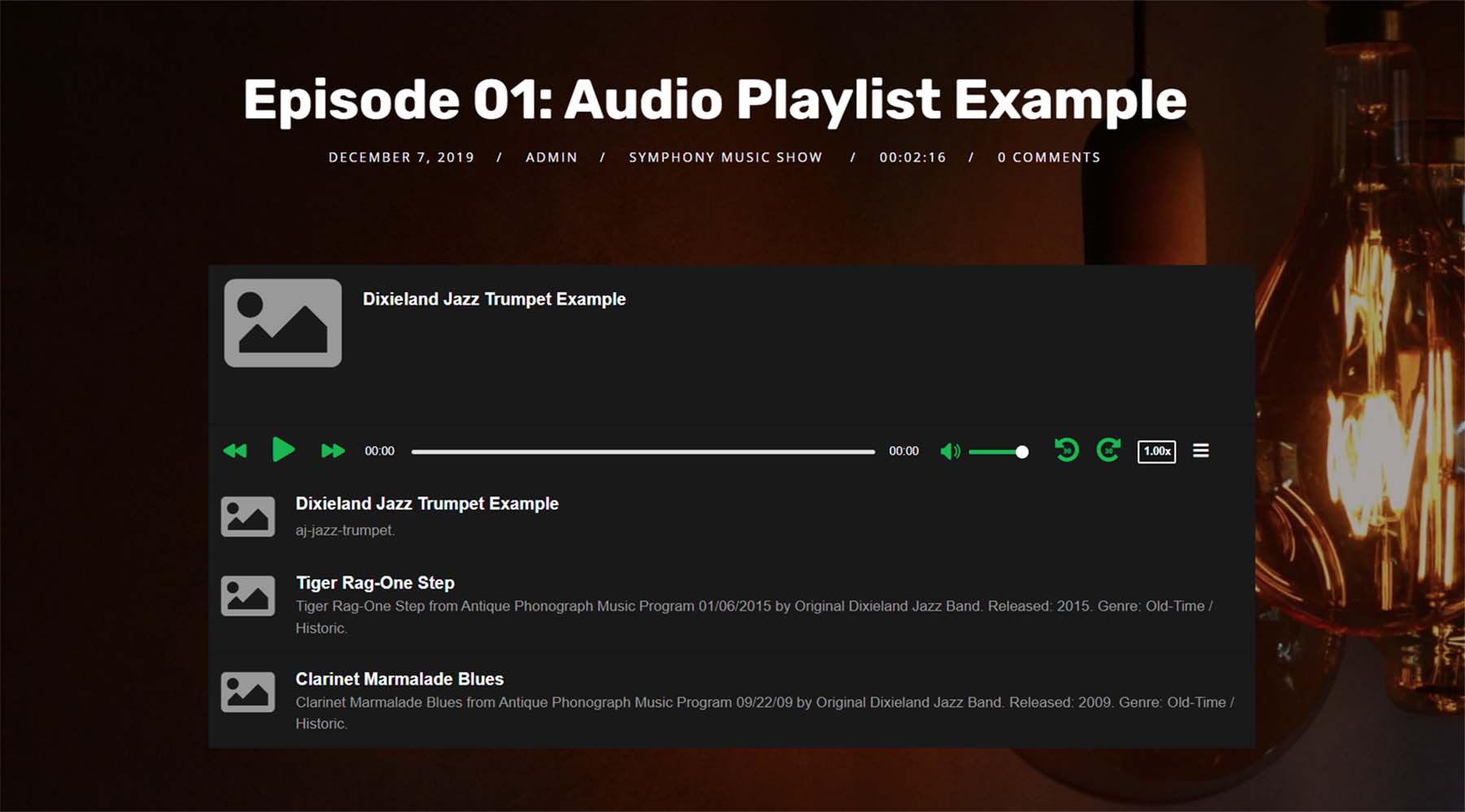 A unique feature of the Tusant music theme is its playlist module. The playlist is equipped with an audio player compatible with all browsers and devices, and your listeners can enjoy additional custom controls while listening to your music. With Tusant, you can add a featured image, song title, and description to your tracks within your custom playlists.
Best for:
Tusant is best for musicians looking to showcase their audio and video projects. If you have lots of video content supporting your music, Tusant can showcase your work in the best light.
Pricing: Paid plans start at $69 per year
5. Obsidian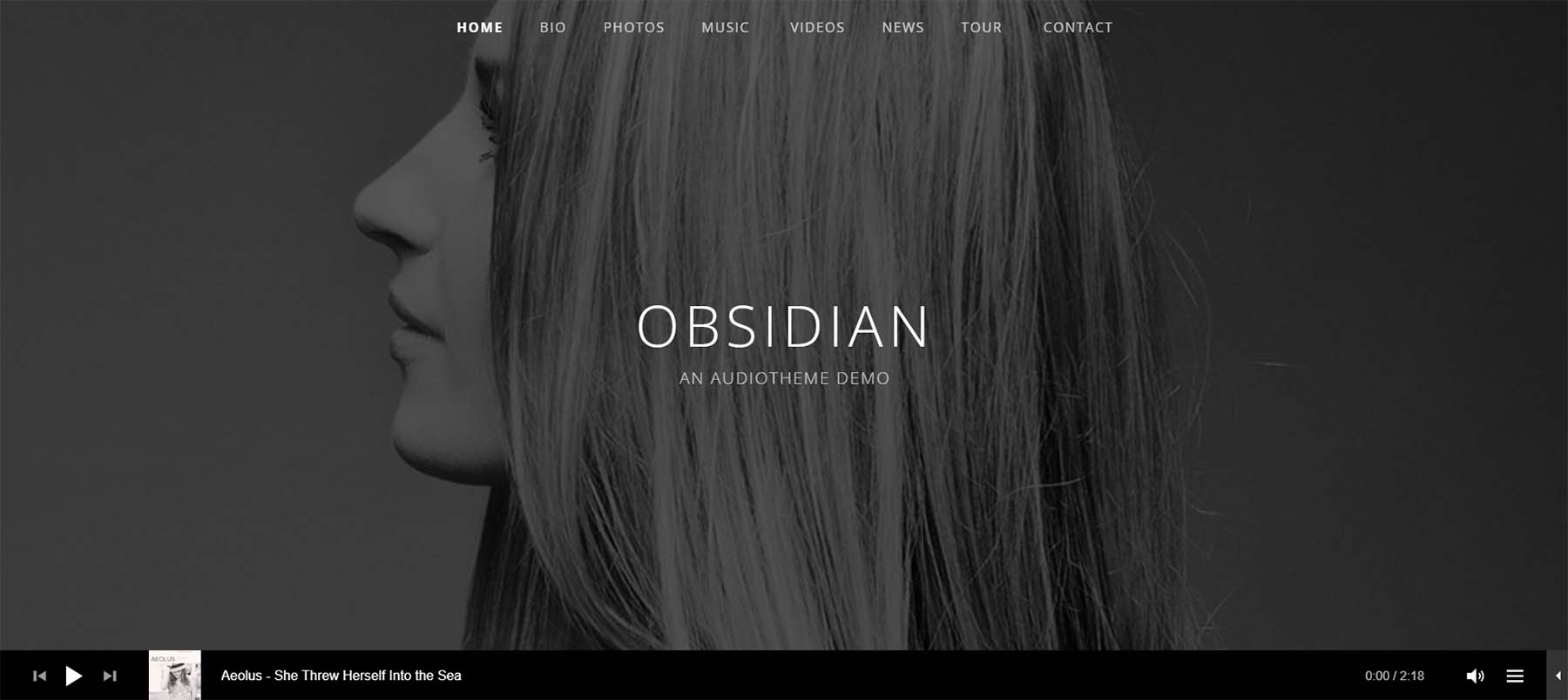 Obsidian is a clean and elegant music theme that offers features not found in many others. It comes bundled with the AudioTheme plugin, packed with music-specific features such as discographies, gig lists, and videos. The theme also includes access to the premium Cuebar audio player plugin.
There is a myriad of customizations you can make through WordPress' default Customizer. Additionally, Obsidian is bundled with the Billboard plugin, which helps you create landing or splash pages to add even more depth to your site. Obsidian allows you to showcase your music with sleek audio and video galleries. Furthermore, listeners can listen to your albums directly on your site without going to an external player.
Obsidian is one of the best WordPress themes for musicians who are firm in their craft and want to showcase their talents through their website.
Key Features:
Includes the AudioTheme, Cuebar, and Billboard plugins
Eye-catching video, photo, and audio galleries
Sleek continuous, and customizable audio player
Gig manager to track past, present, and future gigs
Music archive to display entire discography with purchase and listening links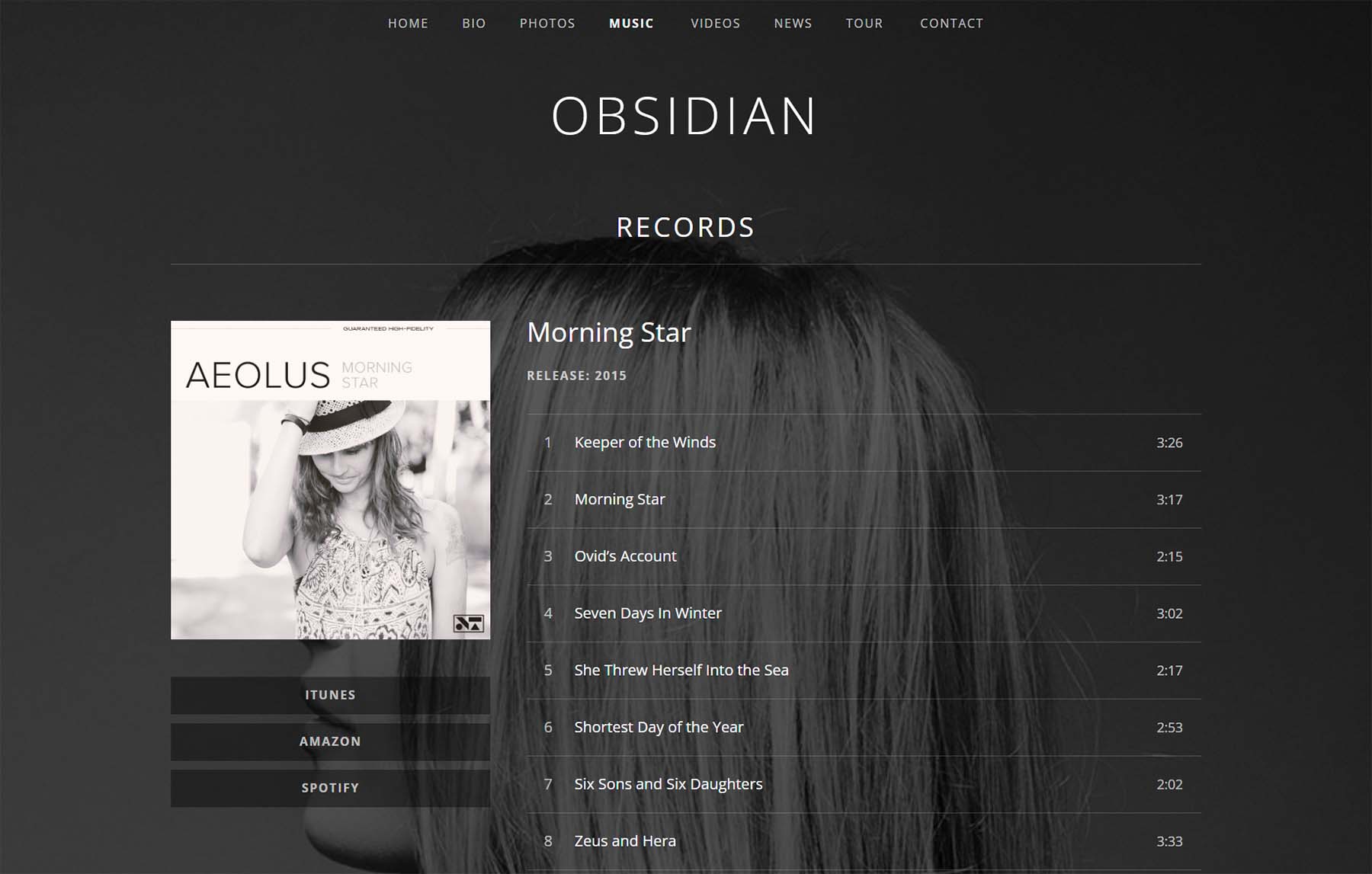 Obsidian shines when it comes to handling galleries. From its photo gallery feature to how it displays your albums, Obsidian showcases your body of work beautifully, no matter the format in which it is presented. Let's take, for example, the way it displays your albums. The album gallery links to your external music streaming services and allows listeners to hear your music through the player on your site. You can add your album cover art, duration, and much more, giving your site visitors a complete experience when they listen to your work.
Best for: 
If you have a large body of audio and video work, you'll be pleased by the features that Obisidian provides musicians. It is one of the best WordPress themes for musicians looking to showcase their talent through their music and the videos they've produced.
Pricing: Paid plans start at $69 per year
6. Merchato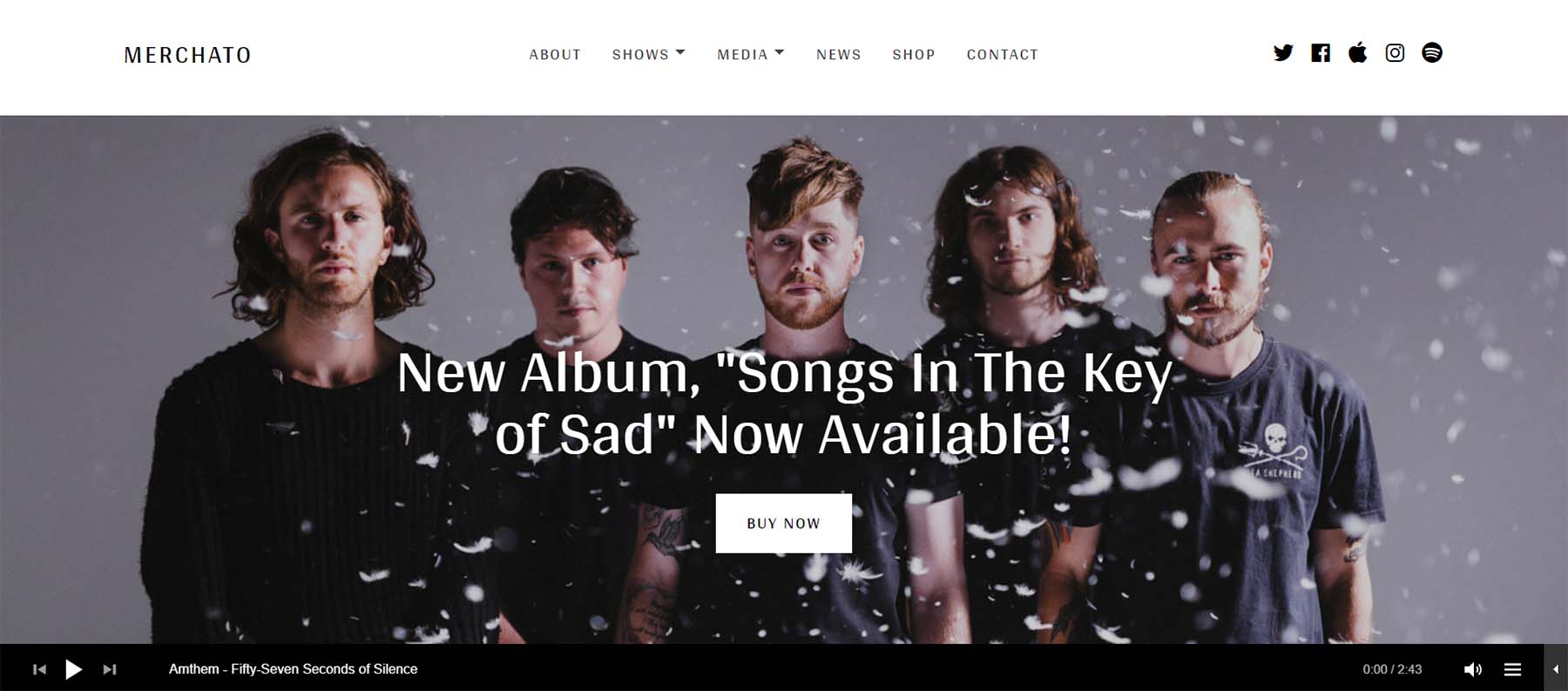 Merchato is the theme for your bane if you're looking for a new WordPress theme. The theme focuses on allowing bands to sell beautifully with WooCommerce by creating custom styling for WooCommerce pages. From the My Account page to the Shop page, Merchato makes it simple for you to manage your merch store beautifully.
Being powered by WooCommerce makes it a simple process for your listeners to support your band through your shop. This theme supports many of the Audiotheme widgets and allows you to have a beautiful audio player for listeners to hear your music as they browse your website. You can share your latest events through the gig manager and customize your website's header with a dedicated social media menu.
Key Features:
Event manager with event details, list, links, and more
Showcase your archive of music in the form of albums, EPs, and playlists
Seamless integration with WooCommerce for merchandise and album sales
Video library support for YouTube, Vimeo, and custom URL destinations
Support for AudioTheme widgets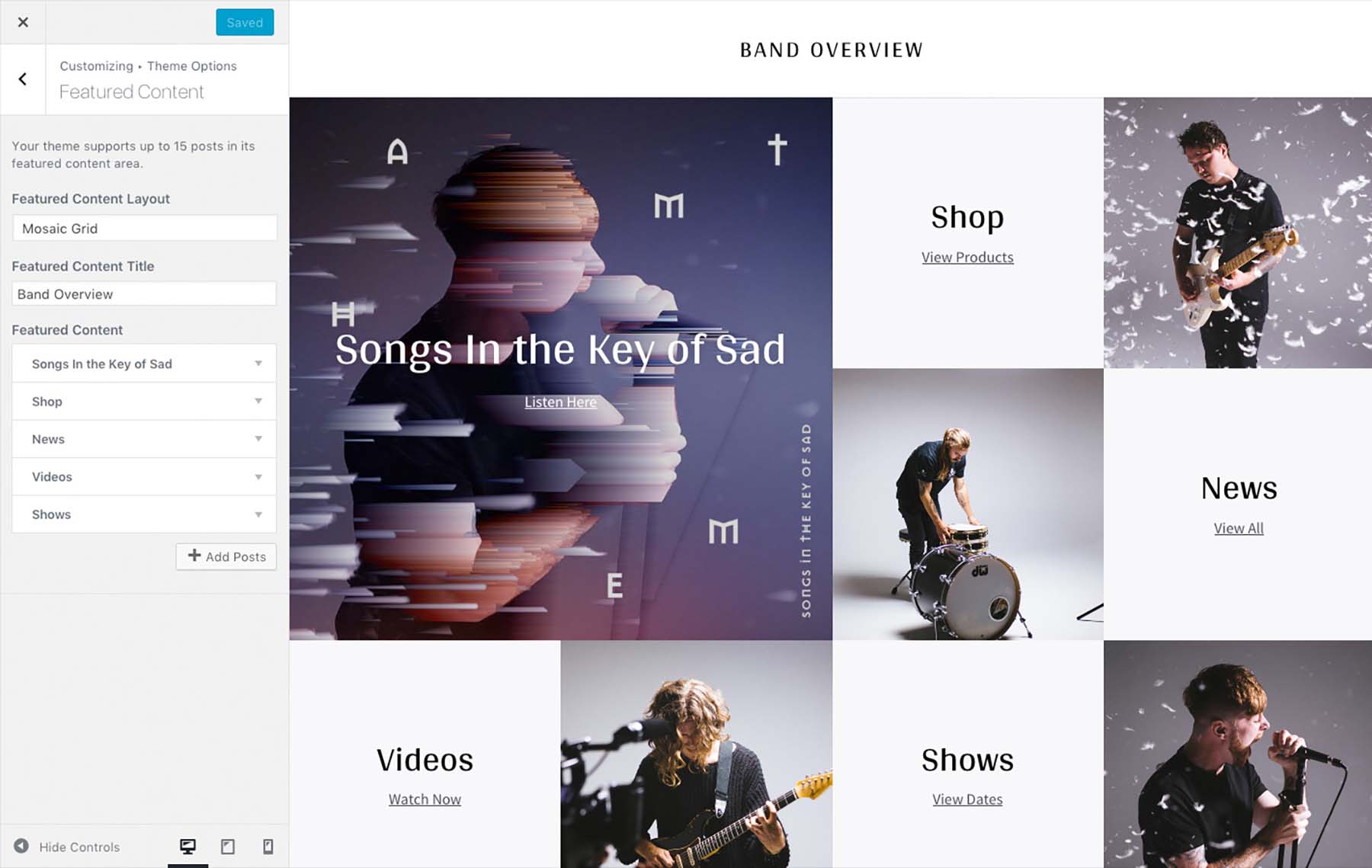 Merchato's homepage masonry style is a unique feature that differentiates this theme from the rest. Easily showcase your latest album, shows, videos, and more in one eye-catching homepage layout. You can show this featured content in a masonry or block grid style.
Best for:
Merchato is best used for bands looking to have a unique-looking site for their music. This theme is visually different from the others on our list and will help your music and band stand out among the crowd. Additionally, suppose you are a band focused on selling your merchandise. In that case, Merchato's native integration with WooCommerce makes it easy to sell your products stylishly without using any additional code or technical skills.
Pricing: Paid plans start at $69 per year
7. Beat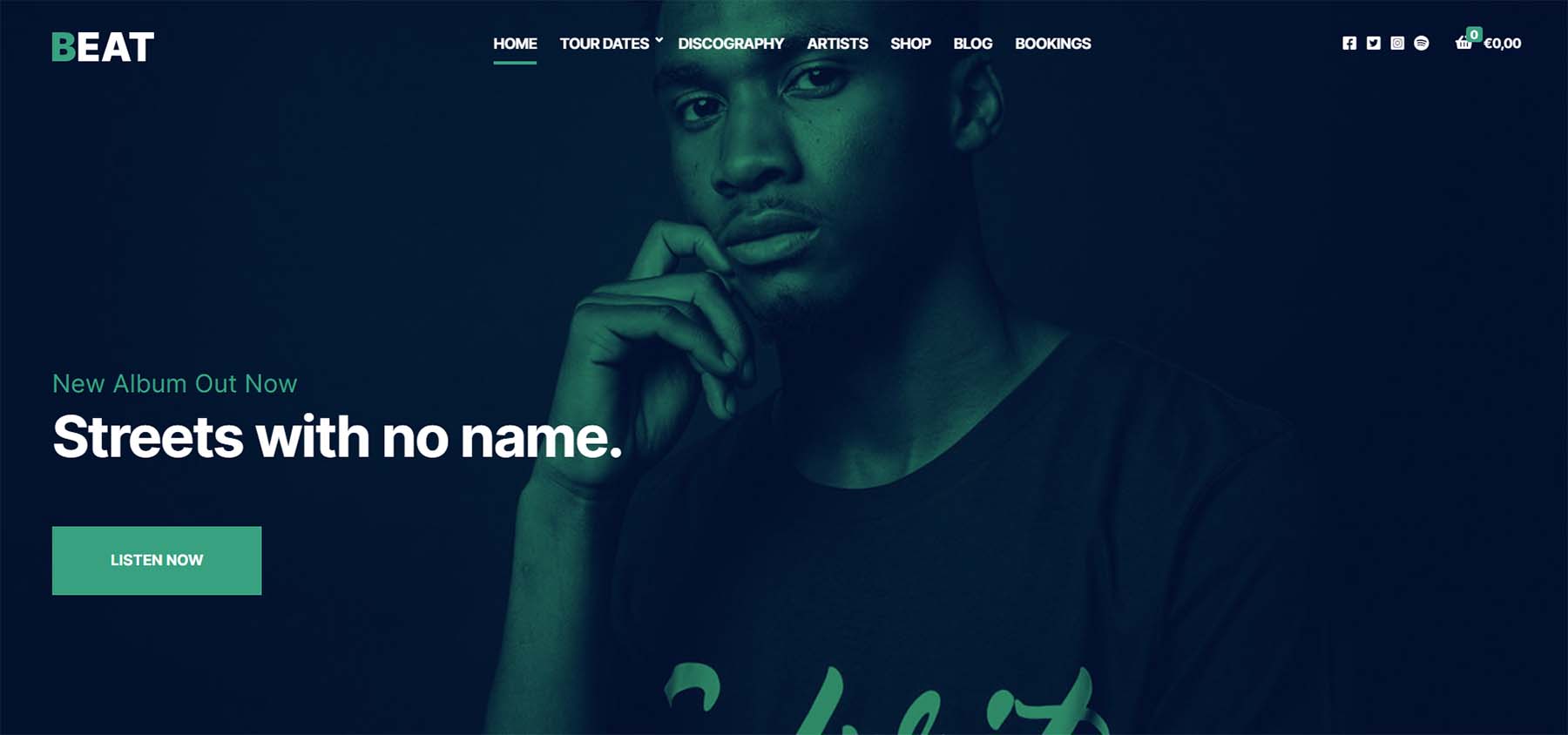 Beat is a stellar theme for musical events, record labels, and music collectives. In short, if multiple artists need their own space on your website, you need to use Beat.
Beat's event management system makes it simple to display upcoming events in a tour format (one event) or a series of events. It is also one of the best WordPress themes for musicians in a group or collective. Beat has an artist showcase feature that allows each artist to shine boldly on your website. Regarding sales, WooCommerce and Beat have you covered. Whether you're selling an album or a T-shirt, WooCommerce is fully integrated with Beat, so selling online is not a problem. The theme is also powered by CSS Igniter's AudioIgniter music player, allowing unlimited tracks, playlists, and more.
Key Features:
Custom post types for artists, events, discography, and more
Compatible with WooCommerce for ticket and merchandise sales
Organize and manage your events with filters and categories
Customizable and feature-rich artist's pages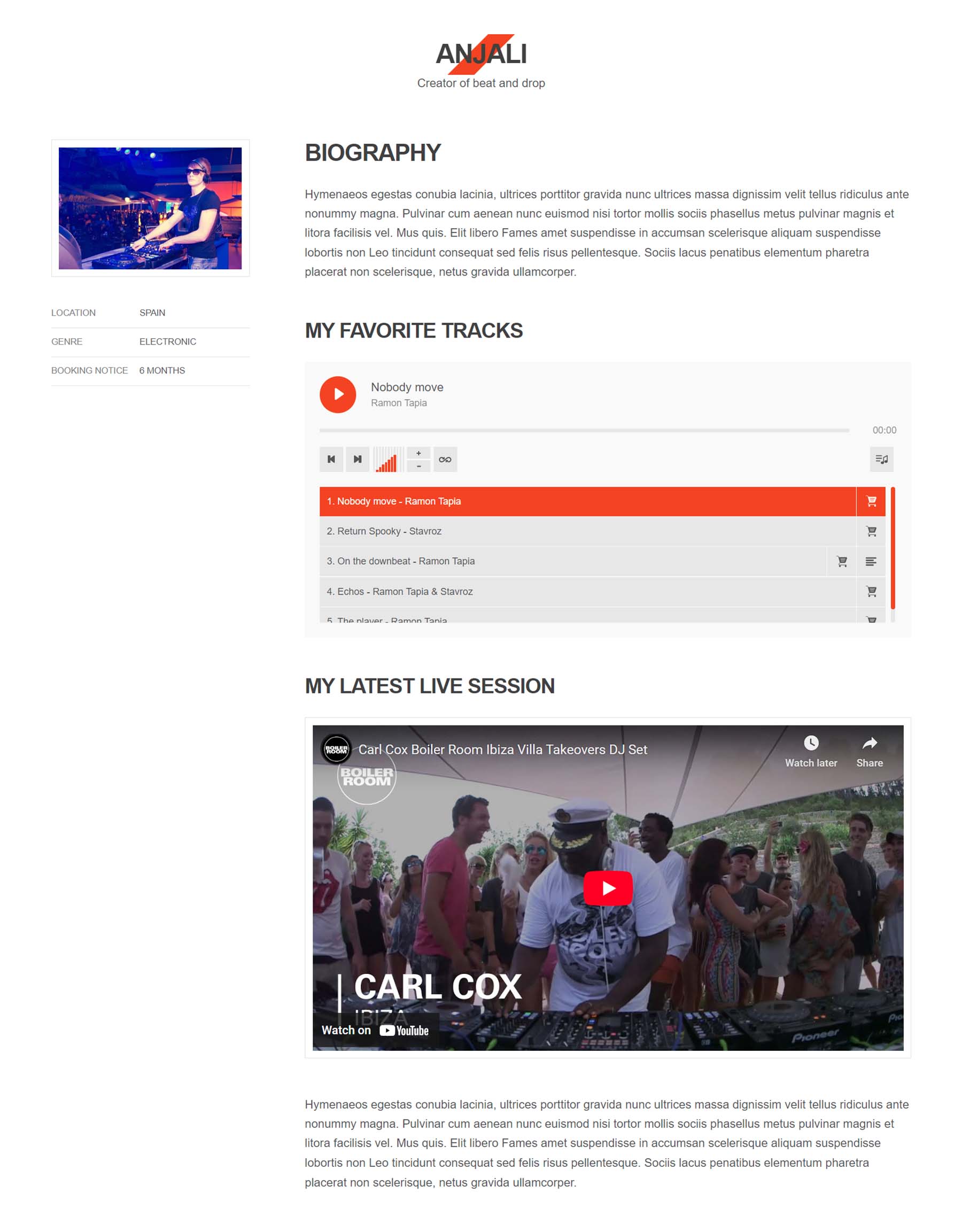 The artist's page under the Beat theme is a great way to showcase the work and talent of each artist in your collective. You can add an artist's portrait, a biography, their latest music, and a video. This is a great way to display your artists' talent and give your website viewers additional insight into their favorite musicians.
Best for:
Beat would make a good WordPress theme for a music collective, tour company, or record label. Showing off your artist's work, setting up events, and selling merchandise are all tasks that can be completed uncomplicatedly when you use Beat as your WordPress theme.
Pricing: Paid plans start at $49 per year
8. Berliner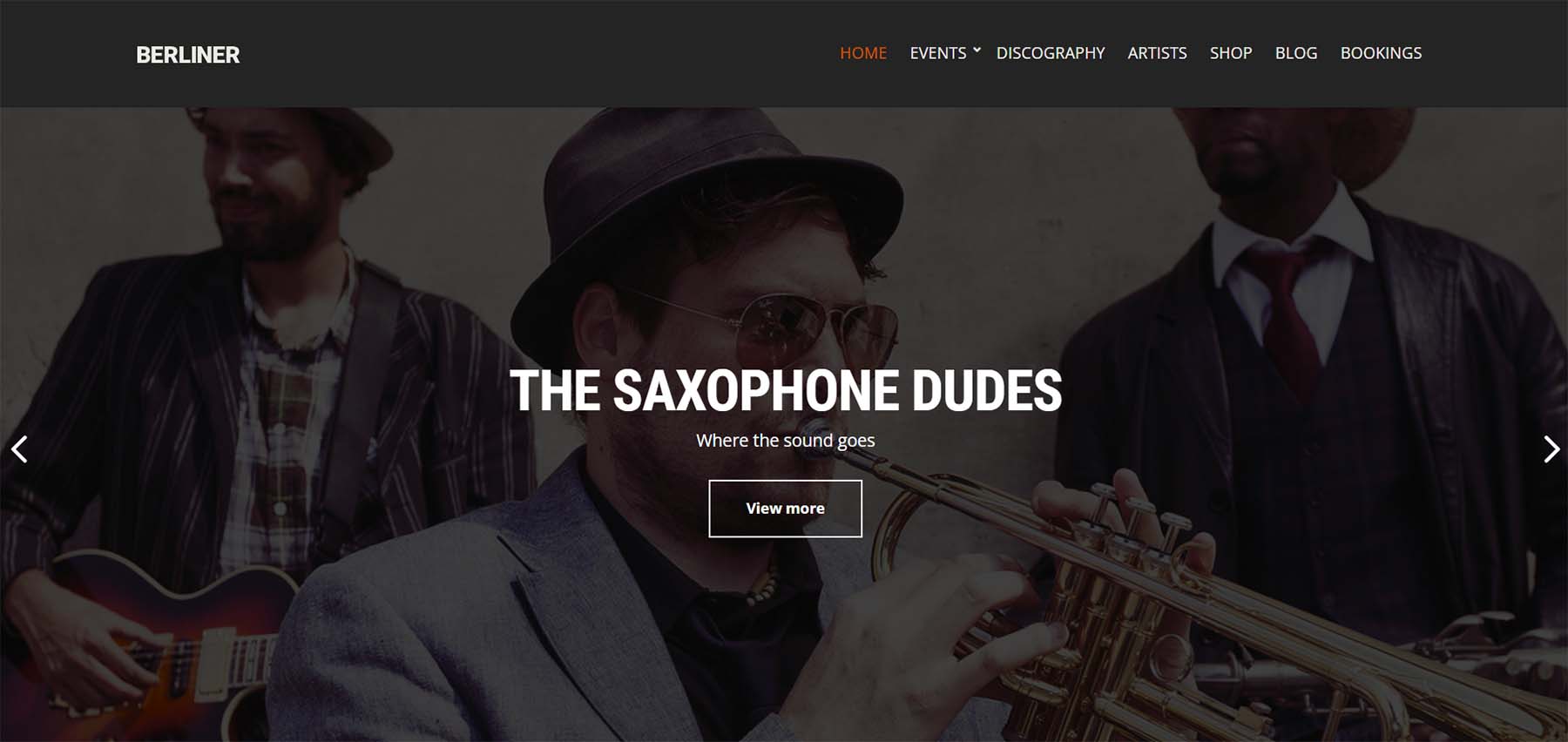 Berliner offers a clean and calm visual alternative to some of our list's more dramatic music themes. It's a beautifully styled modern theme with a classic twist.
Its custom audio player enables visitors to sample your tunes within a built-in track listing system, and you can also use the included event management system to help promote your upcoming gigs. You can display your events in a list or grid format, allowing your listeners to filter through your albums before entering the dedicated album page.
Berliner also includes many custom post types, and you can further customize your design by adjusting layouts using the in-built options and widgets to create a genuinely unique homepage. You can build your pages with Gutenberg or Elementor; plus, the GutenBee plugin extends the native WordPress builder giving your true flexibility when building your website.
Key Features:
Compatible with Gutenberg and Elementor
Integrated with WooCommerce for event ticket sales, merch sales, and more
Custom post types for events, team members, and discography
Manage events and list event details
Customizable homepage audio player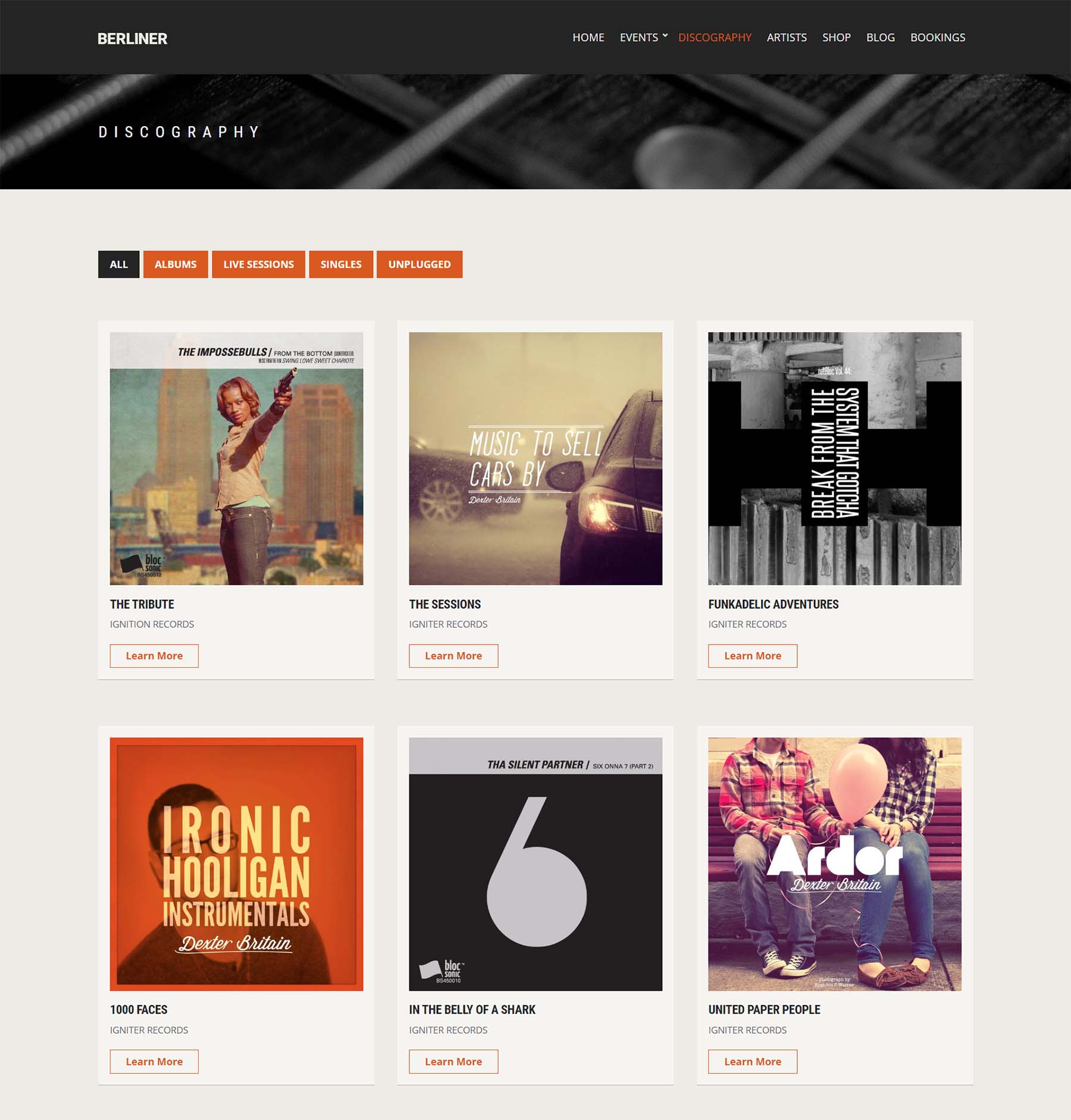 The filter features available with Berliner will improve your listener's user experience when they encounter your work. Through the discography custom post type, you can order and arrange your albums to be pleasing to website visitors. This is especially helpful for musicians with extensive discographies, multiple genres, and collaborations.
Best for:
Musicians who create in different genres and with many collaborators will like Berliner's flexibility. With the ability to filter through your work, various artists, and more, visitors will be able to properly appreciate the complexity of your work.
Pricing: Paid plans start at $49 per year
9. Astra
Astra is one of the best WordPress themes for musicians looking to build a website on a budget. Available in free and premium options, Astra provides a world of features in both versions of its theme. For starters, the theme is heavily focused on performance and SEO. Plus, Astra integrates beautifully with WooCommerce, making selling your merchandise and music more straightforward. Regarding page building, Astra can integrate with WordPress' native Gutenberg, but also Elementor and Beaver Builder. Choosing a free page builder will help you keep costs low and still be able to have the flexibility and style you need to build your website as a musician.
Key Features:
Six pre-built template pages
Multiple header, footer, archive, blog post, and more template options
Info list and social icons widget
Extensive WooCommerce integration
Compatible with Gutenberg, Elementor, Beaver Builder, and more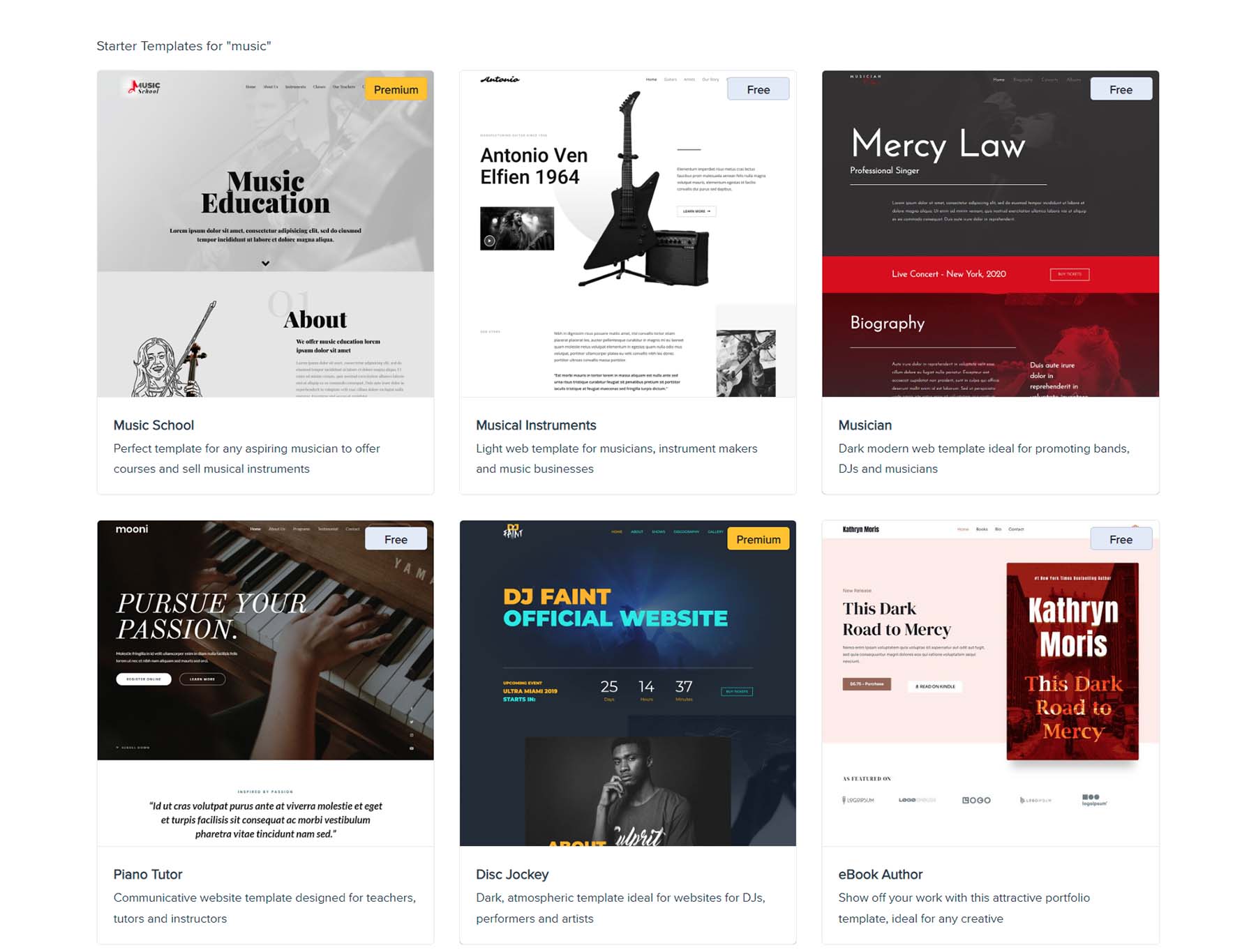 Astra is one of the few websites on our list with a free version. It also has free and premium starter templates that you can use to build your music website.
Best for:
The struggling musician who needs a website can build a powerful one with Astra. Available in a free version and with decent free starter templates, no matter your budget, you'll be able to build a beautiful and feature-rich website with Astra.
Pricing: Free, Paid plans start at $59 per year
10. Rhythmic Pro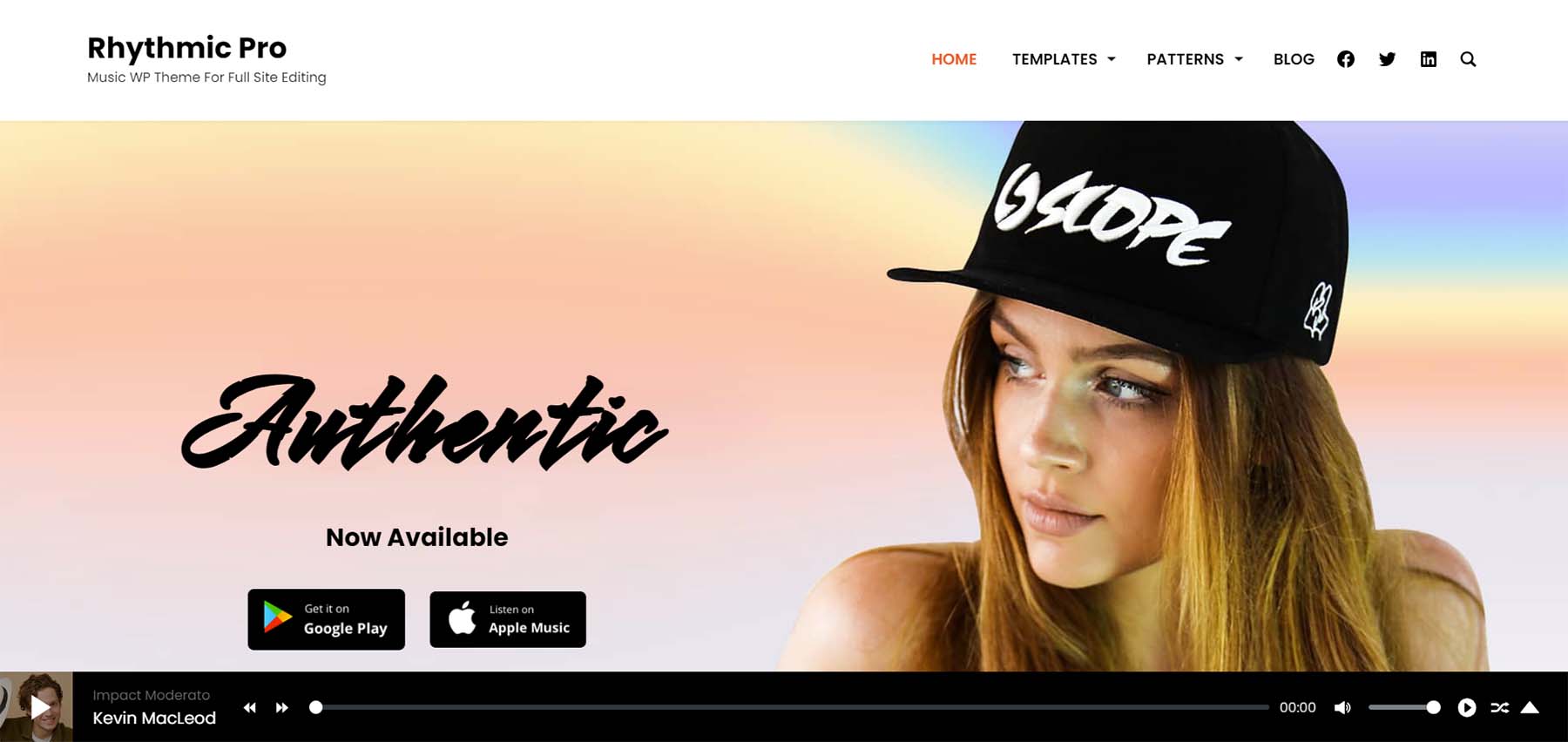 Rhythmic Pro is one of our list's few full-site editing WordPress themes. If you want to build your website with WordPress' native page and theme builder, then Rhythmic Pro is the theme for your band.
As a theme, it comes jam-packed with custom blocks and patterns that you can use to showcase your talent to your listeners. Display testimonials, events audio, and more efficiently with patterns. You have blocks for popup videos, countdowns, and playlists that will make building your website a breeze. You can easily customize the header and footer of your website, adding widgets like search, social media icons, and more. Like most themes in our list, this theme comes with a native audio player with numerous controls.
This theme is also available in a free version, so if you'd like to try it before you buy, you'll be able to do this easily.
Key Features:
5+ page templates, 28+ block patterns, 9+ template parts
Compatible with WooCommerce
Full Site Editing as a Block-Based theme
Comes with the FSE Pro Plugin to assist with Full Site Editing
Homepage audio player with playlist capabilities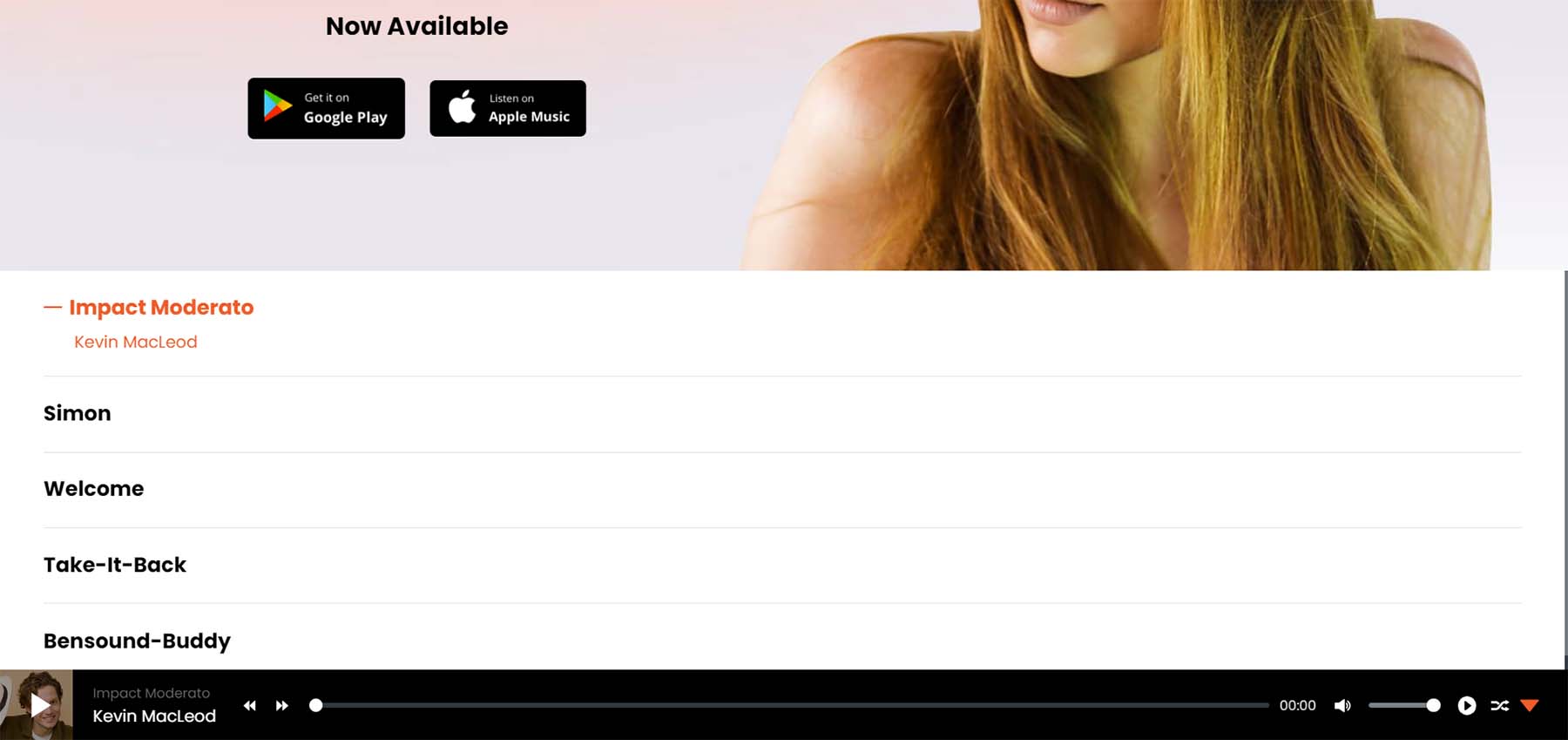 The music player of this theme is different from others on our list. This music player allows you to browse through the entire playlist of music that you desire. The popup playlist allows listeners to scroll through your music and select the tracks they want to hear. This player also features a shuffle button, similar to music platforms like Spotify and Apple Music.
Best for:
If using the Block Editor is of significant concern to you as you build your website, Rhythmic Pro will put your mind at ease. Rhythmic Pro is one of the best WordPress themes for musicians who want to use Gutenberg to build their websites. Jam-packed with templates, block patterns, and more, this theme will help you build a robust, responsive, and beautiful site while staying firmly with WordPress' native builder, Gutenberg.
Pricing: Free, Paid plans start at $59.99 per year
11. Lyricsmus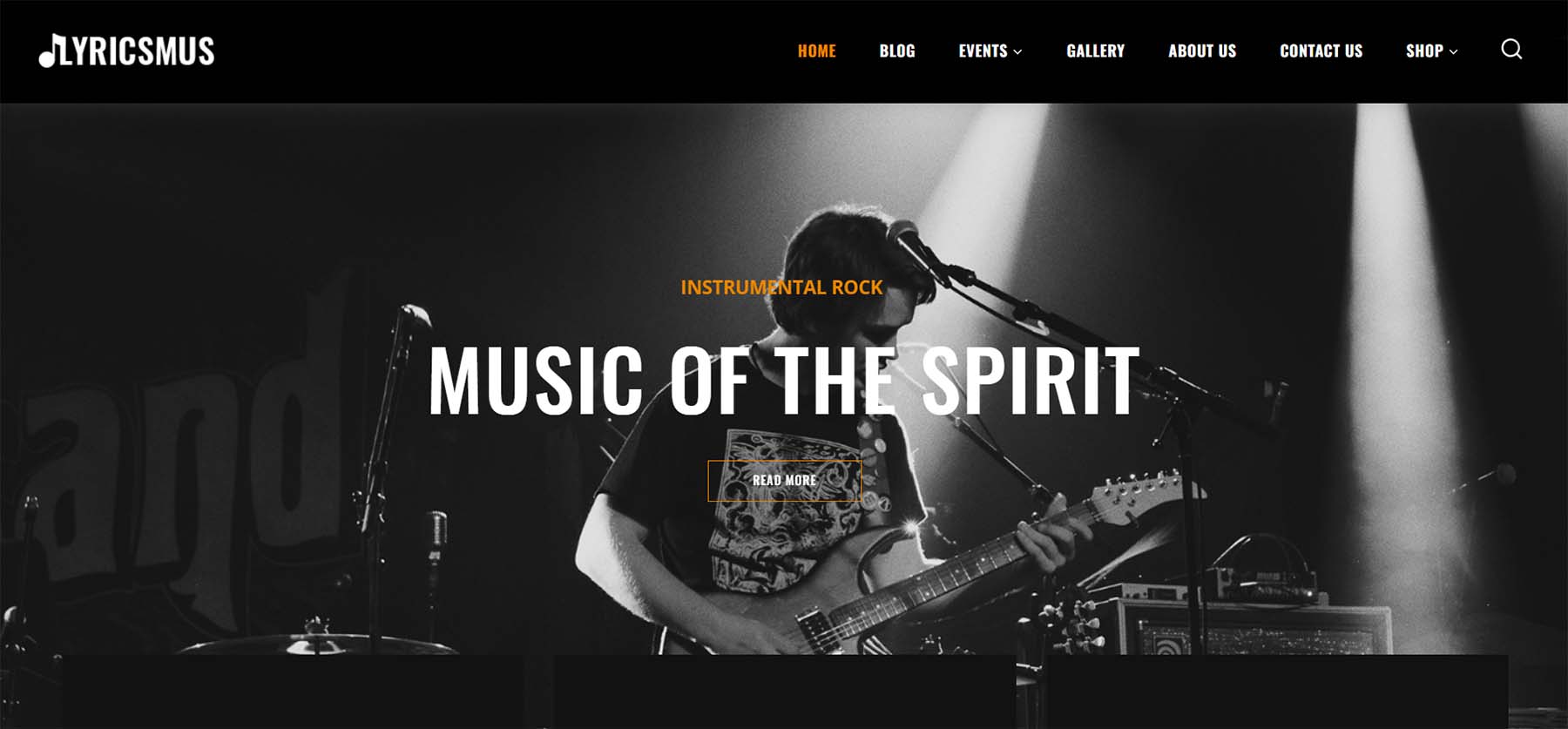 Lyricsmus is a WordPress theme that makes building a website for your band easy. For starters, the theme is powered by the page builder plugin Elementor. This means that building your pages and posts is simplified for you. The theme comes with multiple single blog post templates so you can share the word of your music in various methods. Lyricsmus is integrated with a variety of popular WordPress plugins. You can sell your music or merch with WooCommerce or build exciting sliders for your site with Slider Revolution. Additionally, Lyricsmus connects to Mailchimp, allowing you to build your email list through your website. All this and more is available, making it a smooth process to build your website, grow your audience and sell your music to your audience with WordPress.
Key Features:
Compatible with the Elementor page builder
Native drag-and-drop header and footer builder
Native styling for Contact Form 7, Slider Revolution and WooCommerce
Project gallery custom post type
Multilingual and multi-currency support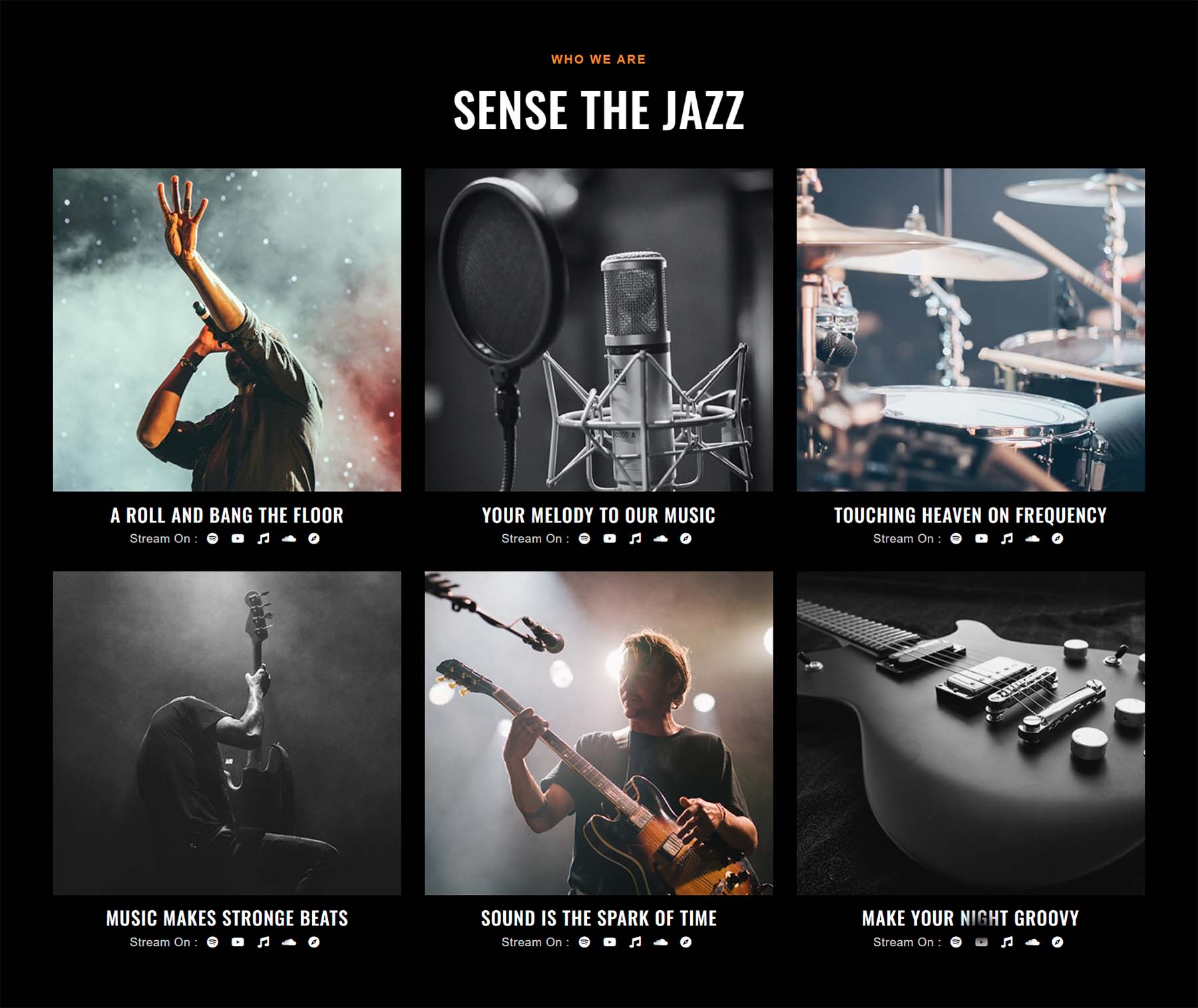 The project custom post type within the Lyricsmus WordPress theme is an excellent way for artists to share their work. Additionally, each project can link to external sites like Spotify, YouTube, Soundcloud, and more to increase your music's reach and awareness.
Best for:
Artists, bands, and musicians who want an edgy website with easy-to-use editing tools will enjoy the simplicity of Lyricsmus. Powered by Elementor and with a clean dark theme, Lyricsmus makes building your band's website effortless.
Pricing: $49
Best WordPress Themes for Musicians Price Comparison
We've looked at some of the best WordPress themes for those in the music industry. Whether you're a soloist, a band, or an award-winning DJ, you can find the best WordPress theme for your business. Here's a breakdown of their pricing to help.
What is the Best WordPress Theme for Musicians?
As the name suggests, Apex is one of the best WordPress themes for musicians. It covers a variety of bases, such as album and event management, while having a clean and minimalistic look. Beats has a bolder aesthetic but can still serve as a good WordPress theme for record labels and music collectives. Lastly, choosing Divi as your WordPress theme will ensure that you can put your musical talents on display in the most creative way possible.
Anyone serious about promoting their music needs a great website as part of their marketing strategy. With so many themes to choose from, pinpointing the one that's right for you can be a difficult task. Hopefully, these themes will help launch your new music or band website with everything it needs. Knowing the best audio player plugins can also help add more features and a better user experience to your music-focused website.
If you're looking for other themes to help you along your website-building journey, check out our main best WordPress themes post. You never know where inspiration will strike!
Frequently Asked Questions (FAQs)
Before we wrap up, let's answer some of your most common questions regarding the best WordPress themes for musicians and bands. Did we miss one? Leave a question below and we will respond!
What is the best WordPress theme for musicians and bands?
Apex
is easily the best theme for musicians and bands as it offers an array of features, including album and event management tools, all presented in a clean and minimalist design with over 13 custom widgets, a user-friendly audio and playlist manager, integrated WooCommerce support, a native events and gigs management system, and the power of an Ajax-based music player.
What is the best free WordPress theme for musicians and bands?
Our top choice for a free theme for musicians and bands is
Astra
, as its free version includes a wide range of features, such as customizability and integrations with tools like
Divi
, Elementor, Beaver Builder, WooCommerce, and Contact Form 7. It also offers four free templates tailored for musicians, making it an ideal choice for creating an impactful online presence without breaking the bank.
Is WordPress good for musicians?
Yes, WordPress is an excellent platform for musicians to create a professional website to showcase their work, sell merchandise and tickets, and engage with fans through features like blogging and social media integration. It is easy to use, customizable and has many plugins and themes specifically designed for musicians.
Which WordPress musician and band theme integrates with streaming services?
Themes like
Apex
,
Beats
,
Divi
,
Tusant
, and
Rhythmic Pro
have inbuilt integrations with recognized streaming platforms like YouTube, Vimeo, Spotify, SoundCloud, and others. This feature allows a seamless browsing experience for your audience, enabling them to discover and enjoy your artistic creations.
How can I sell products on my musician website with WordPress?
You can sell products on your musician website with WordPress using an
e-commerce plugin
like WooCommerce. Simply install the plugin, create product pages, add payment gateways, and start selling your merchandise to your fans.
Which WordPress musician and band theme integrates with booking plugins?
Do musicians need a website?
Yes, musicians need a website to establish a professional online presence, showcase their music and videos, communicate with fans, and promote upcoming shows or releases. It also provides a platform for selling merchandise, building an email list, and gaining exposure to a broader audience.
What makes a good musician website?
A good musician's website should have clear navigation, a visually appealing design, and easy access to music and merchandise. It should also provide information about the artist's background, upcoming shows, and a way for fans to connect with the artist through social media or email.
What should musicians have on their website?
Musicians should have a biography, music samples, tour dates, merchandise, and contact information on their website. These essential elements will help fans get to know the artist, listen to their music, and stay up-to-date on upcoming shows and releases.
How do I market myself online as a musician?
As a musician, you can market yourself online by creating a solid social media presence, using platforms like YouTube and Soundcloud to share your music, networking with other musicians and industry professionals, and regularly updating your website and online profiles with new content and performances.
Article thumbnail image by Net Vector / shutterstock.com