Are you looking to start a sports-related blog or website? If so, WordPress is a flexible and powerful platform that might be the solution you're looking for. Whether you're planning to start a site for news and commentary, a fantasy league, or something else entirely, WordPress sports plugins can help you get it up and running in no time.
However, deciding which tool to use can be tricky. In this post, we'll introduce you to WordPress sports plugins and their benefits. Then we'll provide you with a list of six of the best options, covering their key features, use cases, and prices.
Let's get started!
An Introduction to WordPress Sports Plugins
If you currently have or plan to run a sports-related website, it's important to make sure you're using the right tools. Doing so will make creating, organizing, and managing your content significantly easier. It can also help give you an advantage over your competitors, which is vital in such a competitive niche.
As with any plugin, it's important to make sure you select a tool that is actively maintained, highly rated, and favorably reviewed. However, when it comes to picking out a WordPress sports plugin in particular, it's essential to consider what type of website you're running.
For example, if you're creating a site for a fantasy league, you'll want to look for features that let you create individual profiles and statistics boards with ease. On the other hand, if you're starting a fan blog, you'll likely want options for adding and integrating scoreboards, events, and more.
While there are plenty of WordPress themes out there that can help you achieve a professional-looking sports site (it's easy to get a sports website up and running with Divi using its Sports Layout Packs), plugins will help ensure that it has exactly the functionality you need. In the next section, we'll take a look at some of the best options for you to consider.
6 Best WordPress Sports Plugins
The most appropriate solution for you will depend on a handful of factors. That includes the type of site you want to run, the specific features and functionalities that are most important to you, and your budget.
When compiling the following list, we considered these plugins' ratings and reviews, updates and support, and pricing. We also looked for tools that incorporate a variety of features and options, to help you find the solution that best meets your needs.  Let's take a look at six of the best WordPress sports plugins.
1. SportsPress

SportsPress is one of the best and most well-known WordPress sports plugins available. This freemium solution comes with a plethora of features for creating player lists and profiles for club and league management. It is a niche plugin that replaces the need for a generic event calendar plugin and makes it very easy to use when setting up league structures and schedules on your website.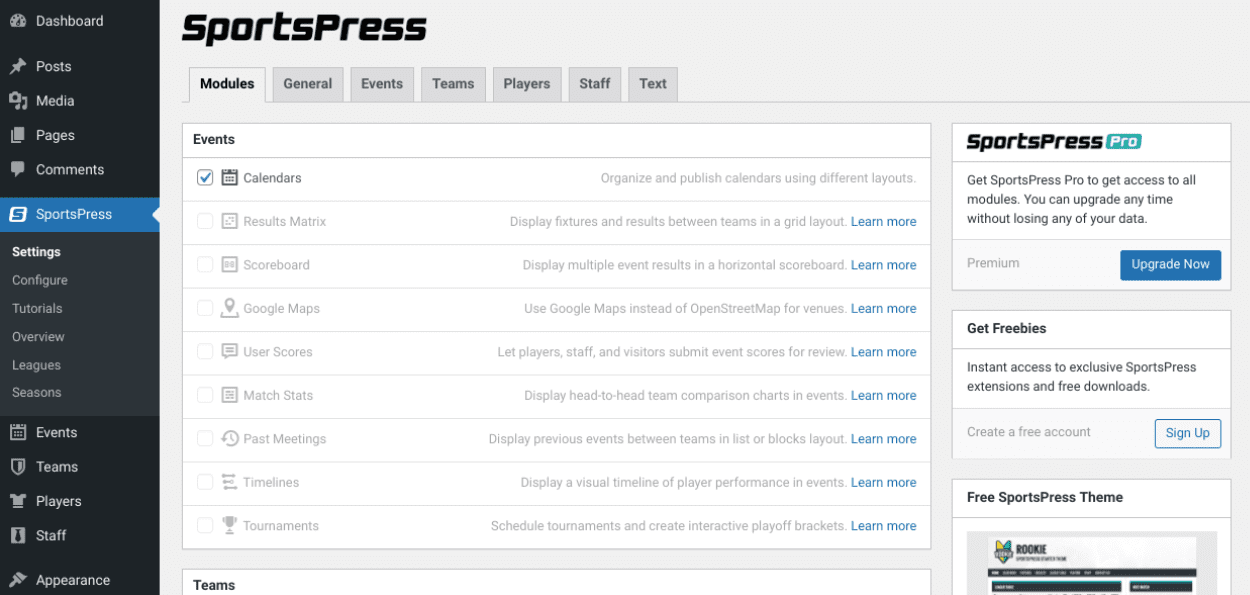 There are also a handful of free extensions you can use for a sports-specific site, including ones for basketball, baseball, golf, and volleyball. SportsPress also comes with a handful of templates for you to choose from.
Key Features:
Club Profiles with player lists
Automated league standings and club logos
Events calendar and integration with iCal
Player statistics
Staff profiles
Season archives
Venue details and maps
Club vs. club and player vs. player modes
CSV files
Shortcodes
SportsPress is for you if…
… you're planning to build a fantasy league website, and you have a tight budget. The free version comes with plenty of features and options, although there is also a premium tier if you want to expand your site's functionality.
Pricing: Free, with a premium version starting at $99 | More Information
2. League Table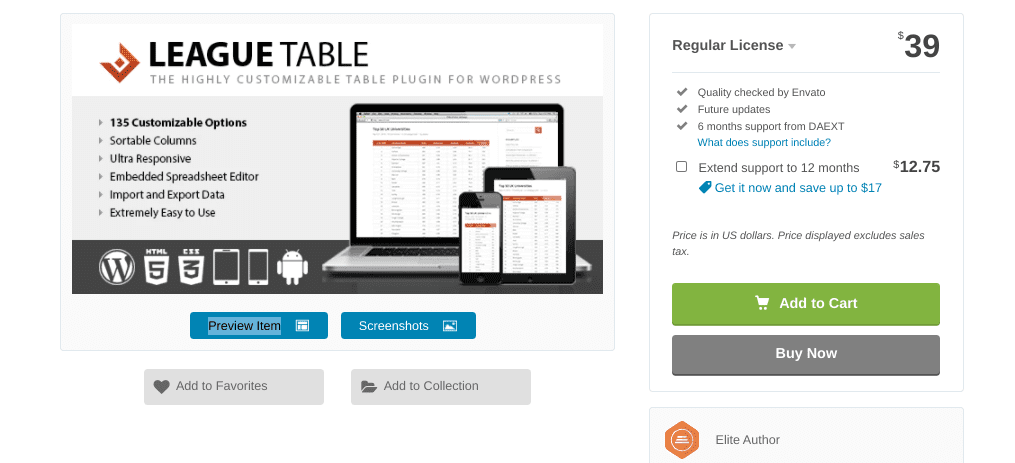 League Table is a premium WordPress sports plugin that is highly customizable. This tool lets you quickly and easily create versatile, sortable tables to insert into your pages and posts: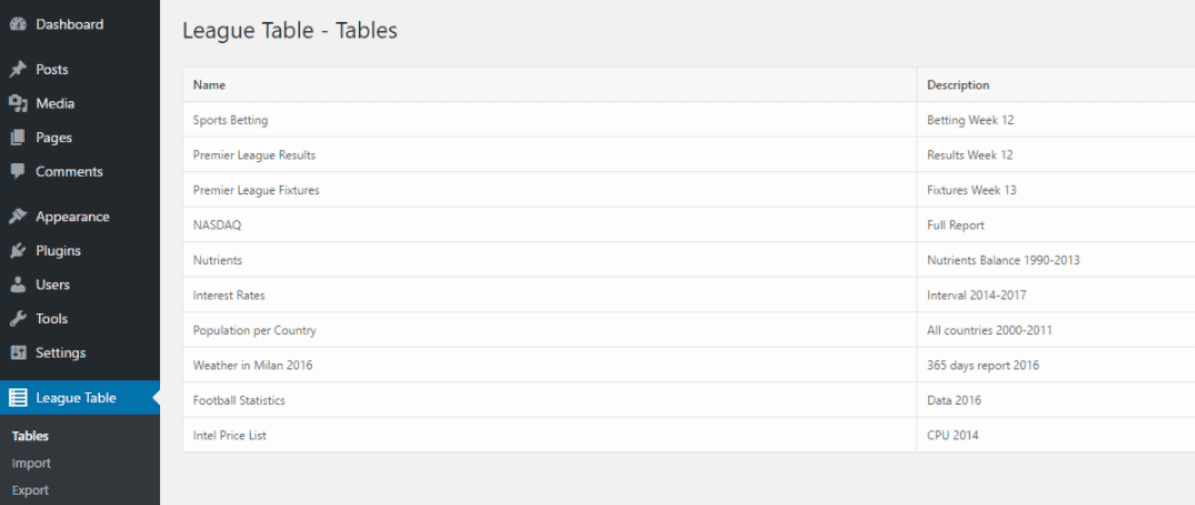 It includes hundreds of options and settings for building these tables, including a spreadsheet editor. You can also use a multi-column sorting system for presenting data in an organized and aesthetically pleasing way.
Key Features:
Spreadsheet editor with sortable columns
106 customizable options, including 17 options per cell and 13 general settings
Cell properties for highlighting specific details
Import and export options
Responsive and multisite-support
League Table is for you if…
… you're looking for a premium tool that will let you organize and present a wide variety of data with ease. It's also a strong option if you're looking for a plugin that includes a lot of documentation, tutorials, and support.
Pricing: Licenses start at $39 | More Information
3. Fan Victor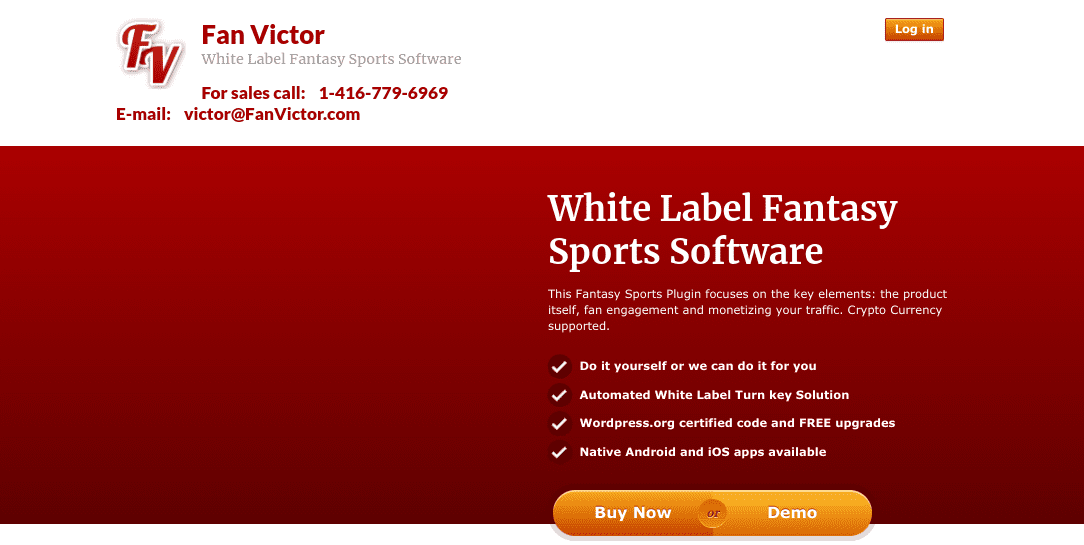 Next on our list, Fan Victor is a fantasy sports plugin that offers a solution for white labeling your content. Not only can you use it for a wide range of sports, but it's also certified by WordPress.org.
With Fan Victor, you can cash in on fantasy sports games using multiple payment gateways, and even cryptocurrencies. It also includes lifetime upgrades. Fan Victor is one of the best tools available when you're looking to create a fantasy sports business, whether it's for football, mixed martial arts, basketball, or another niche.
Key Features:
All-in-one solution for monetizing a fantasy sports site
Highly customizable
Support for cash and various cryptocurrencies
Feature-rich development
Free lifetime upgrades
Multiple membership options
Fan Victor is for you if…
… you're looking for an all-in-one solution for a fantasy sports website. More specifically, this tool is an excellent choice if you want a way to monetize your content.
Pricing: $97 per month, or a $297 one-time fee for the basic plugin | More Information
4. JoomSport

JoomSport is a sports league management plugin that you can use on WordPress and Joomla sites. This robust tool comes with an impressive selection of features that enable you to create, organize, and manage both single players and team sports leagues: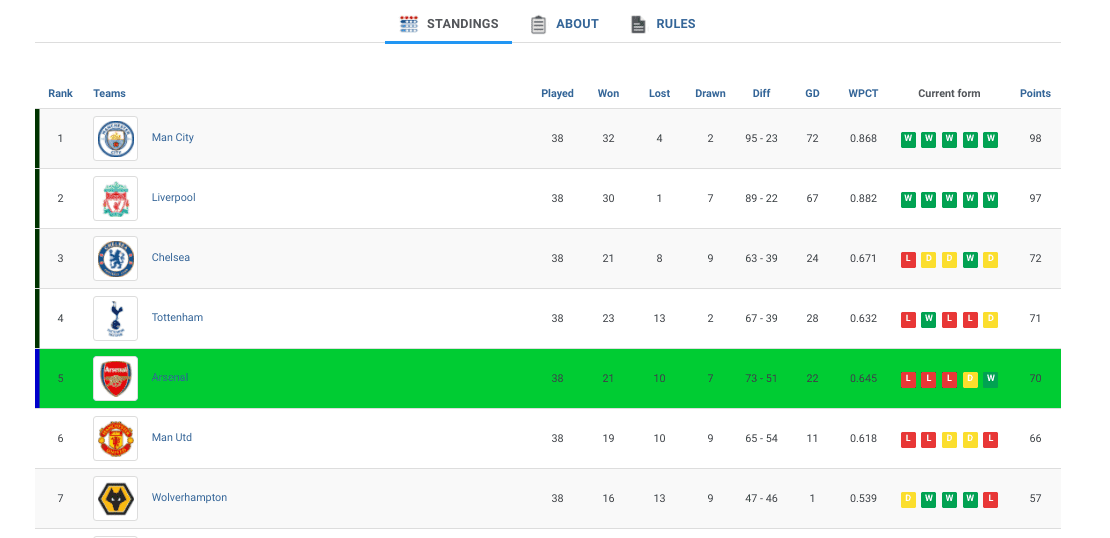 With JoomSport, you can build player profiles, create tournament brackets, display statistics, and more. You can also use it for both fantasy sports and real-life league management and tournaments.
This plugin also offers multiple plan tiers. Not only is the pricing more affordable than the other premium options on this list, but it's also easy to find a solution that fits your exact budget and needs.
Key Features:
Player bios with photos
Single and team competition modes
Fantasy and league management features
Additional fields (Text Field, Radio Button, Text Area, Select Box, and Link) for showcasing event details
Built-in maps
Tournament and match-day types
Support for WordPress and Joomla sites
Season registration and customizable eSport configuration
JoomSport is for you if…
… you're looking for a premium tool that serves as a complete solution for league management and tournaments. It operates as a subscription service and is more of a standalone platform than a simple plugin. It's also worth checking out if you're looking for a tool for a fantasy sports league.
Pricing: Plans start at $10 per month | More Information
5. WP Club Manager

If you're looking to get up and running quickly, WP Club Manager is a free WordPress sports plugin that makes creating a club site effortless. You can use it to start and manage a club, display player profiles, track performance statistics, create league tables, and much more: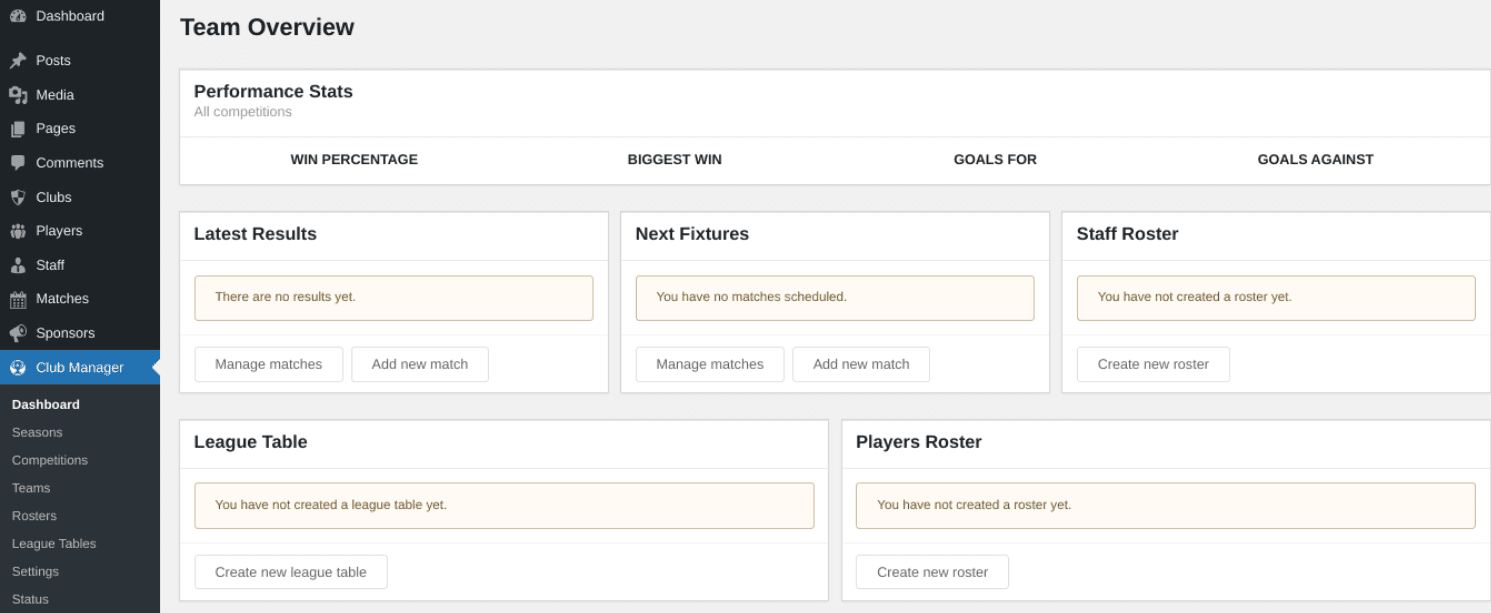 Another benefit of using this plugin is that you can choose from multiple add-ons. For example, if you have a specific sport you want to focus on, you could also install the free WP Club Manager for Cricket extension.
Key Features:
Customizable templates
Option to create a club with multiple teams
Player and staff profiles
Player performance ratings and statistics
Fixtures and results
Shortcodes
Automatically updated league tables
Club sponsors
Venue information and maps
WP Club Manager is for you if…
… you're looking for a robust but affordable tool for creating and managing a club website. It's also worth checking out if there's a specific niche you're interested in, as it supports a wide range of sports from football to hurling.
Pricing: Free, with free and premium extensions available | More Information
6. Football Pool

Last on our list, Football Pool is a free WordPress plugin that lets users log into your site and make predictions about the outcomes of games. It also enables participants to view scores and charts: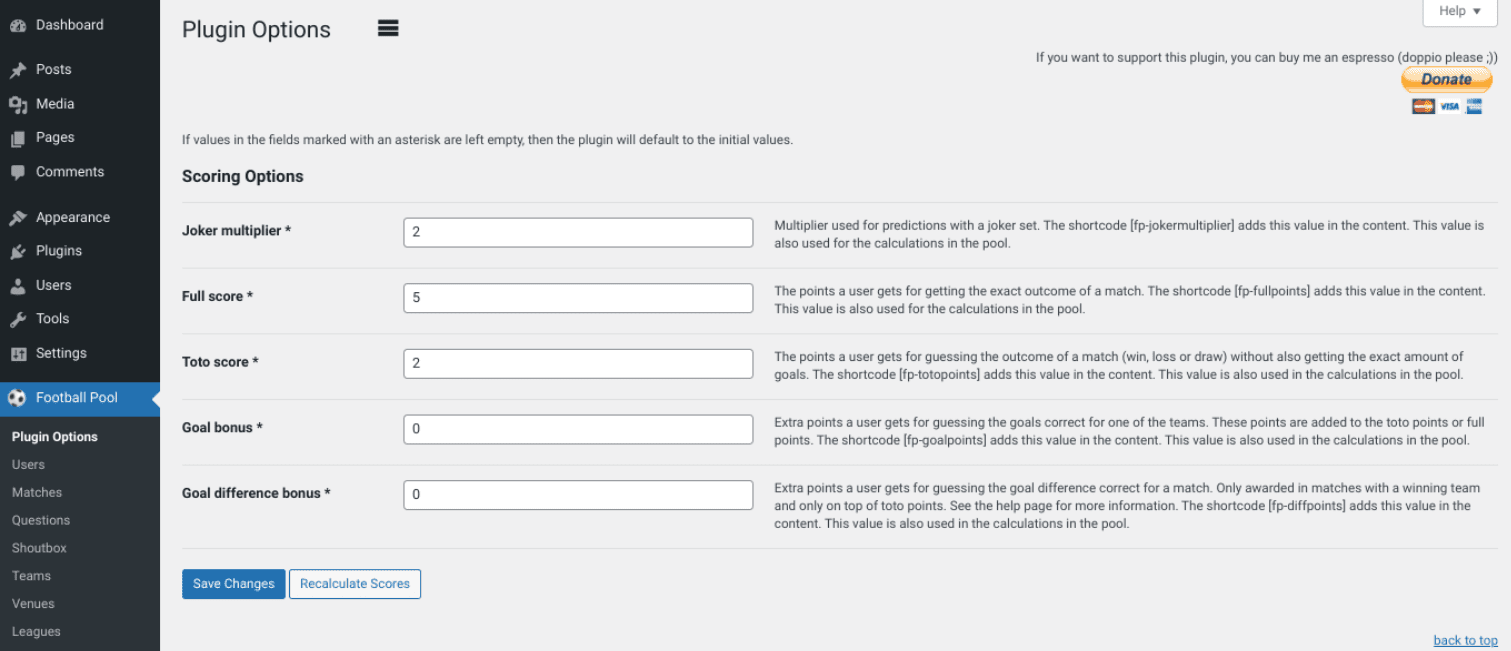 Of all the WordPress sports plugins included on this list, Football Pool is perhaps the most niche-specific. It serves a very distinct purpose, allowing you to create and manage match pools, and provides a powerful solution for doing so.
Key Features:
Automatic pool ranking calculations
Custom ranking for matches
Option to create bonus questions
Game schedule import and export
Automatic championship standing calculations
Scoring configuration
Shortcodes for adding a pool to your blog
WP-CLI support
Football Pool is for you if…
… you want to create football-related pools for your blog. It's free to use and provides a lot of configuration and customization options.
Pricing: Free | More Information
Conclusion
Considering the important role sports play in so many peoples' lives, there's an incredible opportunity to create and run a sports-related website. However, for it to be successful, it's important that you select the best platform and install the right tools. This way, you can ensure that it both looks and functions properly.
As we discussed in this post, there are various WordPress sports plugins for you to choose from, including free and premium options. The best one for you will depend on your goals and niche. A premium plugin such as League Table is a solid choice if you have a data and statistics-driven site, for example, whereas a freemium tool like SportsPress is an excellent pick if you want lots of customization and flexibility.
Do you have any questions about these WordPress sports plugins? Let us know in the comments section below!
Featured Image via Martin Kalimon / shutterstock.com