Whether you need a photo-heavy website as a designer or blogger or want to feature photography on a client's website, portfolios are often the best means of doing that. There are image gallery plugins and portfolio plugins available that can add portfolios to almost any WordPress theme. But for those looking for a theme designed with photographers in mind, a photography theme will have many of the features you need already built in. This will make it easier to get your site up and running with less time. Since there are a lot of themes out there, we've rounded up the best photography WordPress themes to save you the hassle.
The 11 Best Photography WordPress Themes
If you want to get your photography noticed, it must stand out in today's world of Instagram filters, AI art generators, and stock photography on the Internet. Creating a professional portfolio using one of the themes listed below will give your website a high-quality, super-polished look worthy of the photography it features.
1. Kamera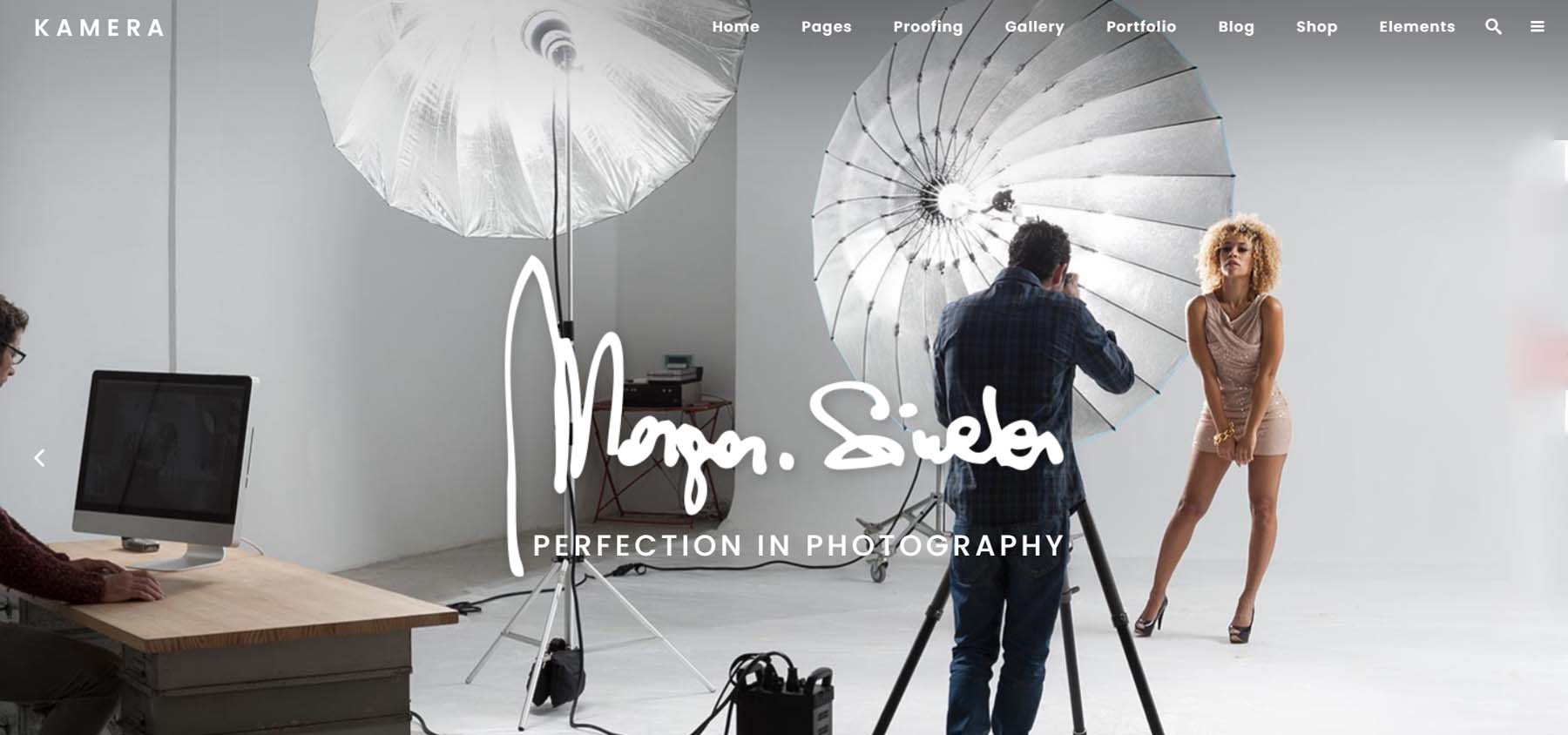 Kamera is a powerful photography theme that could be considered one of the best photography WordPress themes available for photographers. Firstly, the theme comes with 23 unique and powerful demos that make starting your photography website a breeze. Secondly, you can quickly build your website visually with WP Bakery or the native drag-and-drop builder. This makes customizing the various areas of your website a simple process. Furthermore, Kamera has a wide array of portfolio and gallery layouts. You can showcase your work in a myriad of ways. The theme's header is flexible, allowing you to showcase your menu in 8 styles. Additionally, Kamera provides powerful client-facing features that do not require additional plugins.
Key Features:
23 one-click demos
Multiple gallery and slider layouts
Project presentations for clients
Client portal and proofing area with password protection
Dark and light skins
Best for:
Professional photographers who need additional client tools and support on their website will enjoy using Kamera. In addition to showcasing their work in unique ways, photographers will be able to provide their clients with portals and the ability to submit feedback that can provide a solid user experience.
Pricing: $158 per year
2. Lens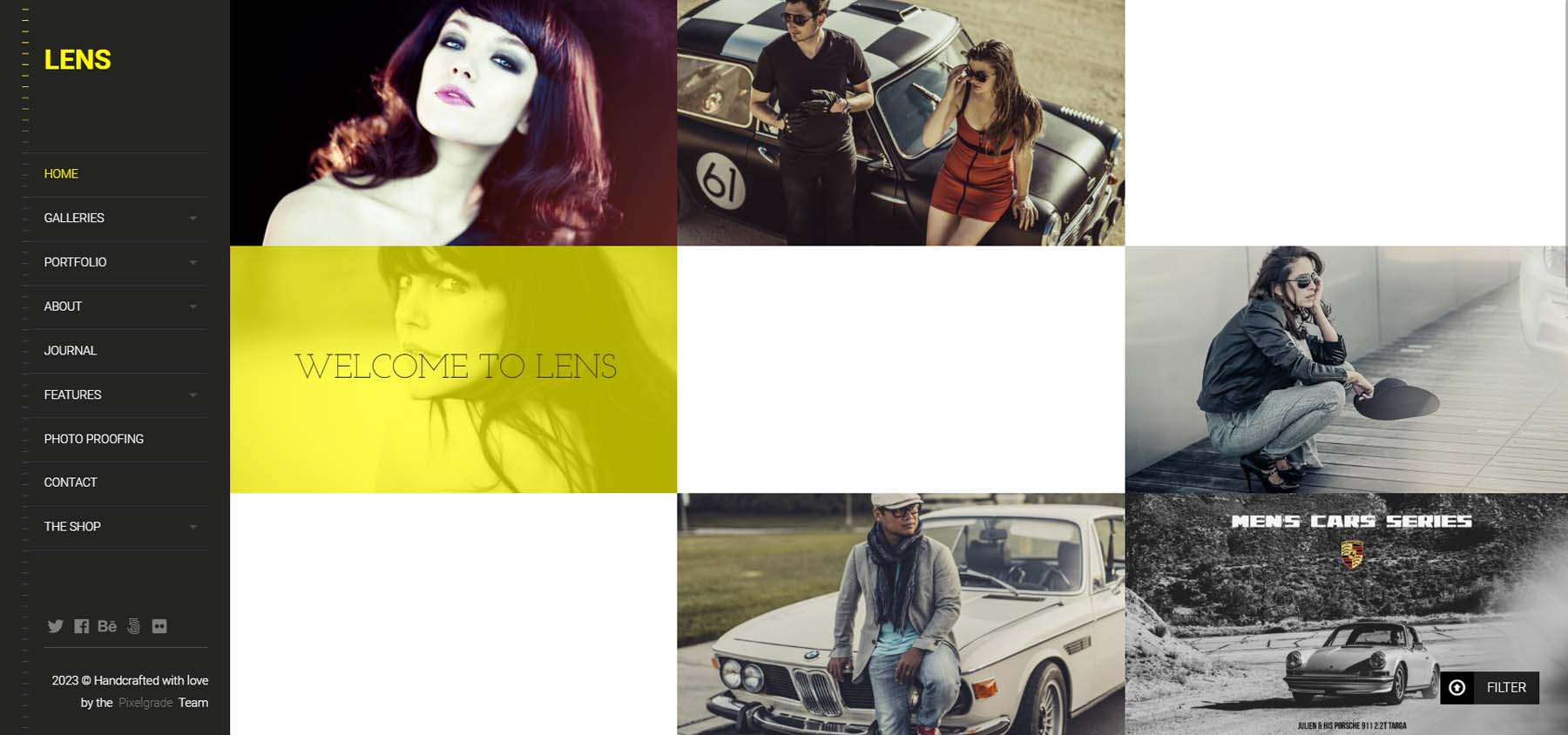 Lens is a clean and modern photography theme for those who want to showcase something different to their audience. Featuring a grid homepage layout, Lens gives you a different homepage design with a vertical left-hand menu that will make your website stand out to clients. As a Pixel Grade theme, Lens comes with a powerful customization tool. This allows you quickly and easily change the branding of multiple elements across your website at once at the click of a button. Lens also has a beautiful masonry grid layout for its shop layout, allowing you to sell your beautiful products with WooCommerce.
Key Features:
Six gallery styles
Three portfolio styles
Fully integrated with WooCommerce
Organize photos with slideshows and grid-based galleries
Photo proofing for clients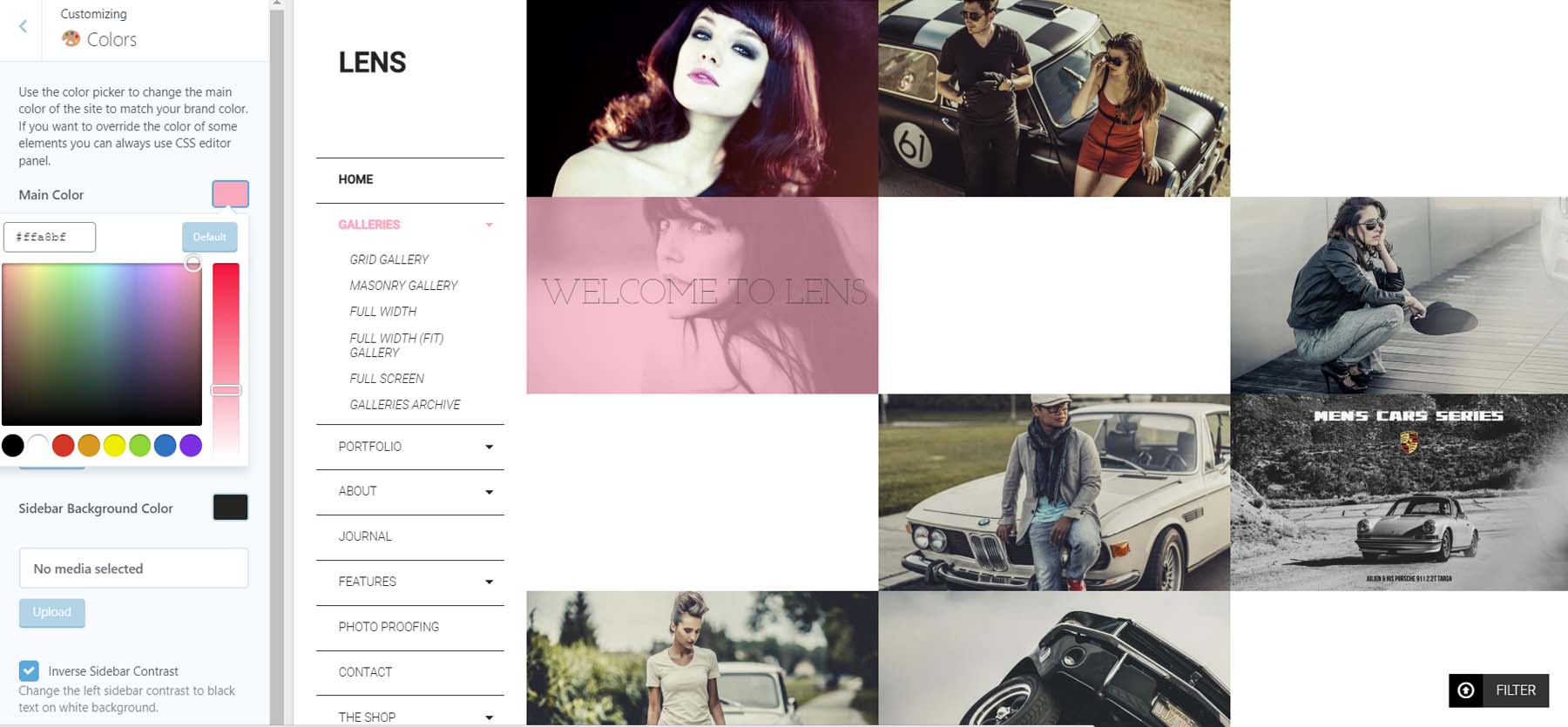 The customization tool for Lens makes it easy to change multiple elements across your site in one go. From mouseovers to hovers, link colors to the hover color of your social icons; you can edit these by simply changing the primary theme color. With the tool, you can also set the number of photos or elements that should appear in your portfolio and galleries.
Pricing: Paid plans start at $75 per year
3. Divi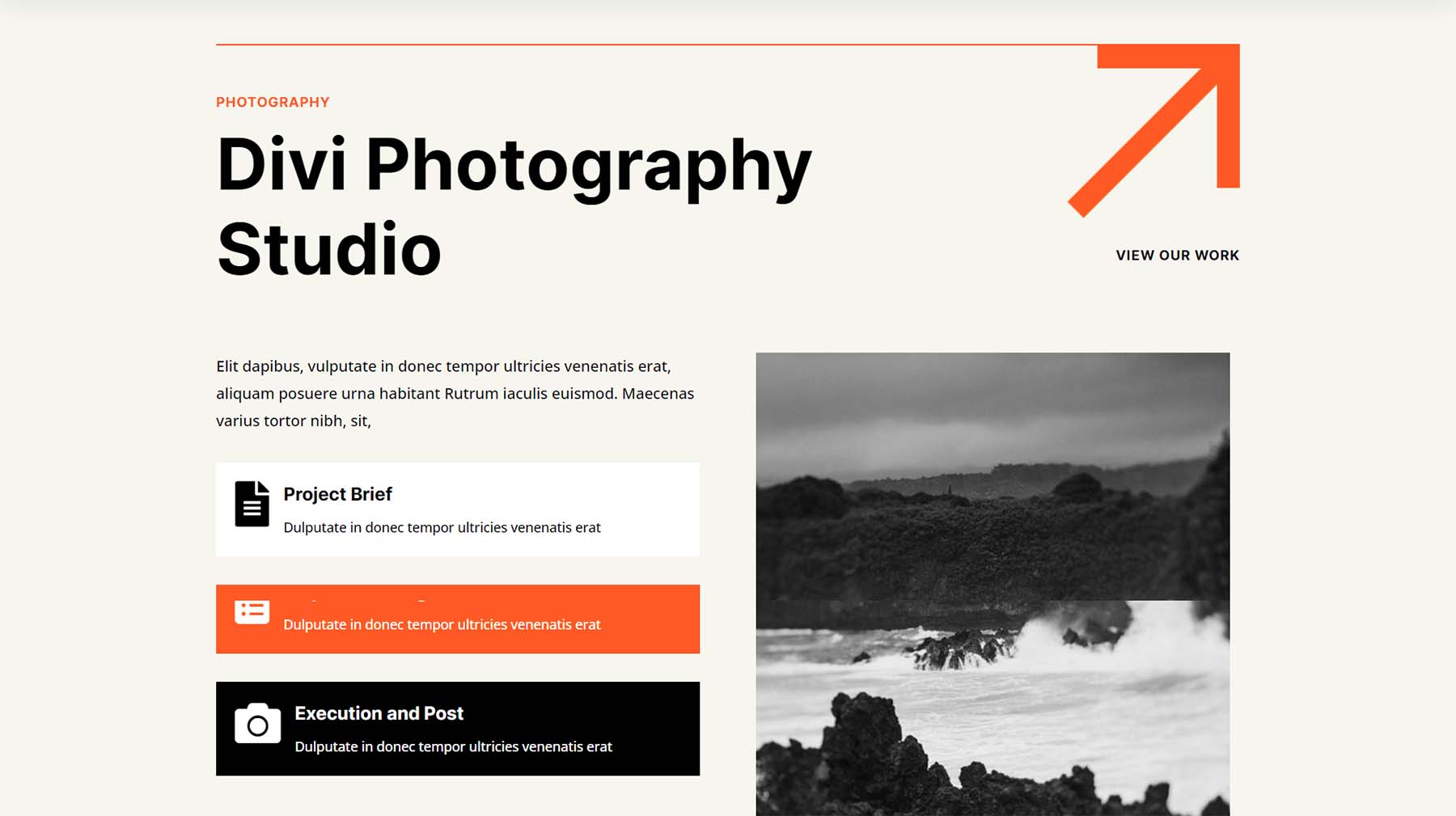 Divi is our photography-friendly website builder and theme here at Elegant Themes. What makes Divi so popular is how easy it is to build your next website project without learning a single line of code. This includes building a website for your photography-based venture. Divi has several native modules for filterable portfolios, carousel sliders, and image galleries that can be customized with powerful design options. This gives you the flexibility to build your perfect photography website. Additionally, Divi comes with hundreds of website layout packs that allow you to build your photography website with ease. Our Photographer, Photography Studio, and Wedding Photographer layout packs are a few examples.
Each of these kits can be easily edited visually with the Divi page builder. And you can find more kits, child themes, and modules on the Divi Marketplace.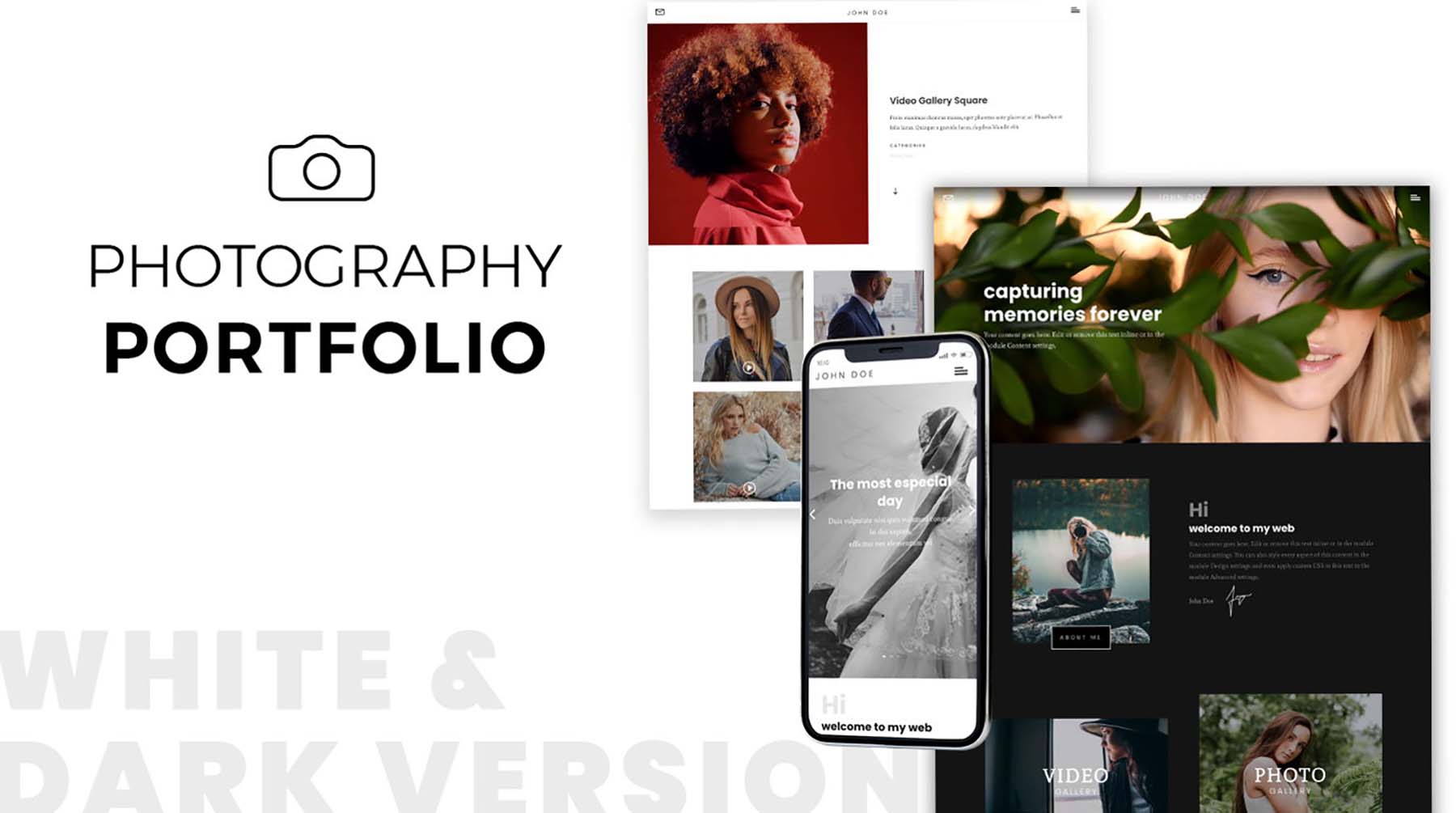 Divi Photo Portfolio is a Divi child theme that allows you to create a clean and minimal photography website on Divi (read our review). With a dark and light mode, 6 home layouts, 2 video galleries, and consistent updates, you can easily build a unique photography website for your needs. And always remember: with Divi's page and Theme Builder, your customization options are limitless!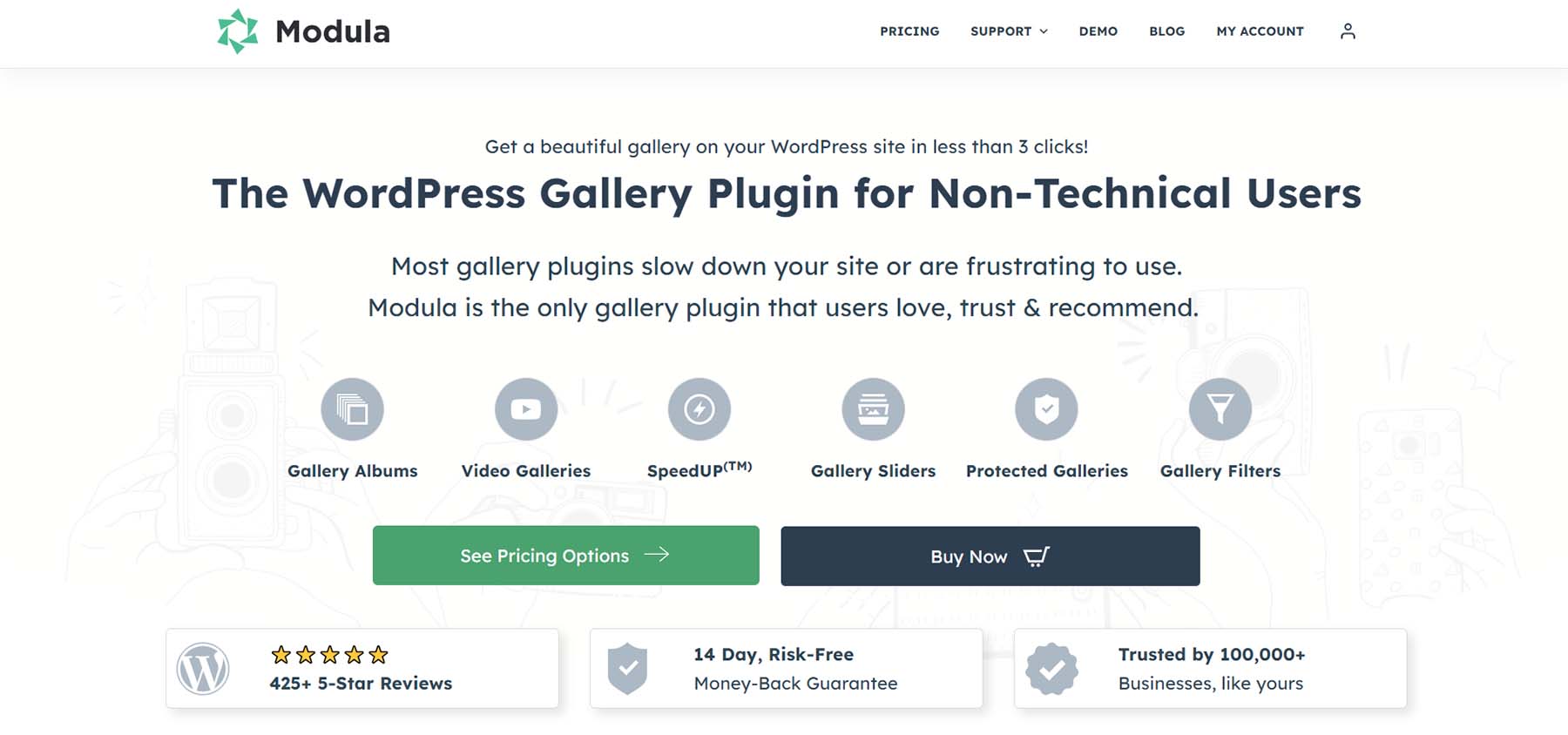 Furthermore, Divi integrates with dozens of third-party services, tools, and plugins that can take your photography website to the next level. The popular and powerful gallery plugin, Modula, integrates with Divi through a custom module. With this integration, you can use Modula's galleries natively in the Divi builder — no shortcodes necessary! This will give you the ability to create powerful galleries where you can custom text, shadows, and more in a few clicks.
Key Features:
5+ photography full website kits
30+ photography-related layouts
Portfolio custom post type
Native portfolio, filterable portfolio, gallery, and slider modules
Large library of photography child themes and plugins in the Elegant Themes Marketplace
Best for:
Building your photography website with Divi is best for the creative who wants complete control of design and flexibility of integrations for their website. Whether you want to simply show your art, or build a multimedia masterpiece, Divi is the right tool for you to use to build your photography website.
Pricing: Paid plans start at $89 per year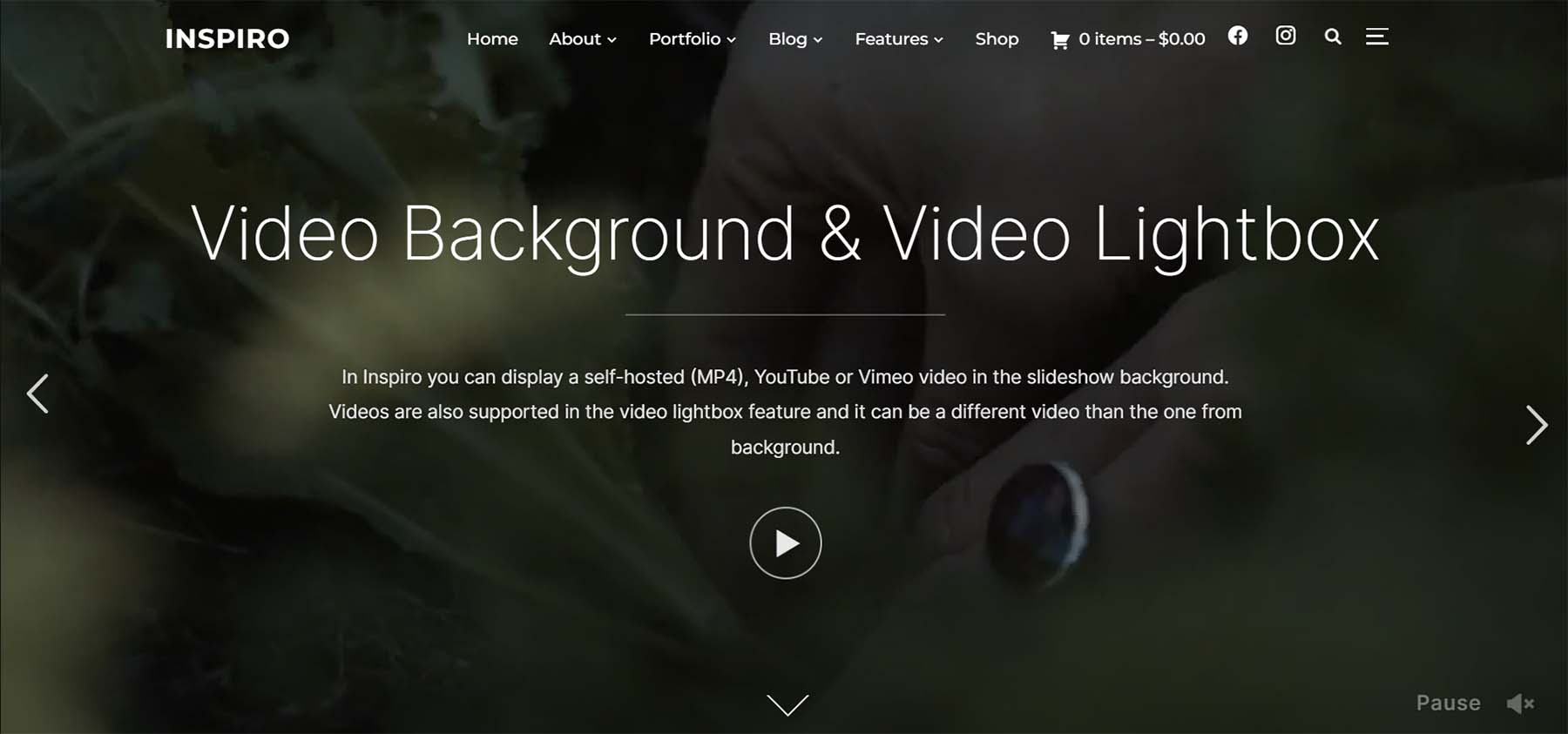 Inspiro Premium is one of the best photography WordPress themes created by WPZoom. The theme works well with the page builder plugin Elementor, so building your pages becomes simple with this drag-and-drop builder. A vital factor of this theme is how well it plays with and uses video. Video features like video backgrounds, sliders, and support for both self-hosted and hosted video platforms (Vimeo and YouTube) and paramount to this theme. While this theme focuses on using and presenting video beautifully, this does not slow down the site. Built with performance in mind, Inspiro is a lightweight and speed-optimized theme that will use your hosting resources well.
Key Features:
Ten unique one-click starter sites (including a portfolio and photography starter site)
Deeply integrated with Elementor, including 25+ Elementor-specific widgets
Multiple header and portfolio styles
Video autoplay on mobile devices
WooCommerce ready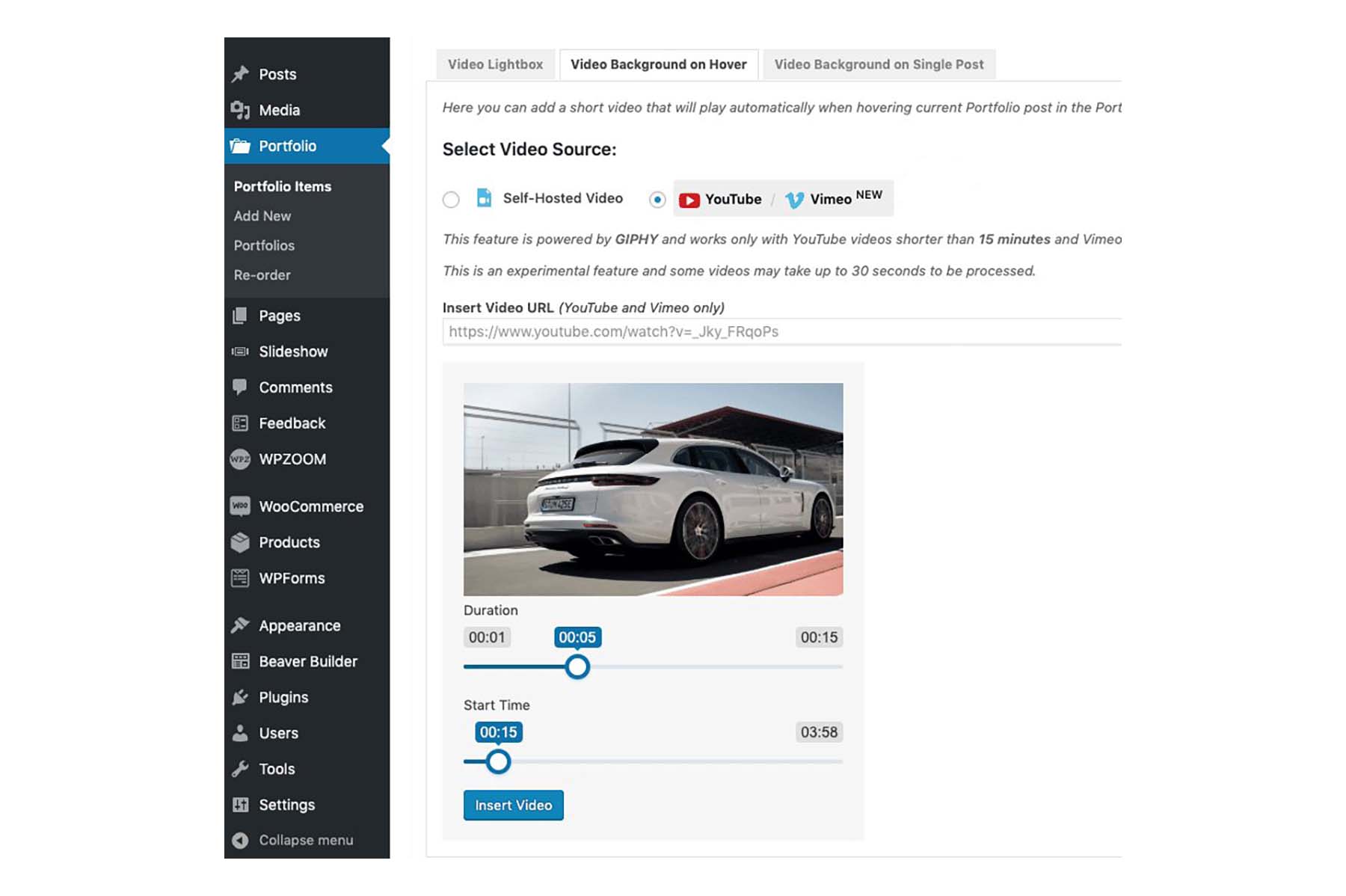 Inspiro takes video seriously. Firstly, the theme allows you to use self-hosted YouTube and Vimeo videos throughout the theme. For example, you can set custom video thumbnails for your portfolio or galleries. Additionally, Inspiro integrates with GIPHY, pushing the limits to what you can do with video within this theme.
Best for:
If you want to use Elementor to build your WordPress photography – or specifically videography website – you should consider using Inspiro. Additionally, suppose it is essential for you to be able to showcase your video and photo projects well. In that case, Inspiro is the best photography WordPress theme that you can use for your website.
Pricing: Paid plans start at $85 per year
5. Timber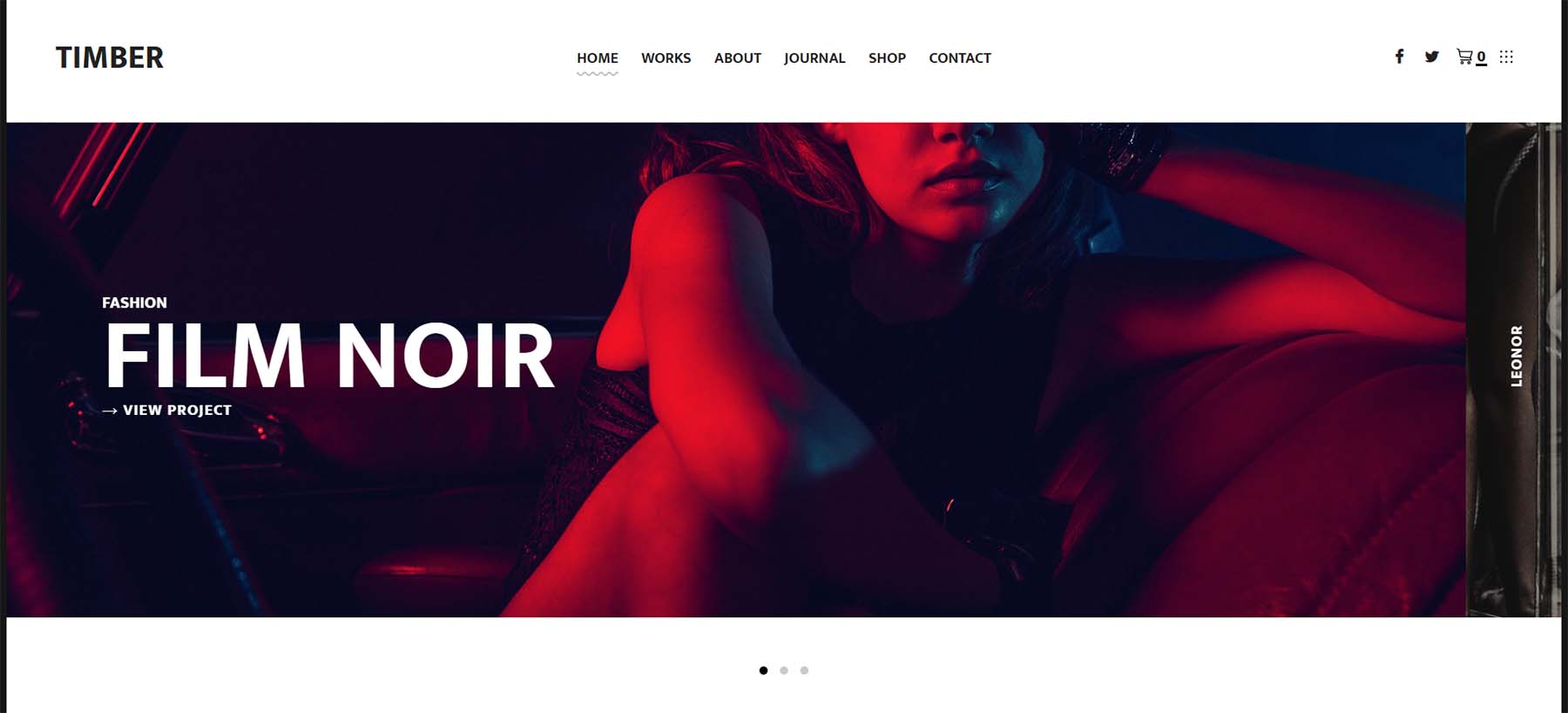 Timber is a unique photography theme that allows you to showcase your work and website uniquely. Its film strip layout lets users use their mouse or keyboard to browse their photography portfolio vertically. Additionally, Timber comes with interesting page transitions that help create a different experience each time a visitor visits your website. Furthermore, Timber allows you to create a private viewing area for your clients. With a password, your customers will be able to proof their photos, download them and send their feedback back to you.
Key Features:
Smart galleries that can combine landscape or portrait photography, videos, and text
Auto EXIF Data
Native bulk image upload functionality
Smooth page transitions
Integrates with WooCommerce to sell photography online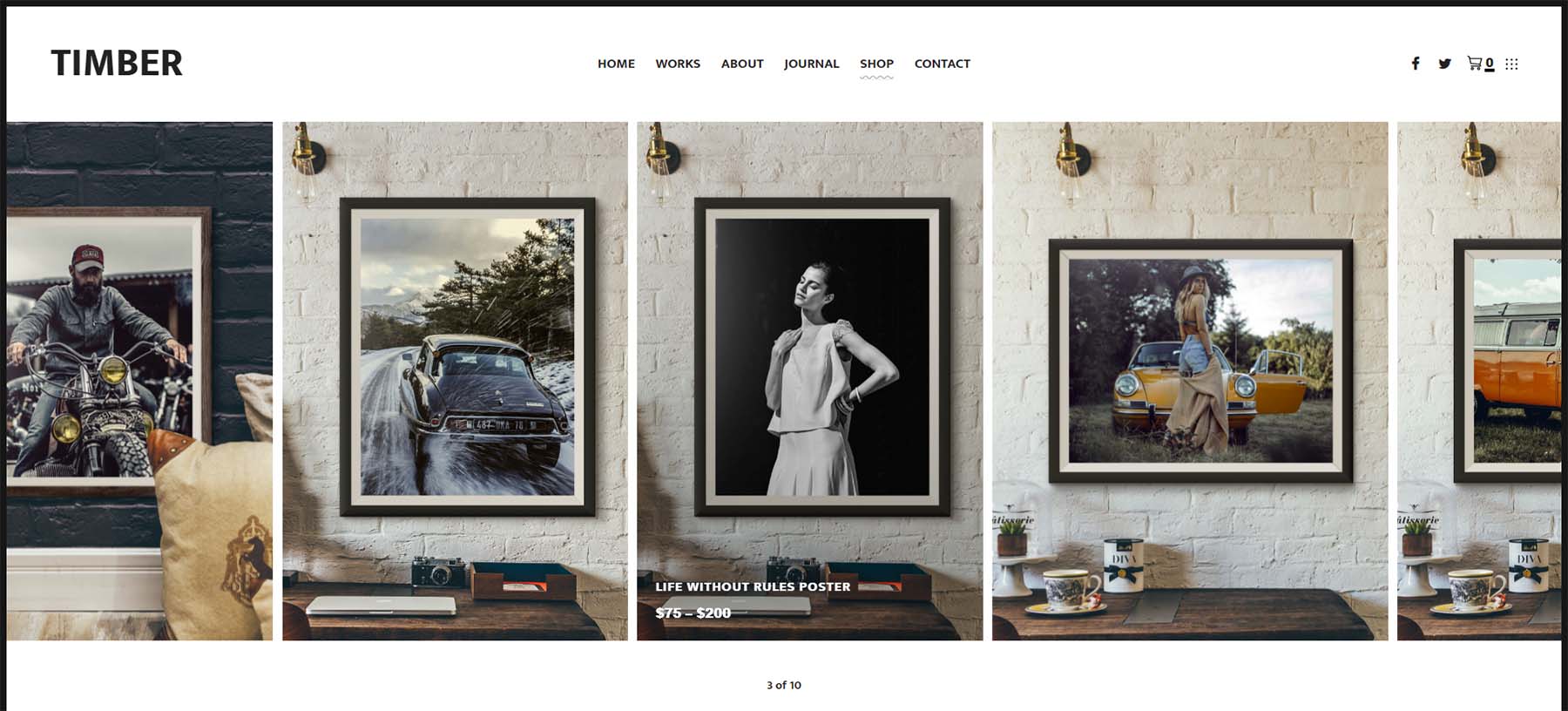 Timber gives you a unique shop layout. Sell your prints and artwork online in a striking manner. Powered by WooCommerce, you can quickly sell your products online with various payment gateways and WooCommerce plugins that can make your beautiful website a revenue-generating platform for your business.
Best for:
Creative professionals who want to share their work online will like Timber's uniqueness. Also, if you want to sell your artwork online in an uncommon way, Timber's shop layout combined with WooCommerce will be an excellent place to start.
Pricing: Paid plans start at $75 per year
6. Coastline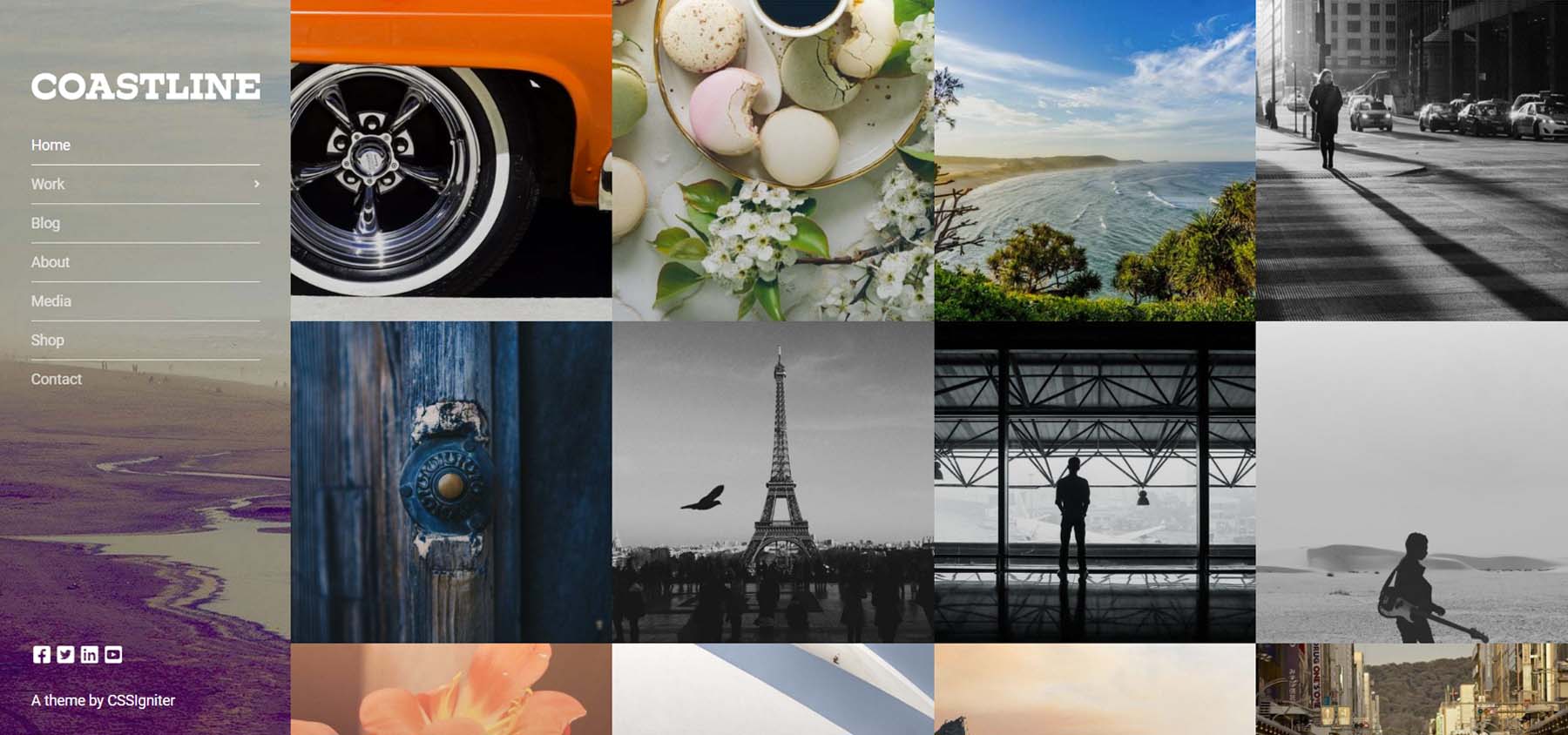 Manage your online photography with elegant tools and the Coastline photography WordPress theme. With integrations for both Gutenberg and Elementor, you can build any layout for your portfolios, posts, and pages for your website. Supported by the Gutenbee plugin, you can decide on the number of columns, item layout, AJAX pagination, and more for your portfolio layouts. Coastline is mobile responsive, so you know that your beautiful grid homepage layout will look beautiful on small and large screens equally. Select and curate the perfect visual identity for your site with over 30 different color and typography options for your new photography website built on Coastline.
Key Features:
Integrates with Gutenberg and Elementor
Built-in portfolio custom post type
WooCommerce support for digital and physical products
Flexible portfolio layouts through the Gutenbee plugin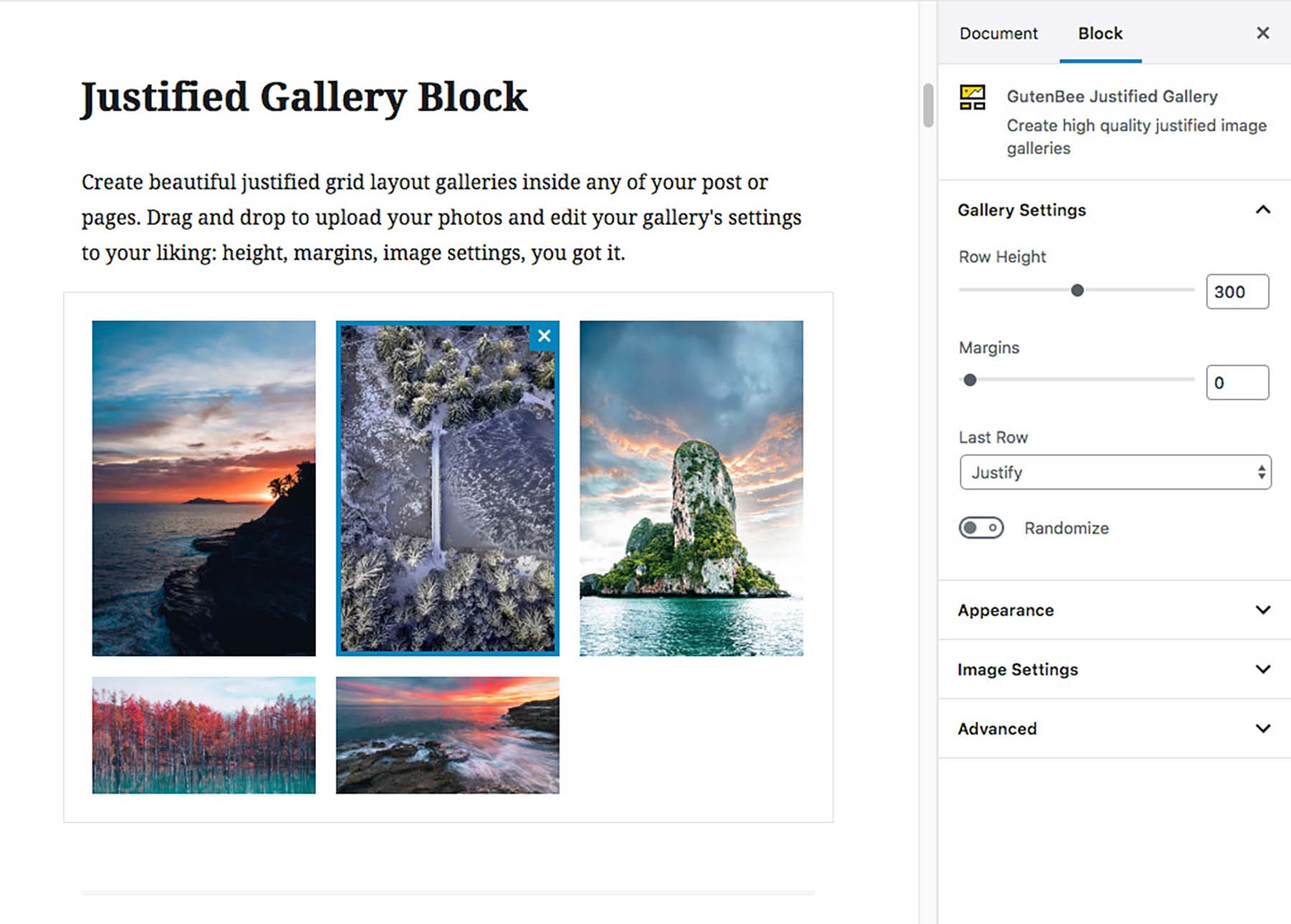 Options provided for the portfolio and gallery blocks with Coastline help build your perfect photography website. You can get pixel-perfect with your gallery or determine what happens to the last row in your gallery. You can decide on your image aspect ratio and determine the margins. All these tools can help you meet your website's specific goals and needs without having to deal with complex code snippets or additional premium gallery plugins.
Best for:
Coastline is one of the best photography WordPress themes for those who want to use the Block Editor to build their website. The Gutenbee plugin that supports Coastline gives you additional support that can help make building your website an easy process.
Pricing: Paid plans start at $49 per year
7. Bridge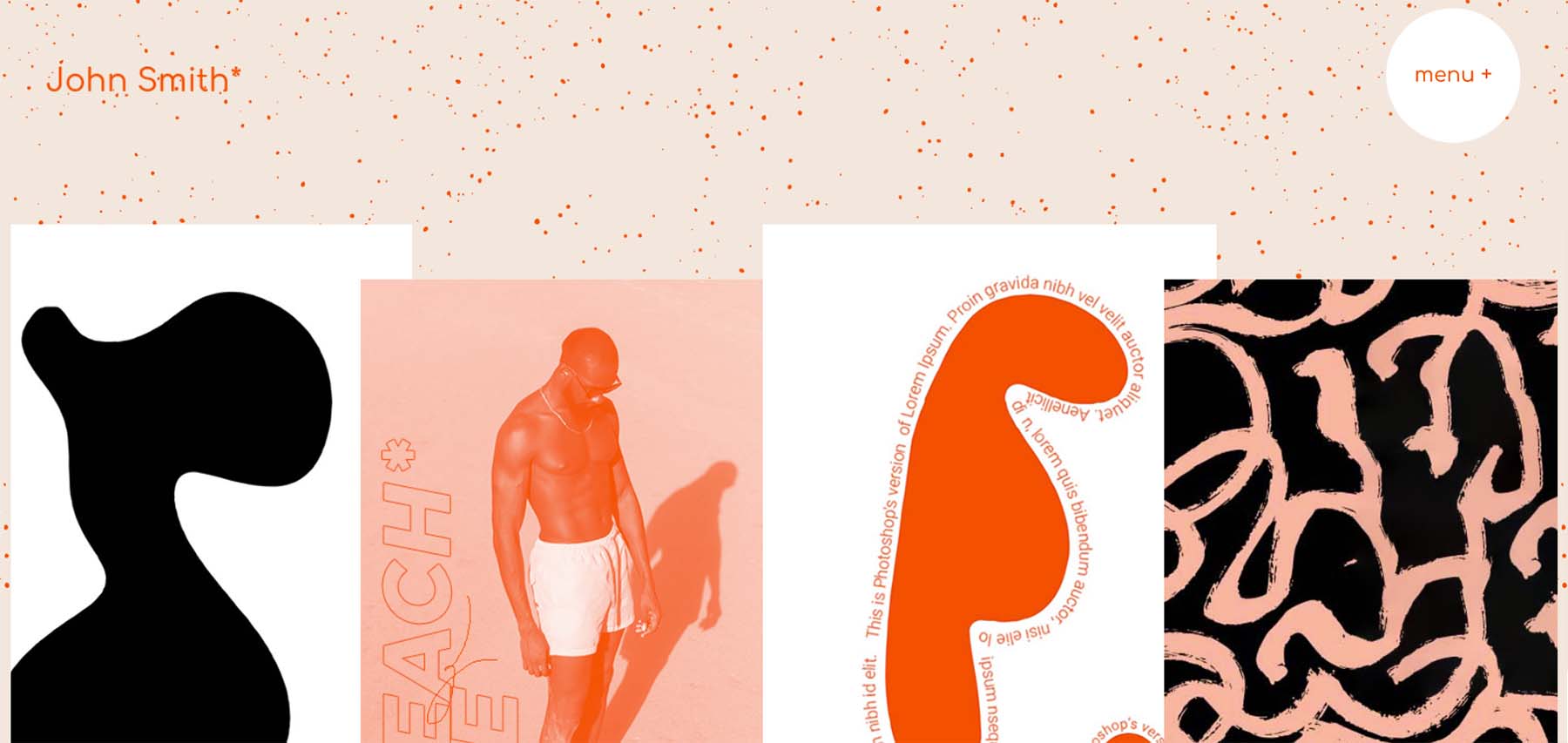 Bridge is one of ThemeForest's best photography WordPress themes and the best-selling creative theme on the site. With over 600 one-click demos available, Bridge has a website for everyone. When building a photography-forward website, Bridge has got you covered with a vast array of portfolio, gallery, and slideshow modules in creative and out-of-the-box styles. Additionally, Bridge has many native plugins that you can use to extend your website further. One such plugin is the Qode Slider which you can use to show off your beautiful photos in your customized slider. Packed with flexible header areas, page titles, and even mega menus, Bridge is the perfect photography WordPress theme that does more than display your photos beautifully.
Key Features:
Works with WP Bakery or Elementor
100+ portfolio and photography-centric demos
10+ slider types and 10+ portfolio layouts
200+ page builder elements
Ajax page transition animations and smooth CSS3 animations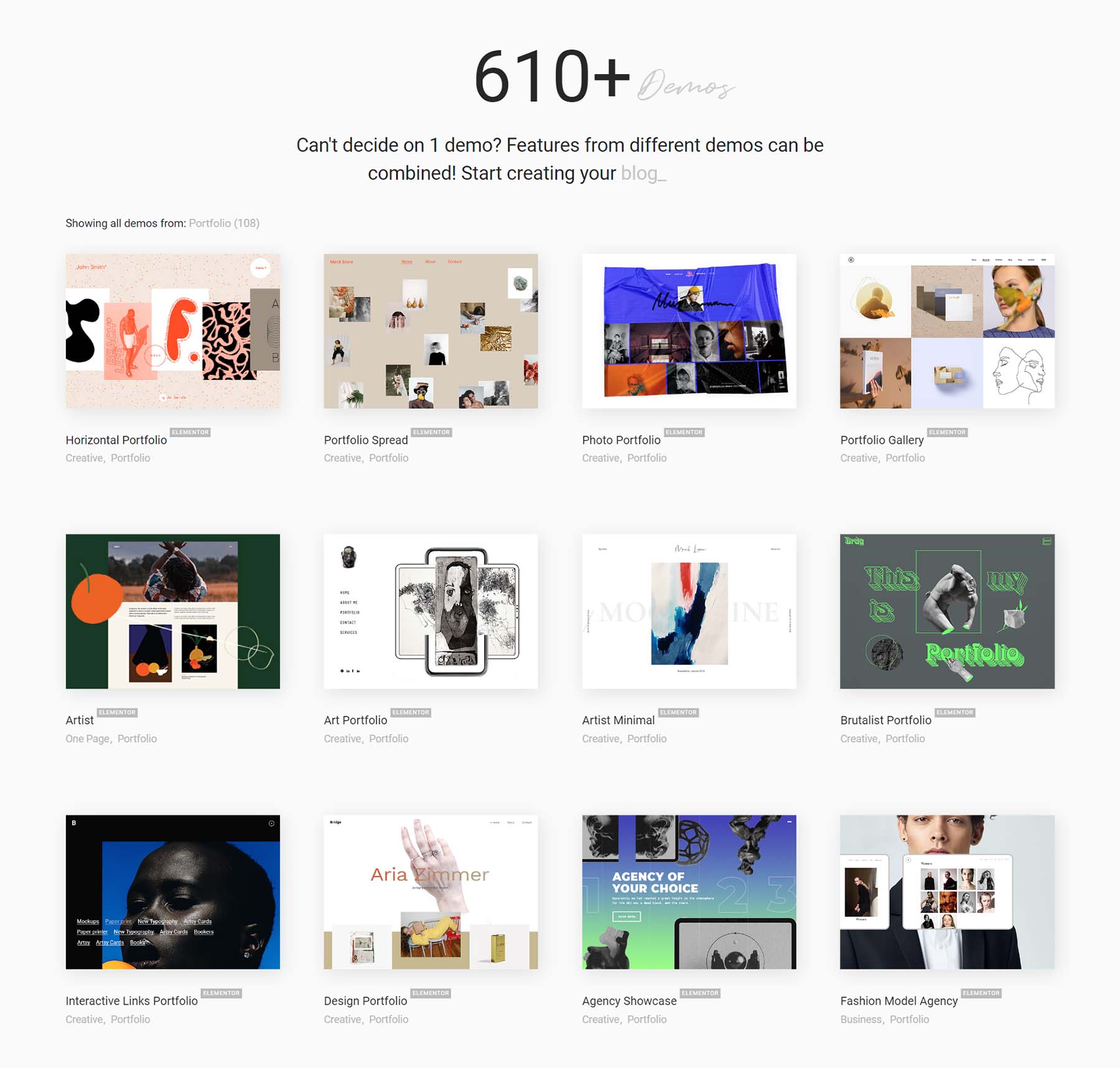 Bridge has 600+ demos, and this is great news for those building photography-forward websites. Of the 600-plus demos available, almost 20% of them are focused on photography. Luckily, if you see a feature in one that you admire, you can mix and match various demos together to make your perfect photography website. Combine this with your page builder of choice, and you can create your dream website in no time!
Pricing: $138 per year
Best For:
Bridge is best for the person who wants a photography website that does something more regarding its page-building capabilities. From our list, Bridge has the most demos and elements that can be rearranged to build a visually appealing website that displays photos beautifully online.
8. Lense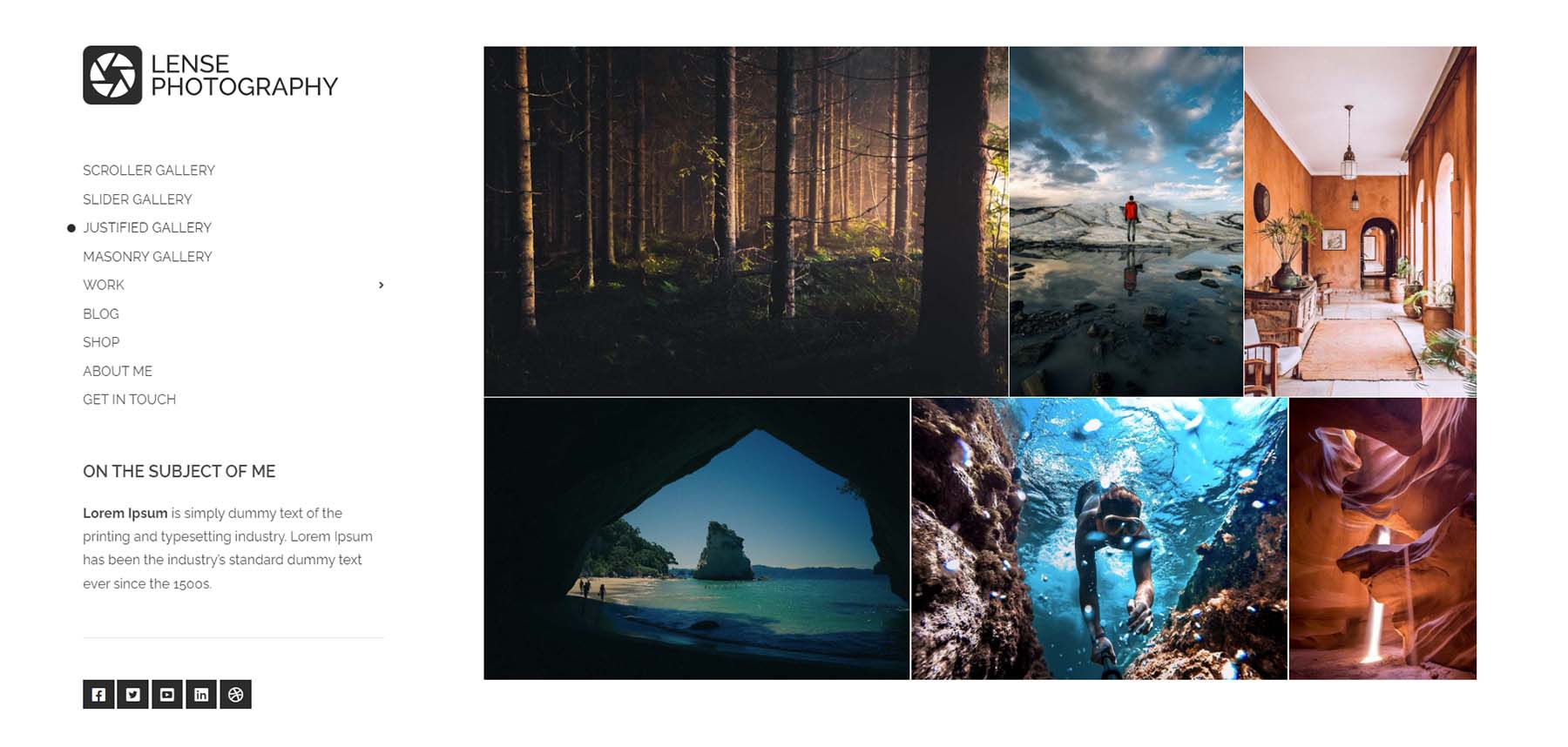 Lense is a photography theme by CSS Igniter that comes with many options to show off your work in a gallery. Additionally, Lense integrates with popular WordPress plugins like WPForms, Yoast SEO and WPML. Lense works with both Elementor and Gutenberg. Additionally, you can further expand the power of the Block Editor by using their free Gutenbee plugin, which comes with 25 more modules for the Block Editor. Lense comes with various layouts for portfolio pages and gallery layouts. Though it is a simple theme, you can still create quite a work of art with Lense.
Key Features:
Works with Elementor and Gutenberg
Four gallery layouts, including grid, masonry, and justified
Three portfolio page and single portfolio item layouts
Portfolio custom post type
Flexible portfolio detail and listing options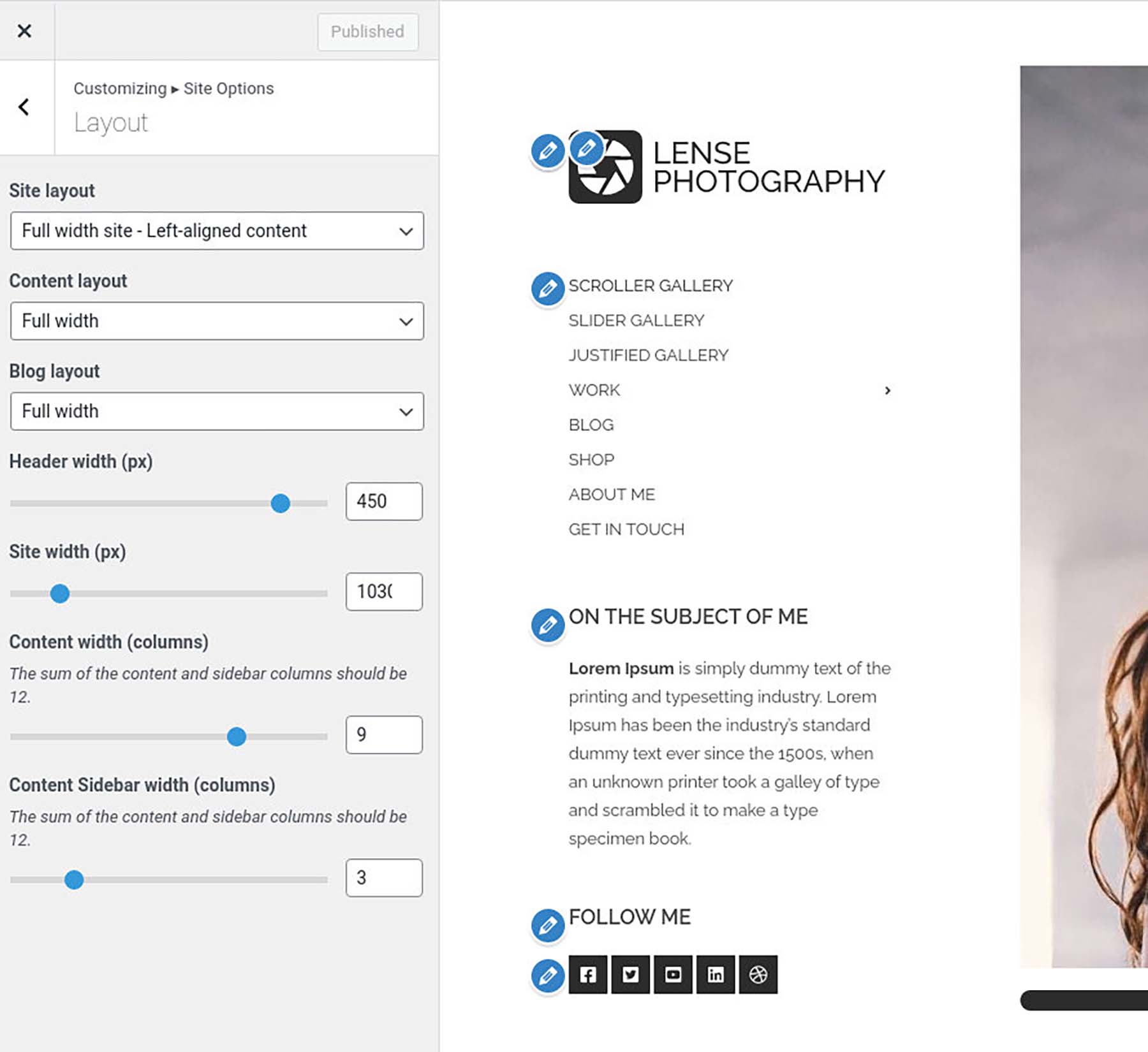 Lense makes good use of WordPress' Customizer panel. The Customizer lets you control your site's layout, colors, and fonts. Additionally, you can decide the layouts for your blog and portfolio pages and your site layout as a whole.
Best for:
For those who want a simple way to manage their portfolio online, consider using Lense as your WordPress theme. With simple features, you can efficiently build a complex-looking photography website.
Pricing: Paid plans start at $49 per year
9. Photography WordPress

The current best-selling photography theme on ThemeForest, Photography WordPress, is a theme that effortlessly combines function and elegance. To begin, the theme comes with ample light and dark theme demos. Secondly, Photography WordPress comes with powerful and intuitive client-proofing features. Manage multiple clients, create custom client pages, and add password protection. Also, the theme integrates effortlessly with Instagram and Flickr. Therefore you can showcase your work from these two platforms on your website. Additionally, Photography WordPress comes with two premium lightbox plugins to give you various options for your lightbox needs.
Key Features:
70+ gallery and portfolio layouts
Direct purchase link for photo galleries
Proofing gallery with password-protected client archive pages
Image drag and right-click protection
Progressive image loading for higher website performance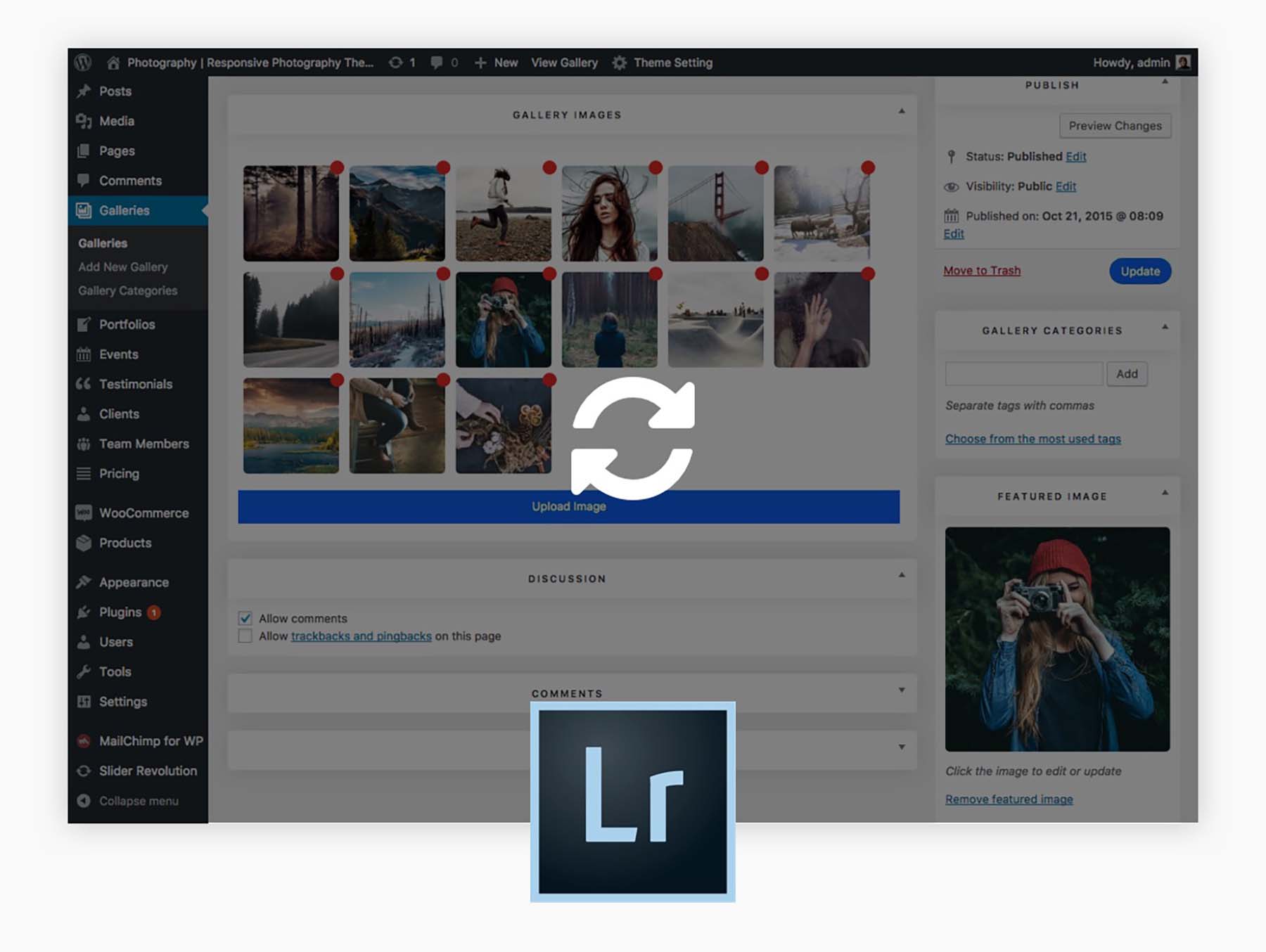 A powerful and unique feature of Photography WordPress is its integration with Adobe Lightroom. An essential tool for photographers everywhere, being able to sync your Adobe Lightroom photos into portfolios and galleries on your WordPress site. No need to download and then re-upload hundreds of photos; you can use your WordPress site to connect to Lightroom and start building your galleries with ease.
Best for:
This theme is one of the best photography WordPress themes for creative who wants a powerful photography-specific theme that allows them to manage their clients, sell their prints online, and have a beautiful website that they can edit and manage without having to install more plugins or use code.
Pricing: $118 per year
10. Core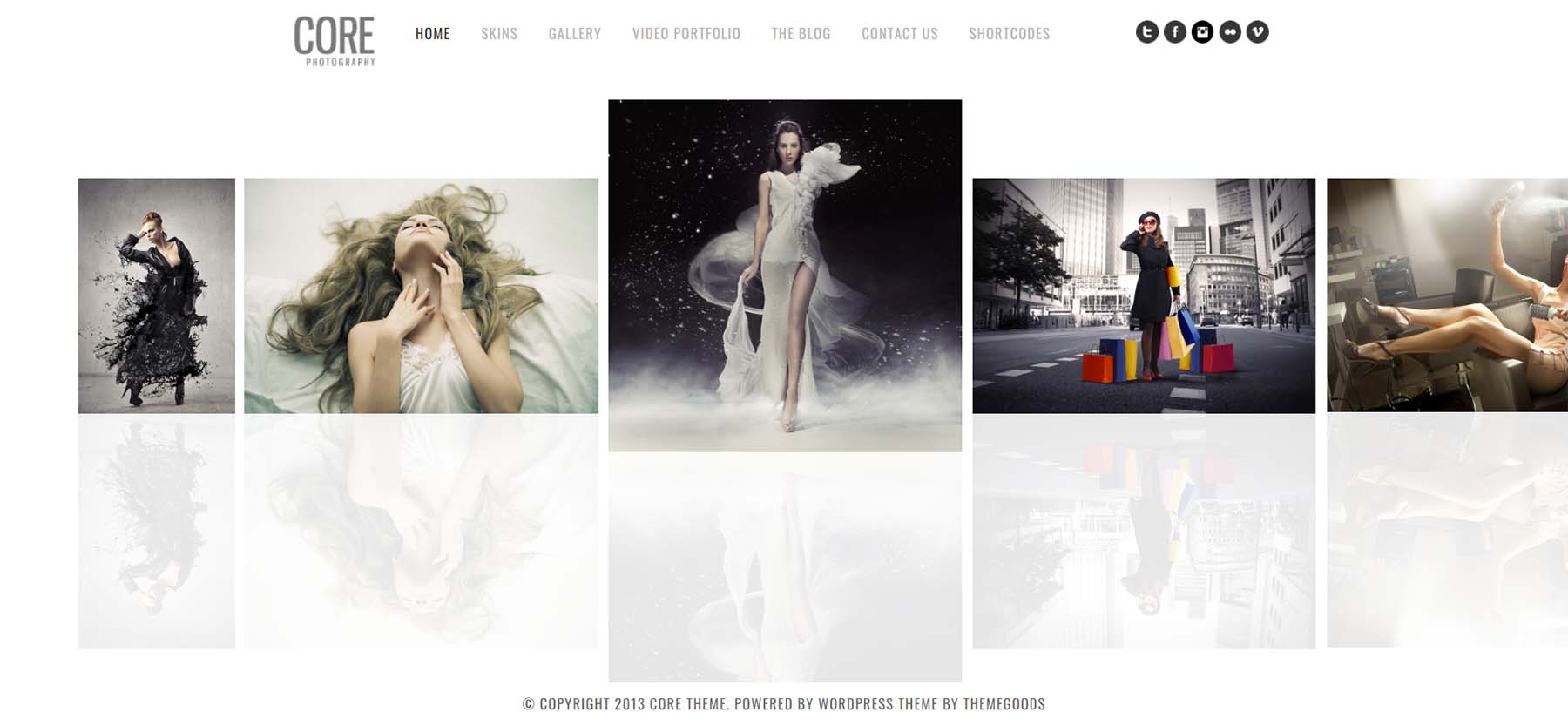 Core takes a simple yet elegant approach to the WordPress photography theme. While it may not have deep functionality regarding integrations and client proofing, it still gives you a beautiful website to display your wares. It has a unique collection of layouts and styles for your galleries, homepage, and portfolio pages. Secondly, it has custom post-type support for portfolios allowing you to organize them into various categories. Thirdly, Core has widgets for a wide array of social media networks like Twitter, YouTube, Vimeo, and Flickr, to name a few. Core uses unobtrusive jQuery-powered effects so that your site functions well for users. With a built-in shortcode generator plugin, Timthumb support, and the ability for multiple image uploads to your galleries, Core makes building your photography website an easy task.
Key Features:
Three homepage layout styles
Six gallery templates
Deep social media and social sharing support
Light and dark skins
Video portfolio support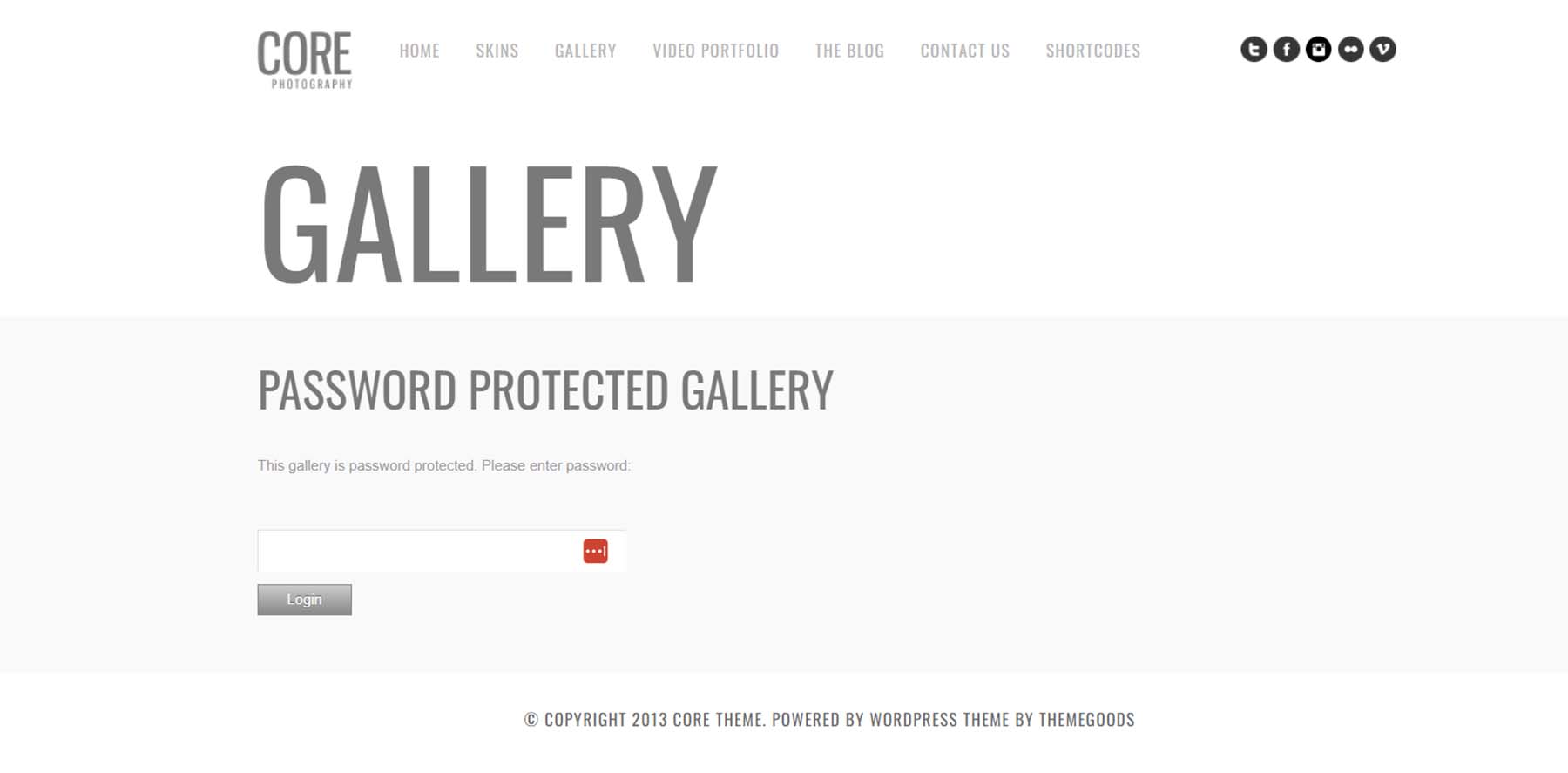 While it may not be the most robust proofing feature, those who want a simple website approach will appreciate Core's password-protected gallery feature. It works as it should and adds to the minimalistic and clean take those Theme Goods have toward the design of this theme.
Best for: 
For those looking for a minimalistic, simple theme for their portfolio, Core is the best photography WordPress theme for you.
Pricing: $78 per year
11. Novo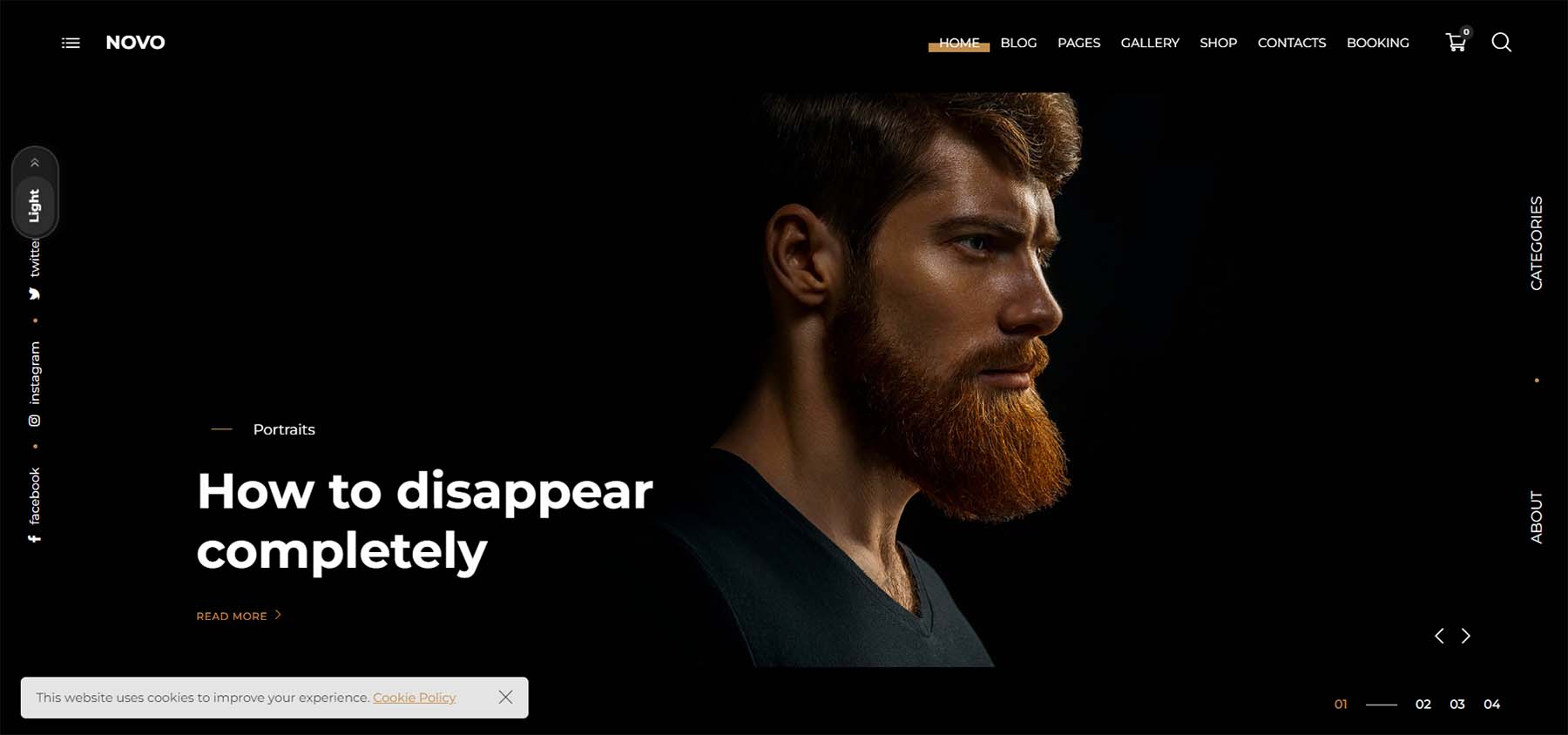 Novo is a photography theme that comes with 12 demos that are available in both dark and light modes. Powered by Elementor and WP Bakery, you know that you'll be able to quickly build your portfolio pages and blog posts easily and quickly. The theme comes with more than 12 different types of galleries, five menu types, and five different blog page layouts. Novo comes with a styled 404 page and a built-in coming soon page. It also works with WooCommerce, so you can quickly sell your photography from your website.
Key Features:
Six different homepage layouts
Password protection and built-in right-click protection
Custom watermarks
Multiple portfolio styles, including masonry, slider, flow, grid, and more
Native photo optimization for performance and space
Novo connects and comes with Booked, allowing you to allow your clients to book slots and appointments with you. This integration allows you to sell sessions, classes, and more, providing another way to monetize your site and website.
Best for:
If you want to take monetizing your skills as a creative either by selling your services or your artwork, consider using Novo as your WordPress theme. It has deep functionality and tools to sell your time and prints – both physical and digital – making Novo the best photography WordPress theme for artists who want to monetize their art.
Pricing: $118 per year
What is the Best Photography WordPress Theme?
Kamera is the best photography WordPress theme for photographers. With its deep client-facing features and modern and unique demos, this is one of the best themes to consider if you are a photography professional. Lens is your best bet for a unique grid homepage and deep color customizations to your site. Lastly, Divi is one of the best photography WordPress themes for the creative who needs absolute control over their website. With tools from the Divi Marketplace and powerful integrations, Divi is the clear choice for photographers who wants more for their website.
When building a photography website, it is important to optimize your images for SEO and compress image sizes for faster page loads. Here is our list of the best image optimization plugins for WordPress.
So, what do you think? Have we missed any photography themes that you thought should be mentioned? List them down below in our comments section!
Frequently Asked Questions (FAQs)
Before we wrap up, let's answer some of your most common questions regarding WordPress photography themes. Did we miss one? Leave a question below, and we will respond!
What is the best photography WordPress theme?
Kamera
stands out as the best photography WordPress theme due to its impressive features. It offers 23 one-click demos, providing photographers with a variety of pre-designed options to choose from. With multiple gallery and slider layouts, Kamera allows photographers to showcase their work creatively. The theme also includes project presentations for clients, a client portal with password protection, and the choice of dark and light skins, making it a comprehensive and versatile option for photographers.
What is the best free photography WordPress theme?
Inspiro Premium
stands out as the best free photography WordPress theme due to its exceptional features. It seamlessly integrates with the popular page builder plugin Elementor, enabling photographers to quickly build and customize their pages using the intuitive drag-and-drop builder. What sets Inspiro Premium apart is its excellent utilization of video. The theme provides video features like video backgrounds, sliders, and support for both self-hosted and hosted video platforms (Vimeo and YouTube), making it an ideal choice for photographers who want to incorporate captivating video elements into their websites.
Is WordPress good for photography websites?
WordPress is an excellent choice for photography websites due to its user-friendly interface and adaptability. While it may not provide all the necessary features by default, the availability of WordPress plugins designed explicitly for photographers can address any additional requirements. These plugins enhance functionality, allowing photographers to customize their websites and incorporate essential features that cater to their needs.
How do I create a photography website with WordPress?
To create a photography website with WordPress, begin by setting up your domain and hosting. Install WordPress, then choose a suitable photography theme that complements your style and showcases your work effectively. Add pages and posts to organize your content, and upload photos using the WordPress media library. Create image galleries to display your portfolio. Utilize SEO techniques to improve your website's visibility in search engines. Optimize website speed for better user experience. Lastly, install essential WordPress plugins specifically designed for photographers.
Do photographers need a website?
Yes, photographers need a website as it allows them to showcase their work in a visually appealing and organized manner. With a website, photographers can ensure that their images are the main focus, displaying their portfolio according to their preferences and creating a professional online presence to attract potential clients and effectively showcase their talent.
What is the best WordPress theme for creating a photography portfolio?
Kamera
is an excellent WordPress theme for creating a photography portfolio due to its extensive range of portfolio and gallery layouts. With Kamera, photographers can display their work in various creative ways, allowing them to showcase their portfolio visually, stunningly, and engagingly. This theme provides ample options for photographers to present their photography skills effectively.
What is the best WordPress theme for wedding photography websites?
Divi
is the best WordPress theme for wedding photography websites due to its extensive collection of website layout packs. With Divi, photographers can use pre-designed layouts to create their photography websites. Specifically, Divi offers layout packs like Photographer, Photography Studio, and Wedding Photographer, providing photographers with ready-made templates tailored to showcase wedding photography in a visually attractive and professional manner.
What is the best WordPress theme for photography blogs?
Lense
is an excellent WordPress theme for photography blogs due to its effective utilization of the WordPress Customizer panel. With the Customizer, photographers have full control over their website's layout, colors, and fonts, allowing easy customization. Lense also offers flexibility in choosing the layouts for blog and portfolio pages and the overall site layout, making it an ideal choice for creating visually appealing and personalized photography blogs.
Looking for more WordPress theme recommendations? Take a look at our main post on the best WordPress themes.
Article thumbnail image by ArtKrisShapovalova / Shutterstock.com