A website is seldom built overnight. That's why a coming soon page can be the perfect placeholder to greet your website's visitors while it's still being developed. Some coming soon WordPress themes provide other perks as well, such as enabling you to brief visitors about your upcoming brand, collect leads, and build a pre-launch buzz to increase your chances of a successful launch. In this article, we'll first discuss why a coming soon WordPress theme is better than a blank page or static image as a placeholder. We'll then delve into some of the best coming soon WordPress themes and highlight their key features to help you make an informed decision.
What is a WordPress Coming Soon Theme?
For the uninitiated, a WordPress coming soon theme is a page that will temporarily display while you're working on your website. It can include elements such as your logo, an email form for lead generation, a quick blurb about your project, and even a countdown timer to your big launch. In short, think of it as a temporary one-page microsite.
While you might think a simple blank page or static image might suffice as a placeholder until your website is ready to shine, a coming soon theme affords you much more flexibility than other limited alternatives.
A good coming-soon theme will offer customizations to suit your brand's identity and voice. It should also provide an easy way for your visitors to stay updated with your website's progress, learn more about your brand, or contact you. Depending on the buzz you'd like to create, you may want to include bells and whistles, such as animated countdown timers and an opt-in form that integrates with your favorite email marketing service.
Don't Forget About Coming Soon Plugins and Templates
You may find that using an under construction plugin or a coming soon template from Templately might be a better solution if you are happy with your current theme. This would allow you to have a temporary coming soon page using a plugin without having to switch to a different theme. But if you are just starting out, it is definitely worth having a theme that can handle coming soon functionality out of the box.
10 Best Coming Soon WordPress Themes for Sites Under Construction
Below we've selected some of the best coming soon WordPress themes available. The selection criteria were simple: we've only chosen those with solid user reviews, responsive support, and of course, a great design. Let's take a look!
1. CMP Nova
If you're looking for one of the best coming soon WordPress themes, check out CMP Nova. This theme is by the creators of one of WordPress' most popular coming soon plugins, CMP – Coming Soon & Maintenance Page. The theme can be easily installed into the plugin and therefore takes on all the great features of the plugin. It's integrated with Google Fonts, so you can choose over 100 fonts to style your coming soon page. With this theme, you can edit the font size and line height more efficiently. Your countdown timer comes in two styles, and you can easily connect to your social media accounts. Of course, your coming soon page will have a title and a section for custom text content that you can use to share a message with users on your site.
Key Features:
Customize background media with pictures, video, or slider
Email optin integrates easily with Mailchimp
Custom typography featuring Google Fonts or your own font
Add social media icons
Two types of countdown number styling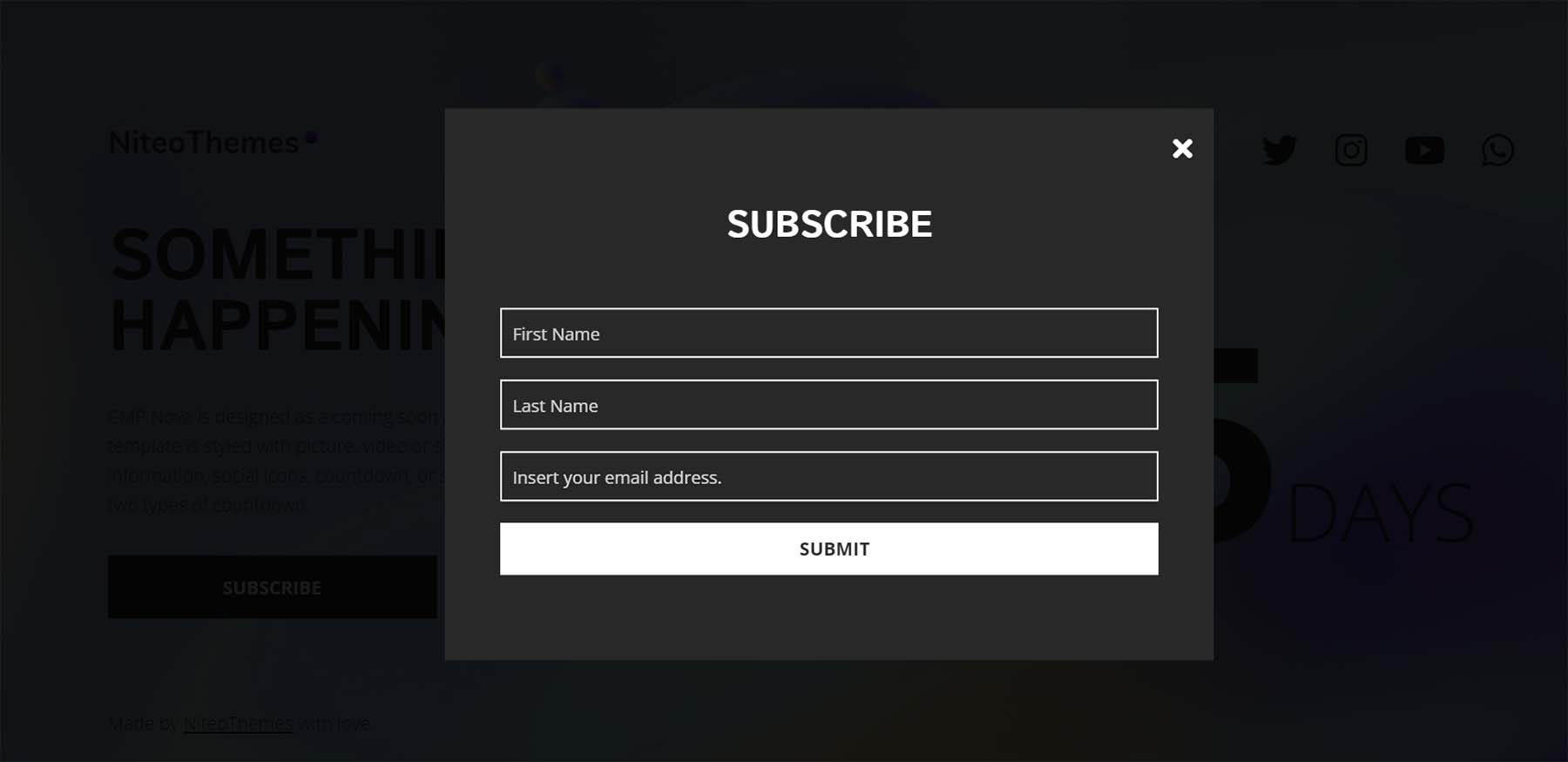 For those looking to build their list while their site is under construction, CMP offers straightforward integration with Mailchimp. Your email subscription forms appear in a customizable modal box, leaving you with a clean and modern coming soon page. With CMP Nova, you can change your modal's background color, form field styling, and more.
Best for:
CMP Nova is one of the best coming soon page templates for those that want a powerful and lightweight solution. The page template comes with the CMP plugin, so it is easy to use on any theme while you are getting your site built. The features and functionality that using both the plugin and theme provide you make it the obvious choice for those who want to build a competent coming soon page for their website.
Pricing: $15
2. Divi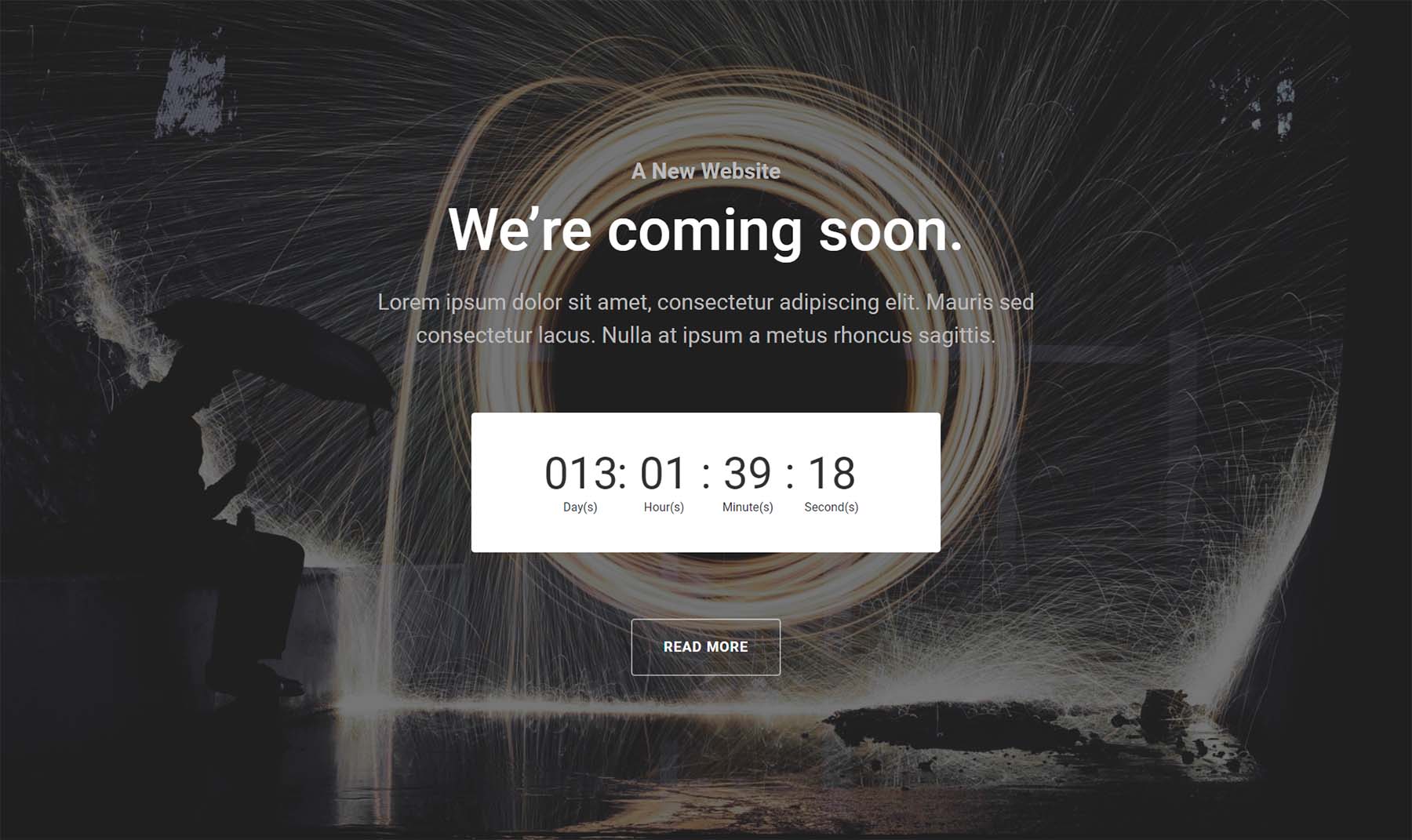 Divi is near the top of our list of the best coming soon WordPress themes because it is a powerful theme that covers a variety of bases for many people building websites. Our signature theme has a countdown timer module that you can customize deeply. With the Divi Builder, you can easily design your coming soon and maintenance pages. Divi provides all the essential modules needed, such as countdown timers, email opt-in forms, social media icon buttons, videos, and much more. Everything you need is readily available within Divi, enabling you to craft beautiful and effective coming soon pages for your website.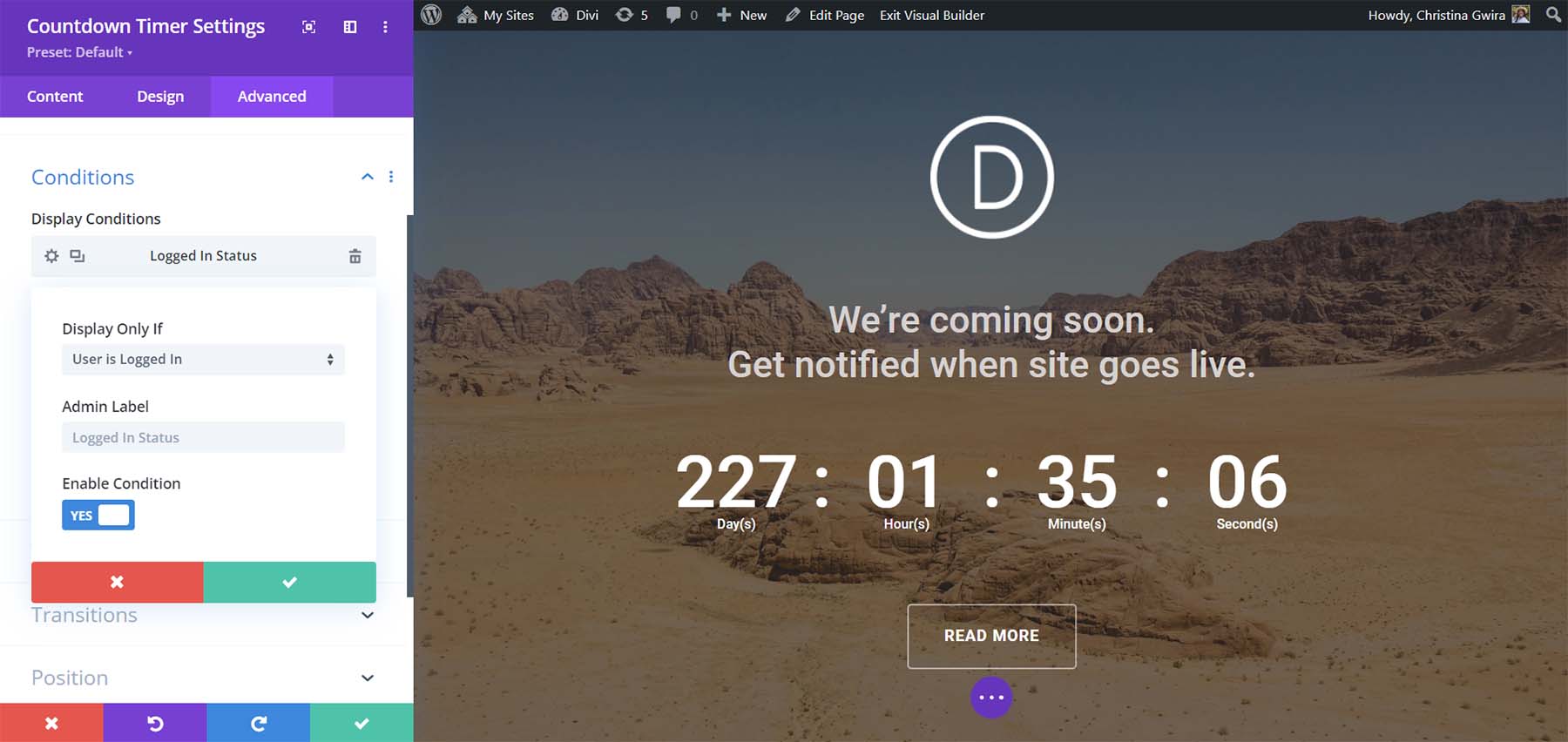 Moreover, a notable Divi feature for building your best coming soon page is its display conditions capability. This allows you to display content selectively to particular users, depending on their login status or roles. Show and enable content restriction possibilities necessary for building a coming soon page right within the Divi Page Builder. Additionally, the display conditions can be applied within a Theme Builder template, ensuring that when a user logs in, and coming soon page content is automatically removed, resulting in a seamless user experience.
Key Features:
2,000+ page layouts
300+ full website kits for inspiration
200+ mobile responsive web elements
Visual front-end builder with drag-and-drop capabilities
Edit and design for desktop, tablet, and mobile
Extensive library of third-party child themes, plugins, and modules via the Divi Marketplace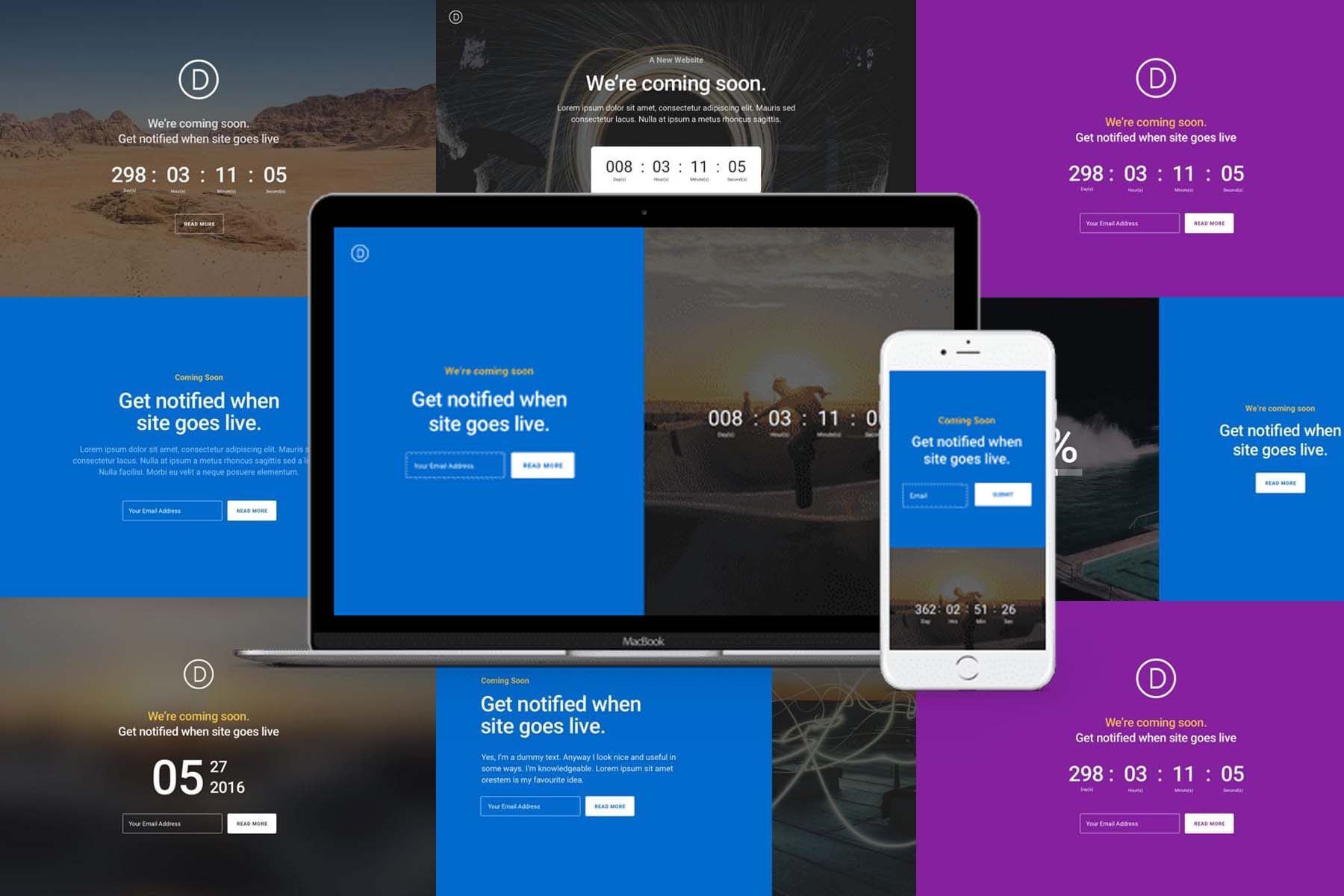 You can find weekly freebies on the Elegant Themes blog to help you add new elements to your library. One such freebie was the Divi 100 campaign, where we gave out a set of coming soon page layout kits. Each layout featured a countdown timer and other design elements that can be easily edited in the Divi Builder. Feel free to download the coming soon layouts by checking out this Divi 100 Coming Soon Pages Layout Kit post.
Best for:
If you're seeking complete control over how your coming soon page looks, Divi is the best coming soon WordPress theme you can use to build.
Pricing: Paid plans start at $89 per year
3. SeedProd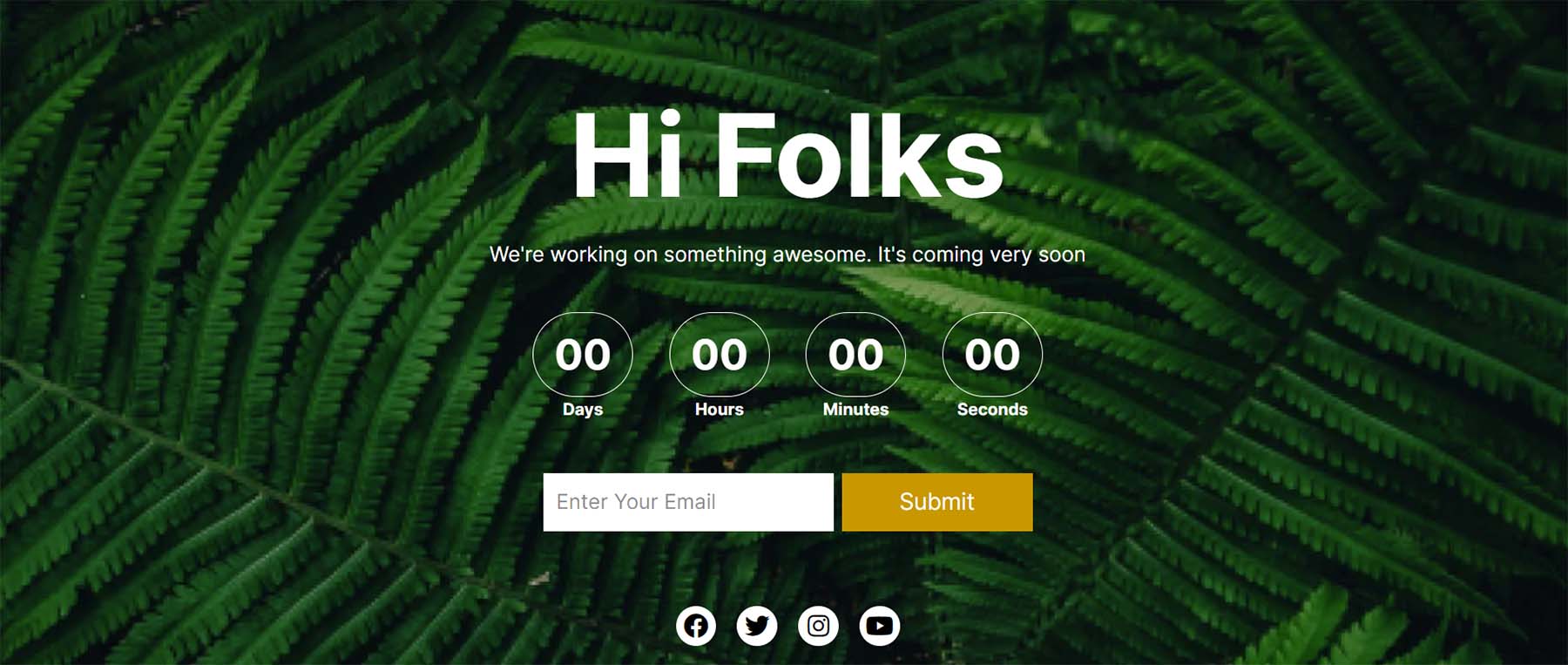 SeedProd is a powerful landing page builder plugin more than suitable for the online entrepreneur. Nevertheless, it still deserves the top spot in our list of the best coming soon WordPress themes. As a drag-and-drop builder, it is easy to add various modules together to create your perfect coming soon page. SeedProd connects with some of the big names in email marketing, including Drip, ConvertKit, MailerLite, and AWeber, to name a few. With SeedProd, you can build your email list without launching your website. SeedProd has a selection of coming soon page templates that you can quickly, and connecting your social media accounts is a breeze.
Key Features:
Native coming soon, and maintenance mode
Access controls for users to bypass URLs, limit access by role or IP address
Subscriber management with or without a 3rd party email marketing solution
Spam protection from spam, bots, and fake submissions
Add custom scripts and tracking codes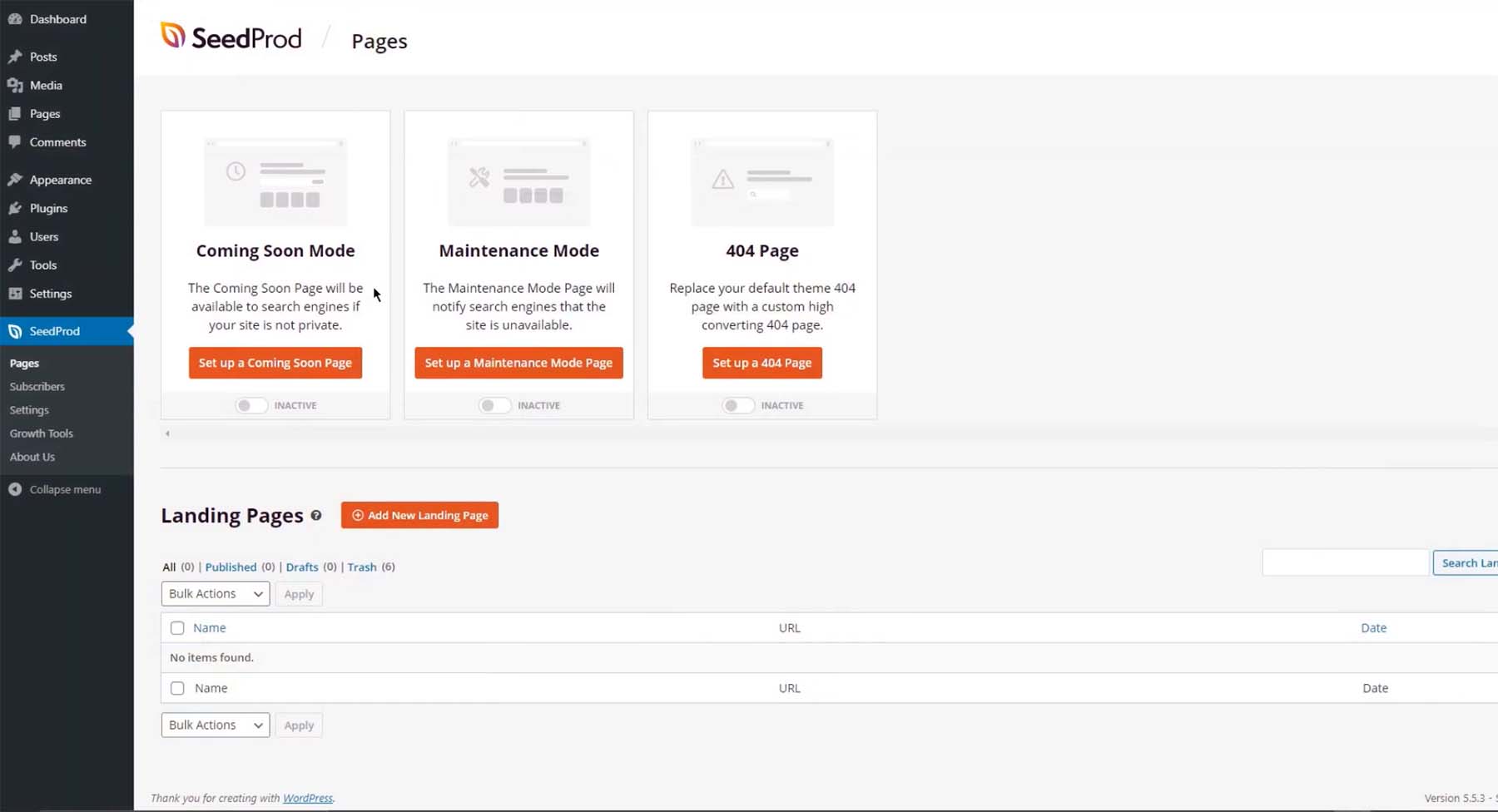 SeedProd's native coming soon mode allows visitors to see something beautiful when interacting with your site but hides your work in progress. Furthermore, SeedProd notifies search engines to let them know that your website is en route so that you can start ranking your site and build momentum for your launch.
Best for:
Those who want to build powerful coming soon pages and landing pages will love all the built-in tools that SeedProd has. Online marketers, digital entrepreneurs, coaches, and those who want control over their digital properties but don't know how to code will appreciate having SeedProd in their toolkit.
Pricing: Paid plans start at $79 per year
4. Thrive Architect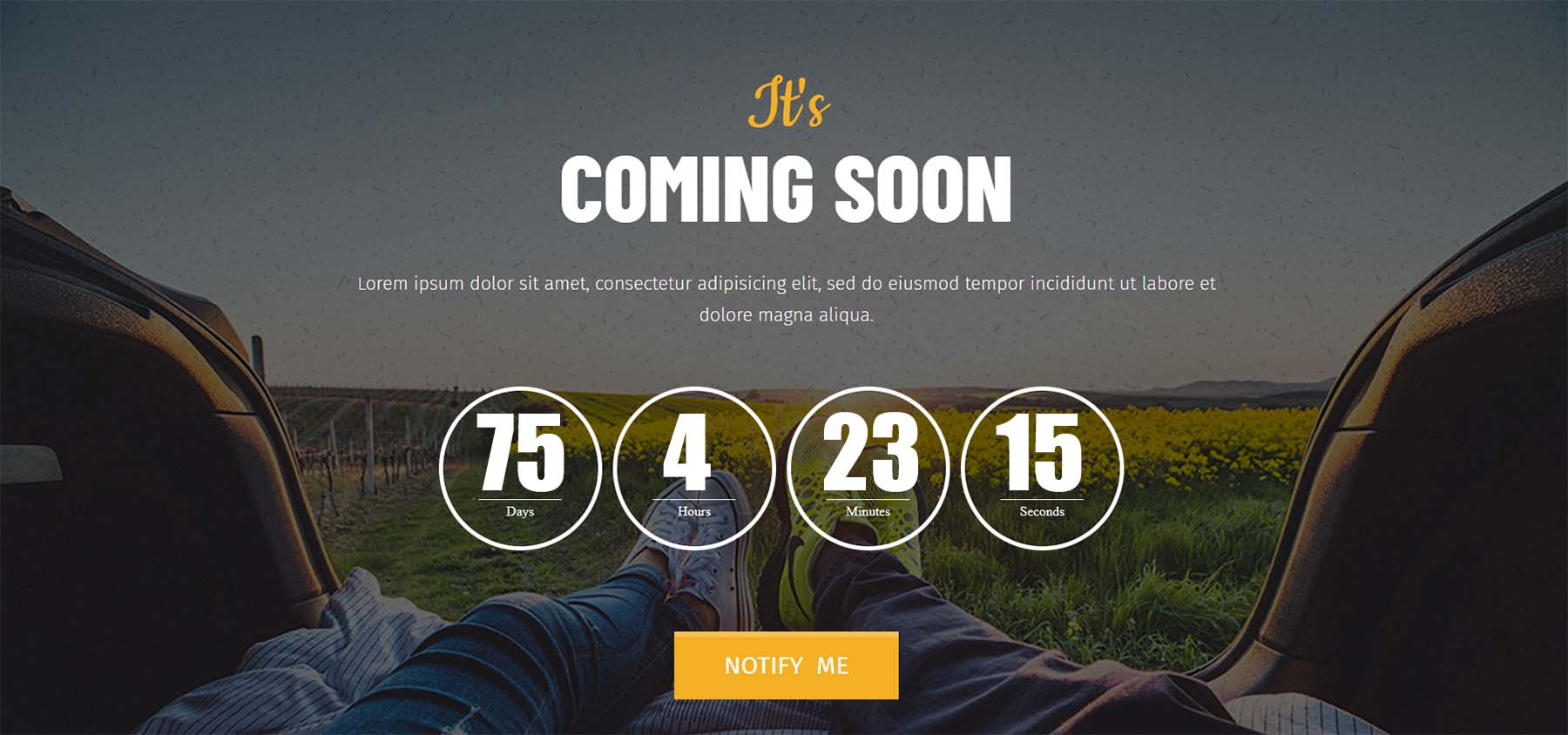 Thrive Architect is a powerful page builder that can create highly effective landing pages and coming soon pages for your next project. Built with the digital entrepreneur in mind, Thrive Architect goes above and beyond in providing the online business owner with all the tools needed to build an effective website and, therefore, an effective coming soon page. Regarding building, Thrive Architect has over 300 editable templates that you can use to create a coming soon page for your website. Mix and match these templates to create your perfect coming soon page. Whether you're gearing up for your next launch or making updates to your site, Thrive Architect can help you build an effective coming soon page.
Key Features:
Intuitive front-end page editor
350+ customizable landing page templates
Conversion focused elements
Integrates with 25+ email marketing providers
Pre-made color palettes or customize your own with the advanced color algorithm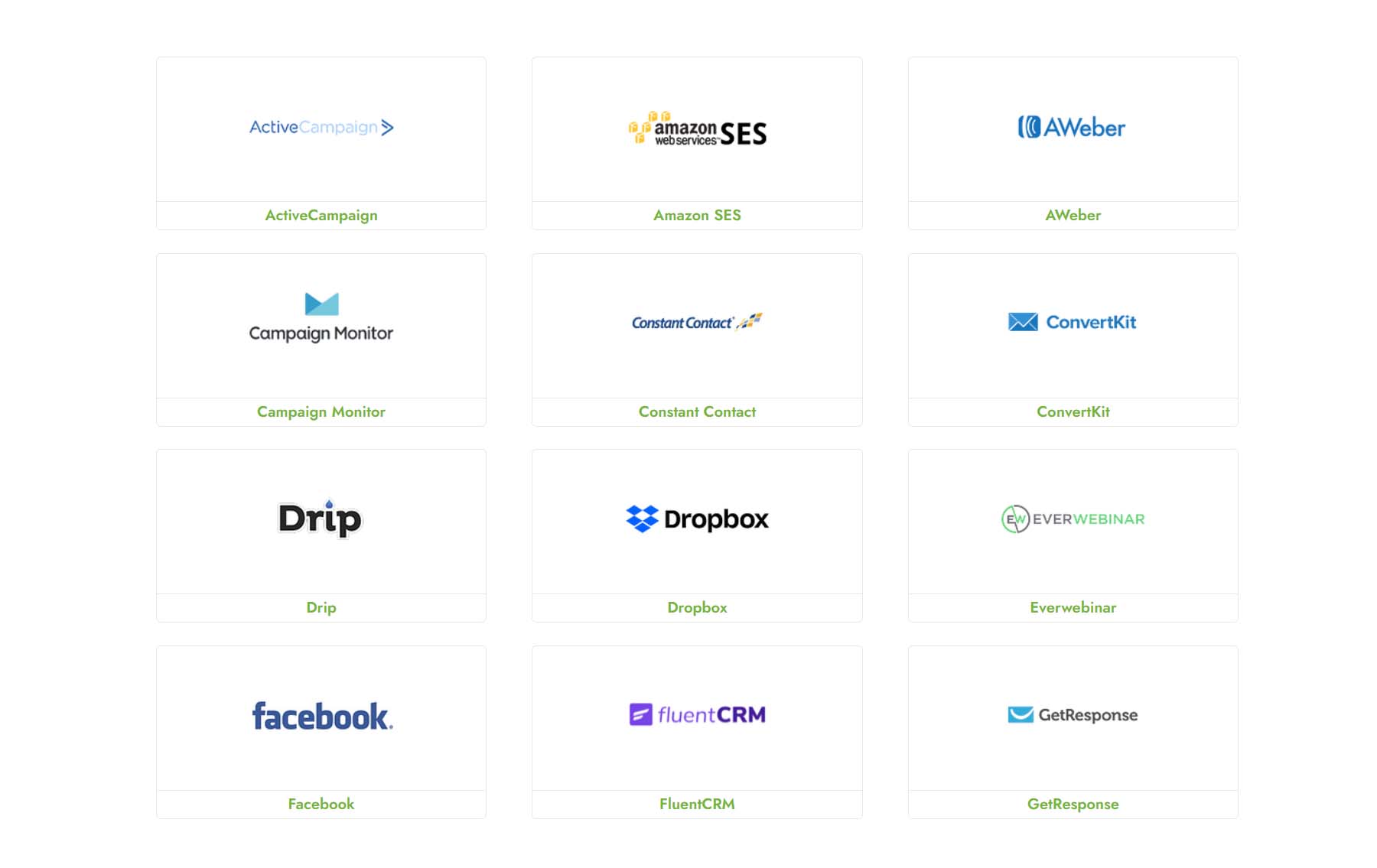 As you build up anticipation for your website launch, Thrive Architect can connect you to your favorite email, SMS, and marketing services to gear up for when your site goes live. Whether you want to track visitors to your coming soon page with the Facebook Pixel or want to build your email list with GetResponse, Thrive Architect has a vast library of connections that you can add as you build your coming soon page to give you all the data that you need to make informed decisions for your campaigns.
Best for:
Digital marketers, eCommerce store owners, and those focused on conversions for their website will benefit from using Thrive Architect to power their coming soon page theme. With a focus on mobile optimization, SEO, and dynamic landing page customization, building your coming soon page with Thrive Architect will set your website build on solid ground.
Pricing: Paid plans start at $99 per year
5. Bridge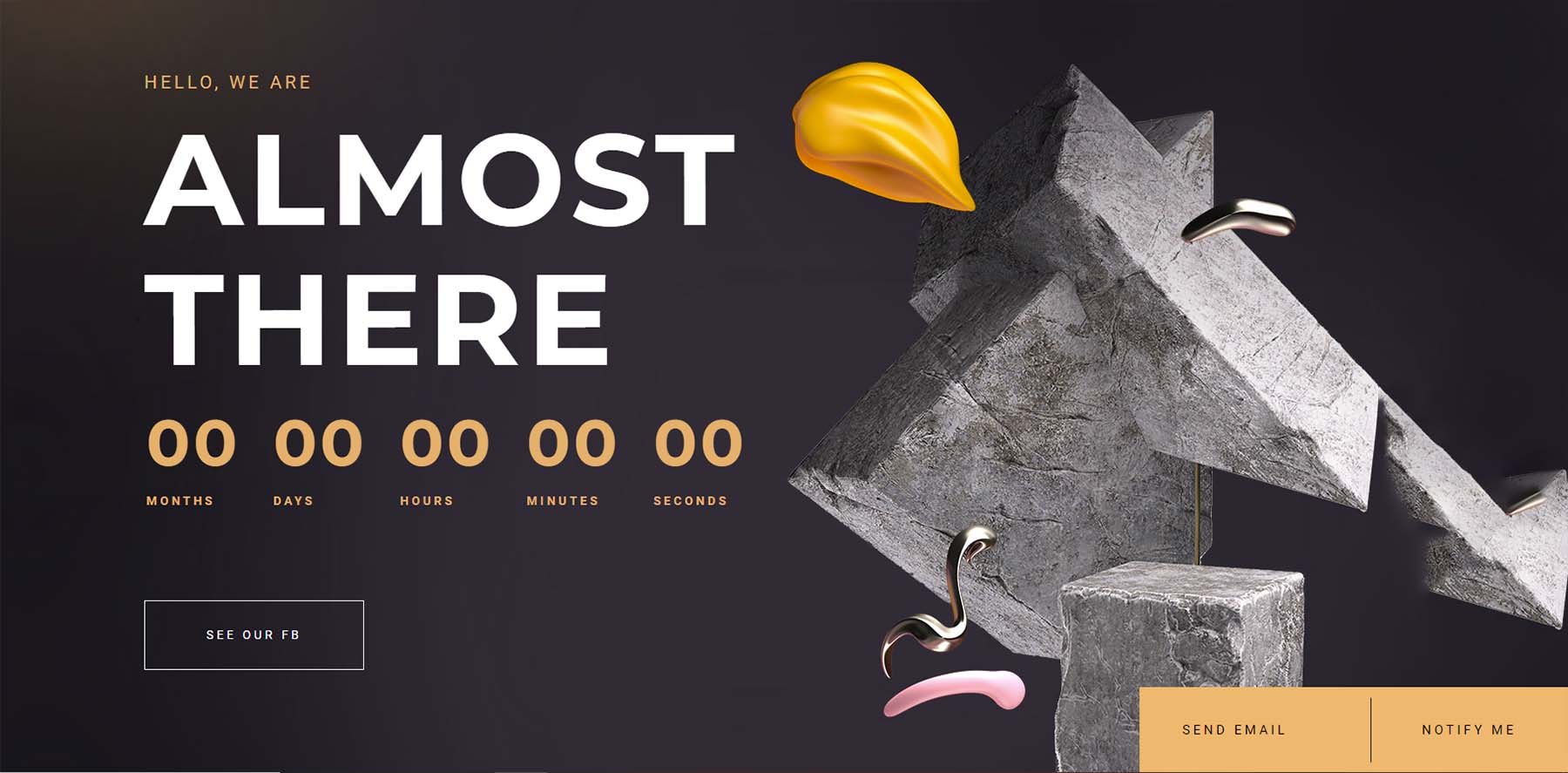 Bridge is a powerful creative theme that can build any coming soon page you can set your mind to. For starters, there are over 600 one-click demos that you can customize using WP Bakery, Gutenberg, or Elementor to make your own coming soon page. Conversely, if you're looking to build your coming soon page from scratch, Bridge can help you do that as well. You can easily change the typography, color, and size of your countdown timer in Bridge and add a wide array of page elements like graphs, cards, sliders, and more to your coming soon page.
Key Features:
6 coming soon specific one-click demos
200+ customizable elements
Compatible with WP Bakery, Gutenberg and Elementor
Customizable countdown timer module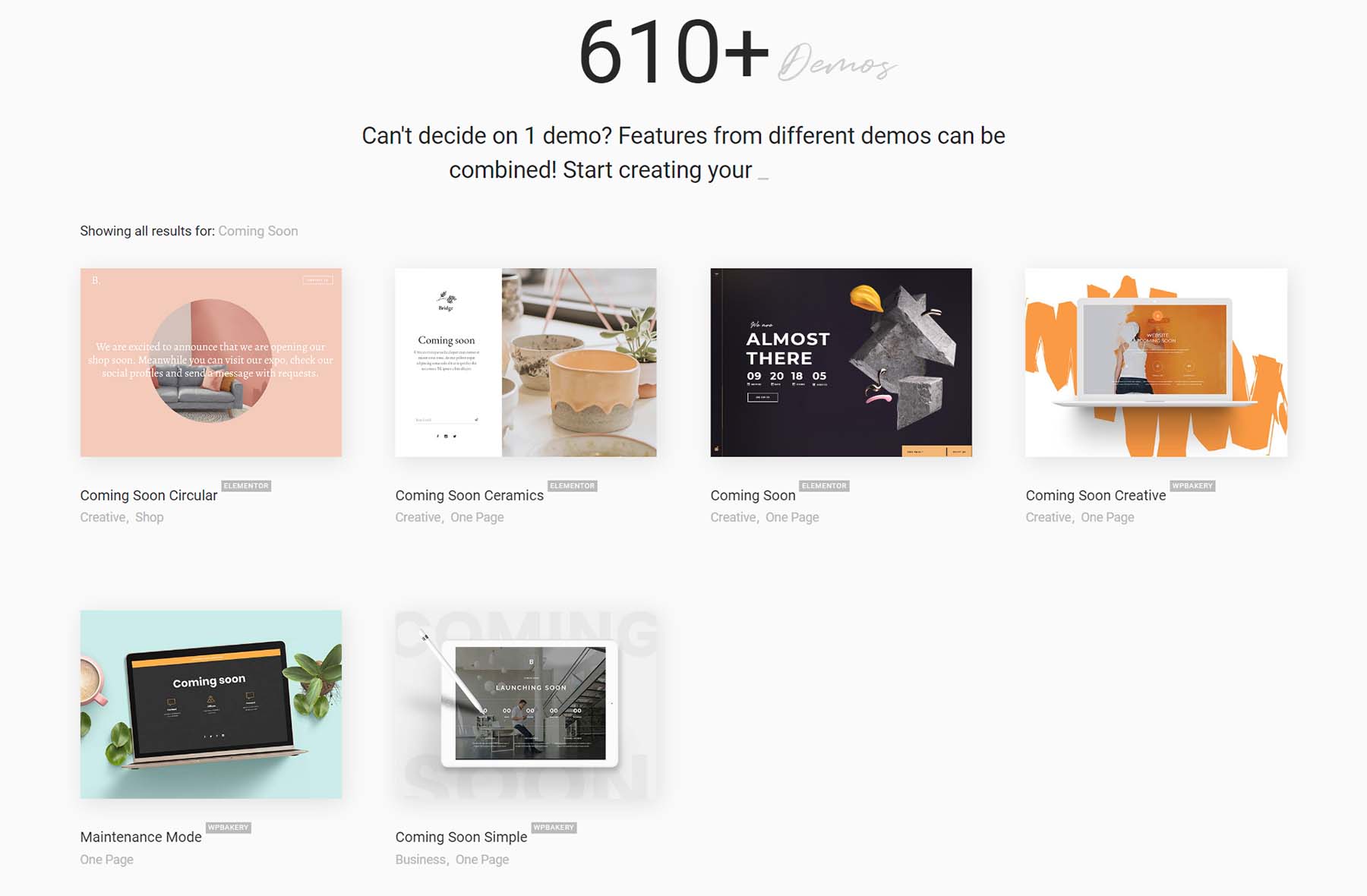 While Bridge is technically a multipurpose theme, it has properties that allow it to design and build your coming soon page for your website. Additionally, Bridge has a selection of coming soon and maintenance mode themes that you can use as a jumping-off point for your coming soon page. Each uses the countdown module, adding modules like social media icons, buttons, and contact forms.
Best for:
As a multipurpose theme, Bridge is best suited for creatives and organizations that need access to various elements to build their pages. Bridge provides this with its vast collection of one-click demos. Still, the flexibility in using Gutenberg, Elementor, and WP Bakery makes it easy to turn any page within its demo library into a coming soon page that meets your creative vision.
Pricing: $69
6. Qi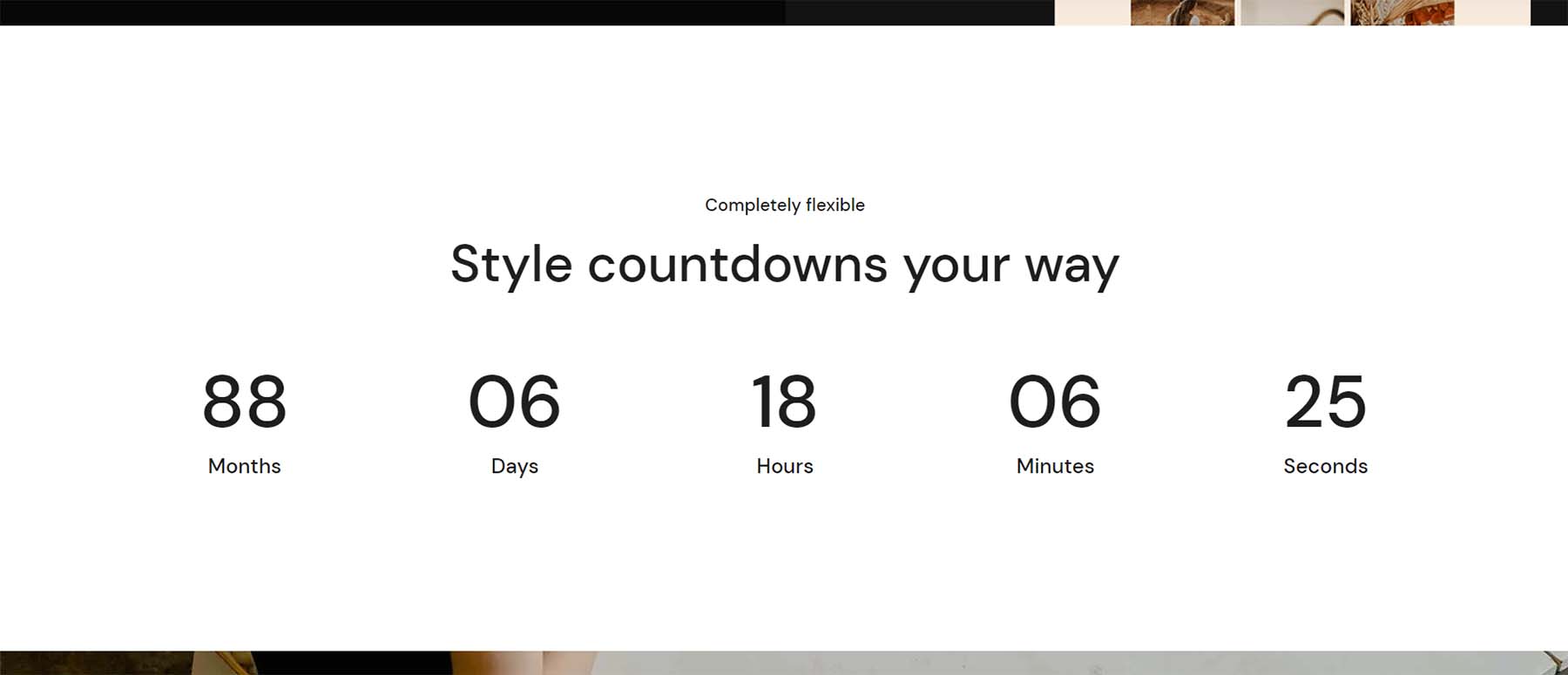 Another theme by Qode Interactive, Qi, is a WordPress theme that can do much creatively. Firstly, the theme supports Elementor and Gutenberg, so no matter which builder you choose, you're in luck. Secondly, Qi has a wide selection of elements that you can use to build robust, informative, and creative coming soon pages. With simple drag-and-drop tools, you can easily create coming soon pages that match your brand's style. Thirdly, Qi boasts 150+ one-click demos. While these demos are not geared specifically to coming soon pages, you can use its multifaceted countdown module to change any template within the demo into a stylish and functional coming soon page. Combined with over 100 elements, you can transform Qi into one of the best coming soon WordPress themes for you and your next creative web design project.
Key Features:
Integrated with Elementor for drag-and-drop building
Use custom labels for months, days, hours, etc.
Add background colors or images to the countdown
Show/hide elements of the countdown (months, days, hours, etc.)
Customize number and label typography.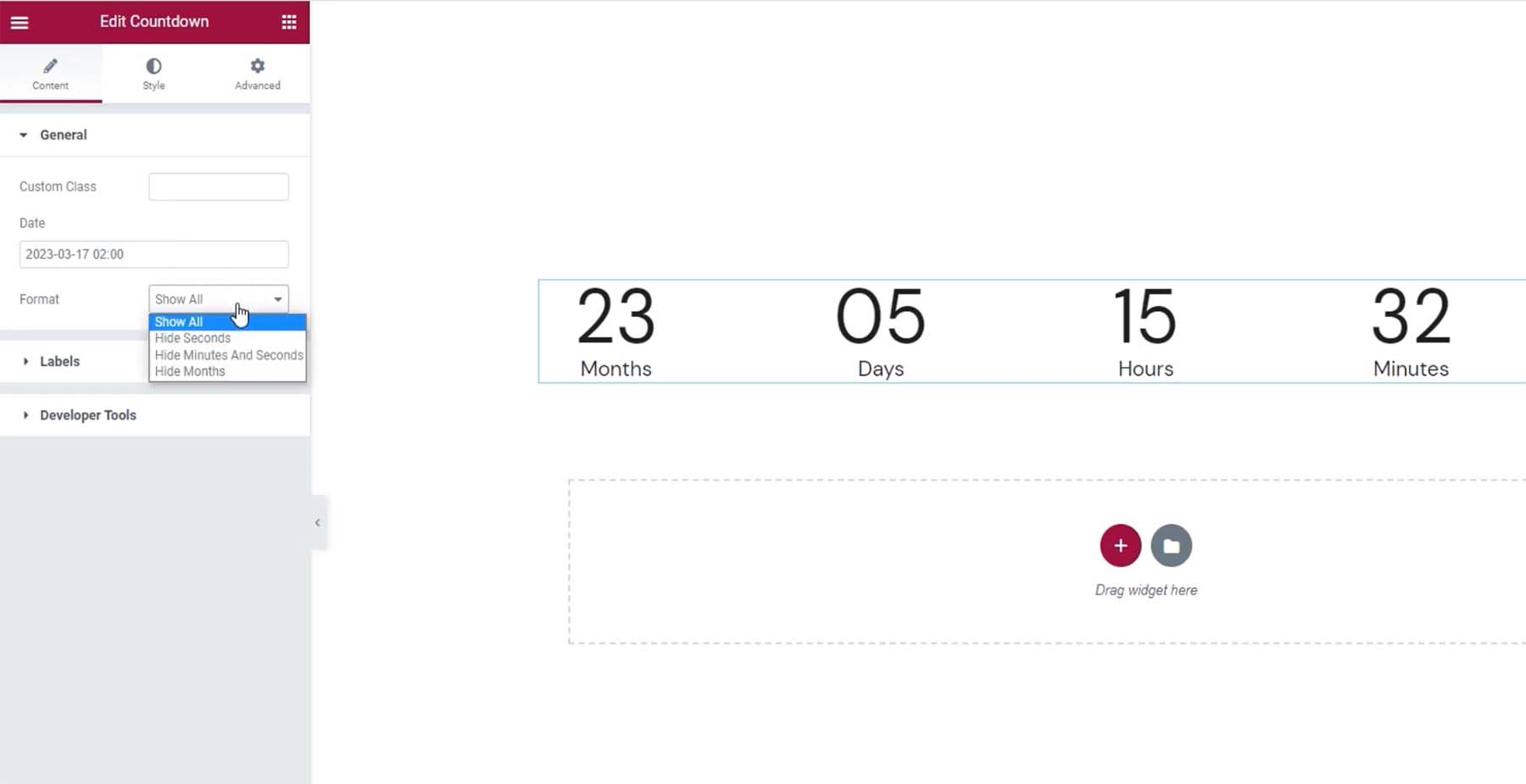 Qi allows you to show exactly what you what to show with its countdown module. You can easily hide the seconds, minutes, or months within your countdown module without using any complex code. Click on a dropdown, and you can easily showcase your countdown on your coming soon page in a style that matches your needs and website.
Best for:
Those who want to have highly customizable and creative coming soon pages will enjoy using Qi. With a highly flexible countdown module and multiple wireframe and template demos, creatives will love exploring what can be done with Qi.
Pricing: Free, Paid plans start at $69 per year
7. Hello Elementor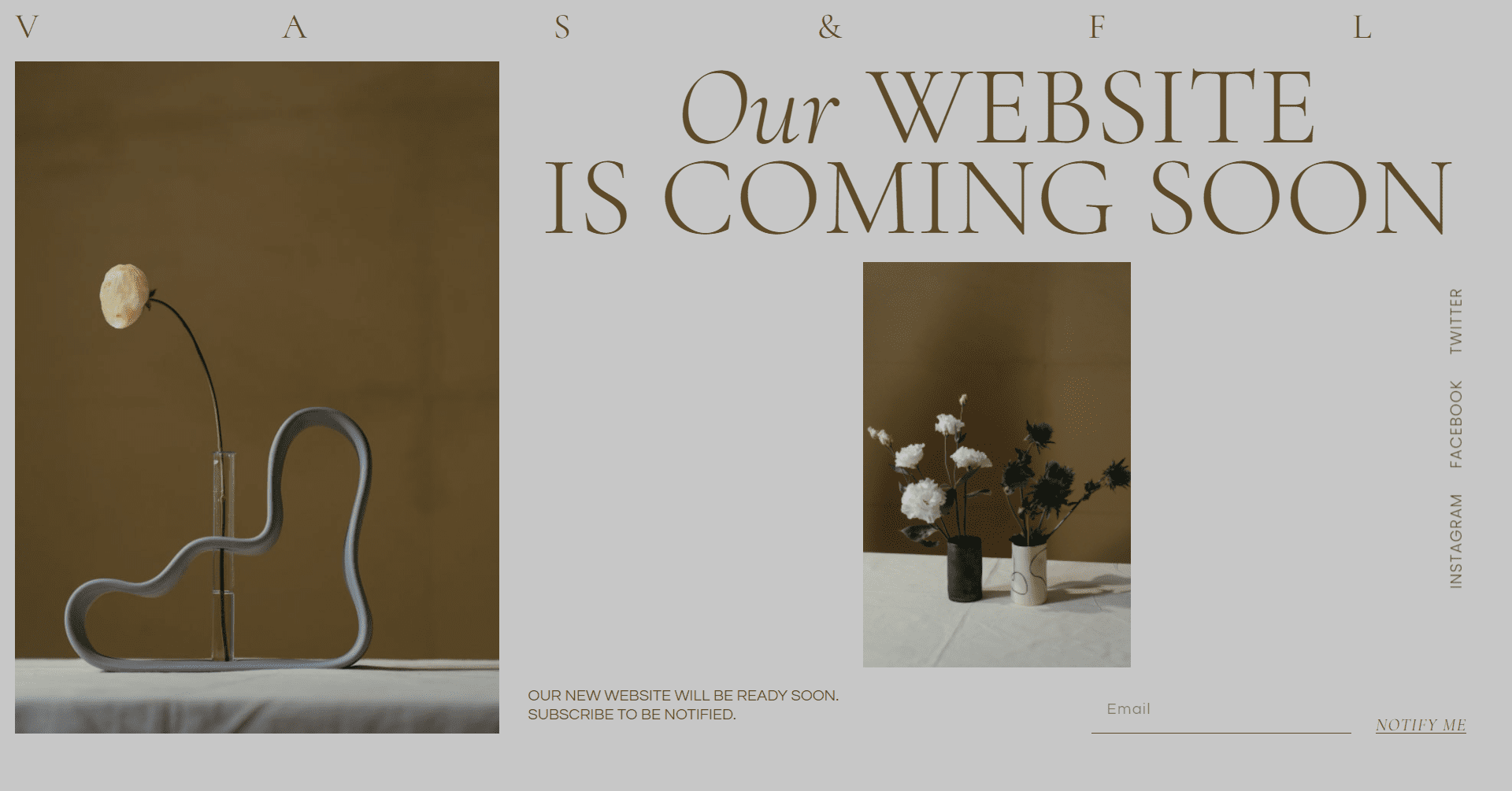 Hello Elementor is a theme by the popular WordPress page builder plugin Elementor. The beauty of this lightweight theme lies in the power that its page builder Elementor brings. Its website kit library can bring you gorgeous coming soon and landing pages for many uses. Like most page builders, Elementor has many elements to add to your coming soon pages. Additionally, Elementor has a native coming soon or maintenance mode feature, which allows you to create your coming soon page and set restrictions on who can see your site. This helps keep your site away from the public as you build it without having to install any additional maintenance plugins. Hello Elementor is truly a blank canvas of a theme that you can use to build a creative coming soon page for your website.
Key Features:
Deeply integrated with Elementor
10+ coming soon website kits
30+ basic page-building elements
Customizable countdown timer module
Native maintenance mode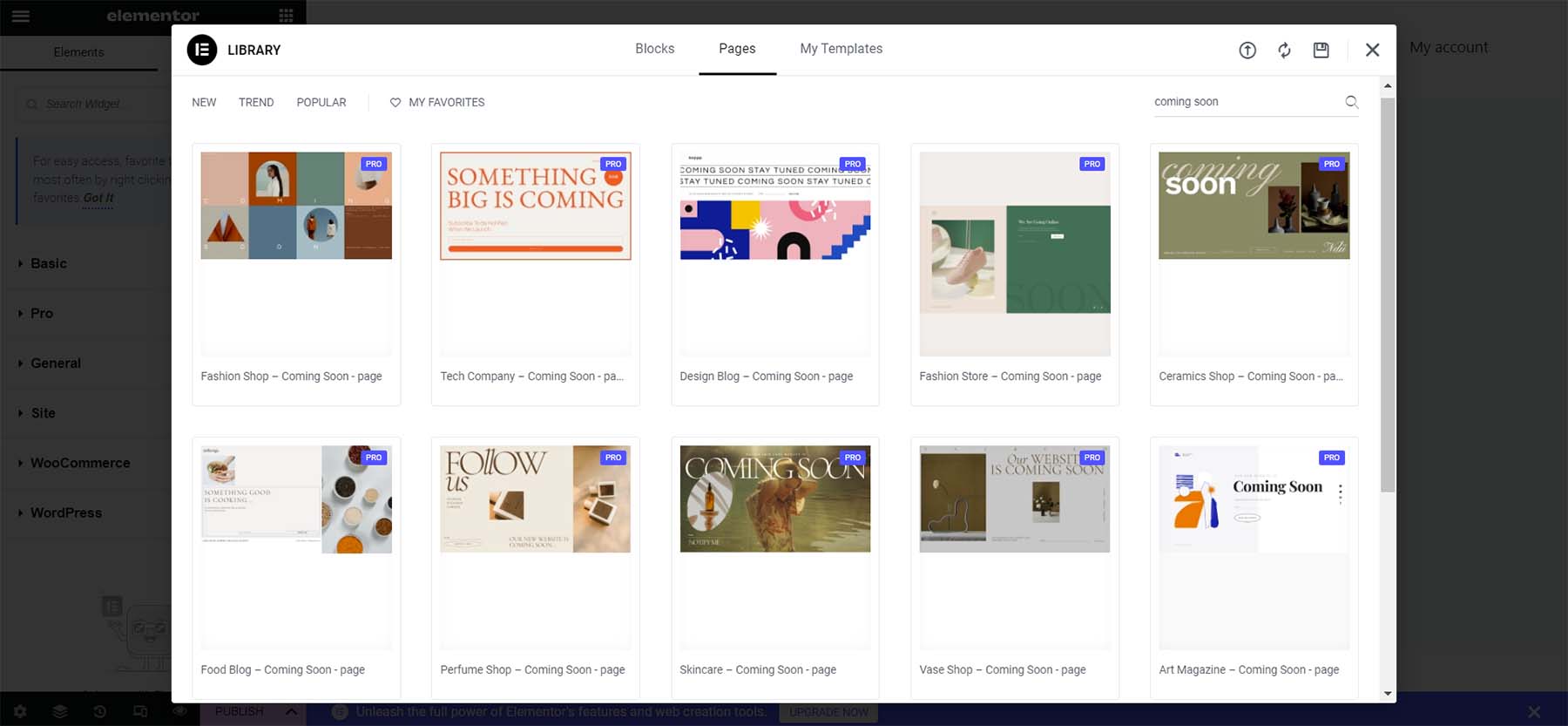 Elementor's library of coming soon page templates is outstanding. With excellent use of animation, typography, and more, their coming soon templates are some of the most creative on our list. The only downside is that all of these templates are available in the pro version of Elementor. Nevertheless, you can create something similar for your project with their solid page builder and deep resource library.
Best for:
Elementor's coming soon templates are best suited for those who want to have highly visual and stylish coming soon pages. Lifestyle brands, bloggers, and creatives will love customizing and using Elementor's templates and making them their own.
Pricing: Free, Paid plans start at $59 per year
8. CMP Saturn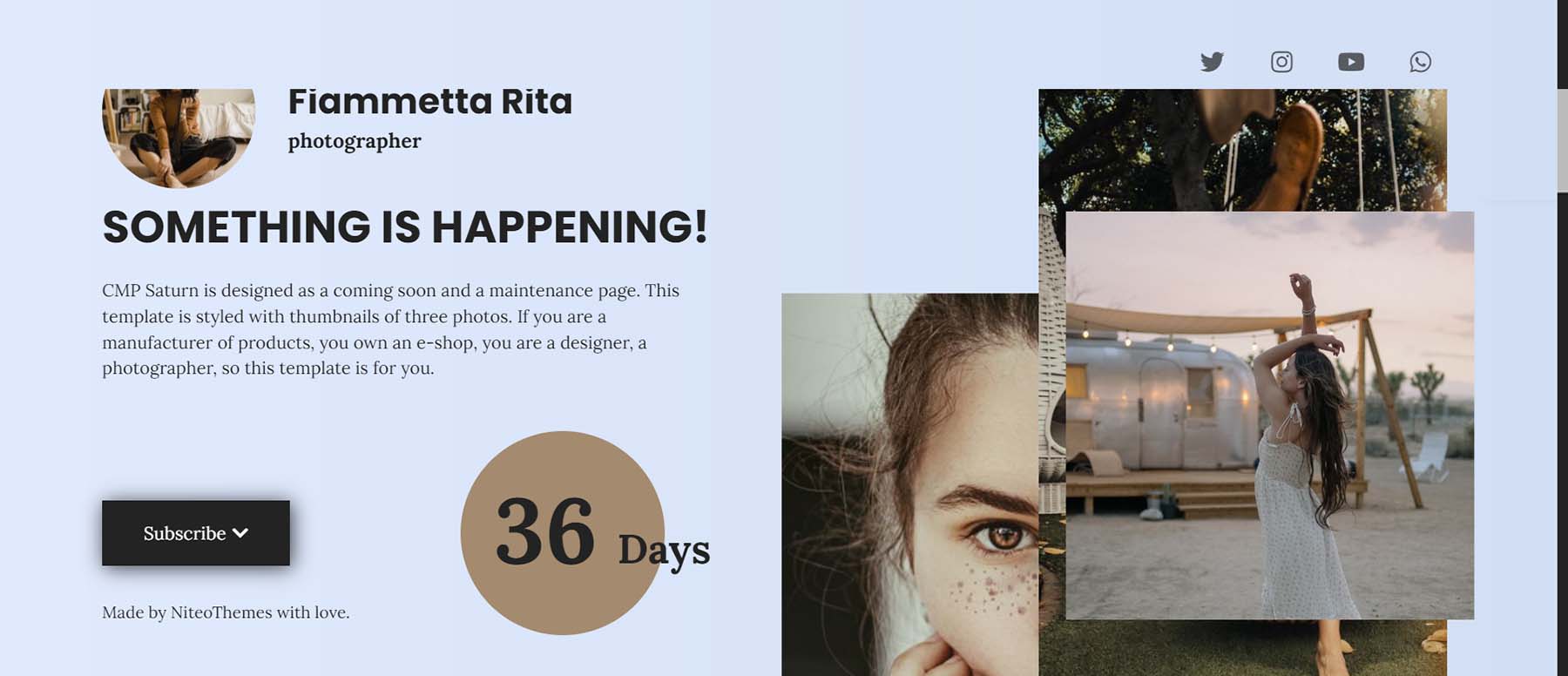 CMP Saturn is another coming soon theme by CMP. This theme is a visually captivating theme that has three photos as its focus. It comes with a uniquely styled countdown timer and is integrated with Mailchimp for your email marketing needs. The mini photo gallery is the main focus of this coming soon theme, so if you have any exciting product shots or photos of your service, it's good to give potential clients a sneak peek into what they can expect when your site goes live. As a theme to the wildly popular coming soon plugin, CMP Saturn enjoys all the benefits of the plugin, including user roles management, custom URL bypass, SEO, and more. For a unique-looking coming soon WordPress theme, use CMP Saturn on your next website build.
Key Features:
Add your custom logo, page title, and static content
Connect your social media account links
Customize with your color palette and a selection of Google Fonts
Customize the background with special effects, videos, color, and photography
Unique countdown timer design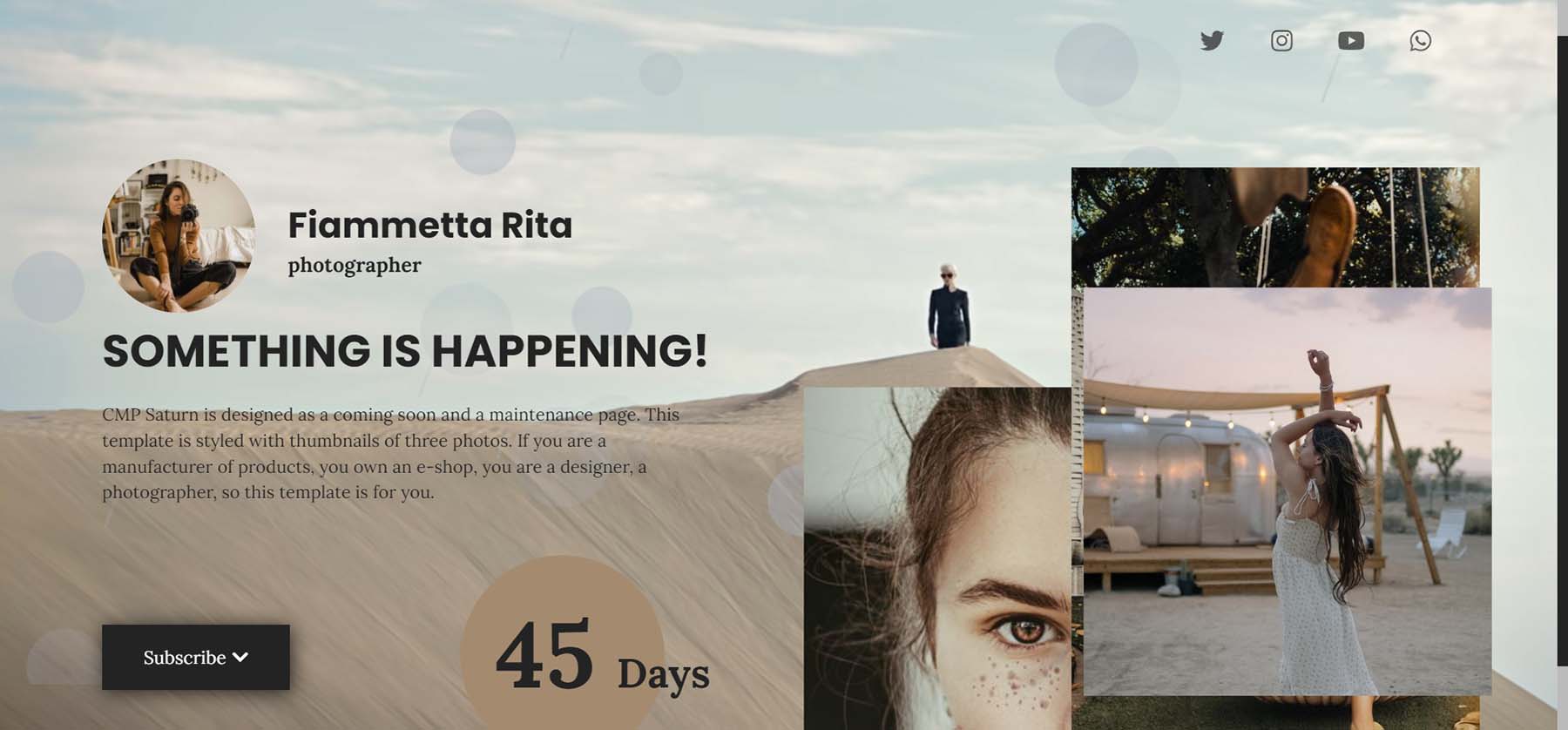 Best for:
If you're looking for an eye-catching coming soon page template to use with CMP, Coming Soon & Maintenance Plugin, use CMP Saturn. Combining the use of animated background with the visual image gallery on the coming soon page makes this WordPress theme a good choice for creatives and online stores who want to build interest in future product launches.
Pricing: $15
9. Innovio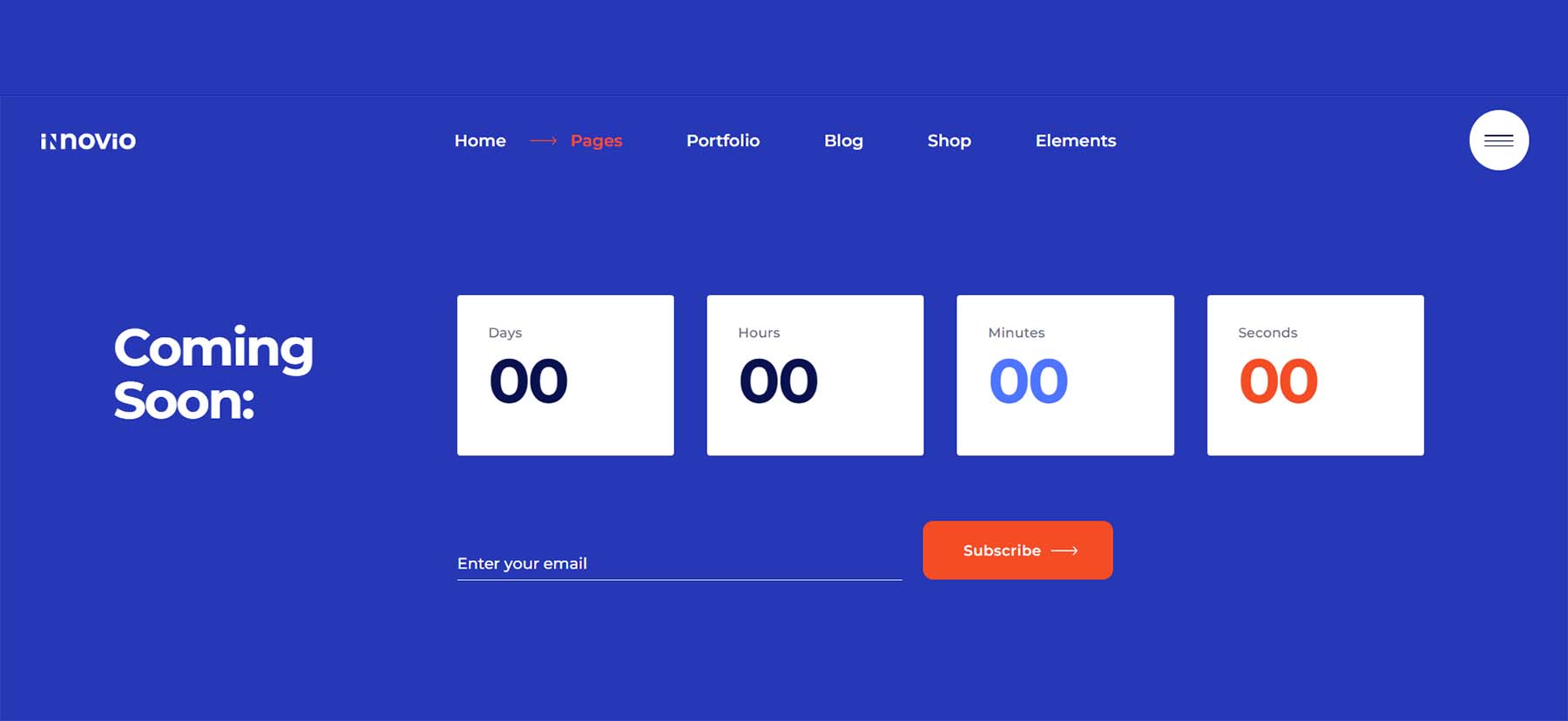 Innovio is a multipurpose landing page WordPress theme that focuses on the needs of startups and software development agencies. Therefore, the theme is packed with everything you'll need to sell your next big idea. Integrated with WP Bakery, easily add various modules to build your perfect coming soon page. Though this theme focuses on landing pages, you have deep integration with WooCommerce and can build beautiful shopping carts. The coming soon page template allows you to use a variety of elements like countdowns, newsletter options, and social media icons and integrations to build anticipation for your site. Additionally, your page can be integrated with SEO tools like Yoast SEO and Google Analytics, so you can track visitors to your site as you prepare to reveal your hard work to the world.
Key Features:
Uses WP Bakery Drag and drop builder
Add and use infographic elements
Newsletter option module
Customizable countdown modules
Compatible with Yoast SEO, AIO SEO, Monster Insights and Rankie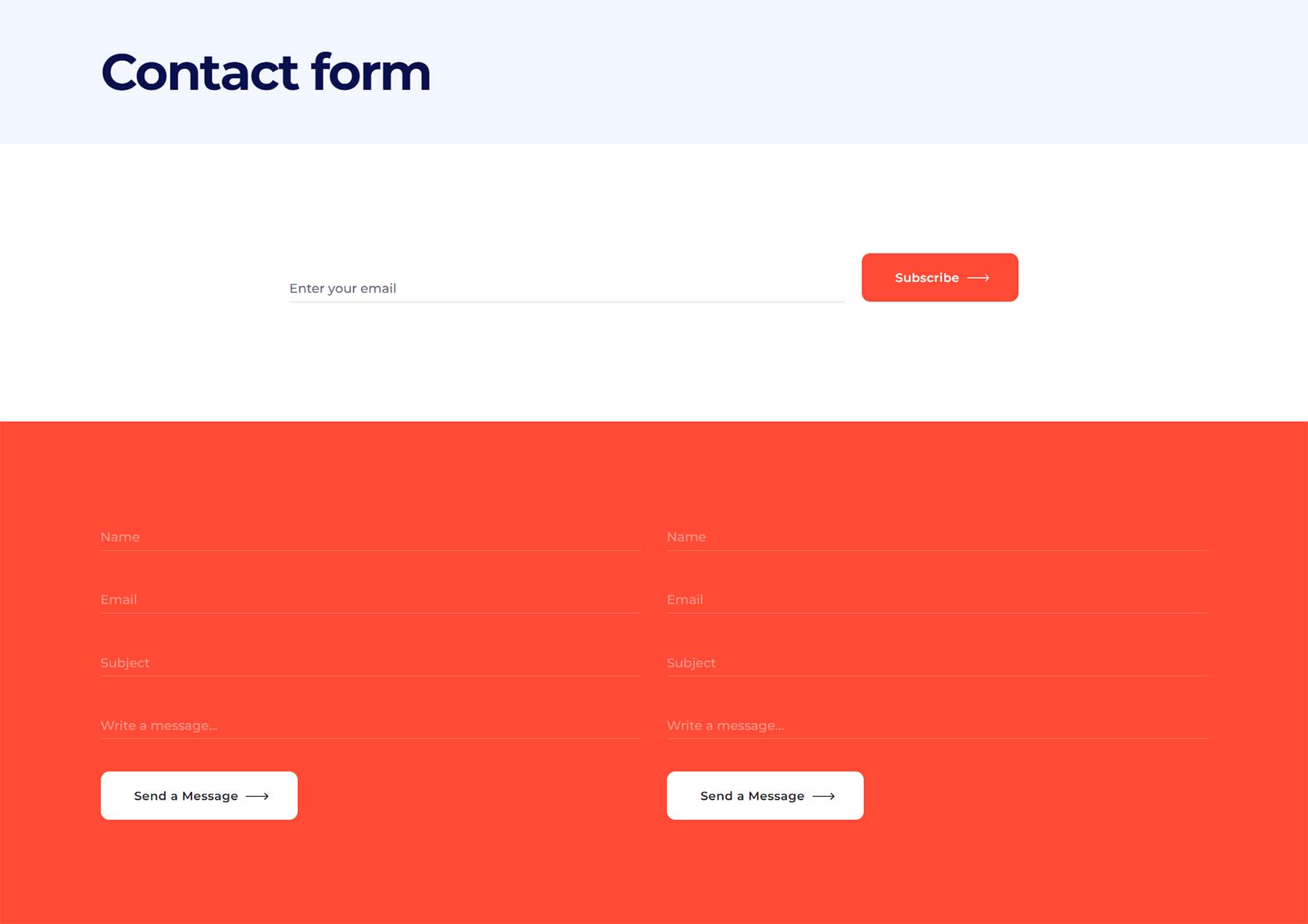 Innovio connects with Contact Form 7 for the forms used throughout the theme. The theme beautifully styles your forms for both light and dark backgrounds. You won't have to worry about unseemly forms for your coming soon pages with Innovio when you combine the flexibility and power of Contact Form 7 with the built-in styling provided by this coming soon theme.
Best for:
As Innovio is a landing page WordPress theme, startups, app developers, coaches, and those with several digital launches will benefit most from using the theme. You can beautifully and efficiently launch your next product using the coming soon and landing page templates provided.
Pricing: $85
10. Gravity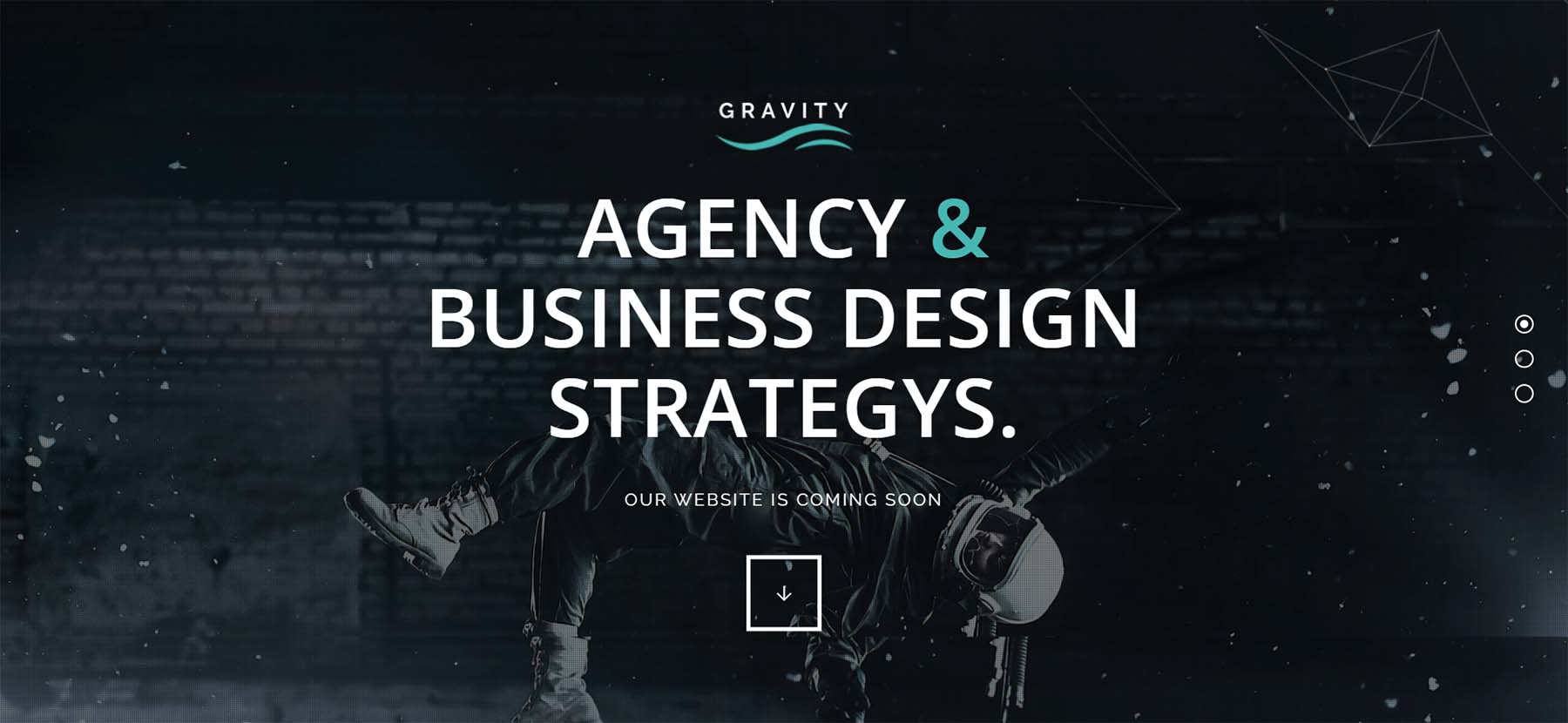 Gravity is a dedicated coming soon WordPress theme. If you're looking for a standalone theme that doesn't rely on a plugin or isn't a page builder, Gravity is one of the best coming soon WordPress themes you can use for your site. It integrates with WP Bakery, bringing the power of its page builder to your coming soon page. Additionally, it integrates with Yellow Pencil Visual Style Editor, a front-end design tool that handles theme options for Gravity. Furthermore, you can use the WordPress Customizer to edit the theme's styling quickly. The theme also comes with a unique three-page design consisting of the main coming soon page, a static content page with an email optin, social links, and a contact form page. You can move through these pages via keyboard, mouse wheel, mouse click, and bullet navigation. When it comes to using a theme with the sole purpose of serving as a coming soon theme, Gravity is the one for you.
Key Features:
Fifteen 1-click demo installations
Integrated with WP Bakery for page-building capabilities
Collect email addresses with Mailchimp
Connect to social media accounts through social media icons
Unique multi-page bullet navigation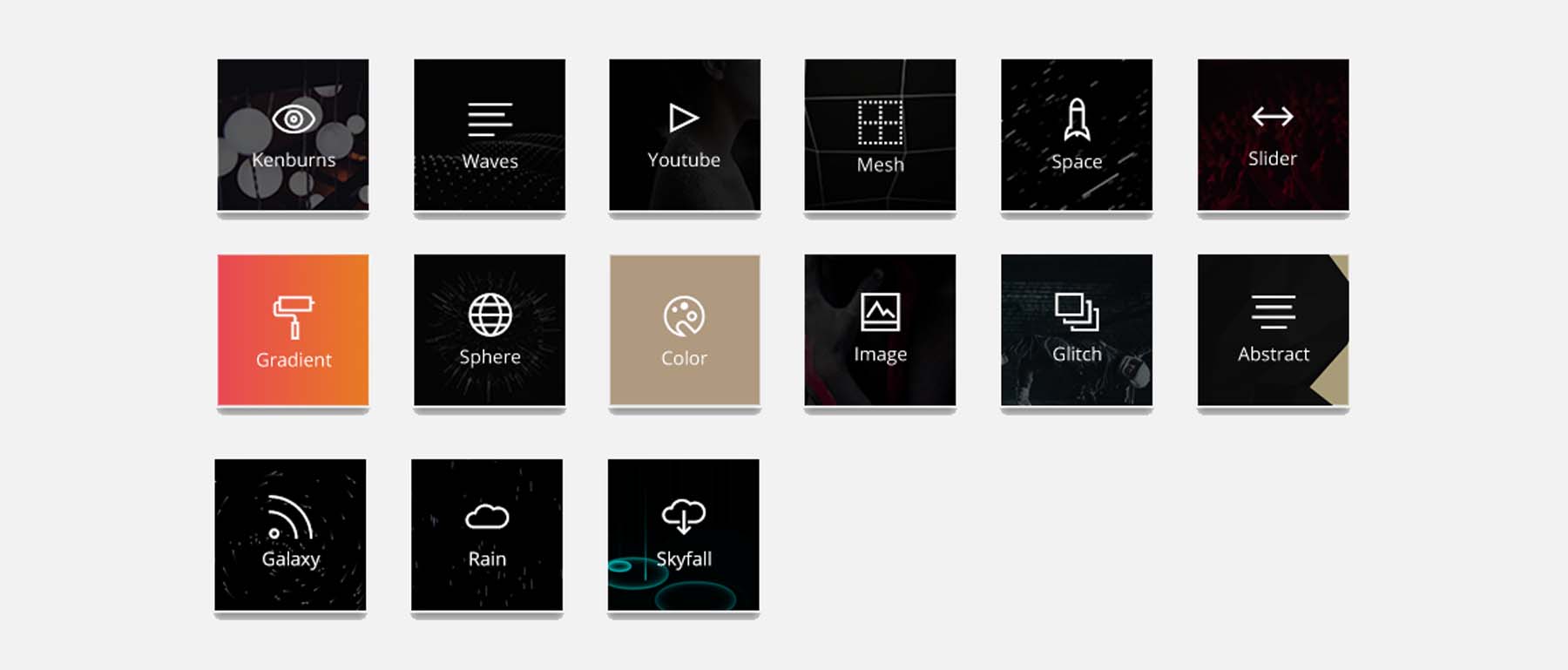 Of all the coming soon themes in our list, Gravity has the most unique background features. Packed with over ten ways to style your page background, enthrall visitors with eye-catching animations as they wait for your website to load. In addition to your standard color and image backgrounds, Gravity allows you to use the Ken Burns effect, YouTube videos, and unique animations to show off your coming soon page to your site viewers.
Best for:
If you are looking for a dedicated coming soon theme, and that's it, Gravity is the theme to use. It is one of the best coming soon WordPress themes for those still looking for their main website theme. Those who want an uncomplicated experience to putting their site in maintenance or coming soon mode will appreciate the ease of use that Gravity brings.
Pricing: $29
What are the Best Coming Soon WordPress Themes?
A coming soon theme will likely be your visitor's first impression of your website and brand before they exist! It's also an excellent way to 'prepare' your visitors for your upcoming website and project and create excitement and anticipation. Here's our ranking f our best coming soon WordPress themes.
In this piece, we've included some of the best coming soon WordPress themes for all businesses, individuals, and users. For example, CMP Nova is a good, solid choice, especially when used with its namesake plugin. However, choosing a multipurpose theme such as Divi will enable you to create your website and display a coming soon page all from one interface. With an Elegant Themes membership, you get access to Divi and many other tools that can help you expand your web design toolkit. Lastly, SeedProd may be more attractive to digital marketers and online entrepreneurs.
Frequently Asked Questions (FAQs)
Before we wrap up, let's answer some of your most common questions regarding the best WordPress coming soon themes. Did we miss one? Leave a question below, and we will respond!
What is the best coming soon theme for WordPress?
With a range of features, including the ability to customize your page, incorporate email opt-ins and integrate with MailChimp, the ability to choose from two different countdown timer layouts and use custom typography to make your page stand out,
CMP Nova
is easily our pick for the best coming-soon theme for WordPress.
What is the best free coming soon theme for WordPress?
The
Qi theme
is a free multipurpose theme with prebuilt templates for coming soon pages. It integrates with Elementor, allows for the creation of custom labels and background colors, as well as other customization, making it our top pick for the best free WordPress coming soon theme.
What is a coming soon page?
A coming soon page is a temporary web page that informs visitors that a website or product is under construction or development and will be available soon. It typically includes a message, a countdown timer, and often an option to sign up for updates or notifications.
What are the benefits of a coming soon page?
A coming soon page creates anticipation for a new product or service, allows for lead generation, and provides a platform for social media promotion. It also helps to establish a brand image and can provide valuable feedback from potential customers before launch.
Which WordPress coming soon theme has a lead capture system?
Lead capture helps you stay connected to those interested in your upcoming website, product, or service. Several themes come equipped with lead collection systems, including
CMP Nova
,
Divi
,
SeedProd
,
Thrive Architect
, and
CMP Saturn
.
Which WordPress coming theme has a drag-and-drop builder?
What is the difference between a coming soon page and a maintenance page?
A coming soon page generates excitement for a future launch, while a maintenance page is displayed when a website is undergoing updates or repairs and is not accessible to visitors. The former provides a teaser of what's to come, while the latter informs visitors of the temporary unavailability of the site.
Why should I create a coming soon page?
Creating a coming soon page under 60 words helps to convey a clear and concise message to visitors, generating interest and excitement about your upcoming project or product without overwhelming them with too much information. It also encourages them to sign up for updates, which can help you build a strong email list and gather valuable feedback before your launch.
How do I prevent spam on my coming soon page?
To prevent spam on your coming soon page, you can use a CAPTCHA verification system, limit the number of form submissions per IP address, and enable email confirmation for each submission. Consider using a spam filter plugin or service like
Akismet
to detect and block suspicious submissions automatically.
Does a coming soon page affect SEO?
A coming soon page can affect SEO depending on how it is implemented and how long it remains in place. The page's relevant keywords and meta tags can positively contribute to SEO; however, if the page remains in place for an extended period without any updates or changes, it can negatively impact SEO, as search engines may view it as a lack of content or relevance.
Are you looking for more theme reviews? Check out our picks for the best WordPress themes.
Article thumbnail image: howcolour / shutterstock.com.