The internet is becoming an increasingly visual medium. Eye-catching imagery is an essential component of almost any online content, and editing your images is a vital step before displaying them online. However, although Adobe Photoshop is often mentioned as the go-to solution, with so many alternatives available at different price points, it could be hard to choose the right one for your needs.
In this post, we'll give you a head start. We've shortlisted ten of the best photo editor apps across a range of budgets and platforms. By the end of the piece, you'll be full informed as to which Photoshop alternative is right for you. Let's get started!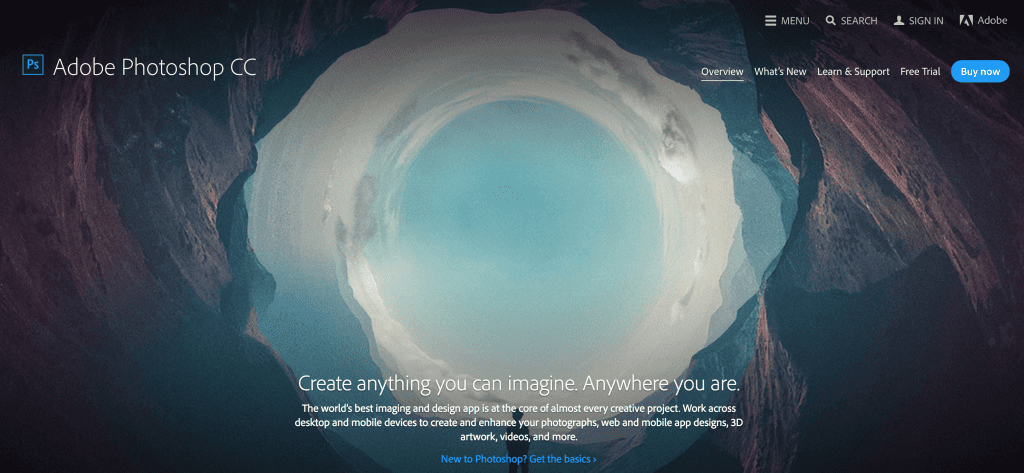 Adobe Photoshop has long been the gold standard in photo editing. We've even published several tutorials on using Photoshop, including one on improving your visual assets for use in Divi and a list of our favourite online tutorials. It's undoubtedly one of the most feature-rich photo editing tools available, and also has an active developer community regularly publishing plugins adding more functionality.
However, Photoshop is one of the more expensive photo editing suites, placing it well beyond the budget of many users. Because of this, many will search for alternatives that can offer the same functionality, but at a much lower price point.
Key Features:
Offers in-app search.
Provides customizable workspaces.
Supports for SVG OpenType fonts.
Includes font matching and facial feature adjustment.
Supports 3D printing.
Platforms:
Price: $19.99 per month  | More Information
Although Photoshop is the most popular photo editing suite among the design community, it's not for everyone. We've curated a list of ten alternatives, based on price, functionality, support, and community reviews. The following list is in no particular order, and your ideal solution could be below!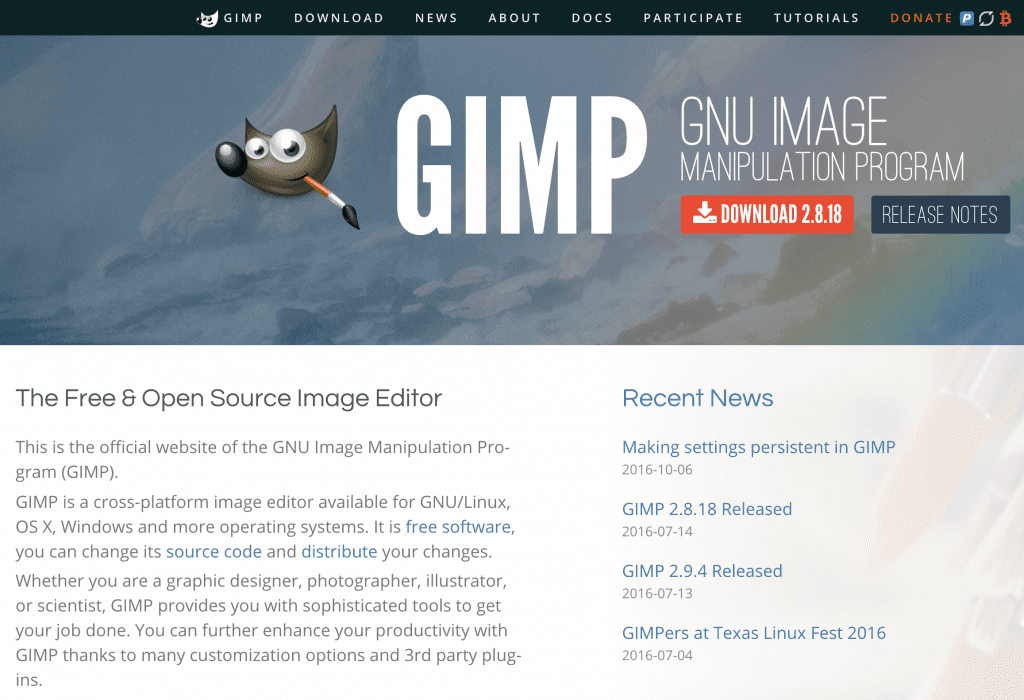 The GNU Image Manipulation Program (or GIMP) is the most popular free alternative to Photoshop. It's open-source, and constantly being improved upon by a large and highly active community of supporters.
GIMP offers high-quality photo manipulation, elements of graphic design, and almost everything you need to edit your images. Users with more advanced needs can take advantage of its support for programming algorithms, enabling you to use scripts to manipulate images. There's also a huge Plugin Registry to extend the software further.
Key Features:
Offers customizable interface layouts.
Includes perspective transformation.
Provides on-canvas text editing.
Supports programming algorithms.
Platforms:
Price: FREE | More Information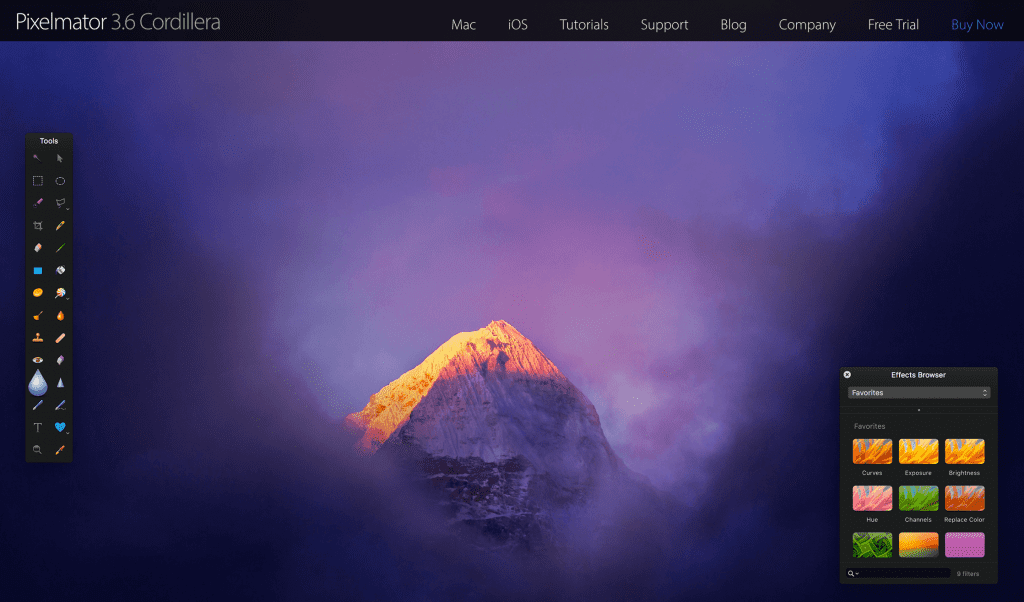 Pixelmator is a popular image-editing app for Mac only. While not quite as feature-rich as Photoshop, its ease of use makes it a worthy contender.
It's especially suitable for casual image editing, whether you want to add text overlays, adjust the contrast and brightness, or perform various other tweaks. The app also takes advantage of OpenGL and Core Image technologies to provide optimal performance when using your graphics card.
Key Features:
Provides tab-based window management
Includes touch bar optimization
Offers a number of tools including move, rotate, and distort.
Provides pixel-accurate selection tools.
Supports vector graphics.
Platforms:
Price: $29.99 | More Information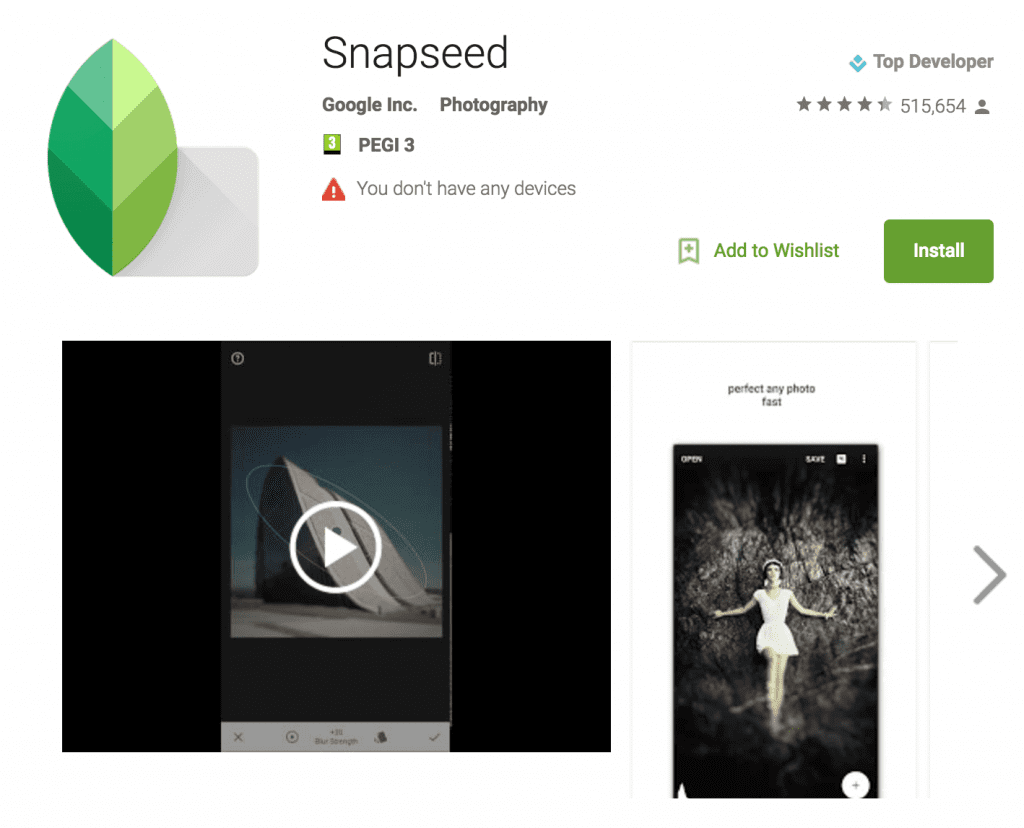 A lot of mobile photo editing apps leave something to be desired. Snapseed is a welcome exception, being aimed at more demanding photographers who need access to basic tools while on the move.
The app relies heavily on gestures to select and control a range of filters and other tools, and is ideal for casual photo enhancement – especially for social media users. It sports a minimal learning curve, and regular updates often add further functionality.
Key Features:
Supports JPG and PNG files.
Offers a selective filter brush and white balancing.
Provides gesture control.
Includes over 25 tools and filters.
Platforms:
Price: FREE | More Information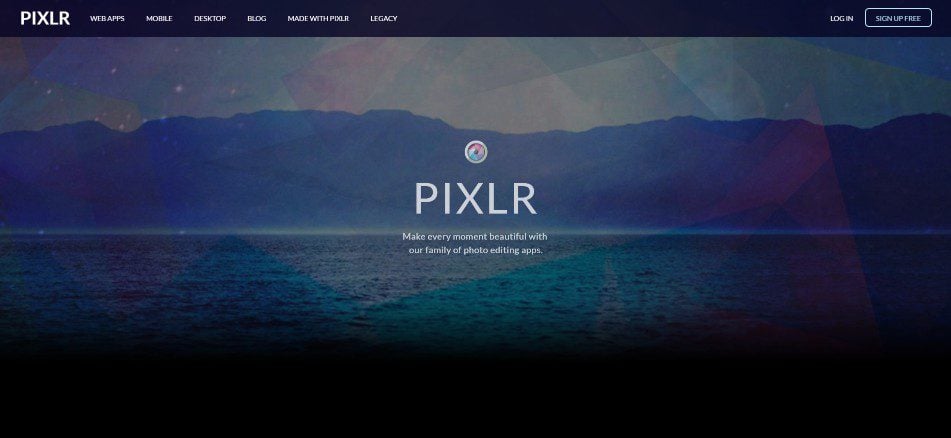 Autodesk Pixlr is designed with cross-platform compatibility in mind. A primarily cloud-based solution, Pixlr enables users to edit images from either desktop or mobile devices.
It sports a minimalist interface to keep the learning curve low, and provides only a few primary menus, which are represented by large buttons. From here, you can choose from a range of filters and effects simply by selecting the appropriate preview.
Key Features:
Enables you to blend between two images
Offers over 2 million possible effect combinations.
Provides photo collage options.
Includes 'selfie' optimization.
Platforms:
Online.
iOS.
Android.
Windows.
Mac OS.
Price: FREE (in-app purchases and subscriptions available) | More Information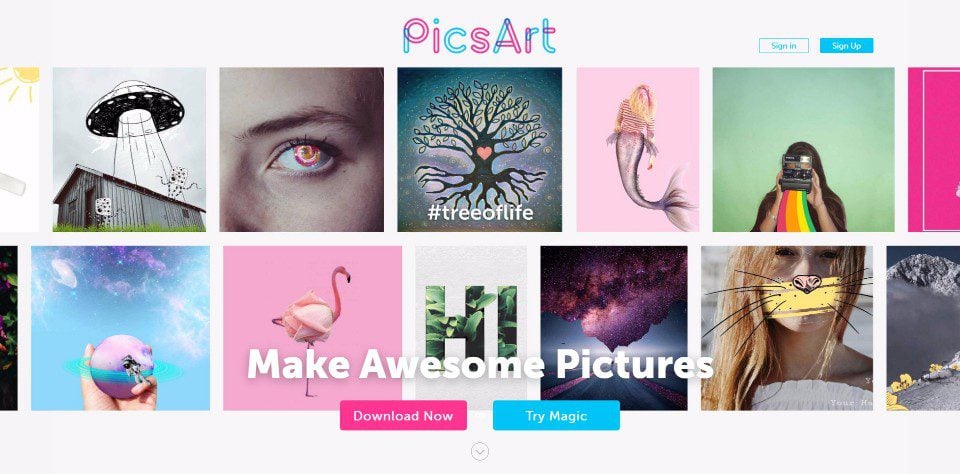 PicsArt is a powerful photo editor app designed for mobile use, though it's also available through the Microsoft Store. It provides a wide range of filters and image-editing tools, including entertaining options such as artistic text effects and stickers.
There's a camera function included too, so you can take photos without having to leave the app. PicsArt is best suited for avid social media users, owing in part to its built-in sharing options.
Key Features:
Enables you to create memes and photo collages.
Provides access to clipart bundles, backgrounds, and fonts.
Offers a 'double exposure' feature.
Includes illustration and drawing tools.
Provides weekly tutorials to users.
Platforms:
Price: FREE (ad-free version available for $5.95) | More Information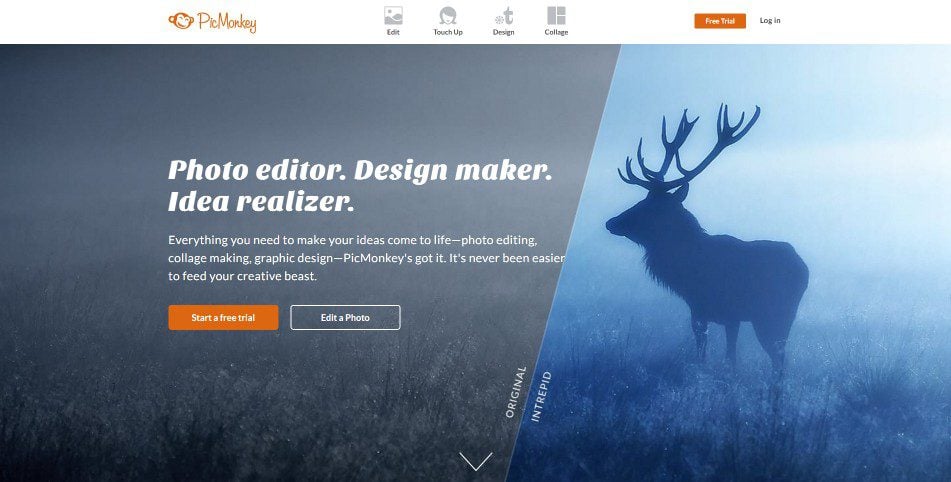 Keeping in line with the growing shift towards cloud computing, PicMonkey is an entirely web-based photo editing app. Simply upload your photo through the website, and you'll be able to begin editing. It's an extremely simple tool to use, enabling you to perform basic edits and apply special effects with ease. You can also mash multiple pictures together to create a collage, or start from scratch using the design mode.
Key Features:
Provides four editing modes.
Offers app-exclusive special effects.
Includes touch-up tools and premium fonts
Includes designer-made templates.
Platforms:
Price: FREE | More Information
VSCO is a powerful photo editing and camera app for mobile devices. Its minimalist interface might look a little unintuitive at first, but it follows the 'less is more' mantra by focusing on a small selection of professional-grade features. There's a simple side panel that provides instant access to a grid, journal, store and library, with a button that takes you straight to the camera.
The app includes many special effects presets, and though they're not very intuitively named, the buttons do feature thumbnail previews for each one.
Key Features:
Provides advanced camera controls.
Offers social media integration.
Supports RAW images.
Includes a perspective modifier.
Enables you to share your images via the VSCO community.
Platforms:
Price: FREE (with in-app purchases) | More Information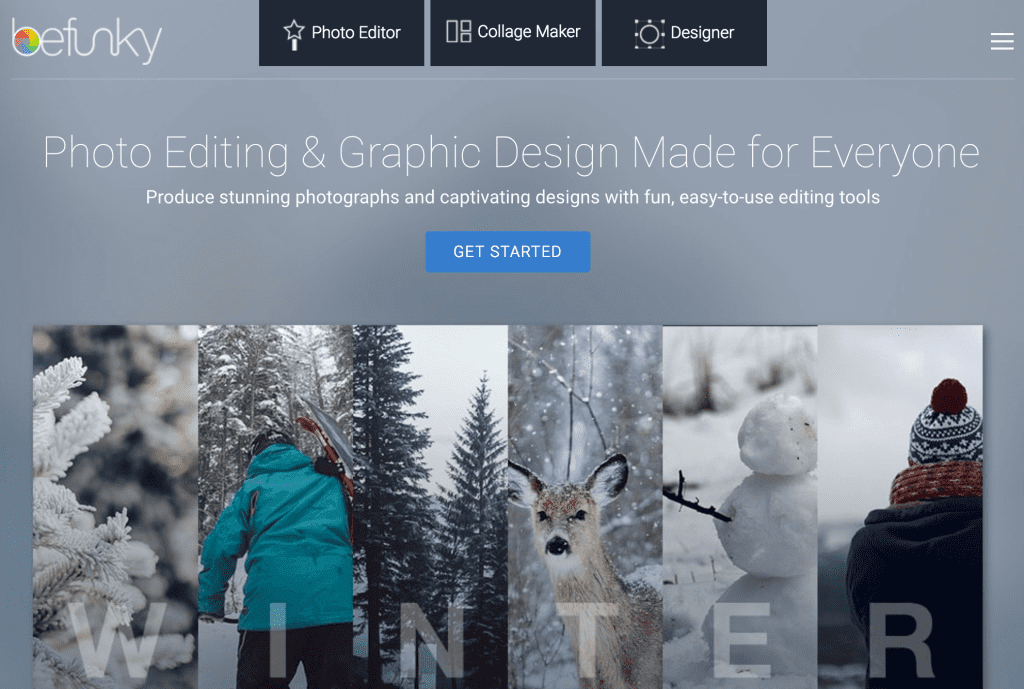 Another popular Web-based photo editor app, BeFunky is ideal for Instagram users and other social media enthusiasts owing to its portability. The latest version features a revamped photo editor and a user-friendly pull-out menu, and you can upload photos from almost anywhere before adding and modifying the in-built effects.
By upgrading to the premium version, users can gain access to over 100 additional special effects and filters.
Key Features:
Offers special photo effects.
Includes designer templates.
Provides a full screen work space.
Includes premium frames and graphics.
Offers high-resolution support (up to 4,000 pixels square).
Platforms:
Price: FREE | More Information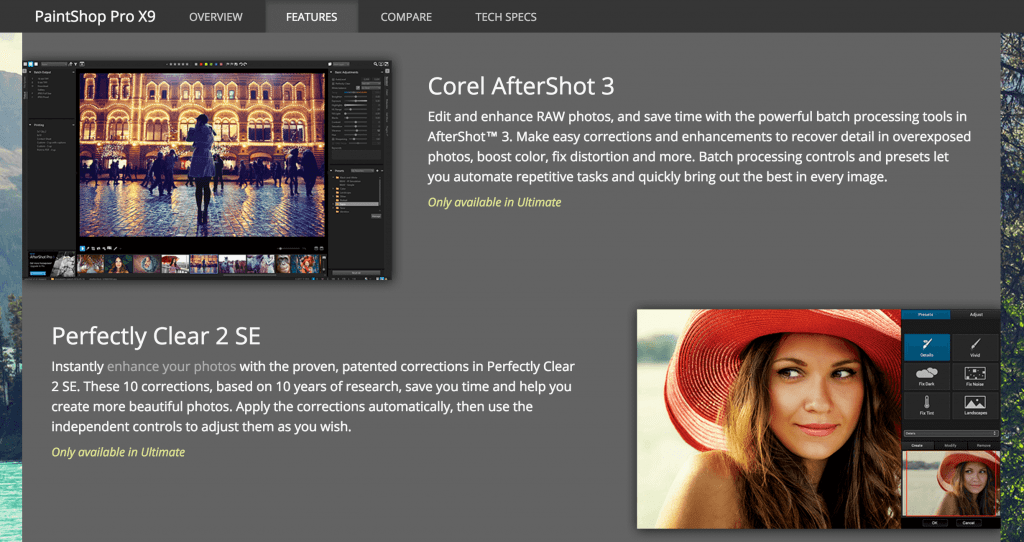 Despite being a shadow of its former self in terms of popularity, PaintShop Pro has over 25 years of history. In terms of features, it's a close contender to Adobe Photoshop.
It supports both raster and vector image formats, although it's primarily targeted towards the former. PaintShop Pro is a professional-grade photo editing suite providing a wide range of editing and selection tools, special effects, and filters. Finally, it also supports a huge variety of file types – including its own PSP format.
Key Features:
Offers both raster and vector support.
Includes layered editing.
Offers RAW image support.
Provides a lens correction feature.
Supports 4K resolutions.
Includes photo mapping.
Offers batch processing.
Platforms:
Price: Approximately $66 | More Information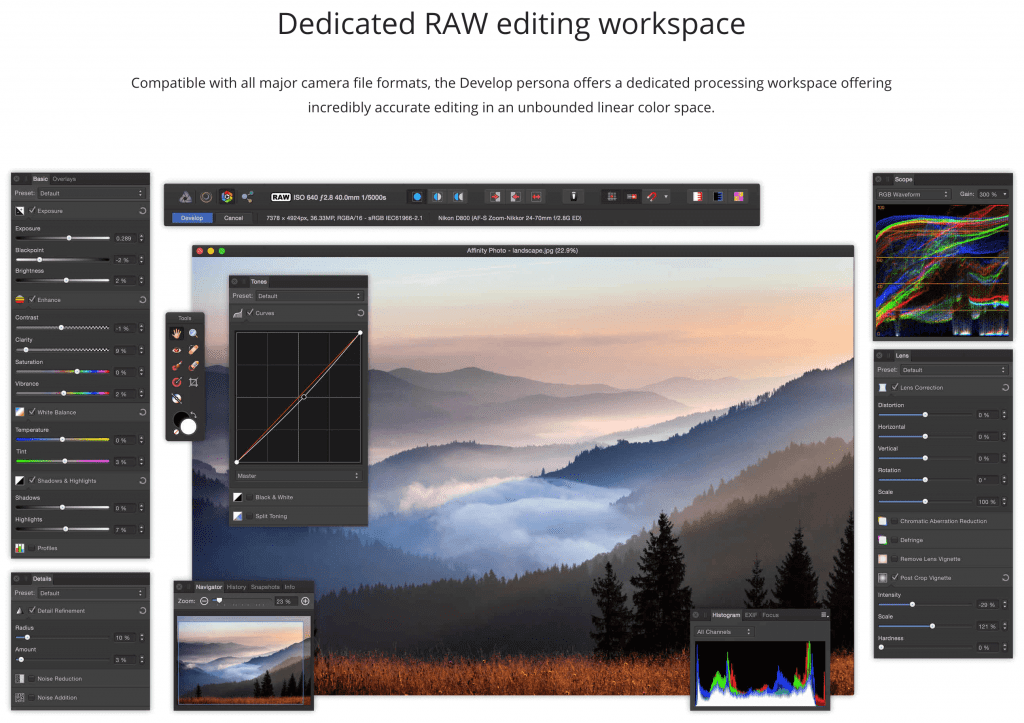 Affinity Photo is the new kid on the block, and features an expansive set of customizable tools, instant previews, and live editing. Designed with professional users in mind, it sports a unique workspace that's divided into dedicated sections for performing different tasks.
One of the app's most powerful features is its Photo persona workspace. This enables users to make alterations to any photo using layers, rather than modifying the original image.
Key Features:
Supports RAW image editing.
Provides extensive file compatibility.
Enables 360° photo editing.
Includes vector support, batch processing, and layered editing
Platforms:
Price: | More Information
Conclusion
Finding the best photo editor app for your needs can be a tiresome process. The merry-go-round of finding the perfect solution to match your budget, platform, and needs can soon see you scurrying back to the warm embrace of Adobe Photoshop.
That's not to say Photoshop is an undesirable piece of software. It has powerful functionality, and is developed by a leader in the field. However, cheaper alternatives (such as Corel PaintShop Pro) are just as good, if not better for some users.
Nonetheless, mobile applications such as Snapseed or PicsArt are easy to use, and tend to present a better choice for casual users and social media enthusiasts. Those prioritizing accessibility (albeit at the expense of features and functionality) may be happy with a cloud-based solution such as BeFunky or PicMonkey.
Do you have any experiences with our choice of photo editor apps? Subscribe and share your thoughts with us in the comments section below!
Article thumbnail image by SVIATLANA SHEINA / shutterstock.com.