With the addition of media library PDF previews to WordPress 4.7, PDFs got a small nod from the creators of our favorite CMS. But the fact remains that WordPress still doesn't give you very many options for working with PDFs. Uploading them to the media library is simple enough, but after that, you're pretty much on your own.
To remedy that, I'll discuss some of the ways in which you can use plugins and third-party tools to embed and share PDFs on your WordPress site.
Why Do You Need WordPress PDFs?
There are a few situations in which you might find yourself needing to integrate PDFs into WordPress.
Let's start at the beginning: embedding PDFs into WordPress. While blog posts are certainly popular, there's still a great deal of information that's only available in PDF form. For example, if you deal with data and statistics, you'll often run into tables and graphs that are only available as part of a PDF.
If you have the rights to do so, embedding those PDFs is a great way to make the same data available to all of your readers.
Beyond embedding, you may run into situations where you want to distribute content via PDF. This could be PDF versions of your own posts, a unique PDF that isn't available anywhere else, or someone else's PDF (again, only with the proper licensing!).
I'll cover a few different ways in which you can distribute WordPress PDF content.
Let's get into it…
How to Embed PDFs in WordPress
To embed a PDF in WordPress, you can use one of two methods:
Install a plugin
Upload the PDF to a third-party service like Scribd and copy the embed code (or use the Scribd embed block for WordPress)
I prefer the first option because it's not reliant on an external service, but I'll cover both just in case you don't want to use a plugin.
Embed WordPress PDFs with PDF Embedder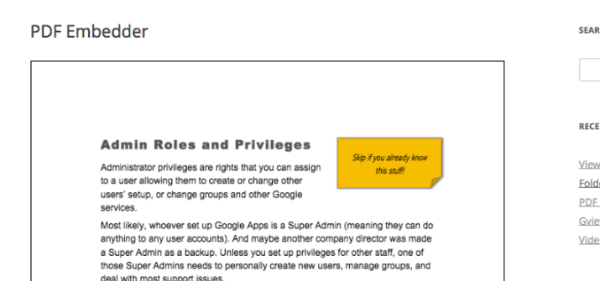 If you opt to go the plugin route, you can use a free plugin called PDF Embedder. PDF Embedder uses a JavaScript-only method (no iFrames!) to embed responsive PDFs in your site.
With it installed, you can insert embedded PDFs into your posts from your WordPress Media Library. The process is essentially identical to inserting an image. Or, you can also use a simple shortcode.
In the plugin's settings, you can customize the default dimensions for embedded PDFs. Or, you can allow embedded PDFs to fill the viewable area.
If your PDF has multiple pages, users can navigate with forward and back buttons.
PDF Embedder is simple to use and has a 4.8-star rating on over 70,000 active installs, making it by far the most popular option.
Price: Free (Has Premium Version) | More Information
Embed WordPress PDFs with Scribd
Among other uses, Scribd is a popular service for housing PDF documents. You can use it to store your own PDF documents or embed documents that already exist on Scribd.
It's simple to use – all you need to do is find the Embed option on the page of any Scribd-hosted PDF file.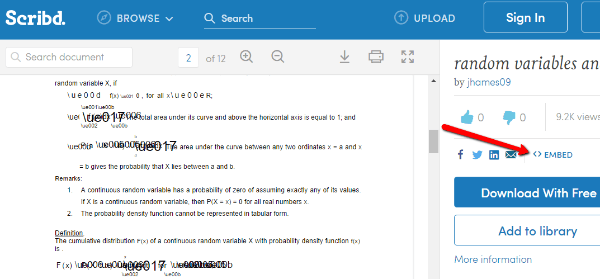 Then, copy and paste the embed code into the Text tab of your WordPress Editor. If you're using the Divi Builder, you can add it to a < code > module.
Note: while Scribd does include an embed option for WordPress, you do not want that. Choose the HTML option. The WordPress option only works for WordPress.com sites.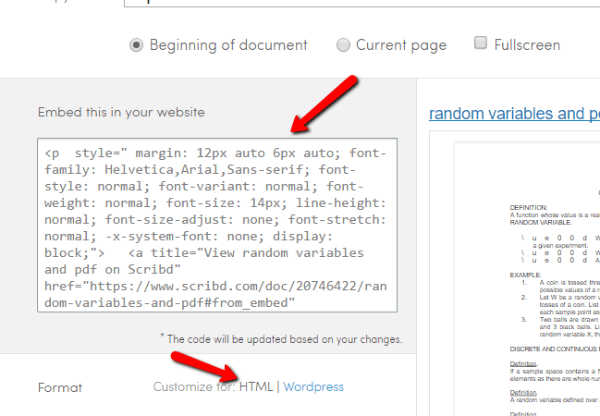 While I'm sure your visitors love reading your content on your actual website, there are times when they might want to download a copy for offline usage.
For example, maybe they want to:
Read your post when they don't have an Internet connection.
Download a printer-friendly version of your post.
Personally, if I find an especially helpful post, I like to save an offline version so that I'll always have a copy in case the website goes offline at some point in the future.
To help such readers, you can add a "Download as PDF" button to all of your posts and pages. While some browsers already have a "Save as PDF" option, the difference is that a dedicated button allows readers to download only the body of your post.
I'll give you two plugins to help you accomplish this:
DK PDF

DK PDF adds a "Download as PDF" button to your posts. It also gives you some control over how your downloaded PDFs display. For instance, you can customize PDF's by:
Adding a custom header/footer
Including your logo
Styling with custom CSS
Choosing font sizes and margins
DK PDF is free and works with posts, pages, and even custom post types.
Price: Free | More Information
PDF & Print by BestWebSoft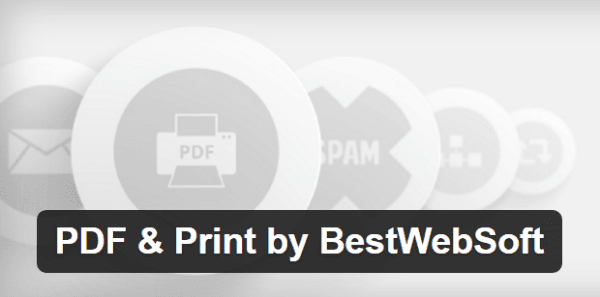 As the name suggests, PDF & Print adds both a "Download as PDF" button and a "Print" button to your WordPress posts.
You can add buttons to your posts, pages, archives, and custom post types. You can also choose where on the page your buttons display.
It lets you customize some styling for your PDFs, but if you want to add a custom logo and header/footer, you'll need to opt for the pro version.
For that reason, I prefer DK PDF.
Price: Free (With Premium Version) | More Information
How to Turn Your Content Into a PDF eBook
If you want to go beyond creating downloadable PDFs for individual posts, you can also turn your entire WordPress content library into a PDF in order to create an eBook.
I won't go too deep into this topic because Joe just wrote a great post about turning WordPress content into an eBook. If you're interested in this use, give his post a read.
How to Create a Lead Magnet to Grow Your Email List
Lead magnets are essentially incentives offered to readers in exchange for opting in to your email list. Downloadable PDFs are one of the most common ways to create a lead magnet.
Just like with creating eBooks, if you're interested in learning more about lead magnets, I'll send you over to Joe's list magnet post, rather than covering well-worn ground here.
Wrapping Things Up
Whether you're embedding or sharing, I hope you gained a little insight into how you can handle PDFs better with WordPress.
I'd love to hear how you all implement PDFs into WordPress. I personally only use them for lead magnets, but it would be great to get some ideas for other uses.
Article thumbnail image by AF studio / shutterstock.com