Events are everywhere. I mean, think about it. Many companies like to host events. And the web is a great way to allow people to sign up for these events. But to do this, you need to build an event registration system.
Building a system to allow users to sign up for the events can be tricky and expensive, but WordPress has many tools to help you do this. Allowing your visitors to register for your events can be easy if you have the right aforementioned tools at your disposal.
What the System Should Do
If you've ever held an event, then you're already familiar with what all is involved to get your site visitors to sign up. If not, then you should start by understanding what the system needs to do.
What do we need an event registration system to do? What is involved? Here is a list of features that you will need your system to provide.
The Event's Description
The system should give information about the event. This would be a detailed description that includes all of the basic information:
Topic
Date and Time
Venue
Speakers
Price
Map
It should provide a map of the event's location and recommended hotels and accommodations in the area. Integration with Google Maps is a plus here.
Taxonomy
This includes tags and categories for the event. This lets you separate your events from each other if they're on different topics. For example, you might have an event for improving social media networking for business, another for getting started with WordPress, and another for plugin design. Keeping them separate by using tags and categories makes them easier to find and keeps them from blending with your regular content.
Registration Form
The primary point of this topic is handling the registration for the event. The best way to do this is by using a system that provides a form. The form should be clearly labeled and capture all the needed information from the customer. The basics include:
Name
Address
Date attending (if multiple dates)
Email address
Payment
Payments
This should include payment methods and handle coupons. It should have multiple payment methods so people can pay with credit cards, through PayPal, or through some other payment gateway.
Email
Your customers want to receive a confirmation email that their registration was complete. A good system would even send them reminders of the event. You could even have the system subscribe them to your newsletter automatically.
Management
There should be methods to manage the events. You should be able to create them, edit them, copy them, delete them, etc. It should also let you create and manage multiple events.
You should be able to control the number of people that can register as well. For example, you don't want your registration form to continue to allow customers to register for the event after the venue has reached its limit.
Building an Event Registration System in WordPress
You can build an events registration system just by using the tools that are built into WordPress. If you want to expand on this functionality, you can add a couple of plugins that will save you some time and get you a nice looking result. We'll be focusing on a few specific plugins in this post, but if you are looking for more options then check out our list of the best WordPress events plugins as well as our list of the best booking plugins. There are lot of great ones to choose from!
Pages and Posts
You can use pages or posts to handle the event registration. Create a category specific for the event. This will keep the event separate from your other content. You could write all of the information in the post and maybe use a map plugin to show directions. Maps can be created with a Google Maps plugin such as WP Google Maps. Using posts or pages to handle the event registration allows you to keep it simple or to get as detailed as you want to be.
Sign Up
You can use the built in WordPress registration feature to allow users to sign up. The post could use a signup form, such as Gravity Forms or you could use a newsletter system such as MailChimp. Using MailChimp, you could create a newsletter and sign-up form just for this event. Another option is to use a plugin that provides a sign up form to capture emails manually.
Another way to handle sign up is through the commenting system. This would not work if you wanted to keep a certain level of privacy and it would be difficult to send any kind of email confirmation or reminders because they would be done manually. But for an event with only a few attendees, this would work just fine.
Payments
You can use PayPal to collect payments for the event. PayPal will provide a code snippet that will take your visitors to PayPal to complete the transaction.
Thoughts and Possible Concerns
This will work for a small event if you just want to get something posted. The more features you want to add, the more difficult it will be and the longer it will take.
There are a few problems you might run into as well. For one, you might need to install several different plugins to handle different features, such as forms, email, maps, etc., and they all have their own settings and features to set up. All of their features are separate from each other. This means that you will have to handle multiple screens for options.
For another, you will have to manage everything manually. For example, you will have to keep a count on the number of attendees and manually close the sign up feature when the limit is reached.
Possibly the most difficult problem would be handling multiple events and creating new events. You might have to start from scratch and this can be time-consuming. For example, if you're using MailChimp to create a newsletter sign up for the event, you will have to create a new newsletter and sign up form for each event.
The Ideal System
The ideal system then would let you handle everything from a single dashboard, integrate all of the features together, accept multiple payment methods, include sign up forms that are created from the information about the event, include maps, allow you to manage multiple events at once, and allow you to copy and reuse the event's information. Thankfully, there are several plugins that perform these tasks. Let's take a look.
Complete Solutions
Using a plugin to manage event registration is a great way to save time and money. Rather than using individual plugins that were not made to work as a single unit, you can use a complete system that would help you manage the event. Let's look at a few complete systems.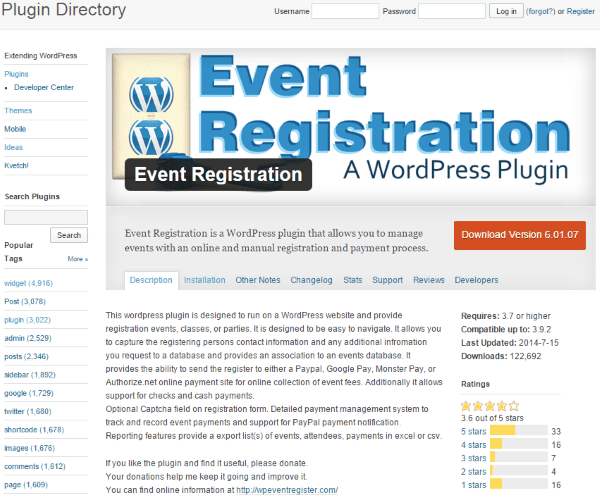 This plugin allows you to provide and manage event registration for any type of event. You can capture contact information, or any other kind of information you want, and it's automatically placed into an events database. You can send the registrar to an online payment site such as PayPal, Google Pay, MonsterPay, Authorize.net, etc., as well as take payment by check or cash. A payment management system tracks and records the payments and it has support for PayPal payment notification.
It has reports that provides lists for events, attendees, and payments. The reports can be downloaded as Excel or CSV files. It includes a captcha field in the registration form that you can use if you want. The plugin is free. They do ask for a donation if you like the plugin and find it useful, however.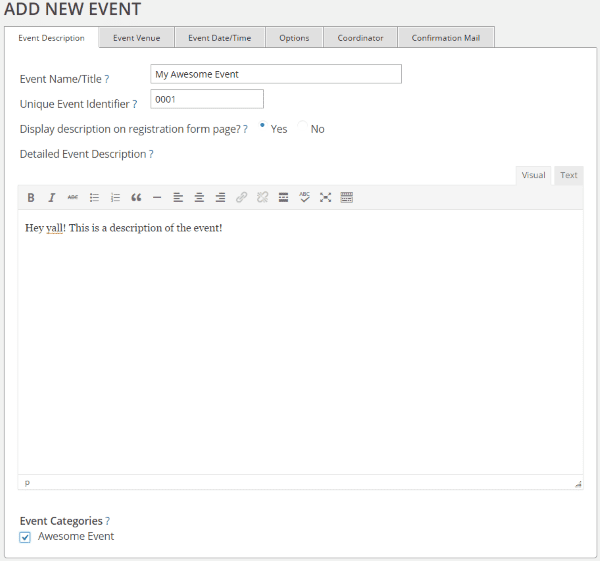 There are a lot of settings to go through once you get it installed. Events are easy to create and manage. First create a category for the event, then click on events to add a new event. You then go through the tabs filling out the details. Tabs include:
Description
Venue
Date / Time
Options
Coordinator (requires $20 add-on module)
Confirmation Mail
Once you've created the event and submitted it, you go back to the event management screen where you can see a list of all your events. This list includes a shortcode for each event. You can paste that shortcode into your content to create the signup form.
The event management screen also lets you see the basic info such as date, name, status, and number of attendees. You can manage the fees, answer questions, edit, copy, or delete.
I like that you don't have to create a new event from scratch. Once you have an event created you can copy it and make modifications to the new one (in case you want to change the date, venue, etc.).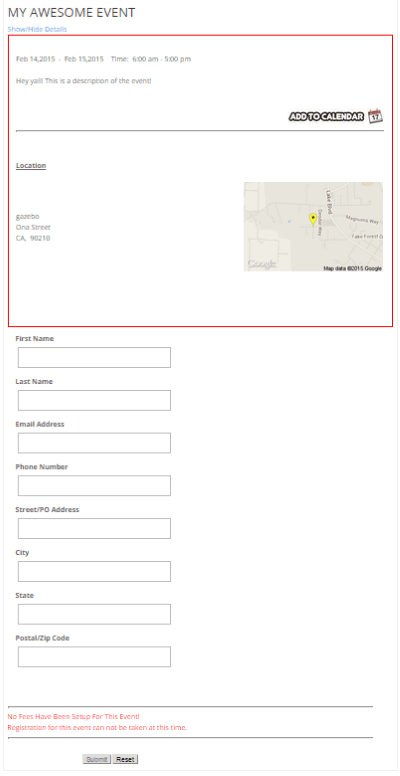 I found this plugin to be very easy to use and the forms look great. It provides the attendee with a button so they can add the event to their calendar and it gives them a map that shows the location.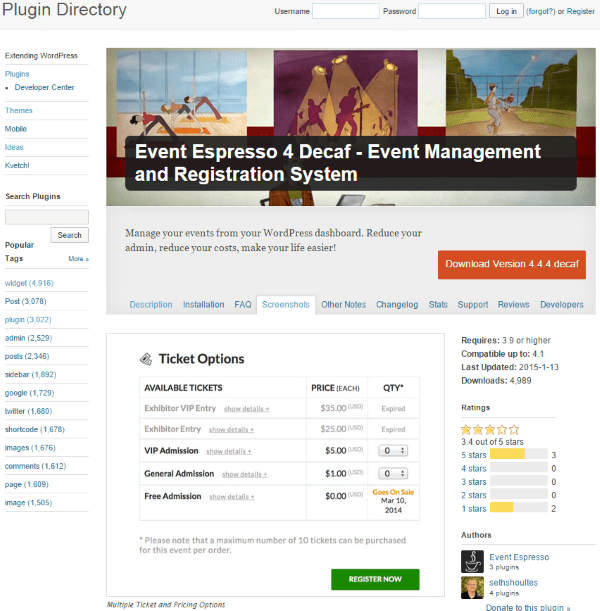 The decaf edition of this plugin is free. It makes event registration management easy. For instance, it lets you create signup forms, collect payments via PayPal, and create reports. It will send an automated confirmation email. You can manage and export the data.
There's also a premium version that adds an event calendar, more payment gateways, multiple pricing and ticket options, manual registration, and customizable email templates. Prices start at $69.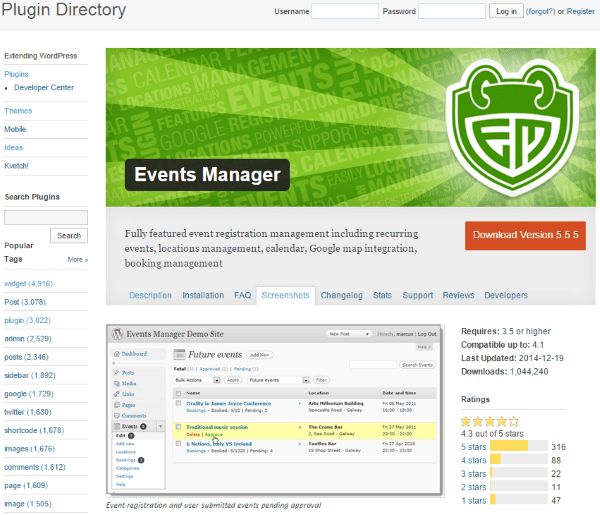 This one is loaded with features that include recurring events, locations management, an events calendar, integration with Google Maps, booking management, and lots more. It supports multiple tickets, multisites, etc. It even has BuddyPress support that includes: submit events, group events, personal events, and activity stream.
I like the options for customization with this plugin. You can specify any image size you want. You can choose who has what capabilities within the categories of events, recurring events, location, and other. So if you want your subscribers to be able to create and edit events, you can allow that.
You can use the visual editor and create your own submission forms in HTML if you want. Once the user has submitted for the event you can have the form not show any more if you want. You can do your own custom styling and determine how the form works within a page, too.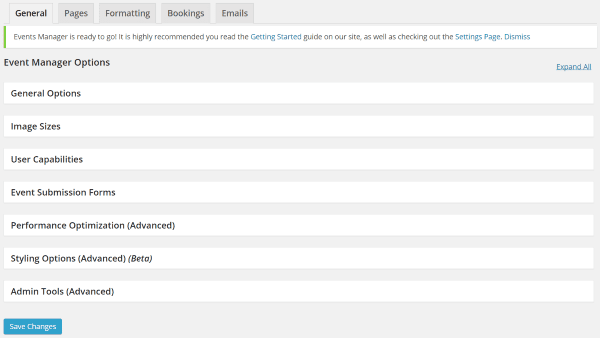 This one has some of the most comprehensive features of any of the plugins I tried. There are tabs in the dashboard for general, pages, formatting, bookings, and email. Within those tabs are more tabs laid out vertically, ranging from four to nine. When you select one of these tabs it opens up tons of options where you can create and manage every detail of your event. Even though there are a lot of settings, it's still easy to use. You can just leave most of them at their default settings if you want.
The free edition is filled with features, but if you wanted even more you can get the Pro edition. It adds customizable email reminders, coupons and discount management, transaction history, PayPal and Authorize.net, customizable booking forms, individual attendee custom forms, reCaptcha, custom payment gateways, and premium support. It's $75 for 1 site and $150 for 5 sites.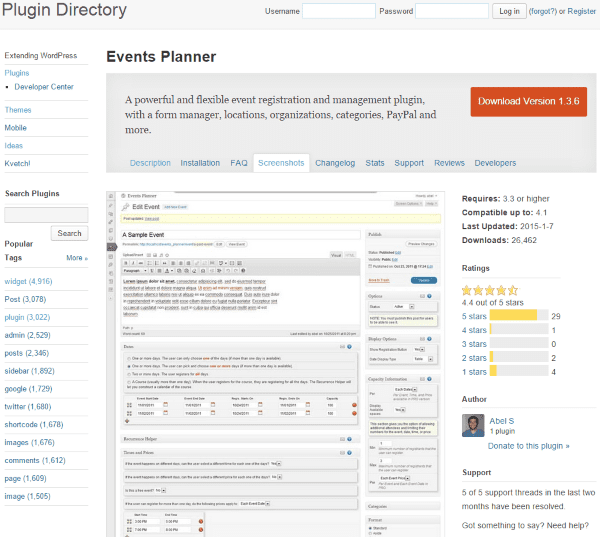 This one includes the features you expect to see such as a form manager, locations, categories, PayPal, etc. It also lets you provide information about organizations involved with the event. All of the data is stored in WordPress tables, so there's no need to build custom tables. What's interesting about this is that you can use any kind of information for use with the event. You can use custom templates and planner tags, too.
Events can be for an unlimited number of days. Users can register for just one day if they want and can also register more than one person. This was a feature that I didn't see in the other plugins. It has multiple payment gateways and you can create unlimited event locations and create and manage unlimited organizations.
Forms are built with AJAX. You can create as many as you want and sort the order of the fields. Registrations are stored in a custom post type so it works like a shopping cart.
There is also a Pro version that adds lots more features. You can change the data structure yourself, create your own templates, and use filters to add fields and meta boxes to any selection. You can allow users to register for multiple days or all of the days for the event, allow users to choose the time they will register for, or register for the whole event. You can charge based on time, and have a different price for each day they register for. You can create new registrations and modify them from within the WordPress dashboard as well.
The Pro version costs $59 for the Personal plan, which includes use on 1 site, $189 for Advanced for 1 site and adds extensions such as MailChimp, and $299 for Developer for 5 sites with premium support.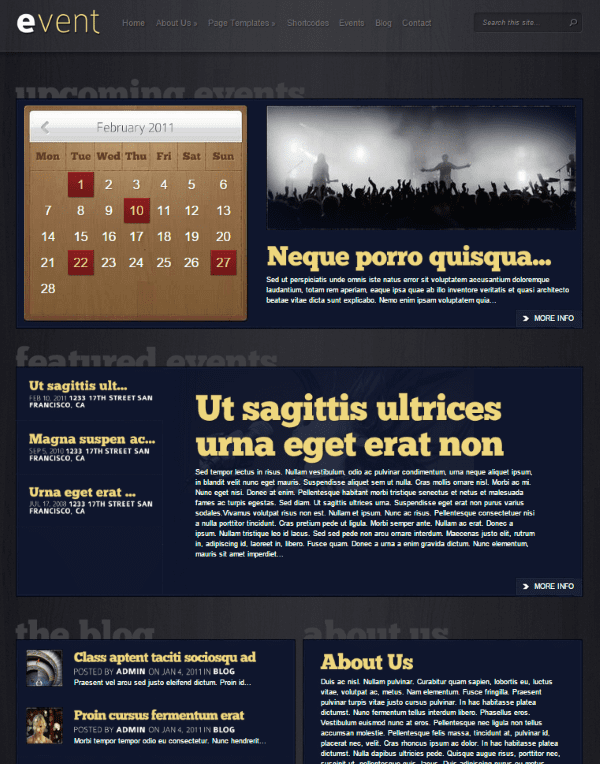 If you want to build your site around the event, or if you want your site to look nice and showcase the event, you can use a theme that has many of these features already built in. Elegant Themes' Event is exactly this. It allows you to turn your blog into an event website that showcases your special occasion.
It has an intuitive and interactive calendar, which is actually pretty interesting. It will display the dates that have an event in red. When your visitors mouse over those dates they will get a small popup with information about all of the events on that day.
The layout looks amazing. There are areas for upcoming events, featured events, blog posts, about us, etc.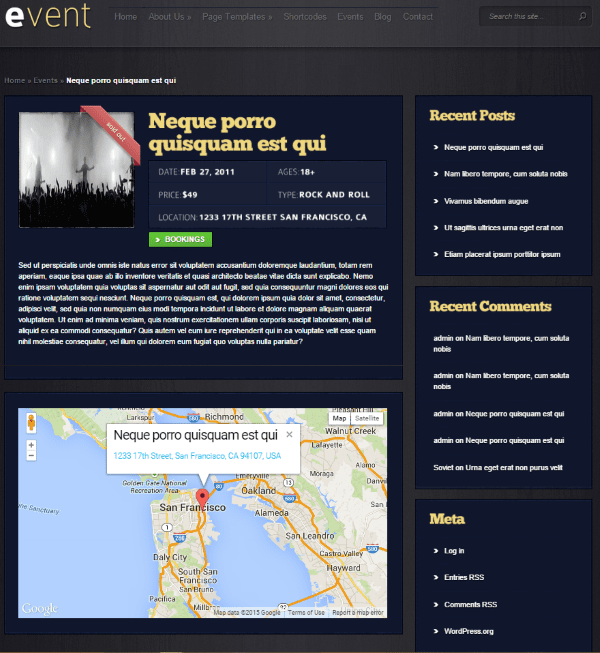 Clicking on an event takes you to the post for that event. The post will contain all of the information that includes a description, the date, age, price, what type of event it is, the location, a link for bookings, and it will display a Google map for directions.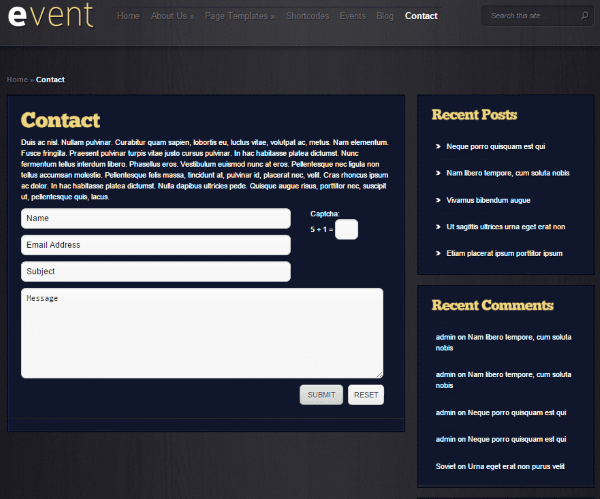 Clicking on Bookings takes you to the contact form where visitors can register for the event. In this sample it takes the users to the contact page. You can also use any of the plugins above to handle the registration.
You can manage the events, both past and future, from a dashboard within WordPress.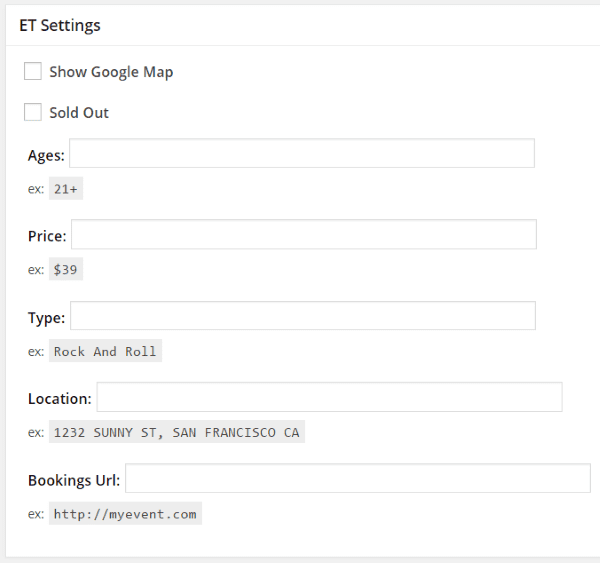 Event is part of the Personal plan for $69 per year. It includes access to all themes and premium support.
Wrapping Up
WordPress is an excellent tool to handle events and event sign ups. You can get as detailed as you want, and it can be as simple or as complex as you want. You can handle event registration just from posts, by using several plugins, a single plugin, or use a theme that handles much of it for you. You have plenty of options in WordPress to make your event registration process your own.
How about you? Have you used WordPress for event registration? Did you use one of the methods detailed here? Did you use a different method? Do you have something to add to this list? I'd like to hear about it in the comments below!
Article thumbnail image by Julia Tim / shutterstock.com