There was a time not too long ago when you could solve your traffic problems by simply churning out more content and spending money on PPC ads.
And that approach may still work if you've got a lot to invest.
But even if you do, such methods of driving traffic have lost their mojo. Less and less people are clicking on ads. Instead, they are turning on, and tuning in … to social networks.
While several marketers and businesses have realized the notion and turned their attention to social networks as a means to drive referral traffic to their sites, many continue to make the mistake of placing the majority of their focus on Facebook and Twitter. As a result, they are missing tons of traffic that should be theirs.
I'm talking about Pinterest as an often-disregarded source of social media referral traffic.
Here's why you should take notice: Pew Research revealed that Pinterest is rising in popularity and has even surpassed Twitter. Pinterest used to be about women but the social network has men as its fastest-growing demographic.
What's more intriguing than the rising popularity of the pinning platform is that Pinterest brought in more than 3x the traffic of Google Plus, YouTube, Twitter, StumbleUpon, LinkedIn and Reddit combined, according to Shareaholic's Q3 2014 Social Media Traffic Report.
However, these stats aren't the only reason to consider Pinterest. Internet users are naturally drawn to attractive, high-quality visuals. They process information quickly when it's presented in the form of images and they're more willing to engage with such content. What does this mean for your business? On social media it's a general rule that the more engagement there is with visitors the more referral traffic you'll get back to your site.
Getting started on Pinterest
Sign up to Pinterest with your email, Twitter, or Facebook profile. Use your business name as your username, and fill in the rest of the details – company logo, description, and website URL.
For the profile name, you can use your business name + a keyword. So if you're a coffee shop and your business name is 'Breco', use 'Breco Coffee shop' as your profile name. Follow the same rule for the 'About' section of your page; you can also include a call-to-action such as 'visit our site for more'. Verify your account so that it appears in search engine results.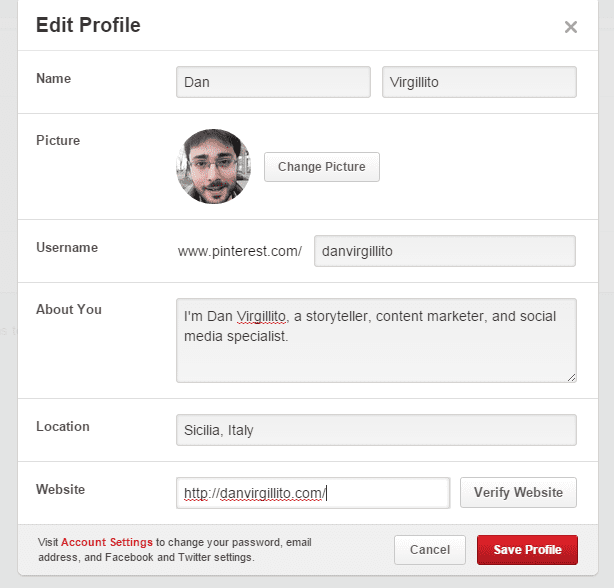 Next, you create boards for the content that's published on your site. If your site's content is published in different categories, you can create a board for each category. Name the board after the category to make it easy for followers to filter content according to their interests. In the board description, you can mention keywords and call-to-action.
ThinkGeek is a great example of how to name and categorize Pinterest boards.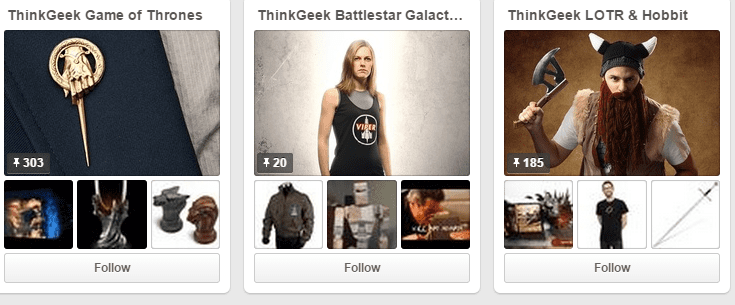 Create boards that resonate with your content categories and overall business.
Actionable Ways To Drive Referral Traffic From Pinterest
So how do you make the most out of your presence on Pinterest, and increase referral traffic to your site? Here are a few practical tips to help you drive more traffic:
The 'Pin It' button will let your site visitors add things from your webpage to their Pinterest accounts. When they do, their followers are likely to see your site's content as well. You can get the Pin It button from Pinterest by filling out the information. You can select from different Pin It images or even create a custom image.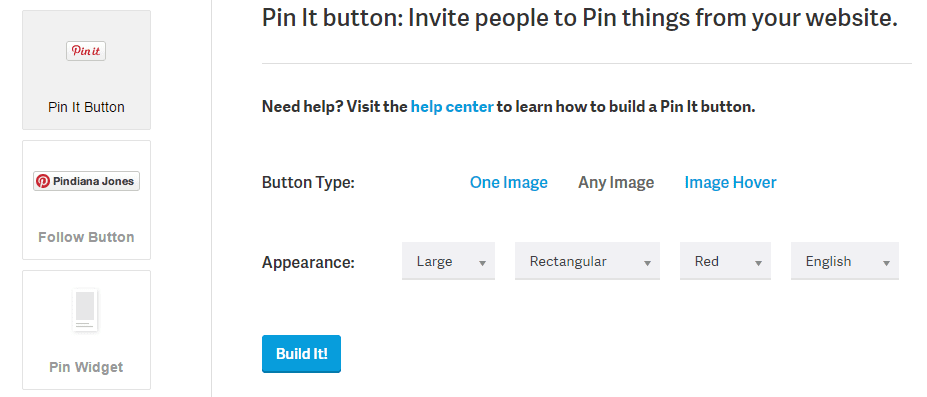 After you generate the code for the widget, add it to your site. Here's how the 'Pin It' button appears on Geekalerts.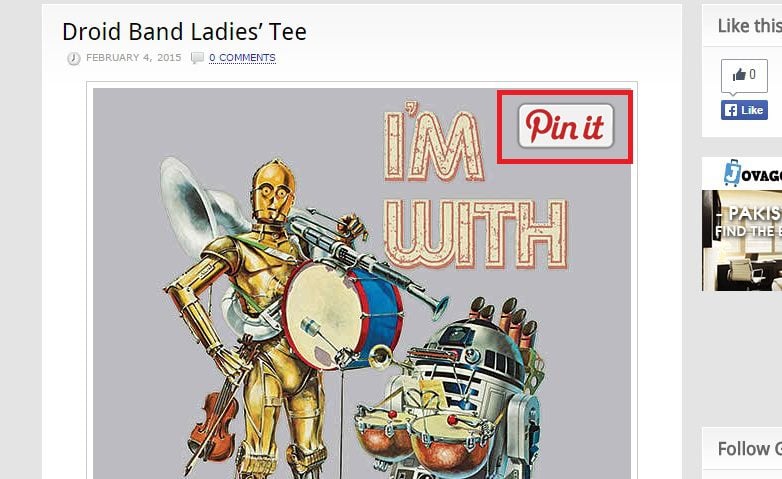 The Pin It button will serve as a visual reminder, making it easy for visitors to pin images from your site, which will drive referral traffic from their accounts.
WordPress users can also use the jQuery Pin It Button for images. The plugin is used by popular sites such as SocialMediaExaminer.
2. Optimize your visuals
As Pinterest is all about images, you'll need to come up with great visuals to entice people on the network. Here's how you can optimize your visuals to increase their chances of being repined:
Pin videos directly on Pinterest
Use a watermark on your visuals
Use the 2:3 aspect ratio for images (aim for tall than wide)
Covert multiple images into infographics as long visuals get the most repins and traffic
Try not to use real faces. Images without faces receive 23 percent more repins
Use a clever mix of pictures, text overlays, and step-by-step instructions to create sharable images. These may also be called 'how to' images or 'tip' images
Use dominant colors in the images
Use PicMonkey to optimize the template of your visuals
Facebook advanced marketing expert Jon Loomer shares long-length images on his Pinterest account.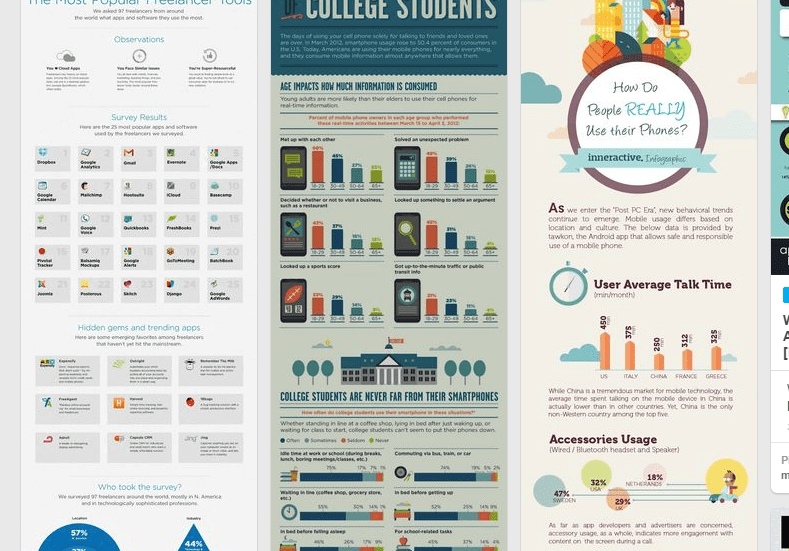 And here's an example of an image with dominant colors from Paula Deen's account. This image was repined 307,000 times.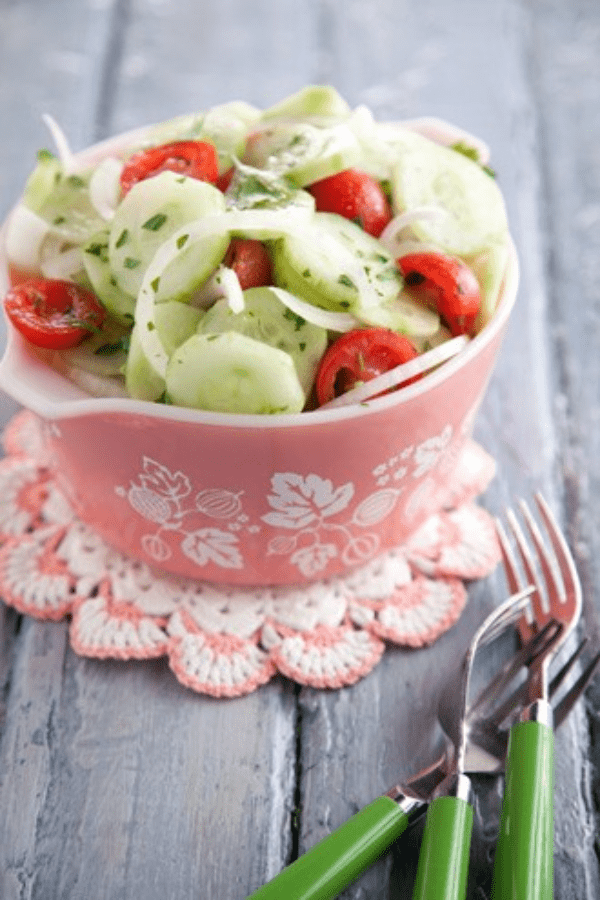 Utilize these tips to create the most sharable images.
3. Include a link to your site in the pin and its description
One of Pinterest's best features is that it gives you the option to relay images back to your website. To redirect an image, you need to edit the pin, and modify its source. Pinterest gives you the option to change the source of any pin you've uploaded.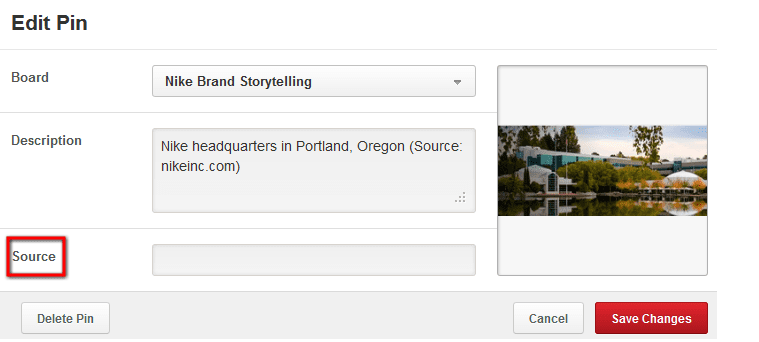 The retail giant Target does this on its images uploaded to Pinterest. When someone on Pinterest clicks on the image, they are redirected to Target's webpage. Here's an example of such an image redirecting to Target's store.
Similarly, putting your site's URL in the pin's description can drive more traffic to your site. This will be helpful in attracting traffic in the form of visitors who are using Pinterest for the first time and may not click a pin twice to go to your site (two clicks are required: the first enlarges a pin, and the second takes a visitor to a website).
4. Engage with followers
To turn Pinterest followers into site visitors, you need to engage with them. You can increase engagement by pinning consistently so that pins appear in the feeds of your followers. If you can't find time to pin regularly, you can schedule pins with Tailwind or Viral Woot.
You should also check pins and boards of your followers and repin content that's relevant to your business. It's also a good strategy to repin content from influencers – it would be a major boost to your Pinterest referral traffic if they return the favor. For instance, Williams Sonoma invited Jennifer Shea, baker and business owner, to create a board for parties and occasions.
Commenting on other pins will also drive engagement, and after you develop some authority, you can also leave a link to your site in the comments section (don't do it quite often or when you're just starting out on Pinterest as your effort can be flagged as spam).
Another viable strategy is to check what is being shared on your Pinterest page and pin new content around that theme. Those with a verified business website can check analytics or you can conduct an audit via www.pinterest/com/source/yourdomain.com.
Starbucks does a great job at Pinterest engagement by pinning images related to their coffee items and community. On a board titled 'Coffee Moments', they pin pictures of customers enjoying coffee and creative images of coffee.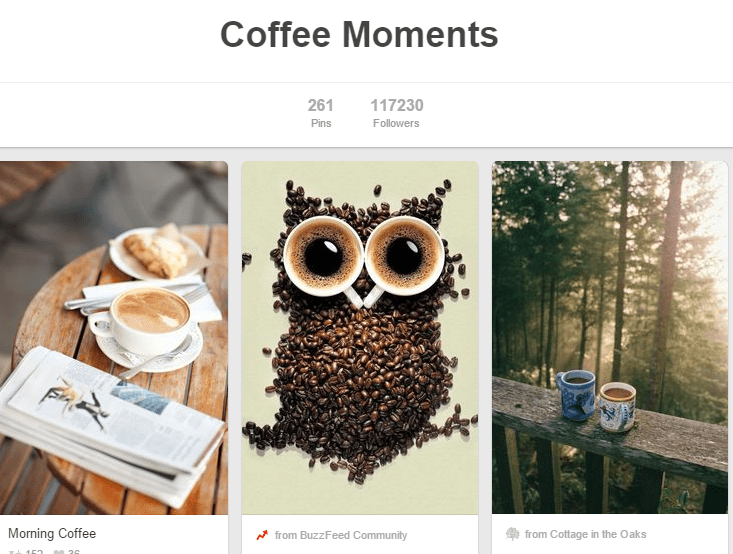 Another thing you can do to involve your community is create group boards. These boards can compromise of staff, contributors & followers, and they can be kept open for anyone to join. The contributors to your group boards can become brand ambassadors, promoting your site's content on your behalf. Lastly, contribute to other boards where you can occasionally post pins that include your site's link.
5. Host contests
Contests are a convenient way of attracting more engagement, traffic and followers directly to your Pinterest boards and indirectly to your site. Read Pinterest's guidelines on hosting contests before getting started.
One way of getting Pinterest traffic to come to your site is by engaging visitors with your site-hosted contests. This only requires you to pin the contest in one of your Pinterest boards. But let's talk about how to host a contest directly on Pinterest.
For instance, you can create a contest board named after your business and ask participants to submit their favorite items directly from your website (so that the URL is included) in that board along with a comment of why they like the item. One or more than one individual with the best comment(s) can be announced the winner.
Additional tips
Create a buzz about your contest by promoting it to your email list, other social networks, and website visitors
Offer an excellent prize. If you don't have a big enough budget, you can give away discount coupons or merchandise
Mention the date at which the winner will be announced
A great contest example is HP SpectreXT Laptop contest on Pinterest. It was engaged with by Pinterest users who were asked to create boards based on weekly themes to win a $500 Amazon gift card or the laptop itself. HP posted a theme on its dedicated web page where participants were asked to create boards based on the theme, as well as a pin featuring the laptop. Users were also required to create a login to submit the URL to the board through the site's page, and public votes were used to determine the winner each week.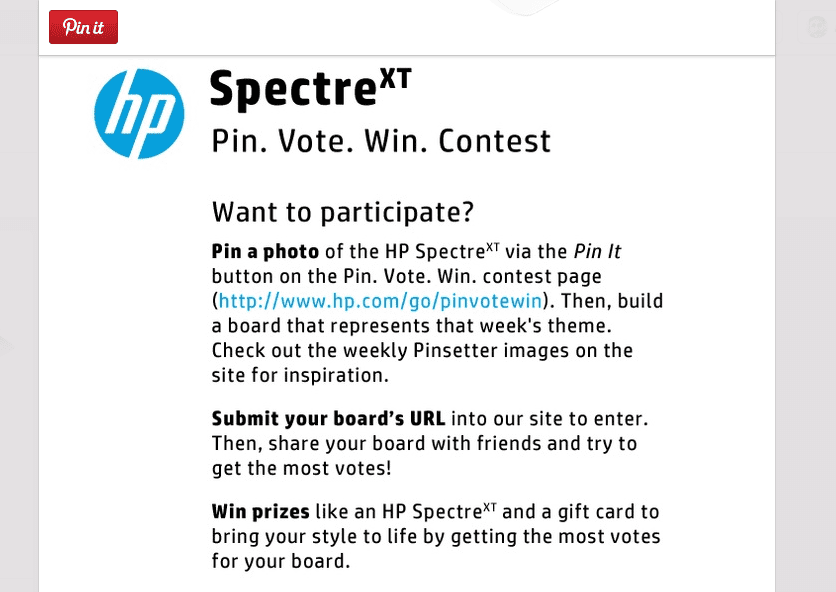 The takeaway? HP incorporated a landing page of its website into the contest strategy, which was enough to drive traffic to its site. Participants visited the landing page to learn contest rules, and other people also visited the site to submit their votes.
You can use apps like Wishpond or Gleam.io to organize your contest and promote it on other digital properties you own.
6. Leverage rich pins
Pinterest introduced rich pins to let certain businesses include more details about pinned images and integrate the Pin It button with mobile applications. Pin categories that display more information include: recipes, movies, and products.
The difference between a regular pin and a rich pin is that the latter shows the pricing and has a direct link to the website's product page. Regular pins require you to enter the price manually and people are only able to see the link when they hover over the product image.
Rich pins can also be used by business owners who sell items on eBay or Etsy. Pinterest has a detailed page stating how a business can apply for rich pins. The benefits include improved discoverability, better CTR, and increased referral traffic to product pages.
Another standout feature of rich pins is email notifications when the price drops. This is called the 'real-time pricing feature' of rich product pins. So if anyone pins a product from your product page, and a week later you drop the price, that user would get an email notification of the price change. This means even if someone is not on your email list, rich pins will drive pinners back to your site.
Several online retailers use rich pins to drive traffic back to their sites. Here is an example from OverStock's Pinterest page.
Over to you
I hope these tips give you some inspiration to boost your Pinterest referral traffic. When you implement them, measure the metrics within Pinterest analytics to determine what is working best for you.
How do you use Pinterest to drive referral traffic? Share your thoughts in the comments section below.
Article thumbnail by Flatcat/ shutterstock.com