Adjust Values Across Your Entire Page And Across All Modules Instantly!
Find and replace is a really unique feature that allows you to quickly adjust the design of your entire page with a single click.
Today we are really excited to release Find and Replace including full page batch editing for Divi. This new feature allows you to make sweeping changes across your entire page instantly, saving you hours upon hours of editing time with the click of a button. This is yet another incredible efficiency improvement that you won't find in any other page builder.

Find And Replace Is An Incredibly Effective Tool That Will Save You Hours Of Editing Time
Now you can quickly find and replace specific values on your page, and even control the scope and location of your search to target specific elements.
Transform Your Entire Design In Seconds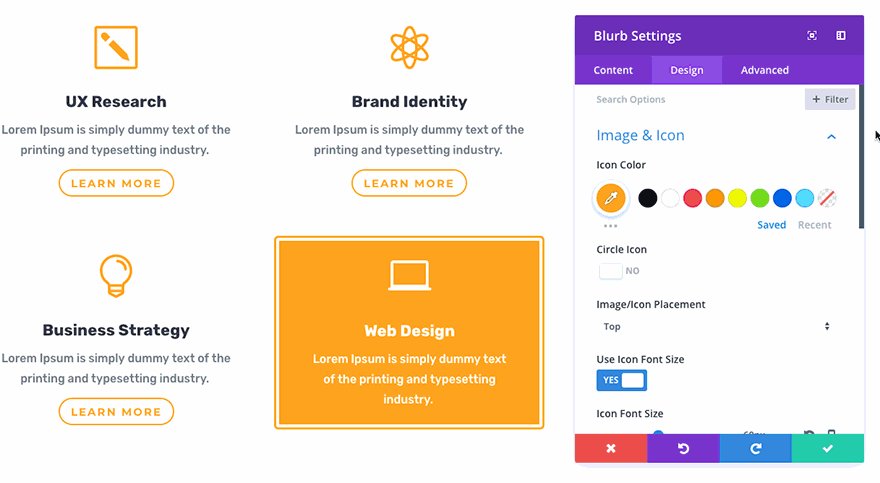 Everything in the Divi Builder now supports find and replace. Simply right click on a setting and choose the Find and Replace option. This will allow you to search through your entire page, or a particular part of your page, for specific values and replace those values with something new. This means you can change your entire page's color scheme, fonts and more in a matter of seconds.
Robust Targeting Controls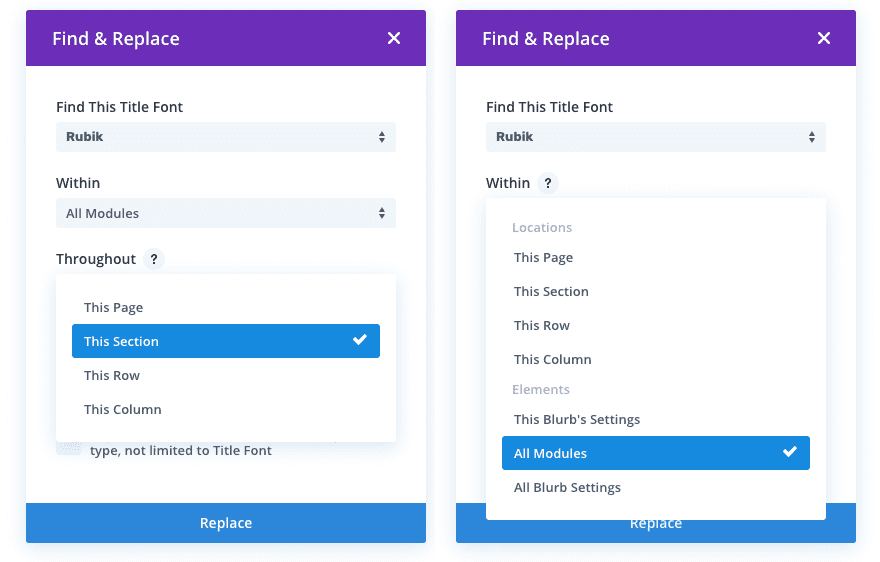 When you find and replace a value, you have full control over the scope and location of the replacement. You can find and replace particular values within particular areas, or you can find and replace values across your entire page. You can limit replacement to particular option types, or you can replace all found values across all modules and all options. The system is incredibly robust.
There will always be times when you need to use page-specific or section-specific styles to build harmonious and interesting designs. For example, let's consider the differences between sections that use light and dark background colors. Modules on top of dark background colors will need to use light text colors and bolder font weights. You may even choose to vary your font family to create a sense of rhythm. If you apply a dark background color to a section that already contains dozens of modules, it will take tons of time to go through each and every module individually to adjust the text colors, buttons colors, button borders, font weights and more so that they appear readable atop your new background color.
Using Find And Replace, however, you can apply these changes in a matter of seconds by replacing specific colors and font options while limiting the scope of the replacement to the current section! It's really an amazing thing to watch your entire design transform before your eyes with a single click.
Great For Layout Packs And Saved Designs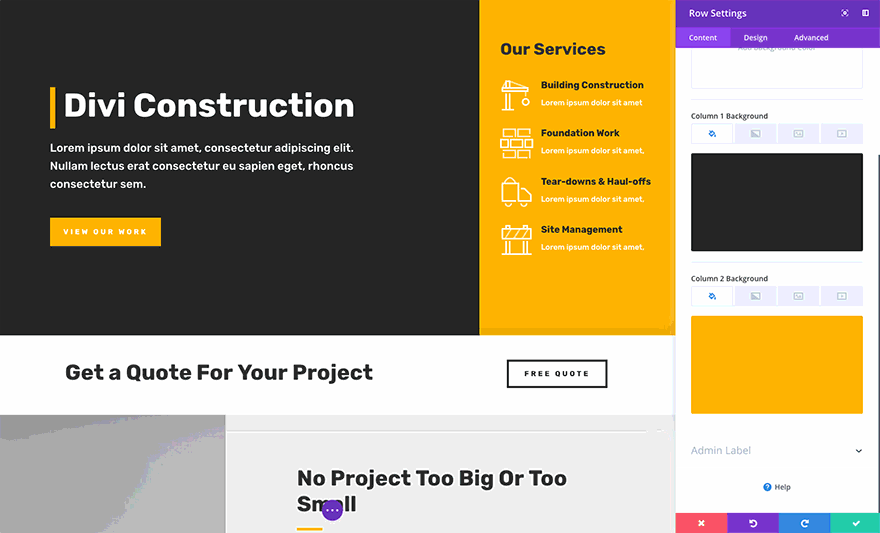 Imagine you have just imported one of Divi amazing free layouts packs, but you want to customize it to match your website's brand. The beauty of Divi is that you have full control over everything, but changing dozens of colors and fonts one by one still takes a lot of time. With the new Find and Replace feature, however, you can perform batch edits across your entire page instantly. What used to takes minutes or even hours now takes only seconds.
The new Find and Replace system is available now, so download Divi and take it for a spin. Let us know what you think in the comments and don't forget to check back next week for even more great Divi features coming your way.