We have been working tirelessly for over three months on Divi, and it feels great to finally release the most powerful theme we have ever created. Divi is the smartest, most flexible theme in our collection. Its advanced page builder and collection of robust modules allow you to create pages from the ground up, giving you complete creative control over your website. Whether you are creating a new online portfolio, an eCommerce storefront, or a new home for your business, Divi ships with everything you need to make your vision a reality.
Divi is completely different that any other theme you will find in our collection. With Divi, everything is built using the builder. Each piece of your website is a building block that can be customized and arranged in any number of ways. This method leads to complete control, and truly unique and dynamic pages. Where you have been confined to a single layout structure with our previous themes, Divi breaks down the design into individual elements with unlimited possibilities.
Live Demo
Features Info

The Advanced Pagebuilder
Divi will change the way you build websites forever. The advanced page builder makes it possible to build truly dynamic pages without learning code.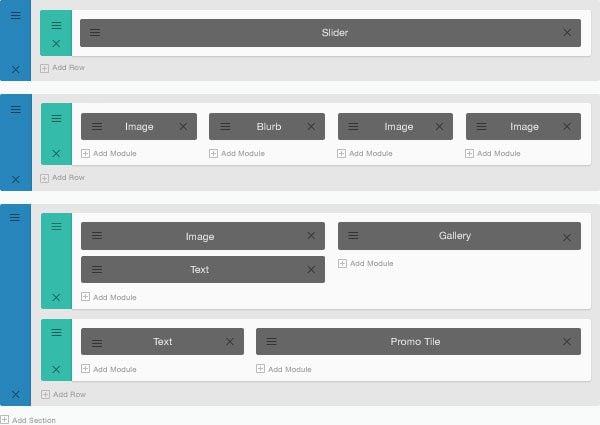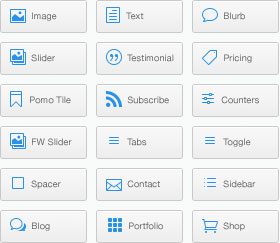 Robust Modules
The builder comes packed with tons of great modules, and more are on the way! Combine and arrange them in any order.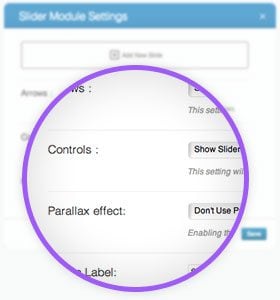 Countless Options
With the numerous options that come with each Divi Module, you can control the appearance and functionality of every element on your website.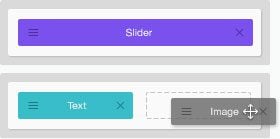 Drag & Drop
The Divi Page Builder functions on a drag and drop editing system that allows you to customize and arrange your design with ease.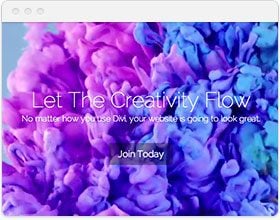 Video Backgrounds
Let the creativity flow with video backgrounds in your sliders and in any section of your website.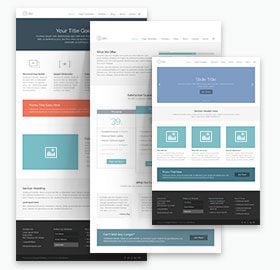 Premade Layouts
We've included a ton of premade layouts that you can get started with. Just fill the sample layouts with your own content for a quick and amazing looking website.
Save & Load Layouts
Save your favorite layouts for future use throughout your website.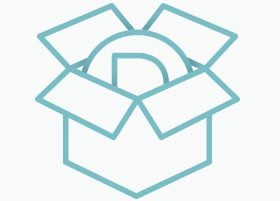 Export & Import Saved Layouts
You can also export you saved layouts and import them to different WordPress installs.
There's Something For Everyone
Divi supports eCommerce, Portfolios, Blogs and so much more.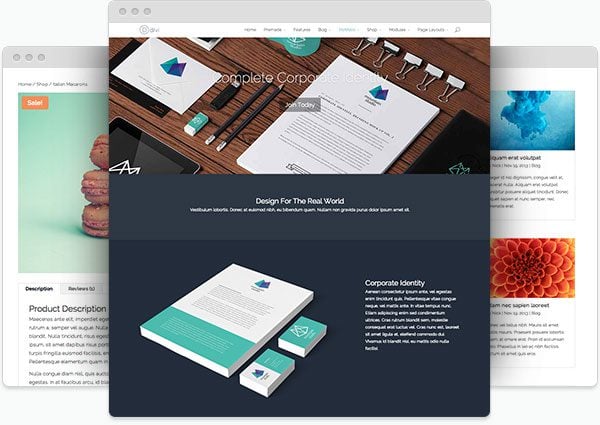 Stunning Portfolios
With Divi's portfolio module, you can show off your work anywhere on your site. Choose from our premade portfolio layouts, or create one entirely from scratch!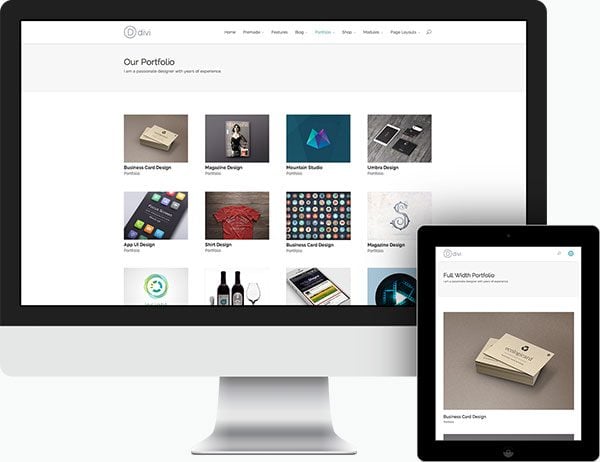 eCommerce Integration
Combined with WooCommerce, Divi has what you need to get an online store up and running in no time. We've included a couple of premade store layouts, and the store module lets you sell anywhere on your site.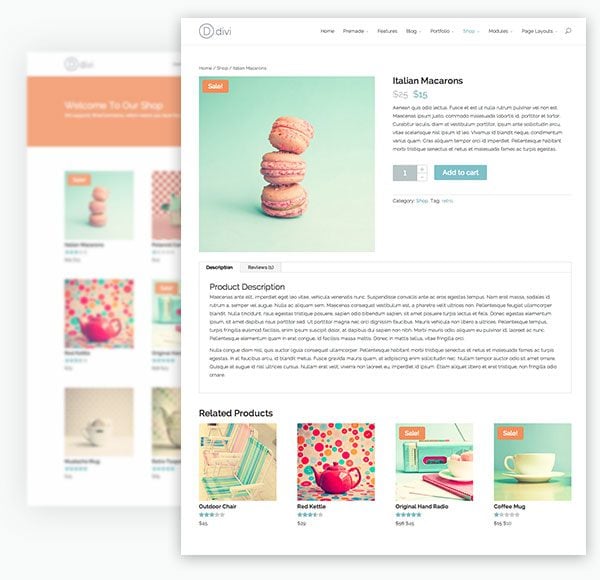 Gorgeous Blog Layouts
Divi comes with various blog layouts to choose from that you can customize to your every need. Using Divi's builder you can place blog posts anywhere within your website.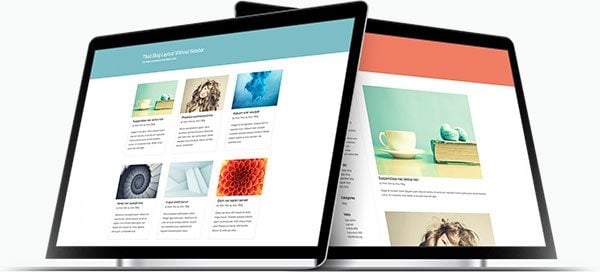 Business Savvy
Need a professional looking site for your business? Look no further. Divi's wide range of business savvy modules lets you easily create serious yet modern looking designs.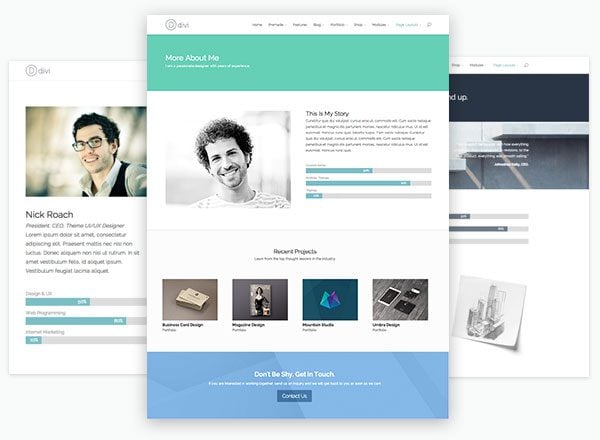 Fullwidth Beauty
Divi's fullwidth section attributes allow to build truly amazing pages. With fullwidth images, videos, color backgrounds, and a little bit of imagination, the possibilities are countless.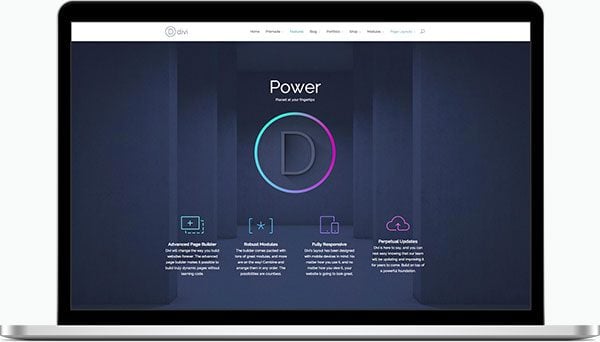 Elegantly Responsive
Divi's layout has been designed with mobile devices in mind. No matter how you use it, and no matter how you view it, your website is going to look great.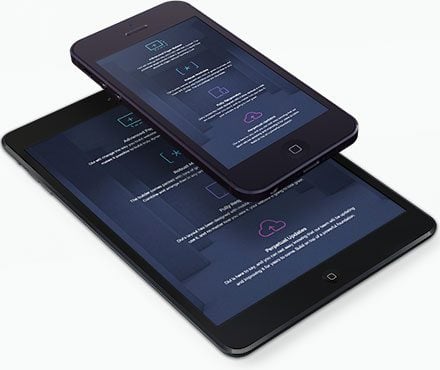 The Customizer
Divi makes it easy to adjust every aspect of your website. Quickly change your website's colors and choose from dozens of web fonts.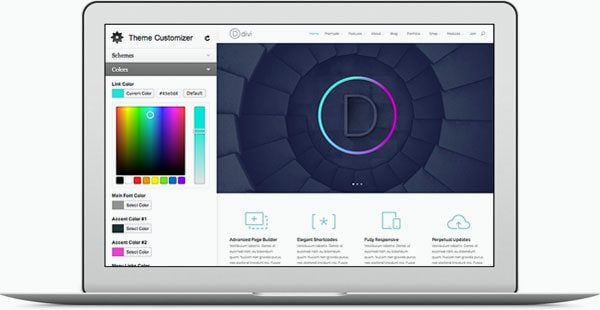 This Is Just The Beginning
Our main focus for the initial release of Divi was create a strong foundation that we could easily expand upon in the future. Our builder has been built to scale, making it easy for us to add more modules in the future. The module set you see today is just a glimpse into the future of Divi's awesomeness 🙂