Drag Files From Your Computer
Into The Builder To Create
Content Automatically!
Adding content to your page in the Divi Builder is now easier and more intuitive than ever thanks to the new Drag & Drop File Upload interface.
Today we are really excited to release Drag & Drop File Upload for Divi, a new feature that makes it easier than ever to upload a wide range of files to your page, and have those files automatically transform into Divi modules and other design elements on the fly. It's a really slick system that creates a link between the builder and your computer, and expands upon the natural drag and drop behavior that is such an integral part of the Divi Builder experience.

Adding Content To Your Page
Is Now More Intuitive Than Ever!
Save yourself tons of time by dragging files directly into the builder. Divi turns them into modules automatically!
Just Drag & Drop. Divi Does The Rest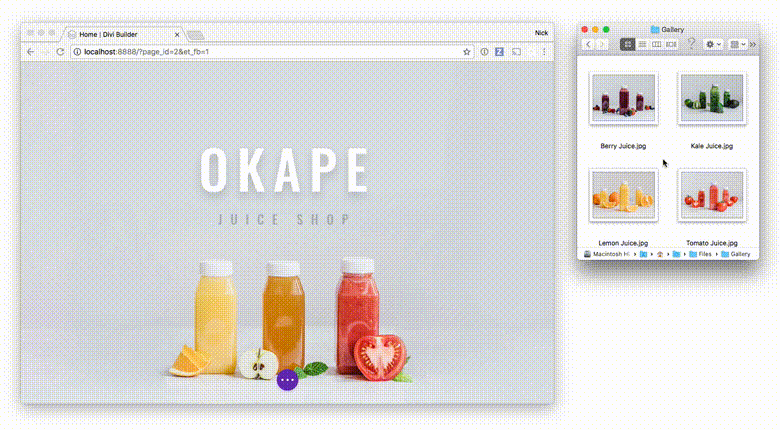 You can now drag and drop files from your computer directly into the builder. Divi detects the types of files you are uploading and automatically transforms them into a number of different modules, or applies them to the page in creative ways. You can upload images, videos, audio files, text files and more. What could normally take dozens clicks to build can now be accomplished in a single gesture.
Creative Support For Unique File Types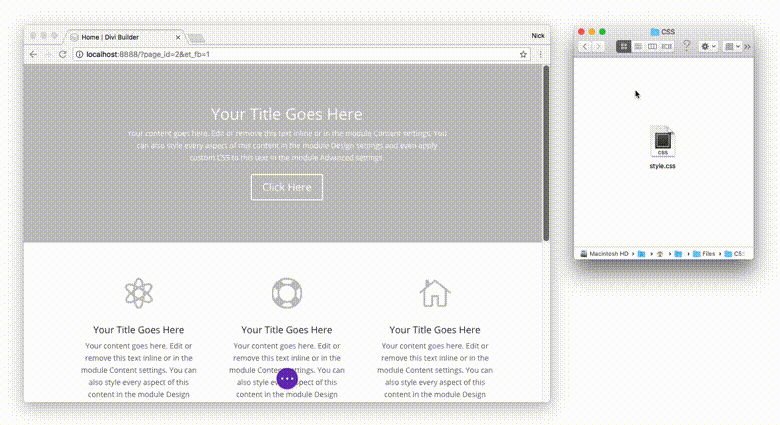 We took the idea of drag and drop file upload and expanded upon it, allowing for creative support for a variety of new file types, including CSS files, HTML files, Font files and JSON files. When you upload a CSS file, the CSS gets applied directly to the page. When you upload an HTML file, it will be added as a code module. When you upload font files, they will become available as custom fonts when you edit your module's design, and uploading JSON files allows you to quickly import Divi layouts.
Drag & Drop Multiple Files At Once
You can drag and drop multiple files at once, and Divi will process the entire queue and even combine like file types into advanced modules like image galleries. Creating an entire gallery in a single swipe of the mouse is such a satisfying experience when compared to the tedious process of creating a gallery module manually. It's also great for uploading custom HTML and CSS in one go.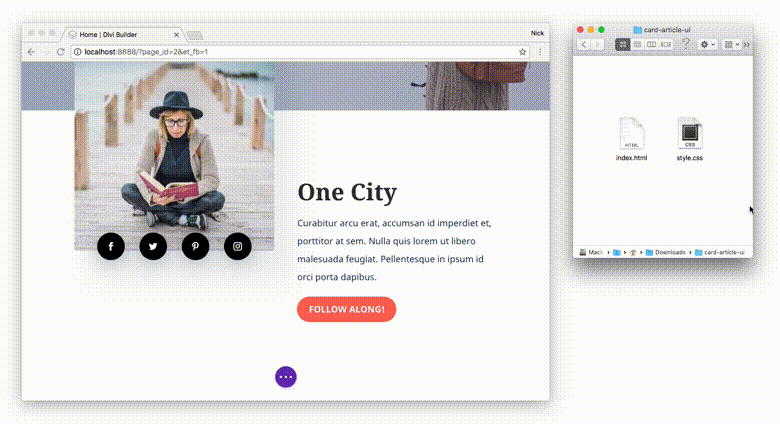 Drag & Drop File Upload is available today, so download Divi and take it for a spin. Let us know what you think in the comments, and don't forget to check back next week for even more great Divi features coming your way.