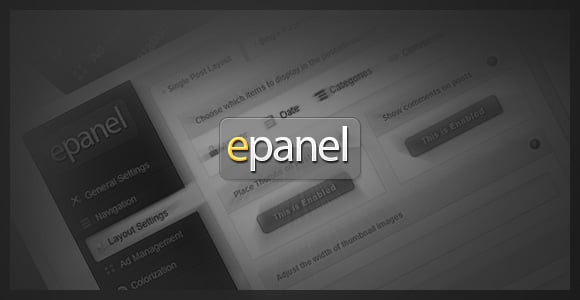 As you probably know I have been working hard integrating the new options page into the ElegantThemes collection. With some help from Yuriy development and implementation is going smoothly, but even with two people at work it's still a long process. Because it is taking a while I have decided to release the updated themes in stages as opposed to all at once. I will be uploading them six themes at a time, and today the first batch of six themes is ready! Currently ePanel has been integrated into the following themes: eNews, Bold, ePhoto, eBusiness, CherryTruffle and PureType. Now that it has been officially released I will go over the changes that have been made.
A fresh new look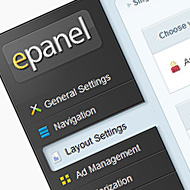 The first thing you will notice is that the options page has been redesigned with you in mind. I have tried to make things much more organized and easily accessible via two tiers of tabbed navigation. The options have been organized into 8 sections, with each of the sections containing several sub-sections. This will alleviate excess scrolling and make it easier to find what you are looking for. I have also made the design more compact by getting rid of unneeded dropdown menus and replacing them with stylized checkboxes.


Improved functionality and user-friendliness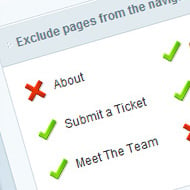 Aside from reorganizing things I have also tried to make the options themselves easier to use. For one thing, you will no longer need to find page/category ID's. For example, to exclude pages from the navigation bar you can now simply toggle/untoggle them from a list of pages already generated by the options page. For settings such as assigning a page as one of your home pages in eBusiness, or assigning a category as your blog category in ePhoto, you can now choose from a list of your pages/categories instead of searching for an ID number. I have also tried to make the options page as a whole more user-friendly by adding lightboxed descriptions of all settings that explain in detail exactly what the option does. These can be found by clicking the (?) icons next to each field.


Some options replace by widgets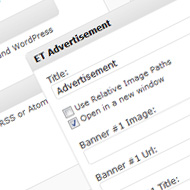 You will notice that some of the options that were previously found in the theme options page have disappeared. Don't worry, I didn't get rid of these features, I simply removed them from the options page and added them as custom widgets instead. For example, you will not longer see a 125×125 banner management section in the theme options page. Instead you will find a ET: Advertisements widget in the widgets pages of wp-admin. Not only does this improve the functionality of these options by allowing you to move them around in your sidebar like normal widgets, but I have also improved the options themselves. The biggest change, however, are all of the new options that have been added, so lets go over those now.


The New Options
As I mentioned earlier the options page is separated into 8 sections. These sections are: General Settings, Navigation, Ad Management, Layout, Colorization, Integration, SEO and Support Documents. I will go over each of these sections to give you an idea of what is included. Some options may vary as each theme contains different elements that may require additional settings.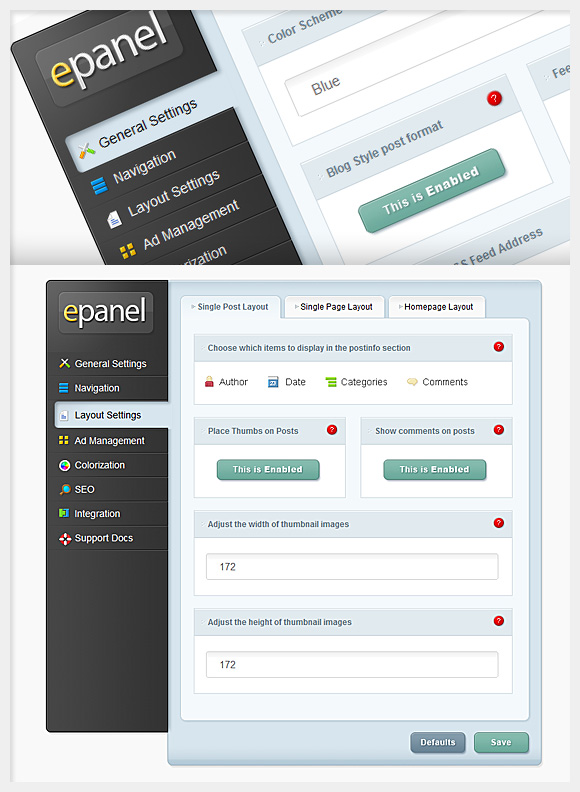 General Options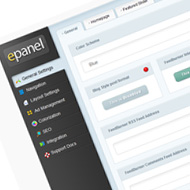 The general options tab is for any options that don't fit into the other categories. Here you will find some of the standard options you have become accustomed to, such as the ability to switch between BlogStyle and Default post modes, a dropdown menu for switching between the many color schemes available with each theme, and the ability to toggle on and off main elements such as the Featured Articles section. You will also notice some new options, such as the ability to "grab the first image" in your post and use it as your thumbnail instead of having to input custom fields. In the Homepage sub-category you will notice new options as well, such as the ability to exclude certain categories from your homepage recent posts display, the option to customize your date format (9/24/09 vs Aug 24, 2009, for example) and more.
The Featured Articles sub-category has also been upgraded with new options, depending on the theme. With eNews, for example, you can toggle the featured articles slider on and off, choose whether or not to duplicate the featured articles posts in your recent posts display, enabled automatic rotation of featured articles if desired, adjust the rotation speed and the animation type used, and more. Another important upgrade is the ability to choose any category you want for your Featured Articles display. You don't need to use the text "Featured Articles" for your category anymore, as you can make the category anything you want and then assign that category as your Featured category in the them options page. This is especially handy for those bogging in a foreign language who, in the past, where forced to edit the theme's code to change the category name.


The Navigations Options Tab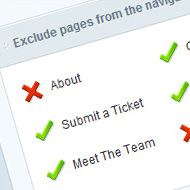 The navigation tab gives you control over your navigation bars. The biggest upgrade you will notice is that a list of all your pages and categories is displayed that you can use to add/remove links from your navigation bars. This is much easier than having to search for the page/category ID number. Another notable addition is the ability to disable the top tier navigation links. Many people want to have dropdown menus, but don't necessarily want their top tier links to lead anywhere, but instead, merely use them for an organization function. If you want to create a parent category for the sole purpose of housing child categories, but don't actually want to use the parent category, then you can simply disable the link. There are other new options as well, such as the ability to swap the positions of the pages/categories navigation bars, limit the number of dropdown tiers shown, hide empty categories, disable the "Home" link and more.


New Layout Settings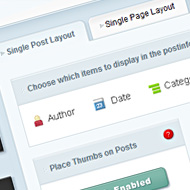 The layout section contains general layout options for individual sections of the theme. They are usually broken into four categories: Single Post, Single Page, Index and Home. Some of the standard options you will find in this section are: the ability to modify what info appears in the post-info section on post pages, the option to enable/disable thumbnails on posts, pages and index pages, the ability to change the dimensions of your thumbnails and the option to enable/disable comments on posts and pages. Depending on the theme there may be other options as well, usually pertaining to toggling on and off certain elements of the theme.


Ad Management Section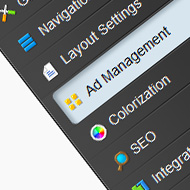 Even though I removed the 125×125 ads, adding them as widgets, there are still other ad sections outside the sidebar that can be managed in the theme options page. This section allows you to manage these ads. Here you can input the destination URL and the banner URL for each ad, as well as toggle them on and off at any time. Most themes now come with a 468×60 and 728×90 slot, however this may vary depending on the structure of the theme.


The Colorization Tab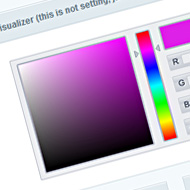 One of the great new features of ePanel is the colorization section. I get countless questions on the forum asking how to customize the colors of certain elements in the theme. Now, instead of having to modify the stylesheet, you can simply alter the colors via the options page. Not everything can be changed, but most of the main elements, especially text elements, cam be easily modified. I have integrated a jQuery color picker as well, so all you need to do is click on a section that you want to change and then choose the color from the color-picker popup.


The Search Engine Optimization Tab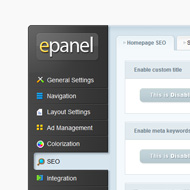 For a while now I have been meaning to increase the control users had over optimizing my themes for search engines. I feel like they were already well optimized, but the way they were optimized couldn't really be customized by the user. With ePanel you are given full control. You can add custom meta titles, descriptions and keywords for every section of the theme individually. If you don't want to enter them manually you still have control over how they are auto-generated. For example, for your single post you can enable custom meta titles and enter a custom title with each post. But if you don't want to bother with that every time you make a post, you can choose how titles are generated. For example you can make titles generated based of your post's title, and then you can append your blog name to either before or after that title. You can also choose which character separates the post title and blog name. I have given you the ability to choose which Name is used for the custom fields used to create your post titles, which means you should be able to integrate titles generated by other SEO plugins. I have also added the option to include canonical url's in your header, which is usually a good idea for bloggers looking to avoid duplicate content penalties.


The Integration Tab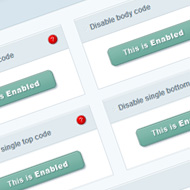 I created the integration section to make it easier for people to implement third party scripts into the theme. For example if you want to include your google analytics tracking code you no longer need to add it to footer.php, instead you can just add it to the body integration field in ePanel. You can also add code to your < head >, as well as before and after your posts. For example if you want to add a google adsense banner after your post you no longer need to try and figure out how to add it to single.php, instead you can just add the code to the "single page bottom" integration field in ePanel and the banner will be appended to the bottom of each post. This is also something I get quite a few questions regarding in the forums, so I hope it will be of some use.


Support Documentation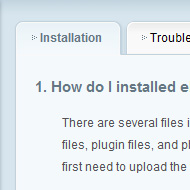 The last section is the Support Documentation tab. I added this to make it easier for user to find the installation instructions and troubleshoot guides that relate to each theme. Included is the readme file for each theme, a troubleshooting guide as well as links to the video tutorials section.


Well that just about sums things up. To learn more you will just have to test it out yourself! Let me know what you think, I appreciate your comments. Once ePanel has been added to all themes I hope that it will server as a good foundation for additional options in the future, so if you have any suggestions let me know!