Editor's Note: This post was last updated on May 10th, 2018.
---
I am always looking for a new, better text editor for web development. I'm not a veteran at development, but I want to have a tool that is robust enough that as I become more familiar with it and more capable at development, I could kind of "grow into" its more advanced features. The result of that ever-ongoing search is that I've got a pretty grasp as to which code editors are the best at the moment. And I wanted to share my findings with the community here at Elegant Themes.
The 11 Best Code Editors Available in 2018
Subscribe To Our Youtube Channel
I haven't placed the editors below in any ranking order. I'm not trying to create a dustup about who's personal favorite is being snubbed. My only goal is to present the field of contenders as I see them and allow everyone to come to their own conclusions based on their personal needs and preferences.
So let's get started!
1. Atom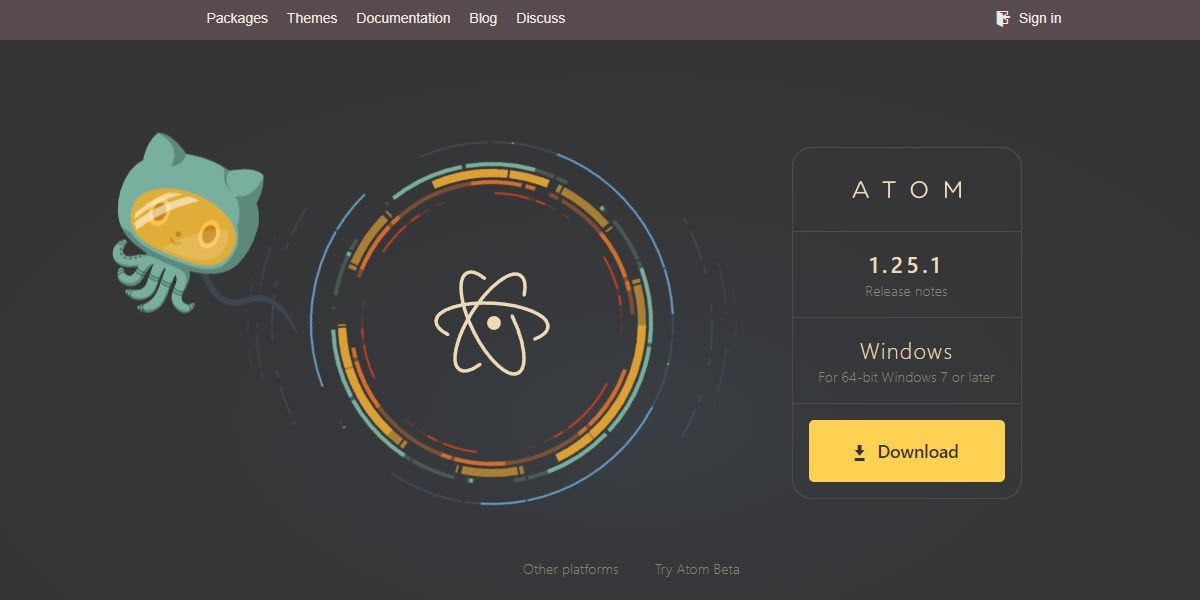 Atom, a project started by Github, is a establishing itself as one of the premiere code and text editors out there. Atom is totally free, open source, and highly customizable. Built around a minimal core Atom comes with multiple language-specific packages built in, and the library of community-written ones has exploded over the years since the editor was first released. Atom is as robust as you need it to be –if the editor doesn't do something you need, you can create that feature yourself.
Key Features (out of the box):
File system browser
Fuzzy finder for quickly opening files
Fast project-wide search and replace
Multiple cursors and selections
Multiple panes
Snippets
Code folding
A clean preferences UI
Import TextMate grammars and themes
Highly extendable
Highly theme-able
Platforms:
Price: FREE | More Information
2. UltraEdit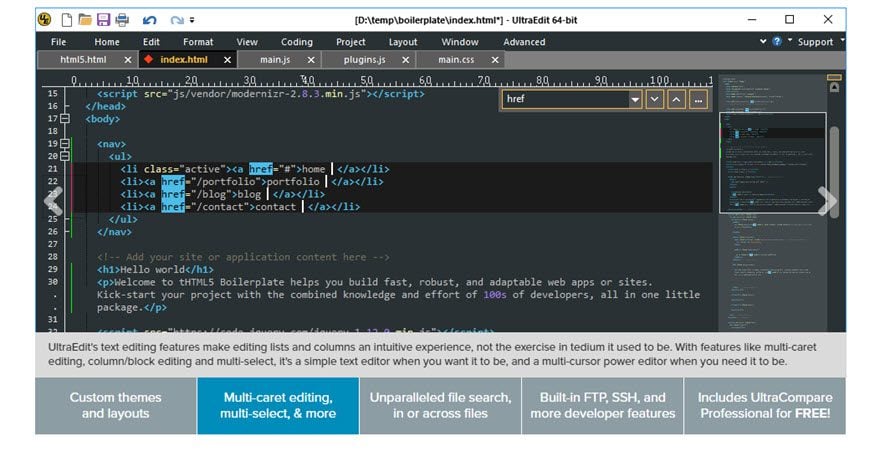 UltraEdit is part of a family of developer products by IDM Computer Solutions. It can be used to edit HTML, PHP, javascript, Perl, C/C++, Python, and just about any other programming language. By all indications this editor is a solid entry on this list and has some industry clout to prove it. I've listed some key features below, but its full feature list is quite extensive and can be found here. As a premium product (compared to many on this list), it is clear that they are actively developing their editor to compete with the rest of the best.
Key Features:
Column/block editing
Multi-caret editing
Multi-select
Syntax highlighting
Integrated FTP client
Integrated SSH/telnet
Editor themes
File/data sorting
And much more
Platforms:
Price: $79.95/year | More Information
3. Sublime Text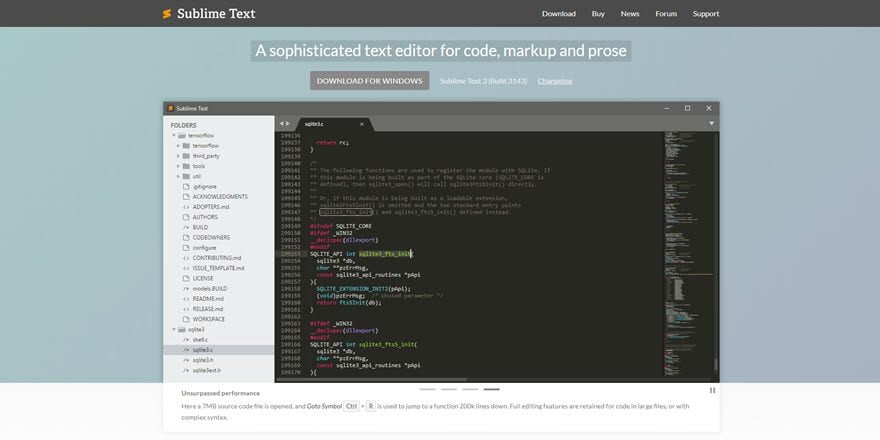 Sublime Text is pretty close to the industry standard for text editors. From a design standpoint, I'm a big fan. It is fun to work in, and being designed for code, markup, and prose is a big plus. They haven't ut the same consideration into their prose workflows as say, Scrivener or Final Draft, but it's pretty cool nevertheless to be able to work on all of my projects within one editor. Like Atom, Sublime Text has as an incredibly active package repository that extends its features far beyond the initial download.
Sublime Text is a beautiful, feature-rich editor for code. Maybe the biggest draw is that it puts a premium on user experience. This includes features like distraction free writing mode, quick shortcuts/search, split editing, and much more.
While there is an $80 price tag attached to Sublime, they offer an indefinite, never-ending trial. You have to deal with upgrade prompts as you open the editor occasionally, but you can use it as long as you wish to evaluate it. This is done on the honor system as the developers feel confident enough in their product that you'll like it enough to pay to support continued development.
And once you get used to Sublime's, well, sublime keyboard shortcuts, you'll wonder how you ever wrote a word without them.
Key Features:
Goto Anything (lightning fast search/shortcuts)
Command Palette
Split Editing
Highly customizable
Multiple selections
Distraction free writing mode
Instant project switch
Plugin API
And more
Platforms:
Price: FREE (technically it's an indefinite, never-ending trial of the $80 upgrade) | More Information
4. Notepad++

Notepad++ is extremely popular, partly because it's free and GPL-licensed open source. And more than that, it's simple. Beginners and veterans can get everything they need out of it. It is often mentioned in blog posts as a great option for someone just getting into code editing and might be overwhelmed by the environment offered up by Sublime or Atam. Notepad++ is a wonderful, simple option not just for beginners, but developers at any level. I know a lot of professional devs who use Notepad++ as their daily driver because it's light, effective, and does what it needs to do.
The downside: Windows-only. Many devs are on Mac or Linux, but for those living in Microsoft's turf, this is a great option to try out since it's free. You've got nothing to lose.
Key Features:
Syntax Highlighting
Syntax Folding
Search/Replace
Highly customizable
Auto-completion
Multi-document tab interface
Zoom in and out
Muti-language environment supported
And more
Platforms:
Price: FREE | More Information
5. CoffeeCup HTML Editor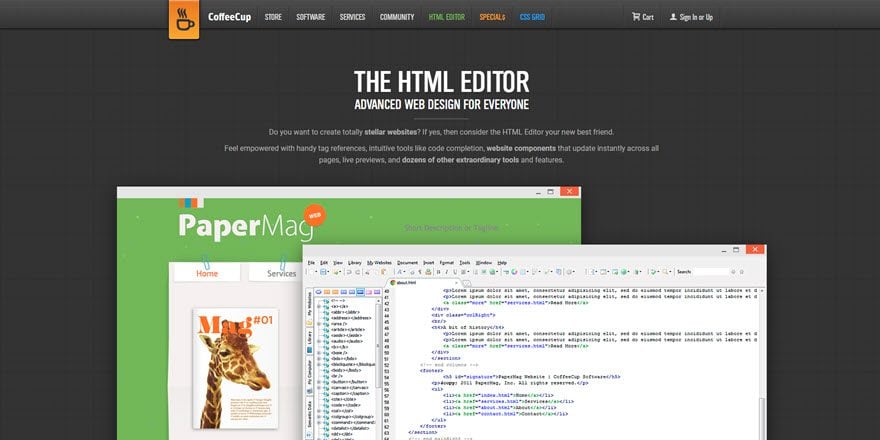 The CoffeeCup HTML Editor is a simple tool for creating, organizing, and working on an HTML/CSS project. That's what it does, even branding itself "The HTML Editor." The devs are confident in their product, and it shows. They also offer a split view where you can see the edits you make in real-time (much like the Divi builder, but with code). CofeeCup isn't just for HTML, however. It supports PHP development, as well as CSS and Markdown linting on top of the standard HTML.
There's a free version and a premium version with more features, too.
Key Features:
Quick startup
Syntax highlighting
Code validation tools
Project organization
FTP sync
Site preview
And more
Platforms:
Price: FREE, or $49 for a more feature-rich editor | More Information
6. Espresso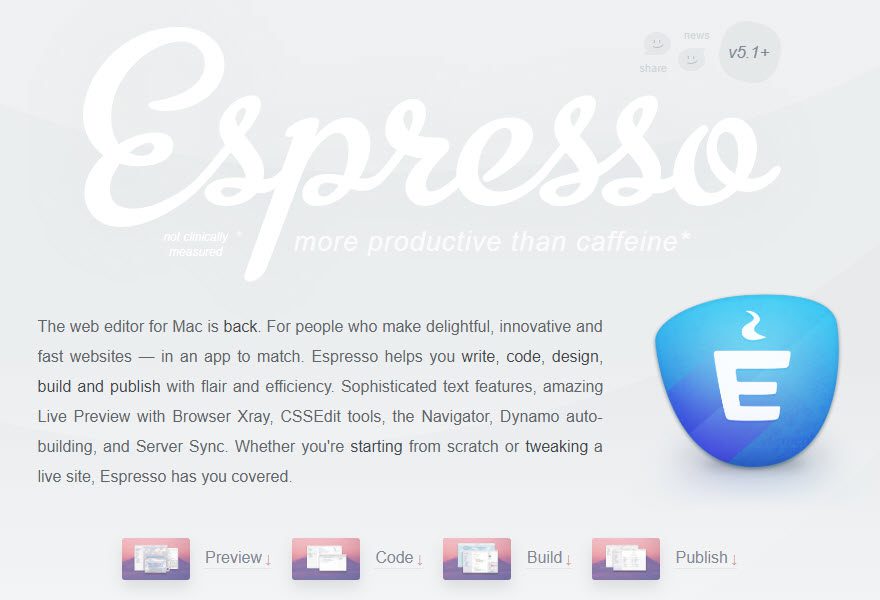 Espresso is a Mac-only code editor, but it can't not be mentioned. It's nearly an IDE, but works as smoothly and cleanly as Atom or Sublime. The program is fast and it's relatively powerful. What sets Espresso apart is the real-time editing that you can do in the code editing window as well as in the browser, too. Anything you code will reflect in the browser, and you have an intuitive drag-and-drop interface that updates the back-end on the fly. With a slew of plugins and themes and a focus on efficiency and speed, Espresso has a strong community and users who advocate for its use. Espresso is not free, but you can download a free trial from the website so that you can see if it fits your work.
Key Features:
Simultaneous design
Modular SCSS and LESS
Custom spacing and tabs
Multi-edits (many changes at once with multiple selections)
Plugins for lots of language support and linting
Markdown support
Themeable — no one wants to work in an ugly environment all day
Many keyboard shortcuts
Intuitive find function
Tabbed workspaces
Set automatic replacement for tags and snippets for efficient coding
Platforms:
Price: $79 (with FREE trial) | More Information
7. BBEdit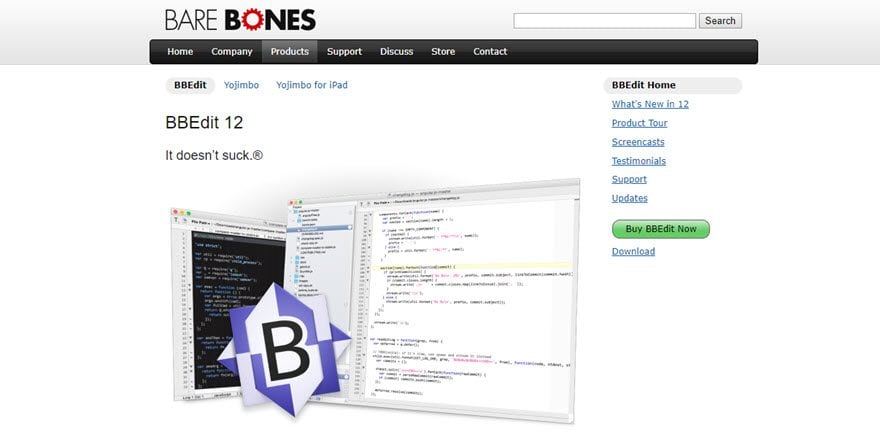 BBEdit by Bare Bones is a bit more advanced than their free offering, TextWrangler. It's more of a product you graduate to if you're a beginner who started with TextWrangler (or a similar product) and are looking to work in a bit more of a heavy-duty environment. BBEdit is full to the brim with professional level features for creating, editing, and manipulating text for your coding projects. It is MacOS only, so keep that in mind as well.
Plus, their tagline is "It doesn't suck," so you have to respect that.
Key Features:
Grep pattern matching
Search and replace across multiple files
Project definition tools
Function navigation and syntax coloring
Numerous source code languages
Code folding
FTP/SFTP
And more
Platforms:
Price: $49.99 | More Information
8. Bluefish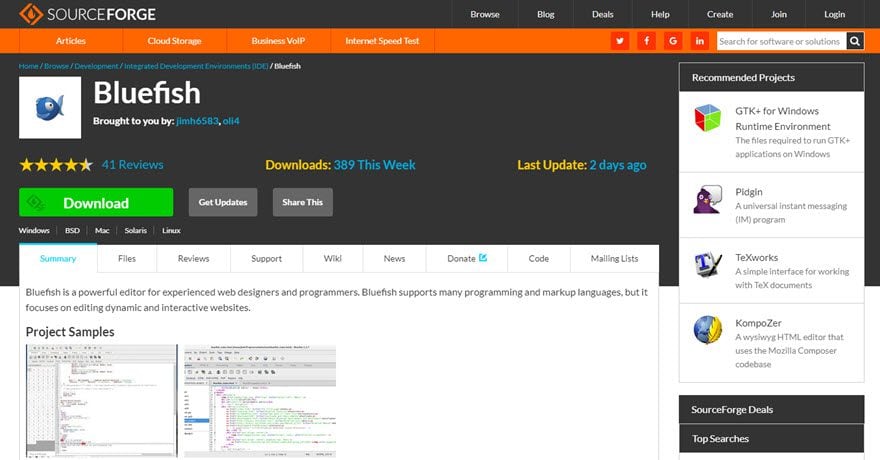 Bluefish is more of an IDE than a real text editor, which means it may be a little advanced for brand new users. It's free, supports pretty much every language because it's open-source, and comes with a wide variety of useful features for use across many platforms. It's constantly updated by the community that's built itself around the editor, and
Key Features:
Lightweight
Integrated Development Envirnment
Multiple document interface
Project support
FTP/SFTP/HTTP/HTTPS/and more
Snippets sidebar
Unlimited undo/redo
Auto-recovery
Full screen editing
Powerful search and replace
Customizable programming language support
And much more
Platforms:
Linux
BSD
MacOS
Windows
Solaris
Price: FREE | More Information
9. Brackets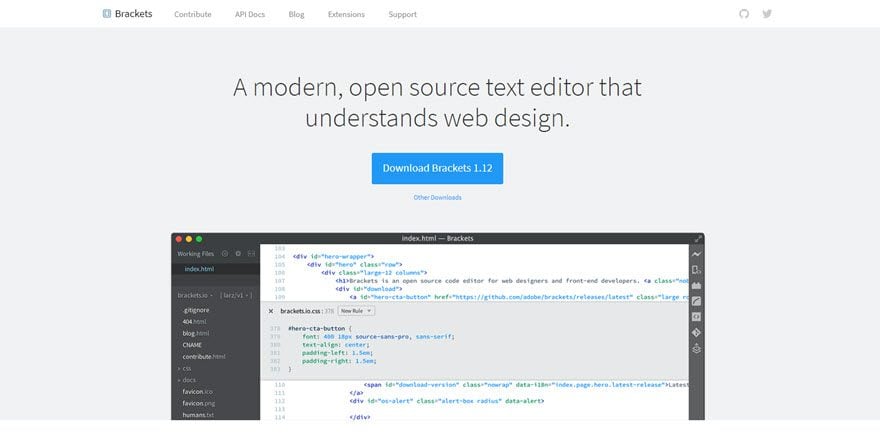 Brackets is another free and open-source editor. This time, it's not simply a community-driven project: Adobe itself is behind this one. Brackets is designed to be minimal-yet-powerful, while at the same time boasting some unique and exciting features. One of those features being Extract, a tool which allows you to extract information such as colors, fonts, gradients, measurements, directly from PSDs as clean CSS. For front-end developers working in a design agency who have to recreate pixel-perfect sites from mockups, there may be no better tool for you.
Key Features:
Extract
Constantly growing library of extensions
JavaScript refactoring
Git integration
W3V validation
Massive extension library
Inline editors
Live preview
Preprocessor report
And a whole lot more
Platforms:
Price: FREE | More Information
10. Coda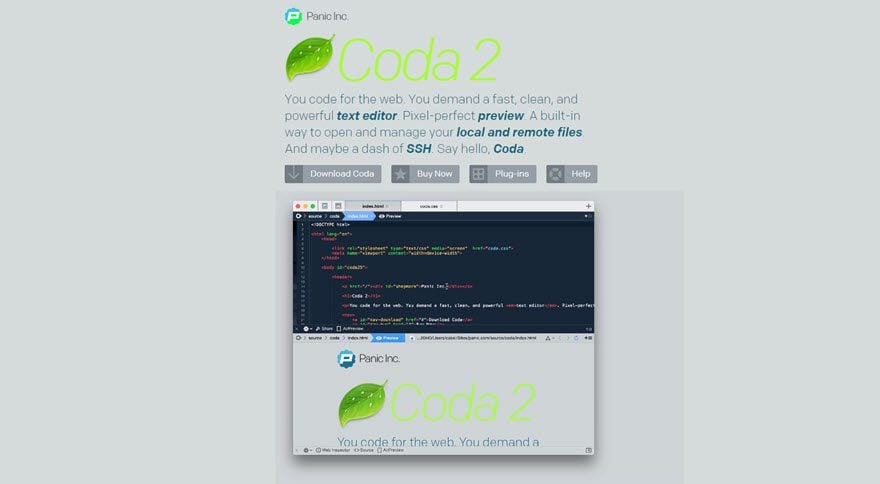 Coda by Panic Inc. is everything you need to hand-code a website in one app. You get a real-time rendering of your code, the UI is beautiful, and the software itself is regularly updated and improved. It has a plug-in repo like many text editors, and you can contribute to development even if you don't write Cocoa, its scripting language. There's also an iOS app you can buy if you're on the go, and it seems to be just as rich as the desktop version.
Key Features:
Syntax highlighting
Code folding
Project wide autocomplete
Fast find and replace
Indentation guides
Automatic tag closing
Fast commenting and shifting of code
Great file management
FTP/SFTP/WebDAV/Amazon S3
And much more
Platforms:
Price: $99 for MacOS, $24.99 for iOS | More Information
11. VIM

Vim is hardcore. Let's be clear about that upfront. Where Sublime Text, Notepad++, and some of the other editors on this list are newbie friendly, Vim is unapologetic in its utililitarian brutalism. From the official website down to the software itself, Vim is a coder's tool if there ever was one. Once you get past the UI and the steep learning curve, you'll see why the text editor is designed the way it is. It does roughly everything a text and code editor can do. Because it's designed for efficiency and function, watching people code in Vim is like watching a concert pianist. The UI is keystroke based, and if you thought the Sublime Text keyboard shortcuts were helpful, when and if you can get used to Vim, the experience is unreal.
Because Vim can be so intense to learn, they created a game for you to play to learn how it works. Not a tutorial, really, but a way not to overwhelm you. It's pretty fun.
Key Features:
Designed for coders and developers
Brutalist UI
Blurs the line between IDE and text editor, depending on how versed in it you are
Incredibly passionate community for documentation, updates, and help
Unix-based
Huge plug-in system
Secure login
Gamified learning process, if you choose
Support for every programming language imaginable
And more
Platforms:
Price: FREE | More Information
BONUS: GNU Emacs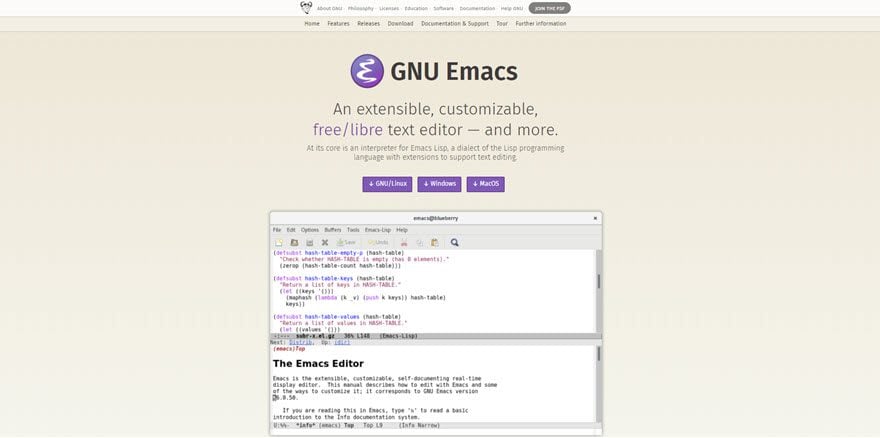 Having included Vim, I feel compelled to include Emacs as well. For developers, Emacs and Vim have the same relationship as Pepsi and Coke, Star Wars and Star Trek, M&Ms and Reece's Pieces. They're almost two sides of the same coin in that they are absolutely designed for the best developer experience possible, while cutting out many of the extraneous features that are barriers to efficiency. Emacs is lightweight, command-line based, and being a part of GNU, available totally for free across a plethora of operating systems.
Emacs takes a slightly more visually appealing approach to editing than Vim, however, that doesn't mean you lose any power or functionality. It may come down to taste of which one you want, but if you're in the market for a hardcore, no-nonsense text editor and IDE that will pretty much be around forever, Emacs is definitely an option. After all, the core came around in 1976 and this particular iteration (GNU Emacs) has been updated regularly since 1984.
Key Features:
Command line installation
Content-aware editing
Unicode support for roughly everything
Built-in documentation
Both Lisp or graphical interface
Passionate and involved community
Extensible with plugins and packages
Will be free forever because of GNU
Long, rich history (over 40 years) of stability and support
Available for nearly every operating system
And more
Platforms:
GNU
MacOS
Windows
Linux
Solaris
FreeBSD
NetBSD
OpenBSD
Price: FREE | More Information
In Conclusion
My go-to editor is Atom, partially because I am excited about the possibilities it presents, both as a product and a project. It reminds me a lot of WordPress in certain ways, and seeing as how I love being part of this open-source community, I feel comfortable with Atom as well. That doesn't mean none of the others appeal to me, either. Sublime Text has earned a permanent spot in my Mac's dock, and I am happily and slowly learning how to navigate Vim (and to a lesser extent Emacs).
But that's just me!
When trying to make a list of the best code and text editors available, it's impossible not to miss a few strong contenders. Every writer, coder, and developer has a favorite set of tools just like every carpenter has a favorite hammer and an artist has a favorite set of brushes. So if we missed something you think we should have included on this list, please feel free to add it in the comments (with your reasons why, too, of course).
What's your code or text editor of choice? Let us know in the comments!
Article featured image by Julia Tim / shutterstock.com