As a regular reader you may have noticed that recently we have been publishing a lot of in-depth reviews of code editors. We first started off with Atom, then moved on to Sublime Text and Adobe Brackets.
The goal is to give you an understanding of the features, pros and cons of each editor so you can decide which tool is the right one for you and your purpose.
In this article, we will talk about an editor that our readers requested and talked about repeatedly in the comments of the other articles — Notepad++. In the following, we will take a hard look at this code editor and what it can do for WordPress users.
Notepad++ – Installation and Overview
Notepad++ is a free, open source code editor. You can download it from the official website both as a 32-bit and 64-bit version. Since it is written in C++, the installer file is just 2.7MB large.
Notepad++ has a very active community behind it and is thus available in a multitude of languages. Once on your hard drive, the editor only takes up about 4MB. However, it packs a heavy punch in that little space, as you will see below.
At the end of the installation, you can pick to automatically start Notepad++ for the first time. If you do, you see this screen: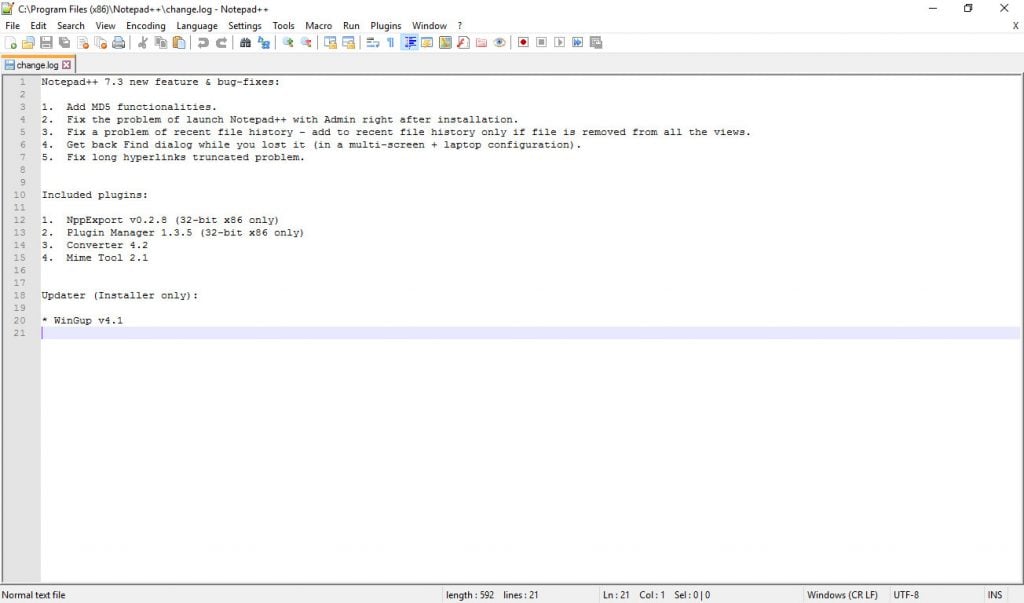 The text you see is the change log of the current version. Overall, the UI is not as slick as that of other candidates, however, you can quickly find your way around.
What jumps right out is the long line of action buttons at the top. Here, you find a lot of standard operations like create new document, close all windows, copy and paste, undo/redo, zoom in/out and more. While other code editors shoot for minimalism, Notepad++ offers as much functionality as possible in one screen. As you will see in the rest of the article, that is a continuing theme.
Adding project folders happens via File > Open Folder as Workspace. After doing so, you can open files contained within the folder with a double-click to start editing them. They will automatically open in new tabs. Nothing new so far, so let's dive a little deeper.
Notepad++ – Pros and Benefits
First up, let's have a closer look at what this code editor does well.
Open Source and Free
Like other code editors on our list, Notepad++ is an open source project. Users can contribute in many different ways:
Submit bug reports and feature requests
Hand in bugfixes and patches
Do online support
Translate the editor
Share plugins, themes, auto-completion files
Buy merchandise (including the official Notepad++ thong of all things)
As a consequence, the editor is also completely free. Good news for anyone operating on a budget. Plus, while the program is made for Windows (where it replaces the standard Notepad) it also runs on Linux, Unix and can be ported for MacOS X.
Solid Standard Features
Notepad++ is jampacked with standard features. First of all it supports more than 50 programming, scripting and markup languages and including syntax highlighting and code folding. Users can even define their own, a first among the code editors we have seen.
Together with auto-completion for words, functions and function parameters as well as auto indentation and brace highlighting Notepad++ does everything it can to make coding quicker and easier.
Then there is the search and replace functionality with many different options and the ability to search across several documents. Line operations like split, join, sort and move are included as well.
Finally, Notepad++ is highly portable and runs from a USB stick.
Fully Customizable User Interface
Notepad++'s interface is adjustable in many different ways. For one, you can control whether tabs align vertically, horizontally and/or behind one another. Working split screen with more than one file and full-screen mode are also available.
In addition to that, the editor comes with 20 themes that you can activate under Settings > Style Configurator.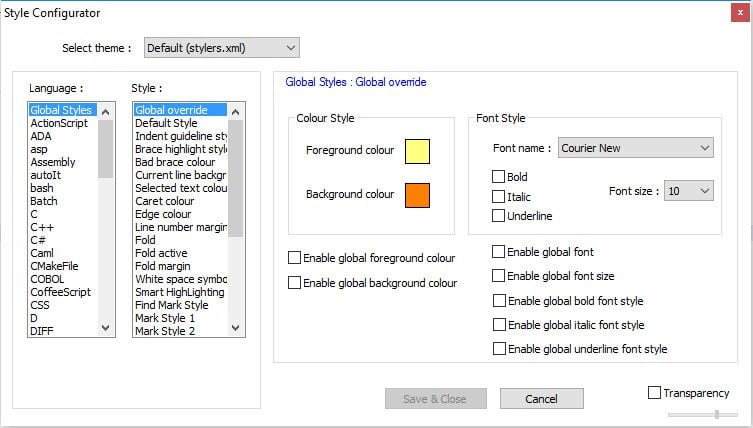 Note that themes only change the part where you code while the rest of the UI remains untouched.
However, in the same place as the themes you find options to control background and foreground color, fonts, font styles and much more to create your own theme.
The crazy thing is that you can not only make global changes here but control these things per language. That's right, if you want, you may adapt the style to your wants and needs for each programming language separately!
If that wasn't enough, keyboard shortcuts are also completely configurable to truly make the editor fit your workflow.
Document Map and Multiple Cursors
What's remarkable about Notepad++ is that it includes a number of features that other code editors strongly advertise but completely fly under the radar in this one.
One of them is the ability to use multiple cursors for making code changes in several places at once. In Notepad++ this is hidden in the preferences menu (Settings > Preferences > Editing and then check Enable under Multi-Editing Settings) and has to be activated to work.
Same for the document map. It's like the minimap in Sublime Text but you also won't see it until you have activated it under View > Document Map.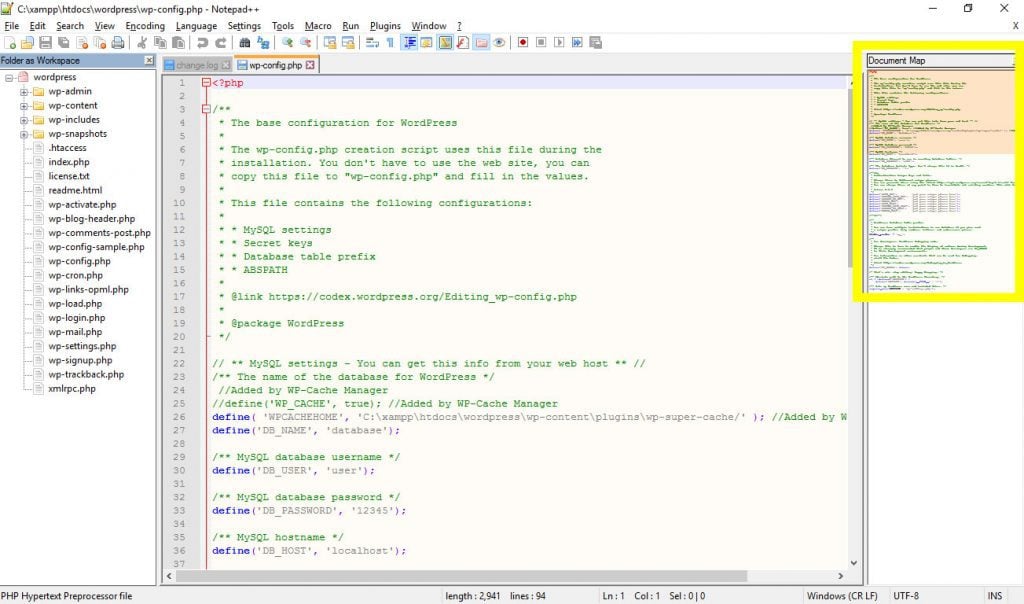 This handy little map gives you an overview of your current document and the possibility to jump to any part you want.
Loads of Plugins
Thanks to its open source nature, Notepad++ has plugins for almost anything you need. You can find the full list on this website, however, installing plugins happens through the built-in plugin manager.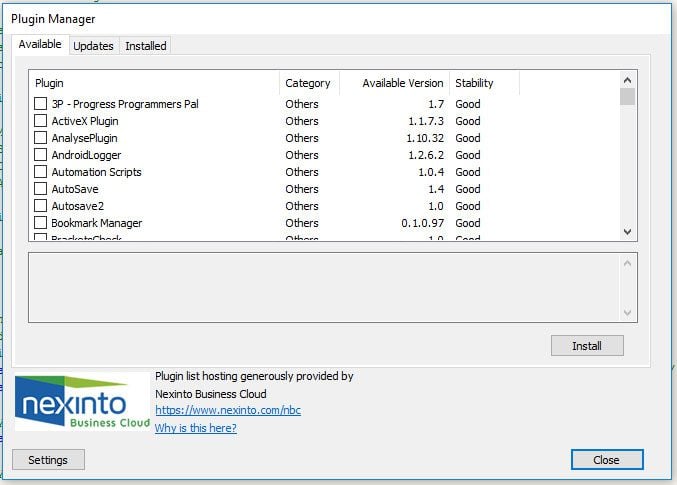 When you start it, the manager automatically downloads the full list of plugins including their name, category (all of them seem to be of the Others category), version and stability. By default it only shows stable plugins, but you can change this if you want.
Unfortunately, the list doesn't have a search function, however, each plugin comes with a description and the installation is swift (though a restart is required for new plugins to work).
The plugin manager also shows all installed plugins and those that have updates available (the plugin manager automatically checks for that). Overall, quite comfortable.
Note, however, that the plugin manager is currently not included in the 64-bit version of Notepad++. That's because it is by a third party who are lacking behind in the development. So, if you want to use it, you have to go with the 32-bit version. Otherwise, install plugins manually.
As for the types of plugins available, they span from auto-publish functions, FTP support and color pickers to autosave, document comparison, spell check and much more. Once installed, each plugin is accessible from the Plugins menu.
Macros
A final great feature of Notepad++ is the ability to work with macros. For the uninitiated, macros are recordings of complex operations that can be automatically repeated so you don't have to do them manually.
For example, let's say you have a list with several entries and you wanted to delete the line breaks between them and place commas there instead. You could then record the steps necessary to do this for the first item and have Notepad++ repeat it automatically for the rest of the list.
Especially with large data sets, this is a real time saver. You can find an animated and explained example here. Everything concerning macros is in the Macros menu and there shortcut icons in the top bar as well.
Environmentally Friendly (No Kidding!)
A short tidbit for the end: If you are environmentally conscious (and who isn't these days), Notepad++ is also a good choice for you. Quote from the website:
Based on the powerful editing component Scintilla, Notepad++ is written in C++ and uses pure Win32 API and STL which ensures a higher execution speed and smaller program size. By optimizing as many routines as possible without losing user friendliness, Notepad++ is trying to reduce the world carbon dioxide emissions. When using less CPU power, the PC can throttle down and reduce power consumption, resulting in a greener environment.
Not something many software makes brag about, but good point, don't you think?
Notepad++ – Cons and Turnoffs
Of course, there's always something that could be better and Notepad++ is no exception.
Old-School Design
One of the biggest turnoffs of the editor is its design. In times where even Microsoft manages to create a decent user interface for its operating system, Notepad++ looks like it is stuck in Windows 95.
While you can make changes to that, they are mostly on the surface and far away from the slick UI of other code editors built with JavaScript and CSS.
The clear functionality-before-design approach is admirable but some better packaging would do a lot to make Notepad++ look far more professional.
Plugin Management Could Be Better
The handling of plugins is another weak spot of this code editor, not only because the plugin manager doesn't (yet) work with the 64-bit version.
Lacking a search option, finding plugins is unnecessarily cumbersome even if they download and install quickly. Like many of the other code editors we have tested, Notepad++ could take a page from Atom's playbook in this regard.
Summing Up
Among all the code editors out there, Notepad++ is definitely a surprise. Beneath its rather plain exterior hides a powerful, customizable code editor with many useful features that supports a multitude of programming languages.
The software even offers standout features of other code editors without making a big fuss about and can be extended to pretty much anything you need. All of that for the price of nothing – how great is that?! No wonder so many of you requested to hear more about it.
Speaking of which, we could use your input once more. Do you have a favorite feature or plugin of Notepad++? If so, please let us know in the comments section so we can all make the most of this awesome code editor.
Featured image made from graphics via Notepad++ homepage