Last week we introduced Divi 2.4, the biggest upgrade in Divi history and a giant leap forward for our most popular WordPress theme. There are so many great features to explore in this update that it was hard to describe them all on the release post, which is why we have decided to do a 2-week series of informational blog posts that will aim to teach you how to take full advantage of Divi 2.4 and its new options. In part six of this series, I will walk through the many new ways you can customize your website's navigation header.
The the customizer gives you so much more control than you had before. Give your fixed navigation a custom design, hide/show your logo on scroll, and even center your logo inline with your menu links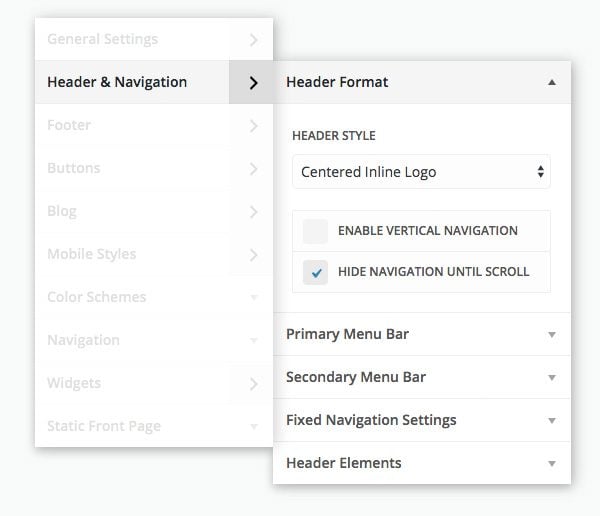 Brand New Header Formats
Two settings that are new to the "Header Format" tab are the Centered Inline Logo header style and the Hide Navigation Until Scroll setting. Both of these options can drastically change the look and feel of your header with just a click of the mouse.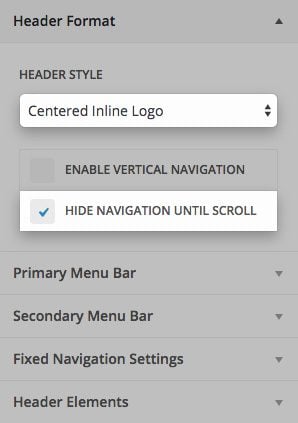 Centered Inline Logo
Centering your logo can be a good design decision for many reasons: you could have a very symmetrical logo, have only a few menu links, or you could have centered page content and you want your header to be consistent. Centering your logo while also placing it inline with your menu links can justify any reason you may have for centering your logo, while also reducing the height of your navigation.
To ensure the best use of the centered inline logo, make sure to have an even number of menu links, and to consider the length of your menu item labels.
You may not want your logo and navigation links to interfere with the first section on your page. This is common with fullscreen headers, or headers that already contain your logo and/or a call-to-action that you want to stand out more than your menu links.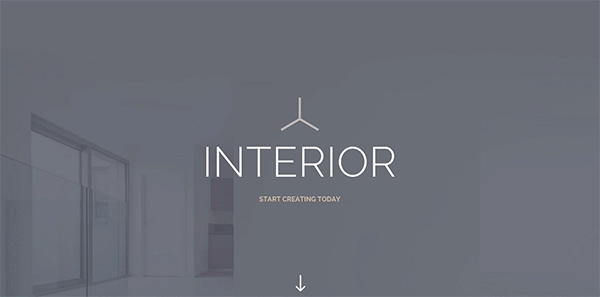 Deactivate this Effect on Select Pages
Perhaps you only want this effect to take place on your home page or other select pages. If this is the case you can choose to turn this effect off on a per page basis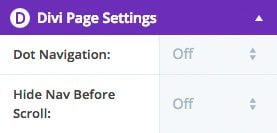 We've completely revamped the control you have over your primary menu bar in Divi 2.4. With settings like "Make Full Width", "Menu/Logo Height", and "Font Style" you can give your website that unique touch to stand out.

By default, your header content is contained by your main content width. The new "Make Full Width" option in the Primary Menu Customizer lets your header content break out of the container and take on the width of the browser. This can look great if your first section's content is not constrained by the main content width. For example, a fullwidth image or slider module.
This option is primarily useful when you have enabled Fixed Navigation so that your logo appears after the user scrolls. Hiding your logo before scrolling is a nice option if you're already displaying it in the first section on your homepage.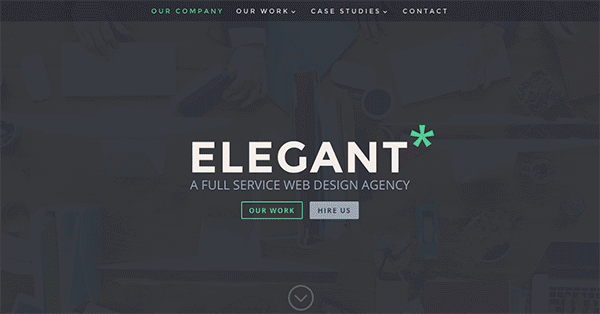 Depending on the design of your logo, you may want to increase or decrease its height. This new control lets you do that with a simple range slider.
Controlling the font, size, color, style, and letter spacing of your menu links is doable from right inside the customizer. Whether you want your menu links to match the typography of your main content or drastically contrast the items on your page, you can easily achieve countless combinations and designs for your own header.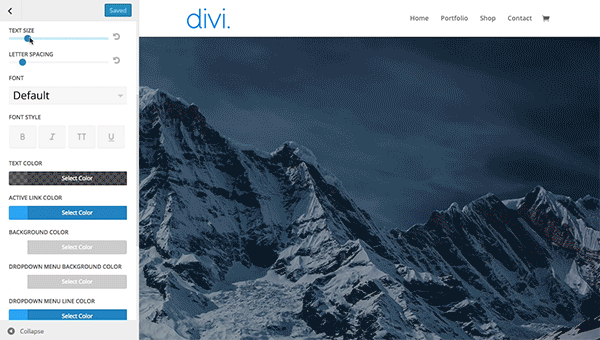 In addition to unlimited color options, you can also choose the transparency of your colors. If you choose a transparent background color for your header background, the first section of your website will be tucked underneath and extra top padding will automatically added so that your navigation won't overlap its contents.

The last setting to go over in the Primary Menu Customizer is the new Dropdown Menu Animation setting. If your menu links contain dropdown menus, you can now choose from four intro animations: Fade, Expand, Slide, and Flip.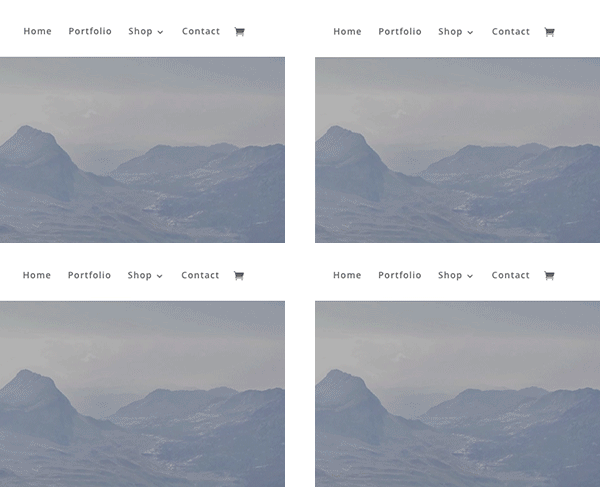 All of the design settings that you have for your Primary Menu Bar are also available for your Secondary Menu Bar. Your Secondary Menu Bar will only display if you have defined a phone number, email address, social network links, and or have a secondary navigation menu assigned.

Here are just a few examples that show how you can use different combinations of colors, fonts, and type styles to design your secondary navigation.

By default in Divi, when the users scrolls down the page, the navigation bar sticks to the top of the browser, the logo shrinks a bit, and the header decreases in height. The header that you see after scrolling is your Fixed Navigation Bar, and now you have full control over what it looks like. The colors and size settings in this customizer will smoothly transition from their Primary Menu settings. For example, if your "Active Menu Link Color" was green in your primary nav, and blue as seen below, it would fade to blue as soon as the user starts scrolling.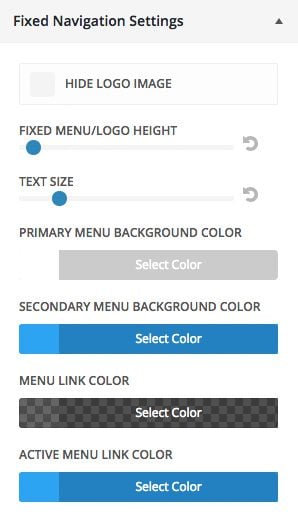 Hide Your Logo After Scrolling
In contrast to hiding your logo in your Primary Menu Bar, you can choose to hide it in your Fixed Navigation so that it disappears after the user scrolls. This can be a nice way to have the fixed navigation take up less screen space while browsing your site.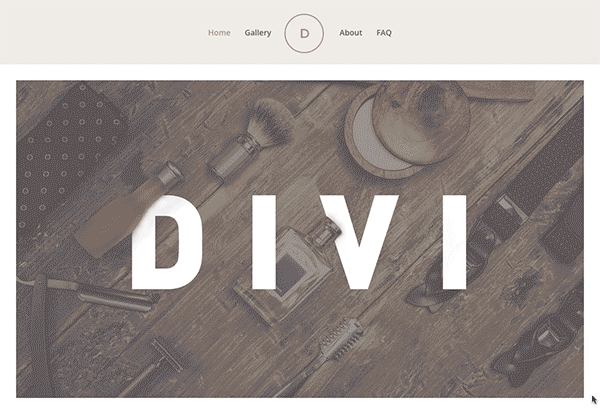 The Divi 2.4 Theme Customizer also has a new Mobile Styles menu that lets you define a few mobile settings for you navigation.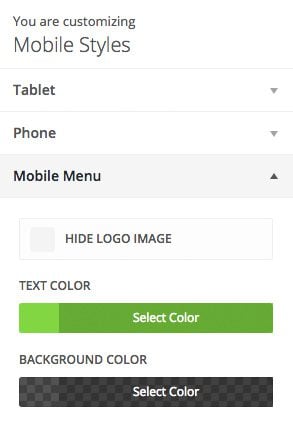 In this example, I have darkened the header background on mobile and changed my menu links to be green.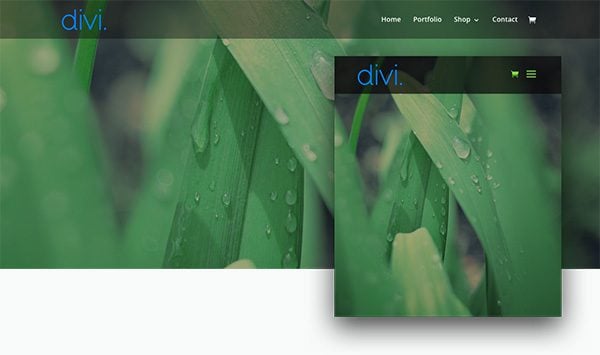 Finding the right combination of these settings can take a bit of finesse, but spending the time to find that perfect balance is worth it. Here are some examples to show you just how many different ways you can combine these settings so that your website navigation is truly unique.
Shrink Logo & Text On Scroll
In this example, I decreased the logo height and text size in my Fixed Navigation settings. Even after shrinking the the nav links, I increased their legibility by darkening the header background color and whitening the nav links color.

Full Transparency
If the first section on your page is made up of a solid color, or even an image with a simple background, you can get away with a full transparent header background color. However, when the user scrolls, you will want increase the opacity of your background color so that your logo and nav links are readable.

You may want to hide your navigation entirely when the page is loaded. Remember that there is a new setting Hide Navigation Until Scroll that will let you achieve this. In the case of not having a logo, using the Centered Header style is a nice way to display your menu links.

Display Your Logo After The Users Scrolls
In contrast to a couple of the above examples, this combination shows the logo and menu links increasing in size after the user scrolls. This can be a good solution if you really want your navigation links to be very visible and readily available to your users no matter where they are on the page.

Endless Possibilities

The examples go on and on. Combining your logo orientation, background colors, text colors, text styles, and display settings, there are so many ways you can create something that has your own personal touch. If you've already had a chance to explore these settings we would love to see the different combinations you have come up with in the comments. While we are extremely excited with what the new header options have to offer, we also know there are many ways to make Divi's header settings even stronger. As always, we love hearing your suggestions and we will do everything we can to keep pushing the envelope.