If you have a WordPress site, chances are you find yourself writing content from time to time. Whether you're writing this content directly in the WordPress Editor or a desktop tool like Microsoft Word, you may be missing out on a more enjoyable writing experience. For serious writers, a dedicated writing app can offer a much improved content creation process.
In this post, I'll dig into some of the best desktop writing apps out there. So if a distraction free, writing focused environment sounds good to you, keep reading for the full list.
What Are the Benefits of a Dedicated Writing App?
If you're serious about content creation, dedicated writing apps can offer some very real benefits over the default editor included with your operating system:
No distractions – most of these editors offer lightweight, distraction free modes that put the focus squarely on your text.
Productivity features – most also include things like word count goals/progress, text analysis, and easy markup.
Specific content types – if you're a novelist or a screenwriter, you need to be able to better organize and format your longform content. These writing apps can help you do that.
Easy integrations – most apps offer cloud backup and some even let you publish directly to WordPress.
The 7 Best Writing Apps for Serious Content Creators
In compiling this list, I tried to stick with writing apps that you may not already know. As much as I love Google Docs, it's not exactly a secret in 2017. So don't expect to see no-brainers like Word, Pages, or Google Docs on this list.
Instead, I tried to stick with well-reviewed, unique apps that are truly built for serious writers. Whether you're a blogger, a novelist, or a screenwriter, you should be able to find a tool that works for you.
I'll also be sure to note those apps which have special integrations with WordPress. For example, a few of these apps let you publish your content directly to WordPress.
Let's get into it…
1. Ulysses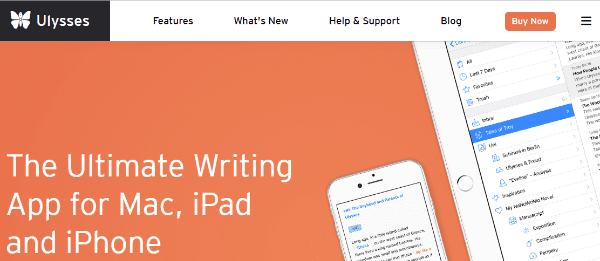 Ulysses is the writing app that makes me wish I owned a Mac. From everything I've read, it seems like an amazing content creation experience. Ulysses organizes all of your content and then gets out of the way with a distraction free editor full of helpful features like word count goals, simple markup, and more. Best of all, you can publish directly from Ulysses to WordPress.
Key Features:
Distraction free writing mode
Easy markup for headers (H2, H3, etc.) and other markup types
Different color schemes
Can publish straight to WordPress
All writing files organized in one library/autosaved
Word count goals
Automatic sync to iCloud or Dropbox
Platforms:
Price: $44.99 | More Information
2. Scrivener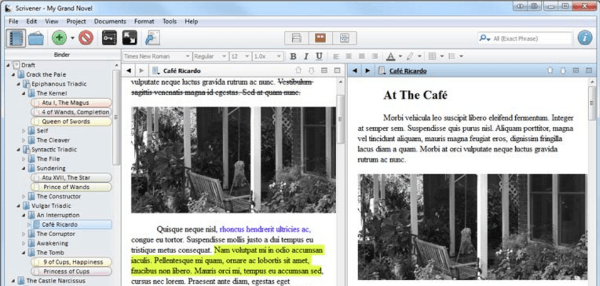 While all types of content creators take advantage of Scrivener, it's mainly geared towards novelists or other long-form content creators. It helps you with outlining, research, and organization. You can view your research alongside the editor to make citations easy. And if you're dealing with multiple chapters, you can easily organize them into separate sections.
I do know some bloggers who still enjoy using Scrivener, but generally its feature set is overkill unless you're creating long-form content.
Key Features:
Create a digital storyboard with movable cards
Combine multiple documents into one or separate them for easier organization
View research right beside the text editor
Distraction free mode
Scriptwriting mode for easy script formatting
Export to various ebook formats
Platforms:
Price: $40 | More Information
3. FocusWriter

FocusWriter is a multi-platform, distraction free writing app. It can help you boost productivity with goal-setting. And you can customize its appearance to find something that's easy on the eyes. It also has multi-document support and can auto-save your work.
Key Features:
Distraction free writing
Can set timers and alarms
Custom themes
Auto-save
Goals, e.g. word count target
Multi-document support
Platforms:
Price: Free | More Information
4. Fargo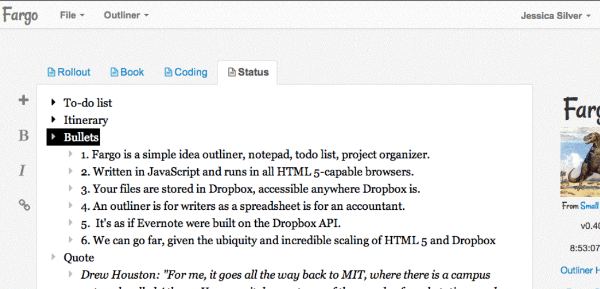 Fargo is a lightweight tool for simple outlining and note taking. It may not help you completely craft your next longform blog post, but it is a great writing app for jotting down ideas and sketching out outlines. Because it's an HTML5 app, all you need is a browser to run Fargo. And all of your documents are automatically backed up to Dropbox.
Key Features:
Hierarchical organizing
Cloud-based – works on any operating system
Automatically stores all files in Dropbox
Platforms:
Browser based app – works on any operating system with a supported browser
Price: Free | More Information
5. WriteMonkey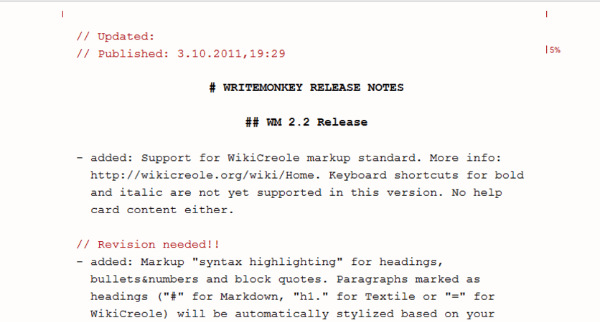 WriteMonkey is a lightweight, distraction free editor for Windows. It calls itself "Zenware," which is a good description for how bare the interface is (that's a compliment!). But while it's lightweight, it still includes plenty of handy features like advanced statistics on both word count and word usage, writing goals, auto-save, and easy markup.
Key Features:
Lightweight – no installation and can run off a USB drive
Distraction free editing
Visual progress towards word count
Easy markup
Advanced statistics with word count, word frequency, and more.
Automatic text replacement based on defined keywords
Platforms:
Price: Free | More Information
6. iA Writer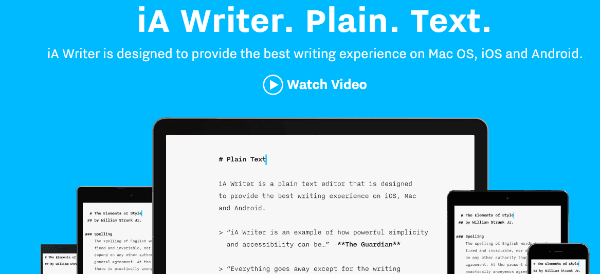 iA Writer is a plain text writing app for Mac OS and mobile. In addition to its stripped-down, writing focused interface, it also includes helpful tools like estimated word counts, Focus Mode, markup, content blocks for images/tables, and more. You can also directly export your content to WordPress.
Key Features:
Easy markup – no need to leave your keyboard
Automatically sync between devices
Export straight to WordPress
Estimated reading time
Focus mode dims all text except the current sentence
Content blocks let you embed images and tables
Platforms:
Price: $9.99 | More Information
7. OmmWriter Dana

OmmWriter Dana is more than just a text editor. It also includes sounds and audio to help create a relaxing writing environment. While OmmWriter is a pleasant experience, it does lack some detailed editing and formatting features. So if you usually need to format your text a good bit, this might not be the editor for you.
Key Features:
Custom background color schemes to set the mood
Typing sounds
Relaxing ambient music
Basic formatting
Platforms:
Price: Pay what you want | More Information
8. BONUS: Write Or Die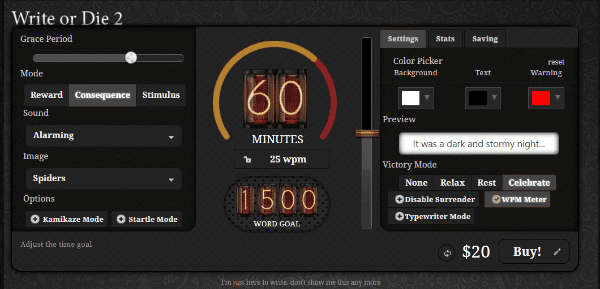 Write or Die isn't for the faint of heart. Nor is it something you'll want to use every single time you write. But if you want a writing app that will push you to break through a particularly bad case of writer's block, then Write or Die is for you.
That's because, as the name suggests, Write or Die is a writing app that adds some very significant consequences if you procrastinate…like "losing all of your work" consequences.
When you boot up the app, you set your goals and consequences. These consequences range from minor, like a disapproving cat staring at you, to disastrous with Kamikaze mode. In Kamikaze mode, if you fail to reach your goal, your words will be increasing disemvoweled – a cute way of describing a rather catastrophic end result.
If you prefer the carrot over the stick, you can also opt to give yourself rewards for good behavior instead of consequences.
Key Features:
Set consequences for failing to meet goals
Set rewards for meeting goals
Not good for formatting. Just for cranking out words.
Platforms:
Price: $20 | More Information
Wrapping Things Up
I tried to include a variety of different apps. Whether you're looking for a simple plain text editor, or a detailed app capable of creating screenplays and manuscripts, there should be a tool for you.
But it's a big wide world out there. So if I missed a writing app that you really love, it would be great if you shared in the comments so that I, and everyone else, can check it out.
Article thumbnail image by vectorbest / shutterstock.com