Interested in Twitter advertising? Paying for an ad campaign on Twitter is a great way to get more visibility for your brand. On this busy, fast-paced platform, it's easy for users to miss out on posts from their favorite brands. As a result, advertising on Twitter is one way to make sure you're boosting your visibility and raising brand awareness.
Want to know how to create your first Twitter ad campaign?
Read on!
Subscribe To Our Youtube Channel
Creating Your First Twitter Ad Campaign
To get started with Twitter advertising, visit Twitter's Advertising center. You'll need to log into your Twitter account. If you don't have a Twitter account already, it's easy to create one.
1. Firstly, from the main Advertising page, click Create An Ad.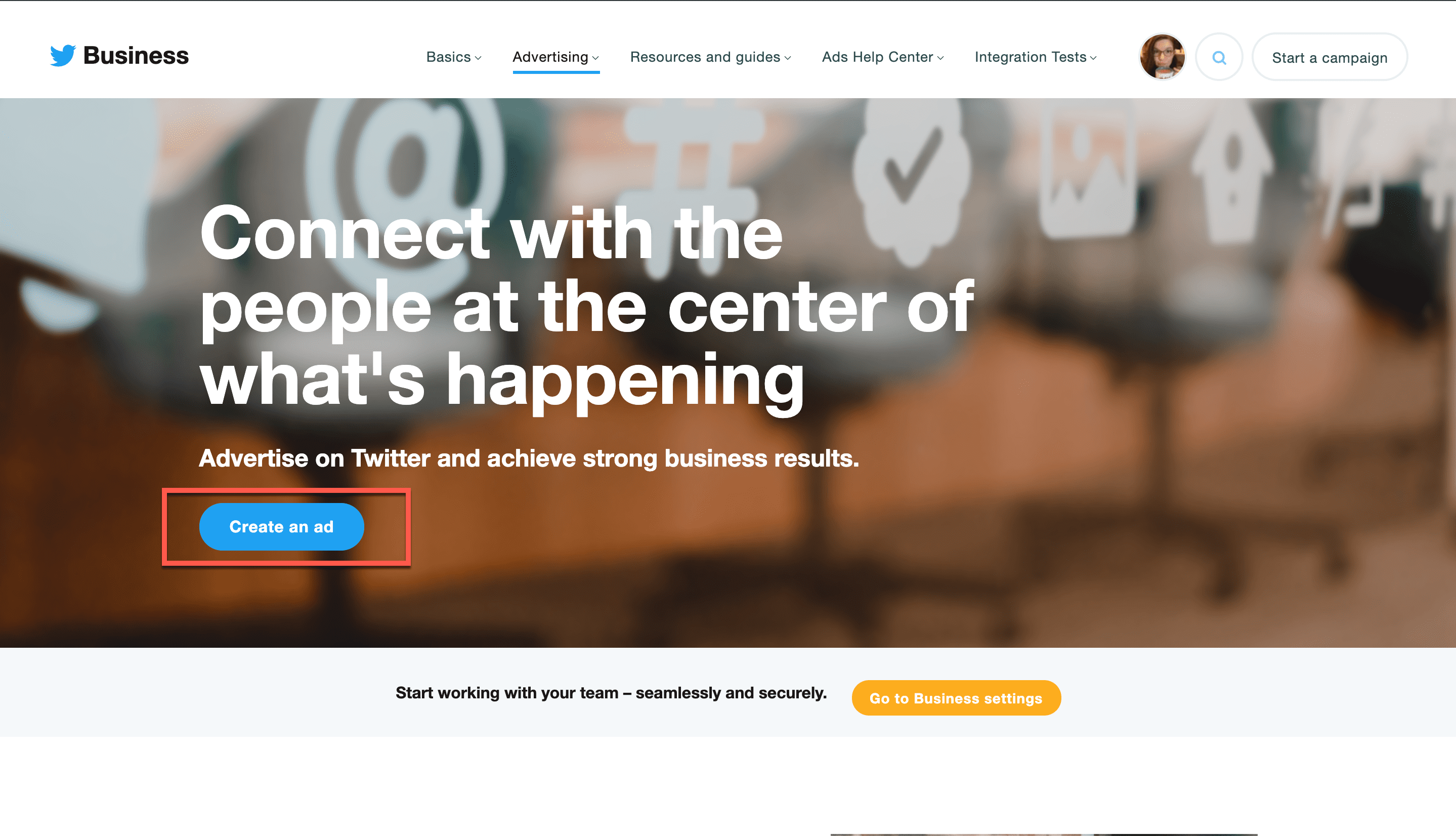 2. Secondly, Twitter will ask you to share some additional information about yourself before you move on to create your ad. Fill in the required information and click Let's Go.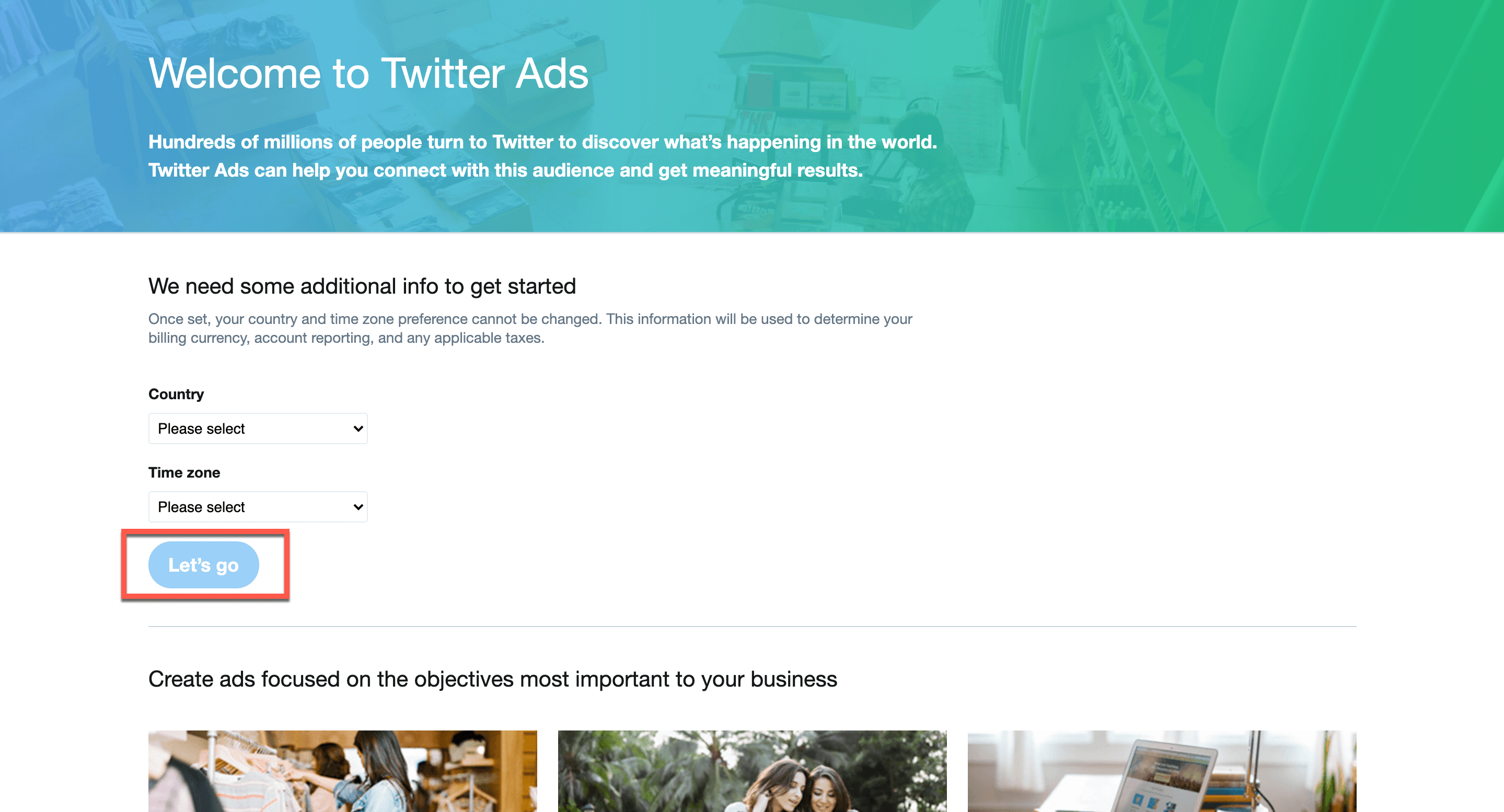 3. On the next page, you'll be given the option to choose the objective for your campaign. The categories for your objectives include Awareness, Consideration, and Conversion.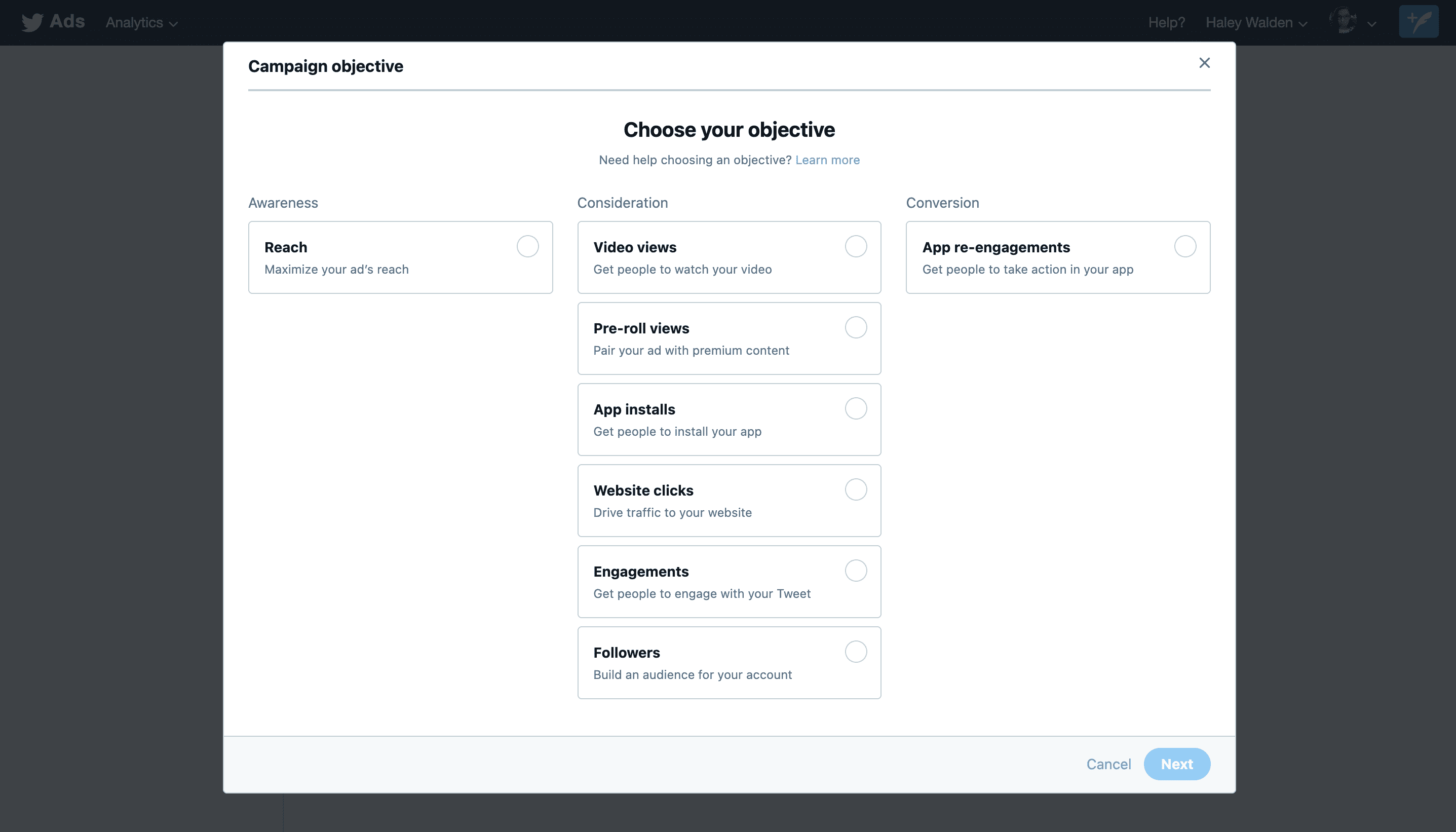 In the Awareness category, your objective is Reach. This means you want to get the broadest reach out of your ad as possible. If your goal is to get your brand in front of as many people as you can, for example, then Reach is your go-to.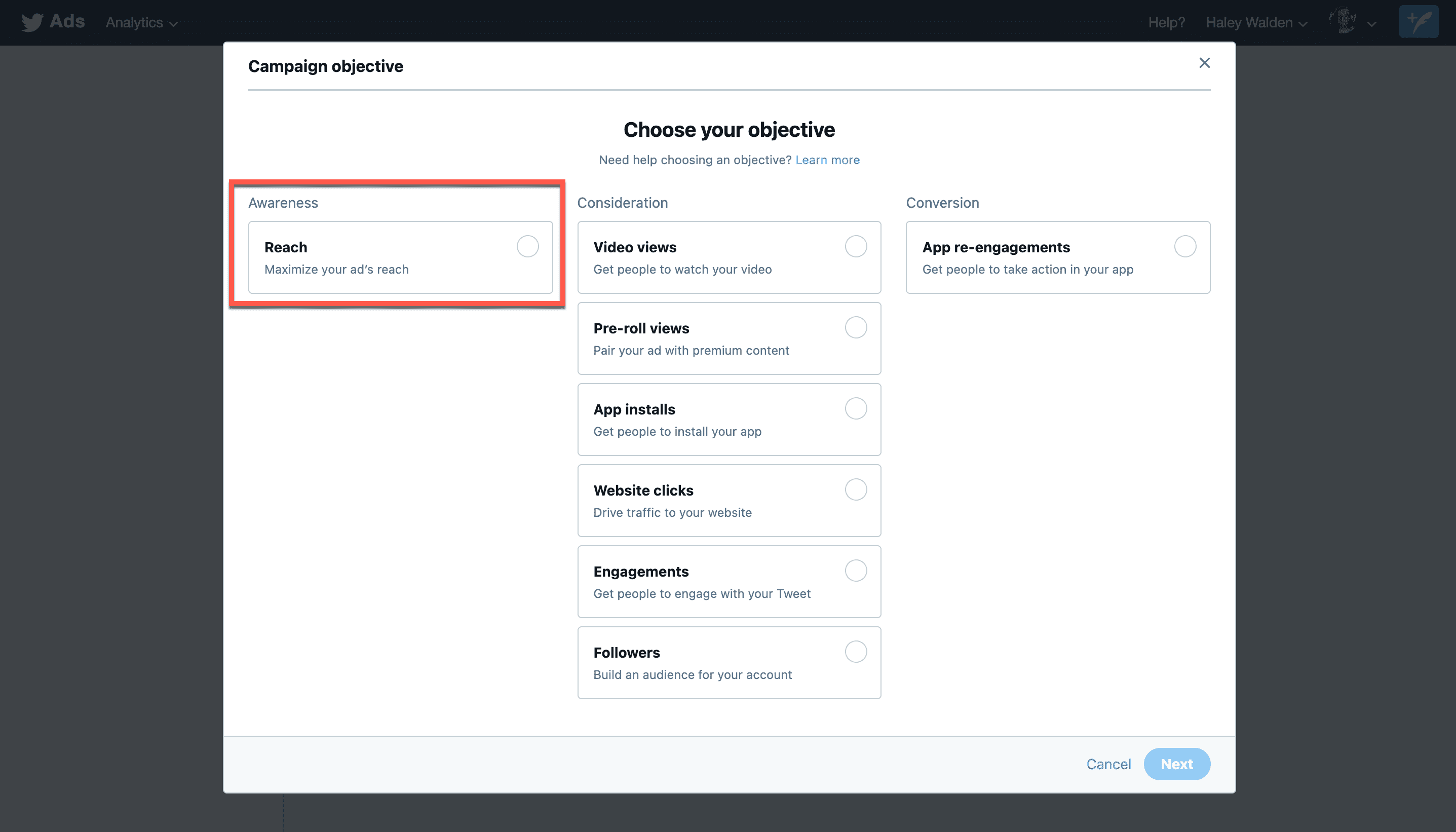 In the Consideration category, for example, you have multiple possible objectives to choose from:
Video views – this objective drives people to watch a video.
Pre-roll views – include your ad with premium content.
App installs – drive people to install your brand's mobile app.
Website clicks – drive more traffic to your website.
Engagements – encourage people to actively engage with your sponsored tweet.
Followers – grow more followers on your account.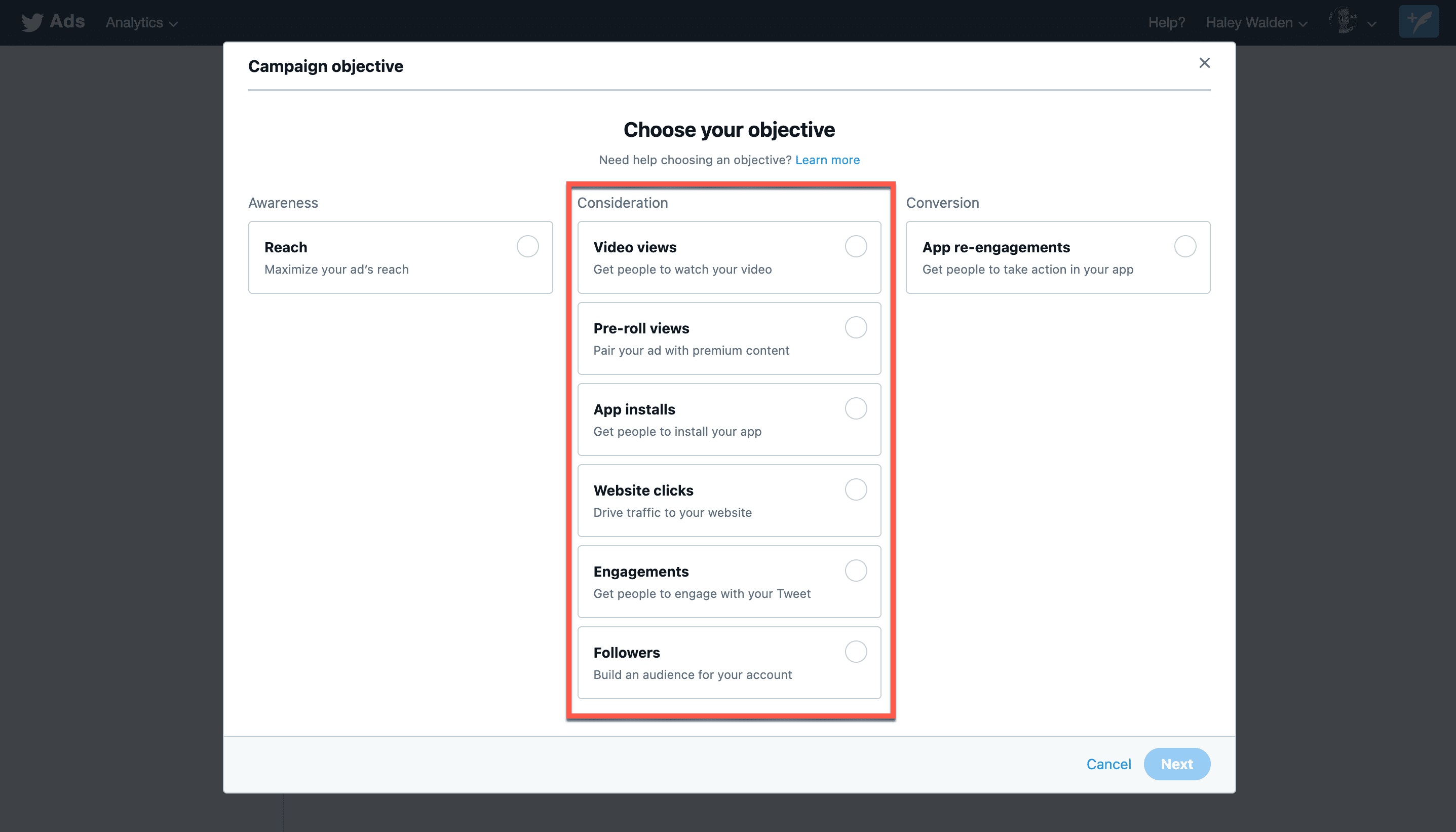 In the Conversion category, your objective is App Re-Engagements. This option drives users to take action within your app.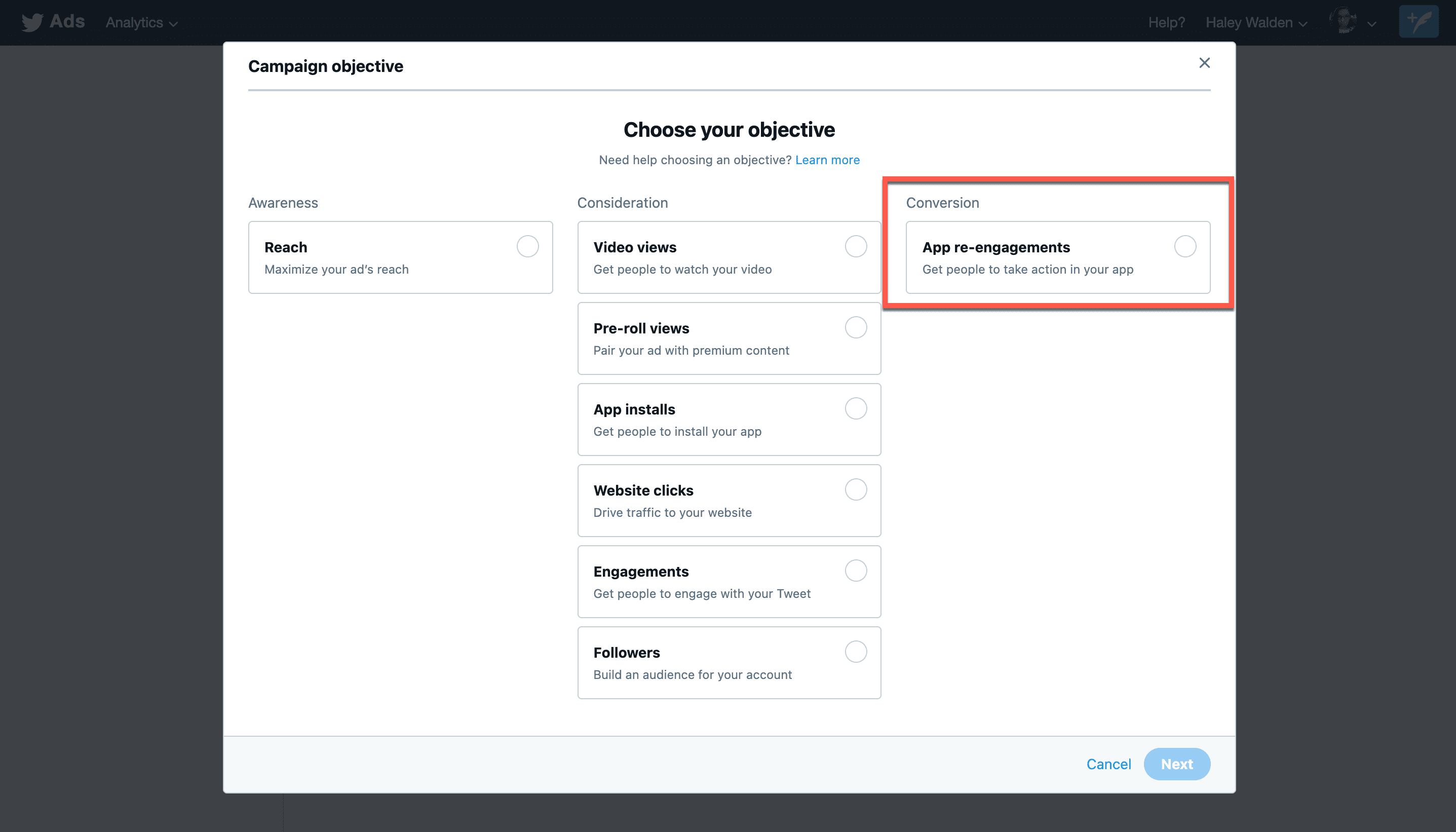 Once you've selected your objective, click Next.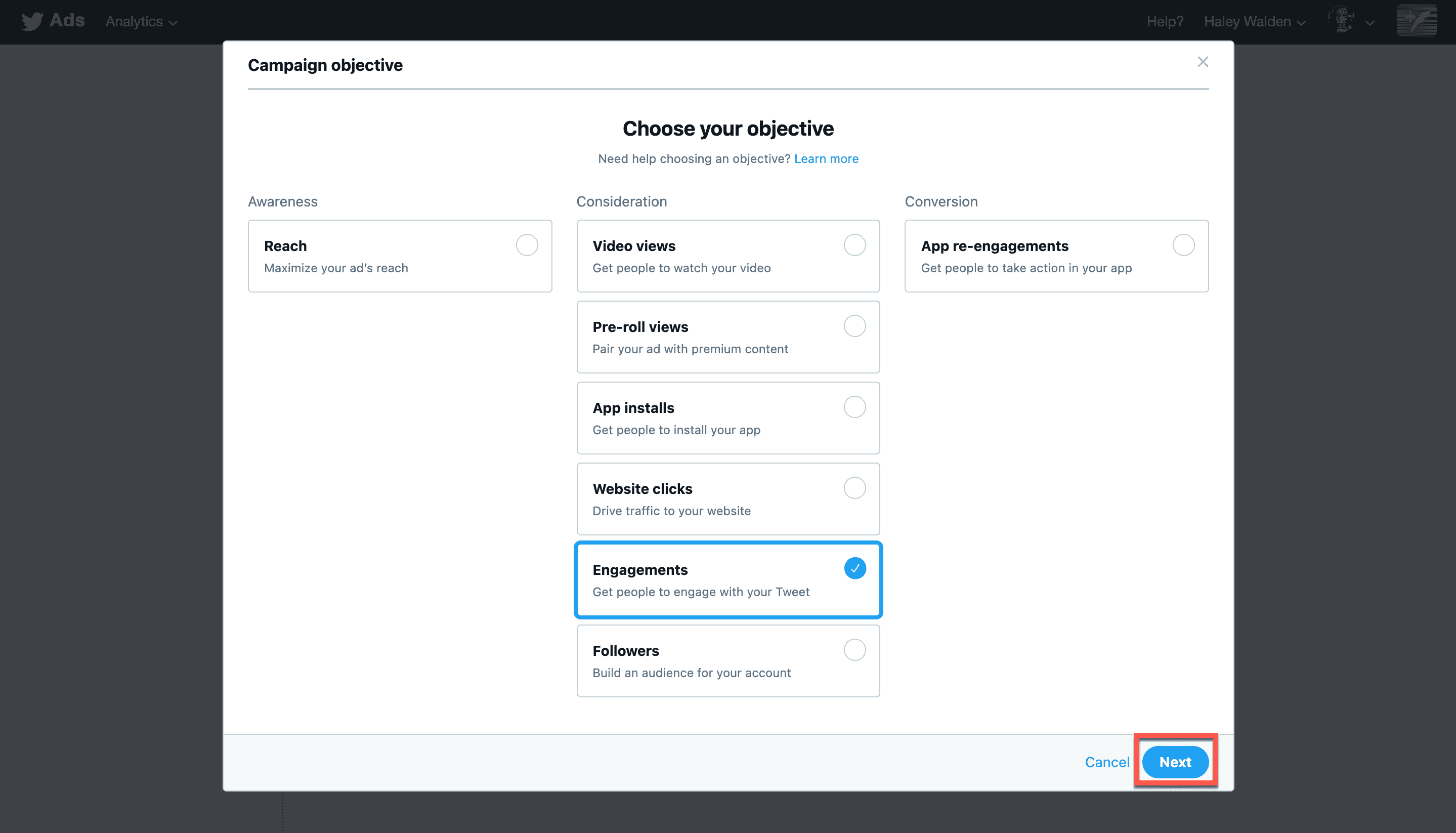 You'll receive a prompt that asks you to confirm the objective you've selected. If you're sure about your choice, go ahead and click Yes, Change Objective.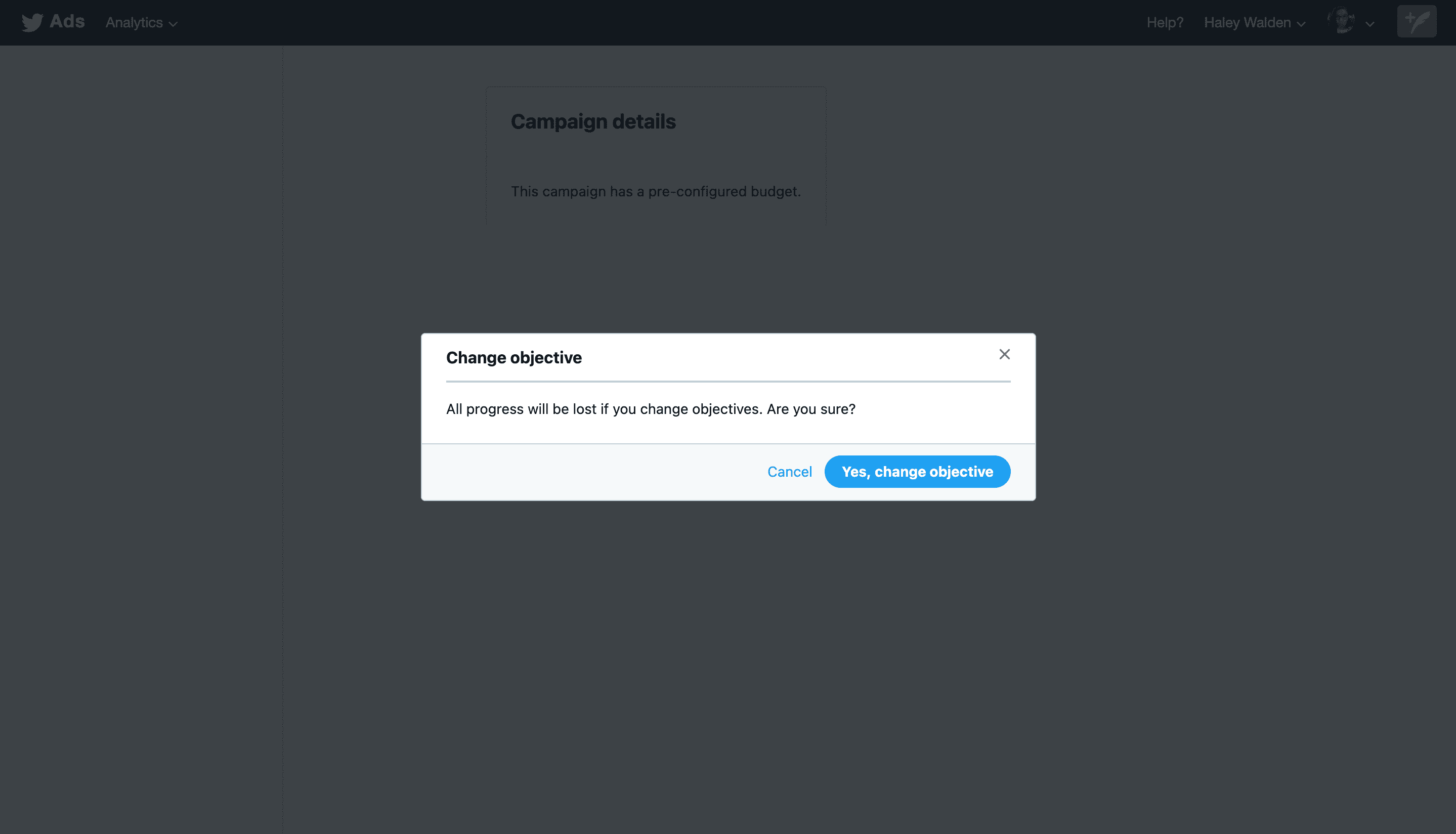 Setting Up Twitter Advertising Campaign Details
4. Next, set up your campaign details. You'll be able to review your objective, name your campaign, choose your source of funds, set your daily and total budgets, and select your start and end dates and times.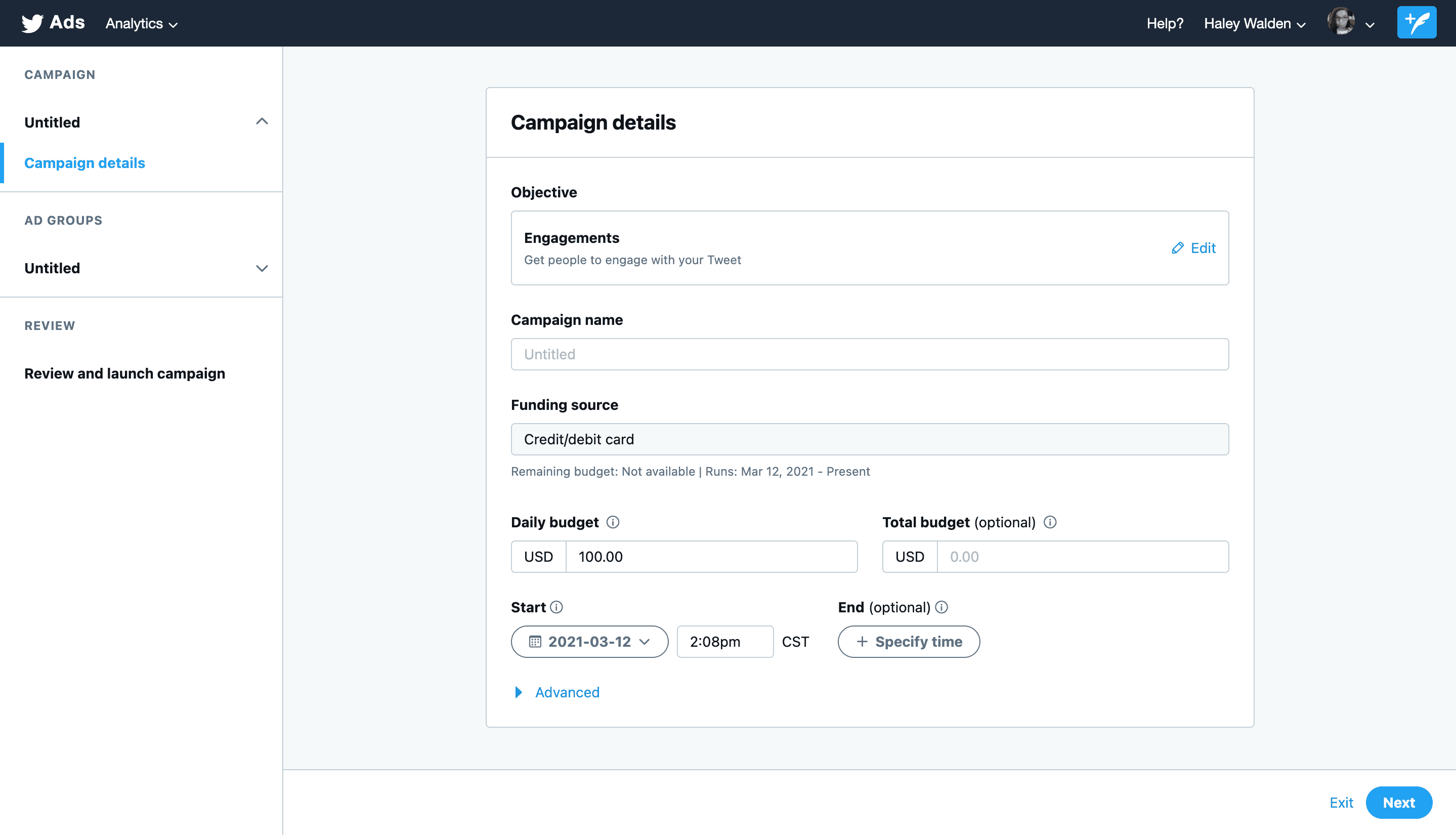 5. Once you've confirmed your objective, it's time to name your ad campaign.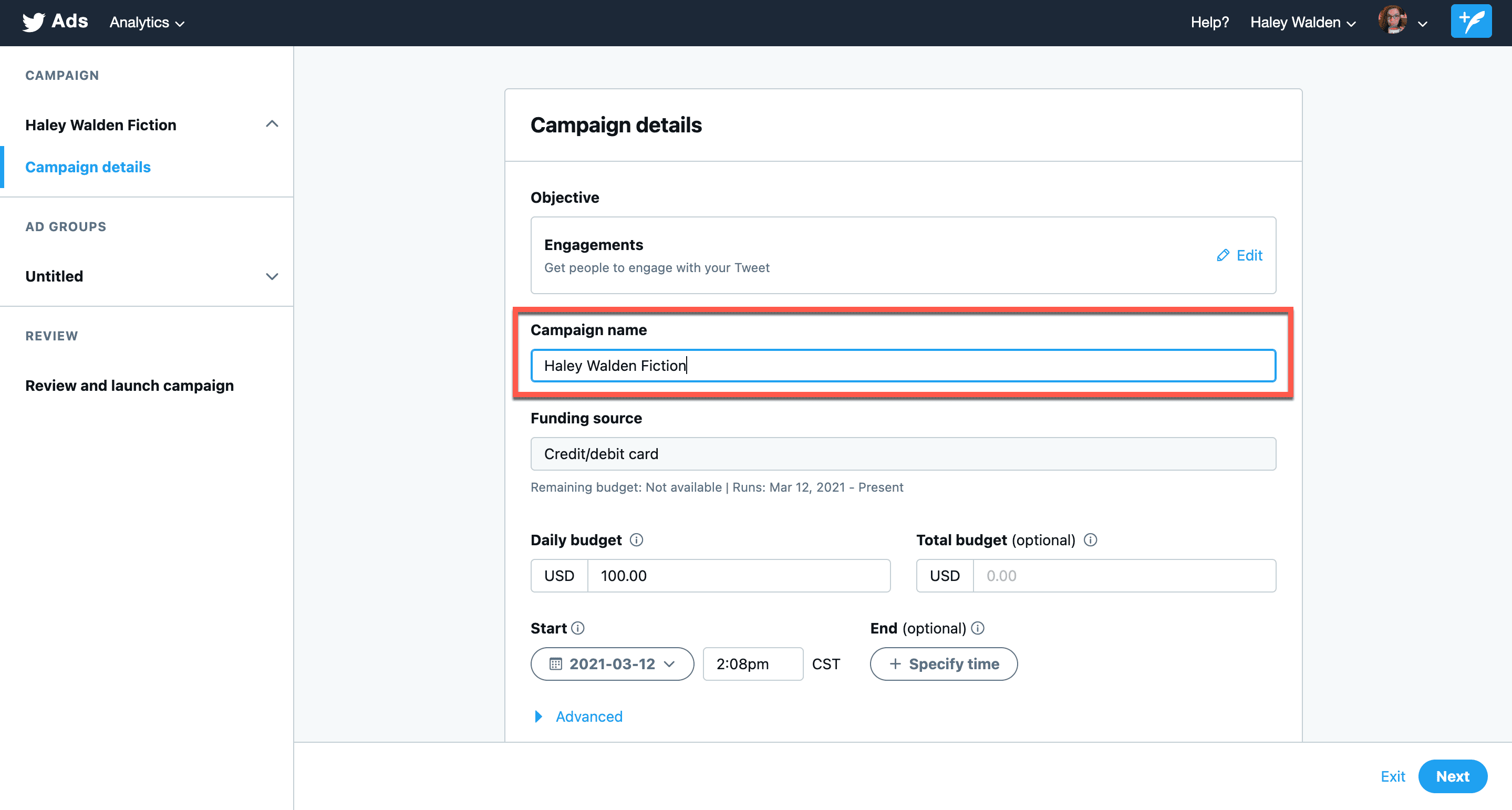 6. Note that your funding source is set as a credit/debit card.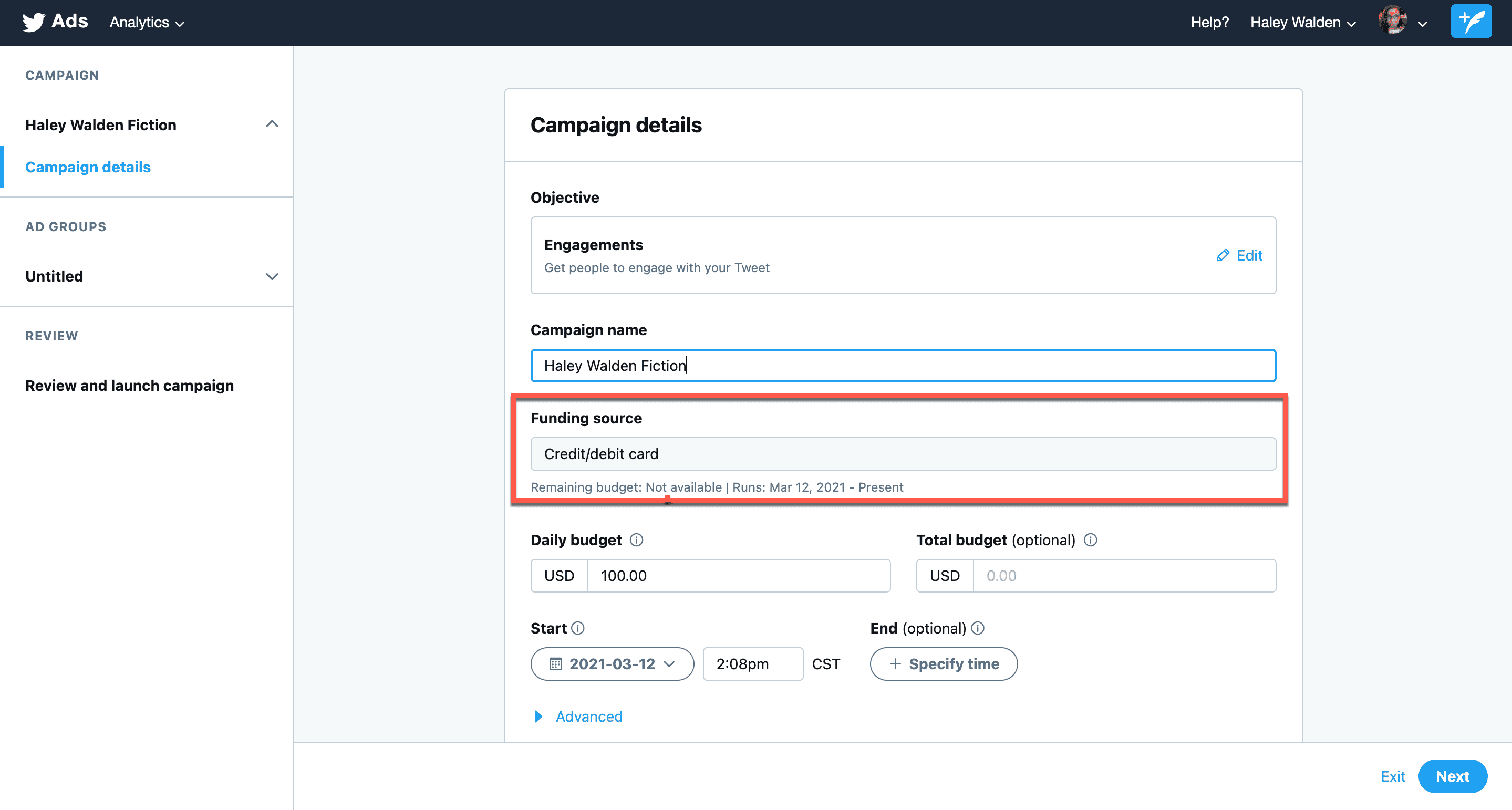 7. Next, set up your daily budget for how much you want to spend on ads per day. You can also set a total budget for the overarching campaign.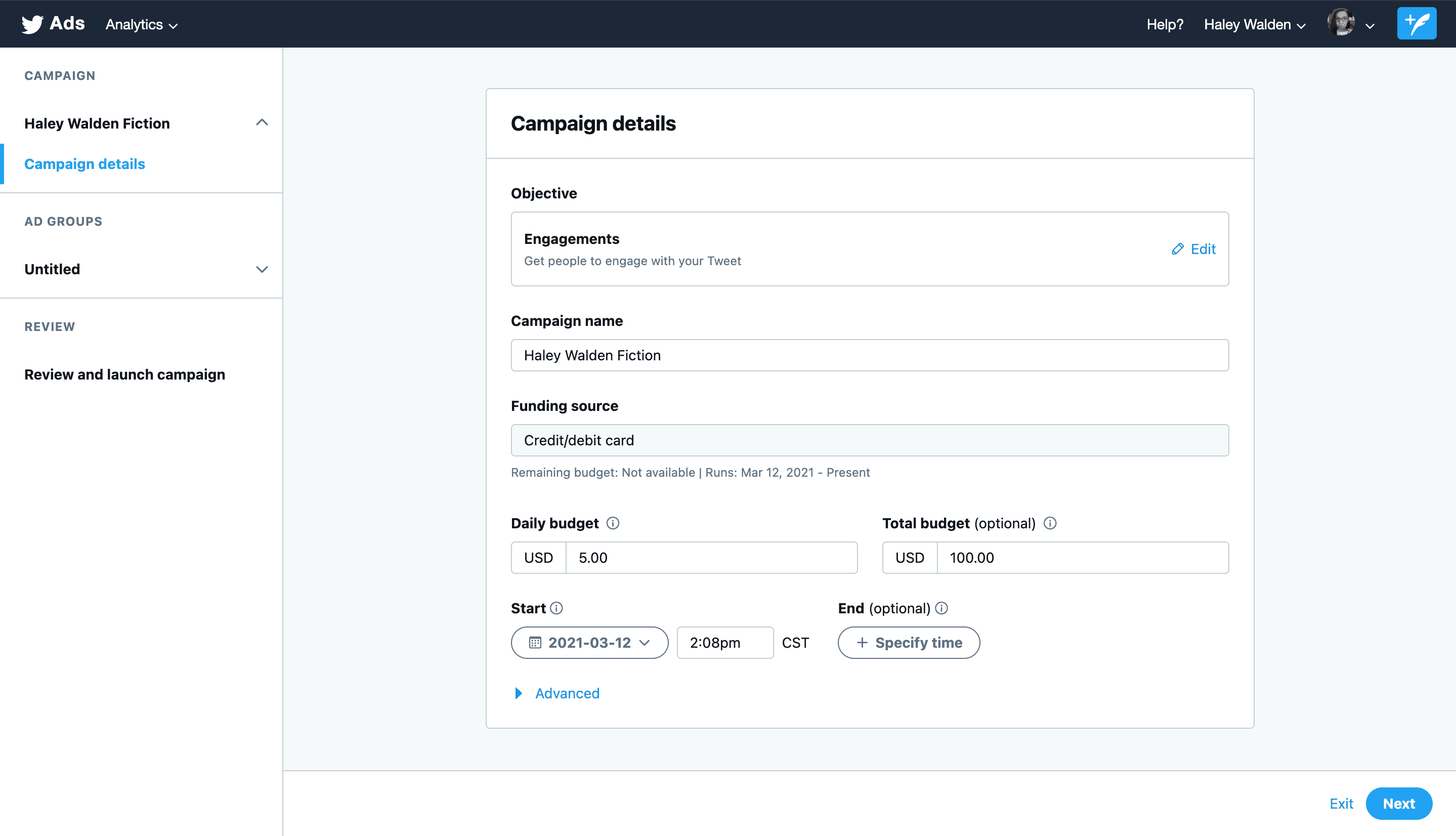 8. After setting your budget, it's time to set the dates for the campaign. Choose your start and end dates and times from the calendar.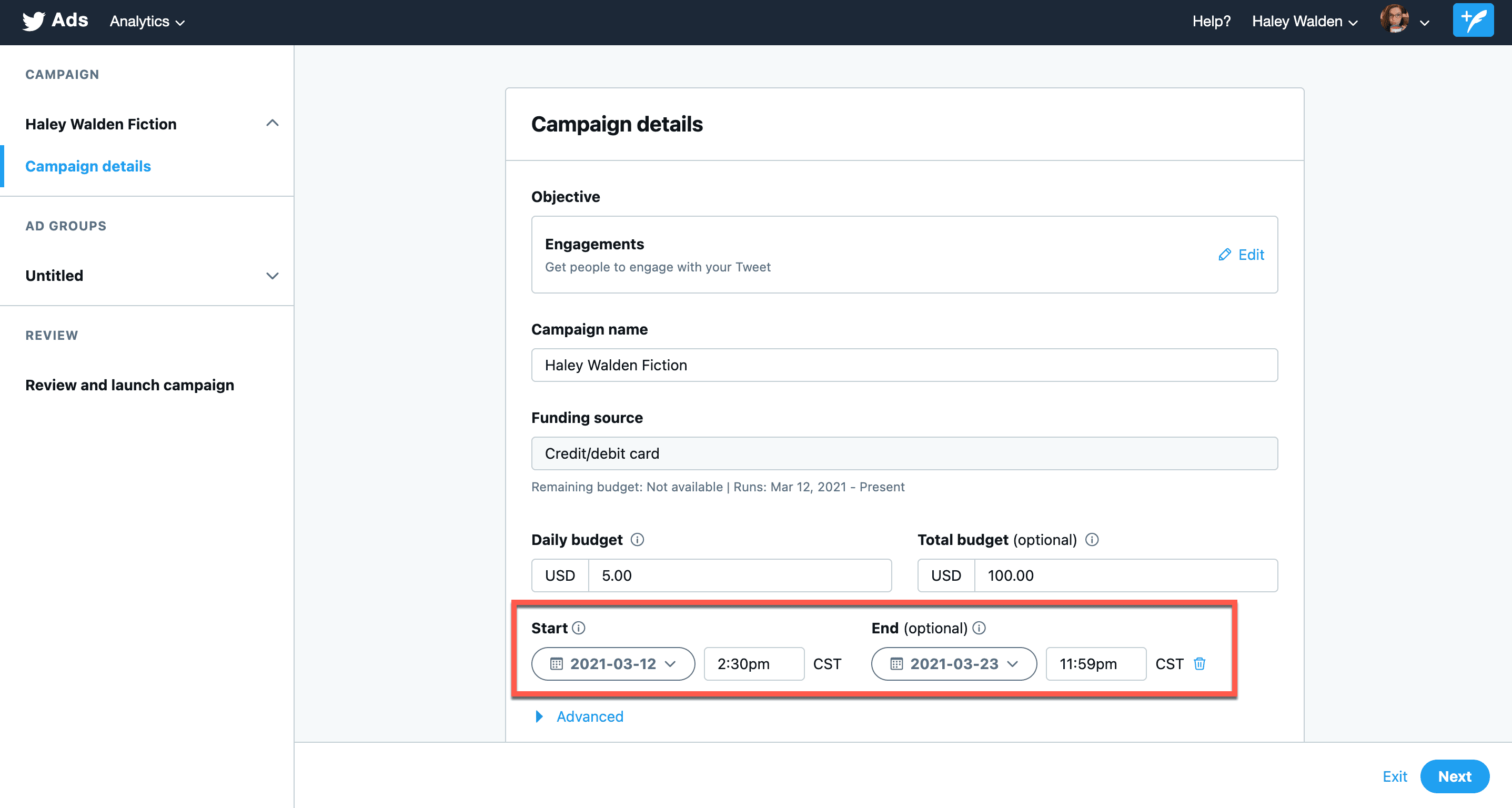 9. It's possible to adjust the pacing of your campaign. To see your options, click Advanced. You can choose between Standard and Accelerated pacing.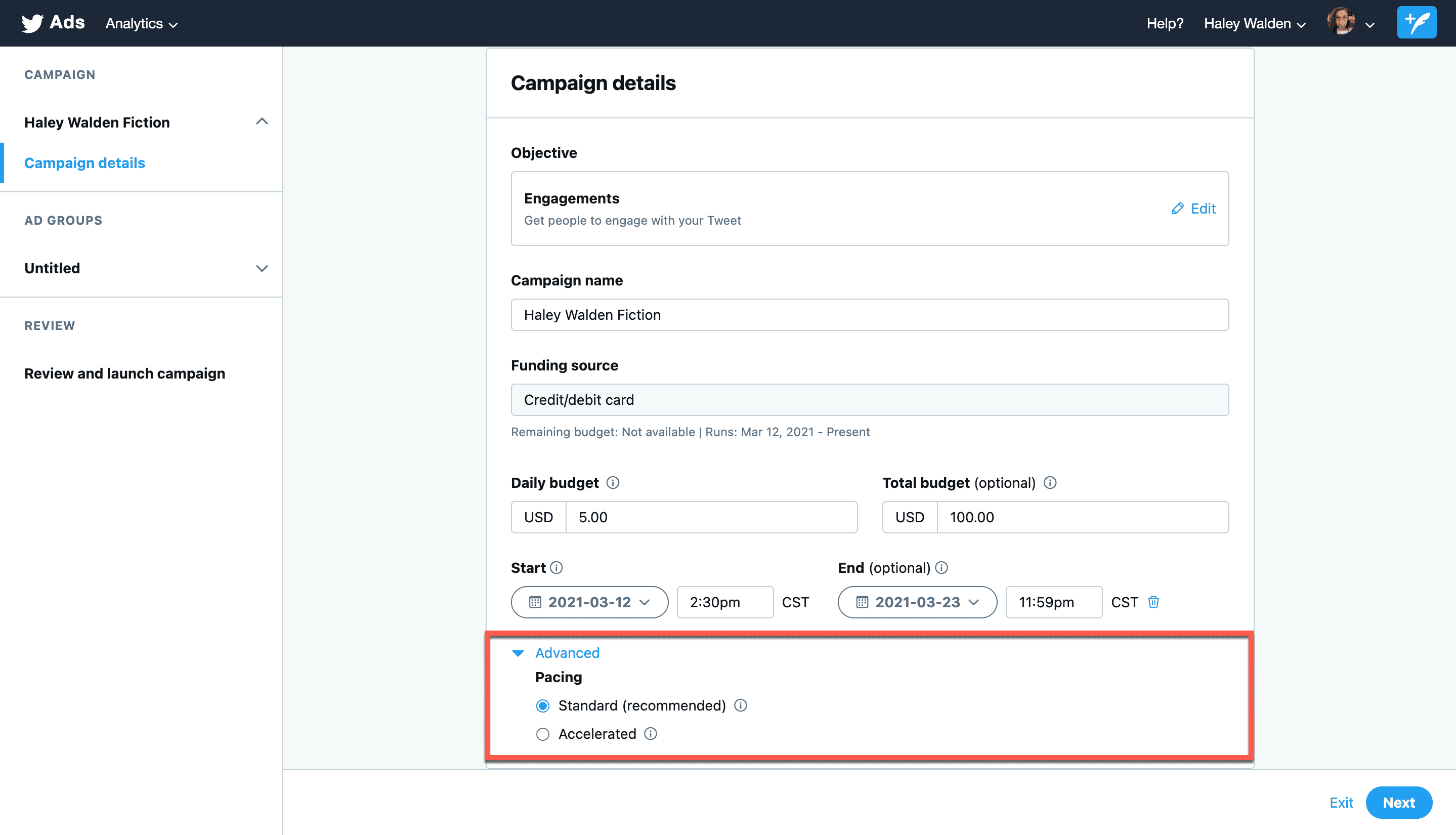 Standard pacing means more efficient ad spend. When you select Standard pacing, your ad is served to users throughout the day.
Accelerated pacing means that Twitter will show your ad as often as possible, for a shorter period of time. This option works best for campaigns with a tight time constraint.
Click Next once you've selected your pacing.
Defining Your Twitter Ad Group
10. Now, it's time to enter all your ad group details. As you scroll through this page, you'll see places to enter information for Ad Group Details, Demographics, Devices, Custom Audiences, Targeting Features, Placements, and Creatives.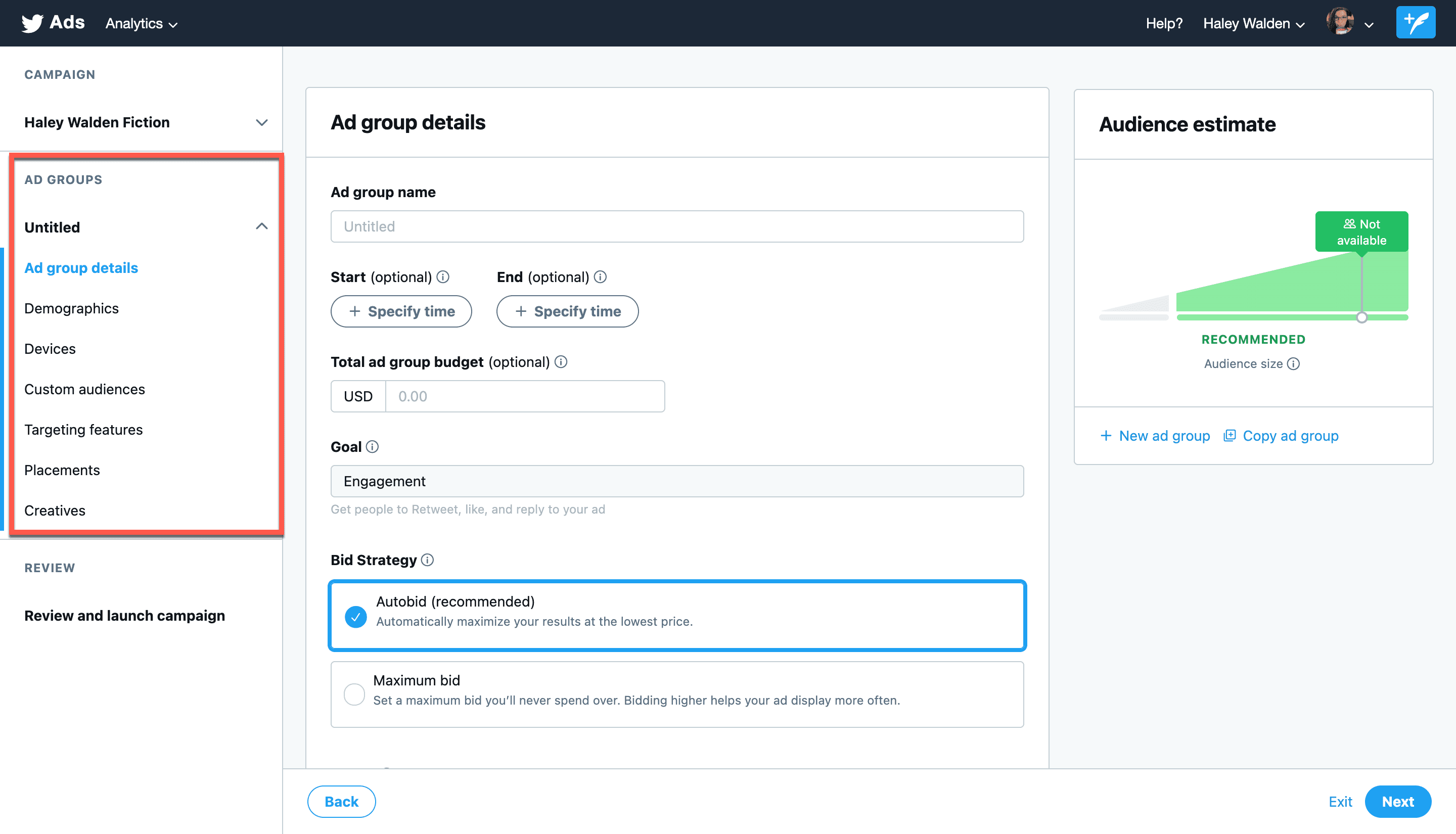 11. Start with Ad Group Details. You'll fill in details for the following fields:
Ad group name
Start and end dates and times for your campaign
Total ad group budget
Your goal (which will be automatically displayed)
Bid strategy
Pay by (how you pay for your ads is based on your objective)
Frequency cap (allows you to adjust your number of impressions per day, or to let Twitter automatically choose for you)
Measurement options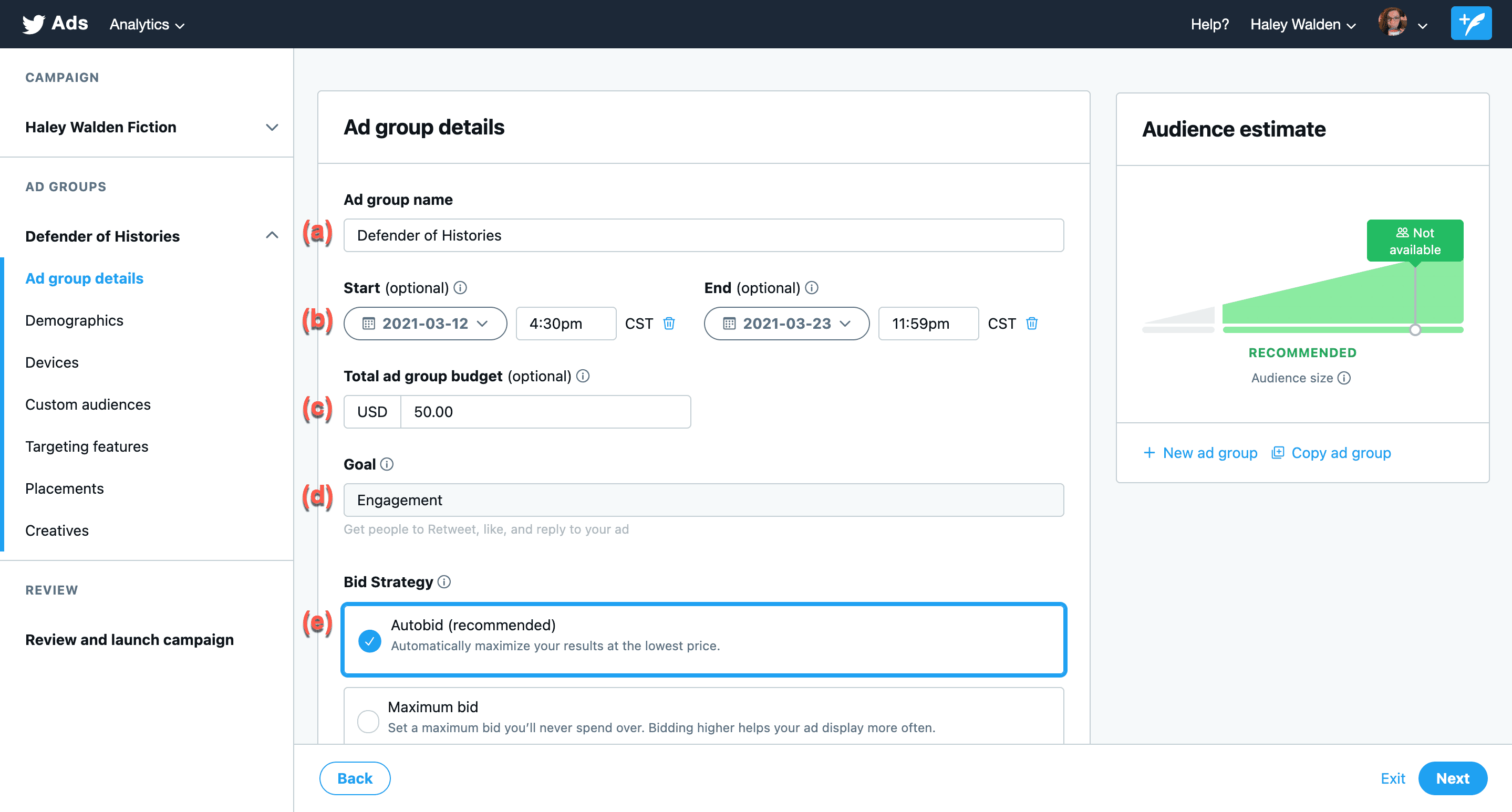 Under Measurement Options, you can choose whether to toggle on an Audience Measurement Tag, DoubleClick Tracking, or both. These are additional, optional analytics you can select in order to more effectively track your Promoted Tweets.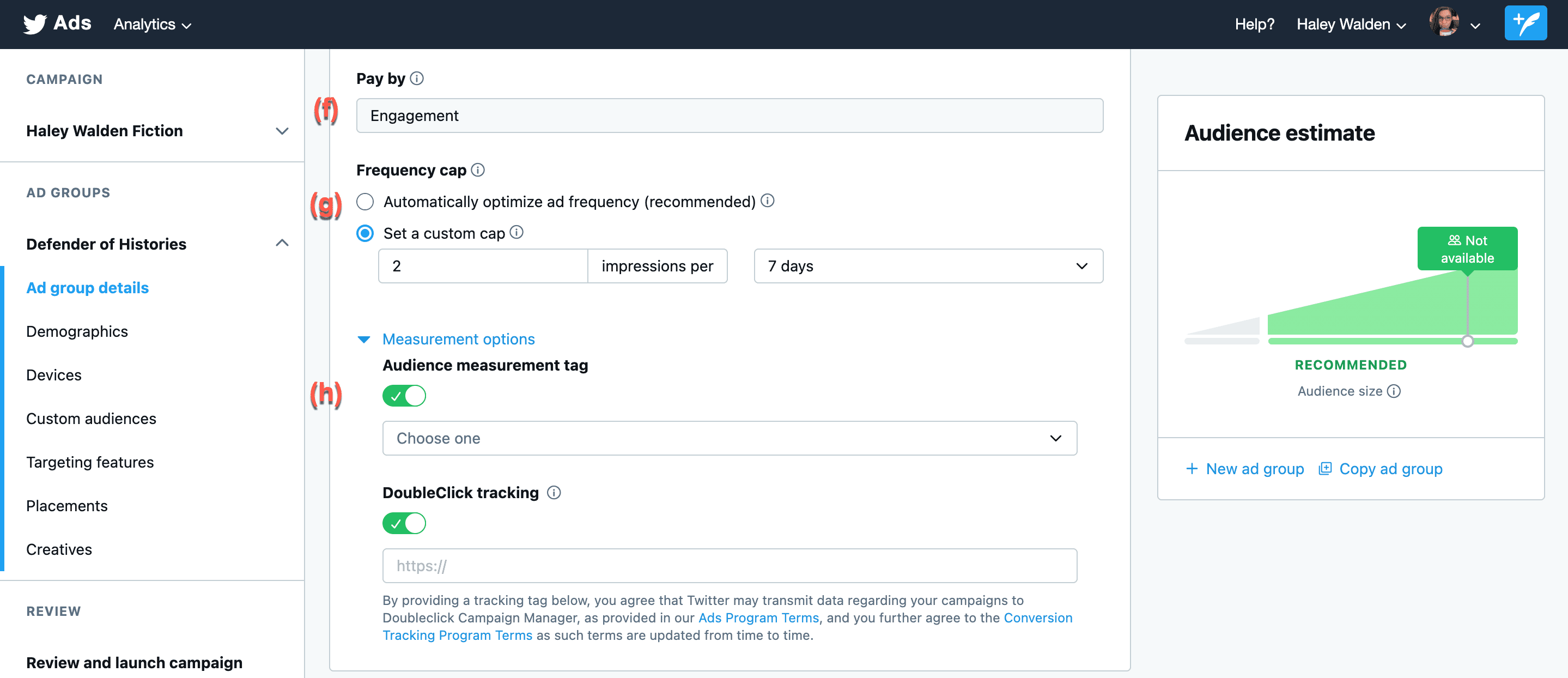 12. Next, it's time to set up your audience Demographics. You can narrow your target audience by selecting:
Gender
Age
Location
Language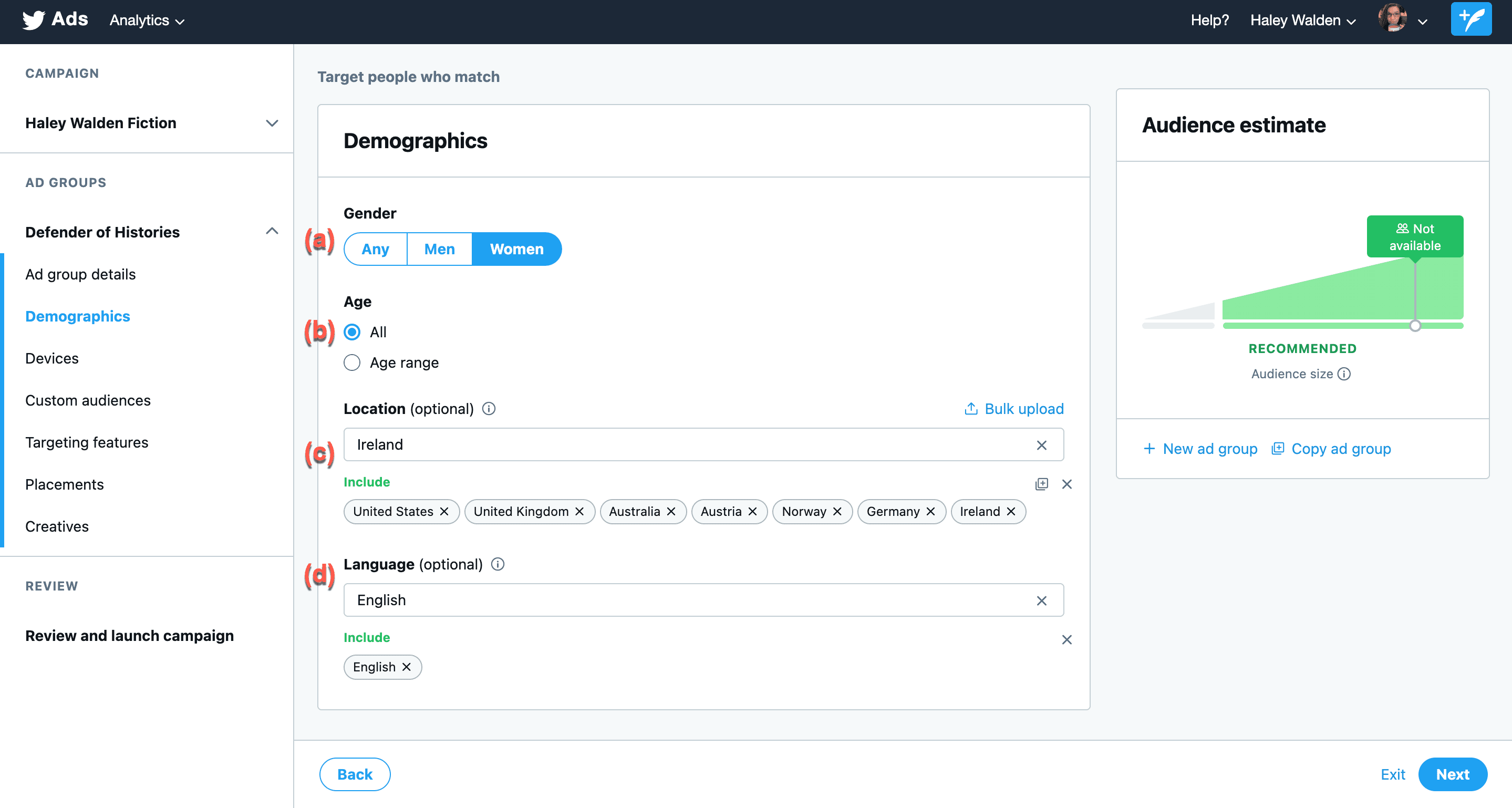 13. Next, you can narrow your ad delivery to specific devices, if you want. Narrow your audience by iOS device model, Android model, or Carrier. You can also choose whether you want to target users who first used Twitter via a newer carrier or mobile device.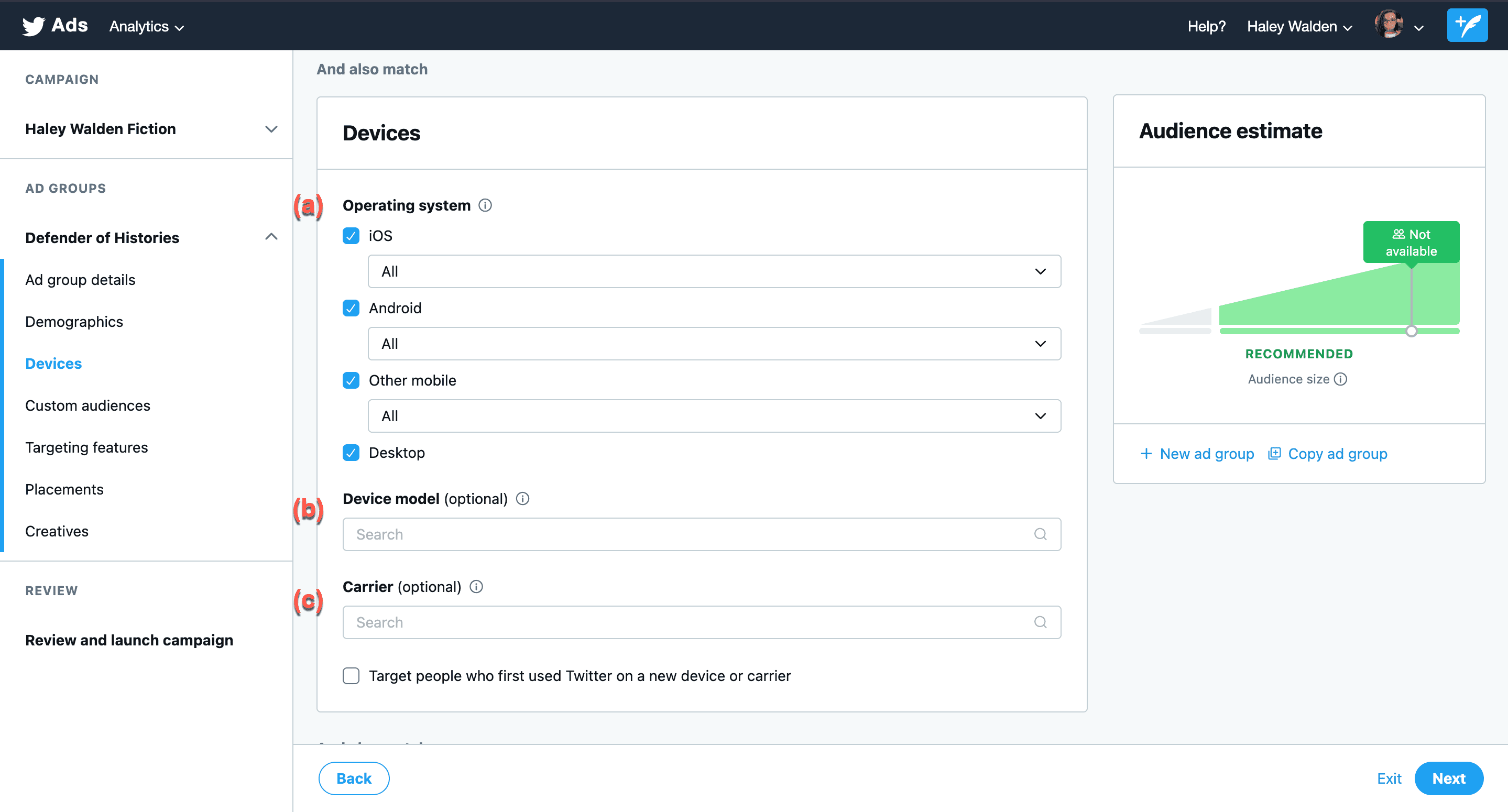 14. Next, customize your audience. You can choose to target an audience you've created previously.

Additionally, you can choose from audiences that have taken specific actions on your list, website, app, or a combination of the two.

15. Now it's time to refine your audience more. You can choose specific targeting features that narrow your audience to a more ideal target for your product or service. Ad targeting features include:
Keywords
Follower lookalikesInterests
Movies and TV shows
Events
Conversation topics
Similarly, it's also possible to retarget individuals who engaged with or saw past Tweets you've posted, grow your audience, or specifically target people who follow your profile.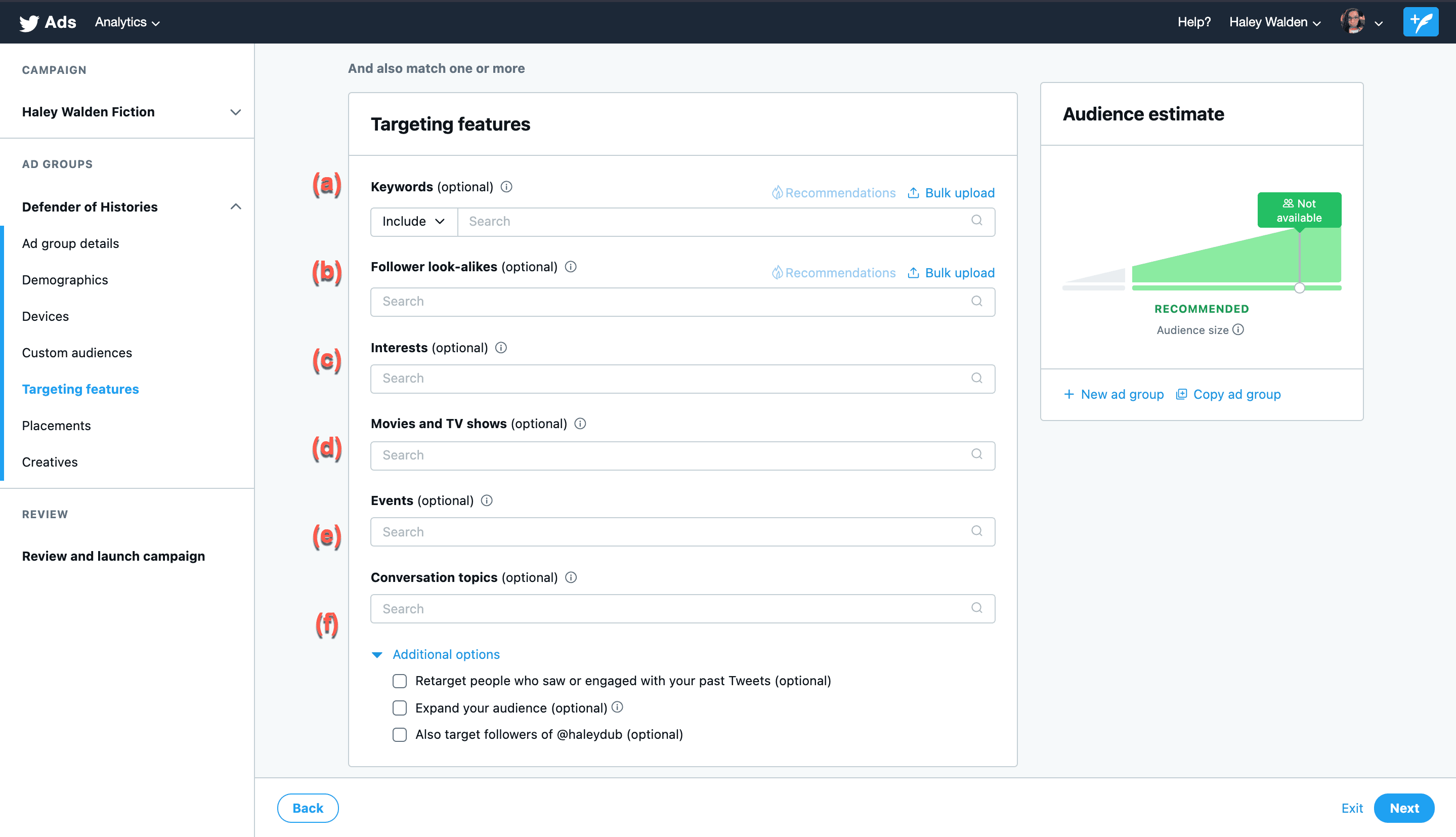 16. Next, select your placements. Twitter ads may appear on home timelines, profiles, or in search results.

Choosing Creatives for Twitter Advertising
17. Finally, it's time to choose your creatives. You can pick an existing tweet from your profile, or compose one in the Twitter Ads Tweet Composer. If you select an existing Tweet, you can filter by organic tweets, scheduled tweets, or tweets that have been promoted previously.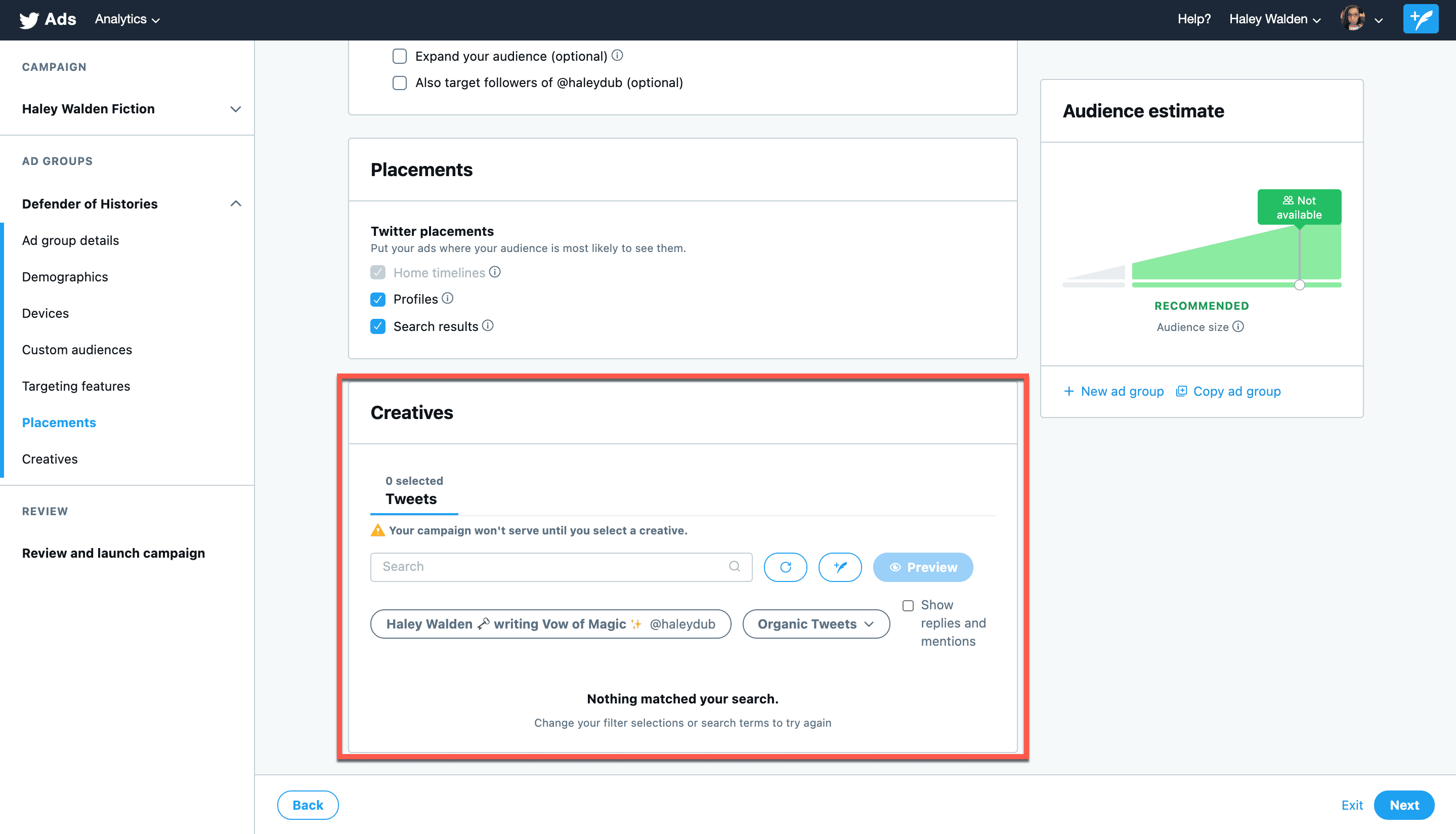 18. To compose a new tweet for your promotion, click the Compose button.

19. In the Tweet Composer, you can compose a tweet, select an image, video, or carousel, and enter your Card information (which includes the name of your card, your headline, and the URL you want your users to visit). You can filter who can reply to your tweet: everyone, users you follow, or just users you mention. In addition, you can toggle whether you want the tweet to appear as a promoted-only tweet.
20. Now, it's time to select your media. Determine whether you want to choose a single photo, a video, or a carousel of two to five images. Then, click Add Media.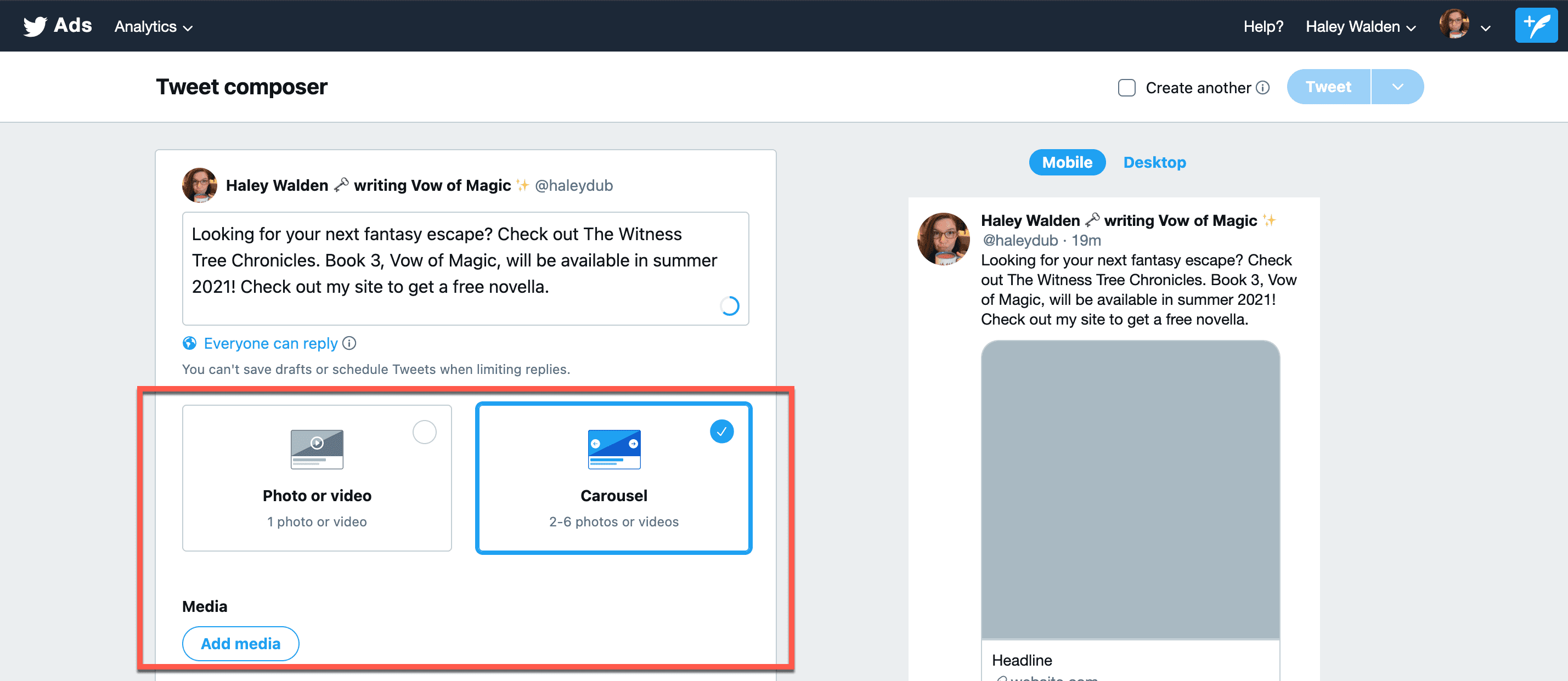 21. Clicking Add Media will display an Upload screen. Select the images you want to appear in your carousel.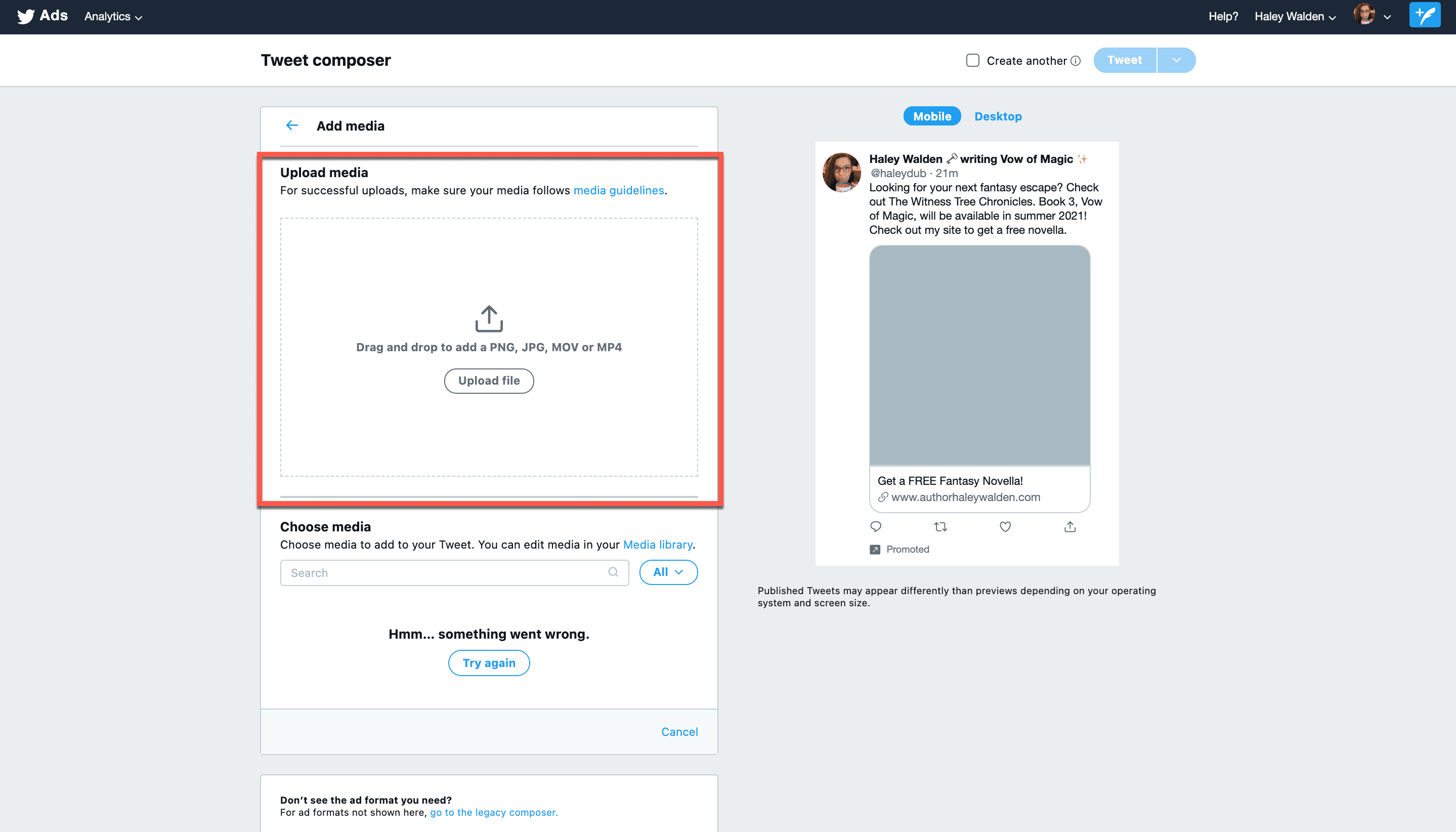 22. On the right-hand side of the screen, you'll see a preview of your tweet. Click the Tweet button in the upper right corner of the screen when you're ready.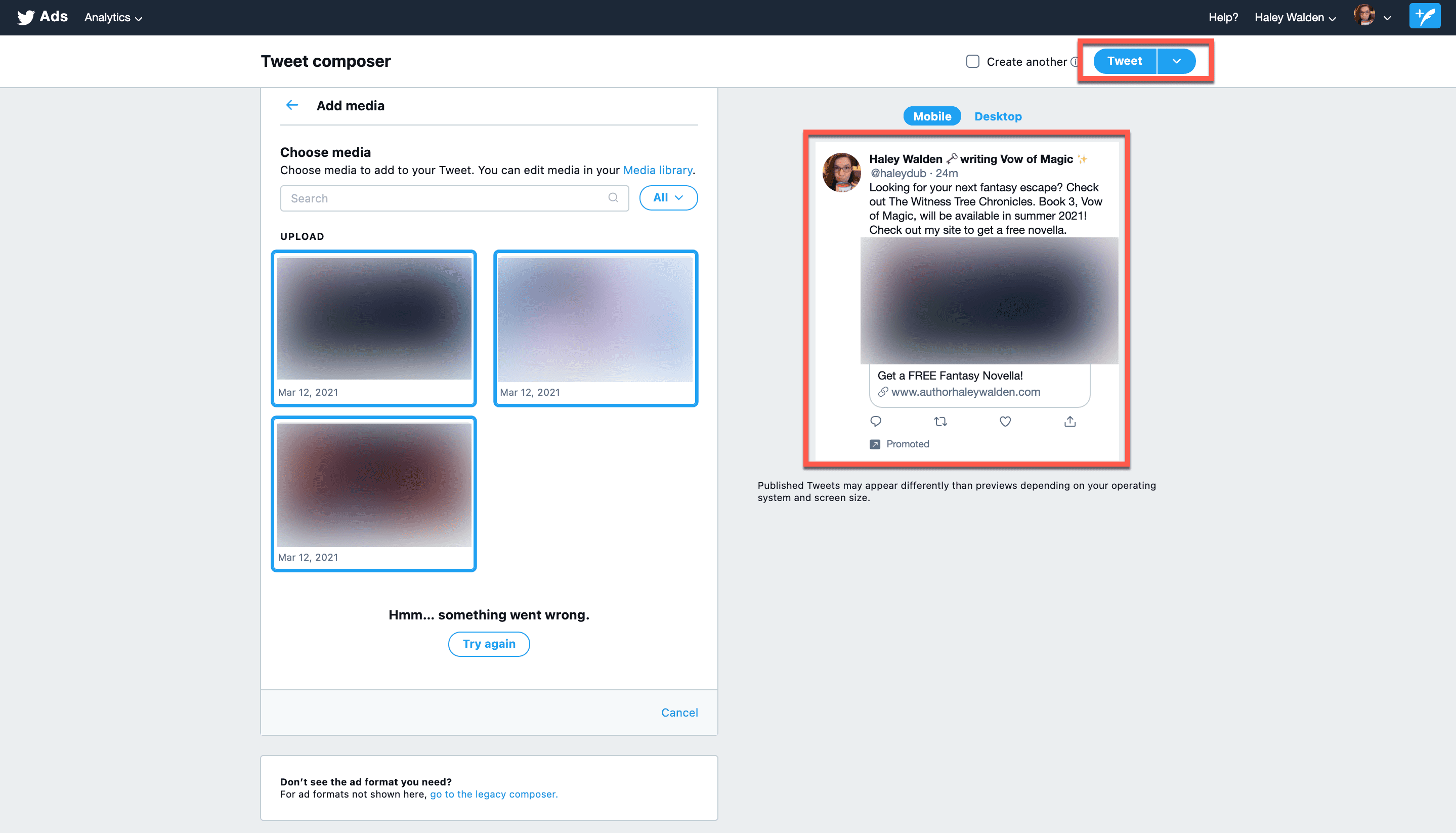 23. Once you've created your Tweet, you'll be sent back to the Ad Center. Click Next in the lower right corner of the screen, where you'll be asked to review your campaign. When you're ready, click Launch Campaign.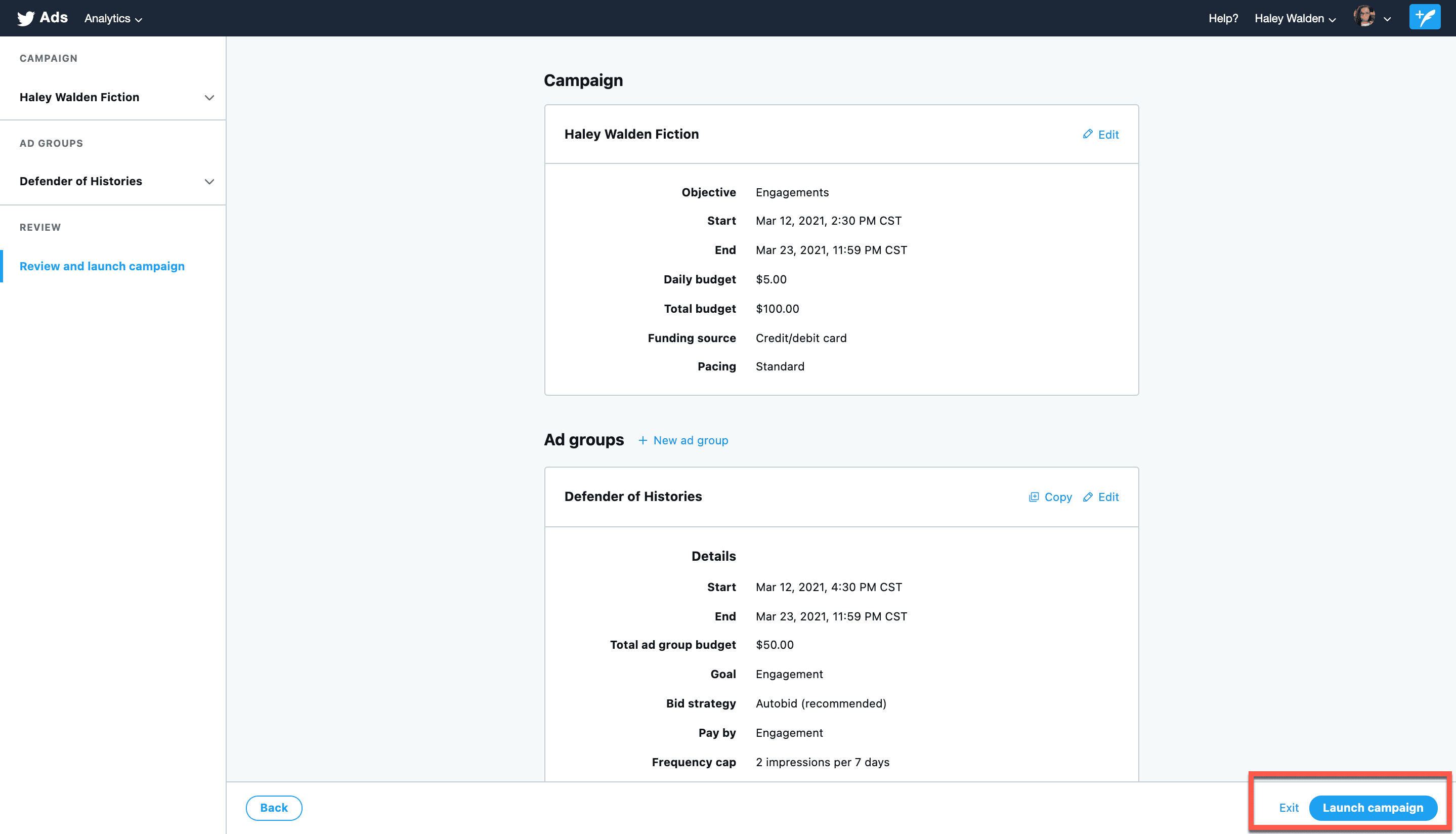 Monitoring Your Twitter Advertising Performance
You can monitor your Twitter advertising campaign through the Twitter Analytics dashboard. Your account offers a dashboard where you can monitor your tweets' and ads' performance. You'll get an at-a-glance view of how many Tweets you published in the past month, your Tweet impressions, the number of visits to your profile, mentions, and your number of followers.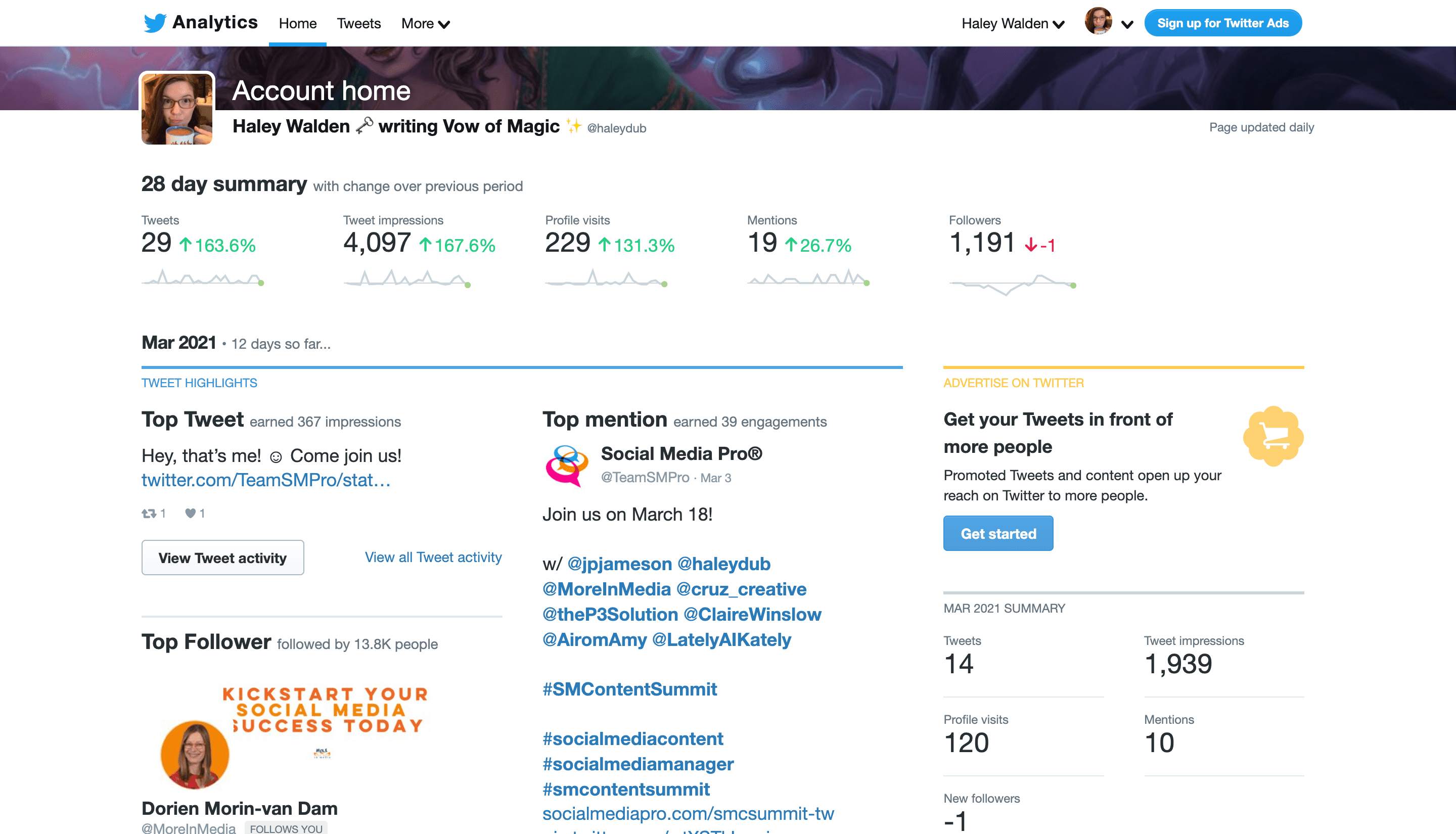 Analyze your Tweet activity, including Promoted Tweets, Top Tweets, and Tweets and Replies. You can sort activity by impressions, engagement, and rate of engagement per tweet. This dashboard displays 28-day periods.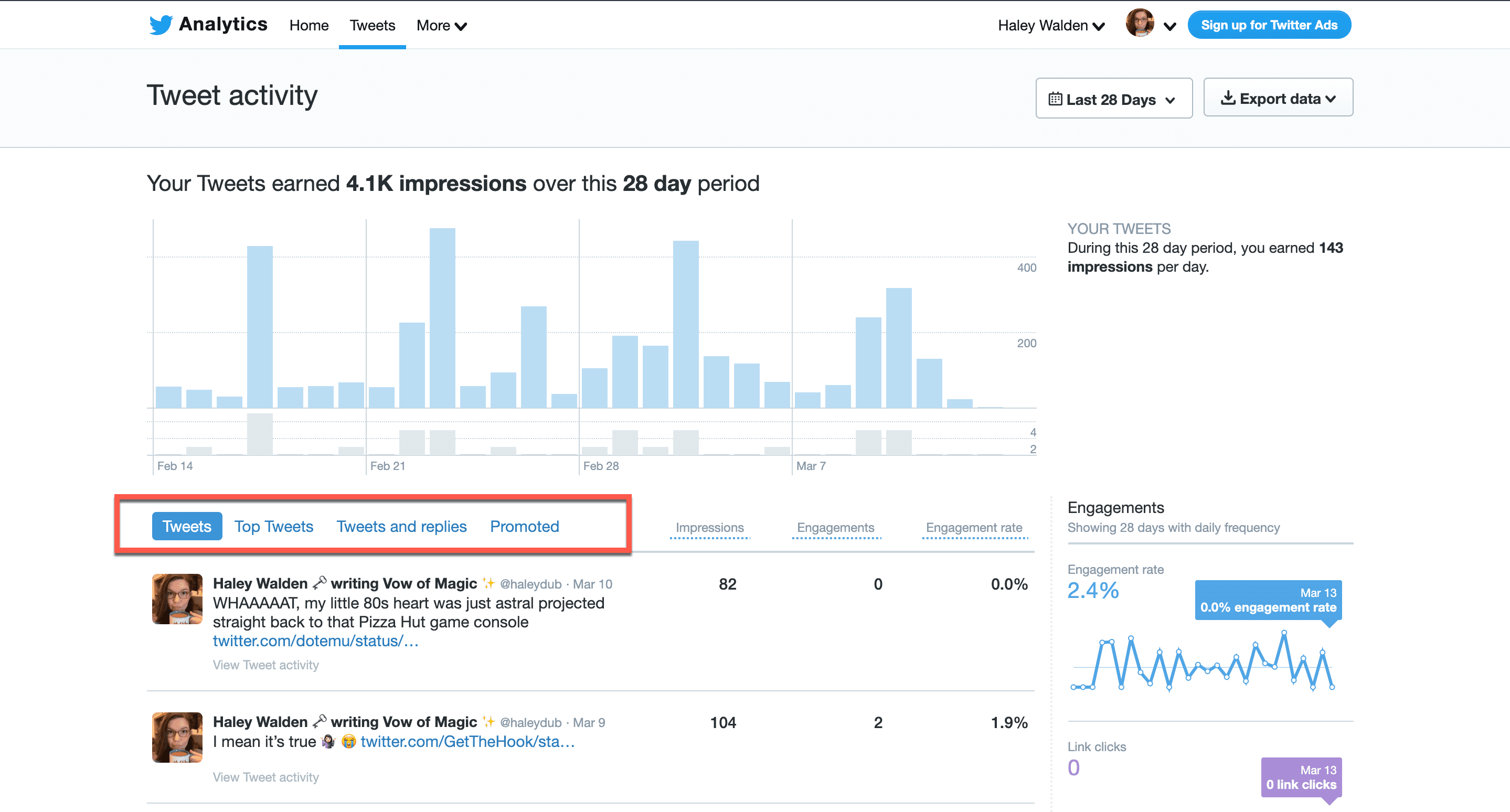 Twitter Advertising Formats
There are a number of ad formats available for Twitter promotions. Let's take a look at your choices.
Promoted Tweets
For Promoted Tweets, as demonstrated above, brands can pay to display a Tweet to a broad range of users. These Tweets are always labeled as ads, and will display "Promoted" in the lower left corner of the Tweet.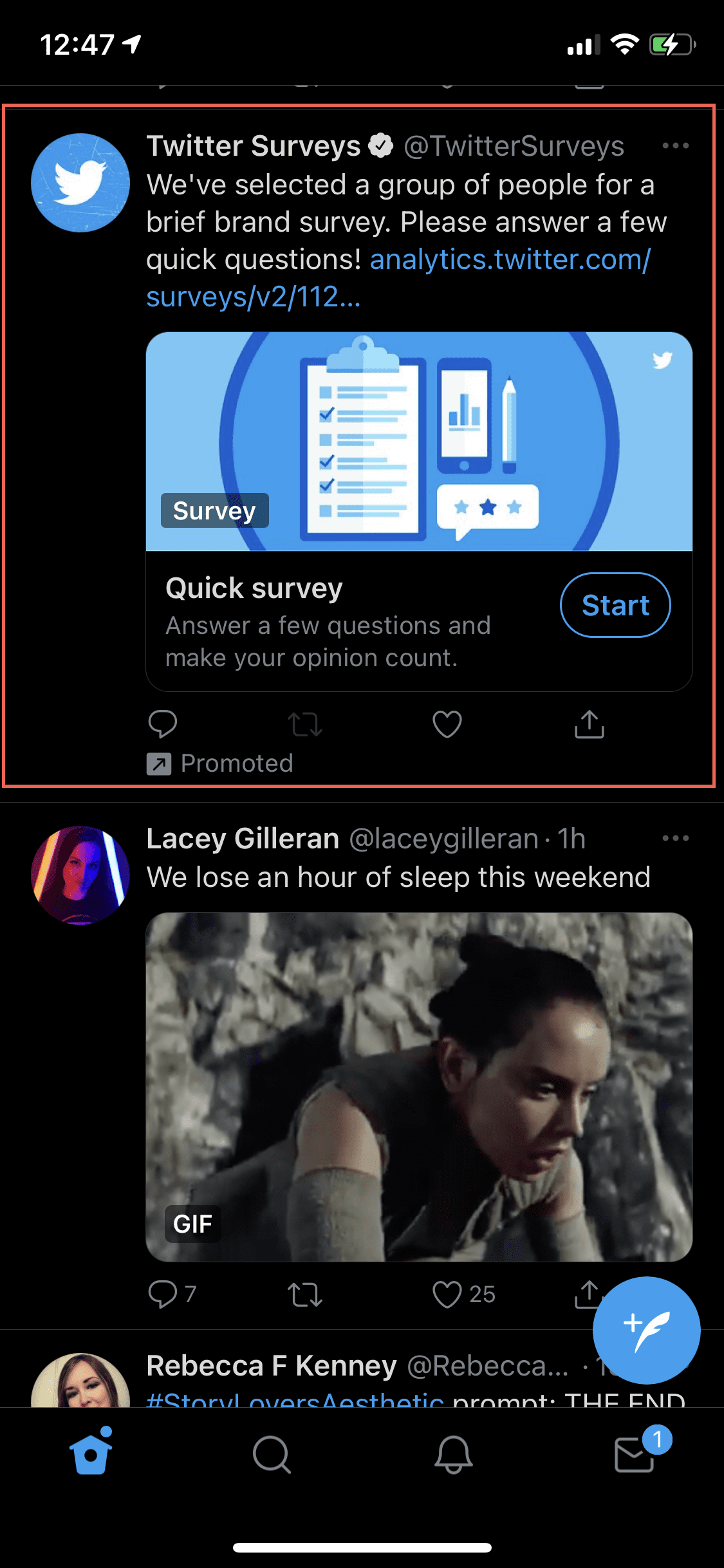 Otherwise, Promoted Tweets work just like any other Tweet. Users can like, retweet, and comment. These Tweets can contain images or videos that autoplay on users' timelines.
Promoted Accounts
Promoted Accounts are sponsored Twitter accounts. Rather than a single sponsored Tweet, the entire brand account is promoted. Promoted Twitter accounts are displayed in potential followers' timelines and in the "Who to Follow" section. As a result, the account promotions include a Follow button to make it easier for new followers to keep an eye on the brand.

Promoted Trends
Promoted Trends are sponsored trending topics. This high-turnover list on Twitter is a collection of popular topics and hashtags that's updated in real time.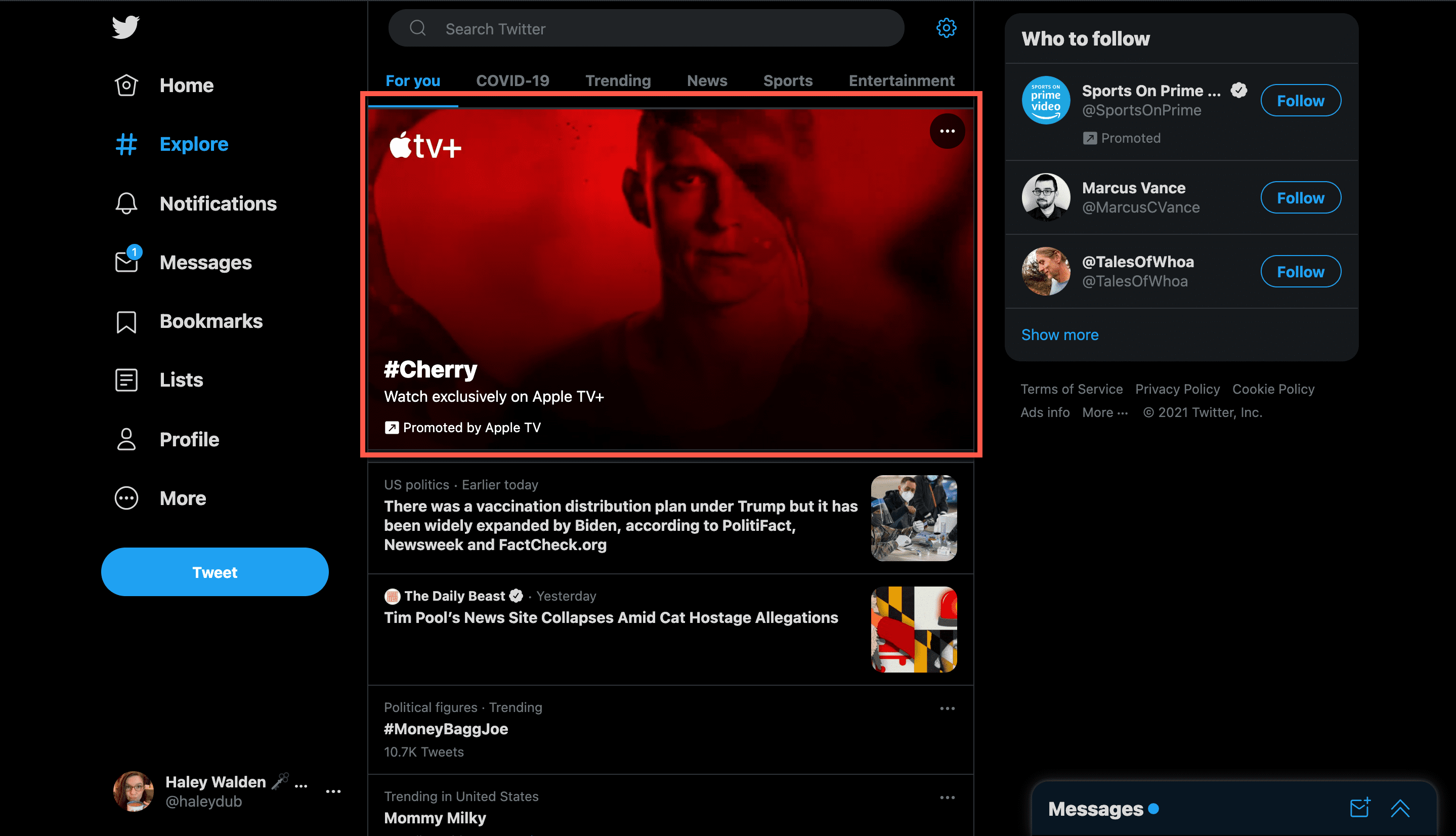 Users can interact with a Promoted Trend the same as any other trending topic. These topics display as "Promoted" for targeted users. In addition, they show up in the "For You" section, in Explore, and in the Timeline.
Promoted Moments
Promoted Moments are similar to other platforms' Story Ads. They're a curated collection of similar Tweets that tell a story. This format allows users to share ads that are longer than the usual 280 character maximum.
Automated Ads
If you're new to Twitter Advertising, using Twitter's automated Promote Mode to promote both Tweets and brand profiles. This mode works to promote the first ten Tweets you create each day. These Tweets are added to a Promoted Tweet campaign. This feature allows the platform to assist you with your ads so you can put your time and energy into different campaigns.
Twitter Advertising Trends for 2021
In 2021, there are several Twitter advertising trends you can leverage to get your Twitter ad campaigns off to a strong start. Let's take a look at a few:
Give the Accelerated Delivery option a try. This feature gives Twitter the power to use your ad budget quickly to build engagement and brand awareness.
Keep your Promoted Tweets simple and easy to understand. You want your audience to know exactly what you're offering them.
Leverage videos, which make your ads more appealing and drive more engagement. For best results, keep your videos short, snappy, and to-the-point.
If you're a large brand, try using the Promoted Trends Spotlight. This feature allows you to display your ad at the top of the Explore tab.
Remember that Twitter is currently the top platform that users use to discover new brands, trends, and information.
Maximize your use of Twitter cards, which are featured images shown with the Promoted Tweet. Be sure to use summary cards when uploading larger images. Alternatively, utilize the multi-image card option, which allows up to four images per Tweet.
Wrapping Up
There are a wide variety of Twitter Advertising ad styles for your campaigns. Depending on your brand, budget, and marketing campaign, there is an ad format that's right for you.
It's worth spending time and a little research to set up your ads properly. Furthermore, you'll want to make sure you monitor your analytics to ensure that your Promoted Tweets are performing well. Once you've landed on what works best for your brand, duplicate that. But, don't be afraid to test different methods and strategies to find out what works best for you.
Featured Image via Sasha Ka / shutterstock.com