Instagram is a popular image-based microblogging platform that's used primarily for sharing photos and videos. For businesses and entrepreneurs interested in learning how to advertise on Instagram, it's easy to get started.
Content on Instagram is highly visual, with written content coming in secondary to multimedia. The standard aesthetic on Instagram is square images and video, though full-screen vertical images and videos work well for Stories, Reels, and IGTV.
With over 1 billion active monthly users, it's an ideal platform for advertising products and services. Sixty-seven percent of adults in the U.S. ages 18-29 and 72% of teenagers use the app. Its core demographic are users ages 25 to 34.
Ready to learn more about how to advertise on Instagram? Read on.
Ad Formats to Help You Advertise on Instagram
If you're wondering how to advertise on Instagram with different ad formats, we can help you out. Instagram ads appear in several places within the app: on your feed, in the Explore tab, and in Stories.
There are six different ad variations you can choose from, based on your ad and its objectives. Let's take a look at what those are:
How To Advertise On Instagram With Photo Ads
Instagram photo ads are the easiest way to get started if you're wondering how to advertise on Instagram. Each photo ad contains a static image, in addition to copy and a call to action link. Users can tap the link to visit your profile or another site you want them to visit.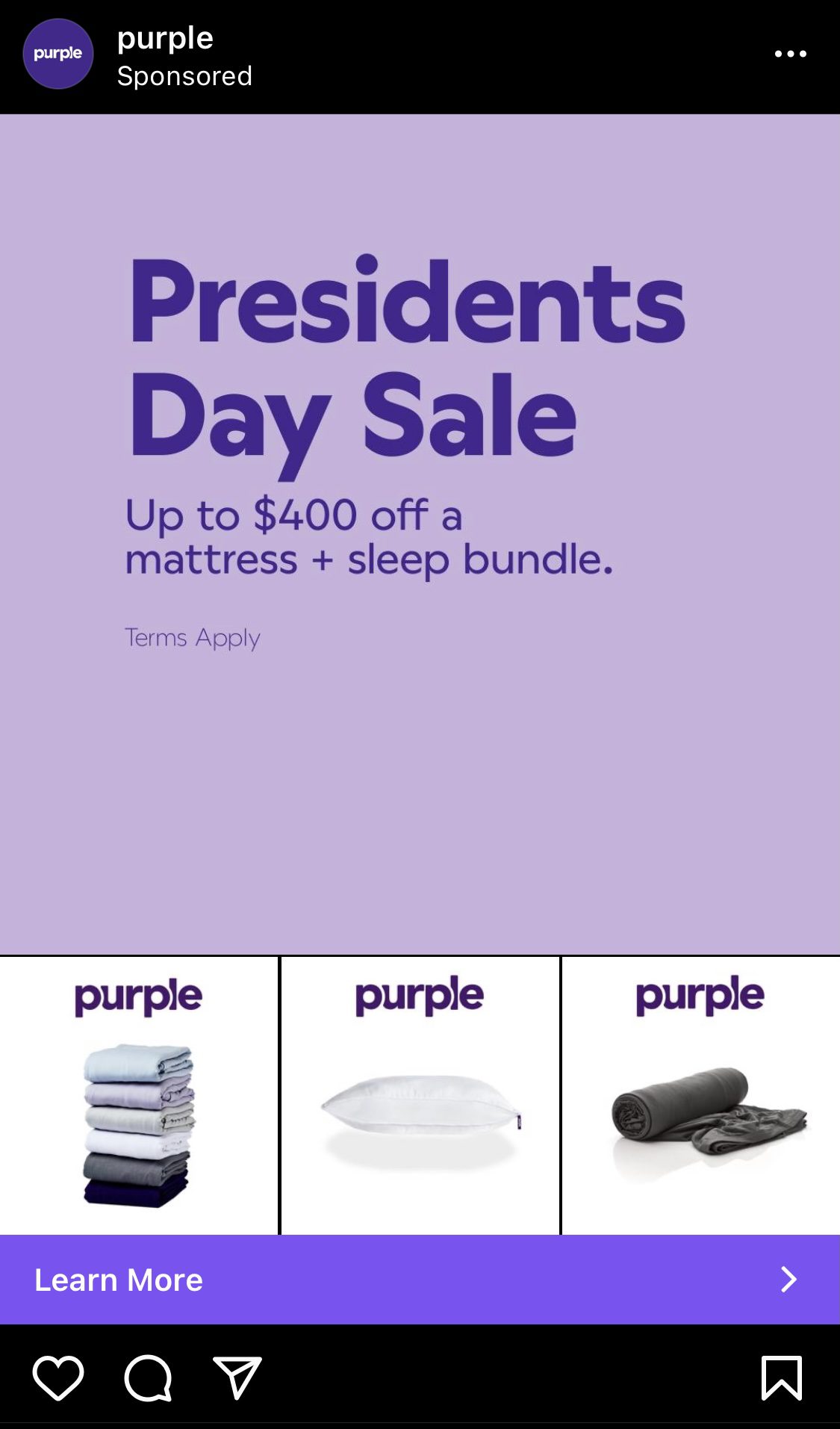 Advertising On Instagram With Video Ads
Video ads are set up the same way as photo ads, but they contain a video rather than a static image. You can also add copy to those, in addition to a call-to-action link.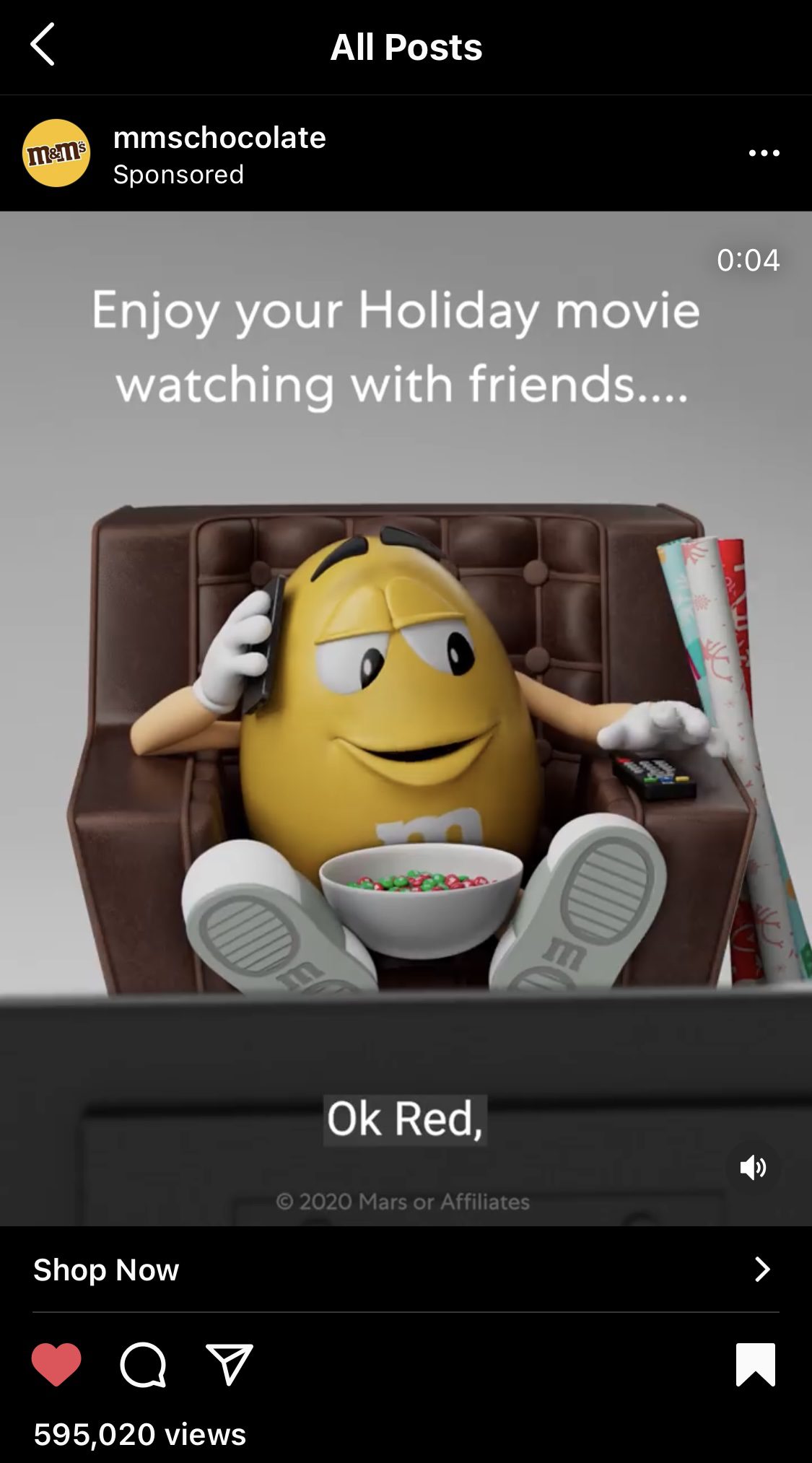 How To Advertise On Instagram With Stories Ads
Stories ads are vertical images and videos that are displayed in the Stories feed. They contain clickable links that send your viewers where you want them to go, whether to your website, a product page, or your profile.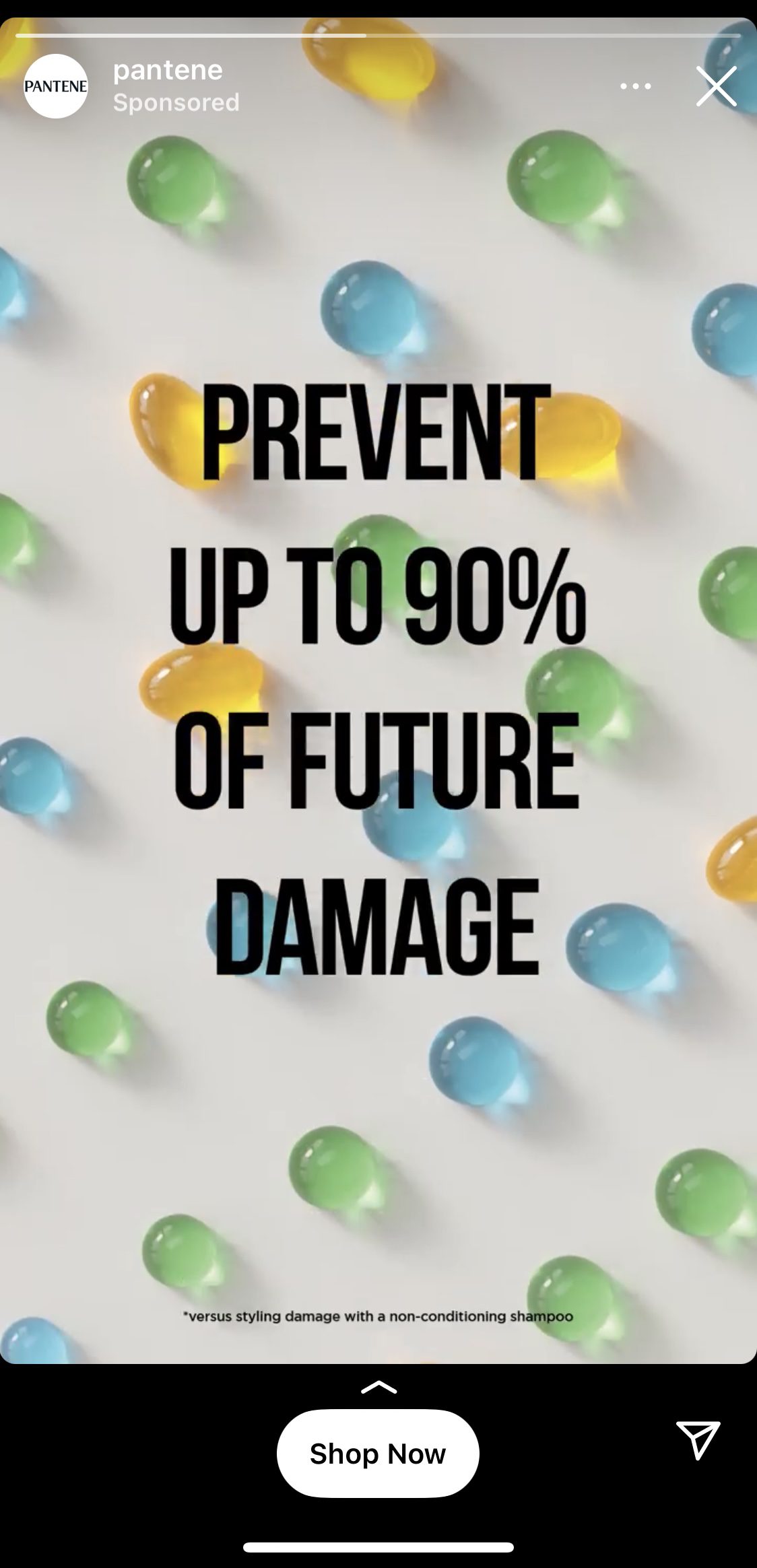 Advertising On Instagram With Carousel Ads
Carousel ads contain multiple photos the user can swipe through to view multiple products or offers. This ad format is particularly useful for product-based businesses, though there are many ways to utilize it.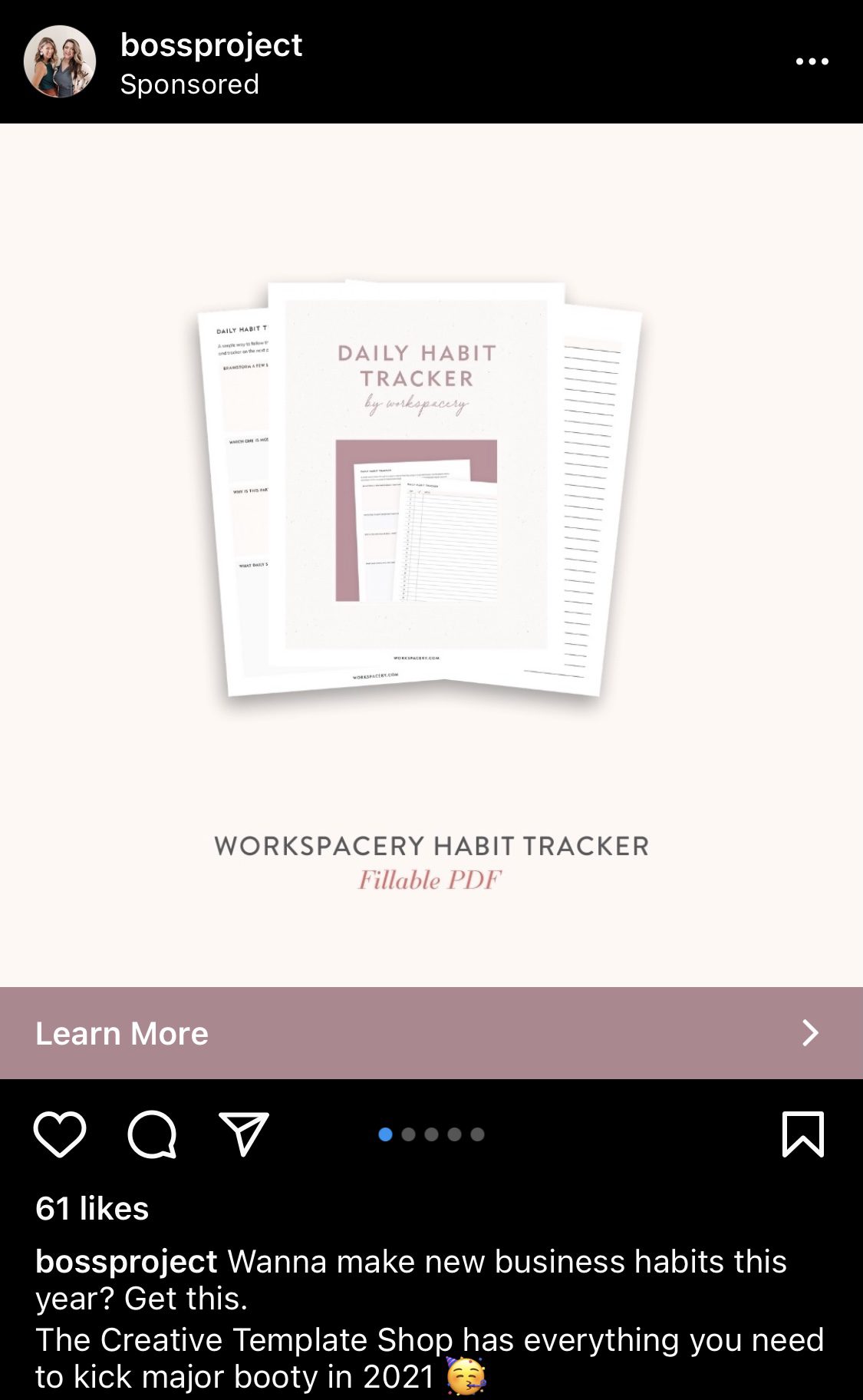 How To Advertise On Instagram With Explore Ads
An ad in the Explore feed is embedded where users scrolling through featured posts can easily view and click. Normally, Explorer ads appear more prominently than regular user posts. In this case, the advertisement is featuring the CW show Walker.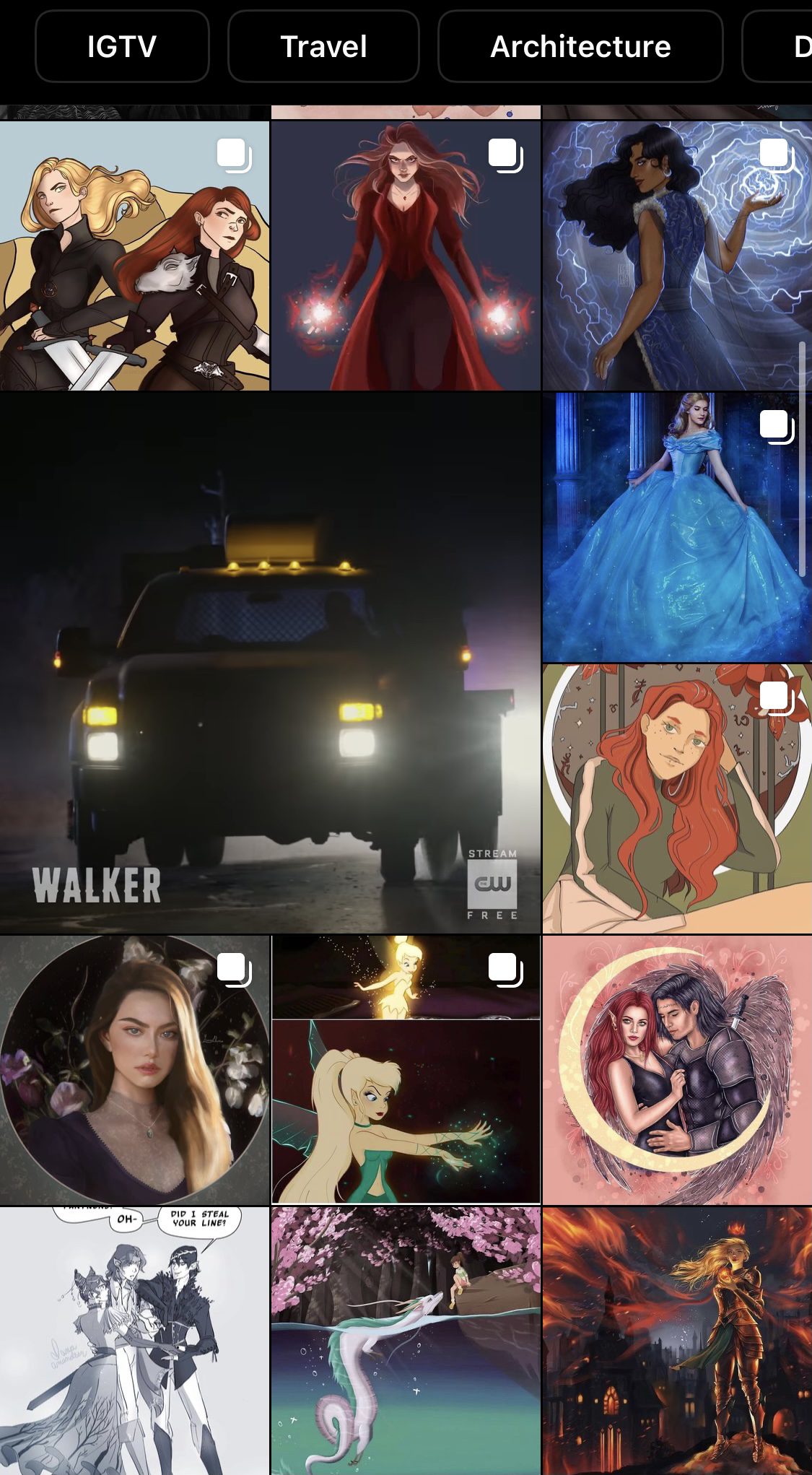 Users can simply tap the Explore ad to see the full post. The top of the screen will indicate that the post is displayed in the Explore section of the site.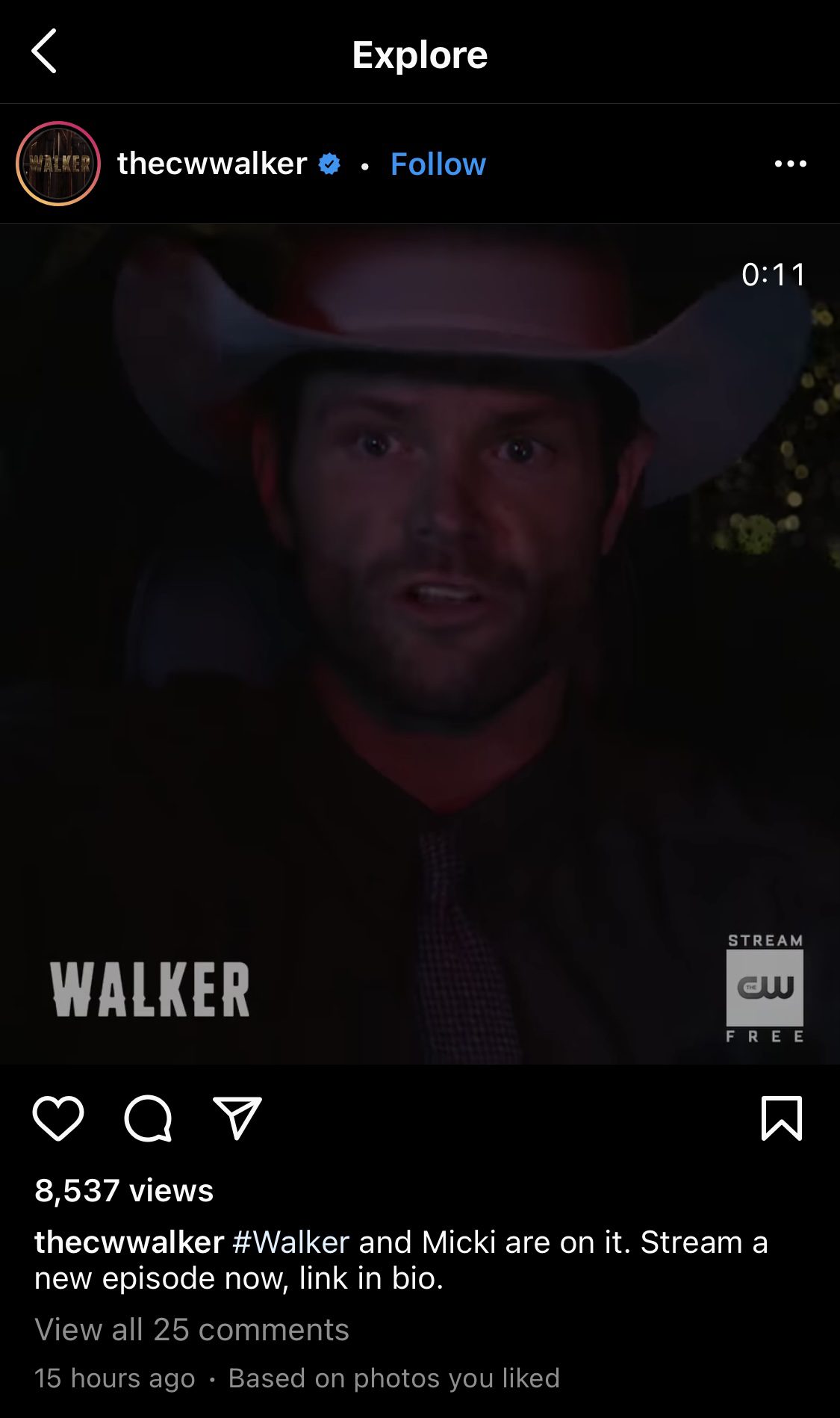 How To Advertise On Instagram With Collection Ads
Instagram collection ads allow brands to feature a gallery-view combination of multiple images or videos. They're excellent for giving your viewers a look at a range of the products you offer.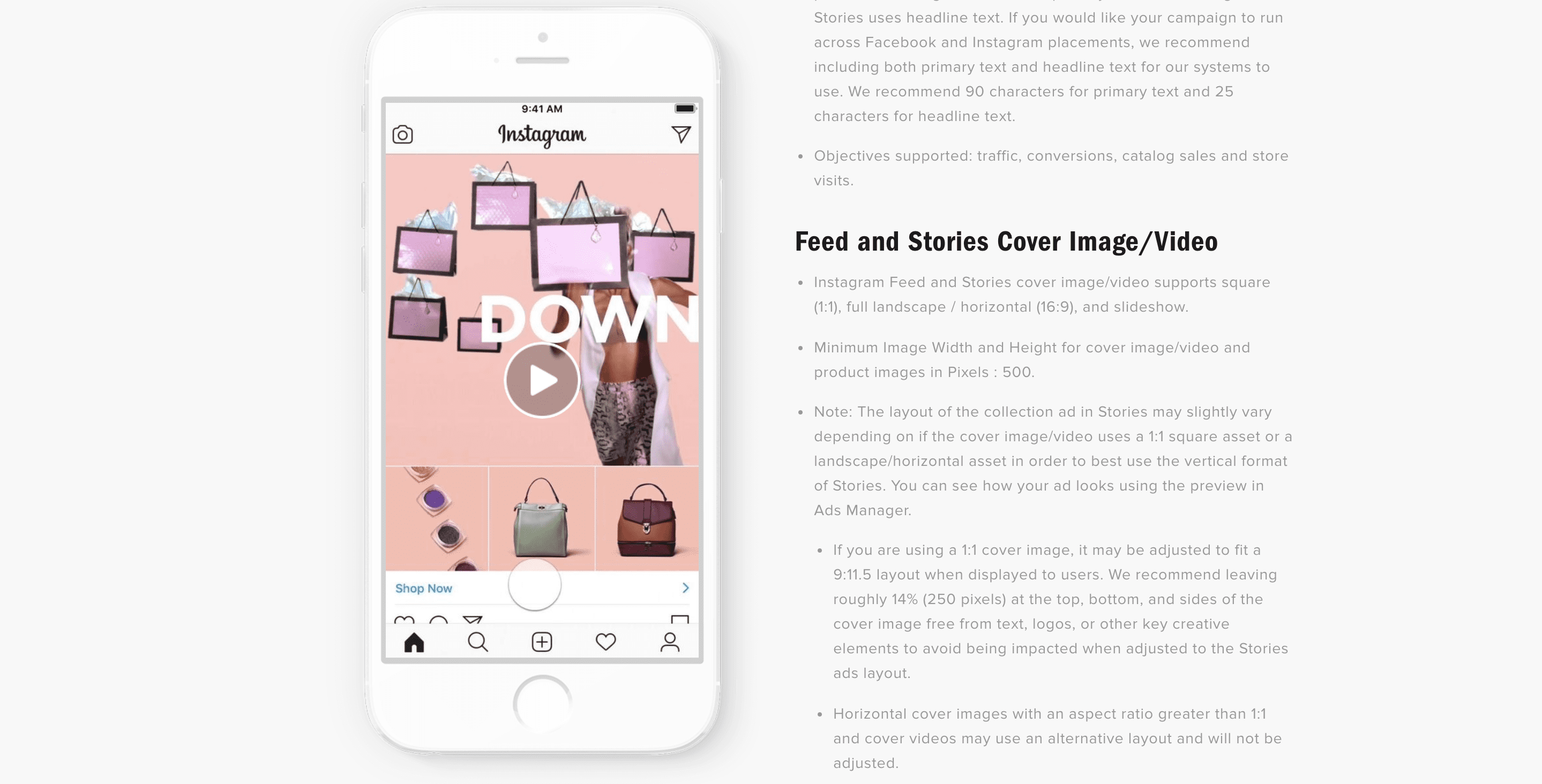 Why Buy Instagram Ads?
Instagram ads are a great choice for brands that want to grow their audience on the app, or prompt their existing audience to purchase a product or service. Brands often use Instagram ads to:
Raise brand awareness and reach
Drive traffic to their website
Generate new leads
Encourage engagement
Move current leads through their funnel
Raise video views
Drive conversions
Instagram reports that 60% of its users use the platform to discover new products. Out of those users, a whopping 75% took action based on the posts they discovered.
Like ads on any social media platform, Instagram ads are ultimately a way to help your business move the needle. No matter your goals for running those ads, there are a variety of tools you can use to angle your sponsored posts for the right audience.
Who Should Pay for Ads on Instagram?
Brands, marketers, and advertisers who want to target Instagram's core audience should advertise on Instagram. Additionally, you may choose to target a specific market or nice community that already exists on the platform.
Additionally, Instagram and Facebook are connected. Therefore, the demographic data Facebook collects may be used to create ads and audiences on Instagram. You may directly target specific Facebook audiences through your Instagram ads.
Visual businesses or industries perform well on Instagram since the platform is visually driven. In addition to retail and product-based businesses, other brands and entrepreneurs that perform well on Instagram include performers, visual artists, authors, coaches, and influencers.
How to Advertise on Instagram Via Mobile App
If you're wondering how to advertise on Instagram quickly and easily, building an ad from an existing post is your best bet. In your Instagram feed, navigate to the post you want to sponsor and click the blue Promote button.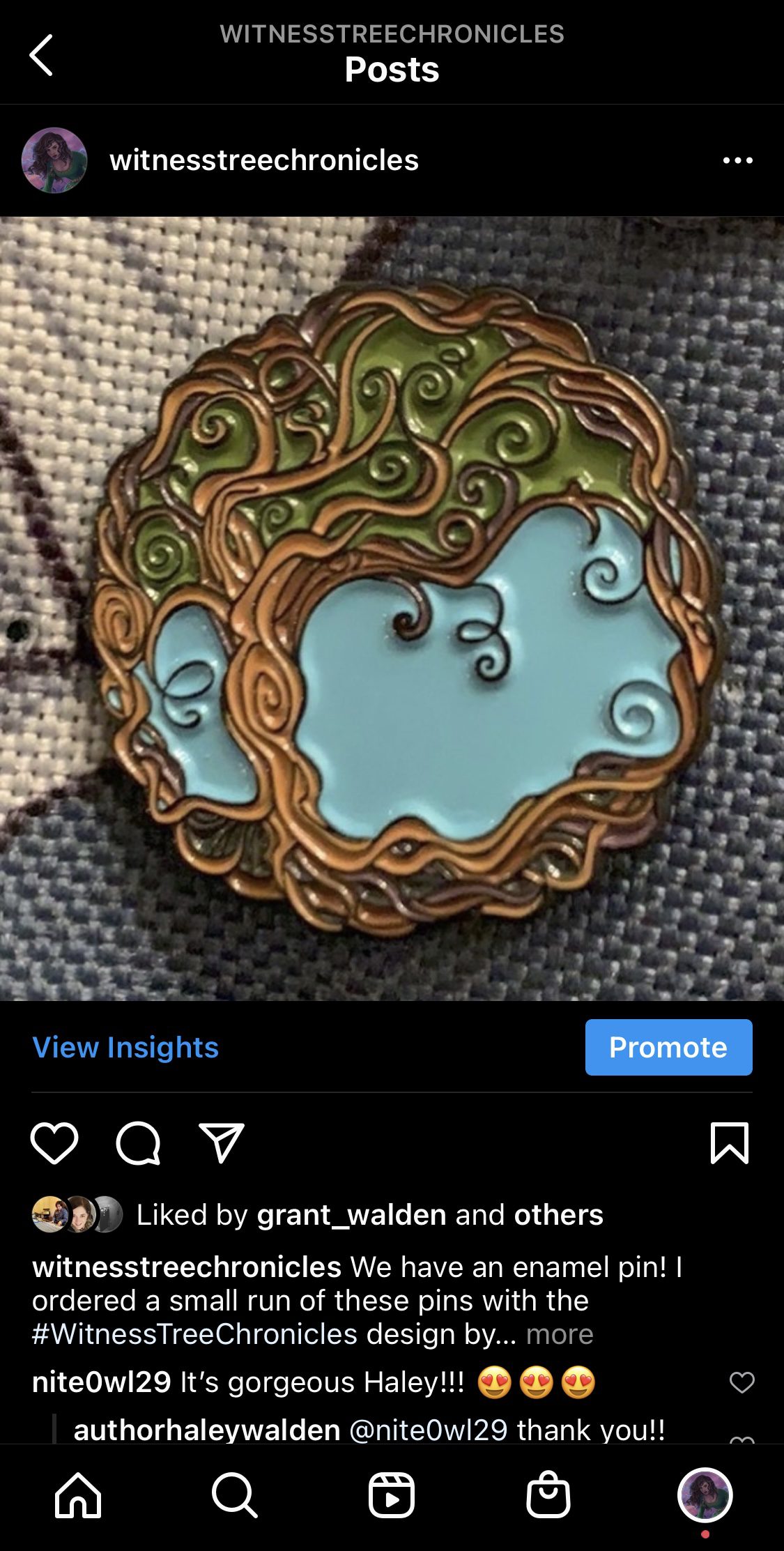 From there, you can select where you want your users to go: to your profile, to a website, or to your Direct Messages (DMs). If you send users to your profile, you want them to take an action, whether that's to follow you or to visit the link in your bio. By sending users to your website, you want them to take further action there, whether it's purchasing a product or signing up for your newsletter. You'd want to send users to your DMs if the offer requires direct interaction.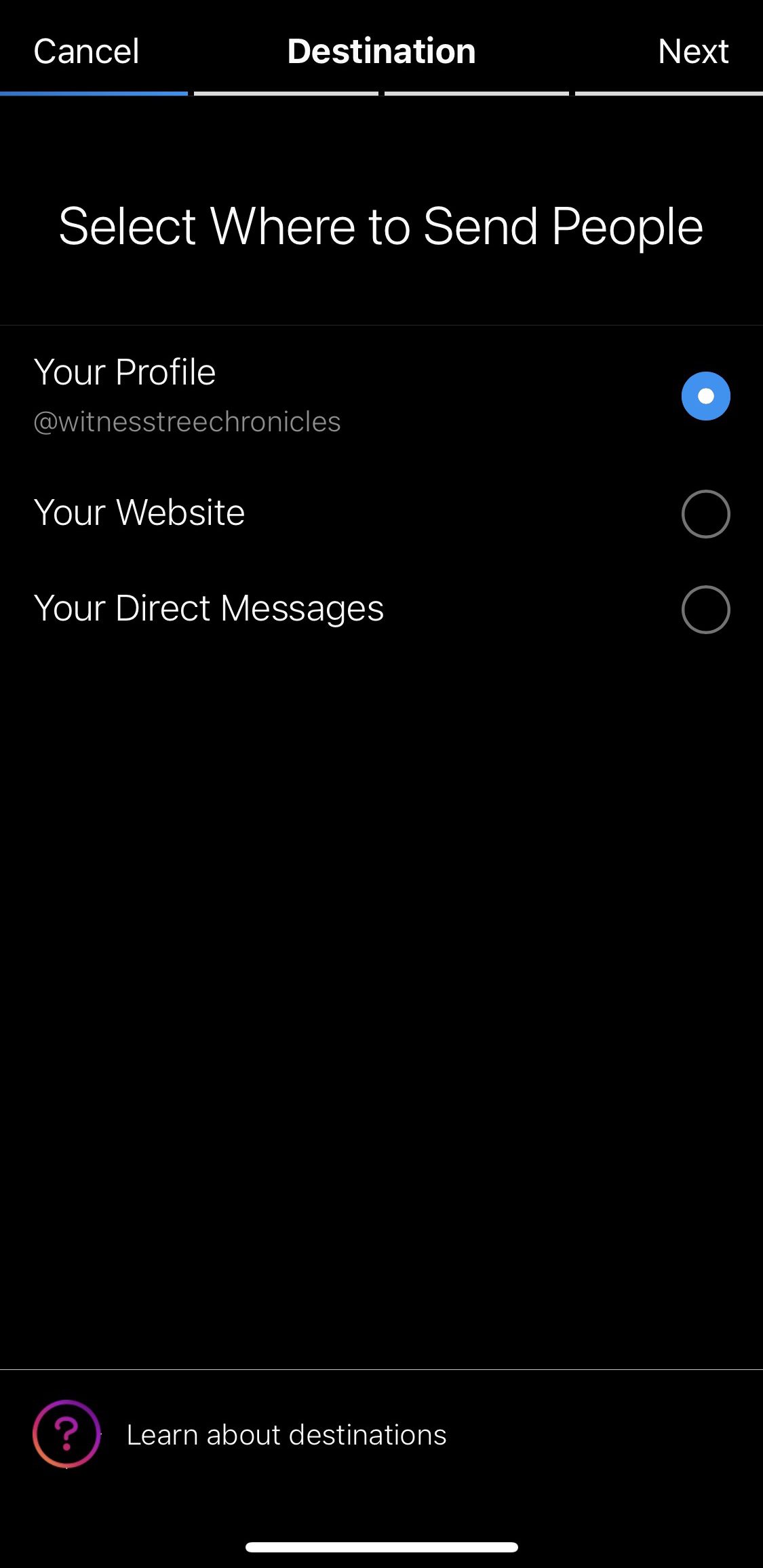 Define Your Instagram Ad Audience
Next, it's time to define your audience. You may allow Instagram to automatically populate your audience for you. In addition, you may use an existing custom audience or create a new one tailored to this specific post.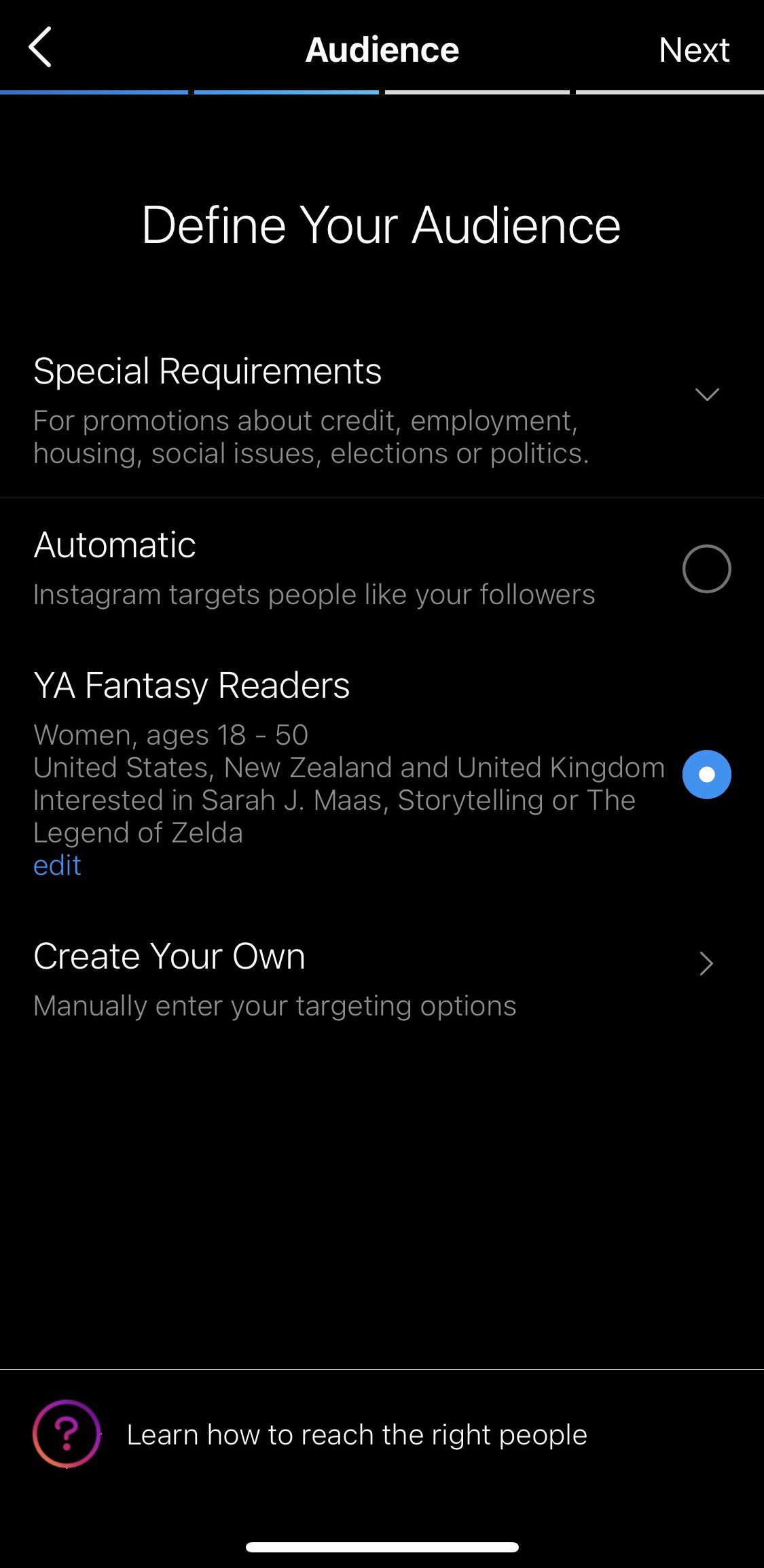 It's easy to set up custom audiences for your Instagram ads. Just like with Facebook, it's simple to select your custom audience based on age, gender, location, interests, behaviors, connections, and demographics. You also have the option of setting up lookalike and custom audiences.
Another facet of Instagram's audience selection capabilities is automated targeting. You can allow Instagram to choose your target audience for you. It would be worth it to consider A/B testing Instagram ads with different audience selection tools to see which performs best.
Give your audience a name, then select locations you want to target. The Interests section allows you to list interests related to your product or service. Interests help Instagram to target appropriate users before showing them your ad.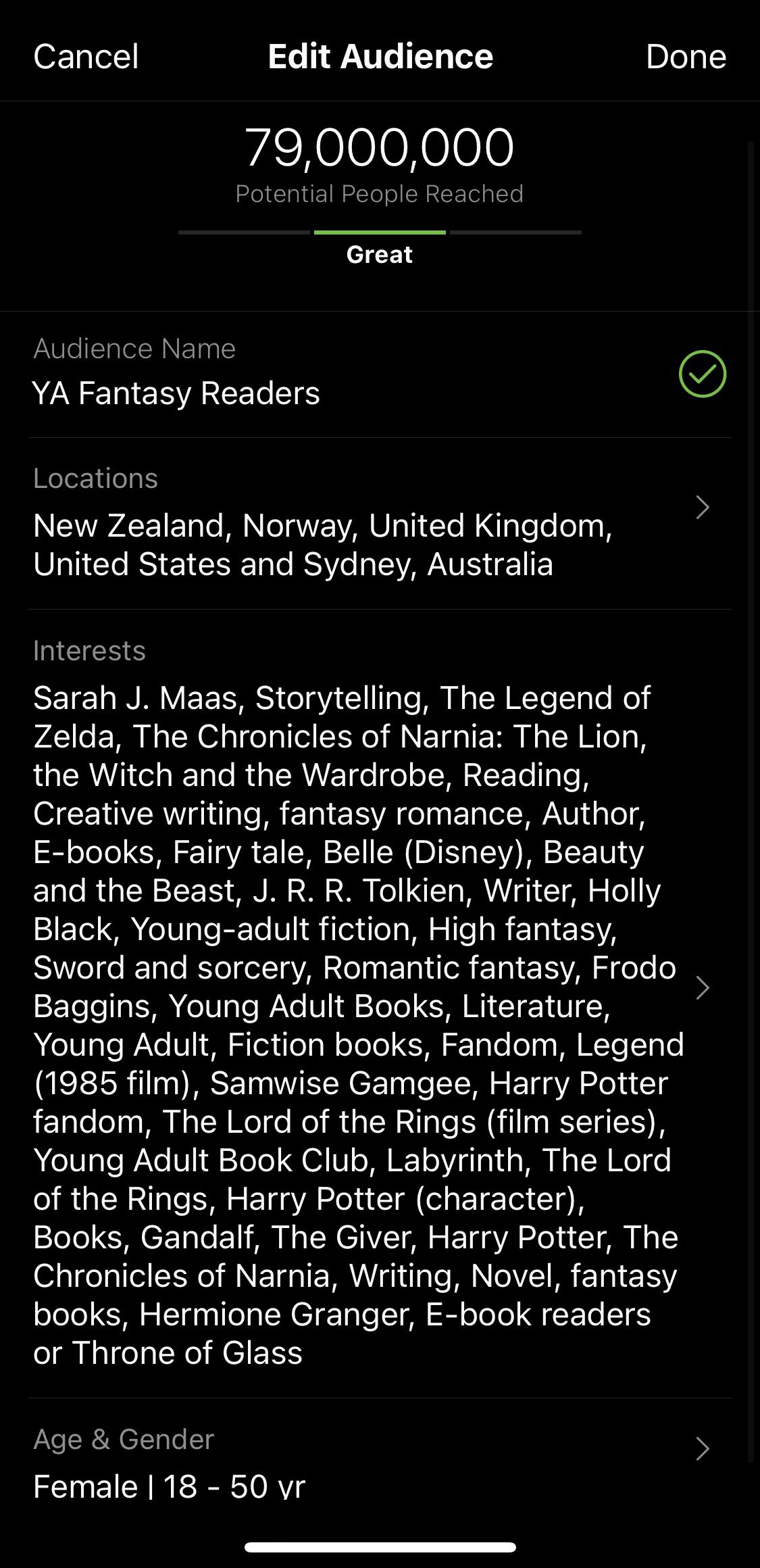 Select Budget, Spend, and Duration
Then, select your budget for ad spend and duration, or the amount of time you want your ad to run. Instagram will give you a rough estimate of how many users could potentially see your ad (in this case, 2,700 to 7,100). The app offers helpful tips and information on how your budget and duration can affect your potential audience.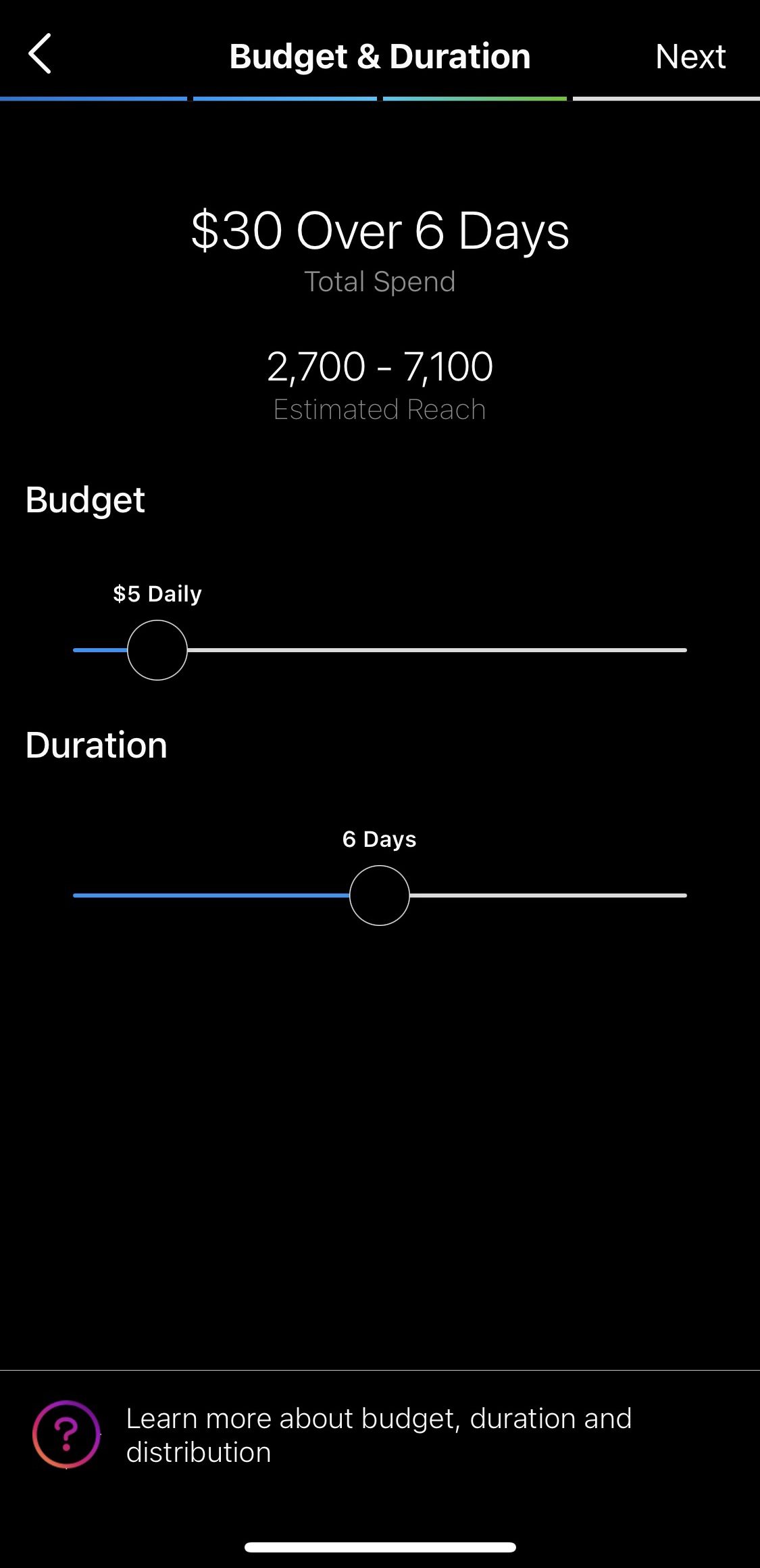 Finally, it's time to review your promotion. You'll get a repeated estimate of your potential audience. In addition, you'll be able to review the post you chose to promote, your selected audience, budget, duration, and payment information. When you're satisfied with the ad you've set up, click the blue Create Promotion button, and Instagram will put your ad in review.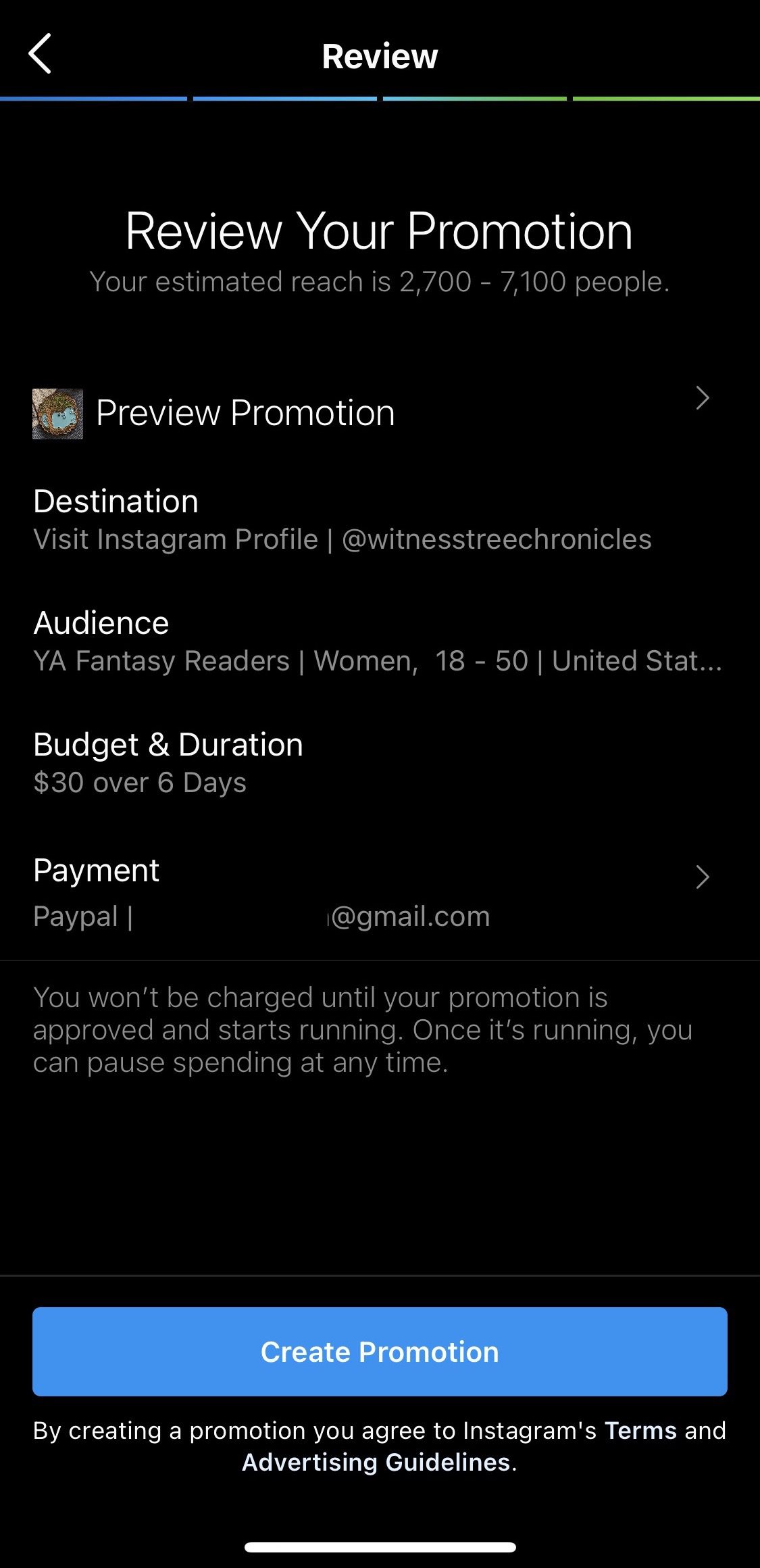 Once the platform has approved your ad, it will run for its chosen duration unless you choose to pause or stop the ad before your time runs out.
Monitoring Instagram Ad Analytics
To see the analytics for a selected Instagram ad, navigate to the ad you sponsored and click View Insights. (Instagram also gives you the option to promote an ad again, as indicated by the blue Promote Again button.)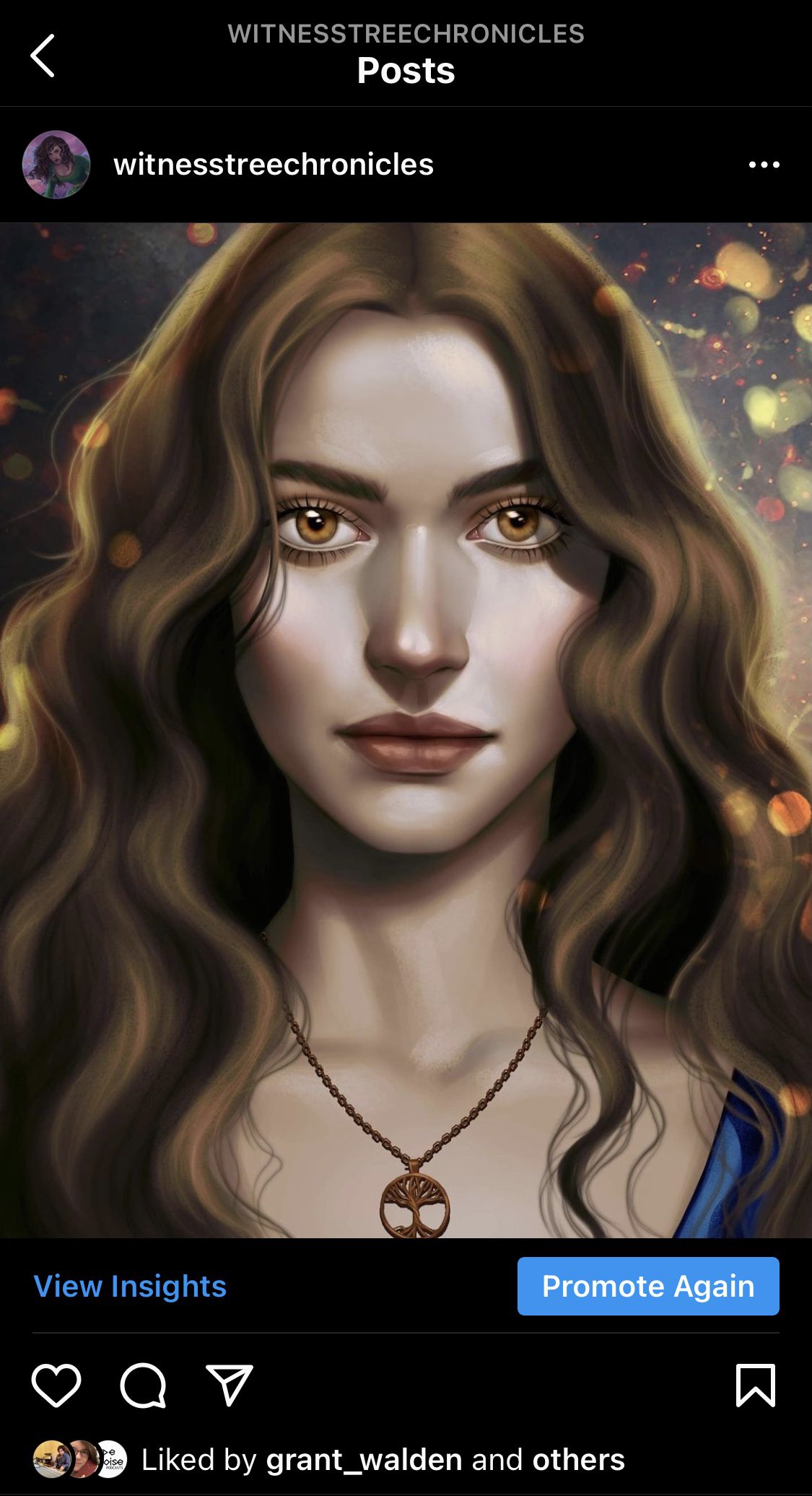 Your Promotion Insights will show you how many users liked, commented on, and shared your post. You'll also be able to review the number of interactions on your post, and where they came from. Instagram displays the number of people reached, as well as the percentages that came from your followers versus people who weren't yet following you.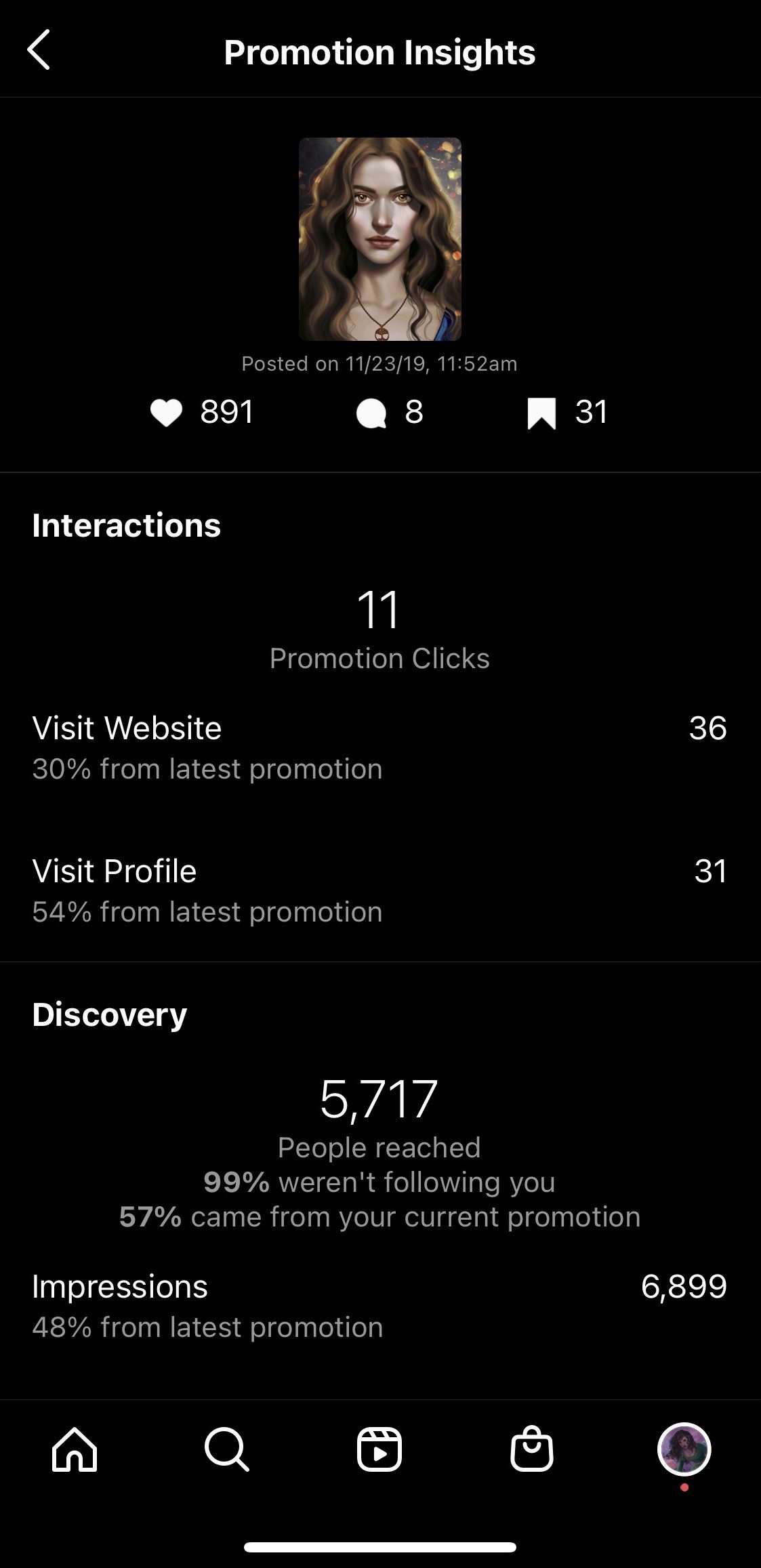 Additionally, you may view impressions and demographics. Instagram will also prompt you to ask a few questions on your satisfaction with the ad process. You'll be able to input feedback based on your experience.
Finally, Instagram will prompt you to either promote the post again, or delete your promotion.
Because Facebook owns Instagram, many of its ad tools are similar. In fact, Instagram users can sponsor posts through the Facebook Ads Manager on desktop or mobile devices.
Best Practices for How to Advertise on Instagram
Looking for the best methods of how to advertise on Instagram? These are some of the best practices you should be following:
Give every ad its own personality. Authentic posts that connect with users are most successful, when it comes to engagement. Emotional appeal is always a solid strategy, in addition to high-quality content.
Make sure your ad is optimized for Instagram and relevant to your audience and brand. If it deviates from your brand voice, it won't be effective.
Use strategically-researched, relevant hashtags as part of your ad copy. Conduction solid hashtag research before you post could help you dramatically increase your post's reach. Avoid using generic, oversaturated hashtags such as #food or #love. Instead, choose niche-specific hashtags that your target audience is more likely to search.
Don't overload your ad with lengthy copy. Instead, get straight to the point. Your users want to know exactly what you're offering, so tell them up front. Brief, snappy, and hard-hitting copy is best here.
Wrapping Up
Knowing how to advertise on Instagram will help your business get the most out of your presence on the platform. Once you've determined which apps best serve your brand and your audience, you'll have a chance to tweak future campaigns and note the results. Be sure to follow best practices and keep track of what's working versus what's not, and you'll be on your way to effective, engaging Instagram ads.
Are you planning to run Instagram ads for your business? Why or why not? We'd love to hear from you, so leave us a comment below.
Featured image via jossnat, shutterstock.com / Screencap artist credit Danaye Shiplett, Salome Totladze, Anna Shoemaker