Flodesk is a fairly new email marketing platform that is affordably scalable and easy to customize. It's a highly visual platform equipped with simple tools and aesthetically pleasing designs. If you're looking for an affordable service that provides beautifully designed email templates that are easy to tweak and won't break the bank as you scale, Flodesk may be a great option for you.
There are a number of powerful email marketing tools available that suit different brands, depending on their needs. Flodesk is for brands and marketers who want to incorporate a high level of visual beauty in their email marketing while maintaining the simplicity of use.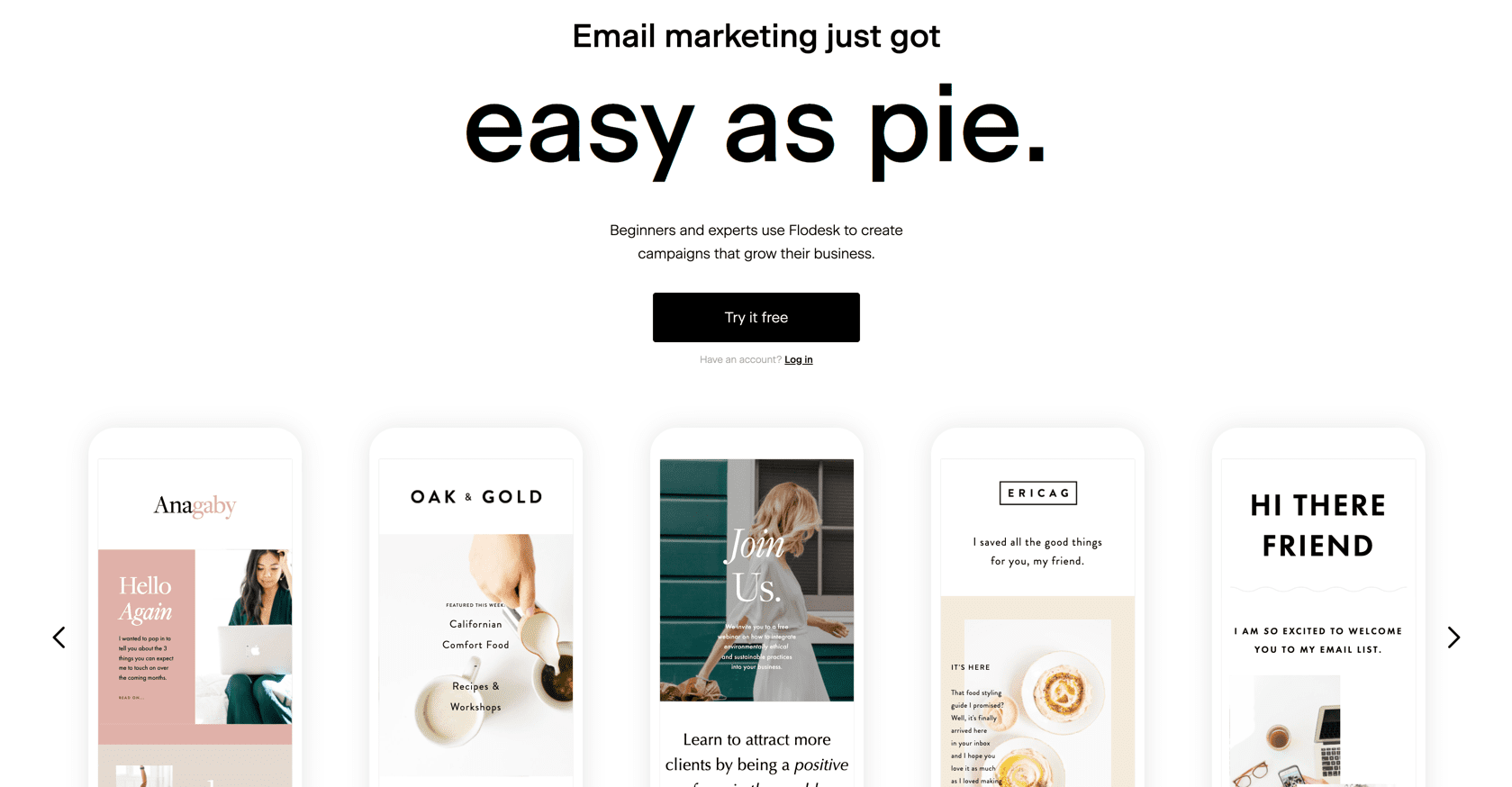 Flodesk is intuitive and easy to use, with attractive templates that are great for freelancers and brands who want design-centric, aesthetically pleasing emails without a lot of fuss. Let's take a look at some of Flodesk's features.
Clean, Simple Interface
They say not to be afraid of white space–and Flodesk is a great example of a brand that isn't afraid to let its designs and functionality breathe. The site is easy to navigate and use. In addition, it is pretty self-explanatory for beginners and experienced email marketers alike.
The main navigation menu features links to Emails, Audience, Forms, and Workflows. Here's what you can use those sections for:
Create and manage your campaigns in the Emails menu
View and organize your subscribers in Audience
Build landing pages for opt-ins in the Forms menu
Create email automations in Workflows
It's simple to dig into Flodesk and figure out how to choose and tweak the designs you want to use. The interface is excellent for users who are visually driven but don't wish to code in the background in order to get their visuals looking right.
Drag-and-Drop Template Designs
Flodesk offers a number of template designs to choose from. Once you've chosen a particular template, you can make changes to the overall design and truly make it your own. One way to do this is by dragging and dropping design elements into the workspace.
In the Flodesk workspace, templates contain a sequence of possible design elements you can choose from. These design elements appear as combinations of images, text, and link buttons that can be edited to suit your needs.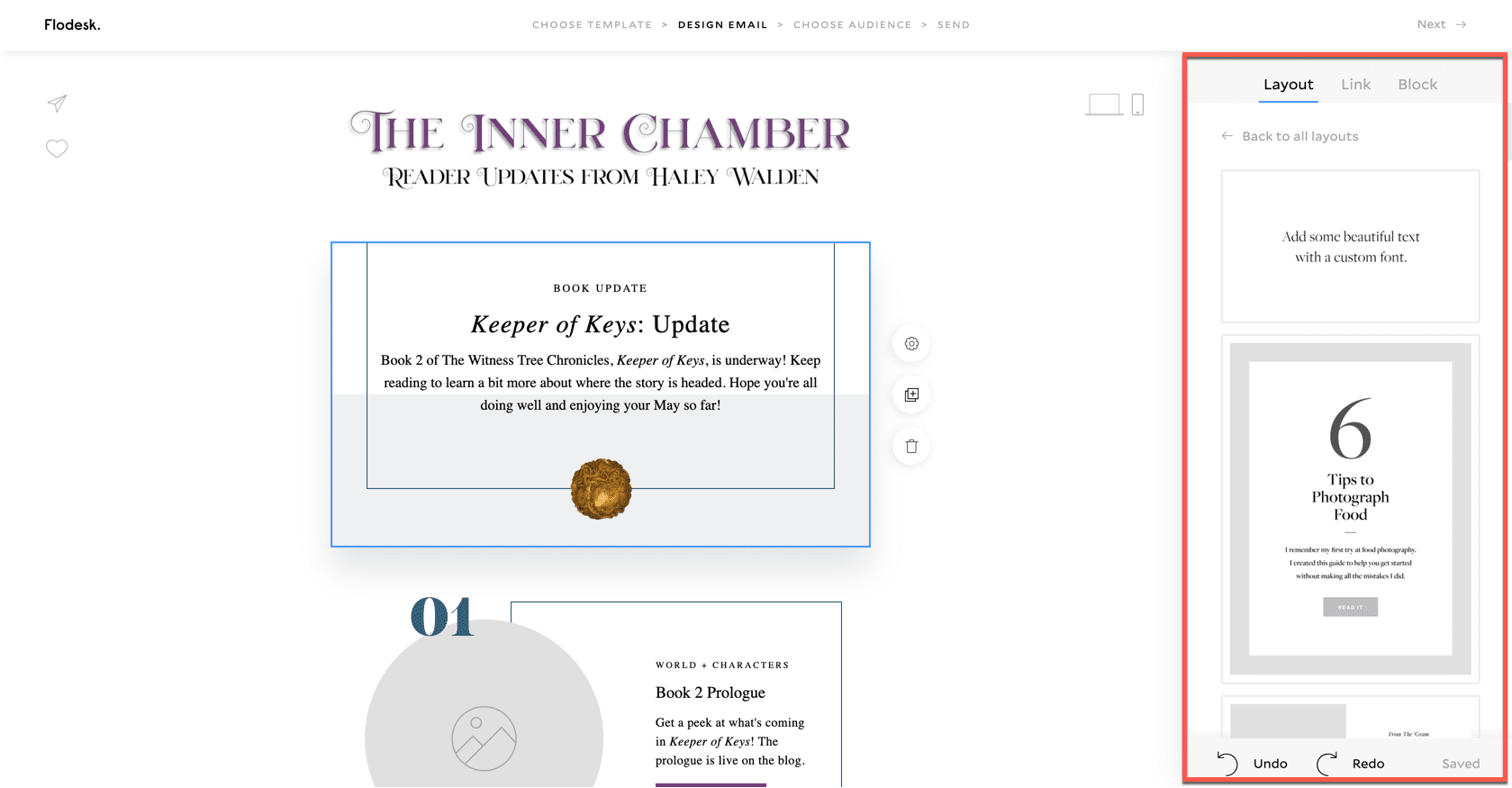 Users can edit each piece of the design elements. For example, you may change the color of a shape that's incorporated into the element. You may also add images and change the font via the right-hand editing menu. The menu lets you tweak the look and feel of your email by editing colors, fonts, shapes, and layouts.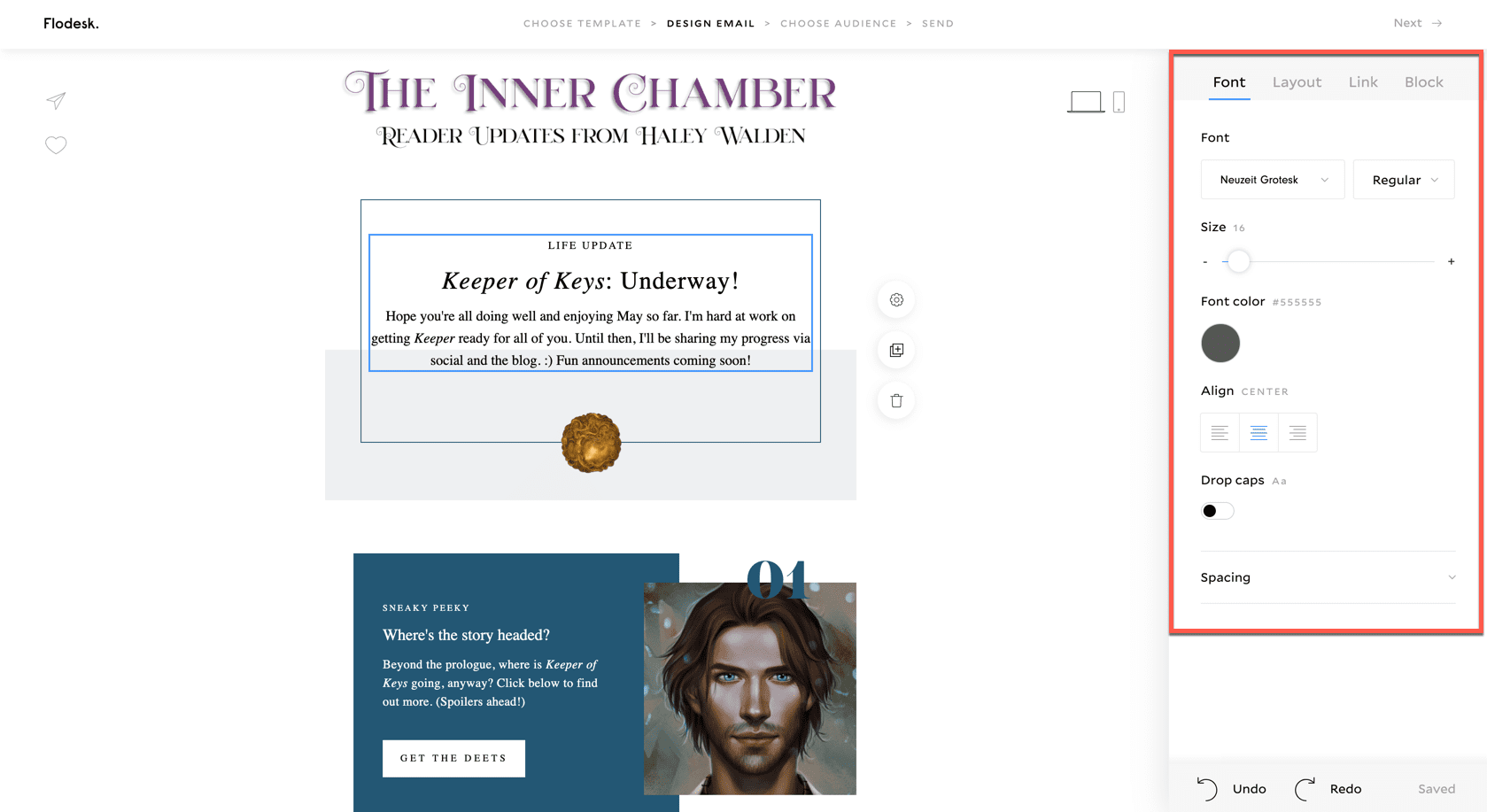 In this example, the template I've chosen is a short-and-sweet template called "Favorite Things Roundup".  You can use this template to share shoppable content or products if you like.
For my purposes, I'm using it as a way to drive readers to different pieces of content related to my book series, such as blog posts and playlists. In past emails, I've featured books I'm currently reading and tips for other authors.
Once you've created your email, you can preview it for both desktop and mobile views before sending. This allows you to make sure the design is properly conveyed on different screens, and make any edits needed before it goes out to your audience.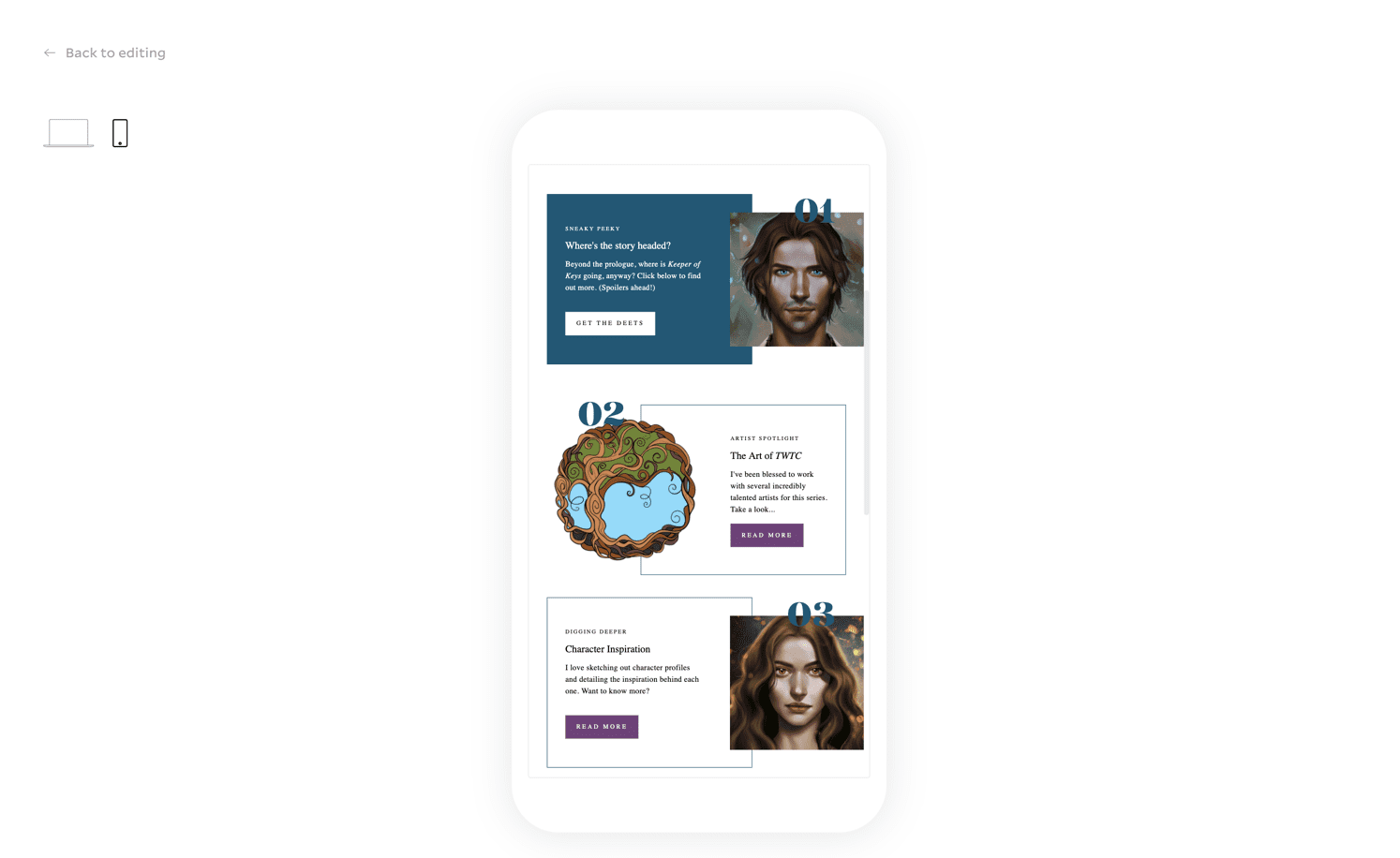 Email Automations
Additionally, Flodesk offers automation sequences for the emails you design. Use automation to trigger certain emails to send at certain times, or to send messages to recipients in a particular sequence.
I created an automated nurture sequence in my account. It automatically sends three emails over a 30-day period after a reader signs up through my landing page. It's a chance not only for my readers to get to know me, but for them to get more familiar with my brand and what I'm all about.
Simple, Attractive Landing Pages
Flodesk offers several landing page design options for opt-ins under the Forms section. You can use this tool to create branded popup, inline, or full-page forms that you can link from anywhere.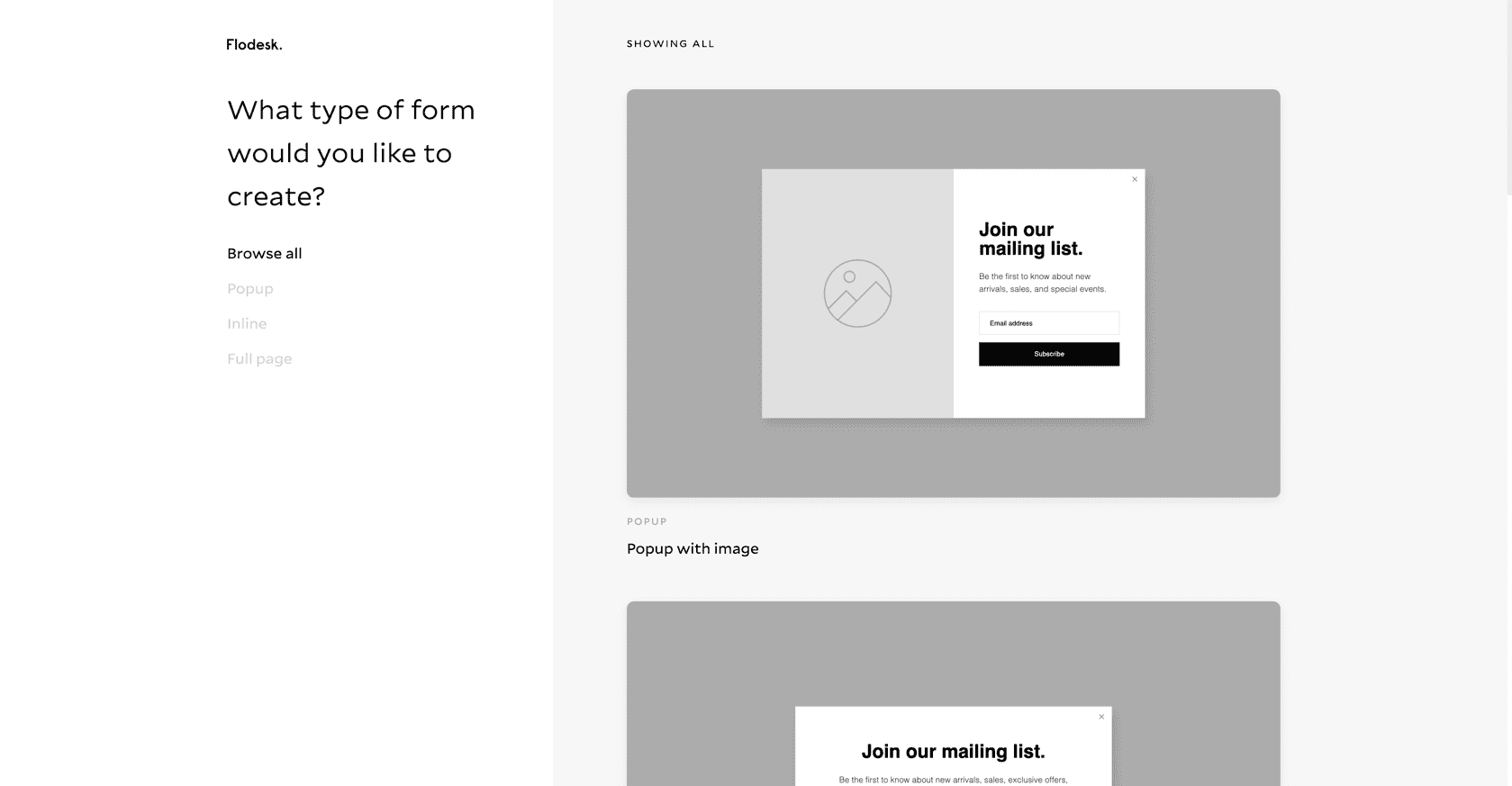 This full-page signup form features a place for an image (in this case, an eBook cover), a brief description of the opt-in and what it's for, and fields for the user's first name and email address.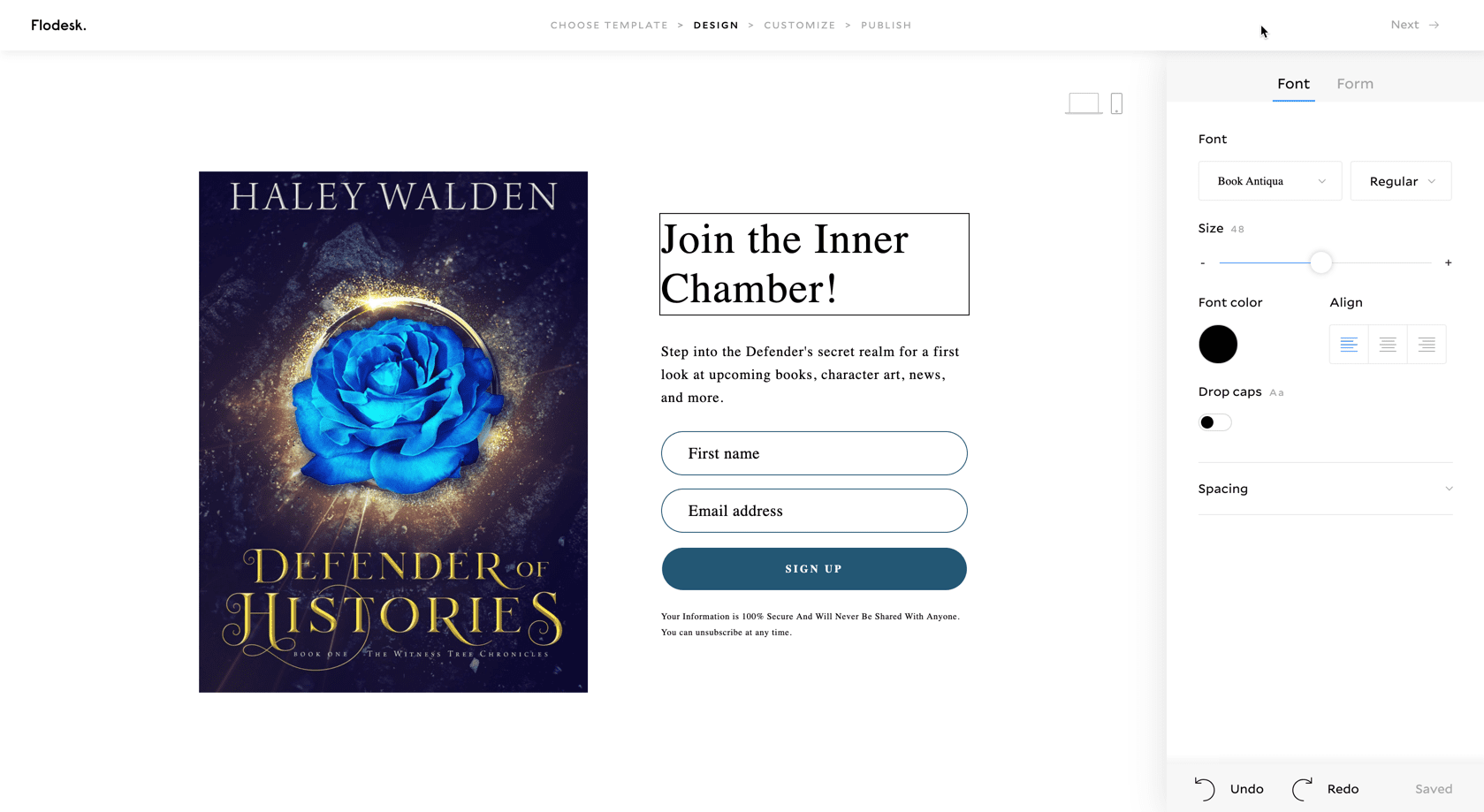 Flat-Rate Pricing
Unlike many other email marketing services, Flodesk is available at a flat rate of $38 per month. This rate doesn't increase when your email list grows beyond a certain number of subscribers.
Many email services available today increase your monthly fee based on the size of your list. Flodesk's scalable pricing model ensures you won't, essentially, be penalized when your list grows–especially if it grows quickly. This is great news for users looking to migrate their lists away from other platforms which may have increased their price for higher subscriber numbers.
Who Should Use Flodesk?
Flodesk is a great choice for marketers who want a high level of visual attractiveness in their emails, but don't want to deal with complicated code tweaks in order to achieve their design goals.
Here are a few things to keep in mind before you dive into Flodesk:
Advanced visual designers or developers may prefer to use a platform that incorporates the ability to code their own templates. At the very least, you may want a wider variety of design elements if you're concerned with making sure you aren't working off an obvious template.
Some audiences respond better to a personalized, text-centric email without a lot of visual bells and whistles. Others prefer an attractive, polished look that falls in line with your brand identity and offers them something beautiful to look at when they open your emails. In the end, it really comes down to your audience, your individual preference, and what's best for your brand.
Brands on a budget will benefit from Flodesk's flat rate, particularly if they're scaling and growing their list quickly. This helps to prevent the financial pinch that can sometimes come from an exponential increase in subscribers.
I switched to Flodesk to save time. I also needed to get my hands on some well-designed templates that I could adjust to fit my brand. Otherwise, I was losing a lot of time. For me, the time-suck involved either a software learning curve or failed attempts at hard-coding templates that I ultimately wasn't happy with. (We won't talk about the fact that my coding skills are stuck somewhere in the early 2000s.)
A number of brands, marketers, and service providers could benefit from using Flodesk. These include:
Authors
Copywriters
Lifestyle brands
Brick-and-mortar stores
Software developers
Graphic designers
Influencers
Consultants
Coaches
Photographers
Wrapping Up
Flodesk email management is an excellent choice if you're a marketer who doesn't have the time or desire to work with hard-coded email automation templates. Most likely, you're looking for a platform that's easy to navigate, simple to use, and as straightforward as possible with little fuss. It's also a bonus if you can get in on a service that won't hike your monthly fee as you grow.
What email marketing service do you use? Why do you prefer it? Let us know in the comments section.
Featured image via Magura, shutterstock.com / Screen capture art credit Allison Martin, Salome Totladze