Social media is becoming more significant in the constantly changing world of digital marketing. About 4.9 billion people worldwide are using social media in 2023. However, managing and making the most of one's presence on these ever-changing platforms can be challenging. That's why finding the right tools to simplify and streamline social media sharing is essential for effective results. In this post, we'll compare the best social media tools to help elevate your online presence to new heights.
A social media tool is a software or a platform that helps users manage their social sharing and all their social media networks in one place. These tools offer various functions to enhance your online presence and engagement.
Social media tools are crucial in the industry. They help businesses, entrepreneurs, and companies organize their social media activities effectively. They also enable users to create content, review website analytics (an in-depth analysis of data about your posts' performance), and set up automated responses. So, social media tools are a necessary part of a complete social media strategy.
Here are some benefits of using a social media tool:
Scheduling and Automation: Schedule posts in advance to maintain a consistent online presence across various platforms. Automation features handle repetitive tasks, freeing your time for more strategic work.
Website Analytics and Insights: Track the performance of your posts and campaigns with the detailed analysis provided by social media tools. These insights are fundamental for making informed decisions and ensuring better results.
Content Development: Create content and high-quality designs with some social media management tools. These tools produce visuals tailored to your target audience.
Monitoring and Engagement: Social media monitoring tools are essential for managing your brand, letting you see brand mentions, comments, and messages in real time. These aspects are vital for timely responses and increased customer engagement.
Collaboration: The collaboration feature lets multiple users collaborate on social media campaigns.

Subscribe To Our Youtube Channel
Choosing the best social media tool can be tricky, with so many great options available. In this list, we'll assess their features, costs, and how well they meet specific needs.
1. Sendible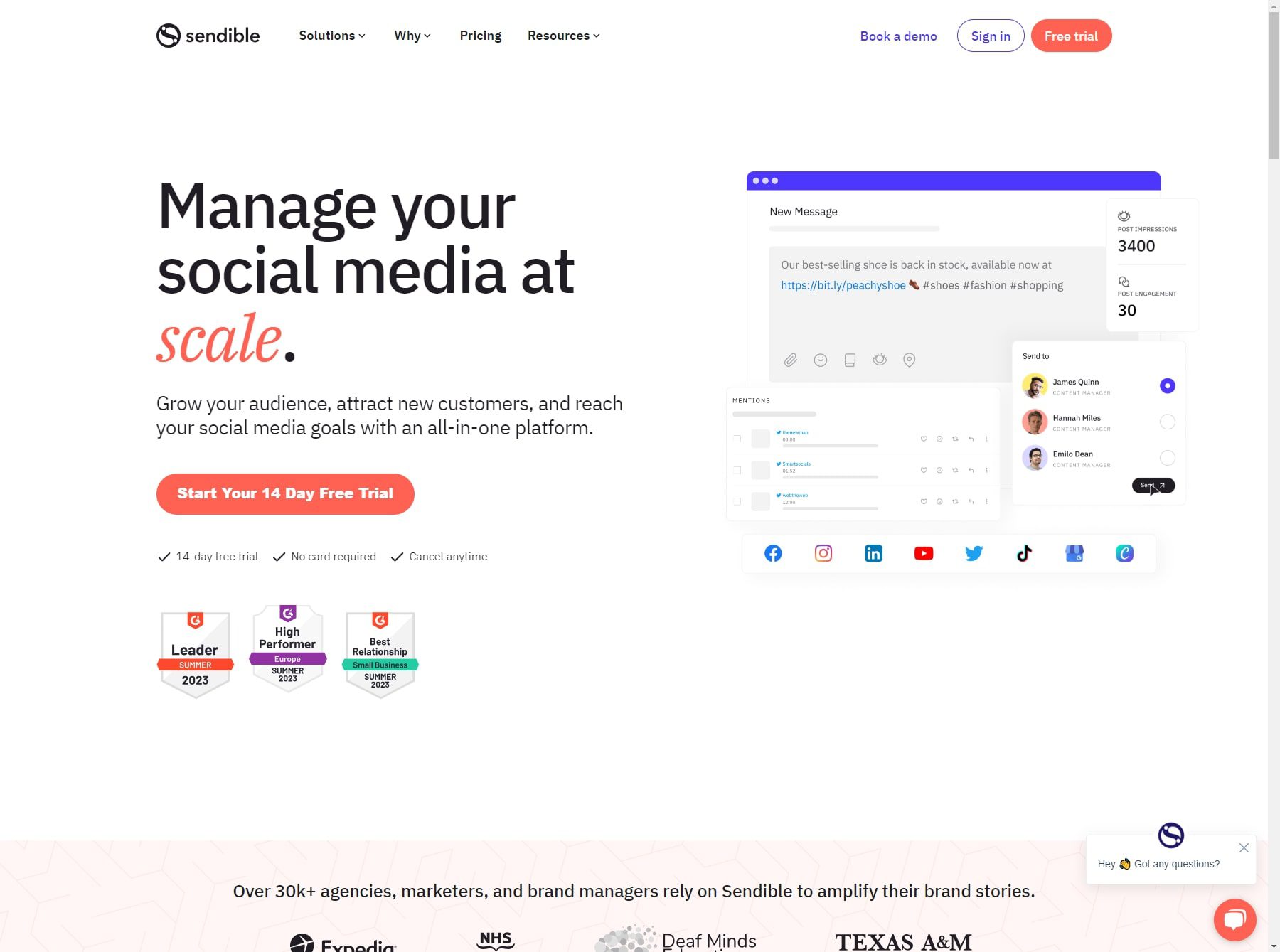 Sendible is a premier social media management platform that serves as a centralized hub, unifying all social networks. Consequently, it simplifies executing effective social media strategies for multiple brands at scale. Furthermore, this platform boosts productivity, ensuring that teams save significant time.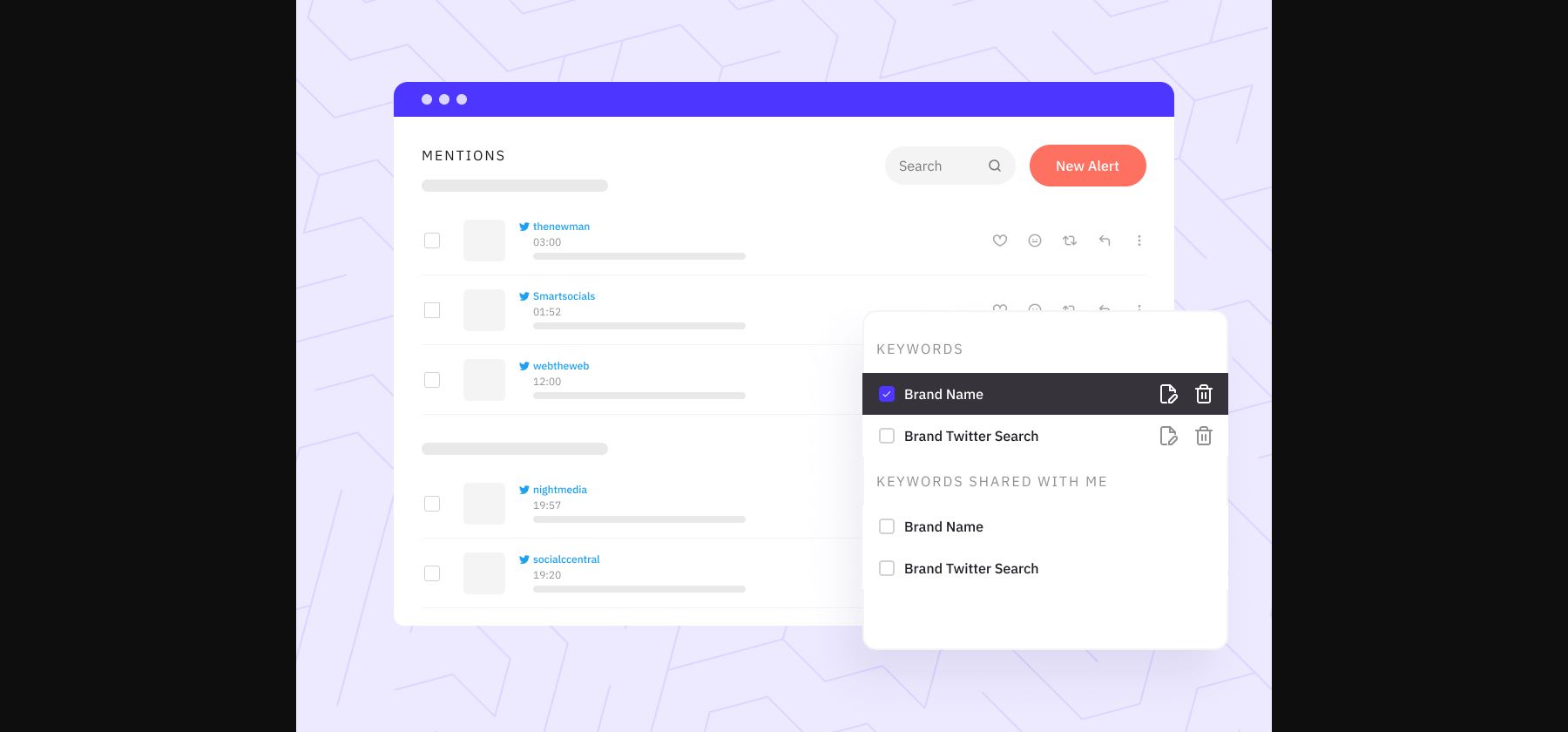 With its robust features encompassing social media engagement, monitoring, publishing, and branding, Sendible equips agencies with the tools to impress and delight clients at every turn. Additionally, Sendible offers flexibility in setting up Keyword Alerts. Users can create these alerts seamlessly by associating keywords with specific social media profiles or using the dedicated "Monitor > Keywords alerts" screen. This versatility allows tracking brand mentions, industry trends, and relevant conversations.
Key Features of Sendible
The Compose Box permits the scheduling of posts, images, and videos, helping you save valuable time.
Queues help organize social media posts into campaigns so you can plan them for specific days.
The Calendar feature gives a snapshot of your past and future social media posts.
Easily create visual content to draw audiences and boost engagement.
Integrates with various social media platforms.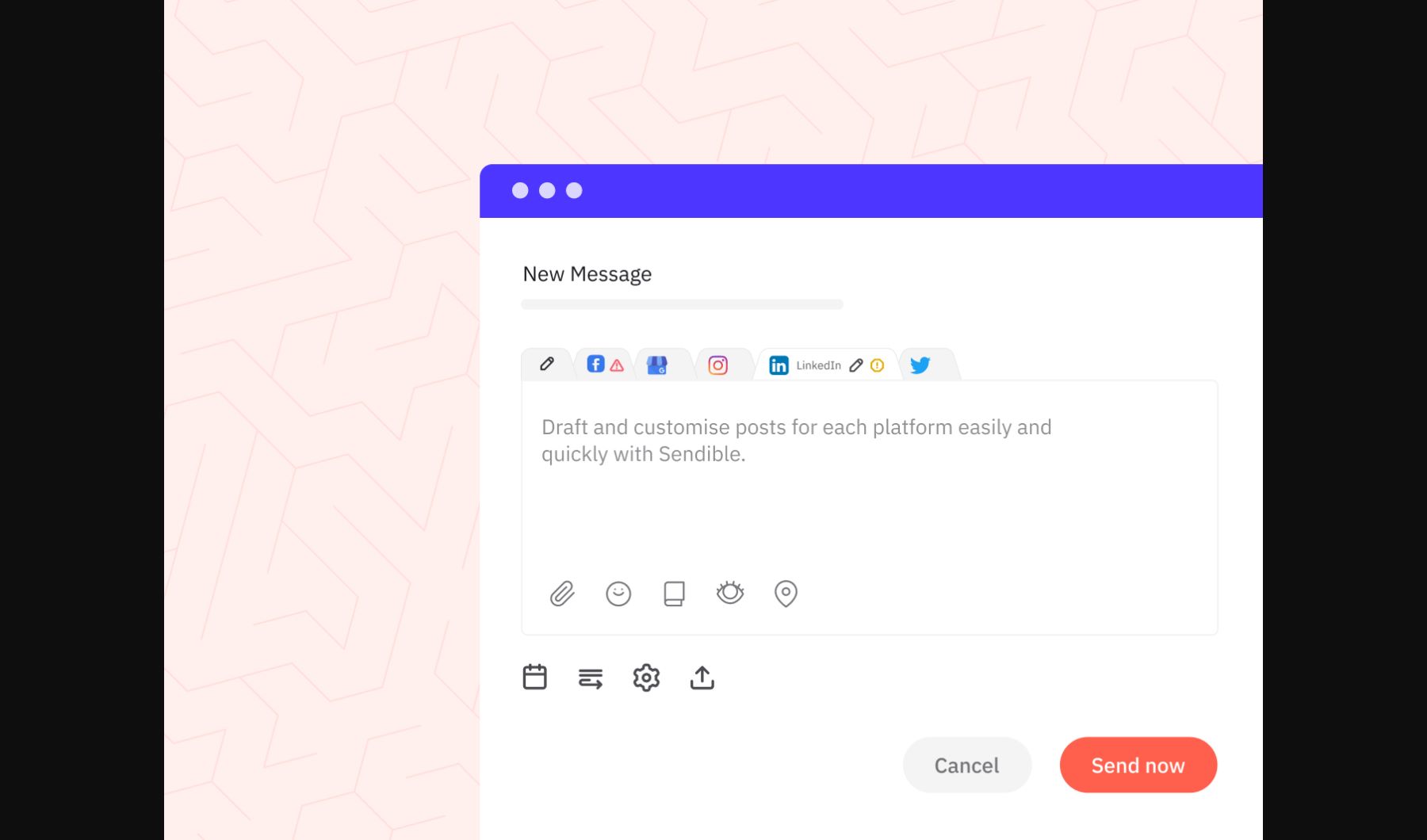 The Compose Box of Sendible makes bulk scheduling of social media posts simple. It also provides previews on each platform, making sure posts are set for maximum engagement.
In addition, Sendible provides a content suggestion feature. This tool lets users search the web for content relevant to their audience, promising improved engagement and growth. Sendible's adaptability also reaches its "Profiles" system, easily accommodating connections to all major social media platforms.
Best For:
Sendible excels as a social management tool for marketing agencies, entrepreneurs, freelancers, and teams. It offers remarkable and customizable reports to boost business outcomes. Those in marketing agencies and freelancers find Sendible particularly useful for scheduling posts and engaging with their audience.
Pricing: Free 14-day trial. Paid plans begin at $29 per month.
2. HubSpot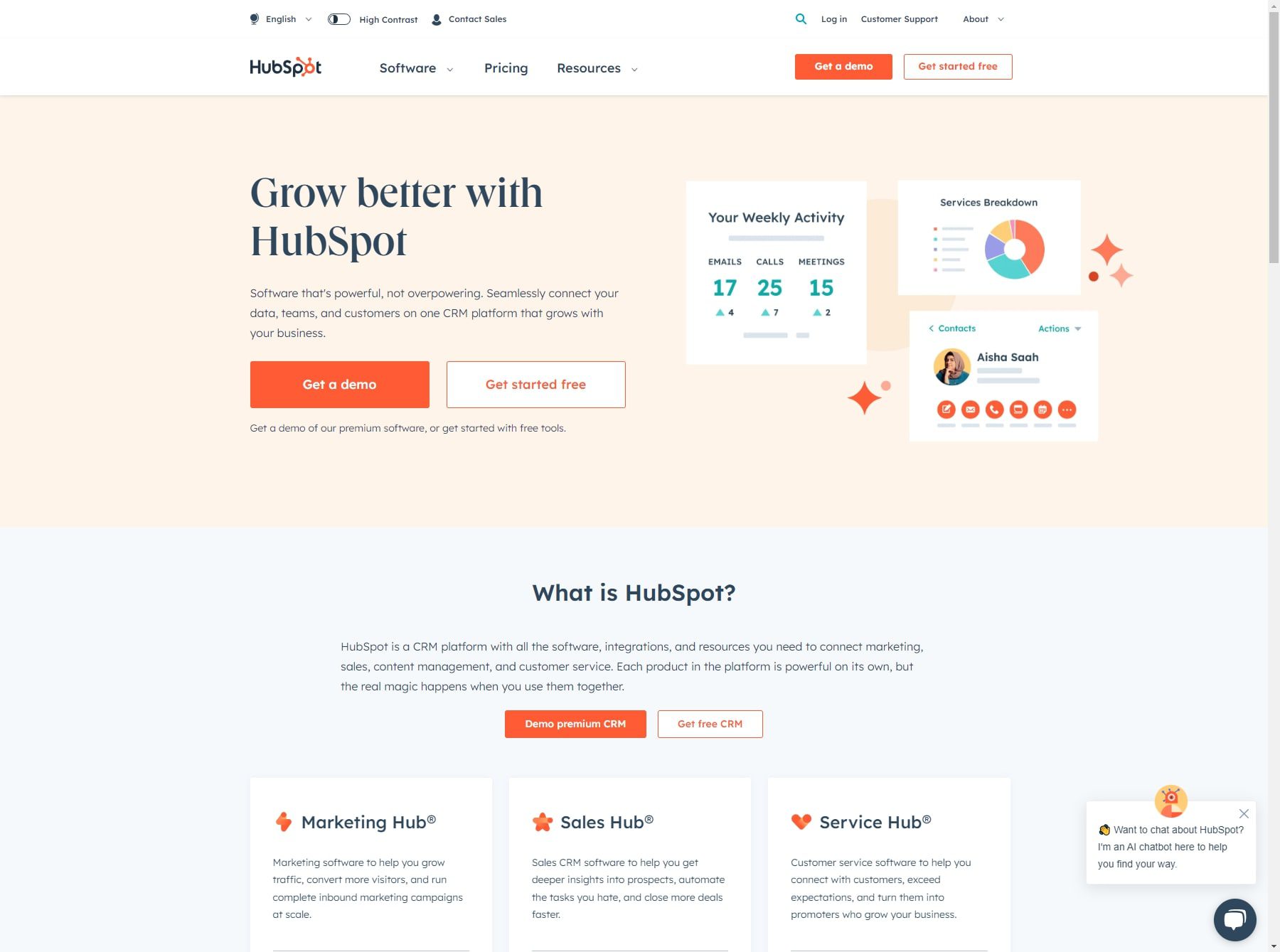 HubSpot offers a comprehensive suite of social media tools well-regarded for user-friendliness and integration with other marketing and CRM features. It enables users to schedule and publish posts across various social media platforms, engage with audiences, and track performance metrics.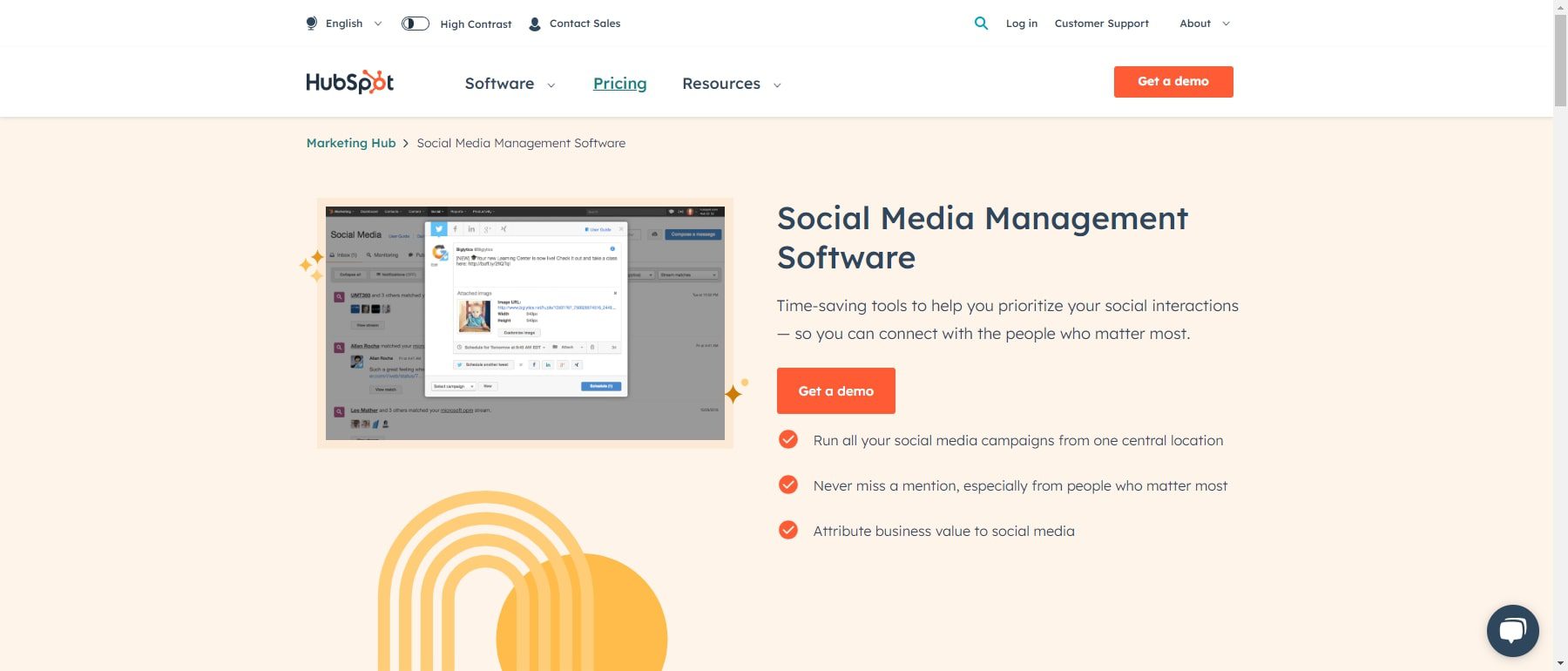 HubSpot's social media monitoring and listening capabilities allow businesses to stay attuned to brand mentions and industry trends. While it provides valuable insights and automation, it may not be as feature-rich as dedicated social media management tools, and its pricing can be relatively high for small businesses. Nonetheless, HubSpot is an excellent choice for companies looking for an integrated marketing platform that includes social media management as part of a broader marketing strategy.
Key Features of Hubspot
Social media management software lets you prioritize your social interactions and run campaigns.
CRM (Customer Relationship Management) manages your contacts and nurtures leads.
Social monitoring and listening tracks exclusive mentions, hashtags, and keywords related to your brand and industry.
AI-powered social post generator allows you to quickly save and publish content on different social media platforms.
Out-of-the-box social reports compare performance across different social media platforms.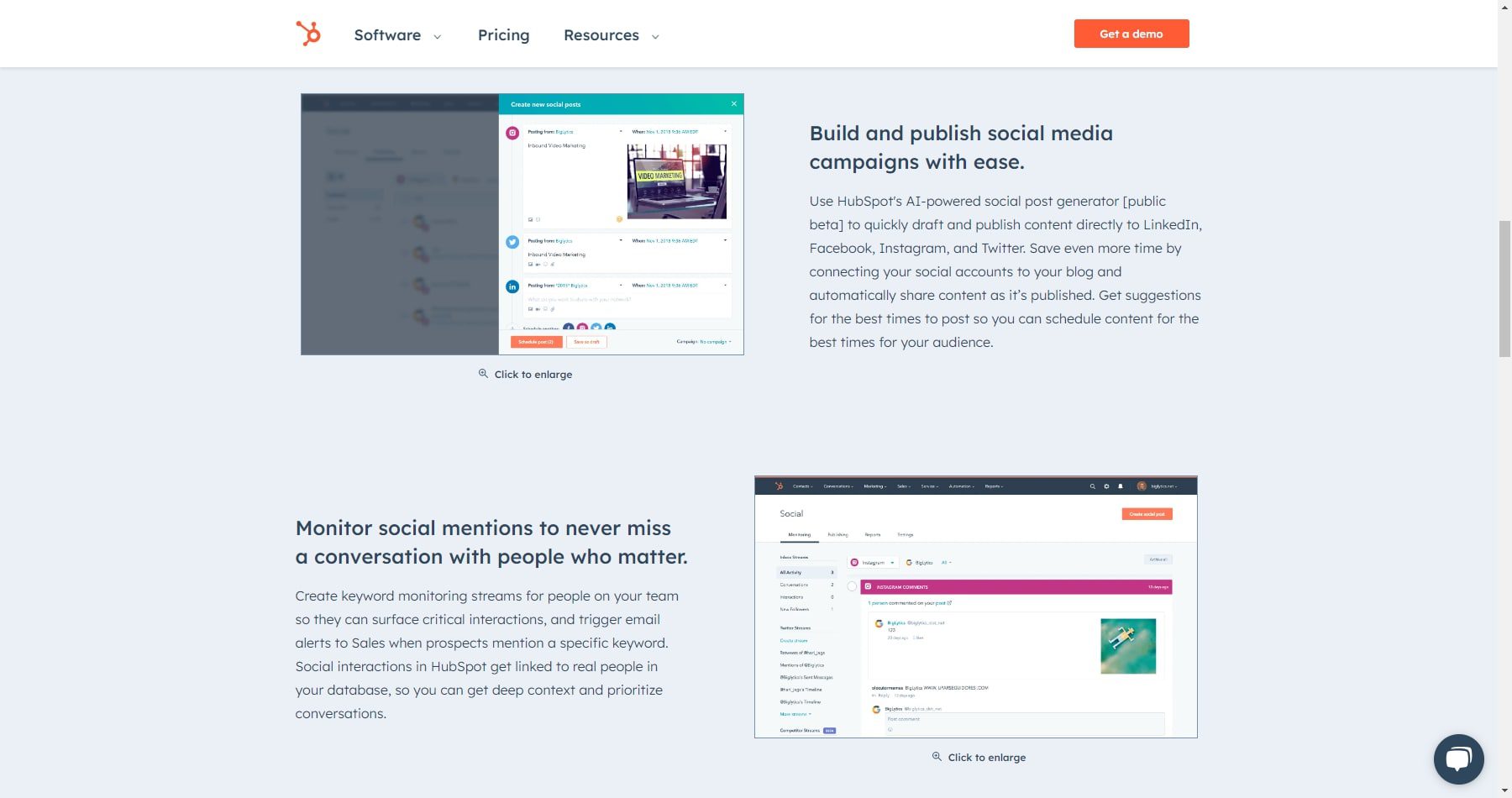 HubSpot's AI-powered social post generator simplifies content creation and publishing on LinkedIn, Facebook, Instagram, and Twitter. It also streamlines content sharing from your blog to social accounts. The tool provides optimal posting time suggestions. Additionally, you can set up keyword monitoring to notify your team and Sales when relevant keywords are mentioned, improving engagement and conversation tracking by connecting social interactions to your contact database.
Best For: HubSpot is best for marketing, sales, and customer service teams. Marketing professionals can use numerous built-in marketing tools like SEO optimization, content creation, and social media engagement. Sales teams can organize and track leads and streamline their sales process. Customer service teams can use built-in features like live chat and ticketing to guarantee excellent customer service.
Pricing: Free trial for 14 days. Social media tools are included in their Marketing Hub plan starting at $18/month.
3. Later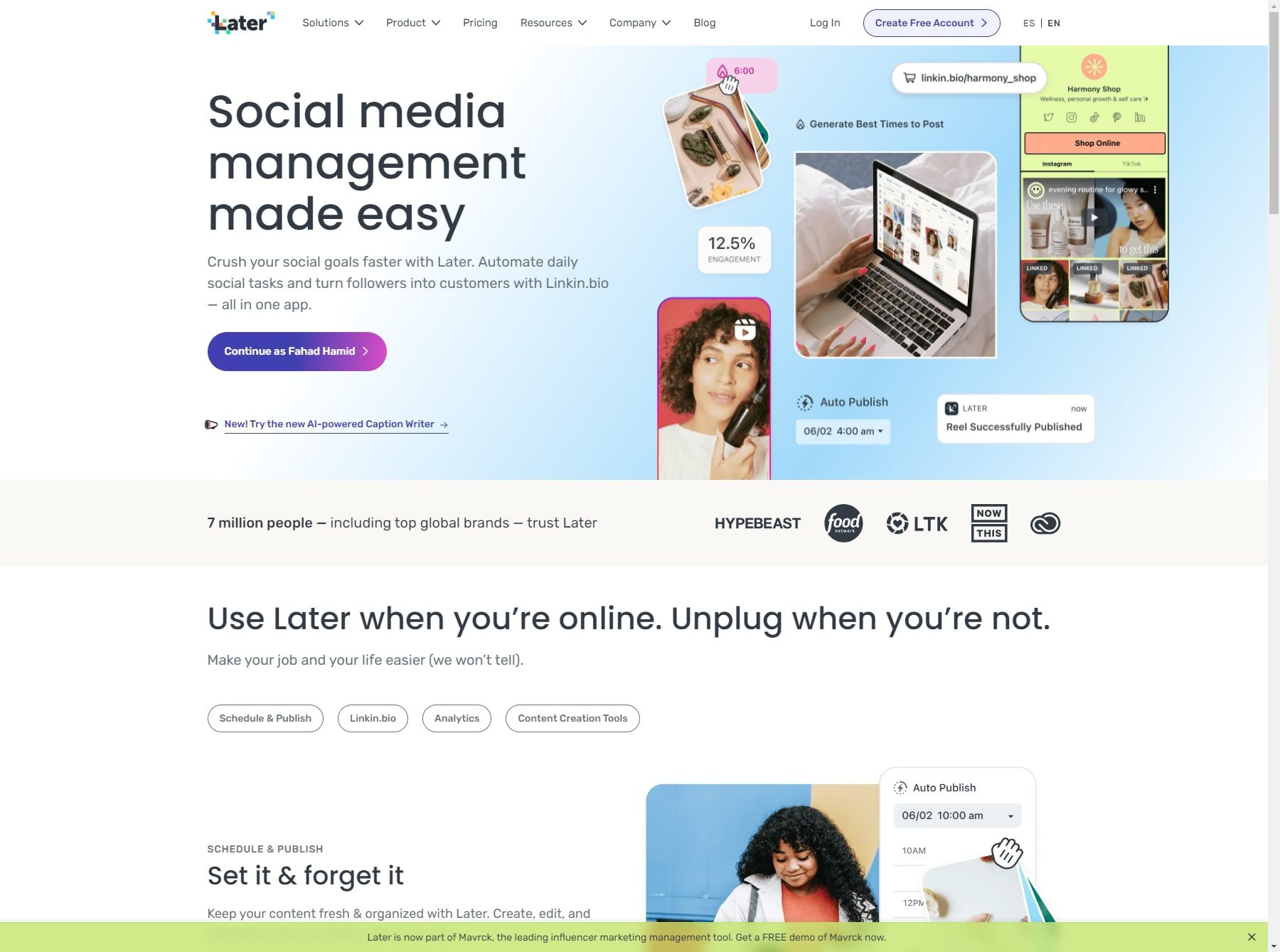 Later is a robust social media management platform designed for marketers to efficiently schedule posts across various social media platforms. It offers multiple user-friendly tools and provides valuable insights to enhance reach and return on investment. The platform seamlessly integrates with Instagram, Facebook, Twitter, and Pinterest, enabling users to schedule content easily. Furthermore, Instagram allows automatic feed posting and manual Stories uploading through their mobile app. Users can upload media in multiple ways, including drag-and-drop, direct computer uploads, or via cloud services like DropBox and Google Docs.
Key Features of Later
Conversations feature that enables you to reply to the comments on Instagram (only for integrated accounts).
A detailed analytics dashboard provides various insights from the platforms you integrate with the tool, such as account performance, audience analytics, and post-performance.
The collect media tab allows you to save Instagram content of other users for later resharing.
Linkin.bio lets you create a mobile-optimized landing page for your Instagram account.
The conversations feature is exclusive to Instagram and enables users to effectively manage and respond to comments.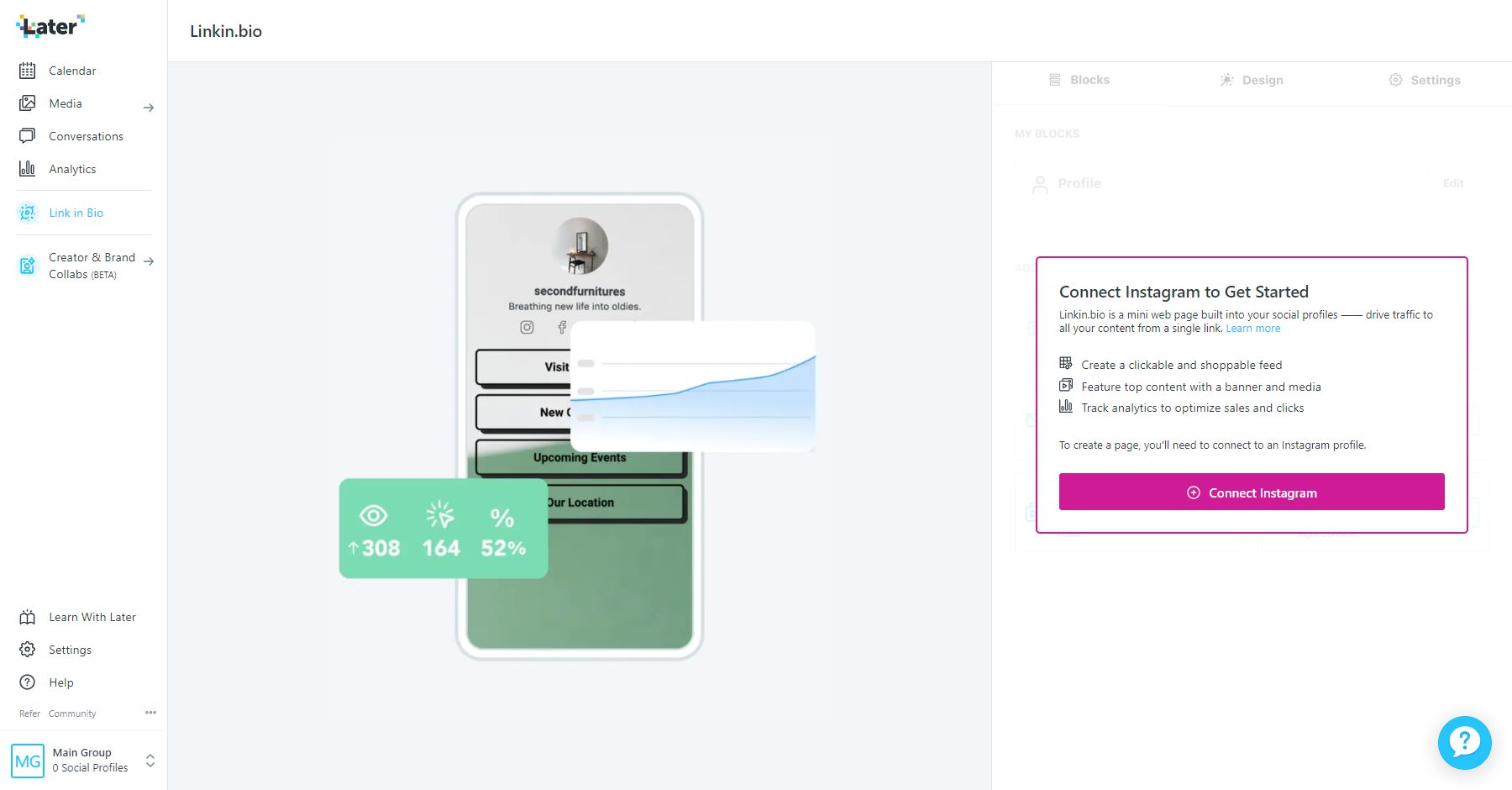 The Linkin.bio feature allows the creation of a clickable landing page linked in the bio, resembling the Instagram feed and enabling easy integration for Shopify users. It's typically used by businesses and influencers to make their Instagram posts more interactive by linking them to external websites or products.
Best For: Later suits business owners, marketing professionals, and content creators. It enables content creators to manage social media content and remain updated with the latest trends. Business owners can use this tool to understand what works best for their plans and get advice to bolster their social media strategy.
Pricing: Free trial of 14 days is available. Paid plans start at $25/month.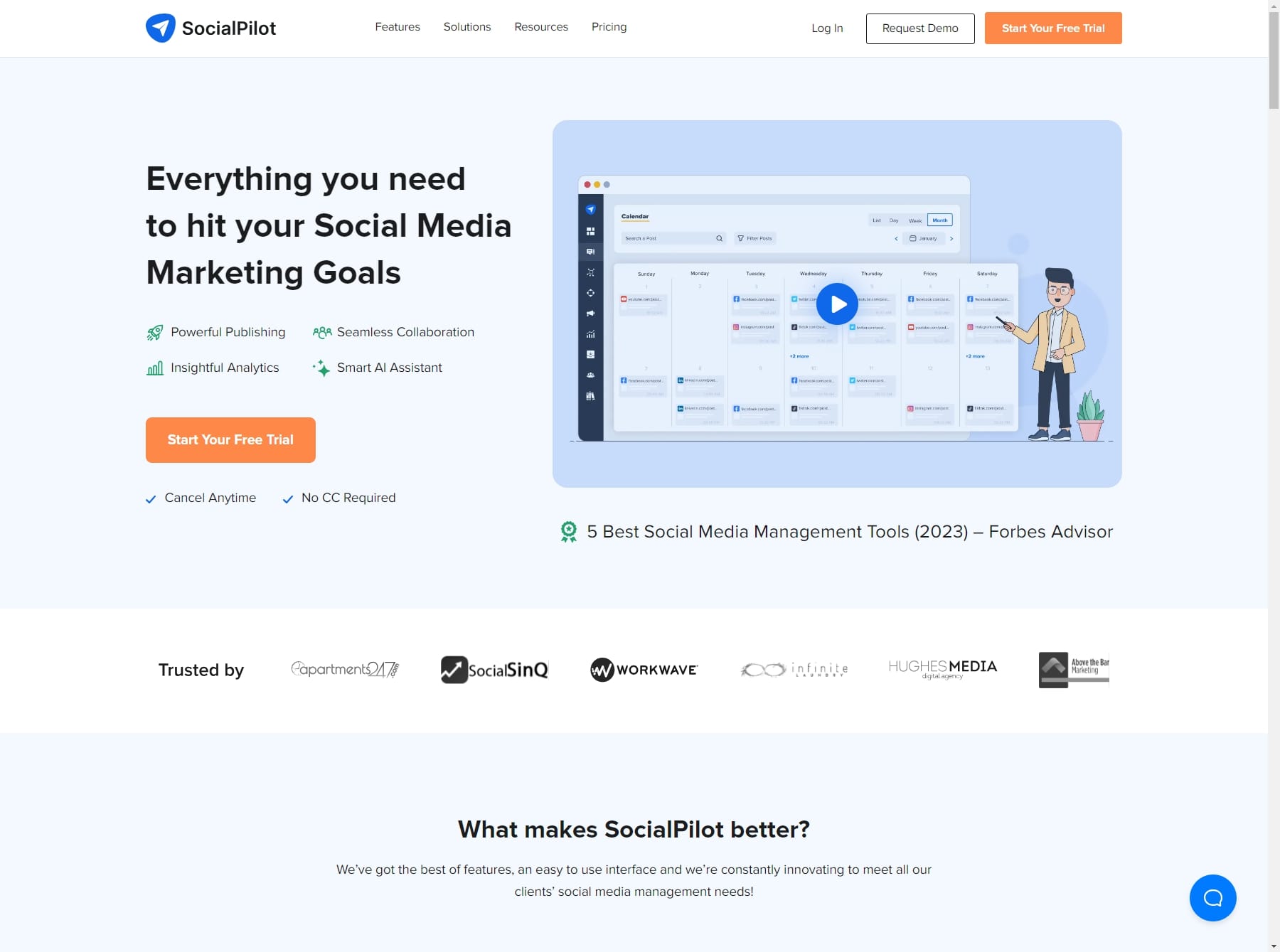 SocialPilot is a social media management tool designed to help individuals and businesses manage their social media accounts more efficiently. It is a highly regarded social media management platform, particularly well-received for its user-friendly interface compared to other agency-focused scheduling tools. It supports all major social media networks, including Facebook, Twitter, and Instagram. While it functions excellently as a scheduler for various platforms, it is particularly noted for its ease of use and effectiveness in managing social media strategies for multiple brands simultaneously.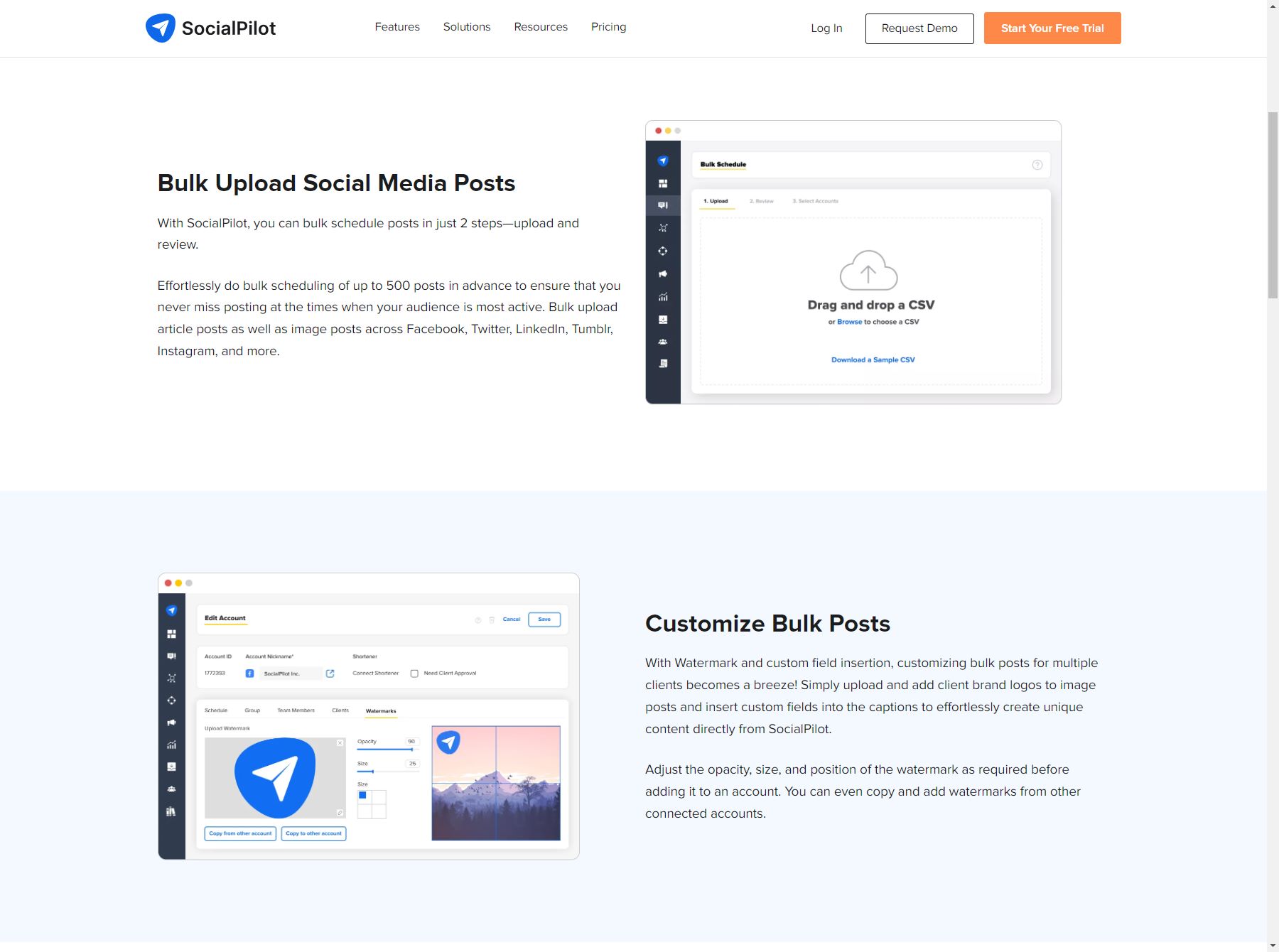 SocialPilot emphasizes scheduling and collaboration, encompassing content curation, RSS automation, and a unified social inbox. It goes beyond by offering Facebook Ads management and robust analytics for strategy optimization. Notably, SocialPilot's bulk scheduling feature stands out, enabling the planning of up to 500 posts in advance via CSV upload, covering significant networks.
Key Features of SocialPilot
Post-scheduling enables you to connect with 50+ accounts and schedule posts.
Social media analytics improve your social media performance and efficiency.
Social inbox helps you respond to comments, messages, and social media posts.
Team collaboration ensures you complete your social media tasks with a streamlined workflow.
AI assistant enables you to auto-generate unique and attractive captions.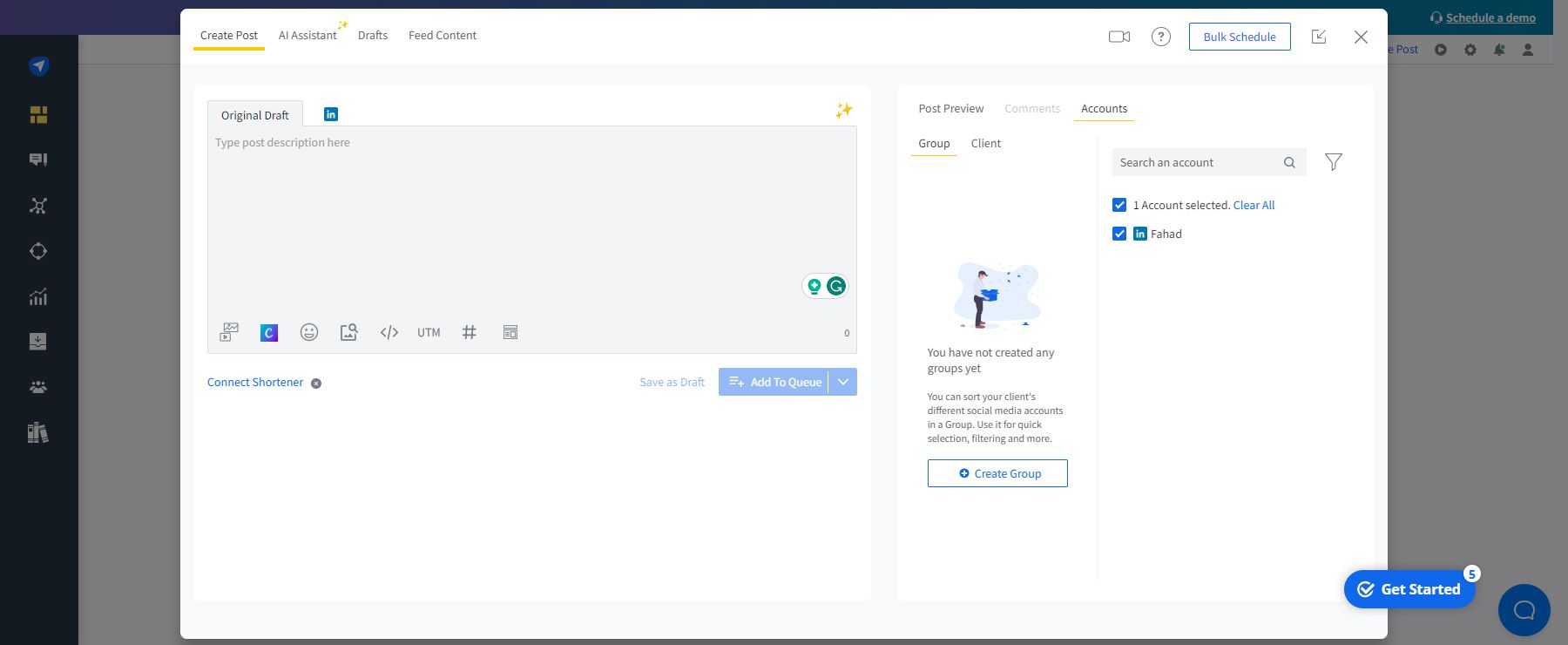 SocialPilot excels in content curation, enabling users to easily find and schedule relevant content. Additionally, SocialPilot offers a content auto-sharing feature, allowing you to post from specific feeds automatically. While its integration list is relatively concise, SocialPilot leverages Zapier to extend its connectivity with numerous other apps, enhancing its versatility for users seeking comprehensive social media management solutions.
Best For: SocialPilot is for startups, small businesses, marketing agencies, and freelancers. Business startups and small companies can effectively maintain their social media presence by scheduling posts and tracking performances. It offers agency-based features, such as client management, white-labeling, and team collaboration tools, to make it easier for agencies to manage multiple accounts.
Pricing: Free trial for 14 days. Paid plans start at $30/month.
5. Hootsuite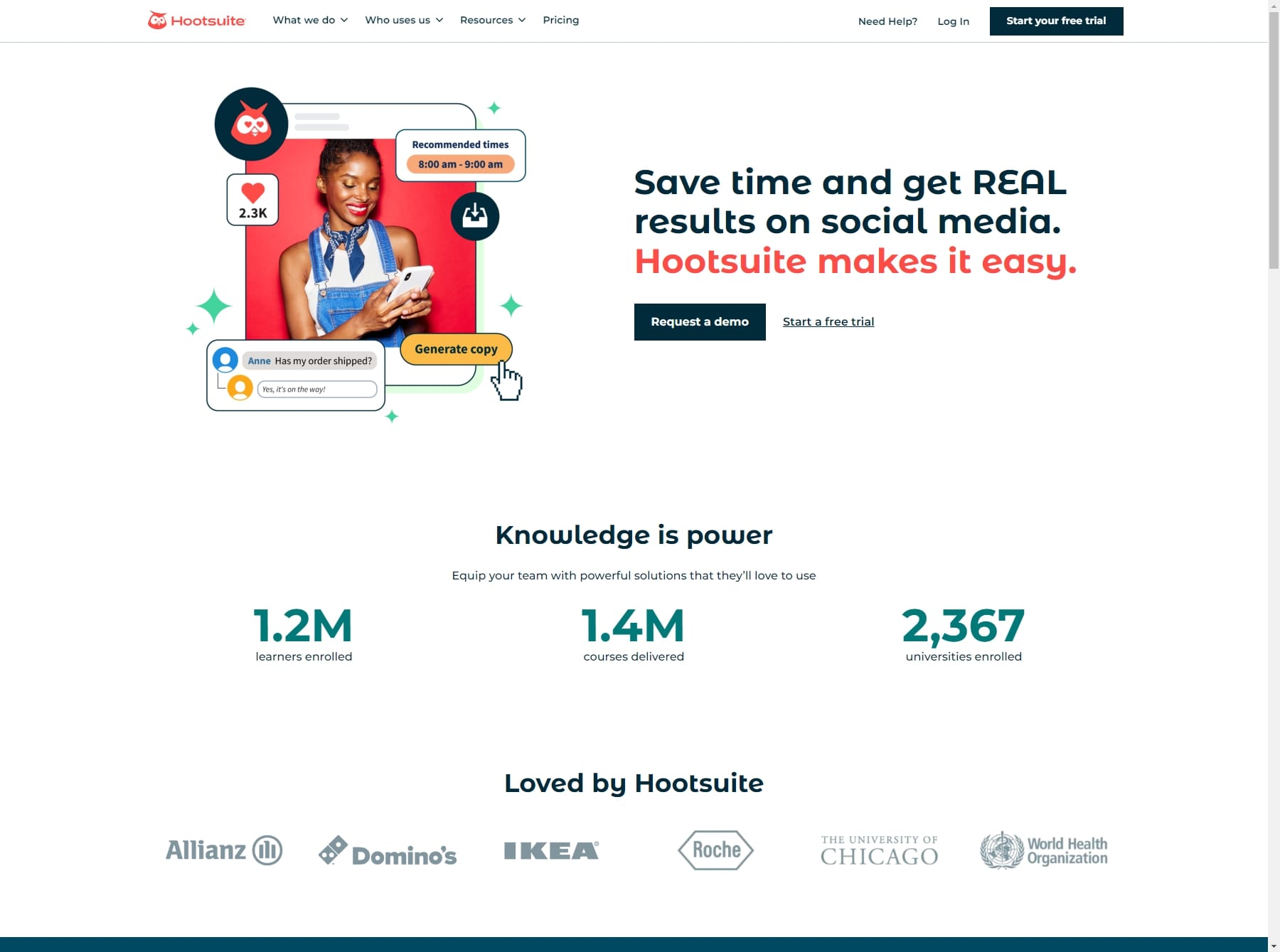 Hootsuite is a versatile social media management platform for web and mobile devices. This tool is designed to simplify social media management by allowing users to access content from multiple social networks simultaneously, schedule posts for optimal timing, collaborate with teams, and access detailed analytics to enhance their content strategies. Hootsuite offers free and premium subscription options, along with various expansions, to cater to the diverse needs of users.
Furthermore, Hootsuite offers upgrades or addons from the App Directory, with many add-ons available for free. It also provides additional features like contact list imports, content creation, security alerts, custom permission levels, and access to Hootsuite Academy, which provides a wealth of free training resources, certifications, and team-oriented training options.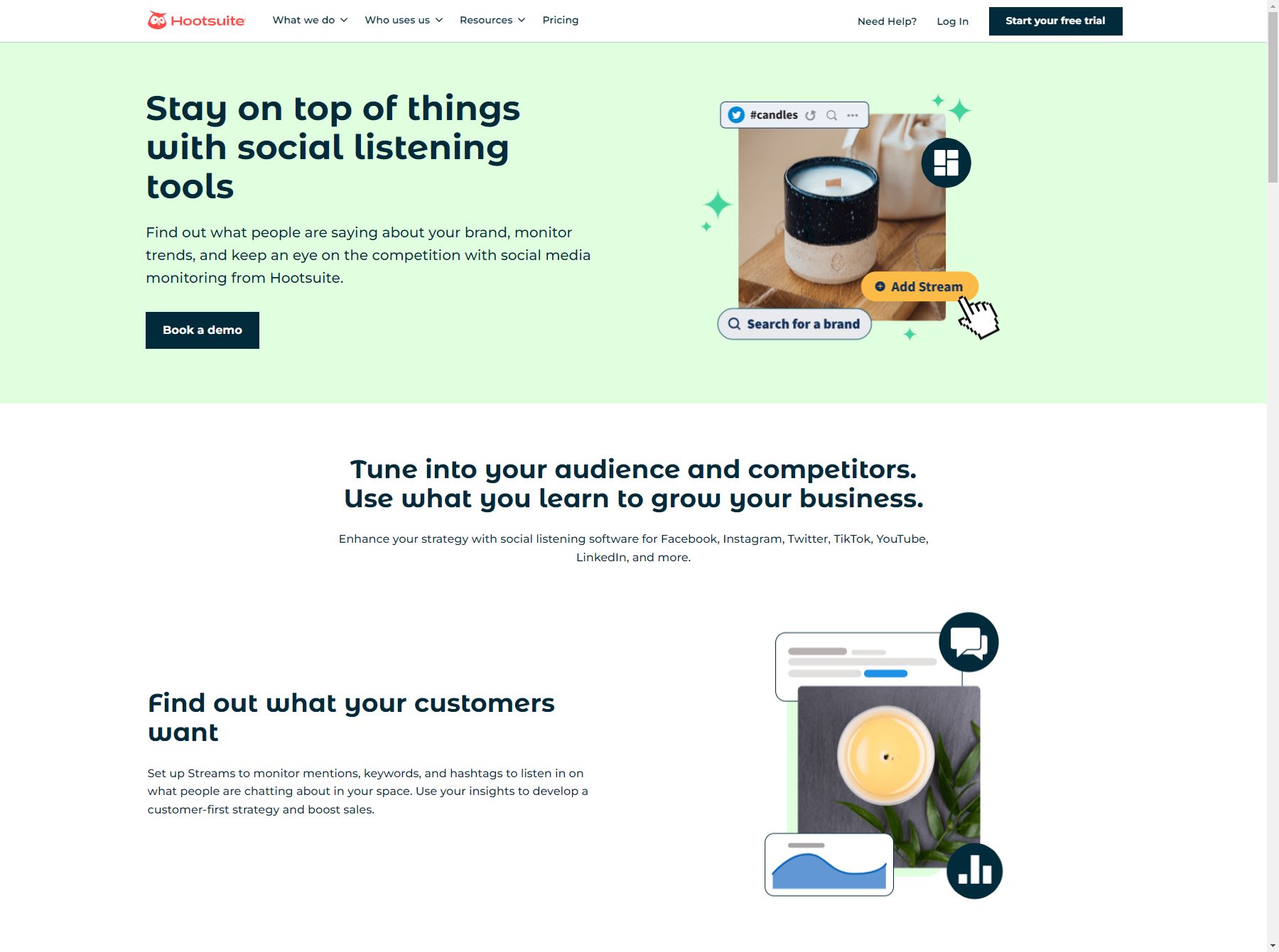 Hootsuite provides helpful social listening tools, allowing users to monitor brand mentions, keywords, and industry trends. It also enables real-time brand sentiment tracking and offers AI-powered insights through Iris™ for data-driven decision-making.
Key Features of Hootsuite
Streams constantly update you on relevant social media activity.
Social media analytics give an overview of your performance based on different metrics.
Assignments, which are essential for customer service support.
The content library lets you set up templates and pre-approved images for social media posting.
Social listening tools give customer feedback about your brand.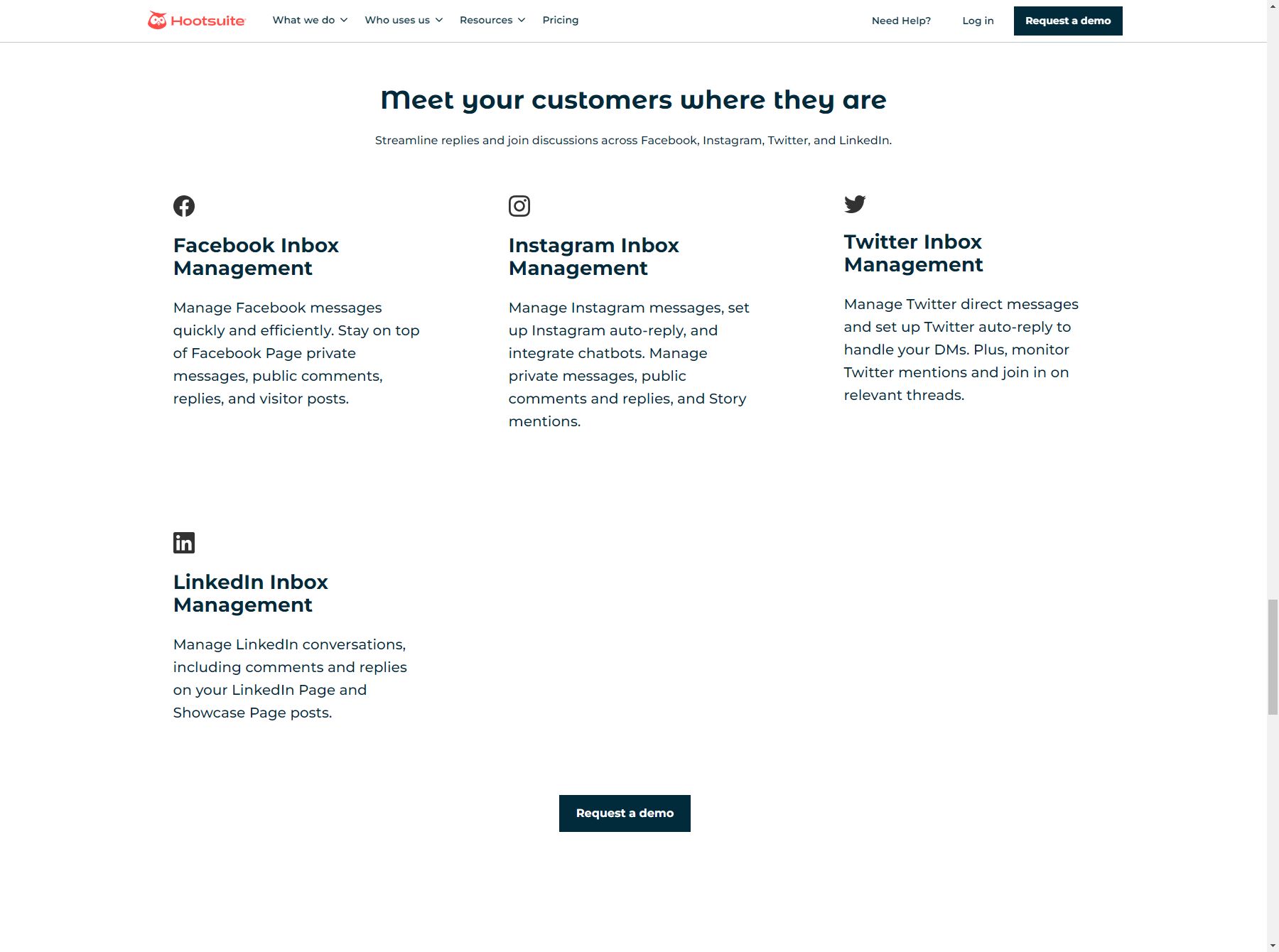 The free version of Hootsuite allows users to connect to seven major social networks, including Twitter, Facebook, and Google+. With the free version, users can connect up to three social media profiles, with the option to upgrade to add up to 50 social media platforms. Moreover, Hootsuite allows the integration of up to 35 networks. Users can schedule posts across multiple networks, streamline content management, and effortlessly share content without extensive searches.
Best For: Hootsuite is best suited for marketing professionals, small business owners, and educators. For marketing professionals, it enables them to streamline their work by managing multiple accounts from one dashboard. Furthermore, they can use analytics to optimize marketing strategies. Additionally, educators can leverage Hootsuite to teach social media marketing and management techniques in their institutions.
Pricing: Free trial up to 30 days. Paid plans start at $99/month.
6. Buffer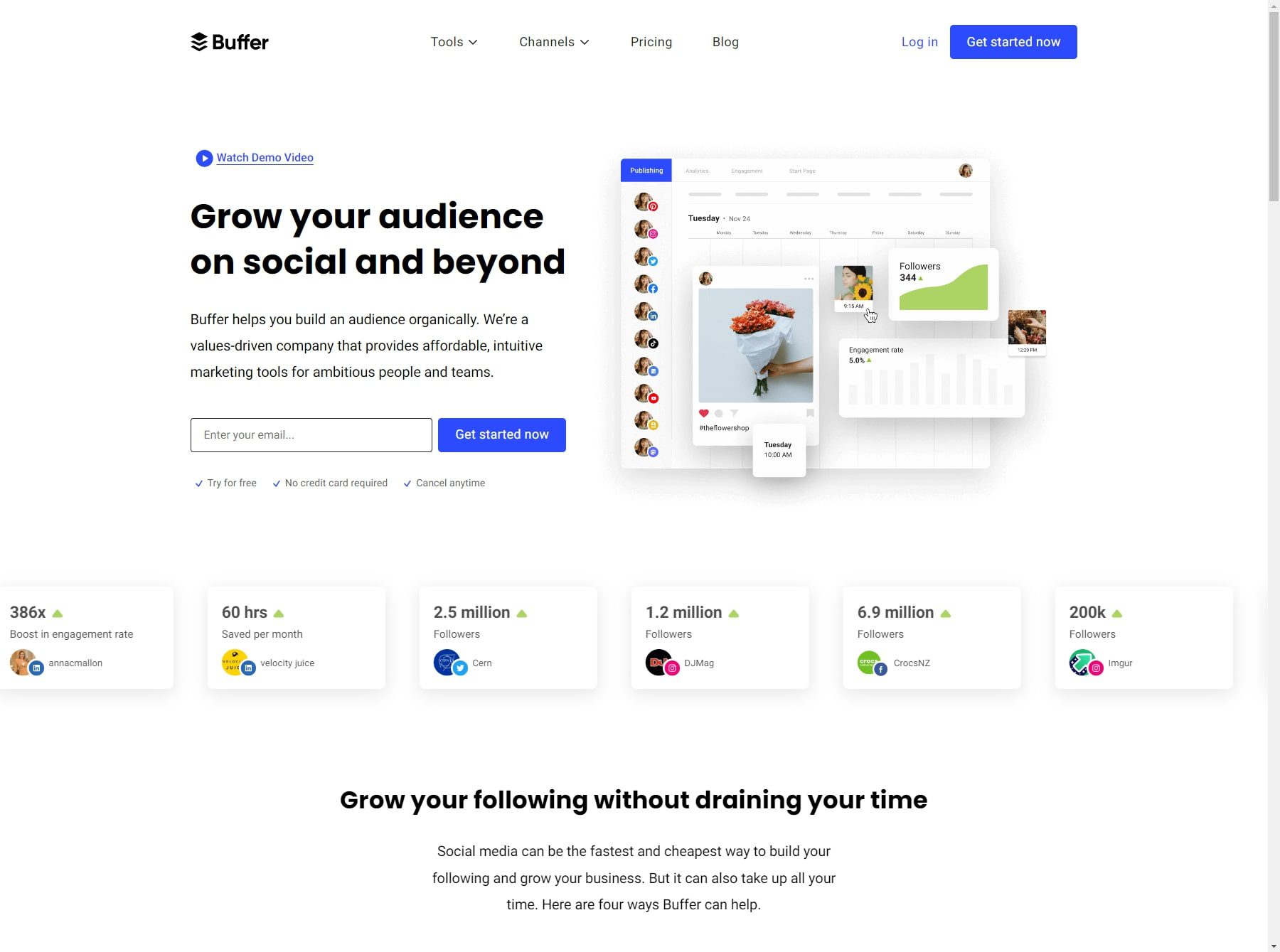 Buffer is a versatile social media management app available for both web and mobile. It is a central hub to simplify your content strategy, improve social media management efficiency, and offer essential analytics to guide your content decisions. Buffer's main strength is organizing the scheduling of social media posts from one location. But Buffer's capabilities go beyond scheduling; it provides powerful social media analytics tools to track each post's performance across all your connected social networks.
Buffer integrates with six popular social networks, allowing you to post to each of them simultaneously or individually. This consolidated approach saves time by avoiding logging into each account separately to post content. You can publish immediately, add posts to your Buffer for later distribution, or manually schedule posts according to your preferences. Whether you set the exact date and time for each post or let Buffer determine the optimal times for your audience, you conveniently maintain an active online presence.
Key Features of Buffer
Schedule posts on various social networks all at once.
Set time slots in advance with the slots feature.
The calendar view displays your published and scheduled posts.
Pablo, a photo editor in Buffer, lets you create basic images.
Features for Instagram, such as comments and hashtags.
Pablo, developed by Buffer, is an easy-to-use image-creation tool for social media. It helps design various visuals, including quotes and product images, quickly and easily. You don't need design skills or an account to use it, and it offers different crop sizes and a library of stock images. Plus, it's free for everyone, whether you're a Buffer user or not.
Best For: Buffer is ideal for small to midsize businesses. This tool suits you if you aim to publish content, interact with clients, and improve your social media performance.
Pricing: Free plan available for up to 14 days. Paid plans start at $6/month.
7. CoSchedule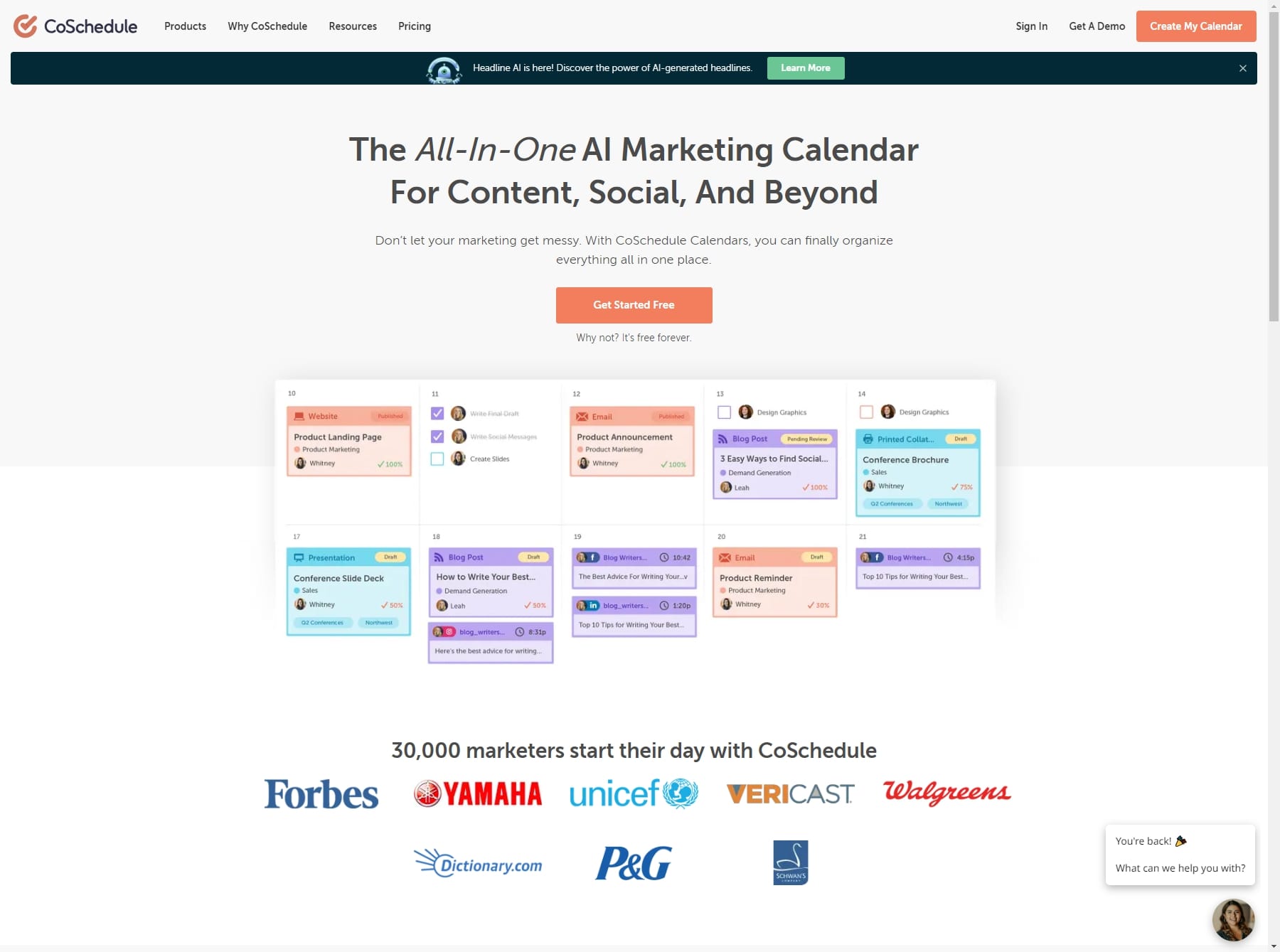 CoSchedule is a comprehensive social media tool offering a wide range of features to streamline and enhance your social media marketing efforts. It provides a centralized platform for content scheduling and calendar management, making planning and executing social media campaigns easy across multiple platforms. Additionally, it offers content automation, analytics, and collaboration features, allowing teams to work efficiently and analyze the performance of their social media content. Lastly, CoSchedule supports social media scheduling for platforms like Facebook, LinkedIn, Pinterest, and Instagram.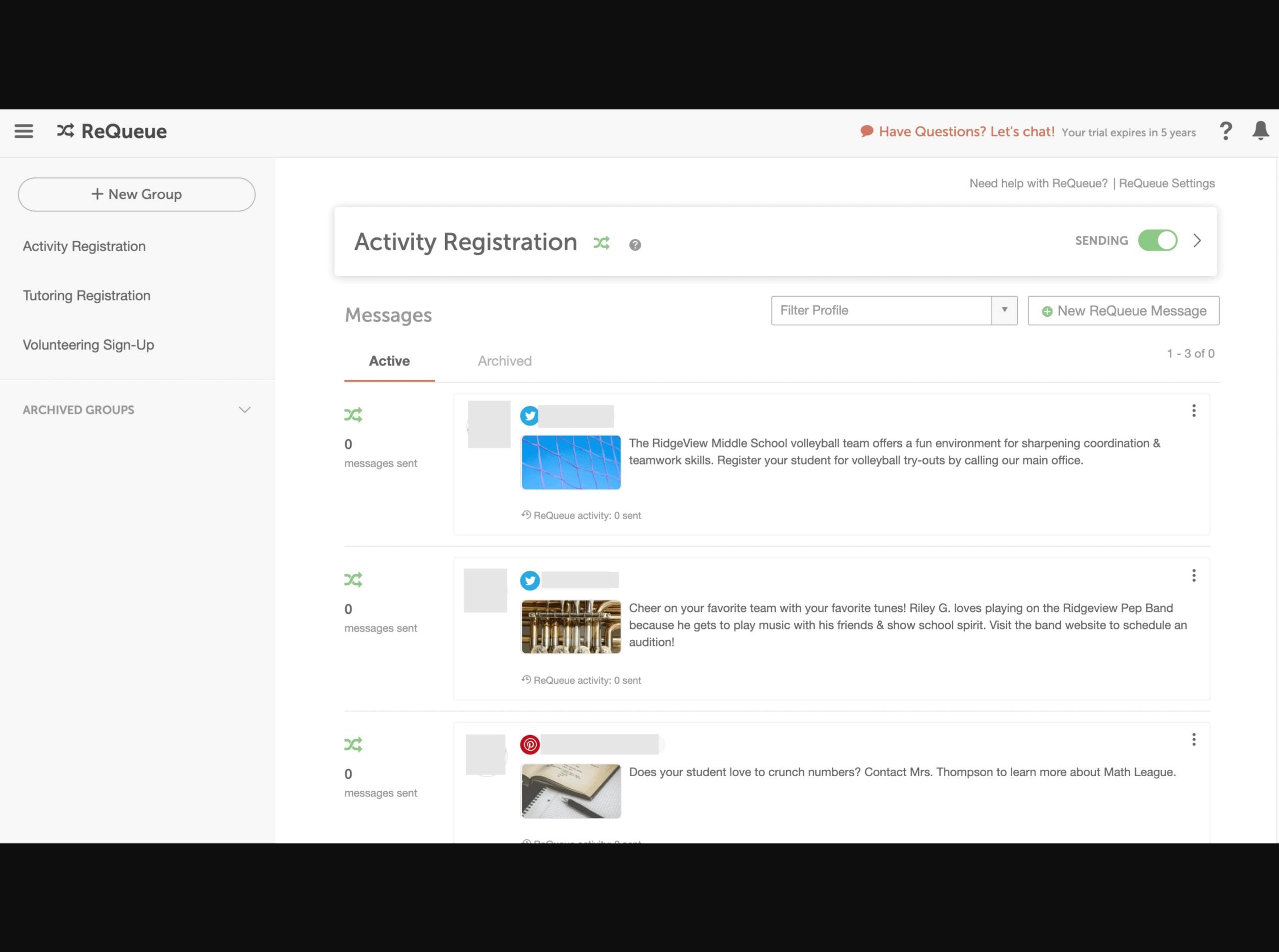 You can use CoSchedule's ReQueue feature to automatically reshare your evergreen social media posts regularly, saving you time and effort. Additionally, you have the ReQueue feature for specific time-sensitive events, such as holidays or promotions, ensuring your content remains relevant and engaging without manual intervention.
Key Features of CoSchedule
Calendar that allows you to manage your social media calendar, events calendar, blog schedule, email blasts, etc.
Create a social media promotional plan using various templates for different types of promotions.
ReQueue enables you to reshare your quality social media posts regularly.
Audience segmentation allows you to tailor your social media messages to different groups.
Headline Analyzer helps create high-quality social media headlines.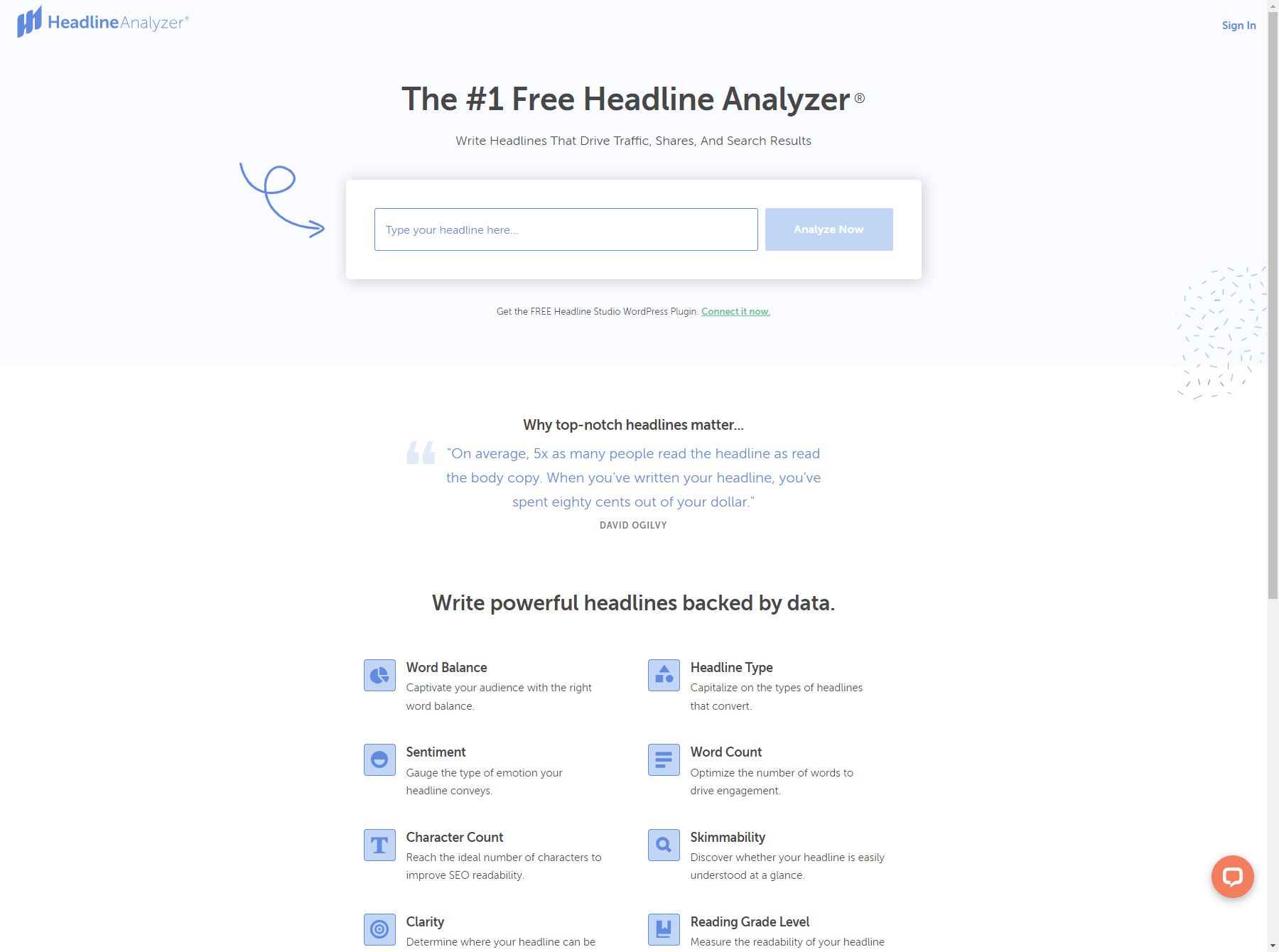 CoSchedule offers valuable content optimization tools, such as the Headline Analyzer, assisting users in crafting high-quality headlines and subject lines by providing grades and improvement suggestions. The platform also integrates with leading email marketing platforms, facilitating the incorporation of email campaigns into marketing strategies.
Best For: CoSchedule is best for software engineers, content creators, or marketers looking for an all-in-one software to manage and schedule their tasks, blog post content, and social media posts effectively.
Pricing: Free for life. Paid plans start at $19/month.
If we talk about the best social media tools, there are a handful of options. These tools can provide you with a solution to almost every problem. With so many great options, choosing the best one can be challenging.
To assist you in your decision-making, we have compiled a table comparing the prices of the best social media tools in today's market.
Here's a look at the top three social media tools, comparing their features.
Features

🥇 Sendible

🥈 HubSpot

🥉 Later

Features
Sendible
HubSpot
Later
Social Media Scheduling
✔️
✔️
✔️
CRM Integration
✔️
✔️
❌
Content Calendar
✔️
✔️
✔️
Social Media Analytics
✔️
✔️
✔️
Content Management
✔️
✔️
✔️
Automated Posting
✔️
✔️
✔️
Monitoring and Listening
✔️
✔️
❌
Social Media Ad Management
✔️
✔️
✔️
Social Media Engagement
✔️
✔️
✔️
Team Collaboration
✔️
✔️
❌
Content Suggestion
✔️
✔️
✔️
Free Version
✔️
❌
✔️
Price for All Features
$29/month
$18/month
$25/month
Community Rating
4.5/5
⭐⭐⭐⭐⭐

Read Reviews
4.4/5
⭐⭐⭐⭐⭐

Read Reviews
4.5/5
⭐⭐⭐⭐⭐

Read Reviews
Get Sendible
Get HubSpot
Get Later
If you seek a social media tool suitable for marketing agencies and freelancers, look no further than Sendible. It's easy to use for posting social media content. And it supports social media scheduling, automation, and ad management. It also allows you to establish teams, assign tasks, and monitor your team's activities.
HubSpot also stands out as a comprehensive and user-friendly suite of social media tools. It integrates seamlessly with marketing and CRM features to enable efficient post-scheduling, audience engagement, and performance tracking across various platforms. The platform's unique capabilities, such as AI-powered social post generator and social monitoring, allow businesses to streamline content creation and optimization.
Later is widely regarded as one of the leading social media management platforms. It has robust scheduling capabilities across various platforms and user-friendly tools. The platform provides valuable insights through a detailed analytics dashboard and features like Conversations and Linkin.bio, enhancing user interaction and reach.
However, the reality is that you can choose any one of the tools mentioned in our list. Ultimately, choosing a social media tool depends on your specific needs.
Looking for more tools? Check out our complete list of the best tools for your website or business, including the
Article thumbnail via Hilch / shutterstock.com