Welcome to part 4 of 5 of our Divi mini series How to Become a Successful Divi Web Designer. In this series, we're showing you a proven path that you can take from learning to build websites to becoming a professional web designer. We'll provide you with actionable steps that you can apply no matter if you're just starting out or if you're already an established web designer wanting to go to the next level.
---
It's easy to focus on getting new clients and building new sites. But what's often overlooked is how to maintain your web design business and how to keep your clients happy, satisfied, and coming back. In this post, we're going to look at 5 ways that I use and recommend to better maintain your business and keep your current clients satisfied.
Here's a question for you: Is it less expensive to 1) Get new clients or 2) Keep current clients coming back?
Answer = 2) Keep current clients coming back.
In fact, general estimates are that it's around 10x more expensive to land a new client rather than keep current ones coming back. Think about all that goes into getting a new client; sales, advertising, networking, meetings, calls, back and forth emails, etc. There's also the time it takes for a client to know, like, and trust you–which can only come with experience and time in working together.
I've found that most web designers are focused on new clients and completely neglect their already established client base. Let's dive into how to nurture those relationships and also how to maintain your business so that you're running your business and your business isn't running you.
Maintaining your Divi Web Design Business and How to Keep Clients Coming Back
1) Keep In Touch with Current Clients

For years I neglected keeping in touch with many great clients because I was too focused on getting new ones. Now don't get me wrong, you need to focus on new clients and growing the business, but if you let good clients slip away, you're just missing out on more potential business.
Here are some practical methods you can implement to better keep in touch with your clients:
Create a Newsletter – I send a newsletter roughly once a quarter to good clients and many in my professional network to keep them up-to-date with what I have going on, what's new perhaps in my personal life, if I have new services I want to promote and more importantly if there's something THEY can apply that brings value to them. If I have a new blog post that I feel many people could benefit from, I'll generally make that the primary call-to-action so my email list knows I'm all about giving them some value and not just there to spam them.
Check Up/In on Your Clients – I was recently in a meeting with a potential client and they said their old website developer effectively disappeared after the launch of their website. I could tell they felt a bit neglected since it's been 2 years and they never heard a word from them. I recently took it upon myself to intentionally reach back out to clients a few months after a site has been launched to see how things were going, if they got any positive feedback on the site, how it's working for them, etc. Implementing this can go a long way for you too.
Get Traditional – I'm talking about Christmas Cards, Holiday Greetings, Birthday Cards, etc. Sounds corny, but the few times I've sent cards or a handwritten note to a client, it's been received with overwhelming gratitude and surprise. So get traditional – send some cards on special occasions to your very best clients and those who you'd like to continue working with for years to come. An email isn't the same and e-cards just don't have the same effect. Send a real one 🙂
2) Offer Client Documentation

In my previous Elegant Themes Blog Series, I talked about Client Documentation and how that's revolutionized my business over the last couple of years. I highly encourage you to look back at that series if you haven't already to get the details on how to effectively empower your clients and save you time.
In short, I recommend you create a Getting Started page which outlines your initial needs, tools and process for your projects. A Moving Forward page with recommendations on what to do with their new website. And a Client Resources page with tutorials and information that can benefit all your clients moving forward. I also recommend you create a Custom WordPress Dashboard for your clients who are updating their site.
Side note: I'm now using the Divi Dashboard Welcome Plugin by Divi Life and it's empowered me to create some awesome custom dashboards for my clients.
3) Offer a Website Security/Maintenance Plan

One of the primary ways I maintain my clients' sites and keep in touch on a monthly basis is with my Website Security/Maintenance Plan. As stated in the previous post, I created this initially out of problems with my websites getting hacked. But it's now a profitable service for me and a way to connect with my clients on a monthly basis.
All security and maintenance plans look different and there's no right or wrong way to do it or right price to charge. It all depends on what you're offering and what is right for your clientele. Here's what's worked for me. I've organized my plan into 4 main parts:
Maintenance/Updates – We make sure all plugins, wordpress and theme files are updated weekly. We also optimize the sites by clearing unnecessary images, files and post revisions.
Firewall Protection – We offer a security firewall that filters good traffic from bad bots, spam, etc and monitor the sites daily.
Backups – We back the site up daily, weekly or monthly depending on how active it is. We also have an external destination (Dropbox) where most recent backups go should we need to restore in a moments notice.
Reports – We send a monthly report to the clients on our plan with basic stats on website traffic and all the work we've done to keep the site running smooth.
I use ManageWP which handles the updates, backups and reporting all in a convenient dashboard for all my sites. There are other options such as InfiniteWP, MainWP and more if you'd like to check around. But I've found ManageWP to be a very reliable and affordable tool.
For the Firewall Security and Monitoring, I partnered with Sucuri who has a flexible agency plan for multiple sites. Sucuri is the best in the biz when it comes to security/website cleanup and they just recently joined with GoDaddy who had bought ManageWP in 2016. So I'm keeping an eye on what will take shape moving forward with all these tools under one roof 🙂
I know many developers who will also offer a retainer of hours to their plans so clients can use that for monthly tweaks, updates and additions. That's also a great option to think about. I'd encourage you to think about all this and decide what you can offer your clients to help maintain their sites and keep in touch. There's a great discussion with ideas on how to do this in this Divi Chat episode.
4) Keep YOUR Site Fresh and Up-to-date

When you're getting new clients, keeping up with emails, designing websites, learning about new tools and handling the day-to-day demands of business, it's easy to overlook one major thing; Keeping YOUR site looking good and running smooth.
One of the best ways to maintain your business is to focus on your site as much as possible. Remember, your site is often (and should be) where all your leads go. So you want to make sure it's running smoothly, looking good and is representing you as best as possible.
I took this past Christmas/New Years break and focused the better part of 2 weeks on revamping my site, social media, adding client documentation and tweaking my Google presence. It's paid off tremendously and I'm already seeing the positive outcomes.
Here are some practical ways you can keep your site fresh:
Swap out images/graphics – Don't let your images and site designs sit too long. Particularly if you're using a main homepage image or slider. Keeping those images fresh and engaging is very important if you have a blog or something that is pulling people back to your site on a regular basis.
Comb through the site in detail – It's impossible to catch everything, but I'd recommend checking all pages for spelling mistakes, padding/alignment errors or browser issues site-wide. I'd encouraging sharing your site with fellow designers if you're in a Divi Facebook group for feedback and to help catch things you may of missed.
Update your services/portfolio – Updating your portfolio is one of the biggest things I recommend doing on a consistent basis. If a client looks at your site and sees that the most recent project was from a year ago, that isn't going to look good for you. In fact, deleting older, less effective web designs is a practice I'm going through now. Most people aren't going to look past one page of examples so keep the best ones there.
5) Learn New Skills and Tools Constantly

Finally, it's important to learn new skills, plugins and strategies in an effort to maintain your business and to keep your clients wanting to come back. I often tell my clients something to the effect of "I've learned so much in the past year since the site went live and have some new ideas that I think could really help your web presence moving forward." No client will want to come back to you repeatedly if you're not growing, learning and adding more value.
I'd recommend learning more about Google Analytics, basic SEO practices, design principles, conversion and marketing strategies, etc. It's also very important to build up your "digital toolbox." New plugins, platforms and tools are being released daily, particularly in the Divi market so keep an eye out in the Facebook groups and here on the ET blog for recommendations on tools that you may be able to use.
And don't forget about taking your Divi web designs to the next level. There are plugins and tools that are inexpensive, lightweight and extremely effective in making each one of your sites better than the last. Here are a few plugins that I've recently fell in love with and are using on the majority of my sites:
In Conclusion
I hope this post has inspired you to not only take care of and maintain your business, but also to be intentional on keeping your clients happy, satisfied, and coming back!
Next Up: Engaging with the Divi Nation and Taking your Web Design Career to the Next Level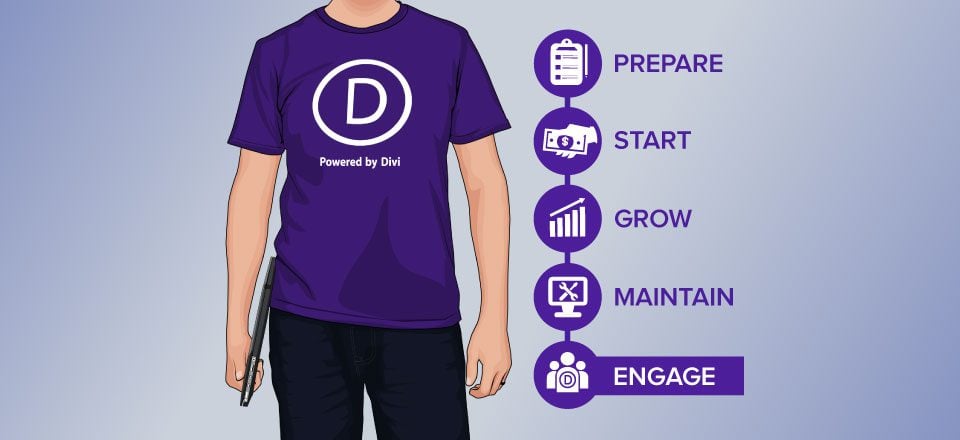 Once you've capitalized on the first 4 areas of being a successful Divi web designer, it's time to take your career to the next level. In the final post of this series, I'll go over what I've learned so far in regards to engaging with the Divi Community and how to give back and get involved with the Divi Nation in an effort to take your career to the next level. Till then!
Be sure to subscribe to our email newsletter and YouTube channel so that you never miss a big announcement, useful tip, or Divi freebie!