Welcome to part 4 of 5 of our Divi mini series Creating Client Documentation to Empower your Clients and Save You Time. In this series, we're branching out from a typical module or Divi design tutorial by showing you 5 ways you can create Client Documentation with the primary purposes of educating and empowering your clients and in the process, saving you time.
---
When you turn a website over to a client to edit and maintain, they are going to have many questions. Even making basic content changes requires some knowledge on WordPress and Divi. What better way to save you from numerous potential questions than to have a custom dashboard with links and resources that the client can have access to every time they log into their site!
Let's get into it.
Creating a Custom WordPress Dashboard for Your Clients
We're going to look at what I put in my custom dashboards and will hopefully inspire you to think about what you can put in yours! Here's what one of my custom client dashboards looks like: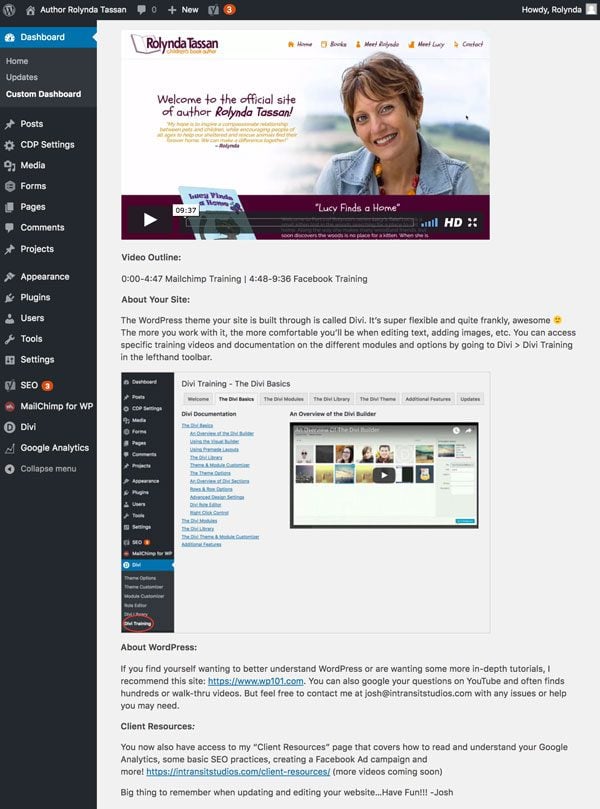 How This Can Benefit You
Creating a custom dashboard will save you countless emails and phone calls from clients when they have information that they can access when logging into their site. This will give you the ability to update the dashboard with updates or the most recent information that your client may need to know. You can also use this to link to your extra services, products, etc.
How This Can Benefit Your Client
When your client is logging in and updating their site, a custom dashboard is a great way to make their experience more personalized. Instead of them needing to reach out to you for a response, most questions about Divi, WordPress and site specifics can be answered by putting links and resources into their site dashboard.
Implementing a Custom WordPress Dashboard for Your Clients
There are several different tools and plugins to help you create a custom dashboard; I'm currently a free plugin called Custom Dashboard Page. With this, I'm able to create a page and put whatever information I want on it, then set it as the WordPress dashboard so my client sees this upon logging in to the site.
I currently arrange my clients' dashboards into 4 main areas:
1) A Custom Walk-thru Video
A great way to personalize your clients' experience is to create a custom walk-thru video of their site. If they're posting blogs, events or making site-specific changes, I've found that a tutorial style walk through video has tremendous benefits for the client who can refer back to it and for me the designer who can avoid questions that are answered in a one time training video. I'm currently using Screenflow For Mac to record my tutorial videos.
In the custom dashboard, I'll embed the video and create a video outline by minute/second as reference for the client. Here are a couple examples of how I'll set up the outline for the client to easier navigate the video.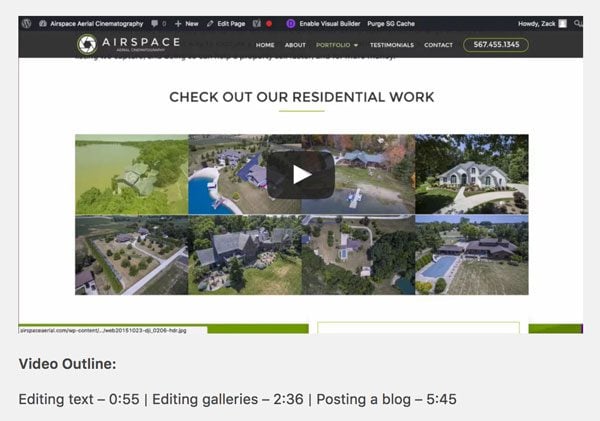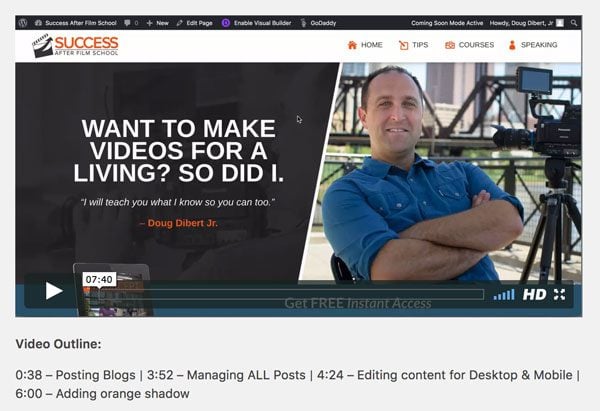 Side note: I use Vimeo for these site specific training videos for the privacy options.
2) About Your Site
A client wanting to update their site will inevitably have to know a little bit about Divi. I typically explain the basics to the client before turning the site over but it's important to give them references if they have more detailed questions. The most important thing now is to give your client the resources they need and answers to their questions without them having to rely on emailing or calling you for every single question. You can find yourself in a support position very quick without educating your client thoroughly or giving them the resources they need.
I'm currently using a very handy (and free) plugin called Divi Training WordPress Plugin that allows the client to access all of the official Divi tutorials beautifully organized and categorized all within their dashboard. This allows the client to get specific answers to their questions while logged into the site.
Here's a look at what this looks like in their dashboard:
And here's what I currently say:
The WordPress theme your site is built through is called Divi. It's super flexible and quite frankly, awesome. The more you work with it, the more comfortable you'll be when editing text, adding images, etc. You can access specific training videos and documentation on the different modules and options by going to Divi > Divi Training in the lefthand toolbar.
This plugin has benefited me tremendously and I think it will for you too 🙂
3) About WordPress
Along with knowing the basics of Divi, a client who is updating their site will also need to know some basics of WordPress and the text editor. (which we know can be a bit tricky in WordPress) The verbiage I currently use is more of a disclaimer but there are numerous links, resources and tutorials you could potentially point a client to.
Here's what I currently say:
If you find yourself wanting to better understand WordPress or are wanting some more in-depth tutorials, I recommend this site: www.wp101.com. You can also google your questions on YouTube and often finds hundreds or walk-thru videos. But feel free to email me with any issues or questions you may need.
4) Client Resources
The final area that I implement is a link to my Client Resources page, which we'll go over tomorrow in our final post. This is essentially a teaser as to what they will get by viewing my client resources page.
Here's what I say:
You now also have access to my "Client Resources" page that covers how to read and understand your Google Analytics, some basic SEO practices, creating a Facebook Ad campaign and more!
Lastly, I find it important to put some personality into it, so I end with this:
Big thing to remember when updating and editing your website…Have Fun!!! -Josh
Follow Along as We Create a Custom Dashboard
In this video our video tutorial specialist Augustin Mak will create a custom dashboard using the information I've provided above. If you'd like to see how it's done, step by step in Divi, then this is the video for you!
Subscribe To Our Youtube Channel
Saturday: Creating a Resources Page for Your Clients

Tomorrow we will take a short break from this series for our weekly episode of our podcast and video show, Divi Nation. But on Saturday we'll conclude this miniseries by going over how to create a client resources page that will have valuable tips, tutorials and information that your clients can always refer back to. This has numerous benefits for your client but even more for you, the developer. You'll find out why Saturday!
Be sure to subscribe to our email newsletter and YouTube channel so that you never miss a big announcement, useful tip, or Divi freebie!