Running a single WordPress website is complicated, but managing several at once can require seemingly herculean effort. In fact, it may be too much work for you to handle unless you know a trick or two to increase your efficiency.
ManageWP enables you to do just that by providing a suite of tools to manage multiple WordPress websites at once, with minimal effort. Let's find out how it pulls this off and how you can use it to manage updates, plugins, themes, security, and even performance benchmarks.

ManageWP is a tool that enables you to manage multiple WordPress websites from a single platform, without the need to log into and out of multiple accounts. All you need to do is add each WordPress website you want to manage (we'll explain how further on), and then handle everything from a central dashboard.
For those of you running multiple WordPress sites, a tool like ManageWP is a lifesaver. Aside from not dealing with multiple credentials and tabs, it enables you to automate several day-to-day tasks, such as backups and security tests. You'll still have to manage some functions manually, but ManageWP makes the whole process much simpler.
Key Features:
Manage multiple WordPress websites using a centralized dashboard.
Update plugins, themes, and WordPress itself.
Run security and performance checks.
Receive email alerts when updates are available.
Clone and backup your WordPress sites.
Check Google Analytics reports from your dashboard.
Price: Free with multiple premium add-ons | More Information
2 Top Alternatives to the ManageWP Tool
Before we teach you how to use ManageWP to manage multiple WordPress websites, we want to introduce you to a couple of alternatives. If you're not a fan of ManageWP for any reason, either of these top-notch tools will serve you just as well.

MainWP enables you to handle virtually all the same tasks as ManageWP does, with one significant difference – it's a self-hosted plugin. If you take privacy seriously, it makes sense not to share sensitive information about your sites with a third-party platform, and that's where MainWP comes in. Setting up the plugin requires a bit of work, but once it's ready, you can manage multiple WordPress websites without relying on an external service.
Key Features:
Manage unlimited WordPress sites using a self-hosted solution.
Update your plugins, themes, and WordPress installations with ease.
Automatically checks your installation for abandoned plugins (those that haven't been updated for a while).
Provides you with multiple backup options.
Enables you to handle user management for your WordPress sites.
Price: Free with premium plans starting at $29.99 per month | More Information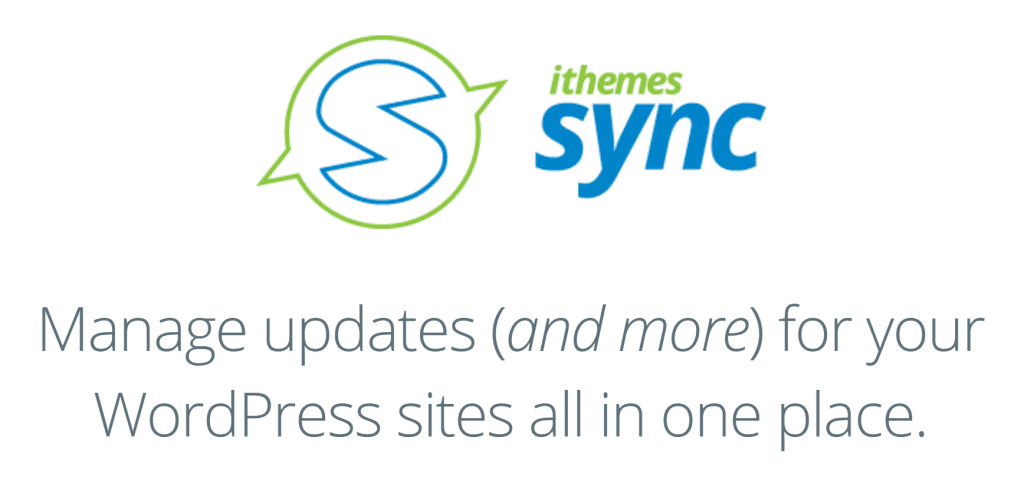 As far as WordPress management tools go, iThemes Sync is remarkably similar to ManageWP. They both enable you to manage multiple WordPress websites and possess a high level of polish. iThemes Syncs only supports up to ten websites on its free version, but that should still be enough for most users.
While iThemes Sync is remarkably simple to use, some of its features require the installation of additional plugins – namely, backups and security checks. That is a minor hurdle, but it still presents a hassle, considering how critical those features are.
All in all, if you're looking for an easy-to-use tool, iThemes Sync would be our first pick right after ManageWP.
Key Features:
Manage up to ten WordPress websites using iThemes Sync's free version.
Stay on top of your plugin, theme, and WordPress updates.
Handle backups and security checks using additional iThemes plugins.
Price: Free for up to ten websites, with premium plans starting at $50 per year | More Information
How to Manage Multiple WordPress Websites Using ManageWP (in 5 Simple Steps)
The first step for using ManageWP is very simple: create a free account on the platform and verify it using your email. Afterward, you'll be able to log into ManageWP as you would any other website.
Before we make our way forward, we recommend that you backup your websites using one of the top WordPress backup plugins. The platform is unlikely to affect their performance or cause any errors, but it's always a good idea to backup before using any new tools. If you haven't done so yet, setting up scheduled backups can save you lots of headaches down the road.
With that taken care of, let's proceed to step number one.
Step #1: Add Your WordPress Websites to ManageWP
After logging into ManageWP, you'll be greeted by a modern dashboard. Please note that for the rest of this article, whenever we refer to the 'dashboard', we're talking about ManageWP rather than WordPress.
The first screen you'll see includes an option to add your first website. Let's click on it: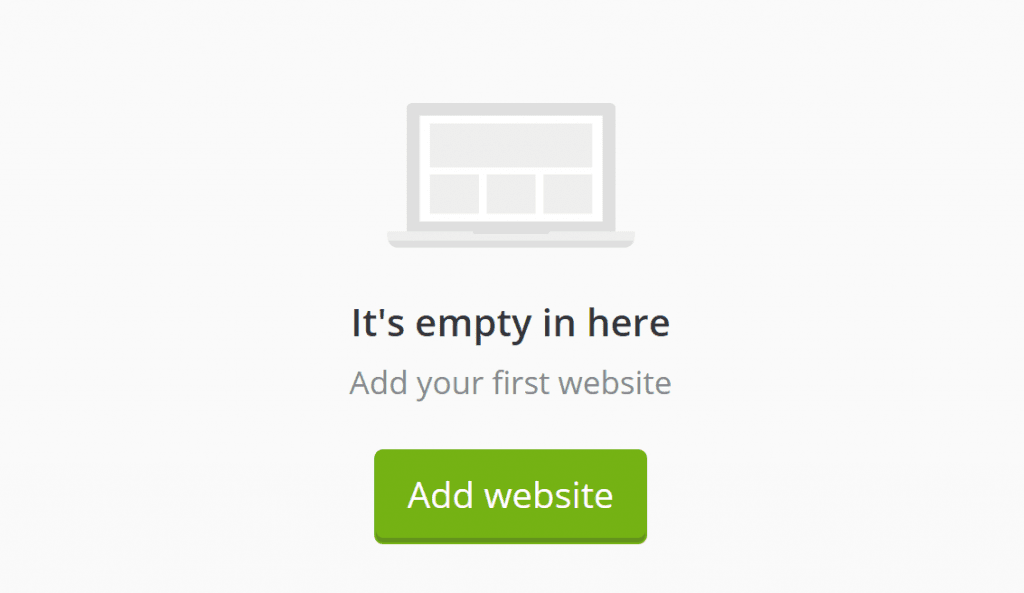 On the next screen, enter the URL of the WordPress website you want to add to ManageWP, then click on + Add Website at the bottom of the page: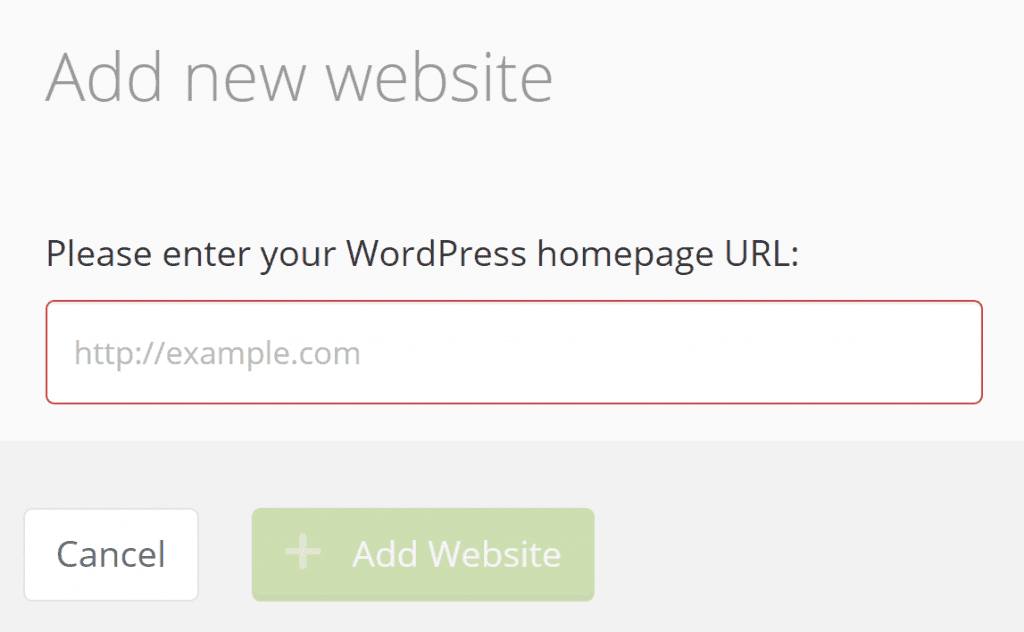 Next, ManageWP will ask for your administrator credentials to install the ManageWP Worker plugin on your site. This plugin links the platform to communicate with your site, which in turn enables you to manage it 'remotely.'

Usually, you should be wary about third-party platforms asking for your WordPress credentials, but ManageWP is one of the good guys. Enter the information and wait a few seconds – if everything goes well, ManageWP will return a success message: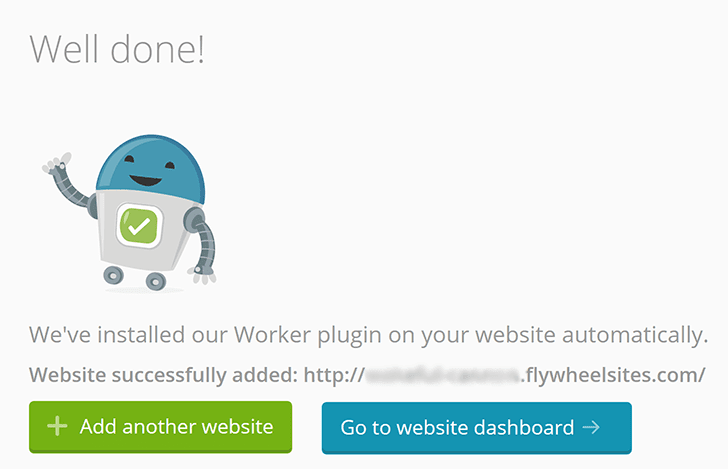 At this stage, you can either continue to add more websites or head back to your dashboard and start playing around with the tool. Feel free to add as many WordPress sites as you want and when you're ready, move on to step number two.
Step #2: Manage Your Plugins and Themes
Your dashboard's main screen includes information about which plugins and themes have updates available. There's also an Update button at the bottom which enables you to execute them right away: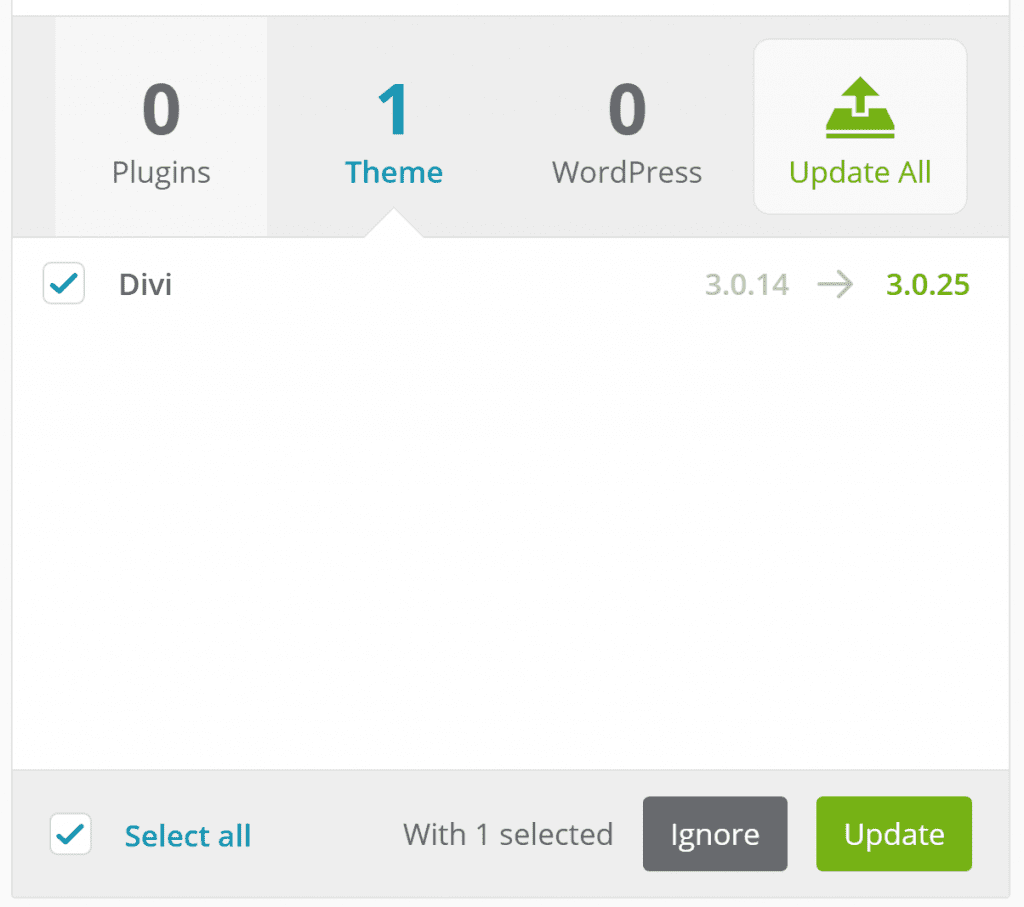 For more information about your active themes and plugins, you can go into their respective tabs by selecting them on the left side of your dashboard:

The plugin's section includes all the same functions as the regular WordPress dashboard. You can deactivate, delete, and even add new plugins from within. For the latter, you can choose from among several sources, including WordPress.org, external storage, URLs, and zip files: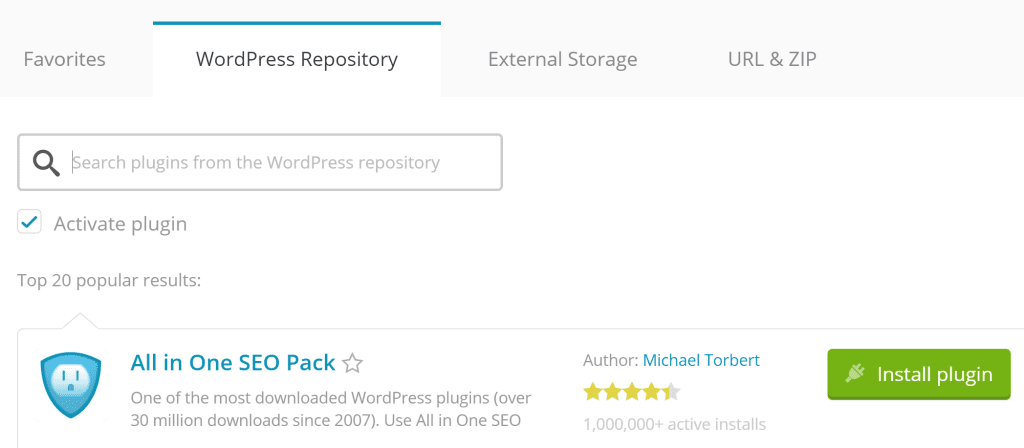 Moving on, the Themes tab enables you to check on your actives themes, switch to new ones, or even delete them. You can also add new themes from multiple sources – the same as with plugins – and you'll be pleased to know that it plays nice with Divi:

Step #3: Carry Out WordPress Core Updates
Now that we know how to update our plugins and themes, we also need to learn how to update our WordPress core files. Luckily for us, this step couldn't be simpler. Head back to your dashboard's main screen and look for the WordPress option, right next to the plugin and theme update settings: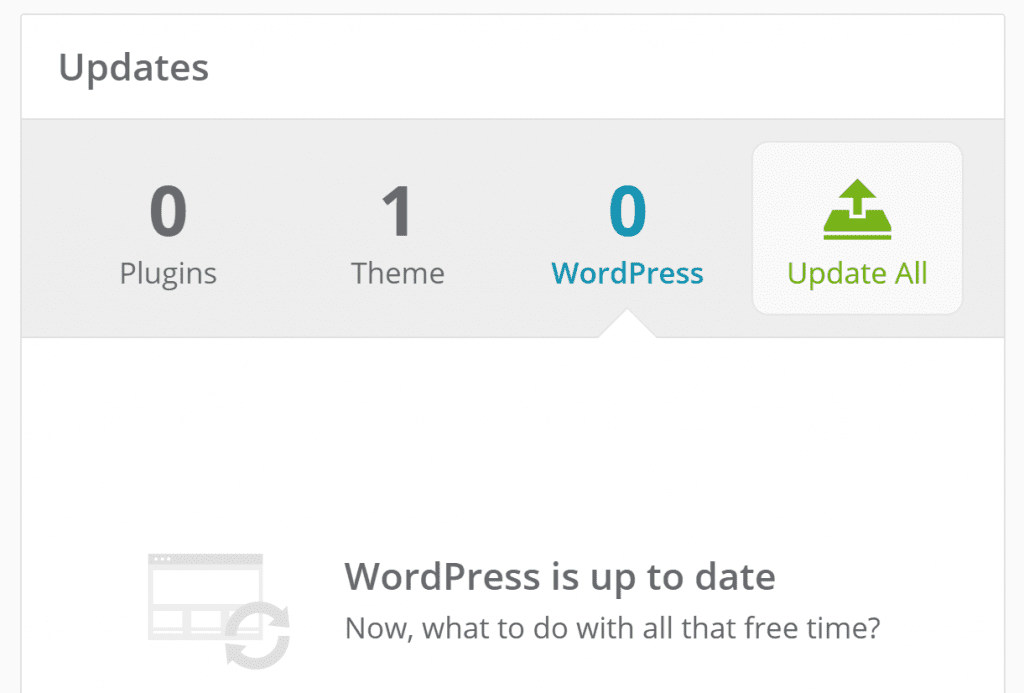 If there's a WordPress core update available, it will appear right here, and you'll be able to execute it by clicking on the Update button below. For easier management, you should click on your user avatar at the top right of your dashboard and go into Settings. At the bottom of that page, you'll find the Product Digest section, which enables you to handle notifications: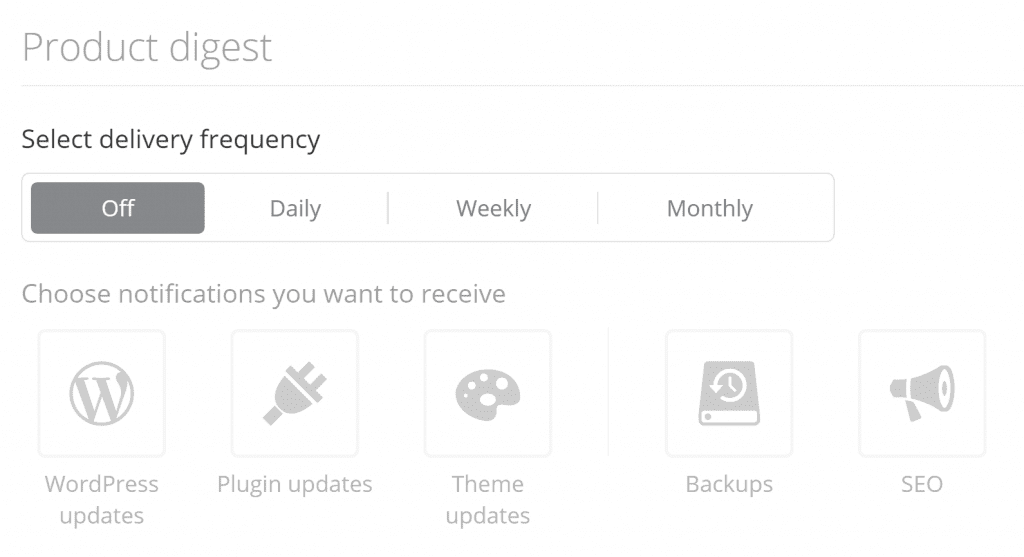 You should, at the very least, turn on WordPress core updates notifications in this section. The digest can also include plugin and theme update information, among others, but those are up to you. As for delivery frequency, we like to stay on top of our WordPress sites, so we set it to daily, but your mileage may vary: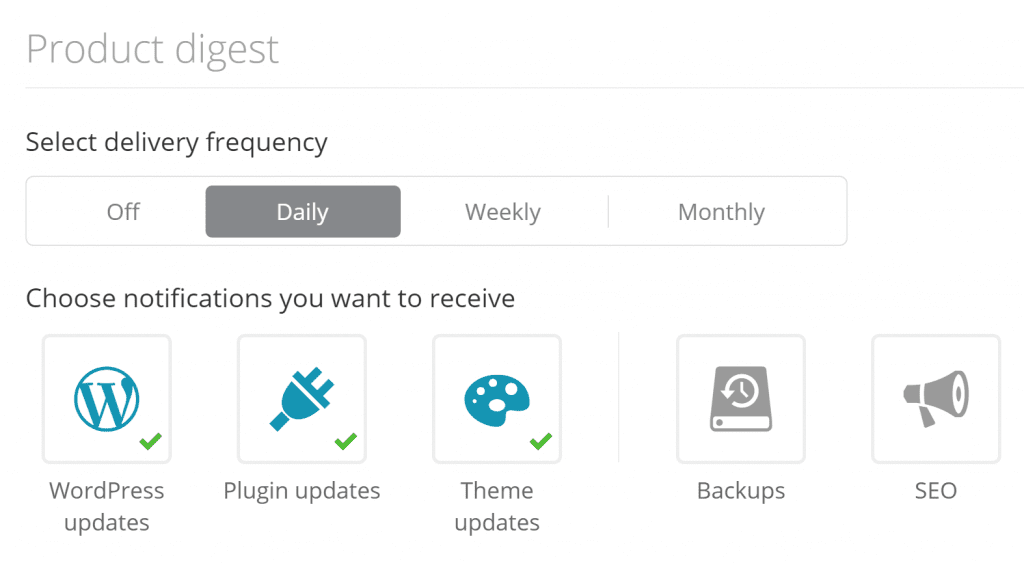 ManageWP product digests are very straightforward, and they don't include any unnecessary information. Here's an example of one of ours: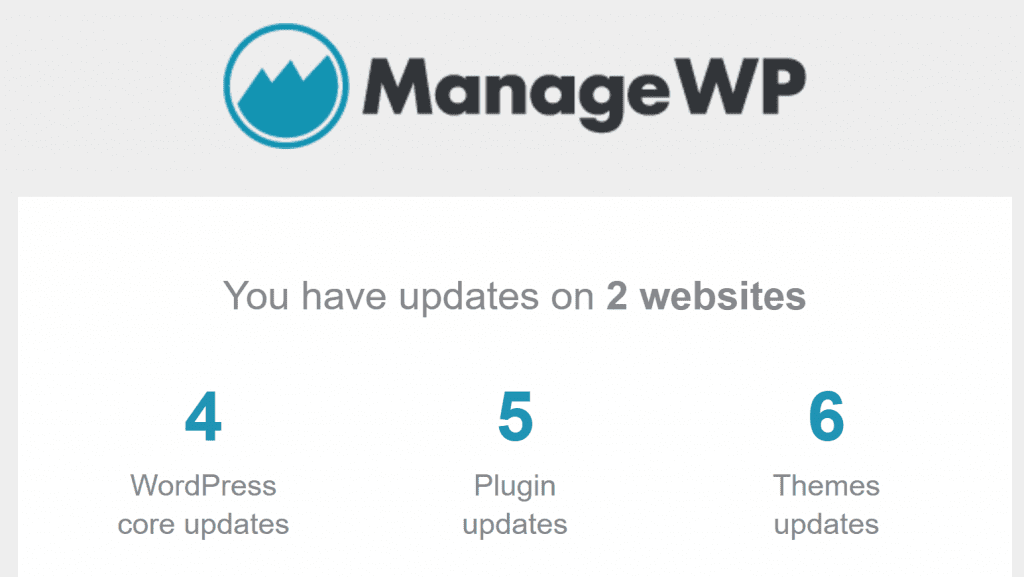 Step #4: Perform Security Checks
Aside from basic features such as updates, plugin, and theme management, ManageWP also features multiple add-ons. These come in both free and premium versions, and Security Check is one of them. This function enables you to scan your entire website and check for vulnerabilities or malicious code – it's essentially the same as an antivirus.
To get started with it, find the Security tab on your dashboard, and then click on Activate Security Check at the bottom:

Select either the free or premium version depending on your needs (and budget) and confirm your pick. For this tutorial, we'll stick with the free version. After activating the add-on, you'll get the option to run a check right away – click on it: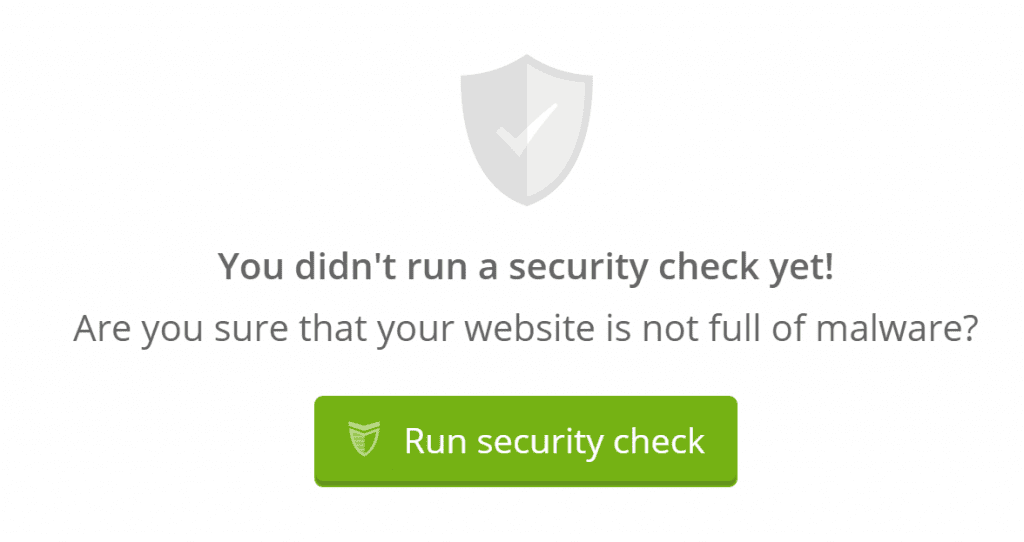 How long the process takes will depend on the size of your WordPress website. In our case, it took less than a minute for a brand new install, and here are our results: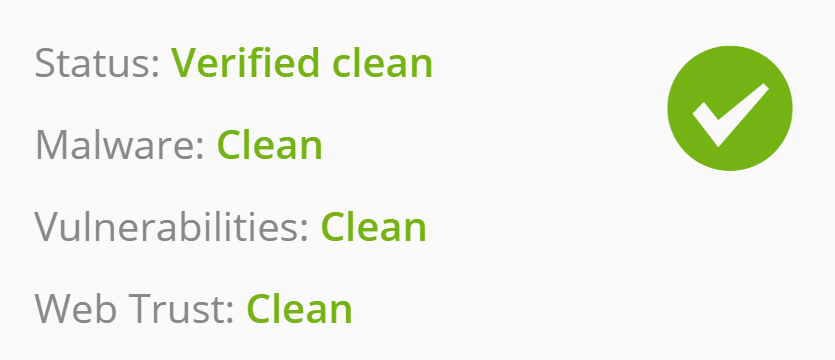 Running security checks often is a very good idea if you want to keep an eye on your site's health. Automating them is possible, but only for premium ManageWP users – if you're running the free version, you'll have to run them manually.
Step #5: Run Benchmark Tests
Performance is critical when it comes to running a WordPress website. Users have little patience for slow sites these days, so you need to do everything within your power to keep loading times down. ManageWP enables you to do so by providing in-depth benchmarks and recommendations on how to improve your results.
To run benchmark tests, we'll have to install a second add-on to our ManageWP account. The drill is the same as with step number four; locate the Performance tab on your dashboard and then click on Activate Performance Check:

Choose between the free and premium versions of the add-on, and then we can run our first performance check. ManageWP enables you to select the server from which the test will run – different servers will return different results depending on their location. If you're serious about benchmarking your website, we recommend that you test your site using multiple servers and then average those results.
For now, let's click on Run performance check using the Dallas, USA server: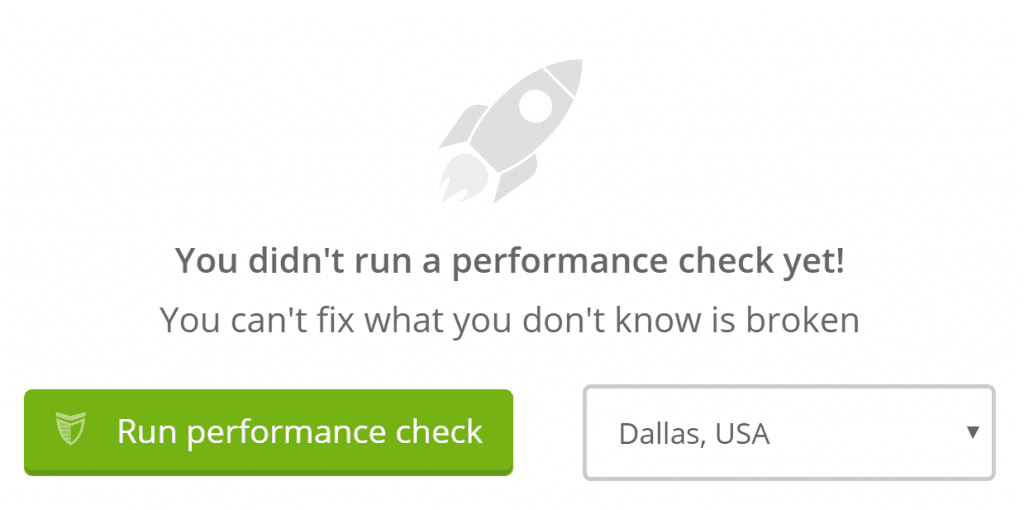 As with security checks, how long the process takes will vary from site to site, but it shouldn't be too long. Once the test is done, you'll receive an overall score:

If you scroll down to the bottom of your results, you'll find a section including recommendations on how to improve your loading speeds. Clicking on the plus sign on the left of each score will provide you with further information on how to improve them: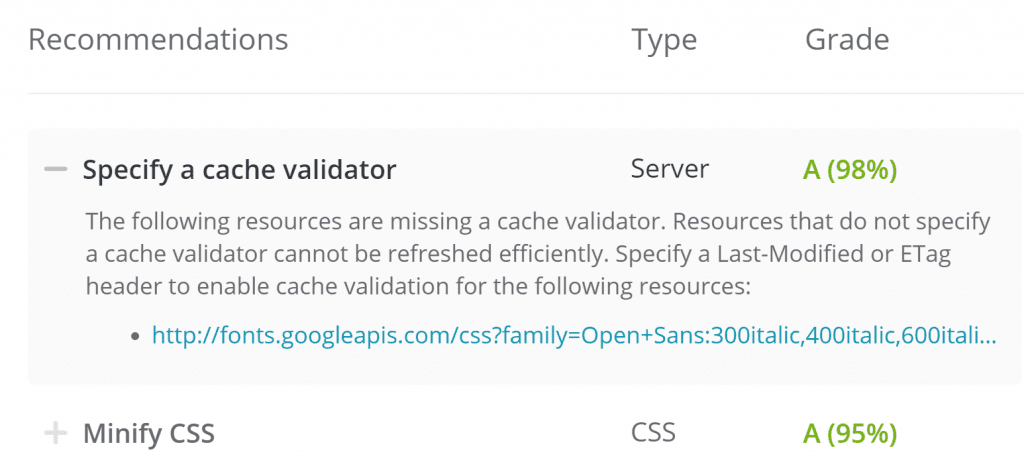 Conclusion
ManageWP is not the only WordPress management tool out there, but it is one of the most accessible and comprehensive options. MainWP is a valid alternative for security-conscious users, and iThemes Sync is a good bet if you're looking for a similar experience to ManageWP.
If you choose to stick with ManageWP, here are the steps you need to follow to manage multiple WordPress websites through the platform:
Add your first WordPress website to ManageWP.
Learn how to manage your plugins and themes.
Execute WordPress updates (when available).
Perform regular security checks on your sites.
Run benchmark tests to gauge your site's performance.
Do you prefer to use WordPress management tools or run your sites manually? Subscribe and share your thoughts with us in the comments section below!
Article thumbnail image by Bplanet / shutterstock.com