As more of our lives rely on digital products, UI and UX designers are in high demand. And as the demand grows, the options for advanced education in the field also grow. With easy access to online learning, pretty much anyone can learn the basics of UI/UX design. Advanced lessons and boot camps that guarantee new jobs are more costly but are still easily available online. To help you decide which path to take, we've put together a list of 11 of the best UI/UX design courses, learning paths, and boot camps available online in 2020.
You don't need to be a designer or developer to start a career in UI/UX design. All you need is an interest in learning about human-centered design and usability. Everything else can be learned with practice. UI/UX design might be just the right career change for you.
UI/UX courses come in different shapes and forms. Not only in terms of depth of study or of cost but also in the specialization. Some courses cover the fundamentals of UI/UX design; design thinking, human-centered design, etc. Others are more specific and center on UI/UX design for mobile apps or websites. Yet others center on a particular software like Adobe XD or Figma.
Keep reading to find the best option for your career development in UI/UX Design.
UI/UX Design Courses
The easiest and least costly way of learning UI/UX design is through courses that you pick and choose as you please. Simply choose the ones that interest you in whichever platform you like and learn at your own pace. Below are some of the best platforms to get started.
1. Linkedin Learning
Linkedin learning, previously Lynda, has a positive long-standing online learning reputation. There is a variety of UI/UX courses to choose from. You can take them in the order you wish. Linkedin Learning is available with your Linkedin Premium subscription or you can buy courses on a one by one basis.
Start studying UI/UX design at your own pace with Linkedin learning courses.
2. Udemy
Udemy is another well-known contender in the online course field. There are plenty of courses available for UI/UX design on Udemy. This platform is more suited for studies directed at the software used for UI/UX design. For example, Figma, Sketch, and Adobe XD. To find the best courses on Udemy, use the search filter under 'Highest Rated.'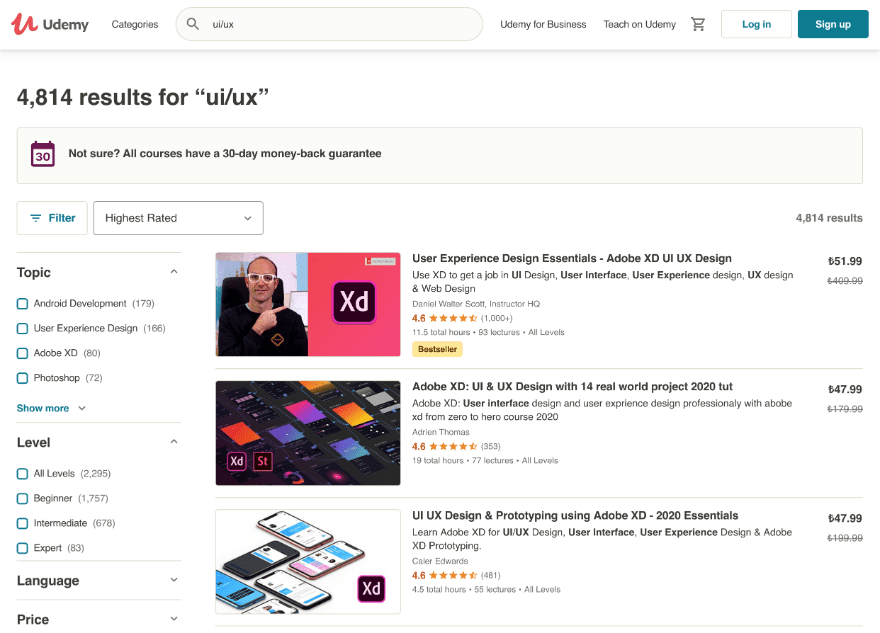 Learn UI/UX design software on Udemy
3. Pluralsight
Pluralsight is another great option for UI/UX design courses that you can pick and choose as you please. Many of the courses on Pluralsight focus on specific topics of UI and UX like prototyping and usability testing. The subscription plans can be chosen for individuals or teams. Their mission is to help improve the skills of professionals in the tech field. Pluralsight offers career improving courses as well as project-specific tech skills.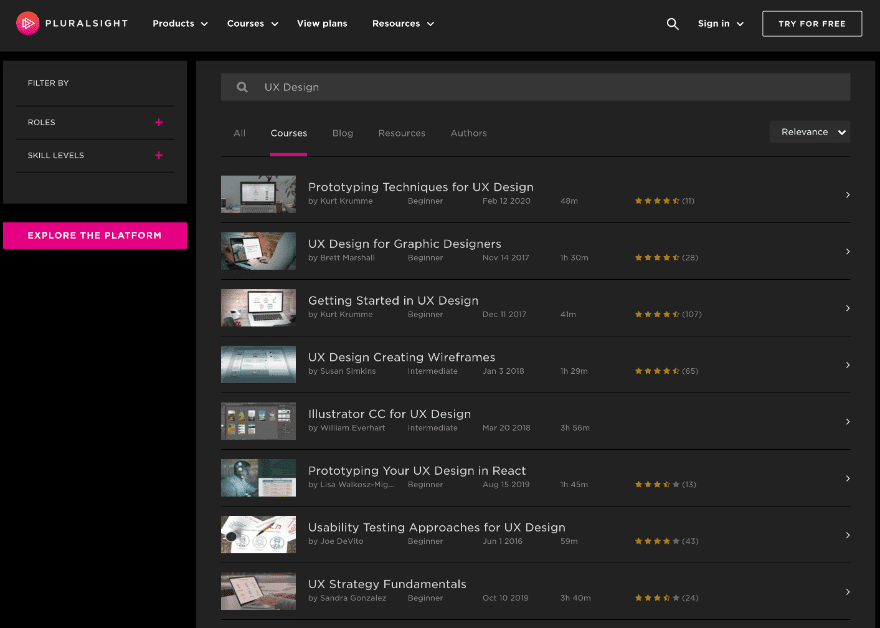 Take UI/UX courses on Pluralsight
UI/UX Design Specializations And Learning Paths
Better than single courses are course specializations and learning paths. These are groups of courses that start at the basics and progress to more advanced topics. You can learn at your own pace while paying a monthly subscription or a one time fee.
Below are the best UI  and UX design learning paths and specializations available online.
4. Interaction Design Foundation – UX or UI Design Career Paths
The Interaction Design Foundation offers learning paths in a number of different specializations. UX Design and UI Design are two of them. All studies with the interaction design foundation are based on human-centered interaction and information design. Students pay a monthly fee of $10 and can take as many courses as they want. The faster you study, the cheaper it is.
Every finished course offers a certificate that you can share on your cv, Linkedin, or portfolio site. There's more to the Interaction Design Foundation. You'll find it in the following section about UI/UX Bootcamps.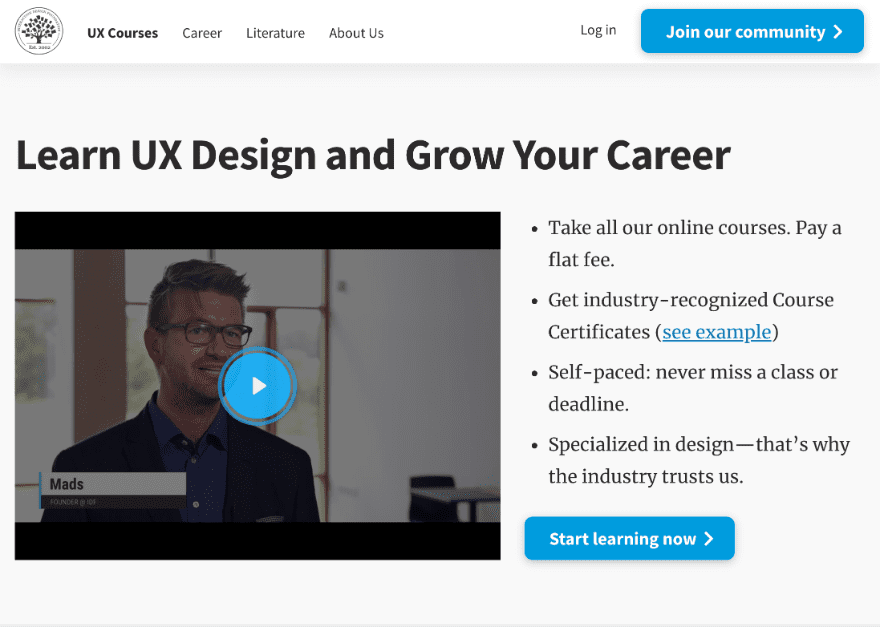 Start Learning at The Interaction Design Foundation
5. Coursera – Cal Arts – UI/UX Design Specialization
Coursera is one of the most complete online learning platforms. All the courses and specializations they offer are from respectable universities in the United States. Students can try the specialization for a month if it's their first time or a week if they already have a Coursera account.
The UI/UX design specialization is four months long and costs $49 a month. The specialization begins a few times a year. In the end, you receive a certification of completion to share in your cv or Linkedin profile.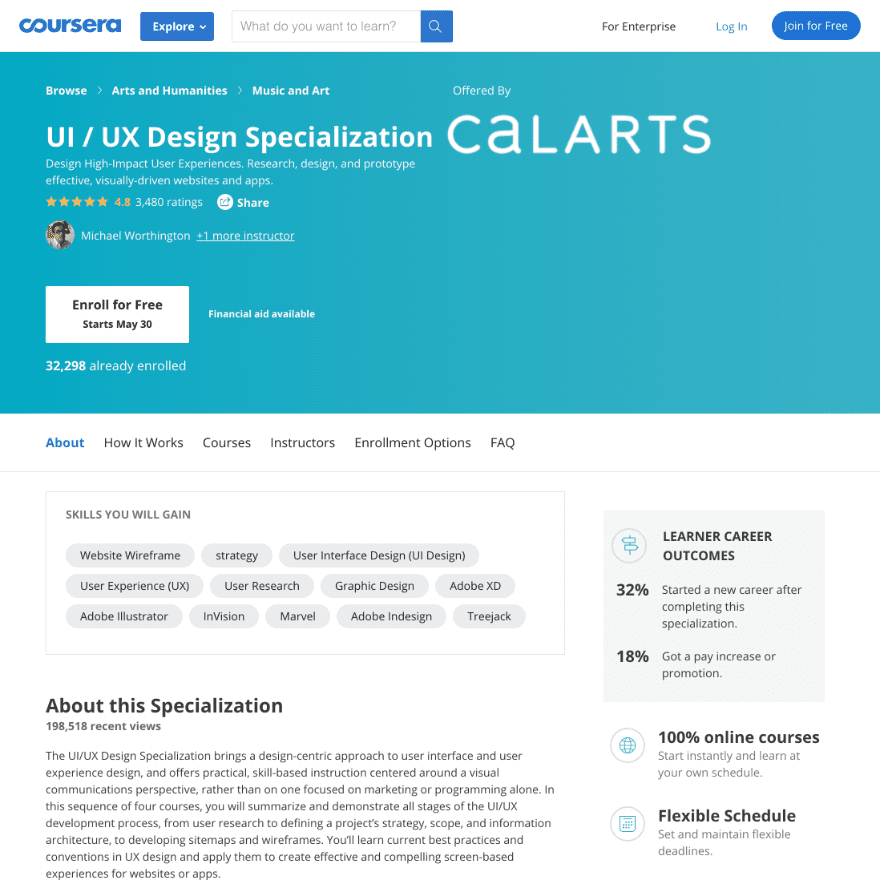 6. Linkedin Learning – Become A User Experience Designer
Apart from solitary courses, Linkedin learning also offers learning paths. Different from the specializations from IDF and Coursera, the courses in the Linkedin learning learning paths are not from the same instructor. These are grouped courses that follow a cohesive progression to advance your career as a UI/UX designer.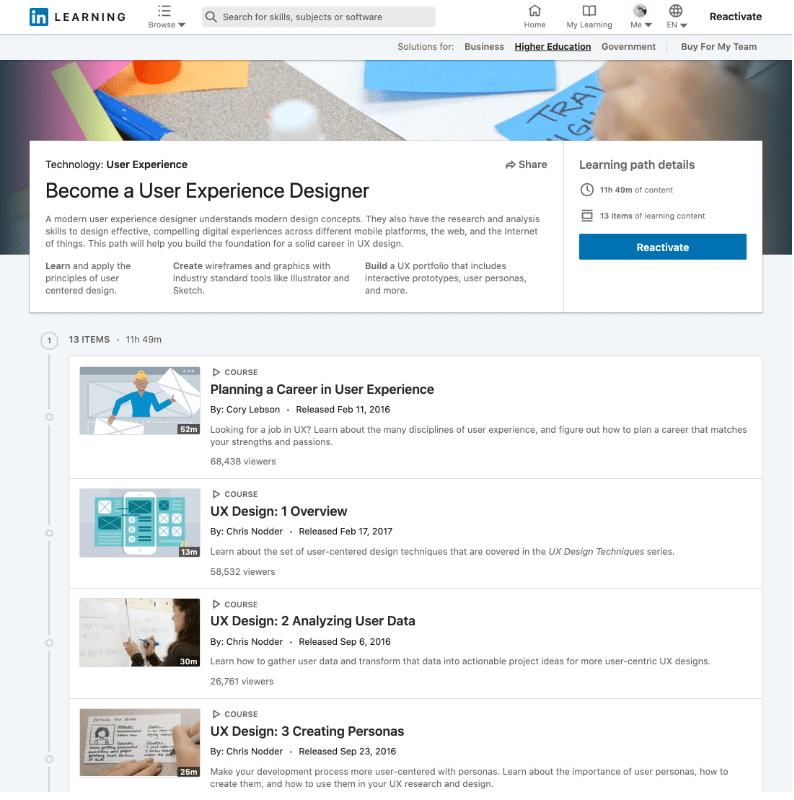 Follow a UI/UX design learning path with Linkedin learning.
7. General Assembly – User Experience Design
The UI/UX design learning path from General Assembly covers all aspects of the field. From the fundamentals to practical exercises and app creation. The mission of this learning path is for the student to follow at their own pace in the space of a year. Students will create a portfolio ready project and will receive a letter of completion. This option also offers 1:1 mentorship with professional instructors.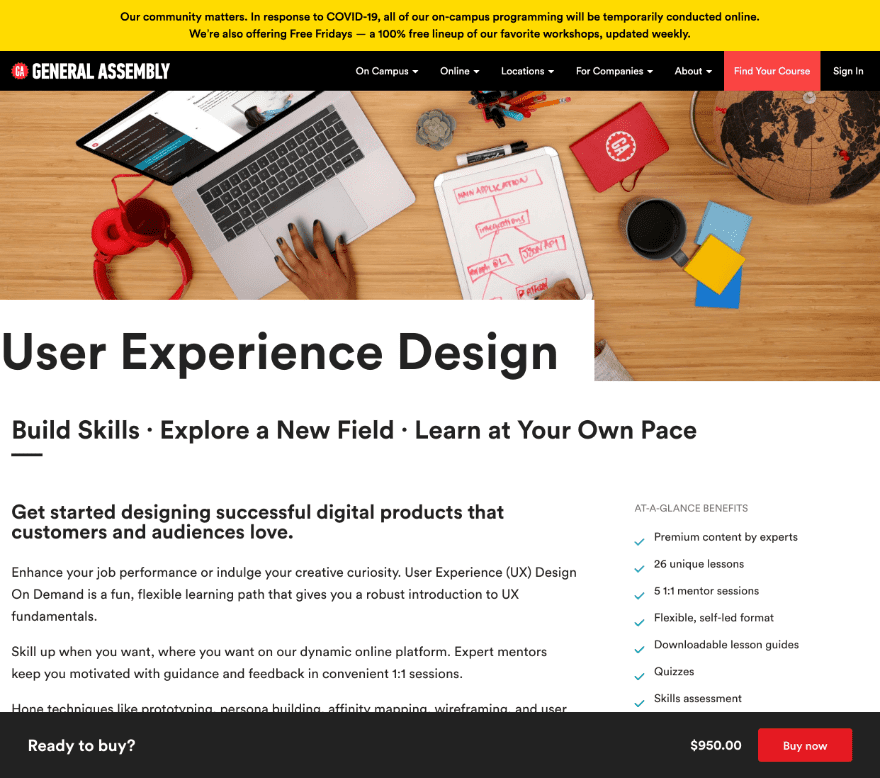 UI/UX Design Bootcamps
Courses, learning paths, and specializations are all great choices to start your career in UI/UX design. But if what you're looking for is a guaranteed job at the end, then your best choice is to enroll in a UI/UX Bootcamp. You don't need to have taken any previous courses on UI/UX design previously, but it will help if you have.
These Bootcamps are intense learning paths that include a number of projects to add to your portfolio. The projects are undertaken from beginning to end with a design thinking and usability approach. The idea is that with all the skills you learn, the portfolio projects you create, plus the professional interview training they offer, you should be able to land a new UI/UX job within six months of completion.
8. Interaction Design Foundation – UX Bootcamp
The IDF Bootcamp guarantees students a new in UX design after completion. The instructors prepare you not only with portfolio ready projects but also with the skills to do well in a job interview. Additionally, you get one on one mentorship meetings with UX professionals.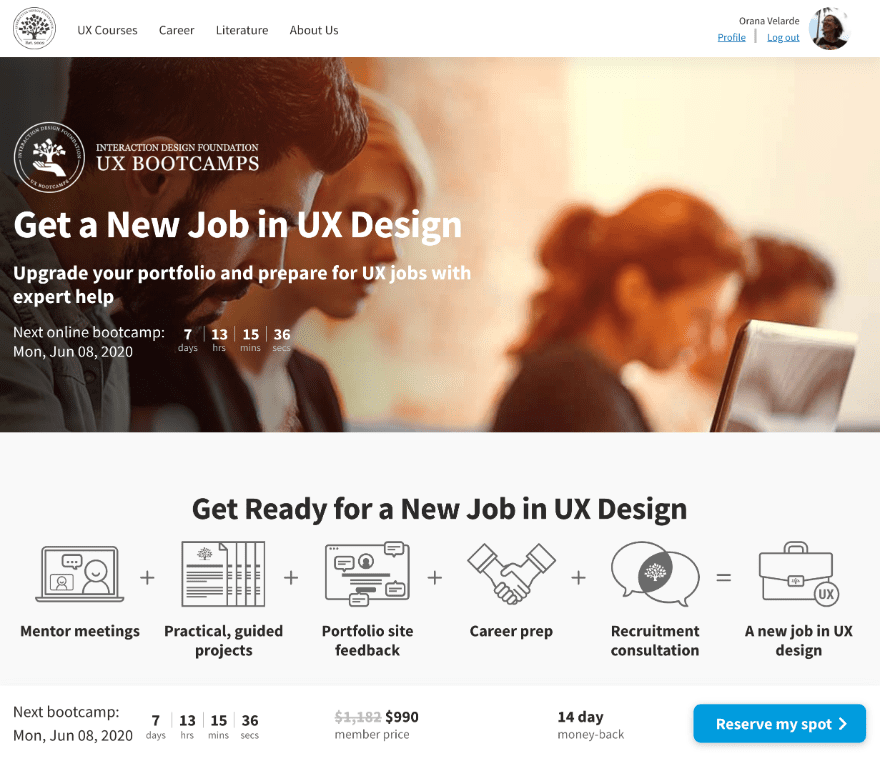 Get a new job in UX Design with the IDF UX Bootcamp
9. Careerfoundry – UX Design Program
Careerfoundry is similar to the Interaction Design Foundation UX Bootcamp. The main difference is that they offer a money-back guarantee if you don't get a job in 180 days after completion. Also, they call it a program instead of a boot camp. Additionally, Careerfoundry has a much higher cost than IDF. This program is one of the best-regarded in the field and has a good standing.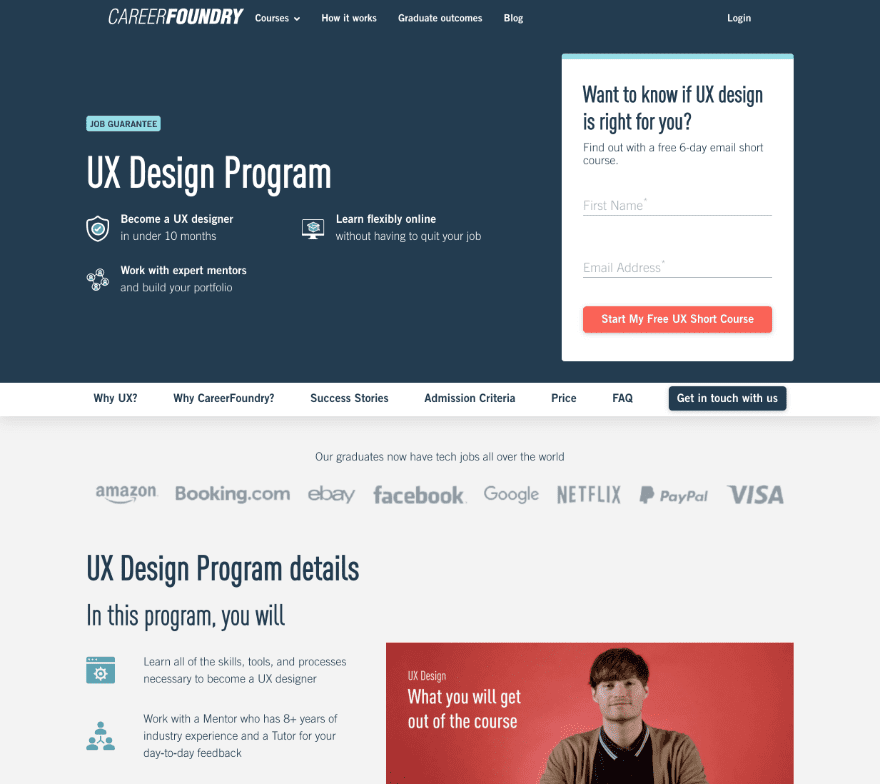 10. Springboard – UI/UX Design Bootcamp & UX Design Bootcamp
Another very similar option to both IDF and Careerfoundry is Springboard. They also offer a money-back guarantee if you don't get a job. In this case, they extend it to 6 months. Springboard offers two choices, a UI/UX Design Bootcamp and a UX Design Bootcamp. Both offer a job guarantee upon completion. The difference is that the UI/UX Design Bootcamp is more suited for beginners and the other is for students who are already in the field.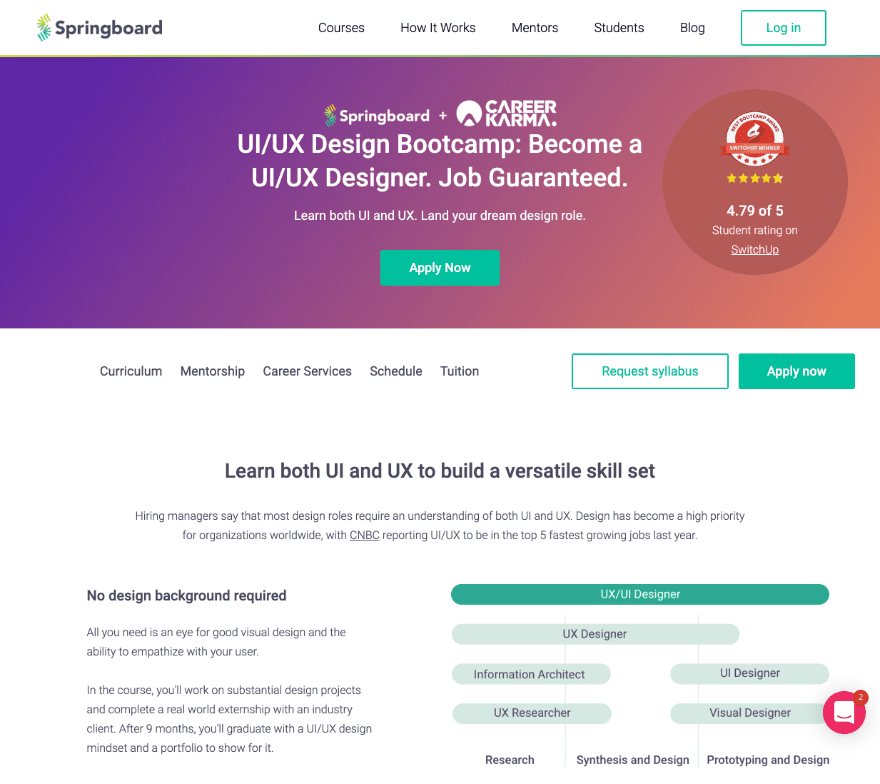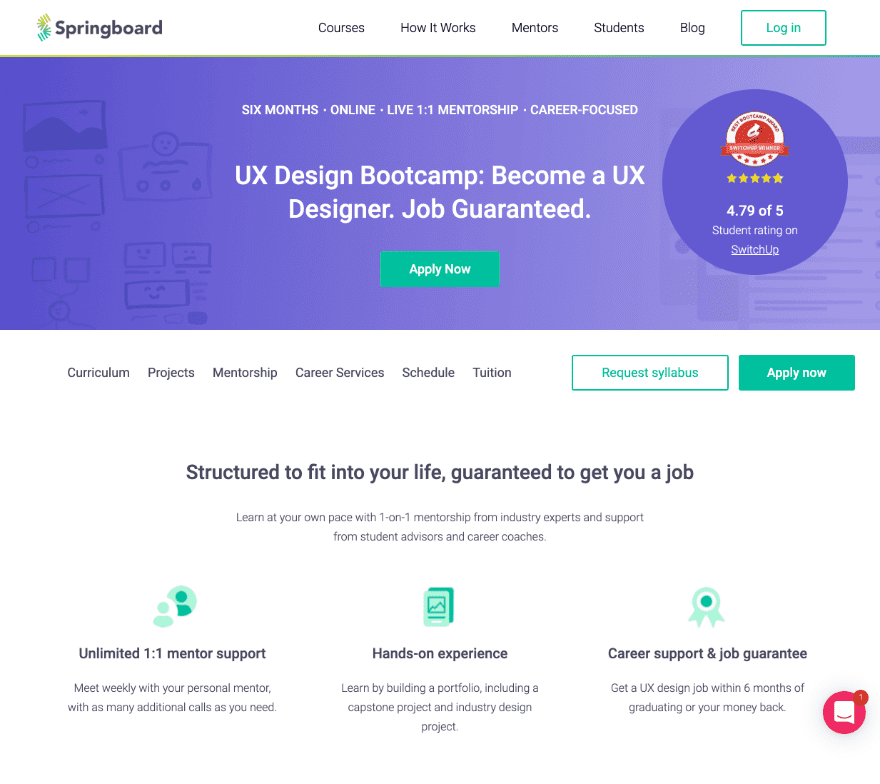 Start a career in UI/UX design with Springboard
11. Design Lab – UX Academy
Last but not least, is Design Lab. This is the most costly option of all the others mentioned. It's also the one the requires the most time and participation from the student. If following the courses full time, it will take 21 weeks, but around 30 if done part-time. Upon completion, the UX Academy has a personalized career mentorship that guarantees all graduates a job.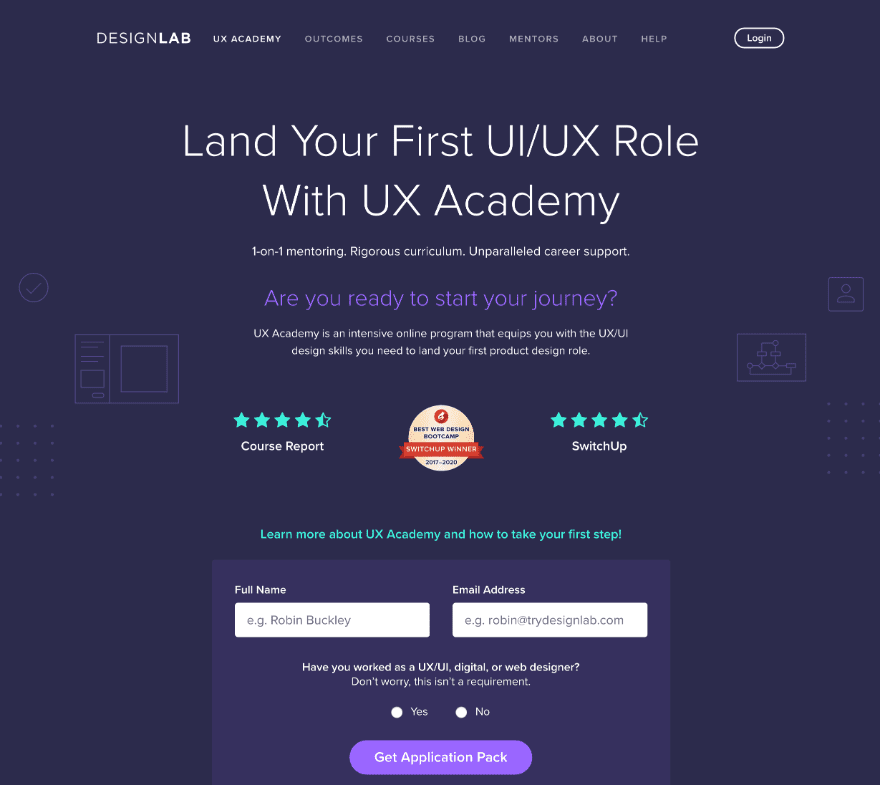 Start a new UX career design with Design Lab.
Choose The Best UI/UX Design Course For You
As you can see, there are many options for UI/UX courses online. From single courses to learning paths to full-scaled boot camps that offer a job guarantee upon completion. Thankfully, there are also many options when it comes to cost. If you don't have that much money to work with, you can get started with the less expensive options and work your way through the courses on your own time.
Hopefully, this list will help you choose the right option to match your time availability and cost restraints. There truly is a choice for everyone.
Featured Image via PureSolution / shutterstock.com