We've all heard of popular AI art generators like Midjourney and Jasper Art. But the power of AI extends beyond image generation, allowing you to edit images like never before. Like AI image enhancers that can edit images with fantastic results, AI image upscalers can make your existing images larger without losing quality. In the past, you would need to use heavy-duty software to do this, but now with the power of AI, it's possible for you to use an AI image upscaler to make your images bigger (and better) for professional and personal use. In this post, we'll look at the best AI image upscalers you can use in your photo editing process today.
What is an AI Image Upscaler?
An AI image upscaler uses artificial intelligence to safely make an image larger without ruining its quality. This makes an image usable in larger formats. Whether you need a logo bigger for a poster or make a piece of digital art stretch over a fifteen-foot canvas, an AI image upscaler can ensure that your image is magnified without appearing heavily edited or losing its beauty. Various AI image upscalers use a mix of technologies like diffusion and advanced neural network models to enhance images while maintaining their character. If you do a lot of photo editing or work with lots of images in your day-to-day life, you may find an AI image upscaler helpful in your process.
10 Best AI Image Upscalers in 2023

Subscribe To Our Youtube Channel
Below, we've listed the best AI image upscalers you can use today. Some are mobile apps, while others are full-fledged desktop applications. All are great at what they do and bring different features and qualities to image upscaling. Take a look through our list, see the key features, and hopefully, you'll find the best AI image upscaler for you to use in your next project.
The Best AI Image Upscalers Listed In Order
Expand List
1. Gigapixel AI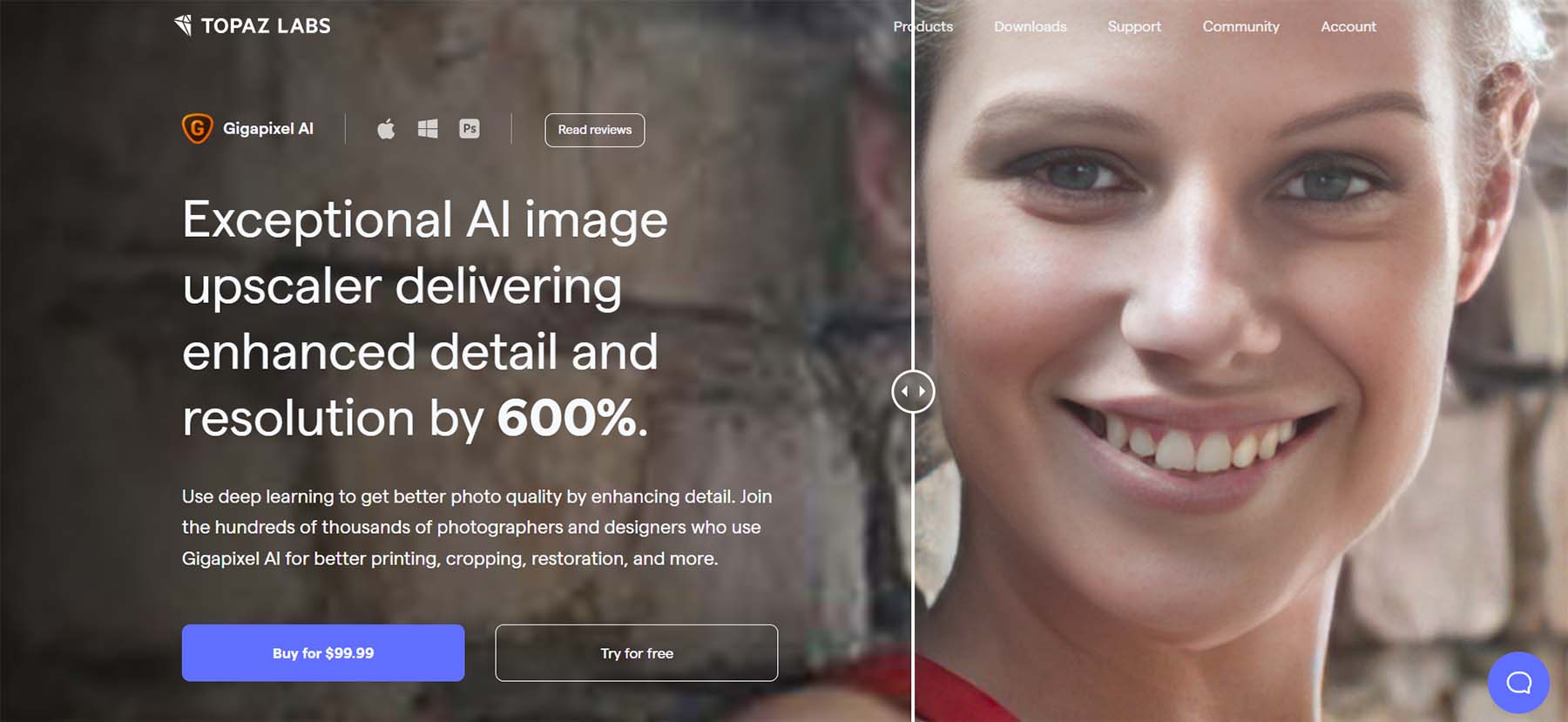 Gigapixel AI is an AI image upscaler from Topaz Labs. It uses deep learning and its highly trained neural networks to understand photorealistic detail and apply it to the photos it serves for processing. The tool is available on Mac and PC, so regardless of the operating system you use, you can use the full benefits of this computer program. With Gigapixel AI, you can upscale a variety of images up to 600% without losing quality. Additionally, Gigapixel's AI can increase the aspect ratio of your images, giving you the power to turn web graphics into viable assets that can be used for higher-resolution projects like print and video. Overall, those who need a professional-grade image upscaler that can handle more than just facial retouching will find great joy in using Gigapixel AI as their image upscaler tool.
Key Features of Gigapixel AI:
Can upscale various subjects like portraits, wildlife, landscapes, architecture, etc.
Works with multiple image types including, but not limited to, DSLR, computer graphics, and compressed images
Optimizes low-resolution faces with its Face Recovery AI
Enhances the texture and sharpness of hair, feathers, and fur
Fixes extreme pixelation in low-resolution images when upscaling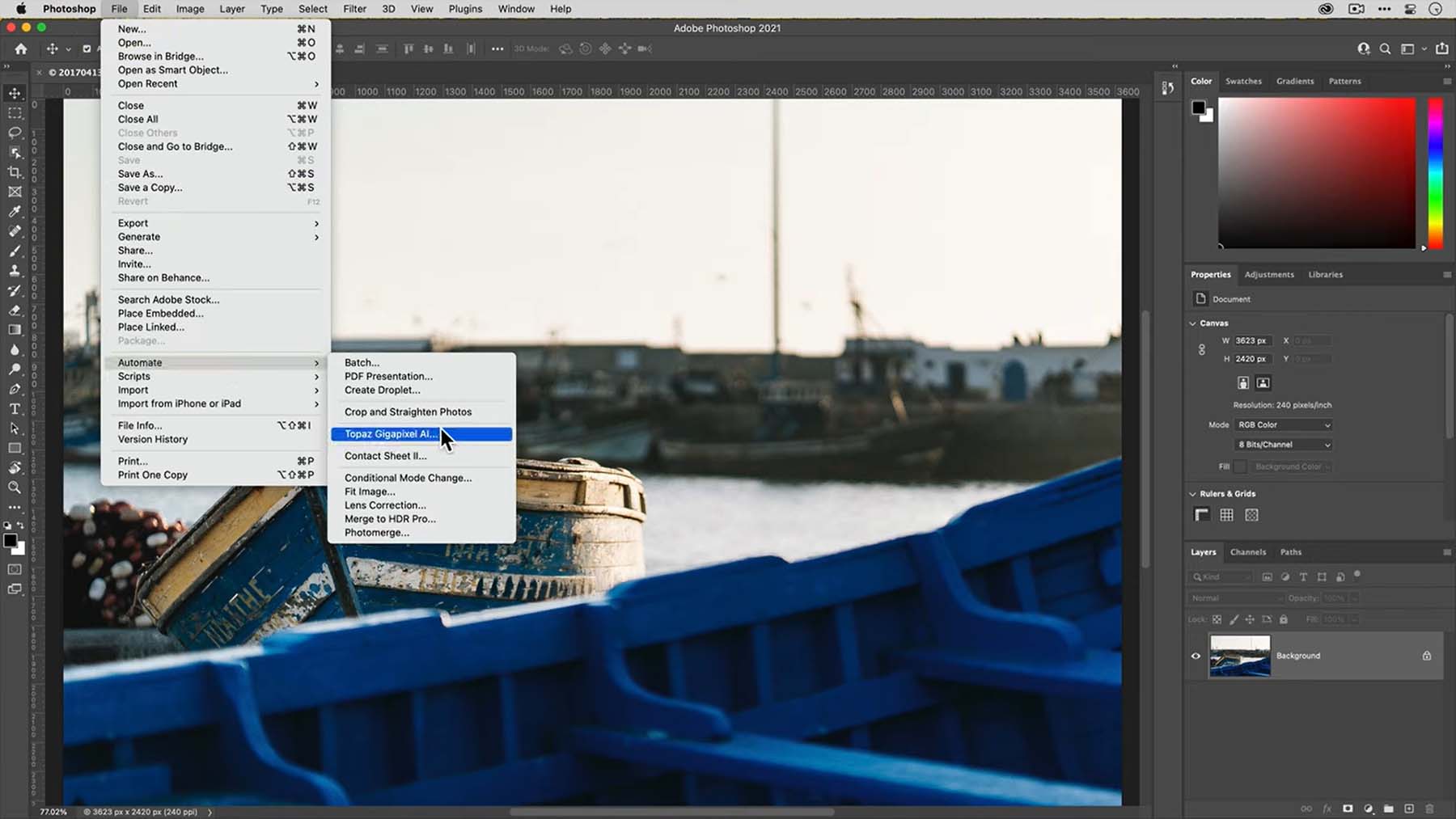 Gigapixel AI works as a standalone product. However, it can also integrate into the Adobe Creative Suite. Gigapixel AI works within Adobe Photoshop and Adobe Lightroom, making it easy to add upscaling with the power of AI into your established photo editing process.
Best For:
Photographers and designers will love the flexibility and tools that Gigapixel AI provides. Whether you are retouching photos, carrying out preflight tasks for printing, or working on photo restoration, Gigapixel AI is an excellent tool for you to have in your toolkit as you work through optimizing photos for your next project, especially if you are using the Adobe Creative Suite.
Pricing: Free, One-time fee of $99
2. Upscale. media
Upscale.media is one of a handful of powerful AI tools created by Pixelbin.io. This image upscaler is available as an online web-based tool and a mobile app for both Apple and Android devices. Like many upscalers on our list, it works with various file formats to enlarge and enhance images. The free version of the tool only processes one image at a time. However, the premium plans come with the option to enlarge multiple images at once. Upscale.media is a simple-to-use image upscaler that produces excellent results for those who use it. Additionally, by becoming a part of the Pixelbin.io family, you'll have access to more tools like Erase.bg, Watermarkremover.io, and Shrink.media, to name a few.
Key Features of Upscale.media:
Supports PNG, JPEG, JPG, and WEBP file types
Remove JPEG artifacts (like pixelation) and enhance image quality
Obtain high-resolution images with fully automated processing upto 4x
Automated upscaling process in a matter of seconds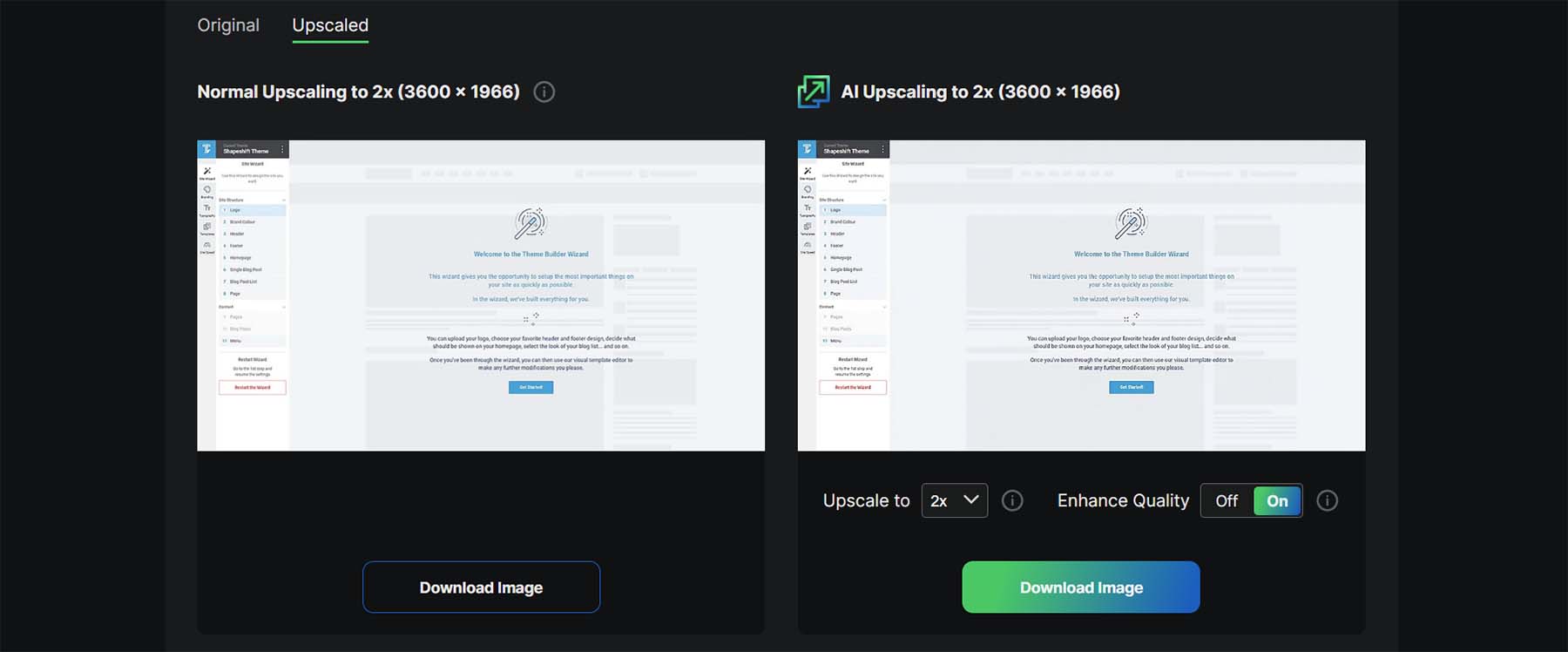 The simplicity of Upscale.media's interface is a strong point for this web app. Whereas other image upscalers on our list add features like shapes, patterns, and more, this platform focuses on what is essential: properly upscaling your images with AI. Because of this, its simple-to-use interface makes it stand out and works primarily for those who occasionally need to use online image upscaling solutions.
Best For:
Those who want a quick and easy way to upscale images through a web-based platform will love Upscale.media. With little to no bells and whistles but a solid AI process providing a great product, Upscale.media is for those who only need a few images optimized on the go.
Pricing: Free, Paid plans start at $40 per month
3. Icons8 Smart Upscaler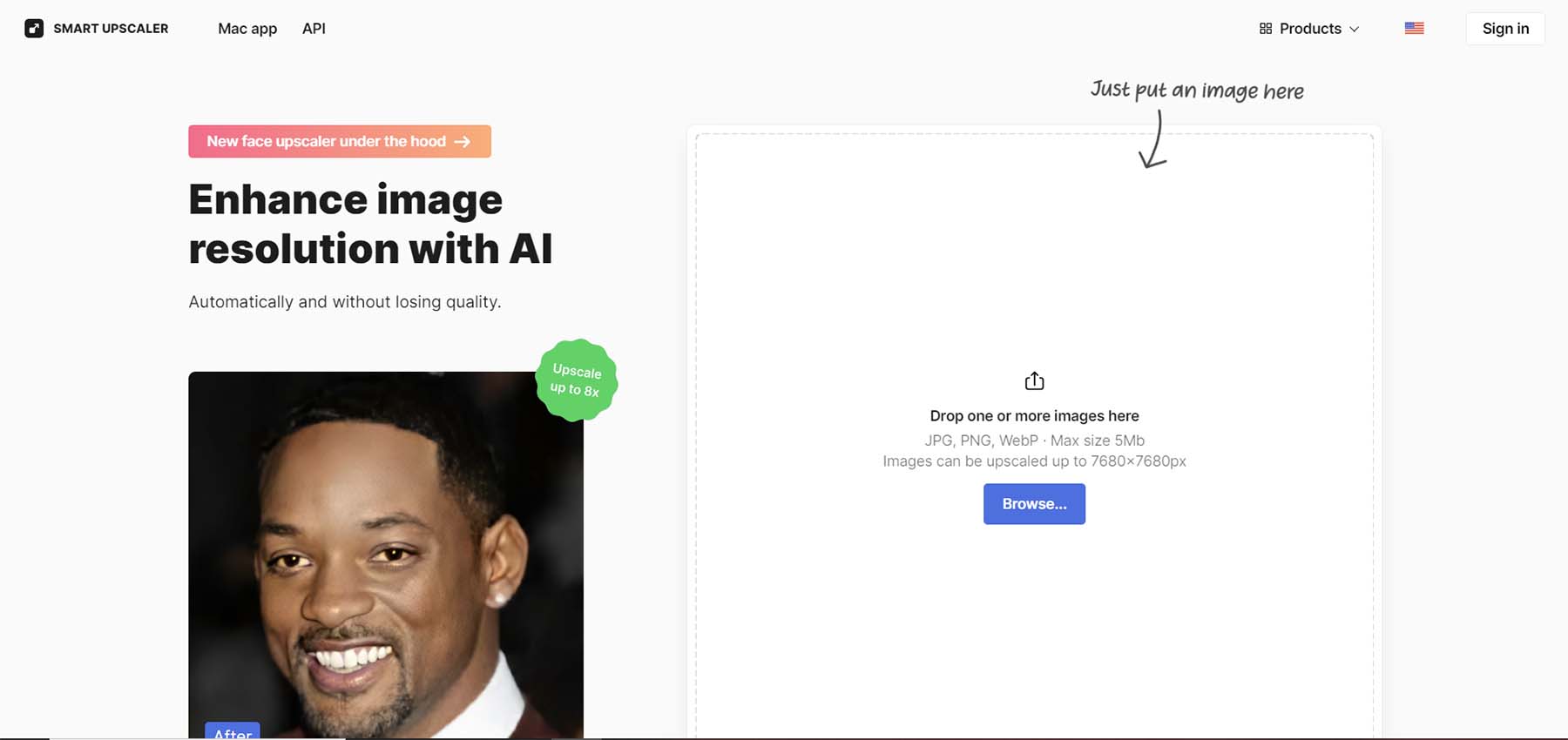 Icons8 Smart Upscaler is an online image upscaler that can work with various file formats. Though Icons8 is predominately a design assets company, it has moved into the online tool space with its Smart Upscaler, amongst other tools. The interface is simple and allows you to upload one image at a time to be enlargened. After uploading your image, you can see a side-by-side comparison, enabling you to preview its AI's changes to better your images. Purchase credits or access their API for bulk image processing. The GoProd Mac app is the desktop version of Icons8 Smart Upscaler and comes with background removal features. If you are looking for a tool to help with the everyday use of processing images, then the GoProd Mac app would work well for you. However, if you want a lean and image upscaler tool, try using the Icons8 Smart Upscaler.
Key Features of Icons8 Smart Upscaler:
Works with JPG, PNG, and WebP file formats
Images can be upscaled up to 7680x7680px
Available as both an online tool and a Mac app
Enlargen images up to 4X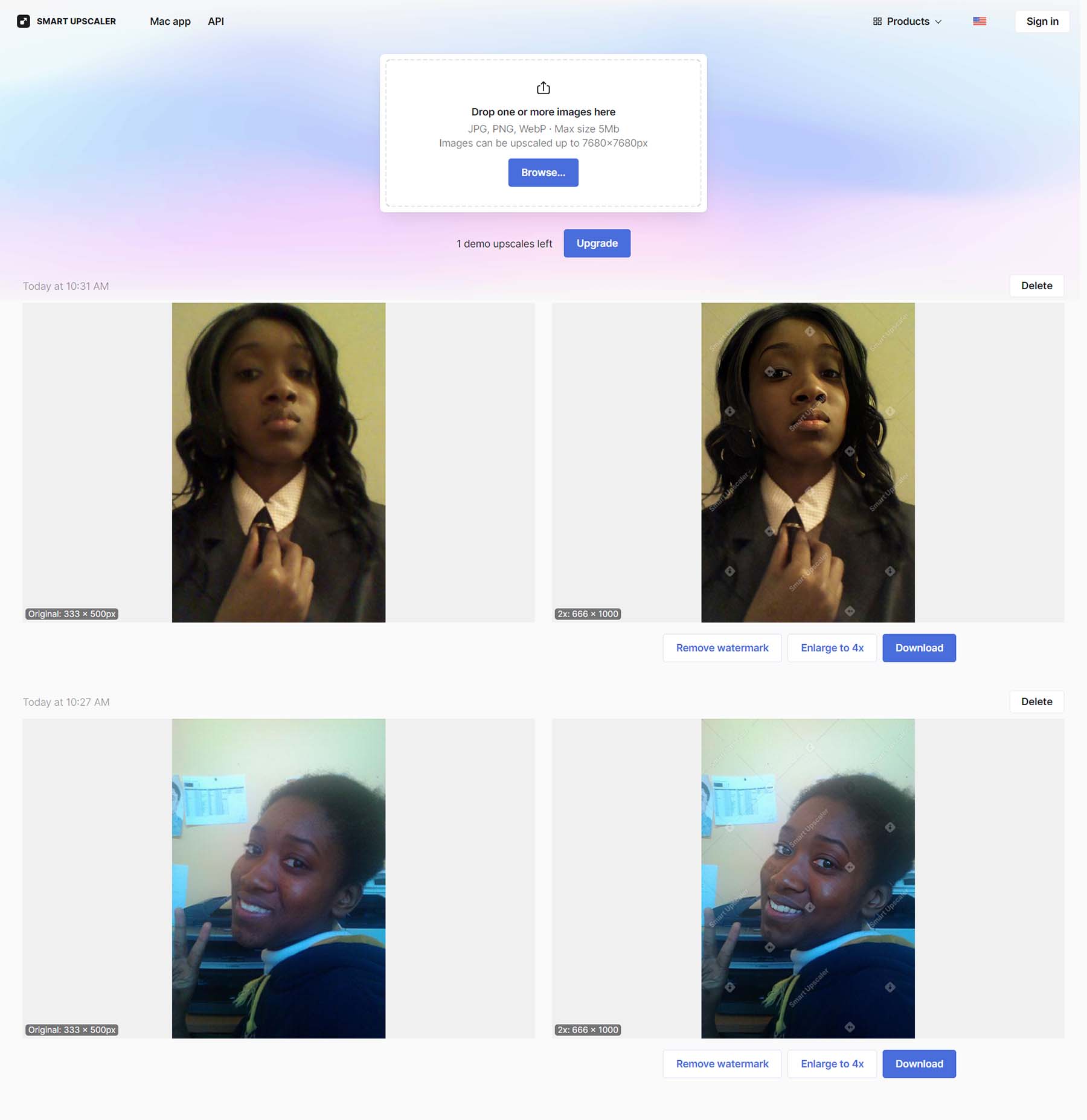 While the Icons8 Smart Upscaler has a simple interface and process, it lets you keep a history of your optimized files. This is great if you want to redownload or further optimize your images. You have the option to upscale your images to 4X further before downloading them as well. Also, Icons8 does not use or store your images for further machine learning, which is a good note at a time when the privacy of data is critical.
Best For:
Icons8 Smart Upscaler is best for anyone looking for a quick and easy way to upscale images with an intuitive and convenient online tool.
Pricing: Free, Paid plans start at $9 per month
4. HitPaw Photo Enhancer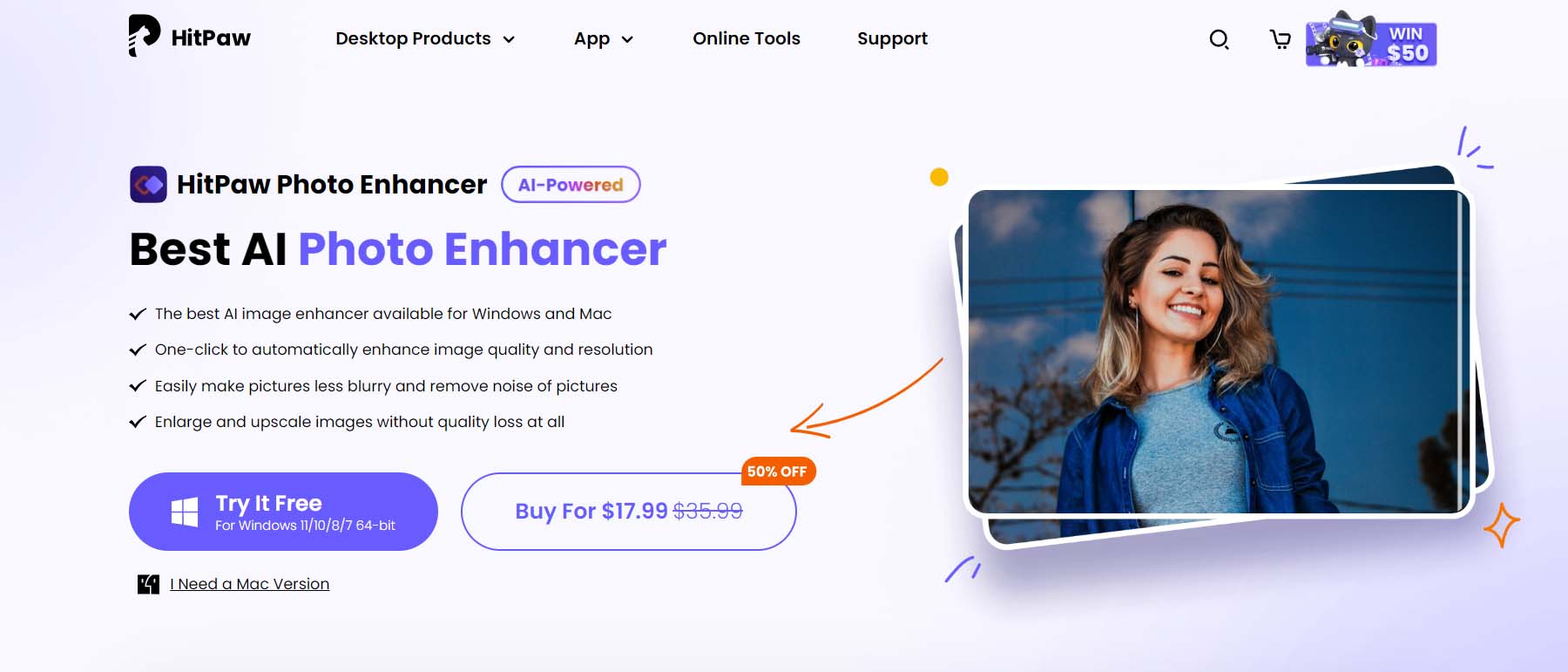 HitPaw Photo Enhancer is a PC and Mac-based computer program that allows you to upscale your images without reducing their quality. Like most upscalers on our list, HitPaw's Photo Enhancer can work on many photos, including landscapes, animations, buildings, and nature. This enhancer is also equipped with a face enhancer. So you don't need to crack open a secondary image editing software after upscaling your photos in HitPaw. You can also colorize and bring your old photos back to life using one click, saving old memories and making new ones together. HitPaw's denoise model allows you to automatically remove noise from low-quality photos while also fixing their low-lighting issues without causing harm to the original photo. As a desktop app, HitPaw is an excellent solution for those who want a little more out of their photo upscaler.
Key Features of HitPaw Photo Enhancer:
Available for Android, PC, and Mac
Remove noise and sharpen photos while enlarging them
Upscale images with no quality loss
Upscale to HD, 2K, 4K, and 8K
Batch processing for a large number of images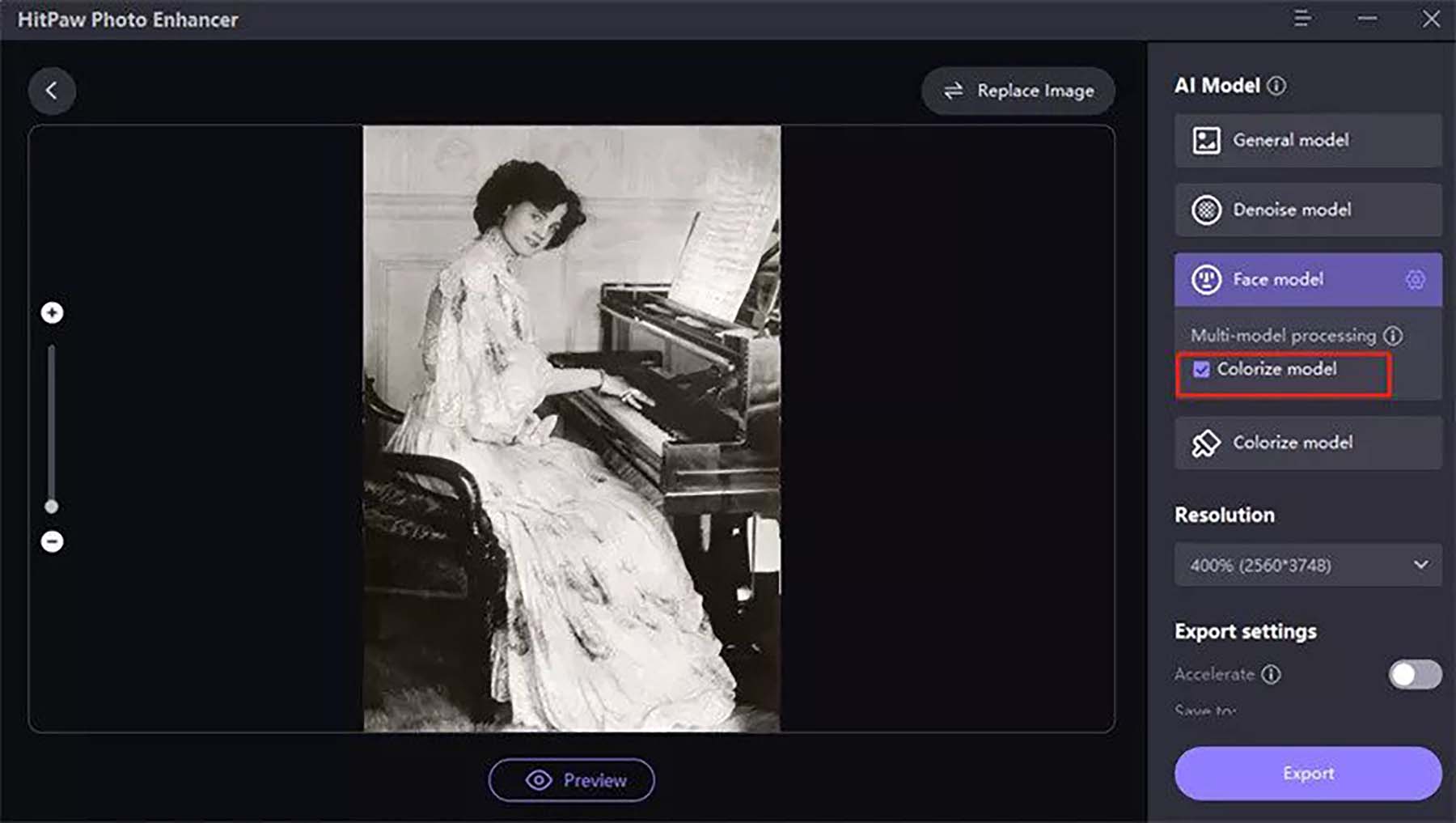 HitPaw's Photo Enhancer has several AI models that can be combined to refine your image upscaling further. The general, denoise, face, and colorize models can be customized and processed together, giving you both larger images and images with deeper refinements after being upscaled.
Best For:
HitPaw's Photo Enhancer is an excellent tool for those who want multiple AI models to be available as they enhance their photos. If, in addition to making your photos bigger, you'd like to apply further edits with AI, consider downloading this AI image enhancer for your needs today.
Pricing: Free, Paid plans start at $35.99 per month
5. AVCLabs Photo Enhancer AI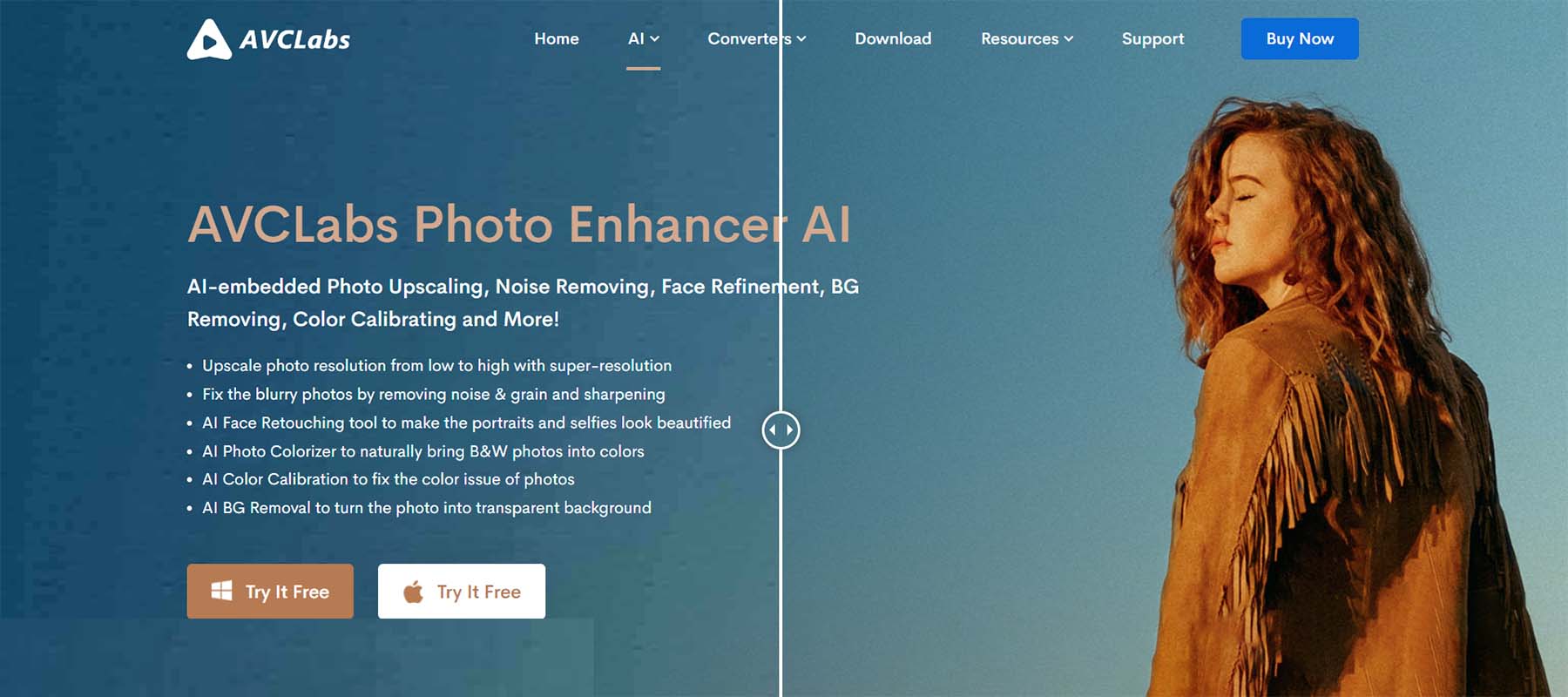 AVCLabs Photo Enhancer AI is another tool on our list that is a full suite of AI-powered photo enhancer tools. Each tool works with the other, giving you full-scale editing capabilities for your next project. AI-powered image upscaling, noise removal, face refinement, and more are all part and parcel of AVCLabs Photo Enhancer AI. As an image enhancer,
Key Features of AVCLabs Photo Enhancer AI:
Upscale photo resolution from low to high with super-resolution
Fixes blurry photos by removing noise & grain and sharpening
Choose from two AI models: standard and ultra, with the option for face refinement
Adjust brightness, contrast, sharpness
Preserve image file format, or convert to JPG, JPEG PNG, or BMP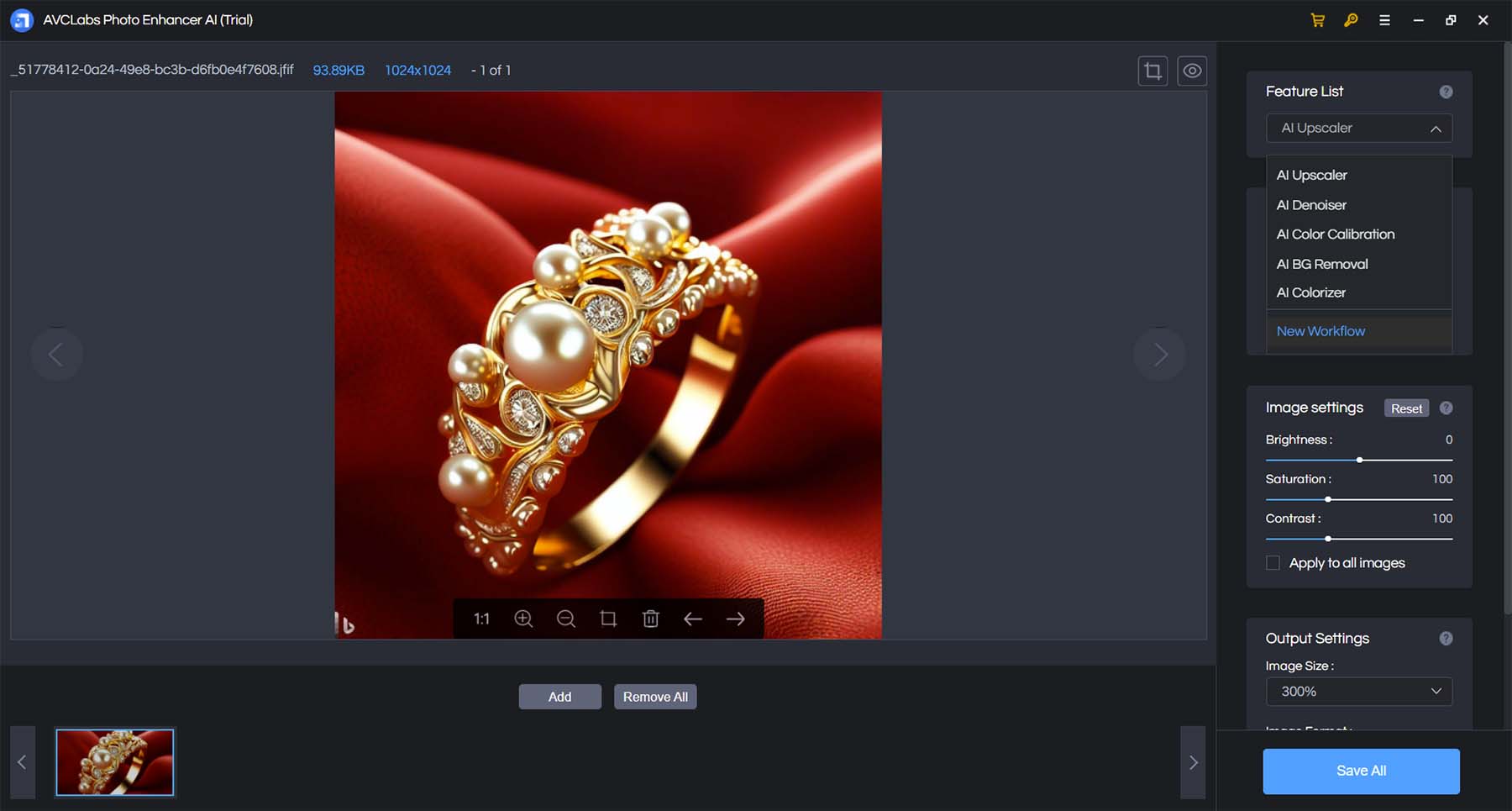 The preset feature list that AVCLabs provides in its Photo Enhancer AI tool makes it a simple process for you to upscale various types of photos. Whether you need skin smoothing effects or background removal with your upscales, have a preset list of AI models you can draw on as you optimize your photos and images.
Best For:
If you are looking for an AI image upscaler that works well on both Microsoft and Mac, the AVCLabs Photo Enhancer suite will be the best suite for you. Agencies, creatives, and studios who work on both Microsoft and Mac will appreciate the cross-platform functionality that AVCLabs brings.
Pricing: Free, Paid plans start at $39.95 per month
6. Zyro AI Image Upscaler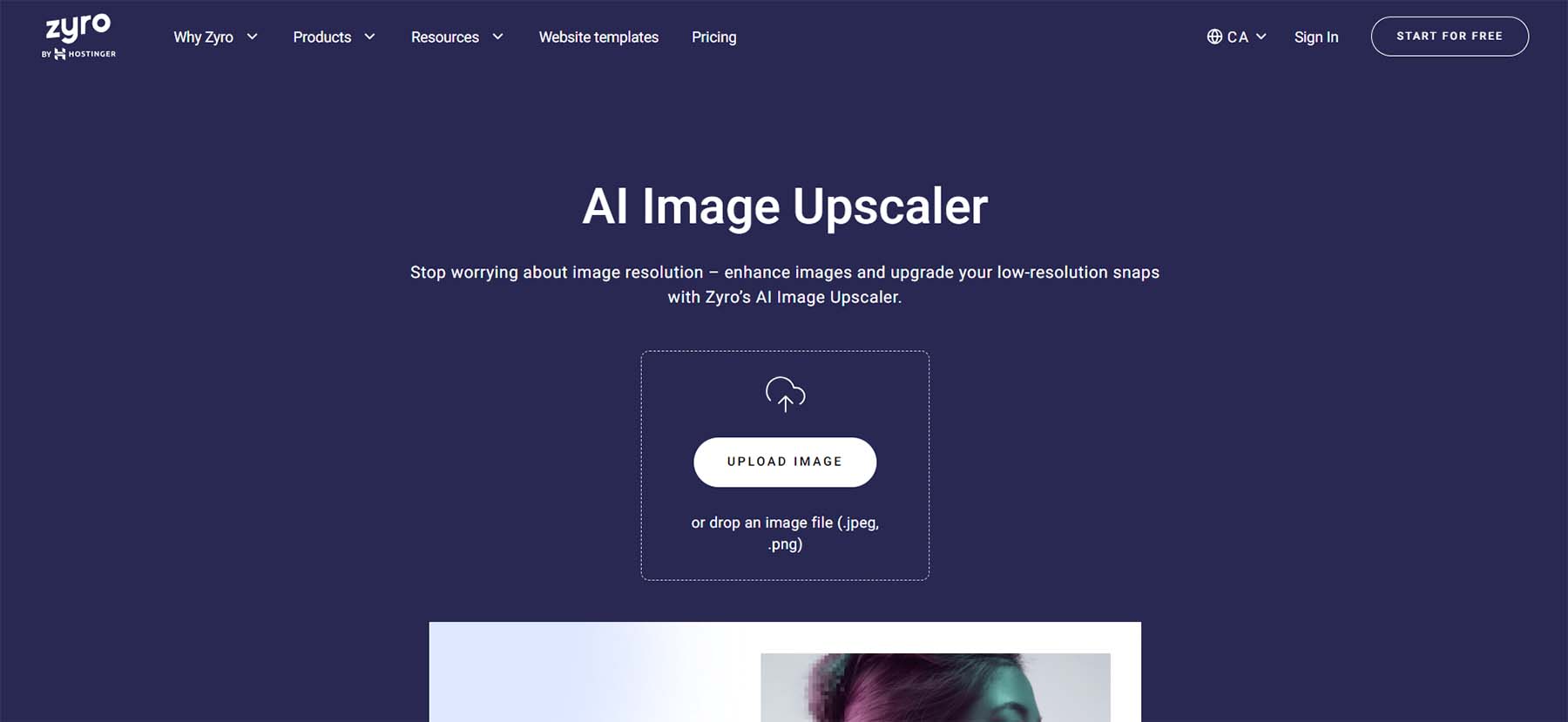 Zyro is a popular AI website builder (by Hostinger) that offers an online AI image upscaler. The uncomplicated interface makes uploading and upscaling your images seamless. Unlike most of the image upscalers on our list, Zyro's upscaler only supports two file formats which can be restrictive. However, as a whole, hobbyists best use this interface, and those who do not need heavy-duty upscaling features for their work.
Key Features of Zyro AI Image Upscaler:
Works with PNG and JPG file formats
Easy, clean interface
Downloads result without watermarks
No restrictions on the number of photos to upscale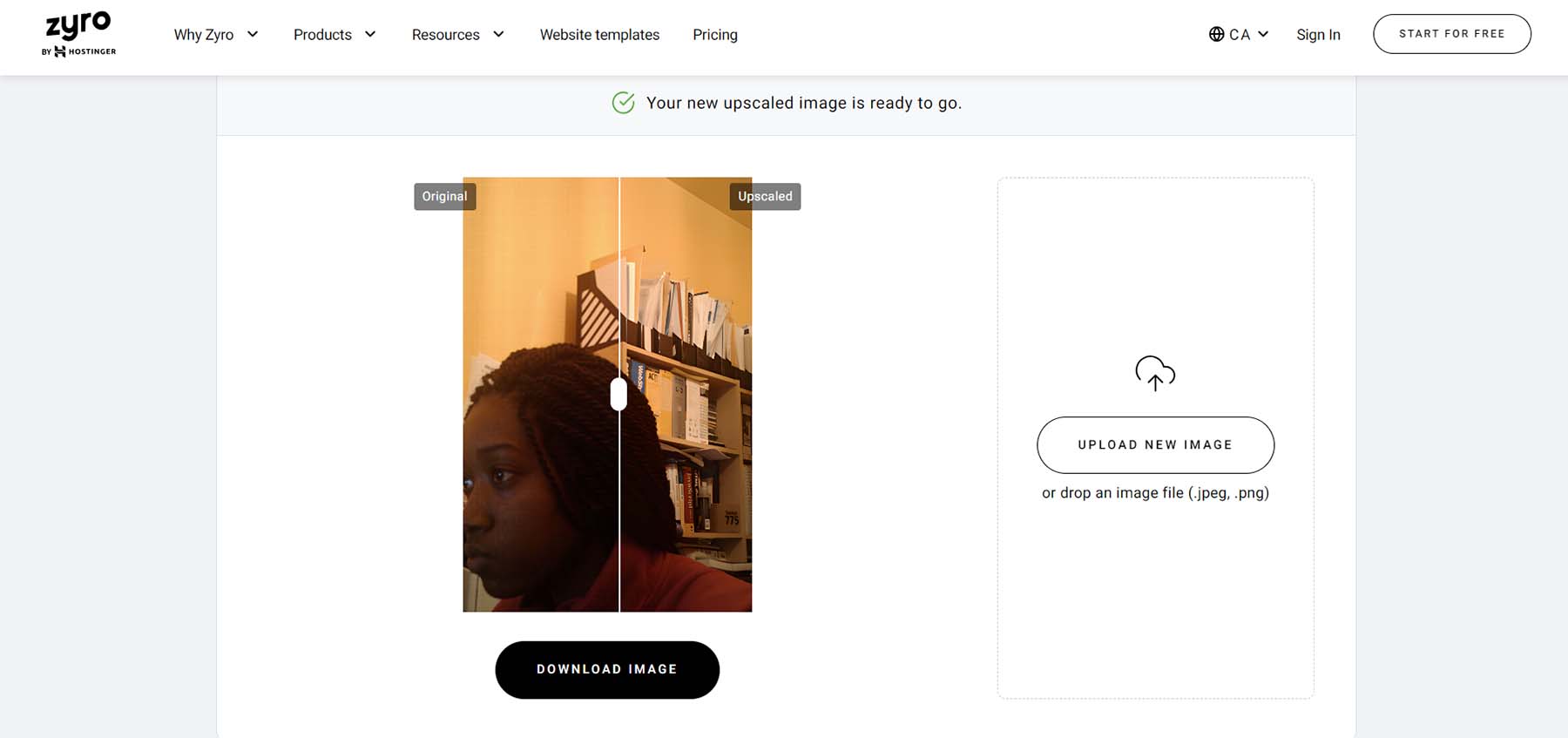 Because of its streamlined and practical approach to AI image upscaling, Zyro's key feature is unlimited uses of its image upscaler without adding a watermark. Many of its competitors on our list either give you a limited free trial or apply a watermark to your upscaled images. Zyro does not do this, making it an excellent choice for quick image upscaling for personal and sometimes professional needs.
Best For:
Zyro's AI Image Upscaler is best for those who want a completely free image upscaler option that is also online. Use this platform for those who quickly need to upscale a few images. It has one job – to upscale images – and it does well!
Pricing: Free
7. Adobe Firefly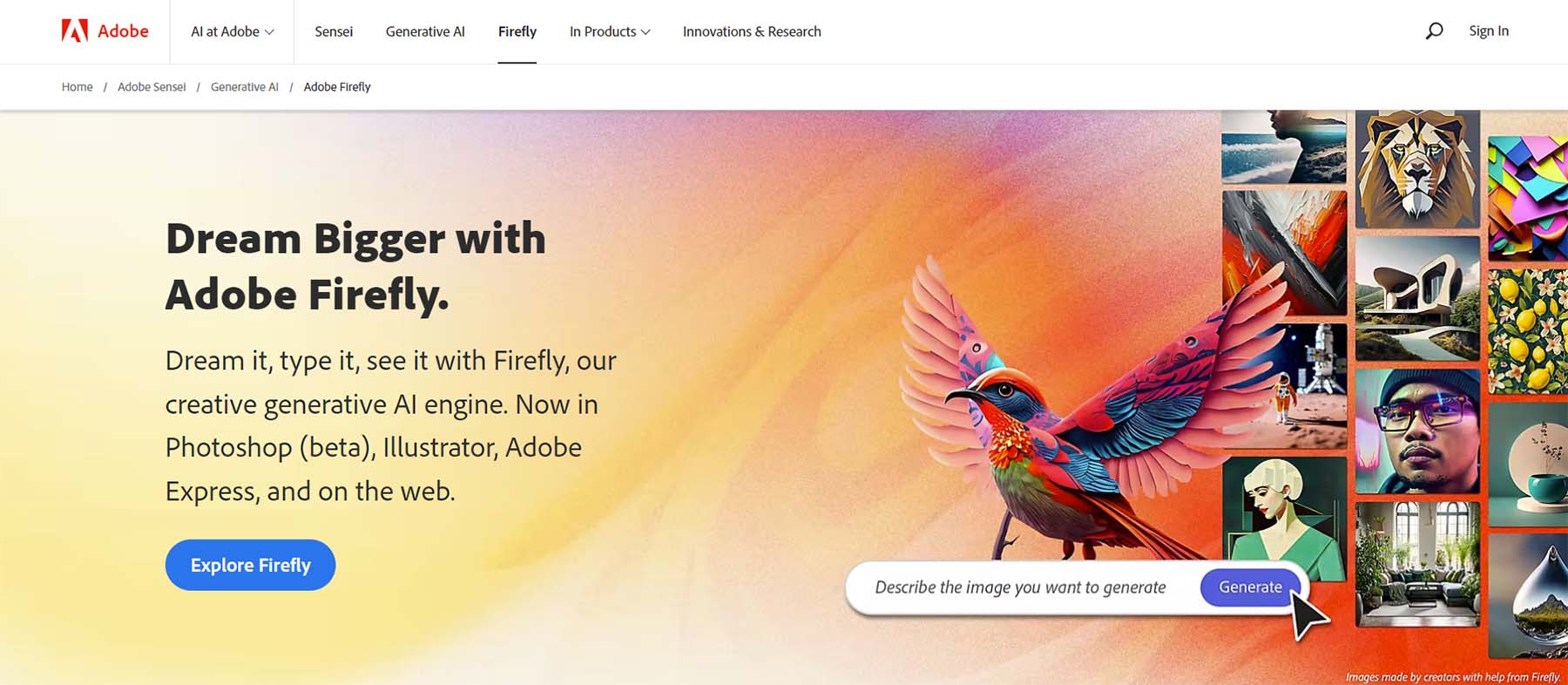 Adobe Firefly is a new tool from Adobe that meshes creativity with AI. Firefly is Adobe's "creative, generative AI engine" and is currently in beta mode throughout their Photoshop, Illustrator, and Adobe Express programs. Firefly powerfully brings generative AI to Adobe apps. While Firefly itself isn't an image upscaler, through various Adobe apps, Firefly can enlarge images with the professionalism that is expected from the Adobe suite of products. As an example, this can be seen in Photoshop and Lightroom. Lightroom's Super Resolution feature uses AI to quadruple the size of images in minutes, refining color and showing expressive details, all through an easy-to-use interface. In addition to image upscaling, Adobe Firefly has other AI art functions like recoloring, generative fill (which can be used in conjunction with image enlargening, text effects, and much more.
Key Features of Adobe Firefly:
Powers Generative Fill in Photoshop used to extend content with simple text prompts
Grants Super Resolution to Lightroom, allowing for images to have 2x the linear resolution
Upsample low-resolution images with Lightroom
Upscale, preview, and adjust the resolution of images in Photoshop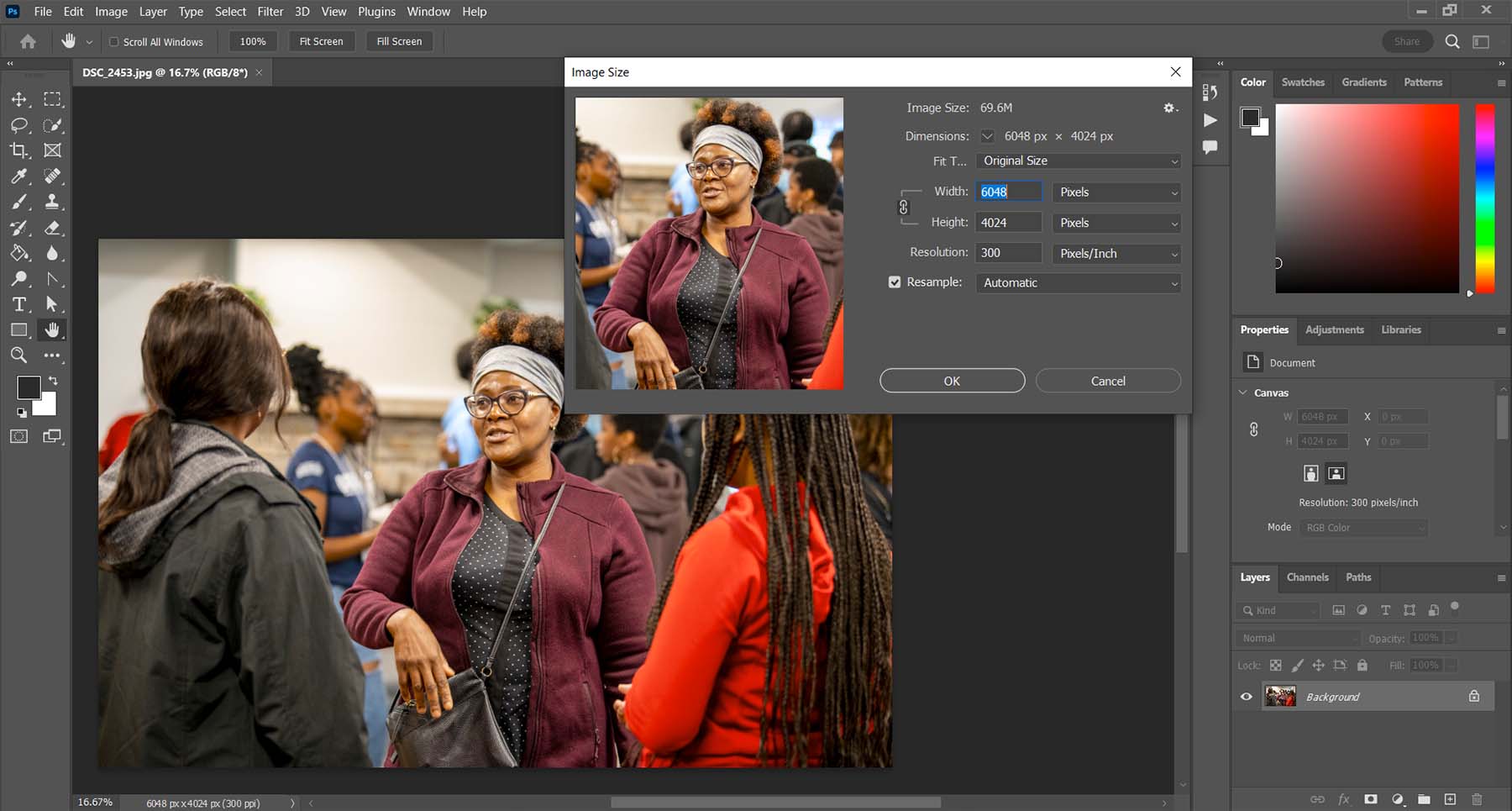 The Image Size option in Photoshop is just one way to see Adobe Firefly in use throughout Adobe apps and products. With this setting, you can upscale your image in your measurement of choice, adjust the resolution and preview your changes. This can help you balance quality and size when upscaling images.
Best For:
If you're a fan and user of the Adobe Creative Suite and its related programs, you'll love using Adobe Firefly in your work and process. Adobe Firefly makes it simple to use AI to do many tasks with AI, and image upscaling is one of those tasks that it does well within the Adobe family of tools.
Pricing: Paid plans start at $20.99 per month
8. DeepImage AI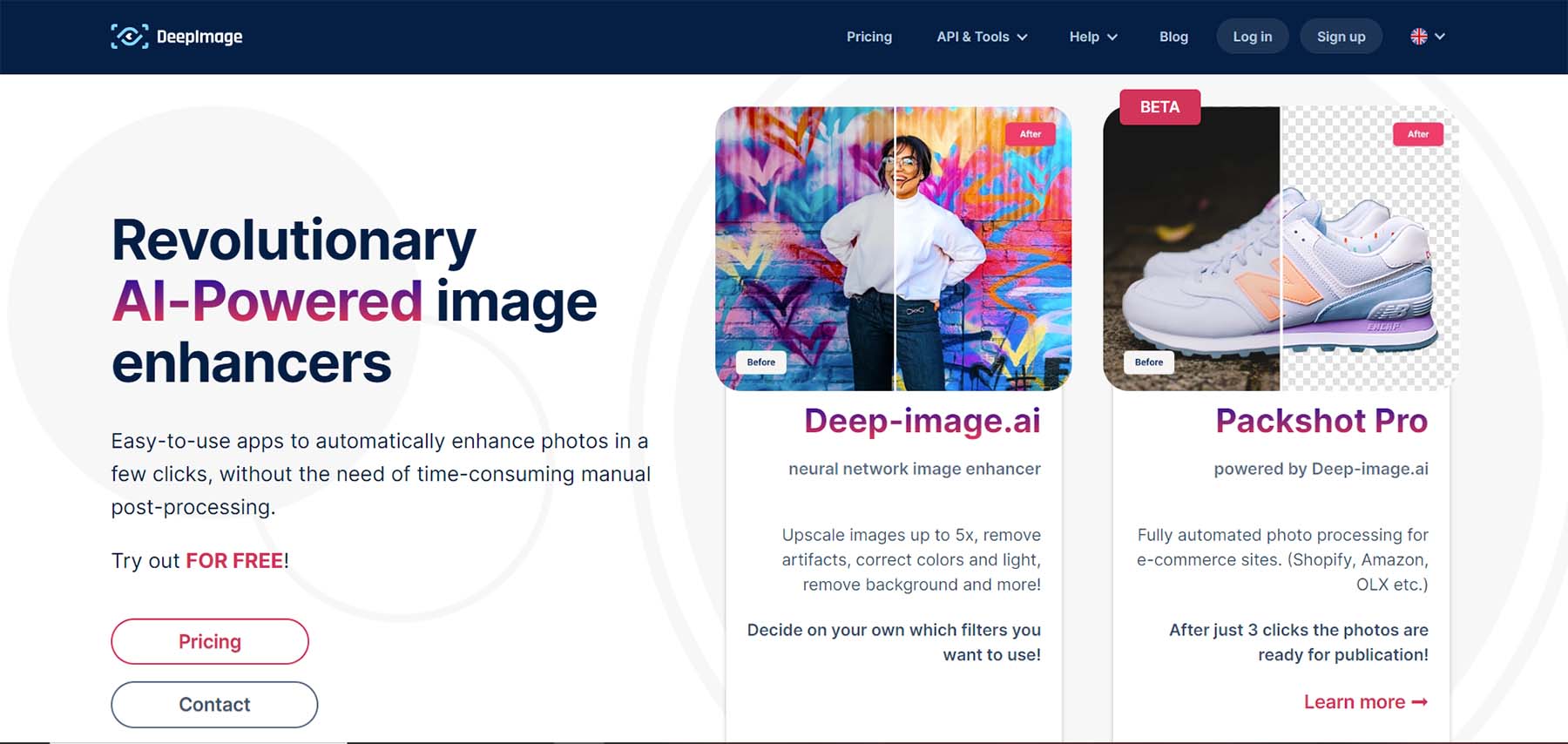 DeepImage AI is an online AI image upscaler that focuses on the needs of real estate professionals, eCommerce brands, and photographers. The platform comes as both an online tool and an API. If you're a developer, you can access the API to add its photo-enhancing capabilities to your next application. DeepImage AI comes with defined presets for real estate photos and product photos making it a handy tool for those operating in these two industries. By applying edits using higher dynamic range (HDR) and adjusting color saturation, DeepImage AI can assist those in real estate and product photography to be upscale and enhance their images. Additionally, DeepImage AI allows you to perform your enhancements to multiple images simultaneously, speeding up your editing process and helping you use your newly optimized images quickly.
Key Features of DeepImage AI:
Upscale images by 2X, 3X and 4X
Upscale images by both image aspect ratio and dimensions (width and height)
Adjust the color and lighting of upscaled photos with V2, HDR, or contrast options
Export images as JPG, PNG, or WEBP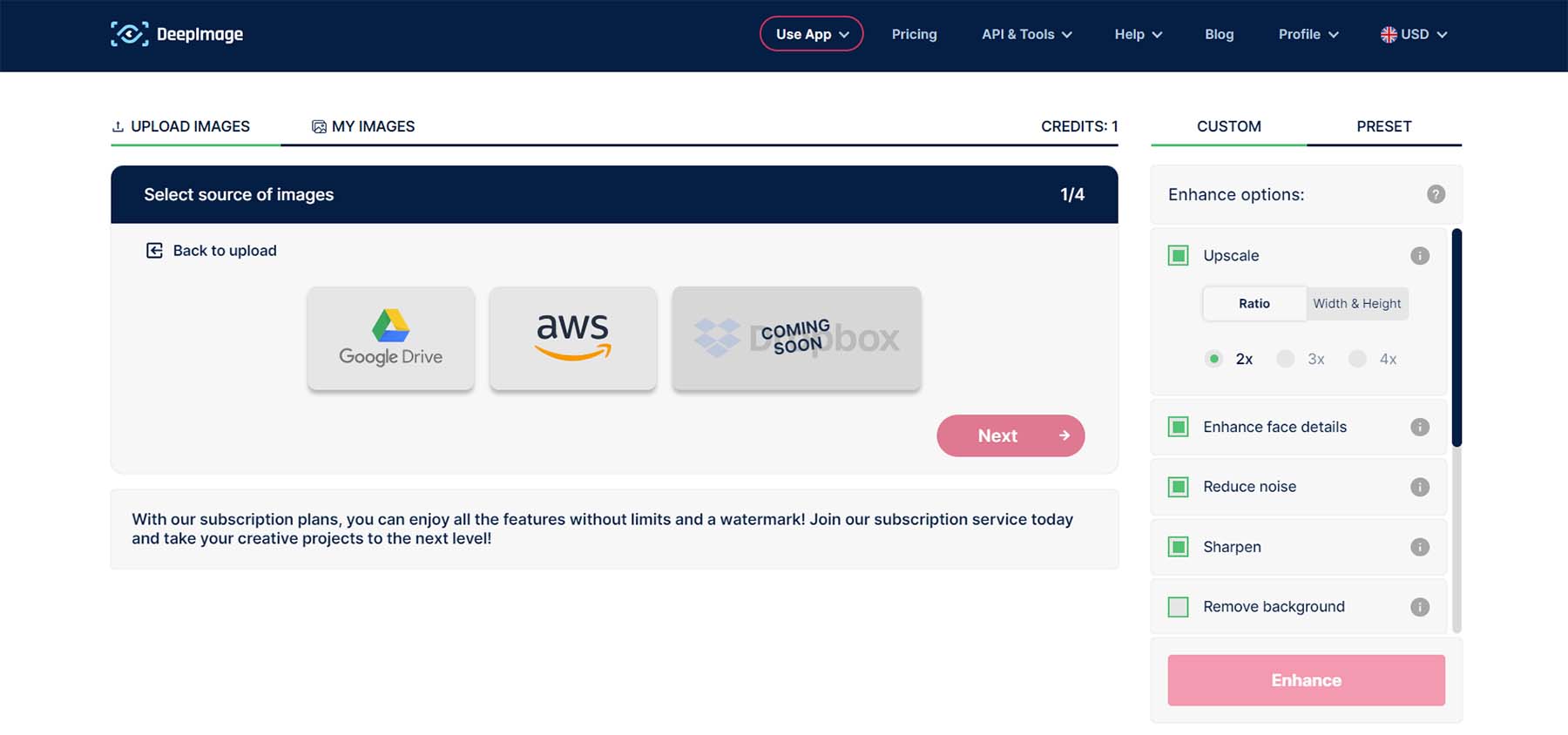 DeepImage AI allows you to upload multiple images from your desktop and cloud storage. With Dropbox integration coming soon, you can freely upload your content from your AWS or Google Drive folder and easily make bulk edits to your work.
Best For:
Those who work in the real estate field will like the way in which DeepImage AI upscales images. For realtors, having DeepImage AI in your pocket can help you accurately display showing, even when you can't capture them with the best light source.
Pricing: Free, Paid plans start at $7.50 per month
9. VanceAI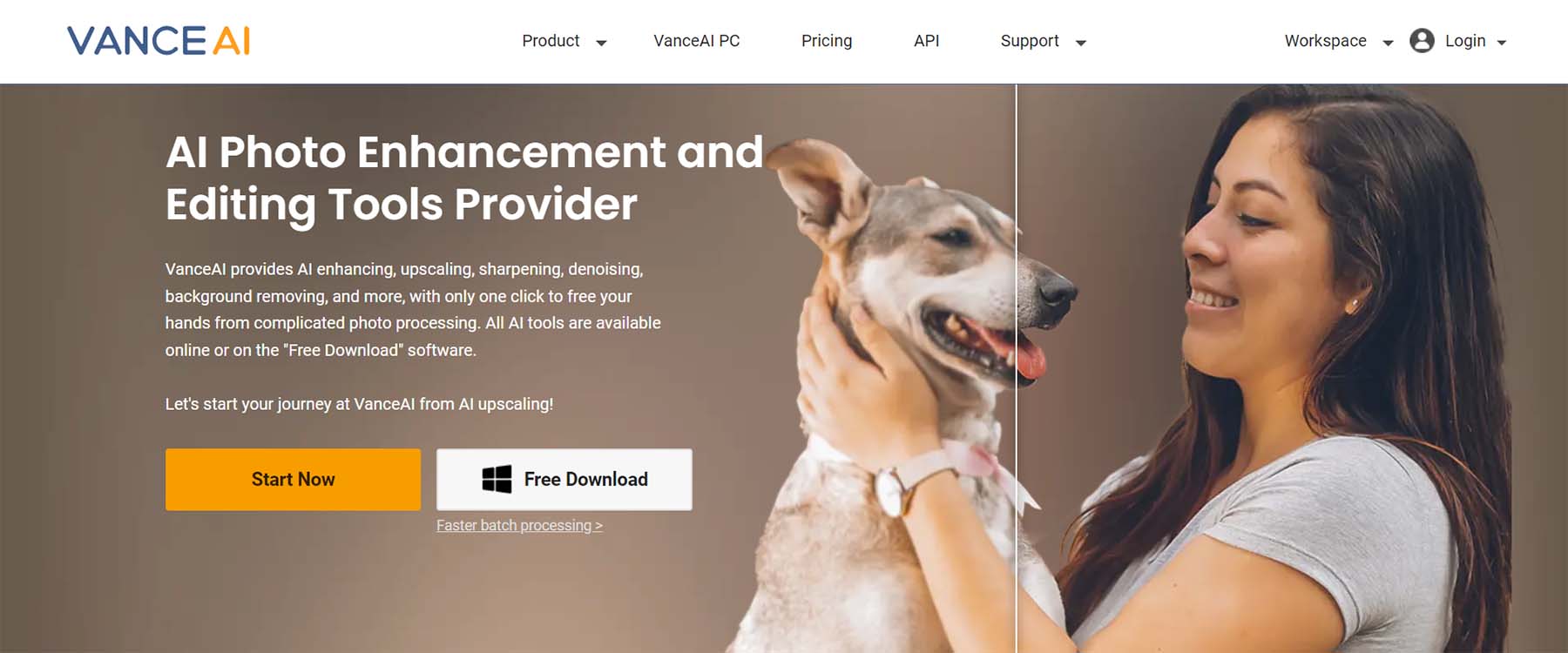 Vance AI is a full suite of photo-enhancing products that can be used online or on your desktop. VanceAI can scale your images to various magnifications without distorting the quality of your images. Whether you need photos for your online store, PowerPoint, prints, and more, VanceAI can assist you in safely and expertly upscaling your images. As a suite of tools, VanceAI has sharpening, retouching, enhancing, and dehazing tools (to name a few) that you can use in conjunction with its image upscale options. Its AI upscaling technology can smartly analyze and enlarge images, using its generative adversarial networks to make highly realistic details to your photos, resulting in colors that pop and clear results.
Key Features of VanceAI:
Enlargen images by up to 800% without any quality loss
Upcales images from 2x, 4x, 6x to 8x
Batch processing of images via the desktop app
Diverse AI upscaling models, including settings for anime, digital art, text and low resolution, compressed images
Images can be deleted after 24 hours for security and data protection purposes
Upscale multiple images at once with Vance AI batch processing feature. In addition to upscaling multiple images at once, with the Workflow feature, you can combine multiple AI image editing features within the Vance AI platform to apply to all your uploaded images.
Best For:
For those looking for a desktop solution that provides multiple image editing abilities, VanceAI is the best image upscaler for you to use. Harness more power as you upscale your images by using the VanceAI desktop program.
Pricing: Paid plans start at $4.95 per 100 credits
10. Pixelcut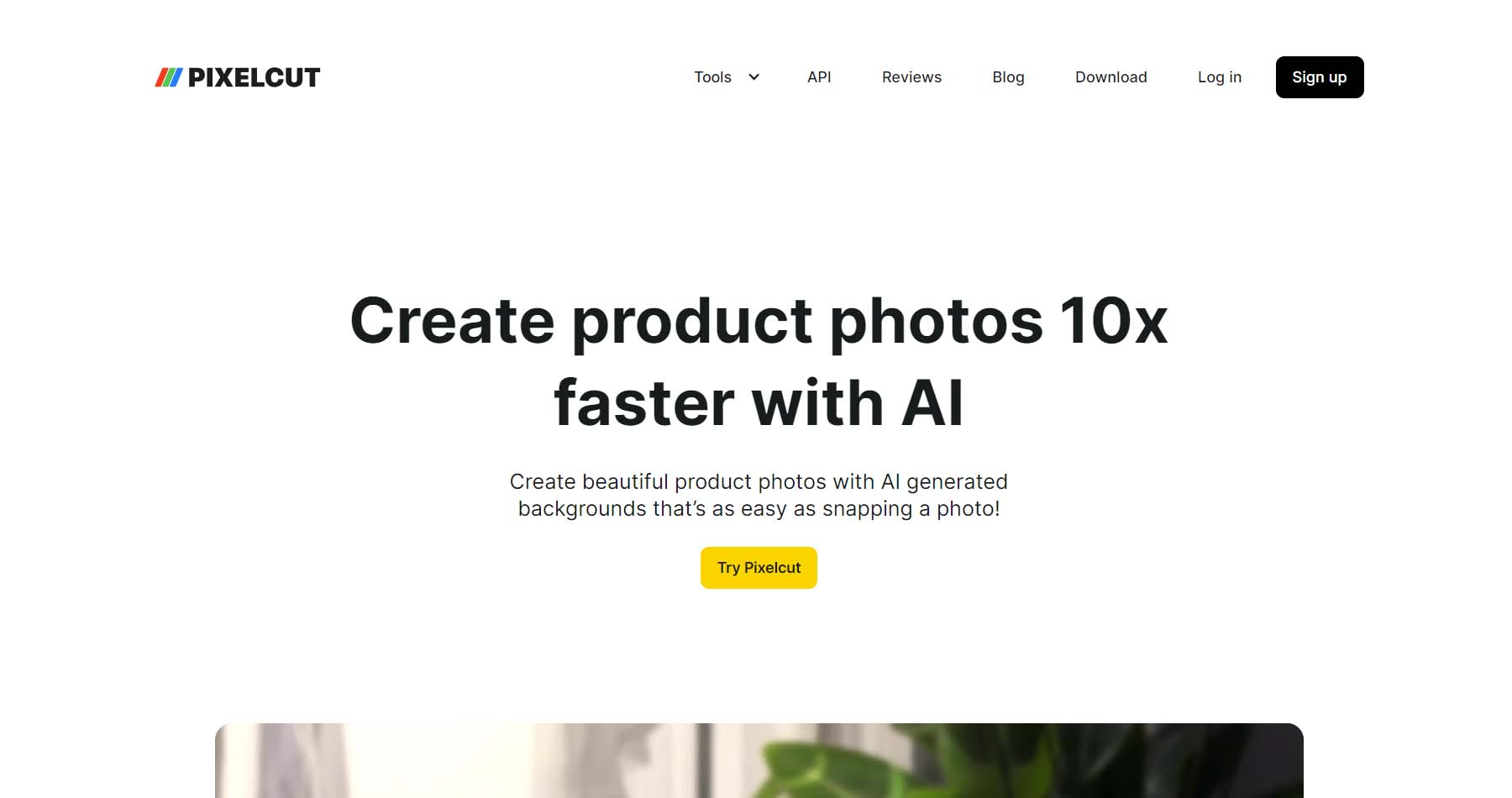 Pixelcut is a simple and free online tool allowing you to upload photos and increase their resolution. It is a full suite of tools that also includes image upscaling. As an image upscaler, PixelCut has a clean interface that allows you to upscale your images and preview what your work will look like after upscaling. You can also download your upscaled image directly from the interface in a standard and high-definition resolution. Furthermore, Pixelcut gives you a suite of tools in its editor to complete post-production work on your images. You can add text, edit the background, and more once you've upscaled your image to your liking. Pixelcut is one of the best AI image upscalers for those looking for a simple solution for their photo editing needs.
Key Features of Pixelcut:
Upscale images in 2X or 4X
Zoom and preview various areas of your uploaded work before downloading
Integrated with the PixelCut editor for additional photo editing
Upscale and resize images for Instagram posts, stories, or reels, in addition to other pixel ratios
Download the HD version of the upscaled images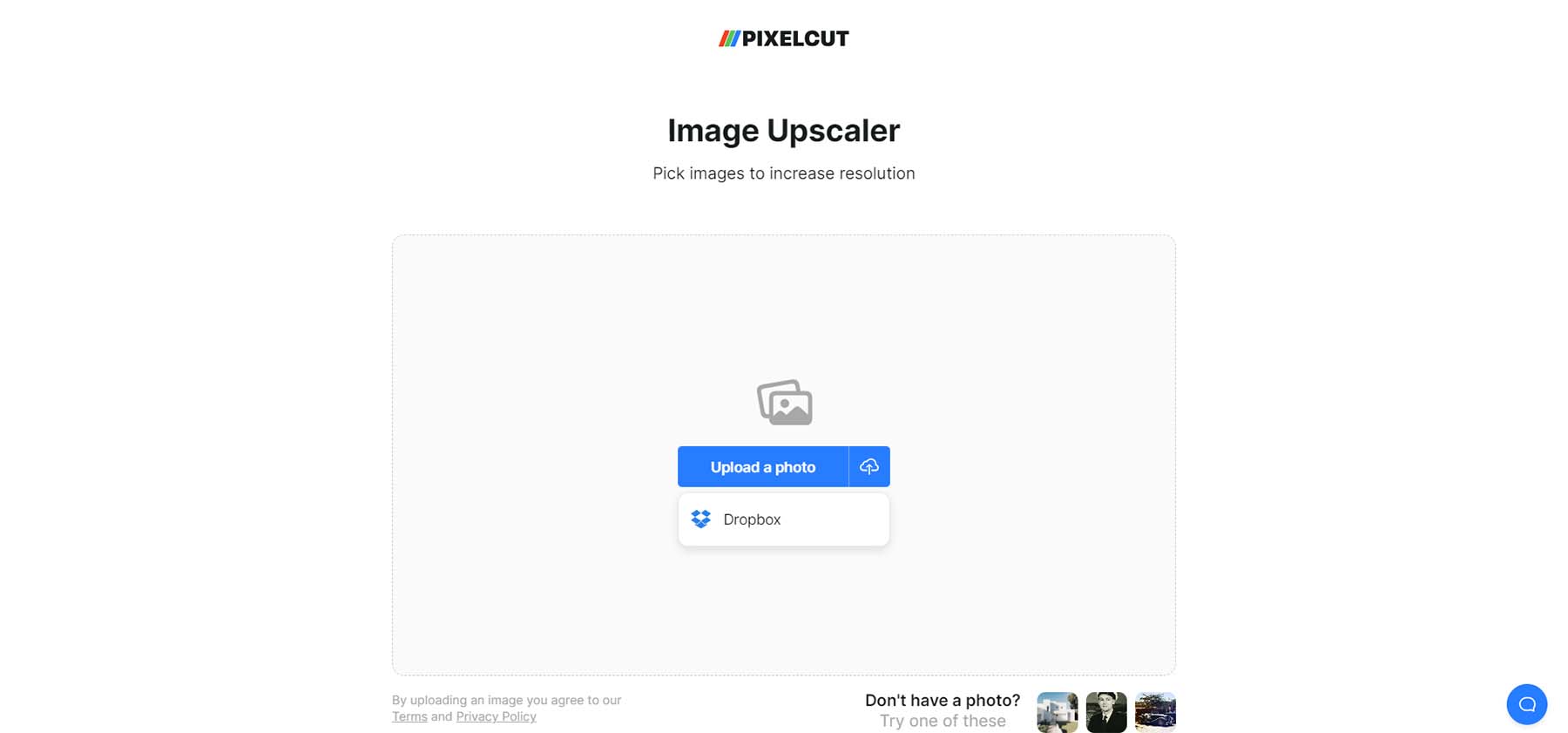 Directly import photos from your Dropbox account to the PixelCut Image Upscaler interface. If you're working with many photos in this popular cloud storage solution, it's easy to upscale your images using PixelCut's online tool.
Best For:
PixelCut as a suite focuses heavily on enhancing product photos. Their library of free tools, including its AI image enhancer, makes it a perfect partner for eCommerce brands and online shop owners who want a simple and effective way to professionally edit photos of their products.
Pricing: Free, Paid plans start at $9.99 per month
Comparing the Best AI Image Upscalers
The best AI image upscalers all bring something different to the table. While some are complete suites of various products, others help when you're in a time crunch and only need to edit one or two images. All of the image upscalers on our list do an excellent job of making your photos bigger and ensuring their quality isn't lost. We know you'll find the best tool for your needs within our list.
Best AI Image Upscalers Price Comparison
Let's compare our list of the best AI image upscalers by price. Luckily, some are also free, so that you can use them immediately!
What is the Best AI Image Upscaler?
If you're looking for an effective image upscaler that enhances image quality and resolution with amazing detail, we recommend Gigapixel AI as the best overall choice. It uses deep learning AI to generate stunning, natural results in your image editing process. If you want a straightforward and effective web-based image upscaler tool, we suggest giving Upscale.media or Icons8 Smart Upscaler a try.
Are you looking for more helpful AI tools? Check out what we consider to be the best AI-powered tools to help make your life easier.
Frequently Asked Questions (FAQs)
Before we wrap up, let's answer some of your most common questions regarding the best AI image upscalers. Did we miss one? Leave a question below, and we will respond!
What is the best AI image upscaler?
Gigapixel AI
stands out as the best AI image upscaler due to its ability to upscale diverse subjects (portraits, wildlife, landscapes, etc.) across various image types (DSLR, computer graphics, compressed). Its Face Recovery AI optimizes low-res faces while enhancing hair, feathers, fur texture, and sharpness and effectively fixing extreme pixelation in low-res images during upscaling.
What is the best free AI image upscaler?
Gigapixel AI
is the top free AI image upscaler. It uses deep learning and neural networks to comprehend photorealistic details, ensuring high-quality results. It is compatible with Mac and PC and caters to users across various operating systems, making it a versatile and powerful image processing tool.
How do I upscale AI-generated images?
To upscale AI-generated images, you can use
Pixelcut
as a reliable AI image upscaler and follow a simple process. First, upload your image to the platform, ensuring it is in JPG, PNG, or HEIC format. Next, select the desired upscale quality, which can enhance images up to 4 times their original size. Once you've made your selection, sit back and let Pixelcut's AI algorithms work their magic to upscale your image automatically. Finally, once the process is complete, you can download and use the upscaled image as desired.
Is there an AI that can upscale images?
Yes, AI image upscalers in the market, such as
Upscale.media
, enable you to convert low-quality images into high-definition images in just a few clicks. Upscale.media enables you to enhance the image quality automatically online. It is available on both Android and iOS platforms and works with plenty of file formats.
What is an AI image upscaler?
An AI image upscaler is a tool that uses artificial intelligence (AI) techniques to effectively enlarge an image without compromising its quality. As a consequence, it is suitable for larger formats without distortion or loss of visual appeal. An AI image upscaler can increase the size of a logo for a poster and also scale digital art for a large canvas. Regardless of what function it performs, it should be noted that an AI image upscaler preserves the image's original beauty during the enlargement process.
Does AI upscaling actually work?
Yes, AI upscaling works very well and it's the best way to increase the size of small images. Most upscallers will allow you to upscale images to 4k resolution, so they will look great on modern devices.
Is there a free AI image upscaler without watermarks?
The free version of
Zyro AI Image Upscaler
allows downloading of upscaled images without any watermarks. This feature sets it apart, as many competitors either give a limited free trial or apply watermarks on the final images. Zyro doesn't belong to that category, making it an excellent choice for personal and professional work.
How does Photoshop upscale an image using AI?
You can take advantage of Adobe Photoshop Lightroom to upscale your image with AI. Adobe Photoshop Lightroom uses its Super Resolution feature to enlarge your image size. First, if you want to apply this feature, open a raw image in Loupe View. Make sure that the chosen image is in TIFF or JPEG format. Go through the menu bar and select Photo > Enhance. If you are using Windows, you can simply right-click on the image and select "Enhance." In the Enhance box, choose Super Resolution. Preview the image before enhancement by click-and-holding, or drag across the preview to view specific areas. Finally, create a DNG version of your image by clicking "Enhance."
How can I upscale AI images with Zyro AI Image Upscaler?
You need to follow a straightforward process to upscale AI-generated images with
Zyro AI Image Upscaler
. First, select the image you want to enlarge and enhance. Next, upload the chosen image to the tool by simply clicking the Upload button. Once uploaded, sit back and let the AI Image Upscaler work its magic, taking care of the hard work for you. Finally, check out your upscaled photo and see if you want to make further changes.
Can I upscale an image to 4K using AI?
Yes, you can upscale an image to 4K using AI, and
Gigapixel AI
is a reliable tool for this purpose. By utilizing advanced neural networks, Gigapixel AI enhances image details, allowing you to transform lower-resolution images into high-quality 4K visuals for better display on modern screens.
Featured Image via Delook Creative / shutterstock.com