The contributions of women in tech are often underrepresented, despite the huge impact they have in the community. As of 2015 women accounted for 22% of the number of developers across the globe, numbering over four million – a figure that has more than doubled since the early 2000s.
This paints a starkly different picture from the male-dominated tech world of the 90s, when women were thin on the ground. The fact is that today there are plenty of women who should get more recognition for their contributions and entrepreneurship in the world of web development.
Since we're a WordPress focused blog, we want to do our part by introducing you to twelve women who have had a positive impact on our community, and whom we'd all do well to follow.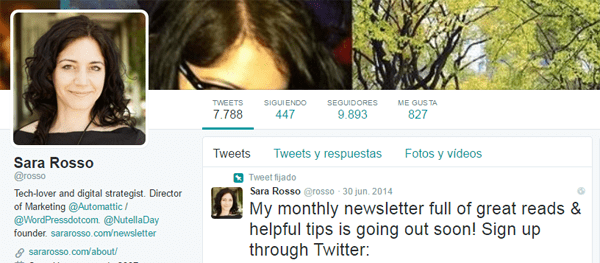 When she's not overseeing the Marketing Department at Automattic, Sara Rosso can be found pursuing some of her other passions, such as writing or photography (in which she's talented enough to sell her photos). Rosso is an avid technology lover; she's been working in the field since 1996 and has been featured in multiple prestigious publications including The New York Times, The Wall Street Journal, CNN, ABC News, TIME, The Huffington Post, and since she lives in Rome, several Italian publications.
On top of her own work, Sara has been a steadfast advocate of involving more women in both tech and business. During her stay at Santa Clara University to pursue her MBA, she was one of the founding members of the Women in Business networking group, where she later served as both President and Vice President. Afterwards, she went on to coordinate the first SCU Women in Business Conference, an annual affair which endures to this day. As if that weren't enough to make you feel lazy, Sara was also one of the founders of the Girls Geek Dinners (an organization promoting women in the tech industry, with 64 chapters in 23 different countries at the time of writing) team in Milan, where she organized 13 different dinners sponsored by major tech companies.
Sara can often be found writing about business and WordPress tips on her blog, When I Have Time, or about food and travel on Ms. Adventures in Italy. She can also be seen on Twitter and Facebook.

Helen Hou-Sandí is the Director of Platform Experience at 10Up: a top WordPress design and development agency that provide considerable resources to core development. Some of their unique products include a drag-and-drop ordering system for WordPress posts and a notification plugin (only compatible with OSX at the moment) which enables content creators to inform their subscribers in real time when there are new posts to be read.
Aside from her work at 10Up, Helen is also a WordPress Lead Developer, that is to say, one of the very people working on the continuous evolution of the platform. Her blogging journey, however, had a rather rocky start. In fact, once upon a time she was an avid user of the Blogger platform (hey, we've all been there!) before a friend introduced her to WordPress.
Ever since that moment, she was hooked. Some time later she began to work as a web developer for a music conservatory, and when the time came to redo the school's official website, she knew just what CMS to use. That very same job led her to attend her first WordCamp in 2010, and since then she's given several talks of her own in these events, including the keynote speech at the 2014 WordCamp in Philadelphia. The platform may have impressed her from the beginning, but it was WordCamps that got her involved in the community itself.
Helen writes about whatever strikes her fancy on her own personal page, nearly exclusively about WordPress in her Helen on WordPress blog, and exclusively using 140 characters or less on her Twitter account.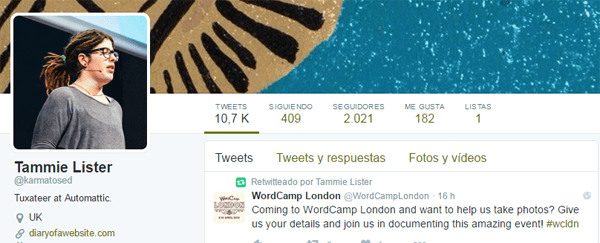 Tammie Lister is a Theme Wrangler at Automattic – a job that requires world-class design and development skills. She's also interested in diverse fields such as art, psychology, and of course, user experience.
Before she jumped on the Automattic wagon, Tammie specialized in developing community websites using BuddyPress. There, not only did she contribute to the development of the plugin itself, she even wrote a 130-page book on the subject.
She's also a fixture at WordCamps around the globe, including appearances at Brighton 2015, London 2015, San Francisco 2014, Norway 2013, and the Netherlands in 2012.
You can find Tammie at her personal blog, on Twitter (where she's currently gearing up for the next WordCamp London), and on GitHub.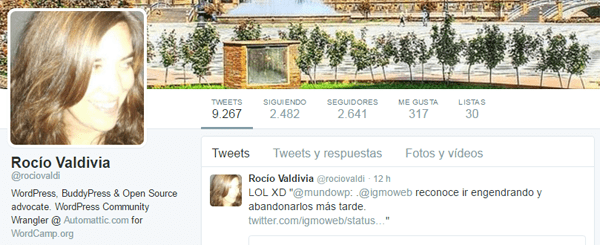 Rocío Valdivia is a Community Wrangler for WordCamp Central at Automattic. She has over six years experience as a WordPress consultant and specializes in BuddyPress. Rocío was the first Spanish speaker to give talks at the two first WordCamps in Europe; she then went on to actually help organize the next event at Seville.
On 2012, Roćio coauthored the Spanish version of WordPress for Dummies alongside Luis Rull and Rafael Poveda.
As a community wrangler, she helps to moderate the Spanish WordPress forums and also assists as a translation reviewer for both BuddyPress and WordPress.
Rocío regularly keeps her personal blog updated with her most recent tech talks and can also be seen on Twitter.

Eileen Lonergan's journey into web development was, oddly enough, inspired by a few years of living in Asia. The continent's devotion to technology inspired her to try her hand at creating simple websites, an area in which she had little experience, considering her previous jobs as a Media Buyer and Planner at advertising agencies.
Over time, Eileen returned to the States and kept learning about website design, which later led to the launch of her own agency (named after herself), serving small and medium-sized business. As if leading her own web design agency wasn't enough, she also created the Divi Theme User Group (which is over 10,000 strong at the time of writing), and during 2015, she launched a new venture called the Elegant Marketplace.
The Elegant Marketplace serves as a hub to find premium WordPress plugins and child themes, as well as offering customer support and enabling developers and designers to share their insights. Nowadays, Eileen regularly writes insightful articles both at her agency's blog and at the Elegant Marketplace, as well as being active in Twitter and posting the occasional tutorial on YouTube. Our sources also mention she sleeps for a few minutes here and there, but the numbers simply don't add up.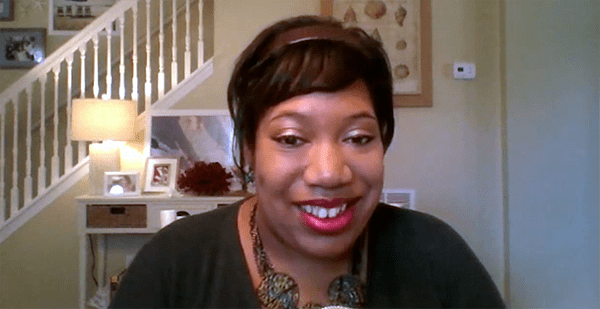 Tammy Grant is an entrepreneur who we featured in one of our podcasts a while back. She's the founder and director of Sunflower Designs – an agency that specializes in crafting Divi websites and building child themes.
Her business represents the culmination of a lifetime of diverse business ventures which began during her time at college. There, she tried her hand at setting up a dorm cleaning service (which she hoped to subcontract to other students, showing her business spirit) and creating a line of clothing for sororities. The latter business was mildly successful and she kept it up for a while before moving on, and years later after graduating and starting a family, she decided to invest in herself by learning the ropes of web development during the 90s.
That decision certainly paid off. On top of her work as a self-taught web developer, Tammy has also developed training software for the Royal Canadian Air Force and contributed from a design standpoint to many defense projects.
If you want to find some great advice for entrepreneurs and developers, look no further than Sunflower Design's blog, or check out their Twitter account, where Tammie & Co. also share lots of links to interesting articles.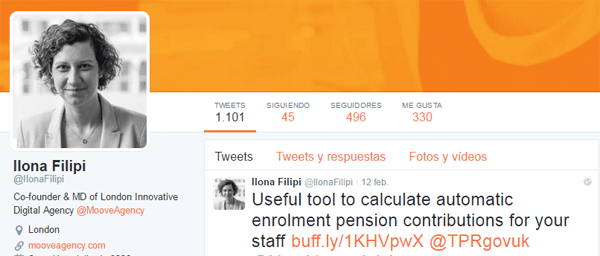 Ilona Filipi is the Managing Director and a cofounder at Moove, a web design and development firm which bills itself as an innovative digital agency. Moove handles everything from development – including WordPress or bespoke pages, maintenance and support, digital strategies, SEO – and all aspects of design.
In 2013 Ilona Filipi delivered a great talk at WordCamp London aimed towards those interested in running their own WordPress agency – 3.5 Years of Running a WordPress Web Agency: Do's, Don'ts and Lessons Learned. During her tenure as managing director, the agency has worked on projects for prestigious businesses such as the BBC, GAP and Lexus.
On top of her business role, Ilona occasionally blogs about web development and entrepreneurship both on Moove and at her own personal website, and can also be seen on Twitter from time to time.

Sarah Oates is a freelance web designer who set up her own agency three years ago after making the jump from graphic design. On top of her experience as a graphic designer at Fusion International, Sarah also previously worked as a business services manager and event coordinator, which left her with the perfect set of skills to set up shop on her own.
All Sarah's sites are built using WordPress and she's happy to tackle projects ranging from simple brochure pages to sprawling online businesses with modern designs.
A while ago, Sarah was kind enough to guide viewers through an hour and a half masterclass on the use of the Essential Grid Plugin to create stunning photo galleries. She can also be found posting other video tutorials on Divi and WordPress on Endure's Youtube page.

LeAnn Kinney is a front end developer who's given a couple of insightful talks at two different WordCamps: Unintentional Exclusion – Web Accessibility and How We're Failing Our Users and The Low Hanging Fruit of Web Accessibility.
However, it's not only her WordPress chops that have earned her a spot on this list. When LeAnn isn't at her day job, she is a strong advocate for diversity in tech. She's been a teacher at Girl Develop It (a non-profit which provides affordable web and software development education to women) for over a year now. There, she shares her expertise in subjects such as Intro to Web Accessibility and Responsive Web Design 101.
LeAnn is also an events coordinator for that same organization and one of the organizers of LadyHacks, Philadelphia's first and only female 'hackathon' to date, which has been running strong for three years now and is gearing up for its 2016 edition. Despite not being too active on her own Twitter, LeAnn is one of the handlers behind the GirlDevelopIt Philly account, where they regularly share information about the organization as well as other interesting tech events.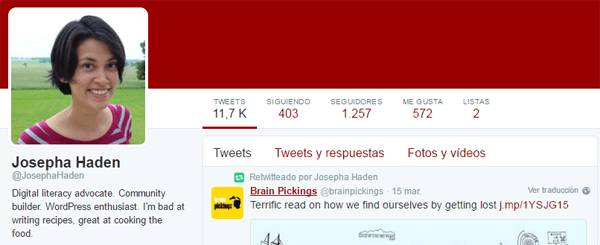 Josepha Haden is a Community Wrangler at Automattic and overall WordPress enthusiast. She's given several interesting talks (on top of helping to organize the events themselves) at multiple WordCamps over the years, such as Talking to Robots, which dealt with search engine optimization, and the more ambitious Using WordPress to Bridge Digital Divides.
Her most impressive work, however, has been as one of the Founding Members of the Kansas City Women in Technology organization, which has been devoted to providing mentorship and leadership opportunities to women in the field for almost three years now.
The organization already has several interesting events lined up for 2016 and has the backing of prestigious sponsors such as Google Fiber.
When she's not otherwise making the world a better place, you can find Josepha on Twitter.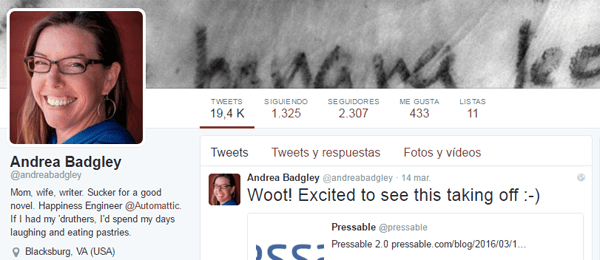 Andrea Badgley is a Happiness Engineer at Automattic, which is WordPress-speak for a mixture of community aid, troubleshooting, crafting documentation, and coordination among team members. Unlike most of the other picks on this list, Andrea doesn't have a background as a developer or designer. Her passion is writing, and she's penned several articles about blogging, as well as maintaining two sites of her own: Butterfly Mind (full of creative nonfiction) and Andrea Reads America (a literary tour of the States – three books at a time for each state).
Considering how creating great content is often at the heart of creating a successful WordPress site, we considered it wise to branch out our picks to include a great storyteller. You can check out Andrea's intervention at WordCamp US 2015 where she talked about how to overcome writer's block, or just jump straight into following her on Twitter.

Despite graduating Cum Laude as an Electrical Engineer, Jocelyn Mozak discovered her true passion lay with WordPress development (in her own words!). She credits the analytical and technical skills developed during her studies as part of the reason why she has found success in the field and likes to joke that she's a CSS goddess with a magic wand.
When she's not magically fixing issues, Jocelyn takes the time to post on her agency's blog on topics ranging from business insight, inspiration, and even book reviews. She's also on Twitter and last year, she gave a talk about using WordPress to help nonprofits change the world at WordCamp Portland.
Conclusion
Women working in tech fields don't have it easy. In many cases, they have to deal with far more hurdles than their male peers and their contributions are often overlooked.
You would certainly do well to keep an eye on the above extraordinary women. Check out their personal blogs, listen to their talks, and follow their social media accounts if you're looking for inspiration.
Are there any women in WordPress, web development or design you personally look up to? Share their names with us and subscribe to the comments section below!
Article thumbnail image by Dooder / shutterstock.com